Cauvery calling: The Definite solution to the water crisis in India by Sadhguru Jaggi Vasudev
"Water, water everywhere, nor a drop to drink." These lines from The Rime of the Ancient Mariner are becoming more and more relevant nowadays.

India has faced a water crisis for a long time. So what can be the definite solution to the water crisis in India? Let us know from Sadhguru, what can be done to control the current situation of the water crisis.
Current situation of water in India
According to a new working paper by the World Resources Institute (WRI), Fifty million people in 15 cities including Mumbai and Bengaluru of the 'global south' don't get the access to safe and reliable water.
Reports of Composite Water Management Index (CWMI) released by the Niti Aayog in 2018 states that 21 major cities (Delhi, Bengaluru, Chennai, Hyderabad, and others) are in the race to reach zero groundwater levels by 2020, which will affect the access for 100 million people.
Soon will come the time when the slogan released by the government of England during the summer of 76, "Save Water, Bathe with your friend" would come true for India as well.
The situation is worsening in India. Sadhguru Jaggi Vasudev, who is often referred to as Sadhguru has shared his take on the worsening water crisis in India a few days back.
Sadhguru's take on Water Crisis in India
" The time has come to free India of the water crisis. If we cannot grow our food and we don't have water to drink, what are we going to do with our freedom? So, this is the call that everyone must take," said Sadhguru.
He also acknowledged the achievements of India in many fields and appreciated the farmers of India for their incredible work.
"In these 70 years since 1947, as a nation, we have many achievements. Our businesses have been built, our scientists have done incredible things, but the greatest achievement in independent India is that our farmers with very minimal infrastructure, without any great modern scientific knowledge, just armed with traditional knowledge and wisdom are feeding 1.25 billion people."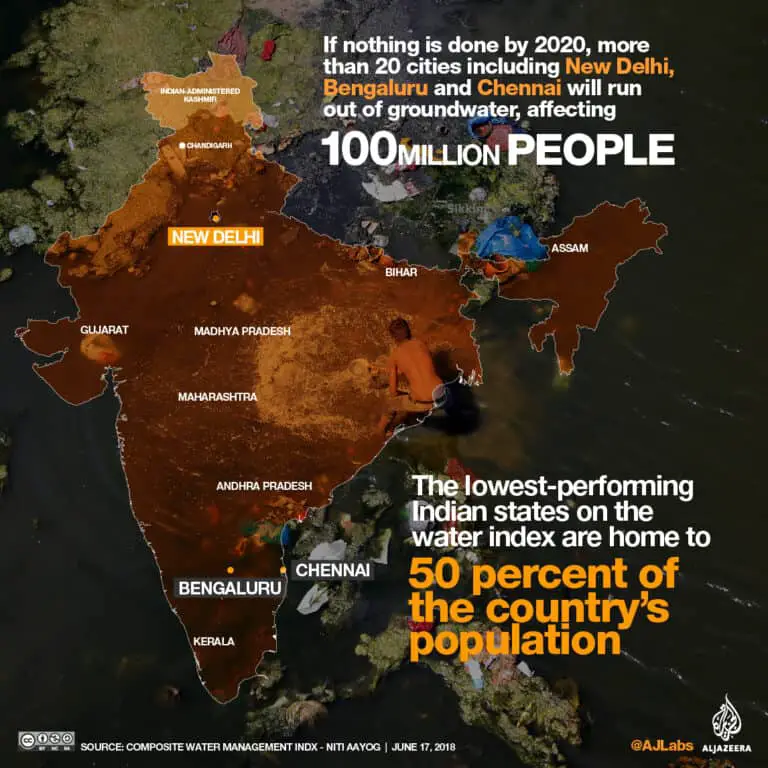 Sadhguru talks about farmer suicide
In a video released by Isha Foundation, Sadhguru talked about the issue of farmer suicide, water depletion, and soil depletion over a period of 72 years.
Free India of Water Crisis: Sadhguru Jaggi Vasudev
"We have treated them so badly that in the last 10-12 years, over 3 lakh farmers have committed suicide. One of the most important reasons why farmers are suffering is-there is a serious depletion of our water resources and the soil condition. How the soil used to be 70 years ago and how our soil is today is hugely depleted. How our water bodies were 70 years ago and how it is today, there is a serious depletion."
Sadhguru's 12-year plan to save water
Sadhguru has his own vision towards saving water and believes that agroforestry is the only way in which water can be saved for the future generation. He also reveals his 12-years plan to save India from the water crisis.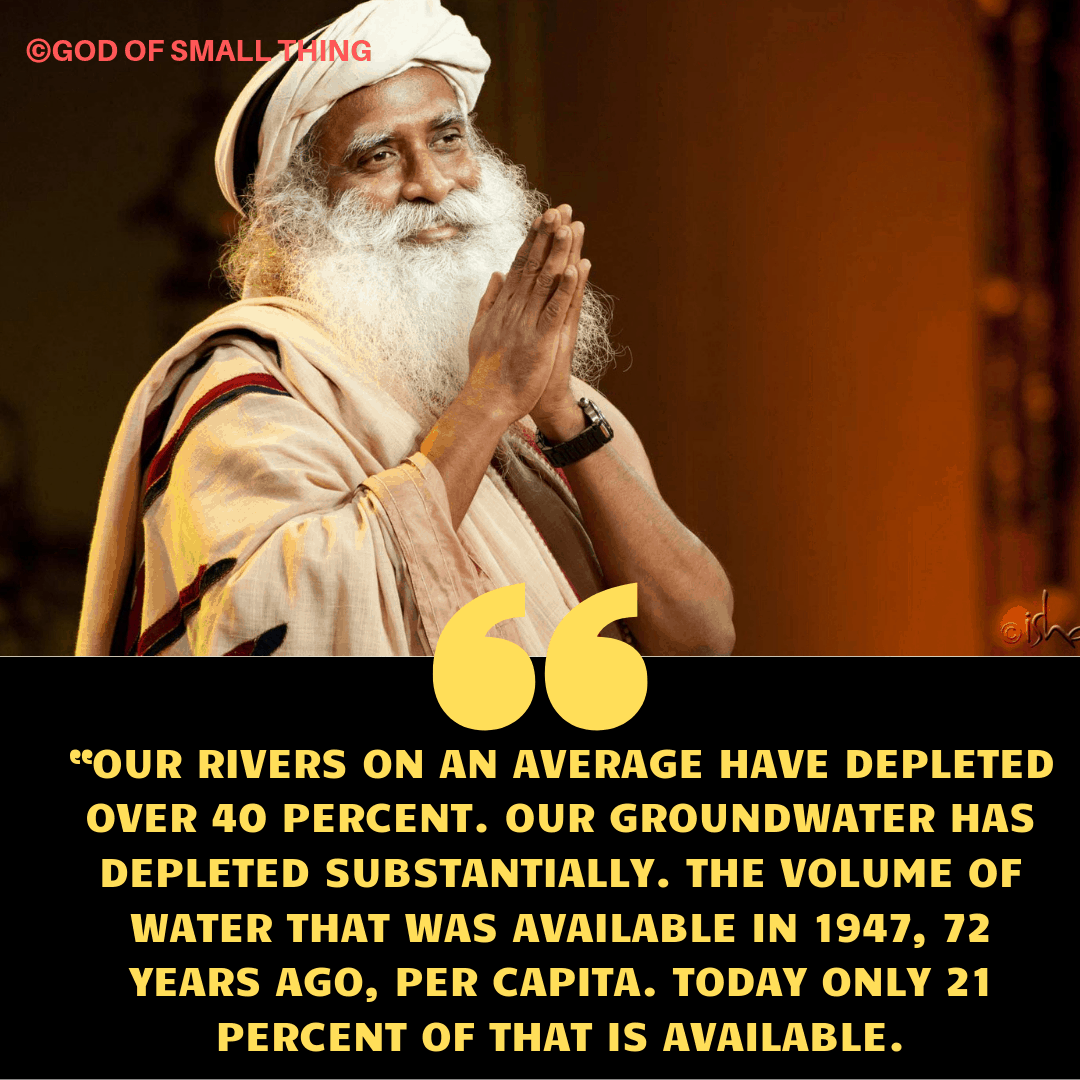 The Facts:
"Our rivers on an average have depleted over 40 percent. Our groundwater has depleted substantially. The volume of water that was available in 1947, 72 years ago, per capita.
Today only 21 percent of that is available. So after 72 years, once again we need to free India from severe soil depletion and water depletion. In a tropical nation, there is only one source of water is monsoon, the rain.
The water that comes down upon the land in 60 days, we must hold it in the land for 365 days. The only and only way we can hold this is that there must be substantial vegetation."
"So, the only way is to increase the green cover. There is no question of increasing the forest because the population pressure is so big. The only way we can go ahead is agro-forestry. Tree-based agriculture is essential. If a farmer shifts to agro-forestry, within five to six years, his income has gone up to 300-800 percent."
"We have shifted 69,670 farmers into agroforestry in Tamil Nadu. Every year, we are putting 2000-3000 farmers into agro-forestry. If you go at this pace, it will take another 82-100 years. By then, it will be too late. I am seeing how to crush this time of 100 years into a 12-year project. So, as a part of this, we are running a campaign right now for people to support to plant a tree."
According to Sadhguru, freeing India of water crisis means just this.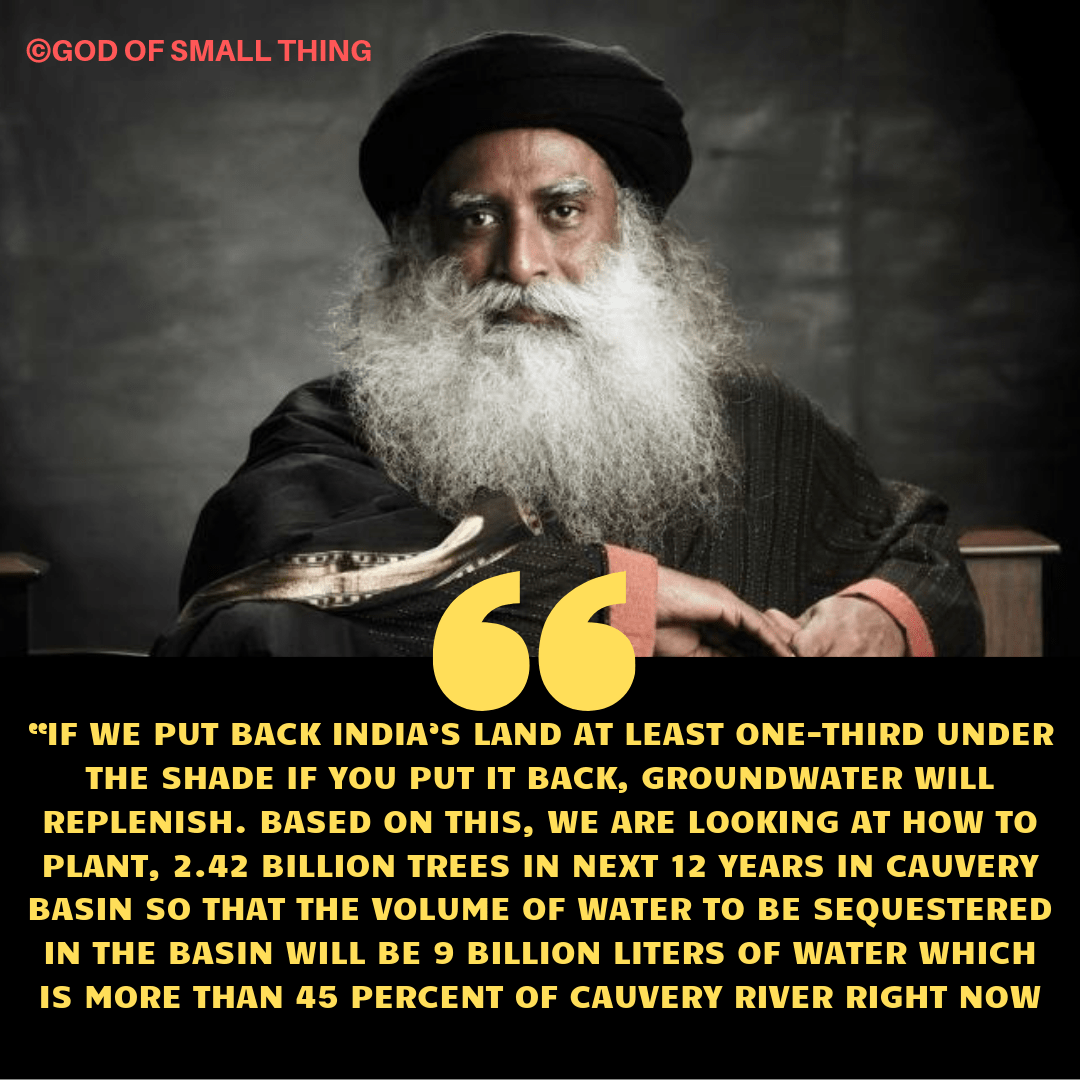 "If we put back India's land at least one-third under the shade if you put it back, groundwater will replenish. Based on this, we are looking at how to plant, 2.42 billion trees in next 12 years in Cauvery basin so that the volume of water to be sequestered in the basin will be 9 billion liters of water which is more than 45 percent of Cauvery River right now. So freeing India is not just about Cauvery."
"To free India from water crisis and soil depletion means this is a quarter of the human population will drink. If this population goes into soil distress and water distress. What will happen about the conscious of the entire humanity?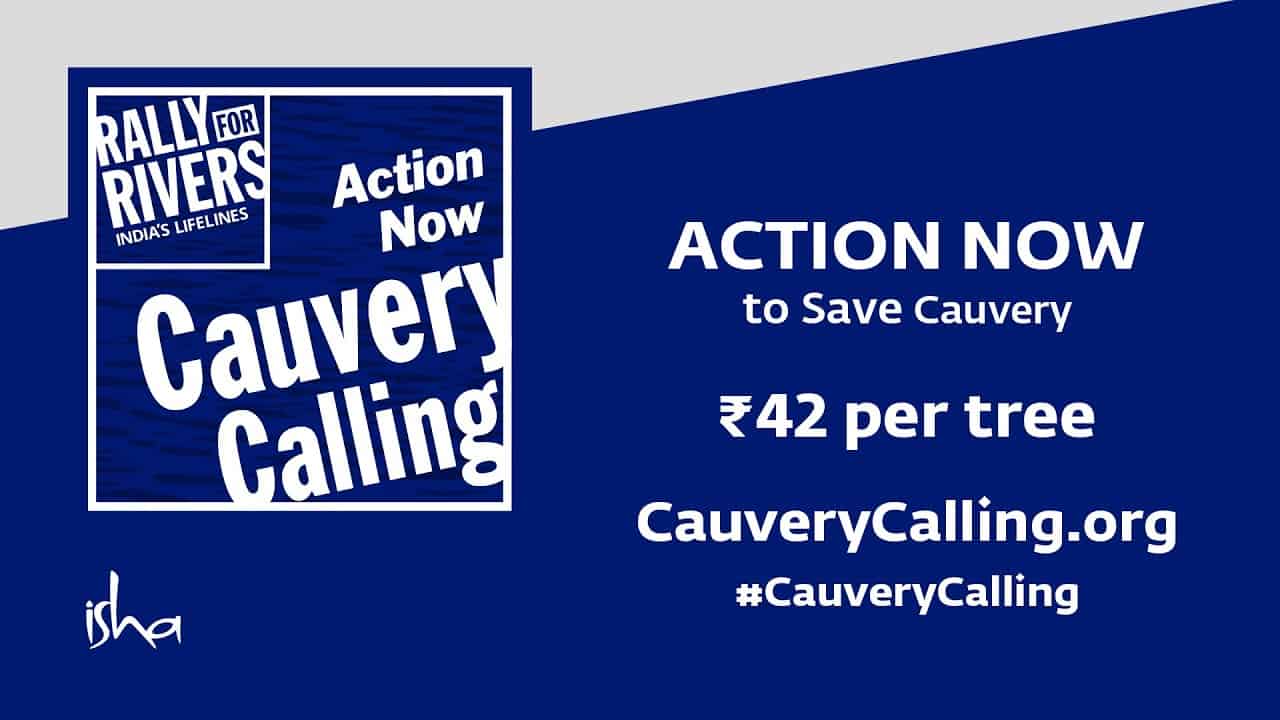 Causes of the water crisis in India
Water is used by the population not just for drinking or for domestic purposes. It is known that approximately 80% of water is used to grow our food. Also, each person's average water requirement is 1.1 million liters per year.
Another major cause of the water crisis in India is the effects of Climate change. A new trend is coming into existence where rivers flood during monsoons while droughts follow for the rest of the year.
Apart from the video released a few days ago for freeing India from the water crisis, there was another video released by the Isha Foundation earlier.
Rivers-Lifelines of India
Sadhguru, in this video, talked about the importance of the river for the country and how they are getting depleted. He calls rivers the lifelines of India.
"Rivers have been the lifelines of this nation and of every nation in some or the way. We are a culture, a civilization which has grown out of a riverbank. All rivers in India are at a dangerous level of depletion. That means, in another 15-20 years' time, most of our rivers will be seasonal. They will not be perennial."
"If you just fly over India, you look down you will see entire India looks like a brown desert. All rivers are drying up like this, Krishna is not touching the ocean for almost four months. Kaveri, two and a half to three months, it doesn't touch the ocean. When the rain comes, it floods, otherwise, there is nothing."
Time to regenerate rivers is now!
Sadhguru states that the time to save and regenerate the rivers has come and if no action will be taken now, India might fall in a situation where there will be no water for the future generation.
"A time has come where how to exploit the water is gone we need to see how to regenerate the river. The rivers in this nation are essentially forest fed. Forest fed river means precipitation happens, because of vegetation it is held and drop by drop it is let off, it becomes small rivulets and rivulets become streams, streams become rivers."
He also provides simple solutions in which rivers can be saved.
"So what do we have to do for this is very simple! For every major river, one kilometer on either side, there must be plantation. If it's government land, forest! If it's farmland, from regular farming to horticulture! Very easily, we can enhance the farmer's income three to eight times in a matter of four to six years' time."
"The farmer will need support-economic and material support to go through this period and come out as a prosperous farmer. If this has to happen, we must make policy, we must give them a subsidy. It needs resolute political action, executive action is needed, policy."
Cauvery calling initiative by Sadhguru Jaggi Vasudev: Join the River rally by Sadhguru
Sadhguru invites the countrymen to participate in the River Rally which will be conducted by him in the month of September.
"In the month of September, we are planning a river rally that is I am personally driving, covering sixteen states having major events to create a very strong awareness in the country that the rivers of this nation are dying. This has to be done in a very organized way. Madhya Pradesh is the first state which responded to my call."
Cauvery calling initiative by Sadhguru Jaggi Vasudev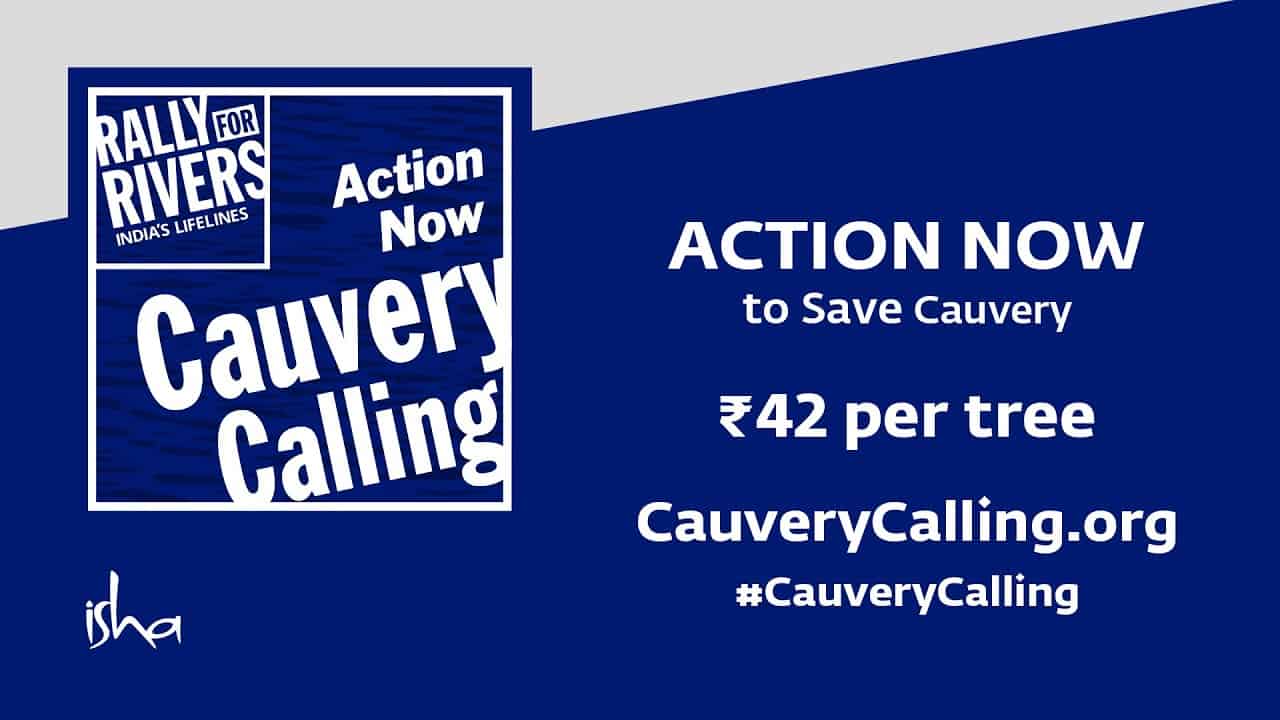 Are we not interested in the future of our children?
He has raised a very important question in the video. Are we not interested in the future of our children?
"If our rivers deplete in our own lifetime, we are clearly making a statement that we are not interested in the future of our children. It is heartening to see today that all of you in great enthusiasm, participating in this movement, give us confidence that we are not going to destroy this nation."
Not just Sadhguru, a lot of people are working with the aim of solving the water crisis in the country. Here is one man named Rajendra Singh –Man who revived 5 Dead Rivers in India: Rajendra Singh The Waterman of India
For thousands of years, these rivers have embraced us and nourished us. A time has come when we have to embrace the river and nourish the river because the greatness of our nation depends upon the great rivers in our country."
Imagine living without water
Sadhguru made us think about the possibility where there will be no water in the country. Will we be able to survive?
"We have a population of 1.3 billion people. I want you to look at this possibility. No water! 1.3 billion people! The civil strife that will happen! What will happen to human beings when there is no water to drink, you can forget about humanity, something else will take force.
Every human being consumes water, air everything else food, land, all of us consume, there's no choice about it but when it comes to doing compensatory action, very few people are doing it. This is the disaster on the planet something so fundamental as water …"
"If river stops flowing, large tracts of India will turn into graveyards." is an impactful statement made by Sadhguru.
"If we don't do the right things in the next ten years, fifteen years' time, it could be too late. If we successfully make this into policy, this will be a landmark thing that's happened in the history of Independent India.
So, this needs to be done right in such a way that there's no ambiguity about whether it will happen or not, it has to happen. This is once-in-a-lifetime, not in our lives, once in a lifetime in a nation's life. I beseech all of you to participate in this whatever way you can. When I say all of you, I mean everyone who consumes water."
Science and Tech to solve water problems? This New technology purifies water using sunlight and is the best thing you will see today
"To have our rivers flowing, to leave this land rich and well, is the best gift we can offer to the future generations of this nation. This is not a protest. This is not an agitation. is a campaign to create awareness that our rivers are depleting. Everyone who consumes water must Rally for rivers."
So are you joining the River Rally?
If not! We believe you are ignorant of the situation faced by India. Do you really want to see another major water crisis this year as we experienced in Chennai?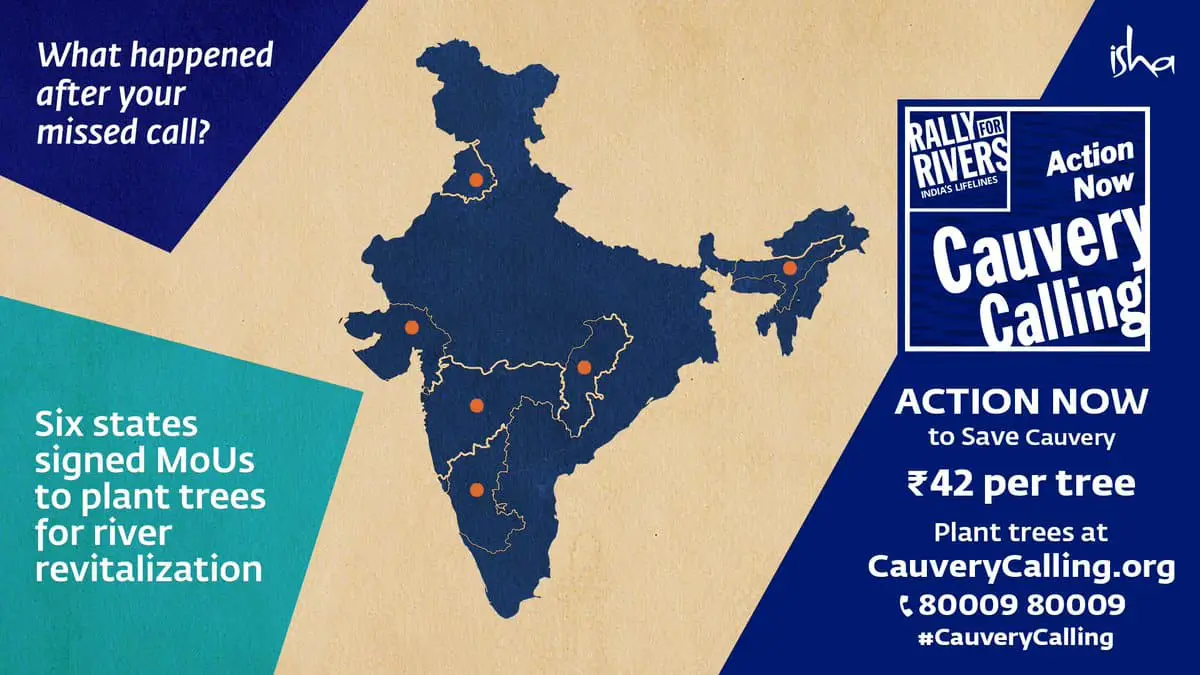 Before you turn your tap off and switch your shower on, just think of the future of your children.

Every day we waste water unknowingly. Think to yourself. Do you keep the tap turned on the entire time you brush your teeth? In summers, do you take a shower twice or thrice a day? Do you think of the poor children who don't even get water to drink when you jokingly throw it on your friend's face?
We know most of the answers to these questions would be No!
Where do we stand?
Can you imagine a situation of drought in India? Will the water be saved by the government initiatives alone?
Change can only be brought when you want it to happen!
We are facing a terrible situation of water in India. Let's promise to make the 73rd year of independence fruitful.
We must participate in the Sadhguru River Rally.
Let's bring a change in our daily habits.
Let's make India blue once again!