Best Calzones Recipe | how to make Calzones | Ingredients | Tutorial
 'The record for the most massive calzone is held by Rulli's Italian Restaurant in Middlebury, Indiana, which baked a most massive Calzone weighing 212 pounds.' Well, it's drastically raining all over India and during this time we all crave to eat something hot and tempting. Therefore, we are here with an amazing calzone recipe, which you can make at home with a handful of ingredients. Many times we crave eating a pizza but it gets cold while reaching home isn't it? What if you make a hot and sizzling calzone pocket at home with all the pepperoni pizza flavours on it? The cheesy texture with ricotta cheese and Parmesan cheese are just mind-blowing. It's a perfect combination of crunchiness and softness where the crust is crunchy whereas inside it's as soft as a marshmallow.
Calzones are aroma kings. They fill the entire surrounding from the kitchen with their enchanting essence. Did you know November one of every year is celebrated as national calzone day? To be honest, there is no limit regarding the filling of this calzone. You can fill in meat, pepperoni, and vegetables like capsicum, tomatoes, corns, jalapeños and different varieties of sauce. The stuffing depends upon your taste and choice. We have made sure that this easy calzone recipe is updated so that you can accurately prepare calzones at home. In case you wish to go to a particular section, just click on the buttons below.
What is a calzone?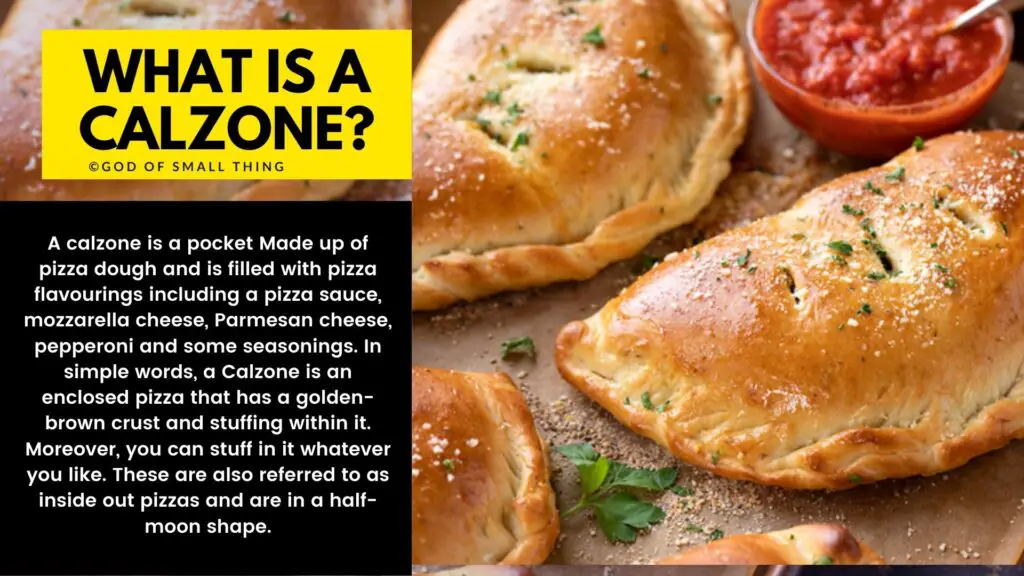 What is a calzone? A calzone is a pocket Made up of pizza dough and is filled with pizza flavourings including a pizza sauce, mozzarella cheese, Parmesan cheese, pepperoni and some seasonings. In simple words, a Calzone is an enclosed pizza that has a golden-brown crust and stuffing within it. Moreover, you can stuff in it whatever you like. These are also referred to as inside-out pizzas and are in a half-moon shape. The cooking mechanism used for making these pockets is baking and you need to trust me, it's delicious. These can be made with versatility and you can have your own favourite flavours in them. Why don't you give it a try?
Looking to host a house party? Serve your friends an amazingly curated Grateful Dead Cocktail. Here's everything you need: Grateful Dead Cocktail Recipe (Each link in the article will open in New Tab so you can don't miss out on what you were here for 🙂
OR
Try impressing your friends out with the Vegas bomb at your party: Vegas bomb Recipe
Calzone and its origination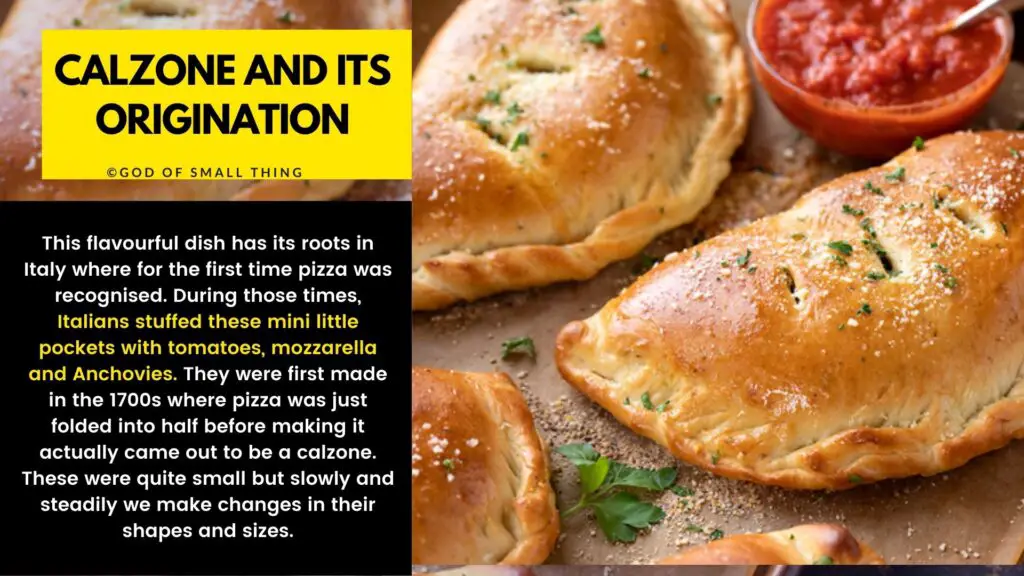 This flavourful dish has its roots in Italy where for the first time pizza was recognised. During those times, Italians stuffed these mini little pockets with tomatoes, mozzarella and Anchovies. They were first made in the 1700s where pizza was just folded into half before making it actually came out to be a calzone. These were quite small but slowly and steadily we make changes in their shapes and sizes. Then, the flight boarded to America where they became. in 1996 for the first time they've appeared on a TV series named Seinfeld. These got a touch of the American flavour where the calzone pocket grew in size and was topped with parsley, olive oil and garlic and served with a dipping. After this, it reached almost every country and now it has become a prominent dish all around the globe.
Must-Try Recipe Recommendations: 1. Boston Roll Sushi Recipe
2. Mexican Sushi roll recipe
3. Easy Popeyes Buttermilk Biscuits recipe
Calzone Ingredients: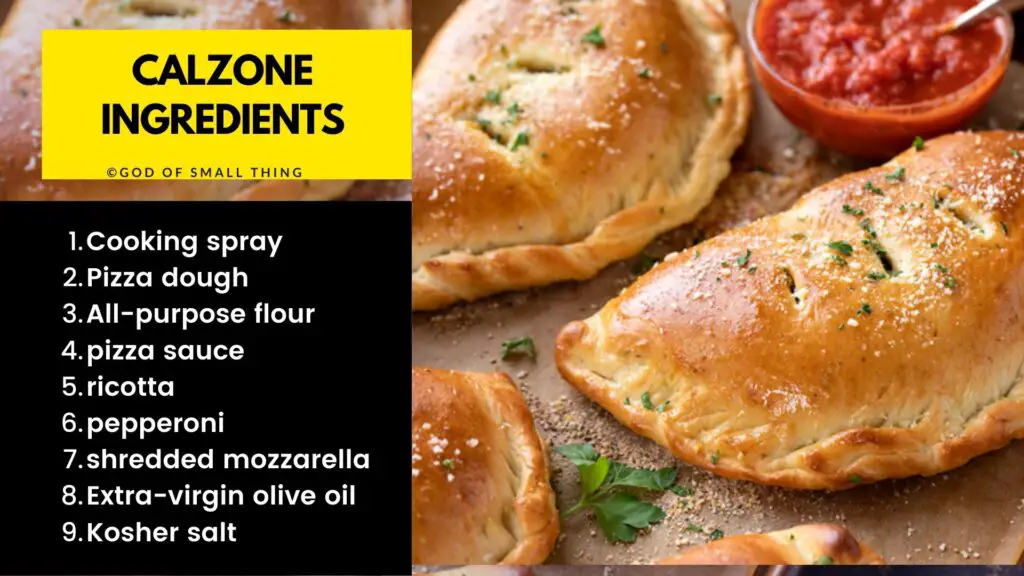 Calzone Ingredients: These ingredients are proportioned to make 4 calzone pockets. All of these Calzone ingredients are easily available and would be flavourful if used fresh. All you need to make sure is that you use these in the right proportion at the right time so that you come up with a perfect calzone.
| | |
| --- | --- |
| Cooking spray |  As needed |
| Pizza dough |  1 3/4 lb. |
| All-purpose flour |  For Dusting |
| pizza sauce |  1 Cup |
| ricotta |  1 Cup |
| pepperoni |  ½ Cup |
| shredded mozzarella |  1 Cup |
| Extra-virgin olive oil |  For Brushing |
| Kosher salt |  As per taste |
Calzone Ingredients
Calzone Recipe
Calzone Step by Step Recipe: For your convenience, we are here with a step-by-step guide as to how you can make these calzone pockets all by yourself at home. We have made sure that the calzone recipe used is easy peasy.
First of all, preheat your oven at 500°C and then start making your calzone.
Grease baking sheets with cooking spray and keep them aside so that your calzone does not stick on the sheet.
Take the dough and cut it into four small pieces.
Dust the flour and roll the dough into an 8-inch circle With 0.25-inch thickness.
Add pizza sauce, ricotta cheese, pepperoni and Mozzarella in the centre and spread it carefully. Make sure that you keep it in a semi-circle only.
Keep in mind that you need to leave at least a centimetre of space from the outer line so that you can fold them easily.
Now gently with the help of water seal your calzone and pinch it together. Make sure that the edges do not have any opening.
Shift these pockets to the baking sheet carefully to make sure that it does not break.
Brush it with olive oil and sprinkle water so that it remains moist
Take a knife and makes slits on the upper part of the calzone to give it a perfect texture
Bake it for around 20 minutes and in-between keep brushing it once or twice.
Once you remove it out of the oven, make sure that you leave it for at least 3 to 5 minutes so that it gathers all the crunchiness.
Serve it hot and fresh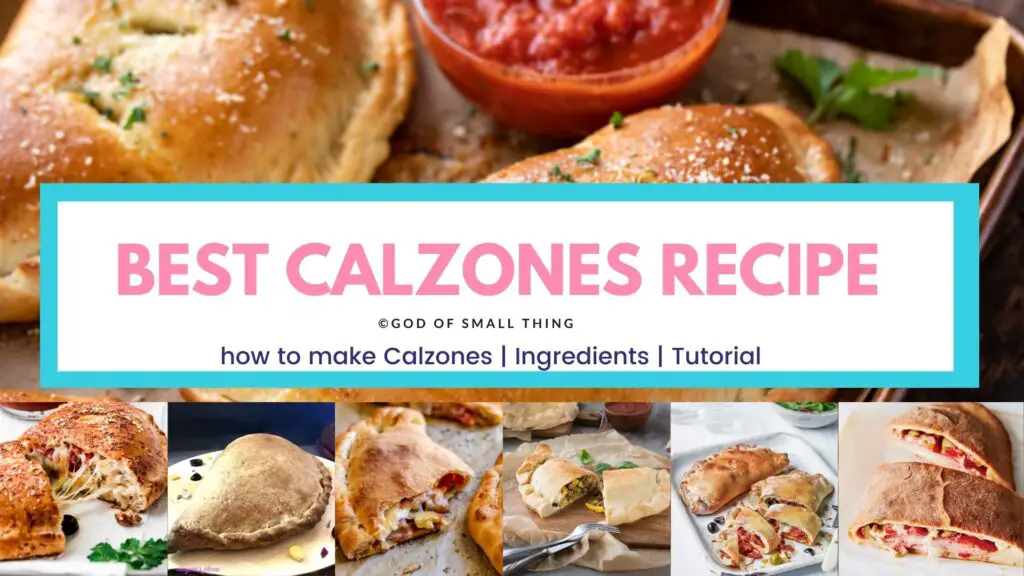 How much time will it take to make a calzone?
Calzone Preparation Time
| | | |
| --- | --- | --- |
| Yield | Prep. Time | Total Time |
| 4 | 15 Minutes | 50 Minutes |
Calzone Preparation Time
Calzone Nutritional Value:
These facts are for 1 piece of Calzones.
| | |
| --- | --- |
| Calories |  578 |
| Fat |  28g |
| Saturated Fat |  12g |
| Cholesterol |  62mg |
| Sodium |  1690mg |
| Potassium |  227mg |
| Carbohydrates |  58g |
| Fiber |  2g |
| Sugar |  9g |
| Protein |  26g |
| Vitamin A |  508IU |
| Vitamin C |  2mg |
| Calcium |  286mg |
| Iron |  4mg |
Calzone Nutritional Value
[Video Tutorial] How to Make Calzone at Home
What's good in a calzone?
Everything is good in calories and there can be nothing bad. Everything is exceptional starting from the pepperoni, the cheese, the Italian seasoning and the soft and crispy crunch. The best quality of a calzone is that it can be moulded into anything and can be stuffed with everything. You can also have a spinach, cheese and corn calzone then you have it on your plate.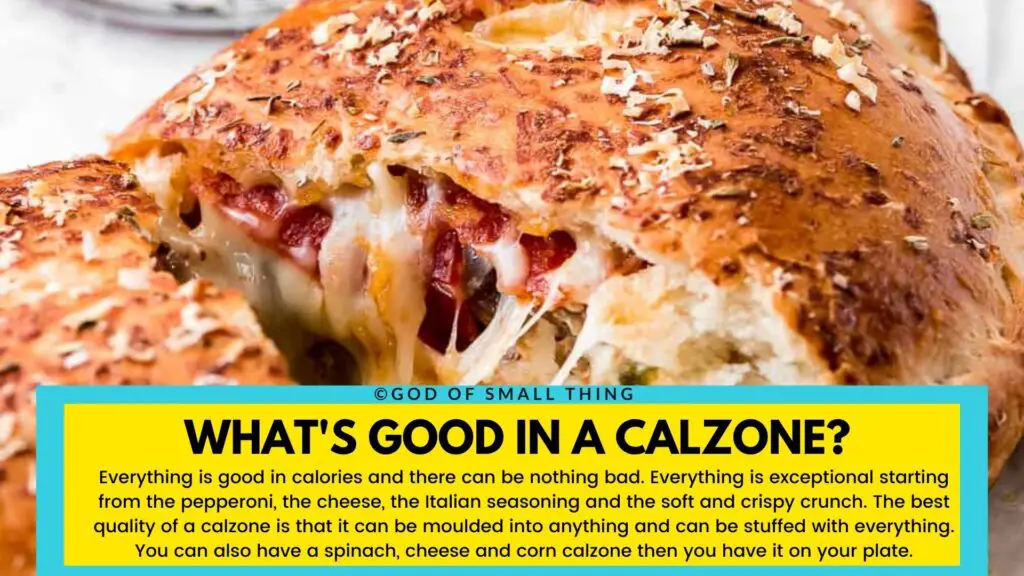 Are calzone and pizza dough the same?
Yes, while making the calzones we use the pizza dough to give it the same texture and flavour. It is much easier to have a calzone because everything is closely packed in it. Moreover, it is very simple to make as it is a small pocket. And yes, the cheese melts flawlessly in a calzone as compare to that of a pizza. To make these pockets delicious follow the calzone recipe properly.
Can you freeze calzones?
To be honest, a calzone is definitely the tastiest element on this earth when eaten fresh and hot. But, you can completely freeze them into tight plastic wraps and then freeze them. All you need to make sure is that when you cook them again you have a bit higher temperature so that these can turn hot
What's the difference between a calzone and a Stromboli?
The way a calzone and a Stromboli are sealed is the main distinction. Calzones are sealed by folding them in half and crimping their edges. A Stromboli is sealed by spiralling it and folding the excess dough back over the Stromboli. To ensure that the dough does not stick to the pans, both are egg washed.
Must-Try Recommendations:
Top 10 Best Restaurants in Delhi based on User Reviews