Complete Travel Guide to 12 Jyotirlingas in India – Temples of Lord Shiva
Jyotirlinga is a Sanskrit word made with the compound of words – Jyoti meaning 'radiance' and lingam meaning 'sign'. The literal English translation of Jyotirlinga is 'radiant sign of almighty'. The Jyotirlingas are the holy shrines dedicated to the worship of Lord Shiva. Connected with deep spiritual importance, these Jyotirlingas are the most sacred shrines of Lord Shiva. Jyotirlingas have tremendous religious significance in India and even foreigners plan a trip to witness the presence of Lord Shiva. There are 12 jyotirlingas in India. The 12 Jyotirlingas are the most visited and renowned Temples of Lord Shiva. If you are a devotee of Lord Shiva or if you love to go on spiritual trips – you must visit all the 12 Jyotirlingas. Read this article to sort out your Travel requirements and embark on this journey.
It is believed in India that these 12 Jyotirlingas are self-manifested. According to legends and Hindu texts, the Jyotirlingas are the temples where Lord Shiva appeared as an infinite pillar of light on the Earth in 64 places. You can also read the context of the incident in Shiv Purana. Without any further delay, let us go on a religious journey to the 12 Jyotirlingas in India together.
What are the 12 Jyotirlingas in India?
12 Jyotirlinga in India with Locations: Spread all over India, the 12 Jyotirlingas are the main temples of Lord Shiva. They are frequently visited by devotees and are a site of pilgrimage. While planning your trip to these sacred sites, you must be familiar with all the Jyotirlingas with their locations.
Somnath Jyotirlinga in Gujarat
Bhimashankar Jyotirlinga in Maharashtra
Trimbakeshwar Jyotirlinga in Maharashtra
Grishneshwar Jyotirlinga in Maharashtra
Nageshwar Jyotirlinga in Gujarat
Mahakaleshwar Jyotirlinga in Madhya Pradesh
Omkareshwar Jyotirlinga in Madhya Pradesh
Baidyanath Jyotirlinga in Jharkhand
Kashi Vishwanath Jyotirlinga in Uttar Pradesh
Kedarnath Jyotirlinga in Uttarakhand
Mallikarjuna Jyotirlinga in Andhra Pradesh
Rameshwaram Jyotirlinga in Tamil Nadu
Let us enrich ourselves with the divine knowledge about all the 12 Jyotirlingas in a little detail.
1. Somnath Jyotirlinga, Gujarat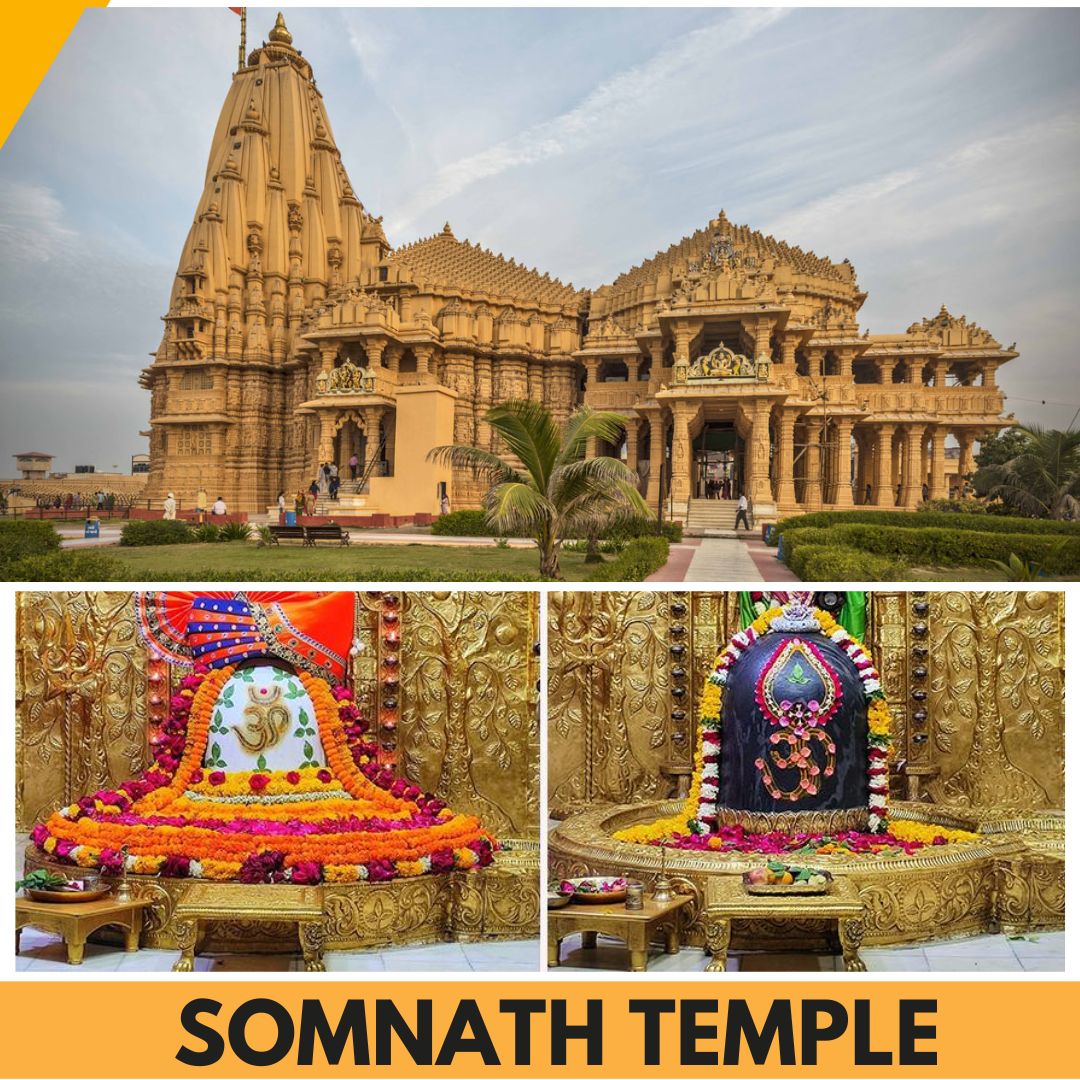 Somnath is considered to be the first Jyotirlinga – the most acknowledged and worshipped pilgrimage site. The temple has a strategic location on the western coast of India. The Mandir was destroyed 16 times by Muslim invaders but was rebuilt and never lost its sacred essence and beauty. Somnath has been a pilgrimage site since ancient times. The new Somnath temple has intricate carvings and is the epitome of beautiful architecture. Indian scriptures suggest that Somnath has a close relationship with the release of the Moon God from the curse of Daksha Prajapati. When the Moon started worshipping Lord Shiva to dissolve the curse, Lord Shiva was pleased with the great devotion of the Moon. Lord Shiva then lifted the curse and relieved him. Somnath Jyotirlinga is rich in heritage and is the most popular religious site. The best time to visit Somnath is October-March.
Somnath Jyotirlinga Address: Somnath Mandir Rd, Somnath, Gujarat. The temple is located in Prabhas Patan, Veraval, Gujarat.
How to Reach Somnath Temple: Buses are the best and most reliable option to travel to Somnath from nearby cities. The closest train station is Veraval Railway Station
Somnath Temple timings: The Mandir timings are from 6 AM to 10 PM
Somnath Temple Aarti timings: Aarti timings are 7 AM in the morning, 12 Noon, and 7 PM in the evening. The light and sound show starts at 8 PM and ends at 9 PM.
If you are planning a trip to connect with god and the supreme power, you would love to read about the Top 30 Famous Temples in India. Click here to enter a world full of charming temples and their alluring glory. – Famous Temples in India
2. Bhimashankar Jyotirlinga, Maharashtra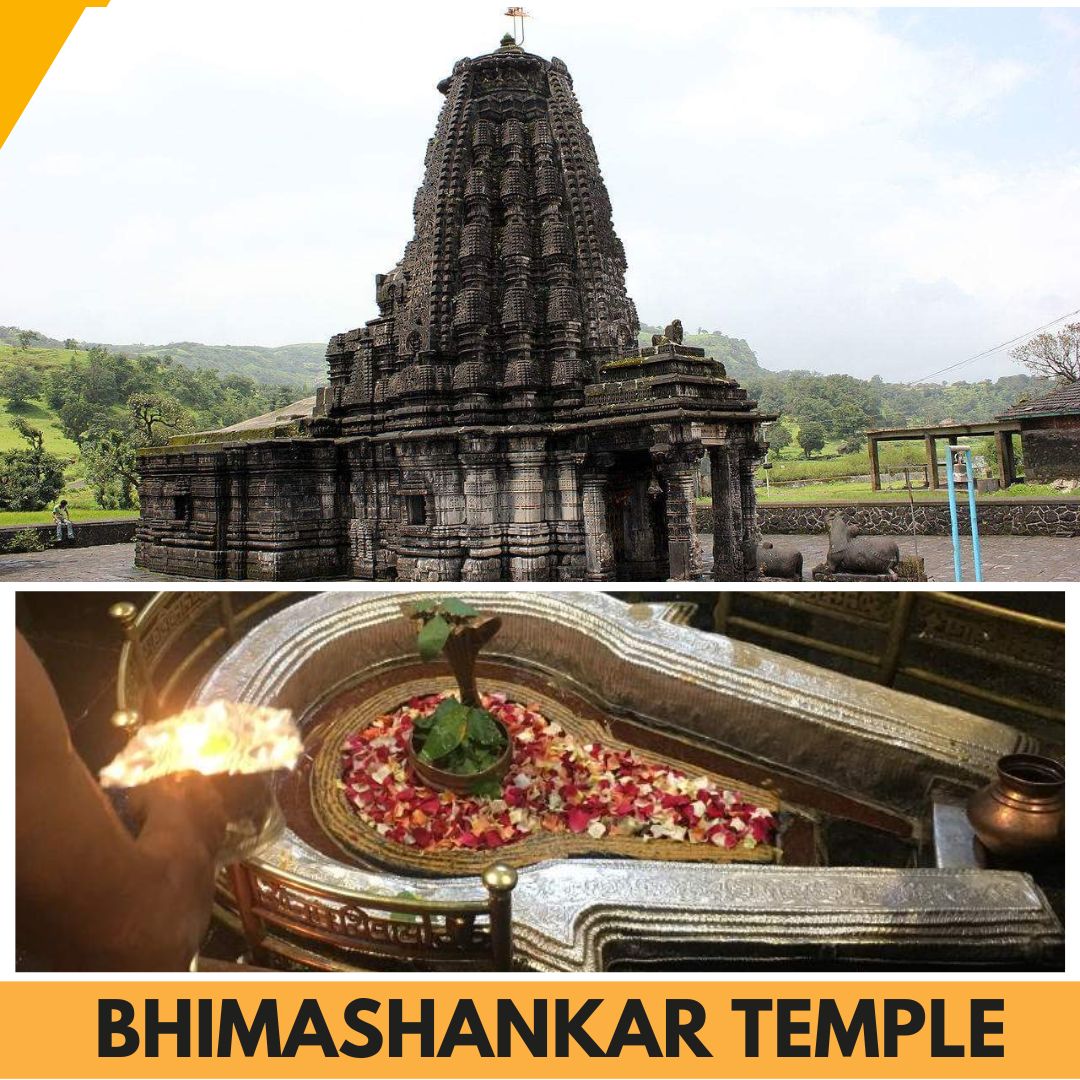 Located on the banks of River Bhima, the Bhimashankar temple is one of the 12 Jyotirlinga shrines. The Bhimashankar temple has exemplary architecture and showcases the excellent skills of ancient Vishwakarma sculptors. The divine presence of Lord Shiva in the beautiful Mandir captures the soul of many visiting the shrine. The temple dates back to the 13th century, although the structure is new. A big bell that was built by Nana Phadnavis is a famous site at Bhimashankar. Bhimashankar Temple is a paradise for all the devotees and is a beautiful site to behold. A trip to this scared Jyotirlinga can liberate you from all the anxiety and take you closer to Lord Shiva.
Bhimashankar Jyotirlinga Address: 3GCP+Q9G, A/p Bhimashankar wadi Tal-khed district, Maharashtra
How to Reach Bhimashankar Temple:
Airport – The nearest airport is Pune Airport. Pune Airport – 105 KM
Train – There are no direct rail routes to Bhimashankar Temple. The nearest railway station is Pune, 111 km away from the Temple.
Road – Bus Stand: 0.4 KM. Regular buses are available from Pune from 5:30 AM to 4 PM. 
Bhimashankar Temple timings: The temple is open from 4:30 AM to 9:30 PM
Bhimashankar Temple Aarti timings: Aarti timings are 4:30 AM in the morning, 3:00 PM in the afternoon, and 7:30 PM in the evening. The full schedule of the Bhimashankar temple is here.
Do you know there are 5 Jyotirling in Maharashtra alone? In case you are planning to visit all of them in one go. here is a travel guide to 5 Jyotirlinga in Maharashtra Travel Guide with Everything You need to know! – Jyotirlinga in Maharashtra
3. Trimbakeshwar Jyotirlinga, Maharashtra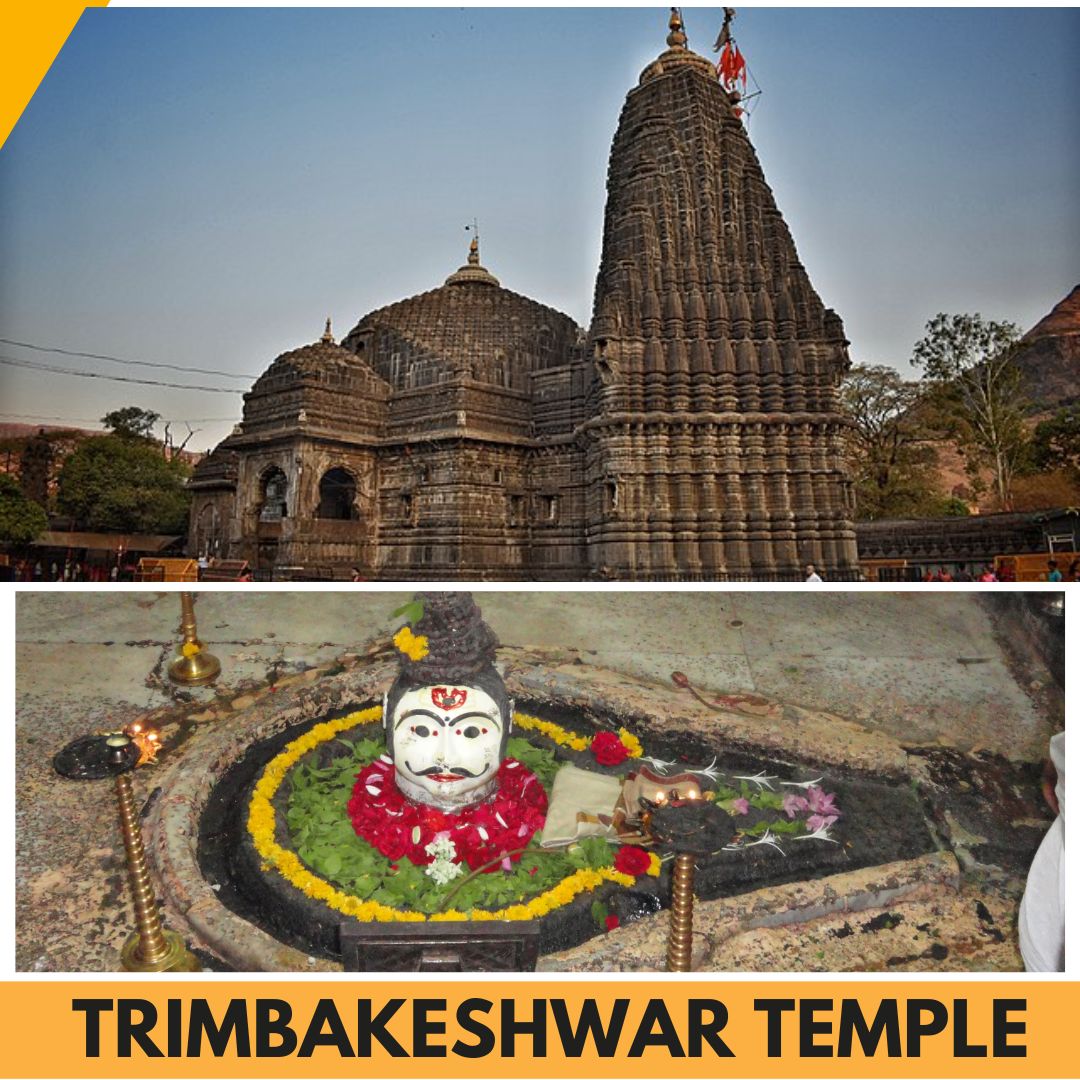 Trimbakeshwar Temple is in near Nasik, in the town of Trimbak. The sacred river Godavari, the most important in Maharashtra, originates near Trimbak. The Trimbakeshwar Temple was built by Peshwa Balaji Baji Rao after it was destroyed and left in ruins by the invaders. The temple has a strategic and alluring location between three hills – the Brahmgiri, Nilagiri, and Kalagiri. The Trimbakeshwar Jyotirlinga has a captivating shape with three lingas representing the most powerful gods – Brahma, Vishnu, and Mahesh. The Jyotirlinga embodies the infinite nature of Lord Shiva. Lord Shiva is the essence of worldly existence, sansarsaram, and one can experience his power at Trimbakeshwar. According to the legends of Shiv Purana, on the request of Gautam Rishi, River Godavari, and other gods, Lord Shiva appeared in the form of Trimbakeshwar.
Trimbakeshwar Jyotirlinga Address: Shrimat Peshve Path, Trimbakeshwar, Nasik, Maharashtra
How to Reach Trimbakeshwar Temple:
Air: The nearest airport is Chhatrapati Shivaji International Airport, Mumbai, which is roughly three and a half-hour drive from Nashik.
Train: The nearest rail station is Igatpuri, Nasik. It is also accessible via the Mumbai train station.
Road: The distance between Nashik to Trimbakeshwar by Road is 29 Km.
Trimbakeshwar Temple timings: 5:00 AM to 9:30 PM
Trimbakeshwar Temple Aarti timings: Aarti timing is 5:30 AM to 6:00 AM.
4. Grishneshwar Jyotirlinga, Maharashtra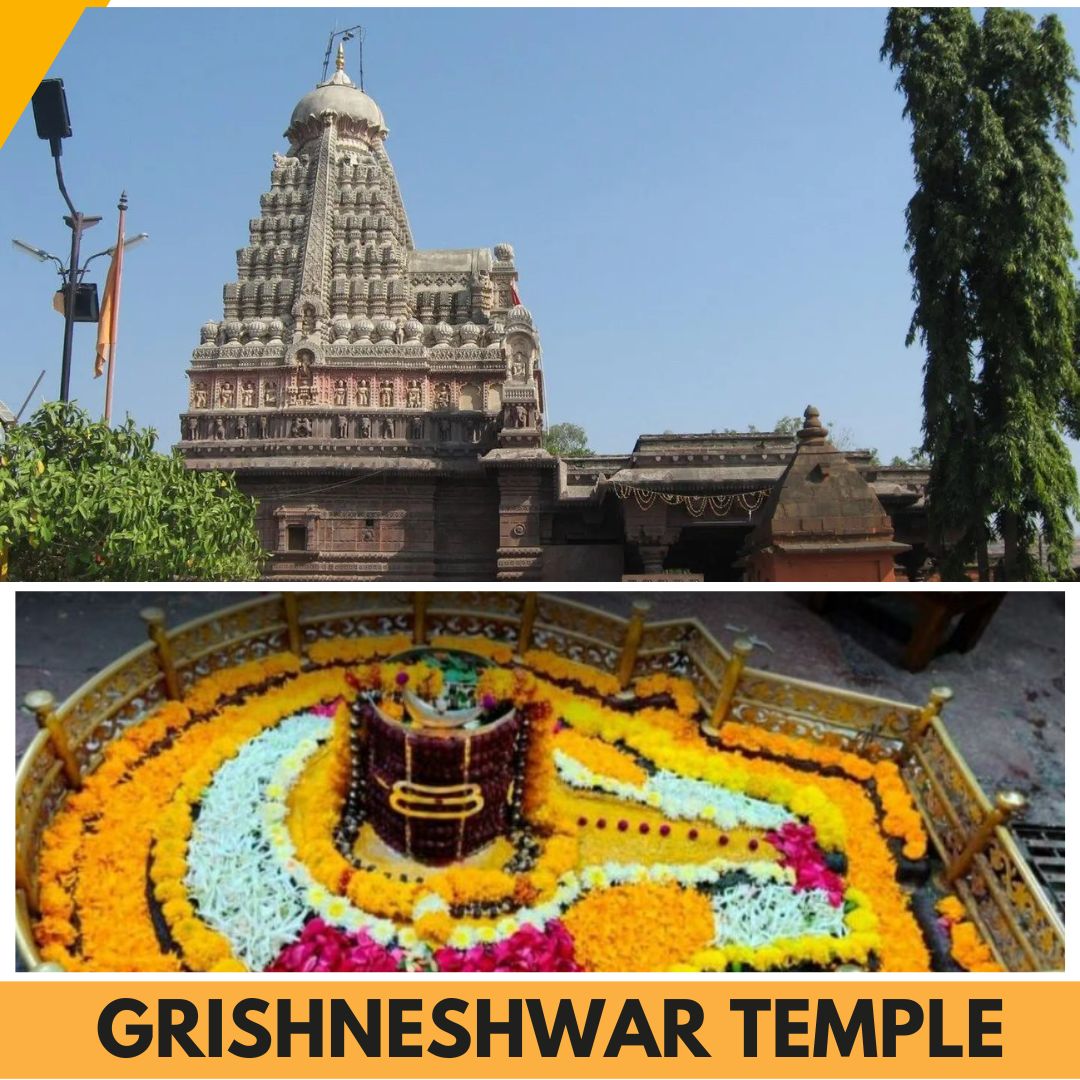 Grishneshwar Jyotirlinga Temple is one of the shrines dedicated to Lord Shiva and is located in Ellora, less than a kilometer from Ellora Caves. The word Grishneshwar means, "lord of compassion" and the Grishneshwar Temple is an important pilgrimage site and lays the foundations of Hinduism traditions. The Grishneshwar temple was built by Ahilyabai Holkar, who was a great devotee of Lord Shiva. All her decision used to involve the sight and religious presence of Lord Shiva. According to Shiv Purana, Lord Shiva manifested himself at Grishneshwar as Jyotirlinga at the request of Sudharm. The temple has an intricate structure giving way to excellent red rock carvings. The temple showcases various carvings of Hindu gods and goddesses.
Grishneshwar Jyotirlinga Address: Grishneshwar Temple Road, Verul, Maharashtra
How to Reach Grishneshwar Temple:
By Road: Grishneshwar Temple has accessible routes from all major cities via road. Government buses are also available from Aurangabad, Pune, and other major cities.
By Train: Aurangabad is the nearest railway station. Manmad is a better option and is at a distance of 86 KM.
By Flight: The nearest airport is in Aurangabad, at a distance of 29 Km from Grishneshwar. Regular flights are available from Delhi, Mumbai, Jaipur, and Udaipur.
Grishneshwar Temple timings: 5:00 AM to 9:00 AM
Grishneshwar Temple Aarti timings: Evening aarti at 7:30 PM in summer and 5:30 PM in winter
5. Nageshwar Jyotirlinga, Gujarat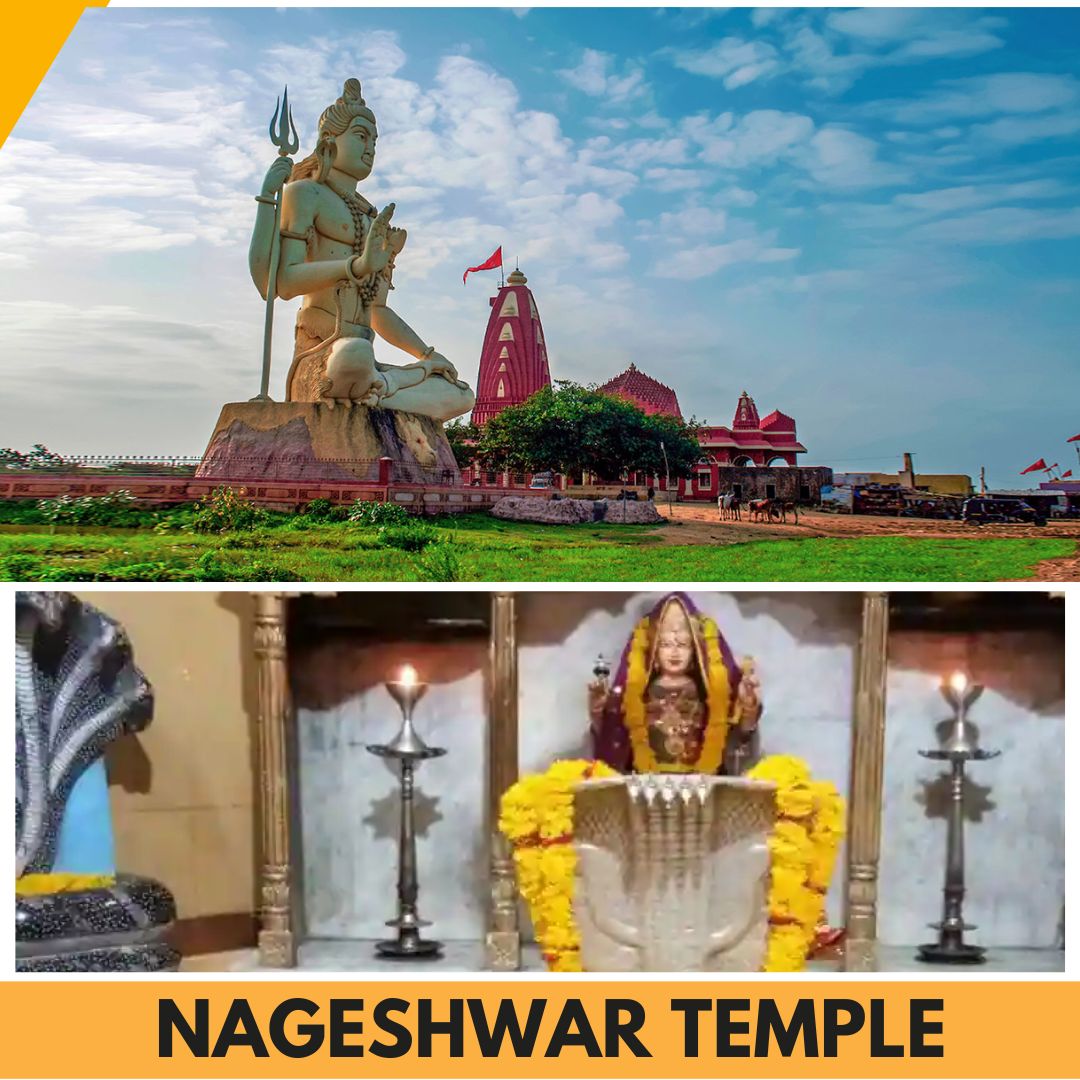 Nageshwara is a very popular Shiv Temple in India and is home to one of the twelve Jyotirlingas. In a story in Shiv Purana, a demon – Daruk, imprisoned a Shiv devotee Supriya in Darukavana along with other prisoners. Supriya and others prayed to Lord Shiva and Lord Shiva, who is compassionate toward everyone, freed them. Lord Shiva later manifested himself there as a Jyotirlinga. The temple has a red building and inside is a beautiful hall, at the end of which, lies the Jyotirlinga. The famous Gopi Talav Tirth is close to the temple and the lake has tremendous spiritual significance as the gopis used to visit Lord Krishna here.
Nageshwar Jyotirlinga Address: Nageshwar – Gopi Road, Daarukavanam, Gujarat
How to Reach Nageshwar Temple:
Air- The nearest airport to Dwarka is the Porbandar Airport at a distance of 116 km from Nageshwar Temple. You can fly to Sardar Vallabhbhai Airport, Ahmedabad, and then board planes.
Train- The Dwarka Railway Station is about 15 km from the Temple.
Road- There are direct buses available from Jamnagar and Ahmedabad.
Nageshwar Temple timings: 5:00 AM to 9:00 PM
Nageshwar Temple Aarti timings: 6:45 PM to 7:15 PM
6. Mahakaleshwar Jyotirlinga, Madhya Pradesh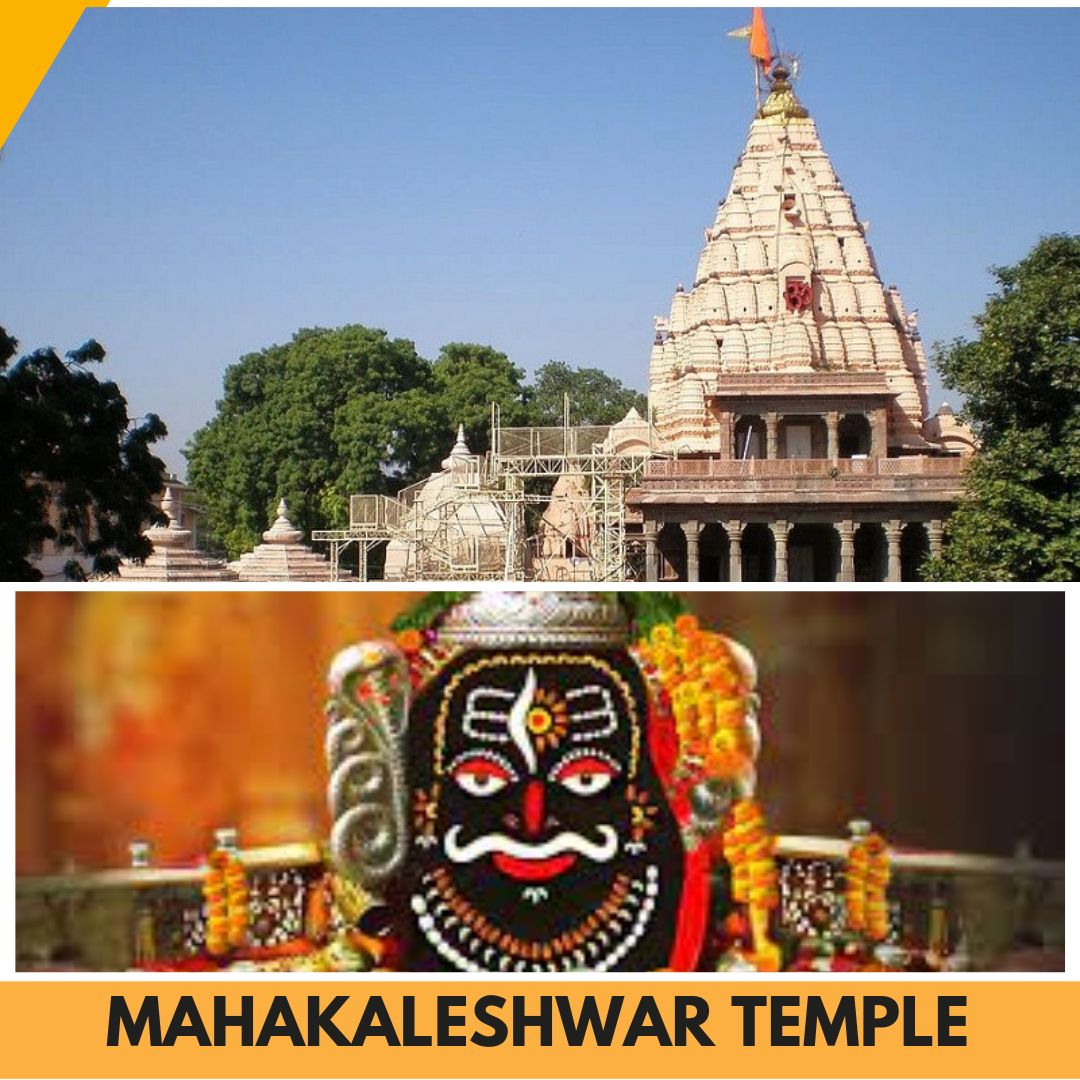 Mahakaleshwar Temple is a legendary temple of Lord Shiva and is one of the most important temples in India. It is located in Ujjain on the banks of the holy river Kshipra. Mahakaleshwar is the only Jyotirlinga among the 12 to have the idol of Mahakaleshwar as dakshinmukhi, which means it is facing south. The temple has a unique and traditional architecture with five levels, one of which is underground. The Mahakaleshwar form of Lord Shiva watches over the people of Ujjain and the shikhar of the Mahakaleshwar temple is majestic in all its glory. The Jyotirlinga is one of the 18 Maha Shakti Peetham. The Mahakaleshwar Temple is also one of the Mukti-Sthal and it can liberate a human being from this mortal world. The temple has immense religious importance.
Mahakaleshwar Jyotirlinga Address: Harsiddhi Marg, Jaisinghpura, Ujjain, Madhya Pradesh
How to Reach Mahakaleshwar Temple:
Air – The nearest airport is Indore, 53 km away from Ujjain.
Train – Ujjain is well-connected via train routes to major cities like Delhi, Mumbai, Chennai, Bengaluru, Hyderabad, Ahmedabad, Benaras, Kochi as well as Jaipur.
Road – Many bus services are available from cities like Indore, Surat, Mumbai, Pune, Udaipur, Nasik, and Mathura.
Mahakaleshwar Temple timings: 3:00 AM to 11:00 PM
Mahakaleshwar Temple Aarti timings: The timing of Bhasma Aarti is from 4:00 AM to 6:00 AM and the timing of Shri Mahakal Aarti is from 7:00 PM to 7:30 PM in the evening.
Vrindavan and Mathura are famous for their connections with Lord Krishna. The two places are rich in Indian culture and offer insights on the roots of Hindu traditions. People from all-over India plan trips to Vrindavan and Mathura to experience the presence of Lord Krishna. If you are looking for a chance to visit Vrindavan and Mathura, your time is now! Click here to explore the complete travel guide to Famous and best temples in Mathura and Vrindavan. – Temples in Mathura and Vrindavan
7. Omkareshwar Jyotirlinga, Madhya Pradesh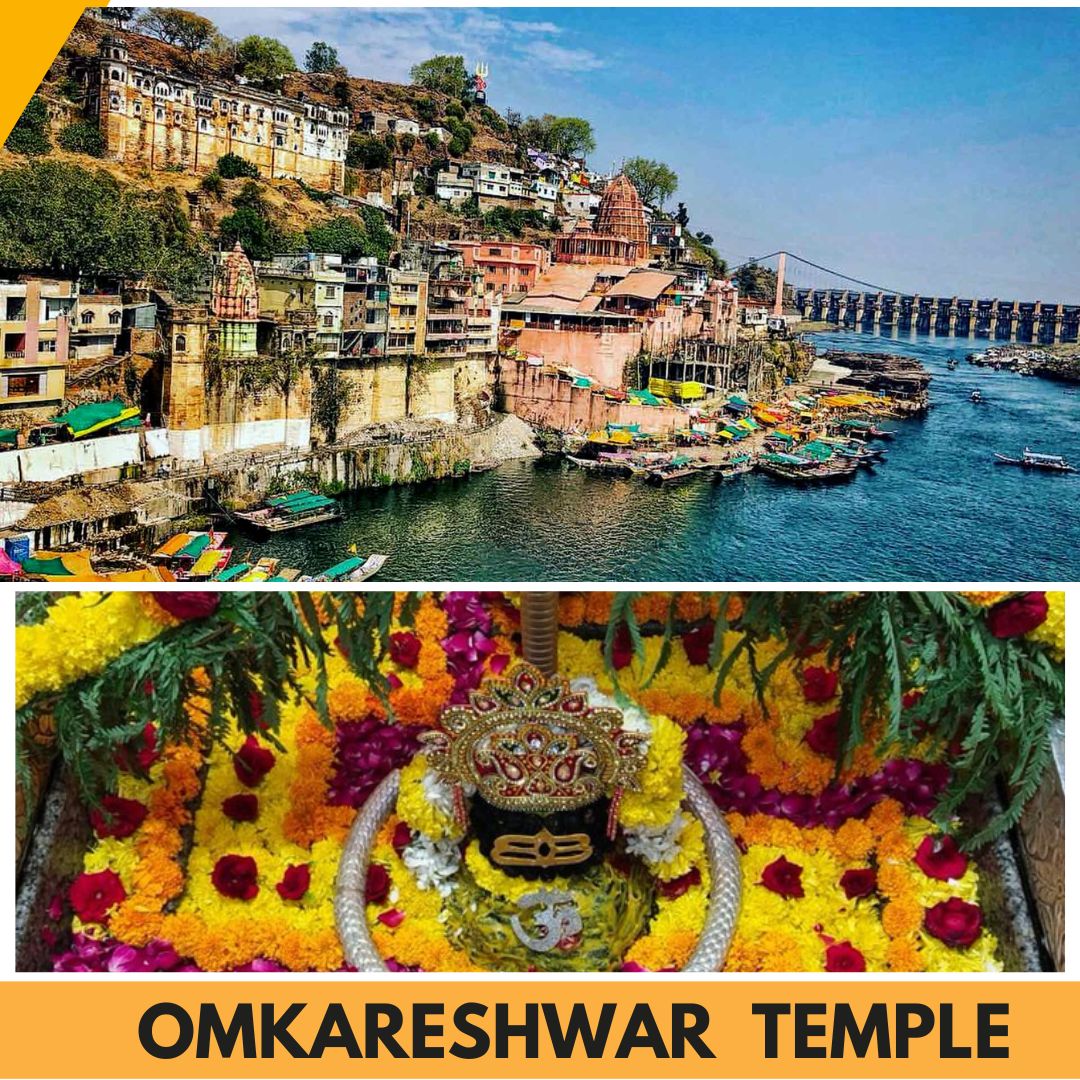 Omkareshwar means "Lord of the sound Om". The sound Om has immense religious importance in the Hindu religion. Omkareshwar is one of the most precious Shiv Temples in India and the temple is on an island, Shivpuri on the Narmada river. The temple is famous for its history and regal and traditional architecture. A story from Hindu scriptures reveals that once there was a war between the Gods and the Demons. The Devas prayed to Lord Shiva to guide and help them win over the Demons. Lord Shiva was pleased with their requests and appeared in the form of Omkareshwar Jyotirlinga and defeated the Danavas.
Omkareshwar Jyotirlinga Address: Mandhata Island Khandwa, Omkareshwara, Madhya Pradesh
How to Reach Omkareshwar Temple:
Air: The nearest Domestic Airport is Devi Ahilyabai Holkar Airport, Indore, roughly a two-hour drive from Omkareshwar. It is well-connected to all major cities. You can drive from there to Omkareshwar.
Train: Omkareshwar has its own Railway Station named Omkareshwar Railway Station which is located at a distance of 12 Km from Omkareshwar city. It is situated on the major Ratlam-Khandwa railway line and is linked with the cities like New Delhi, Bangalore, Mysore, Lucknow, Chennai, Kanyakumari, Puri, Ahmedabad, Jaipur, and Ratlam.
Road: Omkareshwar is 73 Km from Khandwa, and 86 km from Indore.
Omkareshwar Temple timings: 5:00 AM to 9:00 PM
Omkareshwar Temple Aarti timings: Mangala Aarti at 5:00 AM in the morning and Sayana Aarti at 8:30 PM in the evening
8. Baidyanath Jyotirlinga, Jharkhand
The Baidyanath temple is also famous as Baba Baidyanath Dham and Baidyanath Dham. The Baidyanath Temple has 21 other temples in its vicinity. The shikhara of the temple has a pyramid structure and devotees in huge numbers come to offer their prayers. The Maa Parvati Temple is connected with the Jyotirlinga temple with auspicious red threads, representing the unity of Lord Shiva and Maa Shakti. The Jyotirlinga is very famous for the mela of Shravana maas, between July and August. Devotees from across the country collect here to offer holy water of the Ganges to the deity. As a token of love for his highest devotee, Lord Shiva said that this place will be remembered by his name, hence Baba Baijnath Dham (later elevated to Baba Baidyanath Dham).
Baidyanath Jyotirlinga Address: Pera Gali, Shivganga Mohalla, Deoghar, Jharkhand
How to Reach Baidyanath Temple:
By Air – The nearest airport is Jayaprakash Narayan Airport, Patna, at a distance of 260 km. There are daily flights from major Indian cities. Another airport is Ranchi airport, which is at a distance of 270 km.
By Train – The nearest railway station is the Jasidih railway station, which is 7 km from Baidyanath temple.
By Road – Deoghar city is well connected with other Indian cities. Daily buses are available from Patna, Ranchi, or Kolkata.
Baidyanath Temple timings: 7:00 AM to 5:00 PM
Baidyanath Temple Aarti timings: Not available
9. Kashi Vishwanath Jyotirlinga, Uttar Pradesh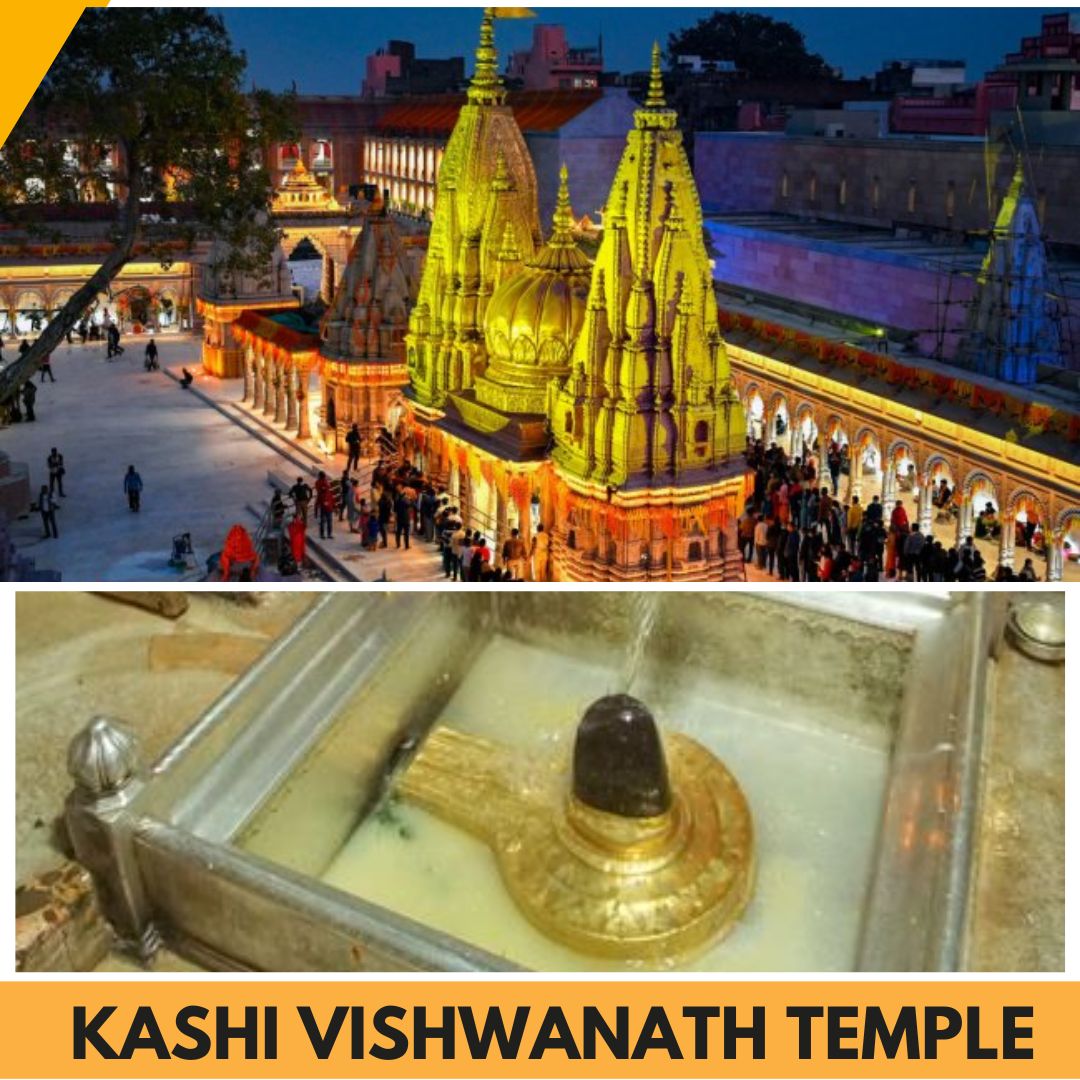 Kashi is the home of Baba Bholenath – Lord Shiva. The spiritual capital of India, Varanasi is rich in temples of Lord Shiva and preserves the essence of the Hindu religion in every sense. Kashi Vishwanath is the most prestigious and prominent temple of Lord Shiva, not just in India but in the world. The temple stands on the banks of the river Ganga and is where one can find true peace and connect to the supreme power. Devotees visit the Jyotirlinga temple for months and the mandir is home to people who come here for salvation. The Kashi Vishwanath Corridor recently gave a captivating edge to the temple. The Kashi Vishwanath temple stands in glory and prominence.
Kashi Vishwanath Jyotirlinga Address: Vishwanath Gali, Varanasi, Uttar Pradesh
How to Reach Kashi Vishwanath Temple:
Air – The nearest airport to the city is Babatpur which is 22 km from Varanasi. Direct flights are available from all major cities and the airport is well-connected.
Train – The nearest Railway Station is Varanasi Junction, Varanasi City, and Banaras. Varanasi is very well-connected to all parts of the country.
Road – Local transport is available effectively within the city. Buses run from all major cities including Lucknow, Kanpur, and Azamgarh.
Kashi Vishwanath Temple timings: Temple is open from 4:00 AM to 9:00 PM for darshan. The Mandir is closed on Sundays.
Kashi Vishwanath Temple Aarti timings:
Mangala Aarti – 3:00 AM to 4:00 AM
Bhog Aarti – 11:15 AM to 12:20 PM
Sapta Rishi Aarti – 7:00 PM to 8:15 PM
Shrungar Aarti – 9:00 PM to 10:15 PM
Shayana Aarti -10:30 PM to 11:00 PM
10. Kedarnath Jyotirlinga, Uttarakhand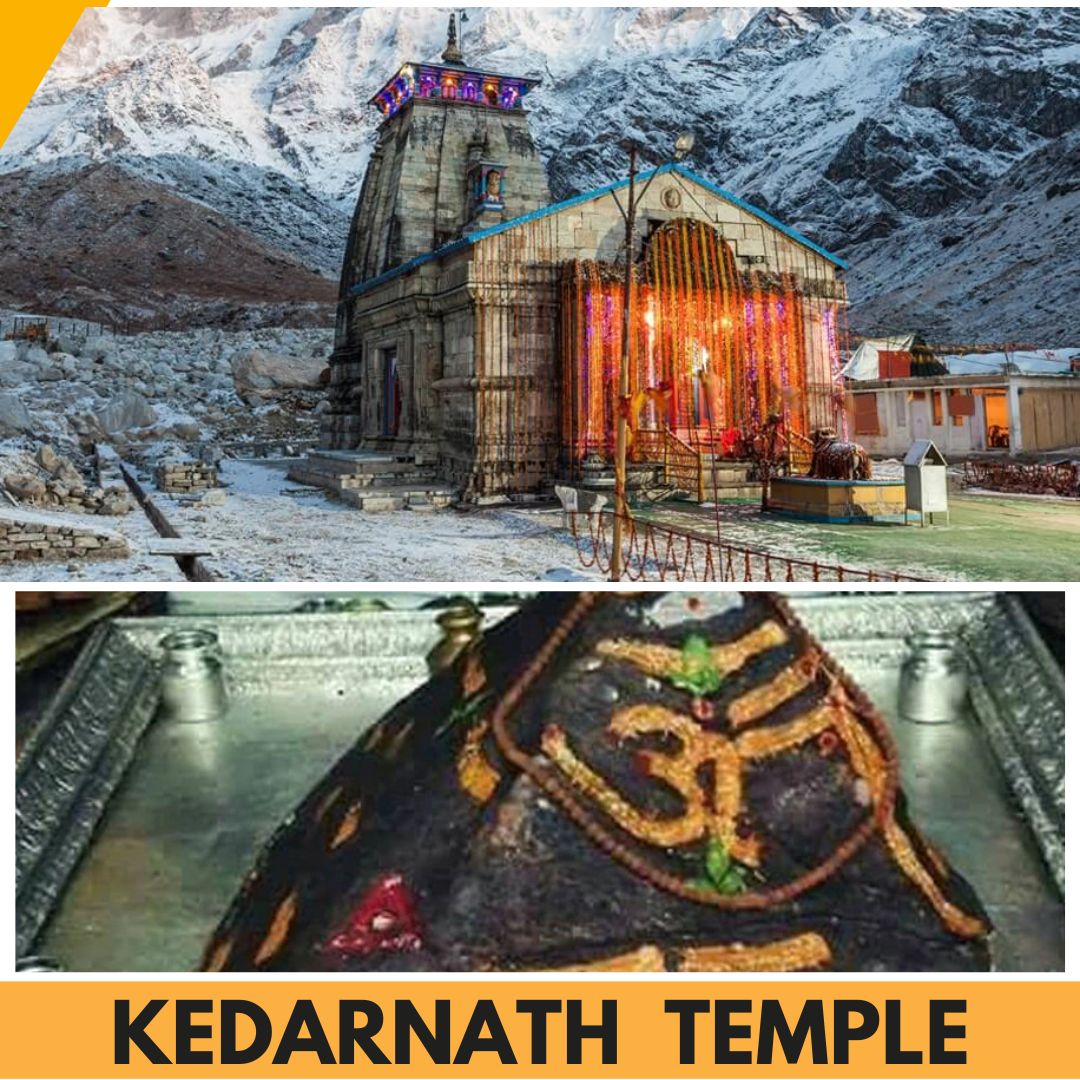 Kedarnath temple is in the Rudra Himalayan Ranges at an elevation of 12,000 feet. It is difficult to reach the temple and devotees line up with sticks to trek to the mountain and reach the temple. Due to severe weather conditions, the temple only opens for 6 months in summer. Kedarnath temple is very sacred and is also one of the chaar dhams along with Yamunotri, Gangotri, and Badrinath. According to Hindu beliefs, a trip with devotion to Kedarnath will liberate you from all your problems and misfortunes. The Kedarnath temple is more than 1200 years old. The 2013 flash floods affected Kedarnath in the worst way possible. The Kedarnath town and surrounding areas turned to ruins but the temple structure remained intact and did not suffer any damage.
Kedarnath Jyotirlinga Address: Gauri Kund, Kedarnath trekking way, Kedarnath, Uttrakhand
How to Reach Kedarnath Temple:
Air: Jolly Grant Airport is the nearest airport to Kedarnath, situated 238 km away. The airport is connected to Delhi, Lucknow, Mumbai, Bangalore, and Thiruvananthapuram. 
Train: Rishikesh Railway station is the nearest railhead from Kedarnath. Rishikesh to Kedarnath distance is 216 km. This railway station is well connected to major cities and towns of the country.
Road – Gaurikund is the nearest accessible area from Kedarnath. One can board buses from Dehradun, Rishikesh, Haridwar, Pauri, Tehri, Srinagar, and Chamoli.
Kedarnath Temple timings: 4:00 AM to 9:00 PM
Kedarnath Temple Aarti timings: Shyam Aarti at 7:00 PM in the evening.
11. Mallikarjuna Jyotirlinga, Andhra Pradesh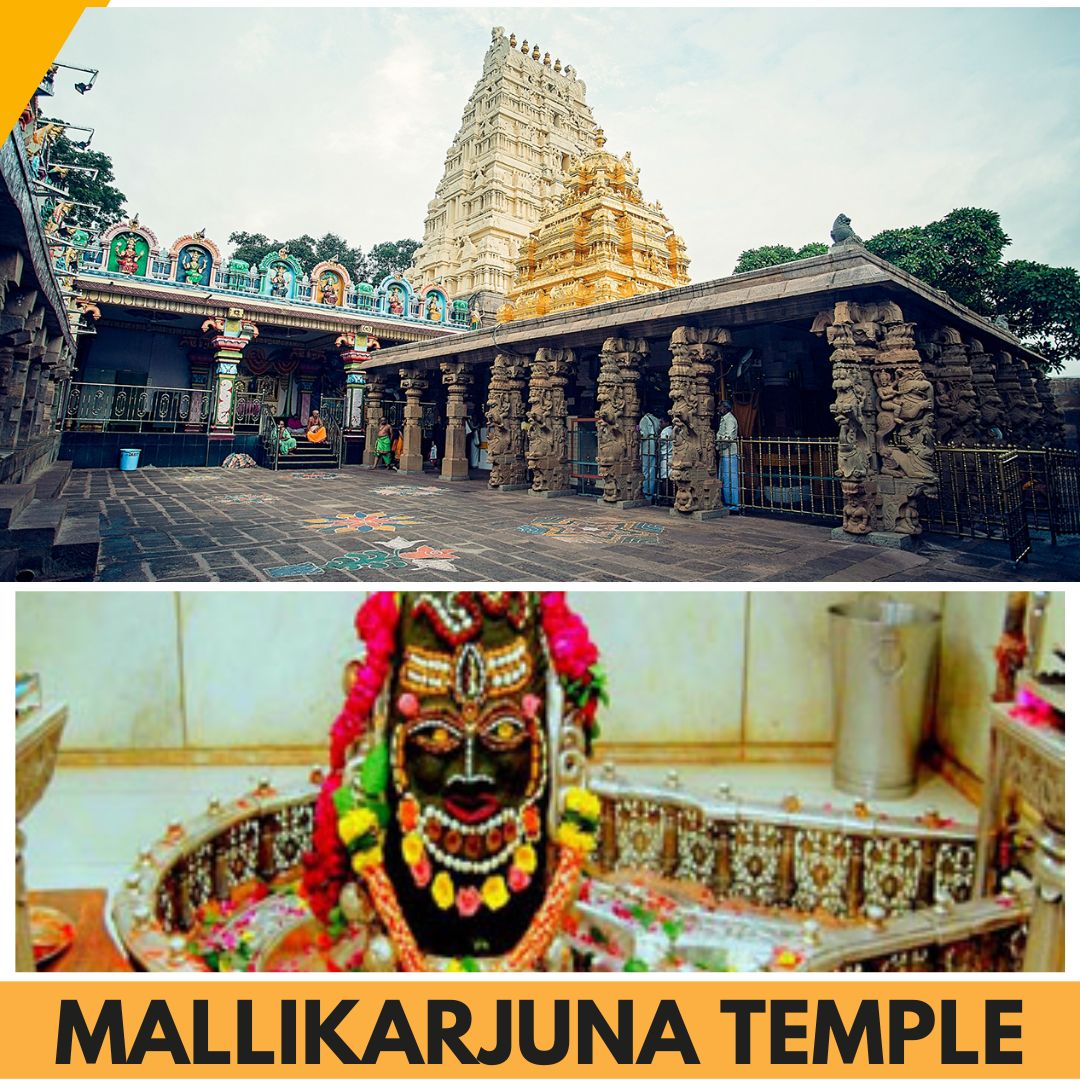 Renowned as, the "Kailash of the South", the Mallikarjuna Jyotirlinga stands on the banks of River Krishna. The Mallikarjuna temple is dedicated to Lord Shiva and Maa Parvati. The temple is one of the 12 Jyotirlinga of Lord Shiva and one of the 18 Shakti Prrthas of Maa Parvati. Mallikarjun has excellent architecture and intricate designs. The temple also has a mirror hall that has images of Nataraja. According to legends, when Kartikey was returning back, he found out that Lord Ganesha was married first. This filled Kartikey with anger and he went away to stay at Mount Kranuja. When Lord Shiva and Maa Parvati went to talk to him, they stayed there as Jyotirlinga.
Mallikarjuna Jyotirlinga Address: Manikyamma Ashramam Road, Srisailam, Andhra Pradesh
How to Reach Mallikarjuna Temple:
Air – The nearest airport is Rajiv Gandhi International airport in Hyderabad. It is 202 km away from Srisailam.
Road – The Srisailam Temple is present just 1 km away from the Srisailam Bus Stand.
Train – The nearest Railway Station is Markapur which is 80 km away followed by Nandyal and Kurnool.
Mallikarjuna Temple timings: 3:30 AM to 10:00 PM
Mallikarjuna Temple Aarti timings: 5:00 AM in the morning and 6:00 PM in the evening
12. Rameshwaram Jyotirlinga, Tamil Nadu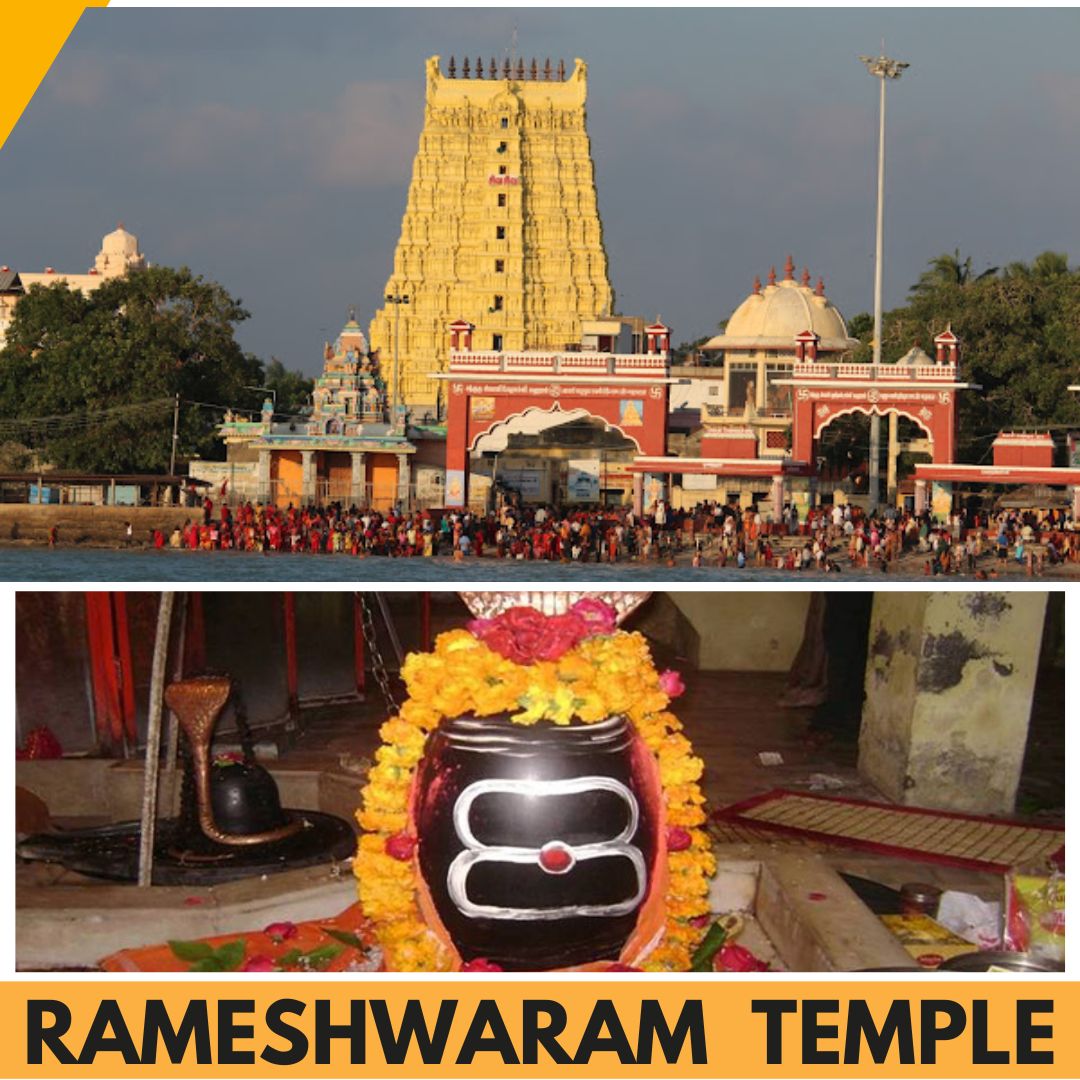 Standing close to the Dhanushkodi beach, where Lord Rama built the Ram Setu to save Ma Sita, Rameshwaram Temple is very prominent in India. It is popular as the "Varanasi of the South". The location of the temple is exquisite and people visit it in large numbers. The temple has surreal architecture paving the way to enchanting corridors and Rameshwaram Jyotirlinga Mandir is a treat to the eyes and soul. Rameshwaram temple has the longest corridor among all the Hindu temples in India. According to Hindu texts, the Jyotirlinga was worshipped by Lord Rama before he crossed Ram Setu to defeat Ravana.
Rameshwaram Jyotirlinga Address: S car street, Rameshwaram, Tamil Nadu
How to Reach Rameshwaram Temple:
Air: The nearest airport is in Madurai, which is 174 km from Rameshwaram. Tuticorin Airport is also located at a distance of 142 km.
Road: This major pilgrim site is connected to all cities and towns in Tamil Nadu. It is possible to reach Rameshwaram by car through different routes.
Train: The nearest railway station is Rameshwaram Railway station which is 1 km away from the temple.
Rameshwaram Temple timings: 5:00 AM to 8:00 PM
Rameshwaram Temple Aarti timings: Not Available
Frequently Asked Questions about Jyotirlingas in India
Q. What is the name of 12 jyotirlinga?
Jyotirlingas are the most sacred shrines dedicated to the worship of Lord Shiva. The 12 Jyotirlingas in India have immense religious importance. Hindus from all over the world come to visit these Jyotirlingas. It is inherent in the Hindu traditions to visit the Jyotirlingas and indulge in religious activities. These Jyotirlingas signify the infinite nature of Lord Shiva. The name of the 12 Jyotirlingas are as follows:
Somnath Jyotirlinga
Bhimashankar Jyotirlinga
Trimbakeshwar Jyotirlinga
Grishneshwar Jyotirlinga
Nageshwar Jyotirlinga
Mahakaleshwar Jyotirlinga
Omkareshwar Jyotirlinga
Baidyanath Jyotirlinga
Kashi Vishwanath Jyotirlinga
Kedarnath Jyotirlinga
Mallikarjuna Jyotirlinga
Rameshwaram Jyotirlinga
Q. How many Jyotirlinga are there in India?
Originally there are 64 Jyotirlingas, out of which only twelve Jyotirlingas are very auspicious and important. These 12 Jyotirlingas are also called Maha Jyotirlingam.
Q. Is there a 13th Jyotirlinga?
Only 12 Jyotirlingas are considered to be of vast significance. Hence, only these 12 Jyotirlingas are taken into account.
Q. Which Jyotirlinga is the biggest?
Although no such information is available through texts, Somnath might be the biggest Jyotirlinga among the 12 Jyotirlingas.
Q. Which Jyotirlinga should I visit first?
Somnath Jyotirlinga is the most-loved pilgrimage site in India. This Mandir can heal a person spiritually. You should visit Somnath Jyotirlinga first if you are following the order.
Q. Which is powerful Jyotirlinga in India?
All the Jyotirlingas have their own importance and power. Sometimes the Jyotirlinga that resonates with your sun sign is of more value. However, Mahakaleshwar Jyotirlinga is quite powerful. Lord Shiva in his Mahakal form takes the fear of death away.
Q. Which is the first Jyotirlinga in India?
Somnath, Gujarat is the first Jyotirlinga in India.