All updates on what happened on Article 370 today: Mehbooba Mufti, Omar Abdullah arrested
Mehbooba Mufti, Omar Abdullah arrested: 
The recent came from Jammu and Kashmir was that Mehbooba Mufti has been arrested. This happened moments after Rajya Sabha passed the bill to split Jammu and Kashmir into two union territories. Along with Mehbooba Mufti, Omar Abdullah has also been arrested. Omar Abdullah is the leader of the National Conference.
Mehbooba mufti has been kept in Hari Niwas. Hari-Niwas is a VVIP guest house. The reason for Mehbooba Mufti and Omar Abdullah's arrest was not immediately known.
 The house of Rajya Sabha passed Reorganisation bill for Jammu and Kashmir:
Out of 187 votes: 125 votes went in favor to pass the bill while 61 were against the bill. While one member abstained from voting.
Amit Shah on Scrapping article 370: Kashmir won't become Kosovo
Amit shah in the house said "Once the situation improves in Jammu and Kashmir the government will work to make it a state again. Kashmir will not become a Kosovo,".
J&K News Live updates: Home Minister Amit Shah has announced in the parliamentary session that the government has decided to revoke Article 35A and Article 370 of the Indian constitution which provided special status to Jammu and Kashmir. The move has ignited tensions in the parliament. The final decision is yet to be made.
Jammu and Kashmir to be bifurcated into two Union Territories–
The government have also decided to bifurcate the state into two Union territories, Jammu and Kashmir will be UT with legislature while Ladakh will be UT without legislature.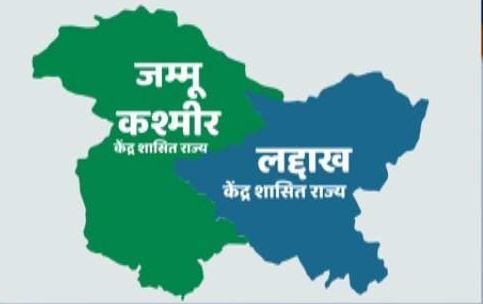 The announcements came after the meeting held by Prime Minister Narendra Modi at his house this morning.
Official Notification about Article 370 signed by President attached-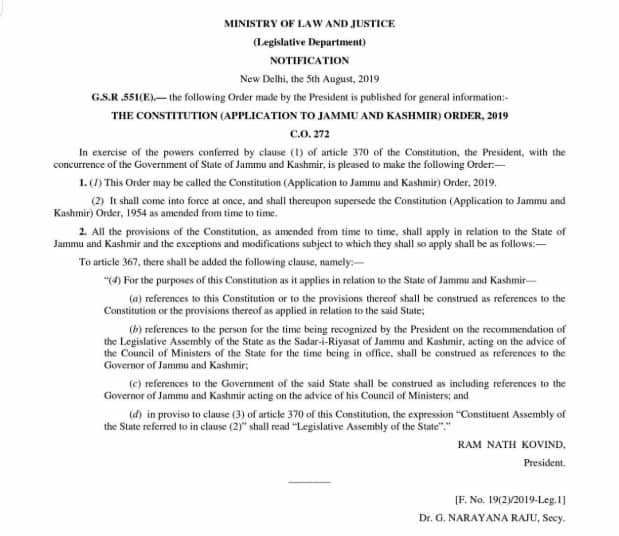 "A bold and historic decision. We salute our Great India – one India," former External Affairs Minister Sushma Swaraj said in a tweet.
Modi sarkar correcting a historic blunder believes BJP's Rajyavardhan Rathore.
What Modi promised before coming in power, he is keeping to it. The Kashmiri citizens are now in the state of fury as everyone will be able to buy property in Kashmir and there would be no special provisions for them. While the scrapping of the Article 35A will now allow the women of Kashmir to marry outside Kashmir, other consequences are still under the umbrella of doubt. The govt. has made this decision keeping in mind the security of Kashmir.
The unrest in Kashmir continues to manifold after the latest developments that took place last night. After multiple assurances of all being well, the government took steps that were not in sync to previous statements.
Jammu & Kashmir news live updates:
Amit Shah left from 7 Lok Kalyan marg after a decisive Cabinet meet concludes. Amit Shah is soon going to address the parliament on Jammu and Kashmir.
Early morning, Leaders of Opposition parties including RJD, AAP, TMC, CPI, CPI(M) had a meeting to discuss the issue and raise concerns about what's going on in Jammu and Kashmir.
Live Updates: Prominent politicians held House arrest in Kashmir: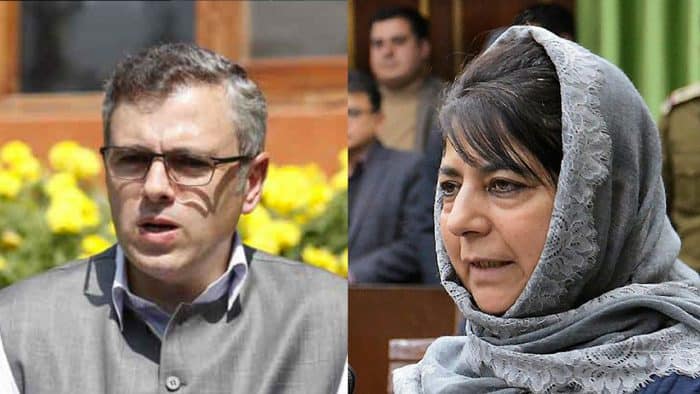 Last night, three of the very prominent politicians of J&K Mehbooba Mufti, Omar Abdullah, and Sajad Lone were put under house arrest, amidst a large number of security personnel being deployed in the state.
Omar Abdullah had on Sunday tweeted that his sources have informed that an unofficial curfew is about to be imposed in the state. In his tweet, he also wrote that all the mainstream Kashmiri leaders were either going to be detained or kept under House Arrest. The Ministry of Home Affairs has however denied the news of house arrest.
Mehbooba Mufti also expresses her rage over a possible house arrest. She said that the government is crushing the voice of elected Kashmiri representatives.
Live Updates: Internet and phone services suspended: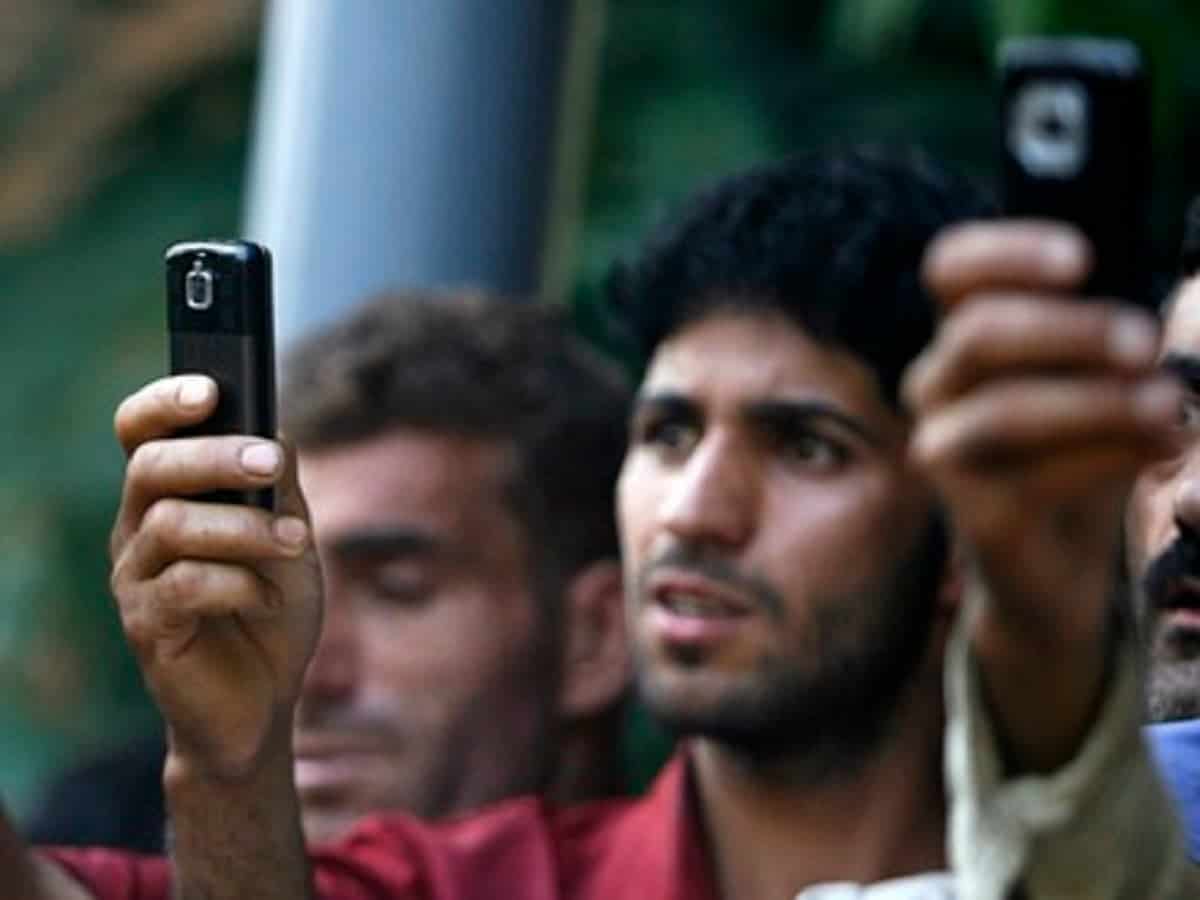 As expected, internet and phone services have suspended in several places. At some places, even the cable TV services have also been suspended. All public gatherings have been banned after section 144 was imposed in Srinagar from midnight.
Earlier in the day, all the Kashmiri leaders met and warned the government about the consequences of abrogating Article 35-A.
Governor Satya Pal Malik met the state officials late night and ordered imposition of Section-144. He said, "There will be a complete bar on holding any kind of public meetings or rallies during the period of operation of this order. It should be noted that there will be no curfew in place as reported in a section of the media".
Live Updates: School and colleges closed: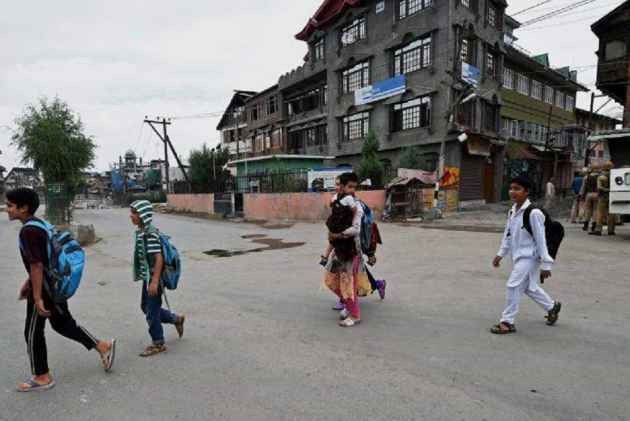 All the schools and colleges have been closed till further orders. The examinations in J&K university have been pushed ahead till any further notice.
Live Updates: Barricading around important areas: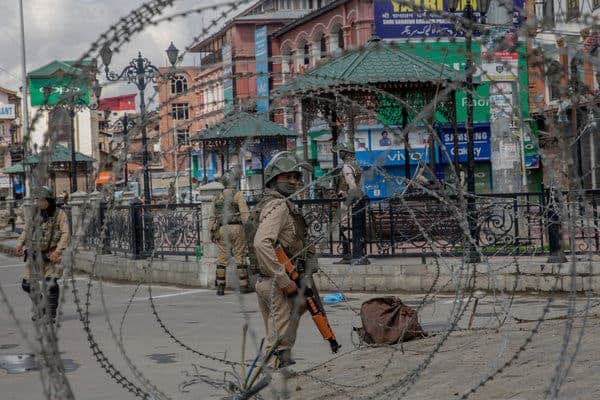 Barricades have been erected on the generally crowded and important roads. High security and barricades have been erected at the entry and exit points to the summer capital of the state, Srinagar. Additionally, riot control vehicles have also been kept on alert in sensitive areas that are prone to unrest and riots.
Live Updates: Union Home Minister Amit Shah met with top security officials: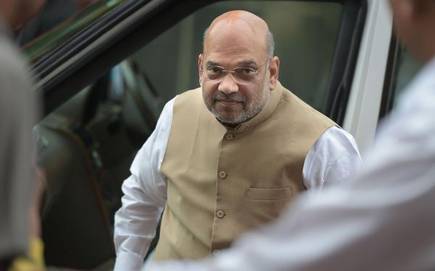 Union Home Minister Amit Shah held a meeting with top security officials on Sunday. The hour-long meeting was attended by National Security Advisor Ajit Doval and other senior officials. Ajit Doval also met the Army chief Bipin Rawat in a tent on the Amarnath pilgrimage route.
The meeting was confidential, and no minutes of meeting notes are available as this meeting was off the record.
This morning Union Home Minister held a meeting with Law Minister Ravishankar Prasad and some other officials. All the details are not available yet, but the situation is expected to become clear by 10:30 -11 a.m.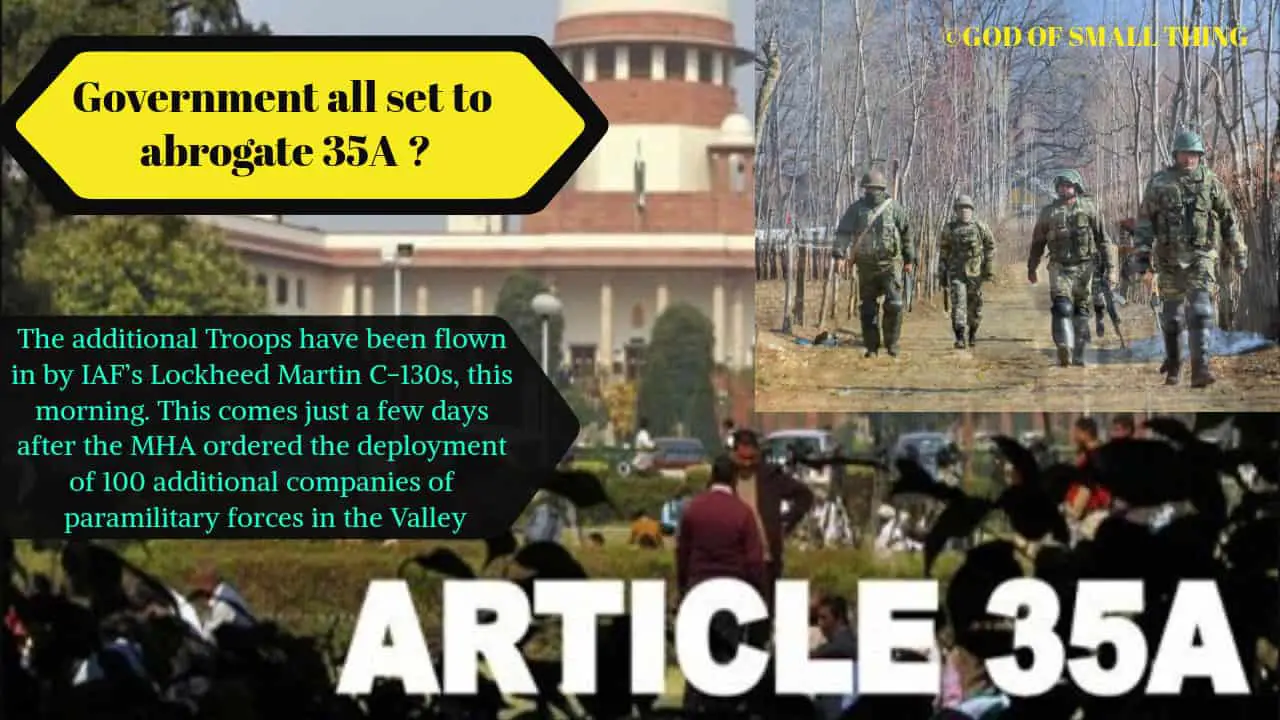 P.M Narendra Modi has strictly advised keeping the details confidential before presenting them in the Parliament.
Apart from abrogation of 35-A, there is some news that the government might split J&K into three separate states. The rapid pace of development indicate some big news, but we will have to wait and watch to know how the details unfold.