Best Kitchen Gadgets – Have Fun Cooking Delicious Cuisines Effortlessly
Your kitchen is an alien land for you if you don't know how to cook food. We understand how difficult it is for working individuals to find time to cook food for themselves. A long busy working day drains them out of their energy and patience to chop, grate, blend and cook meat or veggies in the kitchen. Trying new recipes would be like, forget it! Also, the market is flooded with different kitchen appliances but we have sorted the list of the best kitchen gadgets for your convenience. 
Hundreds of cooking recipes available online or on youtube cooking videos cannot make you an expert in cooking without a hands-on experience. However, advanced technology and high-tech kitchen gadgets can save your day in such situations. After all, how long would you depend upon pizzas and KFCs to fulfill your body's nutritional demands? Plus, the expenses would kill your monthly budget, with zero savings. Here, we have listed some of the latest kitchen gadgets that enhance your cooking skills to prepare tasty meals in no time.
Whether you are a beginner or an expert in cooking, advanced kitchen tools and accessories can assist you in everything you do to prepare your food, right from chopping raw food to cooking, baking, grilling, or steaming them. There is a gadget for all these functions and more. For example, a bread maker with preset functions automatically prepares dough and bakes it into soft bread at your scheduled time.
Moreover, these useful gadgets with auto on/off and preset functions save your time by preparing food at the scheduled time and thus save energy consumption. For example, a bread toaster can toast your bread by auto on/off in the morning, so you don't have to wait for it while getting ready for work. The same goes with dishwashers, bread makers, or coffee makers that start cycles or functions at your preset timings and automatically stop when done.
And wait! That's not all! Modern kitchen gadgets include a built-in WiFi or Bluetooth that connects with your smartphone app for easy operation of the appliances. You can even customize some of your gadget functions to your preference. For example, WiFi-enabled cookers, grills, ovens, grill thermometers, and even refrigerators are accessible on your mobile app. So you can monitor their functions, select the cooking mode, and schedule auto-function modes remotely without sweating out in your kitchen cabin.
These days kitchen gadgets look sleek and come in stylish designs that enhance your kitchen décor. For example, a colored citrus juicer, frying pan, or a casserole adds spark, while a stainless steel oven or coffee maker blends with other appliances. Smart kitchen gadgets add value to your kitchen with their extraordinary features and elegant design. So if you want to smarten up your kitchen, look at some unique kitchen gadgets we have listed here.
Electric Cookers
Electric Cookers have always been the best kitchen gadgets for quick and easy cooking. The Instant Pot Duo 6 Quart 7-in-1 Electric Pressure Cooker is one of the most popular models of Electric Cookers available today. With seven cooking modes and 14 pre-programmed settings, cooking daily meals is simple and fun.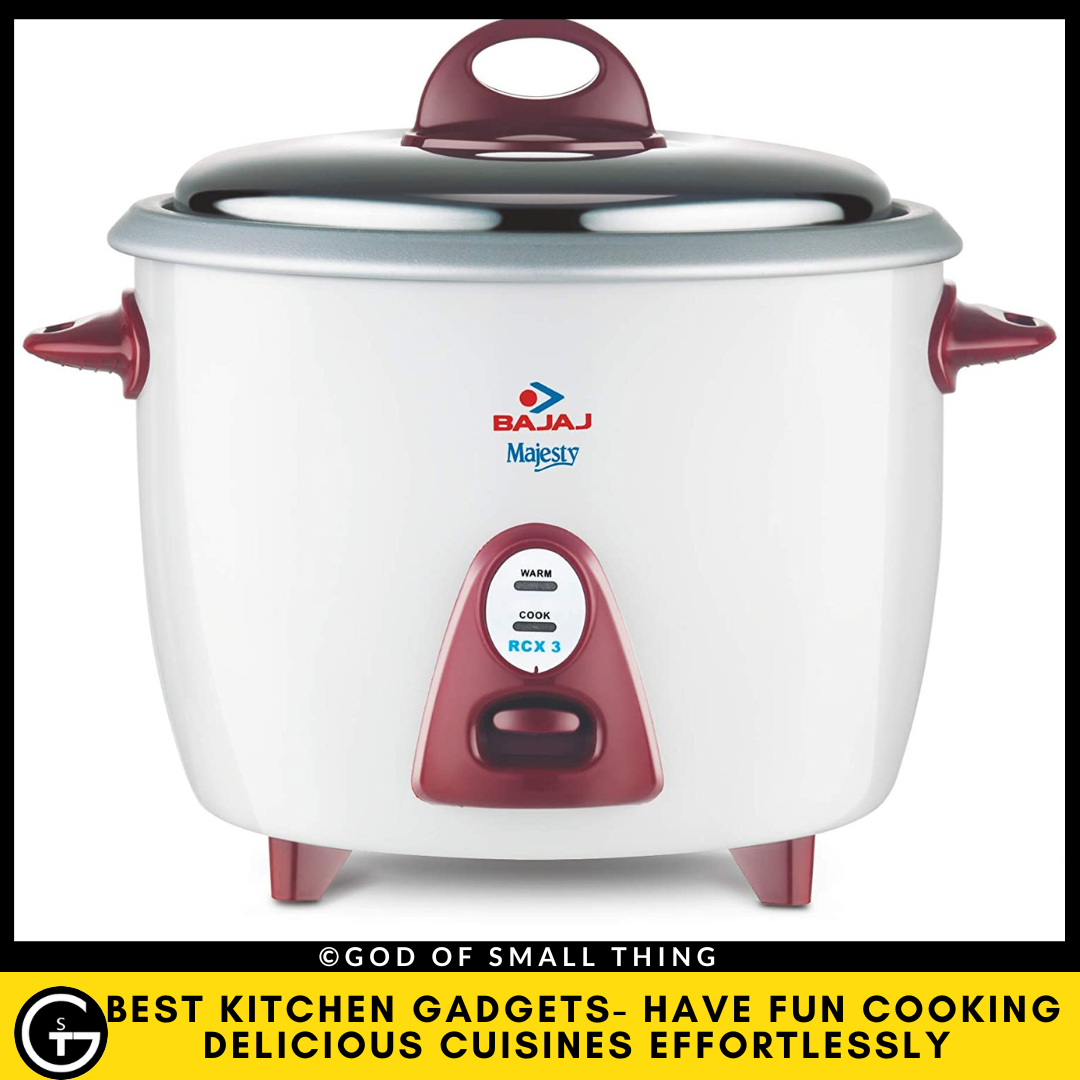 So, you can heat milk to make yogurt at the proper temperature without pressing the  "sauté" button. Also, the "slow" mode can cook veggies, and the high can prepare meat within four hours.
Coffee Grinders
The Breville stainless steel coffee grinder brews tasty coffee for people crazy bout coffee making. Its specially designed conical burrs minimize heat, protecting the coffee bean's essential oils.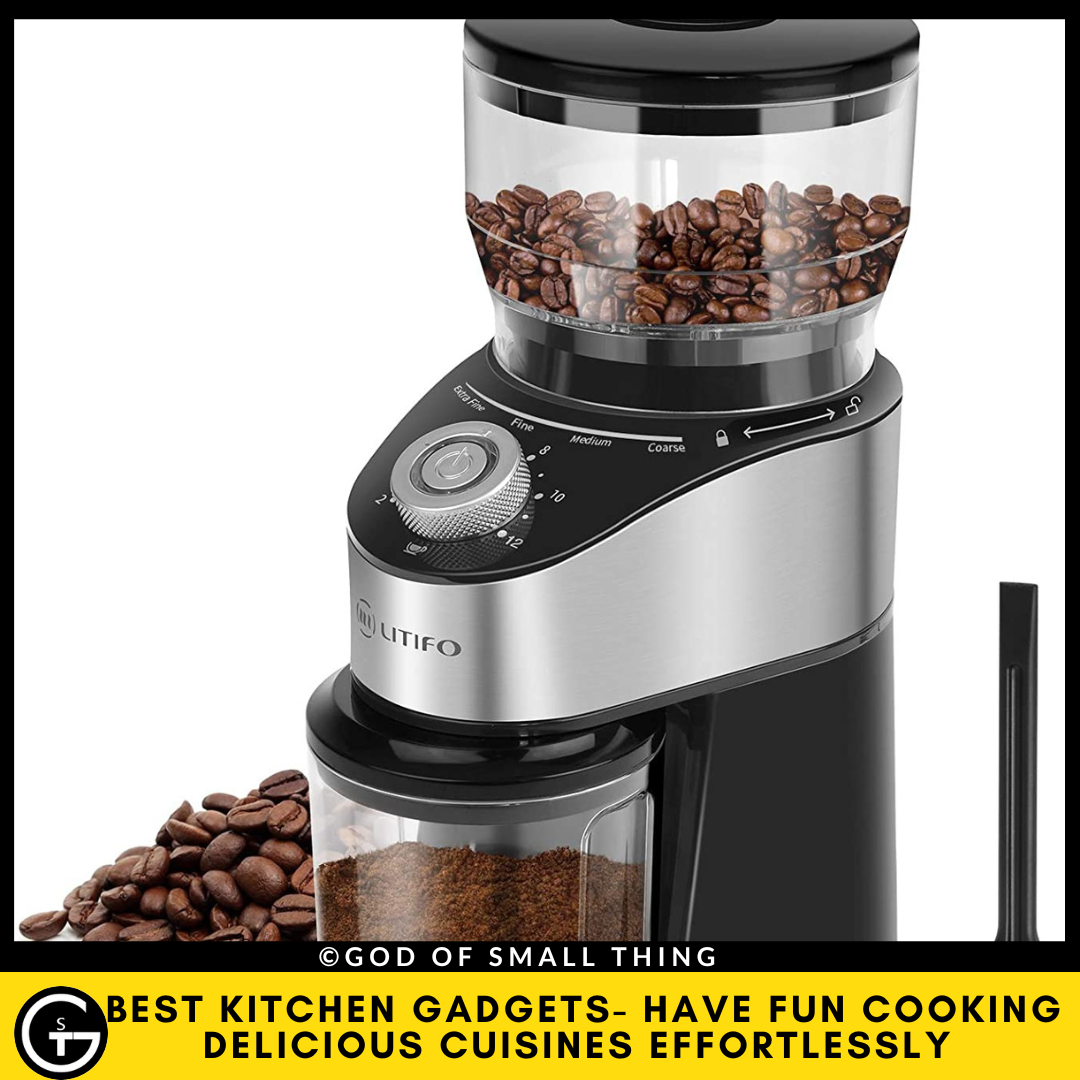 Moreover, an electronic timer lets you set the grinding time in 2-second intervals, and 60 grinding modes crush the beans ranging from super coarse to super fine particles. Its portafilter cradles come in two sizes, and grind the coffee into the coffee container with a lid and a cleaning brush. With variable functions and settings, Breville is user-friendly and the best kitchen gadget that offers consistent results in all grinding options.
Zesters
The Microplane Black Classic Stainless Steel Zester and Cheese Grater is the best kitchen gadget for zesting ginger, nutmeg, chocolate, citrus, and hard cheese. Its upside grating slide grates edibles on the food, and the downside slide lets you view your grated quantity. Also, a handle cavity lets you hang the zester on hooks or knife boxes for easy storage.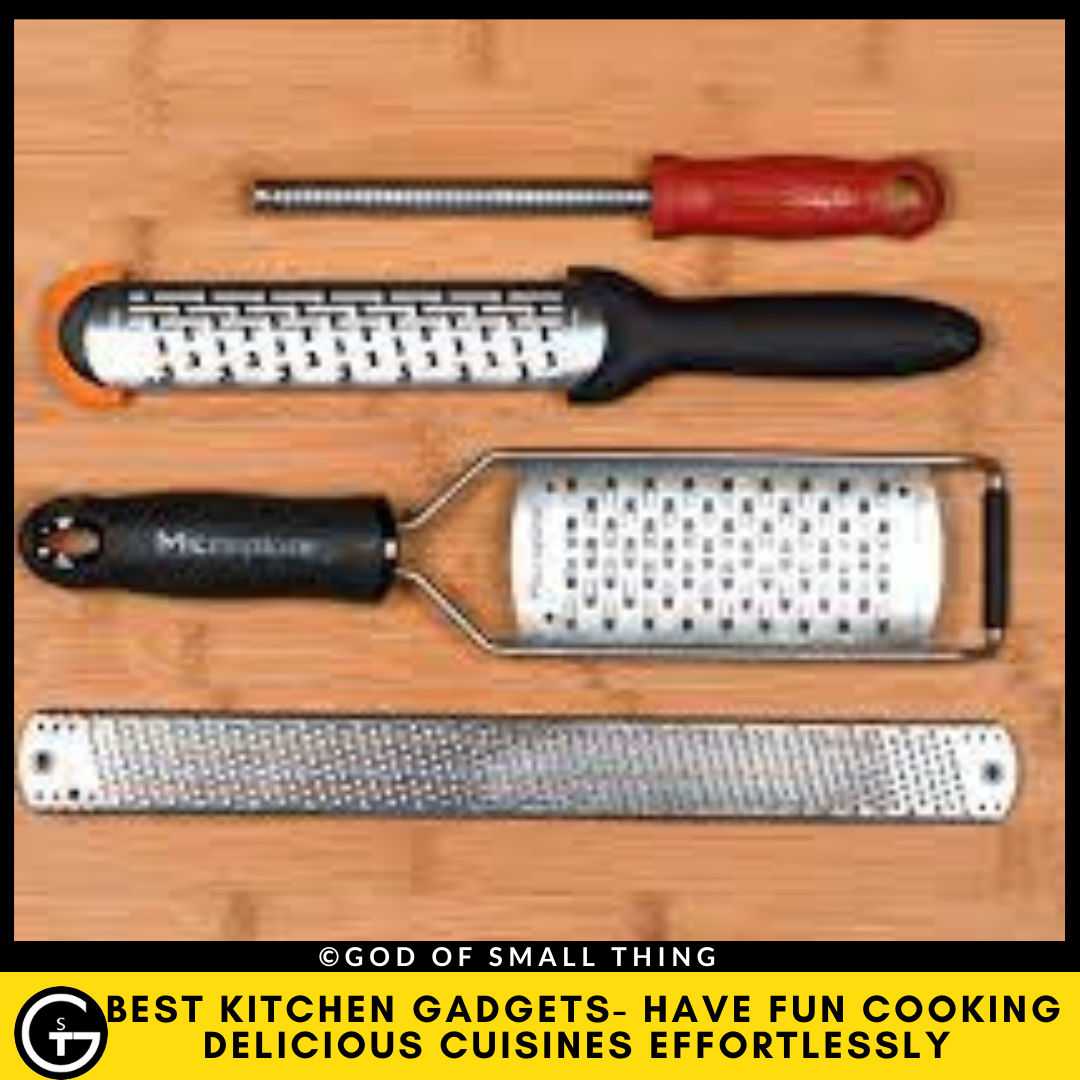 Citrus Juicers
The Chef'n FreshForce Manual Citrus Juicer easily squeezes lemons to make lemonade. The Mexican-style citrus squeezer has a gear system that multiplies your squeezing force saving your physical energy. In addition, the medium-sized device is suitable for squeezing small to large citrus like limes and oranges, so you don't need to buy different juicers. Thus, Citrus Juicers can be the best kitchen gadgets for you if you want a refreshment after a tiring day.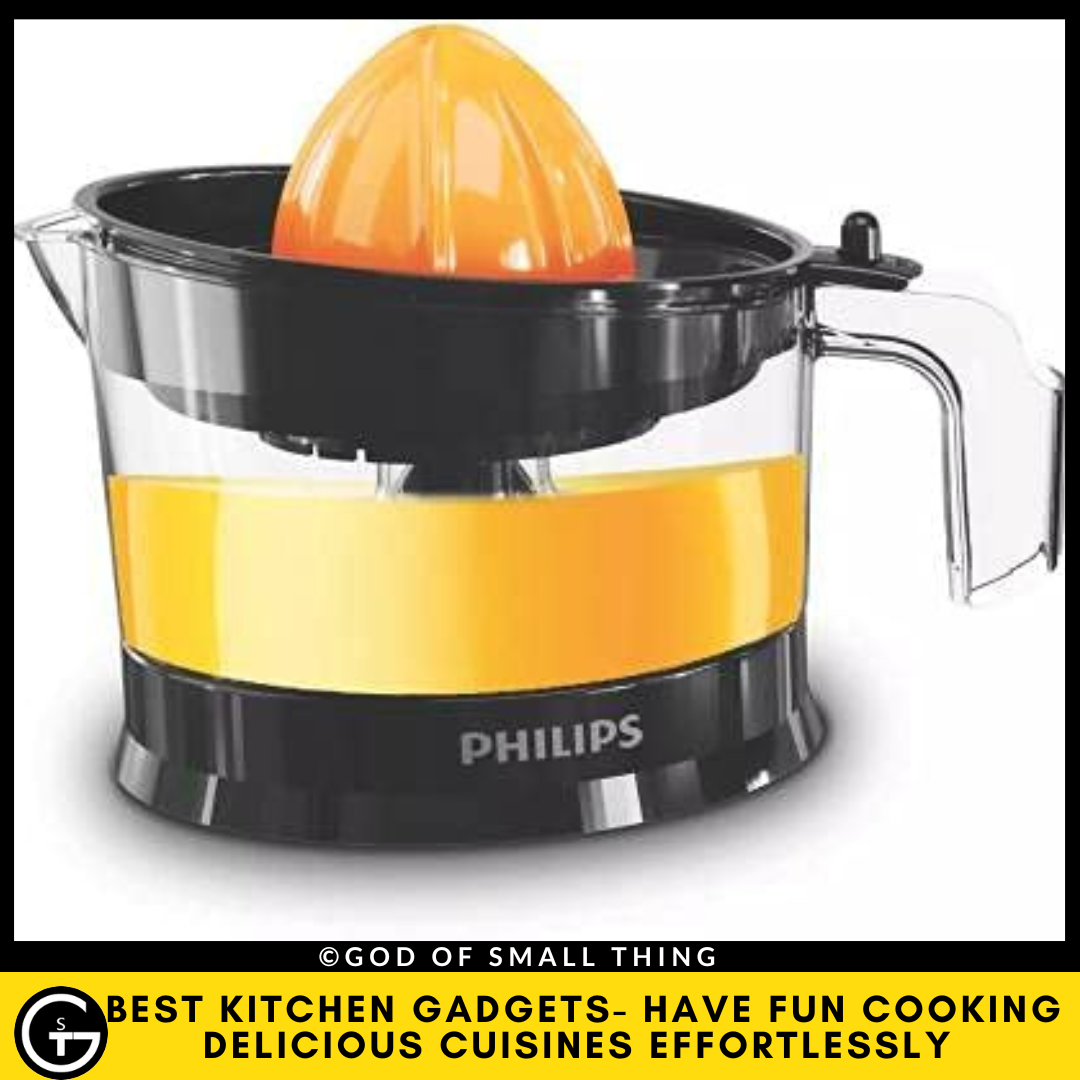 Moreover, the nylon and stainless steel material juicer is dishwasher top rack friendly. However, it might be tiresome to squeeze a large quantity of citrus from the device frequently.
Can Openers
Can-openers help you open can lids that are hard to open with your hands, saving time and energy while cooking food in your kitchen.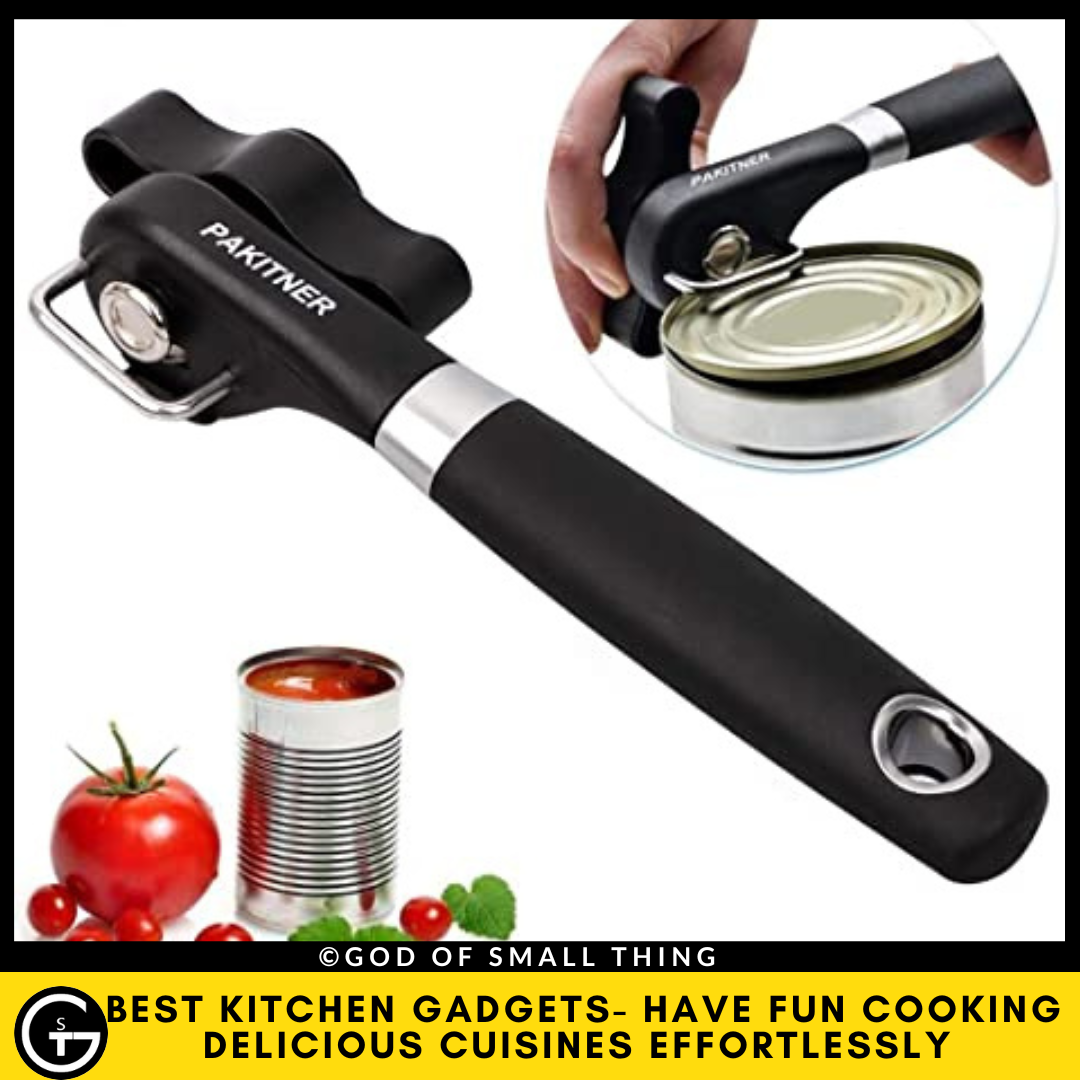 The Zyliss Lock N' Lift is a robust can-opener that comes reasonably priced. This compact and easy-to-store device offers a soft, comfortable grip by locking on the can, a helpful technique for people with lower strength. In addition, its magnet helps you hold and release the lid with a lever without touching the can.
Grill Thermometers
Wireless grill thermometers check your food temperatures while cooking in ovens or grills to get the accurate high roast or mid roast texture for meat or other food items. Yet they have wires connected to the base.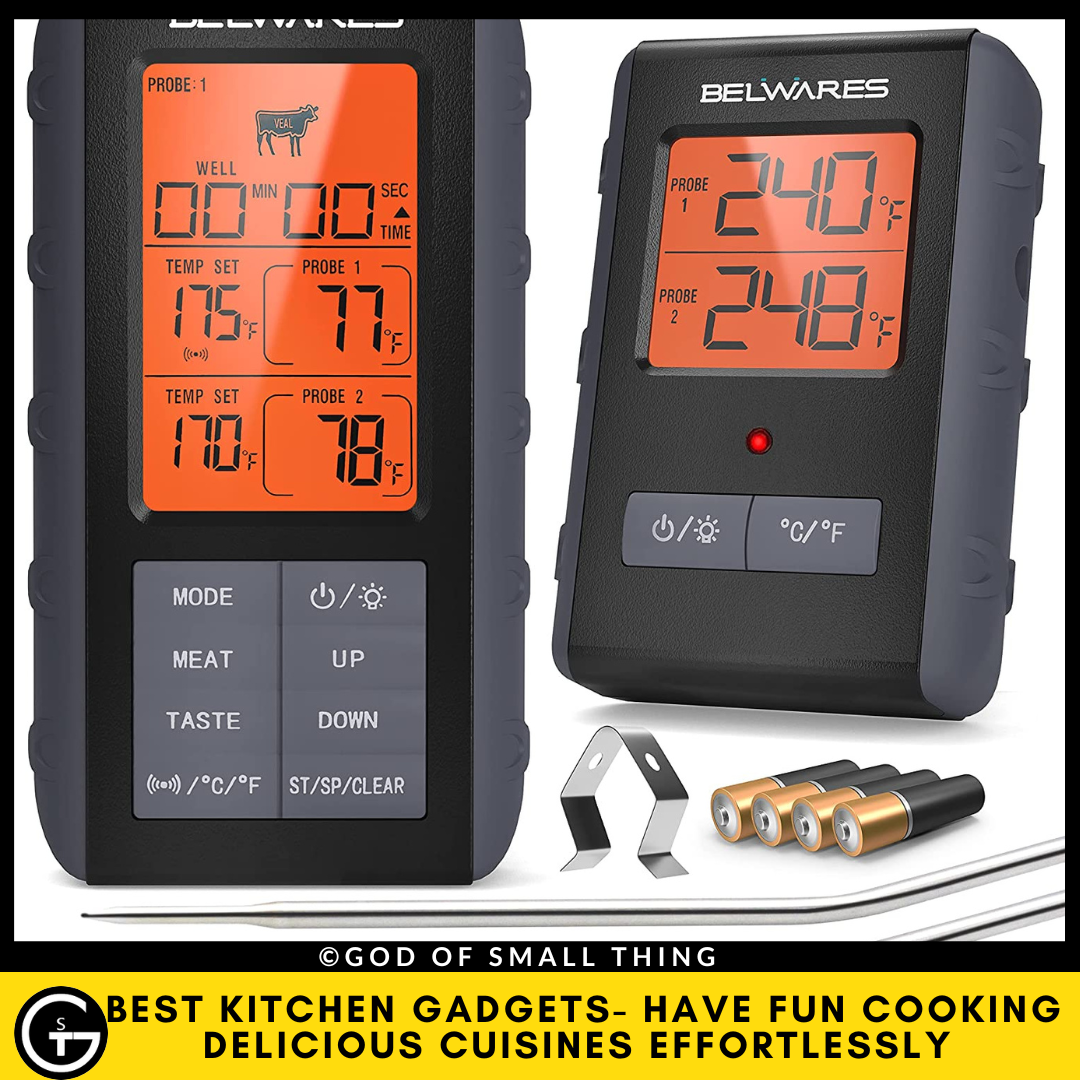 The Meater Plus Wireless Grill Thermometer is a no-wire solution to measure your cooked meat's internal temperature and surrounding temperature in the grill or oven. It lets beginner chefs learn the difference between braising and roasting meat. You can simply place the Meater in the raw meat and set the desired cooking temperature and the type of meat you are cooking. Then, when you start grilling your food, it will update its current temperature on your smartphone.
Organizers, Foot Mats, and Kitchen bins
Kitchen organizers and wooden racks help you store food you cannot place in your refrigerator. Also, durable kitchen bins help you throw your food leftovers and compost them for your garden plants. Finally, foot mats comfort your foot while standing for long hours in your kitchen preparing food for an in-house event or party.
The Bamboo Kitchen Compost Bin is a new kitchen gadget to minimize your kitchen mess and add a good look to your kitchen ambiance. It is quite durable and looks stylish. As a result, it can prepare compost from your kitchen wet waste without emitting a foul smell.
The Waterhog Comfort Mat has a thick rubber backing that protects your feet while standing long hours on the hard kitchen floor.
Also, the Bamboo Drawer Divider Drawer Organizer expands manually to fit almost all kitchen drawers and accommodates all sizes of utensils. Its natural wood color matches any kitchen decor.
Cold Coffee Makers and French Press
A smart coffee maker can instantly brew espresso or cappuccino with freshly ground coffee.
The Williams Sonoma Stainless-Steel French Press keeps your freshly brewed coffee hot longer than other glass French presses.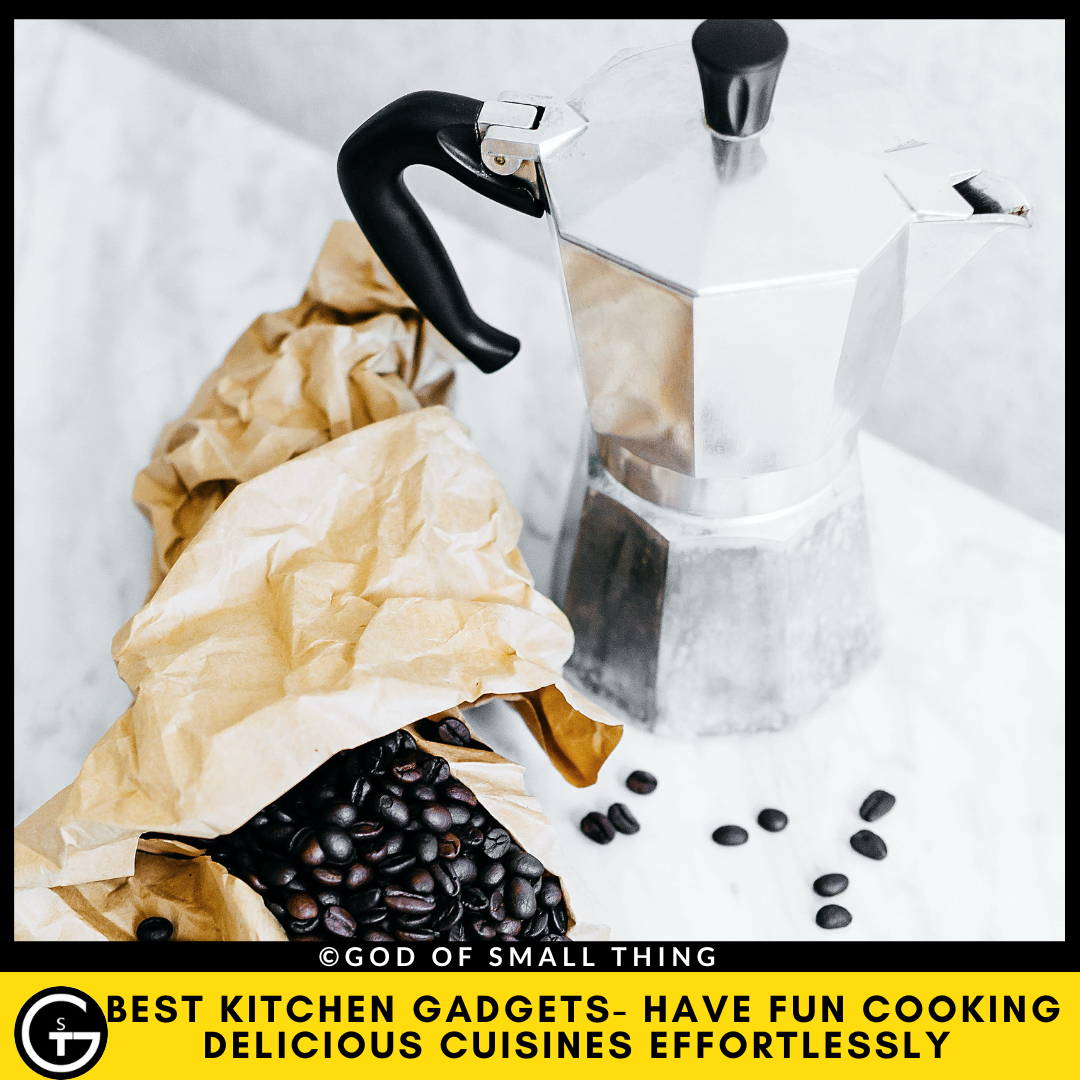 The KitchenAid's stainless steel coffee maker prepares tasty coffee brews in 12-24 hours, so you no longer need to pay for expensive cold brews.
Some More Useful Kitchen Gadgets
The Hamilton Beach Breakfast Sandwich Maker is the best kitchen cooking partner for people who rush to their offices in the early morning. It prepares sandwich components of various types in just one sandwich maker saving your cooking time. This new kitchen gadget can be quite handy for your delicious breakfast. 
The MacKenzie-Childs Royal Harlequin Oven Mitt is made with 100 percent cotton and keeps your hand safe from oven burns.
The Breville Juicer is powerful enough to make fruit and vegetable juices to keep you well-nourished at an affordable price. This user-friendly device quickly disassembles for a thorough wash and is ready whenever you need fresh juice.
To Conclude
The information above would help you know some useful kitchen gadgets. The new kitchen gadgets help you simplify your daily cooking activities, and prepare mouthwatering dishes in no time. In addition, modern electric gadgets consume less energy, lowering your electricity bills. We have also listed some useful kitchen gadgets and their functions for comparison.
However, it is advisable to first know your cooking requirements as a beginner or expert level cook and then look for the best kitchen accessories that satisfy your culinary needs.