Hair Smoothening Guide: Hair Smoothening|Process|Price and more
Tired of your curls? Looking for a makeover? Well, what's better than hair smoothening then? Hair smoothening is a hair treatment to bring shine to your hair and straighten them without much damage. And you can actually get your old look back after some time. This is the beauty of the treatment. We understand you have your doubts whenever going for any hair treatments, so we have sorted everything in one place. Below we have mentioned hair smoothening price, hair smoothening process, benefits, and side effects. Check this out!
What is hair smoothening?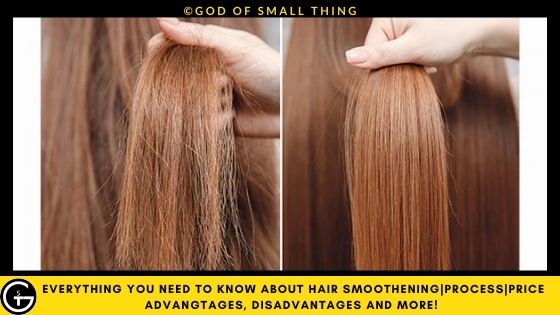 Hair smoothening is also known as a Brazilian blowout, cysteine treatment or Keratin treatment. It is a chemical process that makes your hair smooth, soft, and shiny. In this process, your hair are rinsed with a formaldehyde solution, rinsed, and straightened with a flat iron. A simple keratin treatment lasts long for almost 2-5 months depending upon the treatment you prefer. It does not damage your hair, and also reduces hair fall. You can all over again go back to your normal hair when bored with this. All you need to take care of is to use a sulfate-free shampoo after the smoothening process.
Such treatment is suitable for frizzy and wavy hair. It aligns hair and prevents it from any alteration, keeping the structure the same due to which there are fewer damages. The process is a little complex, hence it's always recommended to hire experts to deal with these chemicals. It almost takes around 3-6 hours for a single session, quite a tiring process with impressive results.
Well if you are willing to know about hair, you must be somebody who loves to take care of their skin. Thus we bring a question to you? Which day cream do you use for regular use? Well if you wish to know about the best in business, Here is a list of the best day creams in India for face glow. 15+ Best Day Creams for daily use with review and buy links. And don't worry each link in the article will open in New Tab so you can finish this off and switch to another tab 🙂 )
What are the benefits of hair smoothening?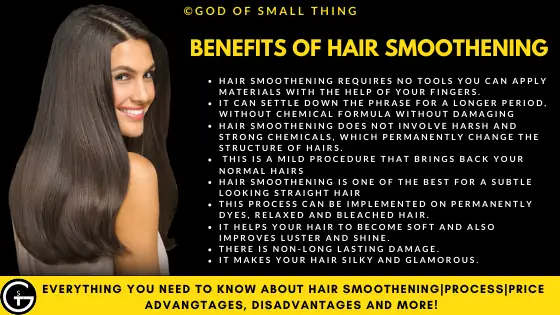 Hair smoothening requires no tools you can apply materials with the help of your fingers.
It can settle down the phrase for a longer period, without chemical formula without damaging
Hair smoothening does not involve harsh and strong chemicals, which permanently change the structure of hairs. This is a mild procedure that brings back your normal hairs
Hair smoothening is one of the best for a subtle-looking straight hair
This process can be implemented on permanently dyes, relaxed and bleached hair.
It helps your hair to become soft and also improves lustre and shine.
There is non-long lasting damage.
It makes your hair silky and glamorous.
Hair smoothening process
First, the salon will wash your hair and have it dry.
The hair is treated with a formaldehyde solution. The water within the solution breaks the keratin molecule's hydrogen bonds.
Wash out the solution
Blow-dry and then straight with a flat iron
Add yet another 15-20 minute cream to seal the ironing effect
Wash out, then blow the hair off, and finish.
What shall be done after the smoothening process?
Do not wash your hair for three days, and you do not tuck/pin/bind your hair in any way, either.
Salons will also warn you not to use hair oil for the smoothing process for about 15 days after.
Holding hair straight while awake.
What shall be done after 3-4 days of the process?
You should shampoo your hair after three days, and keep the conditioner longer than normal.
Stop hot water when washing hair as it strips moisture tresses.
To remove the hairs, use a dented hair comb. DO NOT use a hairbrush.
Apply hair serum as it protects your beauty from sun, dirt, and dust
The treatment adds nutrients to your hair and makes them smooth and soft
What is the price for hair smoothening?
The cost of keratin treatment in India and all over the globe depends upon the type of hair and the length of your hair. Generally, you may find a basic Hair smoothening process costs you around Rs.4000-Rs.8000. It is an expensive procedure but is worth going through. Keep in mind that the hair smoothening price may vary depending on the length, type of hair, and the Salon you choose.
Disadvantages of hair smoothening:
There are various disadvantages of hair smoothening, let's have a look into this. All of these depend on the type of hair you have. Some people find this treatment highly beneficial and some get through these complications of dryness, dandruff, irritation, and all.
Hair smoothening last long for 2-5 months. It is not a permanent process.
You need to be aware of the chemicals that are being used on your head.
Most of the time, a hair smoothening procedure weakens your hair
It is a commitment; you need to take care of your hair now and then. It includes washing your hair with purified water and applying a sulfate-free shampoo.
After the hair smoothening procedure, you are not advised to use oil or any other therapy on your hairs
Doing this treatment excessively makes your hair brittle and susceptible to break, it's always advised to take this treatment once in three years.
Hair smoothening price is almost touching the skies; it's a costly process
After 2-5 months, your hair starts drying because you're not allowed to use or apply anything that soft, and your scalp like oil
This treatment is not suitable for thin hairs
There are various other alternatives available that require no chemicals and last for weeks or months.
It may irritate the face and neck.
There can be health hazards and rashes.
Hair smoothening is a very tiring process and takes hours.
Moreover, a keratin treatment reduces hair volume
It might lead to color fading if your hair are colored.
Hair Smoothening VS Hair Straightening: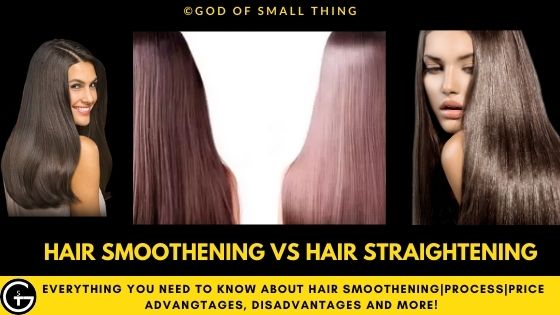 Hair smoothening versus hair straightening, it's quite difficult when it comes to choosing between both. Hair smoothening is a chemical procedure that saturates the hair with the help of a formaldehyde solution. After this, the hair are dried with the help of a hot iron. It is for a short period and may cause little damage to your hair like it may weaken in your hair.
With Increasing heat in the atmosphere, we all need to protect ourselves from the scorching heat and we all use sunscreens for that right? But we still get tanned to an extent right? Well, what if we tell you that we have a solution to the problem? Here is a list of Best Tan Removal Face Washes in India with Prices Specifications and buy links as well. 15 Best Tan Removal Face Washes in India for Men and Women Both
The chemicals permanently break down the hair follicle bonds which are repaired by applying heat. In the end, more chemicals are added to repair the formed bonds. Often known as 'Japanese Hair Straightening' or 'Thermal Reconditioning'. Permanent hair straightening or rebounding changes the chemical hair composition making them straight. There is no going back in hair straightening.
Is smoothening good for hair?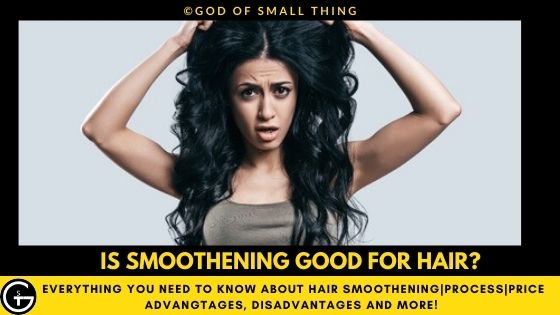 Hair smoothening is good for hair when compared to permanent straightening. There are two sides of a coin for every situation similarly hair smoothening has its pros and cons. If you have frizzy hair and are Dreaming to have soft and silky hair for a small period then it is a good option for once. Make sure that you don't repeat it continuously. This helps your hair to grow, it makes it glossy, smooth, silky, and manageable.
On the other side of the coin, you need to take lots and lots of care of your hair after such treatment. At times there is hair fall, depending upon the type of hair. Hair fall is not for everybody. It would either definitely damage or improve the condition of your hair. There can be chances of dryness after such treatment and also split ends. Apart from this, everything depends upon the type of hair you have. Some people may suffer from dandruff, some may not. It would be better for people having coloured hair/dyed hair should refrain from this treatment because it leads to hair discolouration.
Does smoothening cause hair loss?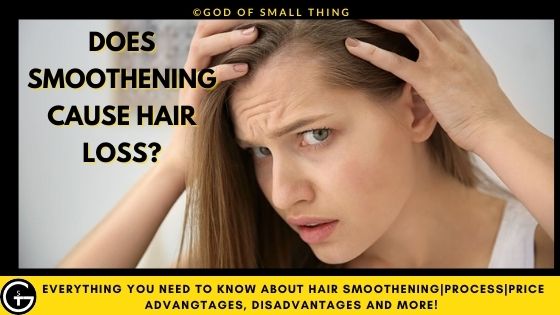 Yes, most of the time hair smoothening can cause hair fall. But this is not a straight formula. You may meet some people who have faced very little hair fall after this treatment. Hair fall after the hair smoothening process has been a common issue because the use of excessive and harmful chemicals makes your hair weak. This leads to detachment of hair from your roots.
Is smoothening or straightening better?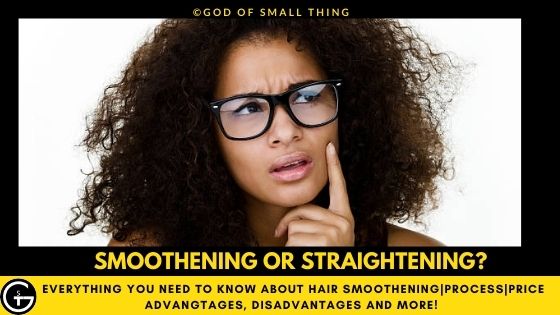 Smoothening is always preferred as a better option rather than straightening; this is because smoothening is a temporary option and you can get back your Original hair after a certain time. Apart from this hair smoothening uses fewer chemicals as preferred to hair straightening. Generally, a hair smoothening process makes your hair naturally soft, which may we are natural whereas a straightening process makes your hair pin-straight, which makes your hair look fake. So now if you're thinking which is the best, prefer hair smoothening rather than hair straightening.
How long does the smoothing treatment last?
After taking all the sincere precautions and care, regular smoothening treatment will last long for almost 6-8 months. On the other hand, keratin treatment will last long for 3-4 months. You need to take proper care which includes sulfate-free shampoo and conditioning of your hair. There will be a need to avoid hard water. Generally, the lifespan of your hair depends upon the care you take.
What is the cost of hair smoothening?
Hair smoothening will cost you around Rs.4000-Rs.8000 excluding all the follow-up sessions. It is quite an expensive process. Apart from this, it depends upon the length of your hair and the type of salon you choose. Most of the time if the length of your hair is more than 3-4 inches and you choose an expensive salon, The price will automatically rise. Apart from this, you need to purchase a separate sulfate-free shampoo, sulfate-free conditioner, and at times a serum also. The hair smoothening price is tons
Is smoothing permanent?
No, hair smoothening is a temporary treatment whereas hair straightening is a permanent treatment. Hair smoothening lasts long for 2-6 months depending upon how to find the treatment. It helps you get away from all the frizzy and dizzy hair, giving your hair a straight and shiny look.
Can we apply oil after hair smoothening?
It is recommended to not apply oil on your hair after the hair smoothening procedure. But still, if you can't resist using oil you can apply oil to the ends of your hair. Make sure that you do not have an intensive oil massage or a spa. In fact, in the beginning, it's better to avoid using oil at all. This is because if you use oil, your hair will start losing the texture and you will regain your old frizzy hair. Most of the specialists advise not to use serum also for a Specific period, say one weak that also in limited quantities. So make sure that you do not apply oil on your hairs, to protect them, and to also have the work of money spent on your treatment. The hair smoothening price is huge, so don't spoil your hair by using oil and being careless.
The Source of the article is from verified sources like TimesofIndia and Healthline and more.