Healthy and Flavorful: Delicious High-Protein Meals for Weeknight
As we strive to maintain healthy eating habits and still enjoy a flavorful meal, high-protein vegan meals offer a satisfying and delicious solution. These meals can be prepared in no time and provide the necessary nutrients that the body needs. Here are some of the best high-protein vegan recipes for weeknight meals.
Roasted Tofu and Vegetables Bowl
This recipe is a perfect combination of protein and vegetables, providing a complete meal for a busy weeknight. Roasted Tofu and Vegetables Bowl is a nutritious and flavorful recipe that is easy to make and perfect for a busy weeknight. This recipe offers a delicious combination of protein and veggies that are roasted to perfection, resulting in a complete meal that is both filling and healthy.
Check out these delicious high-protein weeknight recipes
To prepare this dish, start by preheating the oven to 400 degrees Fahrenheit. Then, chop your desired vegetables into bite-sized pieces, such as sweet potatoes, zucchini, and bell peppers. You can also add some other vegetables like broccoli, cauliflower, or carrots for more variety and nutrients.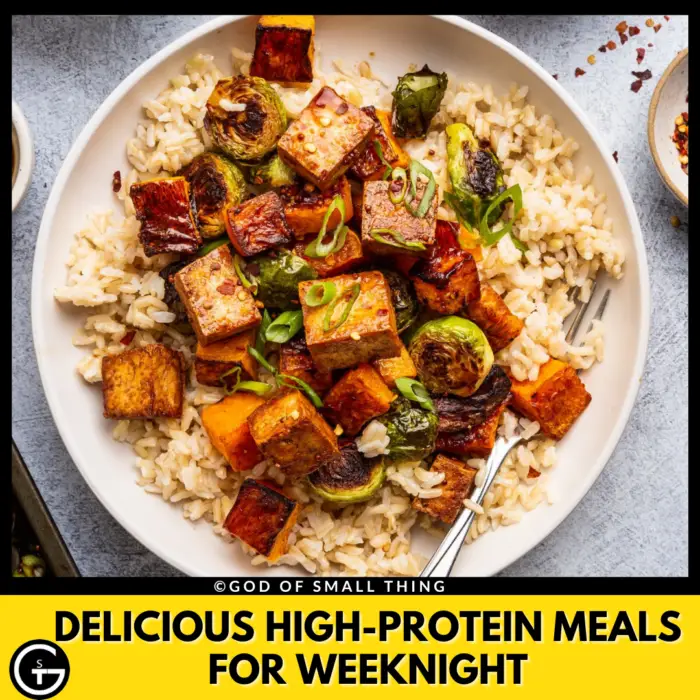 Next, drain the tofu and pat it dry with a paper towel. Then, dice it into small pieces and set it aside. In a large bowl, toss the chopped vegetables and diced tofu with olive oil, salt, pepper, and any other desired seasonings, such as garlic powder or dried herbs.
Spread the mixture out onto a baking sheet in a single layer, making sure to not overcrowd the pan. This allows the vegetables and tofu to roast evenly and develop a delicious, caramelized flavor. Roast in the oven for 25-30 minutes or until the vegetables are tender and the tofu is slightly crispy.
Once the roasted vegetables and tofu are ready, it's time to assemble your bowl. Start with a base of your favorite grain, such as brown rice, quinoa, or farro. Then, add a generous serving of roasted vegetables and tofu on top. You can also add some fresh greens, such as spinach or arugula, for some extra fiber and vitamins.
To finish off your Roasted Tofu and Vegetables Bowl, drizzle with some tahini sauce or a squeeze of fresh lemon juice for a tangy flavor. This dish is versatile and can be customized to your liking, so feel free to add your favorite toppings, such as avocado, nuts, or seeds.
Lentil Bolognese
Lentil Bolognese is a healthy and tasty alternative to traditional meat-based Bolognese. Lentils are a great source of protein and fiber, which makes this dish a filling and nutritious option for vegetarians and meat-eaters alike. To make this dish, start by cooking the lentils in a pot with water until they are tender. In a separate pan, sauté garlic and onion until they are fragrant, then add in canned tomato sauce and the cooked lentils. Let the sauce simmer for a few minutes until it thickens and becomes flavorful.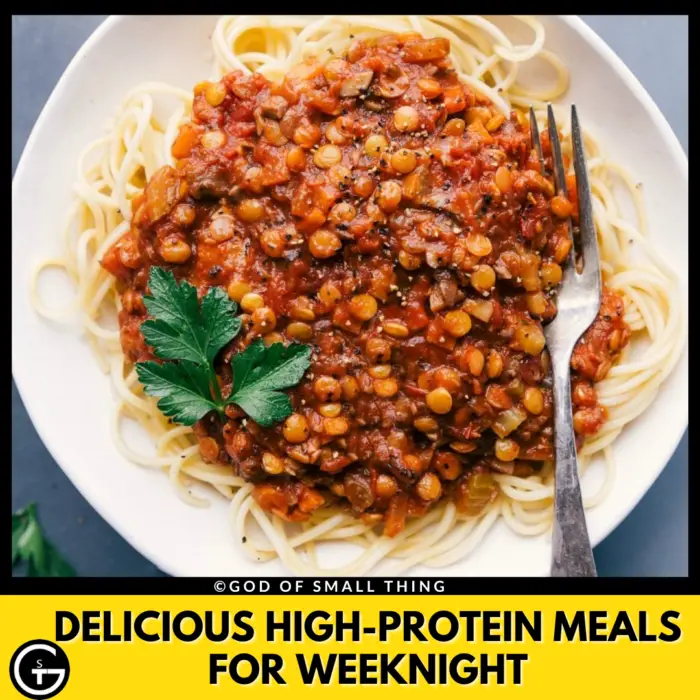 Serve the lentil bolognese over spaghetti or your favorite pasta. Top it off with some vegan parmesan cheese and fresh basil for a burst of flavor. This dish can be easily customized to your liking by adding your favorite veggies, such as spinach or mushrooms, to the sauce. It is also a great option for meal prepping as the sauce can be stored in the fridge or freezer and reheated later for a quick and easy meal. Enjoy!
Chickpea Curry
Chickpeas, also known as garbanzo beans, are versatile ingredients that can be incorporated into a wide range of dishes, including salads, soups, stews, and curries. They are an excellent source of plant-based protein, making them a popular choice for vegetarians and vegans alike.
One quick and easy recipe that highlights the versatility of chickpeas is this delicious curry dish. The creamy coconut milk base provides a smooth and velvety texture, while the curry powder and cumin add a complex depth of flavor.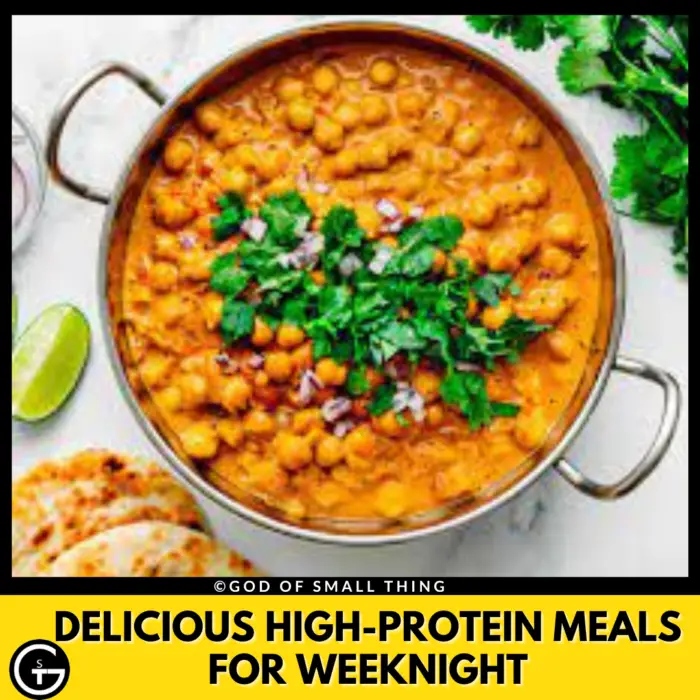 To make this dish, start by sautéing some diced onions and garlic in a pan until they are translucent. Add in the curry powder and cumin, and cook for a few more minutes to toast the spices and release their fragrant oils.
Verified Information on Makhanas benefits and why we should incorporate them in our lifes as an evening snack. Every Question Answered here 😀 Proven Makhana Benefits
Next, add a can of drained and rinsed chickpeas, along with a can of coconut milk. Simmer for about 10 minutes, until the sauce has thickened and the chickpeas are tender. You can also add in your favorite vegetables, such as spinach, kale, or bell peppers, to make the dish even more nutritious and flavorful.
Serve this curry over a bed of fluffy rice or with some warm naan bread on the side. The combination of creamy coconut milk, fragrant spices, and tender chickpeas makes for a satisfying and healthy meal that can be enjoyed any day of the week.
Quinoa Stuffed Peppers
This recipe is not only high in protein but also low in calories. You can prepare the quinoa and peppers in advance and assemble them right before baking.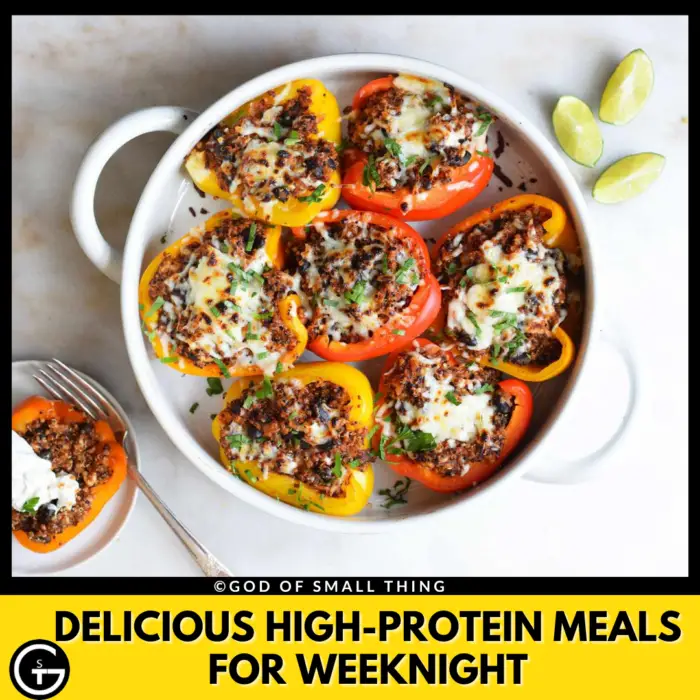 Cook the quinoa with some diced tomatoes, onion, and spices. Cut the peppers in half, fill them with the quinoa mixture, and bake in the oven for a hearty and healthy meal.
Vegan Caesar Salad
Salads are often considered boring, but not this one. This vegan Caesar salad is a protein-packed, flavorful meal that will satisfy your taste buds. Use chickpeas or tofu as a protein source, and toss with lettuce, croutons, and a vegan Caesar dressing. It's an easy and refreshing meal that's perfect for weeknights.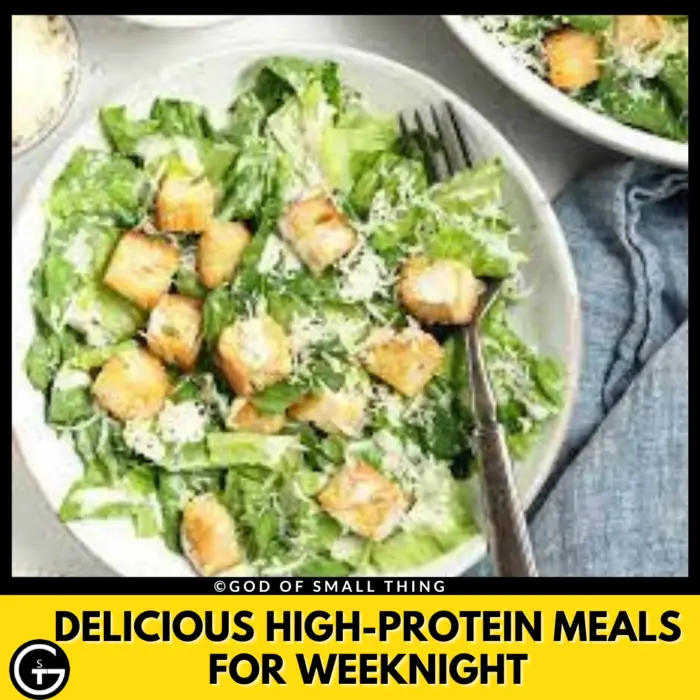 Conclusion
Eating healthy and flavorful vegan meals can be a challenge, but these high-protein recipes are a perfect solution. They're easy to prepare and provide the necessary nutrients to keep you going through the week. Incorporate these recipes into your meal plan for a satisfying and delicious weeknight dinner. Check out these delicious high-protein weeknight recipes and let us know which one is your favorite!
To read more recipes, you can take a look at our recipe section. There are a lot more recipes that you would love to splurge on; we are sure 😀