How long will Coronavirus last in India? – Case Study and more
Unlock 1.0 was as simple as the name sounds. However, it made me think What would be Unlock 2.0 when Unlock 1.0 was just like any other day in the past when we were Covid19 free. First of all, as I write on the 13th of June 2020, Coronavirus cases in India have crossed the 3 lakh mark and we have already overtaken the UK and become 4th highest hit country by the pandemic in terms of the caseload. According to the government of India, Unlocking India was important because of the crashing economy and they have got a fair point here.
But here's our question: We have borne a huge cost with 4 lockdowns and now when the time to reap the benefits was near, we started hearing addresses of Live with Corona. How unlocking the most contagious areas was suitable now? This is not just our question or a social media debate, but a common confusion amongst Indians.
We are not going to play any Blame Game today and will understand in numbers and facts how Coronavirus in India can end and how carelessness now can be catastrophic for us. We will also quote some of the restaurant owners we had a word with, our social media family members, and then what our commoners think apart from the experts' comments in the article. Let's get started with the facts
The Economy of the country can be boosted by the use of Indian Products and supporting Made in India products. There are a lot of alternatives in the country that are Indian and of high standards and quality but not many of us know about them! Here is a list of Best Indian Brands from every segment: Made in India (Link will open in New Tab so you can finish off and have another good read later )
Understanding Unlock 1.0
According to the guidelines issued by the Ministry of Home Affairs (MHA), malls, hotels, restaurants, and places of worship are open from June 8. Various states have reacted to the guidelines differently. While some have decided to open malls, restaurants in one shot like Delhi, others like Maharashtra have not opened the religious places but have opened shops.
Let's have a look at Unlock 1.0 state wise:
Delhi
Delhi has opened malls and restaurants but not hotels and banquet halls. "We may need hotels and banquet halls to place beds and to attach them with hospitals as cases have been rising in Delhi," said Arvind Kejriwal, the chief minister of Delhi. Contactless sanitizers have been installed in many malls and religious places have come up with their own set of guidelines.
Uttar Pradesh
Hotels, malls, religious places and restaurants are open in Uttar Pradesh excluding the areas that fall under containment zones. "At malls where there are food courts, it must be ensured that crowds don't gather and seating capacity is only used at 50%… At restaurants, tables must be disinfected after each use. And in hotels, staff must collect medical history and travel history of people staying there," said Awanish Kumar Awasthi, additional chief secretory.
Haryana
In Haryana, religious places and malls are open in the 20 districts excluding Faridabad and Gurgaon. However, restaurants and hotels are open across the state. There has been no cap on the number of visitors in these places put by the state.
Punjab
With strict restrictions, malls are open in the state of Punjab. The mall authorities are advised to allow people only of 50 per cent of the total capacity of the mall. Religious places are also open but no prasad is served. However, restaurants in dine in are still not open in Punjab.
Chandigarh
Hotels, malls, food chains are open in Chandigarh with social distancing rules taken care of and only till a set time.
Maharashtra
Maharashtra has extended the lockdown till 30th of June but has opened shops, markets, ordered film shoots to start, but religious places are shut as per the recent updates.
Gujarat
Gujarat has opened the religious places in the non containment zones but "only for viewing." They have ordered the temple management to strictly take care of the social distancing.
Kerala
Temples, restaurants, shopping malls are open in Kerala. However, children and elderly are not allowed in the religious places and some churches have decided to shut till 30th of June.
Hyderabad
With strict entry and exit rules, shopping malls in Hyderabad have opened. Gaming centers and cinema halls are closed inside the shopping malls.
These are all facts. Now, do you understand how simple was it to Unlock in India? Some states have done in a single shot that you can't actually figure out if there still exists the deadly coronavirus. And you must remember the 3 lakh mark whenever I quote such things!
When we decided to study how actually coronavirus pandemic can end in India, we read a lot of research papers, studied the graphs of various countries and how they have managed to fight corona, talked to people and the most sensible analysis we came across was done by Dr. Murad Banaji, a senior lecturer in Mathematics at the Middlesex University London.
According to Banaji, corona virus elimination might be a far fetched dream for some countries but it can occur as it happened in New Zealand or other countries like Vietnam and South Korea. Banaji suggests that it is sure that Corona virus doesn't follow the booking picture of the bell curve of the rise and fall as shown in the picture below:
The graph of Germany and Denmark:
The curve depicts the daily number of cases with time and how Germany and Denmark have successfully dealt with the COVID19 pandemic.
The graph of UK and USA
The UK and USA have less successful dealing with the pandemic and hence the rise is steady, but the decline even slower and more uncertain.
The point being made here is that there is no fixed rate with which a country can fight with the coronavirus pandemic. And the actual graphs of the countries are far from the textbook representation of Farr's law.
Banaji lists some scenarios to deal with the pandemic. Have a look:
Development of Herd Immunity: There is no surprise here. As we dealt with the outbreak of smallpox, we can deal with corona virus by introducing a vaccine in the world. However, no country as of now has been able to fulfill this assumption. If we look at it, as more and more people will become immune to the virus, the disease will start replenishing following the bookish representation of Farr's Law.
Physical Distancing norms (Lockdown): The next scenario that can help us deal with the pandemic and has actually worked for various countries is the implementation of strict physical distancing or lockdown. With physical distancing, daily new infections start decreasing. In real-life situations, the drops may not be as rapid but with rapid testing and strict following of social distancing, the outbreak can be dealt with.
These two scenarios are artificial and may not work perfectly in the real life situations. But a combination of both the scenarios can help us fight the coronavirus pandemic.
The term "herd immunity" is often misunderstood, so it is important to explain here. The main role of locking down is to set up obstacles for free movement and contact to locate disease and reduce effective "infectable" people. In short, but conceptually, it is useful: lock in to divide people into the communities where people are infected and those who are not. The localization of this disease may occur at the level of families, close social networks, nursing homes, etc. In the infectious population, herd immunity begins to develop, until finally, we see the level of infection decline. By definition, in terms of this virus, uninfected people can be protected by removing it from view.
The size of the infected population and the size of the outbreak depends on when mitigation measures begin. For example, compared with the early blockade, the British blockade was very late, so the proportion of the contagious population was much larger. The model indicates that this is the cause of high COVID-19 mortality in the UK. In countries with low mortality rates, it seems that early remission has succeeded in keeping the vast majority of the population away from the virus.
How is India dealing with the pandemic?
Let us apply the above two scenarios to India and have a look at how India has been dealing with the coronavirus situation. India's COVID-19 spread has slowed, but it has not been contained by the four lockdowns applied by the government, so in terms of its evolution, it is earlier than the current European epidemic. We have not reached the peak. The series of Lockdowns failed to stop the serious escalation of urban outbreaks. Now that the lockdown has been lifted, the possibility of disease exports from hot spots to new areas ("non-localization") has increased. India's experience shows that strictness and effectiveness are not synonymous, and it is possible to achieve a national blockade at a very high cost through more limited and localized measures that focus on relatively high-incidence areas.
How much time would India need to eradicate Covid ?
While it is hard to predict the level of community spread, here we try to analyze how much time would India need to bounce back from the Pandemic.
First, we take a look at the case study from France. France had approximately 25k active cases when a strict lockdown was imposed. Most of these cases were in critical condition and required emergency treatment and ventilators. In April , there were approximately 7138 patients in the Intensive units. Today France has been able to restrict these cases to 1.5 lakh in total. Out of these only 50000 cases are active , and are mostly in mild conditions. Only 879 patients are in critical condition. This is a significant achievement when compared to times when more than 1000 people died everyday. Going by the same trend, India that has around 146k active cases, would need a minimum of 6 months to be able to get rid of Corona.
What if a Lockdown is Imposed Today ?
Most of you would be surprised to know that India has so far been an outstanding performer in Covid recovery. For the first time the number of recoveries have been higher than number of active cases. Today we have 146k active cases. India is reporting approximately 11k cases daily. Even if we imply the best practices and stringent checks, there will be atleast 70 k patients in the coming 10 days. Normally, patients are able to recover in a time span of 2 – 3 weeks. Critical patients would require more time. This means if a stringent lockdown is imposed today and the recovery rate remains the same as now, we would need atleast 16 -17 weeks. This means even if there is a lockdown again , we will require a minimum of 3.5 to 4 months.
What if a Lockdown is Imposed After a Week ?
Waiting for another week means, that we will have atleast 65-70k more patients. That will take the tally of active cases to 210 k. Considering the same scenarios as above , we will have to be locked down for atleast 6 months.
Huge isn't it , what will surprise you is that fact that the numbers were around 5500 cases being per day when lockdown 4.0 ended. This clearly means that movement of people has aggravated the situation. Today we stand dwarfs to the havoc being wreaked by the Pandemic. Had we not been slaves to our desires, situation would have been much better. Here we are not talking about the poor migrants who were desperate to go home. Here we talk about people who are seen wandering on the streets, in malls, in public transport for reasons that were absolutely avoidable. People who still don't bother to wear a mask or practice social distancing.
And here Banaji has said it right. We have paid a huge cost with four lockdowns by crashing the economy, and now is the time to lock down the containment zones to control the spread of the virus.
New Zealand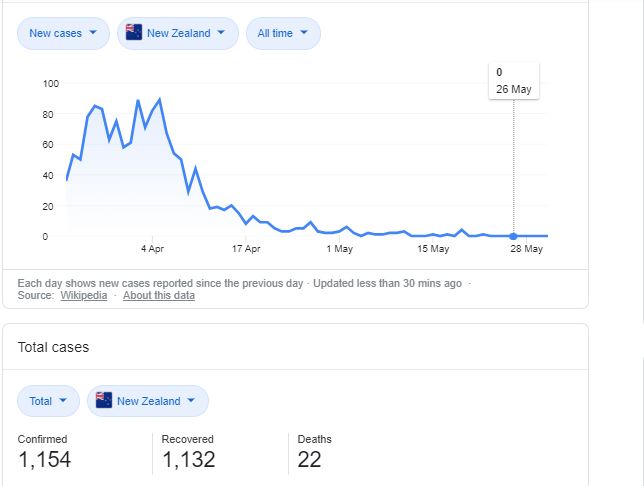 Let us start by taking the example of New Zealand which has recently declared that they have zero cases of coronavirus in the country. Jacinda Ardern, the prime minister of New Zealand, said that she did a little dance when there no cases in the country. As per the information released by Coronavirus Resource Center at Johns Hopkins University, New Zealand has had 1,504 cases of COVID-19 and only 22 deaths.
When there were 100 cases in the country and no deaths, the borders were closed for foreign travelers on March 15. After 10 days, a strict lockdown was implemented in the country. The restrictions were eased after a month slowly and now have been removed and only border restrictions remain.
Testing, testing and testing! Last week, Ardern announced that the country was able to handle up to 8,000 tests per day, which is one of the highest test rates per capita in the world. Overall, it has tested nearly 295,000 people, which again gives it a higher test rate per capita.
There has also been a good understanding of the government and the people in New Zealand. The government issued messages time and again to stay wherever they are and the people followed the guidelines. Keeping in mind that New Zealand is an isolated island with much less population, the recovery also depended on this factor.
Malaysia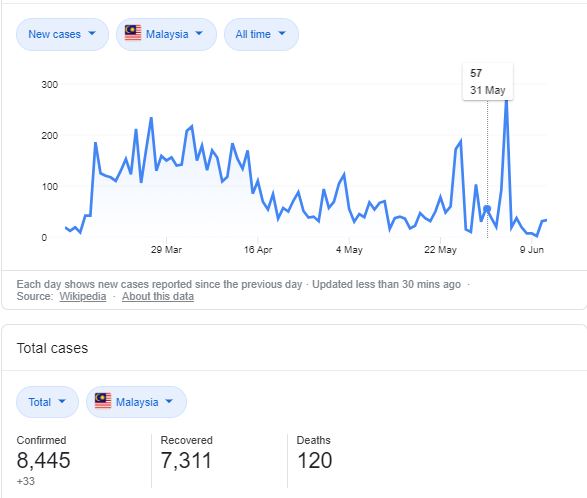 Now, I decided to pick Malaysia because I have been missing out on a big factor i.e. Economy. Many people would argue that unlocking in India is important because of the declining economy. So, let us look at how Malaysia has been dealing with the pandemic being far less economically developed than us.
In addition to the strict lockdown and rapid testing rate, Malaysian government took care of the economy curve as well. They knew that it will become difficult for the daily wage workers to manage the expenses during lockdown and hence they had a financial plan implemented for them. It was estimated that the lockdown would require it to provide fiscal stimulus up to 14% of GDP. In fact, its preliminary estimate was 17%. This is the highest deficit financing limit set by any country in the world.
This became the major reason why Malaysia was able to fight with corona and maintain its economy as well.
Politicizing the Pandemic in India
I wouldn't say that India is the only country where the pandemic has been politicized but it would not be wrong to say that it is among the countries where the Covid19 pandemic has been politicized. The first lockdown in the country happened with the central government taking control and imposing a 21 days lockdown in the nation. And later, with the spirit of federalism, the states were given control to manage the coronavirus pandemic their own way.
Now with center giving out control to the states, Delhi and Maharashtra being the most affected states by the pandemic decided to take a leap of faith and unlock. More specifically in Delhi, earlier odd-even was applied to open up the shops with time limits and with Unlock 1.0, Delhi is open like forever. With more than 36,000 cases recorded in Delhi, and increasing every day on a rapid pace, we can expect Delhi to have 5.5 lakh cases in July as the home health minister mentioned in a speech. In a similar fashion, Maharashtra government has also eased the lockdown for the citizens.
With this confusion caused among the state, center, and the local governments, there have been rising complaints on social media about patients not being taken care of in the hospitals.
Recently, Deepika Singh, Tv actress took to her social media handle and requested the Delhi Chief minister to provide aid to her 59 year old mother who has been tested positive in Delhi. She said that her mother lives in a joint family and she fears that the disease might spread to everyone if not taken care of.
Watch video here:
She was able to get help within an hour but the social media is flooded with such complaints from the Janata and we are here entering Unlock 1.0.
There must also be somethings that the center should take care of solely like the opening of the schools. No parents would send their children to schools until the situation controls. Not to mention, the poor have been massively hit by the pandemic as they are not able to feed themselves and run their living in India.
We all talk about "Mazdoor ki zindagi ki keemat," every day. And we understand they are the worst hit by the pandemic. Let us think this way:
How is the middle class dealing with the pandemic?
So, here we suggest to not politicize the pandemic and work together as a team in this fight against coronavirus.
What Delhi restaurant owners had to say?
In our study to understand the Unlock 1.0, we tried to connect to around 50 restaurant owners in Delhi. Not to our surprise, around 20 of our calls were simply declined with a message that restaurants are temporarily out of service and will be back soon. The ones we were able to connect, all of them had an opinion that they are not expecting customers to visit their place even after taking sanitation measures.
Shivam, the owner of Pind Balluchi, said, "With the current situation of coronavirus, we are deciding to open after a month and this might be the opinion of other restaurants as well."
We called up restaurants like Delhi Heights and Bercos, and both of them were not in any hurry to open up going by the guidelines of the government.
It was clear to us that the Delhi government might open up but somewhere people are fearing coronavirus even more. Not to mention, only "some people" as many are flocking on roads without respecting the social distancing measures.
What should be done?
After the analysis of the coronavirus pandemic in the world and how India as well as other countries are dealing with it. Now the question is: Should we fight with coronavirus or Should we live with it?
So, after analysis , we have a few suggestions that we can implement to fight with coronavirus:
Remember How India fought other epidemics
In 1918, India saw a pandemic named Spanish Flu. The flu killed between 17 and 18 million Indians, more than all casualties in World War I. India born a heavy burden of death losing 6% of its people. Compared with men, more women died-relatively undernourished, busy with unsanitary and poorly ventilated dwellings. The epidemic infected approximately one third of the world's population and claimed between 50 and 100 million lives.
Then , India wan not medically advanced nation, which explains the reason for poor recovery. Eventually, NGOs and volunteers joined the response. They set up a pharmacy, removed the body, arranged cremation, opened a small hospital, treated the patients, raised funds, and operated a distribution center for clothes and medicine. Citizens formed an anti-flu committee. A government report said that in Indian history, there has never been a person with a good education. Fortunately, a large number of community members have emerged to help the poorer brethren in distress.
So, what we can learn from here?
We can learn that people have to come together to rescue. We have seen immense support from small organizations and we have our hopes intact that everyone will come up to help every one in this situation of the pandemic.
If you are looking forward to COVID19 LIVE TRACKER & PREDICTOR. Here is an initiative by a student in the country to build a website for COVID-19 LIVE TRACKING.
Lockdown the Containment zones until slope steeps
As we talked about easing the lockdown, we here suggest that states like Delhi, Maharashtra, Gujarat, must impose lockdown. The Center must take charge of this as they did during the first phase of the lockdown. By strictly locking the containment zones, we can at least make sure the virus remains contained. We must at least do so for at least till the slope stars steeping on the coronavirus graph. Here, we suggest fighting with coronavirus.
Civil Lockdown
If the states don't implement a lockdown, we must take charge of our lives. After all, it is the matter of our lives and our near and dear ones, right? It is crucial that we stay in as much we can. I promise God wouldn't mind if you pray at home and avoid visiting religious places. If possible , you must request to work from home. Make sure whenever you step out, you have the masks on, and keep the hand sanitizer handy. Whenever you feel like you are having symptoms of coronavirus, it is always better to quarantine yourself than to spread it to others. Make sure children and the elderly stay at home strictly. If you are in a crowded place, keep an arm's distance with others. In the first place, avoid gatherings right now. Remember the aim is to fight with corona and not live with it. And with our efforts, we can together make India corona free.
Remember, nothing can be done by the government alone. And with the politics going around, all you have to do is to trust yourself more than anyone. Let us together fight with corona and win the race!
We have started off an Initiative to boycott Chinese applications to promote made in India applications at least till India is self-reliant in products. So here are the best alternatives to the top 25 Chinese Applications in India. Boycott Chinese Apps: Indian alternative to Chinese apps