8 Most Iconic Jersey Numbers In Cricket History with their Astrological Connections
Sports is not just about playing a game with a motto to win. It's much more than that. There's an emotion that drives the spirit of players and fans alike. The sheer passion shared by the lovers of sports is visible when a crucial match reaches its climax. Loud cheers and slow sweat signify the gravity of such moments. Even in a general scenario, we find admirers gathering souvenirs and jerseys of their favorites. And these materialistic items that they gather are symbolic of the heroism their stars exhibit. Jersey numbers in cricket appeared in the late 1990s and today some of the greatest players can be recognized by the jersey number they wear. Are you eager to know the best jersey numbers in cricket? Then, read this article to expand your knowledge regarding cricket players' jersey numbers.
| | |
| --- | --- |
| Cricketers | Jersey Numbers |
| Chris Gayle | 333 |
| Rahul Dravid | 19 |
| Shane Warne | 23 |
| Virat Kohli | 18 |
| Sachin Tendulkar | 10 |
| Herschelle Gibbs | 00 |
| Virendra Sehwag | None |
| Mahendra Singh Dhoni | 7 |
7 Most Iconic Jersey Numbers In Cricket History
1. Chris Gayle Jersey Number: 333
The Jamaican storm whose striking powers bring him almighty credentials. Christopher Henry Gayle aka the Universe Boss has the most formidable records, especially in T20 International format. Gayle is the only player to have scored a triplet of centuries – Triple hundreds in Test, Double hundreds in ODI, and hundred in T20 as well. In T20 International, Gayle became the first-ever batsman to hit 1,000 sixes. Rising against all odds – injuries and poor form, Gayle became the highest run-scorer for West Indies in the ODI format. For his destructive style of play, Gayle found a noticeable place in the ICC T20I Team of the Decade.
Gayle dons the jersey number 333 on his t-shirt. Since there's always a significant reason behind jersey numbers in cricket, there's one here as well. As per the Cricket Lounge, in 2010, playing a test match against Sri Lanka at Galle International Stadium, Gayle scored 333 runs off 437 balls with a stupendous strike rate over 70. That day, he blitzed the opponent side with thunderous 9 sixes and spectacular 34 fours. Post that match, he began wearing the milestone he had achieved in his career and went off breaking more records. In T-20 international, Gayle once scored 175 playing against an IPL team Pune Warrior in 2013. Thus, 175 also found a place among the best jersey numbers in cricket. 
2. Rahul Dravid Jersey Number: 19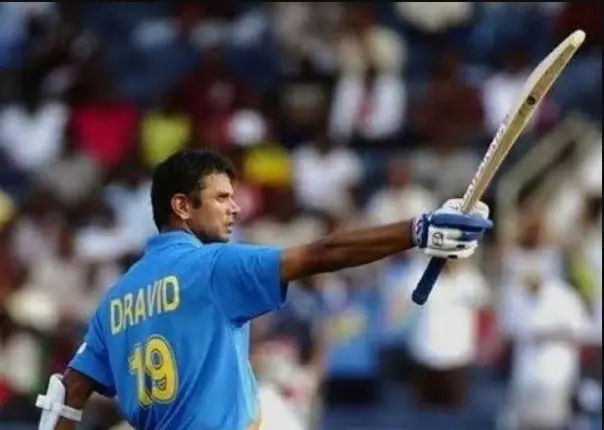 The wall of India has contributed exceptionally to the world of cricket. He scored runs as and when required, but moreover, stood firm in crucial matches where the team had to withstand unprecedented hardships. With over 25,000 international runs in his career scoreboard, Mr. Dependable proved his place in the history of world cricket. His records in the Test format of cricket are incredible. Dravid can be credited with records such as "most balls ever faced" and "most time spent on the pitch". As a matter of fact, he has a unique record of not getting out for a golden duck. All these combined, Dravid became a firm symbol of endurance and received several accolades for his contribution. He was the first non-Australian to deliver Bradman Oration, recipient of Padma Shri and Padma Bhushan and inducted into the ICC Hall of Fame in 2018.
The star-studded cricketing legend started out with the jersey number 5 in his career. Later, the master of Tests donned another jersey number, was number 19. There's an interesting story behind it. While many believed it to be for astrological reasons, the only reason that supported the cause was very different. When the media people failed to take it any longer and asked Dravid to unveil the mystery behind one of the best jersey numbers in cricket, he simply said, jersey number 19 helps him to remember his wife's birthday. Conclusively, this Cricket Lounge article corroborates Rahul Dravid's intention behind his jersey number.
3. Shane Warne Jersey Number: 23 
The former captain of the Australian cricket team and the person who once bowled the ball of the century, Shane Warne, has an exciting jersey story. Before that we must know more about one of the greatest spin bowlers of all time, in fact, the only bowler in the Wisden Cricketers of the 20th Century. Joining world cricket in 1992, Shane Warne became one of the stalwarts in the Australian Cricket Team. He picked up over 1,000 international wickets in his sixteen years long career. Warne had become synonymous with spin bowling when he was nearing retirement. Inducted into the ICC Hall of Fame in 2013, Warne is a cricketing legend whom generations will remember.
One of the greatest spin bowlers of all time, in fact, the only bowler in the Wisden Cricketers of the 20th Century. Warne donned the jersey number 23 while picking up on one amazing batsman after another. On enquiring the reasons behind one of the most famous cricket players jersey numbers, Warne opined that his choice is inspired from that of other sporting legends. As a matter of fact, Warne followed in the steps of his favorites – David Beckham and Michael Jordan, both of whom wore jersey number 23.
4. Virat Kohli Jersey Number: 18
Captain of Indian Cricket Team and arguably the best batsman in the world today, Virat Kohli necessarily gets a mention on this list. In truth, Virat has the best ratings in all formats compared to every Indian batsman till date. Called the ODI Specialist for being the fastest in reaching 8,000, 9,000, 10,000, 11,000 and 12,000 runs in One Day International history. For his amazing contribution to the sport, he has received Sir Garfield Sobers Trophy, Rajiv Gandhi Khel Ratna and several other ICC awards for being the best in what he does.
The tragic story of King Kohli can be traced in one of the best jersey numbers in cricket – number 18. As per Jagran Josh, in the year 2006, when Kohli was batting against Karnataka in the Ranji Trophy series, he received bad news. His father, Prem Kohli, passed away. The sudden shock did not deter king kohli's confidence and went on to score a ninety in that match. That day, Kohli attained the charisma of a hero, who was willing to fight against all odds. The master cricketer ensured that his jersey number shall be a tribute to his greatest hero, his father, who passed away on 18th December. Since he joined international cricket, Kohli has always donned the jersey number 18. 
Are you somebody who is like a die-hard fan of Virat? Here's everything about Virat! From Biography to Family and everything: Virat Kohli Biography | Age | Stats | Centuries | Family | Net Worth
5. Sachin Tendulkar Jersey Number: 10
Regarded as the greatest of all time: Jersey Number 10. World sporting legends like Kaka, Diego Maradona, Lionel Messi, Michael Owen, Pele and many more have worn this jersey. As for cricket jerseys in cricket, probably the most popular has to be 10. After all, the God of cricket donned the no.10. With most runs in Test and ODI, Sachin Tendulkar ranks the second best Test and ODI batsman after Don Bradman and Vivian Richards respectively. Glorified by excellent Indian honors – Bharat Ratna, Padma Vibhushan, Padma Shri, Rajiv Gandhi Khel Ratna and Arjuna Award, Sachin stands as the most prolific Indian sportsperson till date. The little master has an unparalleled story, hard to cover in a few lines.
Sachin Tendulkar walked the pitches wearing number 10 and created history in his 26-year long career. In India, every kid knows the number 10 and in fact, nobody in Indian cricket after Sachin's retirement has worn that jersey, except the Shardul Thakur controversy. There are several stories circulating which predicts why number 10? Some relate it to Victory and Power, while others say, it's the 'TEN' in Tendulkar. However, the real reason remains hidden for his fans and cricket enthusiasts alike. Read this Sports Café to further learn why Indian cricketers can no longer don the number 10 jersey.
6. Herschelle Gibbs Jersey Number: 00
Exceptional batsman and an astounding fielder, who once defined the spirit of South African cricket – the Scooter aka Herschelle Gibbs. Widely considered as the record maker and breaker of the last decade in the 20th century, Gibbs left his mark on world cricket. Playing for 14 long years, he introduced a distinct style of play and took his team to spheres of success. In fact, Gibbs was the first batsman in ODI history to score six sixes in an over. The event occurred in the 2007 World Cup, when South Africa played against Netherlands. Add to that, Gibbs once held the record fastest century by a South African batsman. Talking of centuries, he still remains among the rare 10 batsmen who scored hundreds in the three consecutive occasions.
One thing that struck out about Gibbs was his jersey. While best jersey numbers in cricket are famous due to the players who wore them, Gibbs has a different case. Herschelle Gibbs had a habit of wearing the last two digits of the year he was playing in. This became his trademark, starting with the year 2000, when he wore 00 as his jersey number and the trend followed on till his retirement in 2010. Read more about Herschelle Gibbs on this Cricket Times article.
7. Virendra Sehwag Jersey Number: None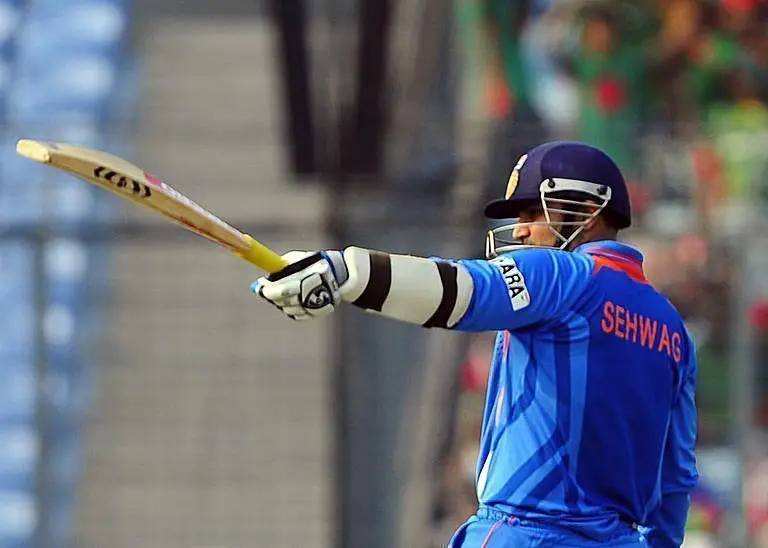 8. Mahendra Singh Dhoni Jersey Number: 7
The last feature on the list of 8 most iconic jersey numbers in cricket history is the ultimate champion of all time – MS Dhoni, the former skipper of the Indian Cricket Team. He is the reason India could win all the major ICC Trophies in the 21st century and become the most fierce cricketing side of the decade 2010. He holds the record of being selected as captain five times in the ICC World ODI XI teams. A marvelous wicket-keeper, an astounding finisher, and an inspirational leader, possibly the best ever. MSD has left a legacy behind, which the coming generation of cricketers will see as the dawn of Indian cricket.
MS Dhoni's jersey has often been vigorously discussed in the media. Once when he attended an event as a brand ambassador, he was asked the rationale behind his iconic jersey. Dhoni responded whole-heartedly, as this sports news article recalls the story – "Why do you wear a number 7 jersey?" To this Dhoni replied, "'When I used to play football, my jersey number used to be 22. but when I came to Team India, only one jersey was empty which I got, now it will be said by chance that my Both Birth Month and Birth Date are 7, so people added it to my lucky number." Interestingly, for the hardcore football fan that Dhoni is, many football legends like Christiano Ronaldo and David Beckham share the jersey number 7.
You might also like:
Frequently Asked Questions
Who is jersey number 77 in cricket?
One of the rising superstars of Indian cricket, Shubman Gill dons jersey number 77. While playing for India in the U-19 World Cup, Gill scored 372 runs and won the title of Player of the Tournament, making a name for himself before entering the senior international level. He has so far been praised by a number of legends like Sourav Ganguly, Rahul Dravid, Sachin Tendulkar and VVS Laxman. Gill made his ODI debut in 2019, while India played against the Kiwis in Hamilton. The mystery behind the jersey number 77 remains unknown till date.
Who has Jersey No 1 in cricket?
Kannur Lokesh Rahul, right-hand batsman and wicketkeeper for India, dons the jersey number 1 in cricket. A master debutant for scoring century in the very first international ODI match of his career, in 2016 against Zimbabwe. Rahul has had an extraordinary career so far, mainly due to his appetite for scoring big scores and standing up in times of crisis. In fact, Rahul is the fastest batsman to score centuries in all the three format. Also, he is the first player to score a century in T20 international, while batting at number 4 or below. Why he wears the jersey number 1 is still not known, however, fans believe it signifies Power and Patience.
Who is jersey number 23 in cricket?
The rare left-arm unorthodox young spinner of India, Kuldeep Yadav, dons the jersey number 23. He has the record of being the second Indian and third spinner in the world to pick hattricks in all formats of cricket. In 2019, Yadav became the first bowler for India to effect two hattricks in One Day International. A year later in 2020, Yadav became the fastest bowler, in regard to innings, to reach 100 wickets in ODI. Many have predicted the reason for his 23 number jersey, however, the played has still has not revealed the story behind it.
What does the jersey numbers mean in cricket?
Jersey numbers mean something significant in modern-day cricket. As a matter of fact, jersey numbers in cricket is a very recent phenomenon. The 1995-96 World Series Cup in Australia first saw the use of jersey numbers in cricket. Other playing countries soon followed suit. Player numbering was used in the 1999 World Cup, where the captain wore jersey number 1, while the rest of squad was numbered between 2 to 15. Later on, this rigid system changed and now, players in all cricket playing nations have the freedom to choose their jersey numbers, except the prominent ones which have been retired by the International Cricket Council.
Which is the best jersey number in cricket?
10 is the best jersey number in cricket because the God of cricket, Sachin Tendulkar, sported it while making one record after another. The man who scored hundred hundreds will always have a special place in the history of cricket. As for the jersey number, post the Shardul Thakur controversy, was retired by Board of Control for Cricket in India (BCCI). In reality, a good number of legends in the sporting world has donned the number 10 jersey in their careers. The list of such legends include: Lionel Messi, Pele. Diego Maradona and more.
Who is Jersey No 5 in cricket?
Call him the Wall or Mr. Dependable, Rahul Dravid is the name, who at the start of his career sported the jersey number 5. In cricket, Rahul Dravid earned credentials especially for his performance in Test format throughout his sixteen-year career. Coming back to jersey numbers, Dravid later changed into jersey number 19. While many believe it had been a result of an astrological projection, the cricketing star later clarified that it was to simply remember his wife's birthday.
Why is Gayle's number 333?
While playing a Test match against Sri Lanka in 2010, Chris Gayle posted a gigantic individual score of 333 on the board. Leveling his stature of big hits and fearsome innings, Gayle began wearing his Test career best as jersey number. As for T20 International, he wears 175, the score he made against Pune Warrior in the 2013 edition of Indian Premier League. Donning career milestones is a popular method of jersey numbering.
Who is jersey number 21 in cricket?
Manish Pandey wears the jersey number 21 for India. He is an excellent right-handed middle-order batsman, who's best known for his match saving innings. In the Indian Premiere League, he's remembered for being the first Indian to score a century. Best known for his batting technique, Pandey brings class to his jersey number.
Who is the king of cricket?
Completing 12 splendid years in 2020, Virat Kohli is considered the king of cricket. Sensational batsman, inspiring fielder and a highly capable captain, Kohli has left an indelible mark in the history of the game. Till date, he has proven to be highest rated Indian batsman in all formats of cricket.
Is Yuvraj Singh left handed?
Yuvraj Singh, the Indian big-hitter, is undoubtedly a powerful left-handed batsman. He also bowls and fields pretty well, making him an innovative all-rounder. Endless records in ODI and T20 cricket are attributed to Yuvi. His aggressive style of play earned him a massive fam base. He's one among the very few to have hit six sixes in an over, off Stuart Broad. He dons the jersey number 12, making it among the best jersey numbers in cricket.
Who is jersey number 22 in cricket?
Kane Williamson, captain of the New Zealand Cricket Team, wears the jersey number 22 in cricket. Williamson is a consistent batsman, appearing in top ICC rankings for Test and ODI formats. Since joining international cricket for his national side in 2010, Williamson has always maintained squad presence for all the major tournaments. In the 2019 World Cup, Williamson led the Kiwis to the finals against England. In the process of doing so, he became the Player of the Tournament for his marvelous performance throughout.