Chandrayaan-2 Latest Info on Vikram lander: ISRO is planning to reduce orbit of the Chandrayan 2 orbiter
Latest Info on Vikram lander
Besides ISRO's attempts to establish communication with lander Vikram, NASA has also tried to contact it. The American space agency has sent Hello messages to the lander in an attempt to establish communication with the latter.
NASA's Jet Propulsion laboratory has used it's deep space network ground stations to beam a radio frequency message. A source in NASA confirmed the news to a national daily. The source informed that NASA is trying to contact Vikram through it's deep space network (DSN) as contractually agreed with ISRO. Here we must inform you that the chances of Vikram's revival are becoming bleak with each passing day. The 14 days where the lander will be exposed to Sun's rays, will get over on September 20- 21, after which there would be no scope to energise it's solar panel.
Another astronomer Scott Tilley also confirmed NASA's message broadcast to contact Vikram. Tilley is credited for spotting a lost image by Nasa's spy satellite. The image was lost in 2005. NASA has three DSN ground stations in California (US), Canberra( Australia) and Madrid (Spain). All the three DSN stations are situated at a distance of 120 degree so that any device in the space can connect with at least one of the ground stations.
Reason behind NASA's keen interest in Chandrayaan 2
NASA has been showering praises and has been taking a keen interest in the Chandrayaan-2 mission for many reasons. First reason is it's laser reflector array that was installed on the Vikram lander. This passive payload reflector array had to track the exact landing spot of lander. It was also supposed to calculate the exact distance between the moon and earth. Now that the lander is unknown, NASA has no update about it's payload that consisted of an array of mirrors.
Second reason is data that will be sent by the orbiter. We all know that NASA is planning it's manned mission to moon in 2024. Therefore, it's need to have exact information about the moon. Chandrayaan-2 is loaded with eight advanced payloads. Which means it can provide exact and valuable data for NASA's manned mission to South pole of moon in 2024.
Third reason is competition. China has already announced that it will set up it's reasearch hub on the SOuth pool of moon. This hub will be setup after two or three moon missions. US, clearly would not want to lag behind in the space race. It's reported that president Trump is even considering working with Elon Musk to make moon mission a success.
We had earlier informed that ISRO was planning to reduce orbit of the Chandrayan 2 orbiter. This was being planned to revive the lander and establish a communication.
Can ISRO revive the Vikram Lander?
According to some experts, it is almost impossible to revive the lander, but this attempt might put the already successful orbiter at risk.
The approach to revive communication with Vikram will require, the orbiter to be placed lower in the orbit. Currently, it is 100 k.m from the moon, but it is planned to be moved to 50 k.m. This will lead to huge fuel expenditure, due to the firing of onboard engines. Then to maintain it at that height will further require more fuel. And there is minimal probability to revive Vikram. Later, additional fuel will be required when increasing the height to 100 k.m.. This will reduce the lifetime of the orbiter and also put it at risk by bringing it so close.
Earlier, ISRO has confirmed that despite the hard landing, Vikram is still intact
The lander is lying in a tilted position but is not damaged. An official, associated with the mission has informed that "It had a hard landing very close to the planned (touch-down) site according to the images sent by the on-board camera of the orbiter. The lander is there as a single piece, not broken into pieces. It's in a tilted position ".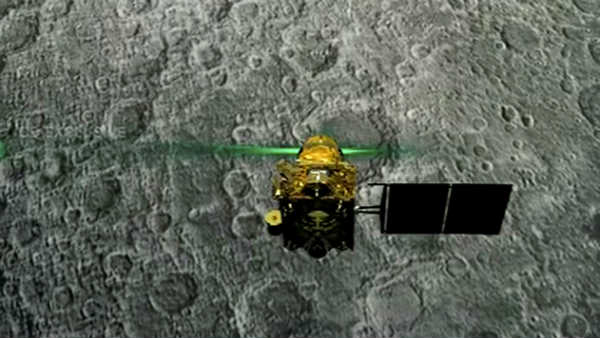 Another official said that he will rate it (restoring link) as good. The latest information has raised hope that lander springing to life again is still a possibility. The official further added that the chances are bleak. ISRO does have experience of recovering contact with a spacecraft in a geostationary orbit, but the two situations are not exactly similar.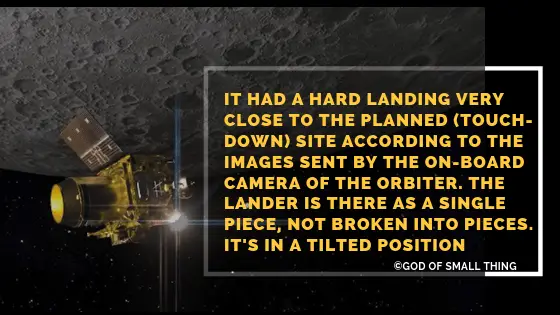 Vikram is already lying on the surface of the Moon, and cannot be reoriented. Vital thing is that the antennas will have to point towards the ground station or the orbiter, which is an extremely difficult operation. At the same time, there are chances of success.
The official said that power generation for the lander is not an issue, as it has "solar panels all around it" and it also has "internal batteries" which "are not used much." Here I must also remind that Vikram carries three payloads – Radio Anatomy of Moon Bound Hypersensitive Ionosphere and Atmosphere (RAMBHA), Chandra's Surface Thermophysical Experiment (ChaSTE) and Instrument for Lunar Seismic Activity (ILSA).
A day after losing contact from the lander Vikram, the scientists achieved a major breakthrough. The Chandrayaan 2 lander 'Vikram' has been located on the Lunar surface. The Indian Space Research Organization chairman, K Sivan said, "yes we have located the lander on the lunar surface."
The lander was spotted with the help of a thermal image clicked by the orbiter Pragyan.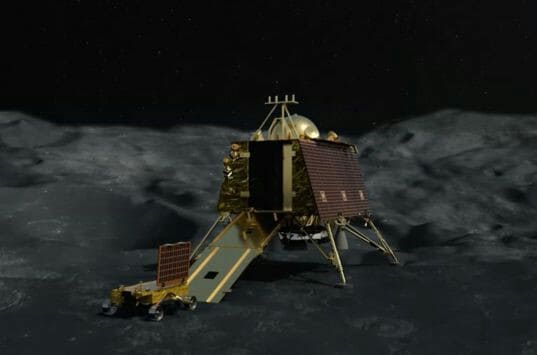 The fate of Vikram lander on Sep 7
Those 15 minutes , were the most stressful moments for our heroes at ISRO.
Just when all things were going as expected, the lander lost complete contact from the scientists.
All this occurred just a few moments before the expected soft landing. The lander went blank when it was about 2.1 km away from the lunar land
Overwhelmed by the situation, K.Sivan couldn't hold his tears and broke down in front of Prime Minister Modi.
Consoling K Sivan and the other scientists, the PM said " The best is yet to come in our space program. India is with you."
This Lady Has Been Behind AGNI Missiles. Meet Tessy Thomas-missile woman of India

Hopes for communication seem to be fading

Though Vikram had been located, the communication hasn't been established yet.
The ISRO team is making constant efforts in order to communicate with the lander, says K.Sivan.
But with every passing minute, it seems that the chances of communication with Vikram are less likely to occur. Experts say that the passing time is accompanying fading hopes. Despite this, the scientists are working on the possible error that occurred, and communication establishment.
Worldwide applauds for ISRO and Chandrayaan 2
ISRO and Chandryaan 2, despite not being able to soft-land, earned worldwide appreciation for its dauntless efforts.
The price of the entire Chandryanaan 2 mission was less than half of the budget of Avengers Endgame.
NASA lauded Chandryaan 2, calling it an "inspiration" for the US space agency. "You have inspired us with your journey and look forward to future opportunities to explore our solar system together," it said.
"We should not be too discouraged. India was trying to do something very, very difficult. In fact, everything was going as planned as the lander came down," addressed Linenger.
The New York Times went into raptured about India's "engineering prowess and decades of space development".
A senior Trump administration official also commended ISRO'S mission calling it "incredible".
But, amidst all the success and achievements, Pakistan seems to be burning. The government has put all of India's money at stake, say Pakistani reporters. Anyway, who cares about a nation who can't even afford a space rocket of its own! We can't really compare our country with a nation that is dependent on China for its very survival.