Classic Old Doordarshan Serials From the 1980s and 90s with where to watch them now!
This pandemic lockdown has led to various old Tv serials to re-surface and be telecast on TV. Ramayan broke some major records and became the most-viewed TV show of all time. All of these things hint at one thing, people wanting to reminisce about the old times. So, what better time than now? If you are interested in checking out other old Doordarshan serials like Ramayan, then this is the right place for you. Or if you are someone who wants to re-watch serials from your childhood, you are welcome too! In every genre from drama and satirical comedy to emotional romances, I have it all. Further ado, here are the Classic Old Doordarshan Serials from the 1980s and 1990s! Also, if you are looking to have a good watch of some of the best Hindi comedy Movies we recommend you to have a look at our list of 50+ Best Hindi Comedy Movies Sorted by Year with Full Movies or Watch Online Links
In case you love watching series then the next thing is for you. We have compiled and curated a complete 100+ tv serials list sorted by IMBD Ratings and rotten tomatoes combined with where to watch them online links for you! Don't forget to check this out! Best TV Serials Ever
1. Buniyaad
Year: 1986-1987
Cast: Alok Nath, Anita Kanwar, Goga Kapoor, Sudhir Pandey, Asha Sharma, Kiran Juneja, Vijayendra Ghatge, Asha Sachdev, Giriha Shankar, and Rajesh Puri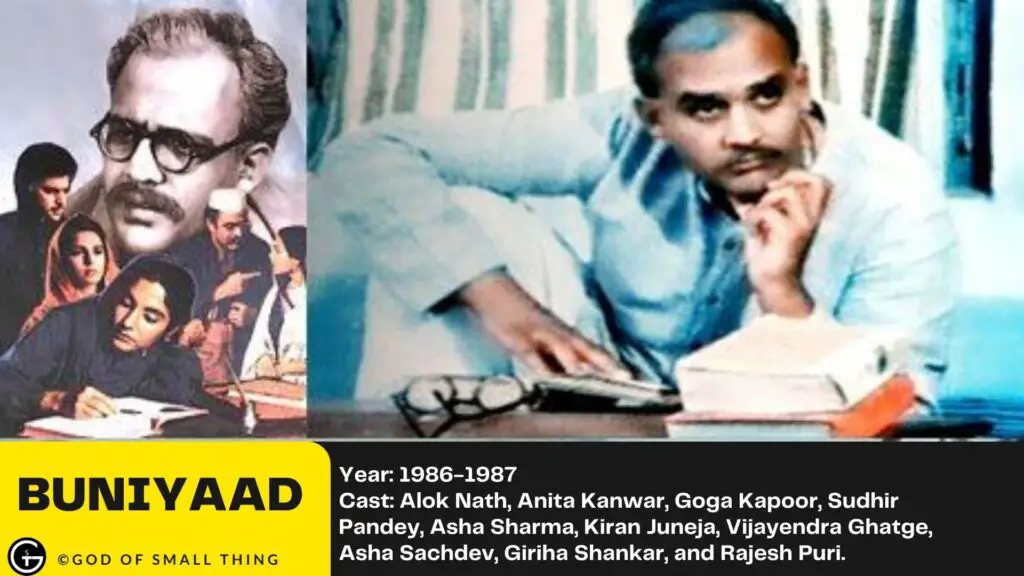 This heartwarming Old Doordarshan 80s serial was loved by every patriot in India. The plot dealt with the Partition of India and Pakistan and the lives of common men during that period. However, The focus of the show centred around the struggles of a family in 1947 and the aftermath of this massive political shift in the country. A million lives were displaced and how the country really went through a crisis during this historically important era.
An extremely well-written drama that keeps one hooked until the very end, with a total of 105 episodes, not one boring episode. Spanning the 1920s to 1950s this show has a rare ability to make you smile throughout its run. This saga of emotions with outstanding performances and a brilliant script, this serial was simply incredible! One of the best classic Old Doordarshan 80s serials.
2. Byomkesh Bakshi
Year: 1993-1997
Cast: Rajit Kapur, K.K. Raina, Sukanya Kulkarni-Mone, Kartik Dutta.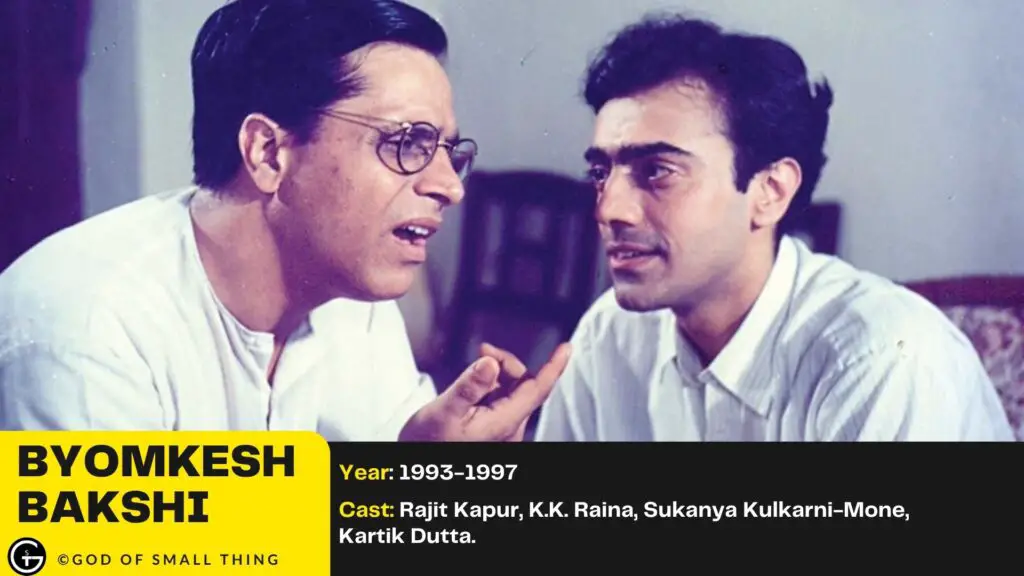 A widely famous old Doordarshan 1990s serial on this list, this serial is about a Bengali detective who takes on cases. He tackles chilling cases with his side-kick support Ajitkumar Banerji. He calls himself a Satyanweshi, meaning 'the truth seeker' who runs after the truth. So, not huge on calling himself a detective, he stands out in comparison to the classic detectives such as Sherlock Holmes. Meaning, he is more concerned with the truth rather than the law. He lets the perpetrator die in a few cases and uses his own methods to deliver justice when he is sure that he/she is the criminal but there is no evidence.
A detective that solves cases without any weapons or a lot of help, now that is an interesting story. A rather simple series that leaves an impact with its brilliance. However, It was shot with a low budget, but it is everything one would want from a detective show. With the action and the suspense, it is one of the greatest detective shows in the history of Indian history. One of the best scripts, this Old Doordarshan 90s serial surely is entertaining.
3. Vikram Aur Betal
Year: 1985-1986
Cast: Arun Govil, Sajjan, Arvind Trivedi, Deepika Chikhalia, Vijay Arora, Ramesh Bhatkar, Mulraj Rajda, Rajnibala, and Sunil Lahiri.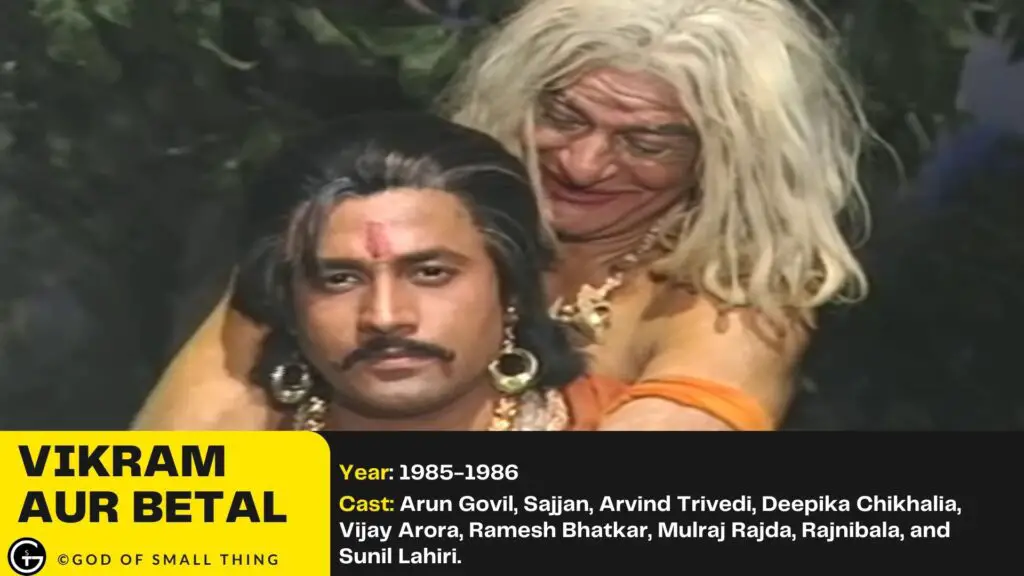 This Old Hindi serial on this list is based on the 11th Century Indian legends by poet Somadeva Bhatt. This particular story is based on the 12th book named Betaal Pachisi. These mythological stories are told to the wise King Vikramaditya by a ghost named Betaal. The king receives gifts every year, among them is a merchant who regularly gifts him fruits. Later, a ruby was found among the fruits and the king decides to meet him.
However, the merchant requests something weird on a visit, he asks the king for a dead body suspended from another tree from which he might achieve occult power. Betaal is identified as the body and he narrates 25 stories and asks various questions based on them.
4. Shaktimaan
Year: 1997-2005
Cast: Mukesh Khanna, Kitu Gidwani, Vaishnavi Mahant, Surendra Pal, Tom Alter, Arun Mathur, Lalit Parimoo, Arun Bakshi, and Raman Khatri.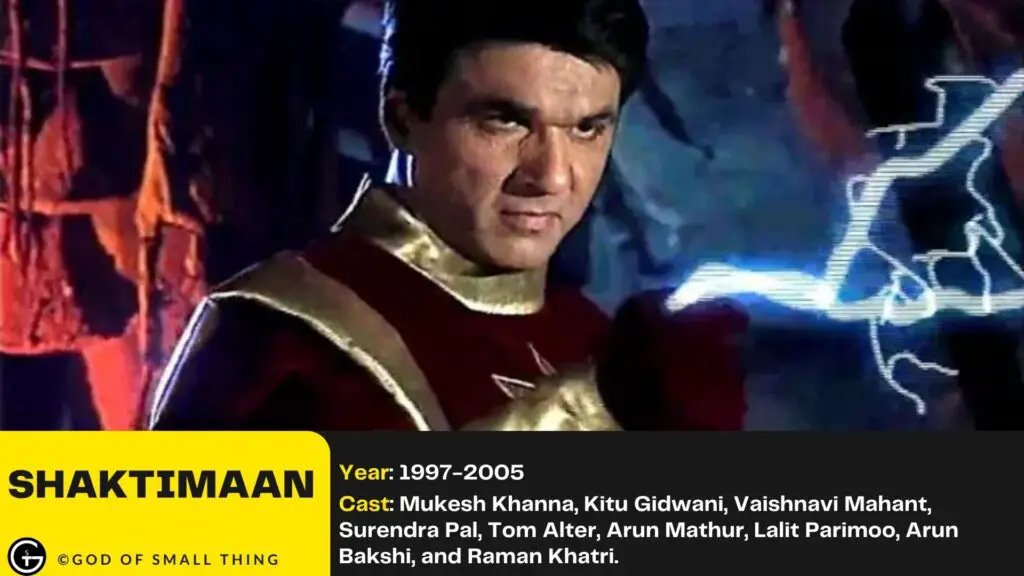 This is one of those absolute classics that was on every kid's mind, Shaktimaan was the Indian Superman, with more differences than similarities. An indestructible, almost immortal man who every criminal was scared of, that's pretty much Shaktimaan. Chosen by the Suryanshis, Mukesh Khanna was an ordinary man who was chosen to rise up against all odds. With superpowers he gains from the 5 elements of nature, he rises to the ultimate strength and he has one goal, to clear the world of crime. He shakes up the roots of every evil and fights against evil and comes out as the victor.
Fact: Shaktimaan can literally be translated to the "one with power." A childhood superhero, that was a role model for many kids. Sure, the visual effects might be funny when compared to the CG today, but then, it was top-class. The story, concept, characters, and everything was particularly new to Indian TV and it was a hit!
5. Shrimaan Shrimati
Year: 1994-1999
Cast: Jatin Kanakia, Reema Lagoo, Archana Puran Singh, Rakesh Bedi, Ajay Nagrath, Shail Chaturvedi, Hema Diwan, Vijay Gokhale, and Neena Gupta.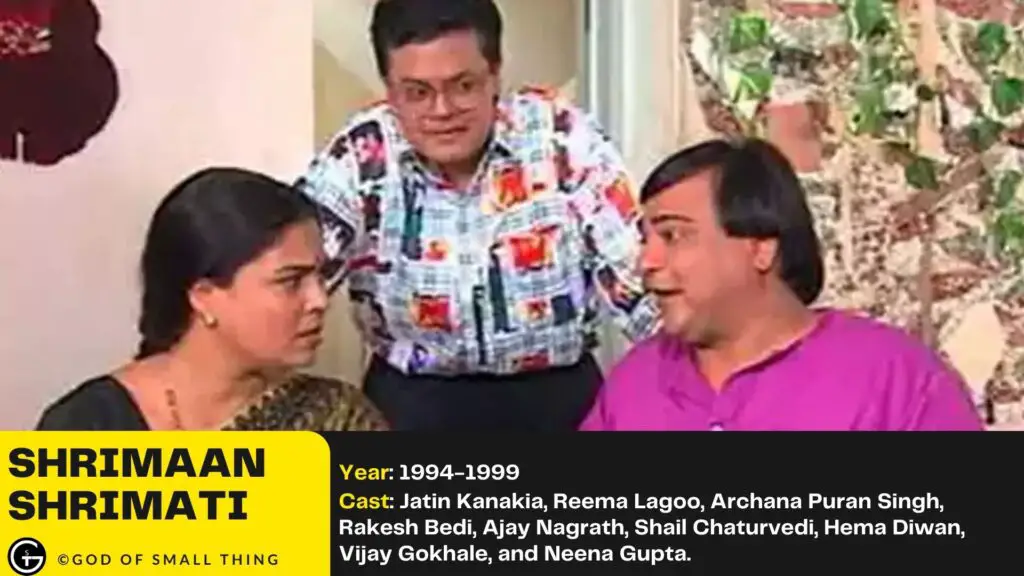 The plot of this Old Doordarshan 90s serial might look familiar; an ongoing show named Bhabhi Ji Ghar Par Hai was inspired by this show! The premise of this old TV serial is 'love thy neighbour's wife. Keshav adores his neighbour's wife Shalini, a glamorous film star, while Dilruba, Shalini's husband, likes Kokila, Keshav's homemaker wife. Both of them have a crush on each other's wives, and they try and get closer to them.
These attempts lead to comical results and hilarious scenes. An iconic show, that has been versatile, and the actors are spot-on with their roles. But, all the characters played their roles very well and made the show enjoyable. However, with almost 150 episodes, not one of them can be called boring, every episode brings hilarious situations to blow some steam off.
6. Ramayan
Year: 1987-1988
Cast: Arun Govil, Deepika Chikhalia, Sunil Lahri, Arvind Trivedi, Dara Singh, Sanjay Jog, Sameer Rajda, Bal Dhuri, Jayshree Gadkar, Padma Khanna, Rajni Bala, Lalita Pawar, Vijay Arora, Nalin Dave, and Mukesh Rawal.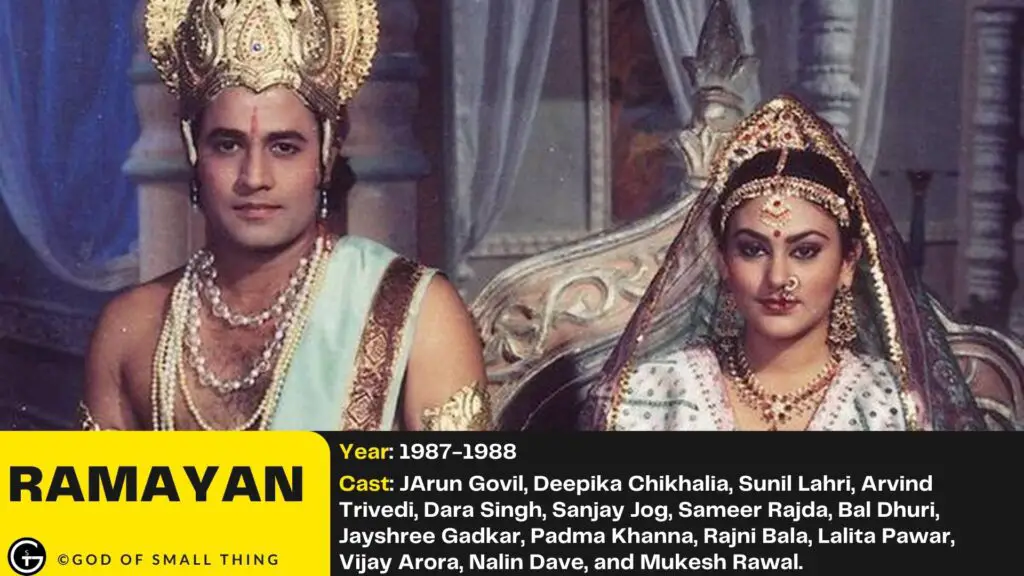 Now, this is a legendary Doordarshan 80s serial, that has broken several records. This Old tv serial actually had 82% viewership when it was first to run and became the highest-rated Indian TV show. But recently re-aired during the 2020 coronavirus pandemic this show became the most-watched TV in the world with a total of 77 million viewers in a single day. Based on the ancient epic Ramayana, the show shows Lord Ram's story of 14 years in exile with Sita and Lakshman and the infamous abduction of Sita by Ravan. This lore is something that every kid and adult knows of. Fact: during its first run, each episode earned a total of ₹40 lahks!
7. Padosan
Year: 1995
Cast: Jatin Kanakia, Smita Talwalkar, Shrikant Moghe, Satish Pulekar, Kishore Ambey, Vandana Pathak, Priya Arun, Dharmesh Vyas, Raki Aijan, and Seema Kapoor.
Padosan is a situational comedy show that originally aired on Doordarshan. With 100 episodes it was extremely popular and dominated family soap operas. Moreover, The show had a variety of up-and-coming actors as well as well-established actors creating a solid cast. This old Doordarshan serial on this list focuses on a joint family living in the same household. The main characters are the three brothers and their families.
If you are someone who is as keen as I am about watching movies and classics. Then the next thing is for you. Here are my recommendations for the Best Bollywood romantic comedy movies of all time and the best part is! they are Ordered by Year. The second best part is each link in the article will open in New Tab so you can finish this off and switch later 🙂 Because we believe in providing a good user experience. Let's carry on 🙂
However, Every member of the joint family has a different quirk to their character and we see them try and live as normal of a life as possible. The viewers follow their adventures as they try and navigate through their crazy life and weird scenarios. But, their lives go through a major shift when a new hot-shot actress moves into a house next to them and all the men of the house try and get her attention. This show is a laugh-riot where we witness the absolute craziness that the members of the household show.
8. Nukkad
Year: 1986-1987
Cast: Dilip Dhawan, Avtar Gill, Pavan Malhotra, Sameer Khakhar, Haidar Ali, Somesh Agarwal, Javed Khan, Sangeeta Naik, and Rama Vij.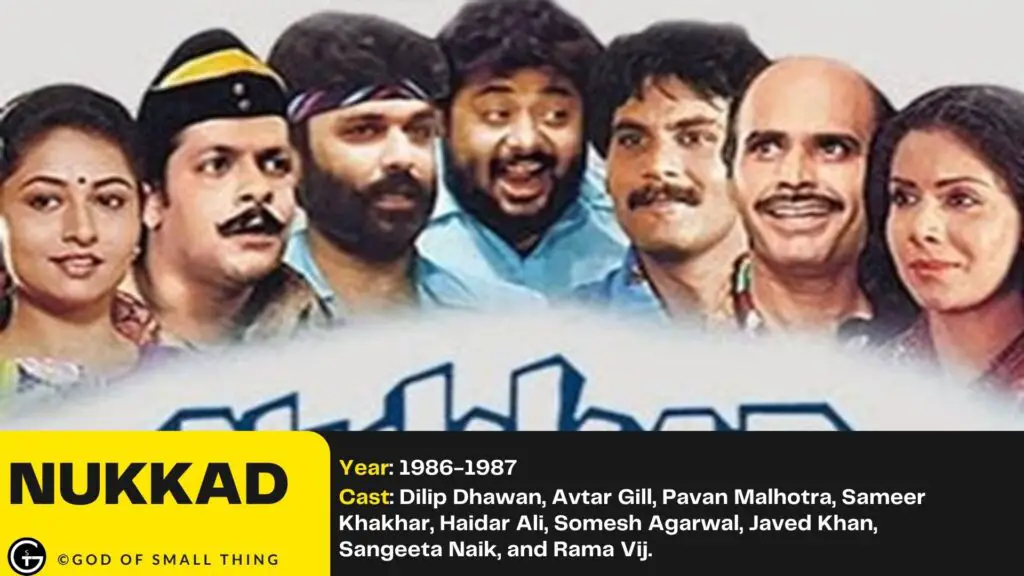 One of the most popular old Doordarshan 80s serials, this show had a remarkable response from the general public. This show has only 40 episodes, but every episode is based on the issues that low-caste people face every day. While some of the stories have happy endings, others end with melancholy and sadness. The best part of the show is the reality-like premise and simplicity.
Moreover, it is relatable to a large number of viewers as they see these characters living in a cruel society. But, The jokes and sentiments all are incredible. The characters like Kaderbhai, Khopdi, and Ghanshu Bhikari become household names. This is an incredible old Doordarshan serial that deals with reality while giving out some hope.
9. Malgudi Days
Year: 1986-2007
Cast: Master Manjunath, Girish Karnad, Vaishali Kasaravalli, Suhasini Adarkar, Kanti Madiya, B. Jayshree, Somu, Teddy White, Deven Bhojani, and Harish Patel.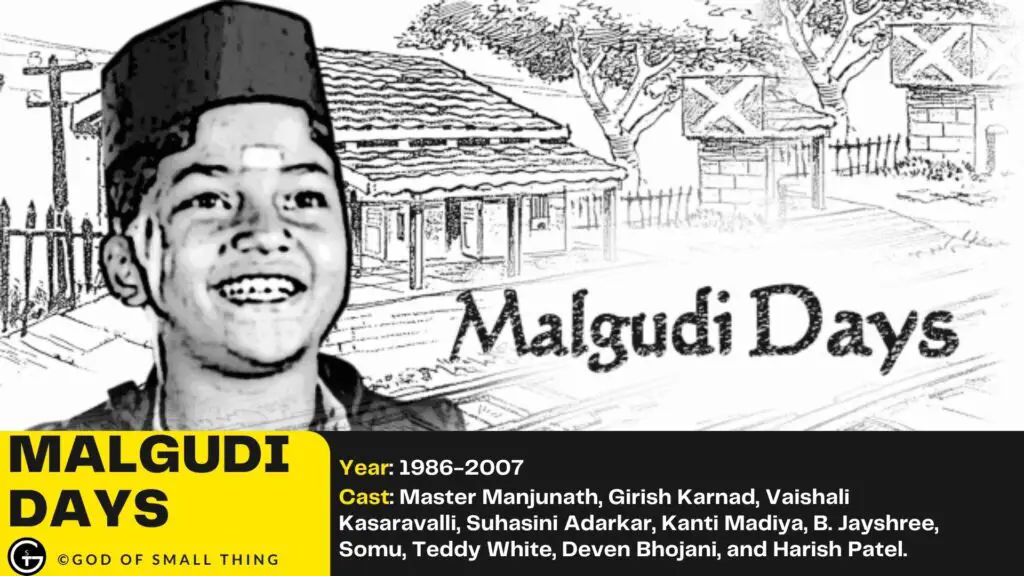 This old Doordarshan 80s serial is based on the famous works of R.K. Narayan. The show is a record of the lives of people living in Malgudi. It is a fictitious town in south India that has timeless characters that are loved by millions. These characters are simple people that deal with their unique lives with hilarious mannerisms. Moreover, R.K. Narayan actually drew his observation from human life to create these unique and memorable characters. However, The sketches in the serial were drawn by the popular cartoonist R.K. Laxman. This is one of those classic and timeless old Doordarshan serials from the 1980s that was loved by people of all ages and can still be watched in today's scenario.
10. The Jungle Book
Year: 1993
Cast/Voice Actors: Vinod Kulkarni, Nana Patekar, Uday Sabnis, Virendra Saxena, and Devashish Rogde.
Originally an Italian/Japanese anime adaptation of one of the most popular children's stories by Rudyard Kipling. It went insanely popular in India when it was dubbed in Hindi and aired on Doordarshan in 1993. The soundtrack of this old Doordarshan 90s serial "Jungle Jungle Baat Chali Hai" is still recognized by millions in India. A story about Mowgli, a man-cub who is raised in the jungle by a wolf pack.
He grows up with his friends Baloo- the bear, Kaa- the rock Python, and Bagheera- the black panther. So, We follow his story of becoming one with nature and protecting his home while going head-on with Shere Khan- a tiger and the alpha predator of the jungle. In April 2020, Doordarshan decided to re-air the serial for free on Doordarshan TV as a trip down memory lane.
11. Mahabharat
Year: 1988-1990
Cast: Nitish Bharadwaj, Mukesh Khanna, Gajendra Chauhan, Praveen Kumar, Arjun, Sameer Chitre, Sanjeev Chitre, Roopa Ganguly, Puneet Issar, Vinod Kapoor, Gufi Paintal, and Girija Shankar.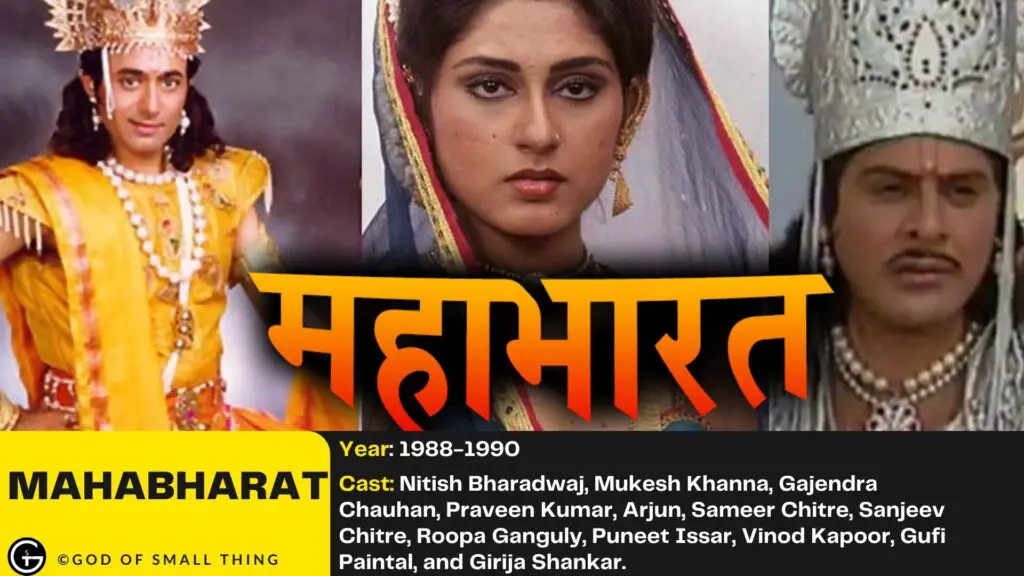 Another old Doordarshan serial in the 80s on this list like Ramayan covers an epic legend. Mahabharata revolves around the series of events that lead to the most known war between Pandavas and Kauravas including Lord Krishna, Draupadi, and Karna. The serial follows the five brothers, also known as Pandavas, and their war with their half-brothers, Kauravas- the 100 brothers.
Many things lead to the war, but the biggest catalyst was the mistreatment of Pandav's wife Draupadi. Also, focuses on the childhood of Lord Krishna and the upbringing of the Kauravas. The biggest dynastic struggle over a throne, one valuing morals and truth and the other caring about nothing other than power. This old Doordarshan serial in the 1980s-1990s is one of the most popular renditions of the epic.
12. Fauji
Year: 1988
Cast: Rakesh Sharma, Amina Shervani, Shah Rukh Khan, Manjula Avtar, Vishwajeet Pradhan, Sanjay Taneja, Vikram Chopra, Gautam Bharadwaj, A. Kannan, Ajay Trihan, Sonal Darbal, and Nikhil Dewan.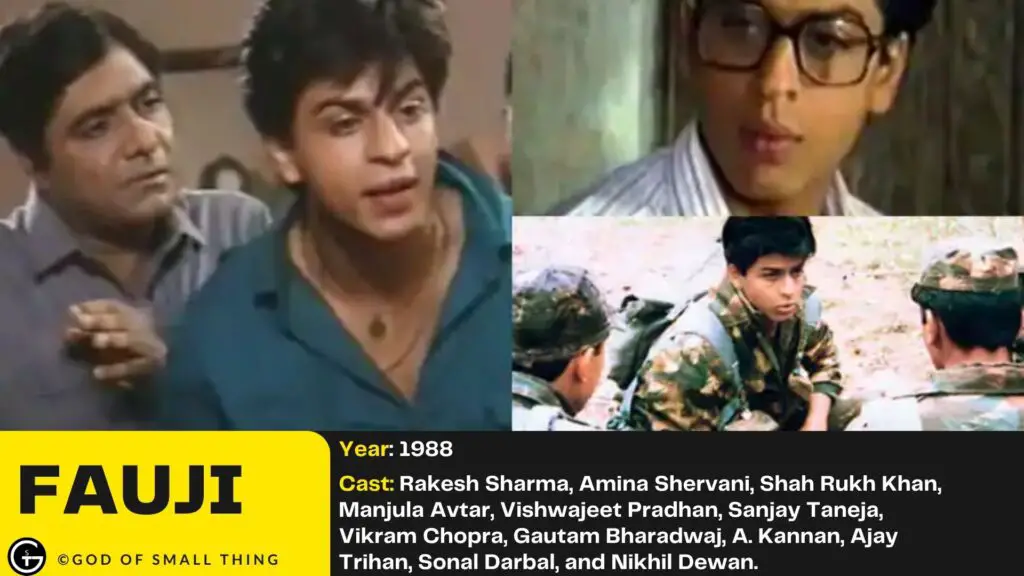 With only 13 episodes, Fauji took the TV world by storm. This was actually Shah Rukh Khan's first-ever starring role. About a group of new second lieutenants that go through training to qualify as Para-commando squad leaders. SRK stars as the 2nd Lt. Abhimanyu, once a happy boy who joins the army just to get his elder brother off his back.
All these trainees navigate their way through the Army life while making meaningful relations. However, this is a memorable old Doordarshan 80s serial on this list that really took off SRK and brought him to the heights of success that he is at right now. In fact, all the actors were well-cast, all of them carried their roles to perfection and made this show a hit!
13. Flop Show
Year: 1989
Cast: Jaspal Bhatti, Savita Bhatti, Vivek Shauq, Neena Cheema, B.N. Sharma, Rajesh Jolly, Binny Grover, Brijesh Ahuja, Devender Mundepi, Kishore Mehta, Kuldeep Sharma, and Payal Chaudhary.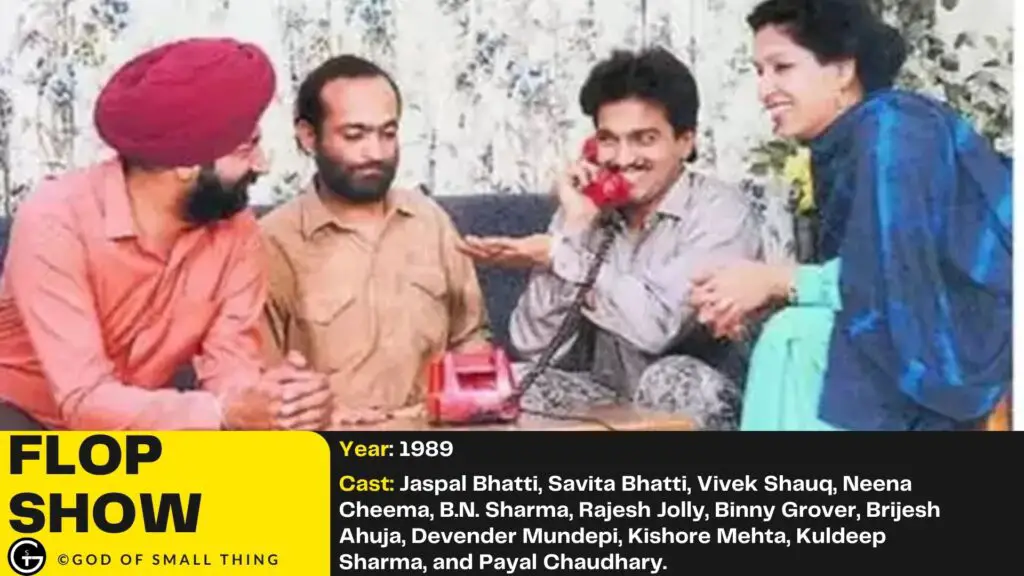 This old Doordarshan 1980s serial is a satirical humorist starring Jaspal Bhatti who plays himself. It was re-aired in May 2020 due to the coronavirus lockdown. We only had 10 episodes but they were memorable for a distinct opening sequence. The name of the show itself is an irony because this show skyrocketed when it was first aired.
The show portrayed a satirical take on the common societal problem in India. Flop Show is definitely ahead of its time, in each episode we saw a serious issue that was handled well with comedy. The cast was hilarious and the show was incredible. However, the use of traditional humour with a unique twist was brilliant.
14. Karamchand
Year: 1985-2007
Cast: Pankaj Kapur, Sushmita Mukherjee, Archana Puran Singh, and Sucheta Khanna.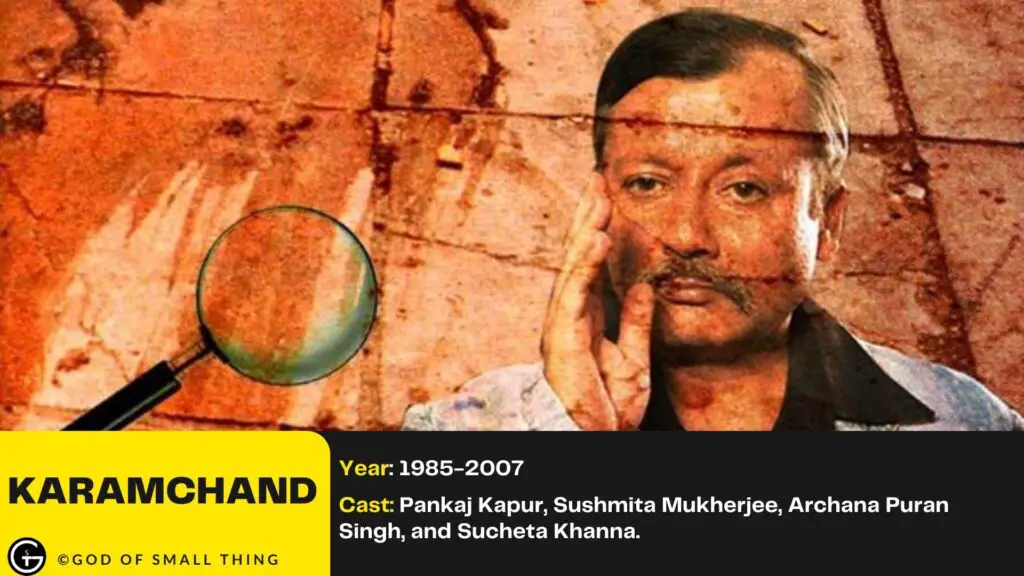 This is an old Doordarshan serial on this list, it is one of the first Indian detective series. He along with his assistant solves mysteries like murder and robberies. Karamchand is a detective who helps the police solve cases in his unique style while he munches away on carrots and plays chess with a police inspector. His funny assistant Kitty asks him stupid questions and was clueless most of the time while Karamchand says his popular line "Shut Up Kitty."
In fact, the show has effective humour and brilliant writing with very good camera work. The mystery was addicting and the show never got boring. This was probably the first detective show on Doordarshan and was really entertaining. The characters were hilarious and brilliant, this show was really one of the best old Doordarshan 80s serials on this list.
15. Bharat Ek Khoj
Year: 1988
Cast: various actors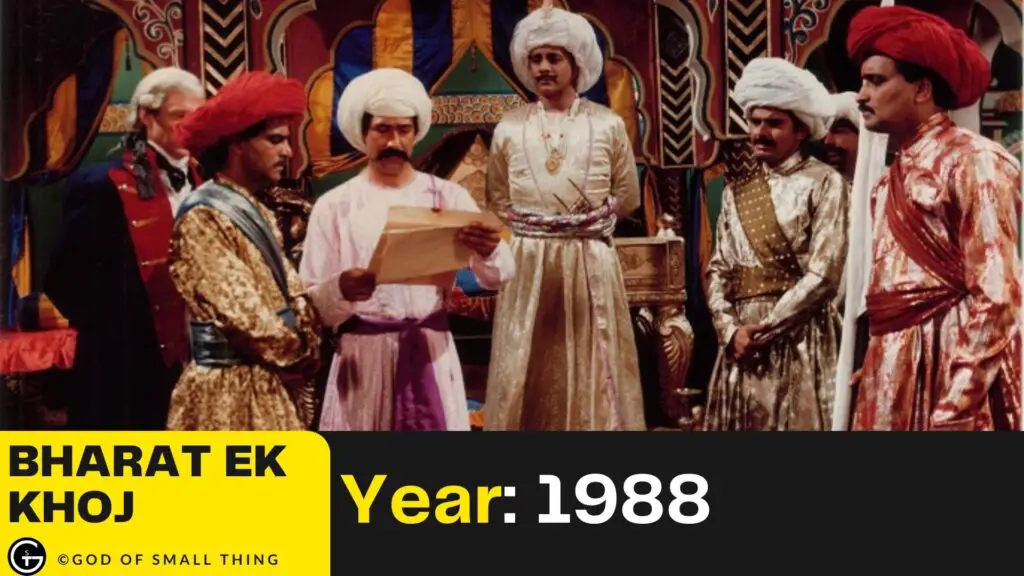 Bharat Ek Khoj is an incredible Indian historical drama based on the Jawaharlal Nehru book The Discovery of India. It covers a huge span of 5000 years and shows the history of India from the very beginning to the edge of independence in 1947. The cast included amazing actors such as Om Puri, Roshan Seth, Tom Alter, and Sadashiv Amrapurkar.
If you are someone who likes to watch movies that are inspiring and motivates you to the core. Then, we have something for you as well. Here is our list of 60 Best Inspirational and Motivational Hindi Movies with Watch Online Links. Save the link for the weekend!
The stories in each episode spanned from the beginning of Ramayana to the Independence struggles. In fact, It was a great history lesson for all Indians who watched Doordarshan. With a wonderful cast and simplistic filming that shows the rich and complex history of India. A classic on this rich old Doordarshan 80s serial list!
16. Alif Laila
Year: 1993-1997
Cast: Girija Shakar, Damini Kanwal Shetty, Shahnawaz Pradhan, Shweta Rastogi, Swati Anand, R.K. Datta, Pramod Kapoor, Mulraj Razda, Neela Patel, and Hyder Kazmi.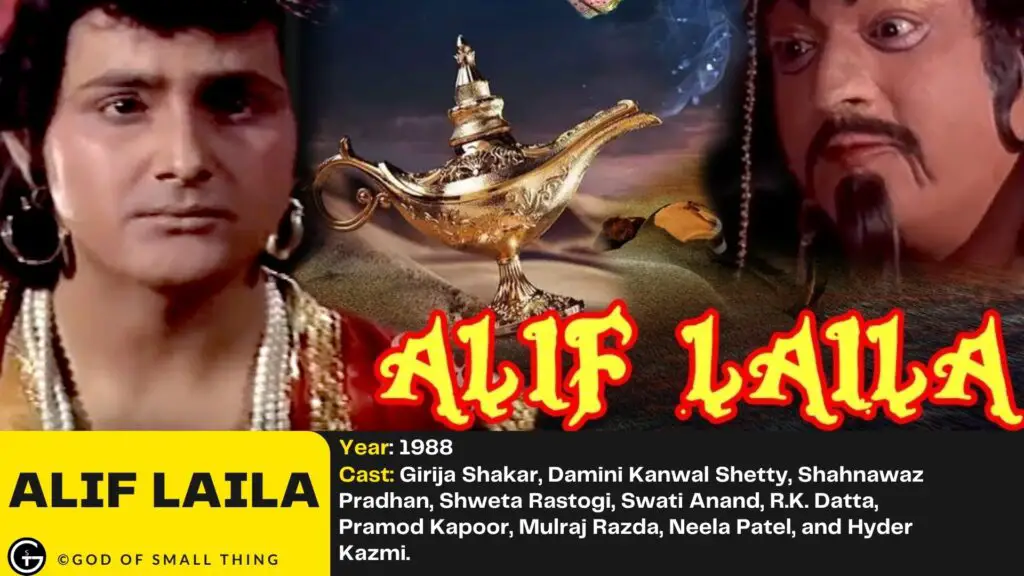 This is a classic Doordarshan in the 90s serial on this list is based on One Thousand and One Nights also popularly known as Arabian Nights. Having 143 episodes in total the story follows Shahrzad from the very beginning when she starts telling stories to Shahryar. It shows both popular and not-so-well-known stories from Arabian Nights.
This Fantasy genre show is named after its Arabic title One Thousand and One Nights – Alif Layla wa-Layla. Everything thing from magic lamps and flying carpets and great morals and fantastic characters, the show has it all. So, even today, this old Doordarshan serial in the 1990s feels refreshing and interesting. Watch these old Doordarshan serial episodes to refresh old memories.
17. Chandrakanta
Year: 1994-1996
Cast: Shahbaz Khan, Shikha Swaroop, Javed Khan, Mukesh Khanna, Pankaj Dheer, Irrfan Khan, Akhilendra Mishra, Kausambi Ganguly, and Mamik Singh.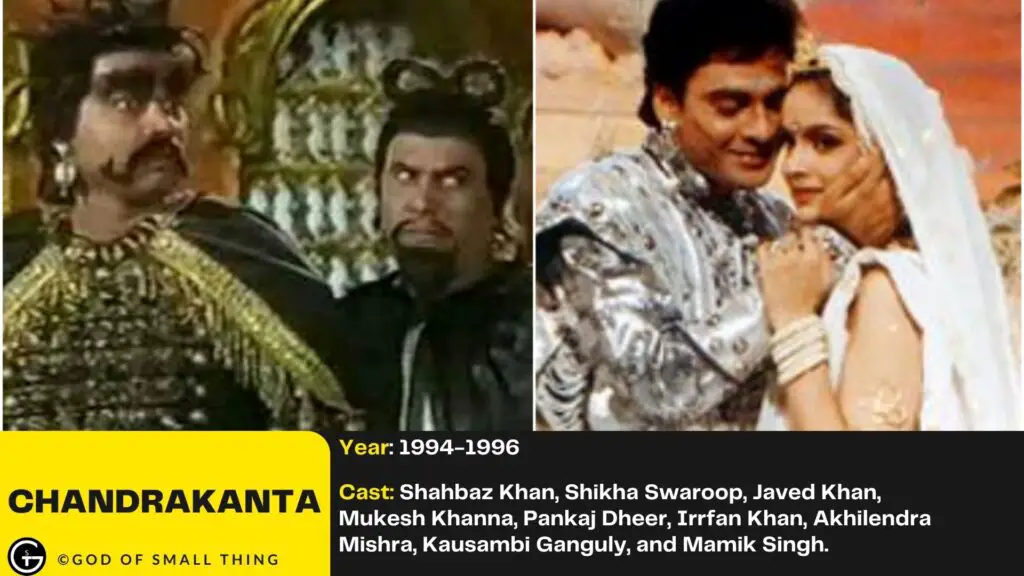 Chandrakanta is an old Doordarshan serial from the 1990s that is a story of eternal love set in the battle and strife between the kingdoms of Naugarh and Vijaygarh. Vikram and Chandrakanta the prince and princess of the respective kingdoms are deeply in love but can't be together because of the enmity between their kingdoms.
The kings of the kingdoms, once friends now enemies after a false accusation. Chandrakanta's exquisite beauty and poise make her the desired wife for every king and peasant who resort to negative things like war and black magic to win her heart and hand in marriage. This old tv serial was abruptly stopped at the peak of its popularity while fighting a legal battle with the Prime Channel during its recent re-run.
18. Circus
Year: 1989-1990
Cast: Shah Rukh Khan, Sunil Shendey, Sameer Khakhar, Rekha Sahay, Naeem Shah, Amrut Patel, Renuka Shahane, Satish Kaul, Anita Sarin, and Dimple Hirji.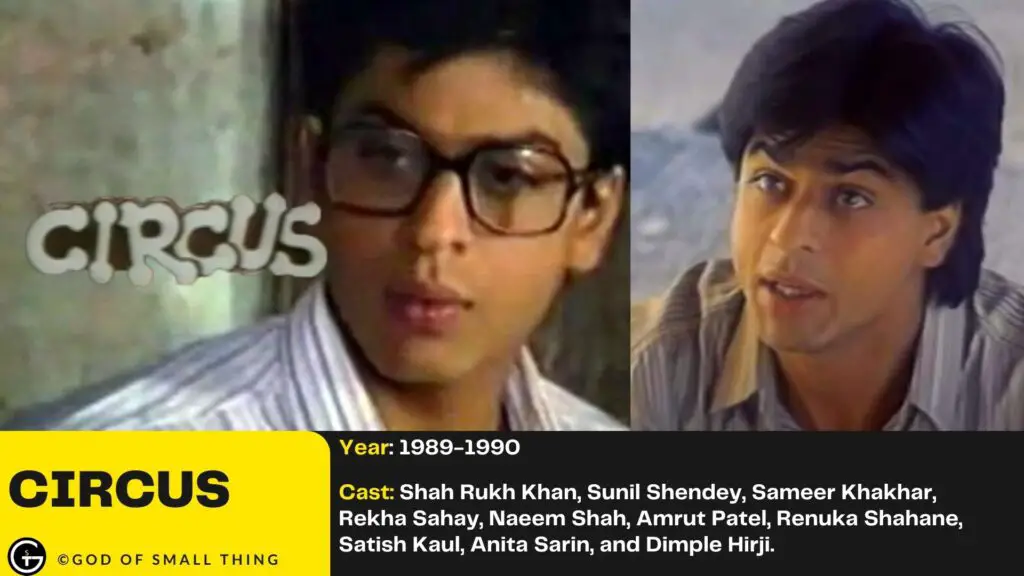 Circus is an old Doordarshan serial from the 1908s about the artists of a troupe as they struggle with tricky realistic situations. Following Shekharan, a young man who comes back to India from the USA. He is a driven guy who chases his dreams of setting up a factory with his friends but by a funny way of fate, he ends up managing a circus troupe when his dad, the previous circus owner, falls ill.
This is an extremely popular old 1980s-1990s Doordarshan serial that shows different sides of the characters as they make it through tricky yet realistic situations. The incredible stories have connected with the audience for their brilliant storytelling that churns out real emotions in the audience's hearts. The chemistry between the characters was really good and made a great impression on the viewers, obviously. This one is eye candy for SRK lovers out there.
19. Choti Badi Baatein
Year: 1986
Cast: Maya Alagh, Harish Bhimani, Sulabha Deshpande, Rohini Hattangadi, Master Jatin Khurana, Baloo Mukherjee, and Ashok Saraf.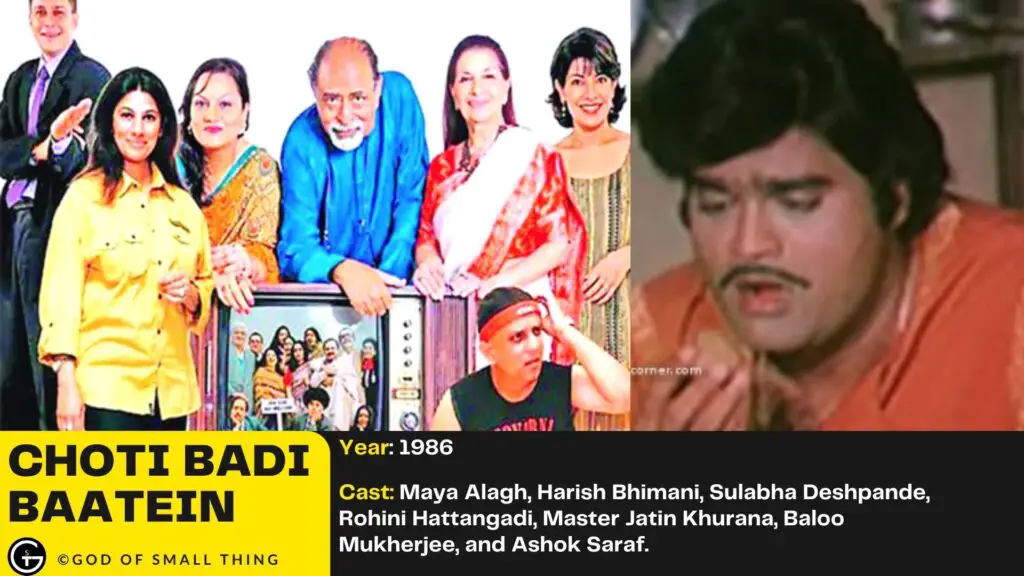 This popular old Doordarshan 1980s serial revolves around a family and their prying neighbours. The basic concept of superstition is put to use and has a very talented cast. The main character is known to be extremely superstitious while her entire family proves all her beliefs wrong. Her intruding neighbour also takes an interest in proving her wrong every time.
Moreover, the methods that the neighbor uses are way too hilarious. The viewers enjoy the comedy that this show offers and was very loved. The show only lasted a year. Ashok Saraf was widely appreciated for his incredible acting while he shows his versatility in different genres but his comedic acting really worked for him. It is a very entertaining old tv serial that will keep you hooked till the end!
20. Dekh Bhai Dekh
Year: 1993-1994
Cast: Sushma Seth, N.K. Shivpuri, Navin Nischol, Shekar Suman, Farida Jalal, Bhavna Balsavar, Vishal Singh, Nattasha Singh, Sunny Singh, Karishma Acharya, and Amar Upadhyay.
The story revolves around three generations in the Dewan family. They live in a huge bungalow in Mumbai. This show was an extremely popular old Doordarshan 90s serial that had a re-run on Sony till 2005. They have an incredible attitude towards life that helps them push through life struggles like business and relationship troubles.
These kids create hilarious situations with their friends that the audience can relate to. The unique and fun characters who have a fun way of talking. The "Modern Family" issues that the show revolves around have their own funny premise. The flawless casting and the plotline are perfect, this an incredible old Doordarshan serial in the 1990s that people of all ages will love.
21. Life Line
Year: 1988
Cast: Tanvi Azmi, Sukanya kulkarni, and Manorama Wagle.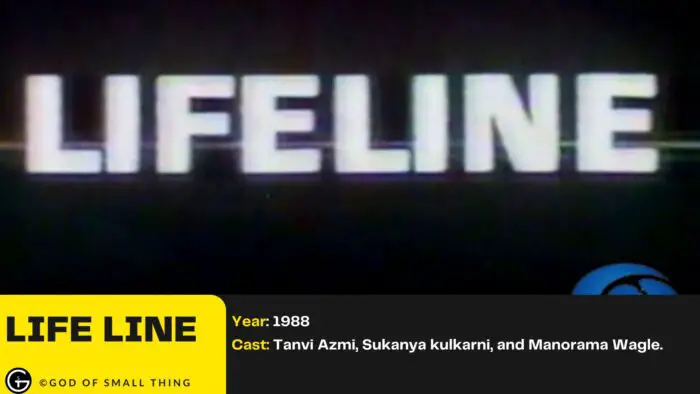 Lifeline is one of the oldest Doordarshan serials in the 1980s to ever air in India. It aired over 100 episodes with being thirty minutes each. This show was popular when there were almost no shows for people to watch. Doordarshan did have a monopoly over the TV industry so this show was well-known and is still remembered by many. It is an emotional drama that shows the relationships between a doctor and their patients.
How does a doctor handle the pressure of being responsible for a life, or dealing with a broken family who just lost someone? This show also deals with the moral dilemma that a doctor faces while operating and really shows the viewers the hardships and difficulties which are part of being a doctor. The stories were actually told by real-life physicians, this is truly a beautifully written show.
22. Mungerilal Ke Haseen Sapne
Year: 1989-1990
Cast: Raghubir Yadav, Ruma Ghosh, and Kamia Malhotra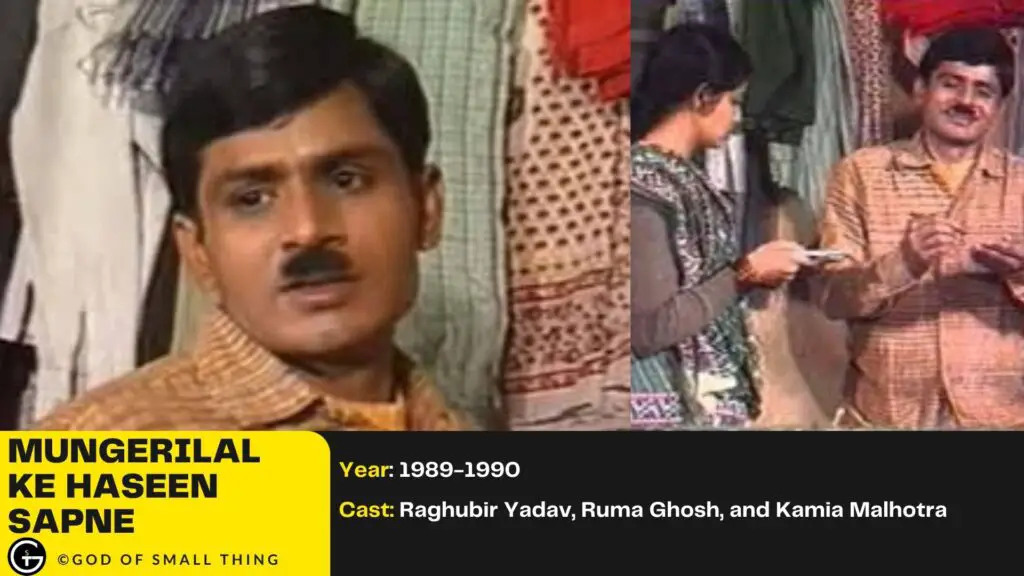 This show is another one of those popular old Doordarshan serials from the 1980s-1990s that were about the lives of middle-class people. It is about the doomed hopes of a middle-class man, Mungerilal who has dreams. But, that's about it, all he does is dream about a life he hopes to achieve because they seem impossible in real life. He dreams of being the boss, having a beautiful girlfriend, and also his wife listening to him.
However, all his dreams are re-enacted in hilarious ways that are very entertaining. But, no matter how funny it was on the outside, deep down you could see that it was the voice of every Indian who wishes and dreams for more and are not satisfied with the life they live. It has an incredible allegory that really makes on think after laughing their heart out.
23. Tenali Rama
Year: 1990
Cast: Anang Desai and Vijay Kashyap.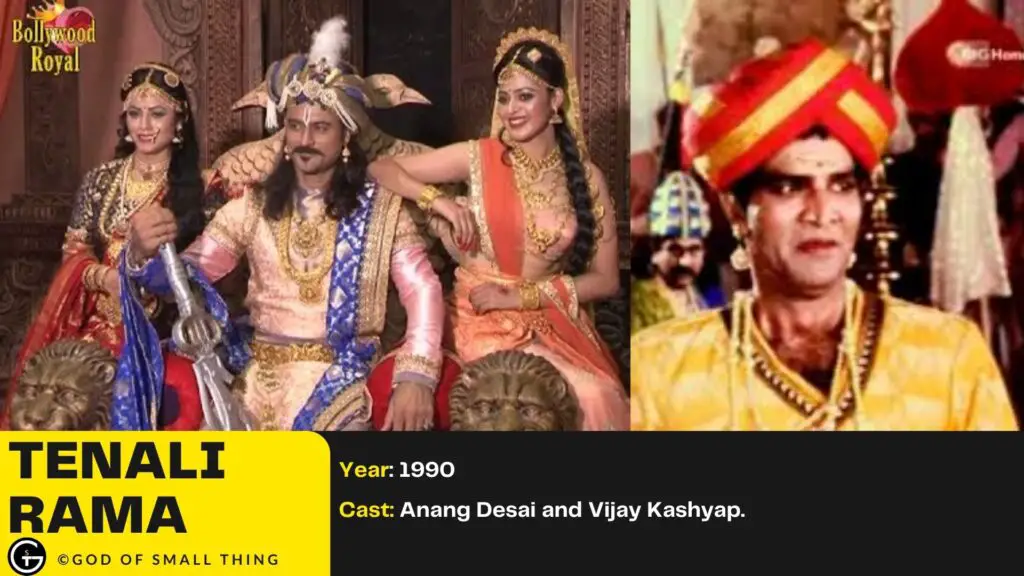 Tenali Rama was first aired on Doordarshan in 1990 when Doordarshan was the only channel available for viewers to watch content on. It follows the story of Tenali, a poet based on the stories by Kamala Laxman. Tenali is known for his poetry and witty character, one with full comedy and giggles. Each episode of the show carries deep morals to teach the viewers while entertaining them on the side.
Comedy was the main ingredient of every episode where he tries and finds the solutions to tricky problems with his intelligence. It is a shame that the show has only 13 episodes, viewers wanted more of Tenali's character to brighten up their day. His sense of humour and quick thinking did the trick for many and soon became a loved show among the many old Doordarshan 90s serials on this list.
24. The Sword of Tipu Sultan
Year: 1990-1991
Cast: Sanjay Khan, Shahbaz Khan. Deepika Chikhalia. Maya Alagh, Syed Badr-ul Hassan Khan Bahadur, Ananth Narayan Mahadevan, and Mukesh Rishi.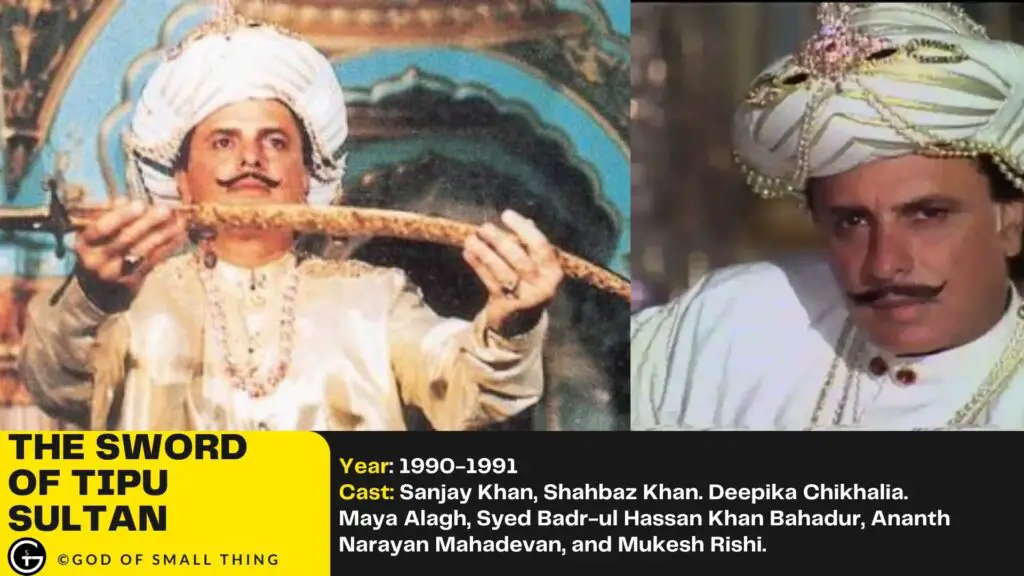 First aired in 1990, this is an old Doordarshan 90s serial on this list that was quite popular among the Indian audience. The drama is based on the life of the real ruler Tipu Sultan, the 18th-century ruler of Mysore. This show was widely recognized for its top-notch casting and grandeur. It is originally based on the novel of the same name by Bhagwan S. Gidwani. It particularly follows the life stories of Hadar Ali and Tipu Sultan, the serial is claimed to be the best-pictured and one of the most popular serials of the time.
This show is about the wars between India and the British colonizers. One of the most loved and classic shows that managed to capture details and keep historic accuracy while having great dialogues and acting. However, this serial is more than just plain violence, it shows the lives of the commoners, the nobility and the Britishers, and the absolute joys and tragedy that came with it.
25. Wagle Ki Duniya
Year: 1988-1990
Cast: Anjan Srivastav, Bharati Achrekar, Shah Rukh Khan, Dushyant Nagoal, Harish Magon, Virendra Saxena, Arpit Singhai, Deepak Qazir Kejriwal, Achyut Potdar, and Harish Patel.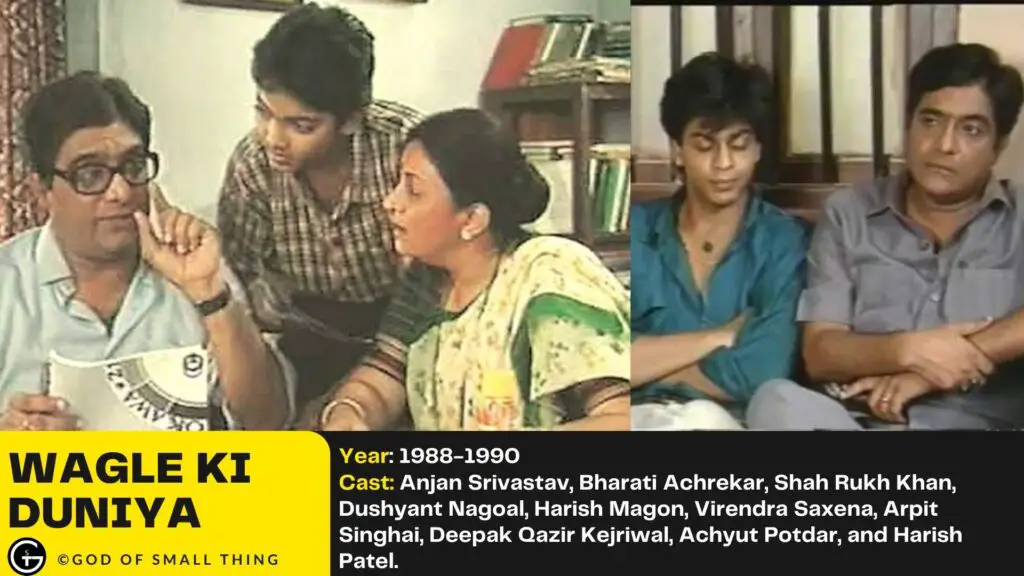 We have a show that is created by R. K. Laxman, a noted cartoonist. On this old Doordarshan serial's 80s-90s list, we have a show is set around the daily struggles of a nervous sales clerk Srinivas Wagle, who has lived with the prudence of a middle-class man of the time. This weekly serial was about the 'quintessential common man' and the issues of a common middle-class Indian person. This show was particularly a hit that made Wagle a household name.
Everyone knew who Wagle was. It became so popular that originally this show was sketched out to be 8 episodes lone, but seeing the enormously positive response it was bumped up to 13 episodes. The director of this serial has also directed previously mentioned classics such as Nukkad, so it is no surprise that a show with such an interesting and relatable premise made it so big.
So, this is where I end this list of the Best Old Hindi serials in the 80s and 90s. Hope you look at these shows and have a good walk down memory lane, or if you're someone interested in old TV serials then you should definitely check these incredible shows out! Did I miss any of your favourites? Mention your favourites in the comments!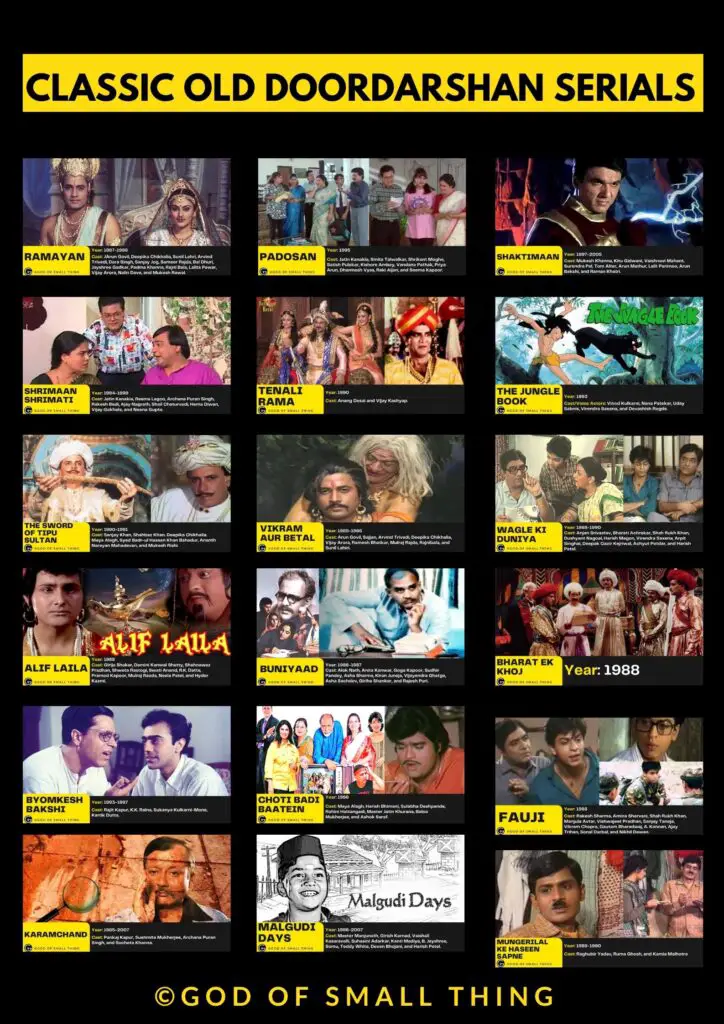 If you are still here and are looking for some more movies and recommendations from Bollywood. You can head over to our Bollywood Section for movie recommendations and where to watch them online information. Bollywood Movie Recommendations by God of Small Thing. Or if you want to have a look at some Hollywood Recommendations, head over to Hollywood Movie Recommendations. If you like our content it would be great if you tell your friend about us 🙂 See you on the other side 🙂