Snow World Bengaluru- Timings|Entry Fee |Major Attractions & More
           As a child, I would spend my winters wishing it to snow at least once in my home city. We all grew up watching cartoons and movies with dreamy snowfalls, kids making snowmen and what not. But what if we tell you that rather than dreaming on, today, you can spend a day in a frozen, snowclad city right in the middle of a city in South India? Amazed? Well, don't be! Because, in this article, we are going to take you on a refreshing ride to the Snow World in Bengaluru! From the location and Snow World Bengaluru entry fee to the various interesting features and reviews, we will cover every single detail of the park, and by the end of the article, you would already be packing your bags! Don't worry we have updates on Snow world Bengaluru ticket price 2020 as well.
Snow City Bengaluru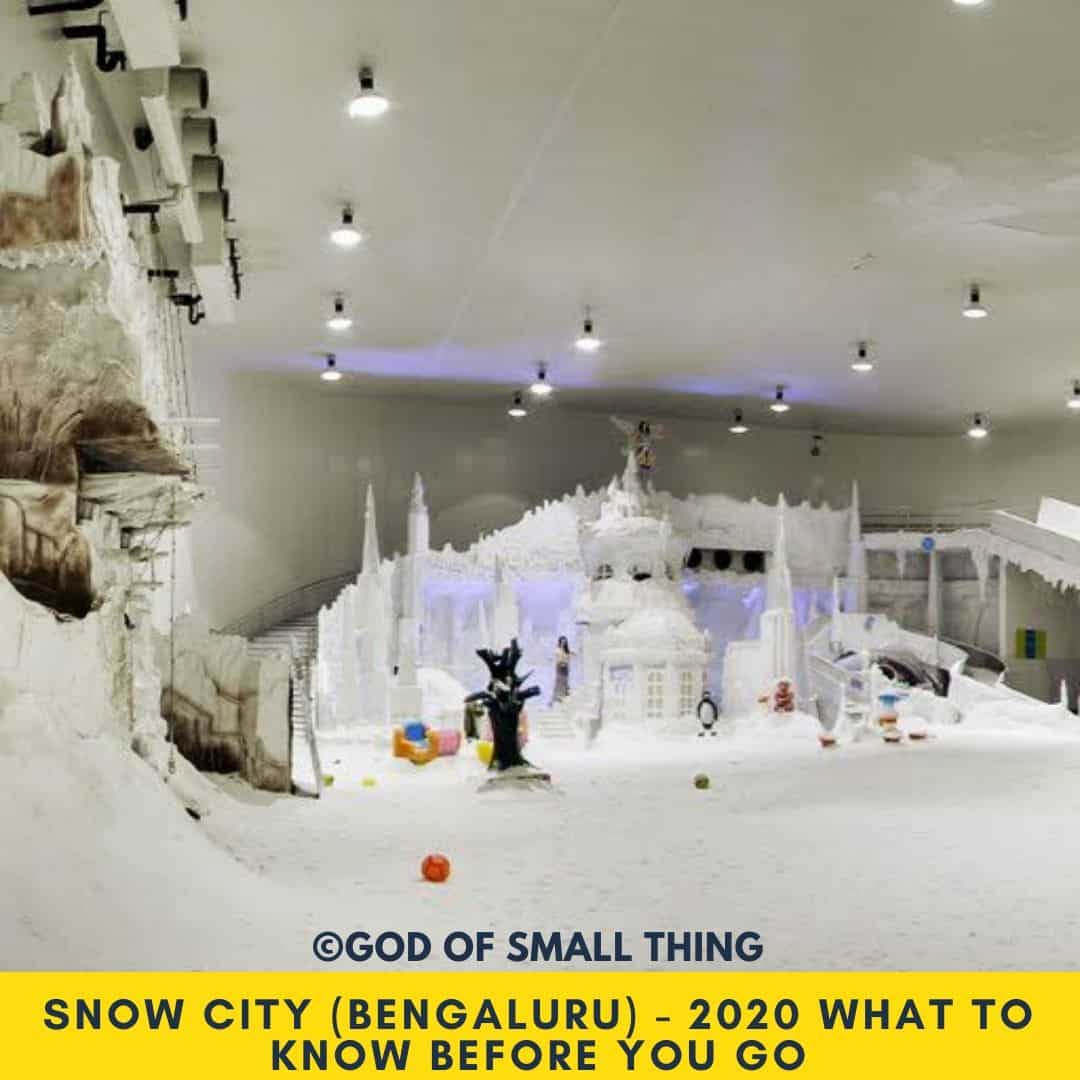 Snow World in Bengaluru, otherwise called as Snow City, is a snow-themed indoor amusement park in Bangalore. Spread over an area of 12,500 square feet, the park offers a wide range of activities and fun-filled adventures. It is the ideal choice for a getaway from the busy office and school hours and to spend a relaxing day with family and friends.
           Snow City in Bengaluru is functioning since 2012. It runs at sub-zero temperatures being filled with snow. The snow is made by mixing air and water and hence is eco-friendly having no adverse effects on the climate. An additional fact is that the snow produced is 100% edible.
Top attractions at Snow City, Bengaluru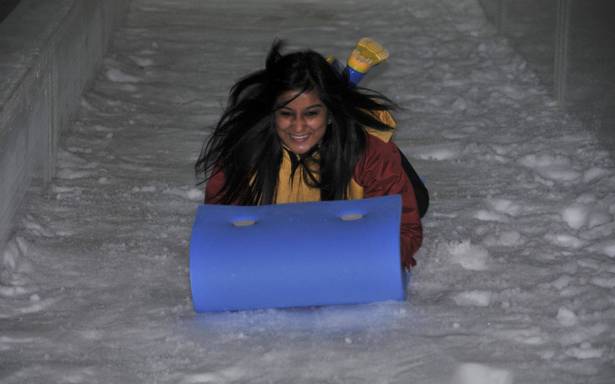 We assure you that Snow World at Bengaluru will keep you busy right from the moment you enter the park. There are fun and interactive games like laser tag, basketball and shooting for kids as well as adults. Also, with adventurous activities like snow rafting, mountain climbing, zorbing and much more, you won't be the least bored in here. Moreover, there is snowballing, making fantasy snow castles, dancing, and frozen slides and rides that make Snow City in Bengaluru the favorite destination of kids.
Snow World in Bangalore also houses a 9D theatre that screens short films and other shows. It also has an inbuilt snow castle for a playful time for families to enjoy. There is a special session at night during the last 15 minutes with colorful disco lights and rock music which one must not miss!
The park is intended to provide an icy, winter-like retreat nevertheless of however tropical the climate in Bengaluru. Snow City at Bengaluru also holds pride as the biggest snow park in South India. It is open all year round, although, without much thought, one can figure out that the most ideal time to visit is during the scorching heat of the summer. Snow World at Bengaluru is considered as one of the few chief tourist destinations of Karnataka tourism.
Do's and don'ts at Snow World in Bengaluru
           With Snow World in Bangalore providing an out-of-the-world experience, it is mandated that the visitor follow certain rules and regulations by the park. The following are the do's and don'ts to be taken care of by one and all:
Wearing of the specialized outfit provided by the park, which is suitable for the sub-zero temperatures inside the park, is compulsory.
Any person with health problems as well as pregnant women is advised to not enter the snow chamber for their safety. One might enter, though, after consent from the on-premise doctor.
Running around or playing with hard snow is not encouraged as the surface might be slippery. Parents are to take special care of kids regarding this.
Children below two years of age aren't allowed inside the park considering the extreme temperature.
Children below 15 years of age aren't allowed inside the park without the company of their parents.
The specialized gear consisting of jacket, gloves and snow boots provided by the park is included in the ticket price. However, it is mandated to carry socks or buy them from the reception center of the park
The usage of snow tubes and rafts in the adventure area is included in the ticket price.
A mobile phone is not allowed inside the park. One may carry a camera with separate charges.
Tickets once purchased cannot be canceled or refunded.
The prices of the gaming zone on the first and second floors of the park are not included in the ticket price. These activities are separately charged.
Lockers with an additional charge, are available for safe-keeping of valuables.
Location:
Snow City in Bengaluru is situated in the heart of Bengaluru. The following is the address of the park:
Jayamahal, Fun World Complex, opposite TV tower, J.C. Nagar, Bengaluru.
Snow City Bengaluru Price and Timings
Timings for Snow City Bengaluru
Snow City in Bengaluru is open from 10 in the morning to 8 in the evening. The theme park and activities are divided into different sessions. Once you buy the tickets from the reception, a particular time-slot of 45 minutes will be provided to you for accessing every zone of the park.
Time slots in the morning session:
Session 1: 10.15 a.m. to 11 a.m.
and Session 2: 11.15 a.m. to 12 p.m.
Session 3: 12.15 p.m. to 1 p.m.
and Session 4: 1.15 p.m. to 2 p.m.
Session 5: 2.15 p.m. to 3 p.m.
Time slots in evening session:
Session 1: 3.15 p.m. to 4 p.m.
Moving on to Session 2: 4.15 p.m. to 5 p.m.
Session 3: 5.15 p.m. to 6 p.m.
and Session 4: 6.15 p.m. to 7 p.m.
Session 5: 7.15 p.m. to 8 p.m.
Entry to the park closes at 7.30 p.m. as the final session is from 7.15 p.m. to 8 p.m. Visitors who make entry till 7.30 p.m. are allowed to join the final session.
Timings of the 9D cinema shows:
The 9D theatre screens short films and other shows of 10-15 minutes. A new screening is done every hour. Following are the timings for the 9D shows:
10.30 a.m.
11.30 a.m.
12.30 p.m.
1.30 p.m.
2.30 p.m.
3.30 p.m.
4.30 p.m.
5.30 p.m.
6.30 p.m.
How to reach:
Snow World in Bengaluru is easily accessible by bus or cab from the Bengaluru railway station, and Kempegowda international airport, better known as the Bangalore airport.
Nearest Metro station
One can also access the purple line metro as the nearest metro station is the Cubbon Park station.
Snow City Bengaluru Distance from 
Bengaluru railway station: 5 km
Kempegowda international airport: 31 km
Cubbon Park station: 4 km
Snow World Bengaluru Entry fee 2020:
Snow World Bengaluru ticket price 2020 is as follows:
Entry fee 
On weekends: 600 INR per head
On weekdays: 500 INR per head
Gaming zone price: 250 INR for ten games. 50 INR for any individual game.
9D cinema rates: 100 INR for a show of 10-15 minutes
Camera charges: 50 INR
Locker charges: 50 INR
These are the updated Snow world Bangalore ticket price 2020 as we promised we will reveal.
Snow City Bengaluru Ticket Offers
           One can avail of special discounts on Snow World in Bengaluru at bookmyshow.com.
On bookmyshow.com, one can avail up to a 50% cashback voucher offer via PayPal up to 750 INR on eligible purchases on a minimum transaction of 50 INR.
For more details, visit https://in.bookmyshow.com/offers/paypal-cashback-offer/PAYPALCASHBACK\
Looking for a one day trip around Bangalore? Visit World's largest bird sculpture: The Jatayu Sculpture at Jatayu Earth's Center
Snow World Bengaluru Reviews from tourists and visitors: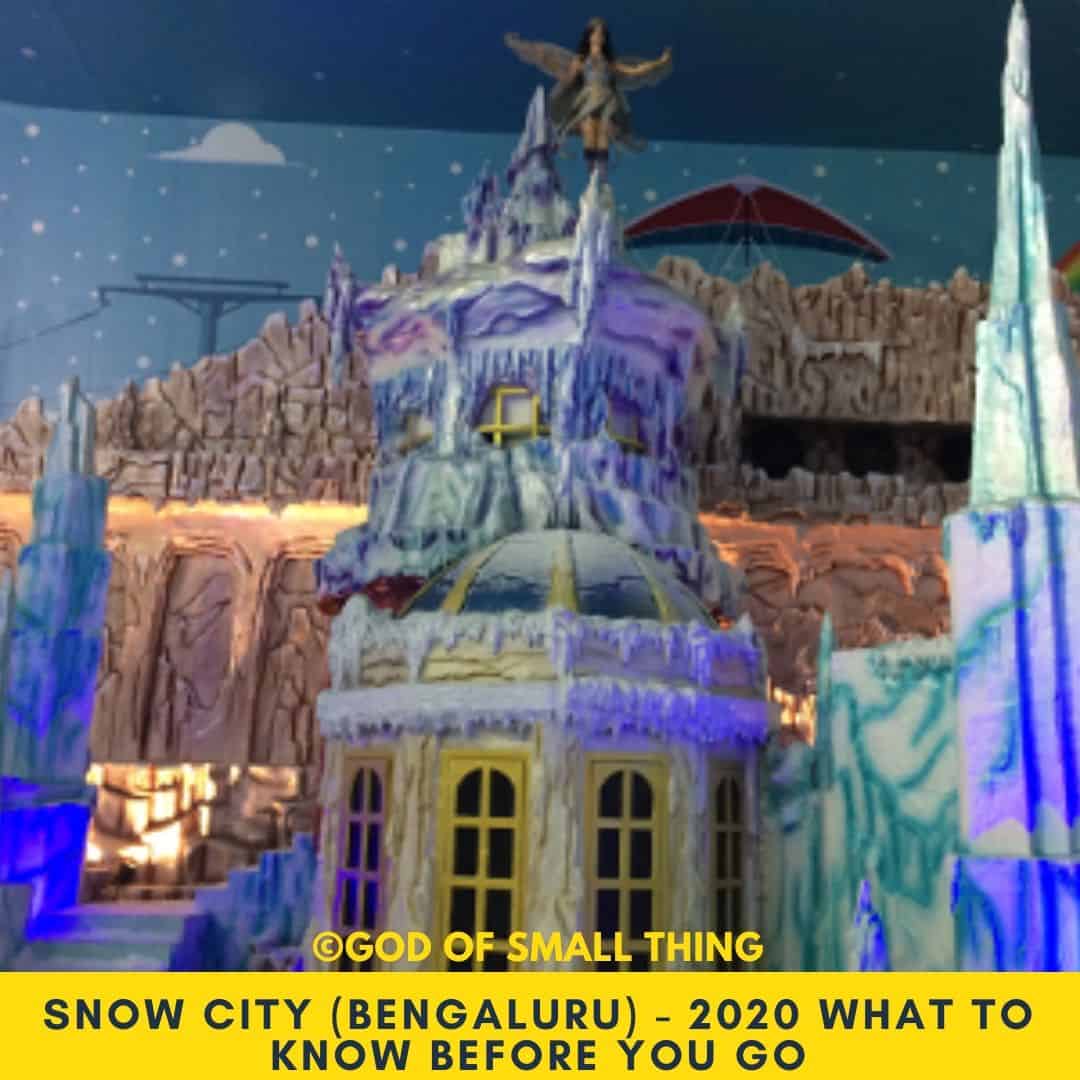 Reviews from Google and other travel websites are as follows:
Snow City Bengaluru is rated 3.9 out of 5 stars on Google, by visitors all over the globe. From more than 10000 reviews on Google, here's a summary of what the travelers think about Snow City in Bengaluru.
A local guide reviews highly, that Snow World at Bengaluru is a very nice place, and that one can feel the icy climate. He adds that the place offers a very good hangout destination at a reasonable price. He also states that the park is well maintained and is enjoyable for people of all age groups.
A Google review states that the experience in Snow City in Bengaluru was a memorable one. They provide jackets, boots, and gloves before going inside and the rides are full of fun. She further states that it was a great visit with her family.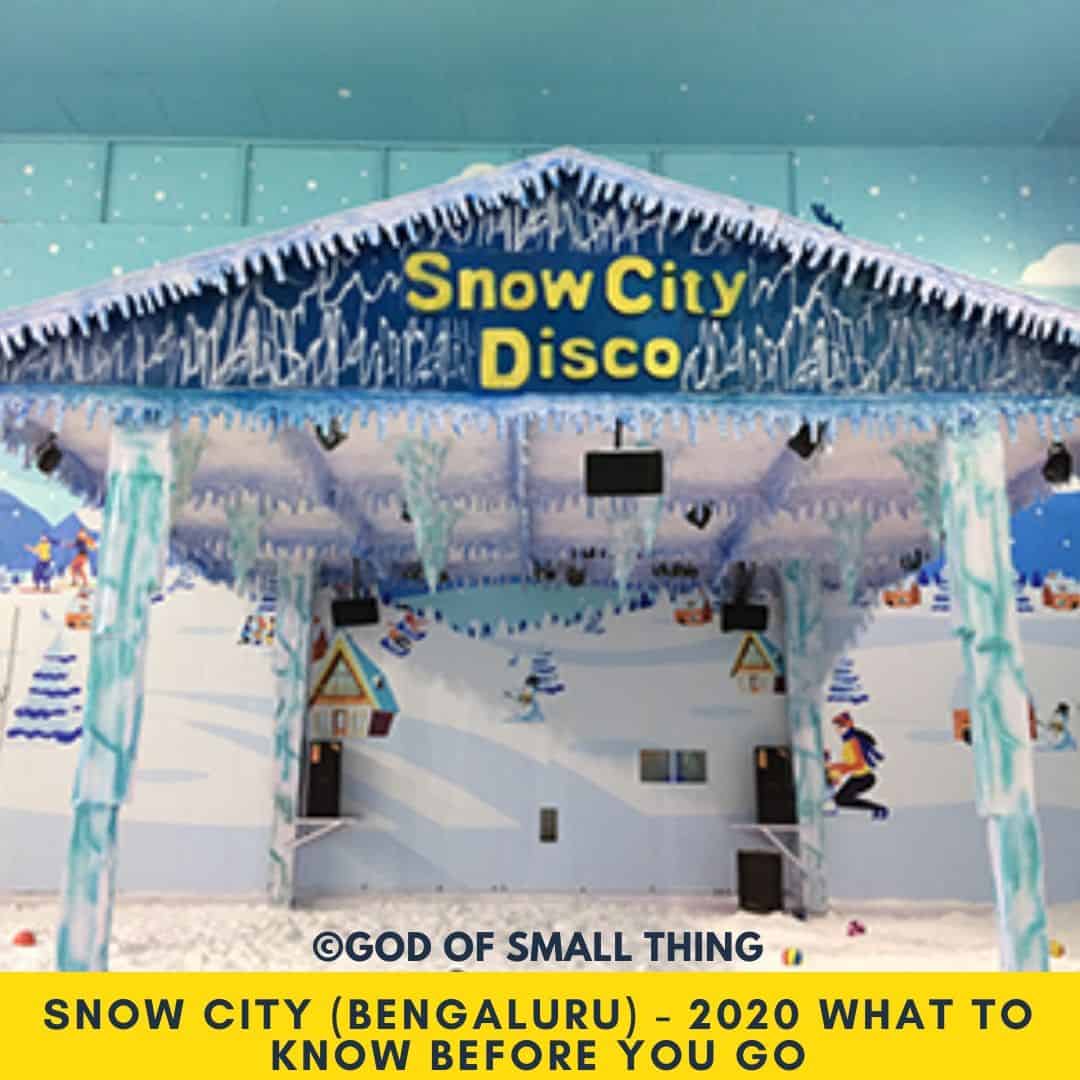 A local guide who rates 4 on 5 stars says on Google reviews, that the place is great for a one-time visit. It is located in the same compound as the fun world and water world, and the whole ticket buying process is smooth. He further adds that they provide you with a coat, hand gloves, and boot and collect your shoes and bags. Though with all the gear, he further states that his foot became numb after a while. He concludes that the overall experience was fun-filled.
Another local guide, who again rates 4 on 5 stars says on Google reviews, that the shoes provided could be of better quality as the feet will catch a cold soon after some time. He adds that the slides are available only for 30 minutes.
Another review states that she and her friends had an awesome day at Snow World in Bengaluru. She says that although it is a 45-minute session, one might find the cold irresistible toward the end. She suggests wearing thicker clothing while going.
Another review states that although a good place for kids, the rates are high when considering the rides and overall experience.
Yet another guide says, Snow City in Bengaluru has great slides and rides. It is a must-visit place with the kids. He also reminds us to wear good quality socks while going as it is -5-degree cold inside.
More Snow World Bengaluru views…
A local guide who rates 3 out 5 stars on Google states that Snow World in Bengaluru is a good destination for one time. Although the park doesn't offer much, kids will love the snow slides and the castle making among others. The games are also a good way to attract kids. The cold becomes too much after playing for some time. The rates are reasonable for what it's worth for the kids, he says.
Another one from the Snow world Bengaluru reviews says that although the place offers fun rides and activities, the coat and boots provided aren't hygienic, to say the least. She also doesn't approve of visiting the park with small kids as her five-year-old daughter couldn't stay in more than fifteen minutes.
A review states that the park has a photographer inside, but the cost of the pictures is too high. They cost you 280 INR per picture, he says. He also states that the place is great for kids, but the adults might find it mundane. He adds that the parking area is spacious and the park in itself is easily visible from a distance on a crowded day.
Another guide prefers not to take kids below five years of age to Snow city Bengaluru, as the temperature is too extreme for the kids and usually ends up in the crying. He like most others suggests wearing socks of good quality beforehand itself, as the legs freeze up after like half an hour.
A tourist on a travel site in a Snow world Bengaluru review states that he and his family enjoyed their experience at Snow City in Bengaluru a lot, but he opines that the time should be increased according to the high ticket rate. He adds that the rate of photography is too high.
Another tourist recommends the place for a snow-filled experience with family and friends. Even then, he states that he doesn't much approve the gear provided at the park for its quality. These were the Snow world Bengaluru reviews.
Final thoughts…
Snow World in Bengaluru is ranked as one of the largest indoor entertainment epicenters, is a place you should visit if you want to try something different from the usual mundane weekend plans. A kids' favorite destination, the park is your absolute pick if you are into the fun-filled and frozen side of nature. Situated in the heart of Bangalore, Snow City is easily accessible and is one of the many crowded destinations on weekends. At sub-zero temperatures, one is however suggested to be well-prepared before getting in. Along with the protective gear already provided, it is best if one considers wearing heavy clothing while heading for the park. With its plentiful rides and adventurous activities, Snow World at Bengaluru will awe you, without a doubt. So, why not ditch the boring malls and gardens and try Snow World in Bangalore for your next weekend getaway?