"World's worst behaved player", Naseeruddin Shah to Virat Kohli! There's a lot more he said
Who is Worlds worst behaved player?
Veteran actor Naseeruddin Shah recently slammed Virat Kohli on his Facebook Page and the news is catching on.
Shah wrote, "Virat K is not only the world's best batsman but also the world's worst behaved player. His cricketing brilliance pales beside his arrogance and bad manners. And I have no intention of leaving the country by the way."
As soon as he published the post, fans started bashing it with comments. Some supported Shah, while others took Kohli's side stating, "This kind of aggression is needed to beat the Australians."
Check some comments here-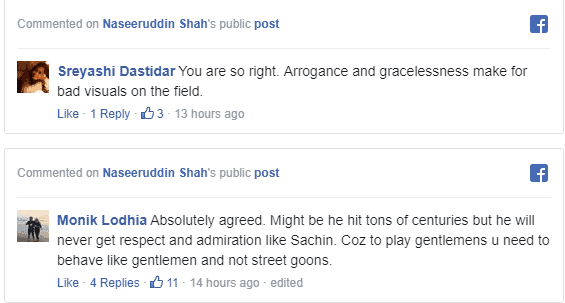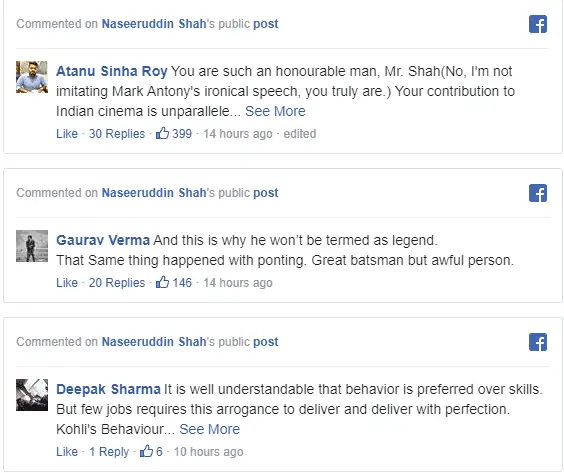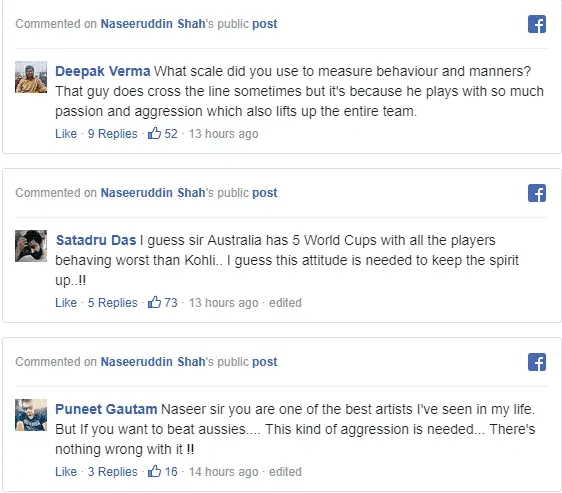 Virat Kohli World's worst behaved player Naseeruddin Shah
The video of the recent verbal dispute between the Indian cricket captain, Virat Kohli and Australian cricket captain, Tim Paine is reaching the households with speed. There were speculations that on the Day 3 and Day 4 of the Test series of India-Australia, Kohli and Paine were seen exchanging some facial and verbal gestures and warned by the Umpire.
Cricket Controversies: Shami can kill me and you all will remain silent!! Will Mohammed Shami be arrested? asks Mohammed Shami's wife Hasin Jahan.
Check the video below-
https://twitter.com/twitter/statuses/1074526502383845377
Well, the actor bestowed Kohli with sarcasm targeting his comment to a fan quoting, "You must leave India" when the fan praised Australian players more. The National Awardee actor made a cut-throat statement bashing Kohli for his aggression and misbehavior.
Our take on the whole scenario-
Virat Kohli had a wonderful 2018, making it to the Times list of 100 most influential people of the world. He might not be as cool as Dhoni but his attitude has led to many wins for India. The fact that he is the world's best batsman is appreciated by Naseeruddin Shah as well.
We don't support the "Leave India" comment made by the Indian captain but we aren't totally on the same page as Shah as well. In a game, such small verbal disputes happen and there is no need to make a big deal out of it. He is doing great on the professional front and whenever he comes on the field our hopes just touch the sky of seeing India win.
In regards to the comment made by Naseeruddin Shah, we would say that India is a democratic country and everyone has the right to post whatever they feel. Definitely, Kohli respects the veteran actor and wouldn't come up with any shameful reply. A similar response is expected from the people targeting the A Wednesday actor in comments.
What's done is done! We wish to see more of classic work from the actor and amazing wins from Kohli.
What's your take? Tell us in the comments section below