40 Best Anime Series of all Time with watch Online links and IMDB Ratings
Many people think anime is all about over-exaggerated scenes and extremely overpowered characters. But, that is not it, Anime is more than just Naruto or Dragon Ball. It has every genre you can possibly imagine, with many hidden gems across an extensive library of anime from decades. The anime community grows every day with newbies constantly trying to find something to start with or just an OG looking for some classics, you're at the right place! I'm here to talk about my favorite anime series ranked according to IMDb. The top anime on this list is the Best Anime of all time. So, get ready to take a deep dive into the crazy and addicting world of Anime! We have links to watch the best anime of all time online for you.
You know What? The List is frequently updated and all you will always come back to a new movie 😀 What are you wondering? Click on the series you wish to watch and watch it right away! Also, if you are looking for something specific to your favorite Anime Character. You can check this list of our Coolest Anime Characters of All Time with their best performances and where to watch them online.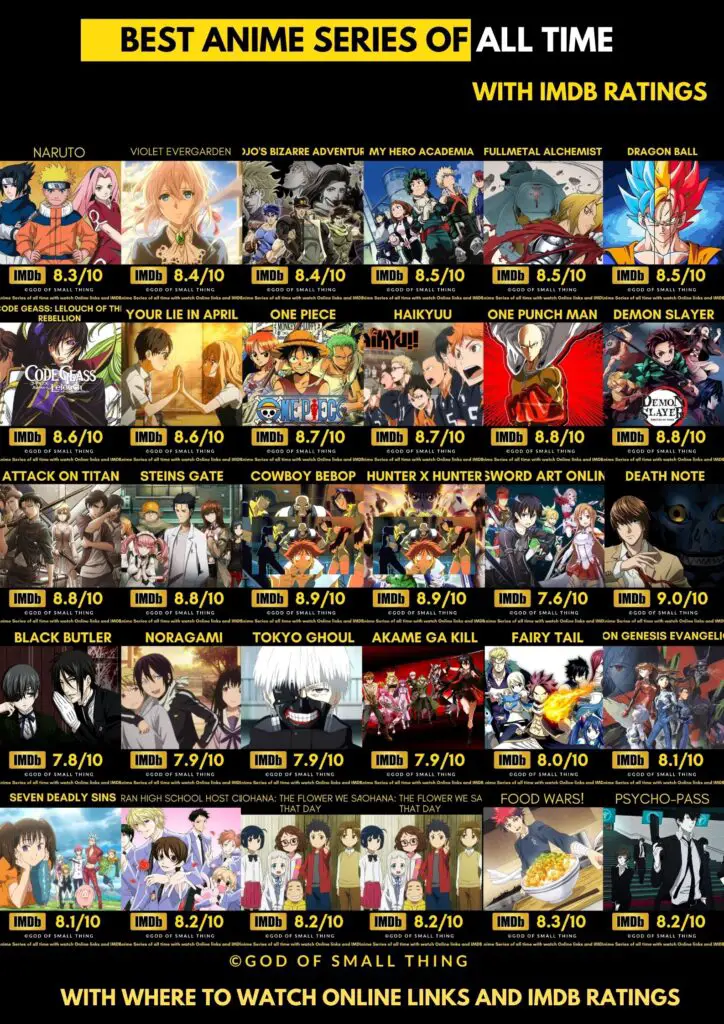 1. Best Anime Series of all Time: Death Note Anime (2006-2007)
Genre: Crime, Mystery, Supernatural, Psychological Thriller
IMDb Rating: 9.0/10
This anime is said to be one of the best anime of all time! Following a teenage genius Light Yagami, Light comes across a mysterious book called "Death Note". It belongs to a being named Shinigami Ryuk, who is quite literally inspired by the Japanese God of death. The Death Note grants the person who possesses it supernatural power. It kills anyone whose name is written on its pages. This anime is widely popular with anime watchers all around the world. The series shows the efforts of Light's attempts to cleanse humanity.
He plans to carry out a massacre of all the criminals who are not "morally fit" to change the world. Light dreams of a Utopian world without any crime, going as far as using an alias named "Kira" which translates to 'Killer'. Meanwhile, a task force of law enforcement officers assembles to apprehend the vigilante and his reign of terror. We see Light slowly blur the lines between eliminating crime for his Utopian dream and becoming the very person he intends to eliminate. It is a very interesting concept because you might understand the intentions of the protagonist and even feel he's right, but then you slowly see him going into the deep and you become conflicted.
Wait Wait Wait! Don't forget to check our category comprising of recommendation articles from Romantic to Science Fiction to crime and Horror. The category is meant specifically for recommendations of What to Watch on Netflix Recommendations by God of Small Thing.
2. Cowboy Bebop Anime (1998-1999)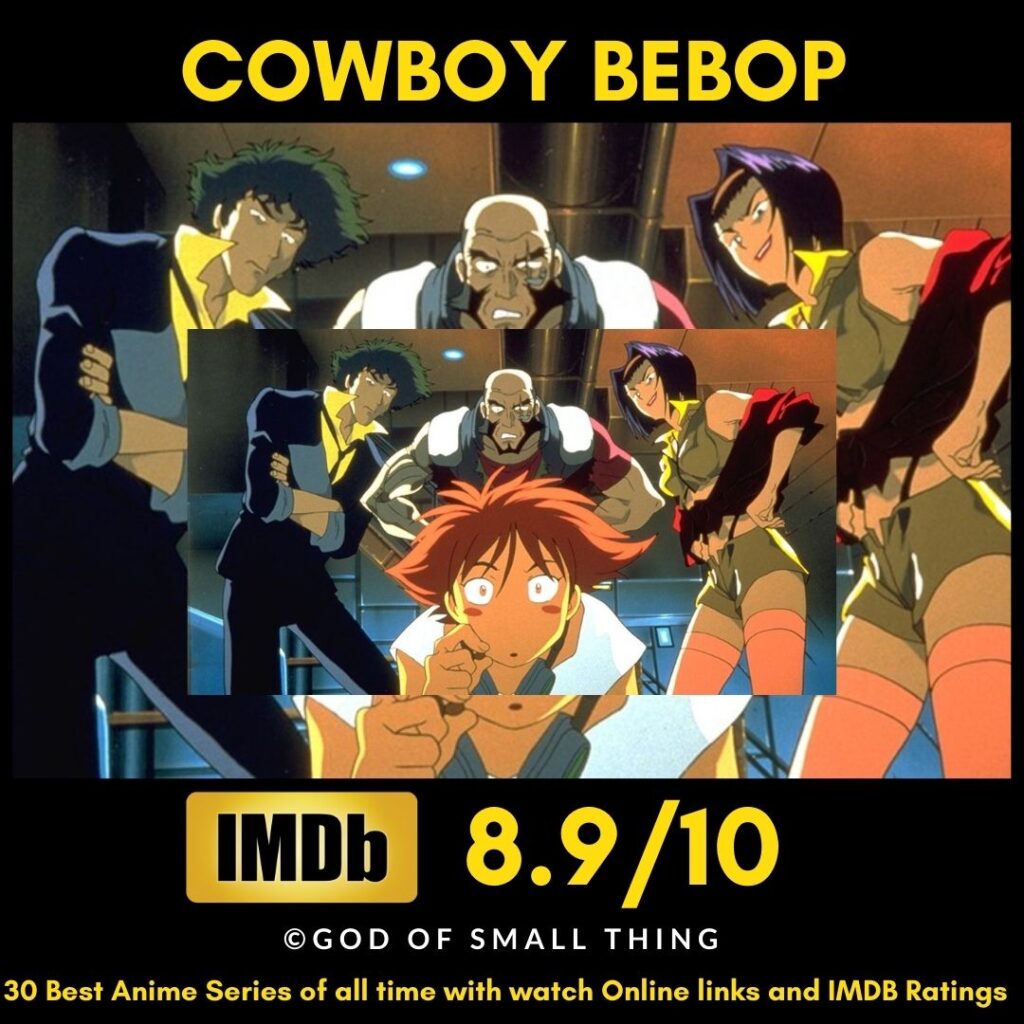 Genre: Neo-noir, Space Western
IMDb Rating: 8.9/10
One of the best anime series with critical success in Japan and the international market. Cowboy Bebop has a beautiful and unique style, characters, and soundtrack. This anime is developed by Sunrise Animation Studio and created by Hajime Yatate. Set in a dystopian world, a hyperspace gateway makes Earth uninhabitable. The human race colonizes other planets and moons in space. With a wider area to cover, the Iner Solar System Police legalizes bounty hunting while the crime rates are on a rapid rise. Cowboys are a group of bounty hunters that are paid for chasing criminals. Over 26 episodes, the Cowboys on the spaceship Bebop get involved in a series of disasters that force them to confront their past.
This Top Anime series is often called "a new genre unto itself", a hybrid of multiple genres. Each episode has quite a philosophical theme exploring loneliness and existentialism among a few. With the main focus on Spike, the protagonist, the series builds on the consequences of his past. The crew includes Jet, Edward, and Ein with their own character development along with the series. This anime is named "The Best Anime of All Time" numerous times by various forums and polls, and it is well-deserved. Cowboy Bebop is the Best anime to watch when you're starting anime. You will soon realize that anime isn't just all cute boys and beautiful anime girls. The exploration of complex themes, with the beautiful art style along with the incredible characters makes it one of the best animes of all time without any doubt.
3. Hunter x Hunter Anime (2011-2014)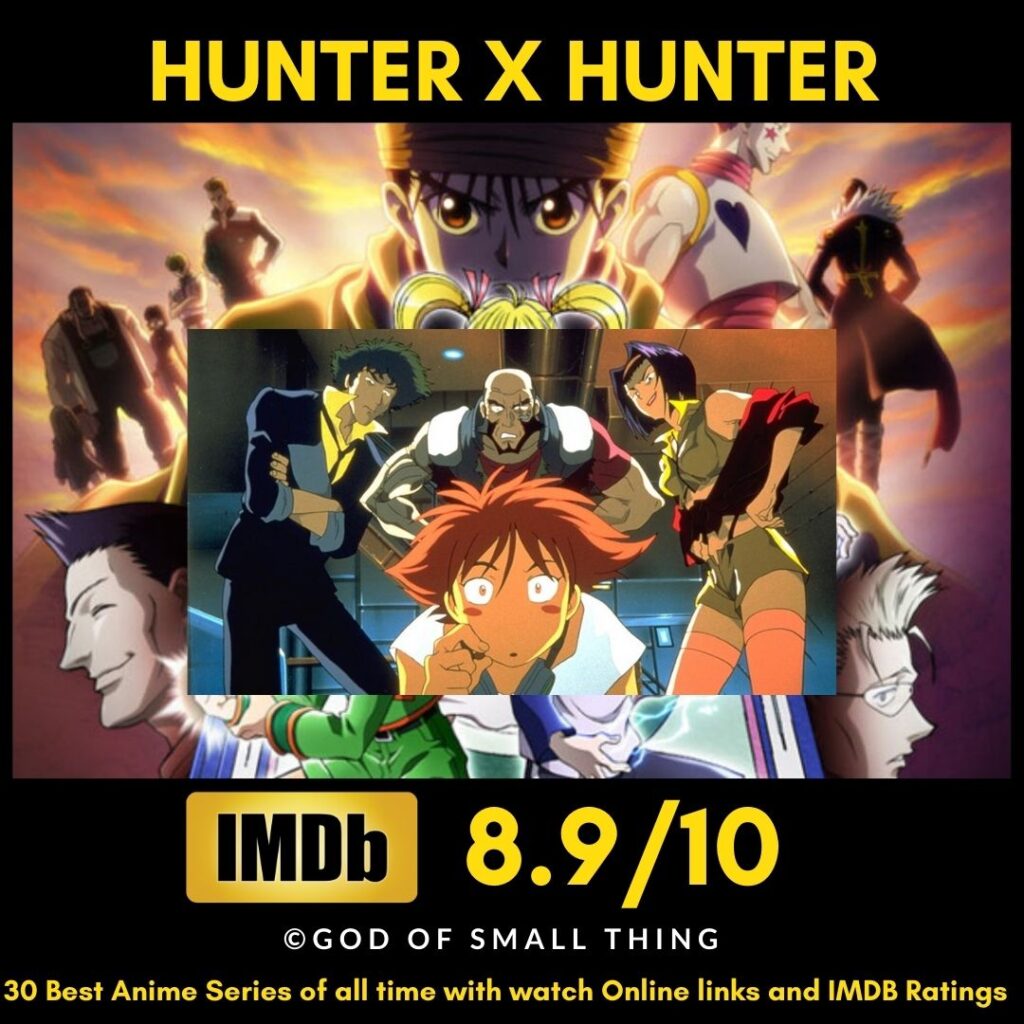 Genre: Adventure, Martial Arts, Fantasy
IMDb Rating: 8.9/10
Voted as one of the Best Anime of All Time, Hunter x Hunter follows the story of a young boy's dream to become a hunter. Gon Freecss discovers well early in his life that his father, Ging who he thought was dead, was actually a renowned hunter that becomes an elite member of humanity. Despite Ging leaving his family behind to become a hunter, Gon wants to follow his father's footsteps and become a great hunter. To achieve his dreams, he has to first pass the rigorous and brutal Hunter Examination. The Hunter Examination tests every aspect a person needs to have to become a good hunter. Gon makes powerful companions Killua and Kurapika and a smart and loyal guy named Leorio, the three lean on each other and go through the exams.
Killua, an extremely overpowered character whose whole family is an assassin. Kurapika, the sole survivor of his clan. A race that was hunted down for their treasured eyes that turned red in times of anger. Lastly, Leorio, a man who wanted to become a hunter to pay the costs for his medical school and become a doctor to treat the poor for free. The extensive exams were tough for others but were easy and boring for people like Killua who took part in the exam just for fun. However, Gon wants to do anything to pass the exam, meet his dad, and become one of the greatest hunters of all time. Watch this best anime of all time.
4. Steins Gate Anime (2011)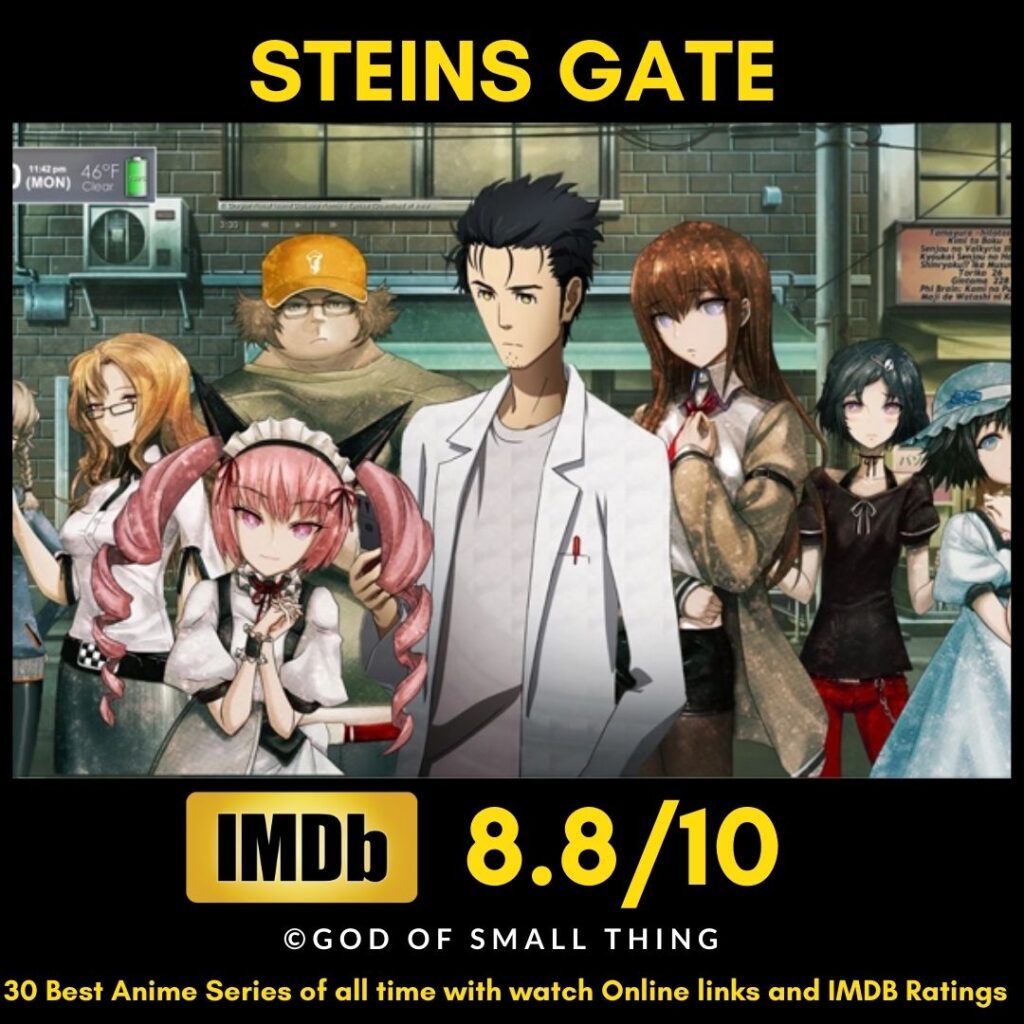 Genre: Psychological thriller & Science Fiction
IMDb Rating: 8.8/10
A phenomenal top anime series directed by Hiroshi Hamasaki and Takuya Satō and written by Jukki Hanada. This is another anime that has been listed as the Best Anime of All Time by various series! 24 episodes were set in Akihabara, Tokyo in the year 2010. The protagonist Rintaro Okabe is a mad scientist who runs "Future Gadget Lab" in a small apartment with his friends, Mayuri and Daru. While attending a conference on time travel, Okabe finds something revolutionary. Discovering time travel he is thrown into several alternate realities with disasters and weird timelines. Amused by this discovery he successfully creates a method of time travel.
He begins misusing time travel to help out his friends with problems in the past. However, he doesn't consider the consequences of his actions. Eventually, the consequences multiply to such a great extent that he questions whether his finding time travelling was really worth it. This top anime gave rise to a 25-episode OVA with an alternative ending, a sequel Steins; Gate 0, and a movie Steins; Gate: The Movie − Load Region of Déjà Vu. This is the best anime to watch if you're looking for an anime in the thriller genre.
5. Attack On Titan Anime (2013- Present)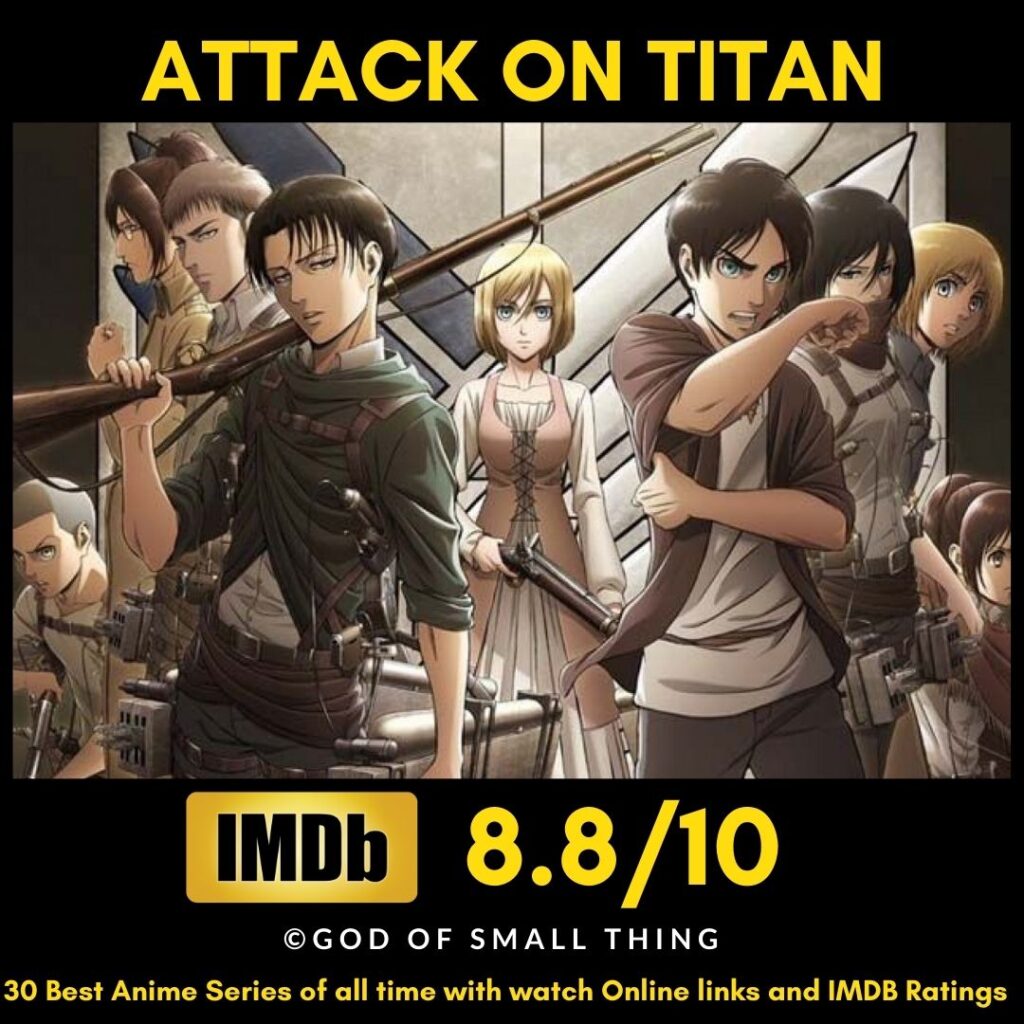 Genre: Action, Dark Fantasy, Post-apocalyptic
IMDb Rating: 8.8/10
Set in a dystopian fantasy world, Attack on Titan is a dark anime adapted from a manga of the same name. This world created by Hajime Isayama is a world where humans live inside cities protected with enormous walls. The walls were taller and strongest than the biggest Titans. However, deep down people know that those walls will not hold forever. Humans live in fear of the Titans, a peculiar race of giant humanoid beings that feasted on humans, not for hunger but for pure satisfaction. With over only 50 episodes this Anime is a contender for the best Anime of all time.
With a really cool art style and animation, this anime series is addicting to watch. Following the terrifying story of Eren and his foster sister Mikasa witness the death of their mother. The Titans break through the gigantic walls and destroy the city. Witnessing the horror and terror of the Titans he vows to kill every last Titan for revenge for his mother and mankind. He joins hands with Mikasa and their friend, Armin as they set out to take revenge and set the world free.
6. Demon Slayer Anime (2019- Present)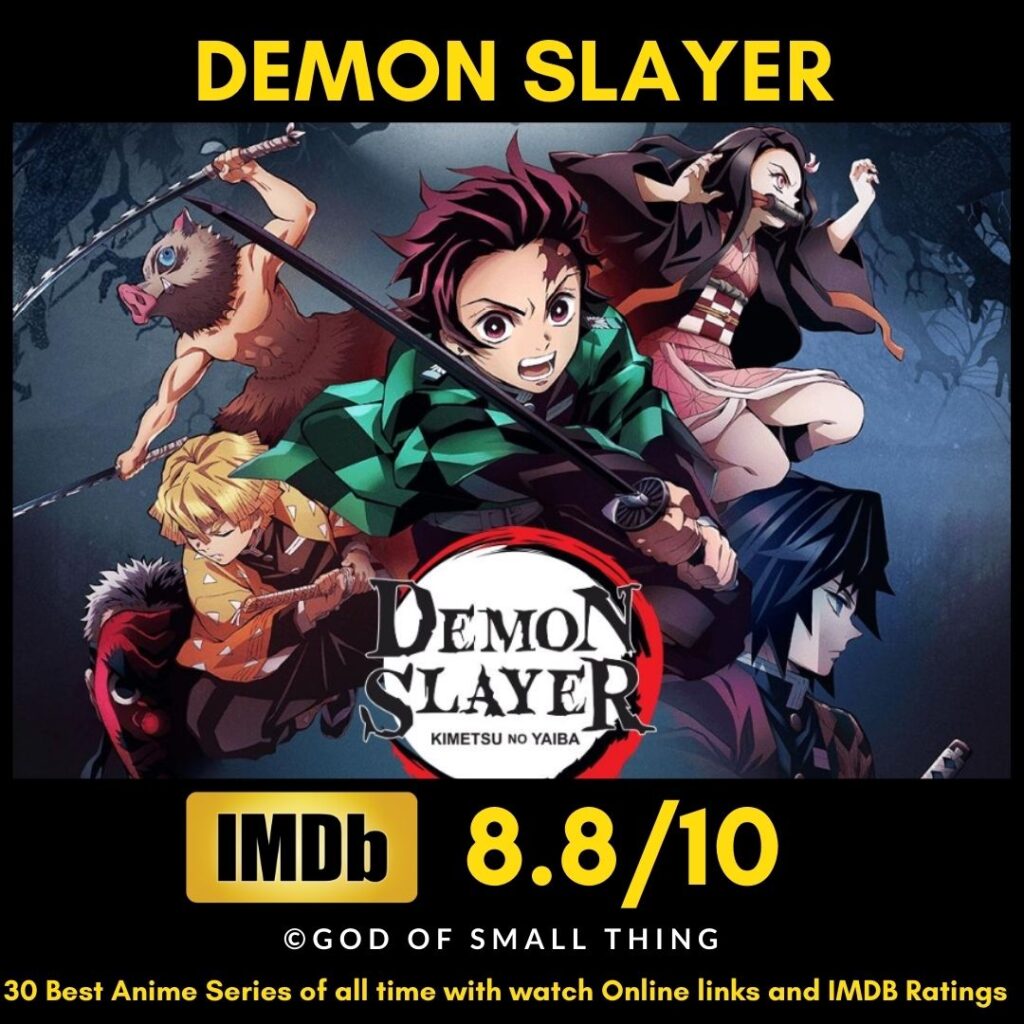 Genre: Adventure, Dark Fantasy, Martial Arts
IMDb Rating: 8.8/10
Tanjiro is a sweet little intelligent boy who lives with his family in the mountains peacefully. After the death of his father, Tanjiro becomes the breadwinner of the family by selling charcoal in the village nearby. His life turns upside down when he discovers his entire family slaughtered by a demon. Only his sister Nezuko survives the incident but ends up transforming into a demon. However, one thing different about Nezuko is that she shows human emotions and could think for herself. After encountering Giyu Tomioka, a demon slayer, Tanjiro is recruited to be a demon slayer. Demon Slayers are an elite corps of demon hunters and skilled assassins. Tanjiro intends to join the demon slayers and find a cure for his sister.
After the 26th episode in 2019, a movie following the events after the end of season 1 named Demon Slayer: Kimetsu no Yaiba the Movie: Mugen Train is set to release on October 12, 2020. The Kimetsu no Yaiba manga was the best-selling one in the first half of 2020. With a heartwarming yet exciting plot, Tanjiro's story is a hit among millions of fans and is considered the Best Anime of all time! The sequel film Demon Slayer: Kimetsu no Yaiba the Movie: Mugen Train has also been featured in October 2020.
7. Spy X Family Anime(2022)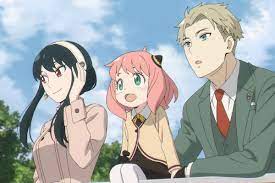 Genre: Action fiction, spy fiction, comedy
IMDb: 8.8
To maintain the state of peace between the rival nations of Wesails and Ostania, "Twilight" a Westalian agent is given the task to spy on Donovan Desmond who is the leader of the national unity party within Ostania. Twilight marries a lady and adopts a child, names her Anya and enrols her in the same school as Desmond's son in order to get close to him.
Anya could read minds and the lady Twilight marries is a professional assassin. Neither of them knows their true identity except for Anya. Twilight has to play the role of a perfect father and a perfect husband in order to get his work done. This series depicts the troubles as well as the memorable moments that he makes with his mission-made family.
8. One Punch Man Anime (2015-Present)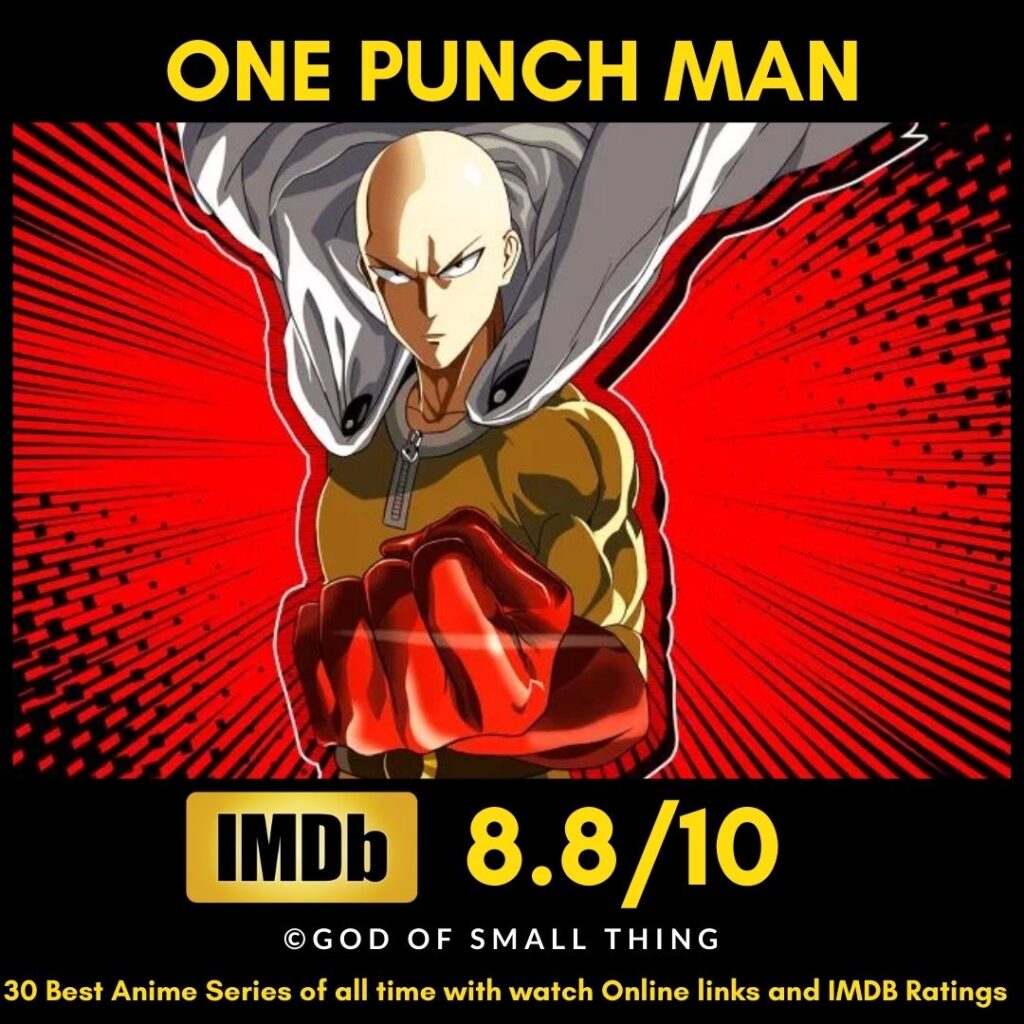 Genre: Action, Comedy, Superhero
IMDb Rating: 8.8/10
A hilarious top anime that follows the life of Saitama, a superhero who is a hero for fun. He desperately searches for a worthy opponent after being bored of fighting. His one-punch defeats any foe due to his overwhelming strength. On Earth, there are multiple overpowered villains and heroes among normal human beings. The Hero Association scouts strong superheroes and segregates them according to their class. Their class is on par with their abilities with S being the strongest and C being the weaker heroes.
Outside of Anime but just In case you love watching series then the next thing is for you. We have compiled and curated a complete 100+ tv serials list sorted by IMBD Ratings and rotten tomatoes combined with where to watch them online links for you! Don't forget to check this out! Best TV Series Ever List
Saitama trains hard to the point where one punch from him defeats any villain in front of him. After he passes the class test and gets a low class he fights off huge supervillains without getting any credit. He calls himself a Hero No One Knows. He gradually meets the S-Class heroes and soon realizes that none of them are on his level. It's been 2 seasons and Saitama still searches for a worthy opponent that might have more than one of his punches.
9. Haikyuu Anime (2014- Present)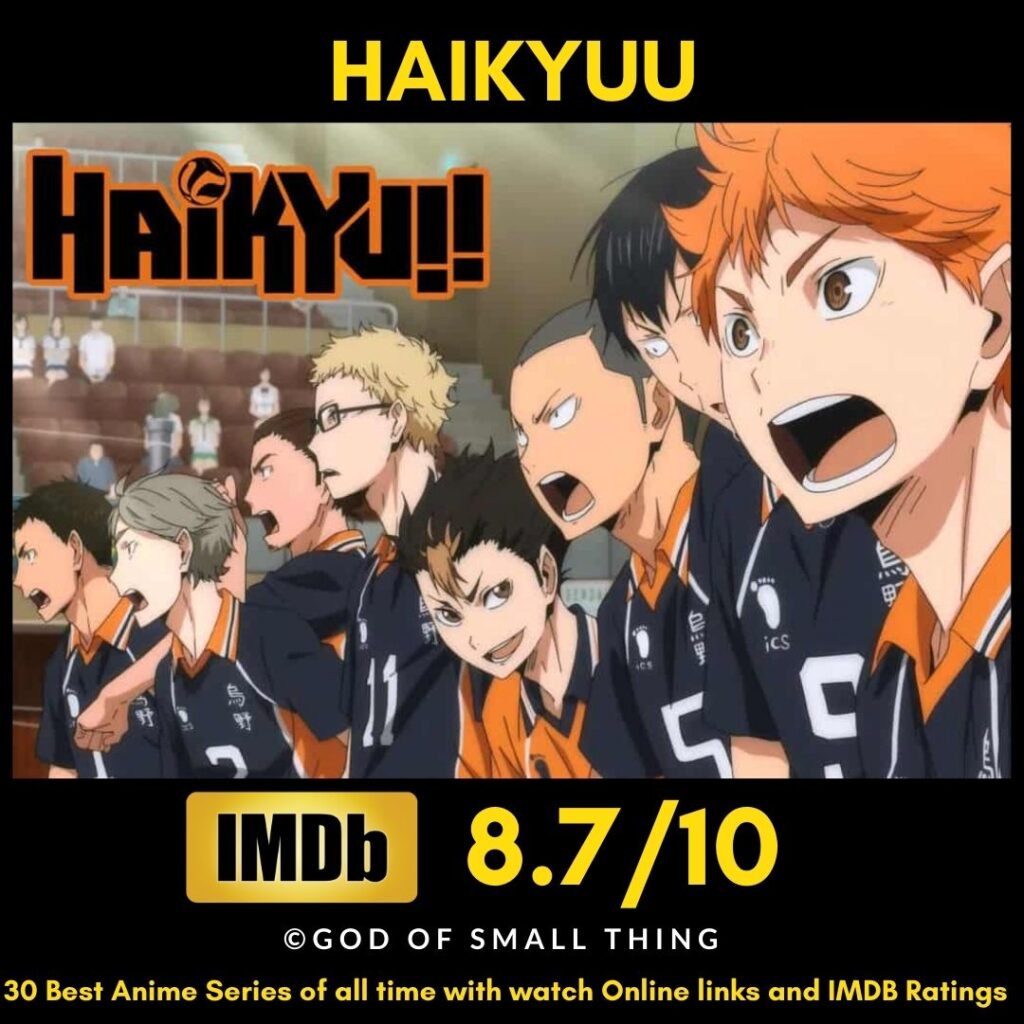 Genre: Comedy, Sports, Drama
IMDb Rating: 8.7/10
Hinata Shoyo is a short guy who falls in love with volleyball. In a game where height matters the most, Hinata is determined to be the next Little Giant. His role model, Little Giant is from Karasuno High School with his height being somewhere near his he looks up to him. Hinata makes it to Karasuno High expecting to play nationals just like he did, but the reality was something different. The team, over the years, loses its touch, it wasn't what it used to be. To make things worse, he finds his rival Tobio Kageyama joins the same school. The team itself isn't bad, with promising players, all Karasuno needs is a bunch of practice matches.
But the school lost all its connections so making it to the district game was an impossible dream. Weirdly enough Hinata and Kageyama make a great team, with Kageyama's scary accuracy and Hianata's super reflexes, the team just might be on the path to its previous glory. This top anime with 4 seasons and over 85 episodes, has won millions of hearts all over the world! With its crazy popularity, exciting animation, and adored characters it is definitely a contender to become one of the Best Anime of All-time!
10. One Piece Anime ( 1999- Present)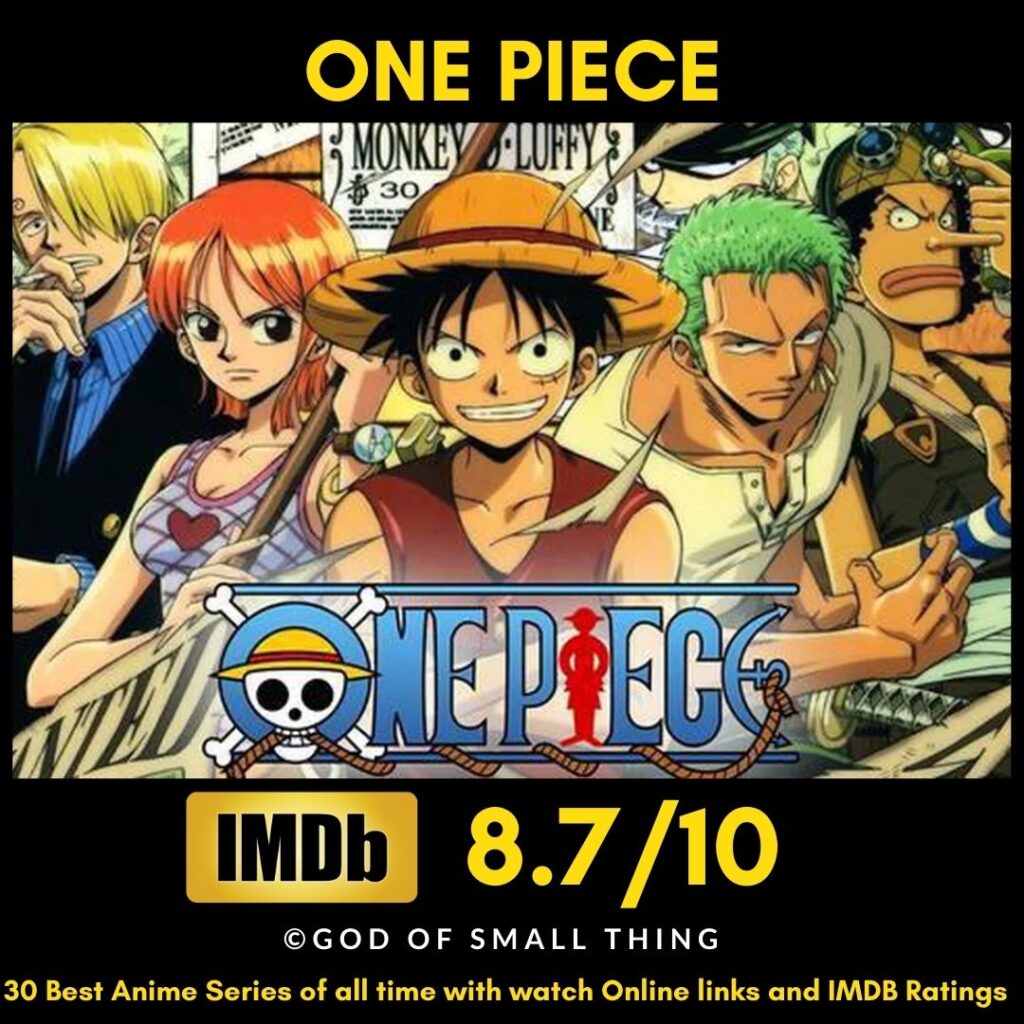 Genre: Adventure, Fantasy
IMDb Rating: 8.7/10
A legendary anime that has millions of fans all over the world. A manga adaptation following the story of Luffy. With 929 episodes One Piece is one of the longest-running unbroken anime series and has been in the top 5 anime TV ratings consistently. Luffy is a boy who gains a rubber body after accidentally eating the gum-gum Devil Fruit. He explores the Grand Line with his pirate crew named "Straw Hat Pirates" in search of the ultimate treasure One Piece left behind by the legendary pirate Gold Roger, to become the next pirate King!
Numerous people set out to find this great treasure, but no one's ever found the location of it. Grand Line being a very dangerous place, Luffy has adventures to find the famous treasure with a crew of a swordsman, marksman, cook, navigator, doctor, cyborg shipwright, and archaeologist. This series has an additional 14 movies with original plots, 13 TV Specials, and 4 shorts! With the great battles at sea and beloved characters, One Piece easily becomes the best anime of all time!
11. Your Lie in April Anime (2014-2015)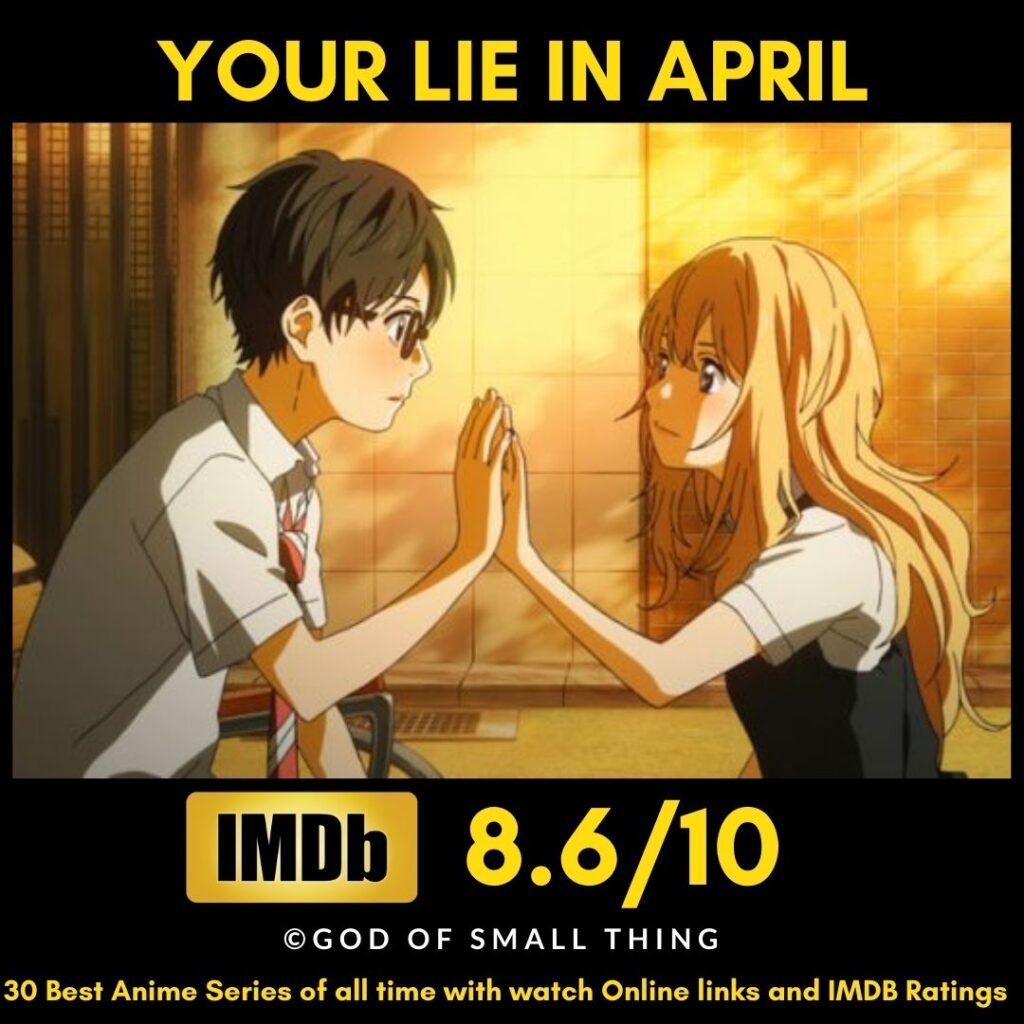 Genre: Drama, Music, Romance
IMDb Rating: 8.6/10
This top anime with 22 episodes follows the life of Kosei Arima, a piano prodigy. He wins various competitions and becomes famous among musicians. But an unfortunate event ruins his talent. His mother's death led to his mental breakdown where he is no longer able to hear the sound of his piano, but his hearing was absolutely fine. Years pass by, But Kosei lives in a monochromatic world with no colors or music. Everything changes when Kaori Miyazono enters his life.
Her free-spirited personality coincided with her music and it showed him how music was freedom. Music is self-expression that one should play on their own terms, not like Kosei did in the past. She brings him back to the world of music and continues to make him feel brighter. But, when Kaori collapses after a performance it's revealed that Kosei might not be the only one who needs healing. This anime is indeed one of the best anime out there, from the emotional and real characters to impressive animation, this top anime is the whole package.
12. Code Geass: Lelouch of the Rebellion Anime (2006-2012)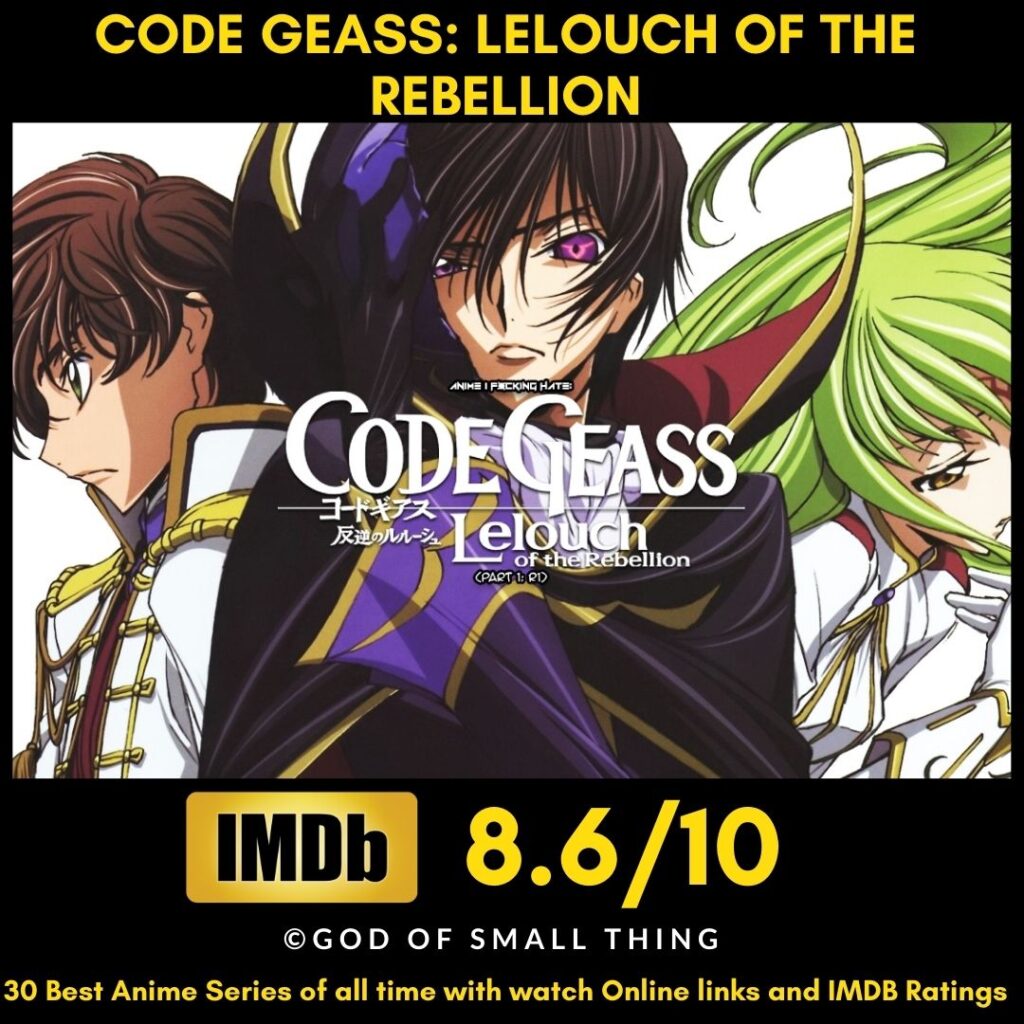 Genre: Drama, Action, Fantasy
IMDb Rating: 8.6/10
Set in an alternate timeline, the world is divided into three superpowers. The Holy Britannian Empire, The Chinese Federation, and the European Union. The latest conquest of Britannia strips Japan of all its rights and freedom and is renamed Area 11. The protagonist, Lelouch, Britannian lives in Japan and promises his friends that he will restore Japan's freedom and destroy Britannia. What no one knows is that Lelouch is the exiled prince of Britannia. He meets a mysterious girl named C.C, who bestows him with the magical powers of the Geass. When he comes across an absolute power that allows him to control the will of another person, his goals change.
Not only does he want to bring Japan its freedom but with his newfound powers, his plan changes. He wishes to avenge his mother's death and make a world where his crippled sister can live in peace and happiness. He becomes the masked leader of a massive uproar of the rebellion against the powerful empire. The show consists of 50 episodes that will keep you addicted. With a cliffhanger or a twist at the end of every episode, it keeps you wanting for more! The story, the characters, and the animation are all incredibly well-made.
13. Dragon Ball Anime(1986- Present)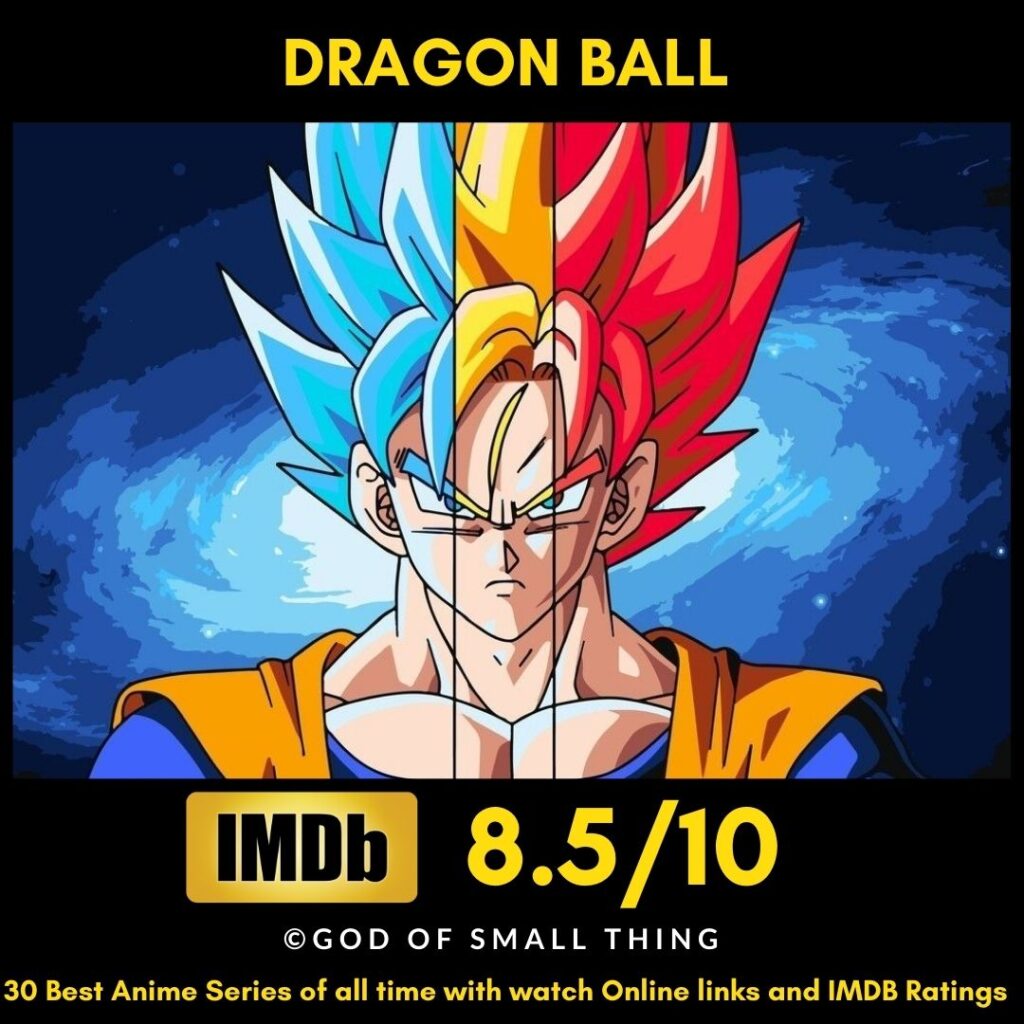 Genre: Adventure Fiction, Fantasy, and Martial Arts.
IMDb Rating: 8.5/10
Dragon Ball follows the exciting adventures of a strong little boy named Goku. A naive boy crosses paths with Bulma and sets out to collect seven Dragon Balls that grant wishes. He becomes a student of Master Roshi, He enters a tournament that brings the most powerful fighters in the world together and competes. You understand his pure power and resolve when he single-handedly destroys a whole army in his way. After a death that largely affects him, he takes on revenge.
Dragon Ball consisted of 153 episodes and the remaining 325 chapters of the manga were later adapted into the next series Dragon Ball Z. From Dragon Ball animated in 1986 all the way to Super Dragon Ball Heroes from 2018- Present, this franchise has various parts in this long series. Resulting in various TV specials, Films, Short Films, and DTV's the Dragon Ball Universe is extensive and one of the most popular and best animes of all time!
14. Fullmetal Alchemist Anime (2003-2004)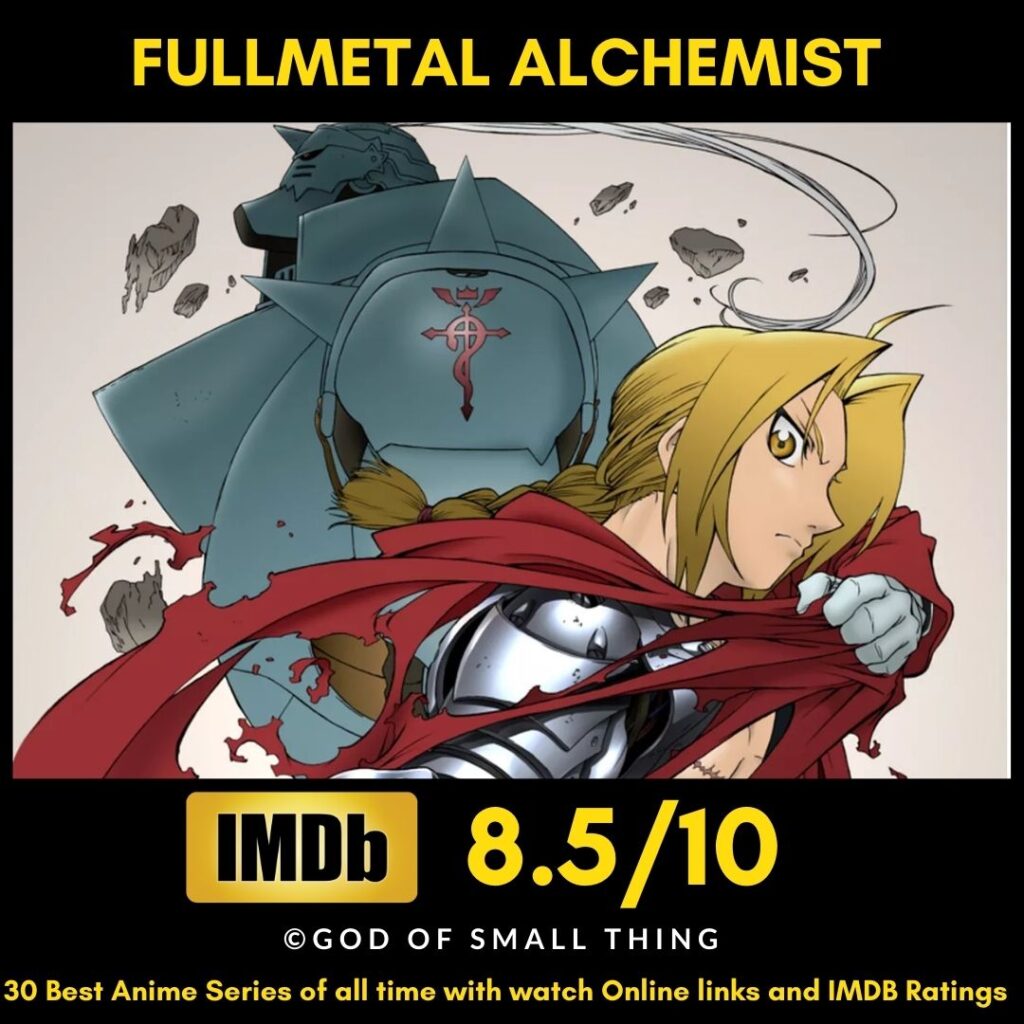 Genre: Adventure, Dark Fantasy, Steampunk
IMDb Rating: 8.5/ 10
A shōnen manga adaptation, Fullmetal Alchemist is created by Hiromu Arakawa. This anime has a unique setting style after the European Industrial Revolution, a place where alchemy is considered one of the naturally advanced techniques that revolve purely around scientific laws. The anime follows two alchemist brothers, Edward and Alphonse Elric. Both brothers search for a philosopher's stone to restore their lives after they fail to bring their mother back using alchemy.
In this fictional world, alchemists who work for the government are known as State Alchemists and are automatically ranked Major in the military. Alchemists have the ability to use patterns called Transmutation Circles that create anything they desire. After Edward loses his arm in the forbidden human transmutation, Edward must now go to the military to gain privileges and restore his brother back to normal. With 51 episodes spanned over the first season, Fullmetal Alchemist: Brotherhood (season 2) follows with 69 episodes in total!
15. My Hero Academia Anime (2016-Present)
Genre: Adventure, Superhero, Fantasy
IMDb Rating: 8.5/10
A manga adapted into an anime My Hero Academia is topping all charts among fan favourites and becomes a contender for the Best anime of all time! Released in 2016 MHA us directed by Kenji Nagasaki and Masahiro Mukai and produced by Bones Animation Studio. With a total of over 86 episodes and 4 Seasons, the characters of this top anime are beloved. In a world where the majority of the population possesses a "Quirk" or special ability of their own the protagonist, Izuku Midoriya is born quirkless. Midoriya always dreamt of becoming a superhero who always smiles like his role model All Might, but when he realizes he didn't develop any quirk he was heartbroken.
But his dreams reignited when he met his idol All Might. All Might see the potential Midoriya had after he jumps in to save his friend, knowing that he couldn't really save him. After being trained by his role model, Midoriya receives the quirk and joins the hero school UA Academy. But soon he realizes that All Might's quirk is not for everyone. But he still works on his dreams to become the #1 hero while the Villain Association lurks in the shadows, to pounce at class 1-A.
16. Odd Taxi Anime (2021)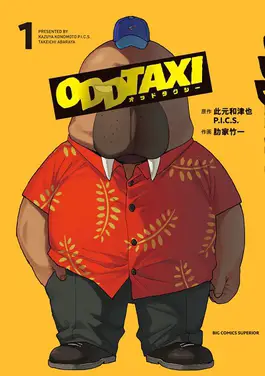 Genre: Mystery
IMDb: 8.5
The anime is set in an anthropomorphic animal world. This tells the story of a 41-year-old taxi driver Odokawa, who was abandoned by his parents at a very young age. He eventually has conversations with animals who ride his taxi where the series is set. His conversations unravel into a series of mysteries and violence which include the case of a missing high school girl. The police track Odokowa for the lead to investigate the case of the missing girl.
Okodowa's simple life is turned upside down due to his involvement in the lead to the missing case. Season 1 of this series premiered in Japan on the 6th of April.
17. Kaguya Sama: Love is war Anime (2019-2022)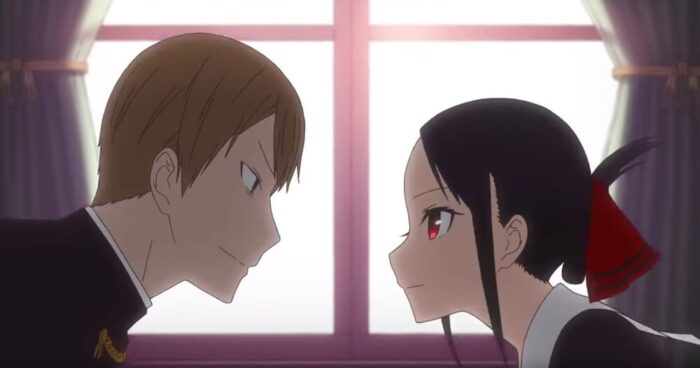 Genre: Psychological romantic comedy
IMDb: 8.5
Two proudly privileged high school geniuses Kaguya, the vice president of the student council and Shirogane, the student council president can't admit that they like each other, so they try to win a confession from each other. This results in many ridiculous mind games that they play on each other but both of them outsmart each other. They considered the confession a loss at the war of love. The series revolves around the different tactics that both play on each other in order to defeat the opponent in the war of love. The series is of four seasons and this makes the viewers sit at the edge to know who loses the war as both of them are equally high-witted.
18. JoJo's Bizarre Adventure Anime (2012- Present)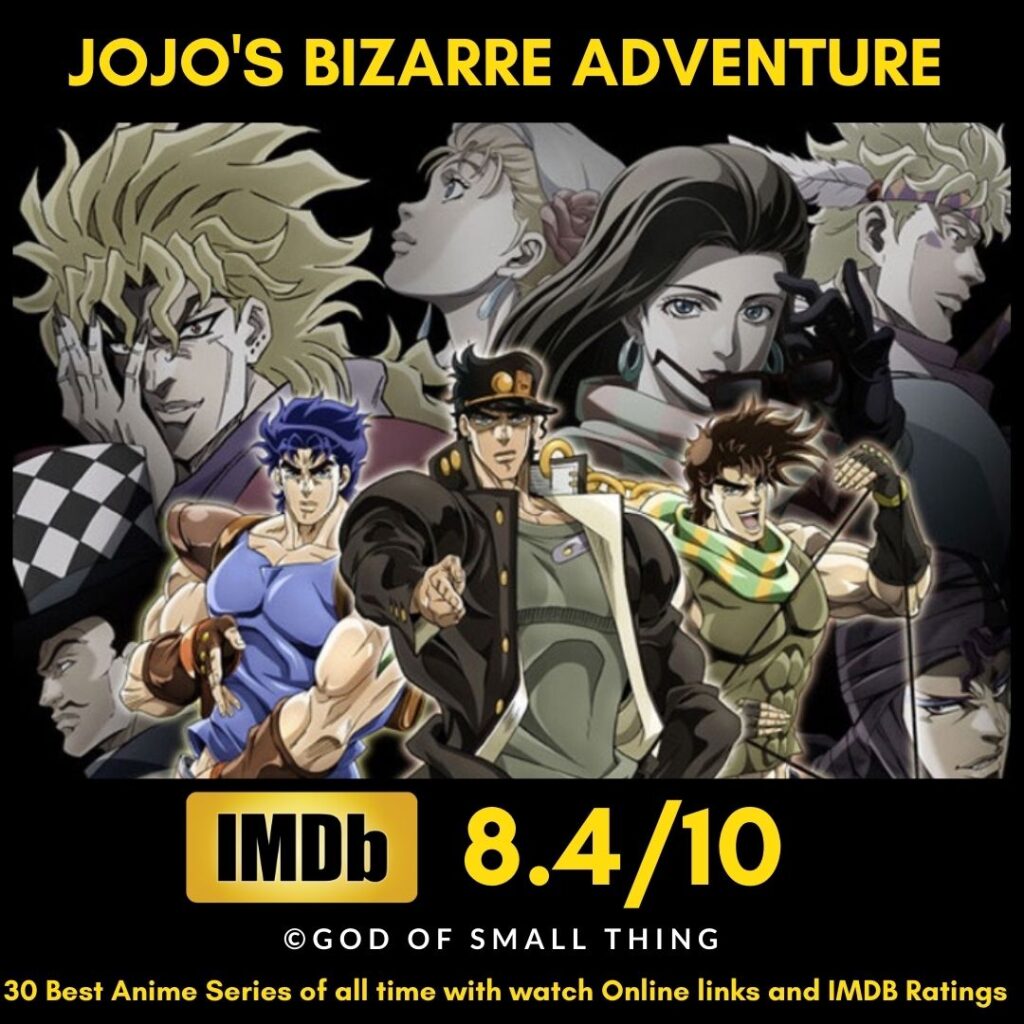 Genre: Action, Adventure, Supernatural
IMDb Rating: 8.4/10
Another Manga adaptation with the same name JoJo's Bizarre Adventures has gained immense popularity over the years. Produced by David Production and created by Hirohiko Araki, this anime is considered the best anime of all time by many anime watchers all over the world! It Revolves around the mystery around Joestar's family, with Jonathan Joestar, his adoptive brother Dio Brando and a stone mask that turns people into vampires. The story starts when George Joestar takes in Dio to pay off Dio's father's death. He tries to take over the Joestar family's fortune and become the sole heir. However, when things don't go his way he uses a stone mask that transforms into a vampire and is set on taking over the world.
Jonathan uses his newfound abilities to stop Dio. The unique art style and the appealing voice acting makes the Anime extremely addicting and fun to watch! This is the Top Anime nowadays with 5 seasons and over 150 episodes. Even if you binge-watch all the episodes, there are more episodes to come!
19. Violet Evergarden Anime (2018)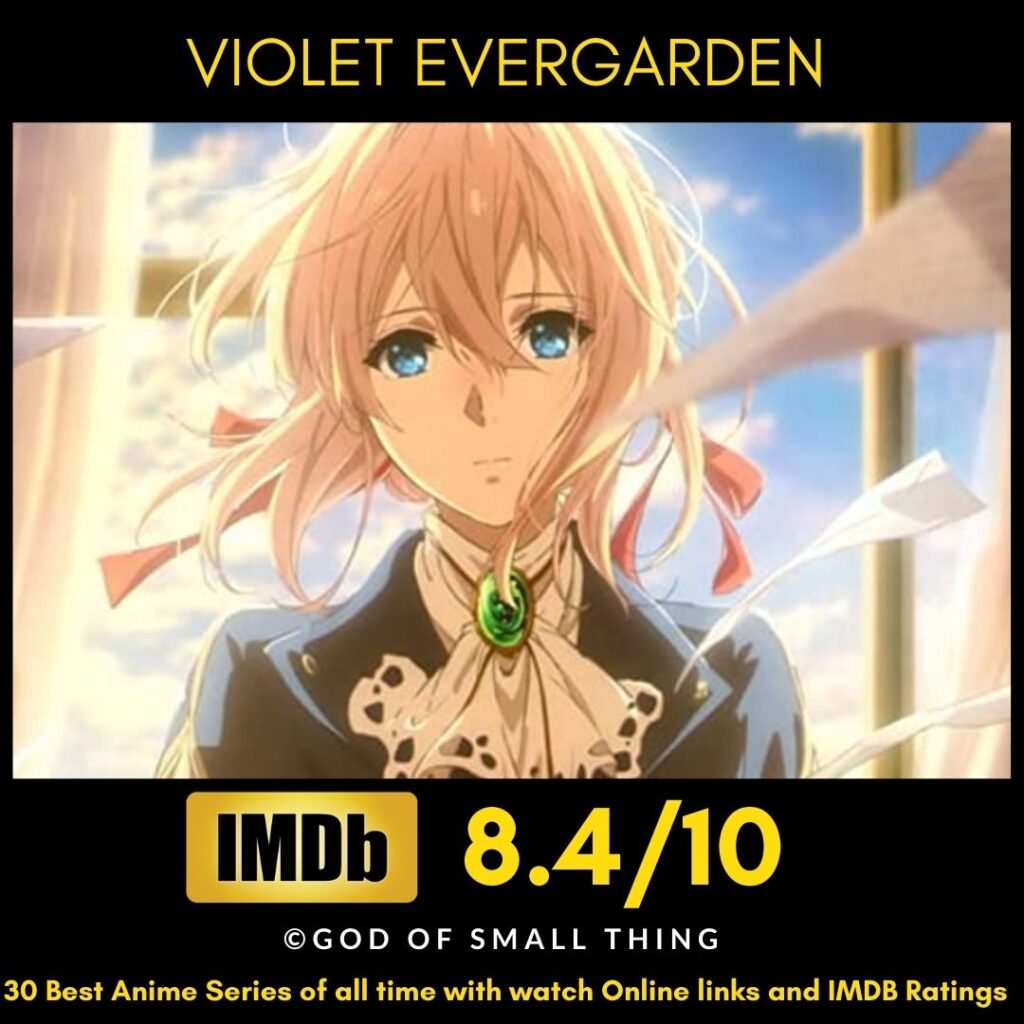 Genre: Coming-of-Age, Drama, Fantasy
IMDb Rating: 8.4/10
Violet Evergarden is a beautiful story about the protagonist, Violet, an orphan, and a child soldier who was enlisted in the military and fought in the war. With extraordinary fighting capabilities, Violet was treated like nothing than a weapon. She didn't understand feelings and couldn't express them well. The series shows the journey of Violet returning from the war and search for her purpose. All she knew was to fight, even before understanding words she understood the orders to kill. Now that she is no longer a soldier, she becomes an Auto Memories Doll at the CH Postal Company. She seeks to understand the meaning of the words I love you. She hears those words from Gilbert Bougainvillea, a person she treasures the most, during the final stages of the war.
An Auto Memories Doll transcends feelings and emotions that people write on paper. To understand raw emotions, Violet for the first time in her life, followed her heart and not some orders. This top Anime has one of the best animations and art style, an amazing soundtrack, with delicate and a dreamy overall vibe this anime is beautiful. But, on top of all, the emotional quotient of this anime makes it one of the Best Anime of All Time! Watch this best anime of all time.
20. Mushoku Tensei: Jobless Reincarnation Anime (2021)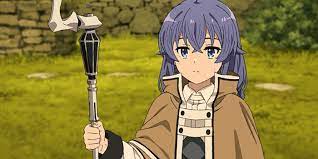 Genre: Fantasy
IMDb: 8.4
A 34-year-old unnamed Japanese NEET (not engaged in employment, education or training) is evicted from his home as he fails to attend his parent's funeral. He reaches a point where he concludes that there is no meaning in his life and he intercepts a speeding truck. Even before he realizes that he is reincarnated as Rudeus Greyrat he finds himself in the world of sword and sorcery.
The series shows how he succeeds in his new life and the stages that he goes through to abandon his previous life and get along with his new life. This is a chronicle which highlights his attempts to overcome the failure of his previous life.
21. Naruto (2002- Present)
Genre: Adventure, Martial Arts, Fantasy
IMDb Rating: 8.3/10
We cannot talk about anime without mentioning the legendary anime series Naruto. With over 200 episodes spread over five seasons and over 500 episodes including all fillers and cannon. The Naruto anime is one of the Best Anime of all time. Directed by Hayato Date and produced by Studio Pierrot and TV Tokyo, this anime gained immense popularity all over the world. Following the story of Naruto Uzumaki, a mischievous ninja from the village of Konoha. He struggles to achieve his dreams of becoming a Hokage, the strongest ninja in the village. With his friends Sasuke and Sakura he sets on a journey to find recognition. With a past he doesn't know about, he trains to reach his destination.
Part 2 of the Naruto series is Naruto: Shippuden is one of the longest-running series spanning over a decade from 2007-2017. The continuation of Naruto, Naruto Shippuden consists of 700 episodes! Another fun fact: There's a spin-off series to the previous 2 Parts called Boruto that follows the story of Naruto's son! So, it is safe to say that once you start Naruto, you have a ton of content to watch for months and months! The story and the characters are adored among millions and even non-fans have heard about Naruto at least once in their life and that says it all!
22. Fate/Zero Anime(2011-2012)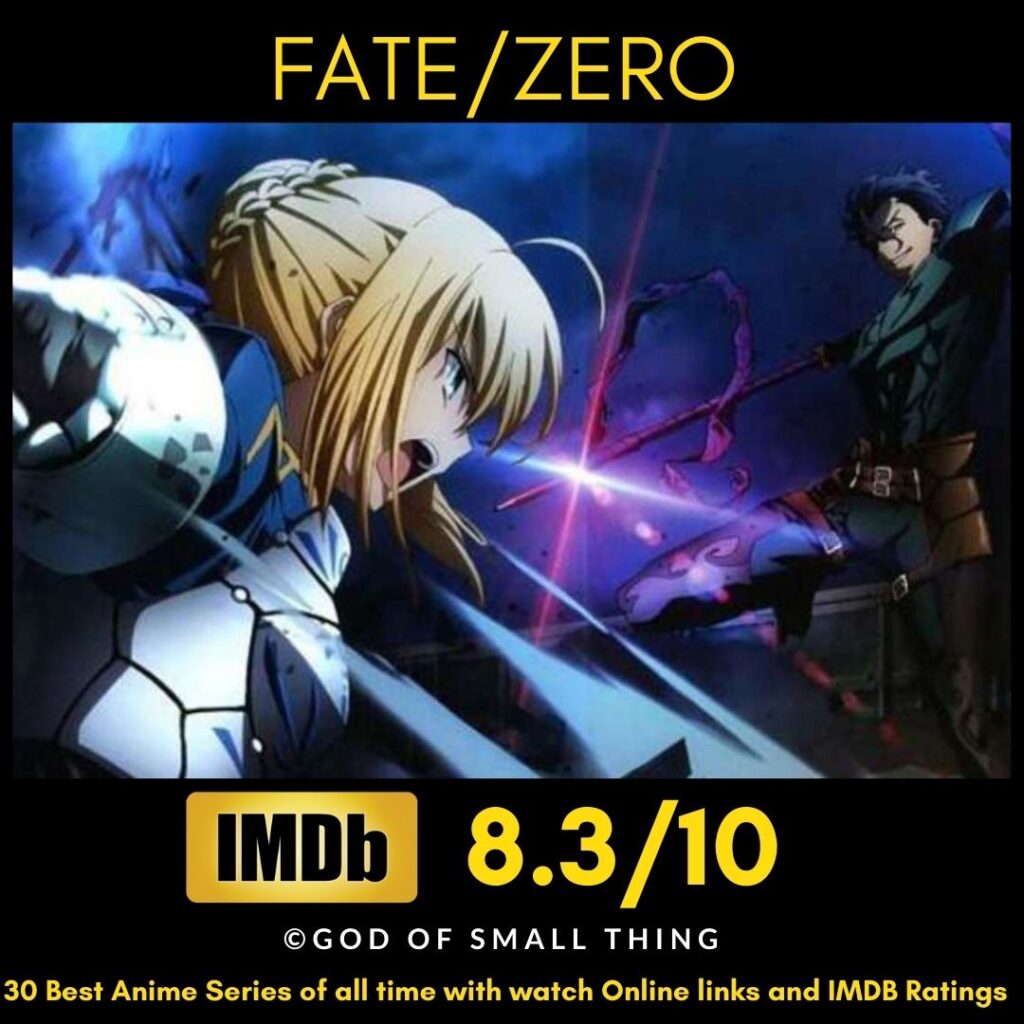 Genre: Action, Dark Fantasy, Tragedy
IMDb Rating: 8.3/10
Fate/Zero is a prequel to the events of Fate/stay Night (2006). This top anime is set ten years preceding those events. It narrates the story of the legendary Fourth Holy Grail War, a secret magical tournament held in Japan. In this tournament, seven mages aka Masters, call upon their servants. The reincarnations of heroes and brave souls from history. These souls battle it out in a deadly royale in which the winner gets the Holy Grail. It is a magical chalice that grants a wish to the winning duo. Kiritsugu is a merciless mage who enters the competition. Kiritsugu had a great reputation as a mercenary and hitman despite his unconventional methods. he abandoned the dream of becoming a hero. For the sake of humanity, he resolves to destroy anything and anyone that threatens the peace of others.
Fate/Zero has received high praise across the community for its incredible animation and interesting characters. Winning multiple awards and mentioned in the Top 25 Anime of the Decade list, Fate/Zero makes it one of the best Anime of all time!
23. Food Wars Anime(2015- Present)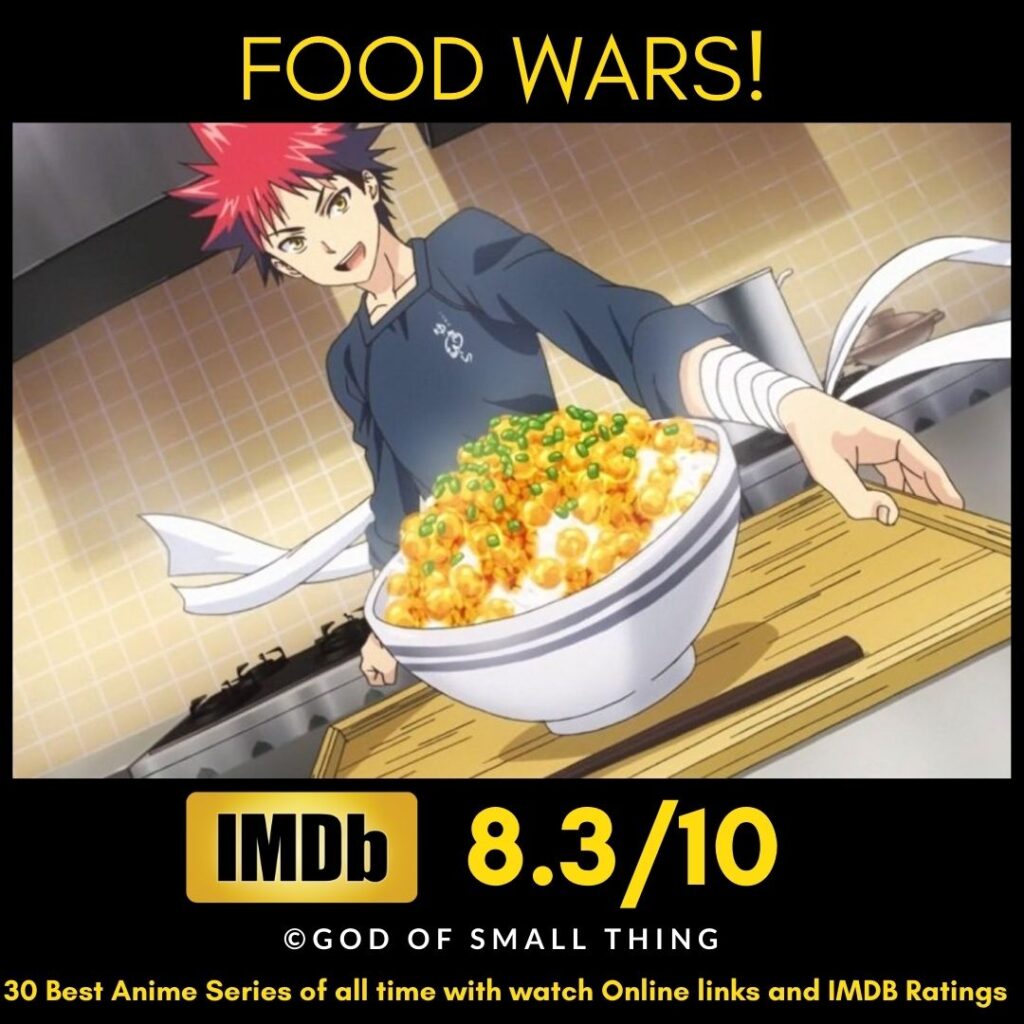 Genre: Comedy, Cooking, Slice of Life
IMDb Rating: 8.3/10
Following the story of Yukihira Soma, who has always been happy cooking and serving in his little diner with his dad. But, when trouble comes knocking at the diner's door his dad asks him to attend Totsuki Academy for Culinary Arts. Totsuki is an elite school that only accepts cooking prodigies, and Yukihira decides to go for it. He passes the test on the first try and gets in, but he is looked down upon for having dinner, while each one of the students there was heir to huge restaurants and hotel chains. However, nothing brings Soma down, his passion to cook is higher than anything, and fits in with the students sooner or later.
But, of course, he gets into trouble pretty early when he challenges a food war. This top anime is about Soma and his friends surviving Totsuki's harsh and extremely difficult curriculum and tests. Because one mistake and you can get expelled. Soma's carefree attitude might annoy his peers, but the viewers absolutely love him and all the characters in the anime. With all the characters having sub-plots, the viewers can connect and root for them too. With great character development and the general vibe of the series, it is no doubt that many people considered it to be one of the Best Anime of All Time!
24. Psycho-Pass Anime (2012-2019)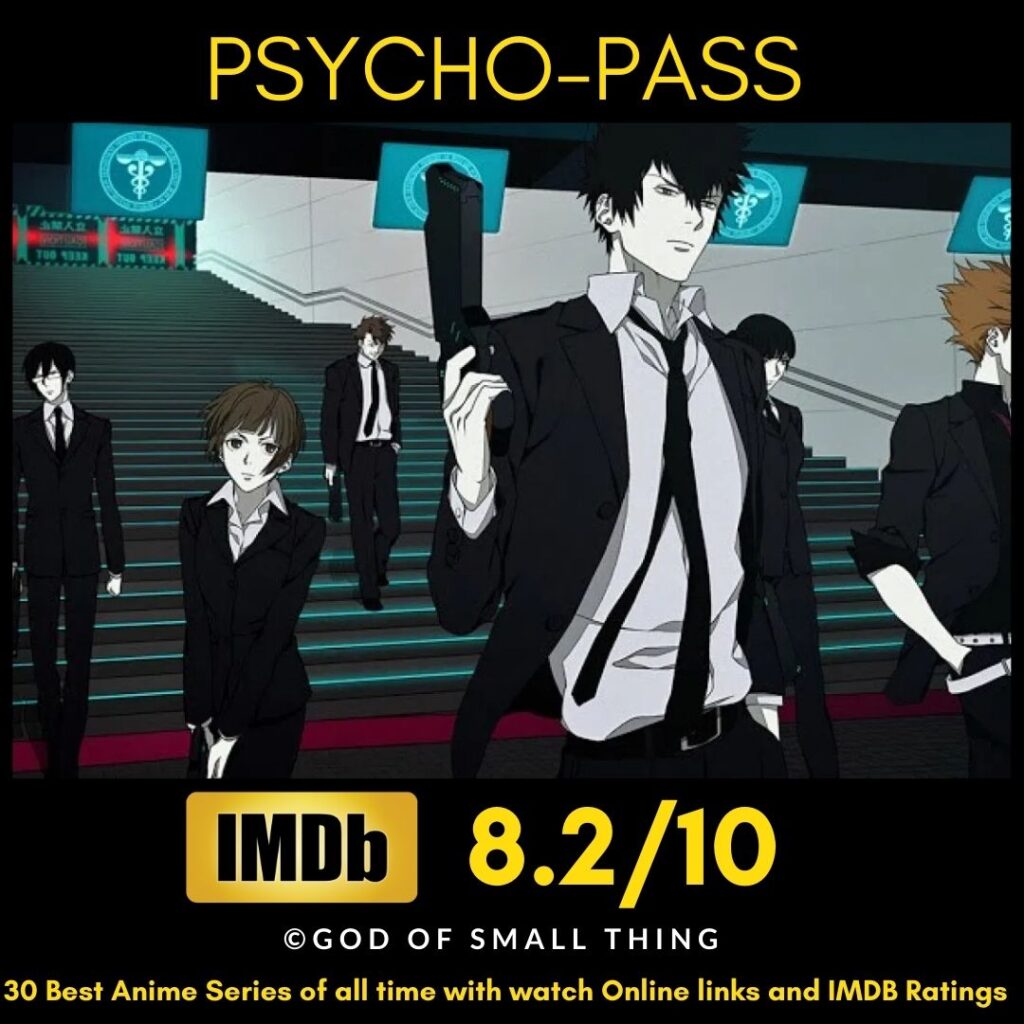 Genre: Crime, Cyberpunk, Psychological Thriller
IMDb Rating: 8.2/10
With outstanding reviews by Japanese and International viewers alike, this top anime is a critical success. Psycho-Pass has a futuristic concept that inspired many movies and books. Set in Japan where the Shibyura System is a powerful network of scanners that keeps the citizen's minds in check using a 'cymatic scan'. An assessment called Psycho-Pass is where the possibility of a citizen committing crimes is measured based on the 'Crime Coefficient Index'.
If an individual exceeds the threshold then he/she is either arrested or decomposed. Inspectors are the elite officers who research potential criminals. Inspectors and Enforcers join hands to dispose of potential threats to society. Seen through the perspective of Akane Tsunemori, a top-class recruit who puts her own sense of justice above the system. She faces a criminal who eludes the 'perfect system' set for society and she begins questioning the pre-set system and her job. The immense praise and popularity of the anime gave rise to two sequels and 3 movies, all set in the same universe with the same characters. This anime is another contender for the Best Anime of all time!
25. Anohana: The Flower We Saw That Day Anime (2011)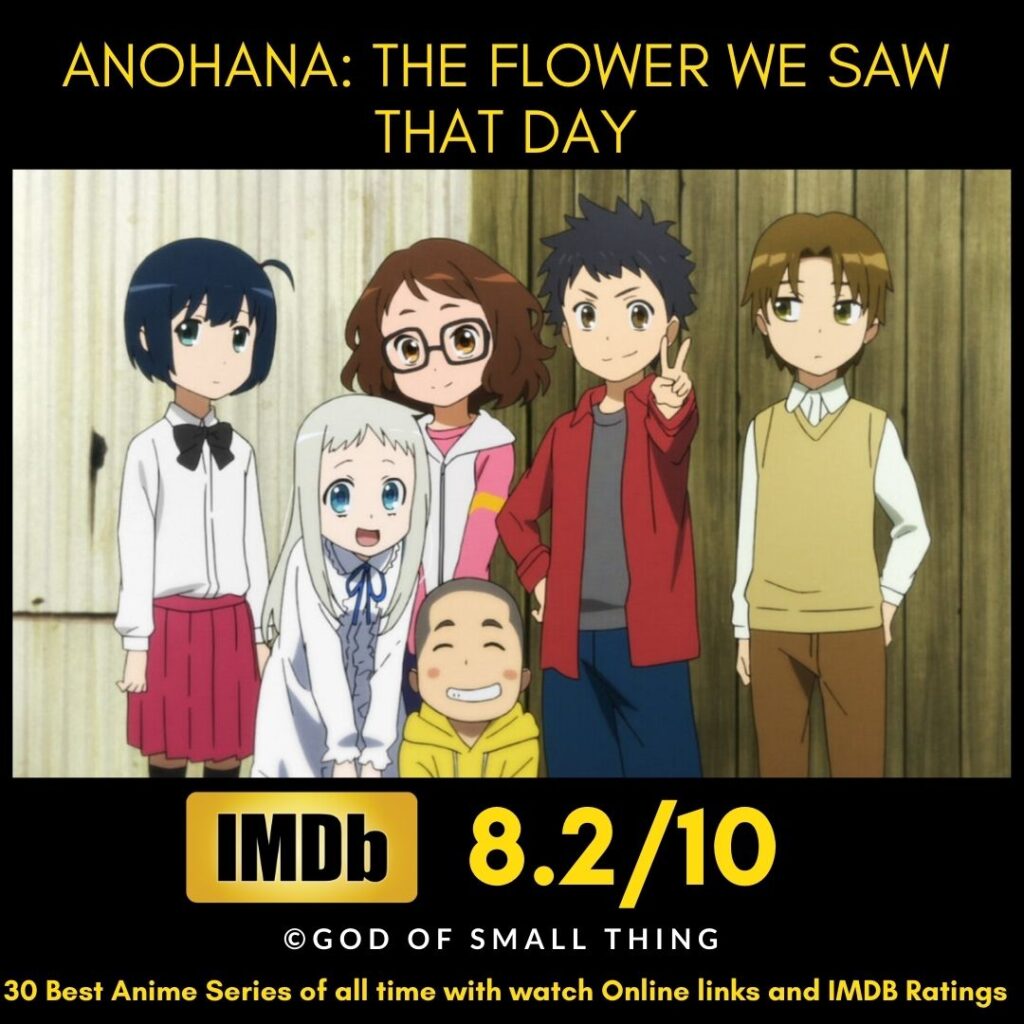 Genre: Coming-of-Age
IMDb Rating: 8.2/10
The title literally called "We Still Don't Know the Name of The Flower We Saw That Day." This is one of the best coming-of-age anime of all time. Directed by Tatsuyuki Nagai and produced by A-1 Pictures, this anime is widely popular. An extremely emotional story about 6 childhood friends that grow apart from each other over the years. The biggest catalyst of the distance becomes the death of one of the six friends named Menma. Years later, Jinta starts to see Menma's ghost when he felt hopeless in life. Menma asks Jinta to have a wish granted, she claimed that she can't pass the afterlife until the wish is fulfilled.
But, Menma didn't remember what her wish was. So, Jinta gets all the distant friends together, he believes that all of them are the key to solve her problem. However, the other friends are reluctant because no one can see her and blame Jintan for not getting over her death. The group re-kindle their buried feelings and struggle to move on while granting Menma her final wish. A beautiful top anime with 11 episodes that really captures the heart of the viewers and will take you on a roller coaster of emotions.
26. Ouran High School Host Club Anime (2006)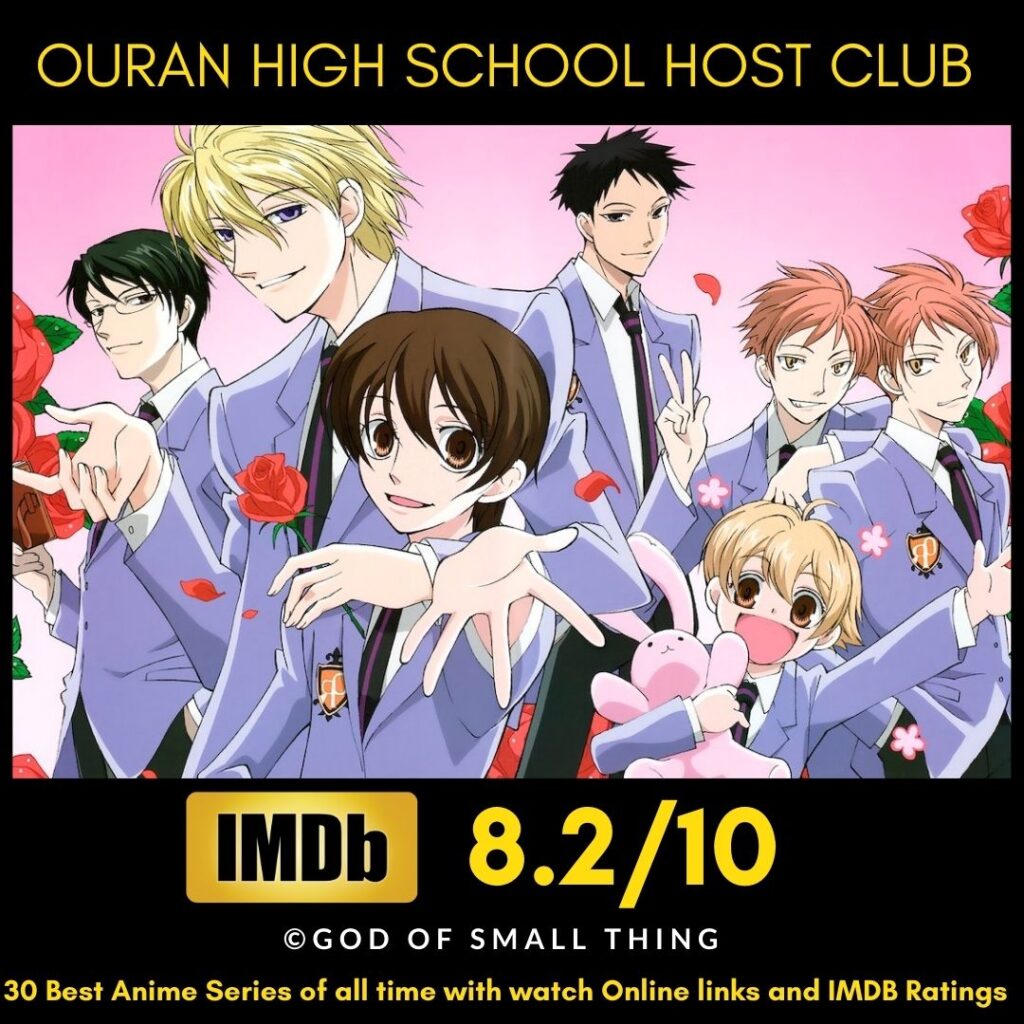 Genre: Reverse Harem, romance, comedy.
IMDb Ratings: 8.2/10
This Anime is very popular that at least everyone remotely interested in anime has heard this name. Following the weird story of Haruhi Fujioka, a quiet scholarship student and the members of the Host Club of the prestigious school. The anime satirizes all the possible cliches and stereotypes a shōjo manga can muster. Ouran Academy is a school for rich kids in Tokyo, and Haruhi got in through a scholarship. While looking for a quiet place to study, she comes across an abandoned music room.
However, that room was where the Host Club, consisting of six boys father to entertain the girls. During their very first encounter, Haruhi accidentally breaks a very expensive antique vase. To repay the debt, she works as an errand boy for the club. With her appearance with short hair and a gender-ambiguous face the boys mistake her as a guy But, for her to pay off the debt, she must let the Host Club's customers believe that she is indeed a boy. Ouran was one of my first anime's. The adorable story and the likable characters made it an entertaining anime! However, with a total of 26 episodes, the anime is rather short.
27. Seven Deadly Sins Anime (2014- Present)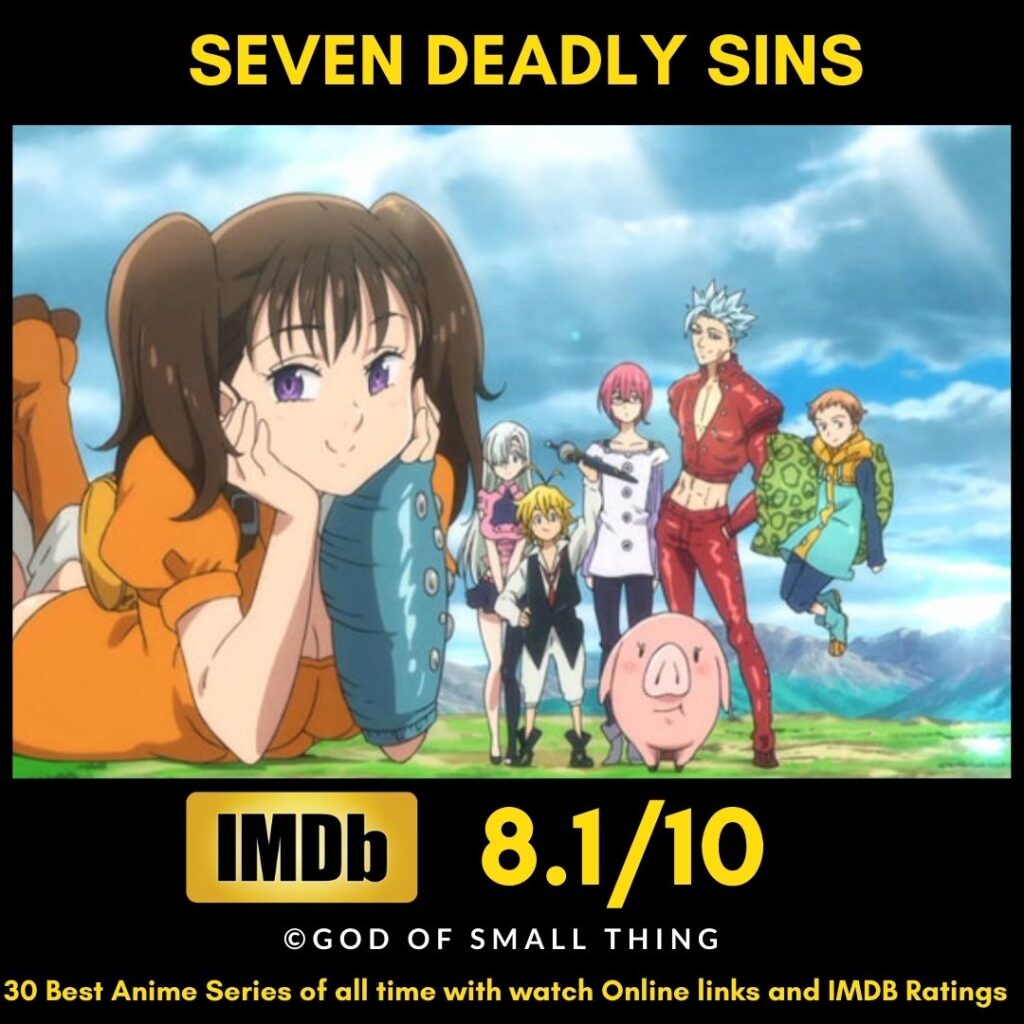 Genre: Action, Adventure, Fantasy
IMDb Rating: 8.1/10
This top anime has to be one of the most heard of anime. Following the adventures of a band of knights in the Britannia named Seven Deadly Sins. This group supposedly disbanded after they plotted an overthrowing scheme for the Liones Kingdom. However, they were rumoured to be defeated by the Holy Knights. Many still believe that the Seven Deadly Sins were well and alive. After 10 years of the said incident, the Holy Knights stage a coup. They become the new tyrannical rulers of the kingdom.
The adopted daughter of the newly overthrown king, Elizabeth sets out to search for the Seven Deadly Sins. They might be the only ones who can save the king and restore peace in the Liones Kingdom. She accidentally meets Meliodas, he volunteers to help the princess. But she is unaware of the fact that Meliodas is none other than the captain of the group. She travels with him to find the other sins and restore the land. This is one of the Best Anime that spawned 3 seasons, 2 OVAs, and 1 Film in total!
28. Horimiya Anime (2021)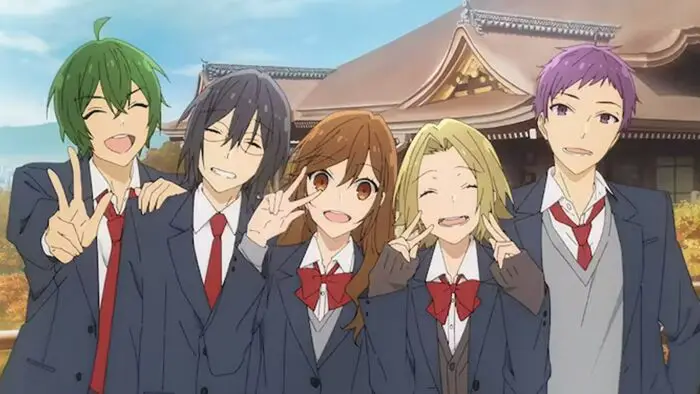 Genre: Romantic comedy
IMDb: 8.1
To the external eyes, Kyoko Hori and Hzumi Miyamura are the least combinations that one would think of. Hori was the perfect example of beauty with brains whereas Miyamura appears resigned and stays distant from his mates. They both meet and find out their hidden selves. Even though Hori was popular in school she did not have time to get along with her peer as she was busy with housework. Whereas on the other hand, Miyamura lives an oblivious life of his own. His body bears secret tattoos and piercings.
Even though their personalities are like two ends of a pole they share odd similarities that makes them friends quickly and often spend time with each other helping each other emerge out of their shells.
29. Neon Genesis Evangelion Anime (1995-1996)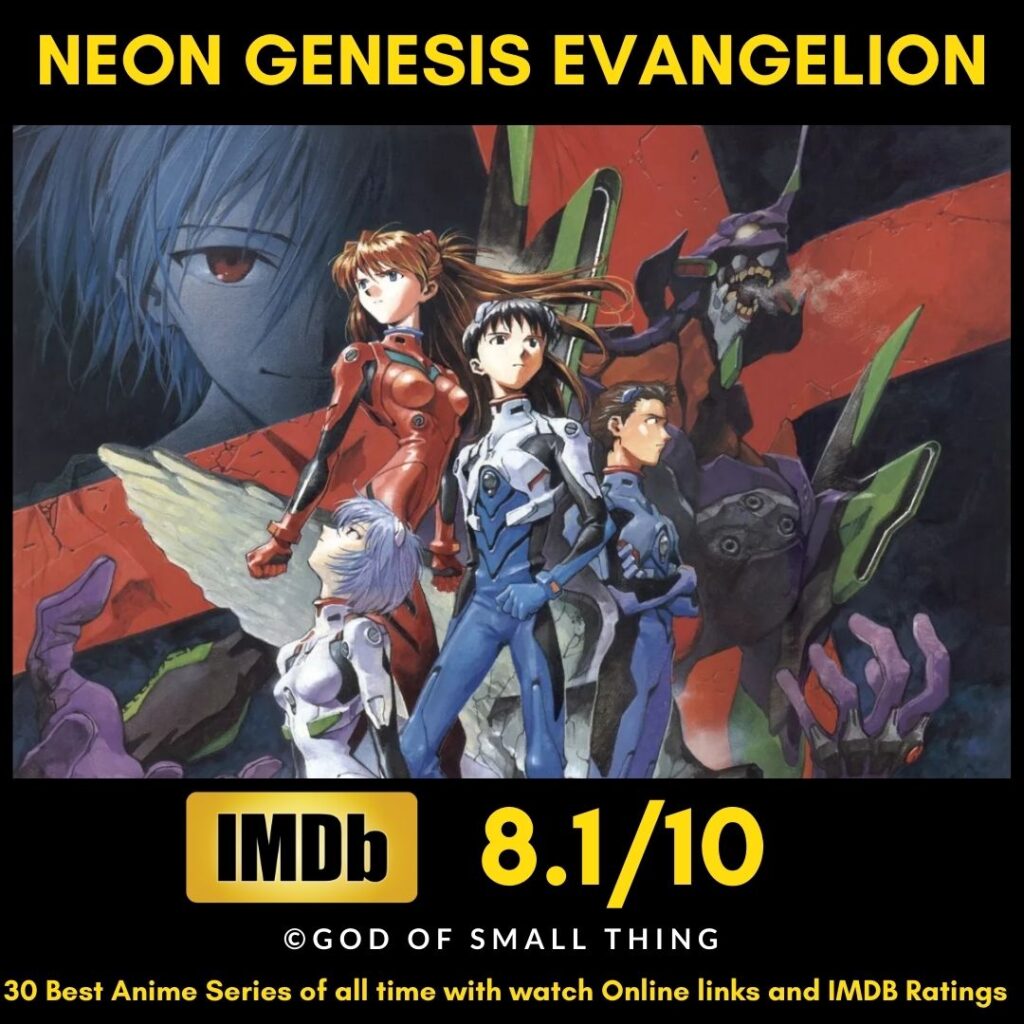 Genre: Apocalyptic, Mecha, Psychological Drama
IMDb Ratings: 8.1/10
Set in an apocalyptic world 15 years after a cataclysmic event particularly in Tokyo. Shinji, the protagonist, is recruited to combat against the aliens called "Angels" with giant bio-machines named "Evangelion". Shinji is summoned to Tokyo by his father Gendo, the director of a paramilitary force NERV. To operate these killing machines the government supposedly needs the minds of children. Forced by his father, he goes on the battlefield fully untrained and gets hospitalized. Traumatized by his first disaster, he runs away after killing one of those vicious beasts. But, with Rei's help, he successfully defeats another Angel. Asuka, Rei, and Shinji move fast killing several Angels, he finally accepts his role and adjusts to his life as a pilot.
The creator, Hideaki Anno, supposedly created the characters of the series to reflect parts of his own personality. Maybe that's why the characters feel more real and seem to have more of a complex set of lives and emotions. Neon Genesis Evangelion is a widely critically acclaimed anime and is named as one of the Best Anime of All Time. This top anime is rightly recognized for its psychological complexity and creative artistic expression.
30. Fairy Tail Anime (2019-2012)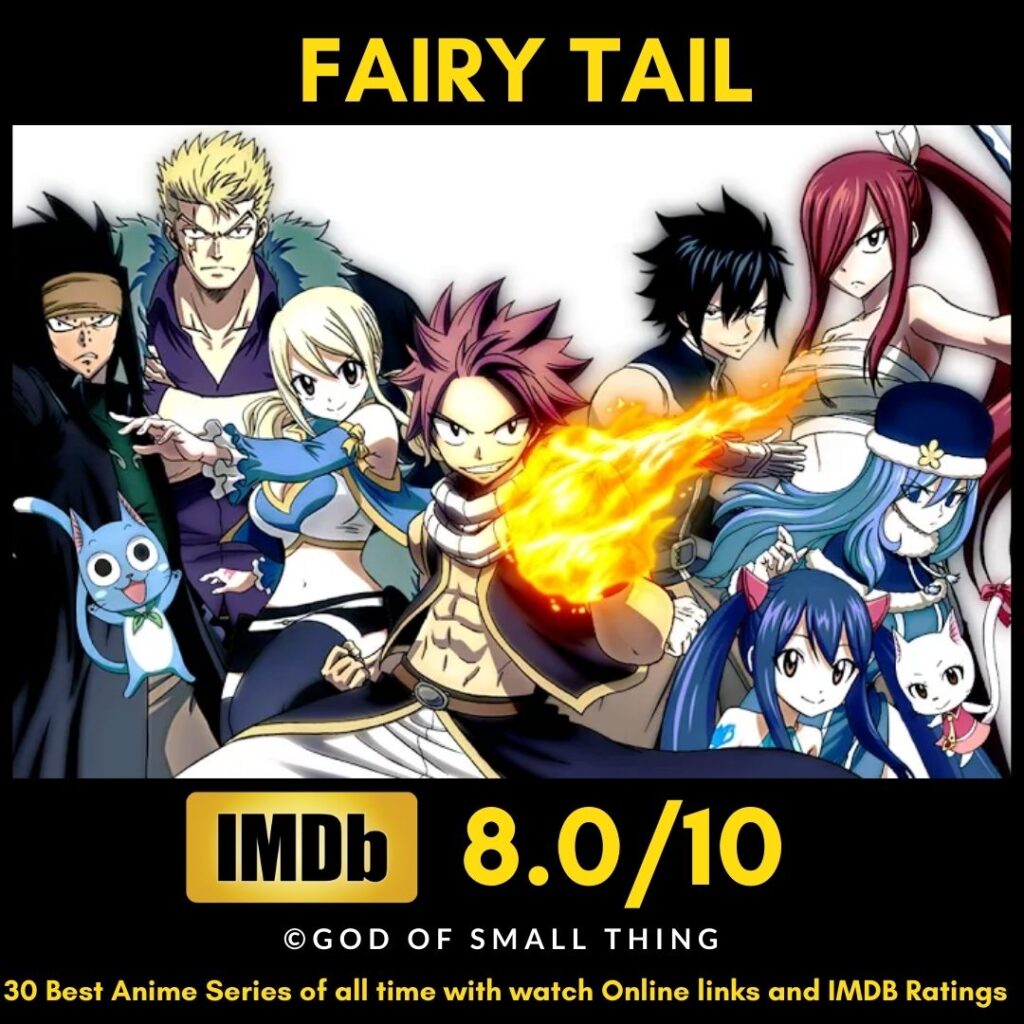 Genre: Action, Adventure, Fantasy
IMDb Ratings: 8.0/10
This top anime follows the adventures of Natsu Dragneel, a member of a very popular wizard guild called Fairy Tail. In this world, wizards are paid for using magic for job requests. Natsu is a dragon slayers wizards who explores the Kingdom of Fiore in search of his long-lost adoptive father, the dragon Igneel. While he was on his journey he meets a celestial wizard, Lucy, and invites her to join the guild. The guild is filled with powerful magicians named Happy, Wendy Marvell, Ezra Scarlet, Carla, and Gray Fullbuster.
The guild embarks on several adventures together and stop the Etherious demons created by a dark wizard. An epic series of adventures takes us through the dangerous and exciting places the members of Fairy Tail overcome with love, respect, and friendship toward each other. Overall, the anime received positive responses from viewers and is one of the Best Anime of all Time!
31. Tokyo Ghoul Anime (2014)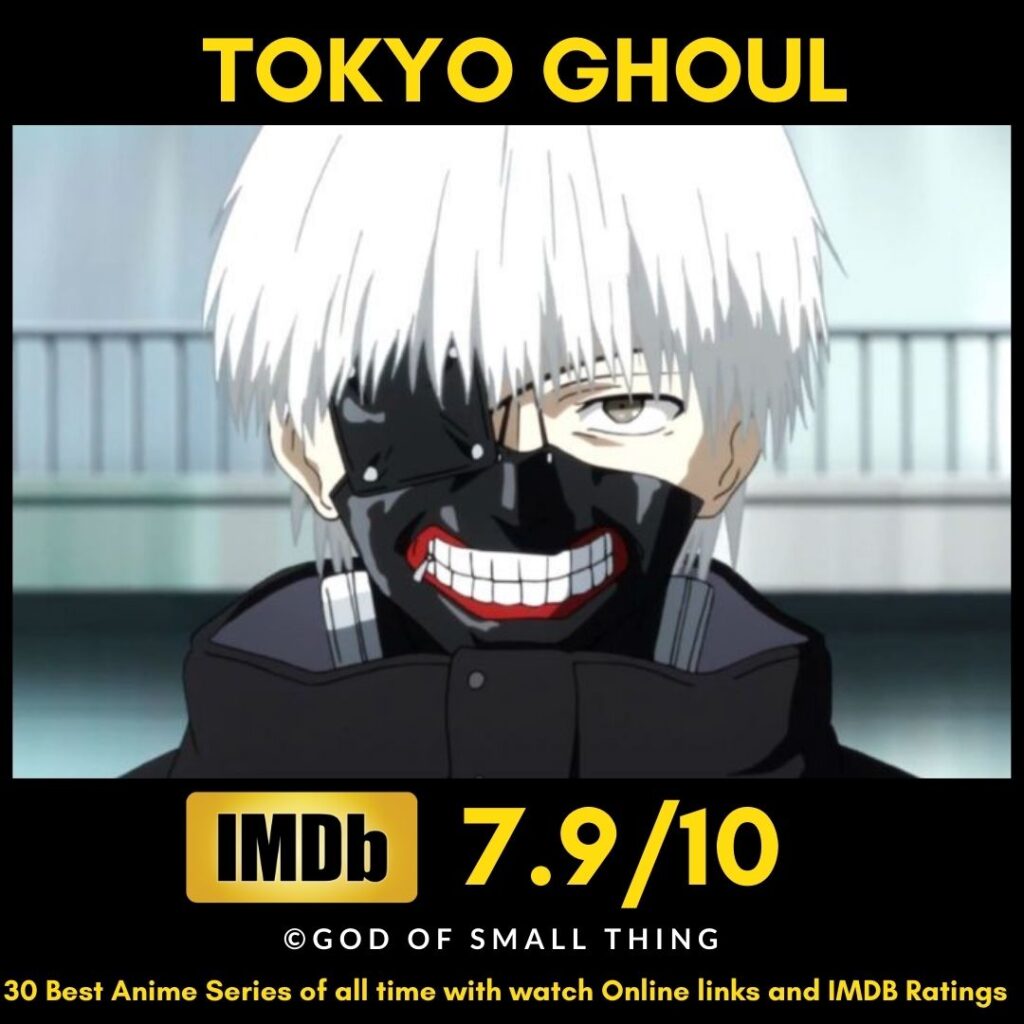 Genre: Dark Fantasy, Horror, Thriller
IMDb Ratings: 7.9/10
This alternate world where ghouls hide in the shadows. Creatures that resemble humans but can only survive by eating human flesh. Ghouls have quite a few powers including highly regenerative abilities, impenetrable skin, and a predatory organ called the Kagune. These Kagune manifest while combat, other distinctive features of ghouls is that their eyes turn black and red due to hunger or excitement. A half-ghoul is stronger than an average ghoul since it was either be born a ghoul or made by transplanting organs and is very rare. The success rate of the survival of a half-ghoul is very low.
But when Kaneki Ken survives a ghoul attack he gets a ghoul organ transplant and successfully becomes a half-ghoul. Disgusted by human flesh he decides not to feast on humans, but his hunger seems stronger than his morals. The first season simply follows Kaneki getting in terms with his current state and accepting his ghoul side. He meets Touka, a full ghoul, and Kaneki finds a safe spot and slowly gets deeper and deeper into the world of Ghouls. The following seasons are called Tokyo Ghoul √A. Tokyo Ghoul: Re and Tokyo Ghoul: Re Season 2. The visualization and animation are beautiful yet gory and dark. The plot is very interesting and the characters are intriguing.
32. Akame Ga Kill Anime (2014)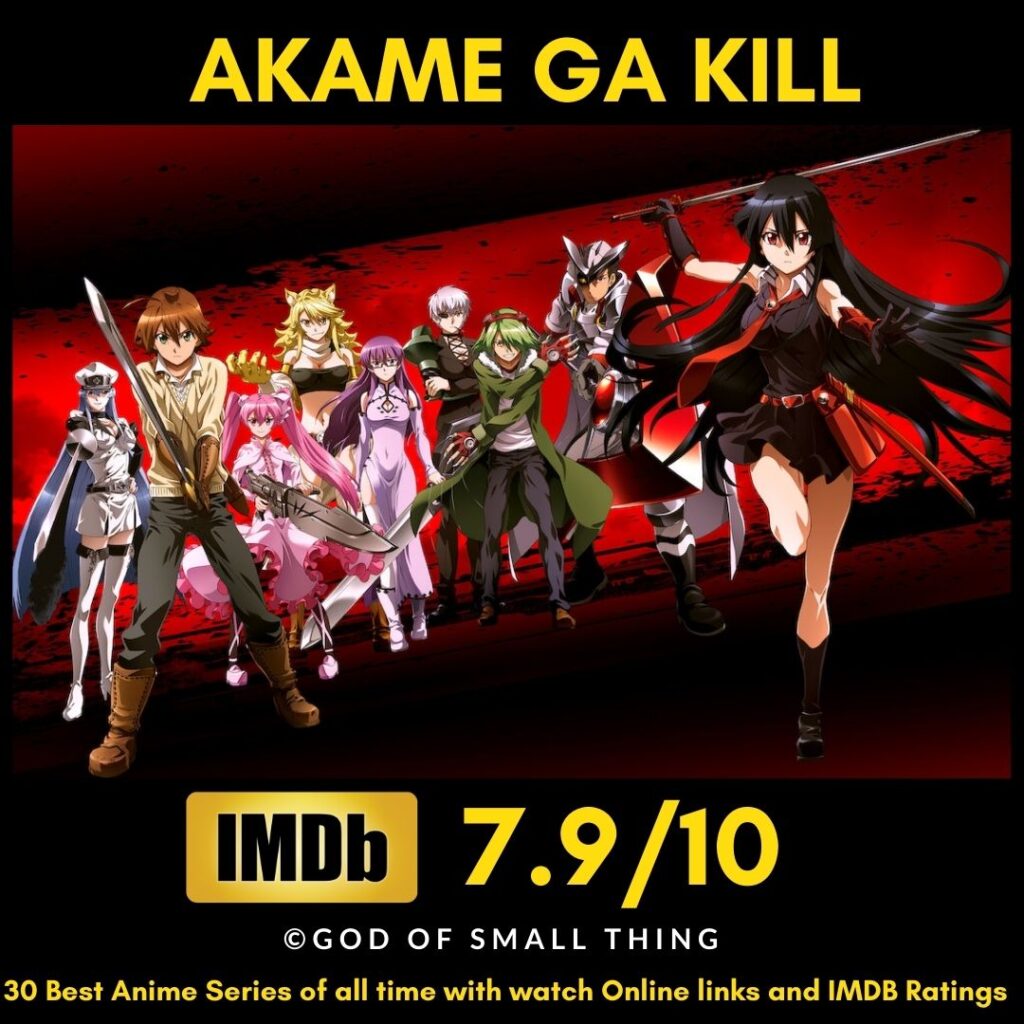 Genre: Action, Dark Fantasy
IMDb Ratings: 7.9/10
The story of a countryside boy Tatsumi with dreams to make a name for himself. Tatsumi sets out to the Capital to make money so that his village doesn't die out of poverty. But, he gets unfortunate when he gets tricked into losing all his money by a woman. After losing every penny he has, he sleeps on the streets with nowhere to go. That very night he comes across another beautiful woman that picks him up from the streets and takes him home. He comes across a horrifying truth about the lady and feels helpless. That's when The Night Raid, enters into his life. This group of assassins changes his life forever. He joins the Night Raid and sets on a journey with them. He knows nothing of the future but looks at this as a way to take revenge for the fate of his friends.
The thrilling concept of assassins fighting against injustice in society is good enough on its own. However, the soundtrack, the animations and the action scenes make it one of the Best Anime of All TIme!
33. Noragami Anime (2014-2016)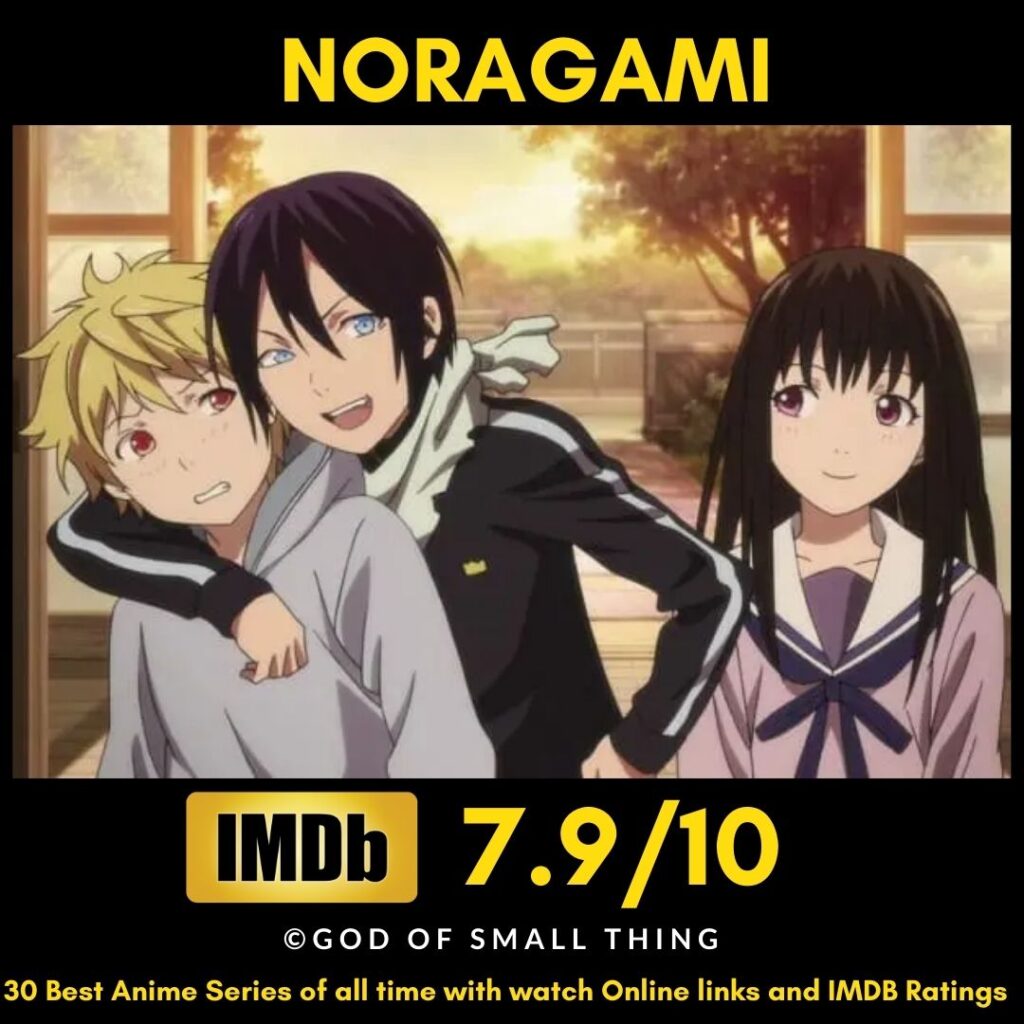 Genre: Action, Supernatural, Urban Fantasy
IMDb Ratings: 7.9/10
Hiyori Iki's life changes when she tries to save a stranger from an accident. The accident causes her soul to momentarily slip away from her body, Hiyori is now aware of the existence of a parallel world. The two Parallel worlds: Near Shore, a place for regular creatures and humans, and Far Shore, a place where demons and lost human souls wander. Her soul meets a stranger, a nameless god, Yato. He is a god without a shrine and is set on making name for himself. He plans to grant wishes for 5 yen, and even fixes Hiyori's body for her. With his weapon, made from a dead human's soul and named by the god, Yukine, The three of them embark on an adventure filled with struggles, friendship, and identity.
Besides Season 1 with 21 episodes, 2 additional episodes were released. The second season consists of 12 episodes in total with 2 OVA. The title Noragami literally translates to the 'Stray God' so for Yato to find his identity among 8 million gods, this God's unique story is loved by numerous anime fans around the world. The unique storyline, the action, emotions, and rawness of the anime makes it one of the Best Anime of all time for me!
34. Black Butler Anime (2008-2010)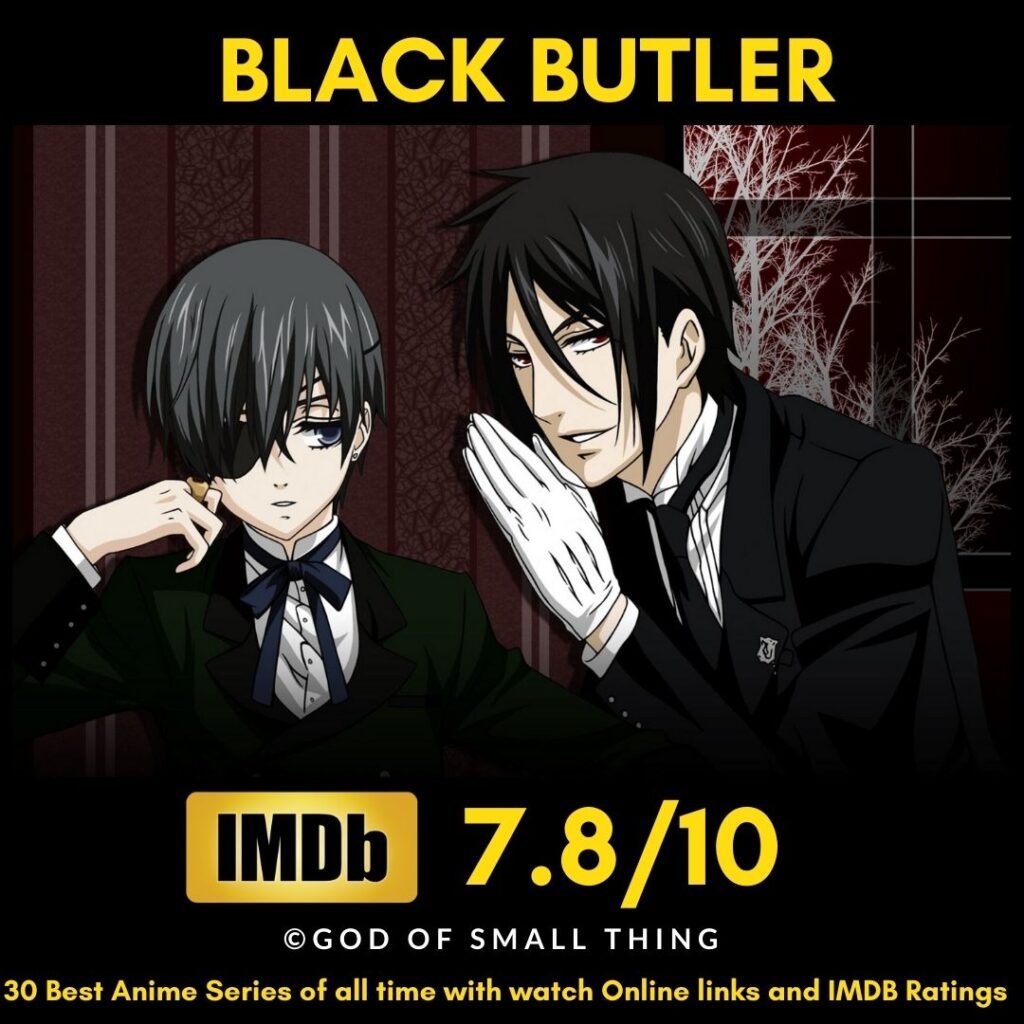 Genre: Dark Fantasy, Thriller
IMDb Ratings: 7.8/10
Ciel Phantomhive, a thirteen-year-old is the head of the aristocratic Phantomhive family. This family is also known as the Queen's Guard-dog. Ciel is given the task of solving crimes in the underworld in London. Ciel's life wasn't a normal one, he was once kidnapped and tortured his captors. One night, during a sacrificial ceremony a demon is summoned, but the demon states that Ciel was the one who summoned him and will only form a contract with him. So, Ciel makes a deal with the devil named Sebastian to seek revenge. Revenge against those who tortured and then murdered his parents and made his life miserable. Sebastian is a demon in a man's skin working as a butler. A loyal butler, Sebastian is supposed to serve and protect his master. In exchange for his service, Sebastian will devour Ciel's soul.
With only 2 seasons this top anime has amassed a huge number of fans. With the intriguing and loved characters, this anime ears a spot in the list of the Best Anime of All-time!
35. Sword Art Online Anime (2012- Present)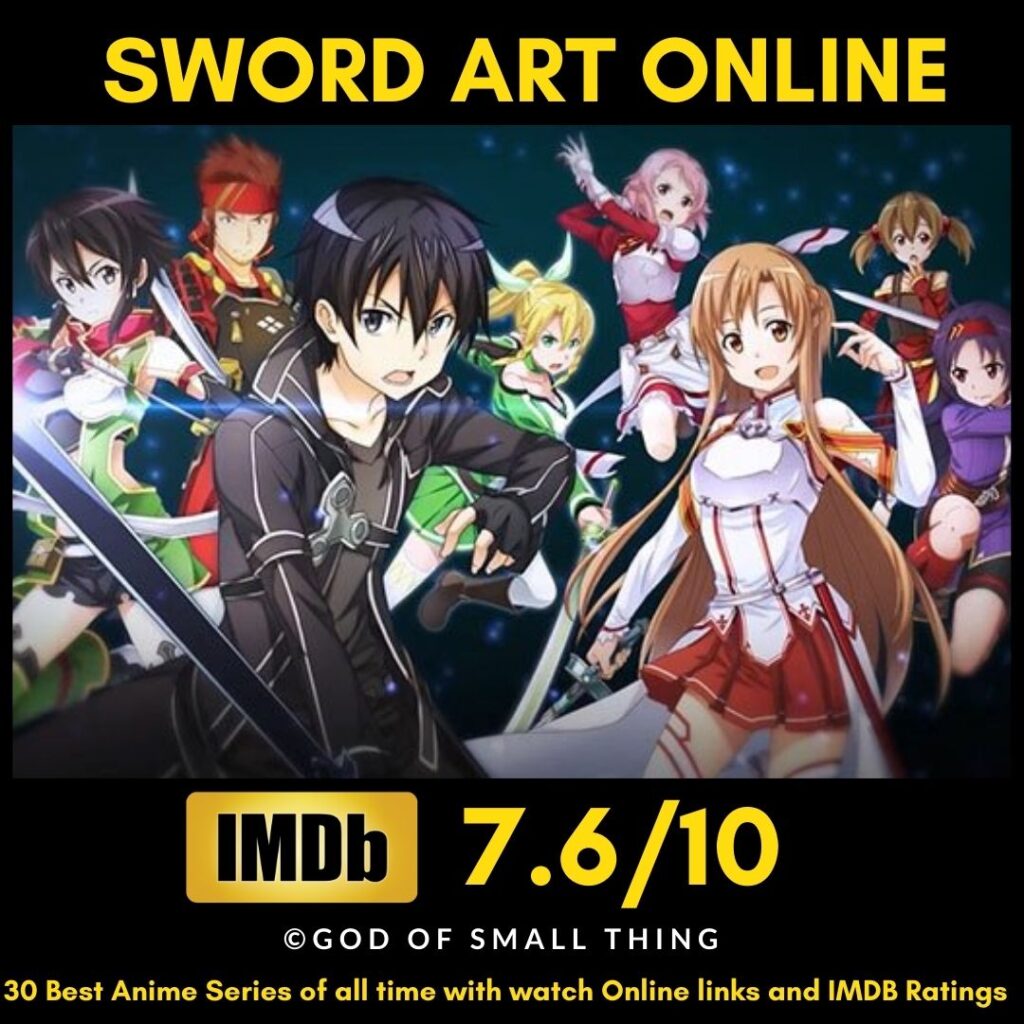 Genre: Adventure, Science Fiction
IMDb Rating: 7.6/10
This Top Anime took over the world and the anime community. With numerous polls ranking Sword Art Online as one of the Best Anime of all time, it is immensely popular. Set in the year 2022, all the gamers are extremely excited, everyone lines up for the long-awaited game Sword Art Online. A much-anticipated MMORPG that connects the players to an extensive virtual reality with nerve gear. Kirito being a beta tester for the game waits to jump back in action. As soon as he lands in the game he makes a new friend, they realize that no one can log out. The game's 10,000 players discover that they were stuck in virtual reality forever.
The creator of the game traps them and warns that if one died in the game, they die in real life. With their lives at stake, the players must beat the 100th level and the final boss. So, with no other choice, the ones who can fight, fight in the front lines and advance levels, and the others simply settle themselves in the villages waiting for someone to finish the game. After a few traumatic experiences, Kirito plays the lone wolf and fights bosses without teaming up with anyone. SOA currently has 3 seasons, 1 feature film, 1 TV special film, and 1 spin-off anime.
So, here it is! I personally love every anime on this list and some more. But, I had to limit myself to 35 series. However, I can give you some of the most underrated anime series to watch- Eden of the East, Tsuritama, Mushi-Shi, Hamatora, Angels of Death, Flying Witch, Big Windup, Death Parade, and Ergo Proxy! I hope you find some anime series that are up your alley! Recommend some of your favorite Anime series! Do you agree with my list? Comment below!