Vegas bomb Recipe | Ingredients | Nutritional Value| Instructions | Video Tutorial
Voila, folks! Here we are with another recipe to light up your summer. Nowadays, it's been so hot and Holi is just on the verge. It's time to learn to make new drinks, to cherish this summer. There are a lot of other "bomb" shots available in a variety of flavors and combinations. They all share one thing in common: they all contain a shot glass, and the ultimate aim is to drink alcohol as soon as possible.This is a very unique recipe, made with just 5 ingredients. Vegas bombs are highly refreshing and can easily get you out of a bad mood. The amazing blend of red-bull with the 3 exciting drinks is just a blast for your tongue.
What is Vegas bomb drink?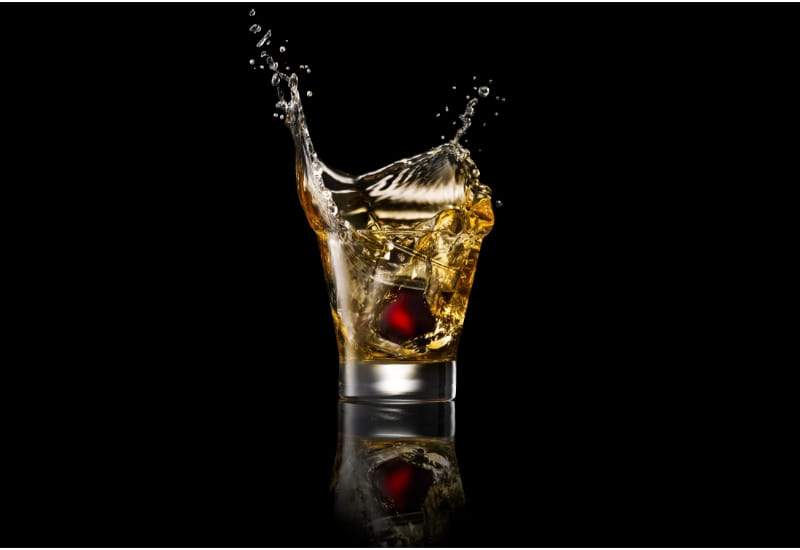 The Vegas bomb cocktail shot's popularity came from the fact that it mixes a powerful alcoholic punch with excellent flavor. Of course, since they're tasty, it's easy to lose count of how many you've consumed. The sweetness enhances the energy drink's flavor.
According to CrystalMixer.com, the Vegas Bomb recipe is considered one of the most popular shot recipes in the world!.
Vegas bomb is a cocktail drink made up of cranberry juice, Crown Royal, and peach schnapps. All of these are served with a small glass of Red Bull, and you drink it as a shot. You should drink everything all together at once. The immense flavor of all the ingredients is all that you deserve to relax your mind. The blast of flavors in your mouth is just mesmerizing. This article has been updated, for you to easily keep track of the recipe. Moreover, if you wish to reach out to any part of the section, you may click on the headings below.
Have you ever tried Mardi Gras Mustard sauce? Here's how to make it: Mardi Gras Mustard sauce recipe
What is a Vegas bomb made of?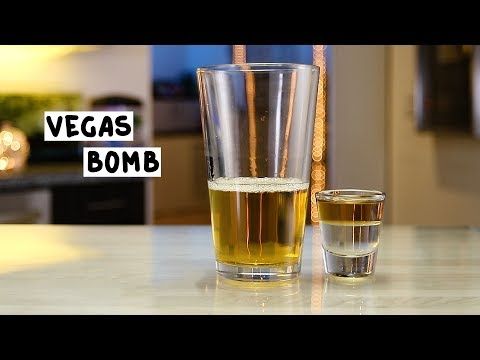 Vegas bomb is made up of 4 main ingredients, Crown Royal whiskey, rum, cranberry juice, and peach Schnapps, along with Red Bull and ice cubes. It takes four ingredients to be made; all of these ingredients are easily available in the market. This could be one of the best drinks you ever have in your lifetime. The amazing taste along with the exotic feel is beyond imagination
Vegas bomb Ingredients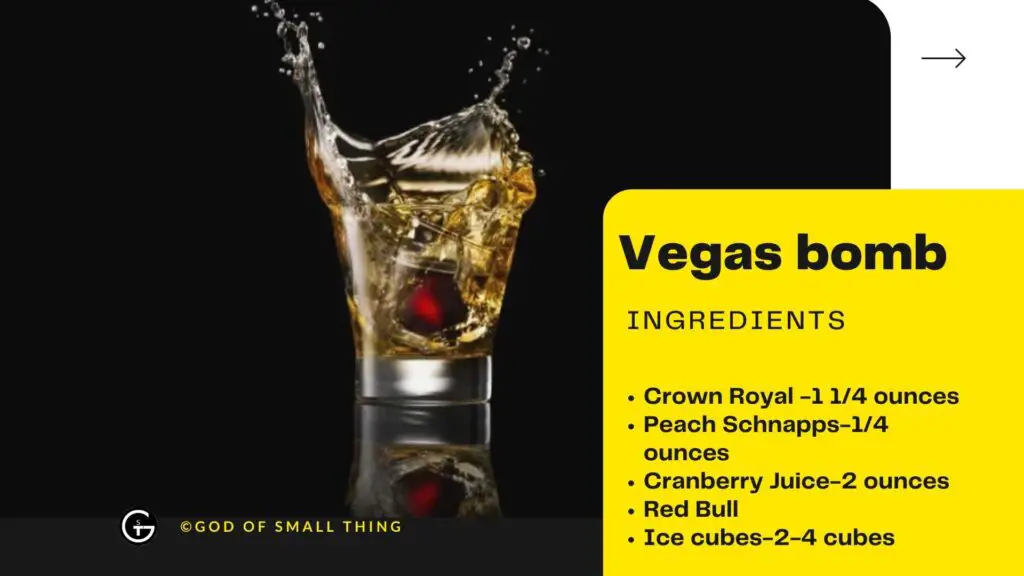 To make one shot, you require all these ingredients
Crown Royal -1 1/4 ounces
Peach Schnapps-1/4 ounces
Cranberry Juice-2 ounces
Red Bull
Ice cubes-2-4 cubes
More Recent Recipes from our side are waiting for you. Go check them out:
How much time will it take?
| | |
| --- | --- |
| Preparation Time | Total Time |
| 5 Minutes | 5 Minutes |
Vegas bomb drink Recipe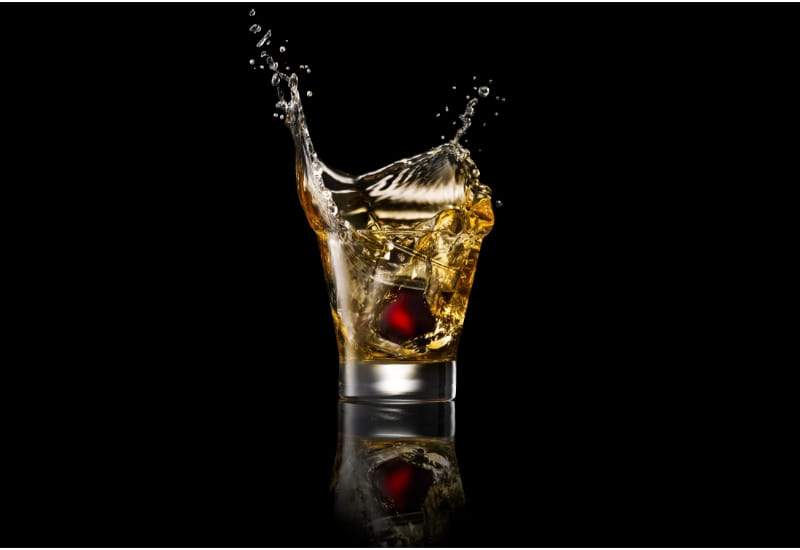 The recipe is very simple, make sure that you just follow the steps carefully and done!
First of all, take your whiskey, cranberry juice, and peach Schnapps, and add them into a cocktail shaker along with ice cubes.
Shake it for 10 seconds and let all the ingredients combine
Pour this into a short glass along with ice cubes
Take another glass, and pour a minimum amount of Red Bull that you require
So be ready with red bull along with the other glass.
Both of them are soft together, do not be patient and have it all
Nutritional value of the Vegas bomb drink:
| | |
| --- | --- |
| Calories | 73.3 |
| Sodium | 90.0 Mg |
| Fat | 0 G |
| Carbohydrates | 4.8 G |
| Protein | 1 G |
How to Make Vegas bomb drink at Home | Video
What does a Vegas bomb taste like?
You might be wondering, how a Vegas bomb tastes like. So, firstly it is sweet and not bitter. It gives you that magical burst in the mouth, which is too scary to resist. Moreover, the more you drink, the more you feel energetic and awake. It has a well-balanced flavor with a touch of sugar, a strong tang from the alcohol, and a jolt from the energy drink.
Take care of the following while curating grateful dead drink
There are few things that you need to keep in mind before preparing the Vegas bomb
Always make sure that the ingredients that you use are fresh and not bad
Do not forget to add ice, as without ice it would taste dull.
Both the glasses are brought together, do not forget!
Looking forward to some more recipes? Head over to our recipe section for some not so common recipe for food and drinks xD Recipes by God of Small Thing.