Top 10 Best Bars in Delhi by Gaurav Tomar #1 Food blogger
Bars and the drinking culture have always been intricately entwined, playing a crucial role in worldwide socializing and leisure. Bars have come to represent fun and entertainment in Delhi, a city that loves its vibrant nightlife. The scene in Delhi's best places to drink is a testament to the city's global nature, with a wide range of establishments catering to all interests and preferences. An immersive experience that appeals to all fastidious palates is offered, whether you're a connoisseur of fine wines, a cocktail enthusiast, or just looking to relax with friends over a fresh pint of beer. One gets to engage in the delights of the drink tradition and make lasting memories, from cosy speakeasies to bustling dance floors. Delhi is home to a multitude of amazing bars, each offering its own unique atmosphere and flavour. Here are some best places to drink when you're in Delhi suggested by a renowned food blogger in Delhi Gaurav Tomar and the owner of the amazing page FoodParadise on Instagram.
1. PCO Bar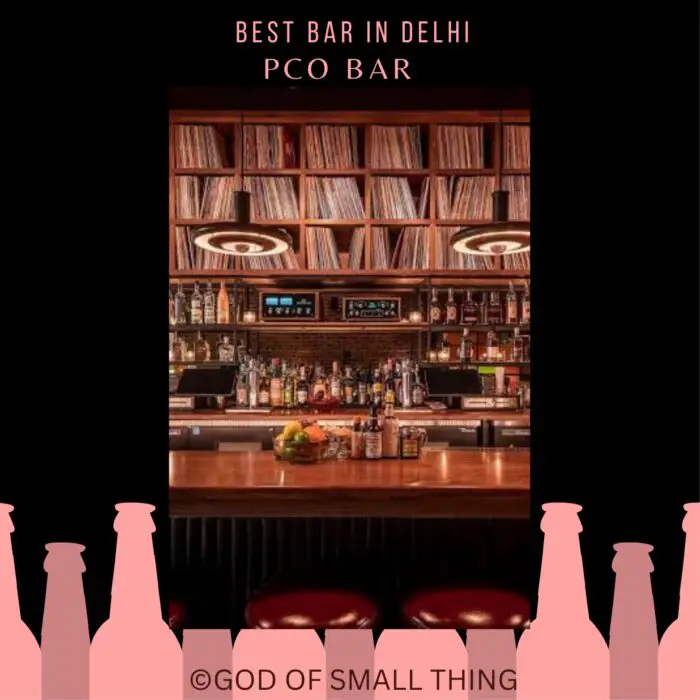 PCO (Passcode only) is one of the best bars in Delhi which offers a fantastic night out that combines nostalgia, secrecy and fantastic mixology. With its outdated ambience and distinctive concept, PCO Bar, which was inspired by the speakeasy generation, transports its customers back to the Roaring Twenties. The bartenders not only exhibit a high level of professionalism but also a passion for what they do, concocting delicious drinks that appeal to a wide range of palates. Every drink, whether a classic cocktail or a unique innovation, is professionally made and presented to ensure a wonderful sensory experience. Bar has a cosy, private atmosphere that is ideal for a romantic date or a laid-back evening with friends. Low lighting and cosy seating provide a feeling of privacy, allowing talks to flow naturally. The performances of stay songs, which frequently feature jazz or blues, offer an additional charming element to the setting. A must-stop attraction for tourists to get drunk in Delhi is PCO Bar.
Price for 2: ₹ 2000
Location: D-4, D, Block Market, Vasant Vihar, New Delhi, Delhi 110057
Zomato Ratings: 4.6
Google Ratings: 4.5
2. American Brasserie SAZ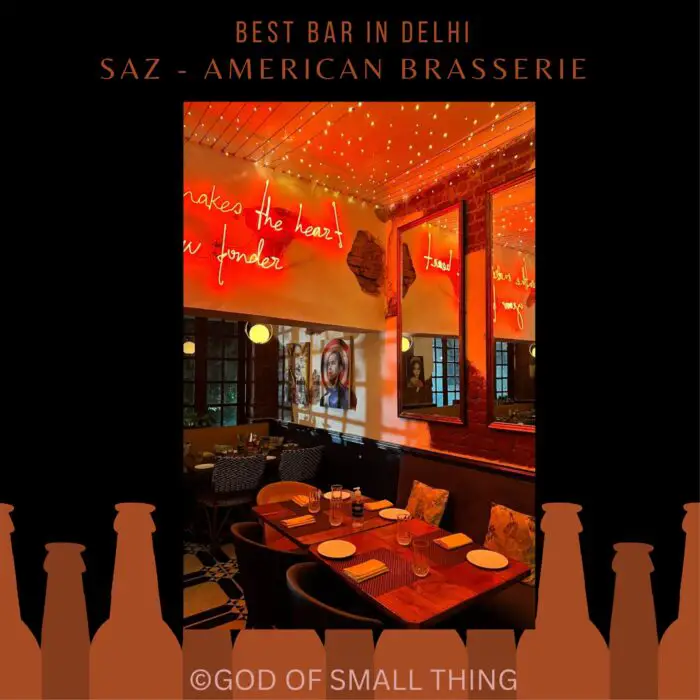 As a renowned restaurant in the downtown area of the capital, SAZ offers a distinctive fusion of American and international flavours, along with great service and a magical atmosphere. The concept of an open kitchen adds a sense of excitement and allows guests to see the culinary magic in action. They provide a wide selection of spirits to suit different tastes, including American whiskies, vodka, rum, gin, and others. The bartenders are masters of their trade and capable of creating delectable and aesthetically pleasing cocktails. SAZ is a top choice among the best bars in Delhi for a night out with friends or coworkers because of its well-stocked bar, skilled bartenders, and lively atmosphere.
Price for 2: ₹2000
Location: 1st floor, 21, New Khanna Market, Sundar Nagar, New Delhi, Delhi 110003
Zomato Ratings: 4.6
Google Ratings:4.9
3. 38 Barracks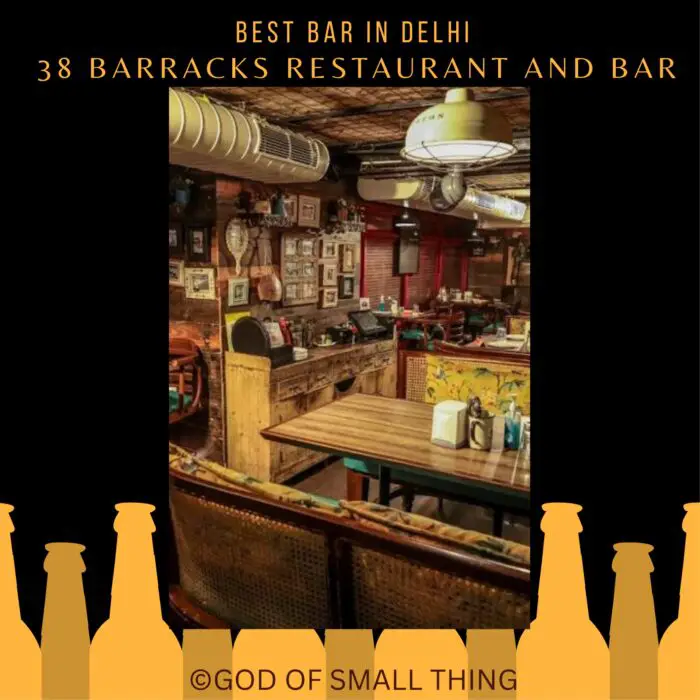 This well-known establishment provides a dining experience that definitely blends music, setting, and mouthwatering food. The area is decorated with old navy relics and artefacts that nod to India's lengthy history. The bar at 38 Barracks offers a selection of spirits from Indian and worldwide producers, as well as a few cocktail options to go with their cuisine menu. The appealing and comfortable atmosphere is created by the warm lighting fixtures, rustic wood furnishings, and opulent seating arrangements which makes it the best place to drink in Delhi
Price for 2: ₹2500
Location: M-38, Connaught Cir, Opp. Shanker Market, Block M, Connaught Place, New Delhi, Delhi 110001
Zomato Ratings:4.4
Google Ratings:4.6
Health is wealth. Check out : Best healthy cafes in Delhi
4. Farzi Cafe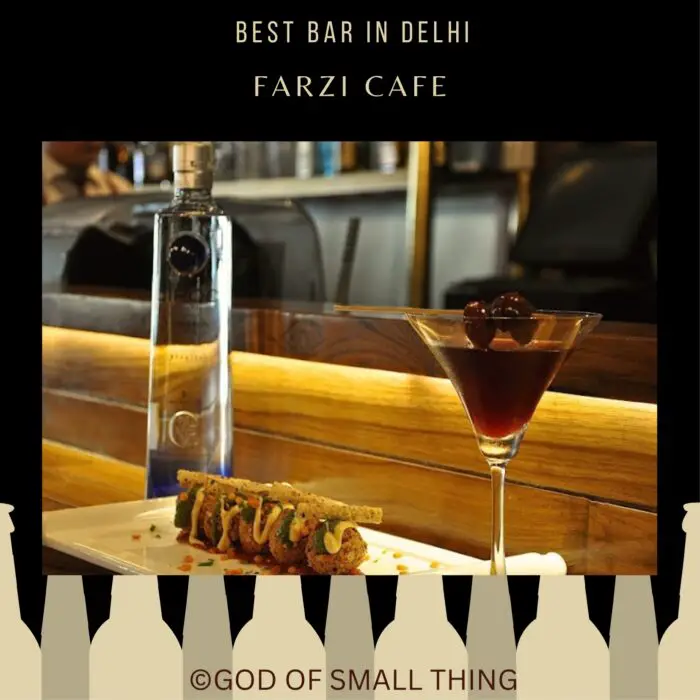 The cuisine of Farzi Cafe features upgraded versions of traditional Indian foods with a contemporary twist. The beverage selection is amazing and offers many speciality drinks with distinctive flavours. Innovative drinks like the Jaipur Julep and Mystery Green Tea improve the dining experience even further. A variety of innovative and creative cocktail concoctions are available on the menu at the bar. Foams, smoke, and garnishes suited for human consumption are just a few of the molecular mixology techniques that Farzi Cafe enjoys embracing to enhance the drinking experience. A lively and upbeat mood can be found in the bar area of Farzi Cafe which is one of the best bars in Delhi, and music also contributes to the ambiance.
Price for 2: ₹2600
Location: E-38/39, Rajiv Chowk, Inner Circle, Block E, Connaught Place, New Delhi, Delhi 110001
Zomato Ratings:4.4
Google Ratings: 4.1
Are you a party animal? Here is a complete guide to Best Bars, Clubs, road trips, street food and Everything you can think of to do in Delhi. Check out this article – Guide to Enjoy Nightlife in Delhi
5. Juniper Bar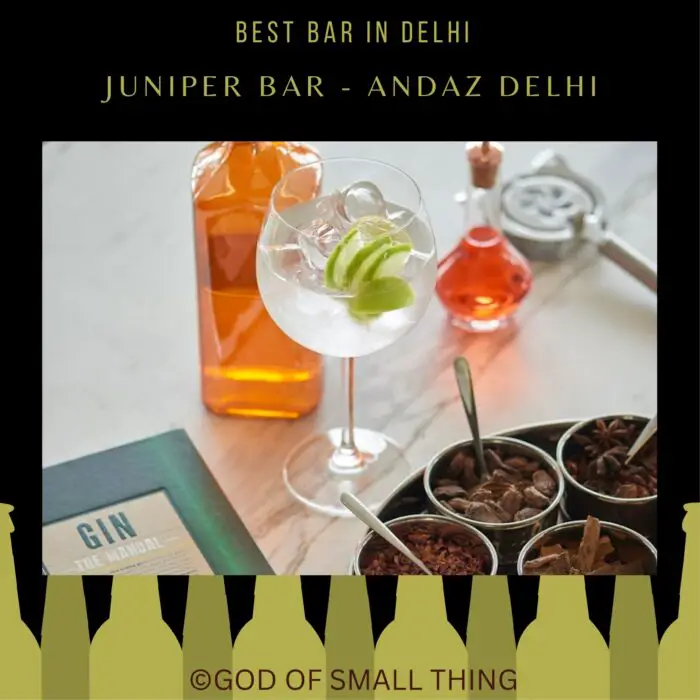 Although Juniper Bar, located in the lovely Andaz Delhi Hotel, offers a wide variety of drinks, what sets Juniper Bar apart is its focus on gin. This pub is a paradise for gin enthusiasts, offering an excellent choice of regional and foreign gin brands. With their exceptional knowledge and skills, the bartenders are more than happy to guide you through the world of gin while creating unique and creative drinks to match your preferences. The attention placed on using fresh, locally sourced ingredients in their recipes further adds to the enjoyment at Juniper Bar. The bartenders go above and beyond to ensure that your experience is customized, whether you are a seasoned gin connoisseur or a curious newbie. They go above and beyond to ensure that your experience is unique and catered to your tastes and preferences. It not just plays the role of the best bar to drink in Delhi but also often hosts workshops, tasting sessions and other events where guests may learn more about gin and explore its plethora of options.
Price for 2: ₹5500
Location: Gin Bar at Andaz Delhi, Northern Access Rd, Aerocity, New Delhi, Delhi 110037
Zomato Ratings:4.8
Google Ratings:4.7
6. Summer House Cafe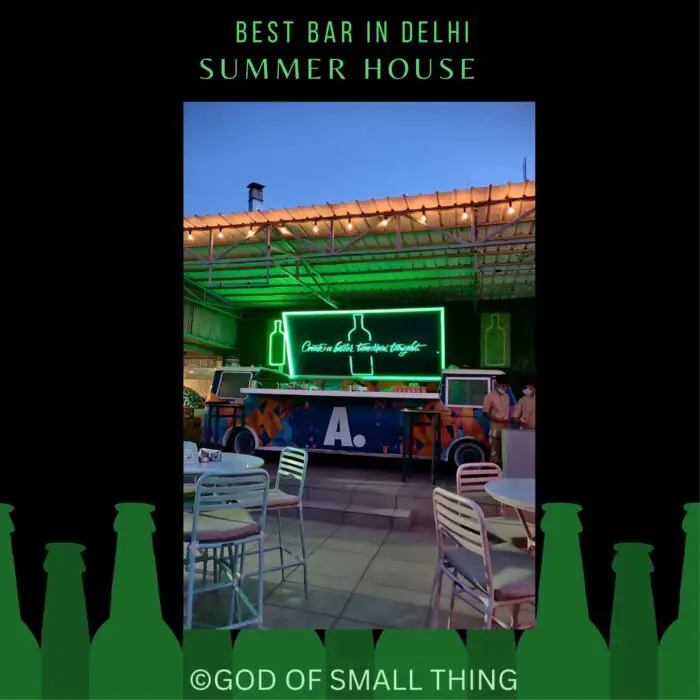 The Summer House Cafe is a well-liked hangout for residents and visitors looking for a distinctive dining experience. The cafe is attractively furnished with a pleasing fusion of rustic and modern elements. Smooth lighting, cosy furniture, and lavish landscaping added to its allure. This bar is the perfect place to unwind after a long day at work and enjoy all that Delhi's nightlife has to offer with its pleasant ambience, extensive drink menu, delicious food options, and lively surroundings. The flawless live music scene at Summer House Cafe is what firmly places it at the top of the list. The cafe regularly organizes performances that appeal to a variety of musical inclinations, from local bands to famous musicians. The audio system is top-notch, providing a captivating and enjoyable listening experience. It's a paradise for foodies, music fans, and anyone searching for a spectacular eating experience. This cafe is well worth a visit whether you're looking for a relaxing supper with friends or a fun night out.
Price for 2: ₹2500
Location: 1st Aurobindo Place Market, Sri Aurobindo Marg, Hauz Khas, New Delhi, Delhi 110016
Zomato Ratings:4.1
Google Ratings:4.2
7. Hauz Khas Social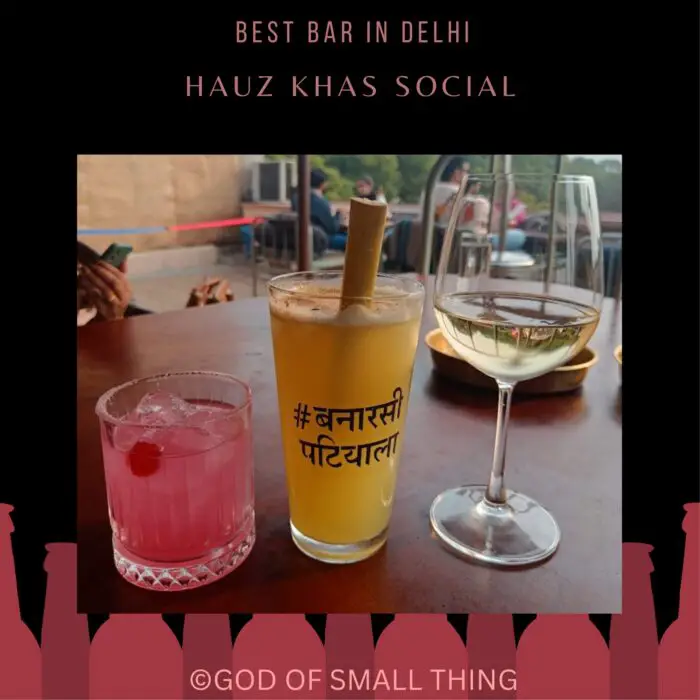 Hauz Khas Social is a trendy hangout place that combines art, a way of life, and a buzzing social scene in the vibrant and historic area of Hauz Khas. In general, the café is crowded with individuals from various walks of life who are engaged in talks, working on their laptops, or actually having fun with friends over drinks. The rooftop terrace of The Hauz Khas Fort and Lake may be seen in stunning detail from this hilltop location, providing a magnificent setting for relaxation and taking in the surroundings. Live performances and cultural events are also frequently held there. It frequently features art exhibits, live track performances, and open mic nights, enhancing the overall experience with more entertainment and innovation.
Price for 2: ₹2300
Location: Hauz Khas Tank Plot 9A & 12, 24/1, Hauz Khas Village, Deer Park, Hauz Khas, New Delhi, Delhi 110016
Zomato Ratings:4.5
Google Ratings:4.3
8. Cafe MRP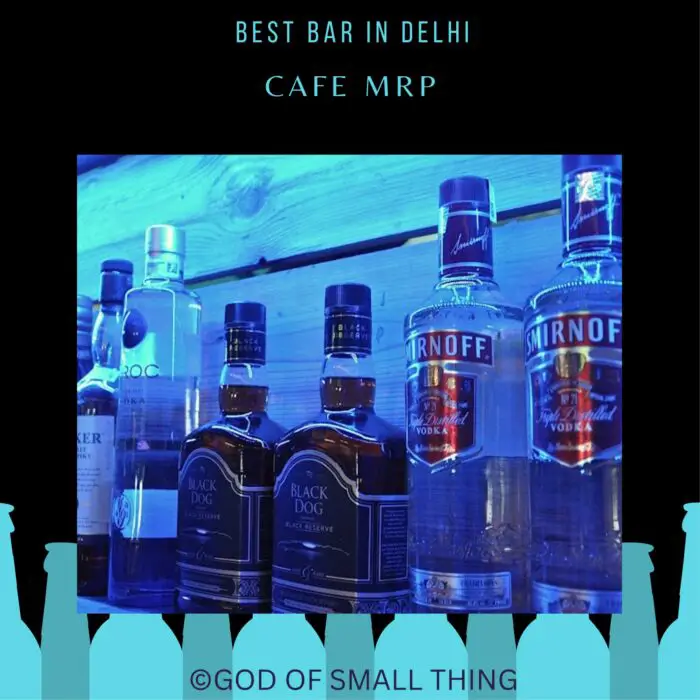 Located in the busy city of Delhi, Cafe MRP is decorated with hip graffiti, old posters, and neon signs and motifs, creating an environment that is both edgy and exciting. The pricing strategy of Cafe MRP is what distinguishes them. They implemented a "Maximum Retail Price" approach in place of the standard menu pricing, where clients pay the fee rate of the alcoholic beverage they order plus a little carrier cost. Cafe MRP is definitely the finest location for you if you're looking for a spot to relax, enjoy a few drinks, and take in a lively, unique environment.
Price for 2: ₹1800 Location: C-39, First Floor Radial Road 5 Opp. Odeon Cinema, Block C, Connaught Place, New Delhi, Delhi 110001
Zomato Ratings:3.8
Google Ratings:4.0
Don't know where to take your loved one this weekend? We've got your back here are a few suggestions for the best romantic places for couples in Delhi
9. Monkey Bar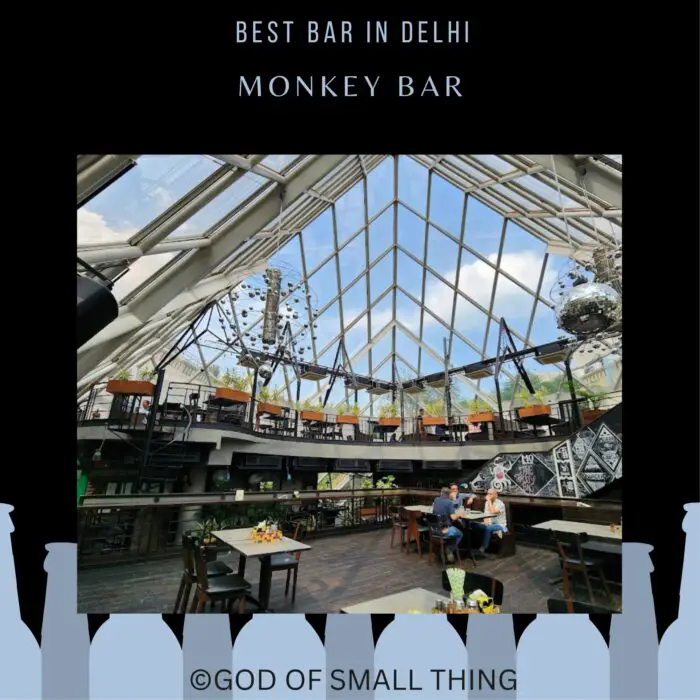 The lively and well-liked Monkey Bar is known for its vibrant ambience and mouth-watering food. Graffiti, colourful neon lights, and colourful murals with monkey themes decorate the neighbourhood, giving it a carefree and jovial feel. It boasts a vibrant nightlife scene with frequent events and DJ performances that keep the volume levels high. It's a great place to meet people and have a great time because of the vibrant music and vivacious atmosphere. It's a great place to unwind, enjoy amazing food and drink, and immerse yourself in a lively and vibrant environment.
Price for 2: ₹2800
Location: Local Shopping Complex, 11, Vasant Kunj Rd, next to Mini Cooper Showroom, Pocket B-C, Sector C, Vasant Kunj, New Delhi, Delhi 110070
Zomato Ratings:4.4
Google Ratings:4.3
10. Lord of the Drinks Chamber
An authentic and immersive experience is provided by this well-known bar. A wide variety of alcoholic beverages, including cocktails, spirits, and wines, are offered on the extensive menu in the Lord of Drinks Chamber. The bar's mixologists are talented and inventive, creating precise and tasty combinations that appeal to a wide range of palates. If you're looking for a unique night out, the Lord of Drinks Chamber offers a sumptuous and opulent celebration. It is a location where guests can immerse themselves in a regal atmosphere and revel in the craft of cocktail-making thanks to its opulent ambience, astounding beverage selection, and mouthwatering cuisine.
Price for 2:₹ 2500
Location: A13, Najafgarh Rd, Block A, Vishal Enclave, Rajouri Garden, New Delhi, Delhi 110027
Zomato Ratings:4.4
Google Ratings:4.1
Well, did you like what we shared? Let me tell you all the places above are personally reviewed by Gaurav Tomar, who is a renowned food blogger in Delhi. Wanna check out some more suggestions by him? Check out FoodParadise.in on Instagram right away!