The Best romantic movies on Netflix with reviews and user ratings
Romance is a feeling of excitement and eagerness associated with love and the person you adore. Romantic movies have honestly gotten everyone through so much. The adorable romances and the heart-fluttering plotlines really can make one's day better. The movies on this list of the Best Romantic Movies on Netflix are some of the most romantic movies I could find on Netflix India. Of course, they aren't the best movies ever, but it's what we can work with the titles available in India. I will leave a list of the best Romantic movies that you might not find on Netflix just to give you a wider range of movies. But, here are the Best-rated romantic movies on Netflix for you to binge away!
Disclaimer: So far, these are the best we found, but the list is regularly updated, so don't worry! we will see you with the next best soon 😀 And oh by the way the movies are sorted based on IMDB ratings. We have, however, added the Rotten Tomatoes ratings as well in case you follow ratings on Rotten Tomatoes for recommendations. The content is ordered based on ratings from high to low. In case you wish to have a review or user ratings about something particular. You can also head to the specific movie you wish to by going through the list below and using the links to navigate directly.
Most Popular at Godofsmallthing Netflix Section: Watch The Sexiest Movies on Netflix Right Now
The Best romantic movies on Netflix sorted by IMDB Ratings
| | | |
| --- | --- | --- |
| Movie | Year | IMDb Rating |
| Forest Gump | 1994 | 8.8 |
| Pride and Prejudice | 2005 | 7.8 |
| The Edge of Seventeen | 2016 | 7.3 |
| Jerry Maguire | 1996 | 7.3 |
| Where the Crawdads Sing | 2022 | 7.2 |
| To All The Boys I've Loved Before | 2018 | 7.0 |
| The Holiday | 2006 | 6.9 |
| Our Souls at Night | 2017 | 6.9 |
| Crazy Rich Asians | 2018 | 6.9 |
| The Half of It | 2020 | 6.9 |
| Always Be My Maybe | 2019 | 6.8 |
| Faraway | 2023 | 6.7 |
| A Whisker Away | 2020 | 6.7 |
| Outside In | 2017 | 6.7 |
| A Jazzman's Blues | 2022 | 6.7 |
| Lady Chatterley's Lover | 2022 | 6.6 |
| Happiest Season | 2020 | 6.6 |
| The Incredible Jessica James | 2017 | 6.5 |
| Eurovision Song Contest | 2020 | 6.5 |
| Set It Up | 2018 | 6.5 |
| All the Bright Places | 2020 | 6.5 |
| The DUFF | 2015 | 6.4 |
| Irreplaceable You | 2018 | 6.4 |
| Wedding Season | 2022 | 6.3 |
| Look Both Ways | 2022 | 6.3 |
| A Perfect Pairing | 2022 | 6.1 |
| Along for the Ride | 2022 | 6.1 |
| The Perfect Date | 2019 | 5.8 |
| A Tourist's Guide to Love | 2023 | 5.7 |
1. Forrest Gump (1994)
Cast: Tom Hanks, Micheal Conner, Robin Wright, Garry Sinise, Mykelti Williamson, Sally Field, Haley Joel Osment, Peter Dobson, Sonny Shroyer, and Grand L. Bush.
Rotten Tomatoes: 71%
IMDb Ratings: 8.8/10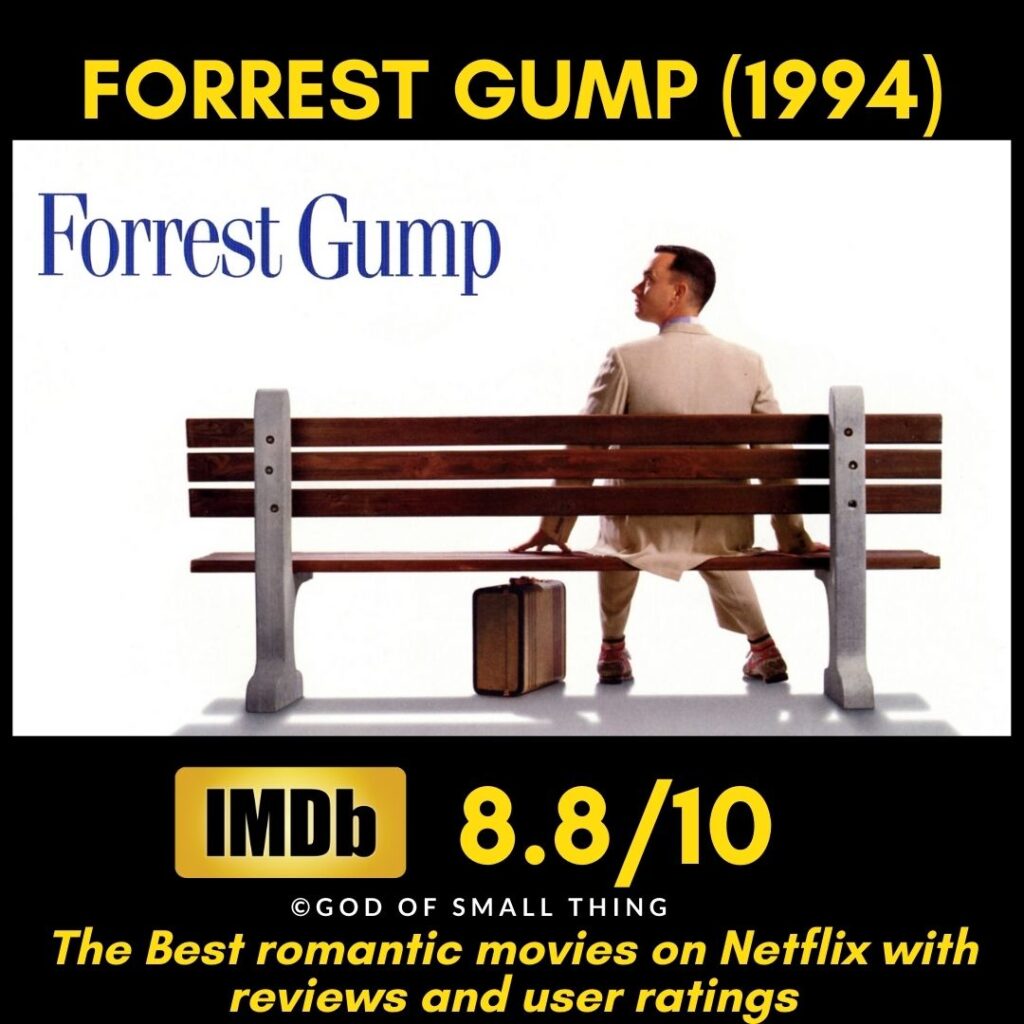 A sentimental movie that has great depth and innocence. A story about a simple-minded man named Forrest Gump with a low I.Q. A man with good intentions who runs through his childhood with his only friend Jenny. He faces difficulties in life but never lets to get it to his happy self. With bad things happening to him at every step of life, he continues his optimism believing good things will come to him. He discovers that he is faster than others, his legs run at a speed that he uses quite well. He runs from bullies, gets a football scholarship, and saves soldiers during his time in the army in Vietnam. While Gump slowly progresses in life he eventually grasps everything he dreams of.
But one thing he couldn't win was the heart of his best friend Jenny. Each period of his life he achieves things he never thought were possible, but a feeling of something missing always lingers. As they grew older they grew apart as the movie progresses. We get to see Jenny and the hardships she faces, it's sometimes sad and funny the others but the unexpected violence in the movie surprised me. The cast for this best romantic movie on Netflix seemed cohesive throughout the movie.
2. Pride and Prejudice (2005)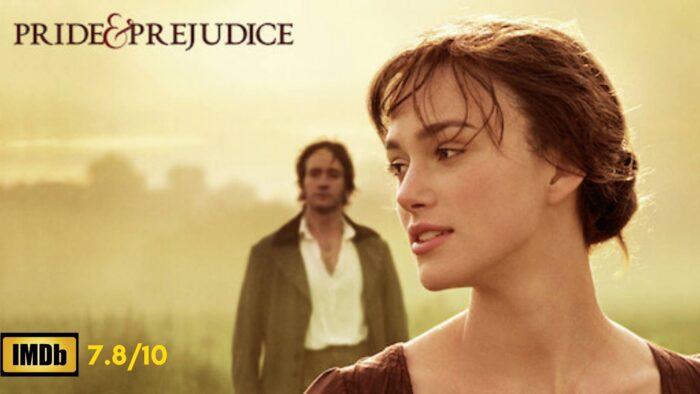 Cast: Keira Knightley, Matthew Macfadyen, Brenda Blethyn, Donald Sutherland, Tom Hollander, Rosamund Pike, Jena Malone, Judi Dench
IMDb Rating: 7.8/10
Rotten Tomatoes: 87%
Pride and Prejudice is a romantic drama adapted from Jane Austen's novel of the same name. The film follows the Bennett family and the five sisters deal with societal norms, marriage, and misconceptions. The film is centred around the story of Jane and Charles Bingley, and Elizabeth and Mr Darcy. Rosamund Pike plays the part of Jane beautifully – soft-spoken and subdued, letting her eyes express everything she does not voice. The chemistry between Keira Knightley (Elizabeth) and Matthew Macfadyen (Mr Darcy) is something else – the delicious push and pull, the smart banter, the misunderstandings – all will keep you hooked from the get-go. Keira Knightley is a revelation in this film.
3. The Edge of Seventeen (2016)
Cast: Hailee Steinfield, Woody Harrelson, Haley Lu Richardson, Balke Jenner, Hayden Szeto, Kyra Sedgwick, Eric Keenleyside, Alexander Calvert, Nesta Cooper, and Meredith Monroe.
Rotten Tomatoes: 94%
IMDb Ratings: 7.3/10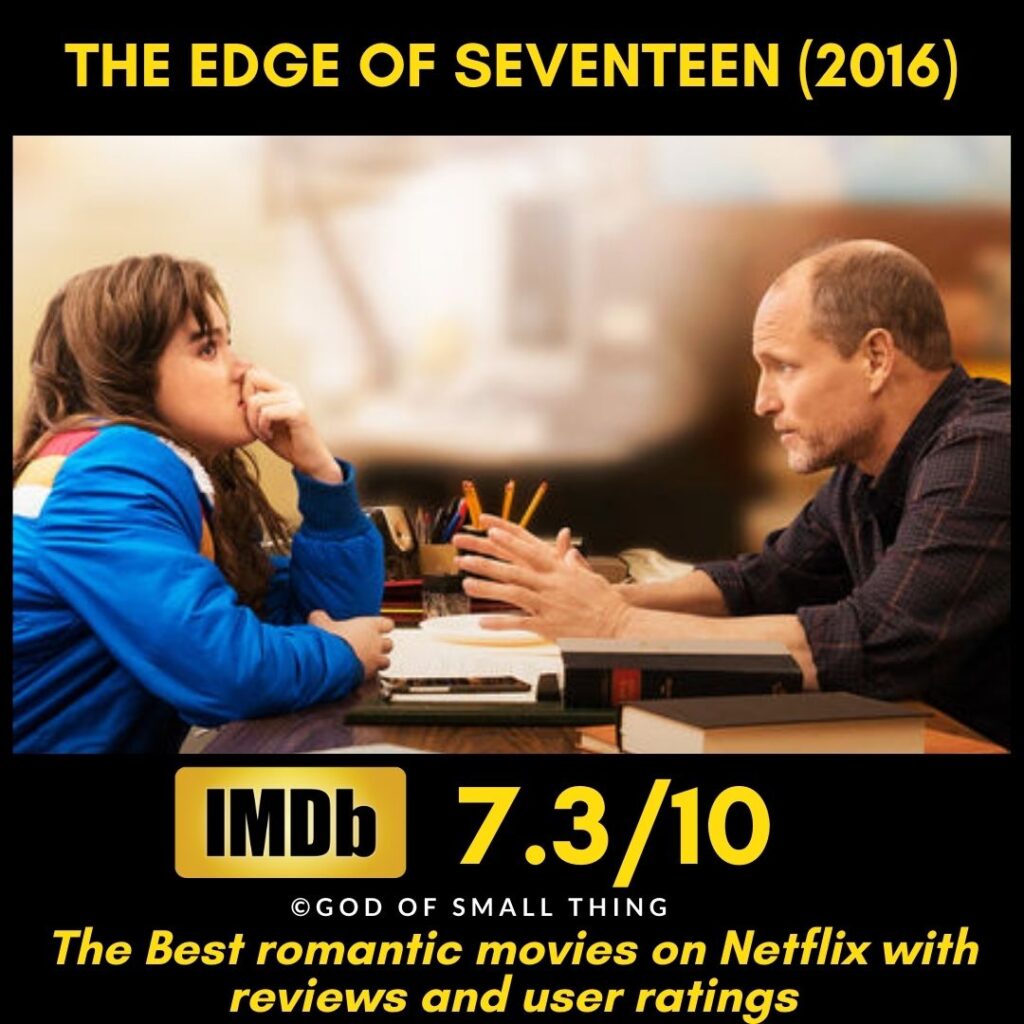 Hailee Steinfeld knocks it out of the park with this role, it is easily the best performance in her acting career. Nadine is a fifteen-year-old who is living her nightmare. She loses her father, one of the two people who she really relied on life to a heart attack. After his death, her best friend Krista was the only one who kept her afloat. But, when she catches her brother in bed with Krista she loses it. Her relationship with her brother isn't the best, he was everything she wasn't, popular and good-looking. So, This felt like a knife to the heart, a betrayal she never expected. To cheer her up, Darian and Krista invite her to a party only to abandon her later, she is furious. She demands Krista choose between them and when she refuses she cuts her off.
She dismisses the feelings of Erwin who is clearly into her because of this rage she feels. However, Nadine finds support in Mr. Bruner, her teacher. She vents all her feelings to him. But when she accidentally sends out a text to her crush that wasn't supposed to be seen by anyone, all crashes down. Nadine's life just keeps getting worse and she wonders if there's any end to her suffering. To an adult, this might seem like a teenager overreacting, to teenagers, it hits a little too close to home. But, The anguish an adolescent feels is nothing compared to that of a tantrum a child. She brings out the essence of a troubled high-schooler with a fragile mind.
But, Her angst and feelings overwhelm her, blinding her to a good person who always has her back. An incredibly heartfelt movie that is emotionally engaging and surprisingly has a good amount of comedy to avoid making a movie full of teenage angst. This is a pretty solid film, the best comedy-romance movie on Netflix starring Hailee Steinfeld.
Wait Wait Wait! I know you are here for romantic series and movie recommendations but I just personally love science fiction along with romantic movies so I thought of recommending it to you as well. Here is a list of 30+ Best Sci-fi Movies and series on Netflix of all time
4. Jerry Maguire (1996)
Cast: Tom Cruise, Cuba Gooding Jr., Renee Zellweger, Kelly Preston, Jerry O'Connell, Jay Mohr, Bonnie Hunt, Regina King, Jonathan Lipnicki, and Todd Louiso.
Rotten Tomatoes: 84%
IMDb Ratings: 7.3/10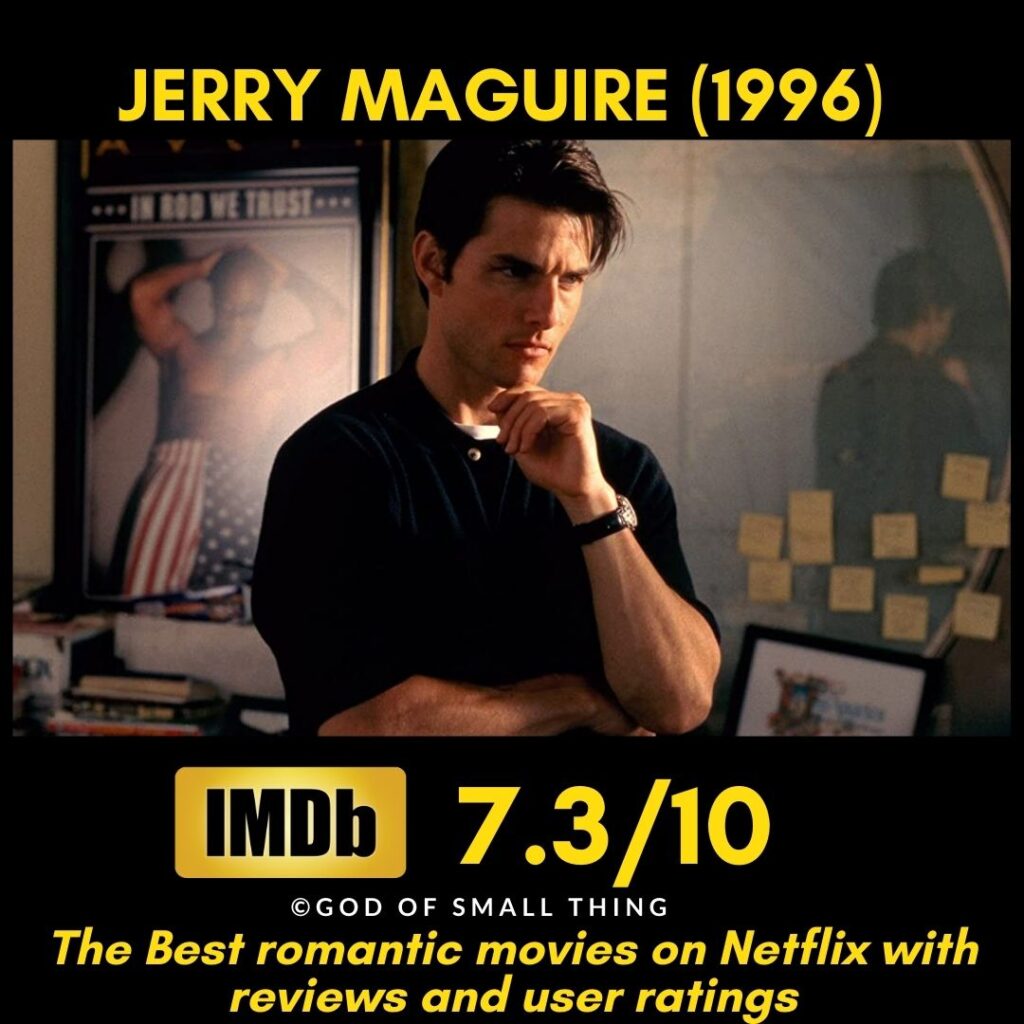 This romantic comedy-drama movie on Netflix received critical acclaim with the majority of the critics praising the acting and writing this film features. An award-winning movie following Jerry Maguire, a successful sports agent who has everything an average man wishes for. Big clients, respect in the community, and a beautiful fiancee Avery, he has it all. He is willing to do anything to close the biggest contracts possible, but, one night, he has second thoughts. if the things he did were really good and in the best interest of his clients. When he voices his concerns, he is fired and ends up losing all his clients. Well, all except for Rod Tidwell, a football player. Jerry steps out of his business with just one client and only one person who believes in him. Dorothy believes in Jerry and his ability to rebuild his life.
However, Jerry faces the truths he was too ignorant to accept in the past and comes across difficult times they've never faced before. It is difficult for him to get back on his feet while still trying to stay true to his beliefs and all the while Dorothy sticks by his side. The protagonist plays a charming character with a unique appeal. This mesh of sports and romance combined with a great cast makes this the best romantic movie by Tom Cruise. This movie succeeds in being original and has a sentimental romantic atmosphere.
5. Where the Crawdads Sing (2022)
Cast: Daisy Edgar-Jones, Taylor John Smith, Harris Dickinson, David Strathairn, Jojo Regina, Garret Dillahunt
Rotten Tomatoes: 35%
IMDb Ratings:7.2/10
It's hands down one of the best romantic movies on Netflix. Daisy Edgar-Jones gives an incredible performance as Kya, a girl who grows up in a North Carolina marsh surrounded by a breathtaking yet harsh landscape. As she becomes a self-taught naturalist, her journey turns unexpectedly when she's accused of murder, adding a thrilling layer to the story.
The romance between Kya and Tate, played by Taylor John Smith, is heartwarming and heart-wrenching. Their bond over nature and shared dreams will truly tug at your heartstrings. The movie keeps you hooked from start to finish, trying to unravel the mystery behind Kya's life and the events that led to her trial. The cinematography captures the marshland's beauty and complements the characters' emotional depth. With a mix of love, intrigue, and a touch of Taylor Swift's song "Carolina," this film is a must-watch for anyone seeking the perfect blend of romance and mystery. Trust me, you won't be able to look away!
6. To All The Boys I've Loved Before (2018)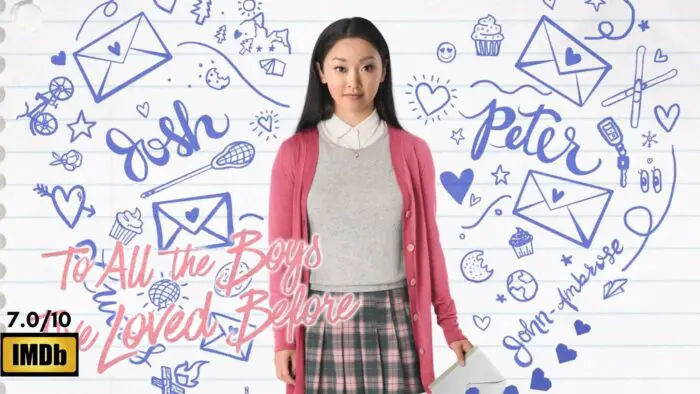 Cast: Lana Condor, Noah Centineo, Janel Parris, Anna Cathcart, Andrew Bachelor, Trezzo Mahoro, Madeleine Arthur, Emilija Baranac, and Israel Broussard.
Rotten Tomatoes: 96%
IMDb Ratings: 7/10
Five letters, five crushes. Lara Jean wrote letters to her crushes when she felt an attraction so intense she didn't know what else to do. Those letters were her secrets, only meant for her eyes. But, one day she wakes up and realizes all her letter has been mailed when she encounters Peter Kavinsky while he tries to confront her about the letter. She realizes all the letters were out because she saw Josh, her sister's boyfriend come towards her with his letter in hand. Things were getting out of hand she kisses Peter on the field to avoid Josh.
That's when out of nowhere, Peter approaches her with a proposal, she pretends to be his girlfriend to make his girlfriend Gen jealous. Both Lara and Peter pretend to date each other and somewhere along the way they fall in love, but Gen's tactics get to her. They fight and all hell explodes when her sister finds out about her crush on Josh. A traditional romantic movie on Netflix that follows all the traditional rules for a hit Rom-com. But, it was the adorable characters, their chemistry and relatedness what shot this movie above others. It has to be one of the best romantic movies on Netflix, it is sweet adorable, funny, and relatable, everything you need.
7. The Holiday (2006)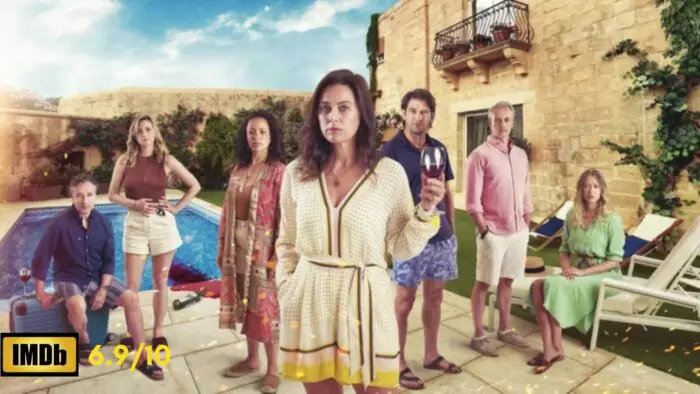 Cast: Kate Winslet, Cameron Diaz, Jude Law, Jack Black, Eli Wallach, Shannyn Sossamon, Edward Burns, Rufus Sewell
IMDb Rating: 6.9/10
Rotten Tomatoes: 50%
The Holiday is a romantic comedy and revolves around two women – Iris (Kate Winslet) and Amanda (Cameron Diaz) who decide to exchange houses to escape their disastrous love lives during the holidays. Jude Law stars opposite Cameron Diaz while Jack Black is cast opposite Kate Winslet. With such a stellar cast, it is hardly a surprise that the chemistry is off the charts. The Holiday is a nice, enjoyable and charming film that will surely leave you smiling!
8. Our Souls at Night (2017)
Cast: Robert Redford, Jane Fonda, Iain Armitage, Matthias Schoenaerts, Judy Greer, Phyllis Somerville, and Bruce Dern.
Rotten Tomatoes: 88%
IMDb Ratings: 6.9/10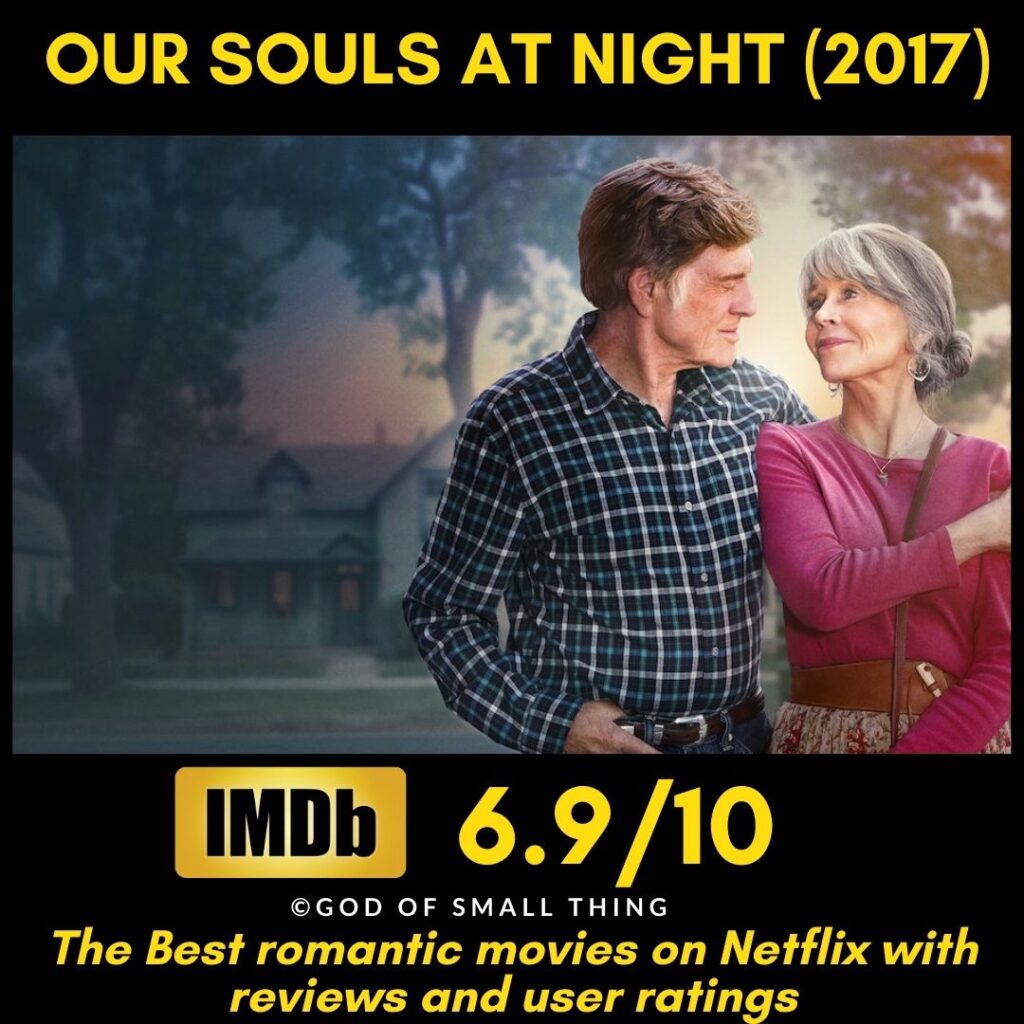 A simple story with two talented veteran leads who brings this incredible story to life. In a small fictitious town of Holt, where two widows, Louis Waters and Addie Moore who live in the same neighbourhood for decades but hardly know each other. One random night, Addie visits Louis and suggests that they spend the night together to counter their loneliness. He agrees and they spend their night and evening just hanging out with each other. In summer, Addie's son drops off his son Jamie at her home. As his marriage collapses, Jamie spends the rest of his summer with Addie and Louis and also adopts a dog!
Summer's done and Jamie is about to return home and her son disapproves of this weird relationship she has with Louis. Addie refuses to break the bond with him, and they've managed to fall for each other over the summer. They find each other to establish a connection and make the most of the rest of the time they have left. As the friendship grows, they deeply feel for each other and get involved in each other's lives. With the evergreen skills both the actors brought to the table, they command your attention to the screens. You will end up rooting for each other, they give off a comfortable vibe that makes you happy. Watch this sweet romantic movie on Netflix India to be comforted.
9. Crazy Rich Asians (2018)
Cast: Constance Wu, Henry Golding, Michelle Yeoh, Gemma Chan, Lisa Lu, Awkwafina, and Harry Shum Jr.
Rotten Tomatoes: 91%
IMDb Ratings: 6.9/10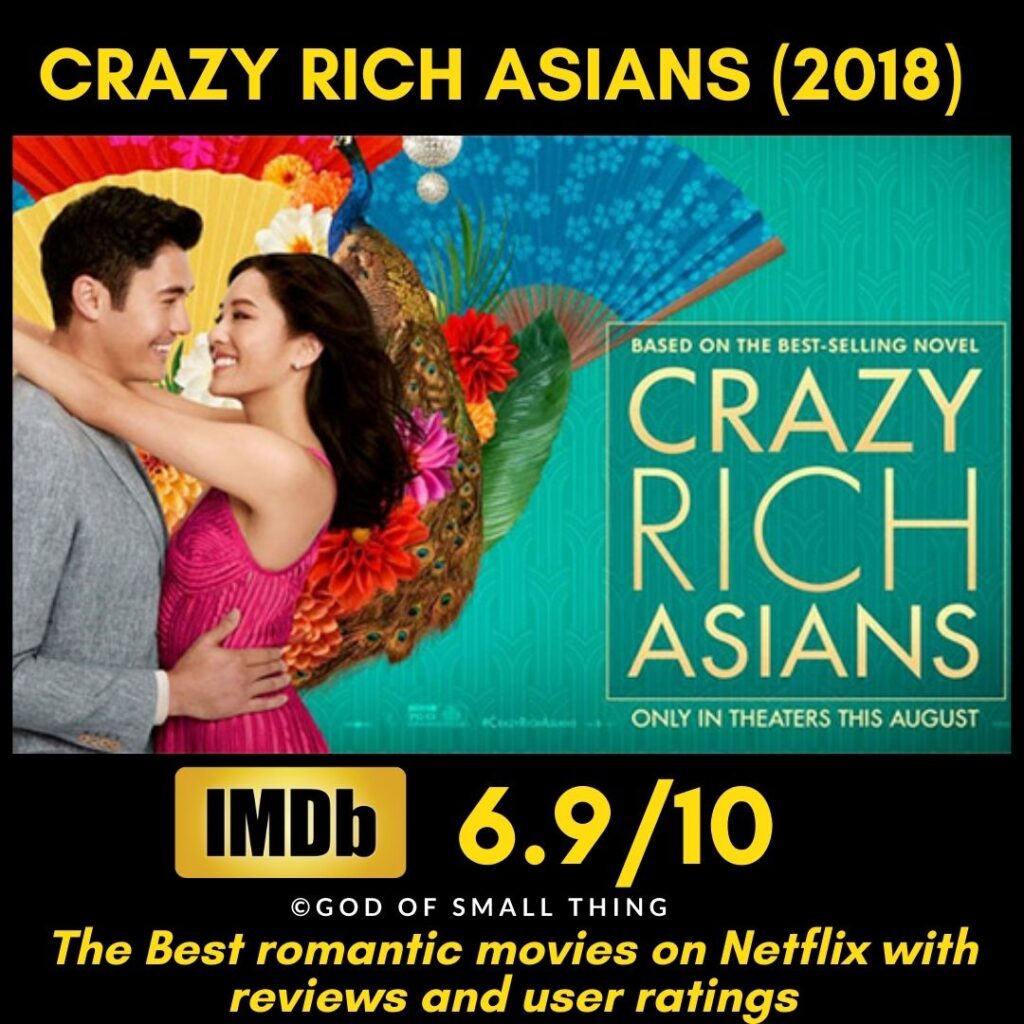 This Romantic movie on Netflix opens in the mid-90s, the rich Young family arrive at the London Hotel to live. But, were denied entry by a nasty racist staff member. However, they buy out the entire hotel giving staff no choice but to give them a room. That was the power the Young family possessed. A few years later, Rachel has a sweet boyfriend. He seems like an average handsome fellow economics professor at New York University. After dating for a while now, Nick invites her to meet his family and attend the wedding of his best friend back home. She accepts his invitation to Singapore and right off the bat she experiences the empire Nick Young was the heir to.
Rachel is unaware of the fact that Nick is an heir to the biggest conglomerate in Singapore. The Young family is richer than the richest in Asia, and she is not used to the extravagant life they live and tries to fit in. But, being from a traditional family, his mother, Elanor dislikes Rachel. Rachel is from an average middle-class family with average tastes and life. Elanor refuses to accept Rachel as Nick's girlfriend and tries to dig out the dirt on her past. Nick is quite literally the most sought-after bachelor in all of Singapore. She finds herself stuck in between of politics of the rich and the vicious remarks of all the rich girls who eyed Nick. 
But there were limits crossed by both Nick's family and the people around her that threatened her precious relationship. A visually beautiful movie with all the razzle-dazzle one can expect and a very satisfying adaption from the source material. A very effective romantic comedy movie on Netflix that has a great Asian representation and will leave you in awe!
10. The Half of It (2020)
Cast: Leah Lewis, Daniel Diemer, Alexxix Lemire, Collin Chou, Enrique Murciano, Catherine Curtin, Wolfgang Novogratz, Becky Ann Baker, and Gabrielle Samuels.
Rotten Tomatoes: 97%
IMDb Ratings: 6.9/10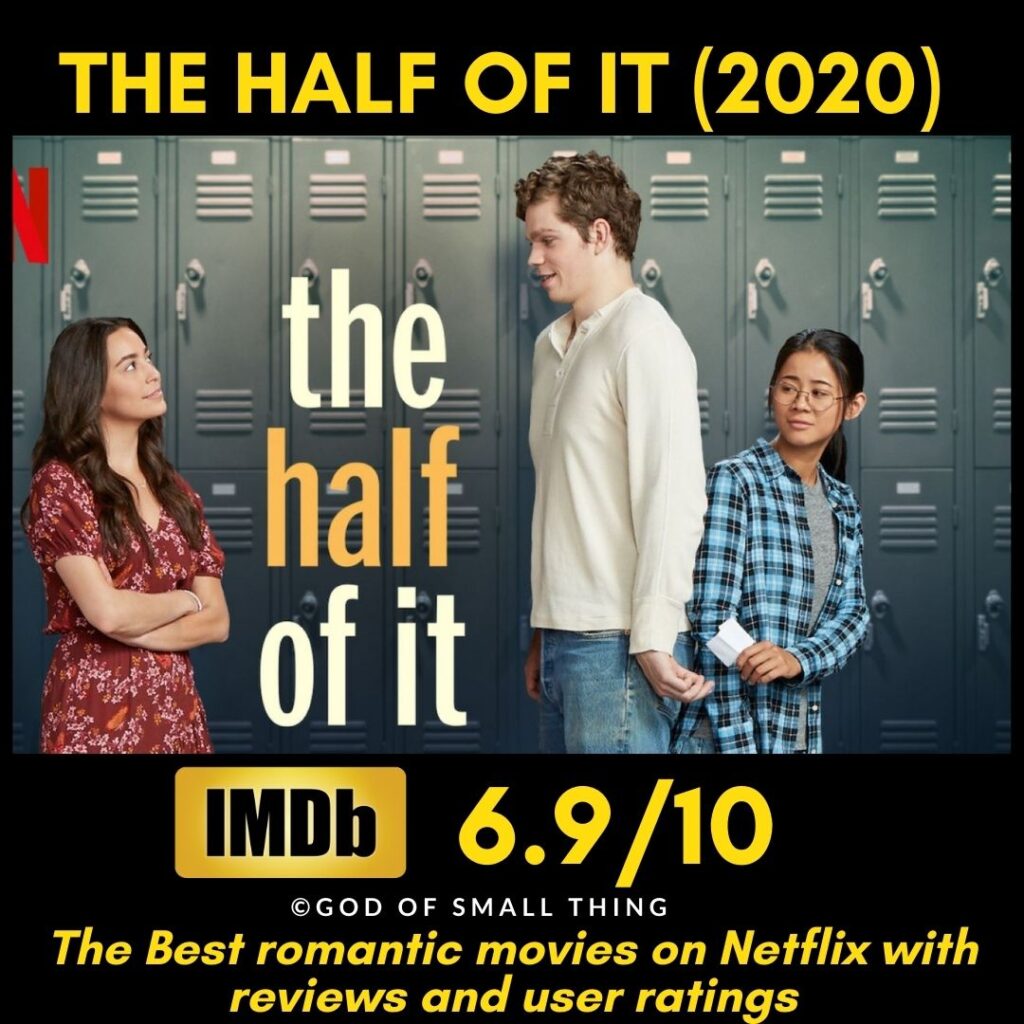 Ellie is a straight-A student with no friends, she lives in the tiny town of Squamish. She makes quick cash by writing papers for her classmates. She lives with her father and doesn't want to leave the city for college because she can't abandon her father. Ellie is approached by a dumb jock Paul who asks her to write a love letter for a popular girl at school, Aster. She initially thinks of declining because that girl is coincidentally the girl Ellie has a crush on. But, her house was going to lose power soon, and she needed the money. She agrees and Ellie and Aster start communicating and Aster starts to fall for Paul.
Ester sets them up for dates while feeling miserable because all this time Aster falls for Paul thinking that her words are Paul's. She unexpectedly has a close friendship with Paul and her feelings for Aster grew every day and there was seemingly nothing she could do about it. Can Elli get her girl? An endearing coming-of-age romantic movie that shows teen romance, the characters are very likable and adorable. You'll love everything about this cute little romantic movie on Netflix, it'll truly warm your heart and make you shed a few tears here and there.
11. Always Be My Maybe (2019)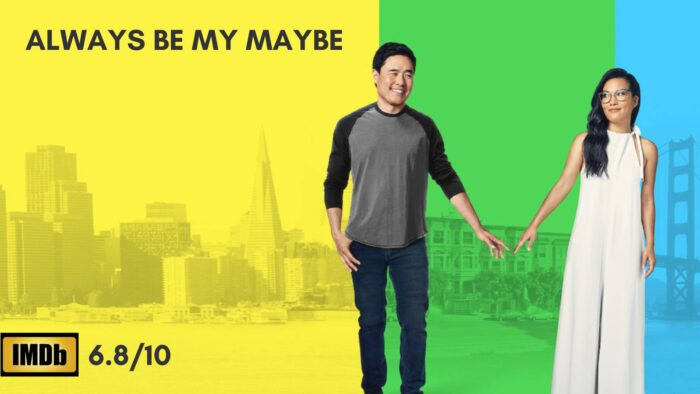 Cast: Ali Wong, Randall Park, James Saito, Michelle Buteau, Vivan Bang, Keanu Reeves, Susan Park, Daniel Dae Kim, and Karan Soni.
Rotten Tomatoes: 64%
IMDb Ratings: 6.8/10
A movie with some Asian American representation that I appreciated. A story about two childhood friends Sasha and Marcus who grew up next door to each other. Eventually, both form a close friendship but all fall apart when Marcus goes through a tough time in life. Years later, Sasha is a celebrity chef and is engaged to a successful restaurateur. Meanwhile, Marcus lives back in California with his widowed father, he struggles with his professional life. He has a girlfriend named Jenny and she has a fiancee named Brandon, but both struggle someway in life. Sasha soon breaks up with Brandon and movies back home. They encounter each other and immediately have friction but eventually reconnect.
Marcus even admits to still having feelings lingering for her, but before he can tell her his feelings she announces a new person she met, Keanu. Somehow Sasha and Marcus end up in disastrous double dates with their dates and the evening breaks down with a brawl between Keanu and Marcus. The events of the evening end up with Jenny and Keanu spending the night together. Eventually, they the long-lost friends fall in love with each other as they reconnect with the city and each other. Their sparks reignite and somewhere along the line find love again. It is a very adorable movie with very likeable characters with electric chemistry. Surely, it is a cheesy yet very surprisingly romantic movie on Netflix.
12. Faraway (2023)
Cast: Naomi Krauss. Goran Bogdan, Adnan Maral, Bahar Balci, Artjom Gilz, Davor Tomic.
Rotten Tomatoes:  67%
IMDb Ratings:6.7/10
Imagine stumbling upon a movie shown as one of the best romantic gems on Netflix. Enter "Island of Hearts," a film that promises an emotional rollercoaster you won't want to miss. Picture this: Zeynep Altin, a woman at her wit's end, decides to escape the chaos of her life and embarks on a journey to a picturesque Croatian island. The twist? Her late mother had bought a house there years ago, a secret gift she left for Zeynep. Sounds intriguing.
As Zeynep arrives on the island, seeking solace and maybe clarity, she encounters Josip, a resident still living on the property. Can you imagine the mix of emotions as their paths unexpectedly cross? From heartwarming moments to laugh-out-loud situations, their interactions take you on a ride of self-discovery and healing that only unexpected love can bring. The stunning Croatian backdrop adds an extra layer of enchantment to this blossoming romance. So, if you're up for a captivating romantic escape, "Island of Hearts" is the perfect choice for your next cosy Netflix night. Get ready to be swept away by a story beautifully showcasing love's transformative power amidst the most tranquil of settings.
13. A Whisker Away (2020)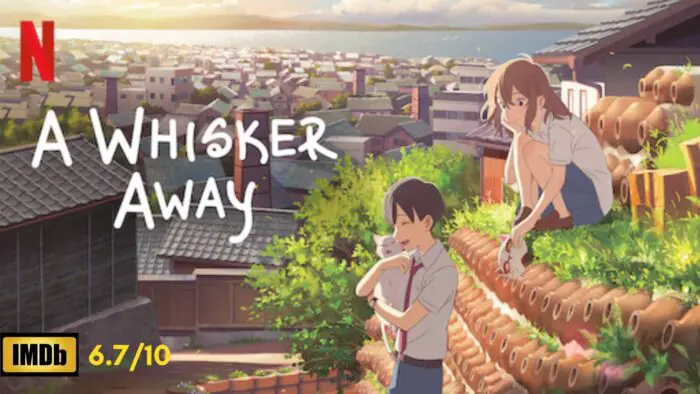 Cast: Mirai Shida, Cherami Leigh, Natsuki Hanae, Johnny Yong Bosch, Hiroaki Ogi, Robert Buchholz, Koichi Yamadera, Keith Silverstein, Ayako Kawasumi, Laura Post, Daisuke Namikawa, and Griffin Puatu.
Rotten Tomatoes: 93%
IMDb Ratings: 6.7/10
Literally translated to "Wanting to Cry, I Pretend to Be a Cat" from the Japanese title, this movie is a marvel. Produced by an up-and-coming powerhouse Studio Colorado, this sweet film is about a cute little high school crush. Miyo is a carefree girl with underlying issues with abandonment, she isn't the type to worry about what others think of her. She has a massive crush on Kento Hinode a shy and withdrawn kid. However, Miyo is a complex character who lives in hurting after her mom gave up on her family years ago. She is desperate for any kind of affection and wants to be loved.
But, She wants that kind of love from Kento. A cat offers her its kitsune-inspired cat mask that allows Miyo to forget about her problems and become a cat anytime she wishes to. This new bond she forms with Kento, being his cat briefly makes her forget all her pains. But, of course, nothing comes for free. she encounters some consequences as the lines between her human side and cat side blur. A unique movie that is full of life, it is adorable and the animation is breathtaking. It fully portrays the ups and downs of these troubled characters. An incredible coming-of-age romantic movie on Netflix that explores identity and first loves.
14. Outside In (2017)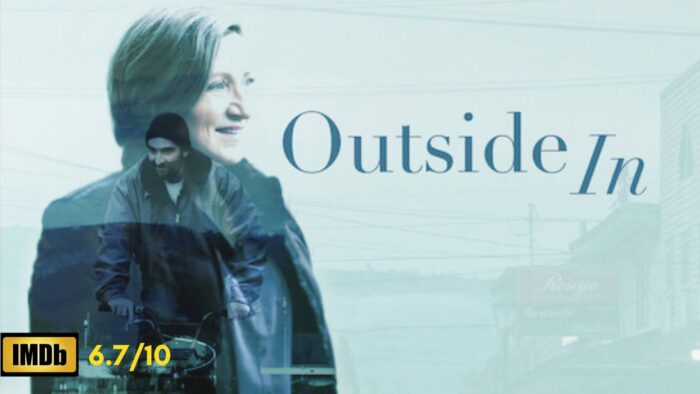 Cast: Eddie Falco, Jay Duplass, Kaitlyn Dever, Ben Schwartz, Pamela Reed, Alycia Delmore, Matt Malloy, Loius Hobson, Aaron Blakely, and Stephen Greeley.
Rotten Tomatoes: 96%
IMDb Ratings: 6.7/10
An intense movie with powerful performances that really leave a mark. About the tough life of Chris, a 38-year-old who is a convict who is recently out of prison for a crime of being at the wrong place at the wrong time. However, he gets early parole because of his former high school teacher Carol. Finally, He reunites with her, and abruptly hugs and gives her a portrait that he made of her. Carol realizes that Chris might have feelings for her, but her mind is torn because of her marital status. She is married and has a teenage daughter, so she simply asks Chris to be just friends and encourages him to socialize.
But, deep down she craves more from a relationship, and her husband doesn't even sleep in the same bed as her. While Carol's daughter, Hildy befriends Chris and somehow becomes a catalyst for a fight between everyone involved. However, Carol's broken family and Chris's daunting past, both these factors contribute to their attraction to each other. Outside In is one of those incredible indie romance-comedy movies that don't really get to see the light of day. But these dark places are where gems as this movie lie. Moreover, it is a genuinely dramatic romantic movie on Netflix with soft moments and building tensions that will keep you hooked.
15. A Jazzman's Blues (2022)
Cast: Solea Pfeiffer, Joshua Boone, Ryan Eggold, Amirah Vann, Austin Scott, Lana Young
Rotten Tomatoes: 66%
IMDb Ratings:6.7/10
The story of Bayou and Leanne, who defy social conventions to pursue their love for one another, is explored in the movie "A Jazzman's Blues" as it explores the issue of forbidden love among racial tensions. The characters' capacity to overcome challenges and personal hardships is a powerful undercurrent of resilience. The notion of music's potent capacity to express emotions and cross barriers between people is reinforced by its role as a unifying and transformational element. The movie illustrates the complexity of interpersonal relationships, societal issues, and the enduring power of the human spirit via these topics.
With a stellar cast led by Joshua Boone, Amirah Vann, Solea Pfeiffer, and others, "A Jazzman's Blues" takes viewers on an emotional rollercoaster that explores the complexities of family dynamics and the indomitable spirit of the human heart.
16. Lady Chatterley's Lover (2022)
Cast: Emma Corrin, Jack O'Connell, Ella Hunt, Joely Richardson, Faye Marsay, Matthew Duckett, Nicholas Bishop
Rotten Tomatoes: 86%
IMDb Ratings:6.6/10
Have you ever craved a captivating and passionate romance that transcends societal norms? Well, "Lady Chatterley's Lover," the 2022 romantic drama on Netflix, is just the movie to sweep you off your feet. The film, directed by Laure de Clermont-Tonnerre and based on a book by D. H. Lawrence, follows the riveting journey of Constance "Connie" Reid, whom Emma Corrin superbly represents. Connie's life, which is set in post-World War I England, is given a profound turn when she is forced to choose between her loveless marriage to the paralyzed Sir Clifford Chatterley and the unexpected, passionate connection with the hardy gamekeeper Oliver Mellors, played by Jack O'Connell. The movie highlights their passionate affair, sacrificing everything for pure love, as their forbidden love blooms despite all circumstances.
Imagine feeling the raw emotions of Connie's struggle as she navigates a world of societal expectations and personal desires. Will you root for her to follow her heart and embrace a love that defies conventions? As the story unfolds, you'll witness their undeniable chemistry unfold on-screen, captivating you with every stolen moment and whispered promise. Get ready to be immersed in a tale of yearning, rebellion, and heartache that will leave you longing for love as powerful as Connie and Oliver's. So, fellow dreamers and romantics, if you're in the mood for an emotionally charged, passionate love story, "Lady Chatterley's Lover" on Netflix might just become your next favourite go-to romantic movie.
17. Happiest Season (2020)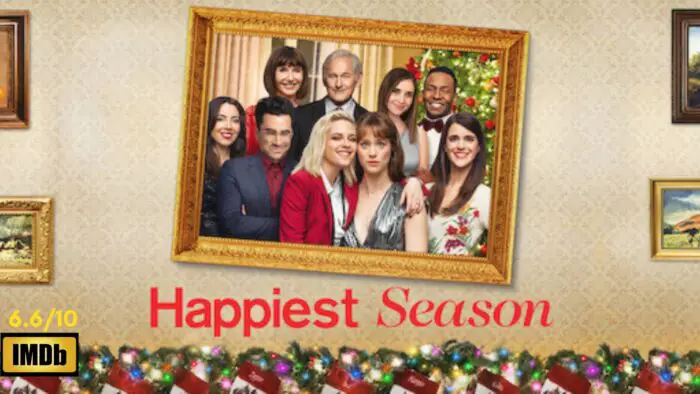 Cast: Kristen Stewart, Mackenzie Davis, Alison Brie, Aubrey Plaza, Dan Levy, Mary Holland, Victor Garber, Mary Steenburgen
IMDb Rating: 6.6/10
Rotten Tomatoes: 82%
Happiest Season is an LGBTQ romantic comedy where Mackenzie Davis plays Abby and Kristen Stewart plays Abby, Harper's girlfriend. They have been dating for almost a year and Harper invites Abby to her parent's house to spend Christmas. The drama unfolds when Abby gets to know that Harper lied to her when she said she was out to her parents. What follows next is a hilarious sequence of events, but the heart of the movie surprisingly remains intact. You'll instantly fall in love with the couple, which is hard not to as Kristen and Mackenzie have top-notch chemistry! There is no unnecessary drama and the events that unfold feel very natural. Unsurprisingly, Dan Levy is a delight and I wish he and Kristen Stewart had more screen time as their interactions were a treat to watch!
18. The Incredible Jessica James (2017)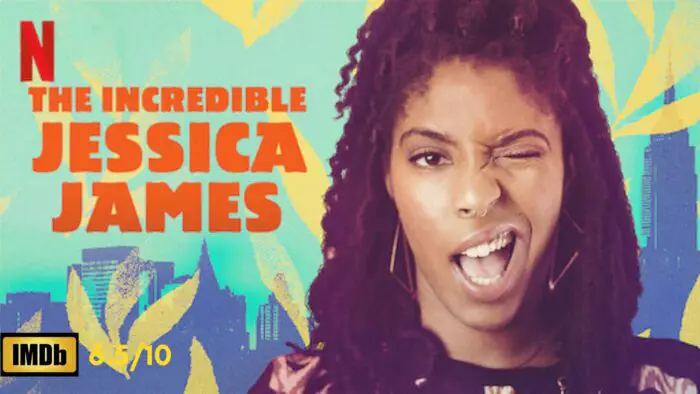 Cast: Jessica Williams, Chris O'Dowd, Noel Wells, Lakeith Stanfield, Megan Ketch, Zabryna Guevara, Susan Heyward, Anne Carney, and Sarah Jones.
Rotten Tomatoes: 89%
IMDb Ratings: 6.5/10
The next film opens with Jessica, on a date with a guy from Tinder after her upsetting split with her boyfriend. Tasha, her best friend sets Jessica up for a blind date, it had a rocky start, but they hit it off soon. Jessica and Boone unintentionally spend the night together. She is an independent woman who works with kids as a part of a theatre project. While she tries to focus on her job she keeps dreaming about Boone and bonds with him deeper than expected. She is an aspiring playwright who is highly talented but her heartbreak was eating her away and she needed to get out of it. Boone is also a guy who just gets dumped and divorced by his ex-wife, both fall in love with each other while recovering. But, both being on their rebounds, will it be a happy ending?
The movie didn't revolve around Jessica Williams being the main actress, it was her movie. She perfectly delivers her role and elevates this entire movie from a girl crying after her breakup to making it a fantastic romantic comedy. The movie is, as you might have noticed, character-driven and not so big on storytelling. Of course, that is not a bad thing, the chemistry the characters had throughout the movie was genuine and stellar. It doesn't have any mind-boggling twists to stand out among others; it is simply a hidden gem honestly. Also, I found it quite refreshing to see a black woman starring as the lead in a romance movie, it's usually white or caucasian girls. I thoroughly enjoyed this movie, it was easily the best romantic movie on Netflix in 2017 for me.
19. Eurovision Song Contest: The Story of Fire Saga (2020)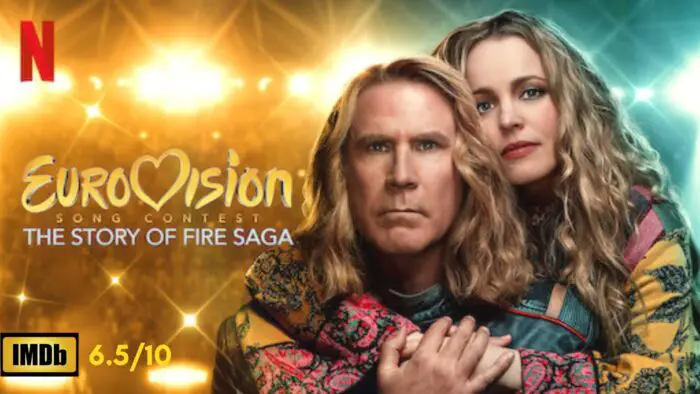 Cast: Will Ferrell, Rachel McAdams, Pierce Brosnan, Dan Stevens, and Demi Lovato
IMDb Rating: 6.5/10
Rotten Tomatoes: 63%
 Eurovision Song Contest: The Story of Fire Saga is not a film one expects to feature under the category of best romantic movies, but such is the power of Rachel McAdams! We have Rachel McAdams and Will Ferrell as two Icelandic singers whose dream is to win the Eurovision Song Contest. The songs are beautiful, and the tenderness in the movie is surprising but will surely warm your heart. The bonus is that Dan Stevens' comedic performance might be the best of his career, but there is also heart in it.
20. Set It Up (2018)
Cast: Zoey Deutch, Glen Powell, Lucy Liu, Taye Diggs, Joan Smalls, Meredith Hagner, Pete Davinson, Jon Rudnitsky, Tituss Burgess, Noah Robbins, and Jaboukie Young-White.
Rotten Tomatoes: 92%
IMDb Ratings: 6.5/10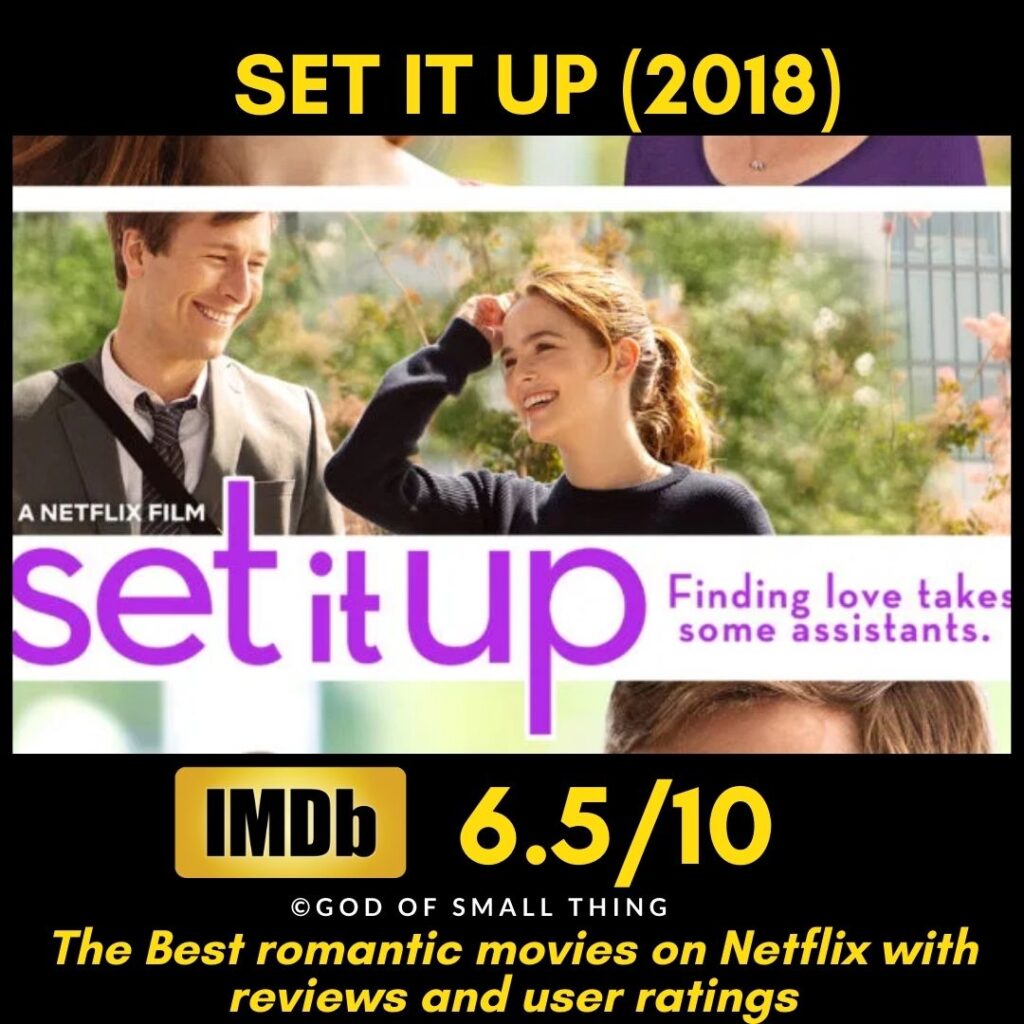 Following the lives of two overworked assistants in the upper society businesses. A solid romance with really interesting characters and a feel-good soundtrack, it's pretty entertaining. Harper is an assistant to a famous and intimidating reporter, Kristen. Meanwhile, Charlie is an assistant to Rick, a high-strung capitalist whose job never really comes to focus. They both cross paths as they work in the very same building and meet each other one night. They negotiate over a meal and come to the realization that if their bosses fell in love, they might get their lives back.
Both Charlie and Harper try hard to hit it off in their respective love lives, but they spend time together plotting their bosses' love lives that they become quite close. At some point, they complimented each other so well that they had to deny the obvious attraction. Meanwhile, They work hard to keep their bosses in love to have their personal lives. A very meet-cute comedy romance about the way modern relationships work. Sure, the movie is quite predictable, but it is very entertaining. The pacing of the movie was great and the writing was hilarious, all in all, it was one of the best romantic movies on Netflix in recent years.
21. All the Bright Places (2020)
Cast: Elle Fanning, Justice Smith, Alexander Shipp, Kelli O'Hara, Lamar Johnson, Virginia Gardener, Felix Mallard, Sofia Hasmik, Keegan-Michael Kry, and Luke Wilson.
Rotten Tomatoes: 64%
IMDb Ratings: 6.5/10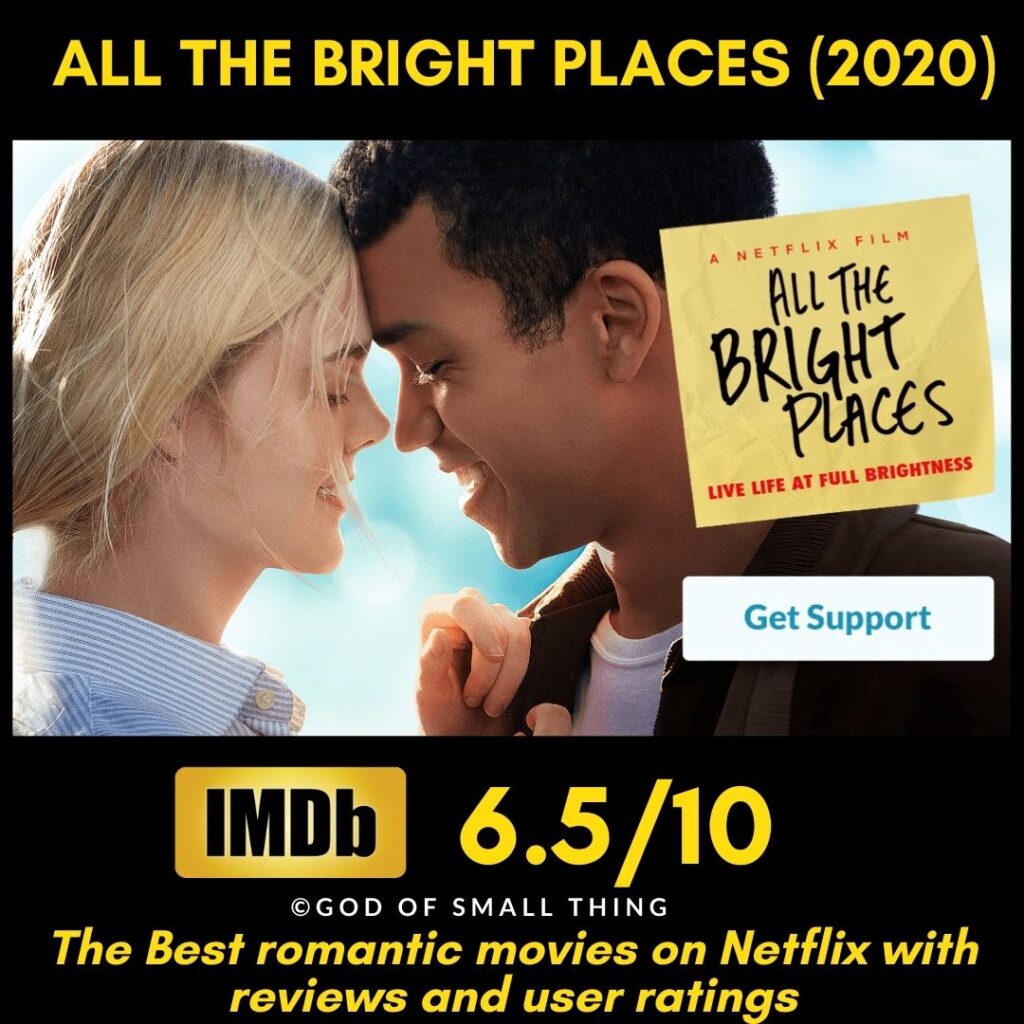 The young actors bring a ton of emotional quotient to this movie about mental illness and love. This movie is based on a book with the same name and it will 100% make you cry. Violet is a pretty girl with a handsome boyfriend and a good family. Meanwhile, Finch is a "The Freak" with erratic behavior with a loving sister. It all starts with Violet on the edge of a bridge contemplating to jump while Finch sees her and talks her into getting down. She has her troubles but so does he. Every day he reminds himself about the things he should be happy about with sticky notes on his bedroom wall. He seems from deep emotional trauma at first.
We don't get to know his situation far into the movie, but we see that he is genuinely interested in Violet and her well-being. All these things might sound very depressing and hard-hitting, but in real life, yes they are. However, the movie manages to portray them in a clever and charismatic nature through Finch. Both the characters are incredible while they navigate through their lives and mental issues by helping each other. Sure, it is not an extraordinarily new concept, it has been covered various times before, but the way this movie handles every sensitive topic is phenomenal. It is 100% recommended to watch this best-rated romantic movie on Netflix!
22. The DUFF (2015)
Cast: Mae Whitman, Robbie Amell, Bella Thorne, Bianca A. Santos, Skyler Samuels, Ken Jeong, Nick Eversman.
Rotten Tomatoes: 73%
IMDb Ratings:6.4/10
The plot of "The DUFF" is about Bianca, a senior in high school who learns that her popular classmates have designated her as the Designated Ugly Fat Friend. Bianca's self-esteem is damaged as her neighbour Wesley explains the idea, and she decides to change. She forms a bargain with Wesley in which he will assist her in navigating the social scene in exchange for assistance with her science class. As they collaborate, Bianca begins to doubt her feelings for the superficial Toby, suspecting that her genuine connection might be with Wesley. Bianca, however, embarks on a personal path of self-discovery and empowerment due to misconceptions and conflicts. The movie examines issues of identity, friendship, and accepting one's individuality in the face through sharp humour and relatable hardships.
Audiences connect with Bianca's journey from feeling like an outcast to finding her voice as she discovers that being true to oneself is more important than adhering to stereotypes. With humour and touching scenes, the film examines the difficulties of teen relationships and the importance of speaking out against bullying.
23. Irreplaceable You (2018)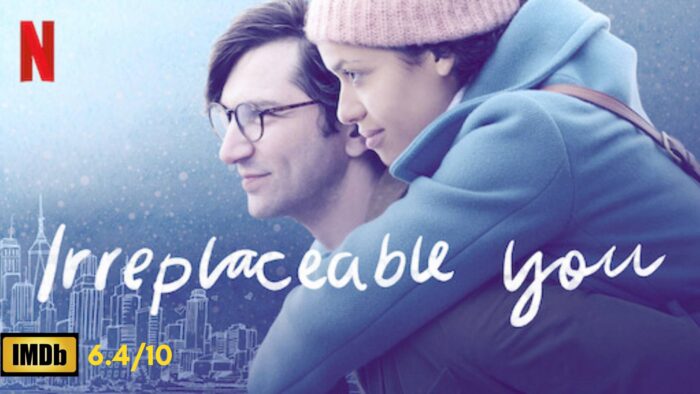 Cast: Gugu Mbatha-Raw, Michiel Huisman, Brian Tyree Henry, Steve Coogan, Timothy Simons, Jacki Weaver, Kate McKinnon, Christopher Walken, Tamara Tunie
IMDb Rating: 6.4/10
Rotten Tomatoes: 32%
If you are looking for a light rom-com to watch, it's better you skip this movie 😬. The film starts with our couple Sam and Abbie in the throes of getting married and starting a family when they get to know that Abbie has terminal cancer. Abbie is hell-bent on finding someone who'll suit the love of her life perfectly after she's gone. While the film's premise is very depressing, it has many delightful moments which alleviate some of the sadness of this doomed romance. There is a scene in the film where Abbie goes to a support group which features some of the greats of dark comedy like Kate McKinnon, Christopher Walken, and Steve Coogan.
24. Wedding Season (2022)
Cast: Pallavi Sharda, Suraj Sharma, Arianna Afsar, Sean Kleier, Veena Sood, Rizwan Manji, Ruth Goodwin.
Rotten Tomatoes: 76%
IMDb Ratings:6.3/10
Here is another fantastic romantic movie you can binge; it will keep you glued to your seats. So,  After her mother creates a dating profile for her, Asha, an economist who quit her Wall Street job, hesitantly agrees to meet Ravi. They pose as engaged while attending weddings throughout summer to ease the strain on their families. They gradually develop a shared interest and bond over everyday experiences. However, secrets emerge: Ravi is a DJ named DJ Spellbound, and Asha's successful pitch for a microloan scheme results in a promotion in London. Misunderstandings and disclosures strain their relationship, and their split is due to Ravi's dishonesty. Ultimately, they come together after realizing their love for one another at a wedding when Ravi admits his affections. It might sound like a typical love story, but no!! The twists and turns make it much more enjoyable.
25. Look Both Ways (2022)
Cast: Lili Reinhart, Danny Ramirez, David Corenswet, Aisha Dee, Luke Wilson, Andrea Savage.
Rotten Tomatoes: 61%
IMDb Ratings:6.3/10
The 2022 film "Look Both Ways" deftly combines two alternative realities arising from a significant event. A pregnancy test causes Natalie's life to take a fateful turn, changing the course of her senior year. In one scenario, she balances her profession as an animator with preparing for parenthood and managing her affection for Gabe despite his engagement to someone else. In the alternate universe, her negative test results send her and her friend Cara to Los Angeles, where she pursues an exciting profession in animation and maintains a love affair with Jake despite the difficulties of being apart.
The movie explores the significant effects of decisions, shedding light on life's complex web of opportunities. As Natalie's journey progresses, themes of love, ambition, and personal identity converge, illustrating the dynamic interaction between relationships and professional objectives. The film emphasizes the complexity of fate and the importance of turning points as the two narratives intertwine. "Look Both Ways" develops into a poignant meditation on taking the paths less taken and the significant role that chance plays in determining how each person's life is shaped.
26. A Perfect Pairing (2022)
Cast: Adam Demos, Victoria Justice, Craig Horner, Samantha Tolj, Emily Havea, Lucy Durack, Luca Sardelis
Rotten Tomatoes: 50%
IMDb Ratings:6.1/10
In the romantic comedy "A Perfect Pairing" (2022), Lola, an underappreciated LA wine executive, seizes the chance to acquire an Australian winery for her company. Following a problematic spell working on a sheep farm to impress Max, the vineyard's owner, Lola finds she has a growing bond with him. But disturbing information regarding Max's identity and a betrayal by her old employer compel Lola to start over on her own. The movie expertly combines themes of career aspiration, personal development, and unexpected romance to create a touching tale of empowerment and love.
27. Along for the Ride (2022)
Cast: Belmont Cameli, Emma Pasarow, Genevieve Hannelius, Sarah Dessen, Kate Bosworth, Ricardo Hurtado
Rotten Tomatoes: 54%
IMDb Ratings:6.1/10
The Sofia Alvarez-directed romance drama "Along for the Ride" (2022) is based on the Sarah Dessen book of the same name. Auden, an 18-year-old recent high school graduate, spends her summer with her divorced father and his new family in the coastal town of Colby. Auden, looking for a carefree time before college, meets Eli, a fellow night owl and BMX fanatic, and their lives are forever changed. They set out on nightly expeditions together, pushing Auden to find the delights she missed as a youngster. Auden learns about Eli's sad background as their relationship develops, secrets come to light, and they work together to get past their hurt and grow. The epic movie masterfully tackles themes of self-discovery, forgiveness, and the transformational power of love against the backdrop of a gorgeous seaside environment, among personal confessions, family dynamics, and the search for happiness.
28. The Perfect Date (2019)
Cast: Noah Centineo, Laura Marano, Camila Mendes
Rotten Tomatoes: 67%
IMDb Ratings: 5.8/10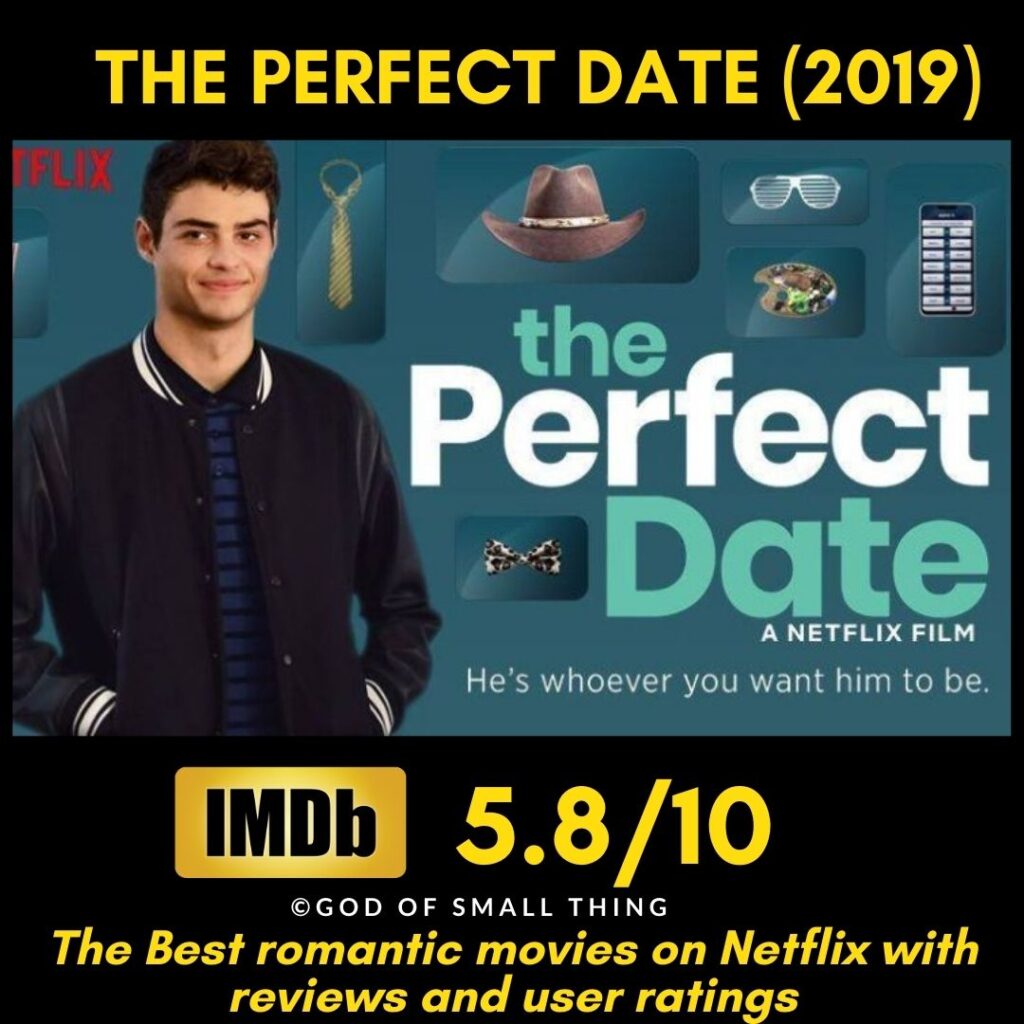 The Perfect Date is a 2019 American teen romantic comedy film, based on the novel The Stand-In by Steve Bloom, published by Carolrohda Lab in October 2017. Brooks Rattigan (Noah Centineo) has a dream to get into his dream Ivy League school, but what he's missing is an outstanding extracurricular – and the money. When he finally finds an opportunity to make some extra money by posing as the boyfriend of a self-assured, combat boot-loving girl named Celia Lieberman (Laura Marano), he finds he has a knack for being the perfect stand-in. This is when, together with his programmer friend Murph (Odiseas Georgiadis), Brooks launches an app selling himself as a plus-one for all occasions. During the same time, he meets the girl of his dreams (Camila Mendes). But when the business starts to boom, Brooks must reassess everything he was once sure of. Watch this romantic movie on Netflix, but first, have a look at the trailer.
29. A Tourist's Guide to Love (2023)
Cast: Rachael Leigh Cook, Scott Ly, Ben Feldman, Missi Pyle, Glynn Sweet, Alexa Povah, Jacqueline Correa, Nondumiso Tembe
Rotten Tomatoes: 71%
IMDb Ratings: 5.7/10
The romantic comedy "A Tourist's Guide to Love" (2023) was written by Eirene Tran Donohue and directed by Steven K. Tsuchida. After a shocking breakup with her long-term lover, Amanda Riley, a professional in the travel industry, sets off on an undercover mission to investigate Vietnam's tourism industry. Amanda, sent on a tour led by Sinh and his cousin Anh, immerses herself in Vietnamese culture while hiding her real reason for travelling. Amanda develops a close bond with Sinh as she pushes herself outside her comfort zone, and he encourages her to embrace spontaneity and sincerity. Along the way, Amanda learns about the country's beauty and her capacity for love and personal development. A charming tale of discovering love in unexpected places, "A Tourist's Guide to Love" beautifully weaves together themes of self-discovery, cultural exploration, and unexpected romance against the stunning backdrop of Vietnam.
Here you have it! A list of the best romantic movies on Netflix! I'll quickly list a few other Romantic movies which aren't available on Netflix in India. Titanic, The Danish Girl, Her, Me Before you, The Fault in our stars, Love, Simon, Pretty Woman, The Spectacular Now, and 500 Days of Summer. These movies must be sufficient for you to fill up your watch-list! Enjoy these Best Romantic Movies on Netflix and drop your favorites in the comments below!