The Best Action Movies on Netflix sorted by IMDB ratings 2023
Netflix was introduced in India as a blessing in disguise. Gone are the days of illegally streaming movies online, now that we have a huge platform with thousands of movies to select from, it's amazing! We have access to thousands of movies, but one might get confused as to what to watch. So here I present a list of the top action movies on Netflix to get you some action movies on your watch list. These movies are spectacular with sharp moves, amazing direction, crisp scripts, and impressive cast have really grown on me. As a lover of genres like action, superhero flicks, adventure, suspense, and mystery this is just my favorites action movies on Netflix India. With a smaller collection compared to other countries, we don't access to every action movie in the world.
Even blockbusters like Avengers or Deadpool aren't available in our region. But, no worries, I have curated a list of the best-rated action movies on Netflix for you to enjoy. Also, I will mention a small list of one of the best action movies of all time at the very end of the article. You can stream them on other platforms like Amazon Prime or Disney+ Hotstar! So, without further delay, here are the 20+ Best Action Movies on Netflix!
Wait Wait Wait! Don't forget to check our category comprising of recommendation articles from Romantic to Science Fiction to crime and Horror. The category is meant specifically for recommendations of What to Watch on Netflix Recommendations by God of Small Thing.
Just so you know, this best action movies list on Netflix is frequently updated and the next time you visit us, we will be definitely with another crispy movie added to it. We have sorted the list by IMDB ratings from the least rated to the best 😀 Go Binge-Watch! Also, if you are looking for some very specific movie of your choice in the list, You can always click the link from the list and reach the specific movie. Sounds great, right? Lets Go!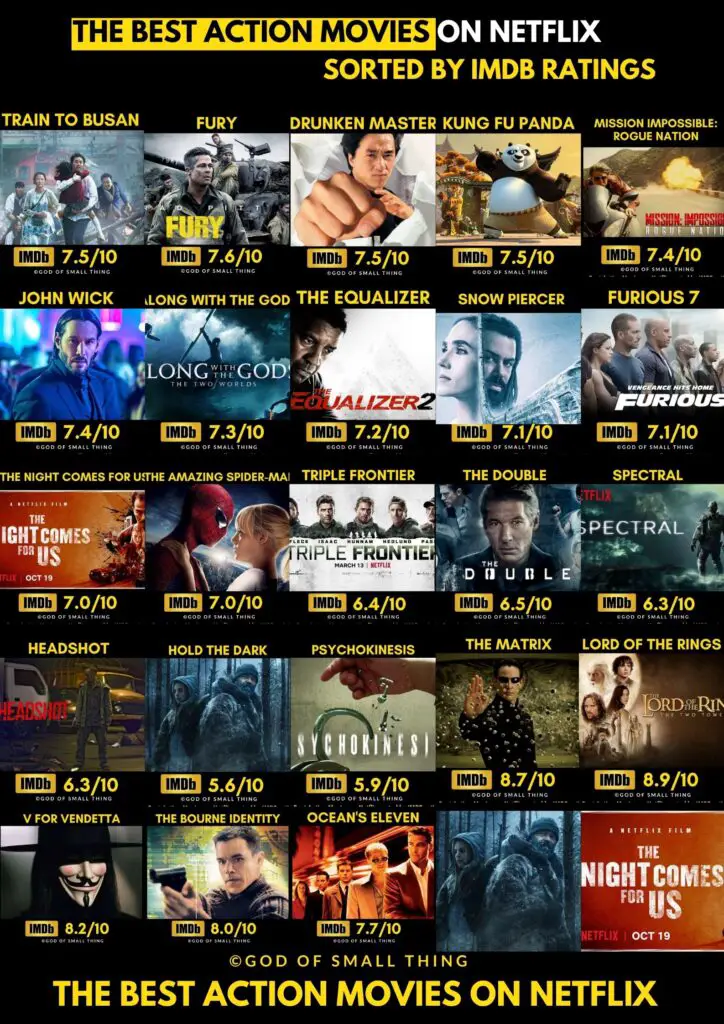 23. Hold the Dark IMDB Rating: 5.6
Cast: Jeffrey Wright, Alexander Skarsgard, James Badge Dale, Riley Keough, Julian Black, Macon Blair, Tantoo Cardinal, Peter Cardinal, Peter McRobbie, Beckham Crawford, and Jonathan Whitesell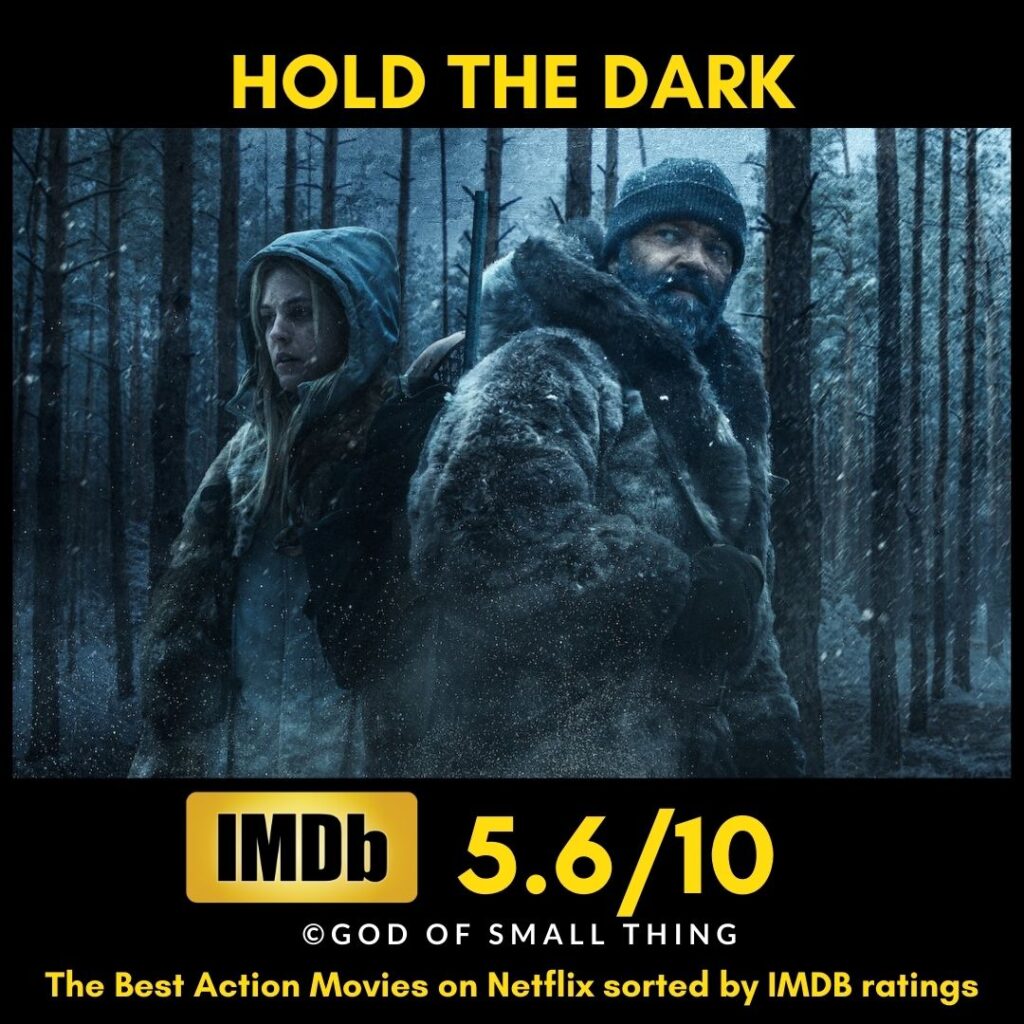 An unsettling action movie on Netflix that is extremely intriguing and gripping. Following the story of Russell Core, a retired naturalist, and expert of wolves who journeys to the very edge of our civilization in Alaska. Medora Slone, a mother pleads Core to find her son who was a victim of a pack of wolves. As Core tries to help her by tracking her son, a very eerie relationship develops between them. However, things get violent when her husband returns home after the Iraq War and discovers the death of his child. Donald Marium, local cop races forward to stop Vernon and his rampage, Core journeys in the heart of darkness.
This movie is very unsettling, grim, and brutal, it is truly a fascinating movie that really keeps you hooked. It is harrowing but beautiful, the filmography is mesmerizing, and the movie definitely leaves an impression. However, people do struggle to understand the ending of the story, so watch this action-drama movie on Netflix to figure it out for yourselves! I would recommend reading the original source material- the book if you ever want a deeper dive.
Watch the trailer for Hold the Dark!
22. Psychokinesis IMDB Rating 5.9/10
Cast: Ryu Seung-ryong, Shim Eun-Kyung, Go Na-hee, Park Jung-min, Kim Min-Jae, Jung Yu-mi, Yoo Seung-eun, and Lee Jeong-eun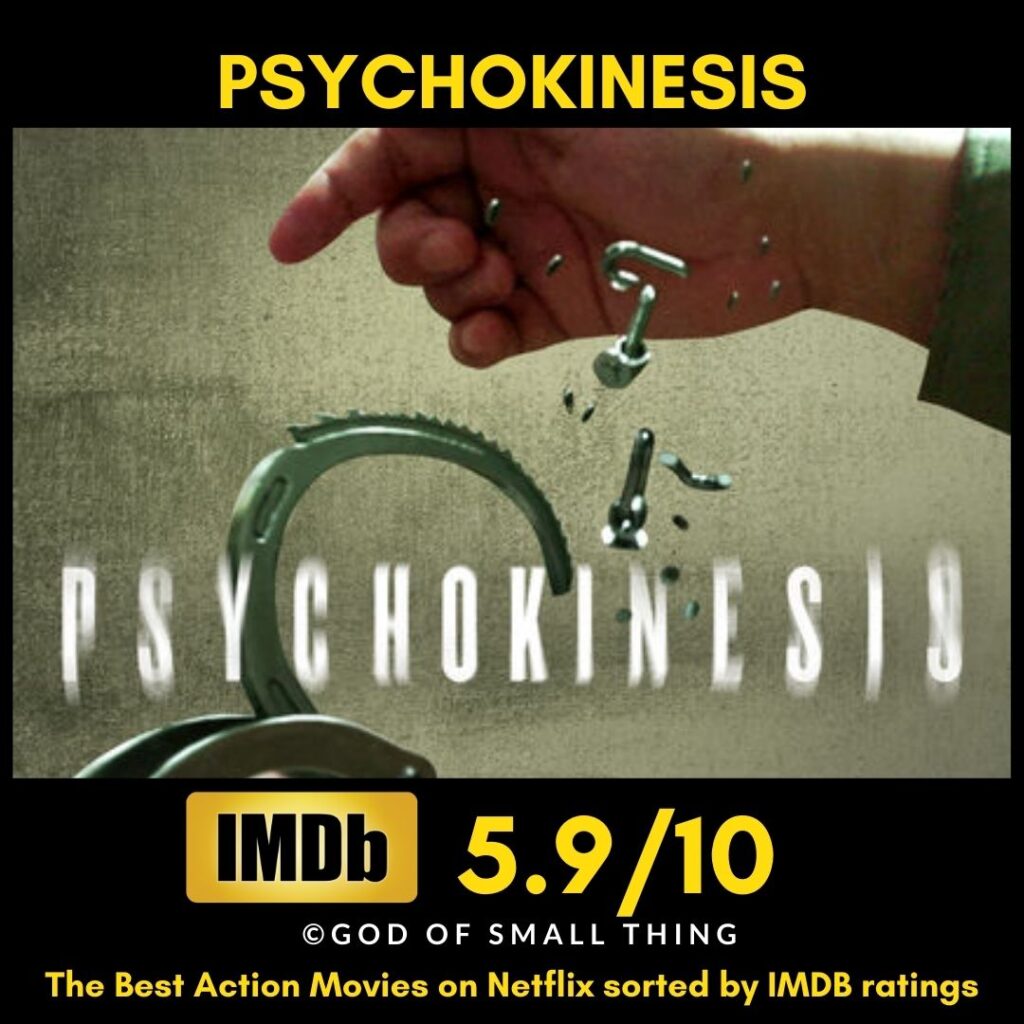 Next up I bring you an unapologetic superhero action movie on Netflix! This is a very fresh take on basic superhero origin story movies, it contains some great social commentary and comedy with some pretty impressive action sequences. Seok-hoon is a regular guy that works his job as a bank security guard. After drinking from a mountain spring that gets affected by a meteor, he gains superpowers that too cool to ignore. He acquires the power of psychokinesis and must set out to protect his estranged daughter Roo-mi from the mafia that controls a construction company.
He becomes a superhero overnight and is set to clear out the mafia before they hurt anyone else. This movie is self-aware, it doesn't take itself seriously and remembers the fact that Seok-hoon is an average man with some above-average abilities, he isn't invincible. It is a shame that it didn't have a theatrical release anywhere outside South Korea, this movie deserves so much more attention. With characters that you can't help but root for, Psychokinesis is an incredible best-rated action movie on Netflix!
Watch the trailer for Psychokinesis!
21. Headshot IMDB Rating: 6.3/10
Cast: Iko Uwais, Chelsea Islan, Sunny Pang, Julie Estelle, David Hendrawan, Zack Lee, Very Tri Yulisman, Bront Palarae, and Yayu Unruh.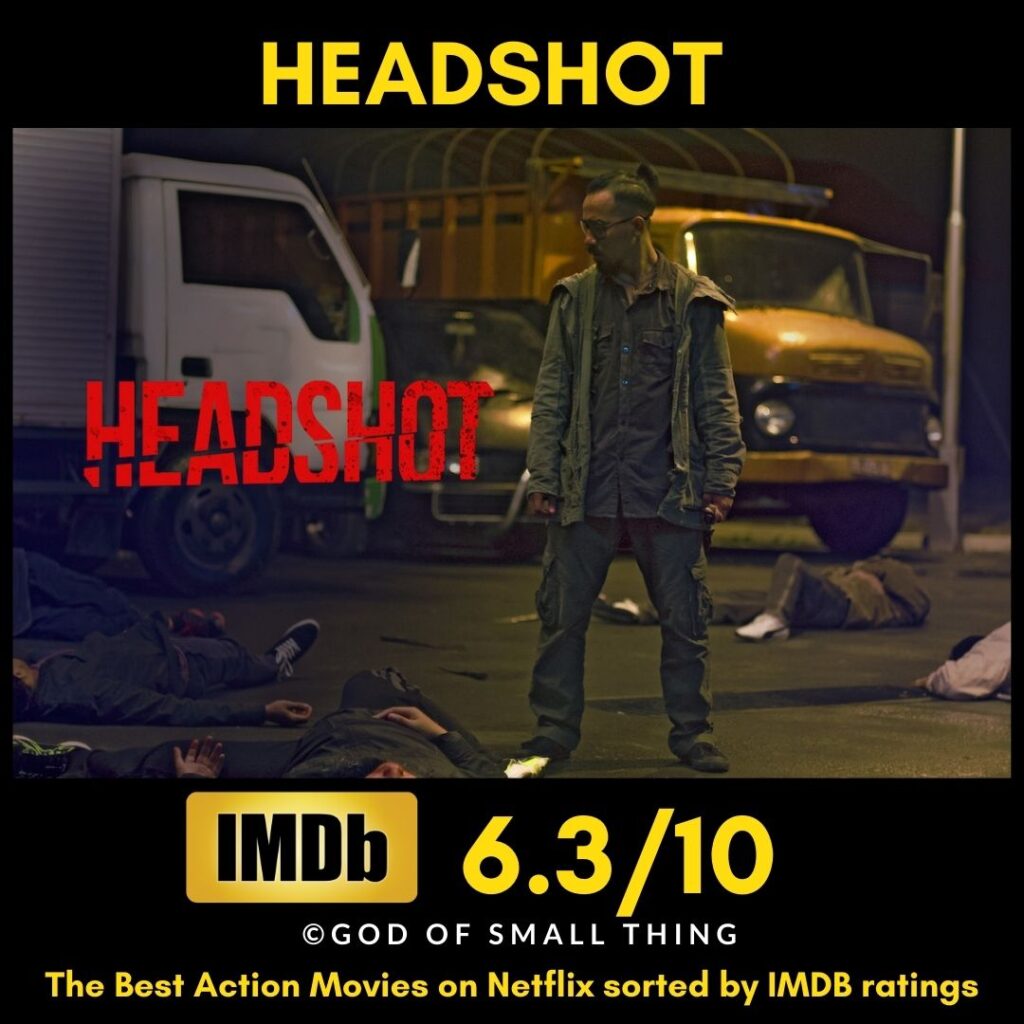 An Indonesian action movie originally released at the Toronto Film Festival, it received positive reviews. Ishmael washes up on a shore with injuries and amnesia. He is brought back to health by Ailin and they have a little subplot of romance there. However, when Ailin's life was threatened by a gang, Ishmael unleashes himself. He essentially goes to war with the syndicate to save the only person he knows.
This film is an excellent action movie with everything this genre could possibly need. Moody lighting throughout the movie and the fight sequences were incredible, to say the least. Despite being very graphic the movie is highly entertaining to watch. This movie is compared to The Raid, another one of Iko's films, but if you watch this with full focus on only this, you'll enjoy it. A fair warning, this movie is not for weak stomachs. Again, one of the nest Indonesian action movies on Netflix!
Watch the trailer for Headshot!
20. Spectral IMDB Rating: 6.3/10
Cast: James Badge Dale, Emily Mortimer, Max Martini, Bruce Greenwood, Clayne Crawford, Gonzalo Menendez, and Ursula Parker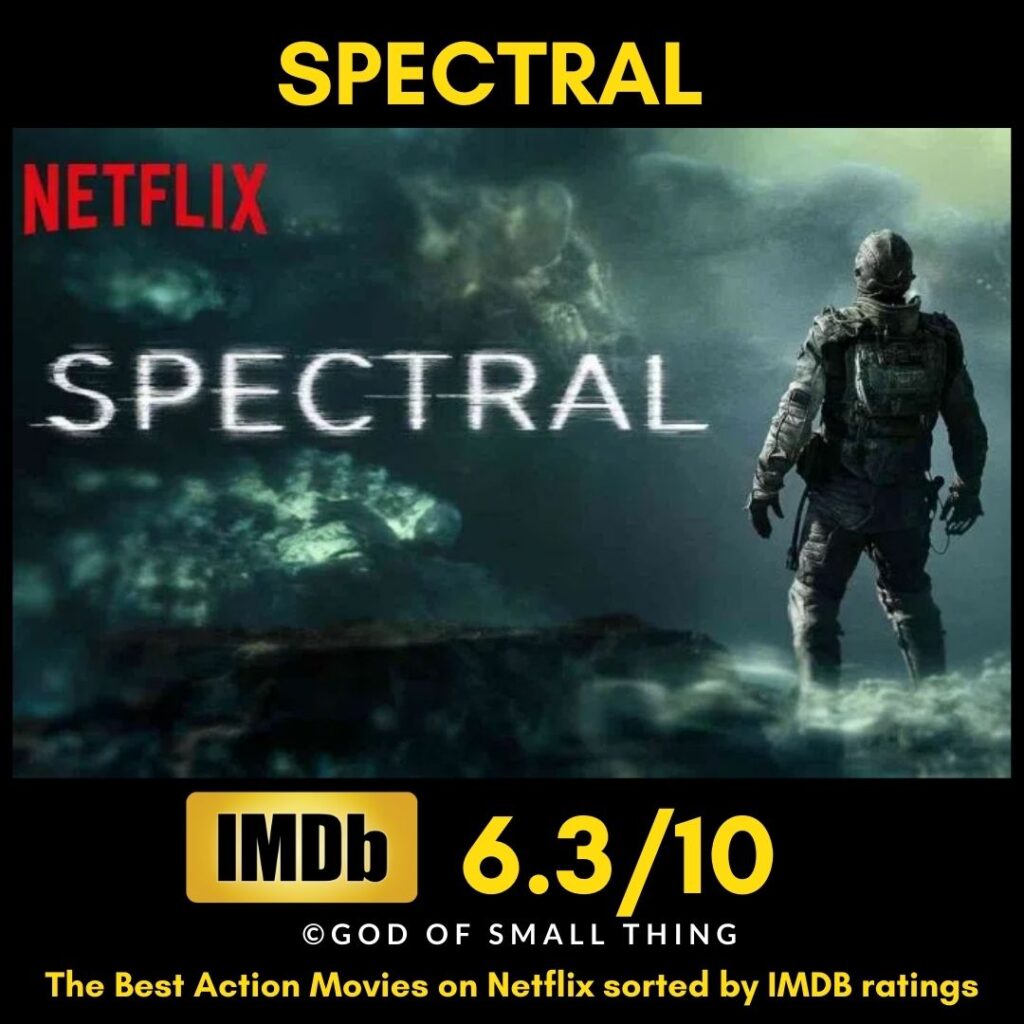 Here we have an action sci-fi thriller movie on Netflix that is about a team of Special-Ops dispatched to fight the supernatural. Amidst the war between the US and Moldova, the American officials discover a mysterious translucent humanoid that kills on sight. So, Dr. Mark Clyne is summoned to the American military base to give an expert opinion on these new beings that reside within an alternative spectrum that inevitably makes it impossible for the human eye to detect. They discover their soldiers dead and find the threat that the enemy can pose, with incredible strength, they are invincible.
They believe these dangerous threats are superior technology fabricated by the Moldova government. The battle scenes are exciting that keeps you on the edge of your seat with a really unpredictable ending. It surely packs a punch with the to-point plot and good pacing. Sure, the movie might not be the most original story, but this movie has good twists and is very entertaining with strong CG work. The unique premise of blending sci-fi into a war film is pretty new, this movie delivers great action and thrill. You'll enjoy this movie, it is one of the best-rated action movies on Netflix.
Watch the trailer for Spectral!
19. Triple Frontier IMDB Rating: 6.4/10
Cast: Ben Affleck, Oscar Isaac, Charlie Hunnam, Garett Hedlund, Pedro Pascal, and Adria Arjona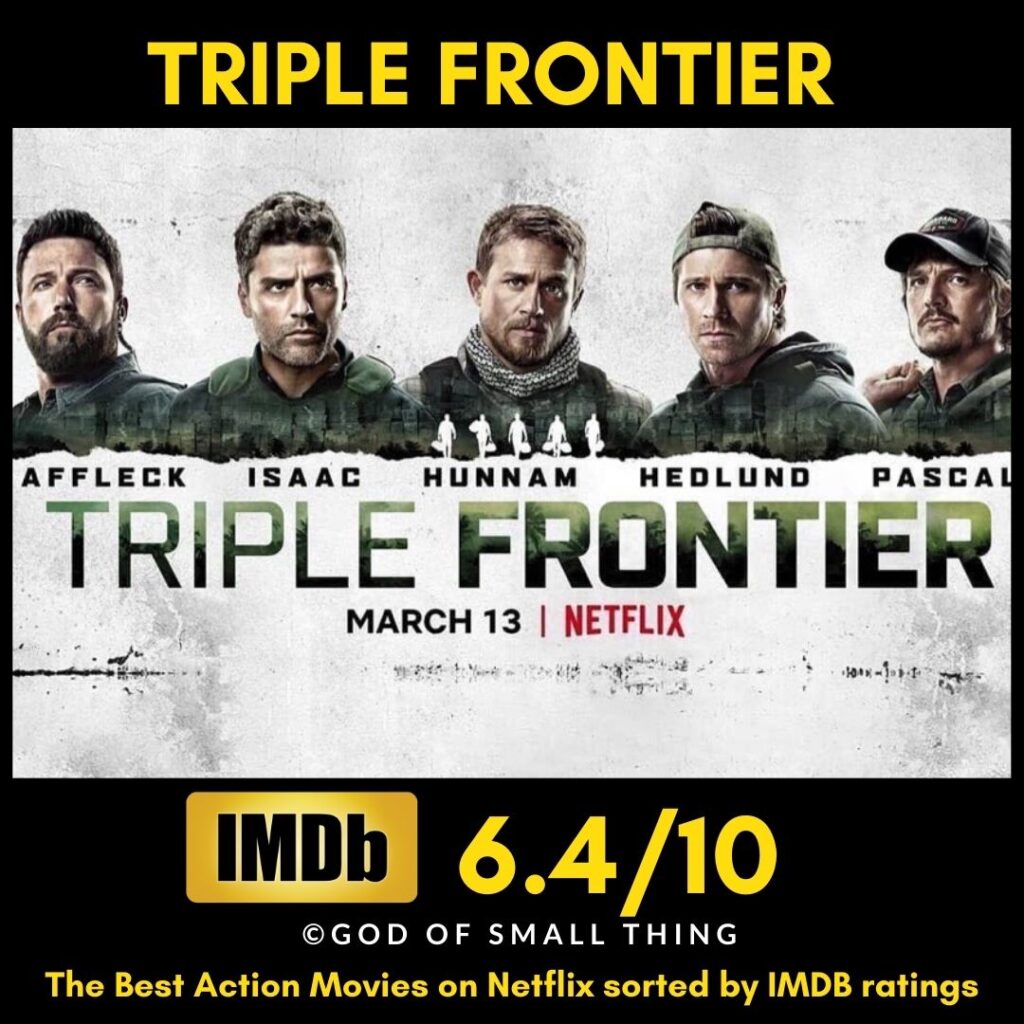 An exciting movie about 5 former Special Forces officers who reunite to plan an epic heist in South America. For the very first time in their long careers, they undertake a dangerous mission for the sake of their country. The film begins with a private military contractor Pope, who leads a fully armed team in a raid of a drug cartel. He crafts a plan to steal $75 million a crime boss stashed away in his fortress-like home. However, this is not a one-person job, he contacts his old buddies. They take on this mission for not the government, this time it was all their plan. We get to see how these veterans gave their everything for their country but they struggle to remain afloat. These men pull the cleverest heist with tension that radiated off the screens.
However, the meticulously planned heist meets some unpredictable variables with every step they face a life-and-death situation. A heart-pounding film that has managed to separate itself from the basic heist movies by adding their own wit and style. Yes, there are a few holes in the plot, however, the movie is thrilling and the cast is excellent. The cast, plot, and suspense did have great potential. But a few unrealistic situations later, the movie does get a little dull. But, it was still entertaining. You can watch this action movie on Netflix to have an opinion of yourself!
Watch the trailer for Triple Frontier!
18. The Double IMDB Rating: 6.5/10
Cast: Jesse Eisenberg, Mia Wasikowska, Wallace Shawn, Noah Taylor, Yasmin Paige, James Fox, Cathy Moriarty, Phyllis Somerville, and Kobna Holdbrook-Smith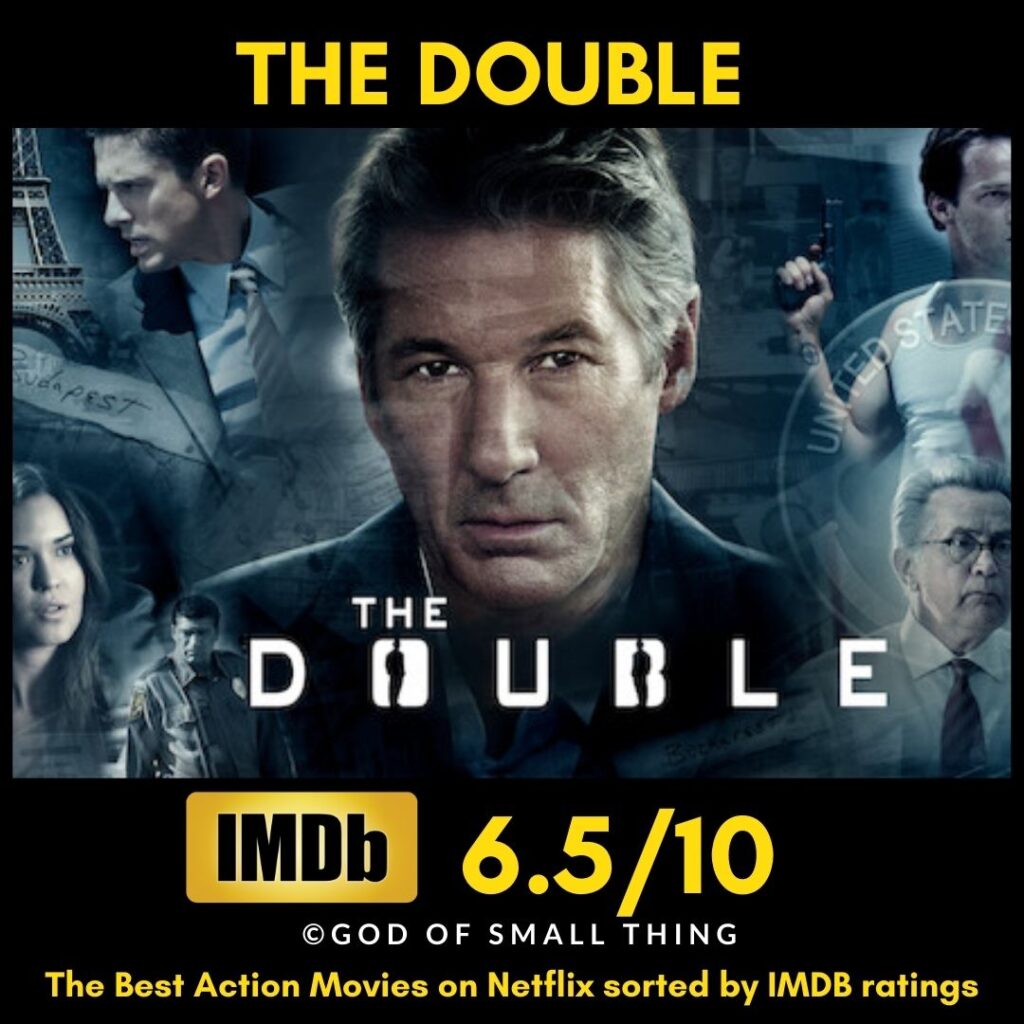 A mind-blowing action thriller black-comedy movie that gave me the absolute chills. Simon James has worked in one place for 7 years, but no one seems to care about him, his boss, or colleagues. He is a coward who admires the girl he loves from afar. But it all changes when a new coworker James Simon enters his life. James is identical to Simon but polar-opposite, he is everything Simon is not. His boss and, crush, and co-workers like him. But, the really terrifying part is that no one seems to notice the fact that they're identical. Slowly we see James taking over Simon's life and Simon slowly driven to insane city. He watched James be the villain by also a mirror of all his flaws and insecurities, a life that he has always wanted.
The premise of this story is unique and creative, it is a striking film that gets interesting by the minute. The paranoia Simon feels radiates through the viewers, Jesse Eisenberg's acting is incredible as always. The cyber-punk aesthetic I got from this movie was nostalgic, the atmosphere that the movie creates is amazing. An unpopular opinion- this movie is very artistic, the dark and light tones balance throughout and the minimalist style of the movie was a great choice. The story itself is complex that leaves us with an ending that is open to your interpretation. That's another thing I appreciate about this movie, it makes you think and interpret the situations through metaphors instead of handing them over on a silver platter.
Watch the trailer for The Double!
17. The Amazing Spider-Man IMDB Rating: 7/10
Cast: Andrew Garfield, Emma Stone, Rhys Ifans, Denis Leary, Campbell Scott, Irrfan Khan, Martin Sheen, and Sally Field.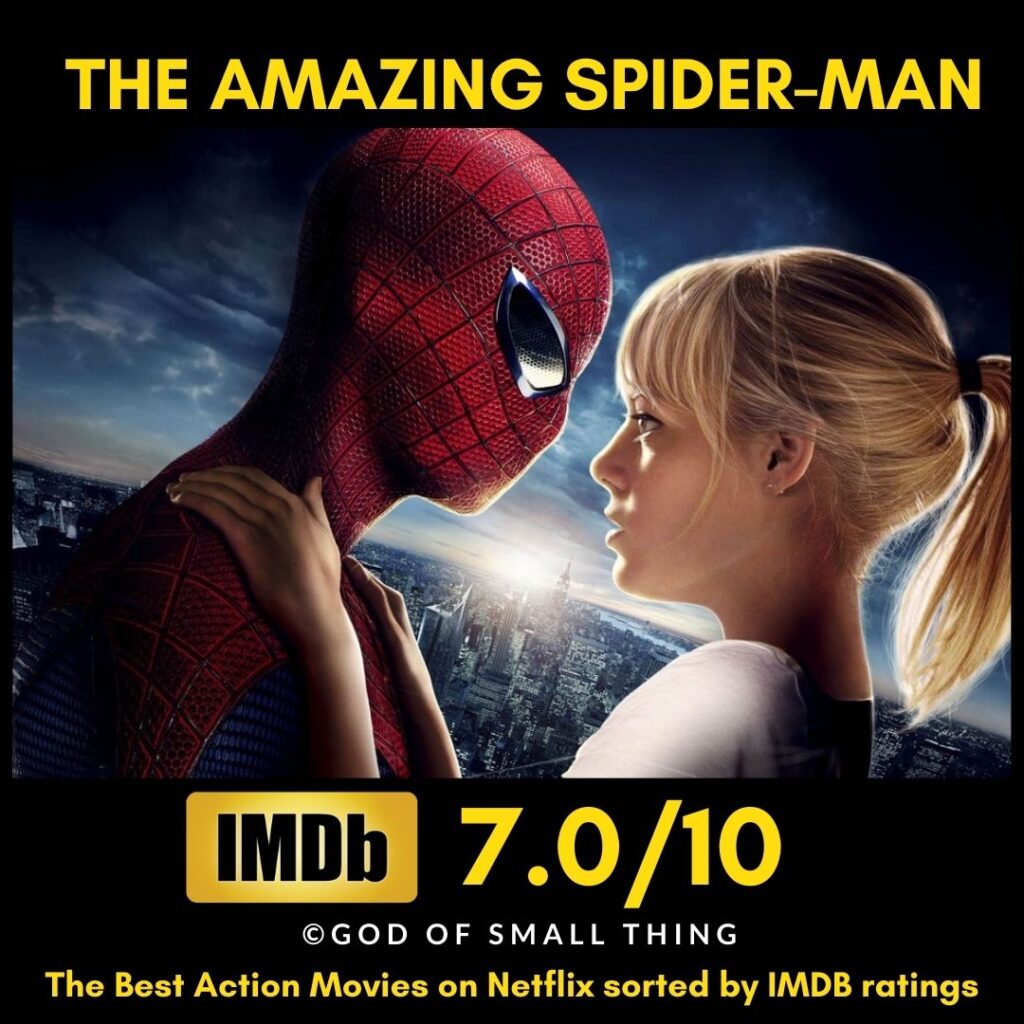 One of the best superhero action movies on Netflix at the moment is The Amazing Spider-Man. Spider-Man is a beloved character around the globe, So, adding this action movie to the list isn't a surprise. Everyone knows Peter Parker's origin story, after getting bitten by genetically modified spiders and the death of his uncle Ben, made his origin story as painful as any other hero. Peter learns about his late father's work with a scientist Dr. Curt Connors at the company Oscorp, specifically researching cross-species genetics. He goes to the lab under a pretense of being a student and follows Gwen Stacy while she gives them a tour of the lab. One thing leads to another and he gets bitten, he uses his newfound abilities to match the description of his uncle's killer.
Since you are here for action movie recommendations, I am sure you are going to love Science Fiction movies and series as well. They are just out of the regular stuff on Television after all. That's why I am recommending you to check out our list of 30+ Best Sci-fi Movies & Series on Netflix of all time | GodofSmallThing (And each link in the article opens in New Tab so you don't have to miss out on the current article 🙂 )
As for the villain of the movie… well you'll just have to see it to really know, I can't keep giving spoilers here! With a 72% on the Tomatometer and 77% audience score, the Amazing Spider-Man is a movie with an incredible cast and great chemistry between the characters despite resisting the same plot from Spider-Man (2002). To me, Andrew Garfield is very underappreciated for this role, this dark tone that SONY pictures chose to take is what I really miss. Of course, this is the best Spider-Man movie on Netflix you can also check out the Spider-Man trilogy starting Tobey McGuire (2002-2007) and the present on-going story of Peter Parker in the Spider-Man starring Tom Holland (2017-). This Superhero is an iconic character that everyone loves, so watch your friendly neighborhood Spider-Man in a high action movie on Netflix!
Watch the trailer for The Amazing Spider-Man!
16. The Night Comes For Us IMDB Rating: 7/10
Cast: Joe Taslim, Iko Uwais, Asha Kenyeri, Sunny Pang, Slavita Decorte, Abimana Aryasatya, Zack Lee, Dimas Anggara, and Julie Estelle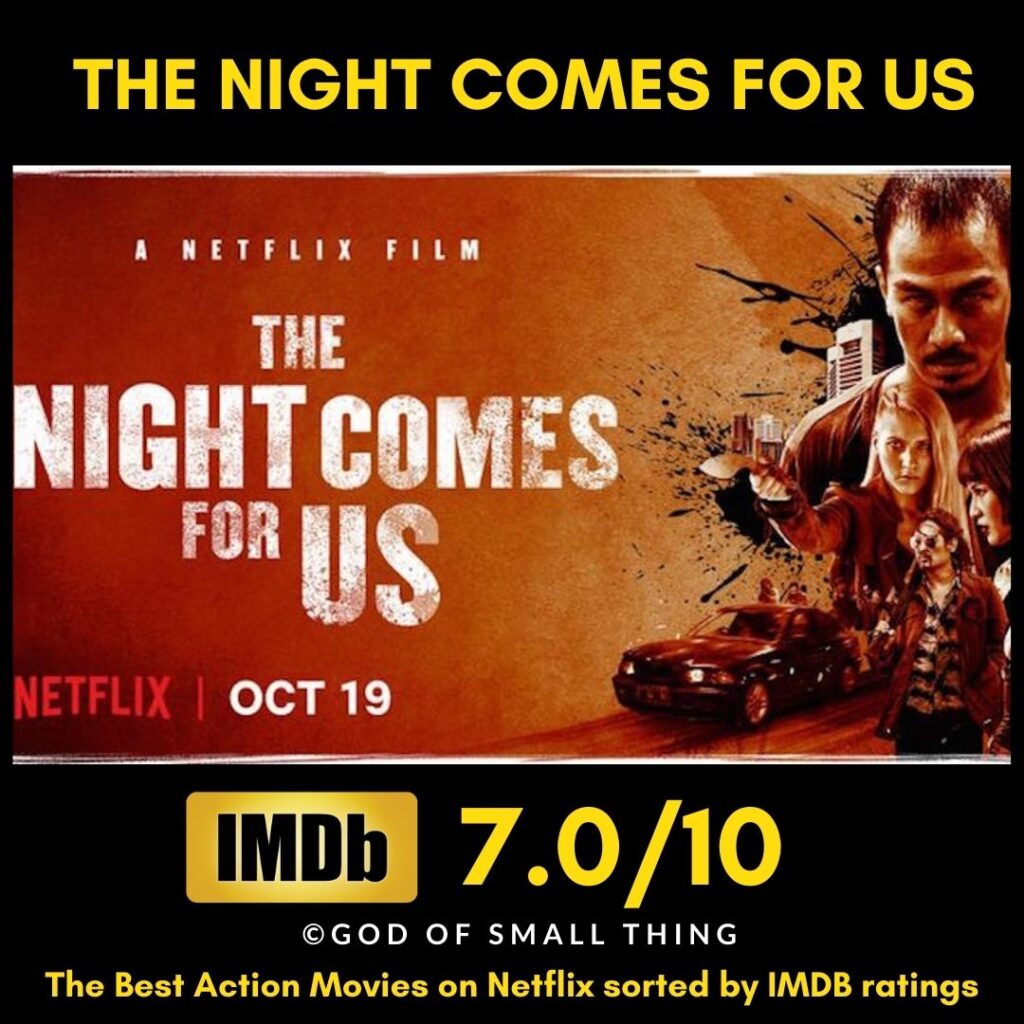 Yet another gory Indonesian action film on Netflix starring Iko Uwais. The action in this movie is so constant that it makes you dizzy at one point. A super-violent film with impeccably choreographed action sequences. A tale of a criminal who turns his back on his mob after a crisis, "Night" basically instructs an elite squad on their missions. One day, Ito snaps when he is ordered to wipe out an entire village. Unable to shoot a young girl, he kills his own squad and flees. He appeals to his former girlfriend and gang members to join him. Ito attempts to keep the young girl Reina safe while he engages in a relentless action against anyone who came at him.
This action movie on Netflix is a heart-racing action movie with brutal fight scenes and graphic showdowns between characters. It keeps the themes of loyalty and brotherhood as has graphic scenes that can easily pass this movie as a horror flick. Honestly, this is an action movie-lovers dream. "A bloody thrill ride designed to test the limits of more squeamish viewers, The Night Comes for Us wields a stylishly violent, action-packed punch." says a Meta-critic on Rotten Tomatoes and hold an approval rate of 88% on the website!
Watch the trailer for the Night Comes for Us!
15. Snowpiercer IMDB Rating: 7.1/10
Cast: Chris Evans, Tilda Swinton, Song Kang-ho, Ed Harris, John Hurt, Jamie Bell, Octavia Spencer, Ewen Bremner, and Go Ah-Sung.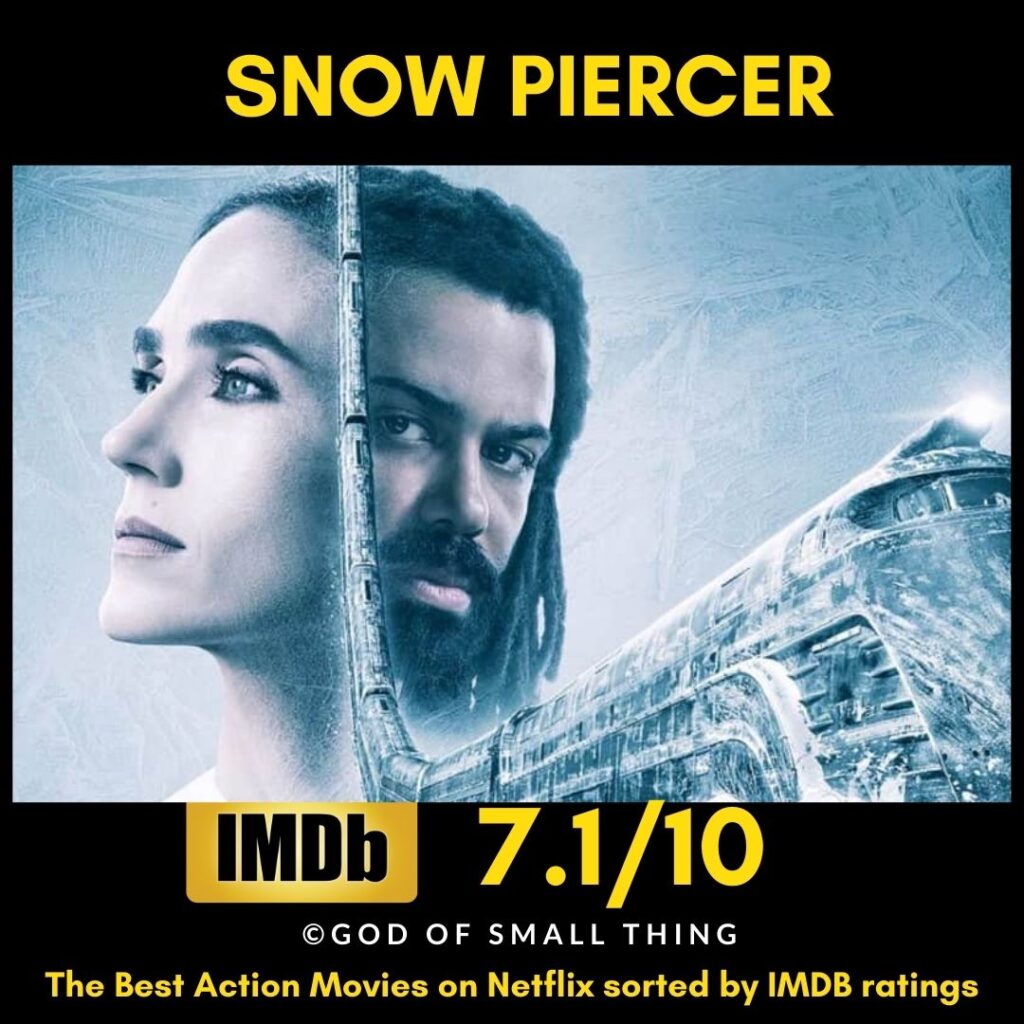 An action spectacle that really gives the audience an ambitious dystopian story from the eyes of the iconic South Korean director Bong Joon-ho. A visionary movie set in the year 2031 that follows a train called the "ark". This train carries the remaining survivors of humanity after a failed attempt to stop global warming that sent the entire planet into a deep ice age. However, it requires to move constantly to provide energy to the life inside the train it moves across the world on a single track. But, just like the real world, the train divides into three different compartments. The 1% of the upper-class passengers occupy one of the carriages where they live in lavish luxury, while the other two live in suffocating spaces. The middle class lives in an average space, but the lower class is where things get dirty.
They live in the back of the train stuffed like cattle in a windowless carriage. A conspiracy in the movie- a few children from the tail end is missing and no one knows why. However, this is when Curtis becomes a center of revolution of the lower class against the injustice they faced in the back of the train. An eye-opening violent movie that gives us just the right social-commentary that highlights the disparities between the lower and the upper classes. This has beautifully shot action and is full of incredible performances by the cast. This unpredictable and captivating film is one of the best action movies on Netflix!
Watch the trailer for Snowpiercer!
14. Furious 7 IMDB Rating: 7.1/10
Cast: Vin Diesel, Paul Walker, Dwayne Johnson, Michelle Rodriguez, Tyrese Gibson. Chris Bridges, Jordana Brewster, and Jason Statham.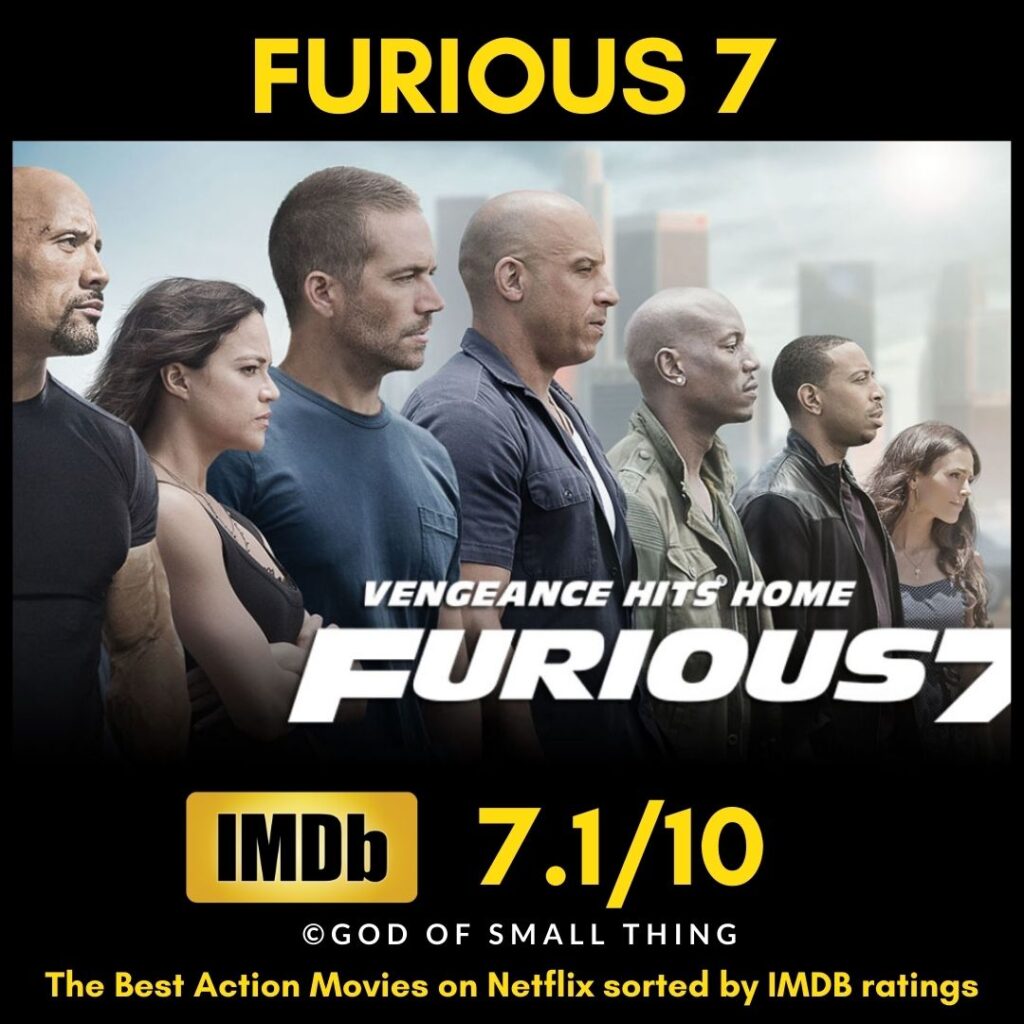 This action movie on Netflix is a blockbuster franchise that has millions of fans across the world. This movie is particularly made $1.51 Billion on the box office and it is the highest-grossing movie in the franchise. Following the original 6 after a rogue special forces assassin, Deckard seeks vengeance for his brother Owen in a coma. However, the crew has already left their criminal lives behind after their scuffle with the terrorist Owen. But his brother is out for revenge and their pasts seem to be catching up to them. Moreover, when a hacker also gets involved things get quite messy.
This hacker develops a high-tech terrorist program named "Gods-Eye" that is capable to turn any electronic device into fatal weapons. Things seem to go south when they get caught in between a power struggle of the terrorist and the government. The thing that amazes me is that I thought I loved Furious 5, but they top themselves with Furious 7. Exactly how much did they build off of a group of people who love cars and speed, its quite amazing? However, the characters develop even more as they do a great job playing their roles. The stunts and action were mind-blowing. This action thriller will forever be in my heart. Watch this incredible action movie on Netflix!
Watch the trailer for Furious 7!
13. The Equalizer IMDB Rating: 7.2/10
Cast: Denzel Washington, Marton Csokas, Chloe Grace Moretz, David Harbor, Melissa Leo, Bill Pullman, Haley Bennett, Vladimir Kulich, and David Meunier.
This movie is an action thriller film receiving praise for its extraordinary visual style and acting by the cast. This movie was well-received among action-movie lovers. Revolving around an ex-DIA officer, Robert McCall leading a peaceful life after promising his late wife to leave his violent life behind. Working at a hardware store, Robert dedicates himself to live a low-profile and serene life. However, still haunted by the events that led him to his current situation. Robert constantly tries to deal with his inner demons, while being an insomniac with a violent history. Unfortunately, he loses all his progress after an incident that changes it all. After his friend Alina ends up hospitalized things get ugly. He steps back into his old lifestyle and goes feral.
He vows to bring every person involved down, no matter what. With incredible close-combat skills, he goes to war with the Russian Mafia. He finds his desire for justice again and becomes someone who helps the helpless. When he's done will anyone stand alive? An enthralling movie with beauty in its very details. It smartly anchors his life as a vigilante with truths of reality. Of course, this movie is not perfect but it is very entertaining and will keep you hooked throughout! The charismatic protagonist holds the whole movie up and makes it an action spectacle. At the moment this is one of the best vigilante action thrillers on Netflix!
Watch the trailer for The Equalizer!
12. Along With the Gods IMDB rating: 7.3/10
Cast: Ha Jung-woo, Cha Tae-hyun, Ju Ji-hoon, Kim Hyang-gi, Kim Dong-wook, Do Kyun-soo, Jang Gwang, Jung Hae-kyun, Oh Dal-su, and Im Won-hee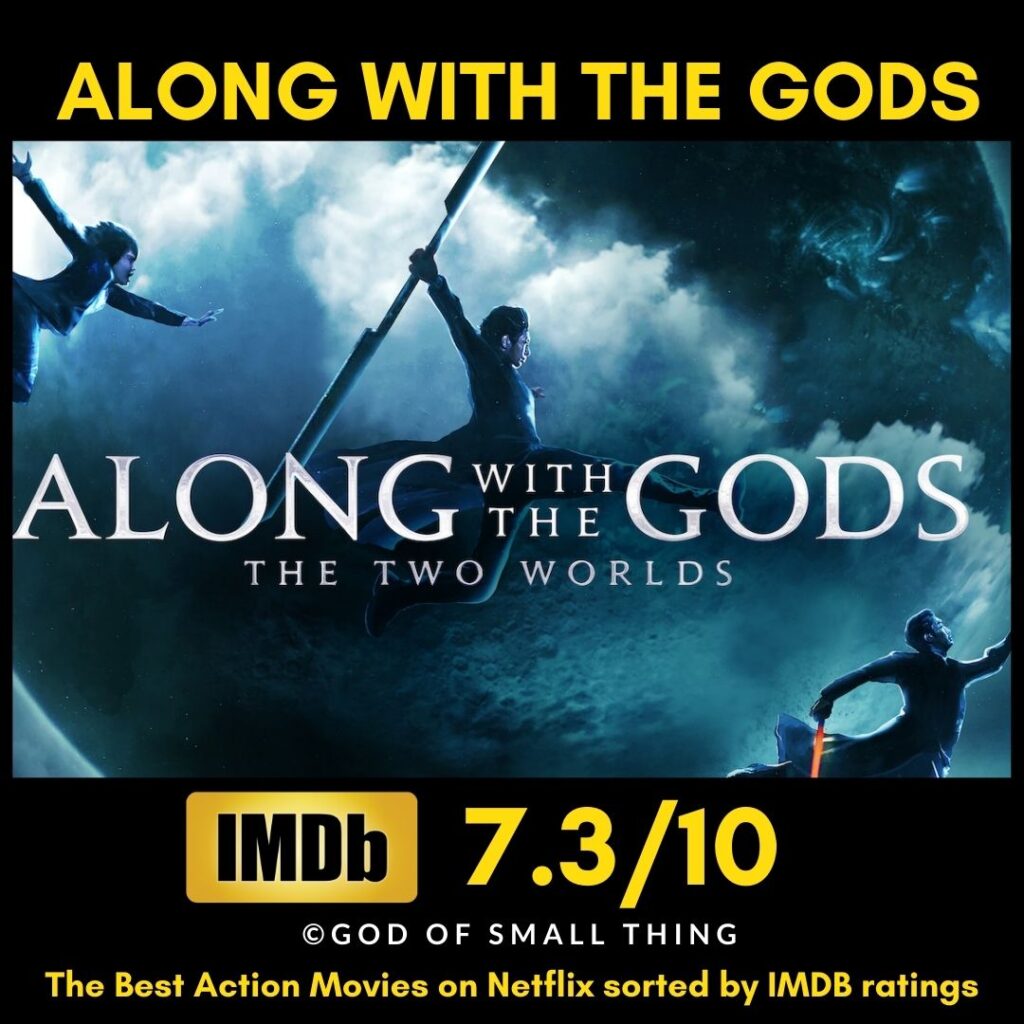 Arguably one of the best Korean action movies of all time, it is the third most viewed South Korean movie in history! An extraordinary fantasy action movie that broke many records and remains to be in my top 10 favorite Korean movies. A movie split into two parts Along with the Gods: The Two Worlds and its sequel named Along with the Gods: The Last 49 Days about a firefighter named Kim Ja-hong. He unexpectedly dies on a rescue mission and is three guardians escort him to his afterlife. But, before that, he is told that they will be defending him in 7 different trials with the seven gods of hell over the course on 49 days.
A great attempt at a deeper look into human flaws, only when he passes these trials with his guardians can he be reincarnated in his next life. However, disturbances in the afterlife leave everyone confused. Ja-hong is supposedly a good man who was a model citizen who can pass easily. But the guardians are surprised by the discoveries they find as they dig around his past. "Along with the Gods is like South Korea got a hold of a bizarrely awesome fusion of What Dreams May Come and The Frighteners. Expands on the adventure that awaits us all in the afterlife and sucker punches our tear ducts in the process." says a critic. Meanwhile, with a solid 83% audience sore and 63% on a critics score, this movie is one of the best action movies on Netflix!
Watch the trailer to Along with the Gods!
11. John Wick IMDB Rating: 7.4/10
Cast: Keanu Reeves, Michael Nyqvist, Alfie Allen, Adrianne Palicki, Bridget Moynahan, Dean Winters, Ian McShane, John Leguizamo, and Willem Dafoe.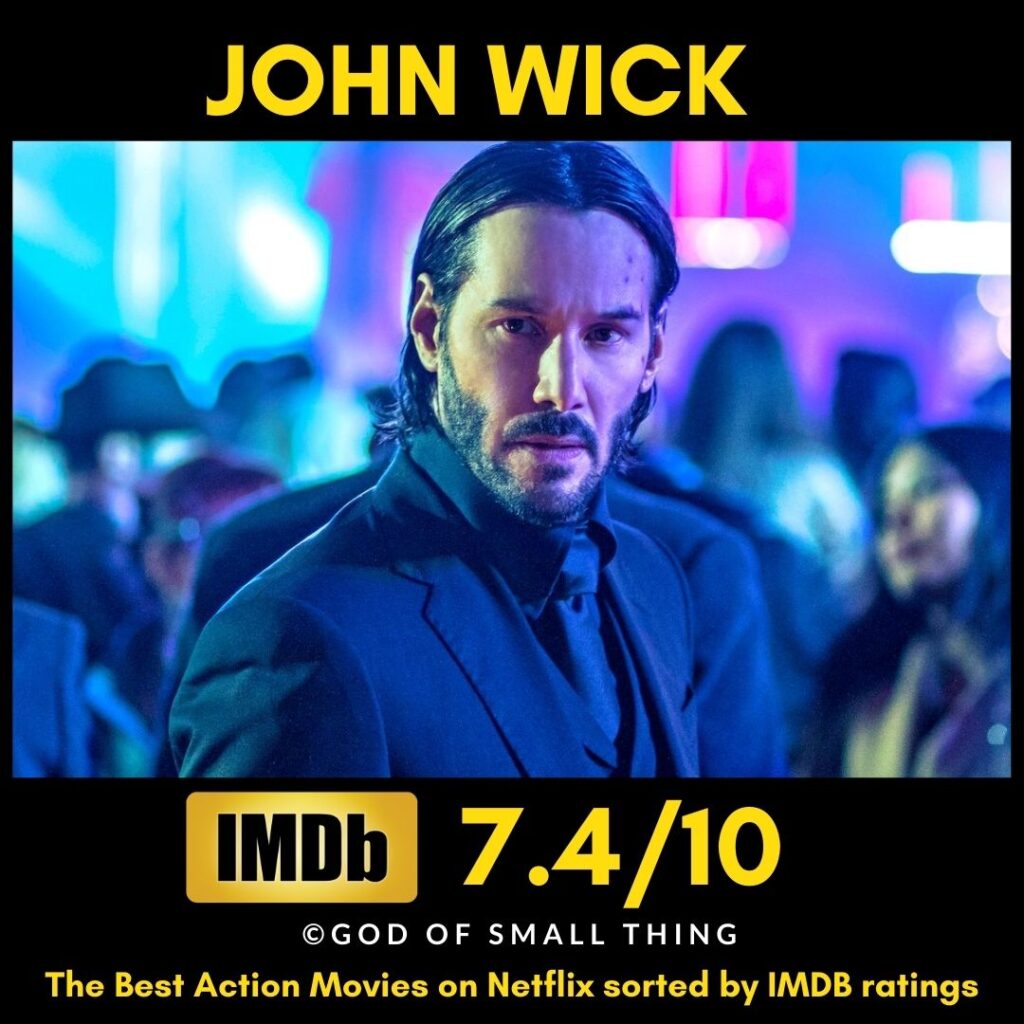 John Wick is deemed as the best action movie of all time. The character Keanu Reeves plays as John Wick is a troubled assassin who is forced into circumstances he doesn't want has won hearts across the world. For a good reason, of course, John Wick is an incredible movie that every action-movie lover will acknowledge.
John Wick loses his wife to terminal illness and gets a little puppy named Daisy to cope up with his grief. Growing attached to the dog, all he really has left is the dog and his cool vintage car. After a scuffle with a mob of gangsters, his home gets broken into. They steal his car and brutally Daisy. Furious, John returns to the job he turned his back on years ago, a legendary hitman he let's loose. Blind with revenge after losing everything he had he unleashes his ultimate destruction. He plots against the men who are actually fully aware of his skills and legends.
The movie serves a very satisfying return after one of Keanu's most iconic movies, The Matrix. A sophisticated yet brutal action movie with a violent and emotional theme. It received 86% by the critics and 81% with audience score. " John Wick works because of its sleek, artisanal dovetailing of style and sincerity." comments a critic from the UK Daily Telegraph and I couldn't agree more. However, If it weren't for the top-notch acting by the cast and the emotional quotient of the story, it would just be another violent revenge story. But, this one's different and has managed to separate itself from a general cliche troupe. It's only the first installment to a multimillion-dollar franchise it builds over the years. If you have already watched John Wick and looking for some more movies like John Wick. Have a look at our exclusive article on movies like John Wick with where to watch them online links.
Watch John Wick's trailer!
10. Mission Impossible IMDB Rating: 7.4/10
Cast: Tom Cruise, Jon Voight, Emmanuelle Beart, Henry Czerny, Jean Reno, Ving Rhames, Kristin Scott Thomas, and Vanessa Redgrave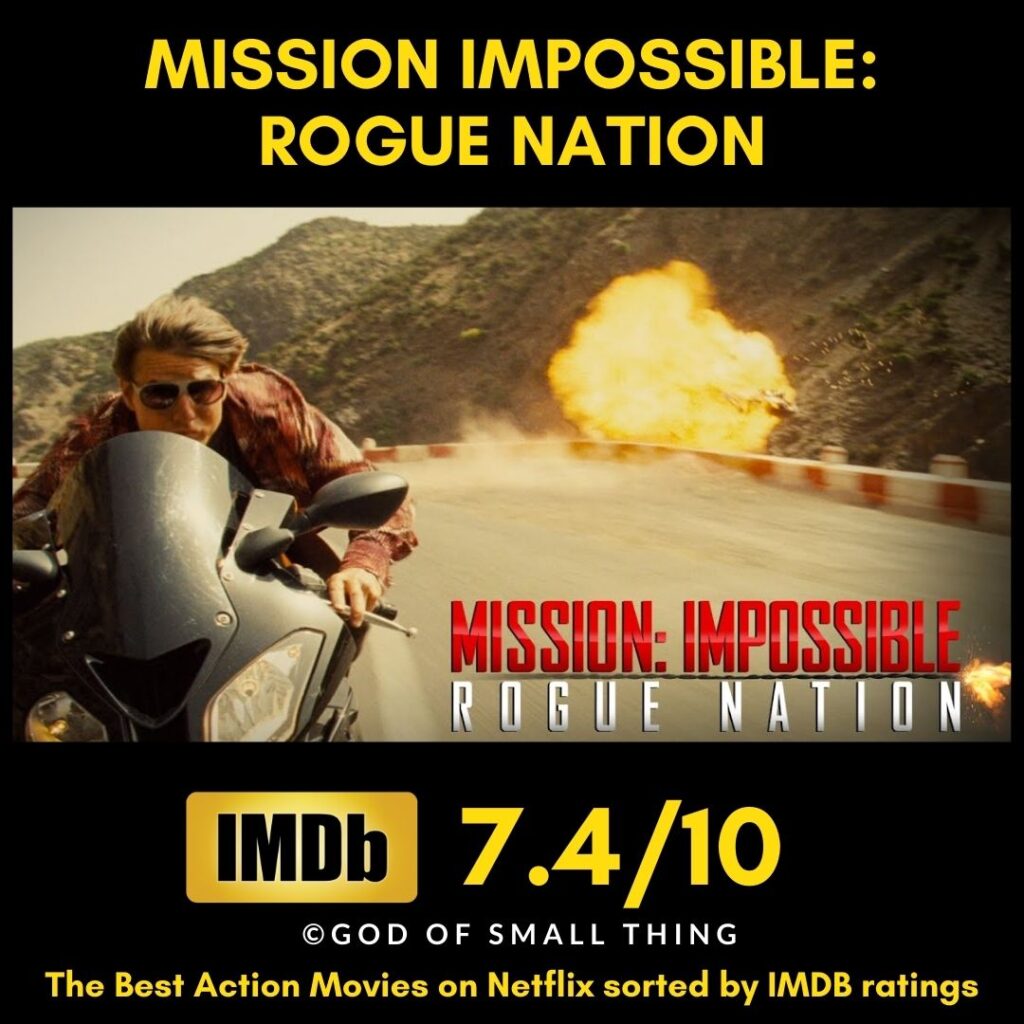 Mission Impossible is one of those movies that everyone has heard about, now I urge you to see it. It is an incredible franchise with a total of 6 movies to binge. Adapted by an American TV show with the same name about secret agents named Ethan Hunt and Jim Phelps. Jim and his team are on a mission to capture a traitor who steals and sells classified material. Everyone in his teams ends up killed, everyone except Ethan. He contacts the director to find out more and then discovers that the entire mission was to uncover a mole they've been trying to draw out. Director Kittridge explains that Ethan is the mole they were looking for, he was the mole. Ethan, knowing that it is not the truth, he escapes.
Now, he has no choice but to use some unorthodox methods and an arms dealer with the name Max to try and figure out who really set him up. He is on the run for getting framed for ambushing his own team and selling classified information and he wants to clear out his name. An incredibly entertaining movie with explosive action and a pretty solid cast. This entire franchise actually is full of action and thrilling adventures. The whole franchise has received a positive reception from critics and is one of the best selling franchises of all time. Tom Cruise is a superstar and this film series might be his most famous one by far! My favorite movie in the series is Mission: Impossible- Rogue Nation, it was top-notch, everything about it was perfect, and this is the perfect opportunity for you to binge-watch these action movies on Netflix!
Watch the trailer for Mission: Impossible!
9. Drunken Master IMDB Rating: 7.5/10
Cast: Jackie Chan, Yeun Siu-Tin, Hwang Jang Lee, Dean Shek, Lam Kau, Fung King-man, Hsu Hsia, Linda Lin, Yeun Shun-yi, and Tong Wong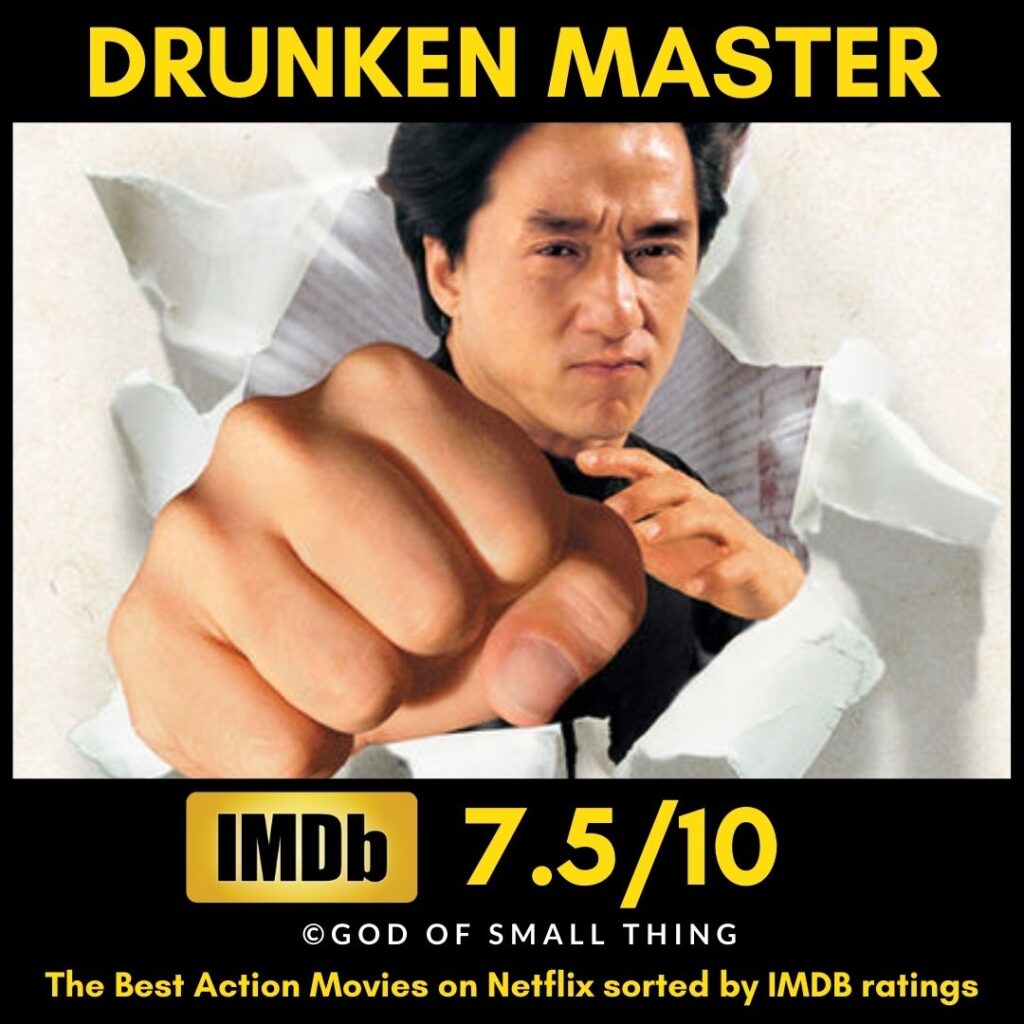 This action comedy martial arts film on Netflix is based on a traditional Chinese practitioner who has become a subject of various shows and films in Hong Kong. The story about a young man with the name Wong Fei-hung who runs in a series of unfortunate events. Afterward, his father decides to punish him by making him train harder in martial arts, so Beggar So is called upon. Beggar So is a hardcore teacher/master that is known for crippling his students while training. Every time he runs away to avoid the brutal training under Beggar So, he faces trouble that ends in him being beaten into a pulp. The utter humiliation Wong faces after being beaten up and degraded by an assassin makes him return to Beggar So to voluntarily train with him.
All the impressive fight scenes in this film are doused with comedy and Wong's egoist attitude. This movie is an early work of the martial arts/acting star Jackie Chan that made him famous. It currently ranks #3 on the best Kung Fu movies of all time and spawned sequels and spin-offs! It also secured 83% on the Tomato-meter and 85% by the audience. In conclusion, this is an incredible action movie on Netflix with hilarious yet impressive fight scenes.
Watch Drunken Master's Trailer!
8. Kung Fu Panda IMDB Rating: 7.5/10
Voice Actors: Jack Black, Dustin Hoffman, Angelina Jolie, Seth Rogen, Lucy Liu, David Cross, Jackie Chan, Ian McShane, James Hong, and Randall Duk Kim.
A hilarious comedy action movie on Netflix that has grown on me to be one of my favorite anime characters. A story about a lazy and slacker panda, Po is a huge fan of Kung Fu. However, that doesn't really come in handy in his everyday life working in his family noodle shop. Out of the blue, he is the chosen one to fulfill an old prophecy and it seems like his dreams where coming true! He joins the world of Kung fu and trains along with his idols, the Furious Five under their guru Master Shifu. But, a vengeful snow leopard was heading their way and the fate of his town is in Po's hands. Can he turn his dreams into a reality while saving his entire village?
An extremely entertaining movie that made me laugh out loud! The animation in the movie is outstanding and the soundtrack is very good! However, This action-comedy might look like a kids' movie, but trust me, adults will enjoy it equally. Kids will see fighting pandas while the adults will appreciate the little things this movie offers. Po delivers and his personality easily makes him one of the most likable animated characters. Everything about his movie was just right, nothing overdone or overlooked. It received an 87% on the Tomatometer and 82% with audience scores.
Watch the trailer for Kung Fu Panda!
7. Train to Busan IMDB Rating: 7.5/10
Cast: Gong Yoo, Kim Su-an, Jung Yu-mi, Ma Dong-seok, Choi Woo-shik, Sohee, and Kim Eui-sang.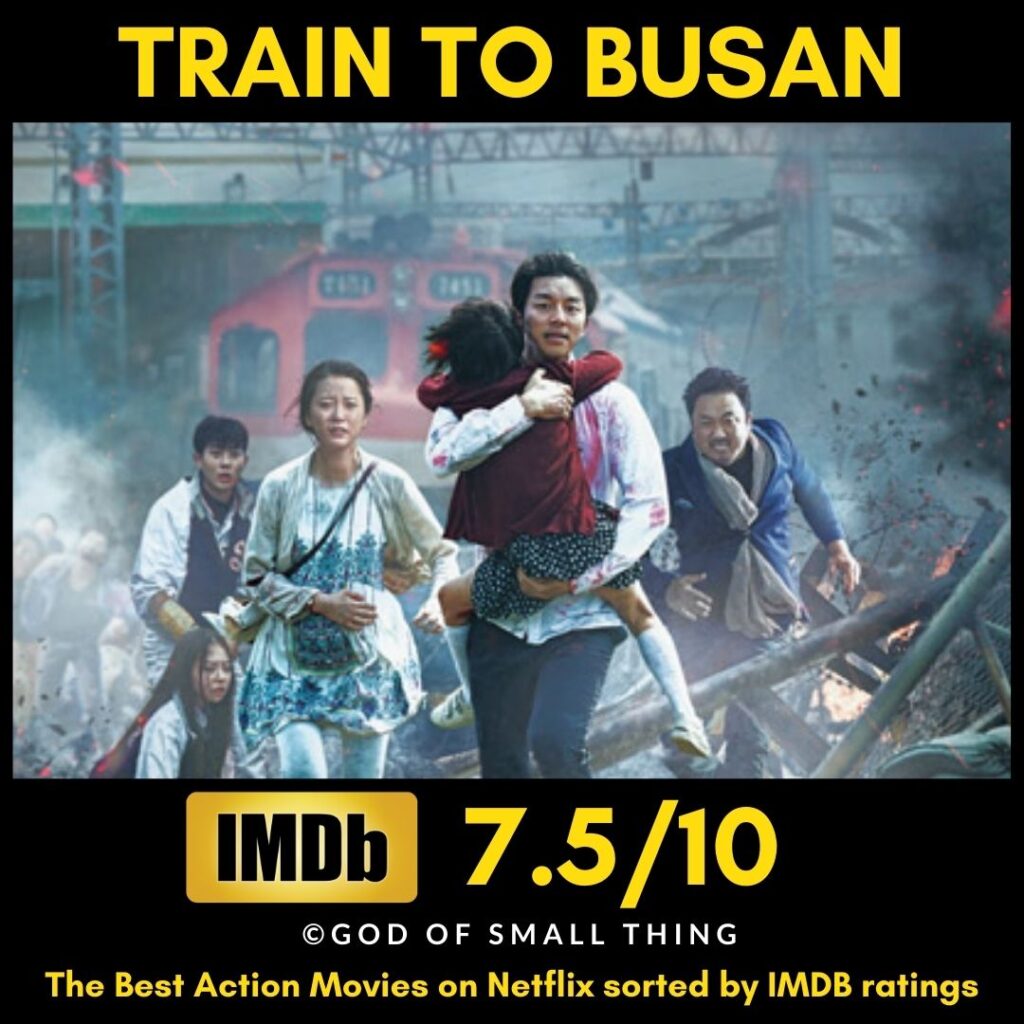 A hit horror action movie about survival, zombies, and family. Here I have another Korean action movie, but the difference is that it easily comes in my top 5. A thrilling and incredible movie about a zombie-infested Seoul. Seok-woo is a divorced workaholic that makes absolutely no effort towards his daughter. But, on Soo-an's birthday, she wishes to meet her mother living in Busan. He reluctantly boards a train to Busan without knowing that another infected woman enters the same train as them. Compartment by compartment the virus slowly spreads and he realizes that this was indeed a zombie outbreak. Together with his daughter and a couple including a pregnant wife fight for survival.
They seemed safe after they isolated their compartment from the other infected ones but it was short-lived. Soon they face the grotesque zombies and selfish humans that will do anything to survive. A purely entertaining movie with an incredible cast, well-developed characters, and very skillful action. The small compartments of the trains were very well used and portrayed the helplessness the passengers felt. Moreover, the tension built up in that small carriage was insurmountable. With a well-realized social commentary, characters you can't help but root for, and the suspense that the movie keeps constantly on the edge. You can look forward to a sequel that is currently in the works if you enjoy this movie! Undeniably one of the best action movies on Netflix at the moment!
Watch the trailer for Train to Busan!
6. Fury IMDB Rating: 7.6/10
Cast: Brad Pitt, Shia LaBeouf, Logan Lerman, Michael Peña, Jon Bernthal, Jason Isaacs, and Scott Eastwood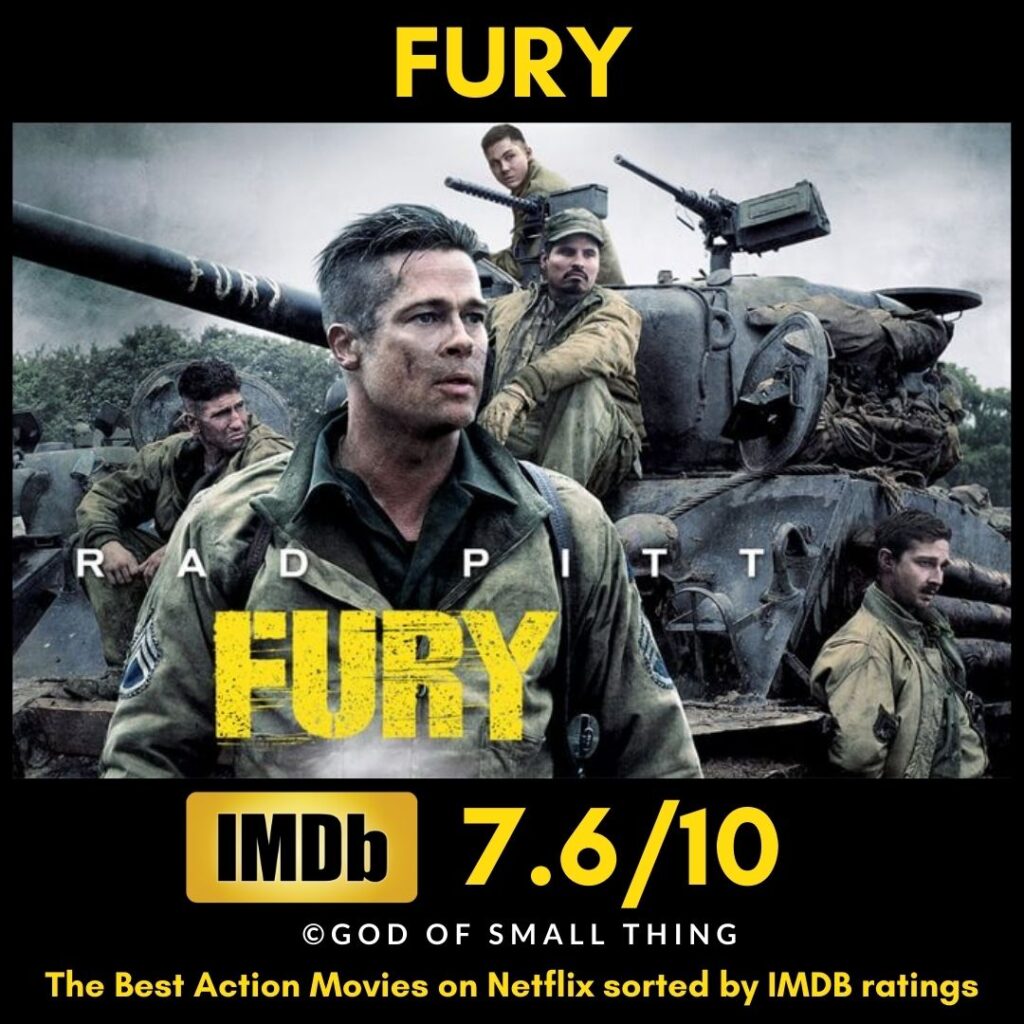 A raw war action movie that depicts the events of the U.S. tank crews fighting in Nazi Germany in the very final weeks of World War II. The trailer for this movie gave me the chills, it was packed with intensity and made my heart race. The movie was even better. During a coordinated Western ally attack to Nazi Germany in 1945, Hitler was bracing for the last stand. An Army Sergeant Don Collier and his crew of five veteran soldiers fight desperately against the enemy. On a fatal mission behind the enemy lines, the crew feels helpless. They were essentially outnumbered with a rookie soldier who was hesitant to fire a bullet.
Collier takes his men and leads them into battle where they face overwhelming odds as they make attempts to strike Nazi Germany at its heart. An unflinching and raw account of the events of the war, where the production impressively delivers a sold WWII film. The cast is exceptional with incredible actors that really played their part. "War is Hell" the message was loud and clear with this movie, the struggles, and fear every soldier felt was really well-portrayed. It secured an 84% audience score, it is indeed a great action movie on Netflix that will leave you in awe.
Watch the trailer for Fury!
5. Ocean's Eleven IMDB Rating: 7.7/10
Cast: George Clooney, Bernie Mac, Brad Pitt, Elliott Gould, Casey Affleck, Scott Caan, Eddie Jemison, Don Cheadle, Shaobo Qin, Matt Damon, and Carl Reiner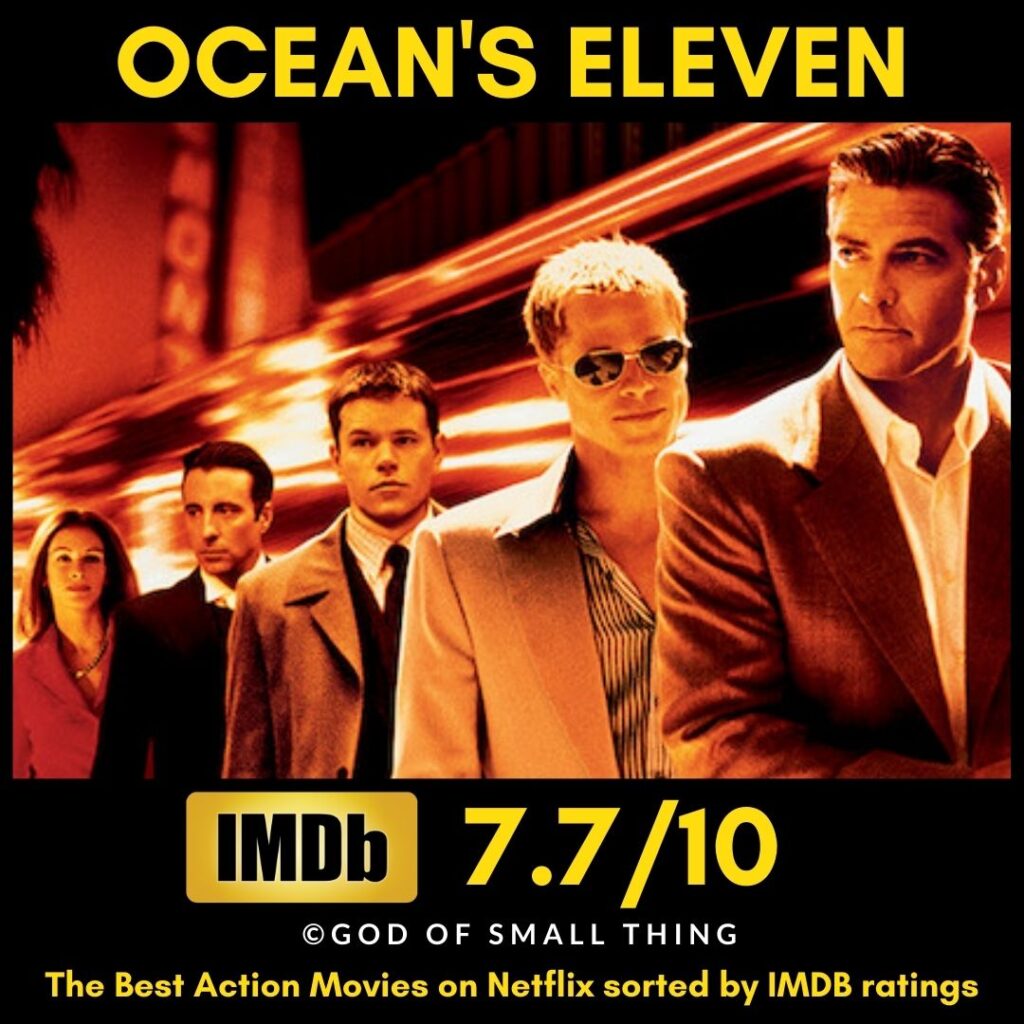 Here we have an action-adventure movie on Netflix that is a star-studded flick with fast-paced action and witty comedy. A heist movie that all starts when Danny Ocean, who violates parole to meet up with a friend in California. He proposes a grand heist to his friend Rusty Ryan and they recruit nine former criminal specialists and colleagues to pull it off. Linus is a talented pickpocket, Frank is a con man and a casino worker, Virgil and Turk are mechanics, Livingston is skilled in surveillance and electronics, Saul is yet another con man while Basher is an explosives expert. The team gathers to plan the heist while combing their skills and working like a perfect machine. The scheme is to rob three huge casinos owned by a ruthless man that goes by the name of Terry Benedict.
With their own specialties, they assist Ocean to steal a whopping $150 million from an underground vault. A ridiculously enjoyable movie puts a huge grin on your face. It is smoothly executed by the production while George Clooney steals the show with his acting and presence. Of course, a heist movie is nothing original, but the thrill and exhilaration one feels while watching this film is great. It has a well-written script and a good director along with a star-cast, what else could one need? Watch this classic action-adventure movie on Netflix now!
Watch the trailer for Ocean's Eleven!
4. The Bourne Identity IMDB Rating: 8/10
Cast: Matt Damon, Franka Potente, Chris Cooper, Clive Owen, Brian Cox, Adewale Akinnuoye-Agbaje, Gabriel Mann, Julia Stiles, and Orso Maria Guerrini.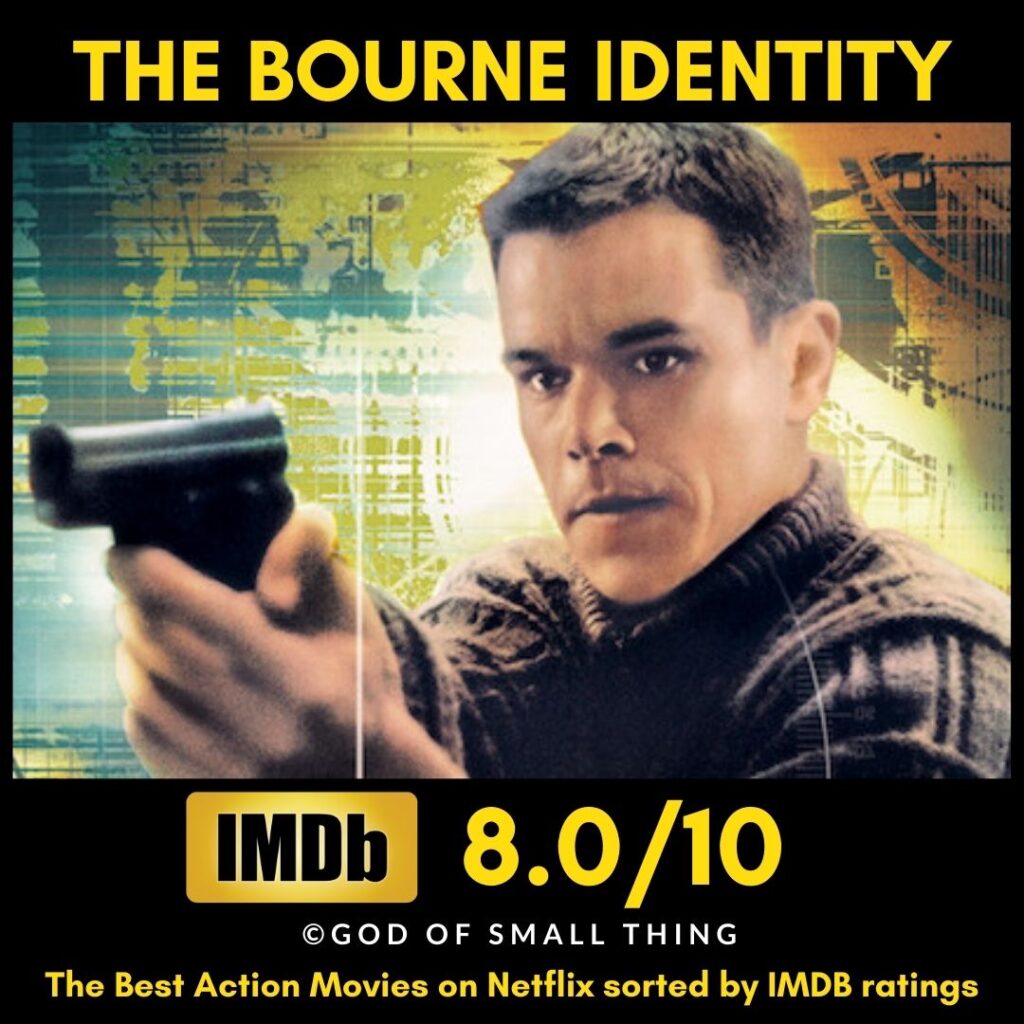 This movie managed to blend genres with witty dialogues and some killer action. Based on a suspense novel, this movie franchise starring Matt Damon is an action-adventure tied with some spectacular mystery and suspense throughout. On a rather story night a man is pulled out barely alive of the Mediterranean by a crew of fishermen. Assuming the man is dead, a curious man pulls out the two bullets and a laser chip embedded in his hip. When he wakes up with amnesia, the only clue he has to his identity is a bank account number etched in the chip. He quickly finds the bank where money, gun, and a few documents wait for him. Bourne soon realizes that there's no one he can trust after he pursued by people.
He pays a German Gypsy Marie for a ride to Paris and encounters even more professional assassins hellbent to his destruction. That's when he discovers his abilities of perfect skill combat, martial arts, and linguistics, talents that are handy. All his talents point towards one direction, he was a spy or an assassin, but for whom did he work? Was he a good guy or a bad guy? These were the things he needs to figure out, with the help of Marie he inches closer to the truth and his memories, something so secretive that even the CIA officials want to be concealed at any cost.
A first-rate action thriller that has managed to keep perfect pacing with its story. This entire franchise is praised for its real combat and action without the use of too many effects and CGI. It secured a whopping 93% for its audience score and the series just get better as the movie go forward. To me, the third installment of the franchise is the best, which is rare, usually, as the movies go forth the following parts become dull and uninteresting. Definitely an amazing action available on Netflix right now!
Watch the trailer to The Bourne Identity!
3. V for Vendetta IMDB Rating: 8.2
Cast: Natalie Portman, Hugo Weaving, Stephen Rea, Stephen Fry, John Hurt, Tim Pigott-Smith, Rupert Graves, and Roger Allam.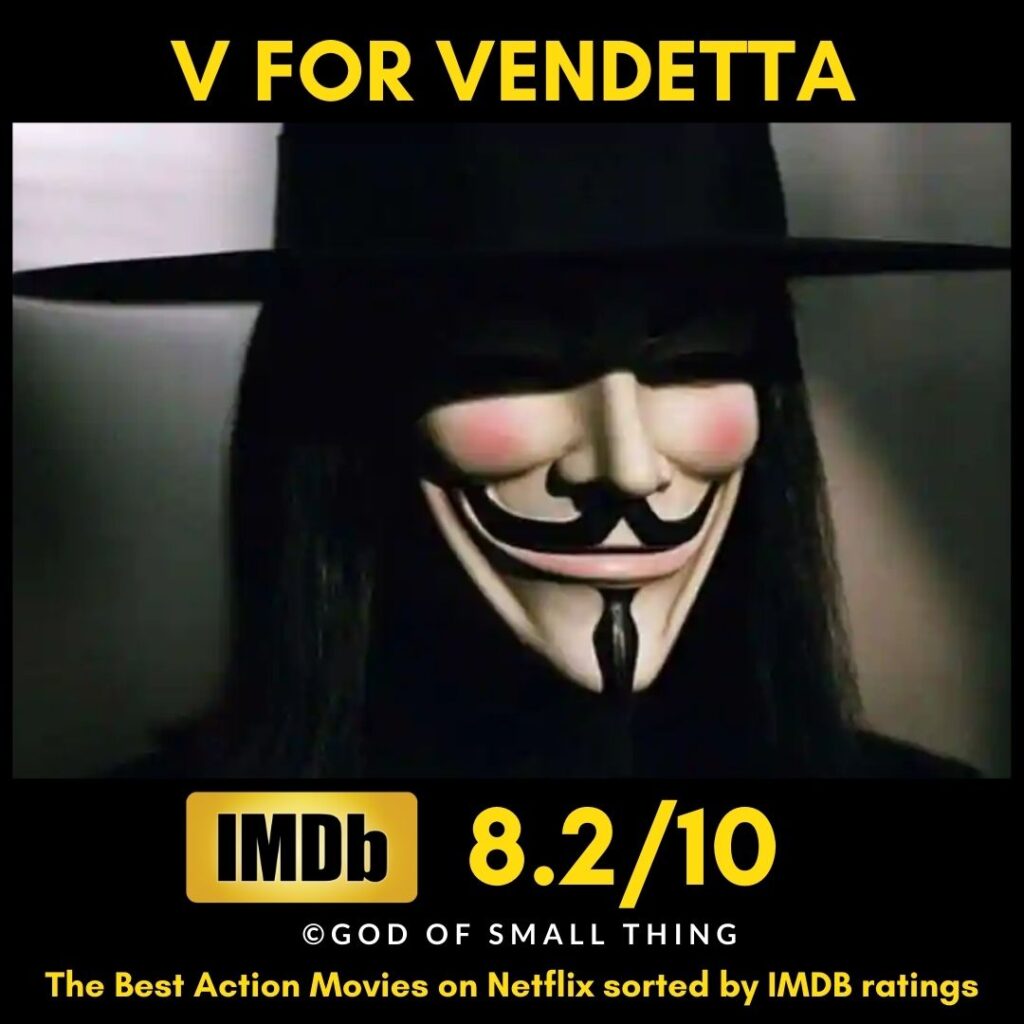 Set in the near future of the year 2020 with the backdrop of the political and humanitarian crisis the people go through. Britain contains "undesirables" like immigrants, Jews, Muslims, atheists, homosexuals, and other minorities in concentration camps execution. Amidst the utter chaos that breaks out, only one man named V dares to stand against the government. However, he gets called a terrorist but he saves people. One night he saves a young woman named Evey that ends up in an unlikely alliance.
But V doesn't hate the government for only the reasons we think, they did him wrong ages ago. He fights against the regime by blowing up important buildings and on November 5th everyone who stands with him against the government comes together once for all. However, a detective becomes obsessed with uncovering the truth about V but all his findings make him question whether he is on the right side. This dystopian action movie is enthralling and dark with the disturbing truths of the world we live in. A visually thrilling action movie that gives you chills. Find this action movie on Netflix! It secures a 90% on the audience score and 73% by the critics on Rotten Tomatoes.
Watch the trailer for V for Vendetta!
2. The Matrix IMDB Rating: 8.7/10
Cast: Keanu Reeves, Laurence Fishburne, Carrie-Anne Moss, Hugo Weaving, Joe Pantoliano, Marcus Chong, Anthony Ray Parker, and Julian Arahanga.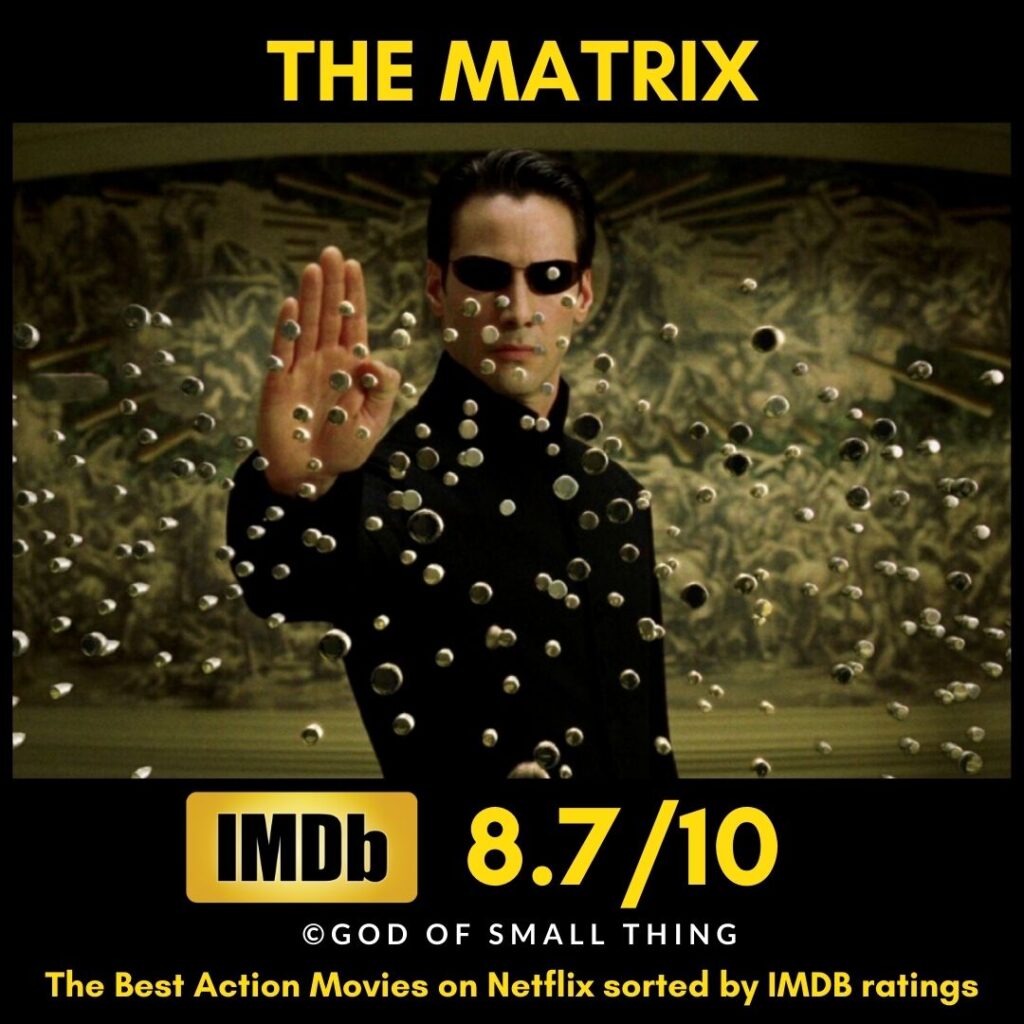 Another action movie on Netflix by Keanu Reeves! The Matrix is an iconic movie that is basically the godfather of all dystopian cyber-punk kinda action movies. This movie accumulated a whopping $46 million at the time, that amount of collection at the time tells how insanely well this movie did. All the top-notch action in this movie is highly inspired by Japanese martial arts. With 88% by critics and 85% on the audience score, It is considered to be the best science-fiction action movie of all time! In a hardcore cyberpunk setting, Thomas is leading a dual life. By the day he is a computer programmer and at night, he is a swift hacker called Neo. Neo always questioned reality often, to him things didn't add up.
But, in reality, the truth is something far more than his wildest imagination. Every night he waited for a hint, a signal, something that proved his suspicions. Until one night he meets Trinity, a mysterious woman seeks him out to introduce him to someone. Eventually, he meets Morpheus. He reveals the real truths of the world to Neo, essentially the world they live in is an illusion. This world is an AI system that taps into people's minds and uses their brains and bodies as energy. However, when they are though they dispose of the bodies and use the next. Morpheus is sure that Neo is the one who will bring freedom to people's bodies and liberate their bodies. A spectacular movie that only gets better as the movies in the franchise progress.
Watch the trailer for The Matrix!
1. The Lord of The Rings IMDB Rating: 8.9/10
Cast: Elijah Wood, Sean Astin, Andy Serkis, Ian McKellen, Viggo Mortensen, Cate Blanchett, John Rhys-Davies, Bernard Hill, and Billy Boyd.
Best action movies on Netflix 2023: one of the most popular and arguably the best book-to-movie adaptation. The Lord of the Rings franchise is one of the best fantasy-adventure action movies of all time! Masterfully paced and the plot builds towards the trilogy that I know and love. All about a meek little hobbit from the Shire and his 8 companions setting out on an adventure. The ancient One Ring that was lost has finally resurfaced. These rings were forged by the elven-smiths and Sauron. One Ring was forged to contain Sauron's destructive powers to rule over others. By chance or fate, the One Ring lands with a tiny hobbit named Frodo. When Gandalf realizes that the ring has powers beyond imagination Frodo needs to take the ring on an epic quest to the Cracks of Doom, the place of its birth to destroy it one for all.
Powerful and unrelenting forces continue to seek the ring the power of the rings grows as evil spreads through the lands of Middle-Earth. The fellowship needs to complete the task at hand or the ring will soon overpower them and leave the world ravaged by Sauron's rage. This incredible fantasy franchise made an unbelievable $2.981 Billion at the box office. It is one of the most influential movies ever made, and for a reason! Each and every film is critically acclaimed and praised and bagging most of the Academy Awards. The first movie itself has a 91% on the Tomatometer and 95% of an audience score and the movies just get better!
Watch the trailer to The Lord of the Rings!
Here you have it! I deliver to you a list of the best action movies on Netflix India. There are better movies out there somewhere, but these are the ones that you can binge on if you have access to Netflix. The best-rated action movies of all time weren't really available in our region, but I found the top action movies! However, if you really wish to have a list of the best action movies of all time, I recommend you watch the MCU superhero movies (Iron Man, Captain America, Thor, Deadpool, Avengers, or the Guardians of the Galaxy). Other movies like Jumanji, The Kingsman franchise, Avatar, Atomic Blonde, and the X-Men series. I hope you add some movies to your watch-list enjoy these action movies on Netflix!
Romance is a feeling of excitement and eagerness associated with love and the person you adore. Romantic movies have honestly that feeling wali thing that we all long for sometimes. So in case, you wish to give them a try. Check this out: The Best romantic movies on Netflix with reviews and user rating