Easy Homemade Fettuccine Alfredo Recipe | Ingredients | Nutritional Value and more
Whenever we speak of Italian cuisine, Pasta is a top choice for many. No matter how happy you are or how sad you are, pasta can always bring a smile to your face. This incredibly amazing food is available in a huge variety, of different colours, shapes, figures, and textures. It is the world's most accessible food, does not require intense preparation, and is extremely delicious. People all around the globe celebrate the existence of pasta in their way. Traditionally it is an Italian dish and hence curated in Italian flavours. We are here with Fettuccine Alfredo Recipe to curb all your cravings. Fettuccine Alfredo has highly appreciated for its creamy texture, loaded with lots and lots of cheese and herbs. If you're fond of pasta and cheese then this could be a must-try recipe on your list. You can also use spaghetti instead of pasta and make it spaghetti alfredo at home. Before you move forward we would like you to know that the fettuccine pasta recipe has been updated and the content provided to you is fresh. If you wish to reach out to a particular section in this recipe, just click on the buttons below.
"My favourite food at the moment is Pasta, with tons of shaved Parmesan on the side. Not crumbly but like the hunks, you know what I mean when you get the thin slices." -Kirsten Dunst
What is Fettuccine Alfredo?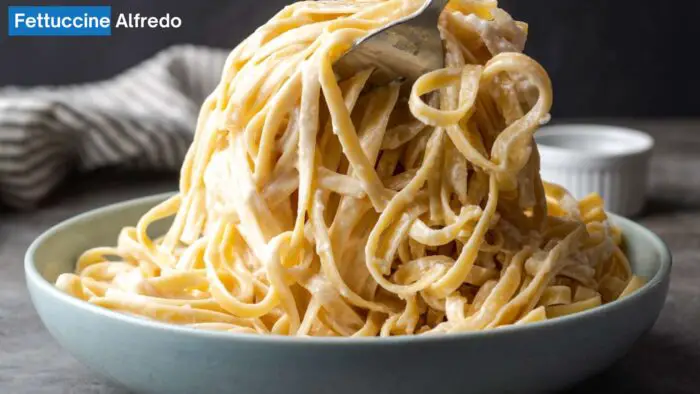 Fettuccine Alfredo has had a really long journey. The fame of Alfredo's fettuccine spread, first in Rome and then to other countries. Initially, fettuccine Alfredo was made with three simple ingredients including butter, Parmesan, and pasta water. Slowly and steadily as the trend changed, people started using different types of cheese and herbs to enhance flavours. This is one of the easiest pasta recipes that only takes around 30 minutes to be prepared. Let us take a closer look at how this pasta is made
To be specific, you can make pasta from scratch at home or buy it from the market. At home, Pasta is prepared with unleavened dough of ground durum wheat and water or eggs. The use of durum wheat distinguishes pasta from other types of noodles. Due to its high gluten concentration and low moisture level, durum wheat is ideal for pasta manufacture.  The durum wheat dough is compressed into sheets, cut into various shapes, and cooked.
What is a Fettuccine Alfredo made of?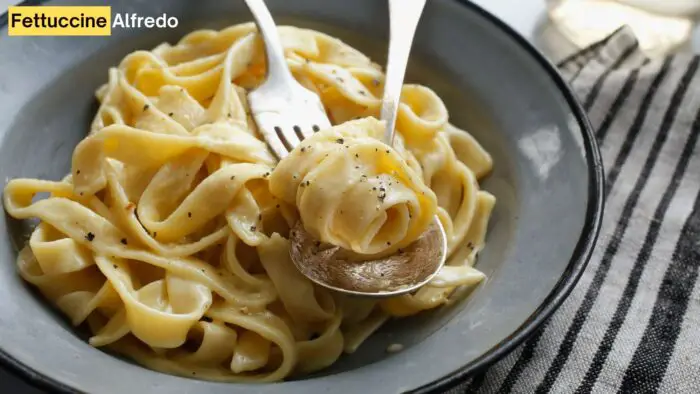 It requires just a handful of ingredients that are easily available at home. All you need to make sure is that everything you get is fresh so that the flavours are accurate and strong.
Fettuccine Alfredo Ingredients
| | |
| --- | --- |
| Ingredients | Quantity |
| Fettuccine Pasta | 1 lb |
| Tablespoons Butter | 6 |
| Garlic Clove (minced) | 1 |
| cups Heavy Cream | 1 1/2 |
| teaspoon salt | 1/4 |
| Cup Shredded Parmesan Cheese | 1 1/4 |
| Teaspoon Pepper | 1/4 |
| Tablespoons Italian Parsley | 2 |
How much time will it take?
| | | |
| --- | --- | --- |
| Prep Time |  Cook Time |  Total Time |
| 5 minutes |  15 minutes |  20 minutes |
 Fettuccine Alfredo Recipe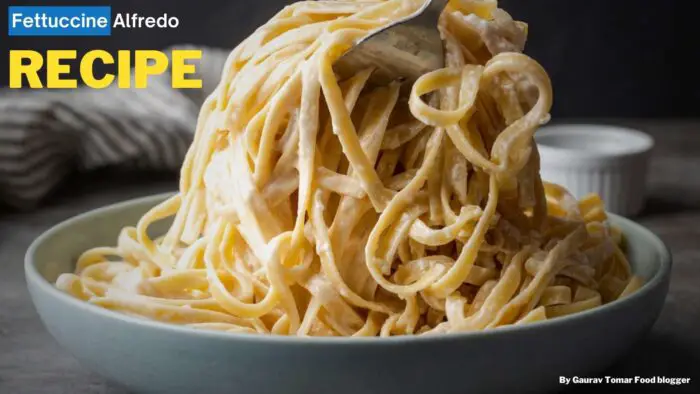 Preparing Fettuccine Alfredo is not a difficult task especially when you are getting pasta from the market. All you need to do is just take care of all these steps and there you go.
First of all, in a large pot, heat water with added salt. When it starts boiling, add pasta as per the instructions given on the pasta packet.
While your pasta is being cooked, take a pan on medium heat and add butter to it. Then add minced garlic and sauté it.
Add cream to your butter and garlic and blend it, until it comes to a boil.
Have a whisk in your hand and start adding parmesan along with salt and pepper. You can add any seasoning of your choice but Italian seasoning would be the best.
Simmer the flame for two minutes and let your pasta sauce thicken up. Moreover, as the sauce keeps getting cold, it will get thicker and thicker.
Now, finally, add your pasta along with a little pasta water and cook it for a few minutes.
Garnish Fettuccine Alfredo with parsley and have it hot and fresh
Looking to host a house party? Serve your friends an amazingly curated Grateful Dead Cocktail. Here's everything you need Including Ingredients, Nutritional Value, Instructions, Video Tutorial – Grateful Dead Cocktail Recipe
Nutritional value of the Fettuccine Alfredo pasta:
| | |
| --- | --- |
| Calories |  964.3 |
| Protein |  23.7g |
| Carbohydrates |  84g |
| Dietary Fiber |  3.8g |
| Sugars |  4g |
| Fat |  61.2g |
| Saturated Fat |  37.4g |
| Cholesterol |  184.2mg |
| Vitamin A Iu |  1911.3IU |
| Niacin Equivalents |  8.6mg |
| Vitamin B6 |  0.2mg |
| Vitamin C |  0.4mg |
| Folate |  227.4mcg |
| Calcium |  303.2mg |
| Iron |  3.4mg |
| Magnesium |  66.3mg |
| Potassium |  284.7mg |
| Sodium |  581.6mg |
| Calories From Fat |  550.8 |
How to Make Fettuccine Alfredo at Home | Video
What does a Fettuccine Alfredo taste like?
It is very rich and creamy because of the heavy cream used along with Parmesan cheese. The hint of garlic brings in a lot of flavors. If you're thinking of missing this step, then you're missing something great. The freshness of parsley could ace the flavor. Overall, it is a perfect meal that you can have any time of your day. It is enriching and flavourful
Take care of the following while curating Fettuccine Alfredo
Make sure that you boil pasta in a large pot that has plenty of water. Add salt to your water, so that your pasta is cooked perfectly
Add garlic and butter together, if not there are chances of your butter getting burnt
It is recommended to use heavy cream to retain the thick texture. Put the flame on simmer and give it time to thicken.
Add pasta water as it is nutritious and flavourful
Make sure that you use fresh parsley, to enrich the flavor
Do not overcook your pasta as it would lose its texture
Pasta is love and we hope you loved this Fettuccine Alfredo recipe! Well, if you try this at home, then click a picture and don't forget to tag us! If you are looking for more such amazing recipes, take a look at Recipes at Godofsmallthing and you can also follow Gaurav Tomar aka foodparadise on Instagram for more such videos 😀