How to make a Grateful Dead Cocktail Recipe| Ingredients | Nutritional Value | Tutorial
The grateful dead drink is a cocktail that can be made during parties and events. It is very easy to make at home and requires only five ingredients. Now, summers are just on the loop and we seriously have to think about discovering our drinks menu. This drink is one of the most cherished drinks all around the globe, the exciting taste along with the bright color makes it look heavenly. Hence, for your comfort, we are here with the recipe of the grateful dead drink. We have recently updated the article, to provide you with the best and the most updated version of the recipe. Moreover, the article is light on the ingredients, time is taken in adding the recipe, nutritional value along the video attached at the end. Towards a particular section, you may click on the button below. Let us take a look into the specifications of the grateful dead cocktail. Looking for a vodka cocktail recipe? Here you go!
What is a Grateful Dead Drink?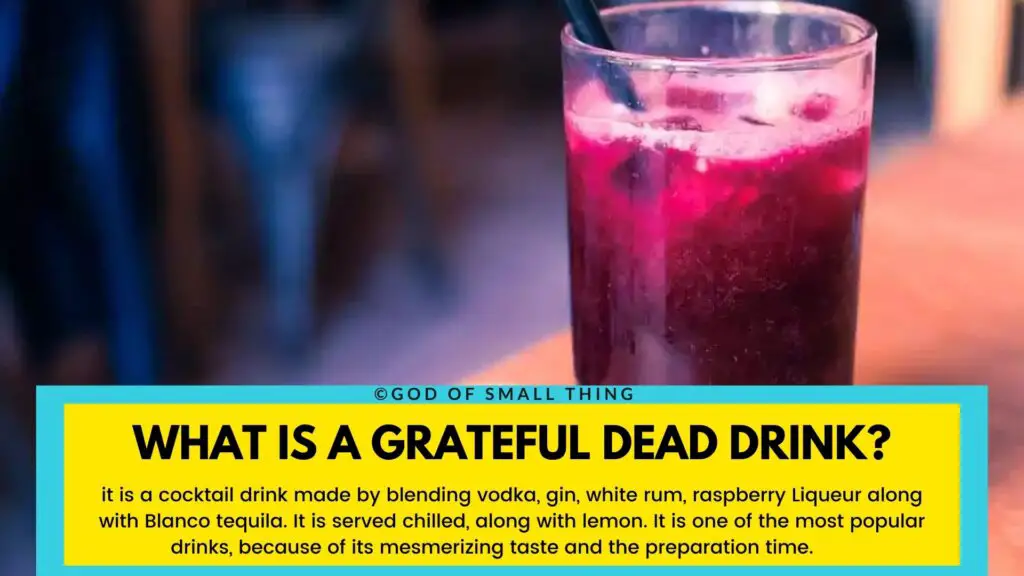 You might be wondering, what is a grateful dead drink. As per the name, it might be something thrilling and scary. Well, it is a cocktail drink made by blending vodka, gin, white rum, raspberry Liqueur along with Blanco tequila. It is served chilled, along with lemon. It is one of the most popular drinks, because of its mesmerizing taste and the preparation time.       
Grateful Dead Drink Ingredients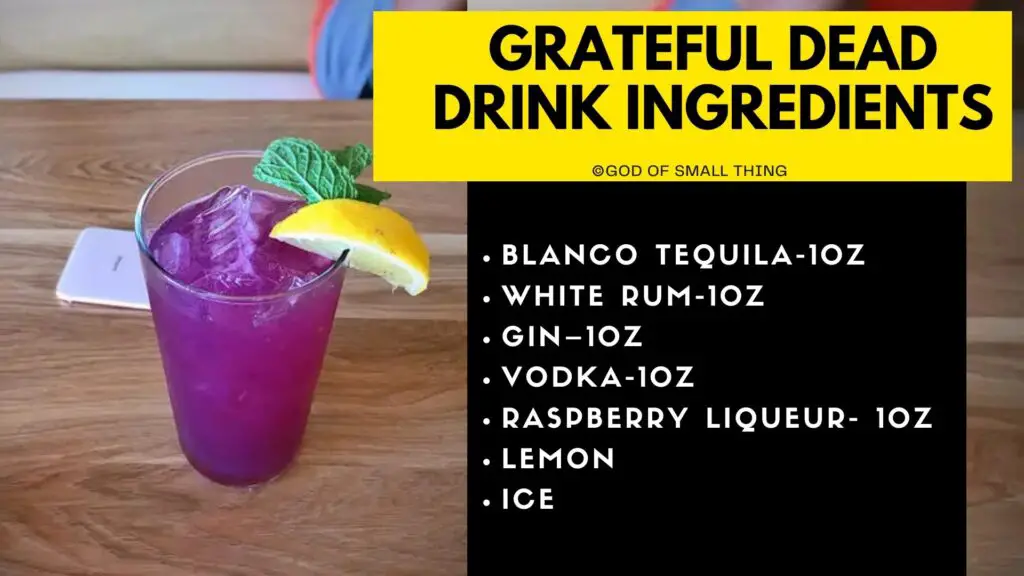 The grateful dead drink is a very easy recipe that requires just a handful of ingredients. All of these ingredients are easily available in the market, all you need to do is grab and serve. Let us take a look at the ingredients of the cocktail.
Blanco tequila-1oz
White Rum-1oz
Gin–1oz
Vodka-1oz
Raspberry Liqueur- 1oz
Lemon
Ice    
How much time it will take?
| | | | |
| --- | --- | --- | --- |
| Prep | Servings | Total | Yield |
| 5 Mins | 1 | 5 Mins | 1 Cocktail |
How much time does it take to make a Grateful Dead Drink?
Grateful Dead Drink Recipe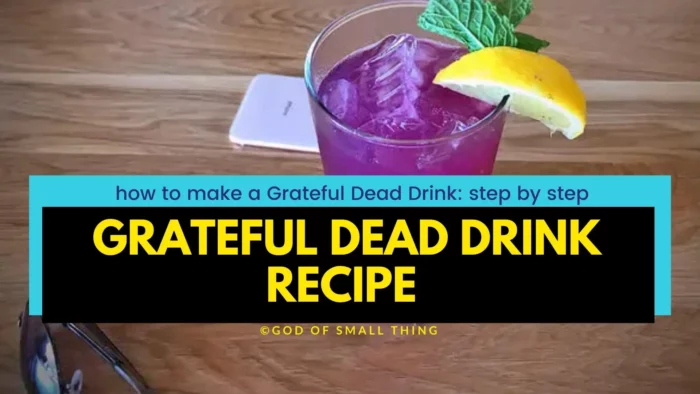 Now, it's time to reach the climax. The recipe to make the grateful dead cocktail is here. Fast in your seat belts and get ready for the amazing ride.
First of all, in a shaker tin, add ice cubes.
Add vodka, tequila, Rum, Raspberry Liqueur, and gin to the shaker.
Take a glass and add more ice cubes to it
Strain the cocktail in the glass full of ice
Cut a lemon wheel and added to the glass.
Yayy, your cocktail is ready to be served
Nutritional Value of Grateful Dead Drink
If you are a diet conscious person, we are here with a full nutritional list of the grateful dead cocktail
| | |
| --- | --- |
| Calories       | 403 |
| Sodium       | 11mg |
| Total Fat     | 0.1g |
| Protein        | 0g |
| Total Carbohydrates | 19.3g |
| Potassium   | 1mg |
Grateful Dead Drink Nutritional Value
HOW TO MAKE GRATEFUL DEAD DRINK AT HOME | VIDEO
Take care of the following while making Grateful Dead Drink at home
There are certain things that you need to keep in mind before making the grateful dead cocktail.
Firstly, always measure the exact measurements of all five ingredients. Sometimes, messing up could change the taste of your drink.
Always serve it chilled, rather than warm, or at room temperature.
Do not use excess lemon, it would degrade the taste of the drink
So, what did you think of our Grateful Dead Cocktail recipe? If you try this at home, and post on your socials don't forget to tag us! Want to watch more recipe videos and read recipe blogs, check out our food section. Recipes by Godofsmallthing
In case, you are willing to try out some other drinks recipes, we would recommend you to try the vegan bomb drink. Try impressing your friends out with the Vegas bomb at your party. With Ingredients, Nutritional Value, Instructions, and Video Tutorial, Heres the drink recipe for you: Vegas bomb Recipe