Who Created ShinChan? Shin Chan's real story – Everything You Need to Know
If you're into Japanese animation, you've probably seen the Shin Chan cartoons. Millions of people all over the world have fallen in love with this offbeat show. Because of its special brand of warmth and humor, Shin Chan has become an institution in Japanese popular culture. You must have had a lot of questions about Shin Chan–one of the most frequently asked Is Shin Chan a real story? What is Shin Chan's real story? Who created Shin Chan? How did he die? What's Shin Chan's real story? Everything you ever wanted to know about Shin Chan is right here, from the man behind the show to the backstory of the show's most popular character.
Who Created Shin Chan?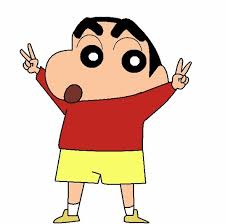 Yoshito Usui, a Japanese manga artist, created Shin Chan. In 1990, when Usui first started penning the manga series, it was already a huge success. In 1992, an anime adaptation of the series was released, and the rest is history. Until his untimely death in 2009, Usui kept up with the manga's writing and artwork.
Shinnosuke Nohara, better known by his nickname Shin Chan, is a rambunctious young boy who is the protagonist of the Shin Chan stories. The main characters, Shin Chan and his pals, frequently find themselves in absurd situations that the show's audience finds hilarious. Despite all the crazy antics, the show has a lot of heart, and the characters are easy to root for.
When was Shin Chan Born or Started?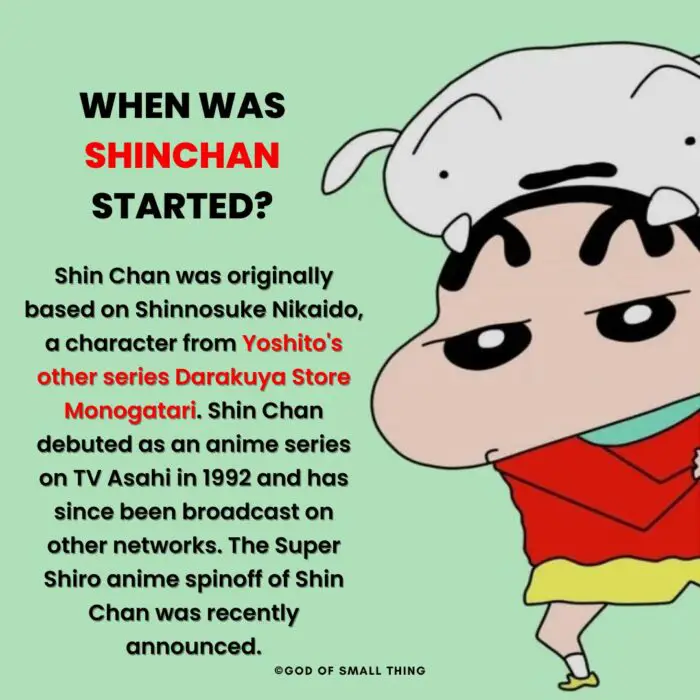 Usui introduced Shin Chan to manga readers in 1990. On September 11, 2009, however, the manga had to be discontinued in its original form. In the summer of 2010, the cartoon character made his return in a new manga titled New Crayon Shin-chan. Shin Chan was originally based on Shinnosuke Nikaido, a character from Yoshito's other series Darakuya Store Monogatari. Shin Chan debuted as an anime series on TV Asahi in 1992 and has since been broadcast on other networks. The Super Shiro anime spinoff of Shin Chan was recently announced. Are you enjoying Shin Chan's real story? Let's dive in further…
How did Shin Chan Die?
Yoshito Usui's tragic death on September 11, 2009, after a fall from the summit of Mount Arafune, put an end to the Shin Chan anime series and the manga comic character that he had created in 1992. The character of Crayon Shin Chan, however, "lived" on until March 2010 when new manuscripts featuring the young boy were discovered.
Revealing Shin Chan's real face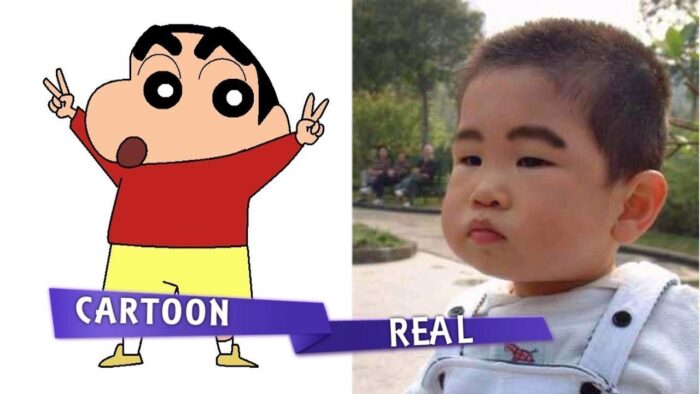 Shin Chan, the cartoon character, is obviously meant for the entertainment of young children and kids, but the anime series is surprisingly dark. According to many readers, this is because Shin Chan's rather tragic real story is based on a child who served as inspiration for the manga character.
It seems that the five-year-old version of Shin Chan is based on a real boy named Shinnosuke Nohara. While attempting to save his younger sister, Nohara was killed in a car accident. After her son's death, Misae's mother went through a period of profound sorrow, during which she began drawing portraits of her late child. As a grieving mother colored pictures of her late child, memories of young Nohara and his antics came flooding back. When Usai finally got around to looking at those paintings, he was struck by the depths of despair and hope they conveyed. Shin Chan's true story quickly became a phenomenon after it was revealed that he was a real boy who had returned as a manga character through some crayoned images.
Consequently, even if Shin Chan were a cartoon, the series would never reach its conclusion. The series finale would have followed Shin Chan's actual story, in which he sacrifices himself to save his younger sister from a car crash on a local road. It is still widely speculated and discussed whether or not Shin Chan was based on a real boy.
Is Shin Chan actually a real character?
Apparently, Usui saw in Shin Chan a reflection of his own youth. Usui set out to give Shin Chan the personality of a rebellious young man who had big dreams but was held back by the limitations of the real world.
In the 1990s, Shin Chan was an adult cartoon show because it dealt with serious issues and situations from real life. Shin Chan, however, "grew" into a more family-friendly show as its popularity increased. It's no surprise that the character and the show's popularity skyrocketed as a result. The authenticity of Shin Chan's story also resonated with viewers, propelling the show to unprecedented success.
Movies based on the character Shin Chan
Among the highest-grossing anime series of all time, the films based on the character of Shin Chan that depict Shin Chan's true story rank sixth.
Crayon Shin-chan: The Hidden Treasure of the Buri Buri Kingdom
Crayon Shin-chan: Action Mask vs. Leotard Devil
Crayon Shin-chan: Jungle That Invites Storm
Crayon Shin-chan: Great Adventure in Henderland
Crayon Shin-chan: Pursuit of the Balls of Darkness
Crayon Shin-chan: Fierceness That Invites Storm! The Hero of Kinpoko
Crayon Shin-chan: Fierceness That Invites Storm! Operation Golden Spy
Crayon Shin-chan: Super-Dimension! The Storm Called My Bride
Crayon Shin-chan: Fierceness That Invites Storm! Me and the Space Princess
Crayon Shin-chan: Fierceness That Invites Storm! Yakiniku Road Of Honor
Crayon Shin-chan: Very Tasty! B-class Gourmet Survial!!
Crayon Shin-chan: Intense Battle! Robo Dad Strikes Bac
Crayon Shin-chan: My Moving Story! Cactus Large Attack!
Have you been wondering if what are some of the best thriller movies on Amazon Prime of all time? Well, we have curated the perfect answer for that little question of yours, right over here. Here is a list of top and the best thriller movies on Amazon Prime sorted by IMDB Ratings and where to watch online links: – best thriller movies on Amazon Prime
Even though Shin Chan is just a cartoon, it has had a significant cultural impact. The show has both hilarious and touching moments for its audience. You can appreciate Shin Chan much more deeply now that you know more about the show's creator and its real-life inspirations. If you ever find yourself laughing at Shinnosuke Nohara, remember that Yoshito Usui gave life to the character.