100+ Latest Bridal Mehndi Designs Images 2023
It's wedding season and we know what makes the brides panic. The last minute arrangments! We know it's not easy. There are thousands of options available when It comes to mehndi designs in the world. Sorting out the best ones among them is a challenge for sure. Don't you worry! We have got your back. Here you will find different mehndi styles, why they are trending and their significance. So, all the brides-to-be, we have sorted out the best bridal designs for this wedding season. You just have to check the list out and pick up what suits you the best.
1. Traditional Indian Bridal Mehndi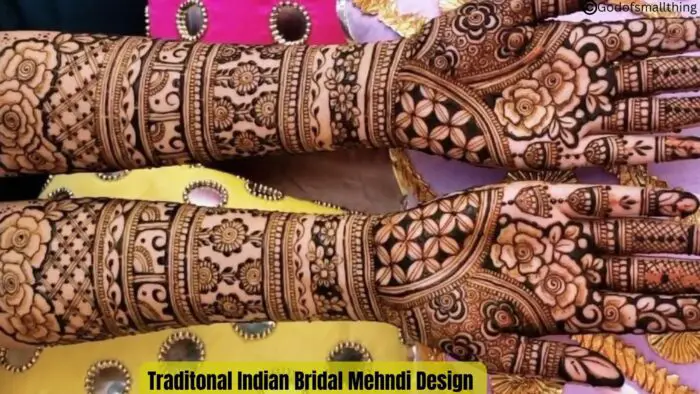 This mehndi is in the roots of Indian culture. Traditional bridal mehndi is not just a form of body art; it is a cultural heritage passed down through generations, connecting brides to their roots and adding a touch of grace and elegance to their wedding celebrations.
2. Peacock Bridal Mehndi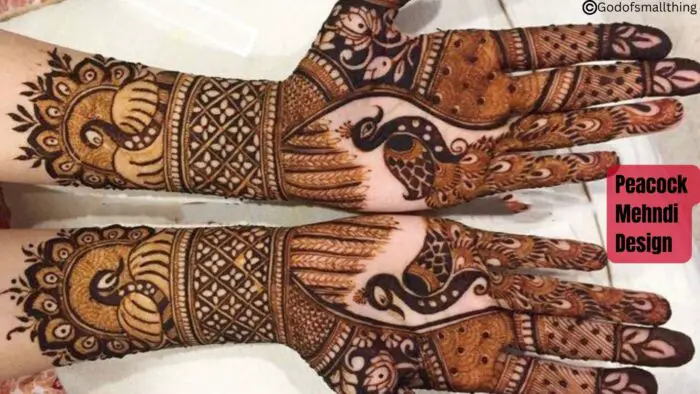 Peacock is a common part of Indian bridal mehndi. It symbolizes love and beauty. So there is no excuse for not applying this mehndi to your wedding. With their symbolic significance and intricate detailing, peacock bridal mehndi designs continue to be a timeless choice for brides, enhancing the beauty of their hands and feet in a simple yet captivating way.
Well Just incase you are looking to help your groom as well with his Mehandi Design. We have you covered with some of the Newest Groom Mehndi Designs
3. Paisley Bridal Mehndi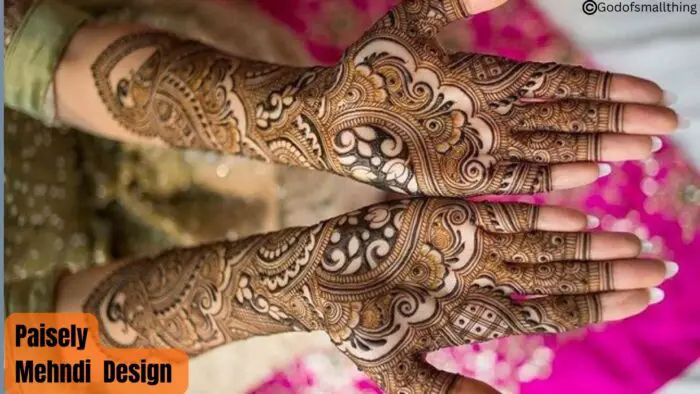 Paisley Bridal Mehndi represents the blessings of abundance and happiness, making it a cherished part of wedding traditions. Paisley's designs are never outdated. It remains fresh always and leaves beautiful-looking hands and feet after drying of henna.
4. Arabic Bridal Mehndi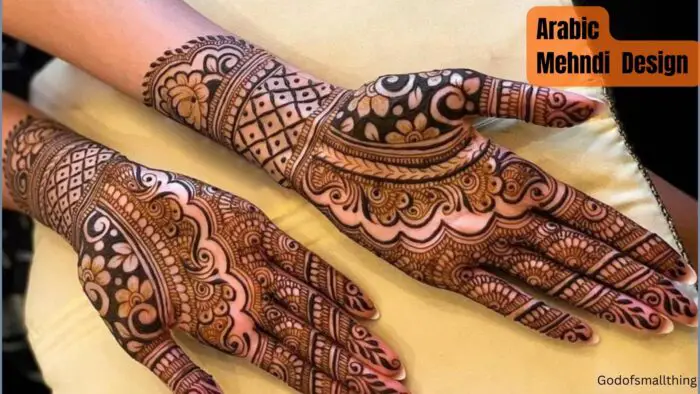 These designs are characterized by their bold and free-flowing floral patterns. Arabic mehndi often leaves spaces within the designs, adding a sense of airiness and lightness, making the bride's hands and feet look exceptionally graceful. These designs also represent beauty, purity, and creativity, enhancing the bride's aura of elegance and charm.
5. Mocorron Bridal Mehndi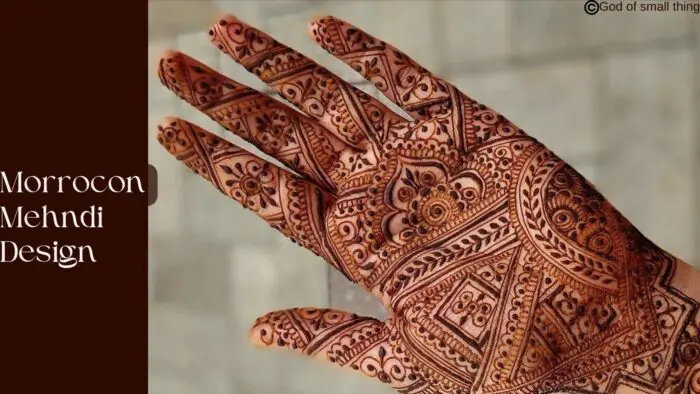 This mehndi always fills your whole hand making it look super rich and cultural. These designs often feature Moroccan tiles and mosaic-inspired motifs, adding a touch of architectural beauty to your hands. These designs go best with traditional outfits and jewellery. These full-hand designs make your hand look like a well-crafted piece of architecture
6. Dulha Dulhan Bridal Mehndi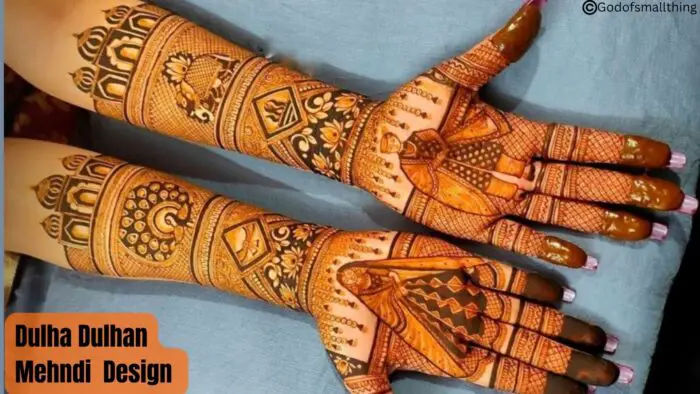 These designs feature intricate patterns of the groom (dulha) and the bride (dulhan) on the bride's hands, symbolizing the bond between them. As the bride wears these mehndi patterns, she carries the essence of her partner with her, making her wedding day even more special and memorable, surrounded by the symbolism of love and togetherness.
7. Full-hand Mehndi Design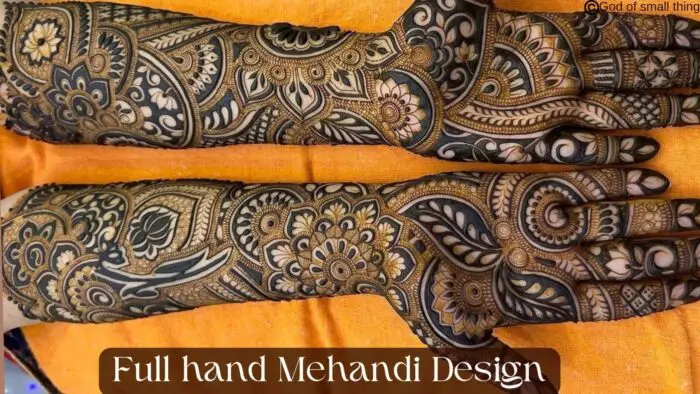 Full-hand mehndi designs are the one which looks extremely graceful and beautiful. The whole hand is covered with fine henna designs. Here every detail connects to each other forming beautiful patterns. Applying full-hand mehndi is an old tradition in every festivitie. Symbolizing good luck, happiness and beauty. This is best for brides who want to apply henna for their big day.
8. Minimalist Mehndi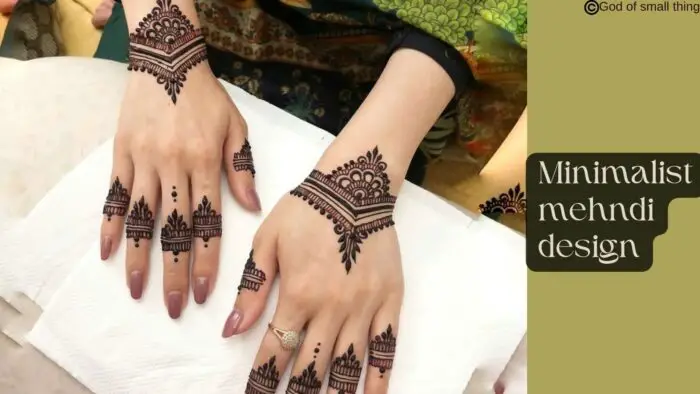 Looking at Alia Bhatt, Parineeti Chopra or any other big name, Minimalistic Mehndi is the choice of celebrities these days. These Mehndi designs always give a classy effect to the whole look and make your day. Brides who are not big full-hand Mehndi fans can surely go for these designs.
9. Lotus Mehndi Design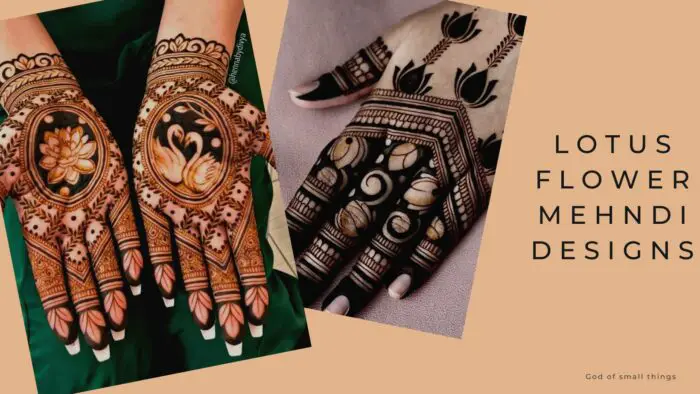 Flowers always give peaceful vibes and the wedding itself symbolizes peace and harmony. Applying lotus mehndi on this special occasion is always a great choice. The lotus flower is special because it represents purity and new beginnings. During weddings, Lotus Mehndi designs capture this feeling, making your hands look like blooming flowers.
10. Gulf Mehndi Design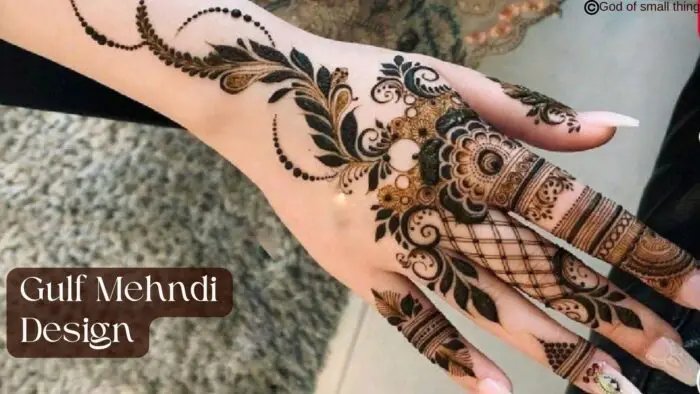 Intricate latticework, delicate florals, and bold geometric shapes adorning your palms and fingers. Well, that's Gulf Mehndi for you! The artistic heritage of the Gulf region makes your bridal look even more colourful and cheerful. These Gulf Mehndi designs are hard to master and require a lot of practice. Once you see this one you can't choose any other design.
11. Elephant and Peacock Mehndi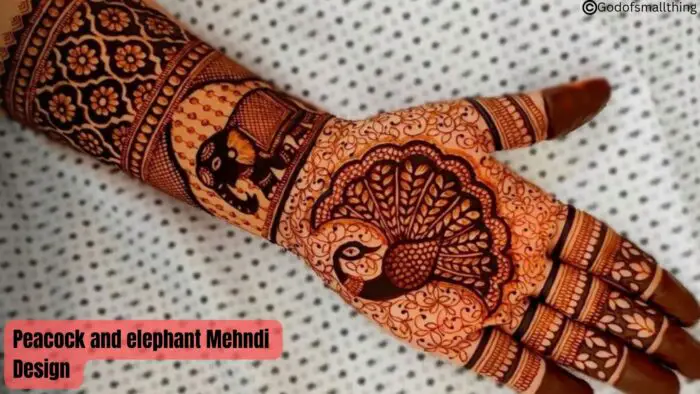 Animals have significant meanings. For instance, the elephant symbolizes strength, wisdom, and good luck. Peacocks are associated with grace and beauty, while lions represent courage and power. Incorporating these animal motifs in Bride Mehndi's designs is more than just an artistic choice; it's a way of invoking the qualities these animals represent.
12. Bail Bridal Mehndi Design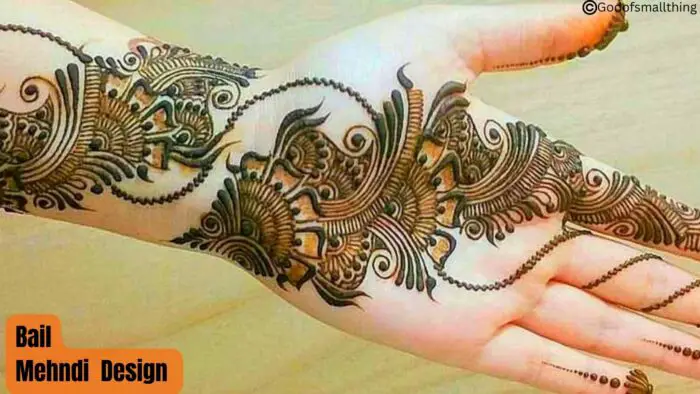 These designs often incorporate leaves, flowers, and spirals, creating a seamless flow that celebrates the beauty of life. Bail Mehndi is not just a design; it's a celebration of nature's grace. This is the most popular mehndi design all over. The bail or vines beautifully cover most of the hand space leaving proper negative spaces.
13. Arabic Calligraphy Bridal Mehndi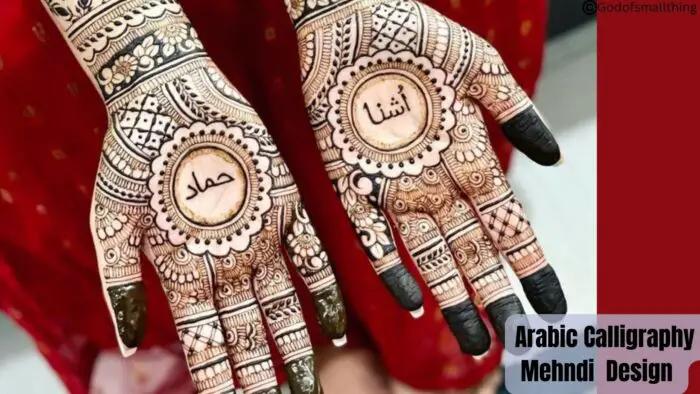 Islamic Calligraphy Mehndi holds a special place as it embodies the essence of the occasion. Instead of using regular Mehndi designs, you can create elegant Arabic calligraphy with meaningful words and phrases from Islamic scriptures or poetry. The curving letters and artistic strokes form a beautiful fusion of art and spirituality, making your hands not just look pretty but also carry a deep and significant message.
14. Radha Krishna Mehndi Design
Radha Krishna bridal mehndi designs are like pages from a divine love story, gracing the bride's hands with the essence of eternal love. They are not just patterns; they are a celebration of divine love that inspires every marriage.
15. Heart Mehndi Design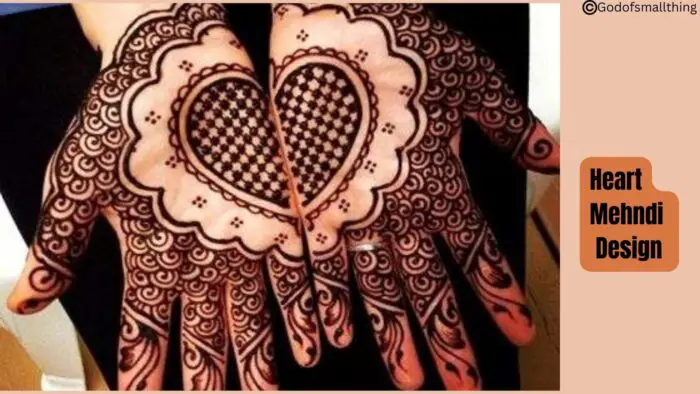 Heart-shaped Mehndi patterns are a delightful and romantic addition to the world of henna artistry. These intricate designs incorporate the iconic heart symbol, symbolizing love, affection, and passion. Often applied during weddings, engagements, or anniversaries, heart-shaped Mehndi patterns serve as a beautiful expression of deep emotional connections.
16. Mughal Bridal Mehndi Design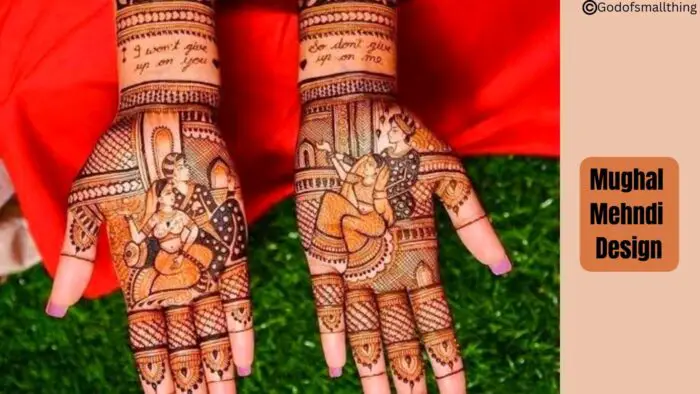 They are not just designs but a tribute to the grand legacy of the Mughal empire. These patterns are meticulously crafted, mirroring the intricate artwork that once adorned the palaces of emperors and queens. Brides wear Mughal mehndi designs with pride, understanding that they carry the essence of royalty, making their wedding day feel like a majestic celebration, reminiscent of the grandeur of the Mughal era.
Want to groom yourself before your wedding? Here is our article on Best grooming tips hacks for men
17. Bridal Mehndi with groom's name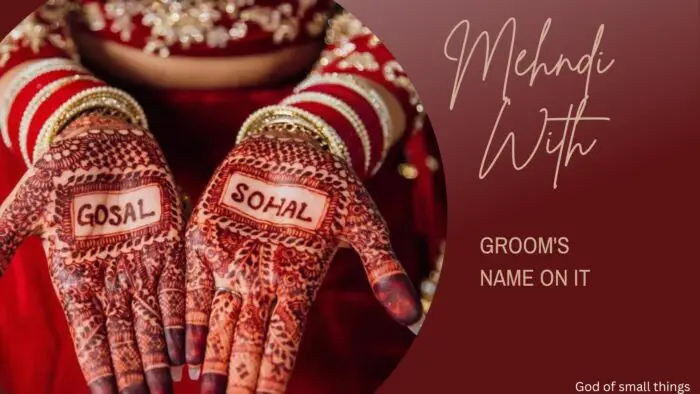 Bridal mehndi, a cherished tradition in many cultures, is a captivating art form that adorns a bride's hands and feet with intricate henna designs, symbolizing beauty, love, and the anticipation of marriage. As the bride sits patiently, the skilled mehndi artist weaves delicate patterns that tell a unique story. Hidden within these elaborate designs, one can often find the groom's name subtly incorporated, adding an element of surprise and romance to the overall symbolism.
18. Doli Bridal Mehndi Deign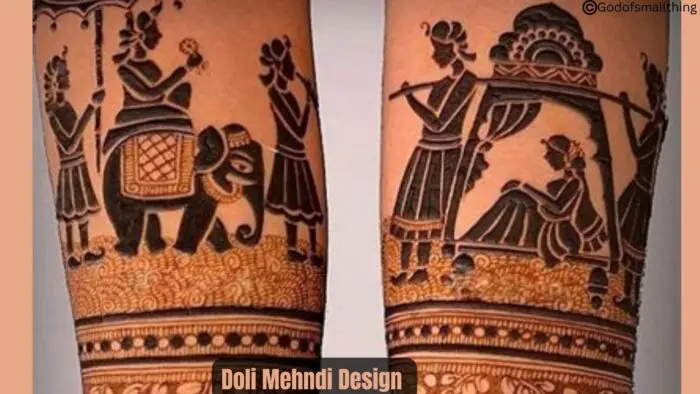 During weddings, doli mehndi designs become a heartfelt tribute to the bride's new beginning. Family members and friends often admire the artistry, reminiscing about their own doli ceremonies. These designs are not just patterns; they carry the warmth of family bonds and the excitement of new beginnings.
19. Back Hand Bridal Mehndi Design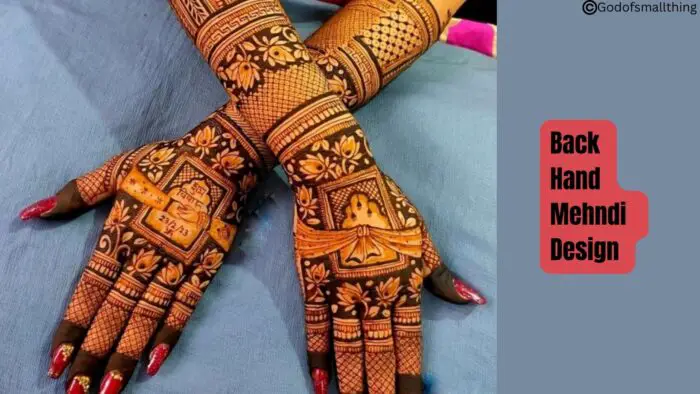 These designs often feature floral motifs, intricate vines, and geometric shapes, creating a harmonious blend of elegance and beauty. Brides love back hand mehndi designs for their graceful appeal, appreciating how they add a touch of charm to their hands, enhancing their bridal look with intricate simplicity.
20. Vedic Mantra Bridal Mehndi Design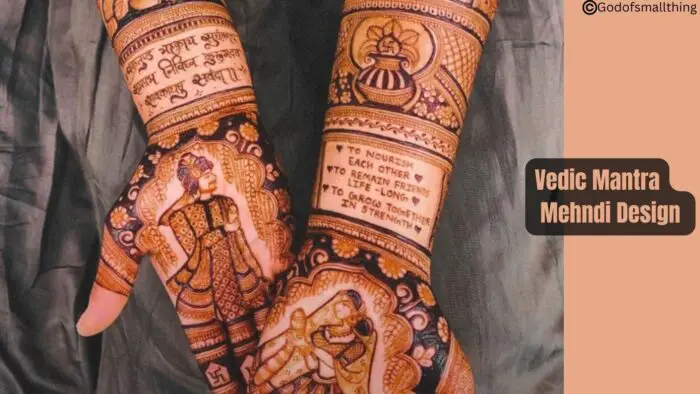 Vedic mantra mehndi designs are like sacred chants imprinted on the bride's hands, carrying the blessings of ancient wisdom. These designs beautifully blend tradition with artistry, adorning the bride with the power of ancient prayers. Brides adore Vedic mantra mehndi designs for their divine significance, appreciating how they bring a sense of serenity and positivity to their wedding day.
21. Rajasthani Bridal Mehndi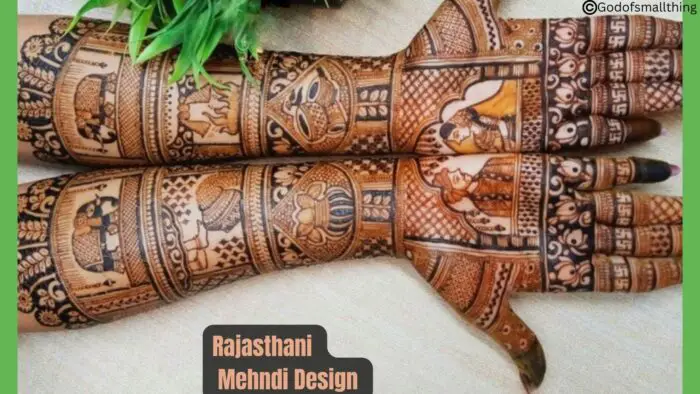 It often features peacocks, elephants, and the depiction of the bride and groom, symbolizing love and harmony. The mehndi paste used in Rajasthani designs is made from natural ingredients, lending a deep, reddish-brown hue to the final artwork. One of the hallmarks of Rajasthani Mehndi is its painstaking craftsmanship. Skilled artisans employ intricate shading techniques to create depth and dimension within the designs.
22. Jali Mehndi/ Netted Mehndi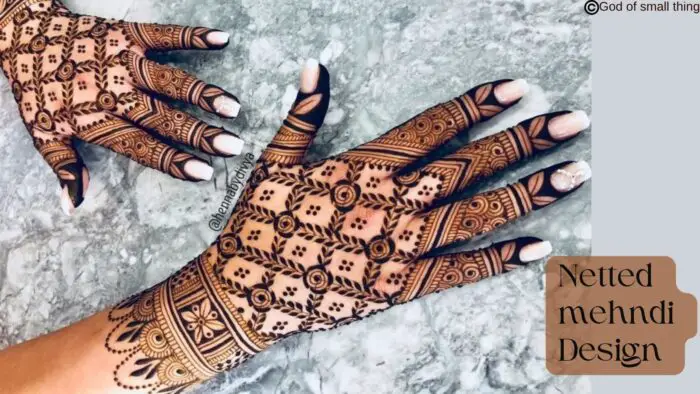 Netted mehndi designs are easy yet one of the best mehndi designs for back hand bridal Mehndi. The Jali or Net create a very unique effect on hands or feet. This looks like a mixture of traditional and modern works of art. It's a perfect choice for those who want a unique and stylish Mehndi design that complements the joyous atmosphere of wedding celebrations.
23.Jali feet Mehndi Design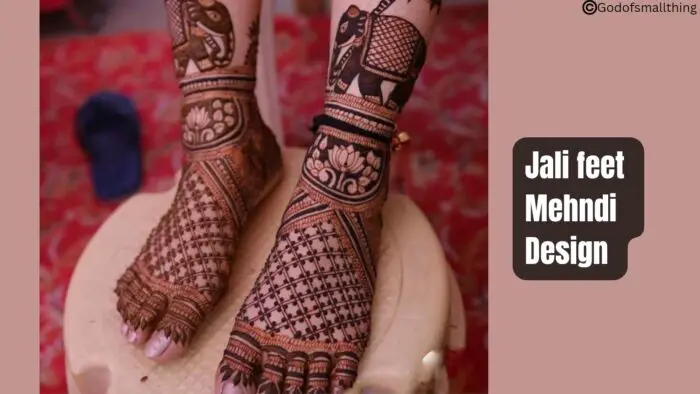 These designs often feature geometric shapes and fine lines, creating an illusion of delicate netting on the feet. It's like wearing a pair of ornate anklets, enhancing the bride's feet with a timeless charm.
24. Wedding Ritual Mehndi Design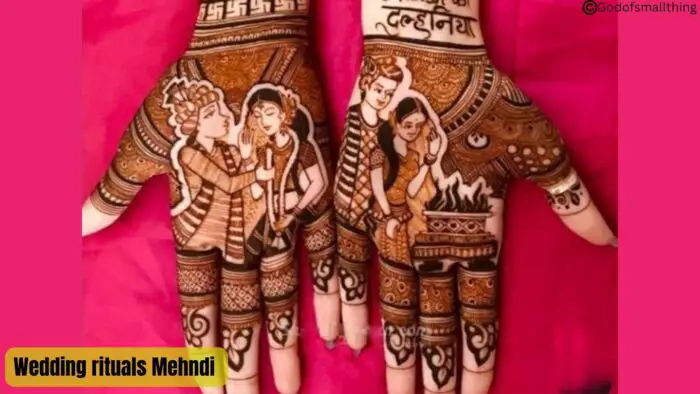 These designs beautifully capture the essence of various wedding rituals, symbolizing blessings, love, and the union of families. Brides adore these mehndi designs as they tell the story of their wedding day, embracing the cultural significance of each ritual.
25. Moon Bridal Mehndi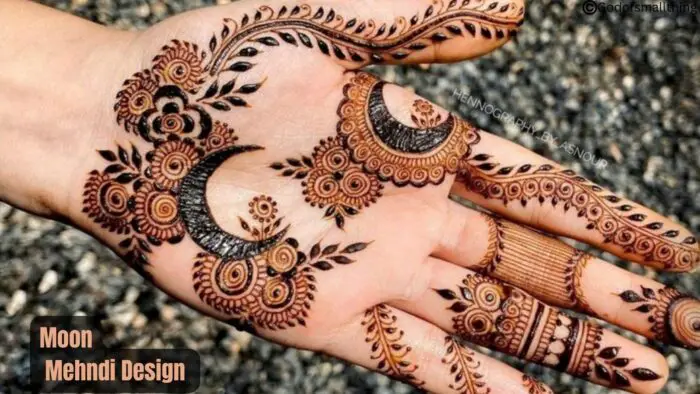 These designs are not just about the moon; they are about the romance and mystery that the night sky holds. Brides wear moon mehndi designs with a sense of wonder, knowing that they carry the celestial essence of the moon, making their hands look as mesmerizing as the night sky on their special day.
26. Flower Bridal Mehndi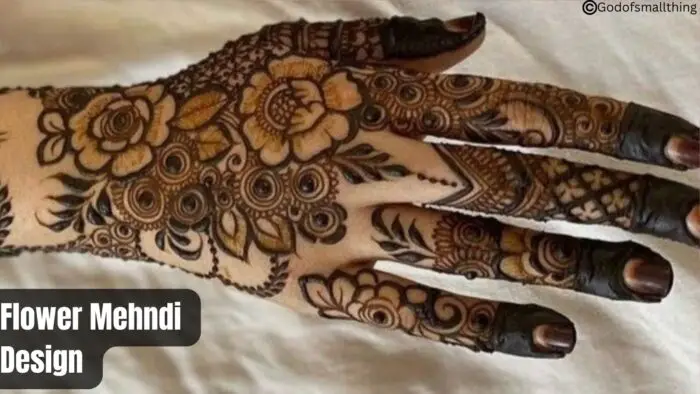 During weddings and festivals, flower mehndi designs are a popular choice among women of all ages. They bring a sense of freshness and joy, making the hands look as lovely as a bouquet of flowers. These designs are not just about aesthetics; they carry cultural significance, representing beauty, love, and celebration
27. Portrait Mehndi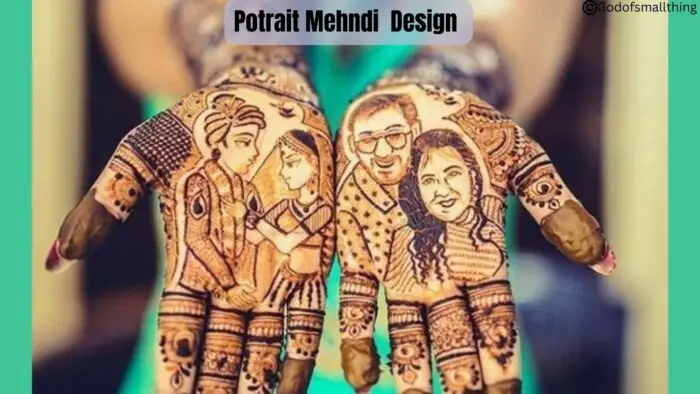 During weddings, portrait mehndi designs create a buzz of excitement and admiration. Family and friends marvel at the intricate details, appreciating how the couple's love story is beautifully depicted on the bride's hands.
28. Bangle Mehndi Design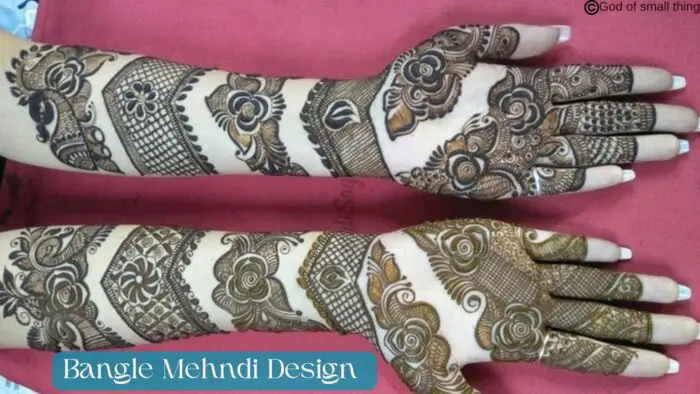 Bangle Mehndi designs on weddings are like intricate jewellery wrapped around your wrists. The henna patterns create a bangle-like effect on your wrists. Blessing your mehndi look, these mehndi designs make you discard bangles for the eve. As it itself represents bangles and gives a unique perspective
29. Simple Back Hand Bridal Mehndi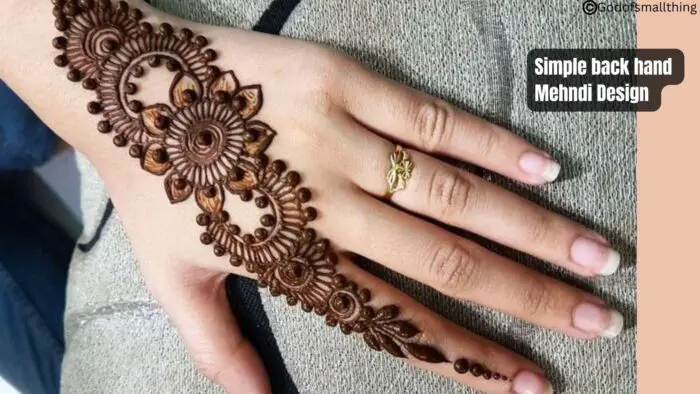 Simple backhand bridal mehendi designs add a touch of grace to the bride's hands without being too elaborate. During weddings, simple backhand mehndi designs are a popular choice among brides who prefer a more subtle and refined look.
30. Pakistani Mehndi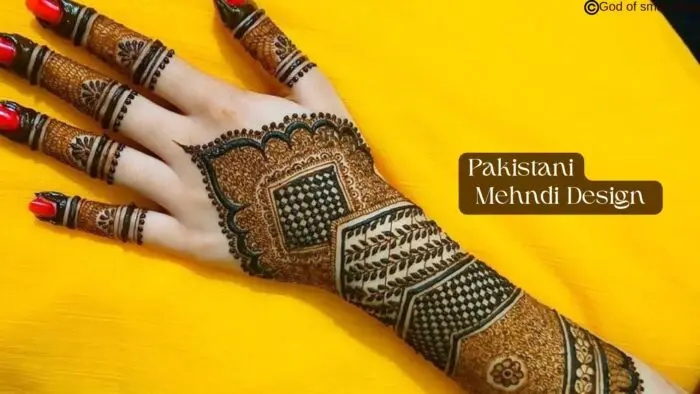 Pakistani Mehndi designs are often known for their elaborate details. These Pakistani Mehndi designs are not just decorations; they are a reflection of the warmth and hospitality that weddings are known for, making your wedding vibrant and culturally rich. Pakistani Mehndi covers whole hands and perfectly balances negative spaces. These patterns are unique and make you look complete.
31. Mandala Mehndi Design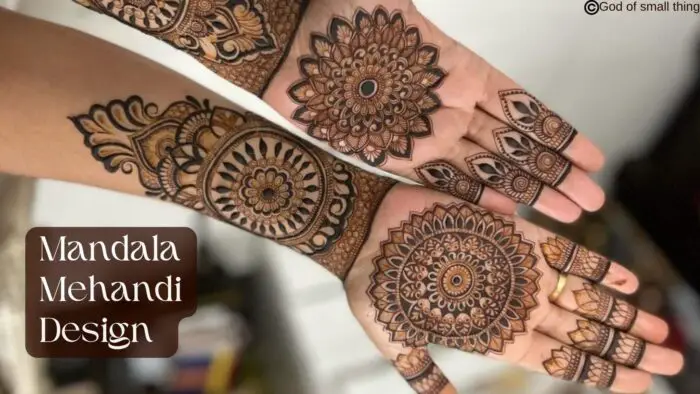 A perfect mandala design is tough to master. The fine lines in the mandala require attention and concentration. Adoring your hands with a mandala can enhance your traditional look to a much greater extent. So, when you wear Mandala Mehndi, you're not just decorating your hands; you're adding a touch of magic to your Mehndi celebrations
Want to stay motivated in life ? Here we are with 100+ motivational and inspirational quotes about life .
32. Half-Hand Mehndi Design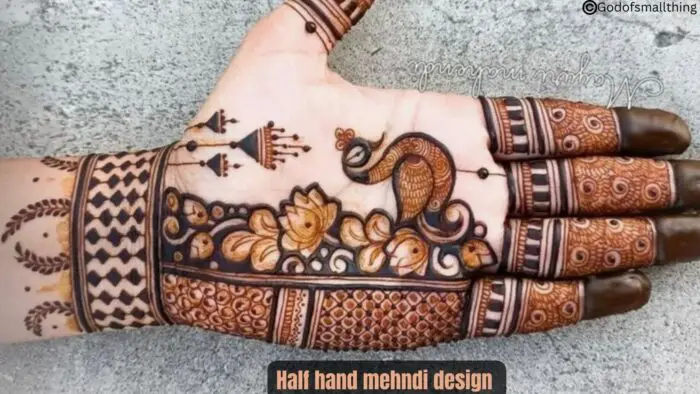 These designs often feature beautiful flowers, vines, and geometric shapes, creating a mesmerizing tapestry of mehndi. Brides love how half-hand mehndi designs allow them to celebrate their cultural heritage while leaving space to showcase their favorite accessories, striking a perfect balance between tradition and personal style.
33. Rose Mehndi Design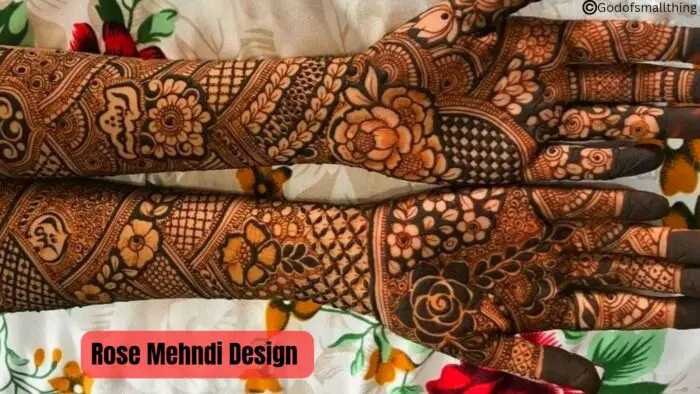 During weddings, rose mehndi designs are a popular choice among women. They signify love, joy, and new beginnings. The beauty of these designs lies not just in their visual appeal but in the emotions they represent. Roses are universally loved, and when transformed into mehndi patterns, they become a timeless symbol of love and affection.
34. Floral vines Mehndi Design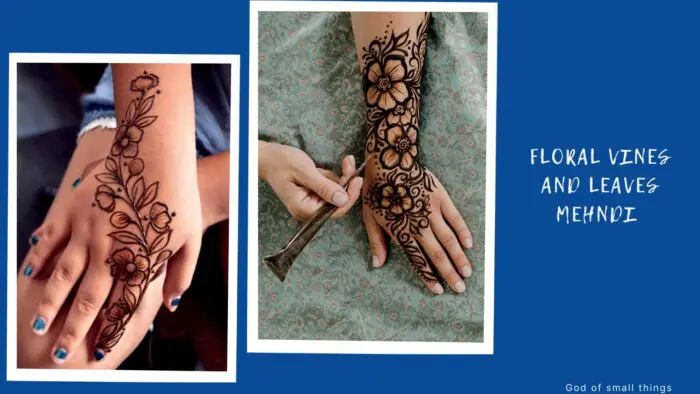 Floral vines and leaves stylish mehndi designs are a captivating and timeless form of body art that traces its origins back to ancient traditions in India and the Middle East. These intricate designs feature an abundance of delicately drawn vines, leaves, and flowers, which are typically applied using henna paste. The natural reddish-brown stain produced by henna lends a beautiful, earthy tone to the skin, making it a popular choice for adorning hands and feet during special occasions like weddings.
35. Punjabi Mehndi Design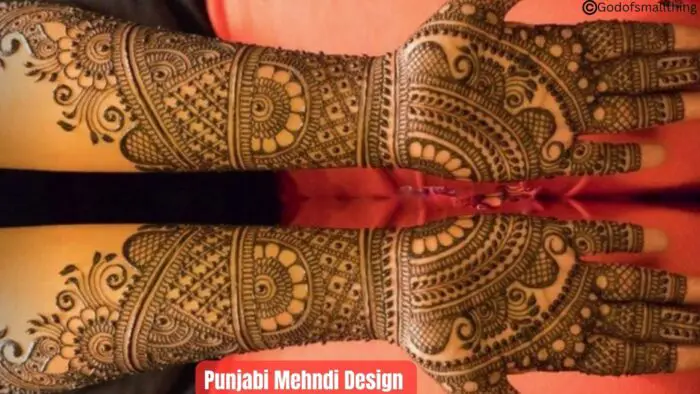 Forming a colorful masterpiece on the skin, these designs are known for their boldness and intricate detailing, capturing the lively spirit of Punjabi celebrations. The designs are bold just like Punjabis. These designs are not just patterns on the skin; they represent the warmth and hospitality of Punjabi culture, making everyone feel welcome and part of the celebration.
36. Kolka Bridal Mehndi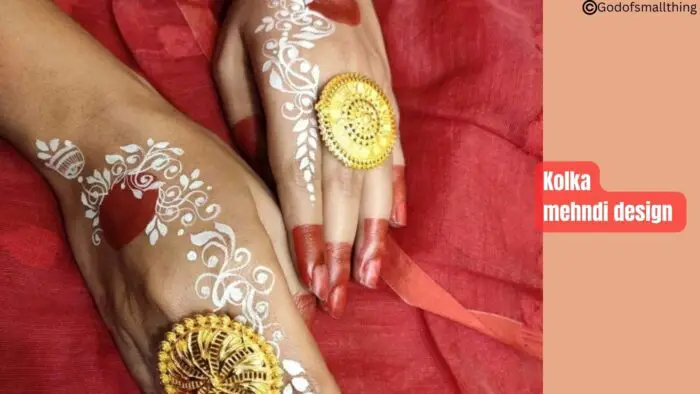 Not all bridal mehndi should necessarily be of henna. Kolka is a great way of adoring your hands on your wedding. Brides adore Kolka hand designs for their simplicity and charm, appreciating how they add a subtle yet captivating beauty to their hands. It's like wearing nature's artwork, each dot and circle telling a unique story.
37. Ring Mehndi Design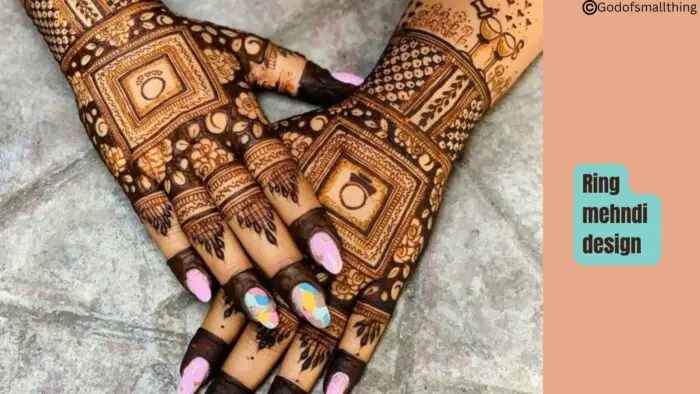 These designs often incorporate delicate elements like flowers, hearts, and dots, enhancing the beauty of the engagement ring. The engagement ring bridal mehndi design becomes a visual representation of this commitment, expressing the love and affection between the engaged couple.
38. Palm Mehndi Design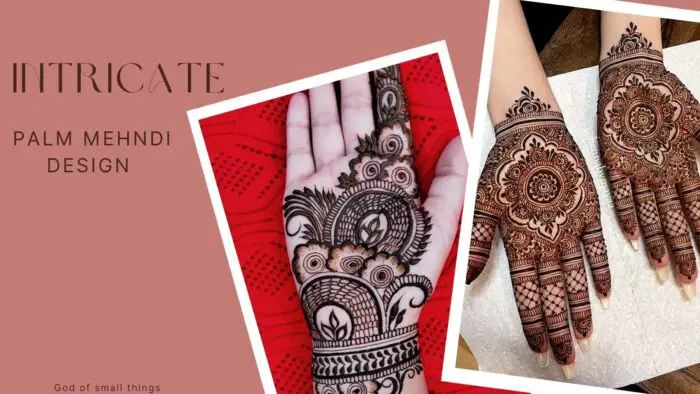 The palm, with its broad and smooth surface, serves as an ideal canvas for the intricate patterns that range from traditional paisley and floral motifs to geometric shapes and intricate lattice-like designs. Each motif is meticulously drawn, often by skilled Mehndi artists, using a fine-tipped applicator or cone, allowing for precise detailing that transforms the hand into a mesmerizing masterpiece.
39. Save the Date Mehndi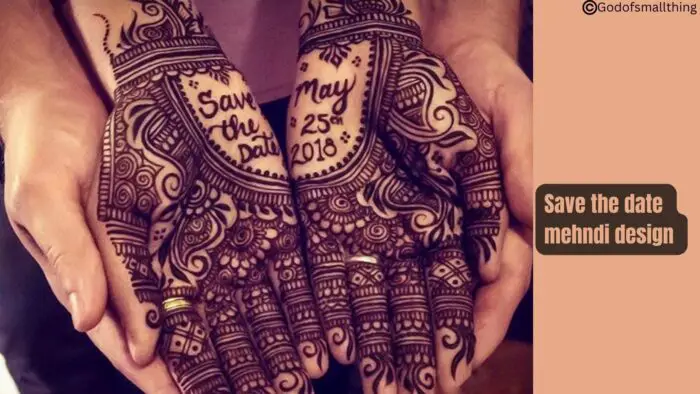 These designs carry the excitement of the upcoming wedding, creating a buzz of anticipation among family and friends. These mehndi patterns not only serve as a reminder of the big day but also spread the joy of the impending celebration. They become a conversation starter, allowing the bride to share her happiness with everyone she meets, making the wedding countdown even more special and delightful.
40. Mandala with Jali Mehndi Design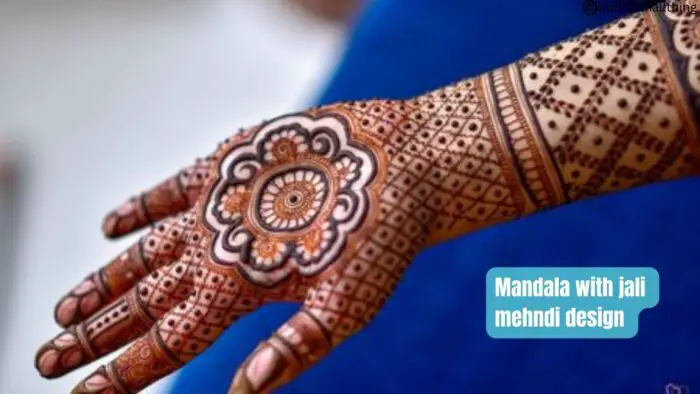 The combination of these two artistic traditions results in mesmerizing designs that carry profound cultural and spiritual significance.
In Mandala-Jali Mehndi, the circular and symmetrical nature of mandalas is delicately incorporated into Mehndi patterns, creating a harmonious blend of form and flow.
41. Indo Arabic Mehndi Design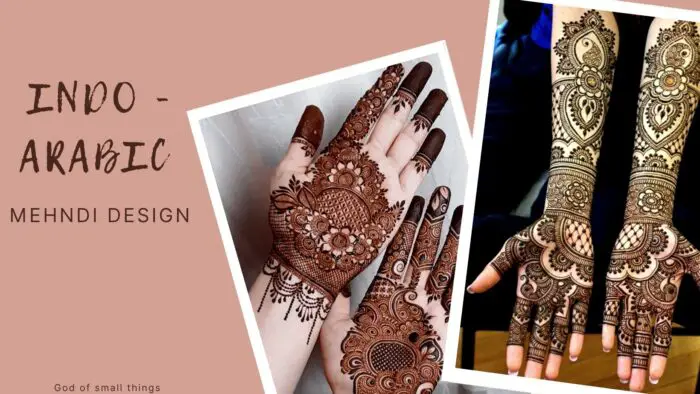 In Indo-Arabic fusion mehndi, you'll often find a harmonious amalgamation of bold and intricate floral motifs from Indian mehndi combined with the fluidity and geometric patterns characteristic of Arabic art. These designs typically cover the hands and feet, extending into intricate and flowing patterns that captivate the eye.
42. Initial Letter Mehndi Design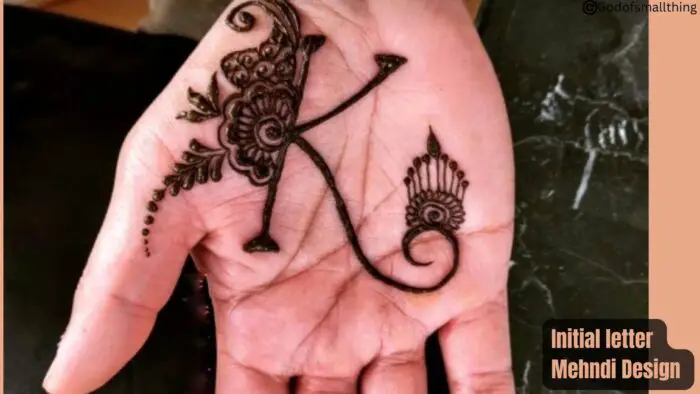 Choosing to write the initial letter of your groom is such an Aww moment. Writing their initials on your palm is a well-known tradition but choosing the design, effect and font of the letter is what makes it unique. You can try making flowers beside the letters or small motifs related to weddings would rock the design.
43. Finger Mehndi Design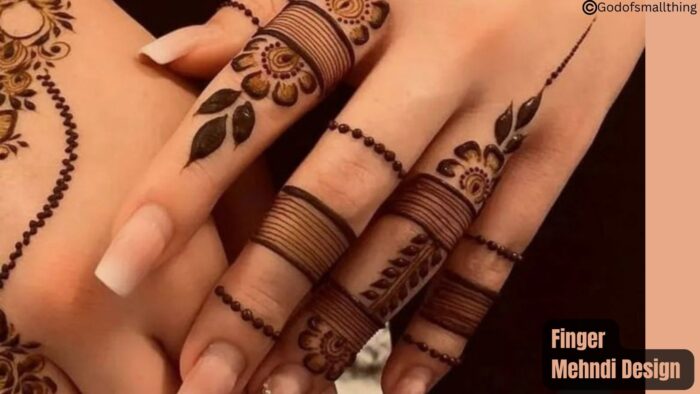 Not a full hand Mehndi fan? This design is just for you. This is another type of trend going on in the Mehndi world. In this henna is applied only on the fingers and not on the palms or back of the hands. This is a simple and unique mehndi way if you're not a big fan of full-hand mehndi's. This is so simple and elegant even for days other than festivities. Mehndi can be applied in a way that the henna appears to be rings on the fingers
44. Feet Mehndi Design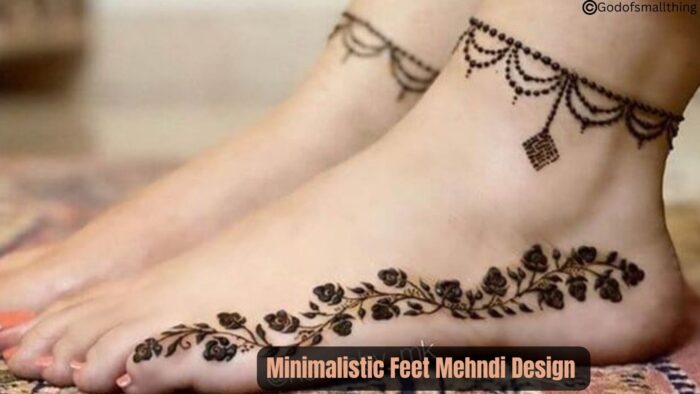 Minimilistic mehndi is the new trend. Whether it's about hands or feet. These minimal designs make your feet look exceptionally graceful and beautiful. Brides who like to be simple, this is the best choice for them. This simple yet elegant way of decorating your feet will make everyone stop and stare.
45. Simple Feet Mehndi Design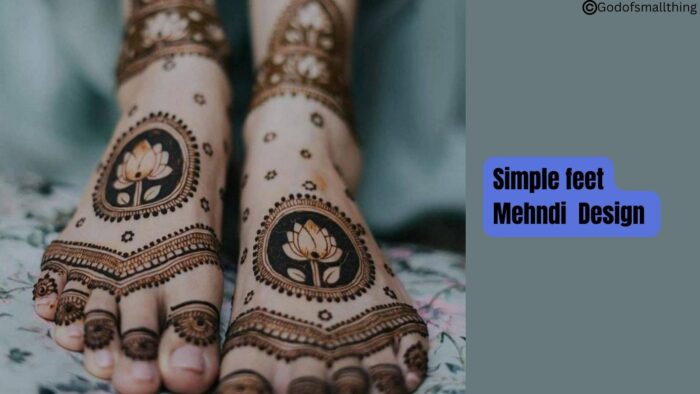 In Indian weddings, the application of mehndi on the bride's feet holds great significance. Simple feet bridal mehndi designs are like delicate jewelry for the bride's feet, adding a touch of elegance to her every step.
46. Jaimala Mehndi Design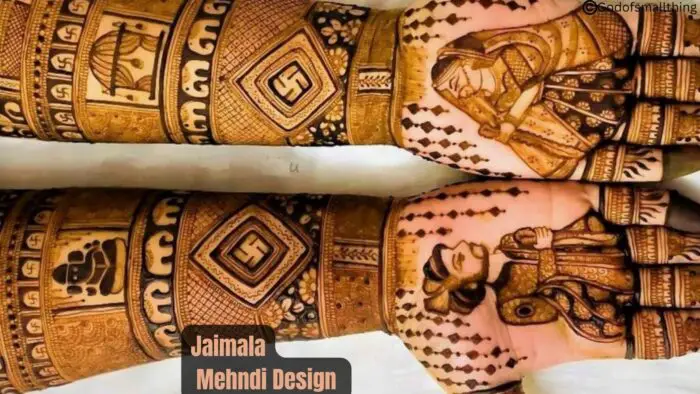 In Indian weddings, the Jaimala ceremony is when the bride and groom exchange garlands, signifying acceptance and respect for each other. The Jaimala bridal mehndi design enhances this ritual, adding an artistic touch to the ceremony. The mehndi patterns, often inspired by flowers and vines, symbolize the blossoming love between the couple.
47. Line Mehndi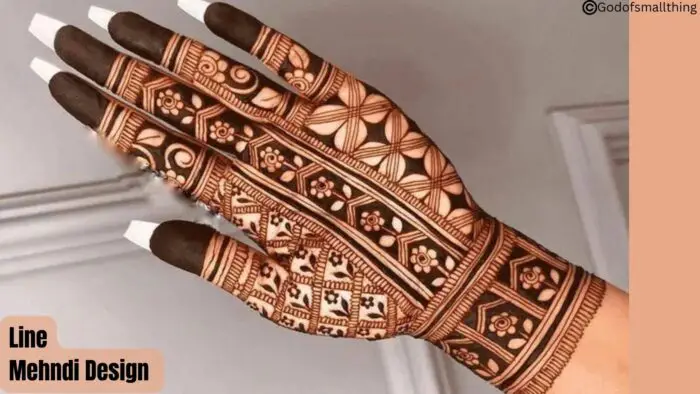 These designs often feature a series of straight and curved lines, elegantly arranged to create stunning motifs. These designs speak volumes without being overly elaborate, capturing the essence of tradition and modernity in a single stroke, making the bride's hands look like a work of art.
48. Swan Mehndi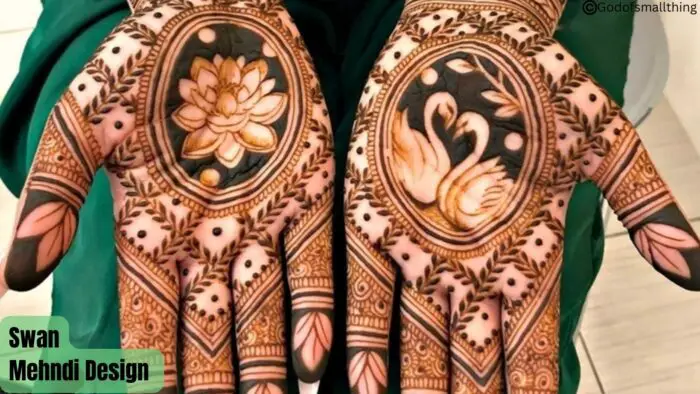 In these designs, the swans are often drawn as if they are gliding on water, creating a sense of calmness and harmony. These designs often include intricate patterns around the swans, like blooming flowers and twirling vines, adding a touch of nature's charm. Brides love how these designs portray the essence of love and purity, making their special day even more magical.
49. Peacock Feather Mehndi Design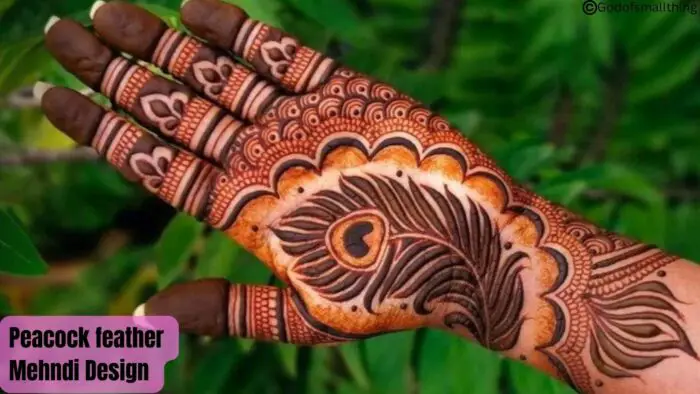 What looks more beautiful than peacock feather? Applying this as a henna design is so much worth it. This design can be paired with paisely, Netted patterns, lines, dots and what not. In Hindu tradition peacock feather often is connected with lord Krishna .
50. Wrist Mehndi Design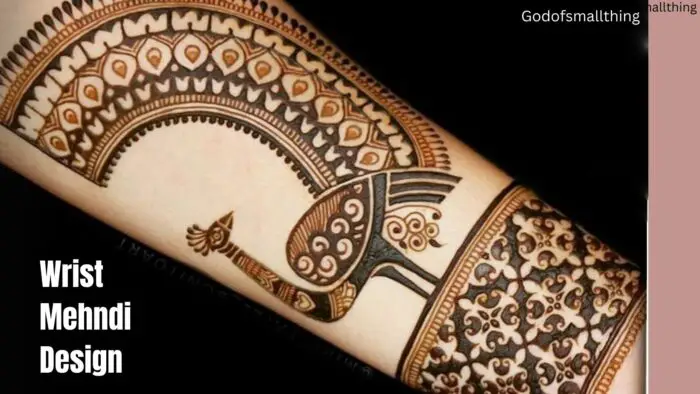 Wrist Mehndi is also a very important part of the bridal mehndi design. The main artwork is showcased here itself as it covers a large space. Any creative design would fit in the wrist section which leads to the palm mehndi design. It's the wrist Mehndi which makes sure how the palm Mehndi design will be.
51. Palm Bridal Mehndi Design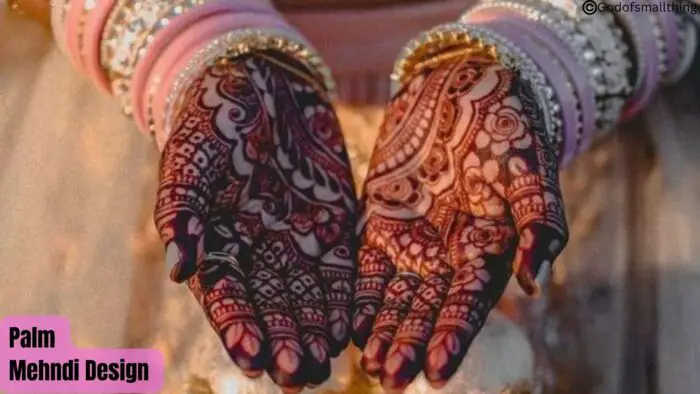 The wrist part of the mehndi is usually covered with bangles and chooda during weddings. So the main part is always about palm mehndi. Palm Mehndi Design should always be perfect and beautiful. Generally full palm is covered in palm mehndi leaving very few negative spaces. The designs may include paisley, mandalas, floral vines and motifs.
So, did you find your best mehndi design here? We are sure you would have. It's wedding season and we wanted to sort things out for the brides-to-be! Comment which mehndi design you liked the most. 😀