Book review: Till the last breath by Durjoy Dutta. Willing to read? Download Till the last breath pdf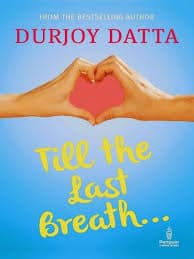 Like any other Durjoy Dutta books that you might have read, there is a special mention of engineering colleges. This person just can't help it. But we forgive him. Engineering does leave a big impression on a person plus this book is really good.
Plot
The story revolves around two characters who have a very different outlook on life.
Sharing a common hospital room are 2 people.

One is a former engineering student Dushyant Roy, graduated from Delhi Technical University and apparently in his 5th year of engineering, spending his days smoking weed, drinking alcohol with no appreciation of life, one day wakes up in a hospital bed after 3 days of his admittance just to find nobody to talk to and be there by his side.no friends with whom he spent his days smoking and drinking and no family.
On the other bed lies a 19-year-old brilliant medical student Pihu Malhotra of Maulana Azad Medical college who is just diagnosed from ALS disease with her limbs are slowly giving out and paralysis taking over her body, is surrounded by her sobbing mother and father.
Two prodigious doctors Dr. Armaan Kashyap and Dr. Zara Mirza are going out of their way to treat these two patients putting their medical licenses at risk.
Throughout the story Dr. Zara and Dushyant bond over a common disdain towards their parents and a hard to forget the past and Dr. Armaan a handsome young and extraordinarily gifted medical professional who falls for a slowly dying girl who has an undefeated spirit even in her last days.
Frustrated with himself and his life slowly destroying himself Dushyant comes off as a rude patient and roommate and opposite to him lies Pihu who always has a smile on her face and is trying her best to keep her and everyone else's spirits up. Armaan wants to save Pihu at any cost and Zara wants to save Dushyant.
Theme
The book focuses on the concept that" there is more to life than burying yourself in work or horrors of past or addiction and shutting yourself out and the importance of communication in healing ourselves and moving on in our life".
Acknowledging the past is important but staying there too long provides you with nothing but pain, making you unable to grow past it and makes you slowly destroy your life. As to quote Game of thrones-" Stay too long where you don't belong and you may never come back". (big fan)
Concluding
Durjoy Dutta reminds us how important it is to heal ourselves while we are living because death can arrive at any point in a person's life and it does not always come for the wicked and leave the decent behind. Moments are limited per person and you may never know when this moment will end. The book sure will make you appreciate life and will make you think differently about spending it.
Not Sure Which One to Buy?  Read More Reviews :