Watch The Best animated movies on Netflix 2023 (sorted by IMDB Ratings)
Netflix is one of the favourite OTT platforms of people across the world. With great quality shows, movies, and documentaries, the platform has successfully gained a huge number of viewers with time. But why should grownups have all the fun? The platform has a pretty amazing collection of movies and series for kids as well! Ever wondered whether what are some of the best animated movies on Netflix for kids? Wonder no more! We have compiled the very best animation movies on Netflix just for you! And mind you, we also add that these movies are equally enjoyable for grownups alike. So, let's not waste another minute and directly go to our list. Here is a list of the best animated movies on Netflix sorted by IMDB ratings and reviews, for you: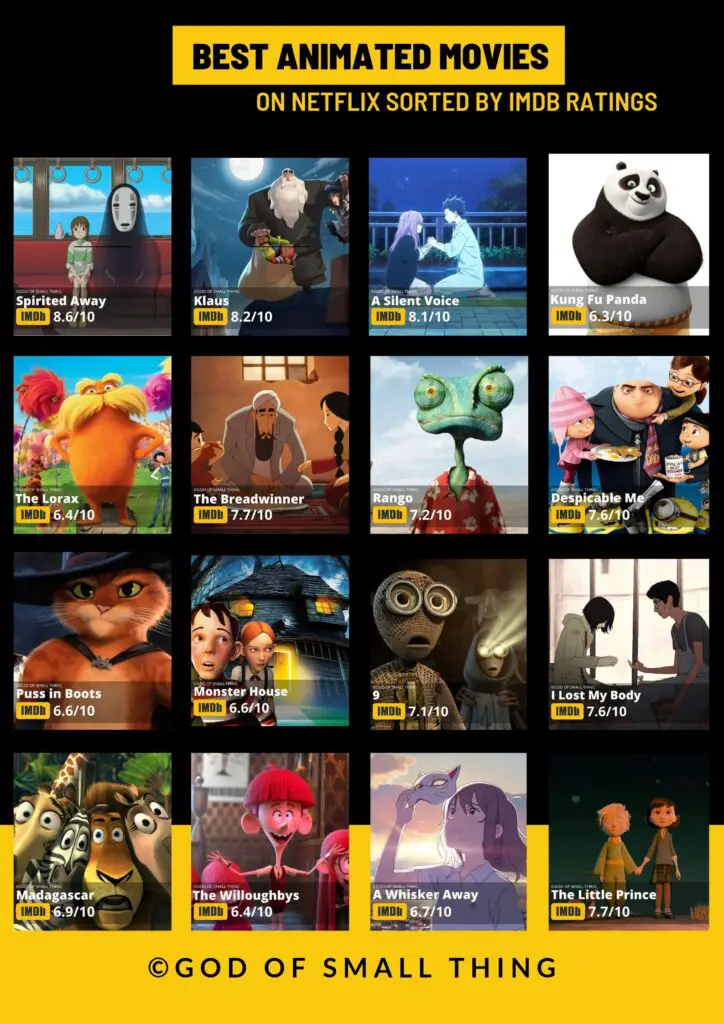 Disclaimer: This list is frequently updated to make sure you are served with fresh content. The order of the best Netflix animated movies is sorted as per the user ratings and reviews on the Internet. The order of best-animated movies on Netflix on this list is based on ratings from low to high, with the highest rating shown at the end. If you are looking for details of a specific Netflix animated movie on the list, you can quickly navigate to that particular movie by clicking the link in the list given above. In case you feel like we missed out on of your favourite animated movies, comment below to let us know! Also if you have a Disney Hotstar Subscription, you can check The Best animated movies on Hotstar
25. Kung Fu Panda (2008) – IMDB Ratings: 6.3/10
Kung Fu Panda Rotten Tomatoes Ratings: 87%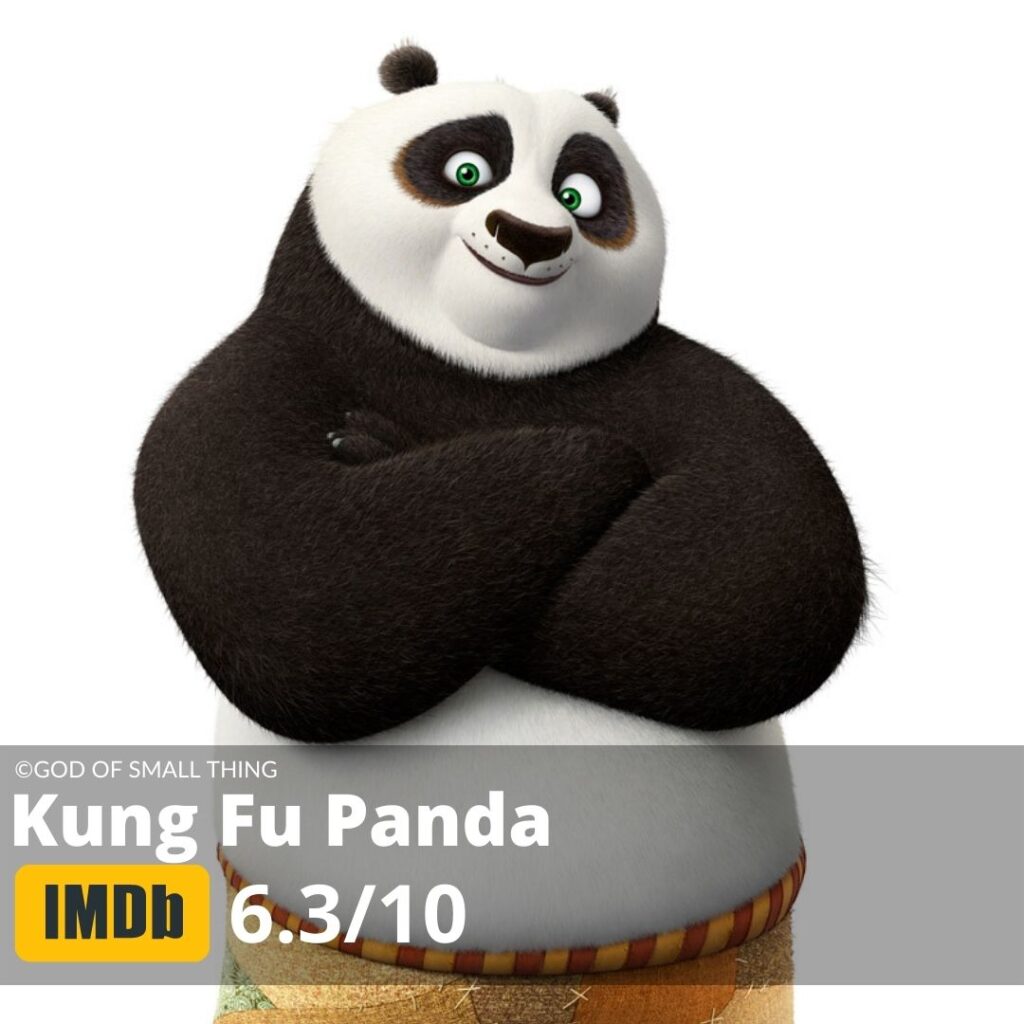 Cast: Jack Black, Angelina Jolie, Dustin Hoffman, Jackie Chan, Ian McShane, Seth Rogen, Lucy Liu, David Cross, Randall Duk Kim, James Hong, Dan Fogler, Michael Clarke Duncan.
Pandas are without debate one of the heaviest yet cutest mammals on our planet. Now, imagine a panda mastering the strenuous martial art of Kung Fu! Unbelievable? Well, the movie sure brings out this peculiarity in the most hilarious manner ever! Kung Fu Panda hit theatres in July of 2008 and undoubtedly met with widespread acclaim. It has bagged numerous awards including the prestigious Academy Awards, Emmy Awards, and Annie awards. A massive entertainer with loads of occasions to laugh your head off, it will also inspire you to do the impossible when it comes to a dream. Need we say more? This is indeed one of the best animation movies on Netflix to enjoy on a boring day.
Po, an amiable panda lives with his adoptive father, Mr Ping, a goose, in the Valley of Peace. He idolizes the Furious Five- Tigress, Monkey, Crane, Viper, and Mantis who are Kung Fu masters trained under the famous Master Shifu. Although he dreams to learn Kung Fu, his dreams are cut short as his father wishes him to help with their family noodle restaurant. When Grand Master Oogway foresees the danger posed by Tai Lung, he suggests proclaiming the Dragon Warrior who is the only person eligible to receive the Dragon Scroll, which holds boundless power.
Though everyone expects one of the Furious Five to turn out as the Dragon Warrior, as fate would have it, at the ceremony, Grand Master Oogway incidentally points at Po. Po, who had crash-landed at the ceremony of his yearning to witness it, is as flabbergasted as everyone else. What follows is his hilarious yet impactful journey toward proving that the proclamation was no accident and his attempt in defeating Tai Lung to protect the valley with the Furious Five.
Watch Kung Fu Panda trailer:
24. The Lorax (2012) – IMDB Ratings: 6.4/10
Rotten Tomatoes: 54%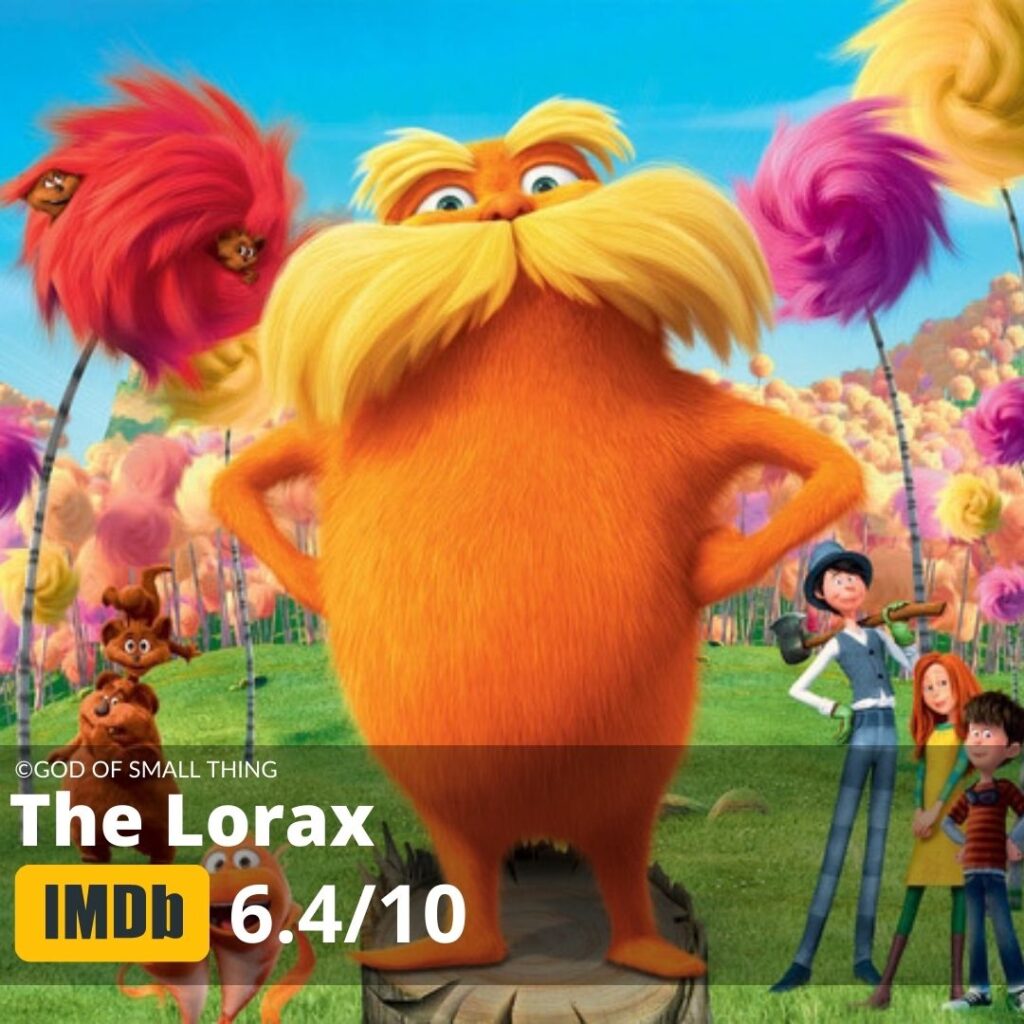 Cast: Danny DeVito, Ed Helms, Zac Efron, Taylor Swift, Betty White, Rob Riggle, Jenny Slate, Nasim Pedrad, Joel Swetow, Michael Beattie, Dave B. Mitchell, Dempsey Pappion.
Dr Seuss is among the most loved children's authors of all time. The Lorax is a fascinating 3D computer-animated movie based on Dr Seuss' book of the same name. The musical comedy movie hit theatres on Dr Seuss' 108th birth anniversary, 2nd March 2012. It met with acclaim from viewers and audience, thus taking home several accolades. Some of these include the Leggio d'Or Awards, ASCAP Film and Television Music Awards, Kids' Choice Awards, and Teen Choice Awards. With an impactful message on protecting the environment and its natural resources, it is one of the best Netflix animated movies to watch for one and all.
The story is set in Thneedville, a fictional city with artificial plant life. It is separated from the outside world by means of huge walls. It all begins when 12-year-old Ted Wiggins develops a crush on Audrey, an environmentalist. To impress her, Ted decides to find a real tree. He meets Once-ler, who knows what happened to the real trees in the area. While on his pursuit of Once-ler he learns how devastating the natural destruction has been in the outside world. Once-ler tells him about his foolish quest for making 'Thneed' which came at the cost of the trees.
Once-ler also tells him about The Lorax, the guardian of the trees who warned him from destroying the forest. Ted takes the last Treffula seed from Once-ler, determined to make the Thneedville residents aware of the disastrous effect of deforestation. He is confronted by the city's mayor O'hare, who also runs a successful company of bottled oxygen. Ted makes his point by breaking down a section of the city wall, thereby showing the city folk the outside world. They help him plant the seed and the city flourishes with rich plant and animal life soon later.
Watch The Lorax trailer:
23. The Willoughbys (2020) – IMDB Ratings: 6.4/10
Rotten Tomatoes: 91%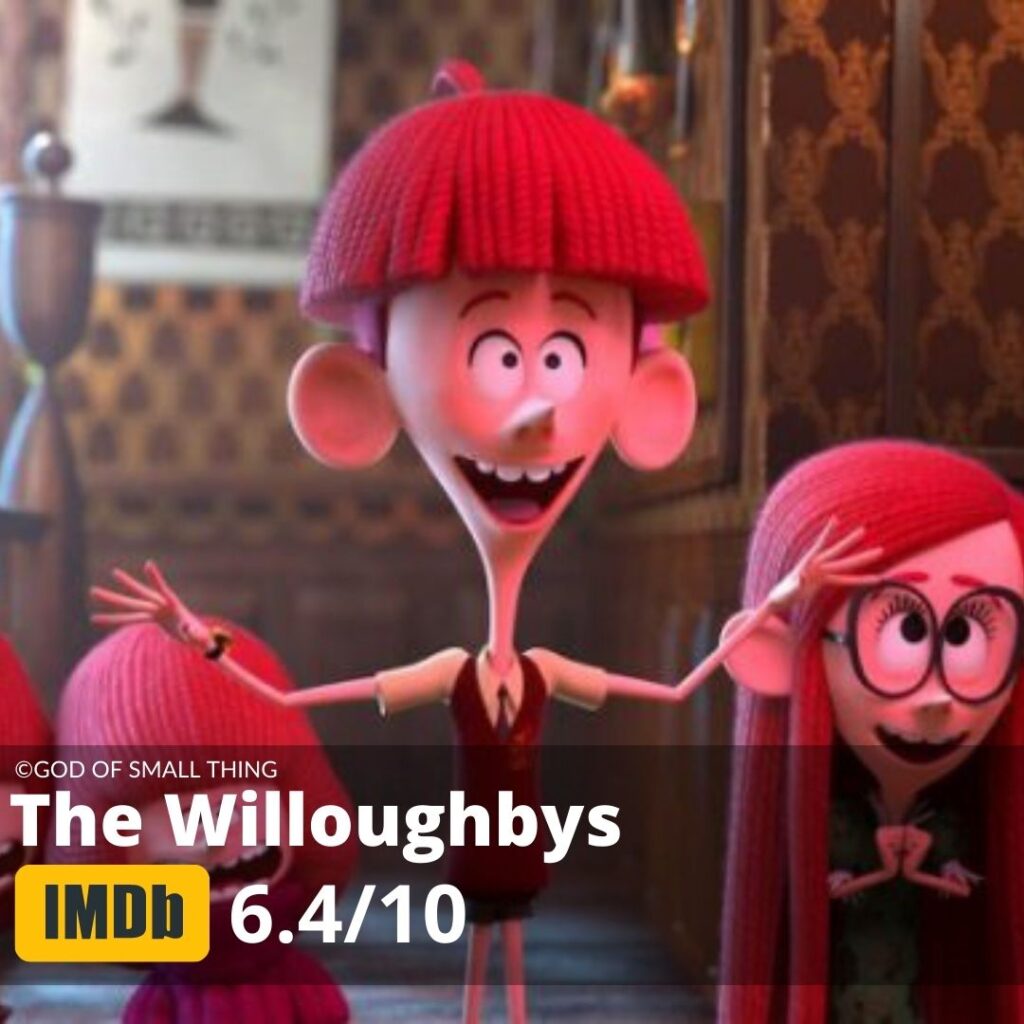 Cast: Will Forte, Maya Rudolph, Alessia Cara, Terry Crews, Martin Short, Jane Krakowski, Seán Cullen, Ricky Gervais, Brian Drummond, Kris Pearn, Fiona Toth.
The Willoughbys is a Canadian- American computer-animated film inspired by a book of the same name, penned by Lois Lowry. The theatrical release of this comical kids' film was in April of 2020. It was well-received by critics for its humour, performances, emotional weightage, and animation effects. It has been nominated for several prestigious honours like the Critics Choice Super awards and Toronto Film Critics Association awards. A great entertainer, The Willoughbys sure deserve mention on this list of best animation movies on Netflix.
The Willoughbys is a family consisting of an indifferent couple and their four mischievous kids. The parents care little about their kids, starving them and putting them through a tough time at home. The kids consist of Tim, the eldest son, who cares for his younger siblings, Jane, a passionate singer and the middle child, and twins Barnaby (with the same name), the innovative and the youngest. After they are mistreated for bringing in an orphan baby left at their doorstep, the kids sent their parents on a disastrous vacation after leaving the baby in a candy factory.
Linda, the nanny who comes to take care of the kids connects with them, except for Tim who suspects she is ganged with their parents. Linda goes looking for Ruth, the orphan baby after the kids tell her about Ruth. She finds that Commander Melanoff has taken in the baby with good care. Though initially resentful of Linda, Tim soon realizes he was wrong; this is after he calls the Orphan Services on her. They reconcile after which the kids travel to "Sveetzerlund" to confront their parents. They save their parents from a fatal danger there, but in turn, are abandoned by the ruthless parents. However, Linda and Melanoff come to their rescue, who later adopt them as well as Ruth. The story ends on a happy note where they live together in the candy factory as a family.
Watch The Willoughbys trailer:
22. Madagascar: Escape 2 Africa (2008) – IMDB Ratings: 6.6/10
Rotten Tomatoes: 64%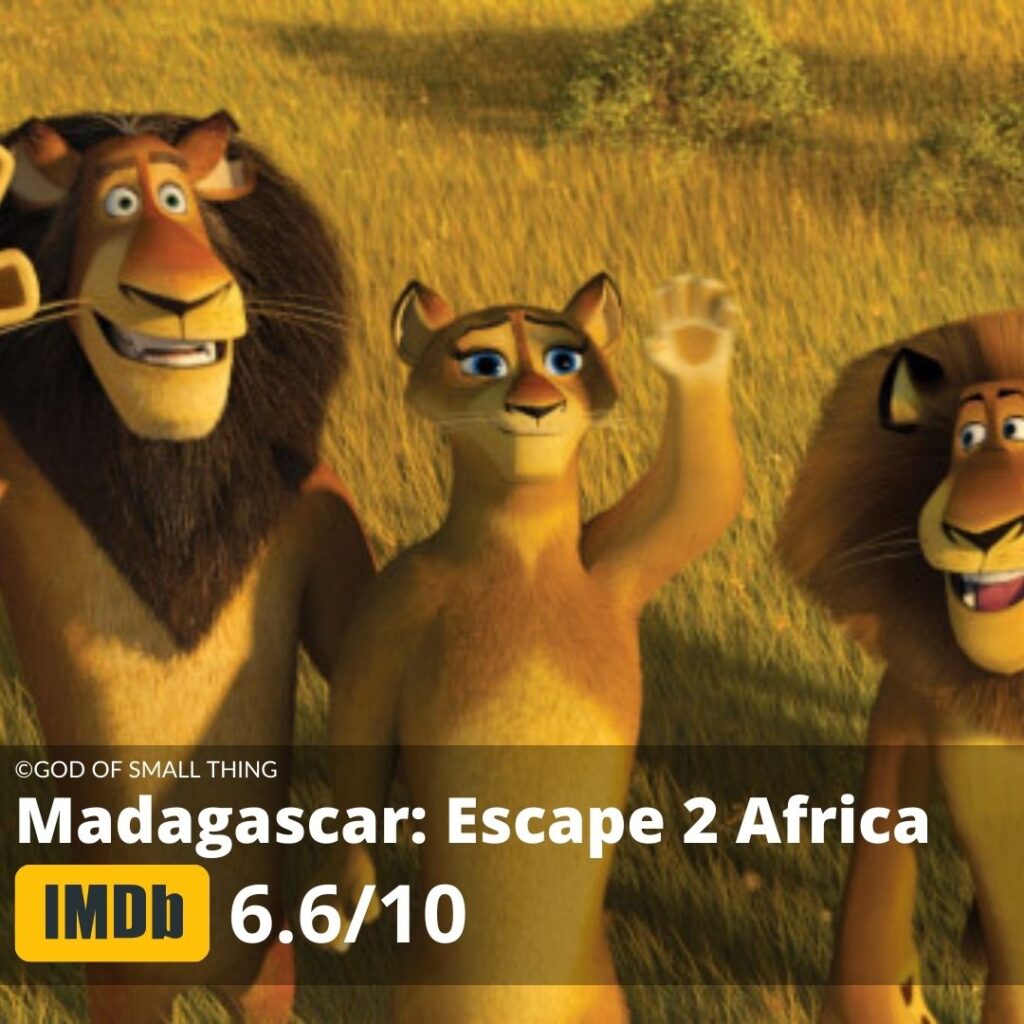 Cast: Ben Stiller, Chris Rock, David Schwimmer, Jada Pinkett Smith, Sacha Baron Cohen, Cedric the Entertainer, Andy Richter, Bernie Mac, Alec Baldwin, Sherri Shepherd.
Madagascar: Escape 2 Africa is the second instalment in the Madagascar film series. The computer-animated comedy film hit theatres in November of 2008. It received high acclaim going on to become one of the highest-grossing films of the year. Packed with humour and adventure, it is one of the best animated movies on Netflix. The numerous accolades that it earned including the Primetime Emmy Awards, Kids' Choice Awards, and American Comedy awards are proof of this fact.
Following the events of its prequel, Alex, Marty, Gloria, and Melman are preparing to return to New York along with the penguins, the chimpanzees, and the lemurs led by King Julian XIII. They start the journey on a battered plane but as the plane runs out of fuel, they crash land in continental Africa. As fate would have it, on this natural reserve, Alex reunites with his long-lost parents from childhood. The animals blend in and enjoy their experience while the penguins try to repair the plane using machine parts of vehicles they steal from safari tourists. Makunga, an evil lion tricks Alex into a contest for the alpha lion title. Unaware that he has to literally fight for the title, Alex puts on his talent show from the zoo. He is defeated in the contest, causing his father to banish him from shame.
While the stay starts turning disappointing for the rest of the friends too, the water hole in the reserve dries up, making things worse. After a series of adventures, Alex and Marty realize that the stranded tourists have dammed the river causing the water shortage. How they solve the problem with the rest of the friends, thereby proving to Alex's father that he is worthy to be the alpha lion forms the rest of the story.
Watch Madagascar: Escape 2 Africa trailer:
21. Monster House (2006) – IMDB Ratings: 6.6/10
Rotten Tomatoes: 75%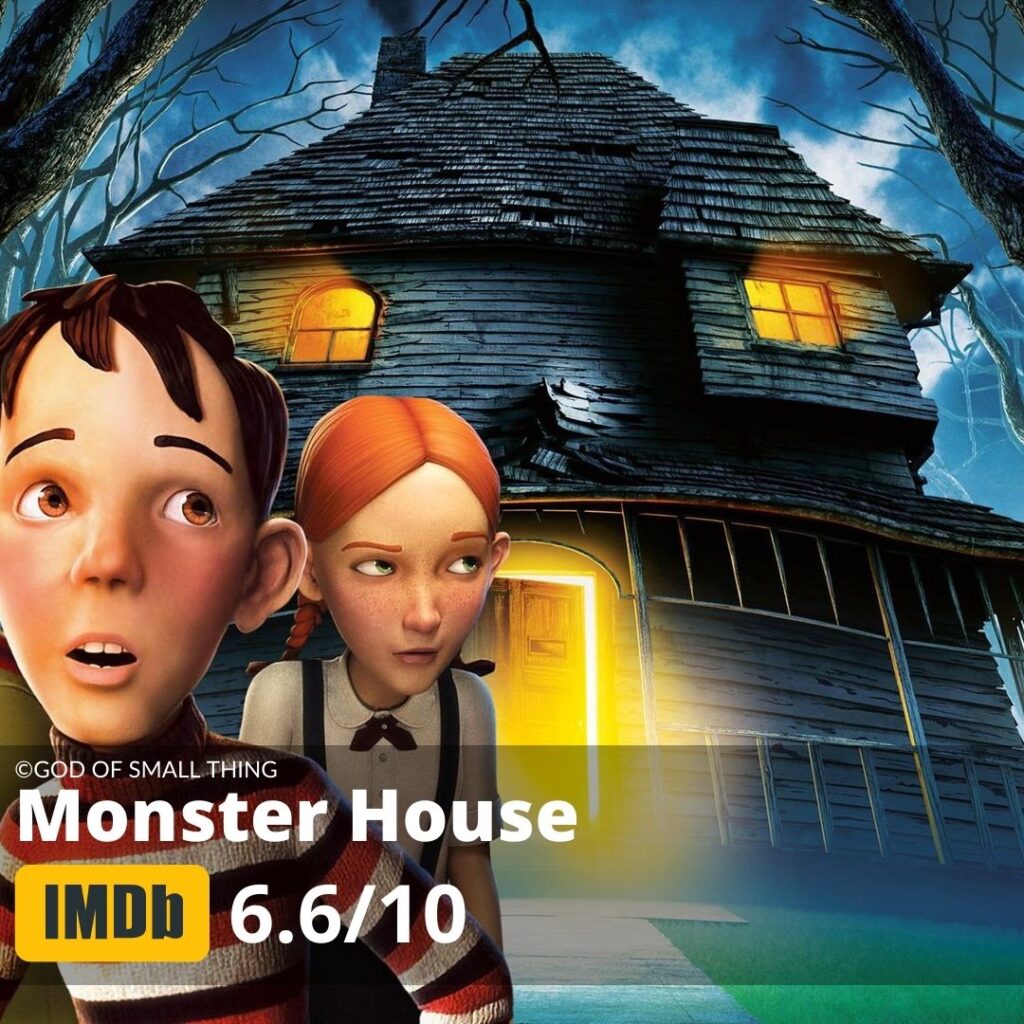 Cast: Ryan Whitney, Steve Buscemi, Mitchel Musso, Catherine O'Hara, Fred Willard, Sam Lerner, Woody Schultz, Ian McConnel, Maggie Gyllenhaal, Jason Lee, Spencer Locke.
Ghost and supernatural stories always fascinate the young mind. Well, here's one Halloween themed amazing animated movie that fits this description. Released in 2006, Monster House is a comedy horror movie that will entertain you best. It opened to fame and several prestigious honours like the Academy Awards, Annie Awards, and Golden Globes awards. One of the best Netflix animated movies, Monster House is sure to give you the chills!
12-year-old D.J. and his friend Chowder spy on D.J.'s neighbour, the cranky old Nebbercracker. Nebbercracker has it to scare away kids and take away their belongings that land in front of his house. After Chowder loses his basketball thus, D.J. makes a row with Nebbercracker leading him into a heart attack, thereby getting him hospitalized. Soon enough, the boys learn that Nebbercracker's house is haunted, and attacks and devour anyone who gets near it. After Jenny, a schoolgirl is rescued by the duo from the monster house, she alerts the police who refuse to believe their story. Supernatural expert Reginald Skulinski tells them that the house has transformed into a monster as a consequence of a human soul merging with a man-made structure.
When Nebbercracker returns home from the hospital, he reveals to the kids that it is haunted by the spirit of Constance, his wife. Constance died in an accident after being bullied by kids for being obese, and hence he keeps kids away from his place to keep them safe from the house's attack. How the kids team up with Nebbercracker to relieve the house from the spirit forms the remaining story.
Do you like watching horror movies ? Then, this list containing the best horror movies on the OTT platform Amazon Prime is just the thing for you! Best horror movies on amazon prime right now
Watch Monster House trailer:
20. Puss in Boots (2011) – IMDB Ratings: 6.6/10
Rotten Tomatoes: 86%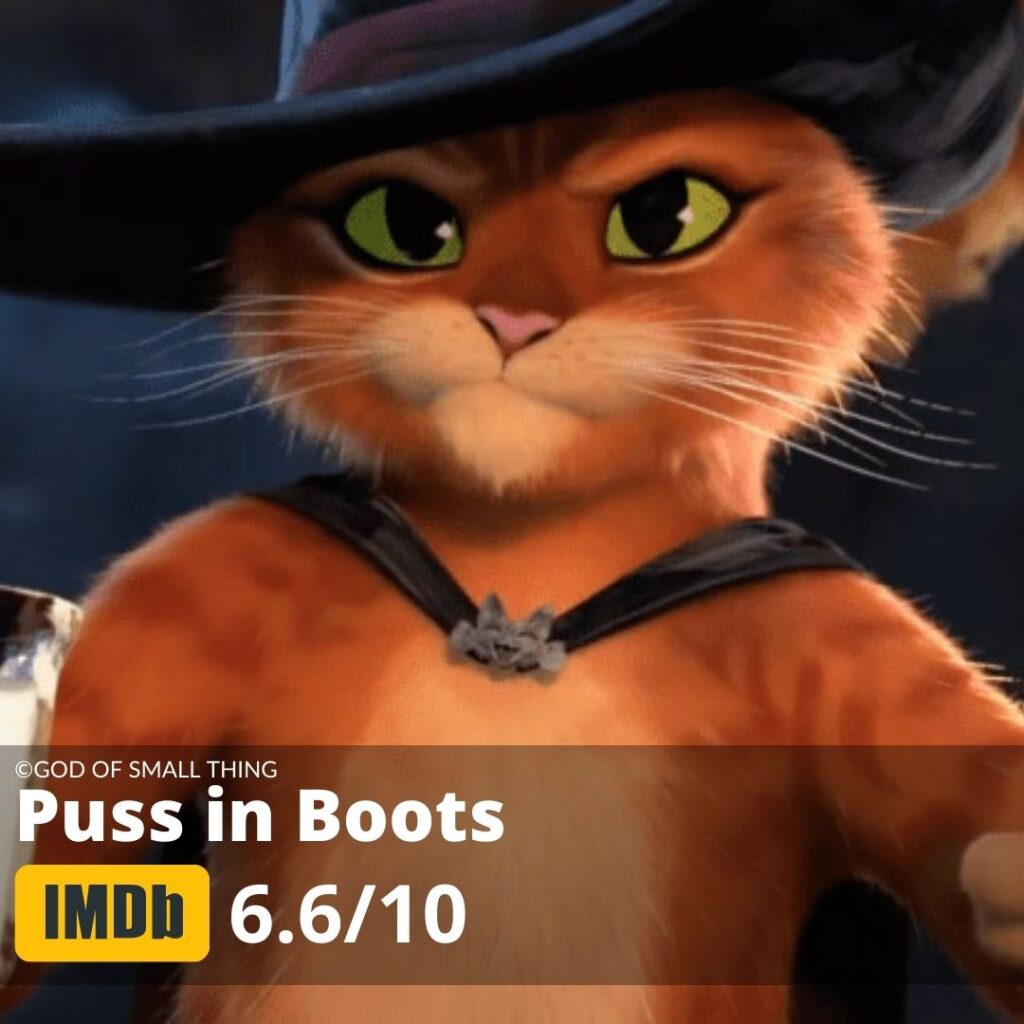 Cast: Antonio Banderas, Salma Hayek, Zach Galifianakis, Billy Bob Thornton, Amy Sedaris, Constance Marie, Guillermo del Toro, Mike Mitchell, Rich Dietl, Ryan Crego.
Anyone who has enjoyed the Shrek series needs no introduction to Puss in Boots, the amiable cat who is Shrek's friend. Puss in Boots is a prequel to the Shrek franchise and goes into detail to explain the origin of the character of Puss in Boots. The movie hit the big screen in October of 2011 and was a huge success at the box office. It has been on the recipient end of numerous awards and nominations like the Academy Awards, Critics' Choice Awards, and Saturn Awards. This movie is definitely among the best Netflix animated movies that will leave you entertained through and through.
Puss in Boots is a fugitive on run from the law who wants to retrieve his lost honour. He attempts to steal the magic beans from outlaws Jack and Jill, which has been his life's aim. He is however confronted by Kitty, the hitcat who is an ally of Humpty Dumpty. Humpty was Puss's childhood friend who tricked him into the crime world in the first place. The three join hands and plant the magic beans in the desert after stealing them from Jack and Jill.
They ride the magical beanstalk into the clouds and reach the castle of the giant which contains valuable golden eggs. When they can't steal the eggs, they steal the Goose instead which lays guard to the eggs. However, Jack and Jill soon intervene knocking Puss unconscious. He soon wakes up to realize that the heist was a plot by Humpty to trap him for revenge. Puss turns himself into the prison guards and meets the real Jack from "Jack and the Beanstalk" in the prison. Jack informs him that the Great Terror which protects the eggs is in reality the Goose's mother who will stop at nothing to get back her child. The rest of the story revolves around how Puss reconciles with Kitty and Humpty to save the town from the wrath of the Great Terror.
Watch Puss in Boots trailer:
19. A Whisker Away (2020) – IMDB Ratings: 6.7/10
Rotten Tomatoes: 93%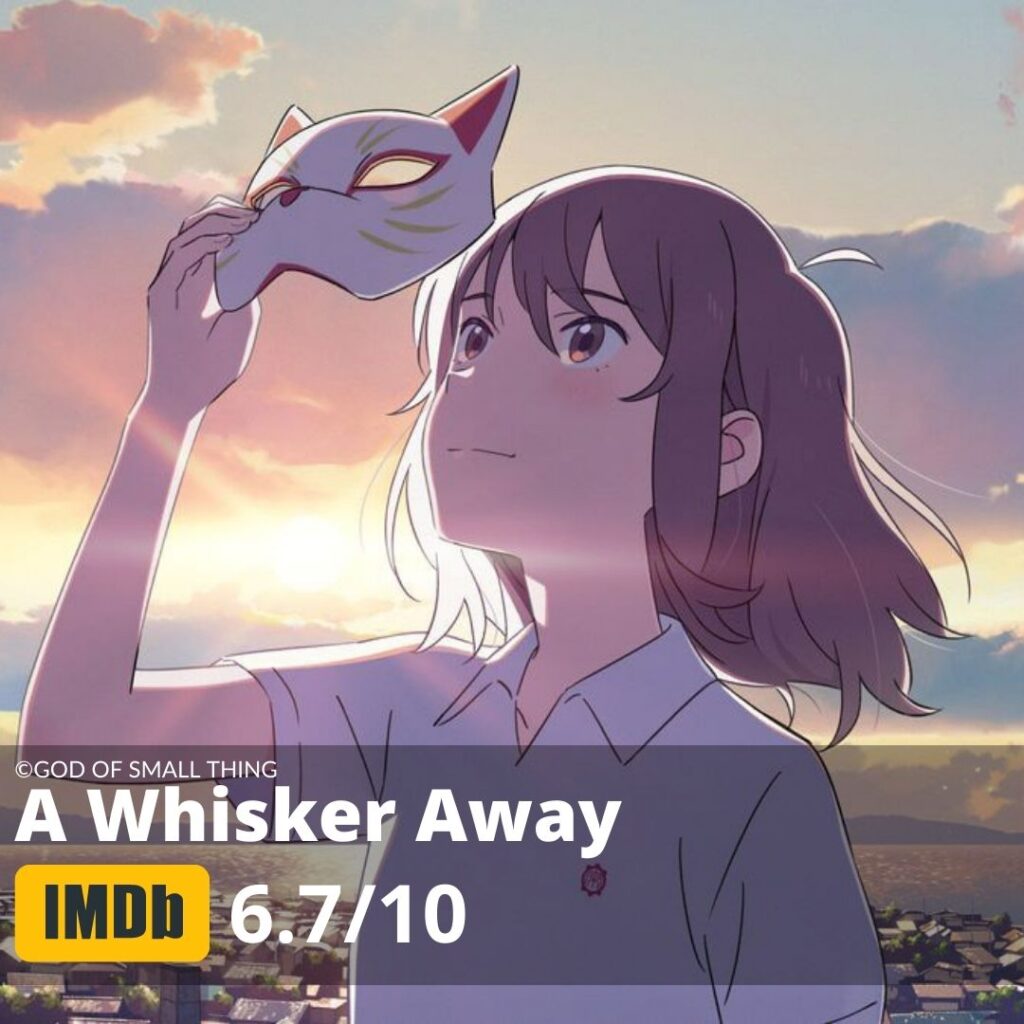 Cast: Mirai Shida, Natsuki Hanae, Johnny Yong Bosch, Bob Buchholz, Kira Buckland, Reba Buhr, Griffin Burns, Susumu Chiba, Todd Haberkorn, Erika Harlacher, Ayako Kawasumi.
A Whisker Away is a Japanese animated movie that was released on the Netflix platform in June 2020. Among the best-animated movies on Netflix, this heart-warming romantic film opened to positive reviews from critics. It has received an award nomination at the Asian Academy Creative Awards. A charming tale about middle school romance, this movie will surely bring a smile to your face.
The story is set in the Japanese town of Tokoname. Miyo is a middle school girl who lives with her stepmother. Among her many woes are her uneasy relationship with her stepmother and her failure at having loved back by Hinode, her school crush. One day, she gets a magical mask from a mysterious seller. Once the mask is put on, she transforms into a cat! Assuming the name Tarō, she spends quality time with Hinode in the cat form. Following some uneventful incidents at school, Hinode publicly tells Miyo that he hates her, while still unbeknownst to the fact that she is Tarō.
Deeply hurt, Miyo resolves to stay in her cat form forever so that she can be with Hinode. Her human face slips off in the form of a mask, which is eventually claimed by the mask seller. He gives it to Kinako, Miyo's stepmother's cat, who assumes human form. As Miyo goes missing having lost her ability to become human again, Hinode confesses to Tarō that he doesn't really hate Miyo. What follows is an adventurous journey of Tarō, Hinode, and Kinako to fight the evil mask seller, help Tarō become human again, and rekindle Miyo's and Hinode's relationship.
Watch A Whisker Away trailer:
18. Madagascar 3: Europe's Most Wanted (2012) – IMDB Ratings: 6.8/10
Rotten Tomatoes: 78%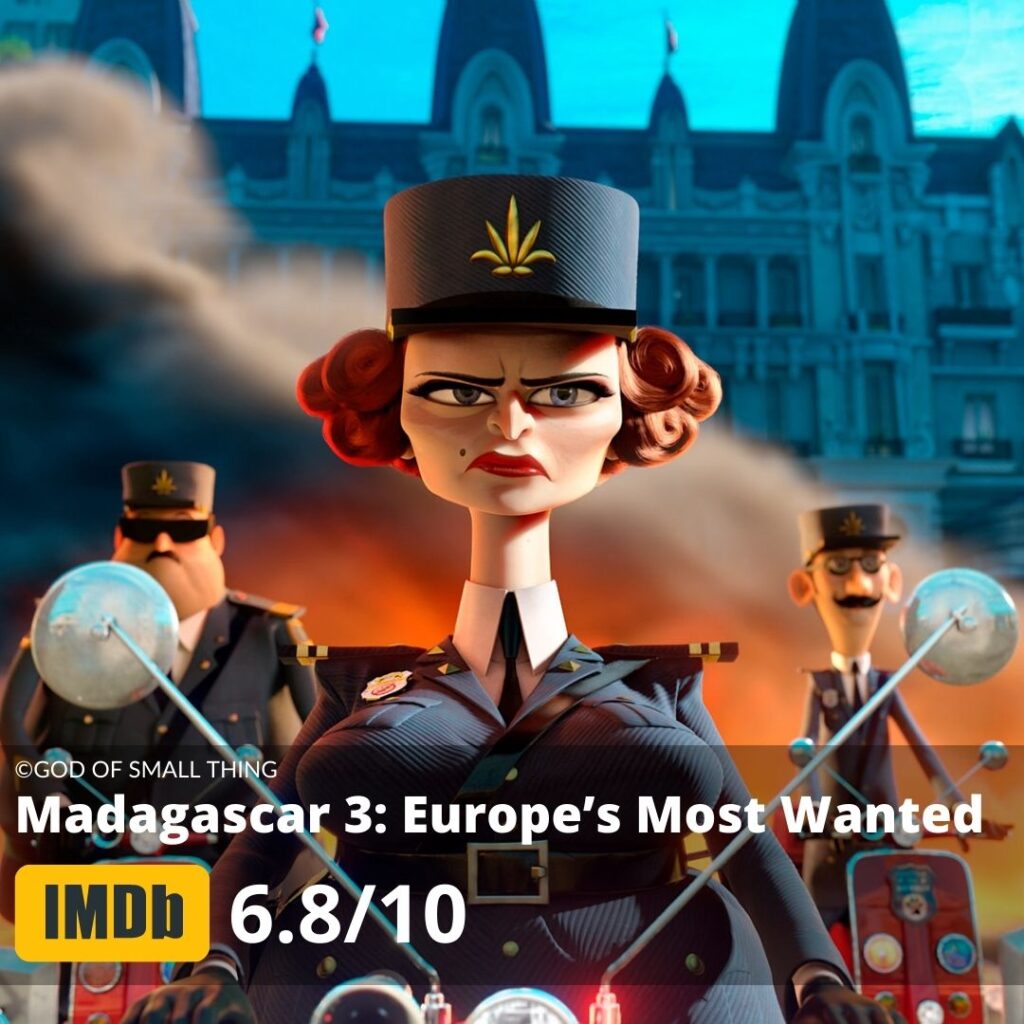 Cast: Ben Stiller, Chris Rock, David Schwimmer, Jada Pinkett Smith, Sacha Baron Cohen, Cedric the Entertainer, Andy Richter, Tom McGrath, Frances McDormand, Jessica Chastain.
Madagascar 3: Europe's Most Wanted is the third instalment of the Madagascar franchise. In this movie, we catch the escaped animals from Central Park zoo on another thrilling adventure. The movie was premiered at the Cannes Film Festival in 2012, and the theatrical release took place in June later that year. It met with highly favourable reviews, going on to receive many accolades like the Teen Choice Awards, Critics' Choice Awards, and Annie Awards. One of the best animation films on Netflix, you will not be disappointed if you enjoyed the first two films of the franchise.
The movie begins where its prequel ends: the penguins and the chimpanzees have left Africa on the aeroplane. The rest of the gang comprising Alex, Marty, Gloria, and Melman and the lemurs led by King Julien decides to go looking for them and return to New York on the plane. They find the penguins at Monte Carlo Casino and narrowly escape from Animal Control officer Chantel DuBois, after the chaos that ensues at the casino. DuBois is determined to catch Alex and add his head to her taxidermy collection. The gang uses their old plane to escape, but it crashes midway and they are forced to board a circus train from Europe. They bond with the circus animals after posing to be American circus animals themselves.
Although their first show in Rome fails terribly, Alex and his friends help the circus animals to create new acts and they restore their former glory. Eventually, however, the circus animals realize that Alex and the others aren't from any circus troupe, and they feel betrayed. They part ways and the four friends return to Central Park. Meanwhile, DuBois is still on the chase for Alex. How the circus animals and our original gang reunite in the end to save Alex from mortal danger from DuBois, is what makes the perfect ending to this entertaining movie.
Watch Madagascar 3: Europe's Most Wanted trailer:
17. Mr. Peabody & Sherman (2014) – IMDB Ratings: 6.8/10
Rotten Tomatoes: 81%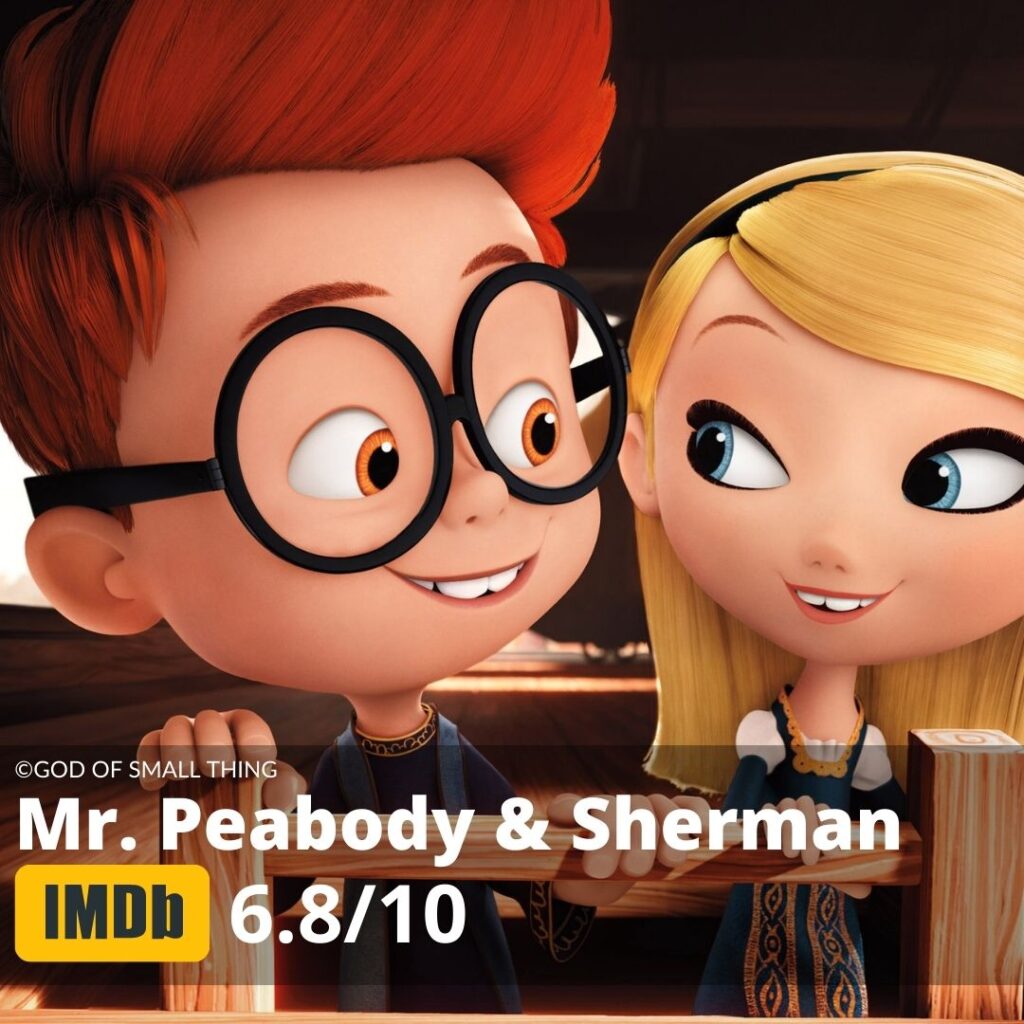 Cast: Ty Burrell, Max Charles, Lauri Fraser, Guillaume Aretos, Pat Musick, Ariel Winter, Karan Brar, Joshua Rush, Stephen Tobolowsky, Allison Janney, Dennis Haysbert.
Mr Peabody & Sherman is a loving story of a father-son relationship. It is not unnatural for human beings to adopt a dog as their kid. In fact, dogs are the most adorable and loving pets ever. But what if the scenario is reversed? Here in this story, we have a loving dog and his adopted human son on an epic adventure! The movie opened to critical acclaim, in February of 2012 in the UK, and a month later in the US. It went on to become the recipient of several accolades including the British Academy Children's awards, Golden Trailer awards, and Annie awards. One of the most adorable and best animation movies on Netflix, don't fail to check out this beautiful treat!
Mr Peabody, a gifted dog lives with his seven-year-old human son Sherman. While tutoring him about the history of the world, Peabody uses his WABAC time machine to actually take Sherman to places where major historical events took place. One day, Sherman gets into a fight at school with fellow classmate Penny. Peabody is summoned and Child Protective Services agent Ms Grunion claims that Sherman exhibits violent nature because he is raised by a dog, an unfit parent for a human child. She tells that she would visit their home to investigate further. Peabody, meanwhile, invites Penny's parents over to dinner to talk out the matter.
Dismissive of his father's instructions, Sherman shows the WABAC to Penny and they travel to 1332 BCE Egypt. After she refuses to come back, Sherman seeks Peabody's help. Following a series of events where they gravely meddle with time and space, the historical figures from various eras start flooding down to present-time through a portal formed above New York. The rest of the story explains how they solve the situation and how Mr Peabody's honour for being a loving, responsible parent is restored.
Watch Mr. Peabody & Sherman trailer:
16. Madagascar (2005) – IMDB Ratings: 6.9/10
Rotten Tomatoes: 54%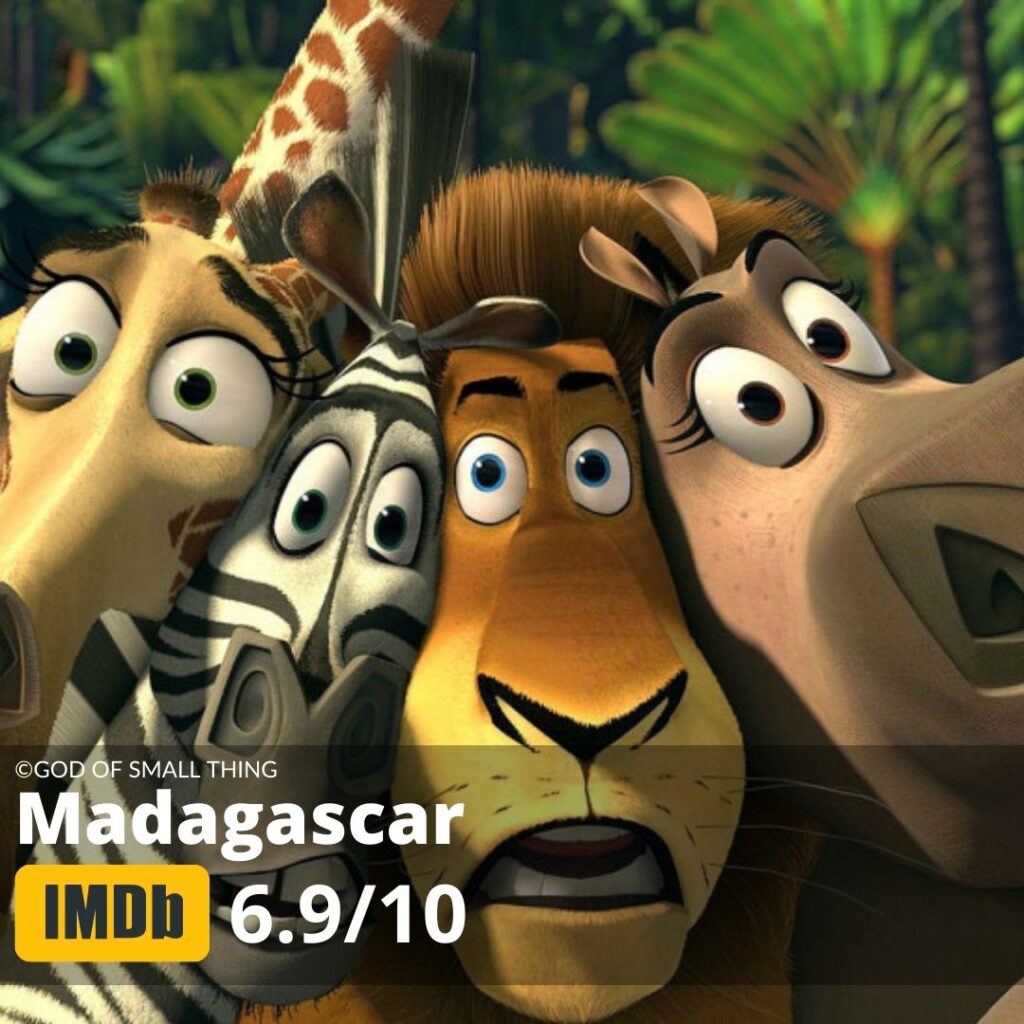 Cast: Ben Stiller, Chris Rock, David Schwimmer, Jada Pinkett Smith, Sacha Baron Cohen, Cedric the Entertainer, Andy Richter, Tom McGrath, Christopher Knights, Chris Miller.
As a kid, whether in the written word or popular media, we are introduced to stories of animals, forests, and nature. This is because, it is important to inculcate the value of a sense of respect for all creatures alike, right from that age. Take, for example, Madagascar. It features the story of four friends, who escape out of the zoo to have an adventure on their own. This witty movie opened to high critical acclaim in May of 2005. Bagging several honours including the Kids' Choice awards and Annie awards, it went on to become one of the highest-grossing films of the year. We can assure you that it is one of the best cartoon movies on Netflix for everyone alike.
Alex, the lion, Marty, the zebra, Gloria, the hippo, and Melman, the giraffe, are show animals at Central Park Zoo. Good friends, the four stay at the zoo along with other animals like the chimpanzees–Mason and Phil, and the penguins, Skipper, Kowalski, Rico, and Private. Marty is unhappy with his routine life at the zoo and expresses this to Alex, Gloria, and Melman at his tenth birthday party. Although the group tries to cheer him up, their efforts go in vain. Learning that the penguins are planning an escape, Marty follows them out. Alex, Gloria, and Melman come rushing to Grand Central Station to stop Marty which ends up in a lot of chaos at the station.
The zoo authorities sedate the escaped animals and soon ship them to a Kenyan wildlife preserve. Following another escape attempt by the penguins, they all end up on a beach in Madagascar. Here, they meet and befriend a pack of lemurs and their king Julien XIII. The rest of the story details their thrilling adventures in Madagascar.
Watch Madagascar trailer:
15. Rocko's Modern Life: Static Cling (2019) – IMDB Ratings: 7/10
Rotten Tomatoes: 92%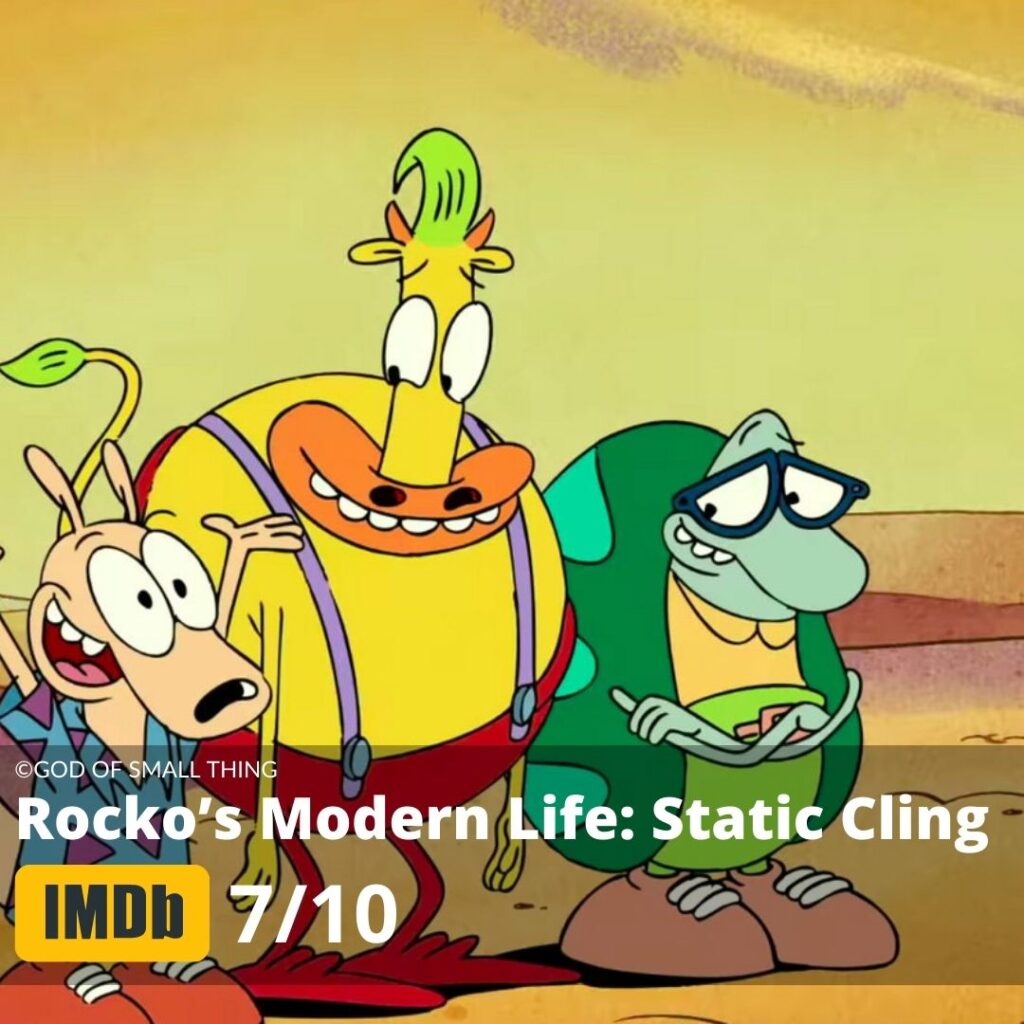 Cast: Carlos Alazraqui, Tom Kenny, Charlie Adler, Mr. Lawrence, Jill Talley, Linda Wallem, Steve Little, Joe Murray, Cosmo Segurson, Tom Smith, Dan Becker.
Rocko's Modern Life: Static Cling is an animated web television special based on Rocko's Modern Life, the famous Nickelodeon series. The film was released on the Netflix platform in August of 2019. The release pivotal to the storyline took place around 20 years after the finale premiere of the original series. It opened high critical appreciation for its powerful plotline addressing the concept of change and coping with it. It was nominated for the Outstanding Kids and Family Programming category at the GLAAD Media Awards of 2020. A unique film in this list of best Netflix animated movies, this one is totally worth your time.
Rocko, a wallaby, Spunky, his pet miniature bull terrier, Heffer, a steer and Filburt, a turtle are friends. Rocko's house was launched into space following which the four friends have been floating in space for 20 years watching The Fatheads episodes. The Fatheads is their favorite
cartoon series created by Ralph Bighead, a neighbour of Rocko's. After finding their remote to return to earth, the four reach back home in O-Town. But now, after 20 years, everything has changed drastically in their lives. For one, The Fatheads have gone off-air since many years. Unable to adjust to this change, Rocko determines to bring back the show. He and his friends go looking for Ralph, who has left home on a journey of self-discovery. They ultimately find him as Rachel, who has since come out as transgender, and runs an ice-cream truck in the desert.
After they convince her to return, she returns home for her family's sake. However, she meets with a cold welcome from her father, Ed Bighead who is disapproving of her transition. How both Rocko and Ed learn an important life lesson; to face and accept change in their lives, is what forms the rest of the story.  
Watch Rocko's Modern Life: Static Cling trailer:
14. 9 (2009) – IMDB Ratings: 7.1/10
Rotten Tomatoes: 57%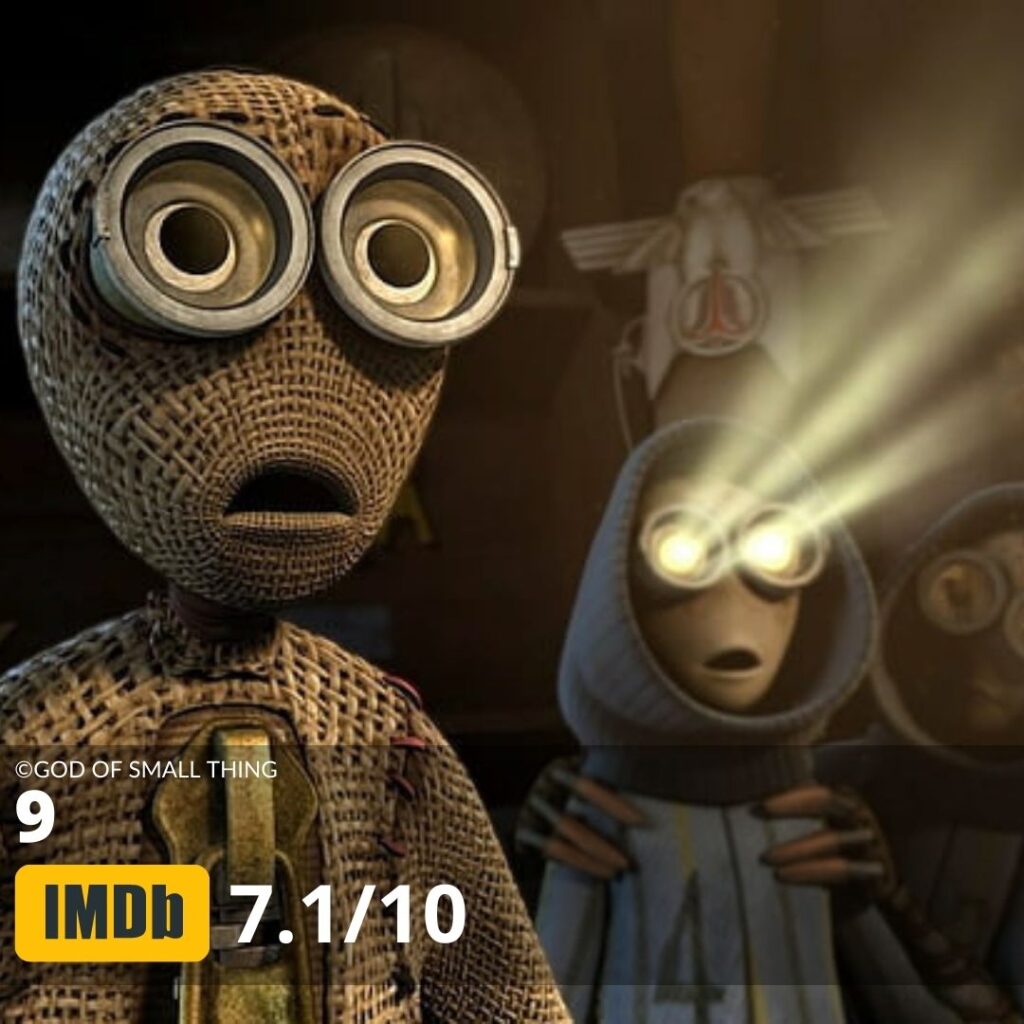 Cast: Christopher Plummer, Martin Landau, John C. Reilly, Crispin Glover, Jennifer Connelly, Fred Tatasciore, Elijah Wood, Alan Oppenheimer, Tom Kane, Helen Wilson.
9 is one of the best animated movies on Netflix for everyone. With a post-apocalyptic theme, the movie succeeds in presenting a unique thriller suitable for all age groups. It was released in theatres in September of 2009, and not surprisingly, met with favourable reviews from the public. Some of the many accolades it took home include the Annie Awards, Visual Effects Society Awards, and Producers Guild of America awards.
A scientist is pressurized by a dictator from an alternate 1930s period to create a highly intelligent robot. Called the B.R.A.I.N., the robot is seized by the dictator before the scientist could give it a soul. The ruthless dictator makes it a Fabrication Machine that produces war machines to destroy the dictator's enemies. However, with the absence of a soul or an understanding of good and bad, the machine decides to finish off all life on earth. It successfully does so with the help of the other war machines. As a last attempt, the scientist creates nine human-like rag dolls using his own soul via a talisman before dying. The dolls are called 'Stitchpunks'.
The ninth doll wakes up as soon as the scientist dies. It is left with the talisman and goes searching for the remaining eight dolls. Soon, it finds 2, a frail inventor, 1, the dogmatic leader, 8, his large bodyguard, 5, the cycloptic engineer, and 6, the mentally unstable oracle. He also runs into 7, the only female member among the dolls, and 3 and 4, the silent scholar twins, after a series of mishaps. The remaining tale talks of how the nine Stitchpunks unite with their own strengths and weaknesses to bring back life on earth by fighting the Fabrication machine.
Did you enjoy watching 9? Then we would like to suggest a few other science fiction films and series which we think you will love especially if you are a science fiction fan. Follow this link for the list of the best ones based on IDMB rating List of 30+ Top 10 Science fiction Movies & Series on Netflix
Watch 9 trailer:
13. Kung Fu Panda 2 (2011) – IMDB Ratings: 7.2/10
Rotten Tomatoes: 81%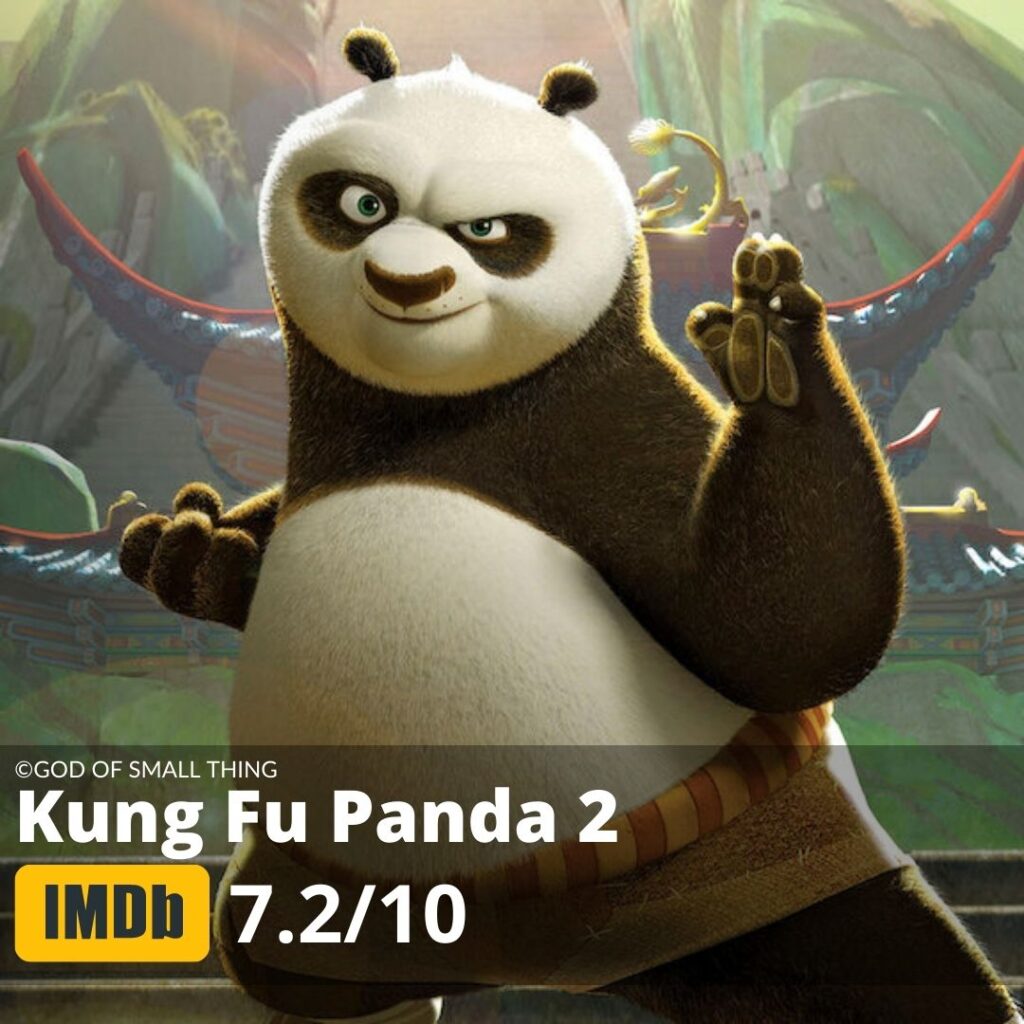 Cast: Jack Black, Angelina Jolie, Dustin Hoffman, Gary Oldman, Jackie Chan, Seth Rogen, Lucy Liu, David Cross, James Hong, Michelle Yeoh, Danny McBride, Dennis Haysbert.
As the name suggests, Kung Fu Panda 2 is the second instalment in the amusing Kung Fu Panda film series. Earning even more fame and credit than its predecessor, the movie hit the big screen in May 2011. Well-received by critics, it went on to be the highest-grossing animated film of that year. Some of the many awards and nominations it received include the Academy Awards, Critics' Choice Awards, Kids' Choice awards, and Annie awards. If you liked the first movie, you are definitely going to love this sequel movie. We mean to say, it's no wonder it has found its place in our list of the best-animated films on Netflix!
Following the events of the first movie, Po has now become a successful Kung Fu master. He, along with the Furious Five fights evil and protects the valley. This is when a new threat arises in the form of Lord Shen, the heir of Peacock rulers of Gongmen City. Evil as he is, he was thrown out by his parents, but has now returned and overpowered the Kung Fu masters guarding the kingdom.
Apparently, the Soothsayer had made a proclamation about Shen that a "warrior of black and white" would defeat him, thereby leading him to kill all the giant pandas he could find. Little Po was abandoned in safety by his mother during the riots and reached Mr Ping, the goose, in the radish shipment to his restaurant. Mr Ping adopted him after nobody came for him. Seeing the symbol of Shen during a battle, Po is constantly haunted by his mother's memory. Though Shen displays intimidating strength, the story shows how Po uses the power of inner peace to defeat him in the end.
Watch Kung Fu Panda 2 trailer:
12. Rango (2011) – IMDB Ratings: 7.2/10
Rotten Tomatoes: 88%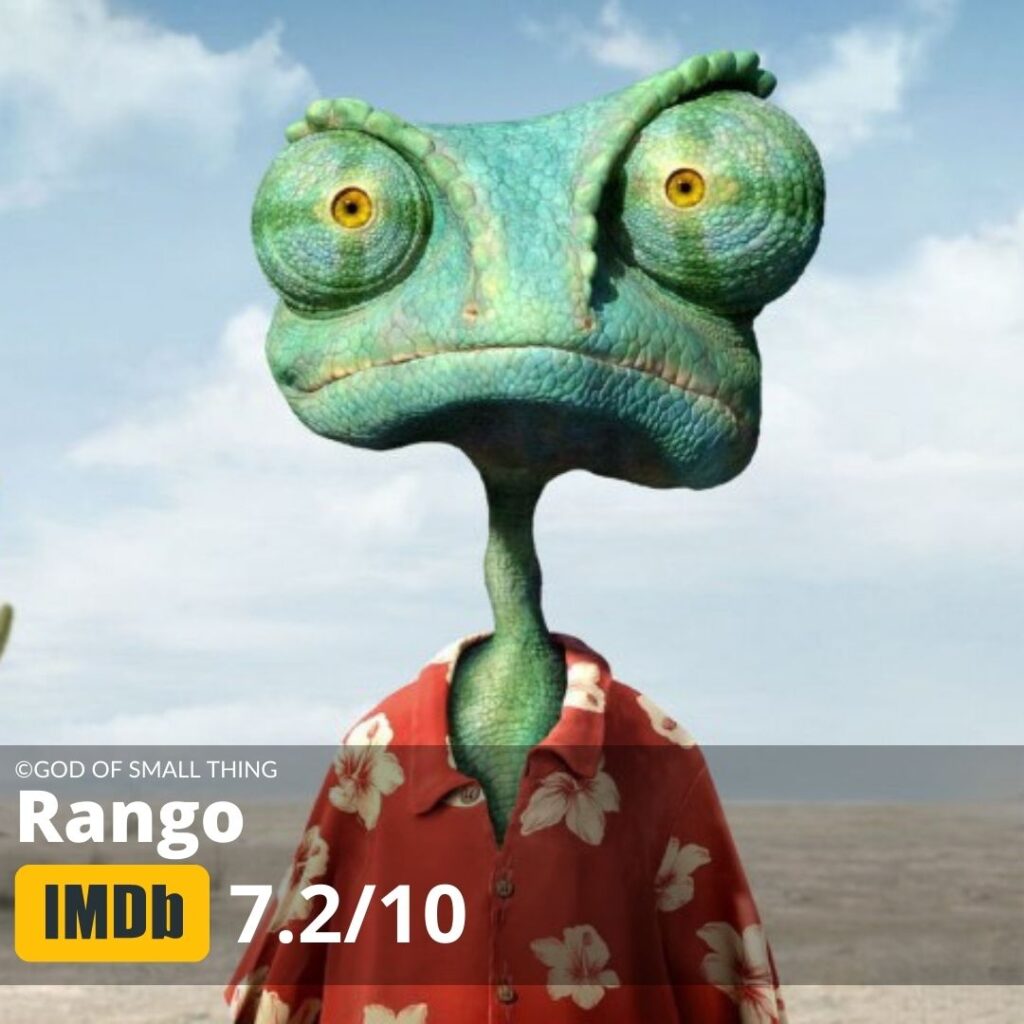 Cast: Johnny Depp, Isla Fisher, Abigail Breslin, Ned Beatty, Alfred Molina, Bill Nighy, Stephen Root, Harry Dean Stanton, Timothy Olyphant, Ray Winstone, Ian Abercrombie.
Rango is a funny computer-animated movie that tells the story of an adventurous anthropomorphic chameleon. It hit theatres in March 2011 and has since been one of the favourite animated movies on Netflix. The movie was a huge critical success and won many accolades like the Academy Awards, Annie Awards, BAFTA awards, and Golden Globe awards, to name a few. If you are looking for something to kill boredom, this Netflix animated movie is sure to the rescue!
A pet chameleon falls off the family car following a road accident. Separated from his friends and desperate with thirst, he is guided by Roadkill, an armadillo to search for Dirt, an Old West town. He meets Beans, a desert iguana on the way who takes him to Dirt. A theatre maniac, the chameleon presents himself as Rango, a tough drifter, in front of the townsfolk. He earns respect from the mayor, a desert tortoise, and is appointed town sheriff, after accidentally killing the hawk, a long-time threat to the townsfolk. Beans demand Rango investigate where the water goes missing in Dirt.
After a series of events, Rango finds out that the mayor has been causing the water shortage to buy the land area of Dirt after the townsfolk evacuate out of drought. He intends to build a modern city on the purchased land. When confronted, the mayor summons Rattlesnake Jake who scares Rango out of Dirt. How Rango manages to defeat the mayor with the help of Roadkill is what the rest of the story is about.
Watch Rango trailer:
11. Invader Zim: Enter the Florpus (2019) – IMDB Ratings: 7.5/10
Rotten Tomatoes: 100%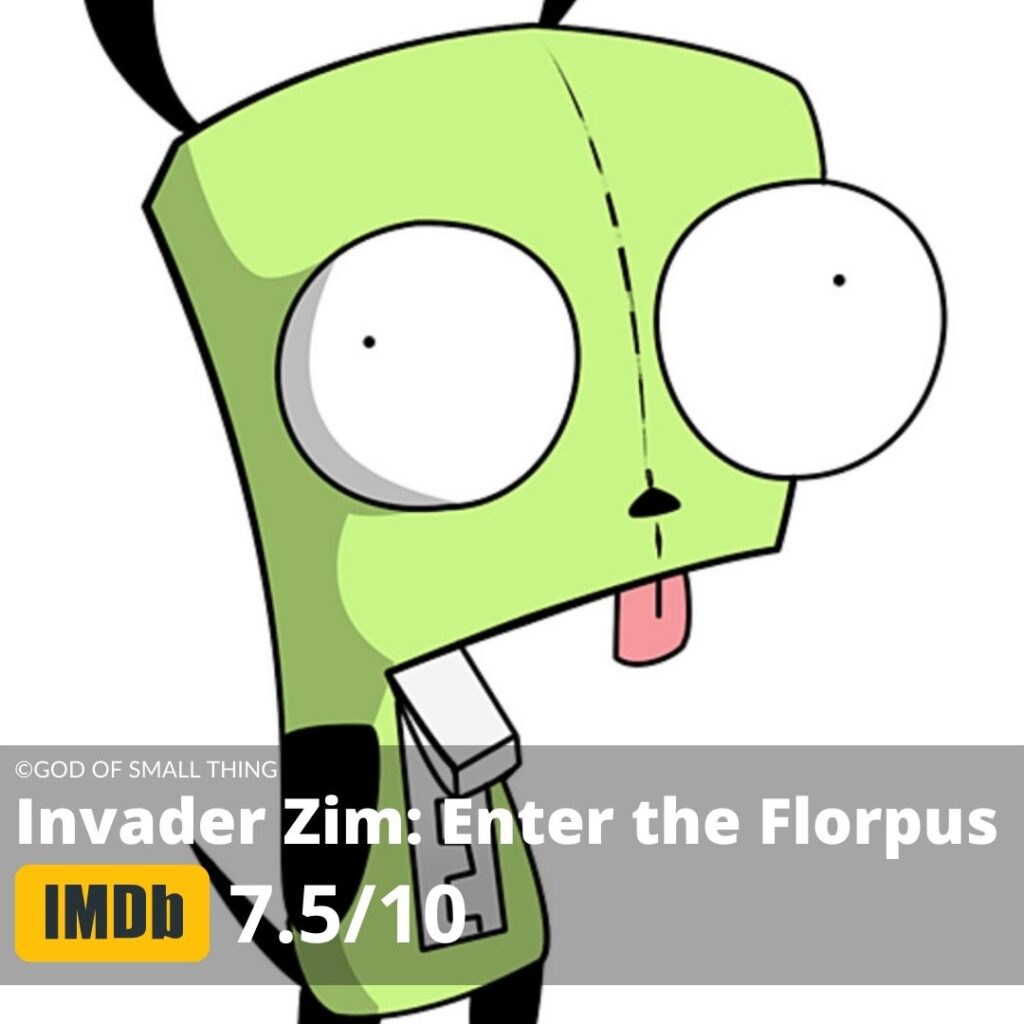 Cast: Richard Steven Horvitz, Rikki Simons, Andy Berman, Melissa Fahn, Rodger Bumpass, Jhonen Vasquez, Wally Wingert, Kevin McDonald, Olivia d'Abo, Eric Bauza, Breehn Burns.
Invader Zim: Enter the Florpus is an animated sci-fi movie that was released on Netflix in August 2019. The movie is a sequel to the events of the cartoon television series Invader Zim. Bagging honours like the Annie awards, Golden Reel awards, and Daytime Emmy awards, the movie was a commercial success. It is highly appreciated for its humour, animation, action, and sci-fi elements. One can say without a doubt that Invader Zim: Enter the Florpus is one of the best cartoon movies on Netflix to enjoy for kids and adults alike.
Zim, an arrogant and ruthless alien from planet Irk comes back to earth after a long period with GIR, his dim-witted robot. Dib Membrane, a young, physically unfit, paranormal investigator who was waiting for their return, confronts them. Zim tells Dib that he waited too long to appear so that Dib would be unfit to stop Phase 2 of his mission to conquer the earth. Determined Dib trains to become fit with the help of his sister, Gaz. Professor Membrane, Dib, and Gaz's father give Dib a prototype device called Membracelet which can harness the positivity of the world's children. Meanwhile, Zim fails to explain Phase 2 while in conversation with the Almighty Tallest, co-leaders of the Irken Empire. He is depressed and surrenders to Dib who decides to present Zim to the world.
During Prof Membrane's keynote address, Zim hijacks the live stream and Membrane disappears. Dib and Gaz are left unconscious and realize they have been imprisoned, upon waking up. Additionally, Zim's attempt to teleport the earth opens a rift in space-time called Florpus, which can devour the planet. How Dib manages to rescue the planet from Zim with his father's assistance is what the remaining story is all about.
Watch Invader Zim: Enter the Florpus trailer:
10. Despicable Me (2010) – IMDB Ratings: 7.6/10
Rotten Tomatoes: 81%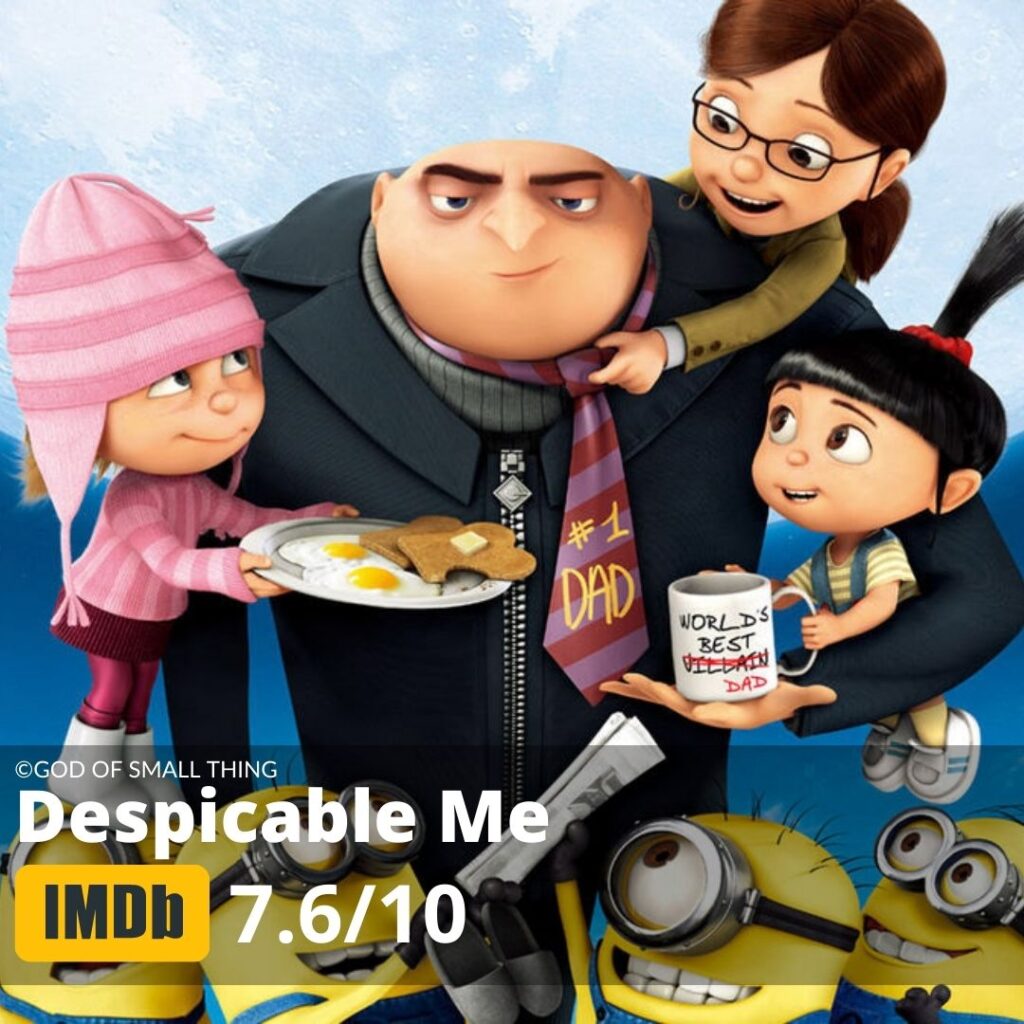 Cast: Steve Carell, Jason Segel, Russell Brand, Julie Andrews, Will Arnett, Kristen Wiig, Miranda Cosgrove, Dana Gaier, Elsie Fisher, Pierre Coffin, Chris Renaud, Jemaine Clement.
Despicable Me is one of the most loved animated movie franchises by kids all over the world. The first instalment of the franchise, Despicable Me is a computer-animated comedy movie by Universal Pictures. It premiered at the Moscow International Film Festival in June 2010, before its official theatrical release a month later. It holds fame as the 14th highest-grossing animated film of all time. Critically acclaimed for its screenplay, humour element, and animation, it has also received many accolades like the BAFTA awards, Annie Awards, and Kids' Choice awards. Do watch it once and you'll know why we have it on our list of the best animation movies on Netflix!
Gru is a long-time villain who holds pride in several notorious heists. He is anguished, however, on learning about the heist of the Great Pyramid of Giza by a rival villain. He determines to shrink and steal the Earth's Moon with his army of Minions, in retaliation. When his elderly assistant, Dr Nefario expresses concern over financial backing, Gru applies for a loan from Mr Perkins. Perkins asks Gru to impress him by stealing the shrink ray first. Although Gru succeeds in this, Vector, the real mastermind behind the Pyramid heist steals it from Gru. When Gru goes to Vector's fortress to retrieve it, he is unable to fight the defences. However, he finds three orphan girls there called Margo, Edith, and Agnes who are selling cookies. Gru adopts the girls disguising as a dentist so that he can use them to retrieve the shrink ray from Vector's defences.
Though initially clueless on how to deal with children, Gru forms an emotional bond with the girls with time. He also succeeds in retrieving the shrink ray, which he informs Perkins about. Perkins, who is actually Vector's father, refuses help and instead informs Vector of this. When Gru successfully shrinks and steals the moon with the help of the girls and his army, Vector kidnaps the girls and the shrunken moon and flies away in his aircraft. How Gru manages to rescue his girls and reunite with them is what the remaining adventure's all about.  
Watch Despicable Me trailer:
9. I Lost My Body (2019) – IMDB Ratings: 7.6/10
Rotten Tomatoes: 96%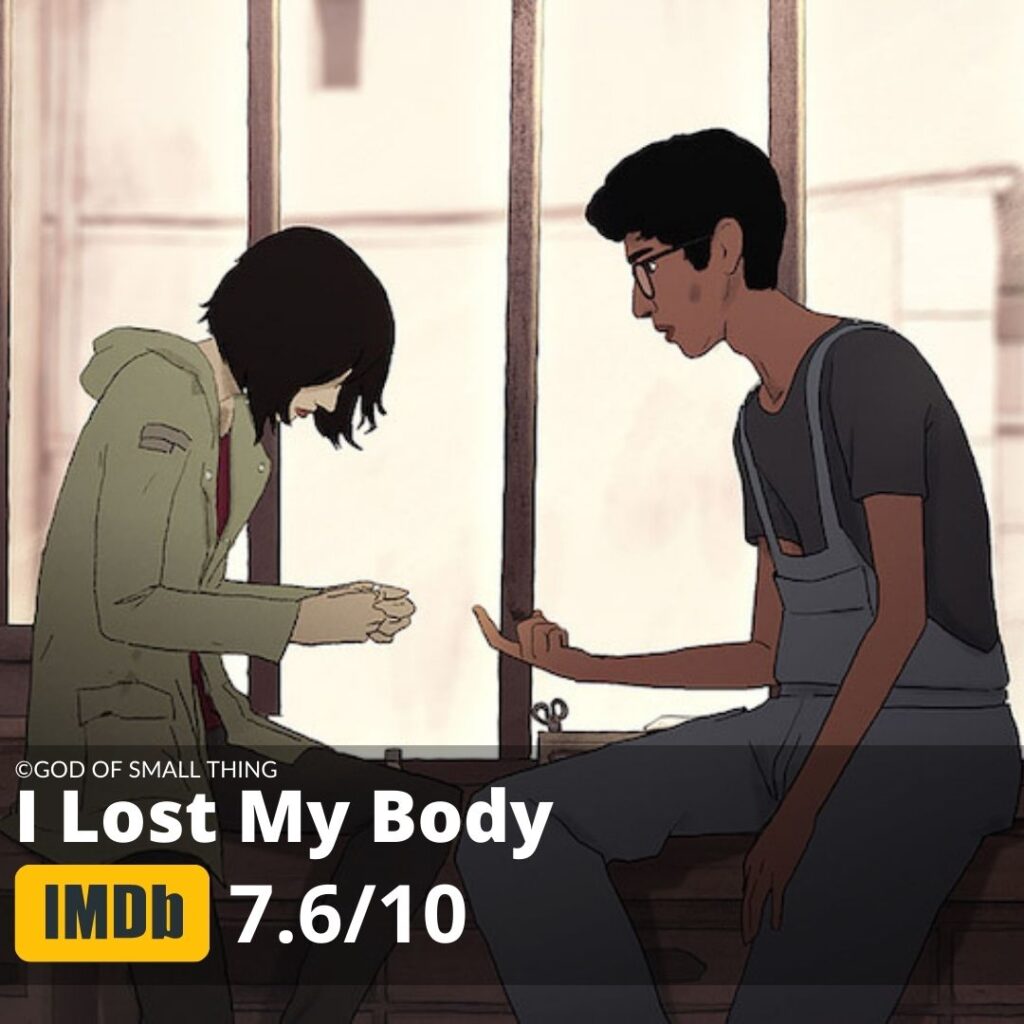 Cast: Hakim Faris, Victoire Du Bois, Patrick d'Assumçao, Alfonso Arfi, Hichem Mesbah, Myriam Loucif, Bellamine Abdelmalek, Maud Le Guenedal, Nicole Favart, Quentin Baillot.
I Lost My Body is a French animated movie that hit theatres in November of 2019. It was initially premiered at the Cannes Film Festival of 2019, in May of that year. Here, it won the Nespresso Grand Prize and earned popularity as the first animated film to have bestowed this honour. Widespread critical acclaim met the movie, accompanied by numerous awards like the Academy Awards, International Critics' Week award, Annie Awards, and Critics' Choice awards, to list just a few. If you want to watch something out of the usual, something that carries depth, then this Netflix animated movie won't disappoint you.
In the opening scene, a severed human hand runs away from a lab refrigerator to reunite with its body. The hand belongs to Naoufel, who had lost his parents in a car accident in childhood. Brought up by his rude uncle along with his cousin in France, Naoufel works as a pizza delivery man once grown up. He meets Gabrielle, a young woman, in a strange encounter while delivering pizza. Although he doesn't see her, he falls for her after a conversation with her and decides to pursue her. He soon finds out her whereabouts and ends up with a job at her uncle Gigi's, who is a carpenter.
As they become friends, one-day Naoufel wonders aloud to Gabrielle if his fate could change all over should he jump from the roof onto a nearby crane? Following this, he reveals he had pursued Gabrielle after the pizza delivery, the news she doesn't take well. After a drunken fight at his cousin's part that night, Naoufel ends up with a black eye, and while cutting wood the next day, he accidentally severs his hand. When Gabrielle comes to see him, he is missing from his room. After the wooden igloo, he had built for her goes missing too from the rooftop, Gabrielle learns from his old tape recorder that he indeed took the fall from the roof. As he looks out into the city from the crane, his severed hand now retreats to the snow.
Watch I Lost My Body trailer:
8. The Little Prince (2015) – IMDB Ratings: 7.7/10
Rotten Tomatoes: 93%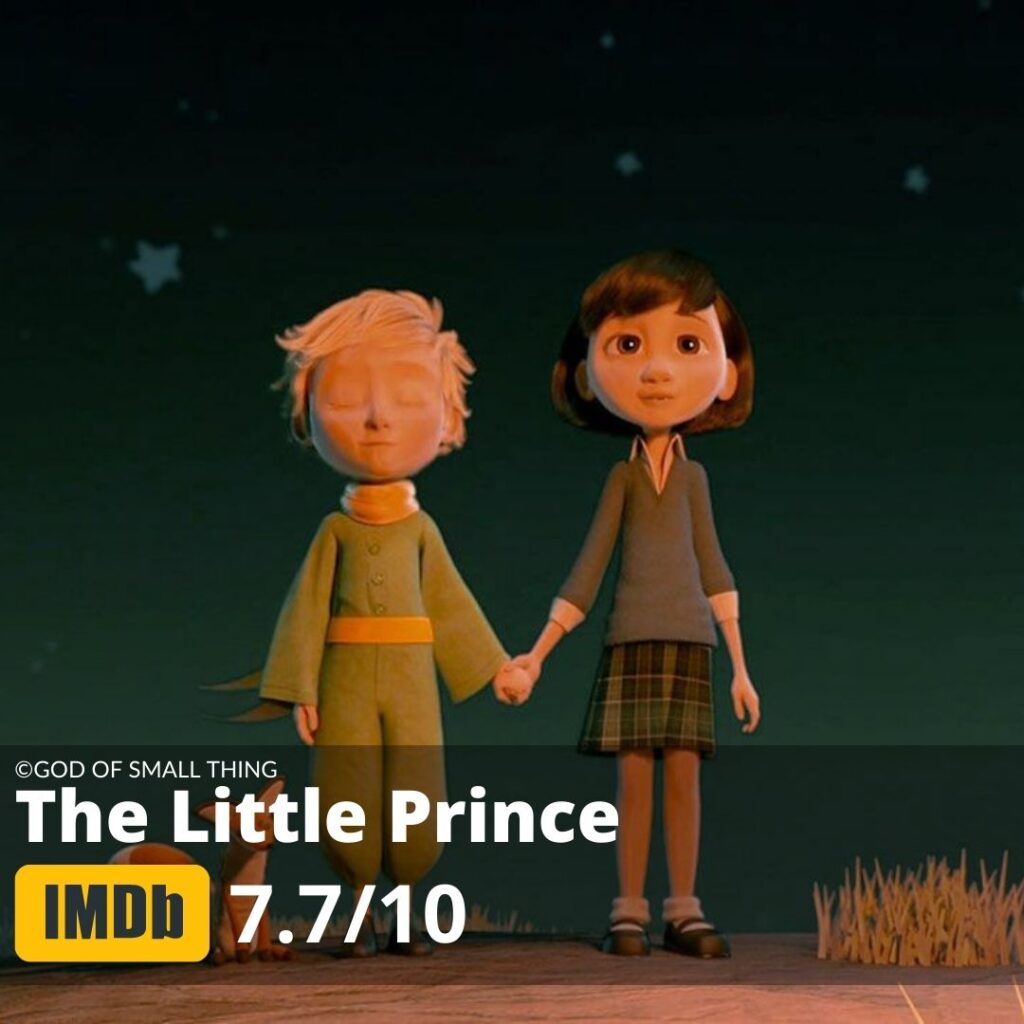 Cast: Jeff Bridges, Mackenzie Foy, Rachel McAdams, Marion Cotillard, Riley Osborne, James Franco, Bud Cort, Benicio Del Toro, Ricky Gervais, Albert Brooks, Paul Rudd.
The Little Prince by Antoine de Saint-Exupery is one of the most beautiful pieces of work in the literary world, of all time. This 2015 movie is inspired by this charming novella. A 3D animated fantasy film, the movie does justice to the original literary work. It was premiered at the Cannes Film Festival of 2015, in May of that year, and later had its theatrical release in July 2015. Not surprisingly, it opened to favourable reviews from critics and viewers from across the world. It hails as the most successful French animated film abroad of all time. Hence, we can assure you it is no accident that it made it to this list of the best-animated movies on Netflix!
A young mom and her daughter move to a new neighbourhood. The mother, who is determined to have her child enrolled at the Werth academy, insists that the daughter follow a strict life plan designed by her. As this excludes any fun, the girl gets distracted and acquaints with their old neighbour, unbeknownst to the mother. The old neighbour is none other than the aircraft pilot narrator of the original novella, The Little Prince. He narrates the story to the girl who gets fascinated as the story progresses. He gifts the girl with a stuffed fox (the red fox from the original story). The two then decide to go to space to find the Little Prince on her birthday. However, a police officer confronts them and has learned that the pilot has no license, and takes the girl back to her mother.
The mother increases her work assignments further. Despite her mother's disapproval, the girl continues to read the story, curious about its ending. When she learns of its tragic ending from the pilot, she is distraught. So, when the pilot gets hospitalized, she heads to space on her own in his aircraft, along with her stuffed fox (which is now conscious), to find the Little Prince. The rest of the story details her adventures in space with the Little Prince.
Watch The Little Prince trailer:
7. Lupin III: The Castle of Cagliostro (1979) – IMDB Ratings: 7.7/10
Rotten Tomatoes: 95%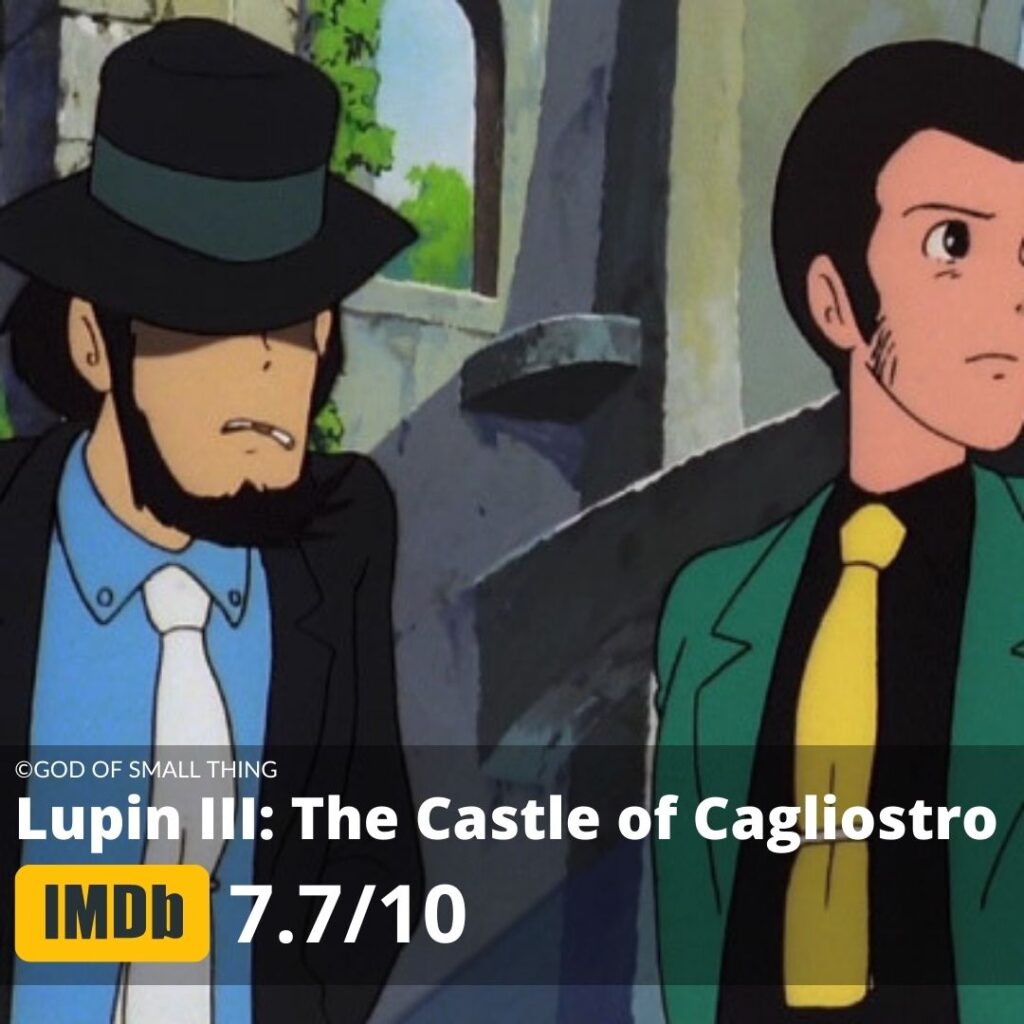 Cast: Yasuo Yamada, Eiko Masuyama, Kiyoshi Kobayashi, Makio Inoue, Gorô Naya, Sumi Shimamoto, Tarô Ishida, Kôhei Miyauchi, Ichirô Nagai, Tadamichi Tsuneizumi, Kinpei Azusa.
One of the earliest classics in the animated film world, Lupin III: The Castle of Cagliostro has had a major influence on the Disney and Pixar animation gems that followed in the decades to come. This movie is a Japanese animated film that hit theatres in December of 1979. It is one of the most popular animated films of all time.
The story is set in 1968. Arsène Lupin III is a master thief. He steals huge amounts of money from the Monte Carlo Casino, with his colleague Daisuke Jigen. However, they soon realize that the money is fake and head to Grand Duchy of Cagliostro, which is known as the source of all the counterfeit money. Here, they rescue a young woman, whom Lupin recognizes as Princess Clarisse, being chased by thugs. Clarisse leaves her signet ring with Lupin. Clarisse is soon to be married to Count Cagliostro. The evil Count intends to acquire the fabled treasure of Cagliostro using his own and Clarisse's ancestral rings.
In the ongoing chase for the ring, Lupin goes through a series of adventures, which ends in Clarisse giving up the ring to the Count to save Lupin's life. How Lupin manages to get hold of the rings, stop the wedding, rescue Clarisse and entitle her to her rightful kingdom, forms the crux of the remaining story.
If you are a fan of action movies here is a list of the best action movies to watch on Netflix based on IMDB ratings. The Best Action Movies on Netflix with IMDB ratings
Watch Lupin III: The Castle of Cagliostro trailer:
6. The Breadwinner (2017) – IMDB Ratings: 7.7/10
Rotten Tomatoes: 95%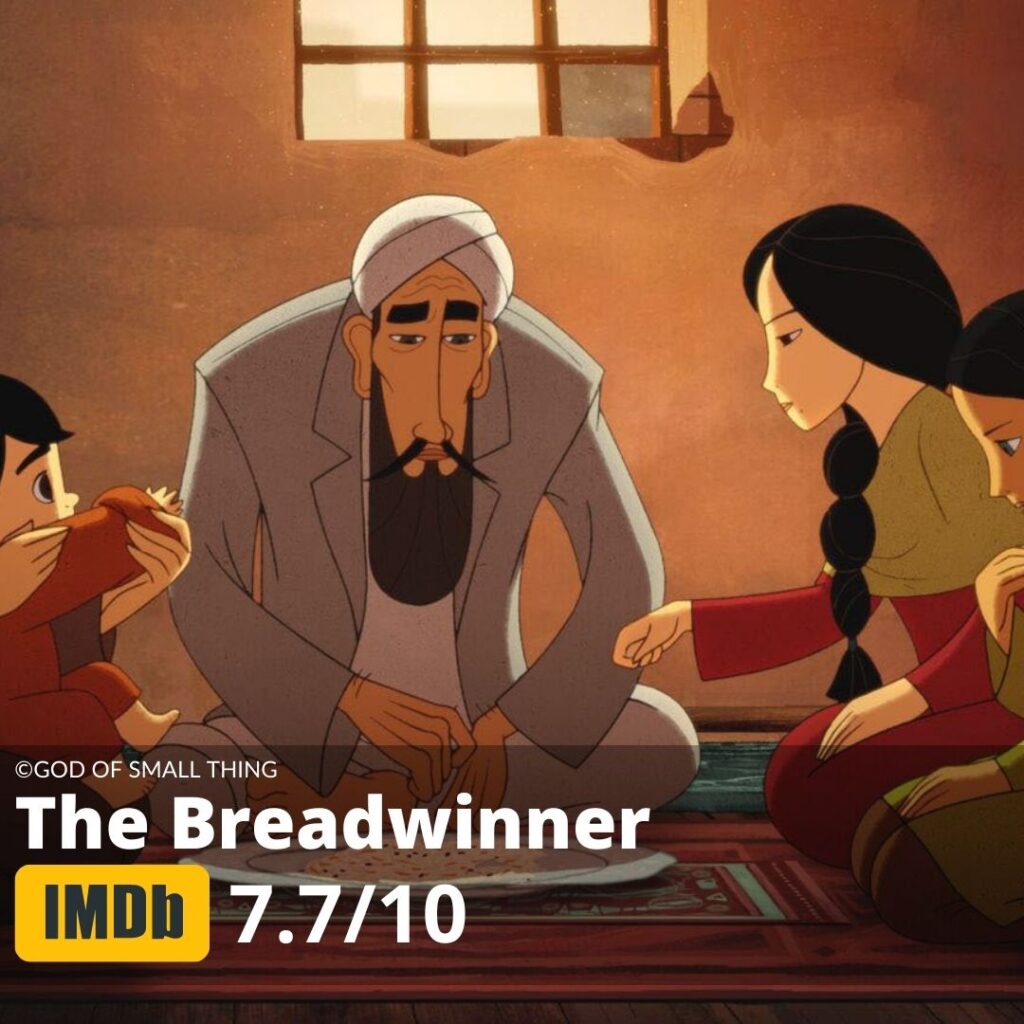 Cast: Saara Chaudry, Soma Chhaya, Noorin Gulamgaus, Laara Sadiq, Ali Badshah, Shaista Latif, Kanza Feris, Kawa Ada, Kane Mahon, Ali Kazmi, Mran Volkhard, Reza Sholeh.
The Breadwinner is a heart-warming tale penned by Deborah Ellis, the popular Canadian fiction writer. The movie is inspired by this novel. It was initially premiered at the Toronto International Film Festival in September 2017 and was later released in theatres in November, that year. It is critically acclaimed for its powerful storyline and emotional weightage. Among the many awards and nominations, it has received are the Academy Awards, Annie Awards, Golden Globe awards, and Canadian Screen Awards. One of the best animation movies on Netflix, this movie should definitely be on your 'must-watch movies' list.
Parvana, a schoolgirl, lives with her family consisting of her parents, her elder sister, and younger brother in Kabul under the Taliban's Islamic Emirate of Afghanistan. Nurullah, her father is a former teacher who is now a hawker after getting physically disabled in the Soviet-Afghan war. Nurullah is arrested by Idrees, a young member of the Taliban, on false accounts. As women aren't permitted to go out without a male relative in that area, the family struggles to support themselves after Nurullah's arrest.
Without another choice, Parvana disguises herself as a boy and poses as Aatish, her cousin, and does hard labour jobs to help the family. She soon makes friends with Shauzia, another girl who poses as a boy to earn money to escape from her abusive father. Once, Parvana comes to the aid of Razaq, who is Idrees' companion, and they become friends. The touching story tells us how Parvana, an 11-year-old, fights every odd in her way to rescue her father and family from crisis and reunite them again.
Watch The Breadwinner trailer:
5. In This Corner of the World (2016) – IMDB Ratings: 7.8/10
Rotten Tomatoes: 97%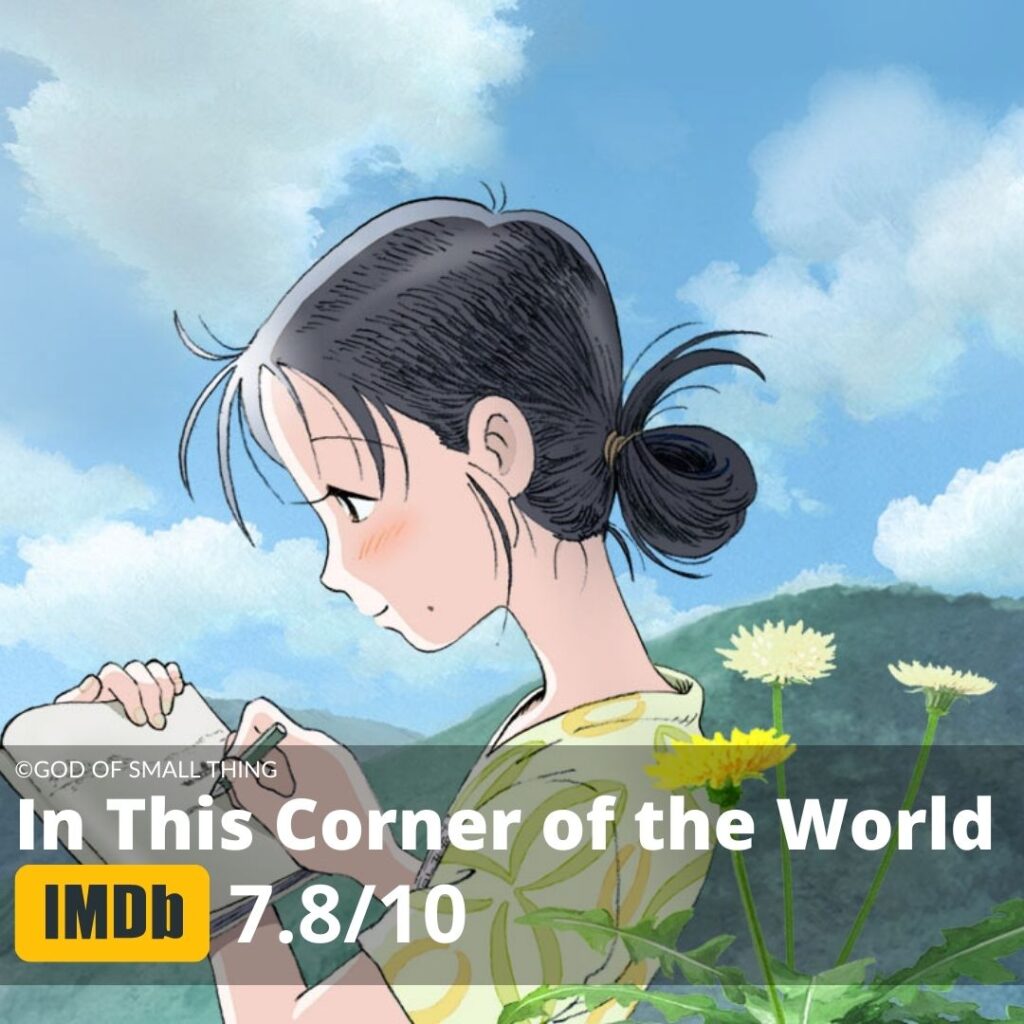 Cast: Non, Ava Pickard, Kenna Pickard, Karen Strassman, Melodee Spevack, Michael Sorich, Tony Azzolino, Anne Yatco, Bailey Bucher, Bryce Papenbrook, Cherami Leigh, Christopher Corey Smith.
Another heart-wrenching animated movie, In This Corner of the World, is based on a manga series of the same name, written and illustrated by Fumiyo Kōno. It is set in Hiroshima during the World War II period. Inspired by real experiences from the time, the movie succeeds in portraying the trauma of the atomic bombings. It was premiered at the Tokyo International Film Festival in October 2016 and a subsequent theatrical release took place the following month. It opened to widespread appreciation and won abundantly many prestigious accolades. One of the most spectacular and best Netflix animated movies, this one will surely well you up.
Suzu, an 18-year-old woman from Eba, a town near Hiroshima, gets married to Shusaku in 1943. She moves into Shusaku's place in Kure City. The Pacific War being evident, tensions arise across Japan soon after. Suzu, though still new to the city, grows to the situation and volunteers in activities like overseeing food distribution and attending training against air raids.
Two years later, the US launches air-based attacks on the city and Suzu suffers major losses. She loses her right hand, as well as the life of her niece, Harumi, with whom she was very close. She undergoes depression and considers going to her home in Hiroshima for the summer festival. However, she decides against it, only to remain the witness to the drastic atomic bombings that wiped out her entire family, except her sister Sumi. Sumi, though alive, is severely ill from radiation poisoning. Meanwhile, Shusaku, a naval civilian, returns from the service as the war ends. Later, they run into a little girl who lost her parents in the bombings. They adopt her as their child, and Suzu slowly regains her will to live thereafter.
Watch In This Corner of the World trailer:
4. The End of Evangelion (1997) – IMDB Ratings: 8.1/10
Rotten Tomatoes: 88%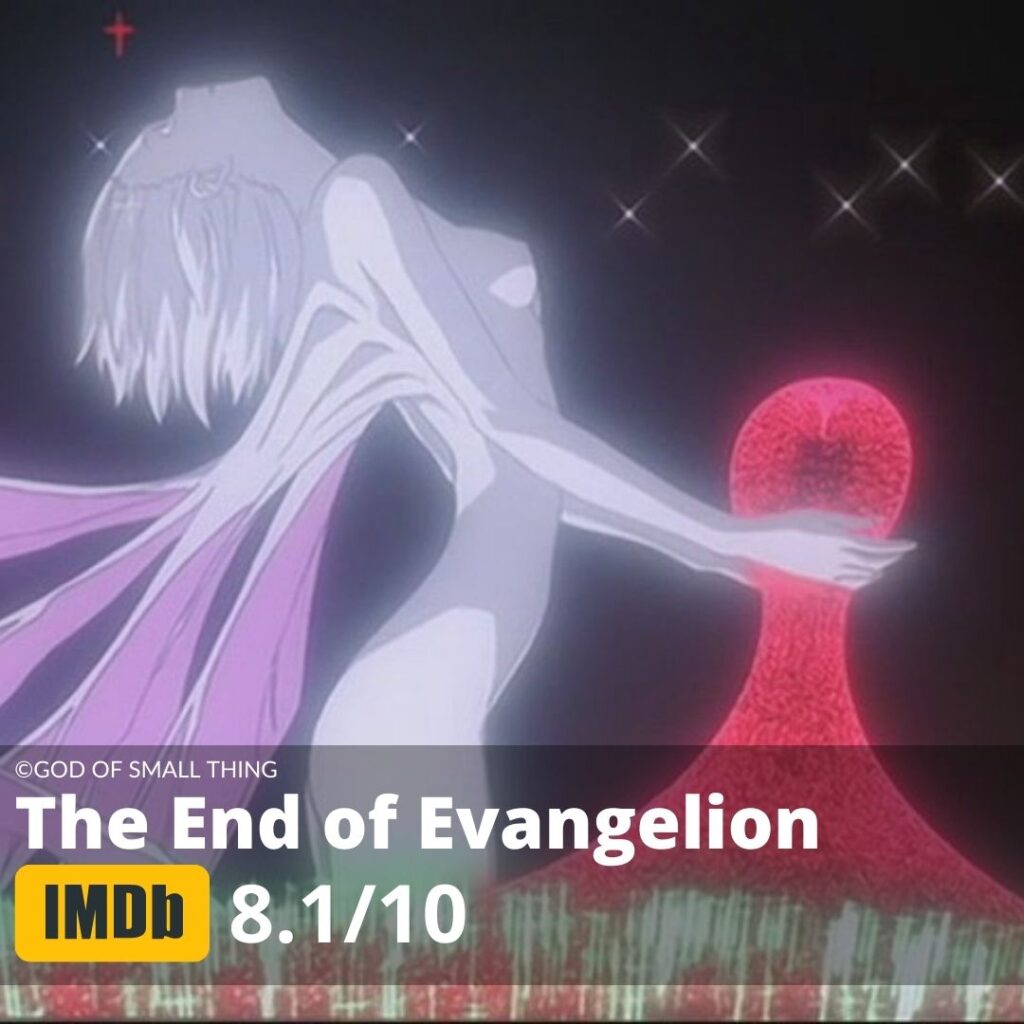 Cast: Megumi Ogata, Megumi Hayashibara, Yûko Miyamura, Kotono Mitsuishi, Yuriko Yamaguchi, Fumihiko Tachiki, Akira Ishida, Motomu Kiyokawa, Mugihito, Takehito Koyasu.
The End of Evangelion is a Japanese animated sci-fi movie. It is based on and acts as a parallel ending for the Neon Genesis Evangelion series. One of the most enthralling sci-fi animated movies, it was released worldwide in July 1997. It is considered one of the 100 best animated films of all time and serves as the perfect example of being one of the best Netflix animated movies.
The Evangelion units are giant cyborgs specially designed to battle hostile supernatural entities known as Angels. Shinji Ikari is the pilot of Evangelion Unit 01. Following the events until the 24th episode of the original series, Kaworu Nagisa, the pilot of Evangelion Unit 02 and Shinji's friend, is no more. Another Evangelion Unit 02 pilot, Asuka Langley Soryu is in a comatose state. Shinji is devastated by the turn of events that led to the mishaps.
NERV is the paramilitary organization that deploys Evangelion units and Gendo Ikari is the commander of NERV. SEELE, a secret committee finds out that Gendo Ikari plans to use NERV for his own needs. Hence, SEELE dispatches JSSDF who attempt to take control of NERV, killing many of the NERV staff in the process. Misato Kasturagi, the NERV major, determines that Shinji must defend NERV and save humanity. How Shinji manages to do this while going through tough phases of the emotional dilemma is what the story is all about.
Watch The End of Evangelion trailer:
3. A Silent Voice (2016) – IMDB Ratings: 8.1/10
Rotten Tomatoes: 94%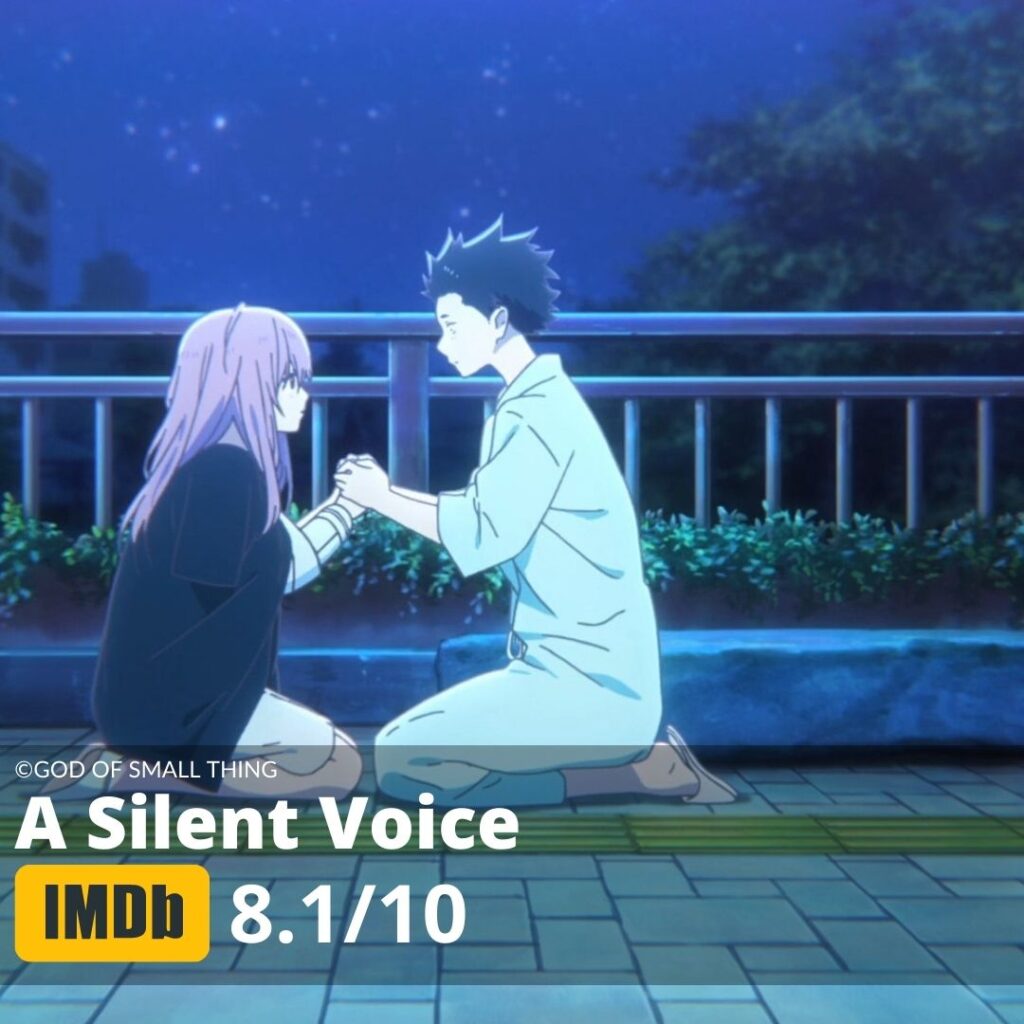 Cast: Miyu Irino, Saori Hayami, Aoi Yûki, Kenshô Ono, Yûki Kaneko, Yui Ishikawa, Megumi Han, Toshiyuki Toyonaga, Mayu Matsuoka, Sachiko Kojima, Hana Takeda, Fuminori Komatsu.
A Silent Voice is a heart-warming and adorable Japanese animated film. Based on the manga series of the same name, the film hit theatres in September of 2016. It met with positive reviews from critics and the audience, for the beautiful storyline, direction, and animation. The movie received many awards like the Japanese Academy Awards, Japan Movie Critics awards, and Newtype Anime Awards. If you love watching movies from the romance genre, this movie will surely win your heart.
Shoya Ishida and Shoko Nishimiya are classmates in elementary school. Shoko, a new student, announces to the class that she is deaf, upon arrival. Unfortunately for her, Shoya and her friends bully her frequently. When summoned by the principal after a complaint is filed, their teacher declares Shoya as the sole culprit. Following this, Shoko is transferred to another school and Shoya earns the reputation of a bully. He is treated as an outcast by the rest of the class. When this treatment persists in high school, Shoya undergoes depression and considers committing suicide. However, he decides against it.
Five years after the initial bullying incident, Shoya meets Shoko once again, at the sign language centre. Now reformed in his attitude, Shoya tries to show her his support. They become friends. They reunite with their classmates from middle school and after a series of events, problems start arising again. With his past hanging behind as a constant regret, Shoya has to now prove himself his changed self.
Watch A Silent Voice trailer:
2. Klaus (2019) – IMDB Ratings: 8.2/10
Rotten Tomatoes: 94%
Cast: Jason Schwartzman, J.K. Simmons, Rashida Jones, Will Sasso, Neda Margrethe Labba, Sergio Pablos, Norm MacDonald, Joan Cusack, Evan Agos, Sky Alexis, Jaeden Bettencourt.
One of the most enchanting things about Christmas is the arrival of Santa Claus with his sack full of gifts. As kids, we've all believed that Santa Claus is real, and most of us have wondered about his origins. Well, this beautiful movie presents a possible theory. Klaus is an animated Christmas movie of 2019. It was released in theatres in November of that year and went on to become one of the most loved and best animated movies on Netflix. It is highly credited for the storyline, animation, and performances by the voice actors. Winning many accolades like the Academy Awards, British Academy Film Awards, and Annie awards, this movie is a treat for all who love the Christmas season!
Jesper Johansson is a lazy guy who doesn't like to work. His father, the Royal Postmaster General sends him to Smeerensburg town after he repeatedly flunks out of the postman academy. Jesper is threatened that if he fails to deliver 6000 letters by the end of the year, he will be cut off from the family fortune. Desperate, he reaches the town. There, he learns that the town is home to the families of Ellingboe and Krum, who keep fighting all the time.
Despite the families' attempts to chase him away, Jesper stays and tries to mail a drawing made by a boy from the Krum family. In this drawing, he accidentally drops at the reclusive woodman Klaus' home. Klaus, whose house is full of handmade toys, makes Jesper deliver a wooden toy for the Krum boy. Soon, all the kids in the town start sending letters to Klaus, eager to get toys in exchange. The adults of the Ellingboe and Krum family are disapproving of this toy delivery as it leads the Krum boy to make friends with a girl from the Ellingboe family. How the practice persisted despite the adults trying everything to stop it, is what the rest of the story tells us about.
Watch Klaus trailer:
1. Spirited Away (2001) – IMDB Ratings: 8.6/10
Rotten Tomatoes: 97%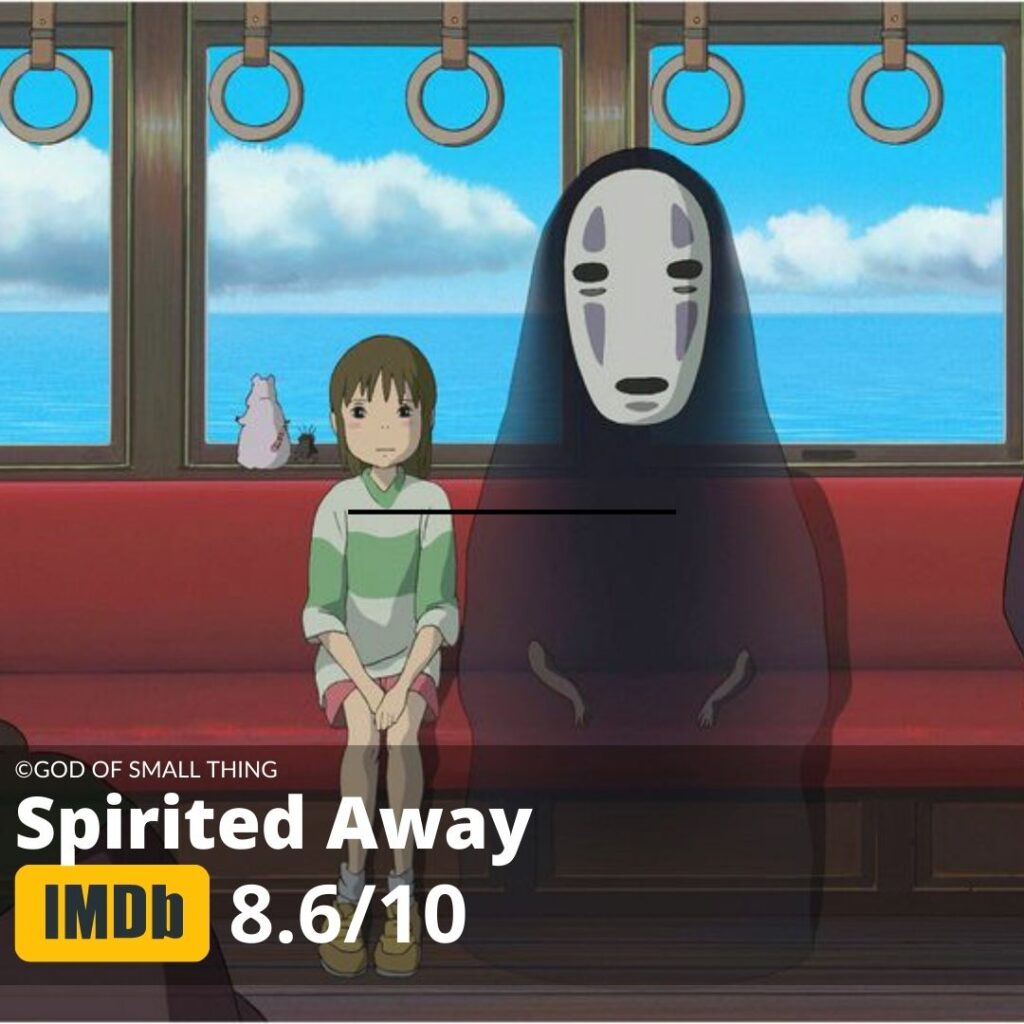 Cast: Rumi Hiiragi, Miyu Irino, Mari Natsuki, Takashi Naitô, Yasuko Sawaguchi, Tatsuya Gashûin, Ryûnosuke Kamiki, Yumi Tamai, Yô Ôizumi, Koba Hayashi, Tsunehiko Kamijô.
Spirited Away is an animated fantasy film, whose storyline is inspired by Japanese Shinto folklore. The movie had its theatrical release in July of 2001. It rose to universal acclaim and is credited for the fantasy elements and animation. It is considered to be one of the greatest animated films ever made. No wonder it won numerous accolades like the Academy awards, Mainichi Film Awards, Annie Awards, Saturn Awards, and Critics' Choice Awards, to name a few. We can assure you that it is one of the best-animated films on the Netflix platform and that you shall love getting carried away in this mystical fairy tale!
Chihiro is a 10-year-old girl who is travelling to her new home with her parents. Her father takes a shortcut on the route and ends up in front of a tunnel that seemingly leads to an abandoned village. Although reluctant at first, Chihiro joins her father in exploring the village. She reaches the front of an attractive bathhouse where she meets a boy called Haku. Haku warns her to return back across the riverbed before the time of sunset. But by the time Chihiro tries to return, the damage is already done. Her parents have now transformed into pigs and the river has overflooded hindering her path.
Haku comes to her assistance, and with the help of Kamaji and Lin who work at the bathhouse, Chihiro meets Yubaba. Yubaba is the witch who runs the bathhouse and who has transformed Chihiro's parents into pigs. Though Yubaba attempts to scare Chihiro away, she persists. This impresses Yubaba who gives her a job at the bathhouse. The remainder of the story explains how Chihiro manages to bring her family out of the spirit world with the help of Haku and the others.
Watch Spirited Away trailer:
In case you are looking out for some more recommendations over what to watch on Netflix, you can always go through our category of Netflix recommendations. What to watch on Netflix – Netflix Recommendations by God of Small Thing Netflix recommendations