20+ Bollywood Stars with Abs Actors & Actresses both! – God of Small Thing
Well!!! It is no longer about acting only, it is also about the abs. Bollywood stars have always been in limelight because of their aspiring body structure, strong biceps, and perfect abs. Aesthetic beauty and muscle play both are major concerns of an actor in the Indian film industry. To get perfect abs, one needs to spend various grilling hours in the gym sweating around and follow a resilient and dedicated routine, along with their massive amount of excellent and multidimensional work. Actors are known for their bodies but primarily the focus remains on their acting skills and the domination in the Indian cinema with their hard work and chiseled look/ these celebs must stay in the race. Well, now do you think is it so easy to get six-pack abs? Hopefully, determination and motivation is the key to success. There are various actors like Akshay Kumar, Salman Khan, Ranveer Singh, and Shahid Kapoor who have toned their bodies and have become heartthrob inspirers for the rest of the world.
The craze for six-pack abs is not only limited to the Bollywood industry but has expanded to Hollywood where many stars like Chris Evans, Ryan Reynolds, Zac Efron, Chris Hemsworth, and Bradley Cooper have broken barriers and touched the universe.
Who started the trend of six-pack abs in Bollywood?
Salman Khan started the trend of actors going shirtless to flaunt their bodies onscreen. As per BollywoodLife, it was not Salman but Shah rukh Khan who started it off in "Om Shanti Om". Then came various figures like Aamir Khan, Vidyut Jamal, Tiger Shroff, and John Abraham. Abs make celebrities look more abseiling and increase their fan following. The fever, mania, and passion to have a spectacular and blazing body are not only limited to the actors but various Bollywood actresses have led their way in the same. Bollywood actresses like Nargis Fakhri, Lisa Haydon, Priyanka Chopra, Shilpa Shetty, Sara Ali Khan, Bipasha Basu, and Parineeti Chopra have a well-toned bodies with Tough abs.
Bollywood Stars with abs
Salman Khan
Lisa Haydon
Akshay Kumar
Alia Bhatt
John Abraham
Priyanka Chopra
Hrithik Roshan
Nargis Fakhri
Shahid Kapoor
Shraddha Kapoor
Ranveer Singh
Shilpa Shetty
Tiger Shroff
Kangana Ranaut
Bipasha Basu
Shah Rukh Khan
Anushka Sharma
Parineeti Chopra
Varun Dhawan
Kartik Aryan
Katrina Kaif
Sara Ali Khan
Vidyut Jammwal
1. Salman Khan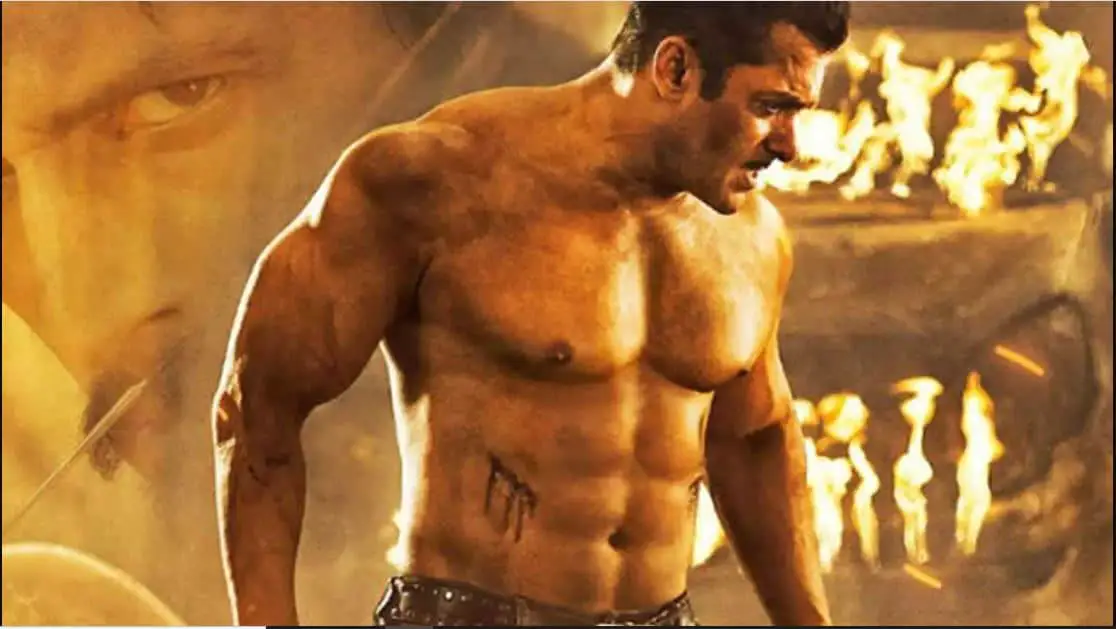 He is the heartthrob of India with millions of fan following. He started the trend of going shirtless in toned abs. The Prem of Bollywood is the God of bodybuilding in Indian cinema. His screen presence drives everyone crazy; people enthusiastically wait for him to show his abs in movies. The Bajrangi Bhaijaan actor works out daily for three hours and follows a consistent way of training, three days a week. He focuses on the biceps, legs, back, triceps and abs. There is a fact that is amazing and insane. Salman Khan can do 2000 sit-ups, Thousand push-ups, and 500 crunches at a time. The heart-winning actor had to bulk up for his film Sultan but then resumed his body to his best. He promotes fitness and has various gyms all around India known as SK 47.
2. Lisa Haydon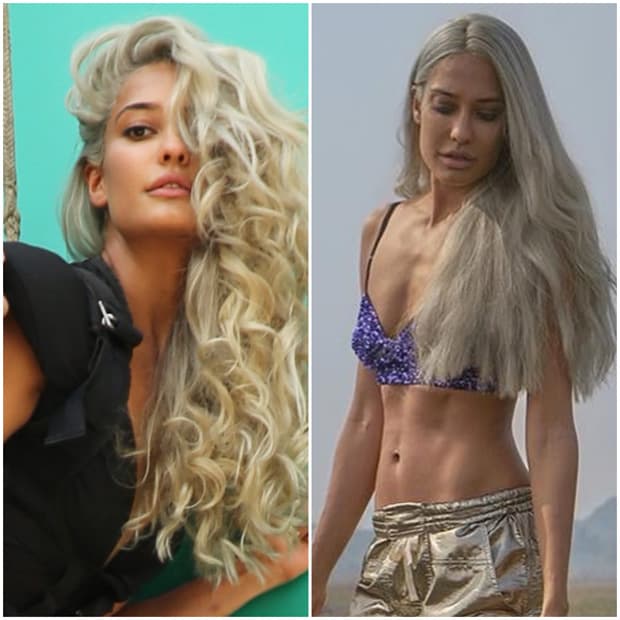 Lisa Haydon is one of the hottest models and actresses in Bollywood. She has grabbed attention because of her stunning look and slim body. Haydon is mostly seen doing cycling, gymming, running.She is a bundle of talent, seen in movies like Queen, Housefull 3, and many more. That stunning beauty of Bollywood gives us major fitness goals. The secret to her abs are push-ups and intensive bicep training she does regularly.
3. Akshay Kumar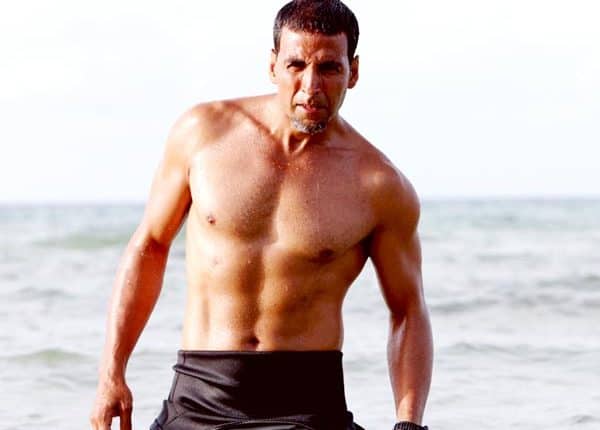 Akki is also a fitness freak with a lean body and six-pack abs. He is known as the Khiladi of Bollywood fare is a perfect and strict routine. Khiladi is one of the most motivated and dedicated people to work out. He practices yoga and martial art. Apart from this, he is a black belt in taekwondo in India. AK doesn't believe in the concept of dieting and follows a strict routine with a healthy breakfast, fruit bowl, proper lunch, fruit juice, and a light dinner. He wakes up at 4:30 in the morning, apart from this he also does one hour of martial arts, kickboxing, and shadowboxing alternatively. This actor is an admirer of yoga. Khiladi also plays basketball and swimming.
4. John Abraham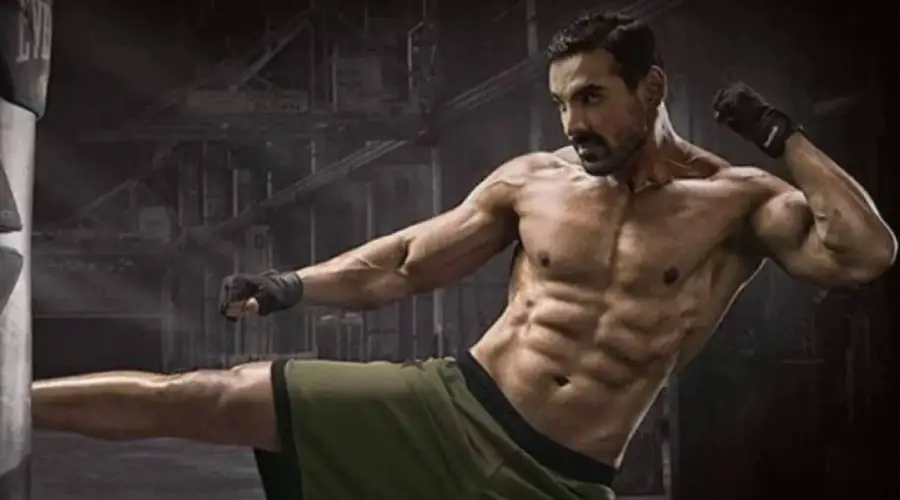 John is a truly charming actor who has impressed everyone with his ripped body and six-pack abs. He burns 4000-5000 calories in a day and consumes a lot of proteins and carbs. A takes multivitamin and protein supplements to balance his diet. Keep in mind that there are no steroids in it. He has a strict diet of eggs, potatoes, brown bread, pasta, steamed fish, sprouts, fruits, and all the stuff that contains protein. John's diet mostly contains 50% proteins, 20% fiber, 20% carbohydrates, and 10% necessary fats. He follows a strict workout focusing on two body parts a day. A couple of interesting workouts involve biceps and shoulders, chest and triceps, big and small muscles, legs, etc. It is considered that brisk working gives you more benefits as compared to other exercises. He believes in it and runs 20 to 25 minutes to build a Muscle
5. Priyanka Chopra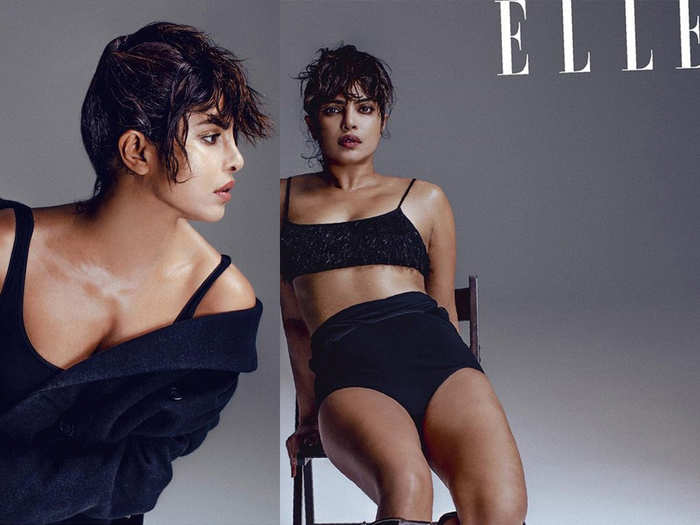 Priyanka Chopra has the figure that suits every single role. She had put on for some films but later she had perfectly reduced it and came into her shape. Chopra has had the perfect abs from the start and it gets better with time. The Sky is Pink actress does yoga for mental and physical fitness, hops, crunches, and light weights to make the abs and body fine. She outshined in the movie Mary Kom.
6. Hrithik Roshan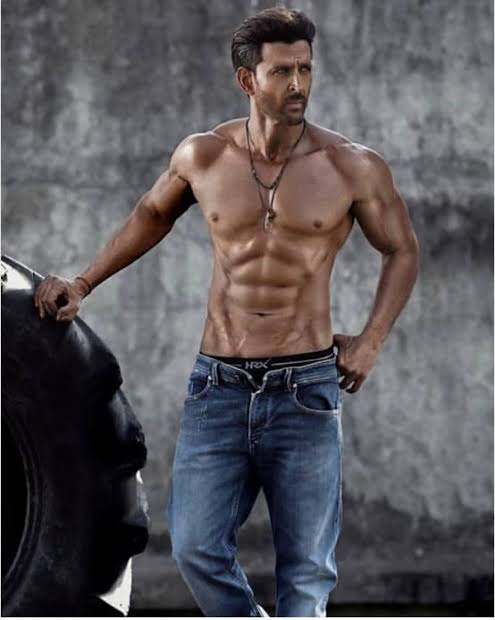 HR is known as the Greek God of Bollywood. He is the heartthrob of India because of his stunning looks, extraordinary voice, and toned body. Moreover, He has a great sense of beard and knows commendable dance moves. He has a slim body with six-pack abs. The Akbar of Bollywood has a good sense of acting which is seen in his movies like Jodha Akbar, Dhoom 2, Guzaarish, and Zindagi Na Milegi Dobara. During the Krish 2 times, he used to train for four days a week to focus on building his strength, stamina, flexibility, and endurance. To get such a perfect body he hired Kris Gethin and Marika Johansson, who is a nutritionist. Under Gethin's Guidance. Furthermore, he took a healthy meal with carbohydrates and proteins to focus on his abs. Apart from this, he performs 20 to 25 minutes of cardio workout after his breakfast as well as in the evening. He says that you should be mindful of healthy foods and avoid the temptation of fast food to stay fit and healthy.
7. Nargis Fakhri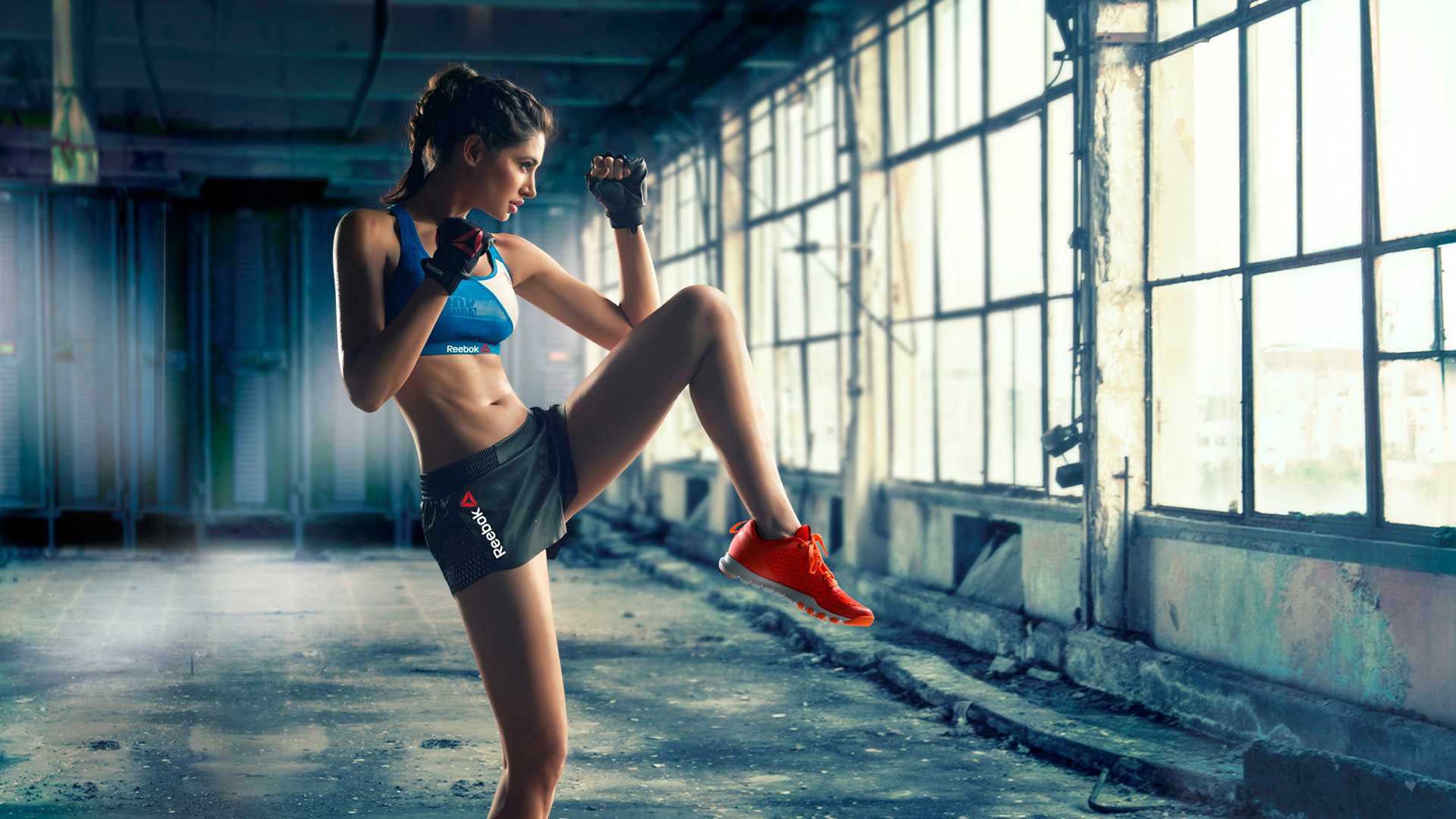 Nargis Fakhri is an American film and model, who mainly appears in Hindi and English-language films. Her first role in a film came with the 2011  'Rockstar', for which she was nominated for  Filmfare Award for Best Female Debut. She subsequently played a war correspondent in the political thriller Madras Cafe (2013) and starred in the commercially successful comedies Main Tera Hero, Spy, and Housefull 3 Fakhri believes that walking, exercising, eating right, and drinking enough water every day is what keep her fit and make her look young. She also says one should have fun while working out for better results. According to Nargis, everyone must run on the treadmill to keep themselves fit. And stretching is a must for every individual. She believes it helps in improving her flexibility and blood circulation.
8. Shahid Kapoor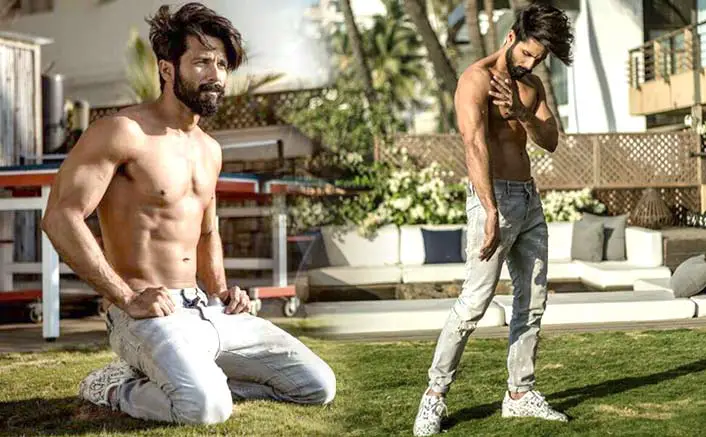 Sasha is one of the most dapper-looking personalities in B town. He has done very contracting and divergent roles starting from Fida to Padmavat. Sasha has a lean body with rough and tough abs. He is a vegetarian and follows a hard gym routine of 6 days. Kapoor follows pre and posts meal workout. He has mesmerized his fans with his performance in some super hits such as Jab We Met, Badmaash Company, Kaminey, Haider, and R… Raj Kumar.
9. Shraddha Kapoor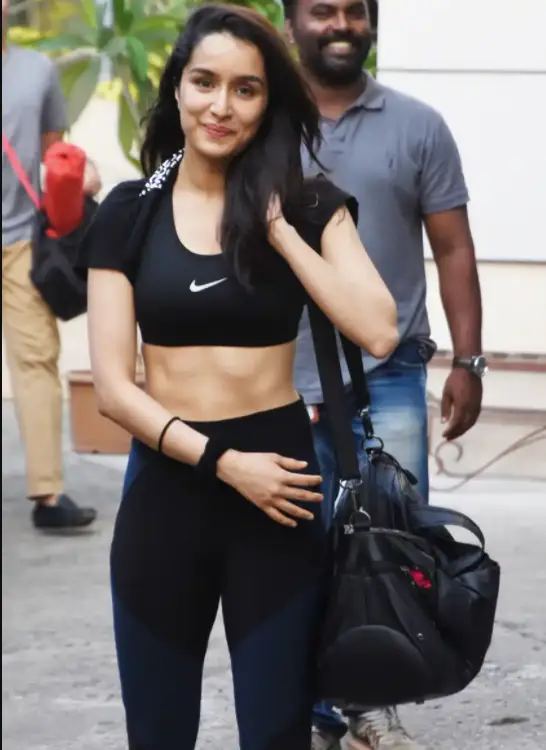 In her early days, she didn't go to the gym but played games like volleyball and basketball. She does regular workouts and focuses more on strengthening exercises with aerobic exercises to get and maintain the perfect abs. Whenever she is out, she runs to maintain the practice. She has a dapper figure and is extremely talented. The Half Girlfriend actress does jaw-dropping dance and eye-catchy performances. She hits the gym 5 days a week. She does cardio for 30-45 minutes, and yoga to provide your body with endurance and strength. To help her build, she focuses on push-ups, pullups, on-leg squats, crunches, and stretches. The lady is a good swimmer too.
10. Ranveer Singh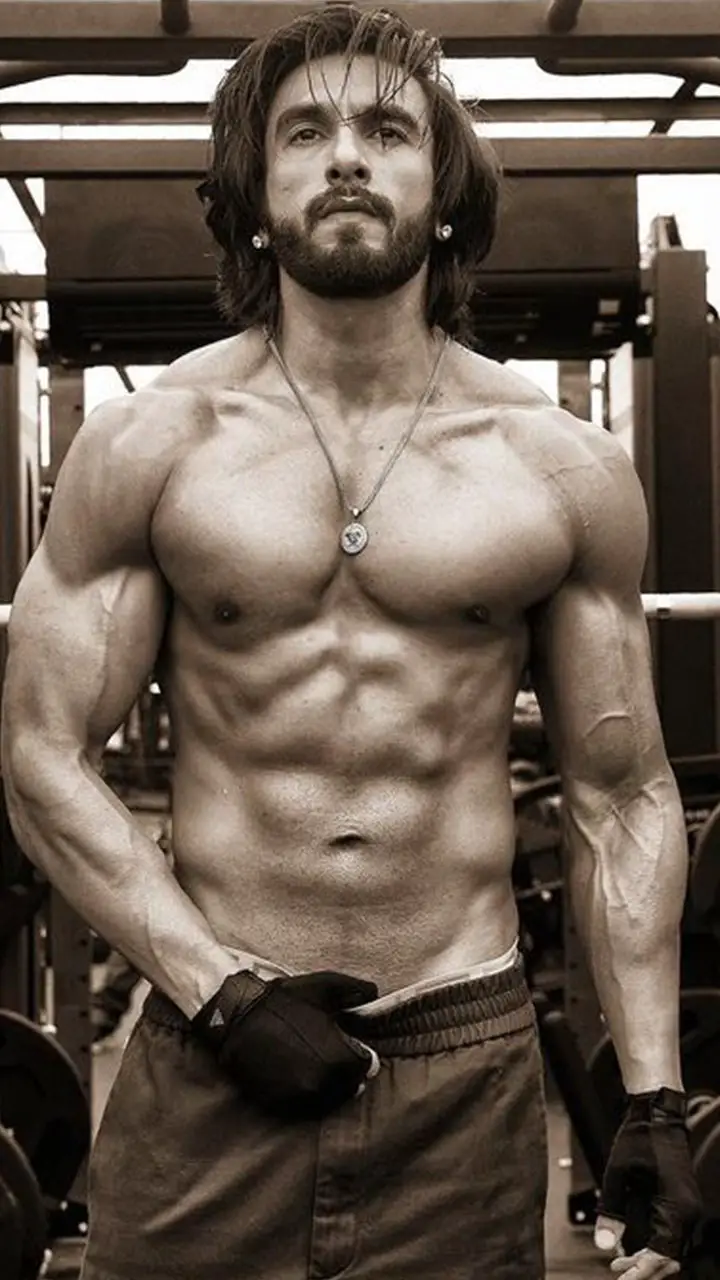 He is the most loved man in Bollywood. The Rambo of Bollywood is extremely talented and mind-blowing. He wins hearts by his funny, mature, and respectful behavior. He started his career in the band Baja Barat with a fabulous body and stunning style. The versatile actor is a football fanatic which helps him stay fit. When it comes to getting into the role he can go to any lengths. He is one of those few actors with washboard abs that look damn perfect when flaunting it! Ranveer Singh's workout routine covers high-intensity training with push-ups, burpees, deadlifts, squats, and one and a half times daily, twice a day. This actor, apart from the rigorous regime, shows a keen interest in biking, swimming, and cycling.
11. Shilpa Shetty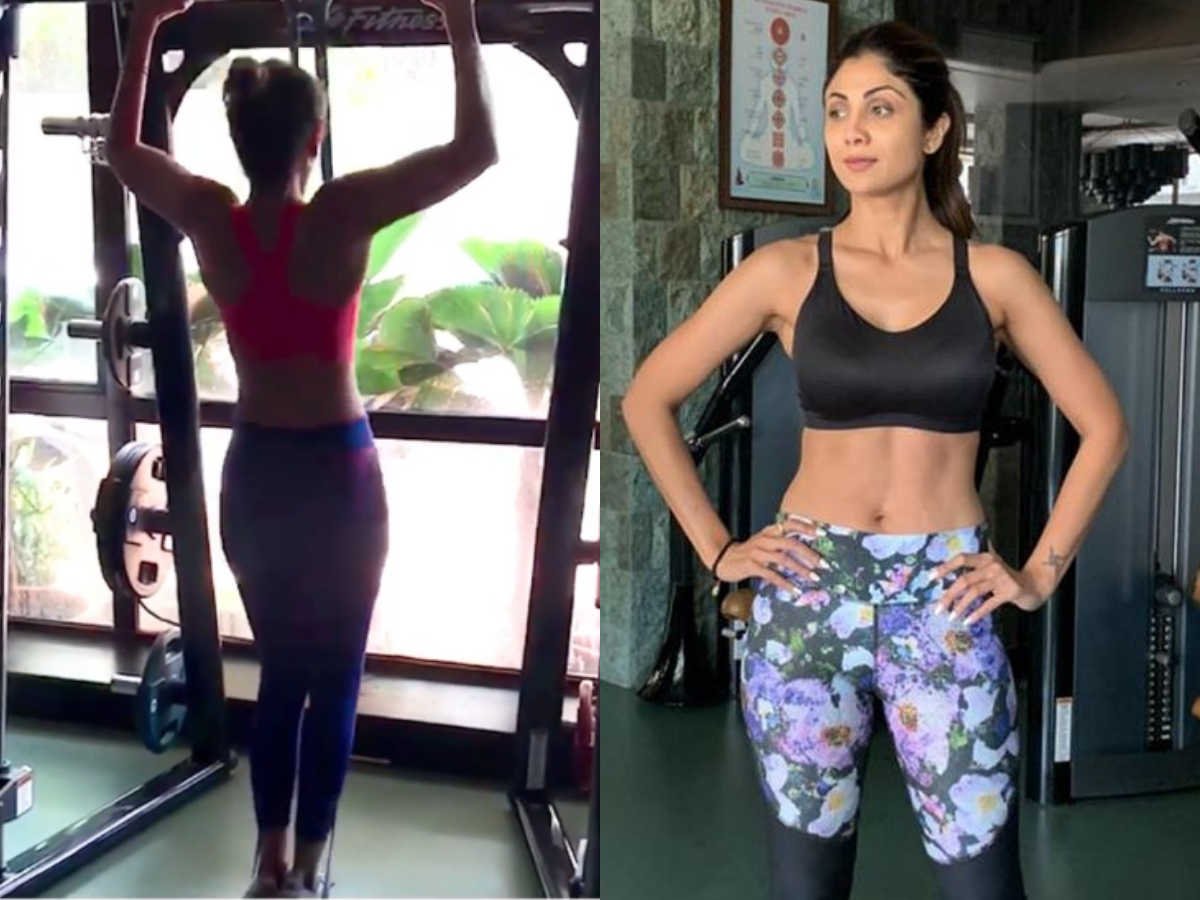 From the moment she entered the industry until now there has been a great change in her personality. She had worked a lot on body enhancement. She performs meditation, runs, strengthens training for both the lower and upper part of the body to enhance the body, and meditates daily to relieve the tension from the body. Shilpa also made the CD where she said the correct way how to do the various asanas of Yoga. to improve her abs she focuses on training her upper body muscles.
12. Tiger Shroff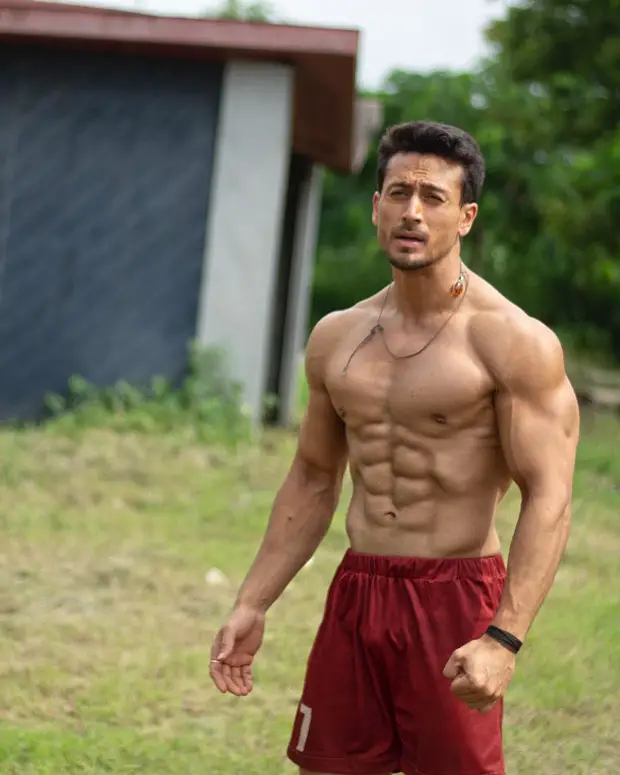 He is famous for its flexibility in Bollywood. He is well trained in martial arts and is a fitness freak. Tiger is all about being perfect until eternity. He has a well-trimmed body and six-pack abs. Shroff made his debut in Heropanti. He is well trained and flexible and can do front pike, flips, wall flips, and 360° backward twists. To build his abs, he follows a schedule of crunches, hanging crunches, wait-loaded crunches, and standing calf presses. He avoids smoking and drinking which is not good for his health. Dance is also a God gift talent to Tiger.
13. Kangana Ranaut
One can tell she's beautiful but she's also brazen with that. Kangana maintains an attitude to keep her body fit and she frequently does many workouts for this. She spends a fair amount of time every morning to keep the body in condition for the workouts. It takes time for the body to heal properly and make it fit and healthy. She walks, pushes back, pulls ups, squats, and other movements in building muscle to keep her abs toned. Kangana is also seen as kickboxing, a great workout for people to stream their energy into a productive activity to lose weight from their arms and legs.
14. Bipasha Basu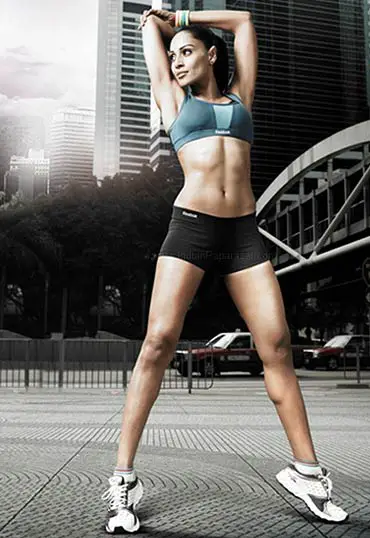 She is also known by her married name Bipasha Basu Singh Grover. Basu has appeared in regional Indian and Hollywood films. She is the recipient of numerous accolades, including one Filmfare award.She is particularly known for her thriller and horror films. Basu is also known for her abs which is important to her to maintain. Her day starts with customary warm water and lime, followed by soaked peanuts and a cup of tea.  Lunch consists of a bowl of dal, vegetables, and soy chapattis. Bipasha Basu's workout videos are available online.
Also Read: Most Handsome, Hottest & Talented Japanese Actors with best performances
15. Shah Rukh Khan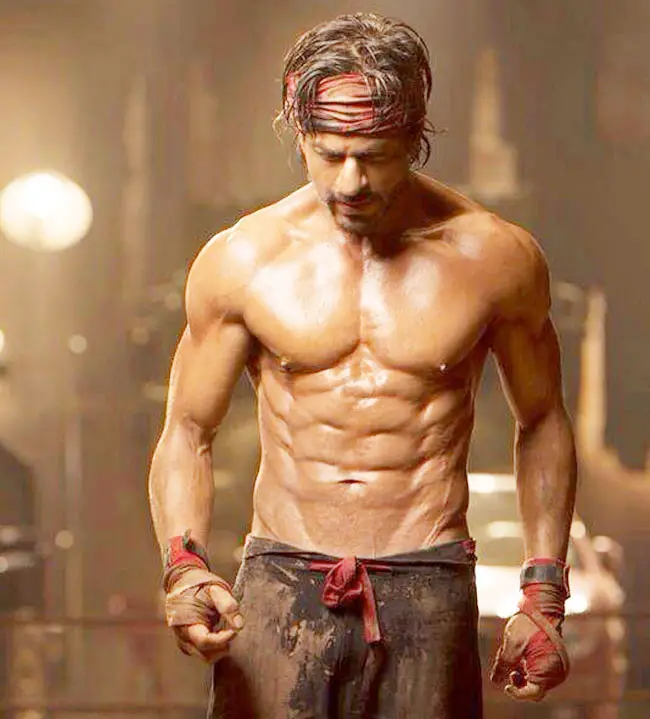 He is the King Khan of Bollywood with an amazing figure and talented Personality. SRK has one of the largest fan following all around the globe. Khan was appreciated for his sense of style and well-toned body.The secret to his body is the intake of protein carbs. Mr. Khan trains intensely for about 45 minutes five times a week usually in the evening. He is very strict with his training schedule and sticks to his workout. He has a sportsman's quality. You can wake him up at 2 AM and he will give his 500% at every workout session. The secret of his abs is the dumbbell bicep girls, twist, bench press, bodyweight loss, machine punches, squats, push-ups, and many more.
16. Anushka Sharma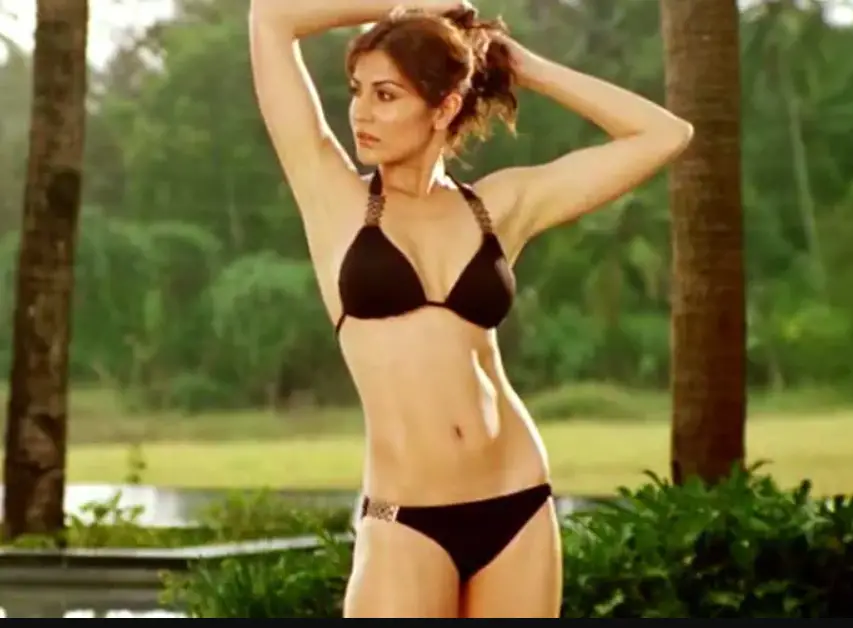 She had an athlete's physique and had been recognized for her faultless abs from the start. Anushka doesn't work out a lot but she does the cardio, yoga, weight exercises, dance for about half an hour for the four days of the week, and if she isn't in town or out for shooting she jogs or runs. With these, take proper rest drink plenty of water to remove the body's toxic content, and try to eat homemade food, as suggested by Anushka. Her profession requires a fitness routine that inevitably includes some gym training. So she mixes weight training with strength training, four times a week, and when she's off on shoots, she goes for walk or a quick sprint. Well, if you got determination like that, you sure as hell will have a kick*ss body to die for!
17. Parineeti Chopra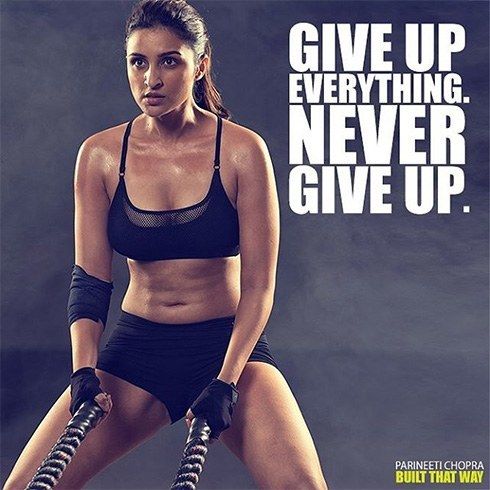 Before she joined the Bollywood industry, Parineeti Chopra was very bulky. But she always wanted to be better and she did rigorous daily workouts for this. To attain the abs and to hold them, she does jogging, yoga for about half an hour, performing various exercises such as swimming, cycling, dancing, and meditation to relieve stress. By doing these things with the con daily with a controlled diet she got the perfect abs
18. Varun Dhawan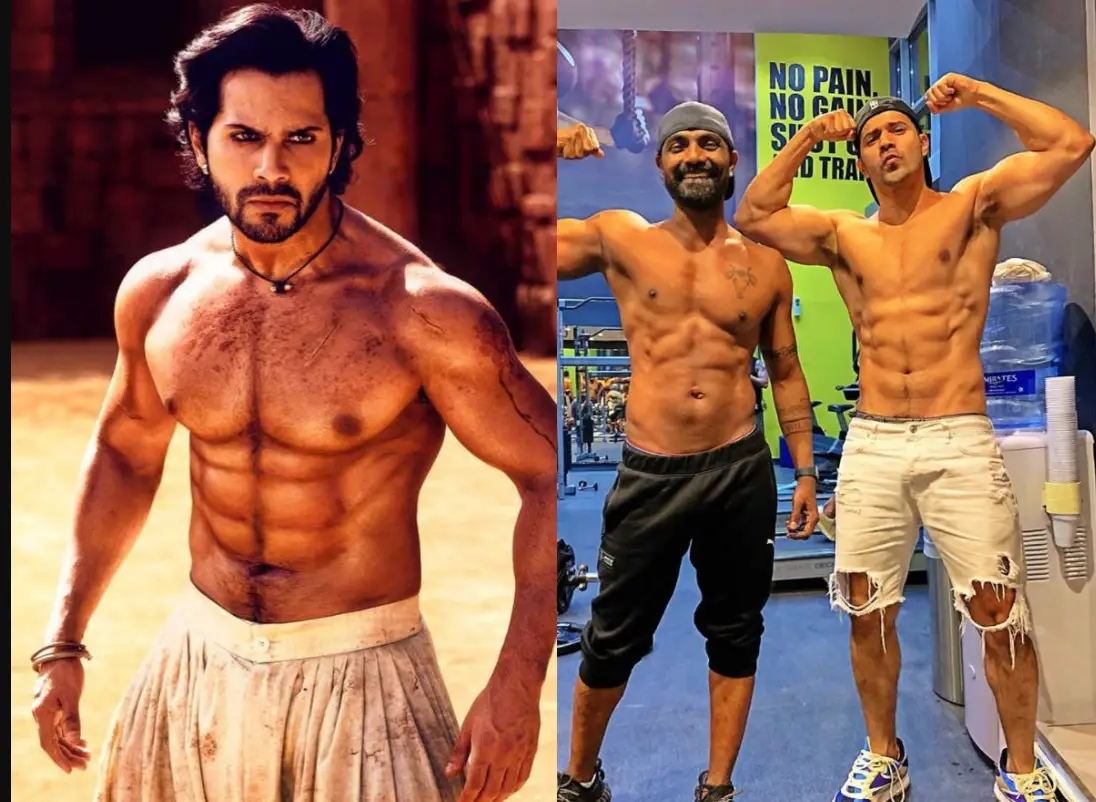 Dhawan is one of the most talented stars of B town. He has a hot and sizzling body with six-pack abs. The Humpty Sharma actor is one of those examples who were overweight and always wanted to lose weight desperately. he is known as the chocolate boy of Bollywood. Varun Dhawan has a toned body with sculpted arms and washboard abs. He does a mix of weight training and Pilates. He works for 1 1/2 hours, 4 to 6 days a week. His main focus lies on increasing flexibility, balance, stability, and agility. He is one of those actors who enjoy doing stunts by themselves. For Judwaa two he had taken up a new training program called the body shake program by Prashant Sawant. The chocolate boy also loves cycling And dancing. Being healthy is the only reason for his six-pack abs and toned body.
19. Kartik Aryan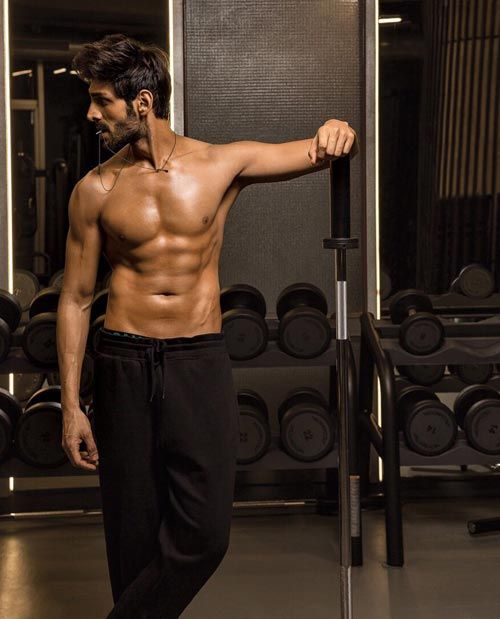 Chintu Tyagi has a large fan following all around the globe. He is an emerging actor with stunning looks and a dapper style. He is very strict with his diet, keeping it austere and simple. The actor does 200 push-ups in a day. He focuses on leg crunches, crunches on the weights and crunches with weights, cycling, mountain climbing, and many more. Then, he does cardio for 20 to 25 minutes usually cycling jogging, or running. The focus is on abdominal exercises to build up his abs and to remain flexible and stable.
20. Katrina Kaif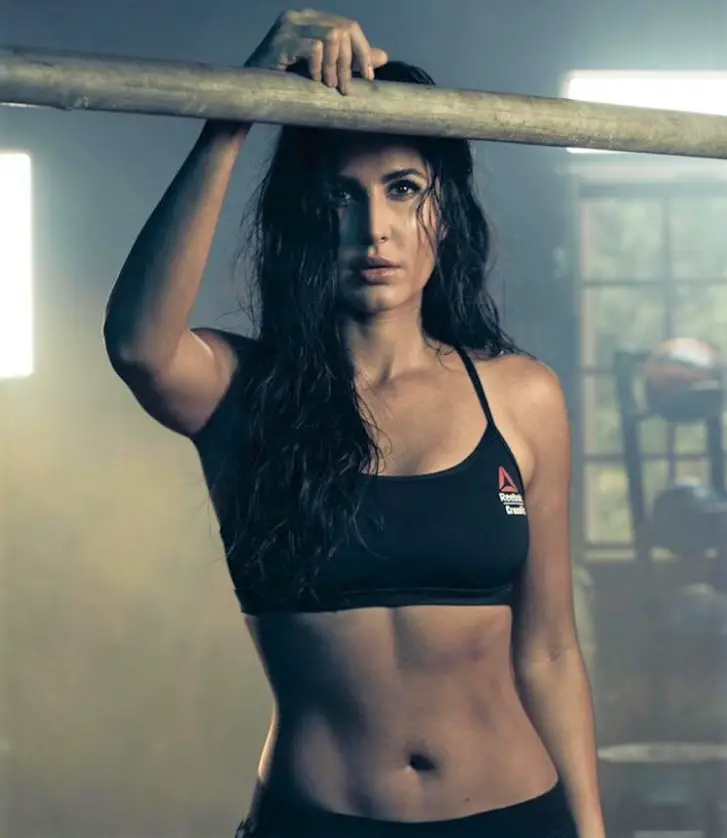 Who does not know about her love for fitness? She has set the industry's new standards in fitness. Previously she didn't have the abs but fitness as per her trainer said her regular diet and exercise treatment had resulted in her being the ideal abs and toned body. To her numerous followers, Katrina Kaif had been the inspiration to get the workout and the perfectly toned body as she did. She had given up different things to get into such slim in sizzling shape.
21. Sara Ali Khan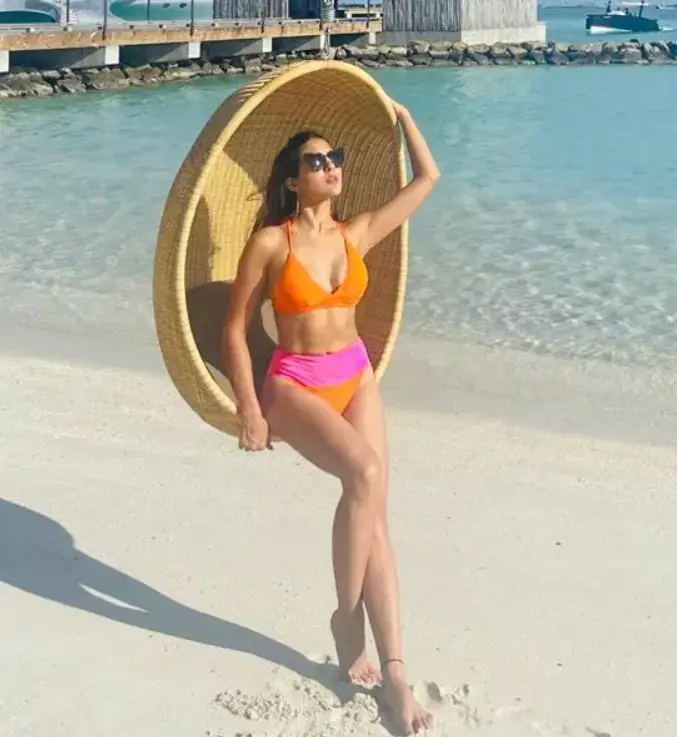 Sara Ali Khan, an Indian actress who works in Hindi films; was born 12 August 1995. A part of the Pataudi family, she is the daughter of actors Amrita Singh and Saif Ali Khan and Mansoor Ali Khan Pataudi's paternal granddaughter and Sharmila Tagore. She was once overweight. Now she can been seen in Simba with her sexy and toned body. She does rigorous workouts and intensive training. From being a fat girl she oned her body with 6 pack abs and an amazing look. She proves that with dedication and hardwork you can ace any fitness goal.
22. Vidyut Jammwal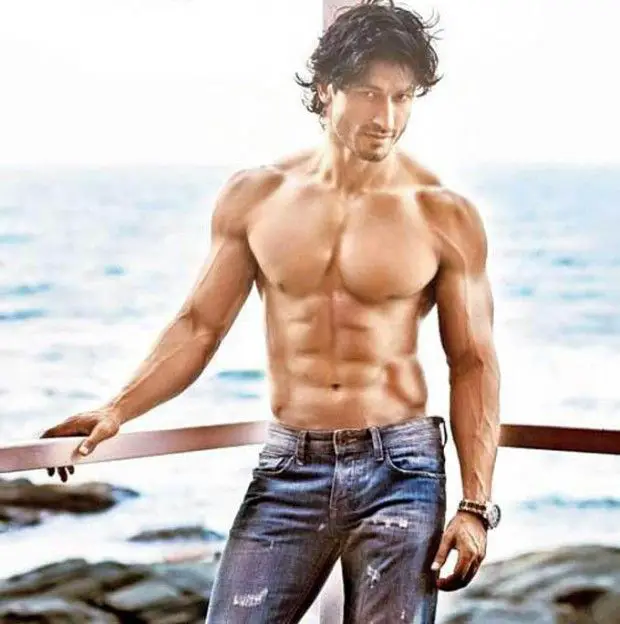 He is an Indian actor, Martial artist, and stunt performer, who mainly works in Hindi films. best known for his roles in action films, he is a trained martial artist, having learned the Indian martial art of Kalaripayattu since the age of three. Vidyut Jamwal is a hardcore vegetarian and an ardent supporter of PETA. He does not believe in dieting and eats six small meals throughout the day. Vidyut Jammwal works out for 6 to 8 hours a day. In the morning his workout is between 6:00 AM to 11:00 AM as for the evening workout he manages time between 5:00 PM to 9:00 PM. He takes a break from his rigorous workout regimen only when he thinks his body needs some rest. His regular workout comprises 2 days of mixed martial arts training and 4 days of weight training. Vidyut does not prefer spending too much time in the gym and goes there for strength training only.
23. Disha Patani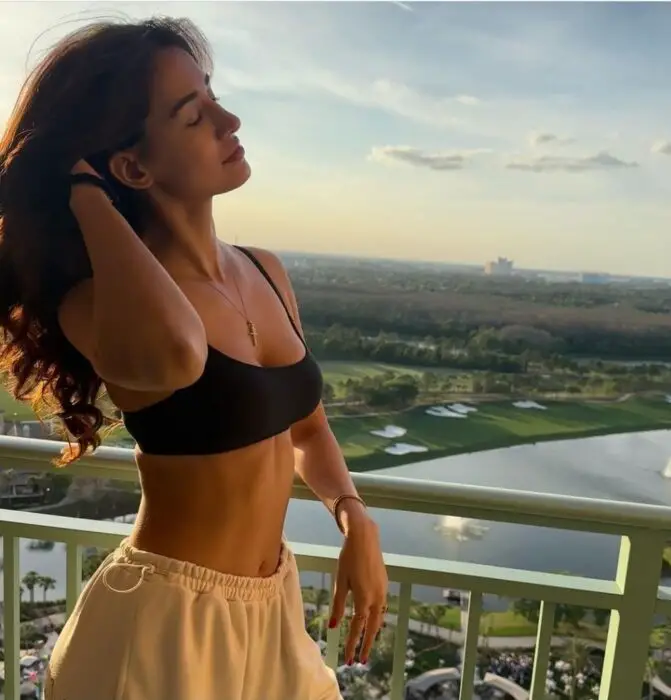 Disha Patani is renowned not only for her acting skills but also for her incredibly toned physique, especially her well-defined abs. She incorporates high-intensity interval training (HIIT) and functional workouts into her routine, which helps in burning calories and building muscle simultaneously. Additionally, she practices dance as a part of her fitness routine, which not only keeps her body agile but also adds an element of fun to her workouts. In addition to her intense exercise routine, Disha Patani pays close attention to her diet, maintaining a balanced and nutritious eating plan. She focuses on consuming lean proteins, complex carbohydrates, and healthy fats to fuel her body for workouts and aid in muscle recovery. Disha also emphasizes the importance of staying hydrated and getting enough rest to allow her body to recover and repair.