Trendy Lightweight Designer Sarees for this Romantic Monsoon
From the Penning sound of Rain to the blossom flowers, from hot Massala-Chai to the delicious Pakodas, Monsoon is like a festival to we Indians. And every festival in India is celebrated with full of colors and enthusiasm, along with designer traditional dress.
This Monsoon, Vasansi Jaipur has brought to you some trendy outfits to outshine in every festival of Romantic Season. Be a stylish lady of your dynamic man wear the feel of love. Enhance your beauty by Trendy Lightweight Designer Sarees to drape yourself in the color of romance and flaunt in the sizzling rain.
Celebrate your rainy events with Vasansi Jaipur and flaunt every designer outfit to look more gorgeous and sizzling beauty in this rains. To impress your man, give a glance at our Contemporary Sarees to adorn a petrichor smell of soil this monsoon. Have a glimpse of our latest enticing designer sarees.
Yellow Silk Printed Pre-Draped Vasansi Designer Saree
Sizzling sparkling bright yellow monsoon wear designer saree is just for you! Every woman wants to look stylish to outshine all at the party. Create your own statement of fashion this monsoon and adorn this lightweight saree in rains. A stylish frilled voluptuous glamorous outfit is designed to give you comfort with style.
Vasansi has designed this pre-draped gorgeous stylish designer saree for the uptown look this season. The fabric used to craft the saree is purely made with soft-silk to soothe your skin in the high humidity. Wear this breathable fabricated latest saree to enjoy your every minute with freshness and charm on your face. And get yourself clicked with your loved ones.
You can create this upmarket look at just only Rs. 7,850/– and drape yourself with the color of freshness, joy, and enthusiasm.
Black Bandhani Printed Pre-Draped Vasansi Designer Saree
Do you want to flaunt in this glamorous outfit this monsoon to show up an uptown look? Then yes, this is just for you to drape yourself with the dynamic color of withholding mysteries! Be a superstar this season in your modern-day party and make others feel complex of your stylish look of monsoon.
Every step you move forward in this latest saree you will feel like a Diva. Style your every curve to accentuate your stunning glimpse this season. A perfect glamorous outfit for sleek girls to show their incredible glance in the splendid eve of monsoon.
Also Read: Looking to try out sarees in a Bollywood theme party? Here are 25+ Bollywood Retro Style Dresses Ideas To Rock a Party
With every drop of rain that falls on you with sparkle like a pearl on your sensational Black Bandhani Vasansi Saree. Collect ravishing compliments in this extraordinary bold color and become a talk of the town.
Get this Jaipur Saree at just Rs. 7,850/- only to impress your loved ones on the modern-day party.     
Brick-Brown Bandhani Printed Pre-Draped Vasansi Designer Saree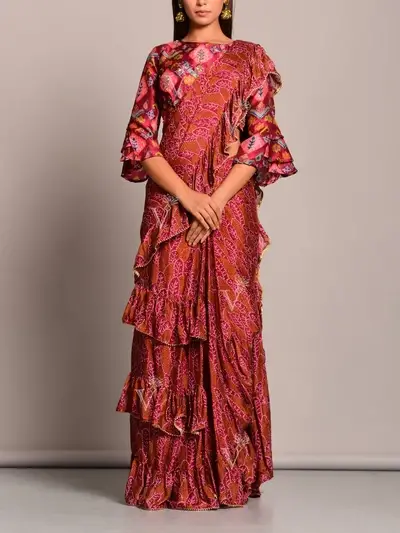 Bricky color is always in trend to outshine in any modern-day party. Flaunt in dynamic trendy color and be a trend-setter of your family. Mostly chosen by foreigners to give an appeal to their sparkling night parties.
You can also feel like a Diva by wearing the Bricky color of strength and reliability. Adorn the earthy color this monsoon and indulge in romance with your lucky charm. Impress your partner by your latest designer saree and be a queen of his castle.   
Embellish this glamorous outfit at just Rs 7,850/- to prettify your sparkling coterie. Glam up by the diamond jewelry and steal the limelight of the show! Collect amazing compliments to be the star of the evening.
Wear the color of rocking earth to embellish all fragrances upon yourself by wearing the brick brown Bandhani Printed Saree by Vasansi and grab your attention in this monsoon.
Light Blue Bandhani Printed Pre-Draped Vasansi Designer Saree
The color of purity and freshness is a perfect hue to adorn this monsoon. Vasansi has brought to you the fresh gorgeous outfit to fit any look in this season. Colored with processed skin-friendly dye and crafted with soothing silk fabric to keep you fresh even in the high humid day of Monsoon.
Feel every drop of rain this Vasansi designer saree and prettify your monsoon look. Vasansi gives you a perfect look to be the charm of the modern-day party. Enrich your amazing party look by wearing the trendy necklace and a blue stoned ring to flaunt gorgeously at the party.
Create your own statement of fashion and inspire people to style their every look with their elegance. Put high-heels on and flaunt in a flawless way and let people recognize you.
Get this dazzling saree at just Rs. 7,850 and feel the rains with romance.
Light Pink Bandhani Printed Pre-Draped Vasansi Designer Saree
Get the flawless girly color this monsoon to entice your man with your charm. Embellish the feel of love and drape yourself in a delicate sweet color of warmth. Adorn the traditional bandhani wedding saree to show your uptown look and steal the limelight.
Designed with a skin-friendly natural dye and crafted with skin-soothing organic fabric for feather-like touch. Lightweight designer saree specially made for slim-trim girls to accentuate their curves and capture the sight of all.
Team up this amazing pink color printed saree with an attractive neck-piece of jewels to catch every sight on you. Feel the spark in you by enhancing your height with trendy high heels. Get this designer saree at just Rs 7,850/- and Spice up your Glam Quotient with the latest trendy fashion dresses.
Conclusion
For every festival, this monsoon, Vasansi Jaipur has brought to you trendy lightweight Designer Sarees to drape every hue of style and steal the limelight. Impress your beloved with your elegant look and feel like a Diva. Vasansi Jaipur is a one-stop-shop for your all shopping needs.
You can even book a video appointment with a shopping expert on Vasansi for a virtual store tour. They can also help you to choose the entity that will suit your size, color, and body shape. You can easily make an appointment by visiting the website and have an amazing virtual visit to the store from miles away.