List of Best George Orwell books Sorted By Reviews
"Power is in tearing human minds to pieces and putting them together again in new shapes of your choosing." – George Orwell. English novelist, critic, and essayist born in Bengal, India in the year 1903, George Orwell wrote his first book Down and Out in Paris and London in the year 1933. His intellectual brilliance gave a new perspective to the readers, especially in George Orwell's 1984 which was written in the year 1949. It was the Best of George Orwell's books. This was based on the danger of totalitarian rule, it was an anti-utopian novel. George Orwell was a person who was against imperialism; he always faced discrimination in mingling with the Burmese people. A pure soul who was against caste and racism, for the barriers of caste and racism. Orwell lived in London with beggars and labourers, spent quite a lot of time in the slums of Paris, worked at restaurants, and earn his living. He was a great personality, hence here we are showcasing Best George Orwell books. Here is a list of the best George Orwell books sorted by our reviews. (The book we loved the most is at the top and so on)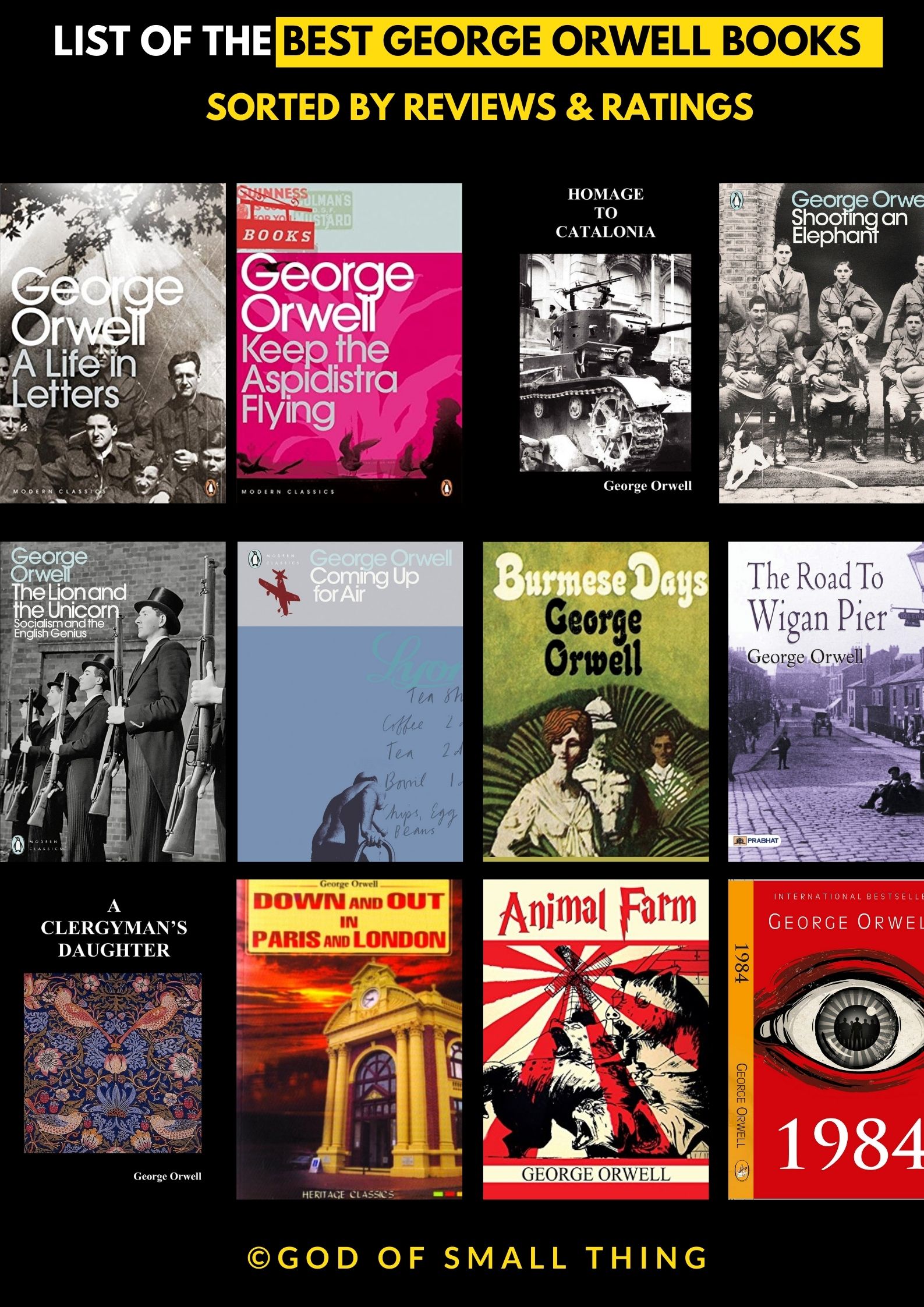 Now we know you are here for Best books by George Orwell but we have a few more suggestions when it comes to fiction and books and thus we would recommend you to have a look at our list of the 35+ Best fiction books of all time with reviews and even buy online links! And don't worry each link in the article will open in New Tab so you can finish this off and switch 🙂
Let's know in detail, what are George Orwell's books about here 😀 Readers will have a good time, we bet!
1. Nineteen eighty-four (1984)
Ratings: 4.18/5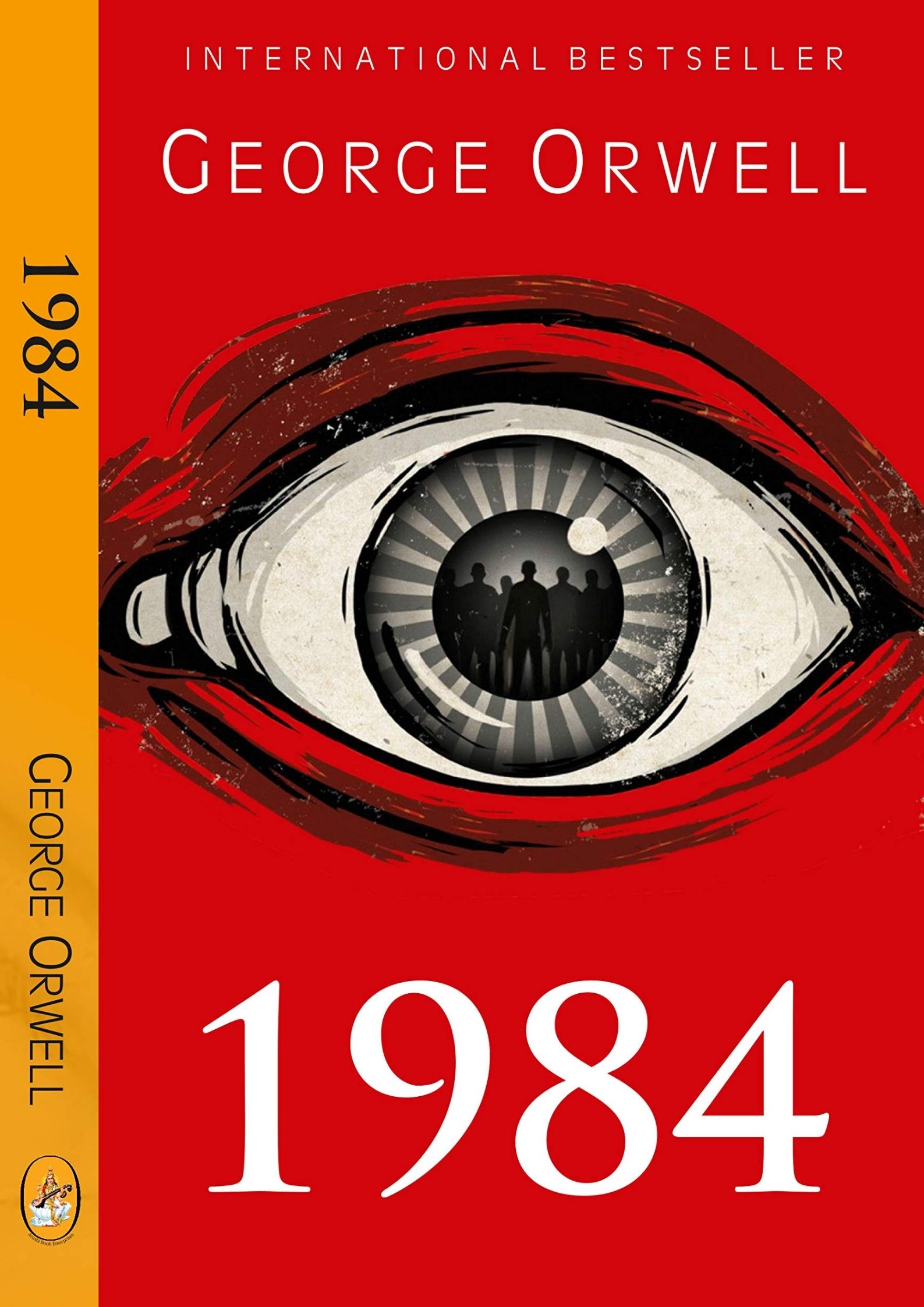 George Orwell's 1984 was written in the year 1944. It was published by the Penguin Production house. This book was number one on Amazon's computer-generated list of bestselling books. The demand for the book suddenly rose in the year 2017 when almost 75,000 new copies were sold. 1984 dominated 2017. Can you even imagine that the Signet Classics had ordered almost 5 lakh additional copies of George Orwell's 1984?
This is the story of Wilson Smith who lives in Oceania. He works under the Ministry of truth, in the overruling part of Oceania. The novel 1984 portrays a dystopian society or a society overly controlled by a few powerful people who make rules for all. In this novel, Big Brother controls everything. This book expresses how the government controls time, where there is no past and memories, where there is no future. It's all about restraining time and doing things only in the present. The book represents that there is no right to be left alone.
It portrays a significant fear of being viewed or seen. The book can be seen in comparison with Joseph Stalin and Adolf Hitler. He portrays London as a very poor part of the globe, where people are suffering because of starvation and have no essentials. The government has put a ban and restriction on love. Just in the book how Julia and Wilson fell in love. To know more about the book, you need to read it as it is one of the best George Orwell books. George Orwell's 1984 is a must-read in today's time.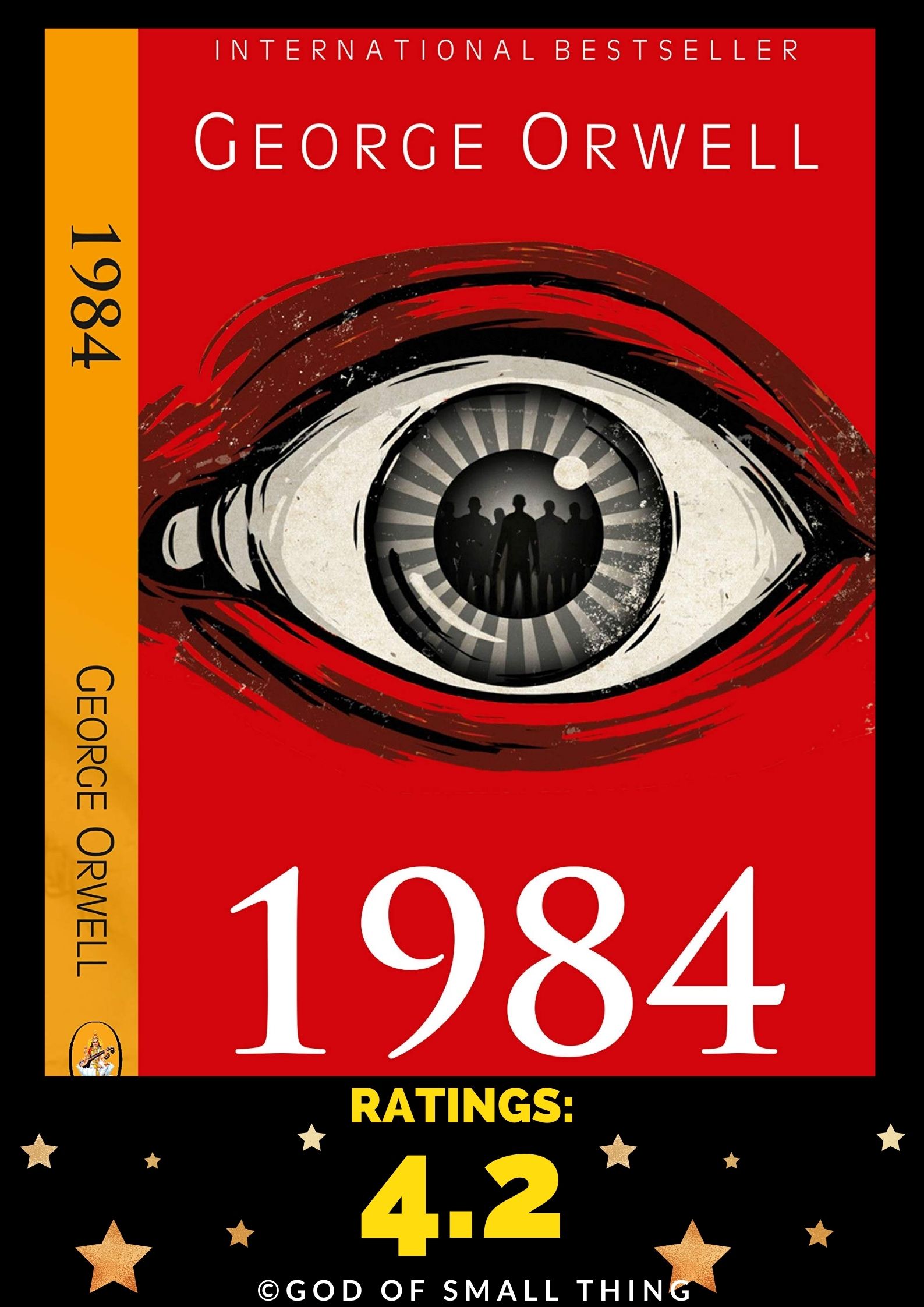 2. Animal Farm
Ratings: 3.9/5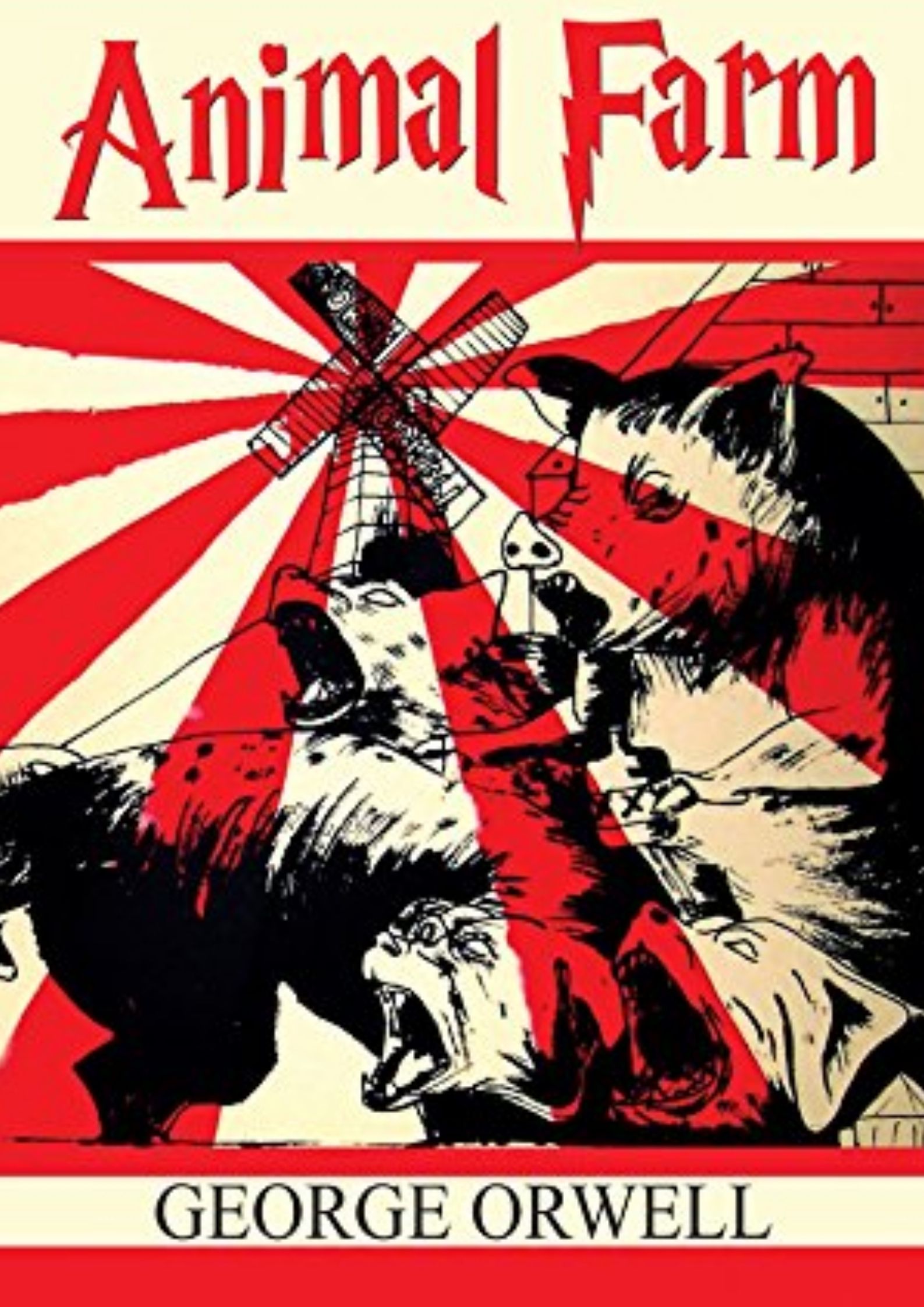 Animal Farm – a fairy tale and one of the best George Orwell books. This was a book which he completed in the year 1944. The book was first published in England in 1945. The book was featured in the top hundred best English-language novels in the Times magazine. It was number 31 on the modern library list of the best 20th-century novels. Similarly, it was number 46 on the BBC's big deed poll. The book has also warned the retrospective Hugo Award in 1996. It is one of the bestselling books all over the globe. Animal Farm is one of the best political satires to open the eyes of the oppressed class against the domination of their leaders.
The book focuses on the best survival of animals. It conceptualizes animals as rebels against humans. These animals also want to be treated freely, happy, and equal. It has a character named Napoleon, who is a pig that follows a dictatorship. The story begins with an old major, who was a leader before Napoleon. He believed that everyone should be free but after Napoleon became the leader everything became unpleasant. The pig Napoleon also sought to kill his brother, snowball to get all the power. Snowball was a very famous character, hard-working and brave. He contributed to the revolution. He just made these animals work very hard due to which they started dying.
Apart from this, the novel also has a character named Boxer who is the horse. He is also one of the most hard-working animals, who does not complain about anything and keeps on working and also praising Napoleon. So now if you are interested to know how this ends up, does the dictatorship of Napoleon prevail or it brings back the leadership of old Major? This George Orwell book ranked itself to be the best.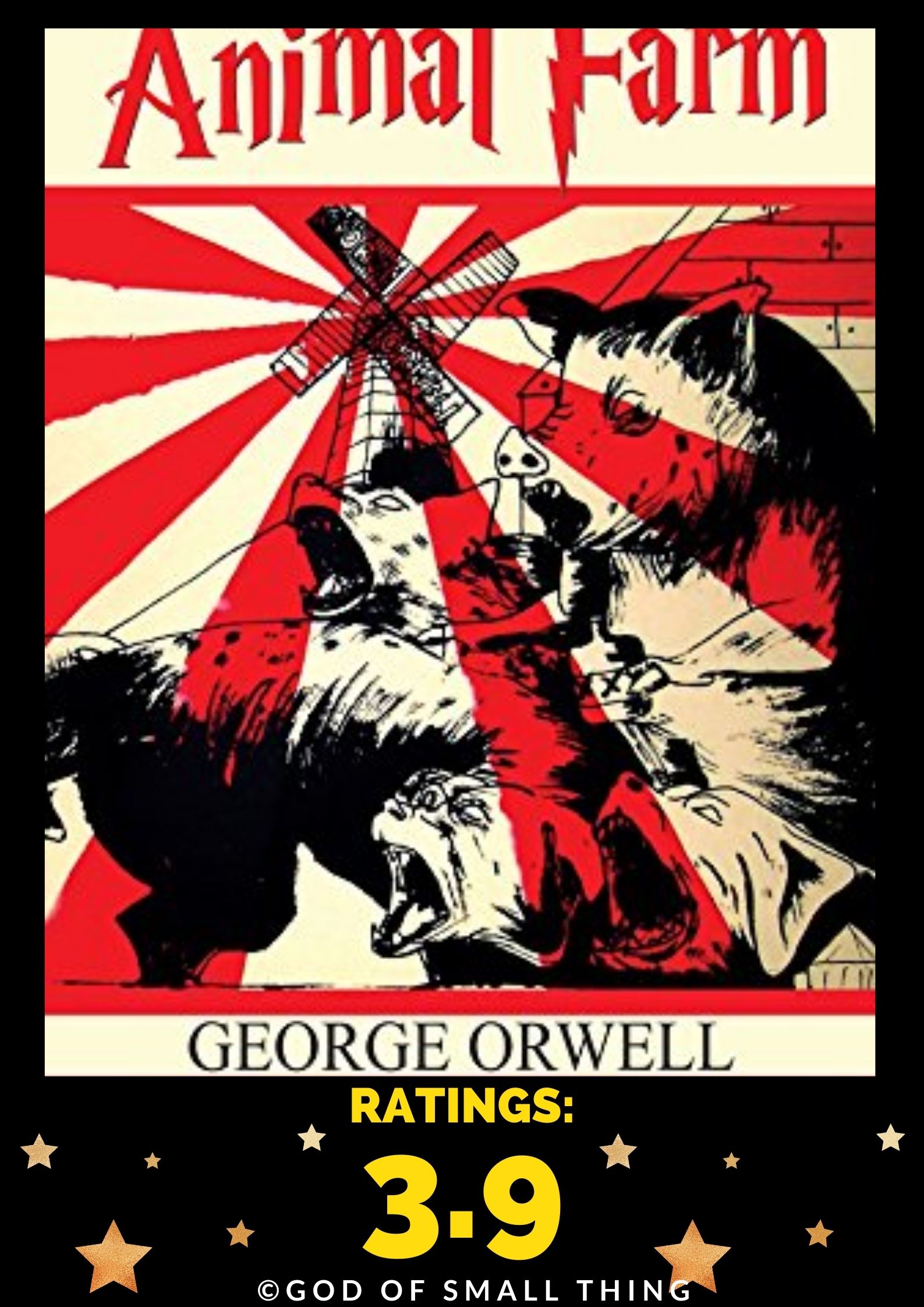 3. Down and out in Paris and London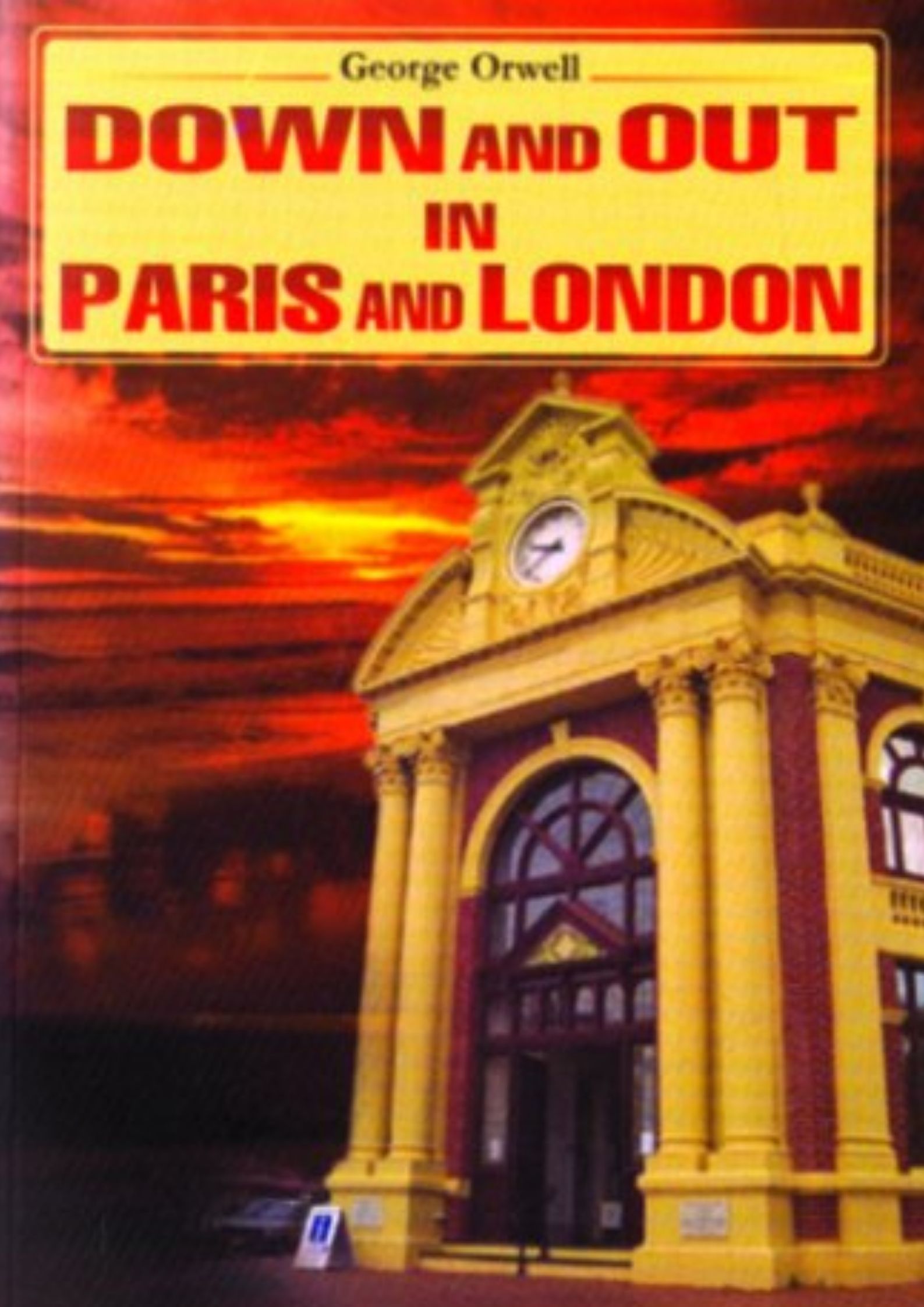 Ratings: 4.11/5
This is George Orwell's first memoir written in the year 1933. The theme of the book outbreaks the poverty faced by the two cities, in a non-academic tone. In the first part, where he describes the situation to be near-absolute poverty whereas in London he describes it through the story of Tramp. He is a homeless person who travels from one place to another all year round as a vagrant. It would be interesting to know that until 1940 almost 55,000 copies were sold. Considering this the statistics today are quite high.
He brings out a social issue surrounded by empathy and sympathy for poor people. The book portrays a vivid lifestyle followed by millions of people, in terms of poverty. He highlights in his book how the poor are treated and how their life can be improved. This is one of the best George Orwell books to read, just to grasp a better perspective of how things were in that period.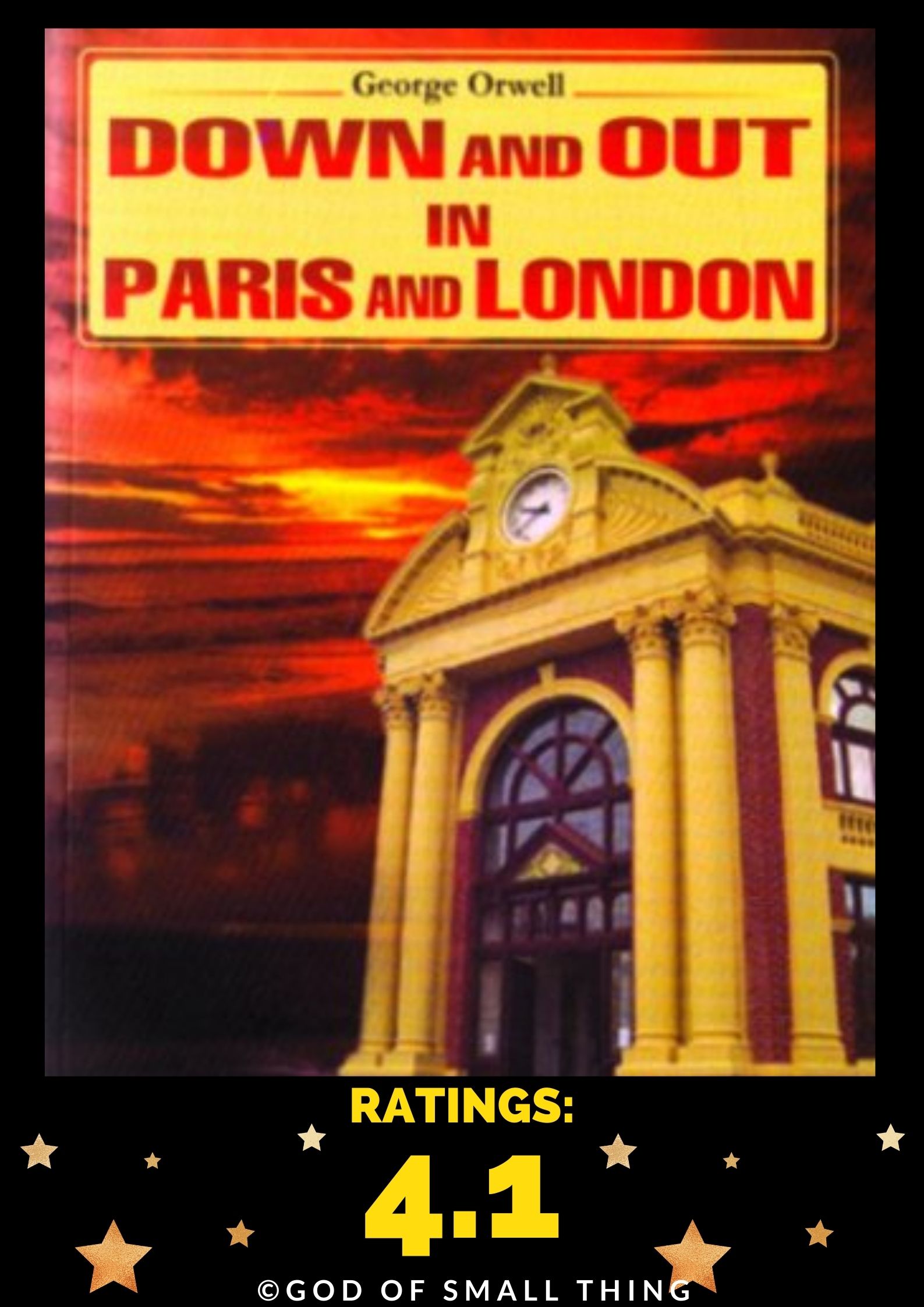 4. A Clergyman's Daughter
Ratings: 3.48/5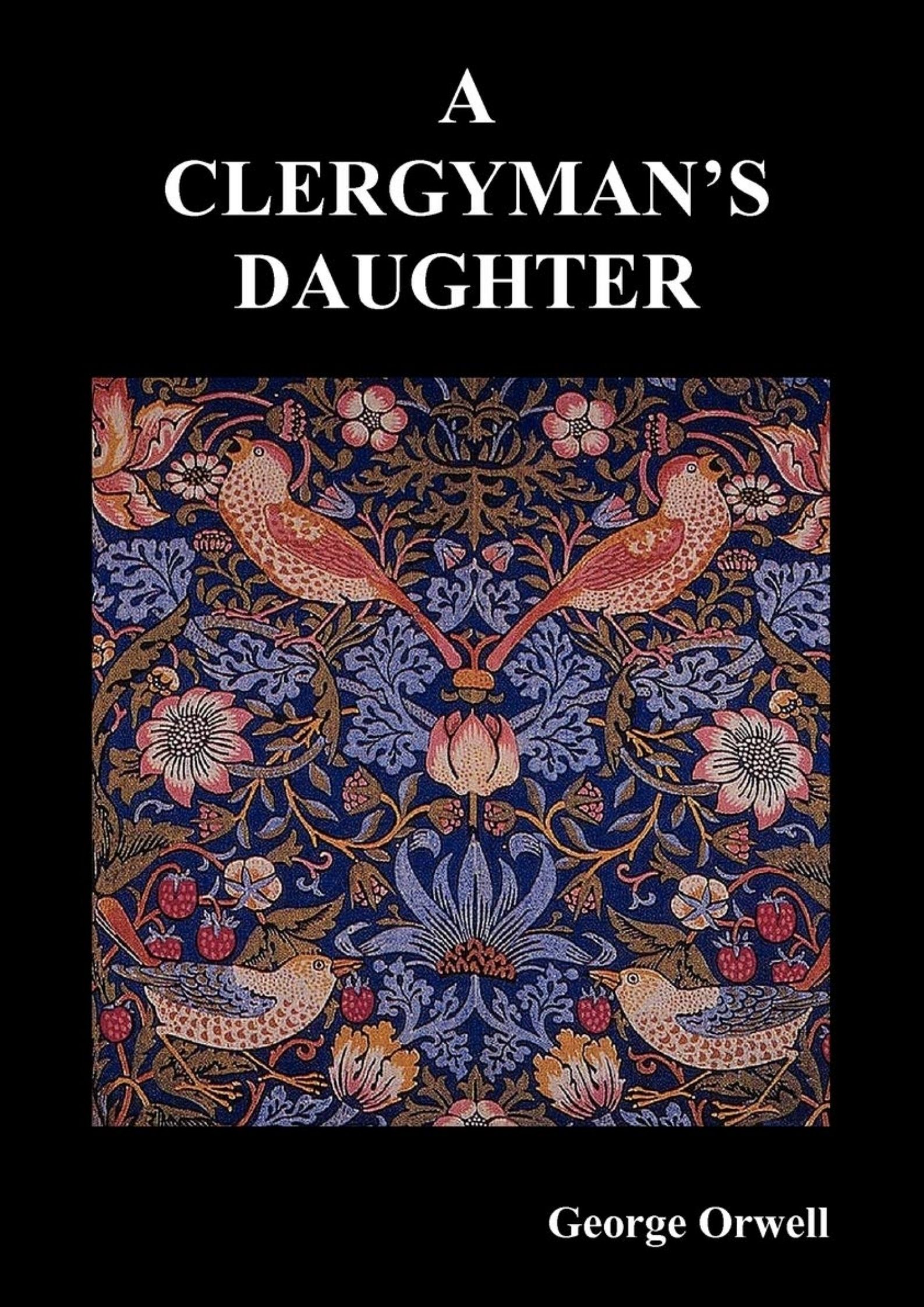 A Clergymen's Daughter is a novel, written in the year 1935. It is one of the best George Orwell books. You might have noticed that most of the books by George Orwell are attached to his personal experiences or things going on in society. She leads a quiet life meeting parishioners and seeing to the needs of her parents before one day she ends up inexplicably on the streets of London without a sense of who she is or how she got there, and without a penny to her face. This book deals with a girl who suffers from amnesia. This changes her life. The book is narrated in the form of drama. The book only has five chapters so now grab your copy and start reading to see how it ends, well let's hope for the best.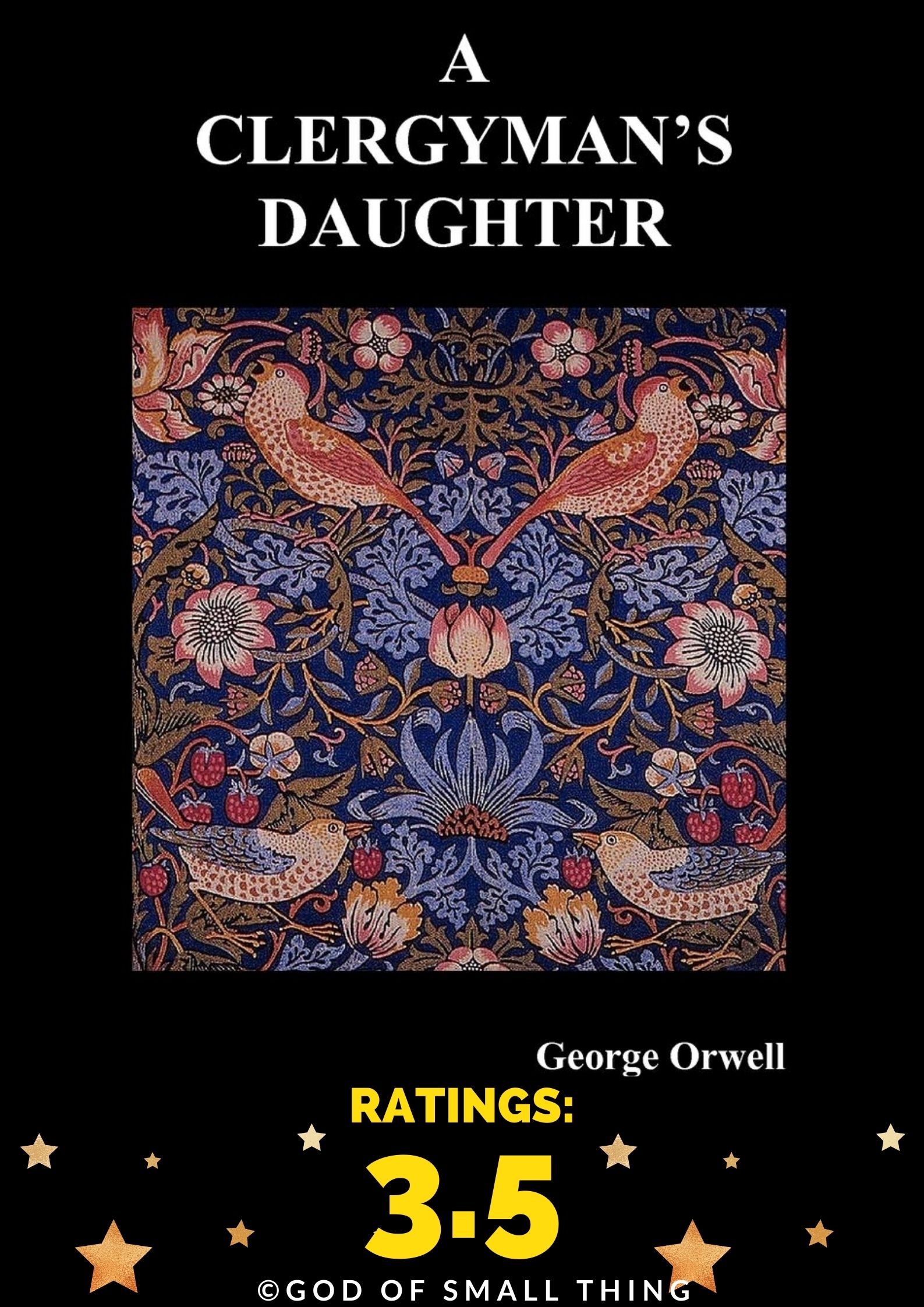 5. The Road to Wigan Pier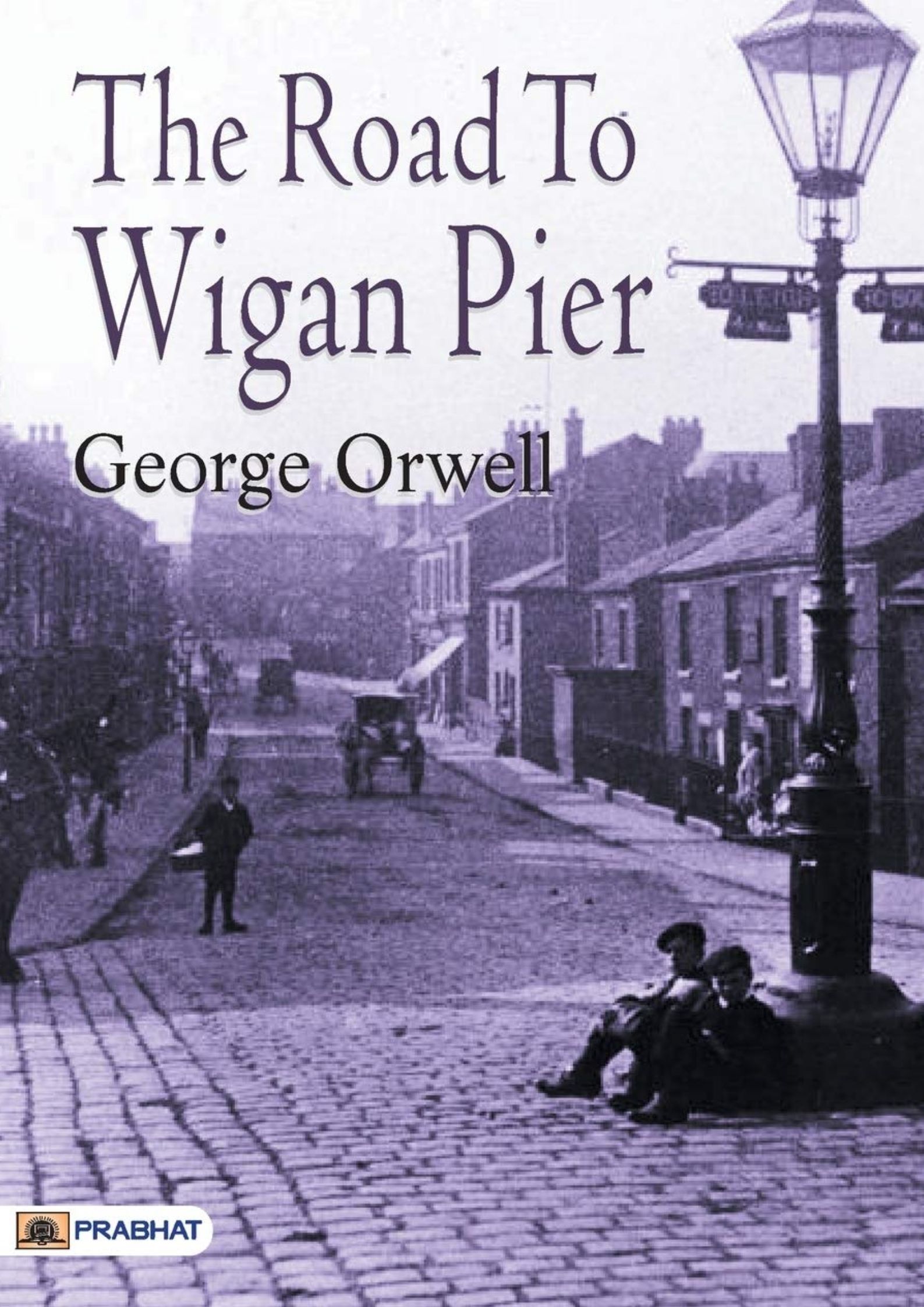 Ratings: 3.91/5
This is another name that completes the collection of George Orwell's books. This was a book written and first published in the year 1937. The book is in the form of a social logical investigation of the living conditions of the working class. The background of the book is during the times of World War II. If you have an interest in politics, you must read it.
The chapter that always had the greatest impact on us was the first one where he stayed in this terrible lodging house run by a couple called the Wigan Brokers, above a terrible trip shop. The fastidiousness of Orwell, which is one of his best qualities, was offended by having to live in this awful place. The second half is a polemic about socialism written by someone who hasn't worked out what socialism was. On the one hand, it's astute, but on the other hand, it's done very clumsily, because Orwell is only coming to terms with this big topic that he's just started talking about.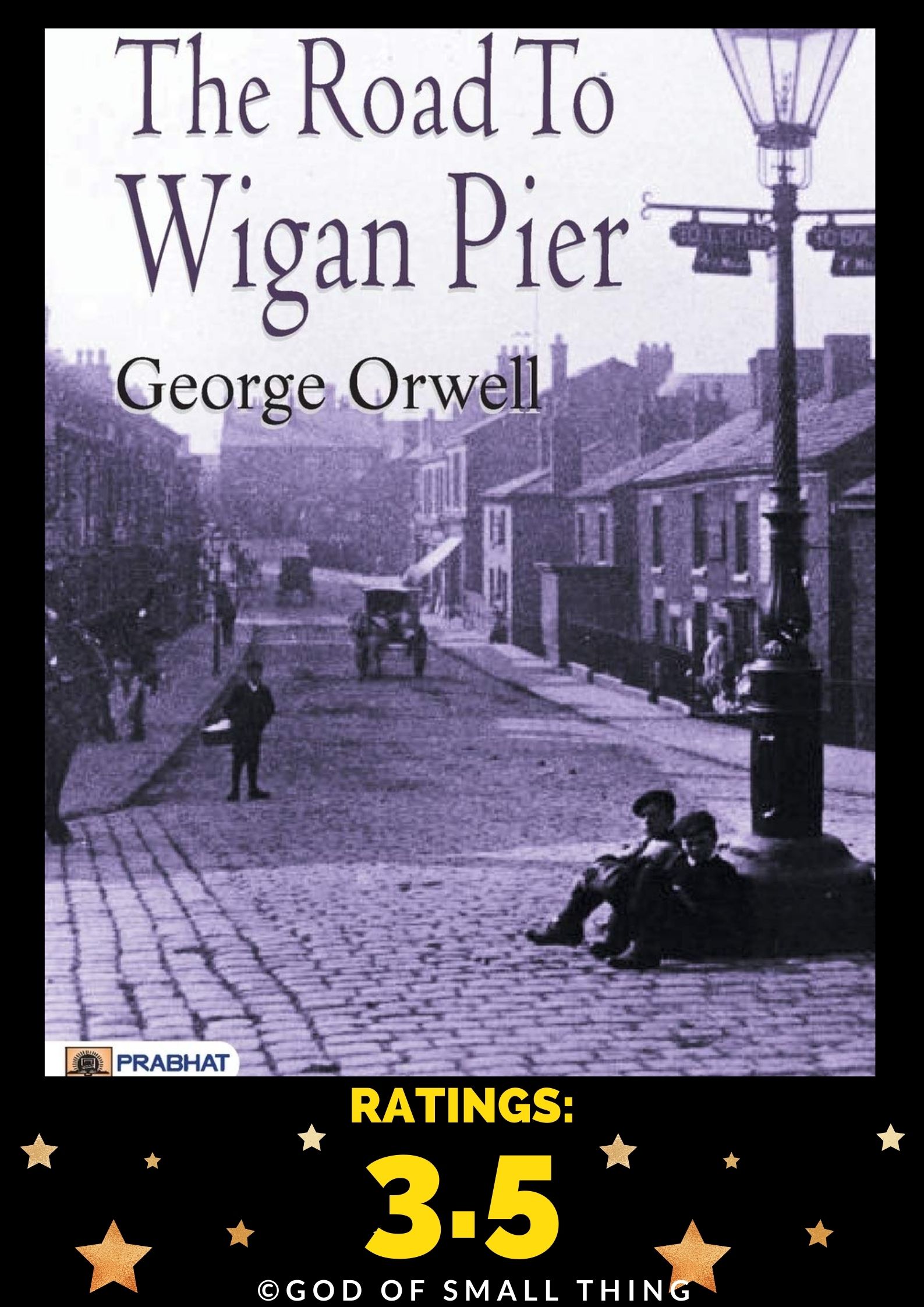 6. Burmese Days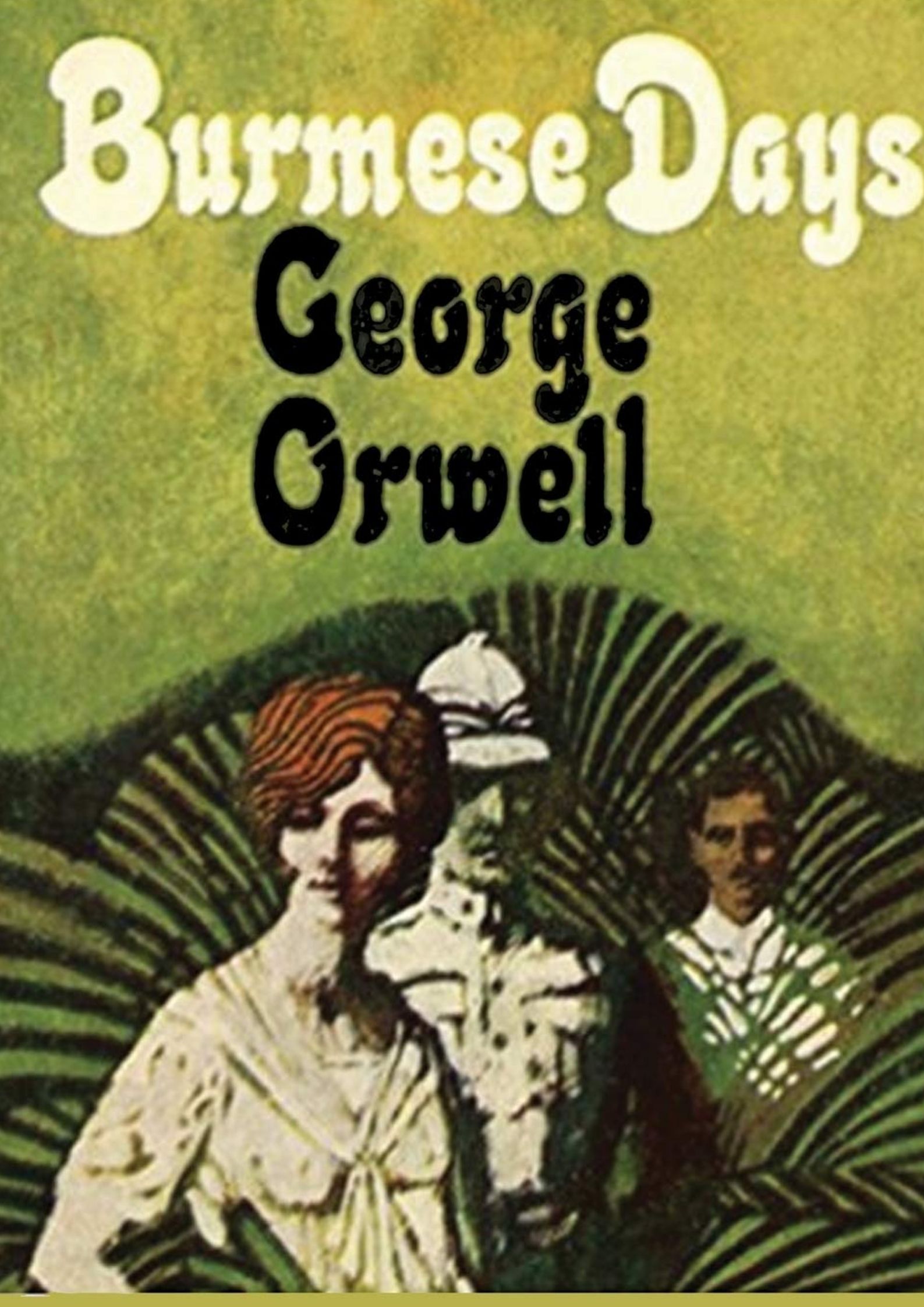 Ratings: 3.85/5
Burmese Days is a novel published in the year 1934 in New York City. The book is based on British Burma, during the entire period when Burma was ruled by Delhi in British India. The book mainly focuses on corruption and bigotry. Includes a story of a white timber merchant, a black enthusiast, who can only survive if they join the White club. He shared his experience as a police officer in Burma in the 1920s.
Flory is an English timber merchant, who has only one friend, the Burmese Doctor. He is mast into the whimsical circle of racism, which brings him to a rebel. George Orwell portrays racism and imperialism in a way, which is much easier to understand practically. So now in today's world where racism exists, we have seen the incident that happened relating to George Floyd. If you want to understand racism well, this is a perfect book for the 2020s. Burmese Days is one of the most amazing books by George Orwell.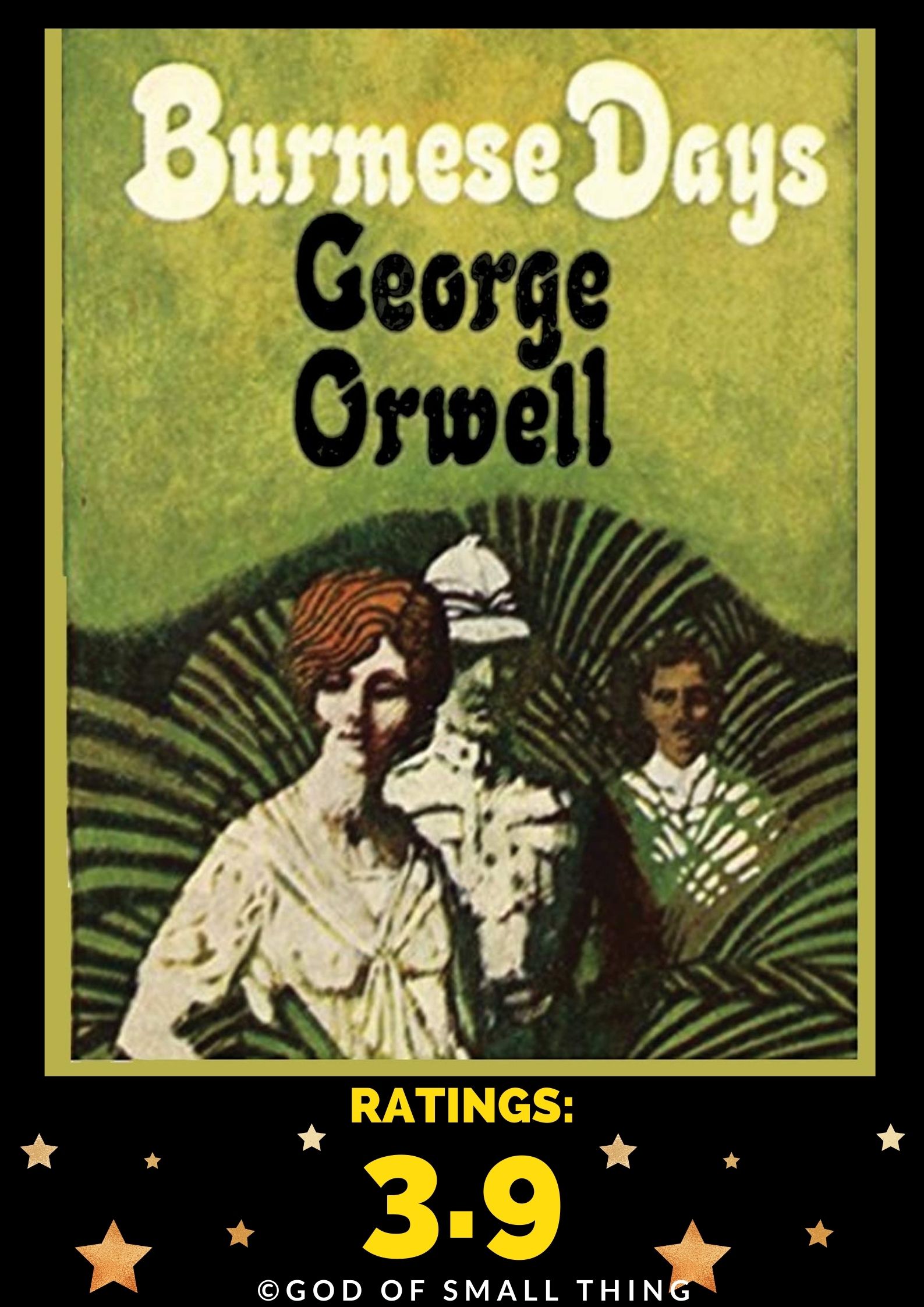 7. Coming Up For Air
Ratings:3.78/5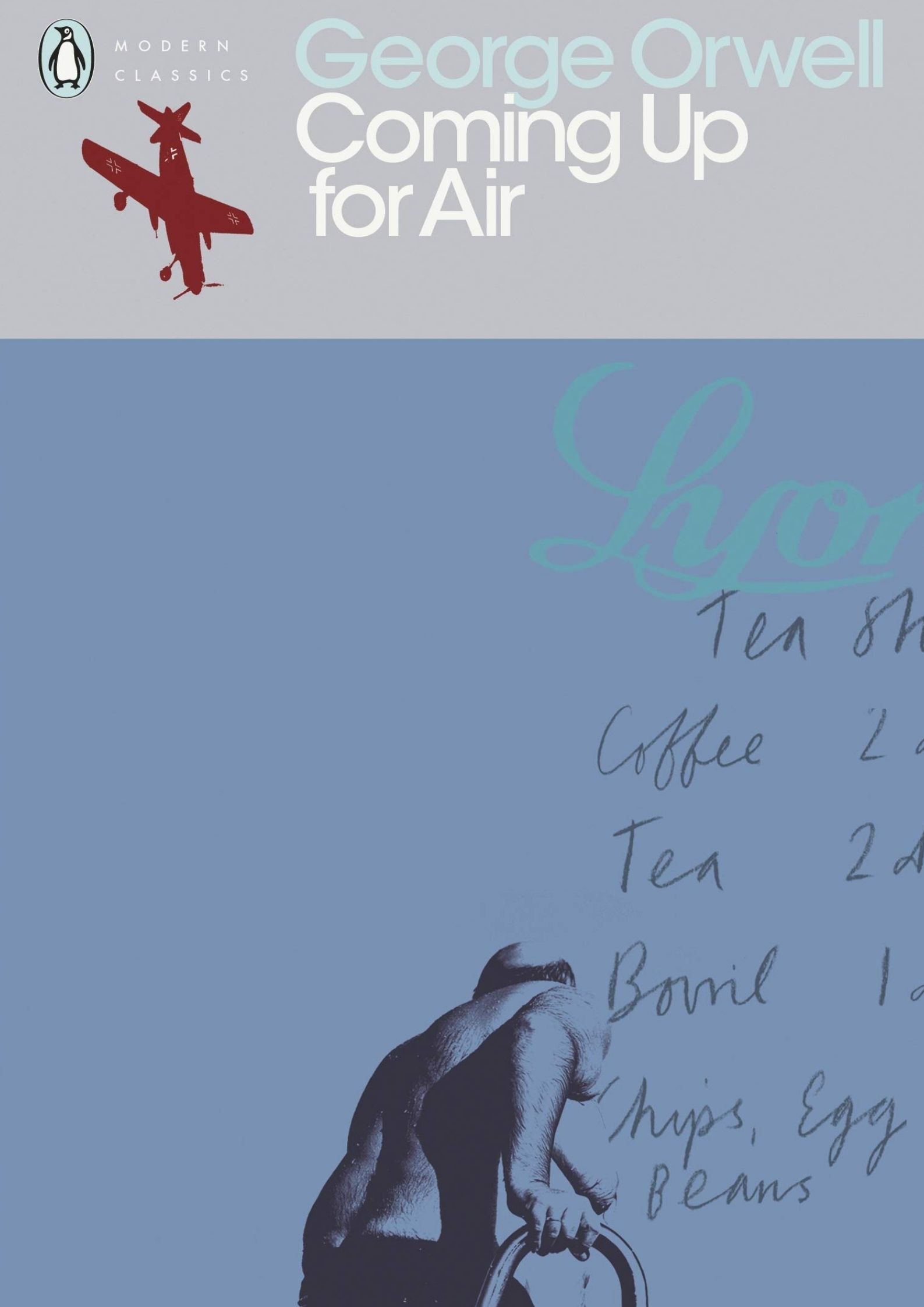 Another masterpiece was written by George Orwell. One of the best George Orwell books to read in today's time. The book was published in the year 1939 just before the outbreak of World War II. It is an intimate book that addresses the problem of a typical childhood mixed with the uncertainty of the eventually coming World War. He also uses George Bowling's example to narrate the down rooting of the lower middle class during World War One, which failed to find a way out.
Also if you are more of the kind that looks to have speculative fiction that is more of a response to utopian literature. We recommend you have a look at our Top 10 Best Dystopian Books With Free Preview, Review, and Buy Links. – 10 Best Dystopian Books(Like we promised all will open in New Tab 😉
Coming up for Air is narrated by George Bowling who is a man with a wife and two children living in the suburbs, in his 40s and an unexciting yet secure white-collar career. Orwell's male leads have also been created with a clear sense of insufficient masculinity; some self-awareness, other and visible shortcomings. In terms of plot, at the start of the book George laments his lot, his wife, his work, and his life.
Next, we have the nostalgia of displaying a town named Lower Benfield where he remembers his youth pre-1914 in the Edwardian period. Later in the book, George takes a holiday and without asking his wife goes back to Lower Benfield after a 25-year break in looking for his life, which has vanished of course. To figure what happened next, read out this best George Orwell book.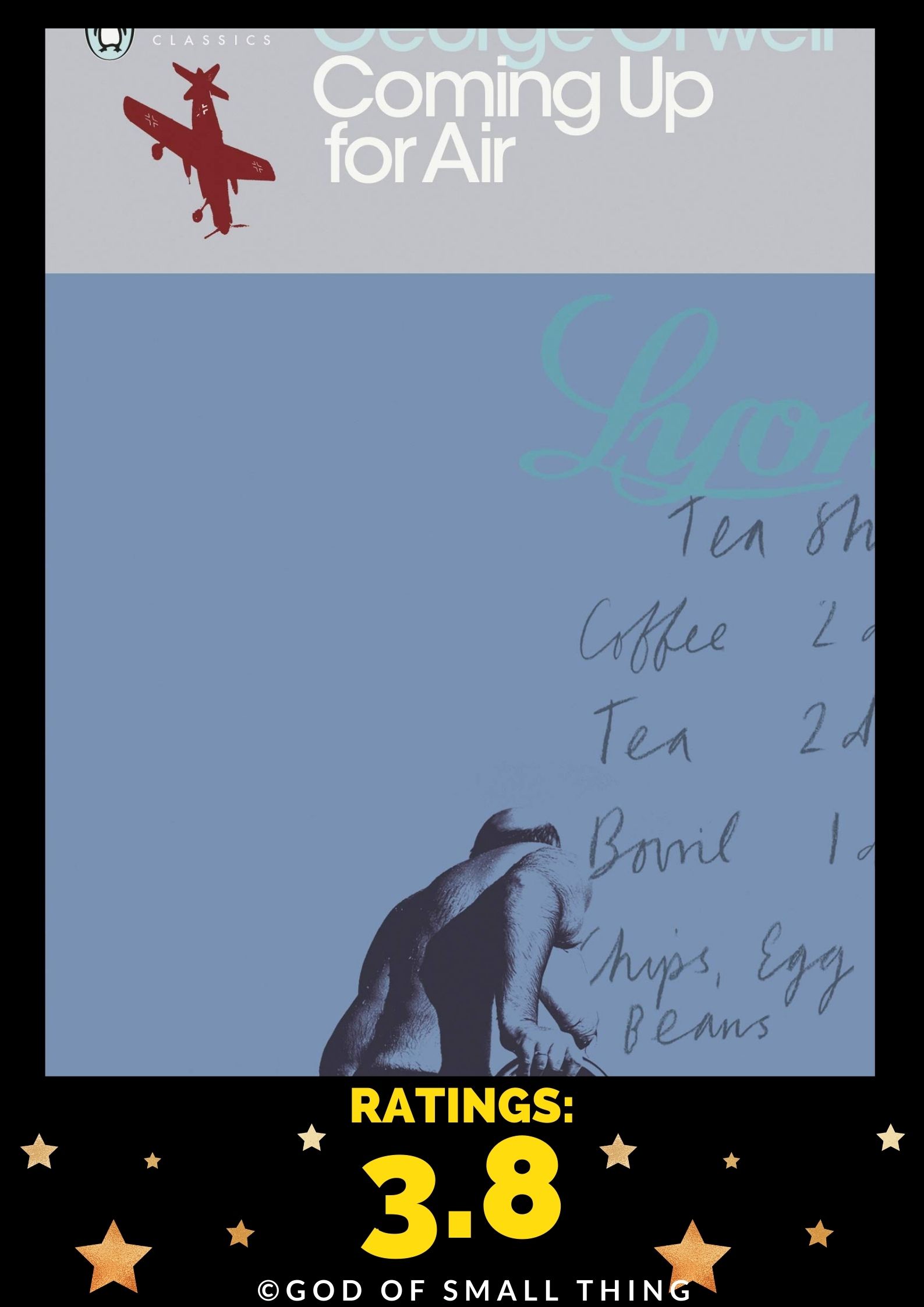 8. The Lion and the Unicorn: Socialism and the English genius
Ratings: 3.78/5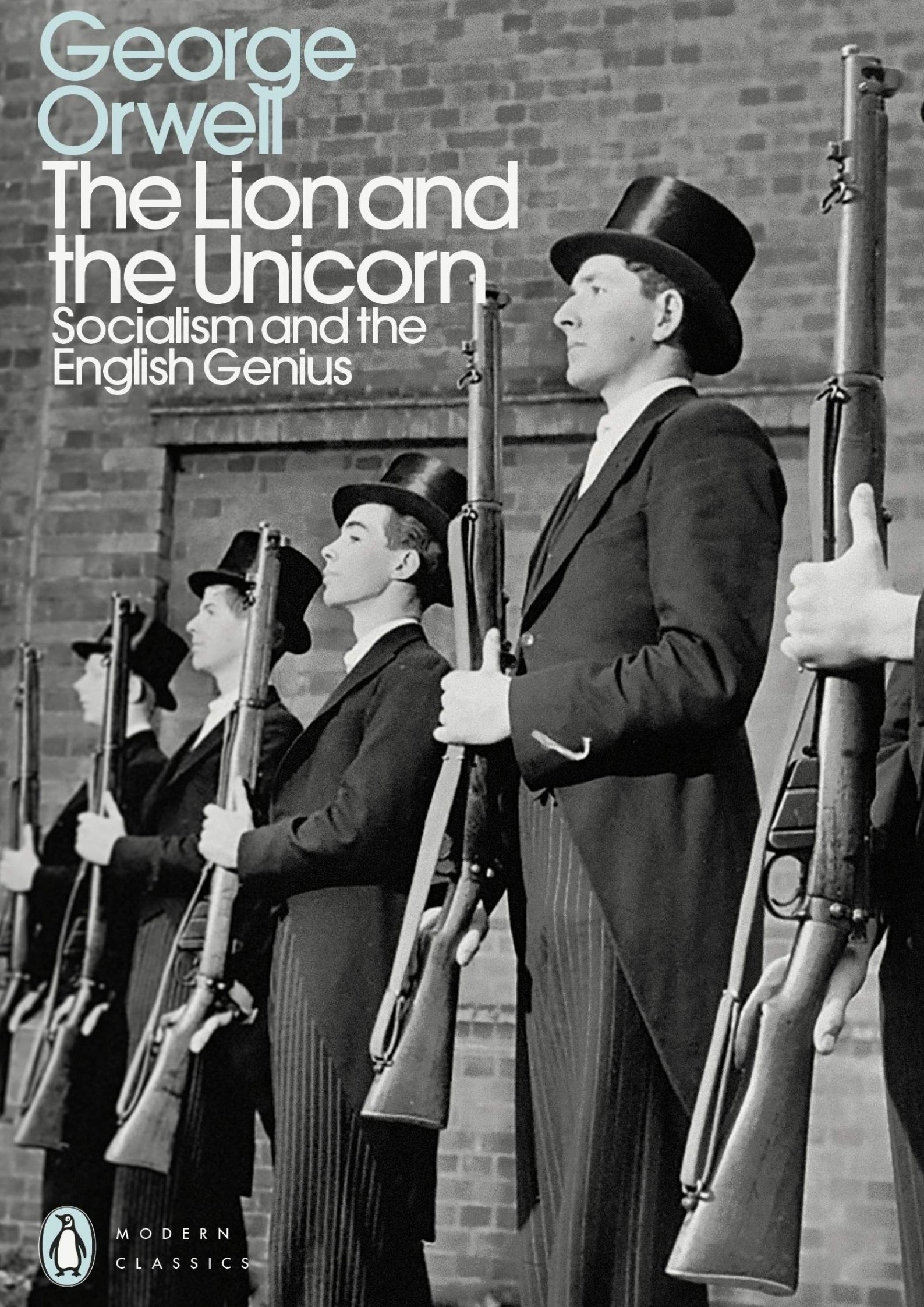 As the name suggests, Socialism and the English genius is one of the best George Orwell books to read today. He expresses his views on political situations prevailing in the country. One of the most important paragraphs of the book is highlighted below, which can give you a glance of his thinking.
"As I write, highly civilized human beings are flying overhead, trying to kill me. They do not feel any enmity against me as an individual, nor I against them. They are 'only doing their duty', as the saying goes. Most of them, I have no doubt, are kind-hearted law-abiding men who would never dream of murdering private life. On the other hand, if one of them succeeds in blowing me to pieces with a well-placed bomb, he will never sleep any the worse for it. He is serving his country, which has the power to absolve him from evil."
Since you are still here I am thinking that probably you are looking for something different. And with the word different, I am going to give out a recommendation completely different from fictional books. Here is a list of 30+ Best Books to read before you die|Fiction|Non-Fiction|Misc! all INCLUDED!
As per him, nationalism is much more important than militarism or being political. He also criticizes various political movements and argues how the world is becoming a fatal place Because the power is in the hands of some wicked people. This is a very interesting historical novel/essay that brings out the reality, which even prevails today. To write such a novel in the year 1941 where this is the situation of World War II Is a big deed. Now if you want to understand what George Orwell thinks about all the politically powerful people then this is one of the best novels to read. He tries to bring a revolution, to see England free of communalism and fascism.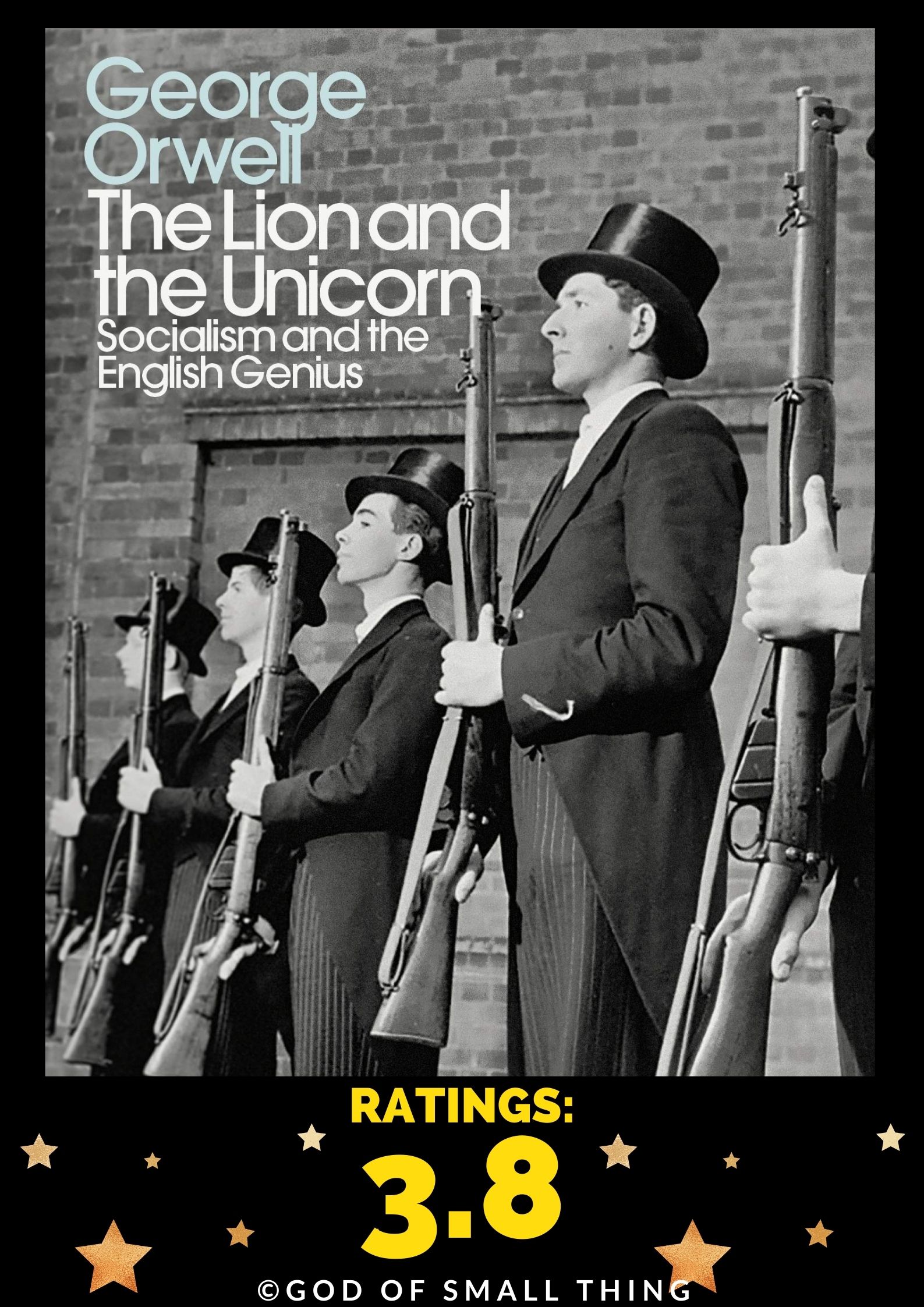 9. Shooting an Elephant
Ratings: 4.11/5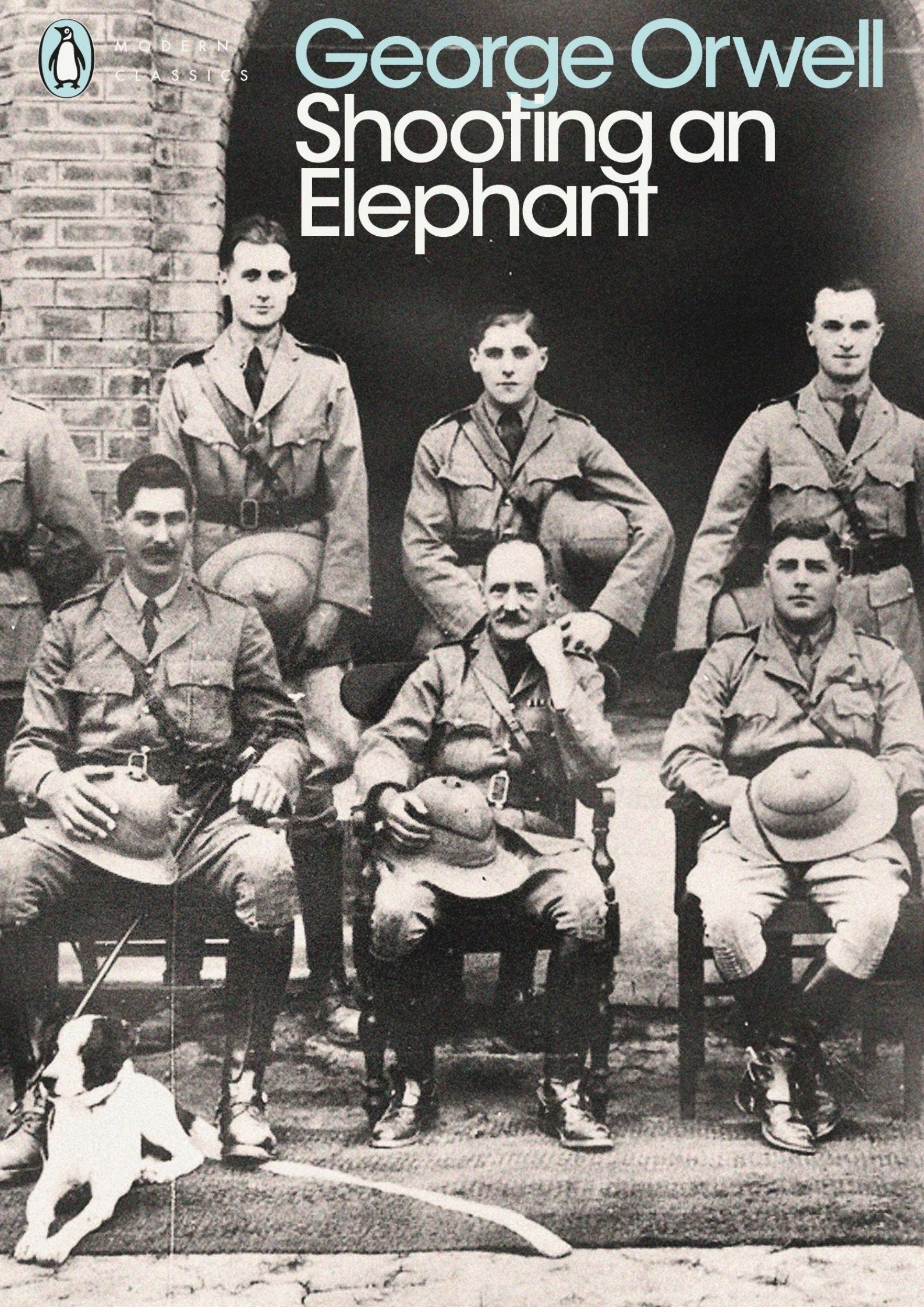 Shooting an Elephant is one of the best George Orwell books/essays. It was written and later published in the literary magazine new writing in the year 1936. The book was 1st broadcasted by BBC home service in the year 1948. The book is narrated by an English narrator, assumed to be George Orwell himself. He shares his experience when he was told to shoot an aggressive elephant when he was a police officer in Burma. The essay is based upon imperialism whereas George Orwell is an anti-imperialism writer. He aims at destroying and conquering the imperialism existing in society. Secondly, the essay follows a theme of conscience, Stuck between hatred and rage. Moreover, his essay was later transformed into a movie in the year 2015. The movie was directed by director Juan Pablo Rothie.
A detailed account of British colonialism's injustice and futility in the East, or wherever colonization lays its tent. It also illustrates how the oppressor is the oppressed too by having to wear a mask to suit the oppressor function, and then the mask is their face.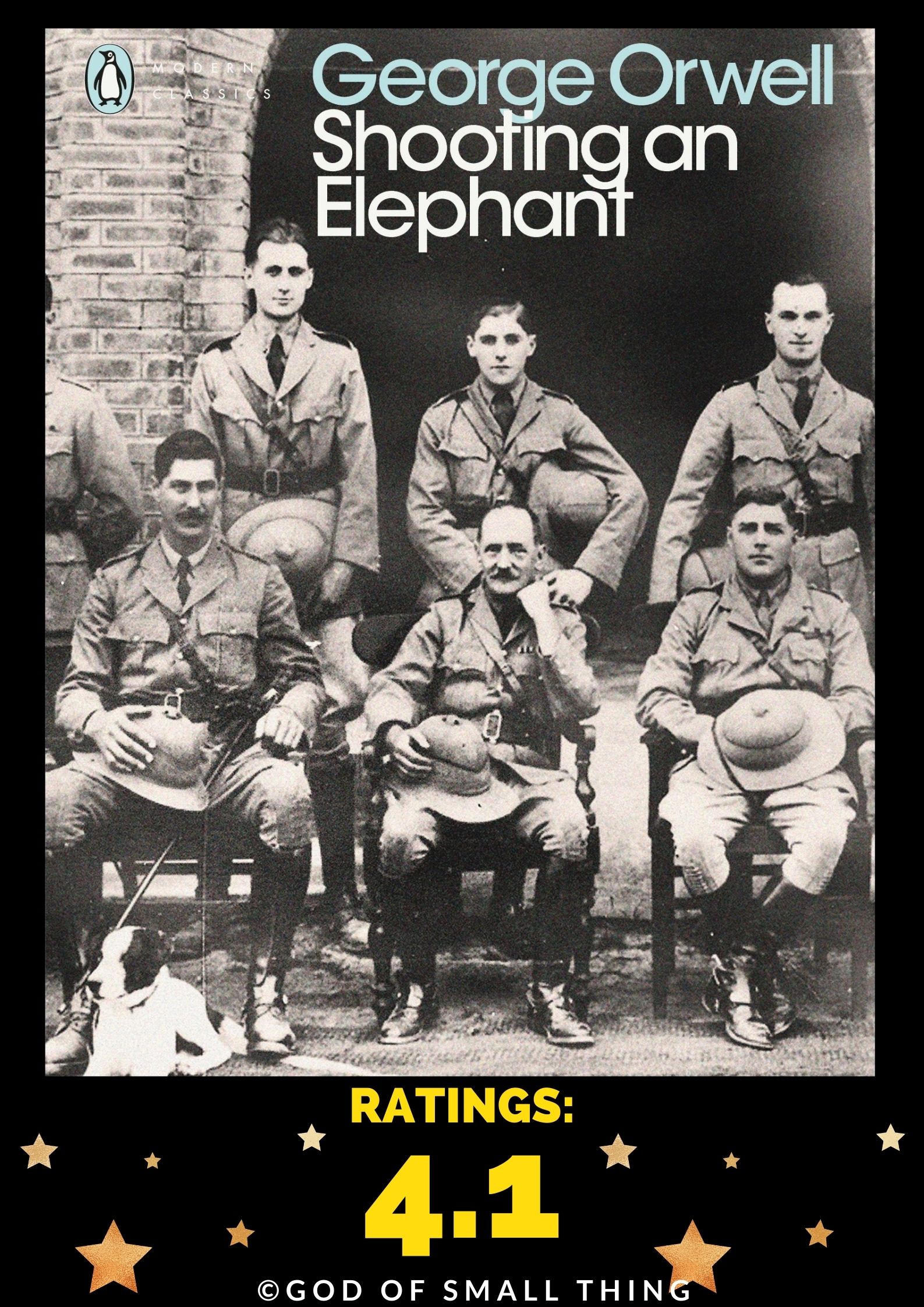 10. Homage to Catalonia
Ratings: 4.14/5
Homage to Catalonia is a written history by George Orwell of his experiences and reflections during the Spanish Civil War fighting with the POUM militia of the Republican army; it is one of the best George Orwell books to buy.
This book is well known for its disillusioned account of how the Communist Party, in its eagerness to overthrow Franco, abandoned Catalonia 's positive anarchist experiment for the sake of expedience, how it executed, and jailed its anarchist and radical allies for the sake of a brief coalition with the bourgeoisie. The book is renowned for its gritty account of the cheap battle, where weapons are bad, marksmanship is worse, and the shortage of food, matches, and candles is more critical than any enemy threat.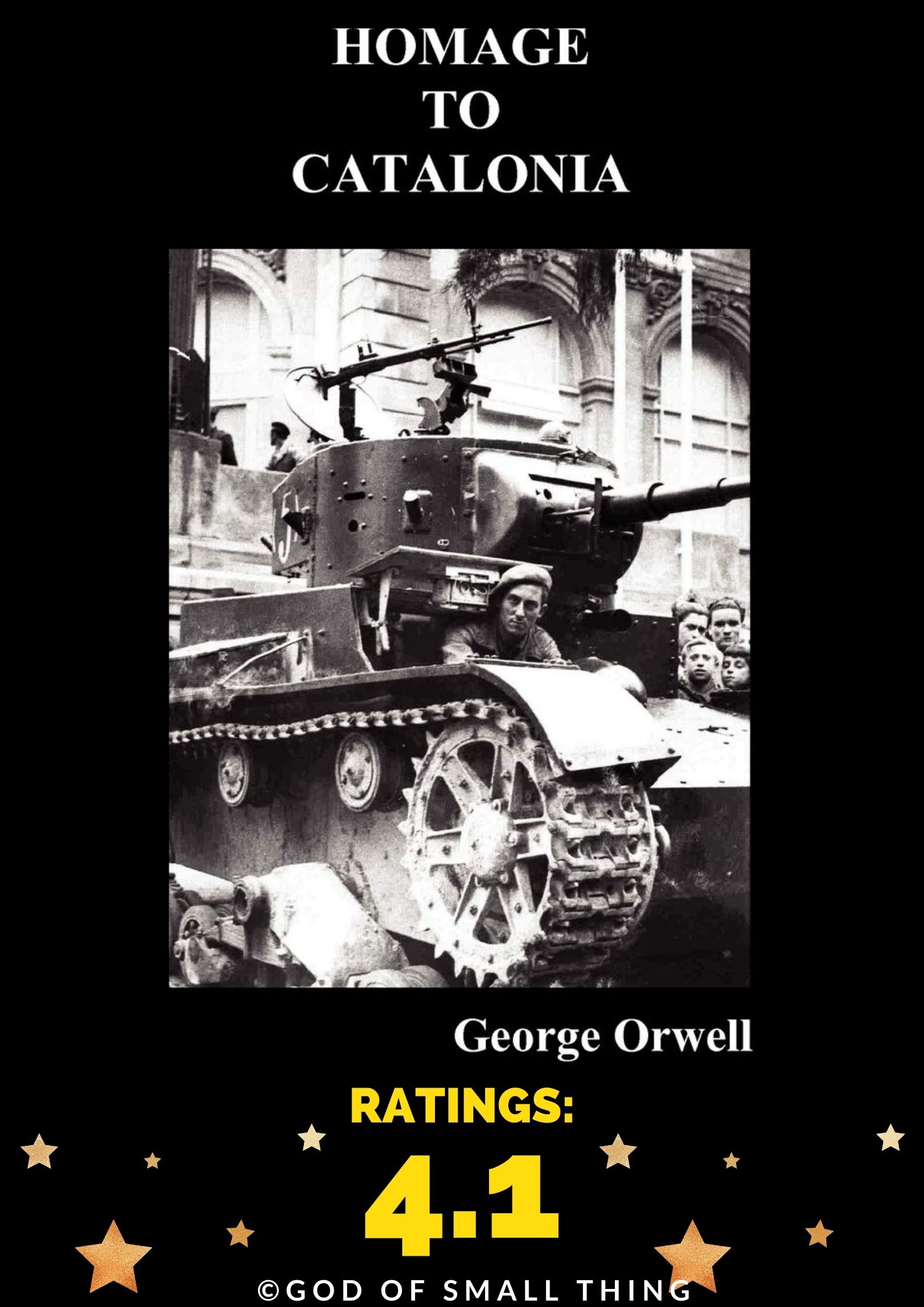 11. Keep the Aspidistra Flying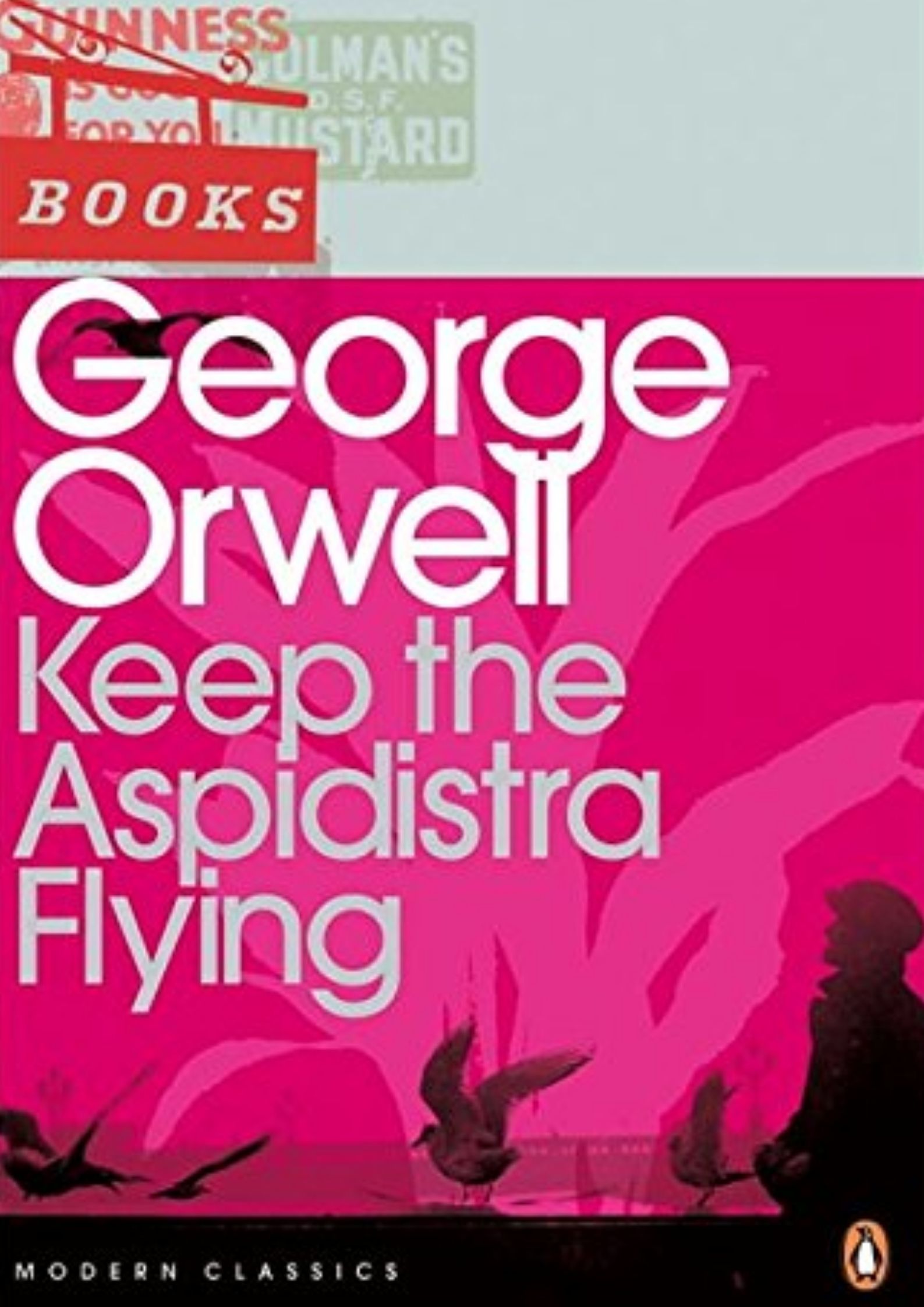 Ratings: 3.89/5
Keep The Aspidistra Flying is a socially critical novel by George Orwell, first published in 1936. It's set in London, in the 1930s. The key theme is the heroic desire of Gordon Comstock to defy the worship of the money-god and rank and the ensuing bleak life. This novel tells us the story of Gordon Comstock, a man who so much rejects capitalism that he gives up his job at a large advertising agency to work in a picturesque little bookstore. He does hate money. I like to be an artist. And his selfless, money-hating and often annoying nature does not in any way improve his life. However, Gordon is still an incredibly interesting protagonist and I felt this glimpse into life was only perfect.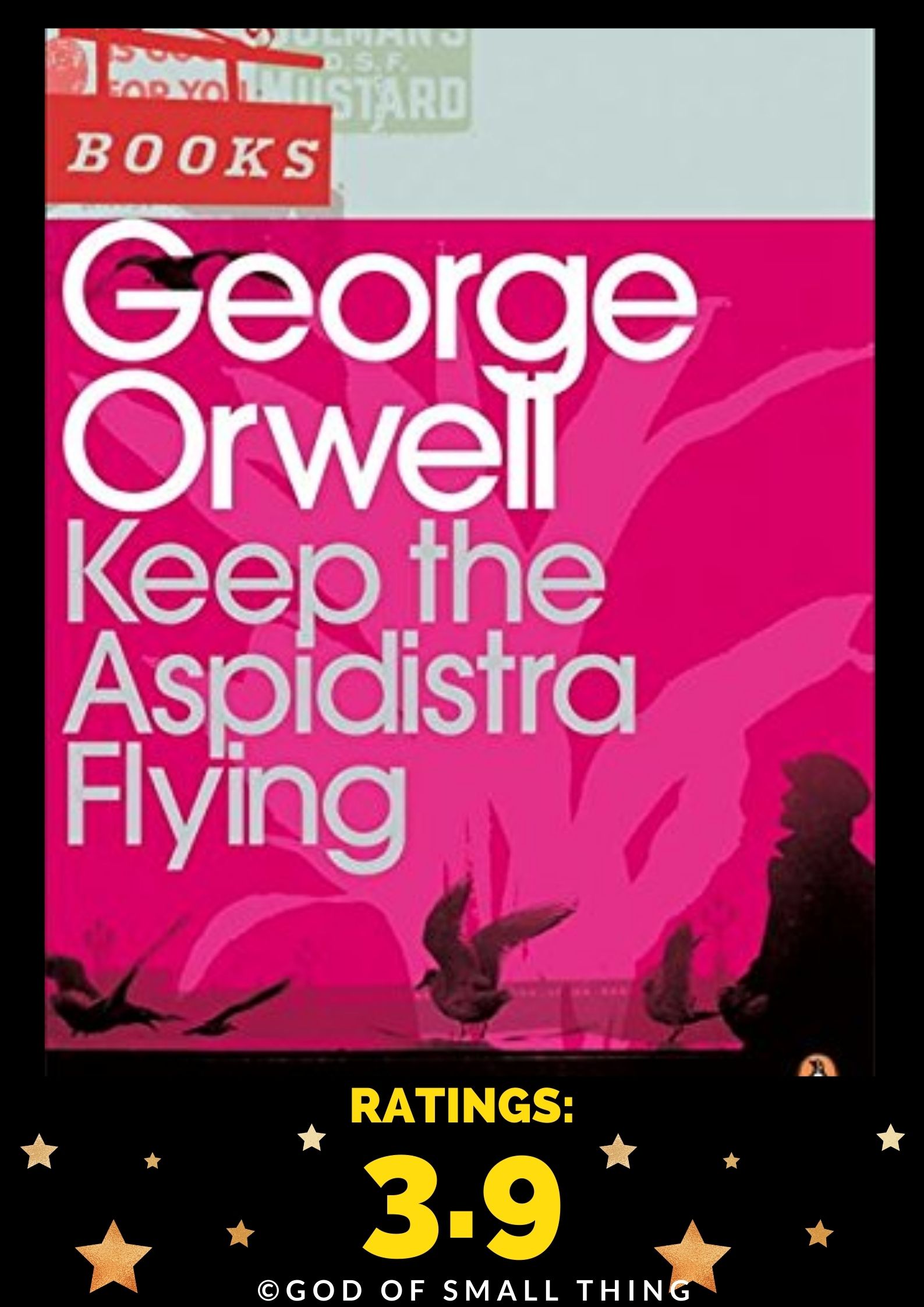 12. A Life in Letters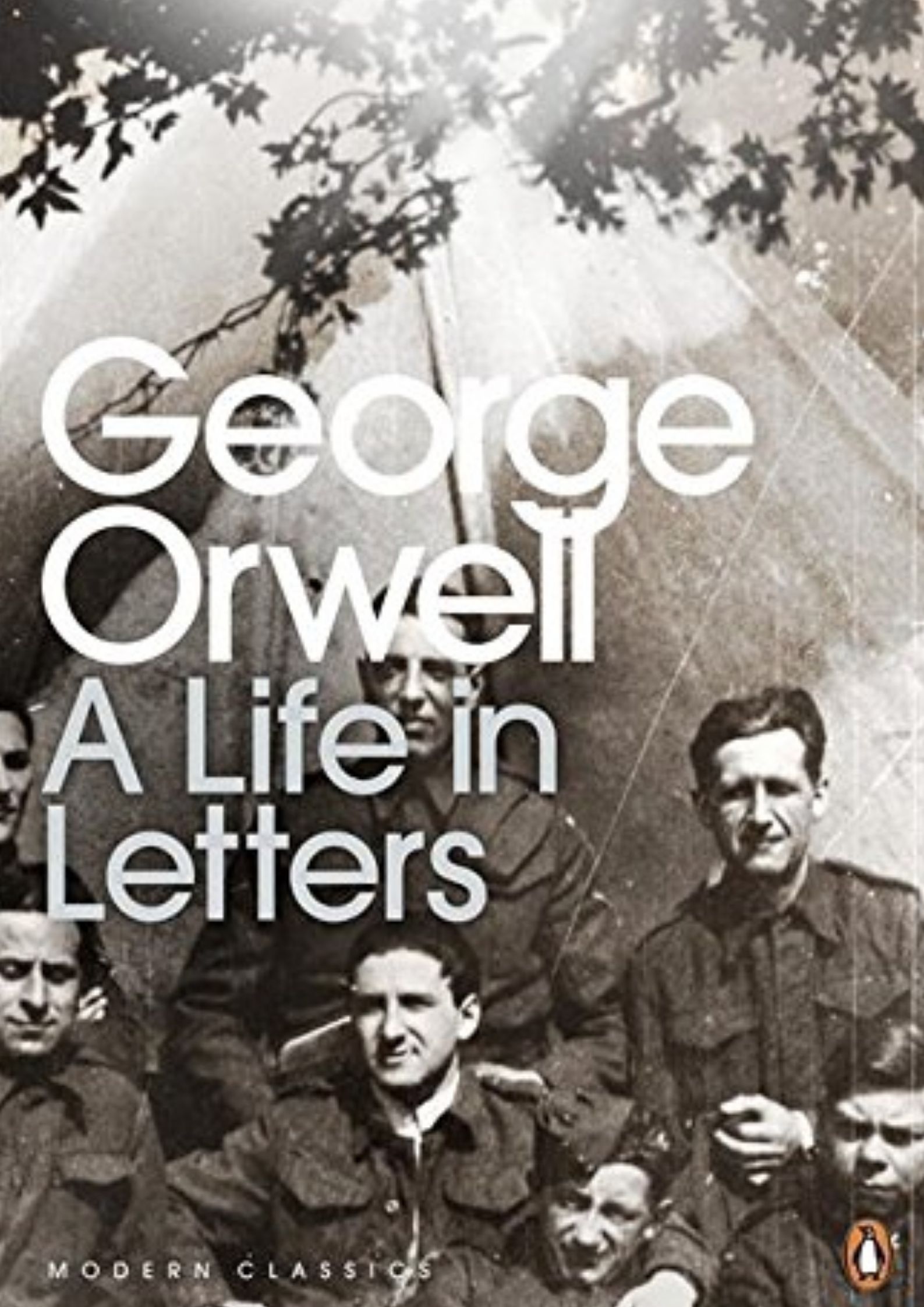 Ratings: 4.26/5
George Orwell was a tireless and lively correspondent. He communicated with family members, friends, and newspapers, figures such as Henry Miller, Cyril Connolly, Stephen Spender, and Arthur Koestler, and strangers who wrote to him out of the blue. This carefully selected volume of his correspondence provides an eloquent narrative of Orwell's life, from his school days to his final illness. George Orwell was an intransigent and enthusiastic correspondent. He interacted with family members, acquaintances, and magazines, people including Henry Miller, Cyril Connolly, Stephen Spender, and Arthur Koestler, as well as strangers who spoke out of the blue to him. This deliberately chosen volume of his correspondence offers an eloquent description of Orwell 's life, from his school days to his final illness.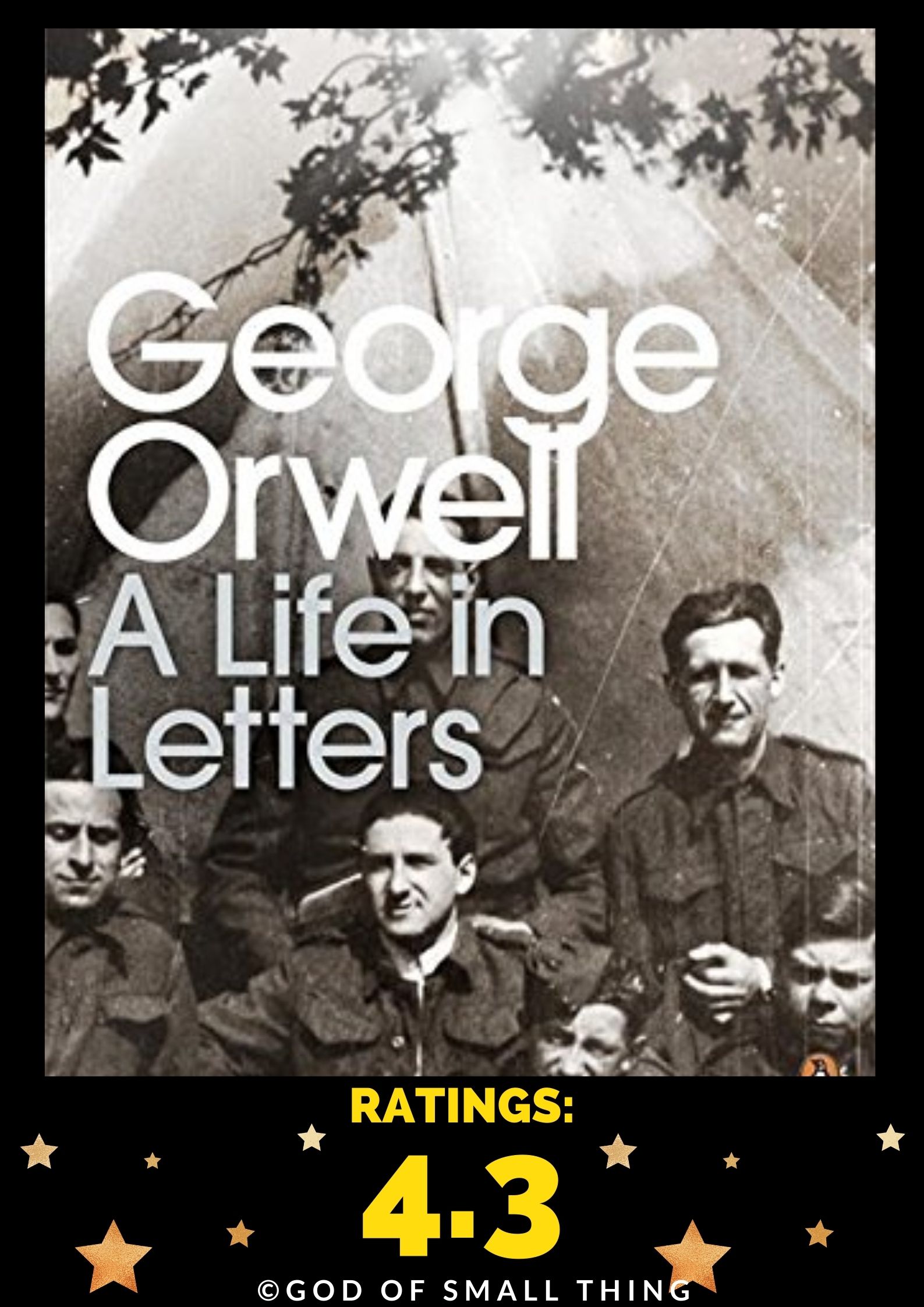 Conclusion
Here is the list of 12 best books written by George Orwell. All of these are very popular and must-read books. In most of the books, George Orwell has shared his political opinion, personal experience, and views relating to the burning issues of society including imperialism, communalism, racism, discrimination, and a lot more. He was a gem of a writer, brave and unique. He has written essays in the form of books. So now it's your time to sit on your couch, relax back, and grab a novel to understand his political thoughts and history back then.
More about George Orwell
During the times of the civil war, he lived in Spain. Orwell joins the Republican military in Aragon. Later on, he even fought in Barcelona. He had to fly back to Spain because His life was at stake. While he was battling in Aragon he faced damage on his throat that affected his voice. This entire episode, he has shared in his book named Homage to Catalonia. His experiences are a must-read. He also wrote a book expressing the situation of people during World War II. The name of the book was coming up for air in which he showcased the decency of people along with the fear of war.
Apart from this in the year 1944, he wrote a book named Animal Farm, which was quite popular and was based upon the Russian revolution. This book for the first time made George Orwell in limelight and could gather the entire amiability do the book was very witty and full of fantasy. The next book that changed his life was Nineteen eighty-four (1984) which was written in 1949. The book is about Stalinism and Nazism. This was his last book and he died in the year 1950 in London because of TB. George Orwell is one of the most admired personalities all over the world.
Which is George Orwell's most popular book?
George Orwell's 1984 is one of the best and most popular books, which was written in the year 1944. Apart from this, people have also appreciated the book Animal Farm. It is hence difficult to choose between the two. Both are great reads for understanding politics and how it affects the real world. Read More about the books 1984 and Animal Farm including summaries and why they are one of the most popular books by George Orwell.
What kind of books did George Orwell write?
George Orwell wrote fictional books that highlighted social issues. He focused on bringing out issues like racism, discrimination, and imperialism. He had the desire to conquer dictatorship and bring out the real phase suffered by people, especially the poor. If you are mostly politically correct, then you will love his books. We have compiled the list of best books by George Orwell above and you can have a look at their best books.
What are George Orwell's books about?
His books focus on bringing out the reality of various cities just as England, or Burma where he was born. Each book of his has something to do with society. Orwell brought the dark face of society to the front of the world. And that is why he is one of the most critically appraised writers.
Should I read Animal Farm or 1984 first?
You need to start with Animal Farm because it is a fantasy book about socialism. To understand the ideology of Orwell, it's best to read this book. After Animal Farm, you can read George Orwell's 1984. Well, after you are done with both, read the above-mentioned books as they are worth buying and reading.
What should I read after Animal Farm?
After the book Animal Farm, you can read the book 1984, it is a very interesting book and one of the Best George Orwell books. Or better, choose from the list of the best George Orwell books for your self to read next.
What should I read after George Orwell's 1984?
After reading 1984, you can read Down and Out in Paris and London or A Clergyman's Daughter which remains one of the most popular books by George Orwell
What is Animal Farm based on?
Animal Farm is based upon a fantasy story describing socialism. It is a political satire to open the eyes of the oppressed class against the domination of the leaders. The book focuses on the best survival of animals. It conceptualizes animals a rebel against humans. These animals also want to be treated free, happy, and equal.
What was George Orwell's last book?
1984 was the last book of George Orwell. It is a witty fantasy that is admired by most people because it brings out reality. After writing this book he died because of tuberculosis in the year 1950. He wrote the book 1984 in the year 1944.
Looking forward to reading a few more recommendations? Explore our Book Reviews section for a variety of reviews from fiction, Non-fiction, Dystopian, and other forms of books. Book Reviews – God of Small Thing