70+ Best Bollywood romantic comedy movies of all time Ordered by Year- 2023
Rahul, Rohan and Raj Or Anjali, Simran and Naina, We've all wanted to live our best Bollywood lives at least once. Bollywood romantic comedy movies were our way to vicariously live through these characters. You have to admit, there were times you wanted to live your life like Kabir (aka Bunny) from Yeh Jawaani Hai Deewani. Fall in love with a stranger like Simran from Dilwale Dhulania Le Jaayenge. We might all desire Brad Pitt, BUT everyone wants a Raj in their lives. It is what it is. It's quarantine time and while you're self-isolating, watch a few cheesy rom-coms. Because why not?
You might know some of the movies we'll present to you in our curated Top Bollywood Romantic Comedy movies List. Some of these movies might have been released way before you were born, but it's always good to watch some classics. We have some Bollywood gems you can watch to live your romantic fantasy. Whether you're looking for a new movie or just want some nostalgia, we've got you. Our list has a diverse mix of different eras of the Best Bollywood Romantic Comedy movies for you to watch.
Best Bollywood Romantic Comedy Movies
1. Padosan (1968)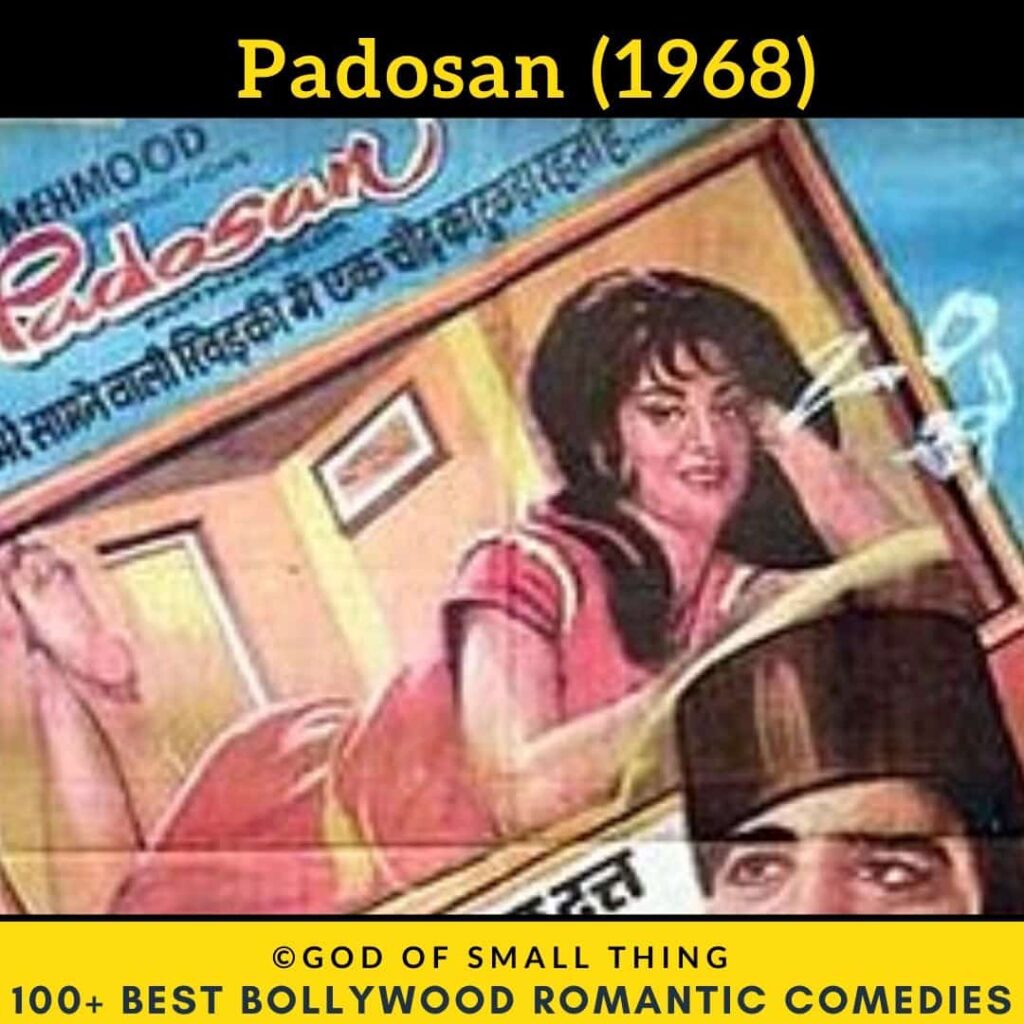 From "Meri Pyari Bindu" to "Mai Chali Mai chali" this classic Bollywood rom-com has given us some beautiful tracks apart from being a superhit romantic comedy. Bhola (Sunil Dutt) comes up with an idea with his vocalist friend (Kishor Kumar) to woo Bindu (Saira Banu) with his singing. What happens when Bindu knows the truth? A roller coaster of some great punches and amazing romantic moments, this Bollywood movie is a romantic comedy which you must watch.
2. Chupke Chupke (1975)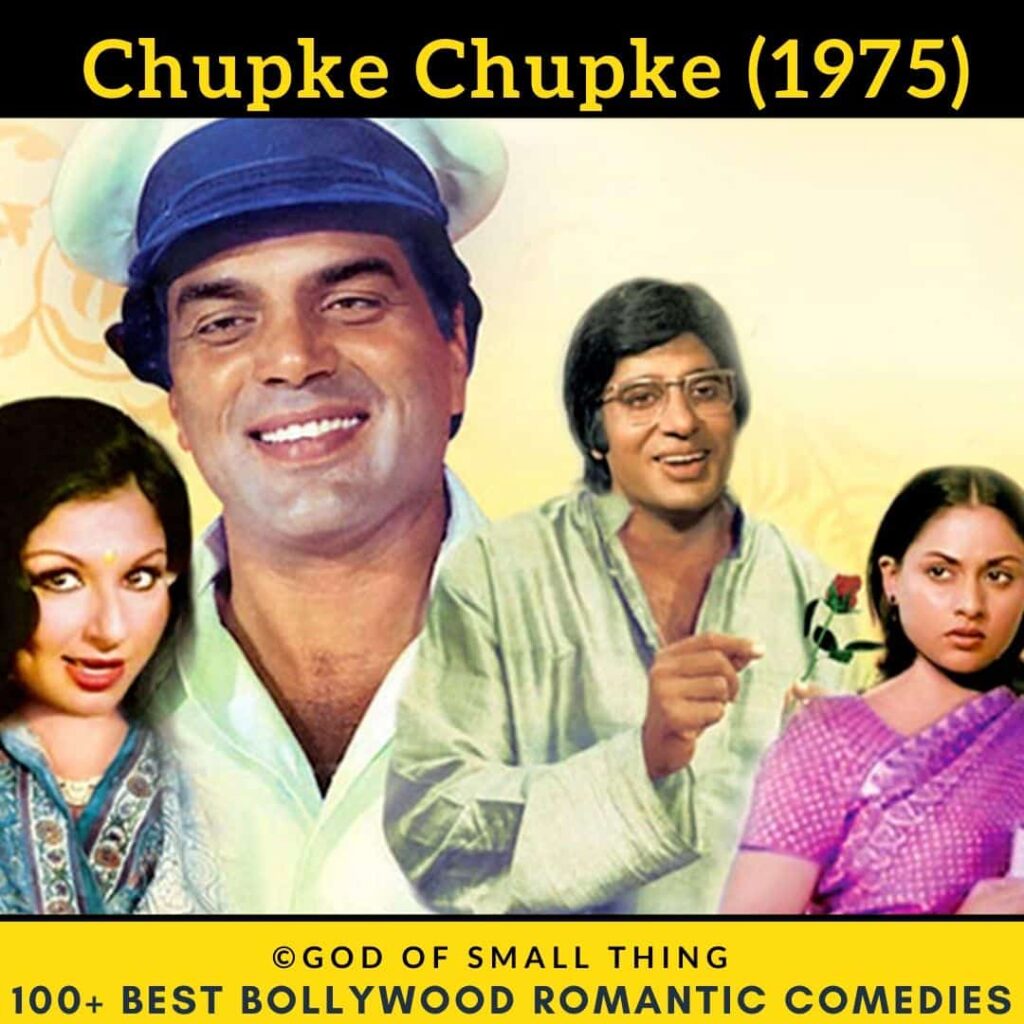 This movie is a must-watch old Hindi comedy movie. Amitabh and Dharmendra were recognized for their amazing comedic timing. Professor Parimal falls in love with Sulekha during an excursion. They get married and live together. Sulekha is in awe of Parimal's Brother-in-law and Parimal gains an inferiority complex. Parimal's friend Sukumar comes into play. This one is a massive comedy of errors where all the characters pretend to portray each other and it shows hilarious outcomes. The movie revolves around funny mishaps. It is indeed a must-watch.
3. Chhoti Si Baat (1976)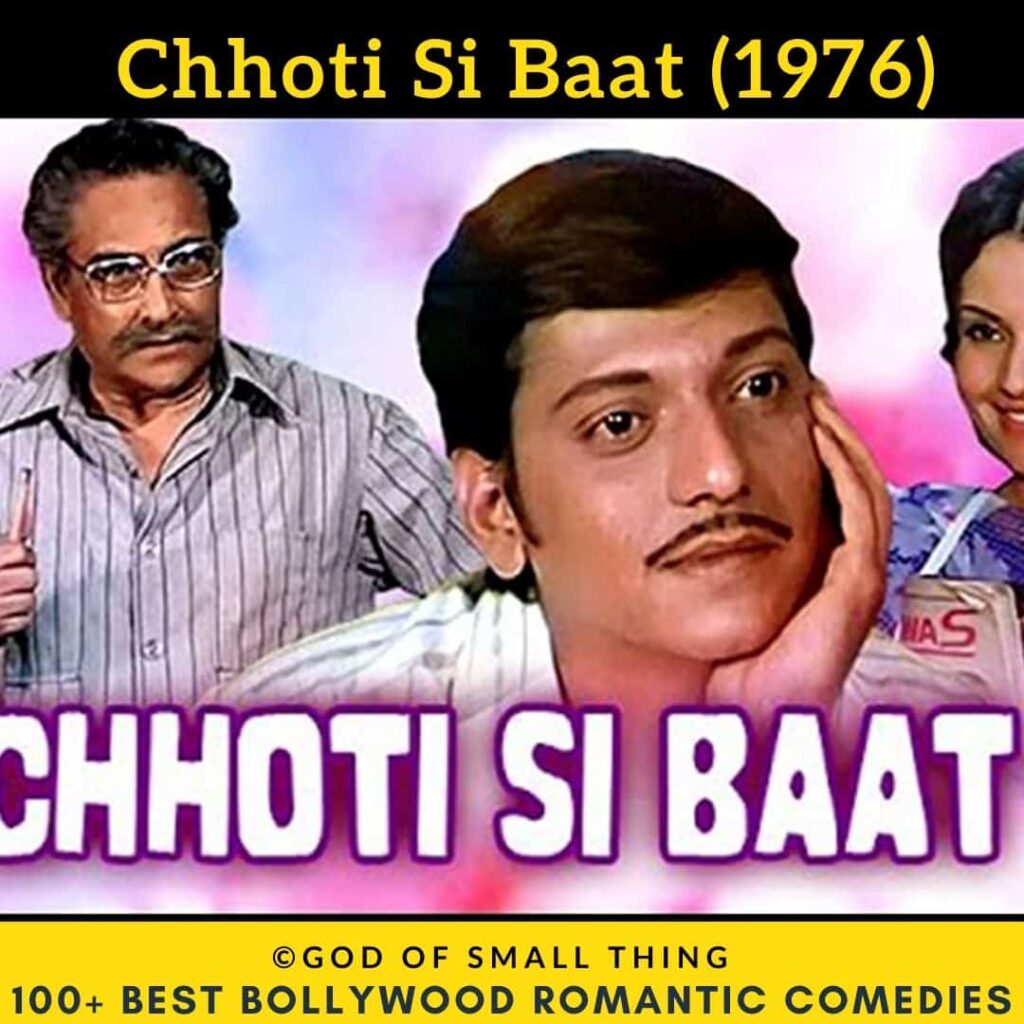 There is a reason why this Bollywood romantic comedy became one of the Filmfare receiving hit of that time. Chhoti Si Baat is a romantic comedy starring Amol Palekar and Vidya Sinha which can compete with any rom-com of today. A love story plot in the old Bustling streets of Bombay is a must-watch for all the lover hearts out there. The story takes twists and turns when Asrani enters the love story as a colleague of the lead actress. Watch a man with his scooter competing with a man with a motorcycle for his love. We hope you got us! Right? What are you waiting for? This classic rom-com is a must-watch from the 70s.
4. Chashme Buddoor (1980)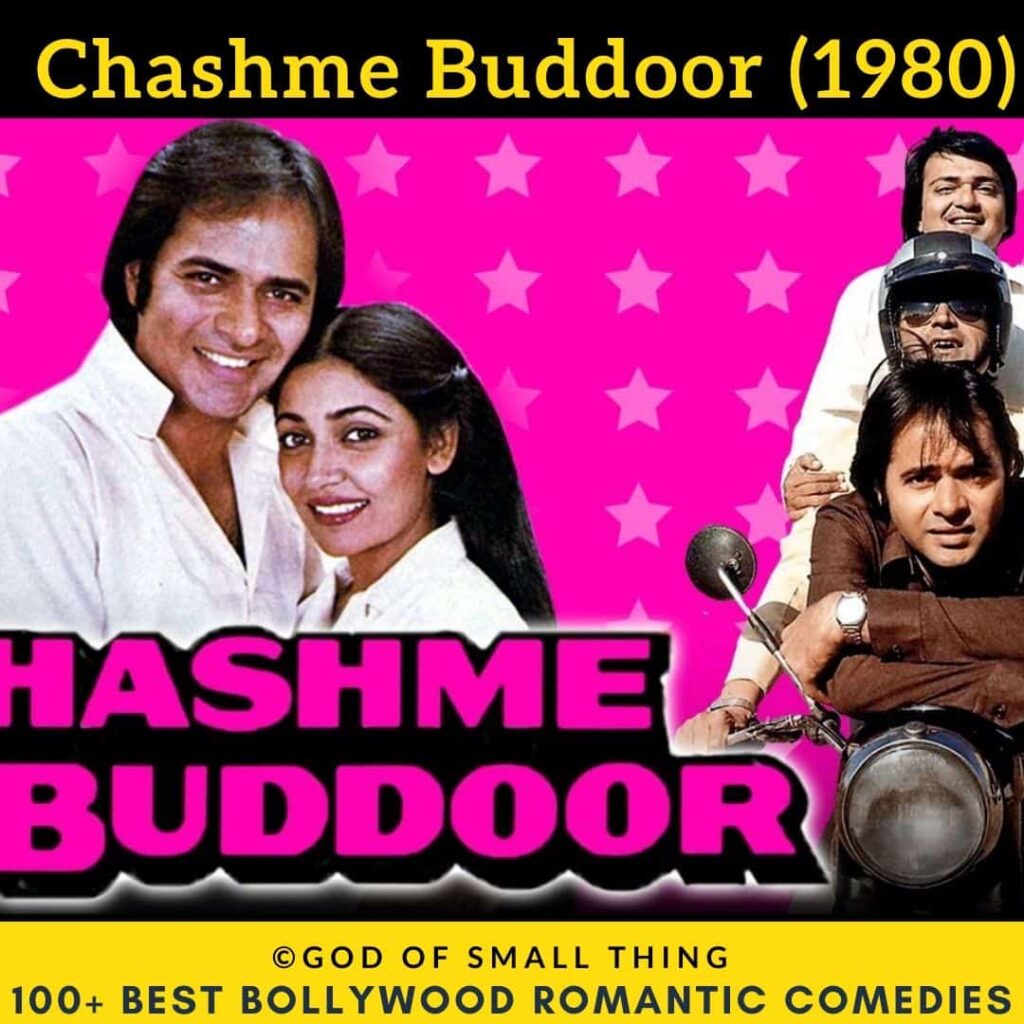 A classic blast from the past-Chashme Buddoor is a story of two womanizers who get surprised when one of their nerdy friend wins the heart of a beautiful girl. This Bollywood romantic comedy has a buddy element attached to it making this movie even more amazing. Farooq Shaikh, Deepti Naval, Rakesh Bedi, starer turns into a wild comedy when the two womanizers try to break the love birds apart.
Watch Chashme Buddoor full movie here: Chashme Buddoor movie online
We sure have some forgotten treasure here. These movies have some iconic songs which every 90's kid remembers, but somehow the movies are not as popular. We're here to change that.
5. Dil (1990)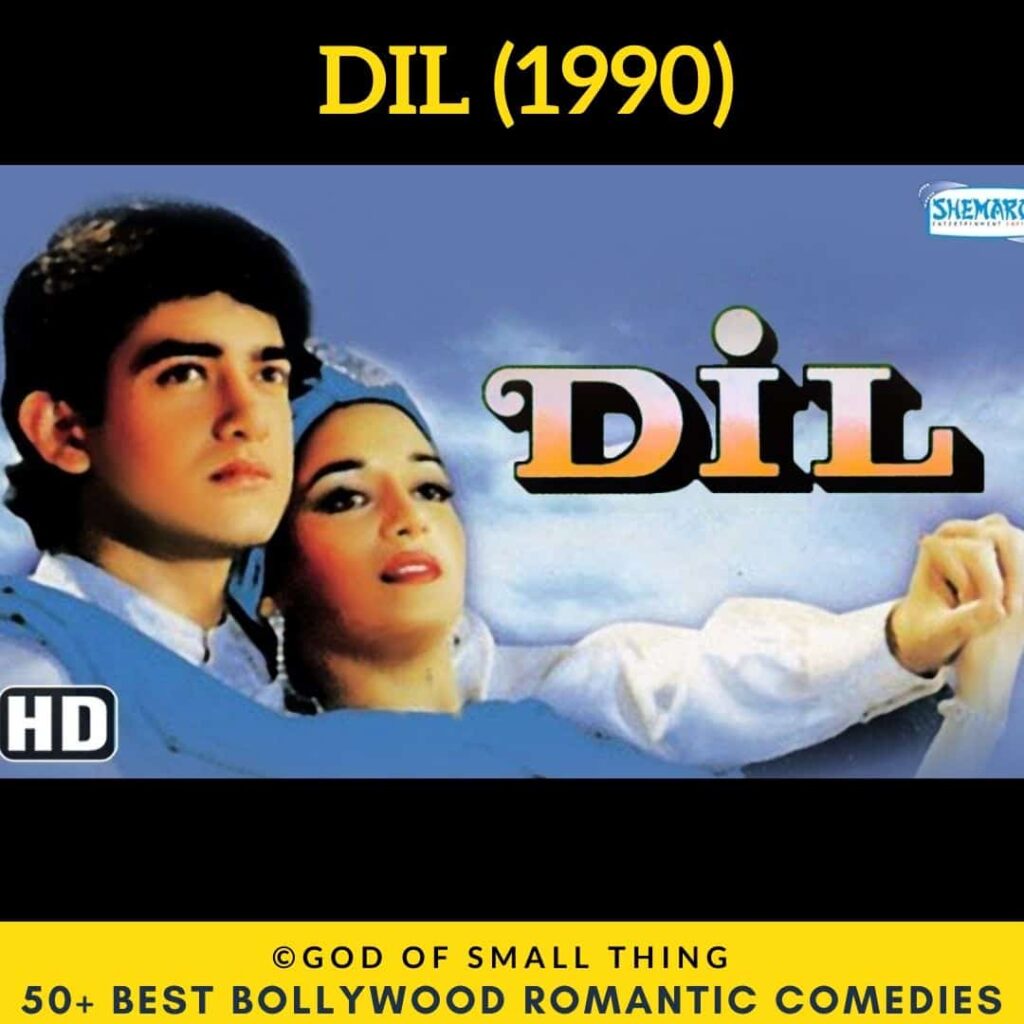 Starring Madhuri Dixit Nene and Amir Khan. Remade in several languages, Dil is a Classic Top Bollywood romantic-comedy movie and a blockbuster on the box office. A Cute enemy-turned-lovers movie with the 90s twists warms hearts.
6. Hum Hain Rahi Pyaar ke (1993)
The plot of the next movie on our list of Bollywood romantic comedy movies follows a bunch of runaway kids. A boy and a girl fall in love and have witty conversations that are charming and cute. Aamir Khan and Juhi Chawla have great on-screen chemistry, which makes the movie a hit. Make sure to watch this classic. 
7. Andaz Apna Apna (1994)
Cast: Aamir Khan, Salman Khan, Raveena Tandon, Karishma Kapoor, Paresh Rawal, and Shakti Kapoor.
Director: Rajkumari Santoshi
This Bollywood comedy movie has become a cult film over the years. Amar and Prem are two dreamers with the same dream. Getting married and rich to a young heiress, Raveena Bajaj. Both run into each other on a bus to Ooty. They realize they are after the same dream, the both try their hand at wooing the heiress. Both fail and think of new ideas. One pretends to lose his memory after being hit by Raveena's car and the other comes in as a doctor. Both get to know the secrets of the rich family and shake. Find out what is this secret the daily is been hiding.
8. Hum Aapke Hain Koun (1994)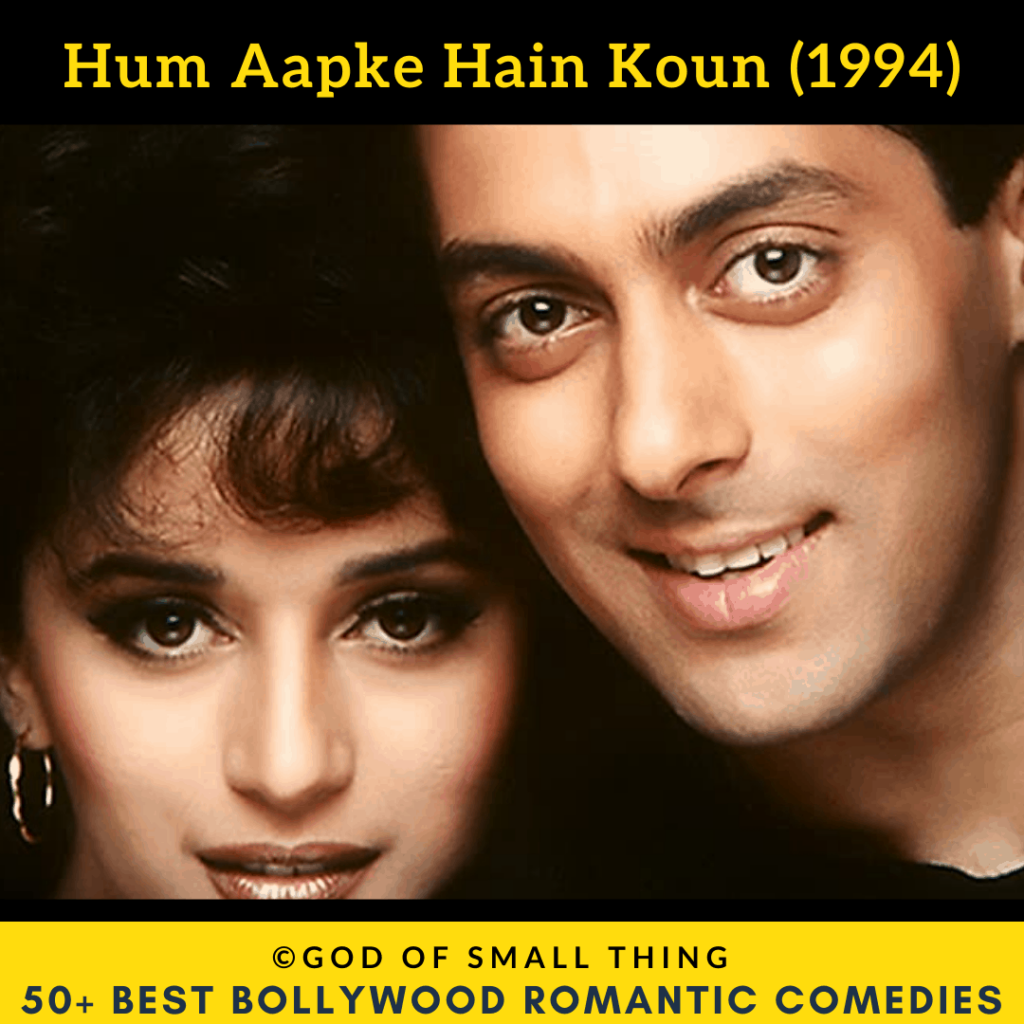 This has to be one of the top Bollywood romantic comedy movies of all time. A wholesome family movie, this is the perfect watch. it has comedy, family bonding and perfect romance between Salman Khan and Madhuri Dixit Nene. The movie has iconic songs such as Didi Tera Devar Deewana, Wah Wah Ramji, and Pehla Pehla Pyaar Hai. Hum Aapke Hain Koun is a Bollywood staple and is loved by the masses.
9. Kabhi Haan Kabhi Na (1994)
Sunil, (Shah Rukh Khan) a boy who is less interested in studies but is an amazing musician, falls in love with Anna (Suchita Krishnamurthy) who is in love with Chris (Deepak Tijori). This romantic comedy revolves around a group of friends in a musical band. Sunil tries to get Anna's love using some cheesy yet comic techniques. From drama to romance to some amazing comedy, Kabhi Han Kabhi Na is a feel-good movie which you must watch right away if you haven't.
10. Dilwale Dulhaniya Le Jayenge (1995)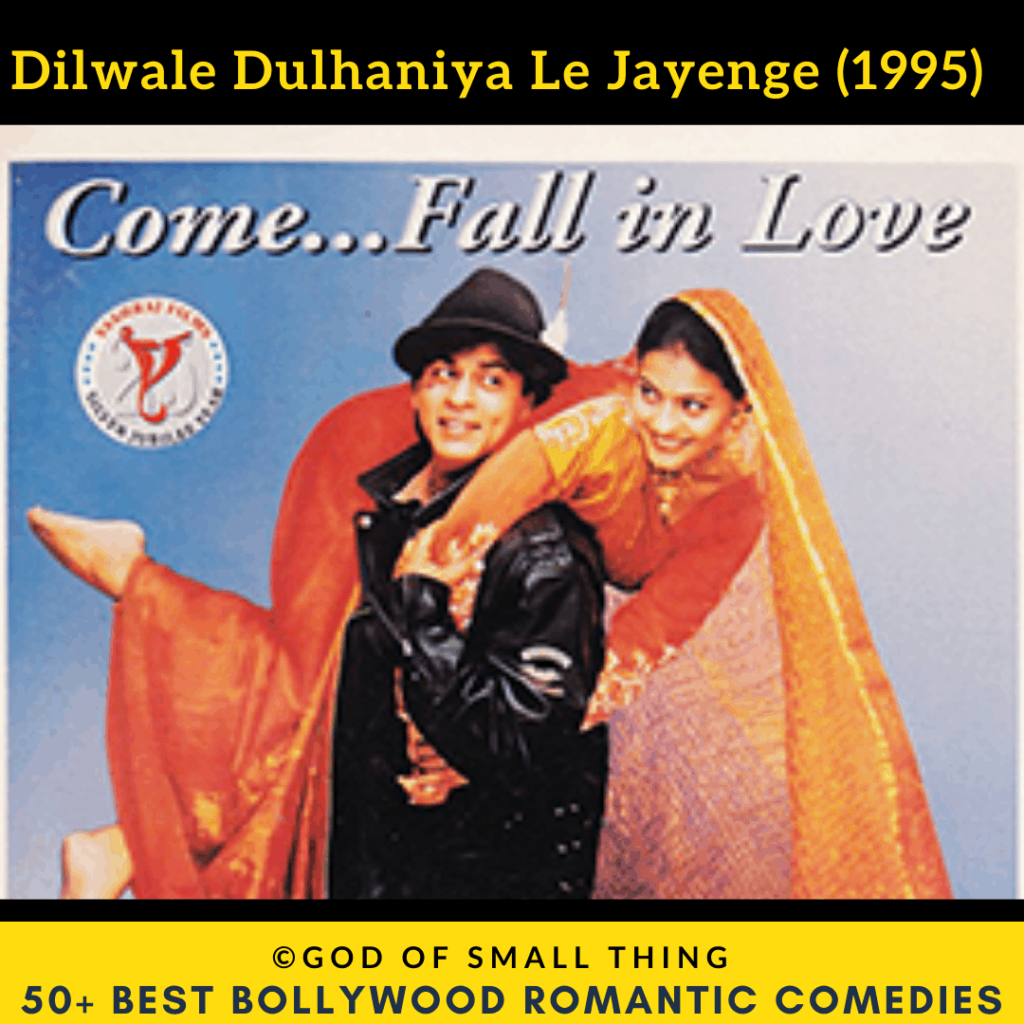 DDLJ is a Bollywood Romantic Comedy movie that almost every Indian has watched at least once. Maybe not the whole movie, but some scenes. Raj (Shah Rukh Khan) playing his small ukelele to Simran (Kajol Devgn) in a field of little yellow flowers. Yes. That scene is legendary. The movie DDLJ is the longest-running movie ever, there's still a small place in Mumbai, Maharashtra. It still plays the movie two decades later. This movie truly kick-started the romantic era in Bollywood. Watch this Classic Bollywood Romantic- Comedy.
11. Ishq (1997)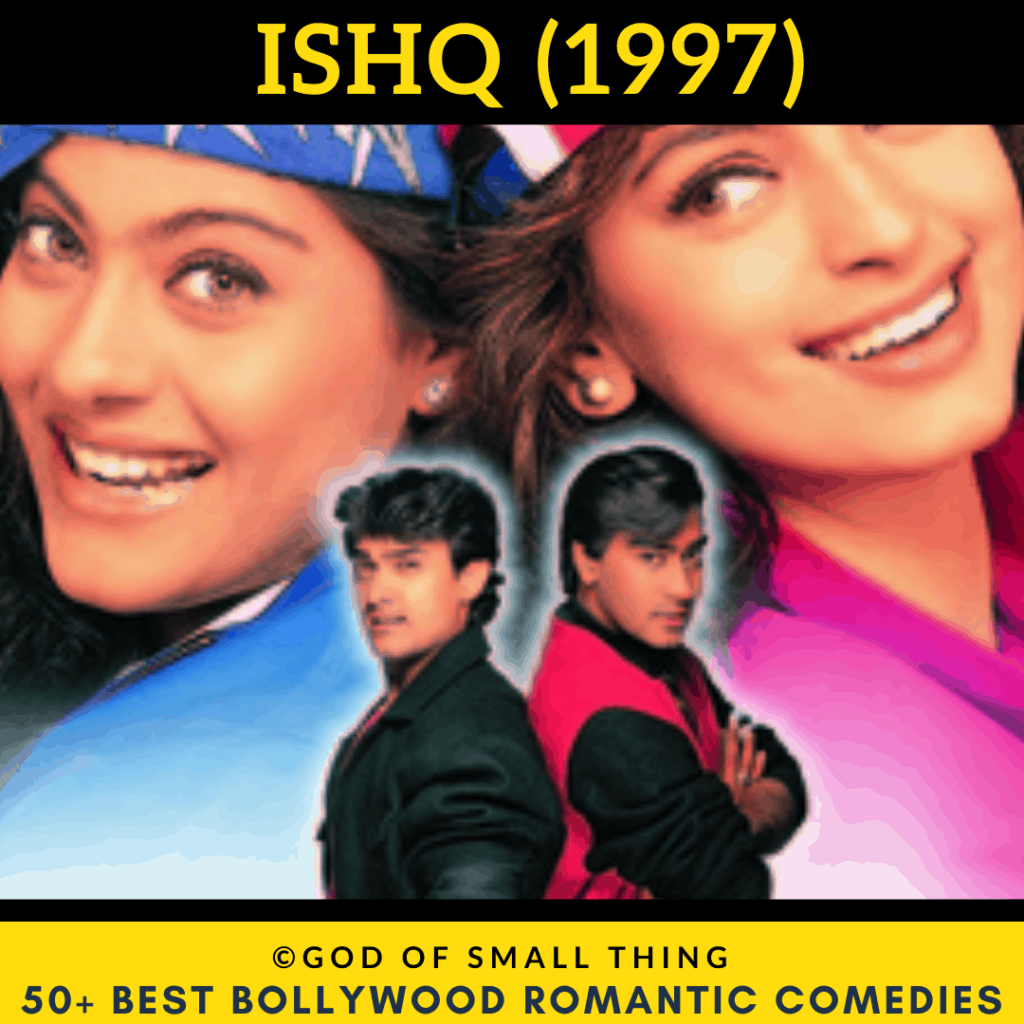 This Bollywood romantic comedy movie stars Aamir Khan, Ajay Devgn, Kajol, and Juhi Chawla. This is a slapstick comedy and prank-filled movie with unrealistic situations. But the characters' chemistry somehow makes it work.
12. Saajan Chale Sasuraal (1996)
This Bollywood romantic comedy movie perfectly shows how Shyamsundar (Govinda) juggles between two of his wives played by Karishma Kapoor and Tabu. The perfect comedy timing of Kadar Khan, Satish Kaushik, Govinda, and the ladies will keep you stuck to your TV screen. Will Shyamsundar be able to keep his marriages a secret from his other wives? Watch this amazing Bollywood romantic comedy movie this lockdown.
13. Yes Boss (1997)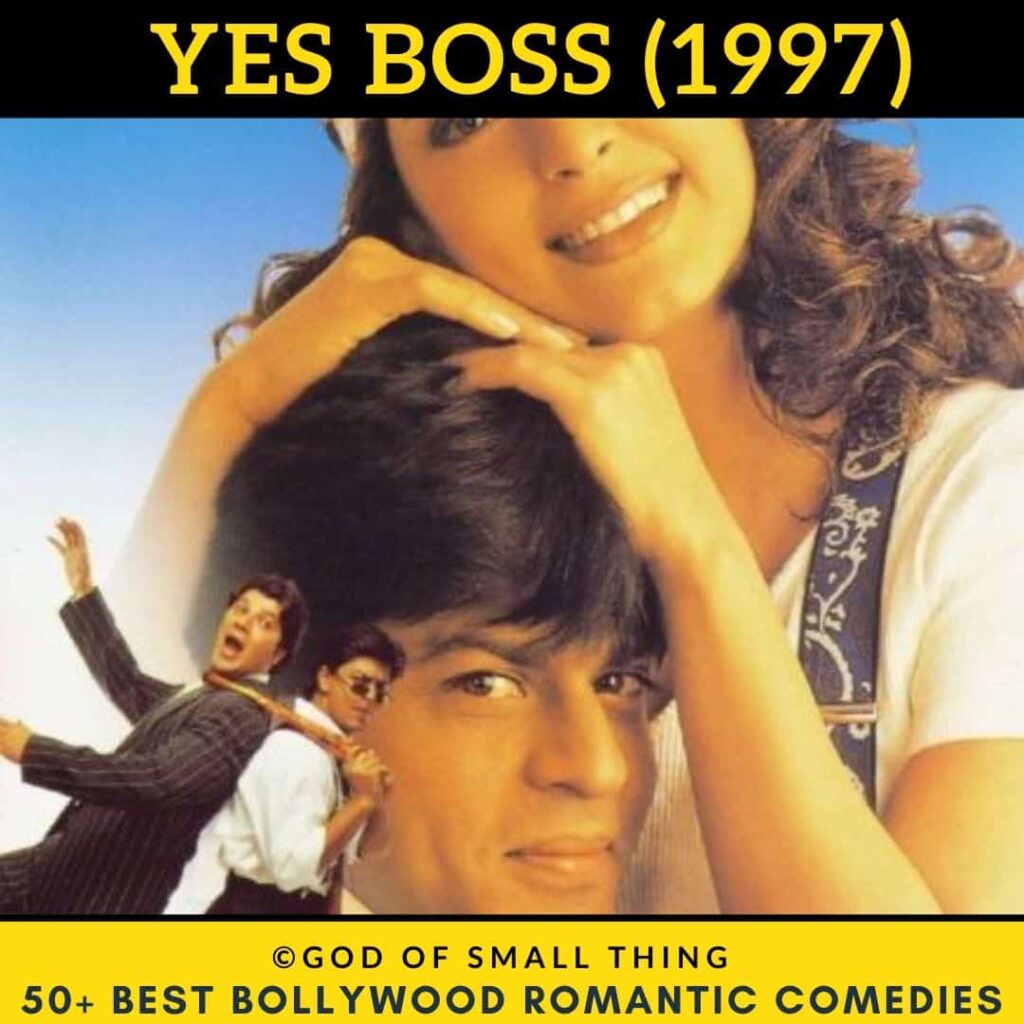 This Bollywood Romantic Comedy movie starred Shah Rukh Khan, Juhi Chawla, Gulshan Grover, and Aditya Pancholi. Rahul (SRK) has to do his boss' bidding and get girls. In exchange, Rahul can get into the advertising agency of his dreams. Seem (Juhi Chawla) changes it all. Watch this heartfelt Rom-com. It's worth it.
14. Mr. and Mrs. Khiladi (1997)
David Dhawan's Mr. and Mrs. Khiladi stars none other than the Khiladi of Bollywood-Akshay Kumar. This Bollywood romantic comedy movie is a love story of Raja (Akshay Kumar) and Shalu (Juhi Chawla) narrated by Pratap (Paresh Rawal). Raja is an idle man whose luxurious future is predicted by his astrologer uncle. (Satish Kaushik) Now the question arises, How will Raja marry Shalu amidst all the troubles imposed by Shalu's millionaire father (Kader Khan). Watch this Indian romantic comedy and we are sure it will make you laugh hard.
15. Hero No.1 (1997)
Govinda and Karishma's chemistry can never go wrong! David Dhawan's Hero No.1 is another Bollywood romantic comedy success with Govinda and Karishma Kapoor. Rajesh, (Govinda) son of a wealthy businessman (Kader Khan) falls in love with Meena (Karishma Kapoor) whose grandfather (Paresh Rawal) is a strict man. Rajesh does impossible things to impress Meena's family and watching him do so will surely hurt your stomach with laughter. Watch this Bollywood romantic comedy movie and we are sure you will love it.
16. Judwaa (1997)
Cast: Salman Khan, Karishma Kapoor, and Rambha
Director: David Dhawan
Twins are separated at birth in this Bollywood comedy movie. The twins have the reflection mentality which means that "What happens to on baby might reflect in the other." One twin grows up in an orphanage and another in the US. No one knows about the other twin being alive. When One comes back to India, confusion starts. They fall in love with different women, but the girls end up getting confused between them. When they meet others their world changes. The movie is built on hilarious misunderstandings and Salman Khan and Karishma Kapoor's chemistry.
17. Kuch Kuch Hota Hai (1998)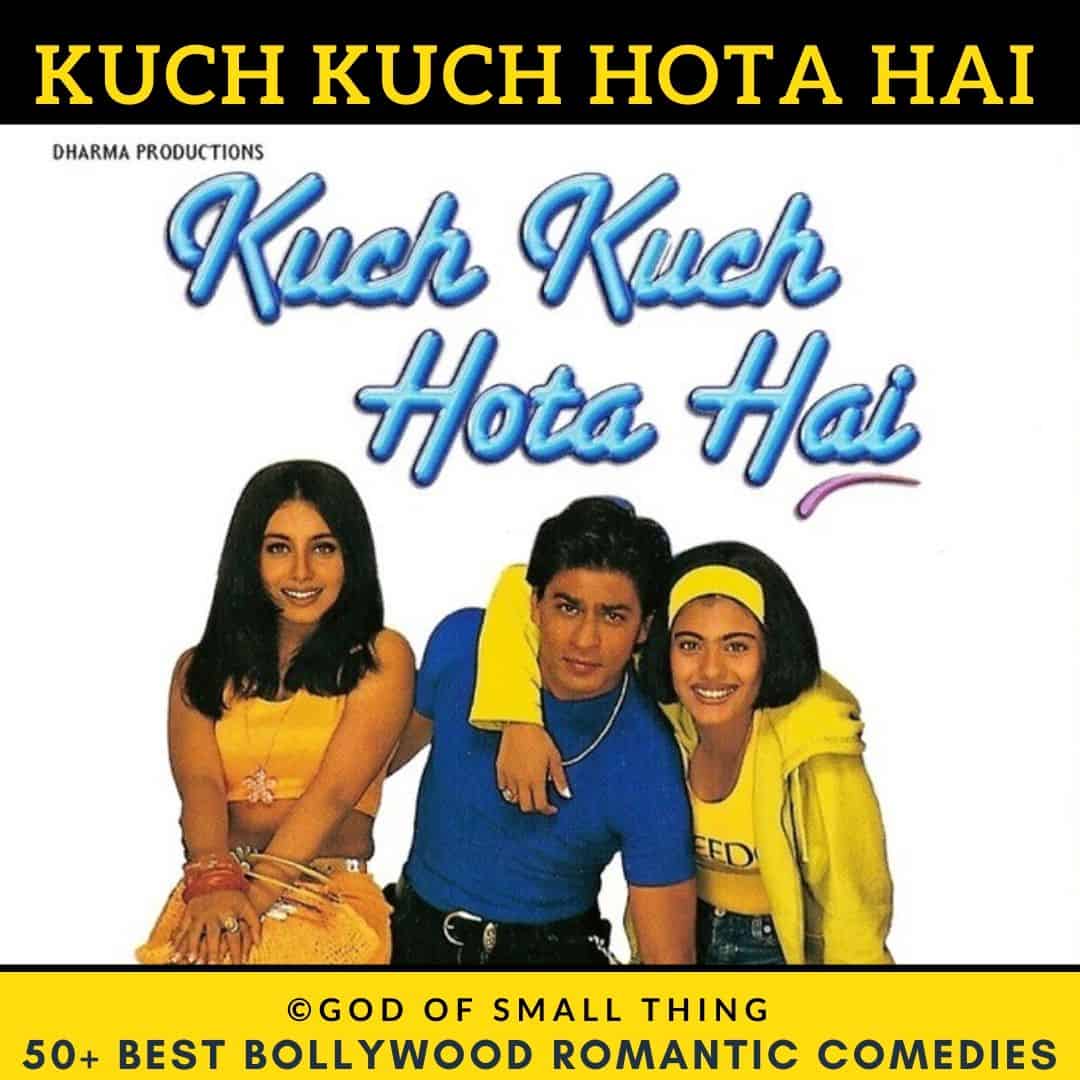 This movie has to come in this list of Bollywood romantic comedy. It was Director Karan Johar's debut, he did an amazing job portraying a perfect college romantic comedy. This college drama is a perfect blend of all the good parts of comedy and good parts of a cute little love triangle. Watch Rahul (Shah Rukh Khan), Anjali (Kajol Devgn) and Tina (Rani Mukherji)'s love story develop.
18. Biwi No. 1 (1999)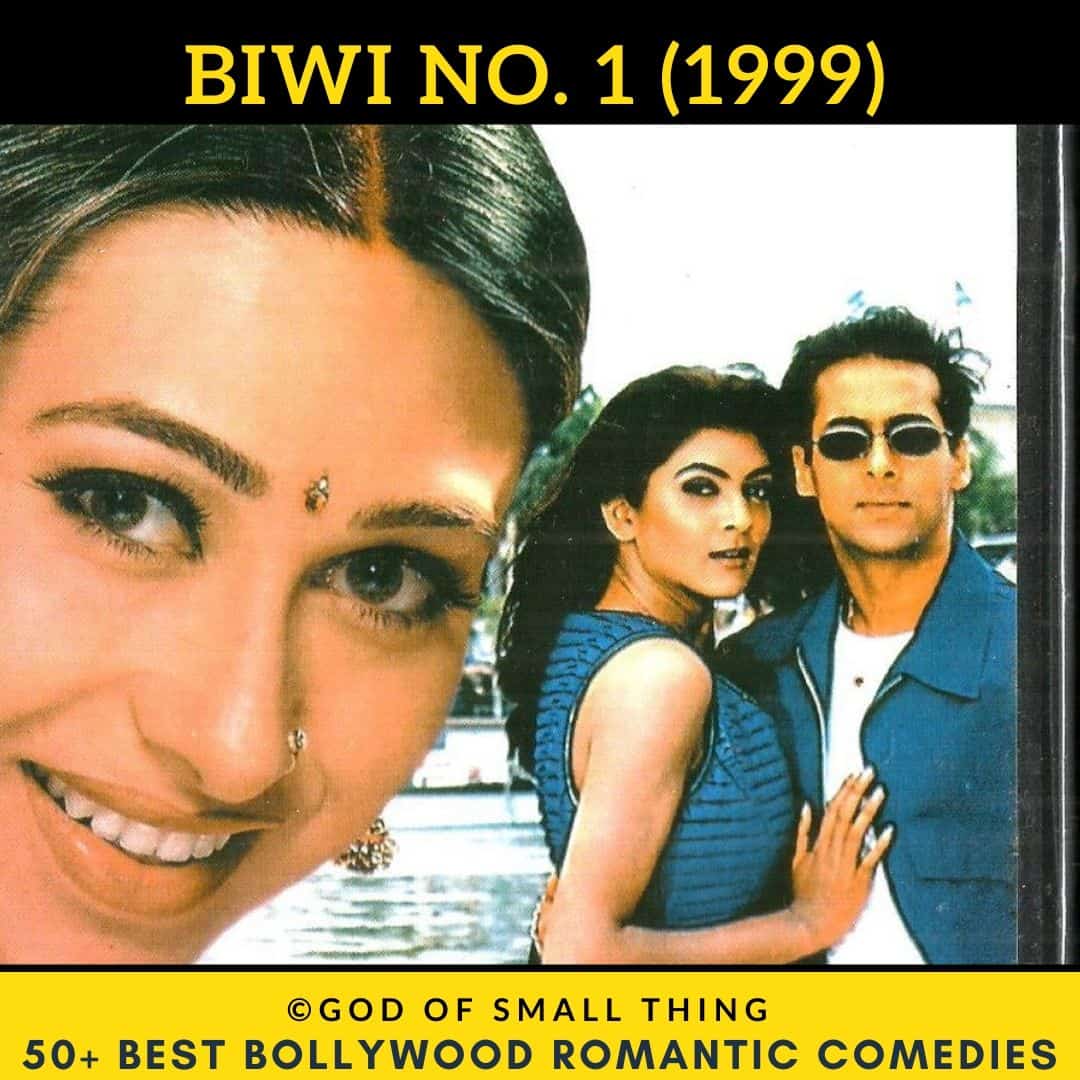 Sushmita Sen, Salman Khan and Karishma Kapoor star in this slapstick romantic comedy. Biwi No. 1 is famous for its blockbuster songs. Prem is married to Pooja and they have 2 children. Rupali arrives at Prem's office to interview as a model. They both fall in love with each other. The story unfolds, most hilariously and dramatically possible.
19. Haseena Maan Jaayegi (1999)
Haseena Maan Jaayegi is a 1999 Bollywood romantic comedy movie that became the fifth highest-grossing movie of that year. David Dhawan's Haseena Maan Jaayegi is a story of Ameerchand's (Kader Khan) mischievous sons Sonu (Sanjay Dutt) and Monu (Govinda). The story becomes interesting when Sonu and Monu fall in love with Gulzarilal's (Anupam Kher) daughters Pooja (Pooja Batra) and Ritu (Karishma Kapoor). With all the hustle-bustle and funny twists and turns Kya Haseena Man Jayegi? Watch this amazing funny movie and laugh hard.
20. Kahin Pyaar Na Ho Jaaye (2000)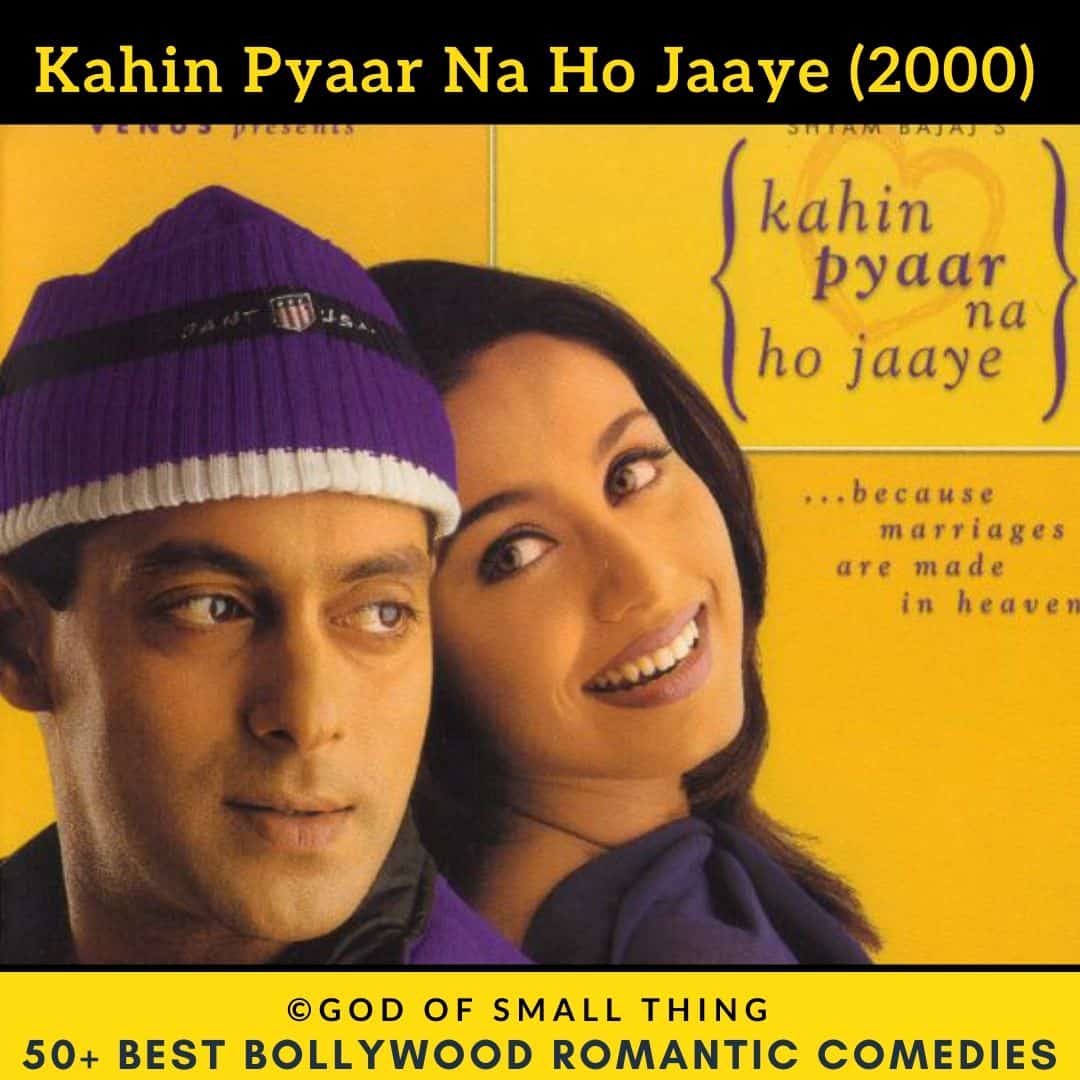 The next film in our list of Bollywood romantic comedy follows the story of Prem, a singer. He lives with his sister and her husband. Prem (Salman Khan) and Nisha (Rani Mukherji) are engaged, but things go downhill. Spoiler: The bride doesn't show up. Things happen and his career is going under. Someone comes in his life and flips his life upside down.
21. Dil Chahta Hai (2001)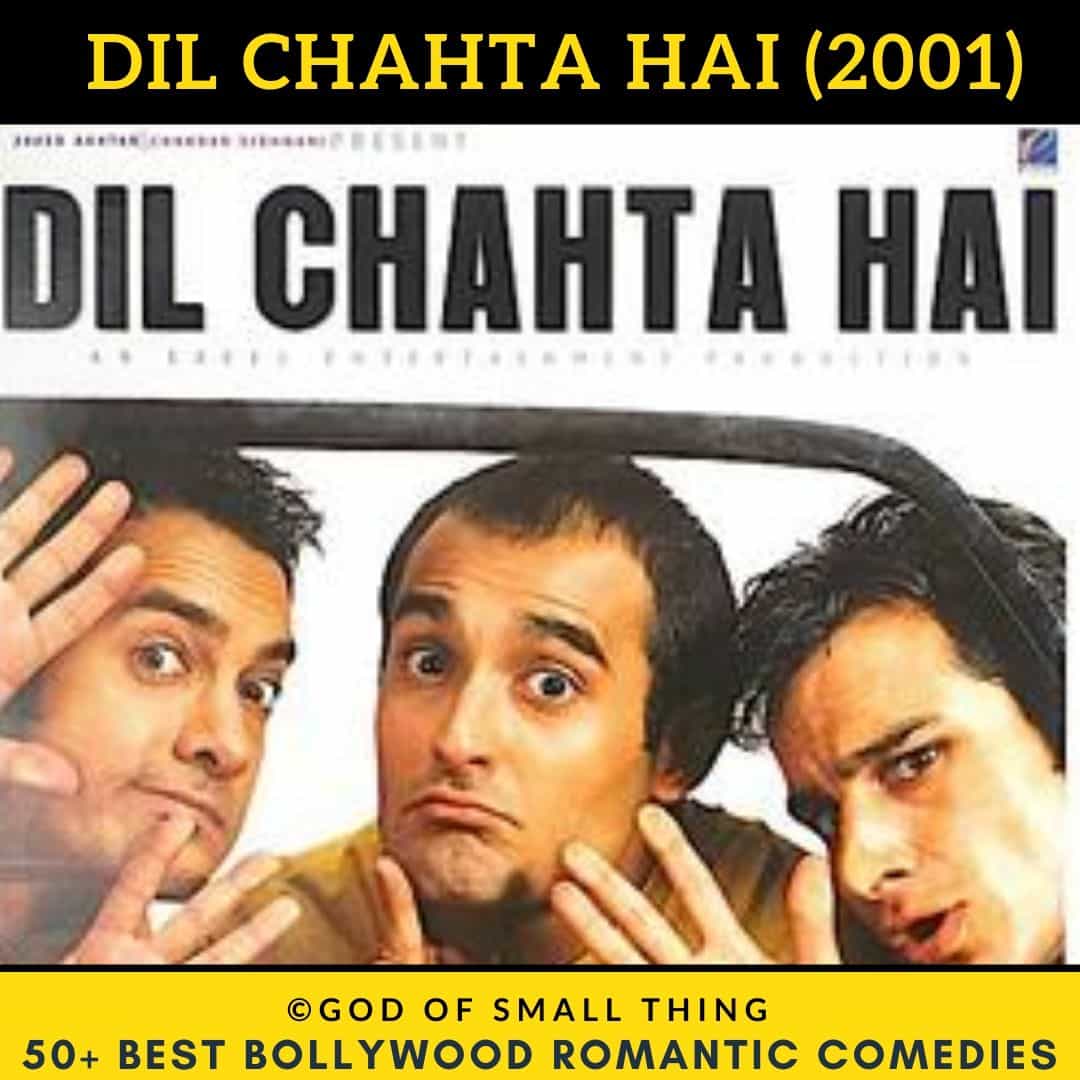 This is a beautiful coming-of-age film. The movie has an amazing star cast including Aamir Khan, Saif Ali Khan, Preity Zinta, and Akshaye Khanna. It shows a big period of transition in the lives of three college-graduate friends, romantically. This is a critically acclaimed movie and has become a cult classic.
22. Saathiya (2002)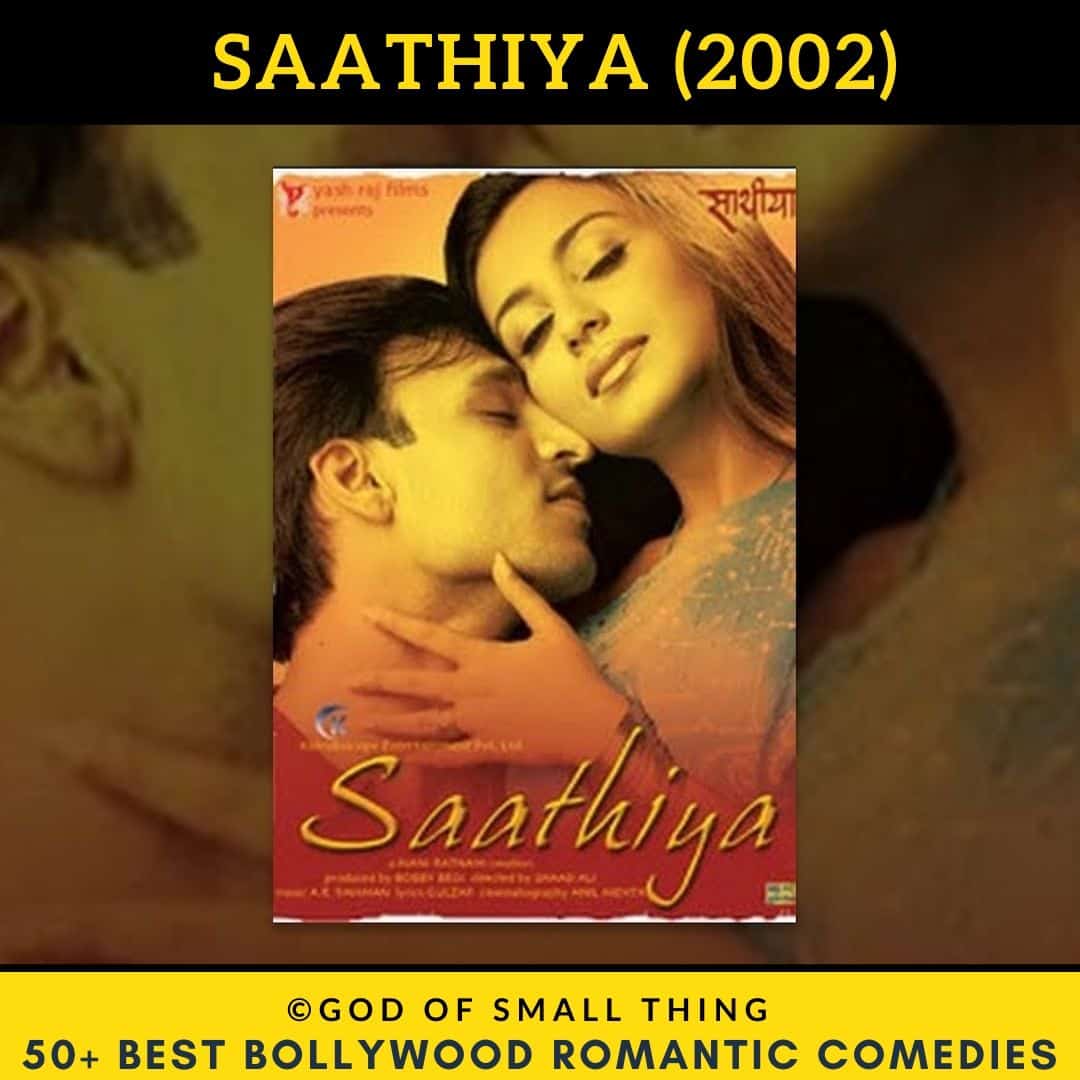 A Tamil movie remake which warmed our hearts, Saathiya is majorly a light movie with romance, but there are a few dark turns and it makes the movie so much more intriguing. Starring Rani Mukerji and Vivek Oberoi, this movie is highly underrated. Vivek Oberoi comes out of his dark acting characteristics and becomes a very cute lover boi. Yaar Milade Saiyya to Chupke Se, A.R. Rahman's beautiful music added another layer to the film. Watch this underrated Bollywood romantic-comedy.
23. Kal Ho Naa Ho (2003)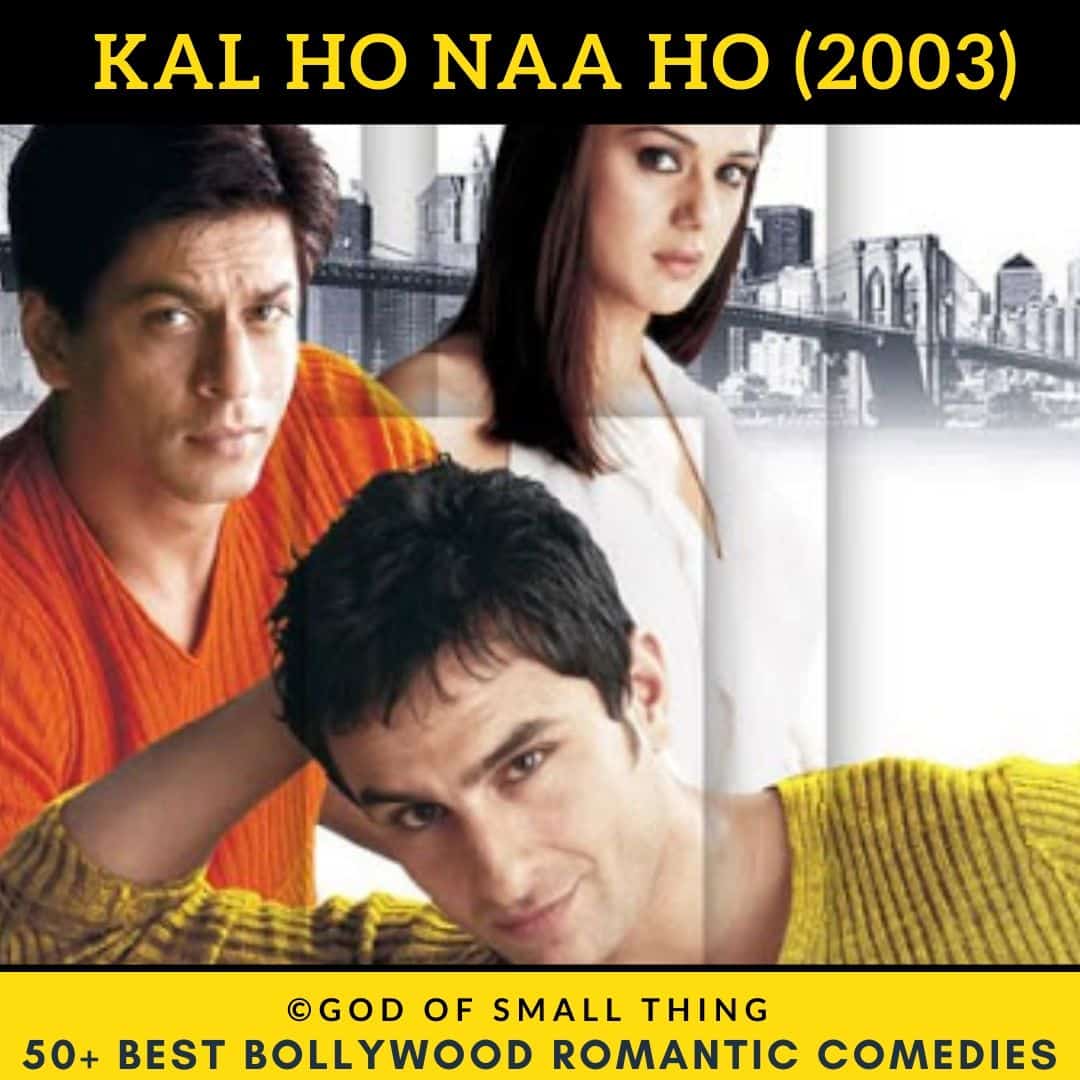 This Bollywood Romantic-Comedy movie stars Shah Rukh Khan, Saif Ali Khan, and Preity Zinta. Nanina is a pessimistic student and she falls in love with her neighbor Aman Mathur. Aman tries to set up Naina and his friend, Rohit because he is terminally ill. Some iconic songs to come out of this movie are "It's The Time To Disco", "Kuch To Hua Hai", and "Pretty Woman".
24. Munna Bhai M.B.B.S (2003)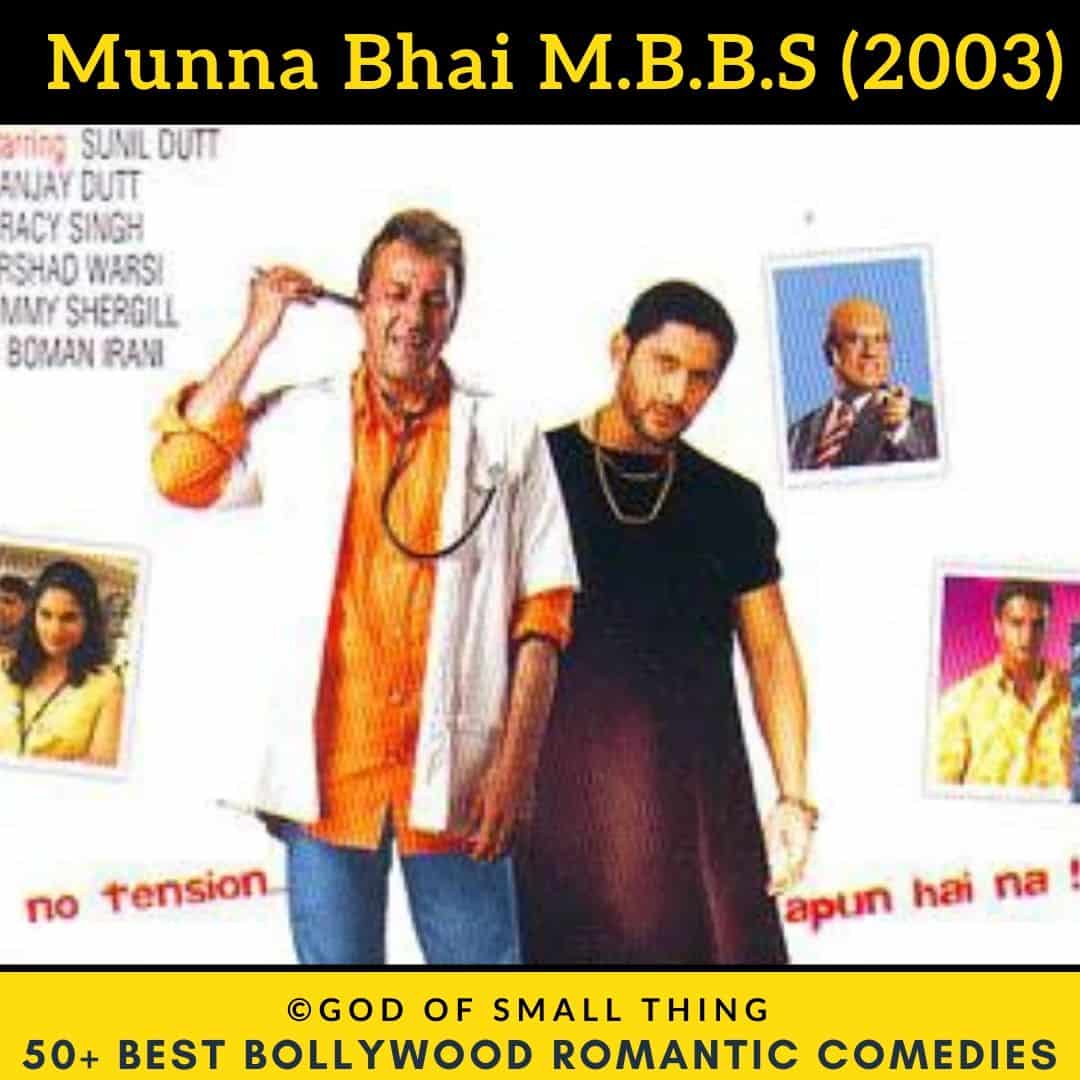 A gangster sets out on his journey to fulfill his father's dream of becoming a doctor. Munna (Sanjay Dutt) creates a perfect comedic timing with his sidekick Circuit (Arshad Warsi). The supporting cast included the likes of Boman Irani, Jimmy Shergill, and Sunil Dutt. Munna falls in love with Chinki or Dr. Suman (Gracy Singh) who is the daughter of Dr. J. C. Asthana (Boman Irani). Let's say Munna and Dr. J.C have a history.
25. Ishq Vishq (2003)
This film although released in 2000s will take you to a drive to the beautiful 90s love stories with some 2000's style songs, puns, and characters. Shahid Kapoor's first film is a college based love story of two school friends Rajiv (Shahid Kapoor) and Payal (Amrita Rao). The concept of Love Guru (The savior of a lover's heart in Bollywood terms), however, was introduced by then and hence this movie has a love guru ( Yash Tonk). Payal's simplicity win hearts but the story takes a turn when Alisha Sahay (Shehnaz Treasurywala) joins college. Who will our chocolaty boy choose: Payal or Alisha? Watch this amazing Bollywood romantic comedy movie and enjoy your time.
26. Hum Tum (2004)
The movie Hum Tum is based on the American Rom-com When Harry Me Sally. The story is a hate to love rom-com, where Karan (Sai Ali Khan) and Rhea (Rani Mukherji) run into each other on different occasions. Every meeting ranged from hostile to friendly, and friendly to loving. Along numerous years and uncountable run-ins, they fall in love with each other. The movie has some memorable songs like "Ladki Kyon", "Chak De" and "Hum Tum". 
27. Veer Zaara (2004)
Veer-Zaara is a Bollywood film directed by Yash Chopra, which was released in 2004. The movie stars Shah Rukh Khan, Preity Zinta, and Rani Mukerji in lead roles. It is a romantic drama that tells the story of Veer Pratap Singh, an Indian Air Force pilot, and Zaara Hayat Khan, a Pakistani woman hailing from a politically influential family. The film follows the journey of Veer and Zaara, who meet in India and form a deep connection. However, due to societal and political barriers, their love story faces numerous obstacles. Veer is imprisoned in Pakistan on false charges, and Zaara fights to free him with the help of a young lawyer named Saamiya Siddiqui. The movie explores themes of love, sacrifice, patriotism, and cross-border relationships. Overall, Veer-Zaara is considered a classic in Indian cinema and is remembered for its powerful storytelling and portrayal of love transcending borders.
27. Salaam Namaste (2005)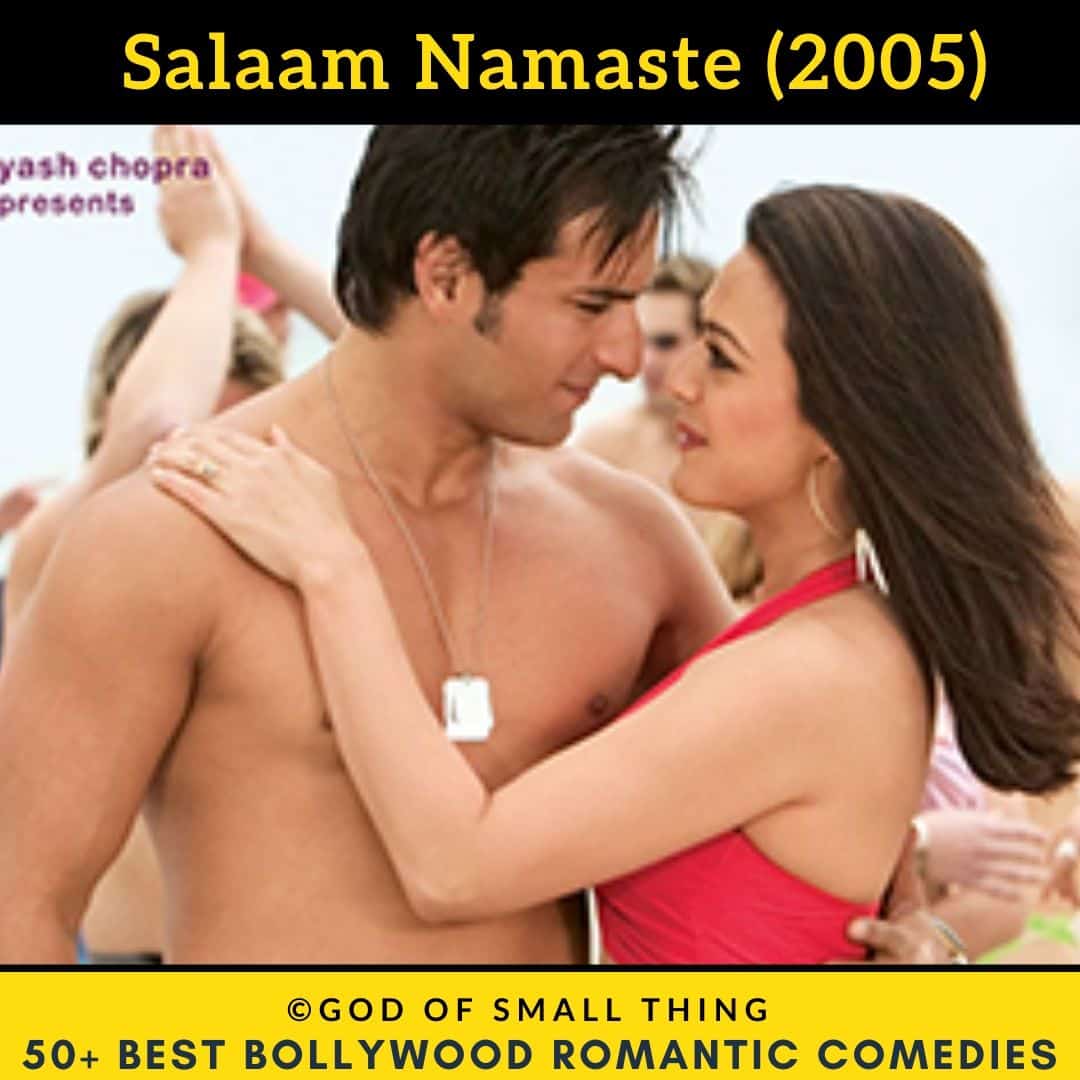 This movie was already Saif Ali Khan and Preity Zinta's 4th movie together. The stars show amazing chemistry while portraying two young Indians, Nick (Saif Ali Khan) and Ambar (Preity Zinta) living in Melbourne. The story shows one year of problems and relationships. There are quite a few ups and downs, to say the least. This roller coaster takes you through a whirlwind of emotions. To love is easy, but to keep loving each other is a different thing.
28. Chup Chup Ke (2006)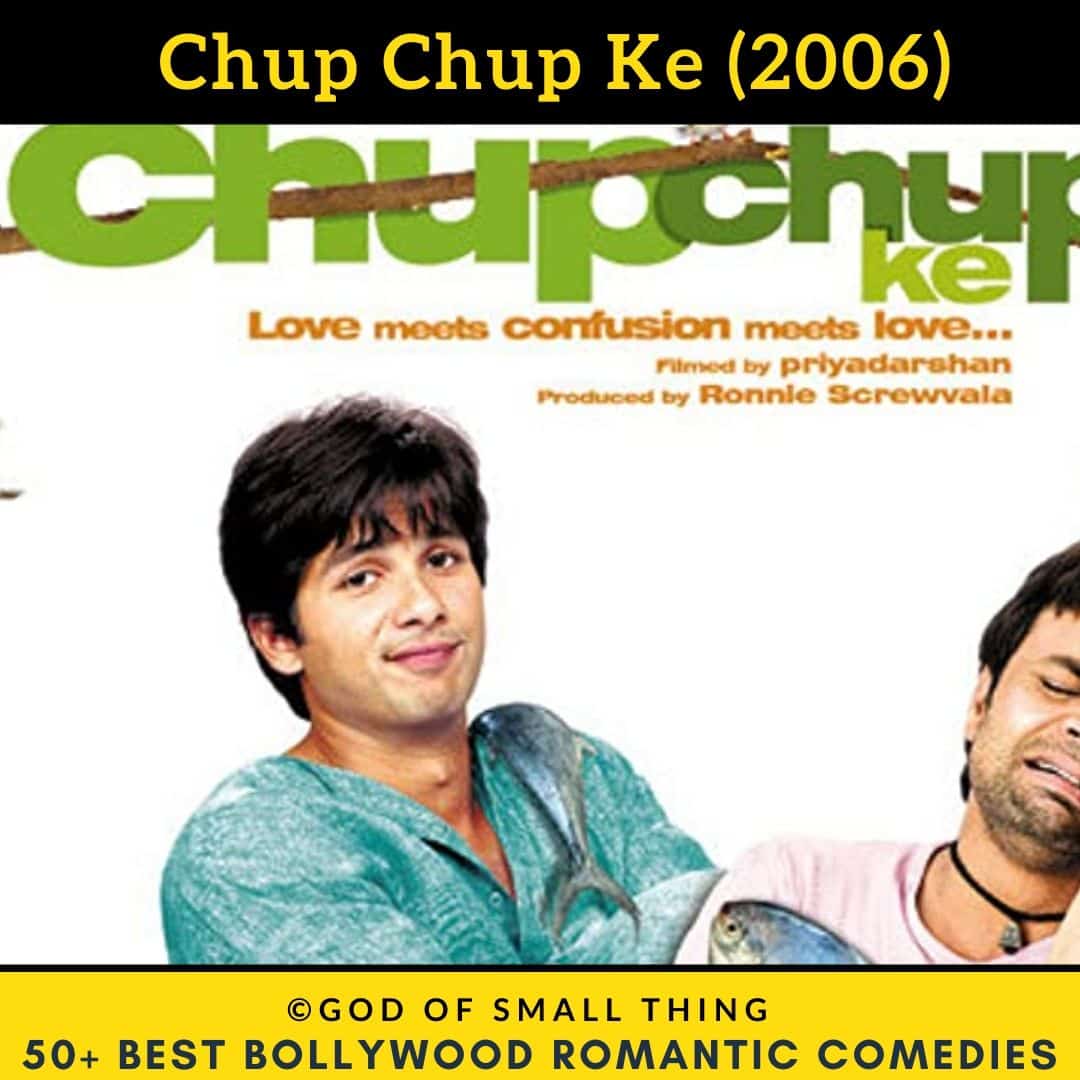 The plot of the next movie on our list of Bollywood romantic comedy movies is about Jeetu (Shahid Kapoor) who is going through failed businesses and money management. Plunging him and his retired father into debt. He cancels his wedding and decides to take his own life by throwing himself into the sea. Jeetu is saved by a few fishermen and his life spirals down for him and his family. He finds Shruti (Kareena Kapoor) amongst chaos and pretense. Chup Chup Ke is truly a bittersweet ride.
29. Lage Raho Munna Bhai (2006)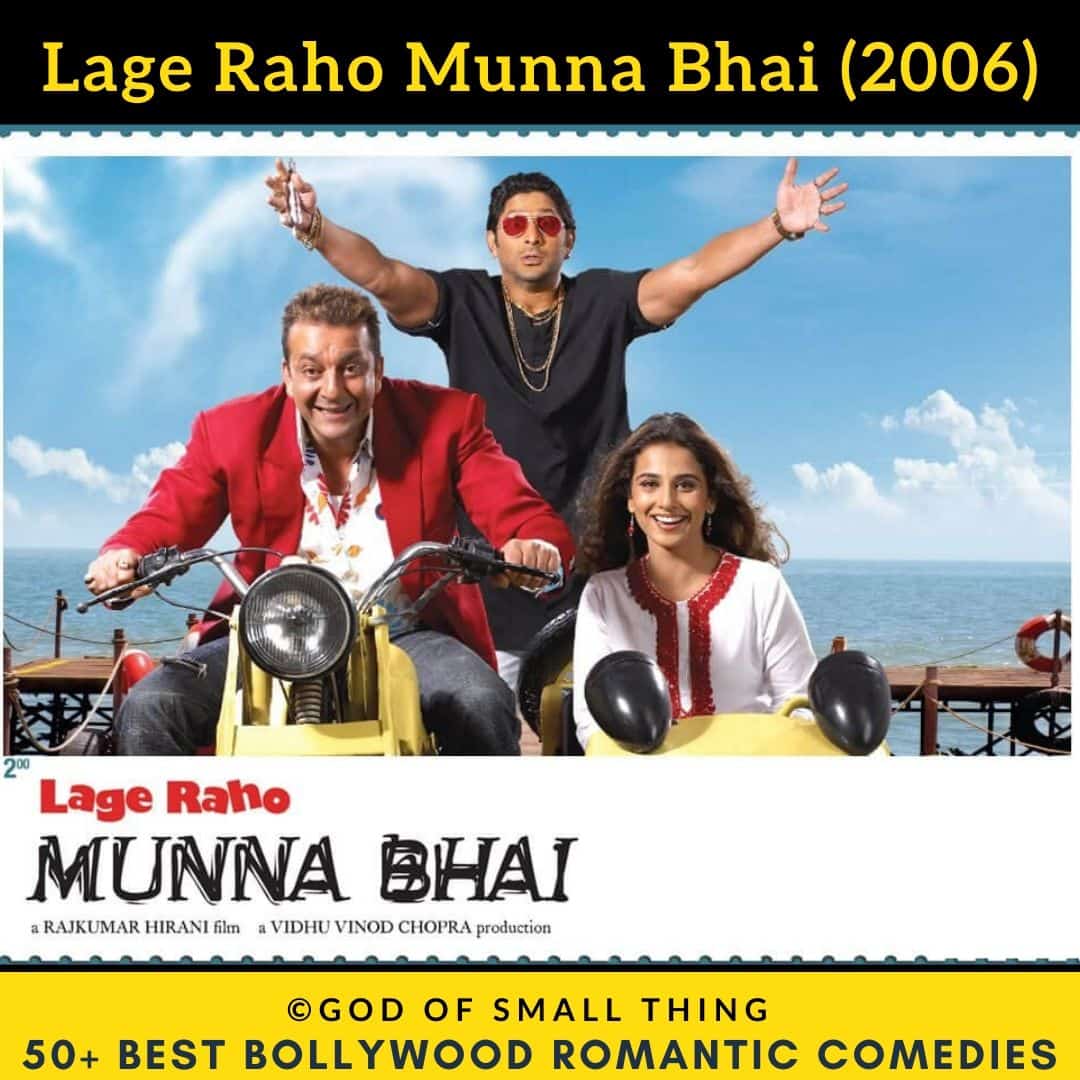 Sanjay Dutt is back in his under-world don role, Munna Bhai. The plot follows Murli Prasad Sharma aka Munna Bhai (Sanjay Dutt) is a gangster who is love with an RJ's Voice. Through a competition, he wins an interview in her show where he pretends to be a history professor and "Gandhi-specialist". Janhvi (Vidya Balan) is impressed by his strange way of speaking. They both eventually have sparks flying. This is a comedy-romance but it has a great moral and is a fin watch. Munna faces the consequences of his lies and gets a deeper understanding of life.
30. Jab We Met (2007)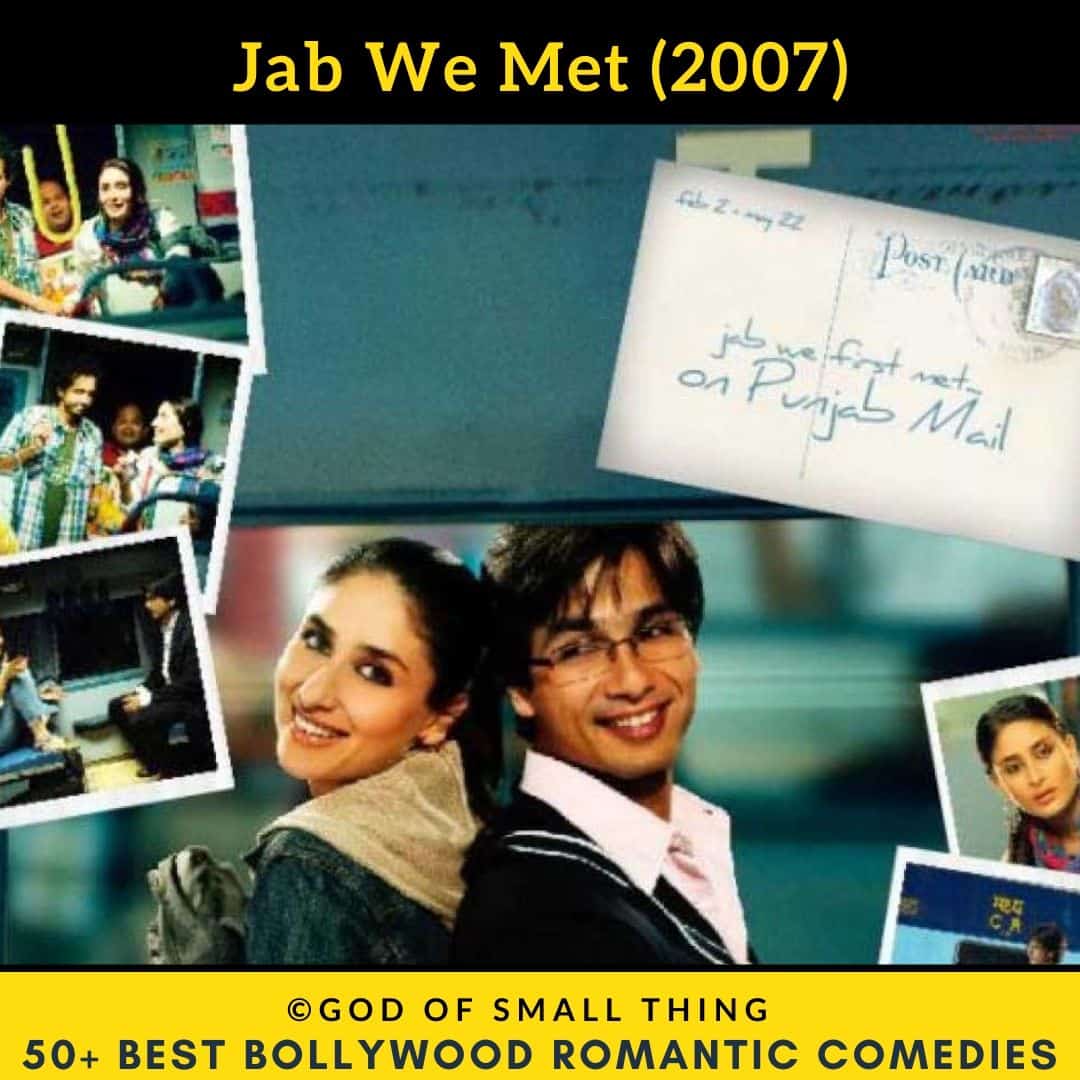 This Romantic Comedy was directed by Imtiaz Ali. Jab We Met follows the story of a full-of-life Punjabi girl, Geet Dhillon (Kareena Kapoor). She meets a depressed businessman Aditya Kashyap (Shahid Kapoor), on a train journey. Geet misses her train while she tries to get Aditya on board. Both get stranded in the middle of nowhere. Aditya has no destination in mind, but Geet convinces him to help her get back home. Things are fun and cute, but the story does take a sharp left turn into darkness for a while. Things get tough for Geet and Aditya. Jab We Met is a classic Romantic Comedy, it's a fan favorite and people keep coming back to it. 
31. Namastey London (2007)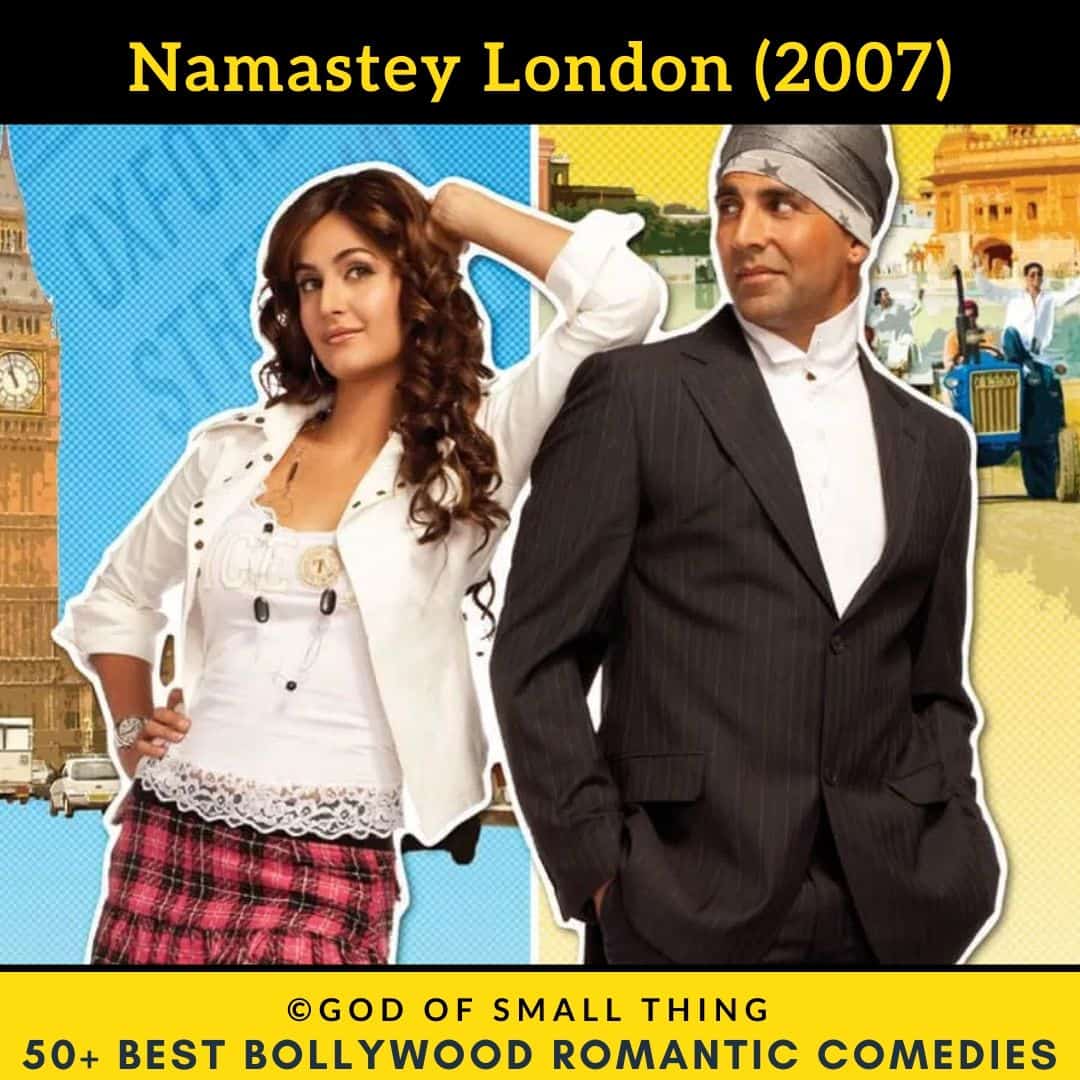 The next is Namastey London on our list of Bollywood romantic comedy movies starring Akshay Kumar and Katrina Kaif and supporting characters like Rishi Kapoor and Upen Patel. Fun Fact: This movie is based on a real-life story of Akshay Kumar's good friend. Jasmeet (Katrina Kaif) was a source of embarrassment for her father Manmohan, she was fat and could not speak English after moving to London. Jasmeet's mother encourages her to go to a good school and make good British friends. She grows up to be a beautiful lady. On a tour in India, Manmohan forces her to marry Arjun (Akshay Kumar). Jasmeet refuses the offer because Arjun can't speak English. She is racist and rude to Arjun and her family at first, she grows closer to him over time. A classic love story of an NRI and an Indian crossing path and falling in love after difficulties.
32. Partner (2007)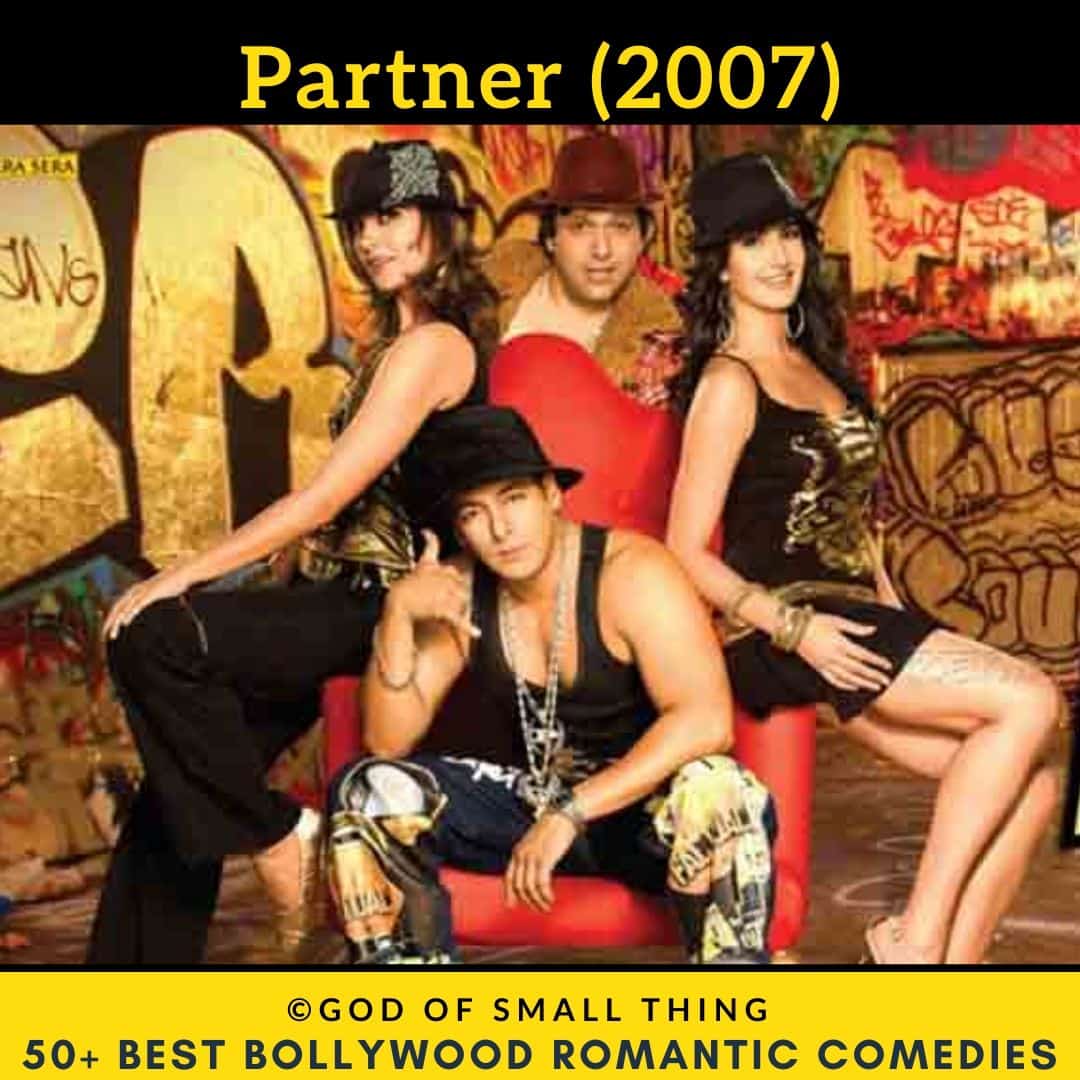 A remake of Will Smith's Hitch, Partner is the story of a love guru, Prem (Salman Khan) consults his client Bhaskar (Govinda). He advises Bhaskar to woo his boss Priya (Katrina Kaif). But, he falls in love with Naina (Lara Dutt), a widowed mother. Prem gets in trouble and things go wrong. Things only get interesting and hilarious from here on. Watch this romantic comedy and laugh out loud.
33. Cheeni Kum (2007)
Age is just a number! Well, yes it is! But Will a father of a 36-year-old daughter who himself is 59 years old allow her to marry a man who is 64 years old? Such is the plot of the movie Cheeni Kum. There are plenty of reasons to watch this Bollywood romantic comedy movie-Cast including Amitabh Bachchan, Tabu, Paresh Rawal, and Zohra Sehgal, an amazing storyline, and of course, the punches in the movie will make you laugh out loud. At any point, you won't find the spice of the movie getting any lesser because "Cheeni Kum hai"! Watch this unusual rom-com right away!
34. Jaane Tu Ya Jaane Na (2008)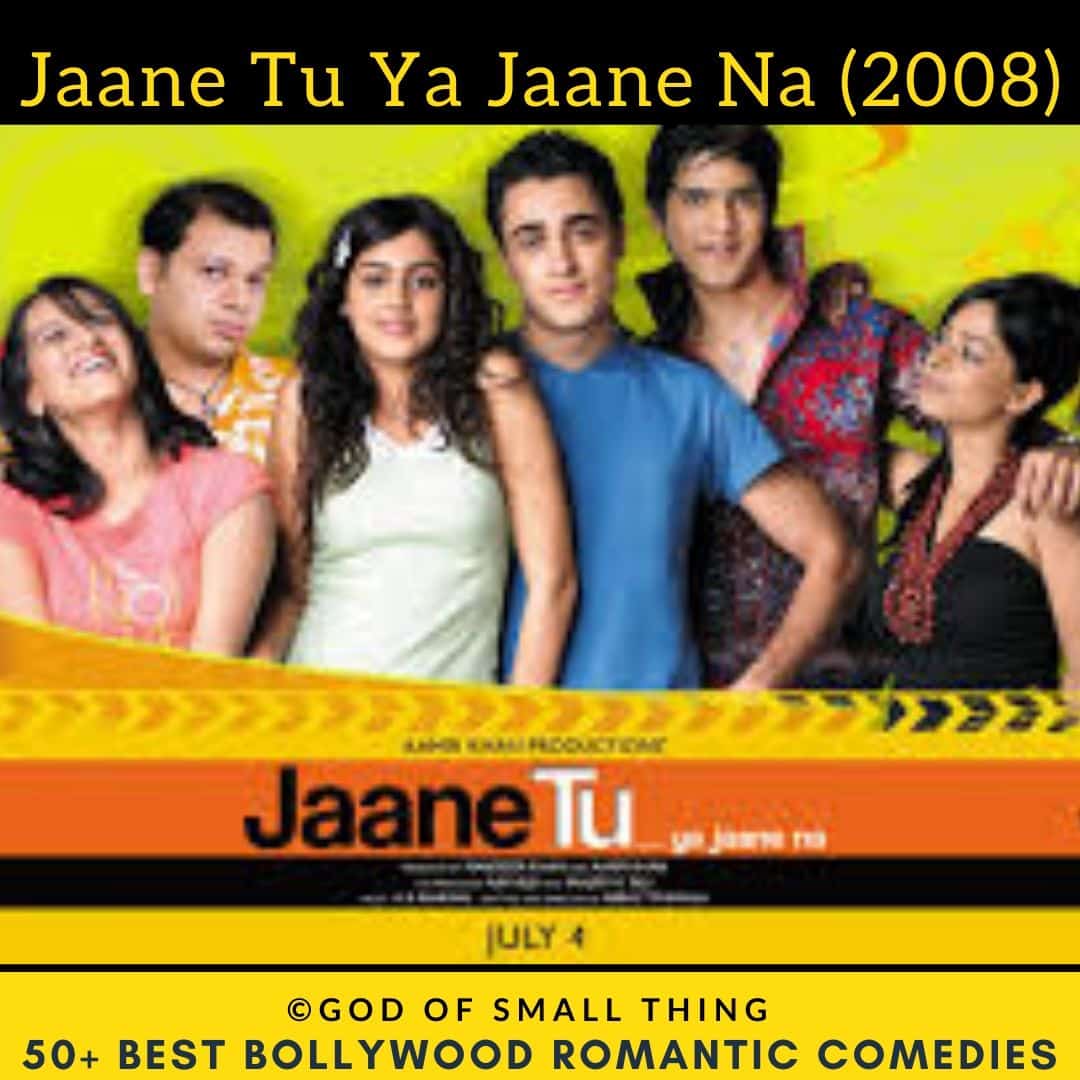 Starring Imran Khan and Genelia the movie is one that will touch your heart. The story is about Jai Singh (Imran Khan) and Aditi Mahant (Genelia Deshmukh). Jai is a calm-est person to ever exist and Aditi is aggressive and impulsive. Despite being opposites, Jai and Aditi are best friends in college. Everyone ships them, but they don't think they are perfect for each other. Aditi wants a macho man and Jai wants a soft romantic girl. They part ways, but fate is a real thing and they cross paths once again. After college, they think they found "the one" but fate has different plans for them. Watch this Bollywood romantic comedy. 
Watch Jaane Tu… Ya Jaane Na's Full movie here:  Jaane Tu Ya Jaane Na Online
35. Bachna Ae Haseeno (2008)
This movie deserves to be on our list of Bollywood romantic comedy movies. The story follows a playboy Raj Sharma (Ranbir Kapoor), who meets three women at different times of his life. Mahi (Minissha Lamba) a small-town girl from Punjab; Radhika (Bipasha Basu) a model from Mumbai and Gayatri (Deepika Padukone) an NRI student in Australia. Raj is a total lady's man who jumps from one woman to another only to end up finding his one true love Gayatri. He has commitment issues. After mustering his courage he manages to propose, but she rejects him. What will Raj do?
36. Wake Up Sid (2009)
Another coming of age movie on our list of Bollywood romantic comedy movies, this movie is a personal favorite. The movie takes place in Mumbai, Sid Mehra (Ranbir Kapoor) is a careless rich college student, he is a failure in studies but he has exceptional talents on the creative side. At a farewell party after exams, he meets someone who changes his life. Aisha (Konkona Sen Sharma) and Sid go for a small walk and they click effortlessly. He fails his exams and spirals and acts out. After a few incidents, Sid ends up staying at Aisha's place temporarily. A few things happen which create distance between them. How do Aisha and Sid find their love? 
38. 3 Idiots (2009)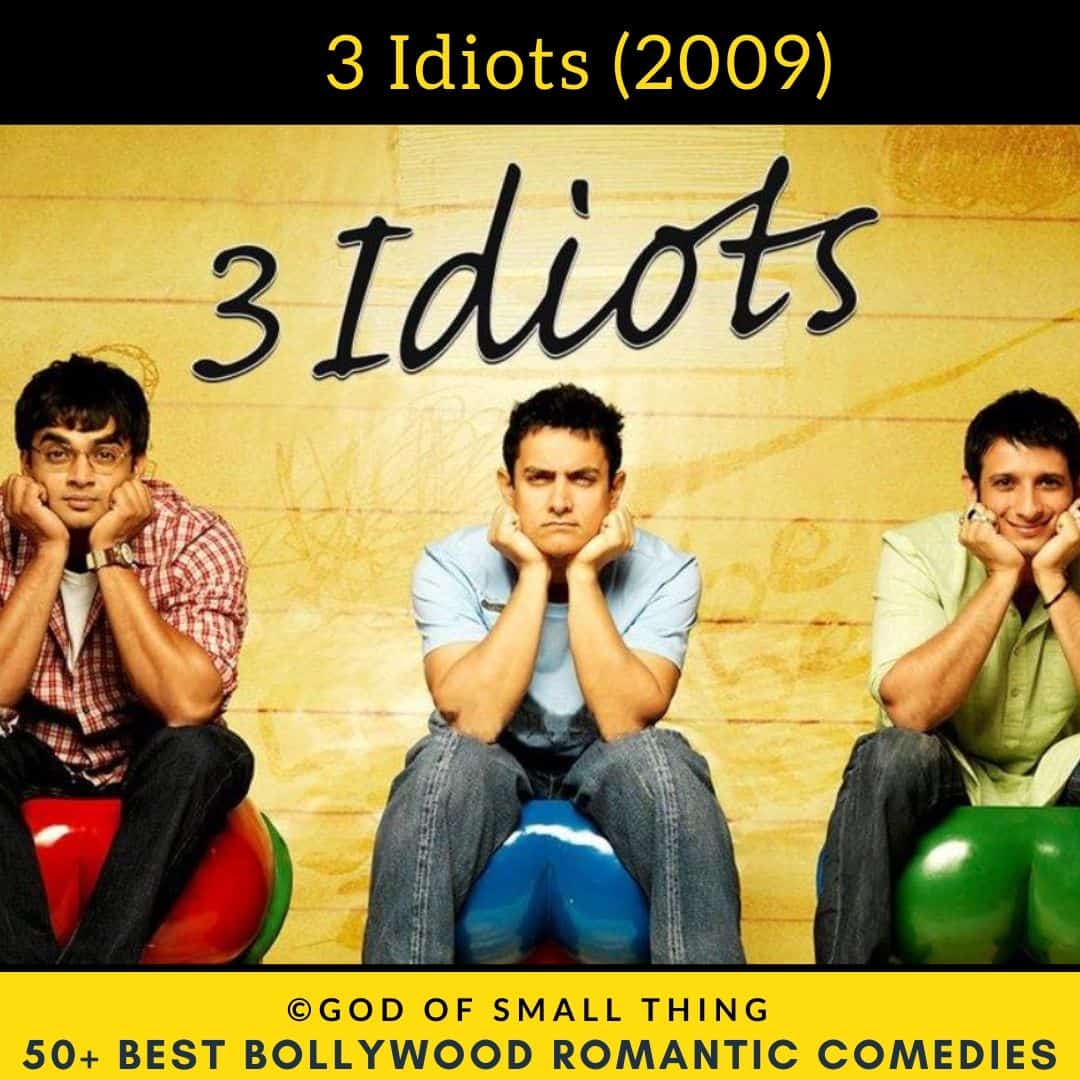 The main theme of the plot is friendship and love. But, it also highlights important social problems like pressure on Indian students, suicide and following one's dream. "3 Idiots" is the story of three friends, Ranchoddas Chanchad (Aamir Khan), Farhan Qureshi (Ranganathan Madhavan) and Raju Rastogi (Sharman Joshi). They navigate their way through college and share memories of a lifetime.
Rancho is a brilliant student as opposed to his two other friends. Professor (Boman Irani) isn't amused by the way Rancho views education. Dr. Pia (Kareena Kapoor) is the Professor's daughter, Rancho and Pia end up falling for each other, but they go separate ways. This is a staple movie from every Indian and a favorite among the younger generation, who understand the societal pressure teens have. How will these friends reunite, they have no idea where Rancho disappeared after college? Will Pia and Rancho ever get together?
39. Love Aaj Kal (2009)
If Love Aaj Kal of 2019 disappointed you a bit, don't worry! Saif Ali Khan, Deepika Padukone and Rishi Kapoor starrer Love Aaj Kal will not break your heart. It will make you fall in love all over again. A 2009 love story with flashback sequels from the bast is what Love Aaj Kal all about. A narration of the blast from the past makes Jai (Saif Ali Khan) fight for his love (Deepika Padukone) after breakup. Are you thinking of breaking up with your partner over petty issues? Watch Love Aaj Kal to understand the meaning of love.
40. Ajab Prem ki Ghazab Kahani (2009)
"Prem Ki Naiyya Hai Ram ke bharose" Did this song give you a throwback to the cutest love story of Ranbir Kapoor and Katrina Kaif in a movie? Ajab Prem Ki Ghazab Kahani is the sweetest romantic comedy movie one can ever watch especially if you are a Ranbir fan. Prem (Ranbir Kapoor) falls in love with Jenny (Katrina Kaif) who loves a man named Rahul. Despite being in love with Jenny, Prem helps Jenny get married to her love. This entire story is full of some romantic and some stomach aching comedy. This Bollywood romantic comedy is a must-watch for you all.
41. Break Ke Baad (2010)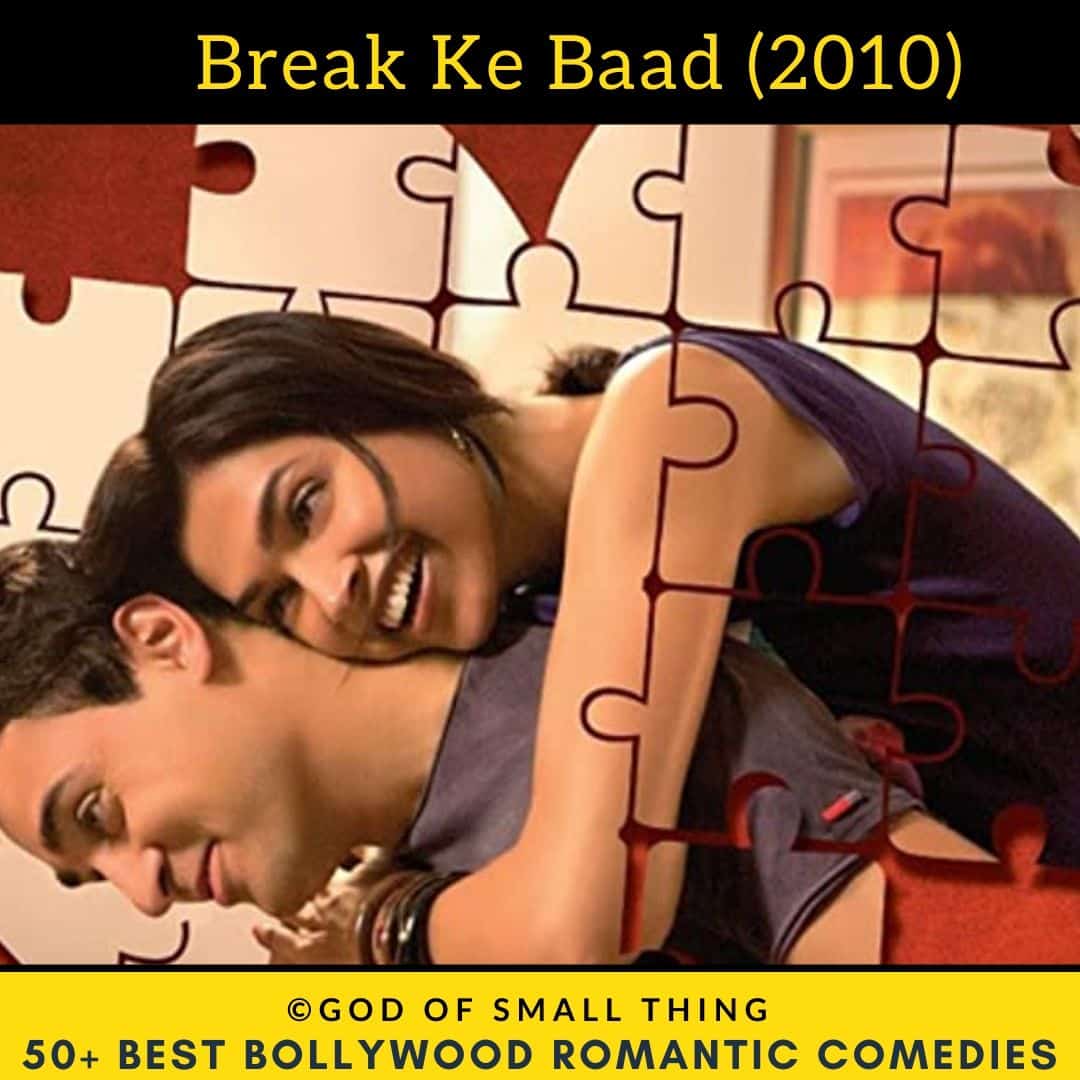 Starring Deepika Padukone and Imran Khan. Majorly shot in Mauritius, the movie follows Abhay Gulati (Imran Khan) and Aaliya Khan (Deepika Padukone). Aaliya is passionate about acting and Abhay about cooking.
The movie has witty humor, we get to see their chemistry as friends. They eventually date but Aaliya doesn't want to get married. She gets an opportunity to attend an acting school in Australia, she takes. Things happen and they break up. All movies show up how it is to get into a relationship, no one shows what happens after. Regrets and mistakes all feel clear. Will Aaliya and Abhay ever get back together or is it the end?
42. Band Baaja Baaraat (2010)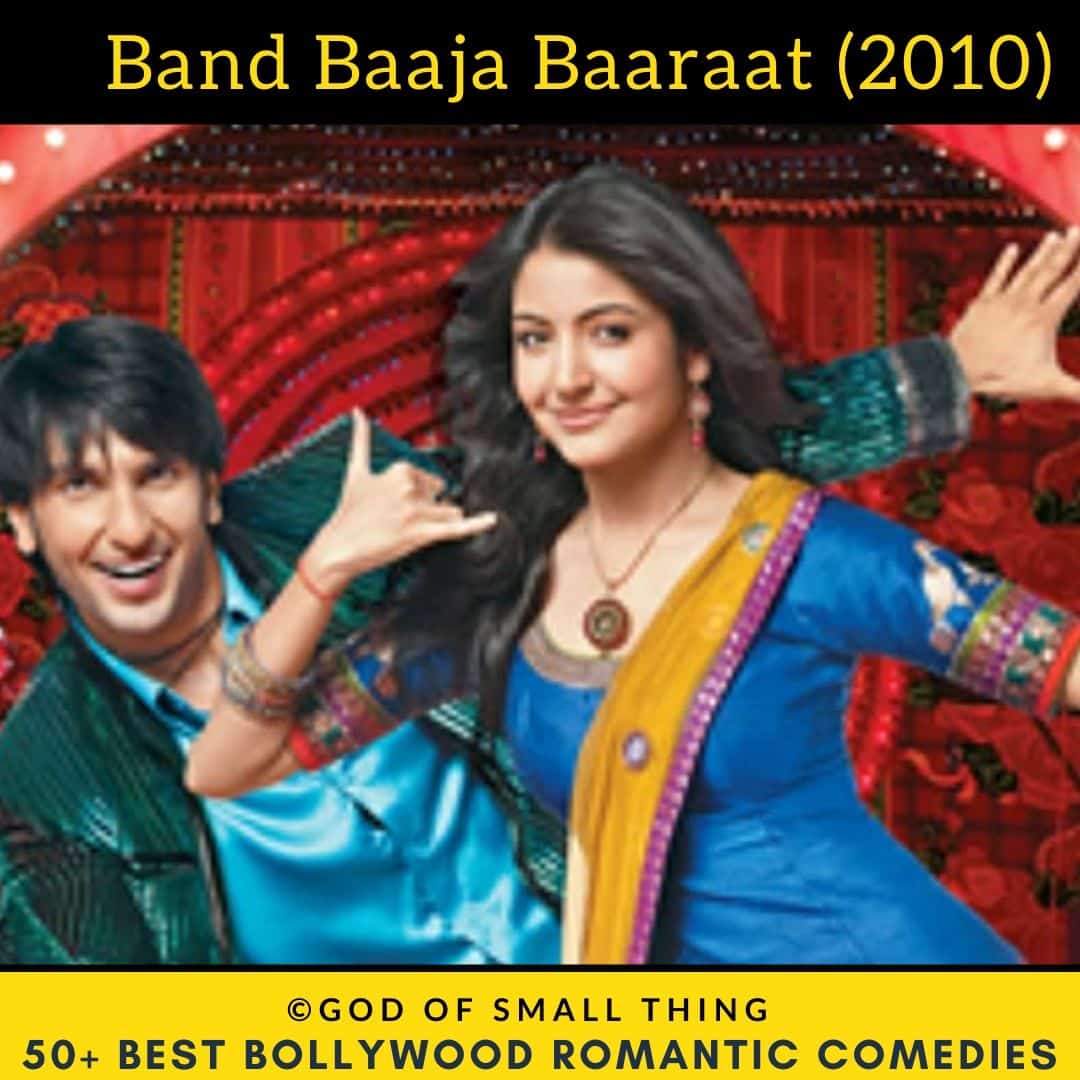 This Bollywood romantic comedy is set in the wedding planning world. Bittoo Sharma (Ranveer Singh) is a happy-go-lucky, street-smart guy. He crashes a wedding for free food and gets caught by Shruthi Kakkar (Anuskha Sharma) the assistant wedding coordinator. Both are pressured into different things by their families. Bittoo comes to her with a business proposal. Shruti agrees on one condition, 'love doesn't get in the way'. Does love come in the way? I think you know the answer. How does this story unfold?
43. Zindagi Na Milegi Dobara (2011)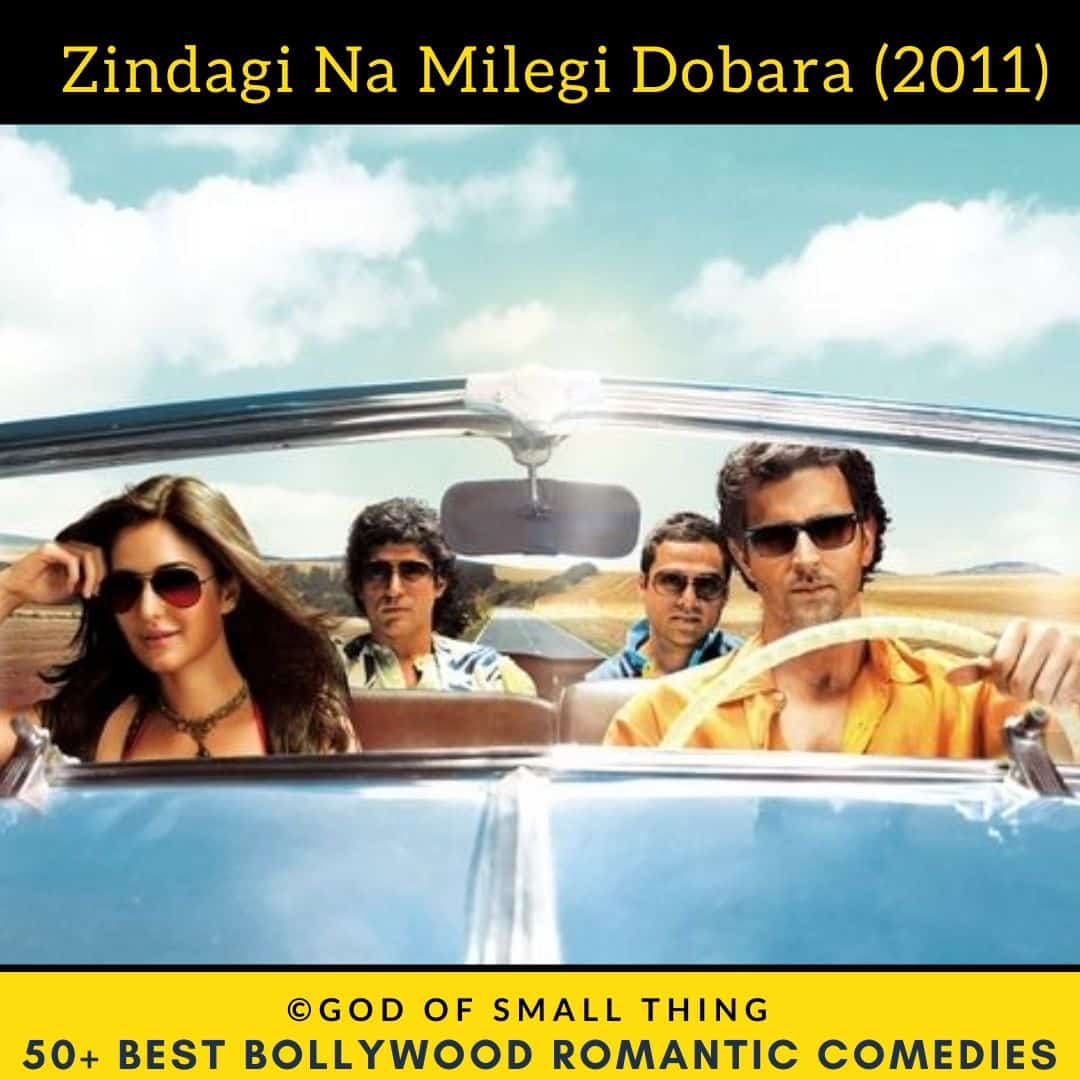 One of our favorites on this list of Bollywood romantic comedy, Zindagi Na Milegi Dobara is a fun-filled movie. It's a lesson for adults struggling and youngsters trying to figure out their life.
The film has an ensemble cast including- Hrithik Roshan, Abhay Deol, and Farhan Akhtar, Katrina Kaif and Kalki Koechlin. The plot follows three friends Arjun, Kabir, and Imraan. The trio experiences a road trip of a lifetime. One finds new love, One reignited a fading love and One finds his family. It is once-in-a-lifetime kind of a movie.
44. Pyaar Ka Punchnama (2011)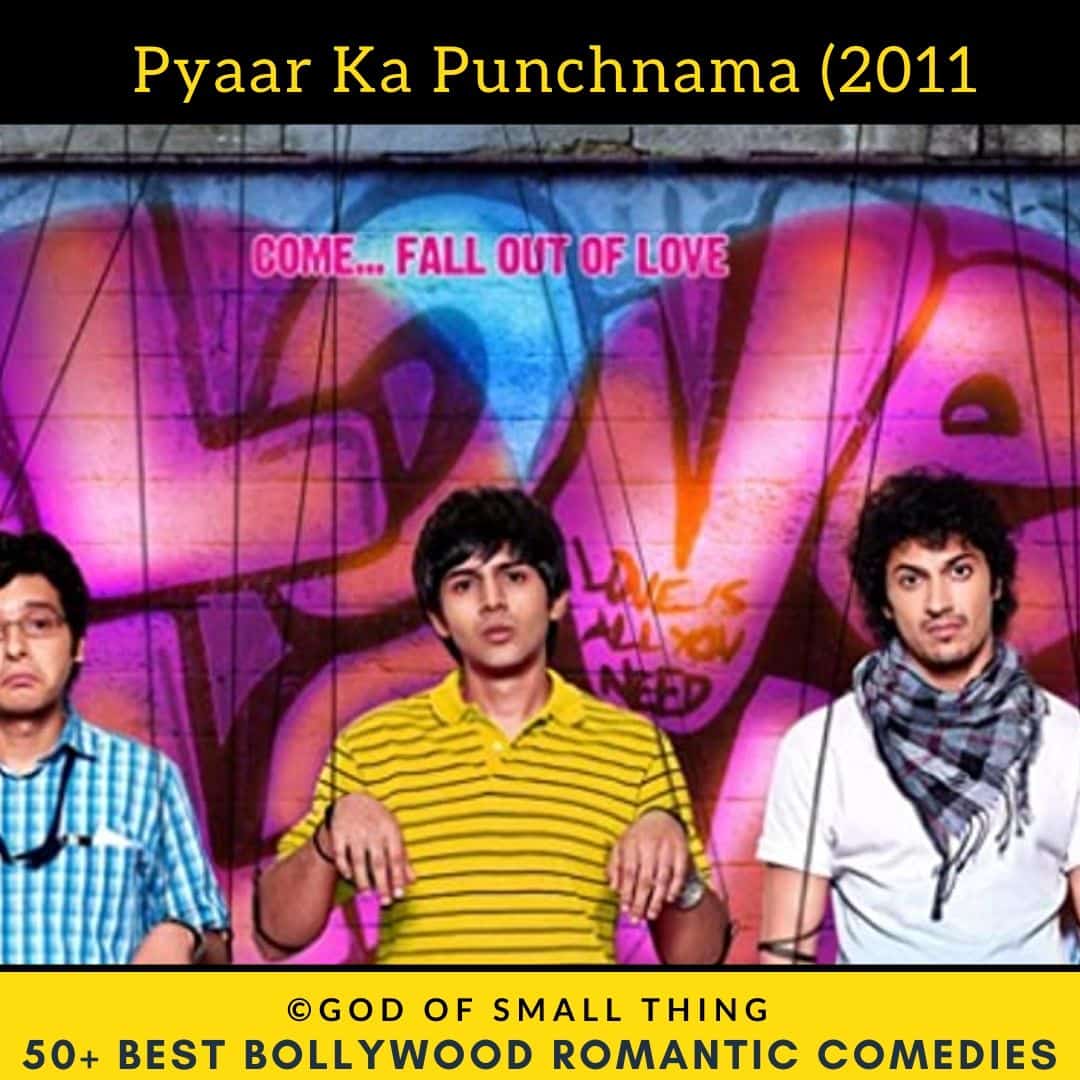 Next on our list of best Bollywood romantic comedy movies revolves around three bachelors Rajat (Kartik Aaryan), Vikrant (Raayo Bakhirta) and Nishant (Divyendu Sharma). Rajat falls in love with Neha (Nushrat Bharucha). Nishant falls for Charu (Ishita Raj Sharma) She uses him for paying her bills, but he is too naive at first to understand it. Vikrant loves Rhea (Sonali Sehgal) can't get over her boyfriend of 5 years, Varun. Three guys go through hell trying to manage their over-bearing girlfriends. What will they do? Will they come to their senses or let it go the way it is? 
45. Cocktail (2012)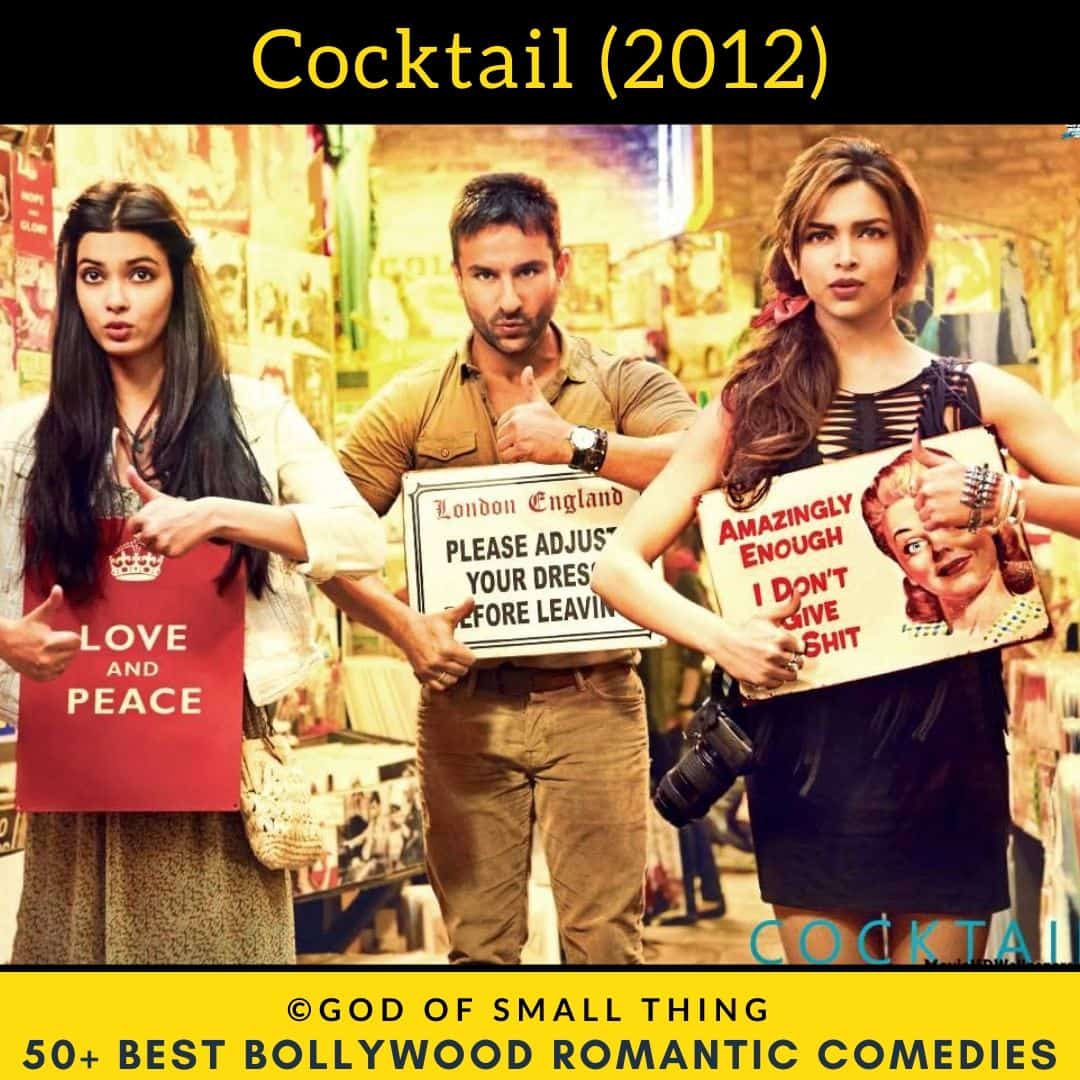 This is a Bollywood romantic-comedy with a love triangle. Meera (Diana Penty) is a shy girl who lives in London, separate from her family in India. Meera is married but the husband is a gold-digger. She leaves him, but she's stranded in London with no place to stay.
She meets Gautam (Saif Ali Khan) a playboy who flirts with her and Veronica (Deepika Padukone) at a grocery store. Veronica offers to help her. The three meet unexpectedly and become friends somehow. Gautam and Veronica have a "no strings attached" relationship. Complicated emotions are involved and the three of them part ways. How do these best friends reunite? Will they let their emotions get the best of them?
46. Student of the Year (2012)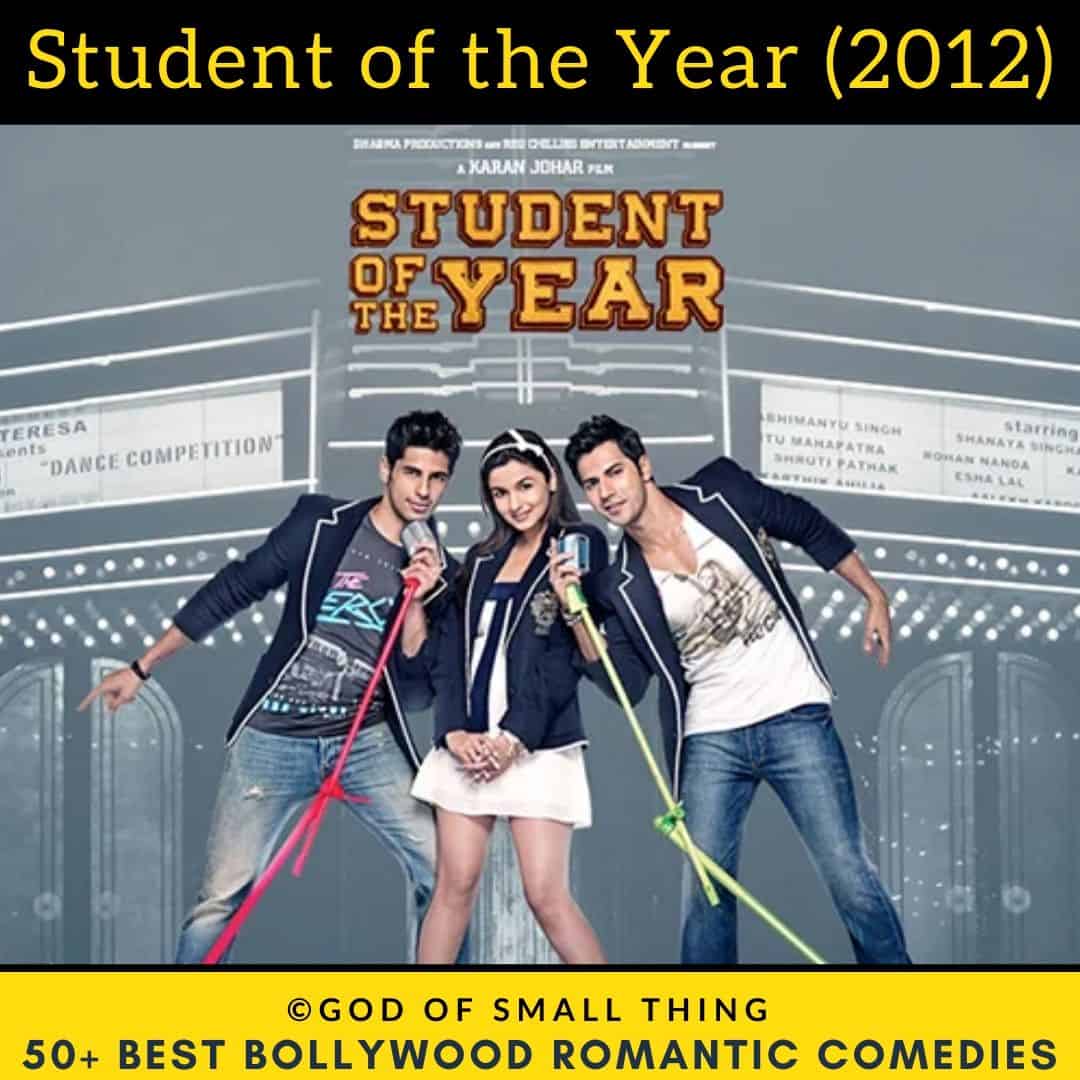 This is a coming-of-age Bollywood romantic-comedy film. The film marked the debut for Alia Bhatt, Varun Dhawan, and Sidharth Malhotra. The Dean of the college has aged and fallen ill. He wishes to see his last batch of students who took part in the "Student of The Year" competition.
A few of the students arrive and reminisce about the old times in the college. Rohan, the kid of a rich tycoon, Shanaya, a fashion addict and the most popular girl, and Abhimanyu an orphan from a middle-class family cross paths. Abhimanyu and Rohan become really good friends. Rohan introduces him to Shanaya and warns him to not get too close to his girlfriend. He assures him that it will never happen.
Over a trip, Abhimanyu develops feelings for Shanaya. This drove Abhimanyu and Rohan away. The competition gets heated. Are Shanaya and Rohan endgame, or is it Abhimanyu and Shanaya?
47. Yeh Jawaani Hai Deewani (2013)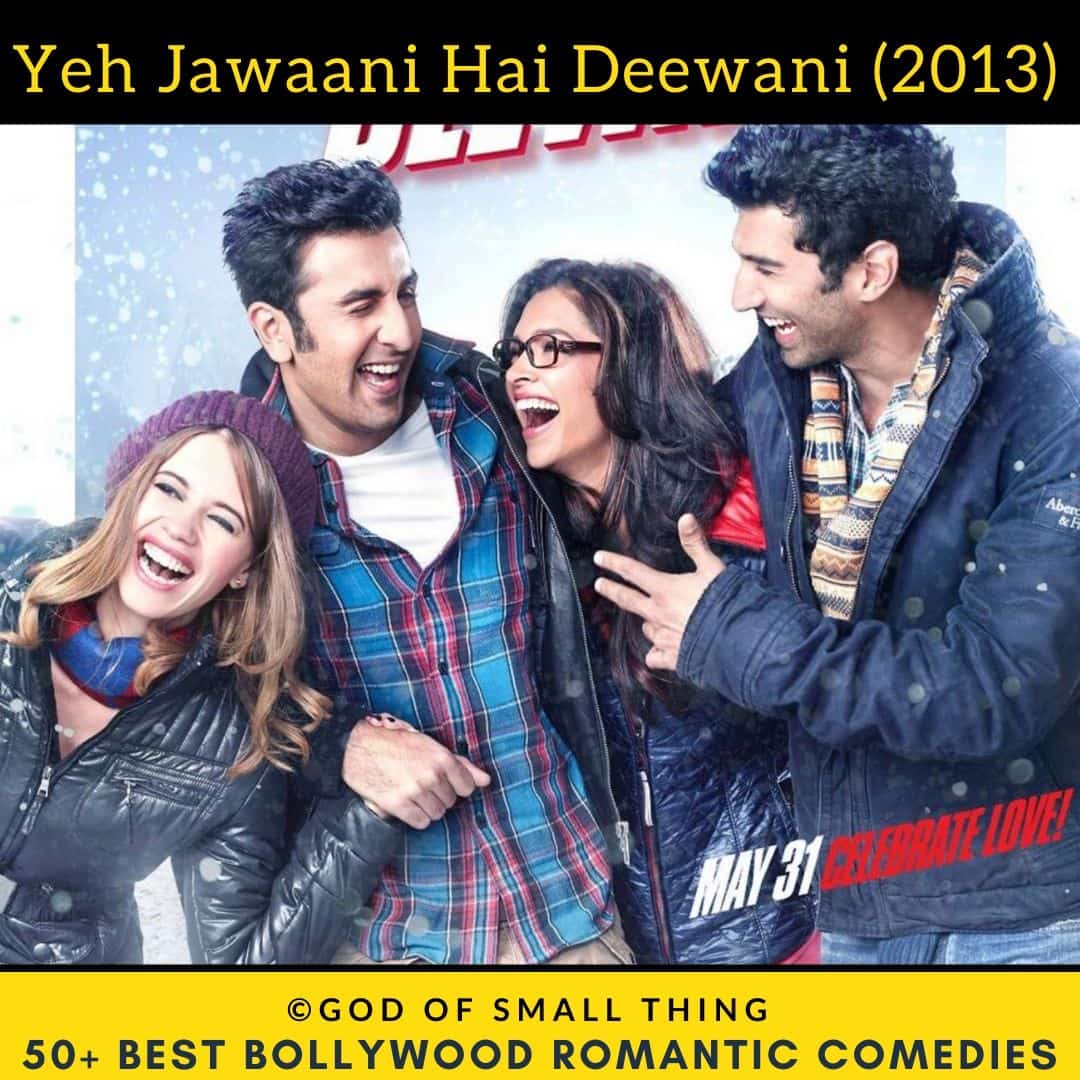 This movie is one of the Best Bollywood romantic-comedy of all time. It was the highest-grossing Indian movie for a while. It's the second movie after 3 Idiots to cross 300cr worldwide. Naina ( Deepika Padukone) is a nerdy-shy medical student. An unexpected encounter with Aditi (Kalki Koechlin), her old classmate.
She realizes she wants something more than good grades. Without telling her parents, she sets on a trip following Aditi to Manali. During the trip, she reignites friendship with her old classmates. She meets Kabir/Bunny (Ranbir Kapoor) a free soul who never wants to stop traveling. The pair becomes close but have to part ways due to some circumstances. The group reunites after 8 years and old feelings come to life. This is one of the most iconic movies of all time. What's in store for Bunny and Naina? Watch one of the best romantic comedy of all time.
48. Chennai Express (2013)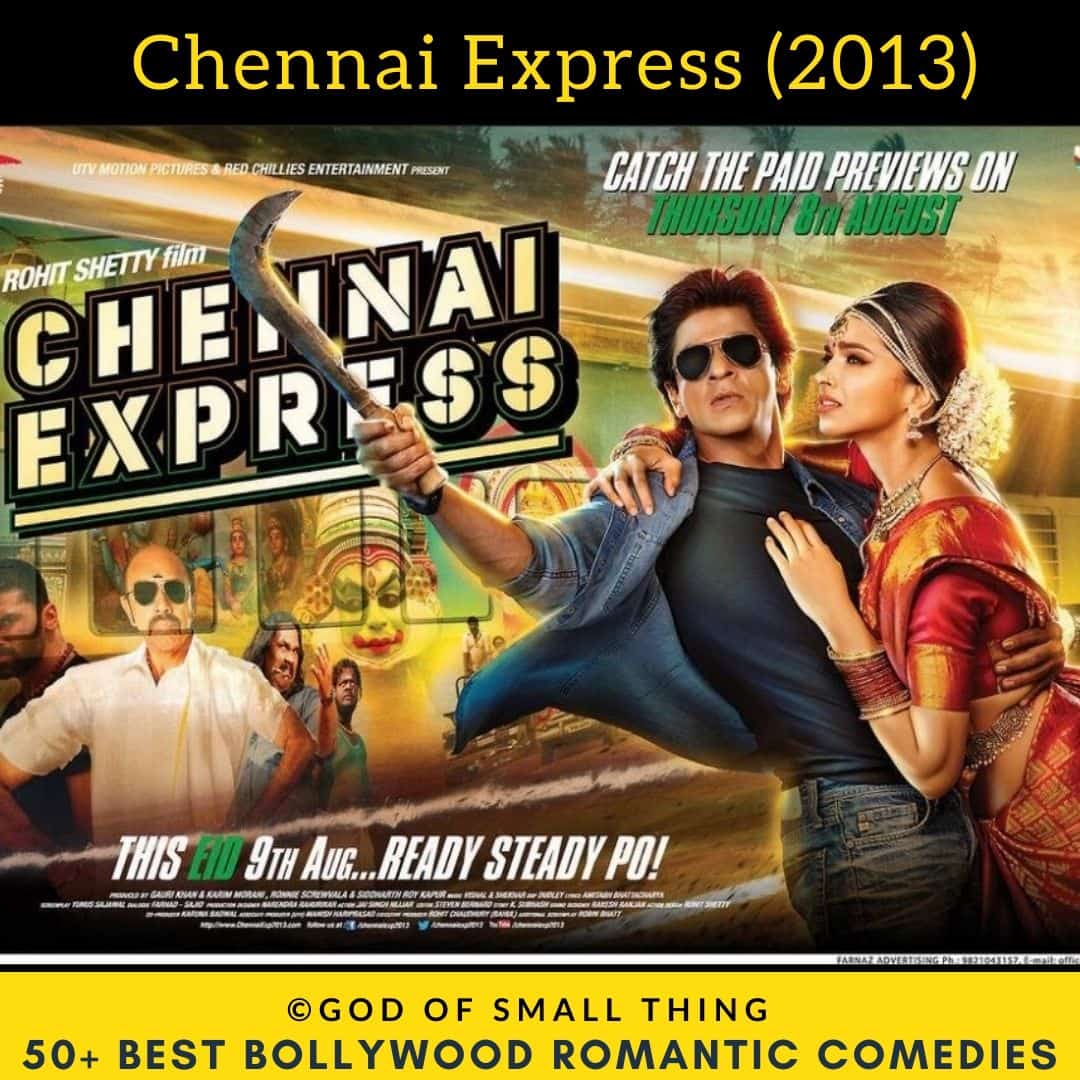 This Bollywood romantic comedy revolves around Rahul (Shah Rukh Khan) who accidentally boards a train that goes from Mumbai to Rameshwaram. On the train, he finds Meenamma (Deepika Padukone). She is being abducted by her cousins, they want to take her back home.
She wants to avoid her marriage to Tangaballi (Nikitin Dheer). Both start with hilarious chemistry. They have quick-witted funny conversations. Meenamma is a total south Indian and Rahul is a modern guy with modern thinking. They travel to places in South India in efforts to get rid of her cousins. Chennai Express is a perfect Bollywood romantic comedy, with equal parts of romance and comedy.
49. Queen (2014)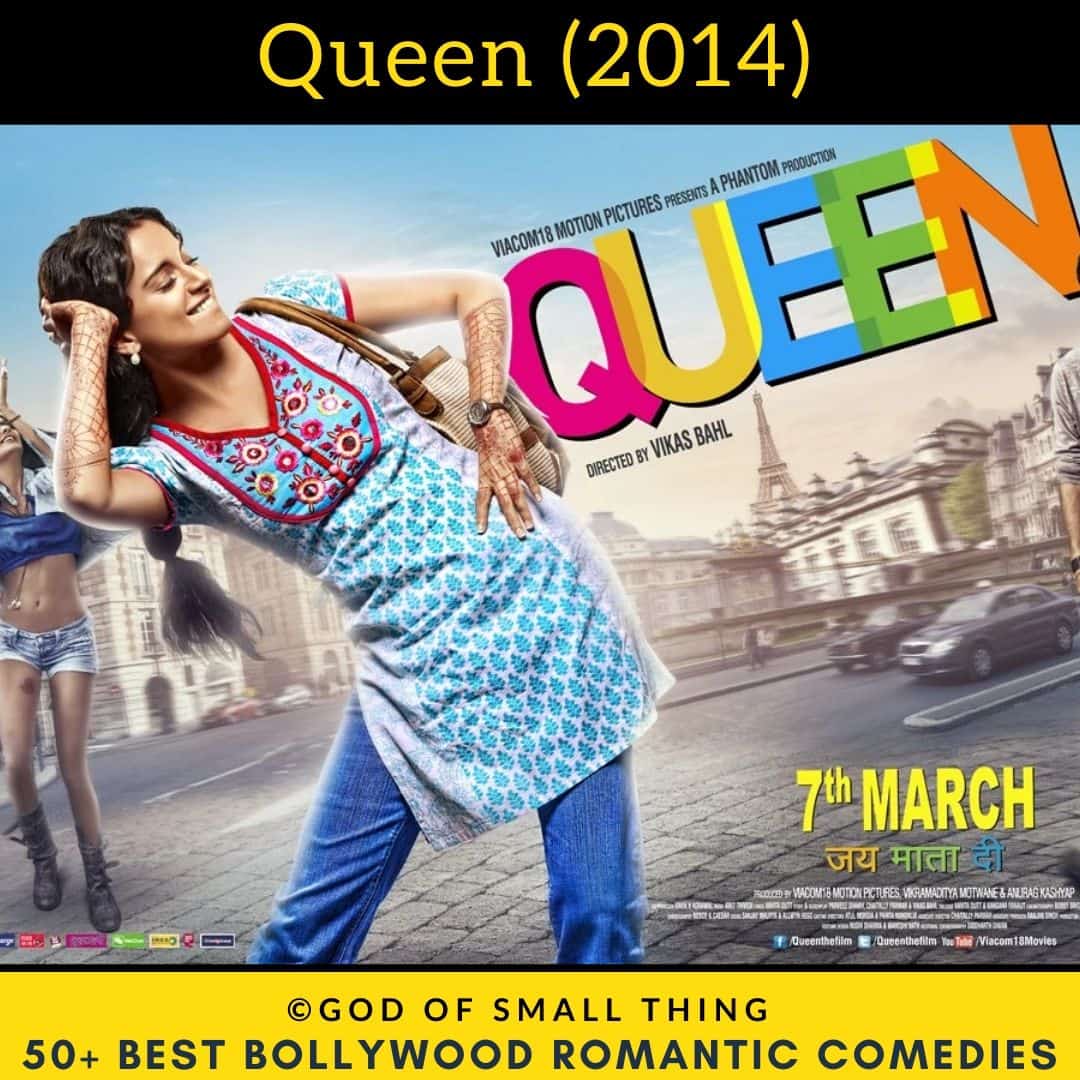 Further adding on to our list of Bollywood romantic comedy movies is about Rani (Kangana Ranaut) a very under-confident girl from New Delhi goes to her honeymoon alone when her fiancé calls off their wedding. Her fiance had a change of mind after going abroad and now Rani's conservative self isn't appealing to him.
In Paris, she meets Vijaylakshmi "VJ" (Lisa Haydon), who works at the hotel Rani stays in. VJ is a free-spirited woman and she decides to help Rani out. She gives her a tour of the city and the party and drinks. She meets new people and has new experiences. But, somewhere deep down she still yearns for her fiancé, how will Rani's fate turn out?
50. 2 States (2014)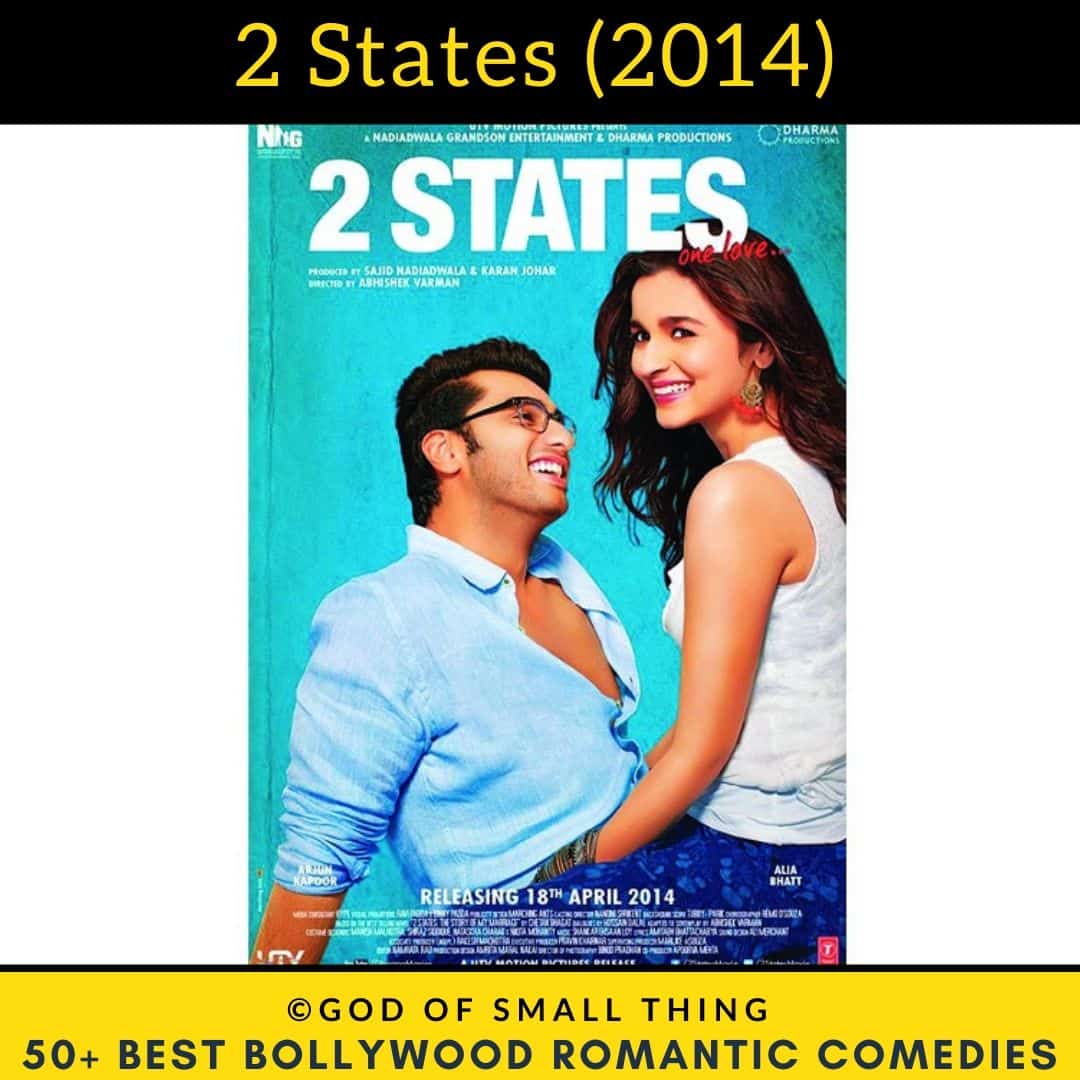 Krish Malhotra (Arjun Kapoor) an engineer pursuing his MBA in Ahemdabad. He comes from a messed up family where his mother is a victim of domestic violence. He accidentally meets Ananya (Alia Bhatt) from the conservative Tamil Hindu family. Coming from different cultural backgrounds, they have their barriers. Nevertheless, they stay together. College placements come and both have choices. What choice do they make?
51. Khoobsurat (2014)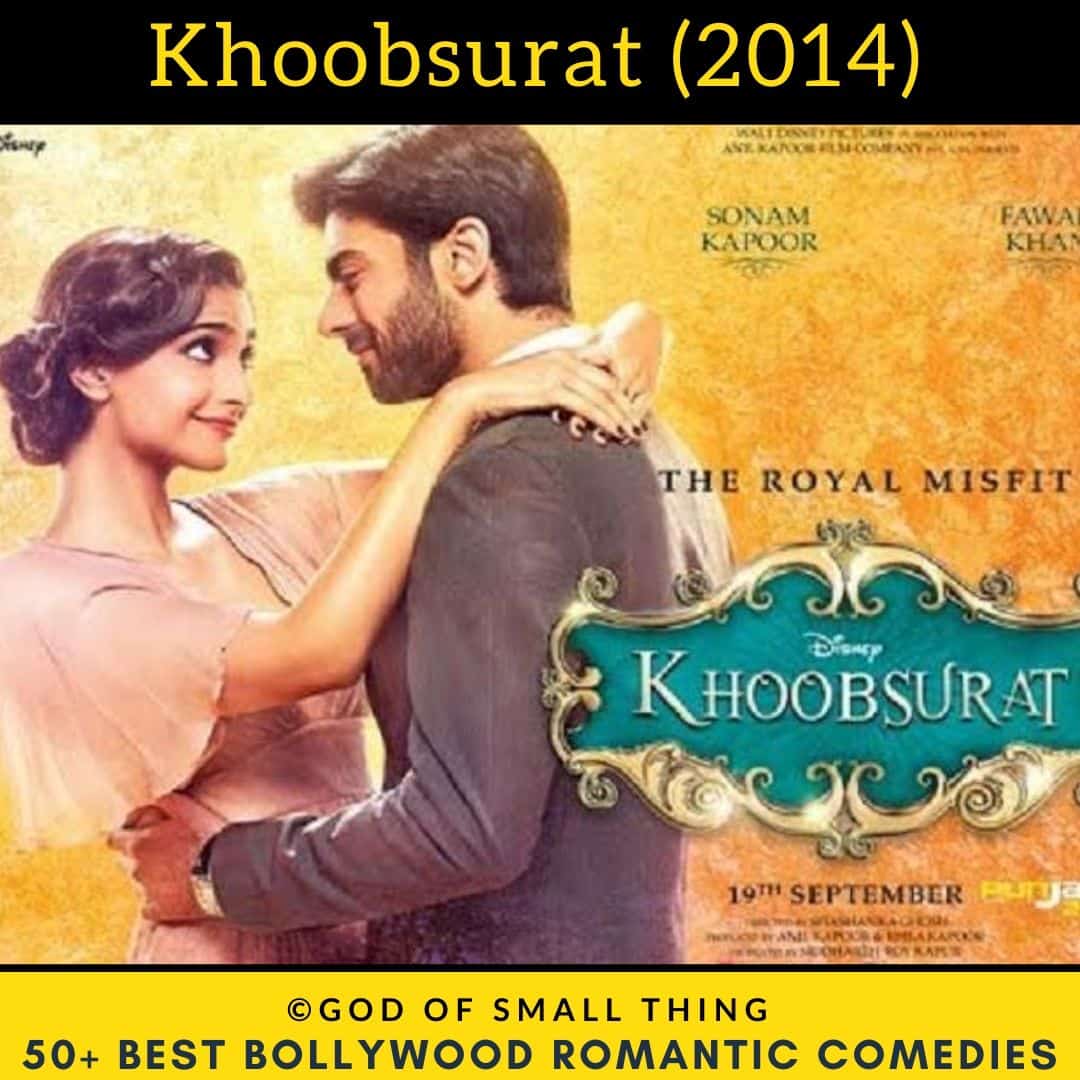 This Bollywood romantic comedy is about Mili is a physiotherapist working for the Indian Cricket team. Her services are required by a royal family in Rajasthan. King Shekhar Singh Rathore has paralyzed waist down. She is pre-informed that almost 40 doctors have left the job the job she is offered. Her enthusiasm and care-free nature are not accepted in the castle.
The prince, Vikram Singh Rathore is also a rigid person. When the king refuses to listen to her instructions, she asks Vikram for help but he accuses her of being unfit for the job. She gets angry, but later finds the real reason behind the family's harsh behavior and uneasy atmosphere. Will something happen between Mili and Vikram? Or will she forever be the royal misfit? 
52. Dum Laga Ke Haisha (2015)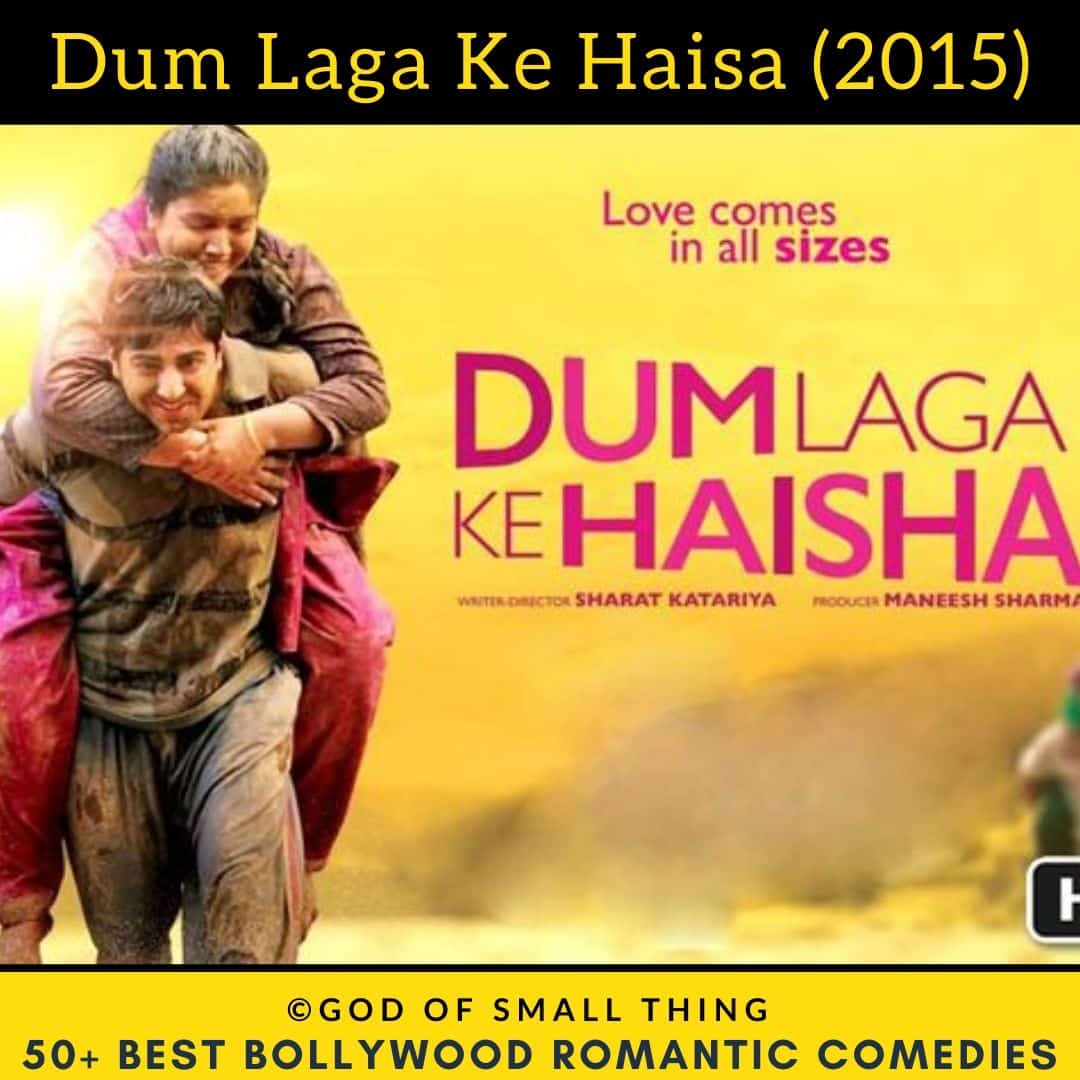 This Bollywood Romantic-Comedy follows Prem Prakash Tiwari (Ayushmann Khurrana) who owns a videotape cassette shop. His father is keen on getting him married him to an overweight educated girl Sandhya (Bhumi Pednekar). Despite not wanting to, he agrees to get married to her because he cannot score someone with good looks.
He doesn't treat her well and is embarrassed to even walk with her on the streets. Sandhya explodes and announces to his family that she is not treated well. Will Prem ever come to love Sandhya as she is or will he continue to go on outward appearance?
53. Dil Dhadakne Do (2015)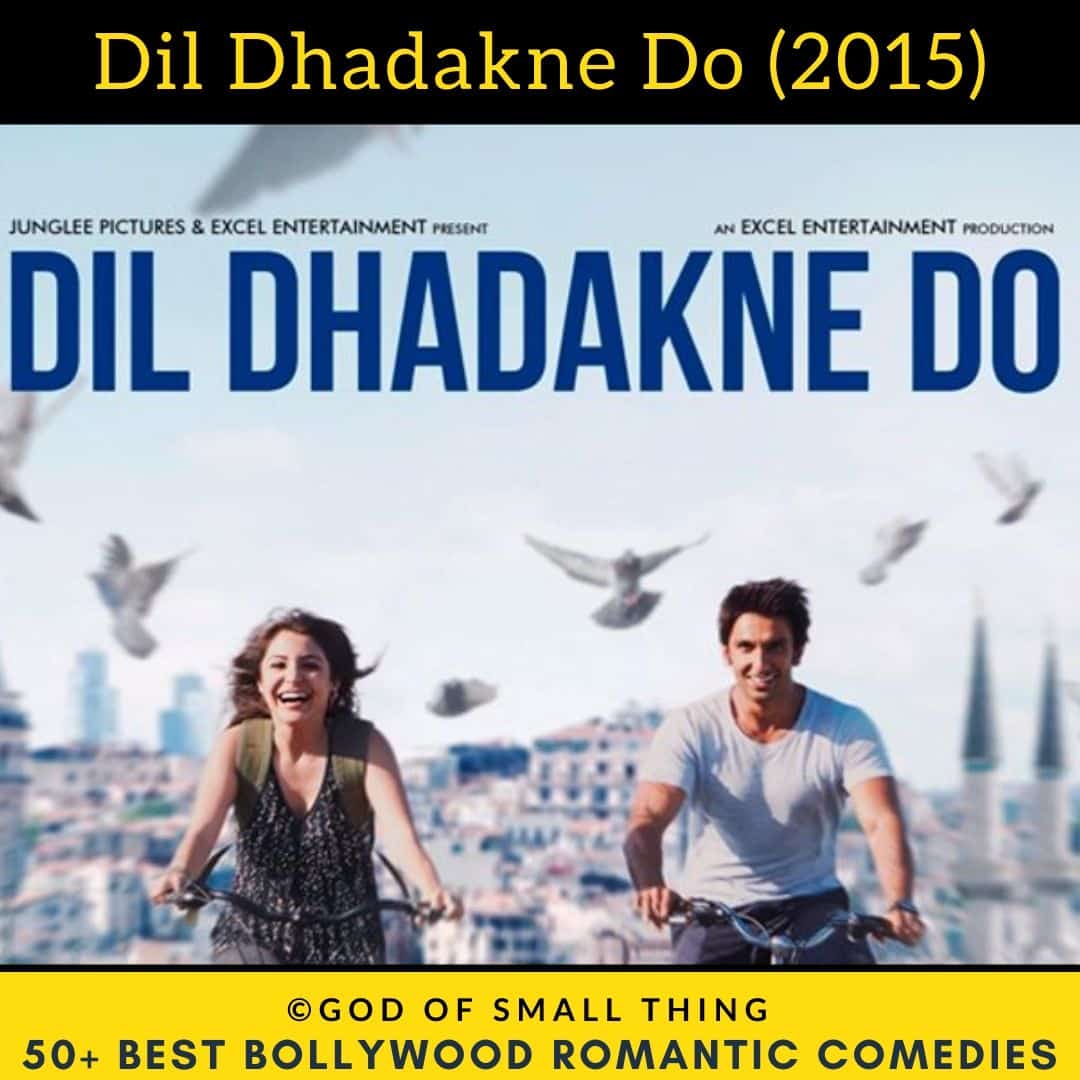 One of the best on our list of Bollywood romantic comedy movies is through the eyes of the dog Pluto (Aamir Khan voice-over), we see the story of the dysfunctional Punjabi family Mehras. They invite their friends and family on a cruise to celebrate the parent's 30th Anniversary.
Daughter Ayesha owns a successful business but an unhappy marriage to Manav (Rahul Bose) ad Kabir (Ranveer Singh) wants to become a pilot but is dragged into the family business. He meets Farah (Anushka Sharma) a dancer and falls for her. Sunny (Farhan Akhtar) comes aboard, he and Ayesha were past lovers. With numerous passengers, things get complicated, hilarious and heated. Will all these paths cross and meet somewhere? Or is it just a dead End? Watch one of the best Romantic comedy of all time.
54. Ki & Ka (2016)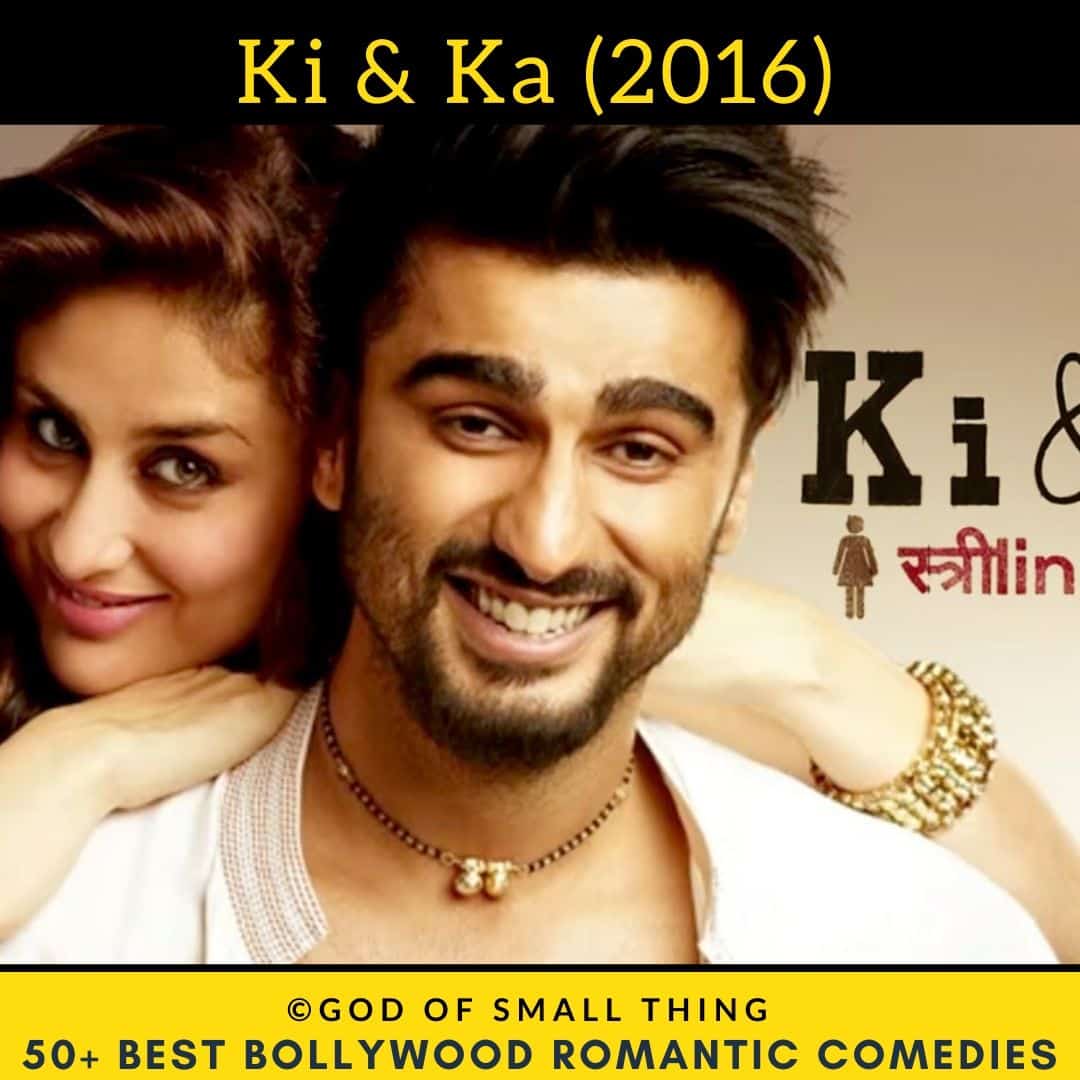 This Bollywood romantic comedy follows a young married couple who go against the gender roles set by Indian society. Kabir (Arjun Kapoor) has no interest in taking over his father's business. While Kia (Kareena Kapoor) is a driven woman who aims to become a successful businesswoman.
The pair meet and gradually fall in love. Regardless of opposition from his family, Kabir marries him and becomes the "wife" in the relationship. He cooks and stays at home, while Kia earns for the family. Kia shares her unusual relationship after getting successful. Kabir is asked to give numerous interviews on Gender Equality. The busy schedules of the pair strain their relationship and lead to darkness. Is this kind of marriage impossible, is the society right? 
55. Kapoor and Sons (2016)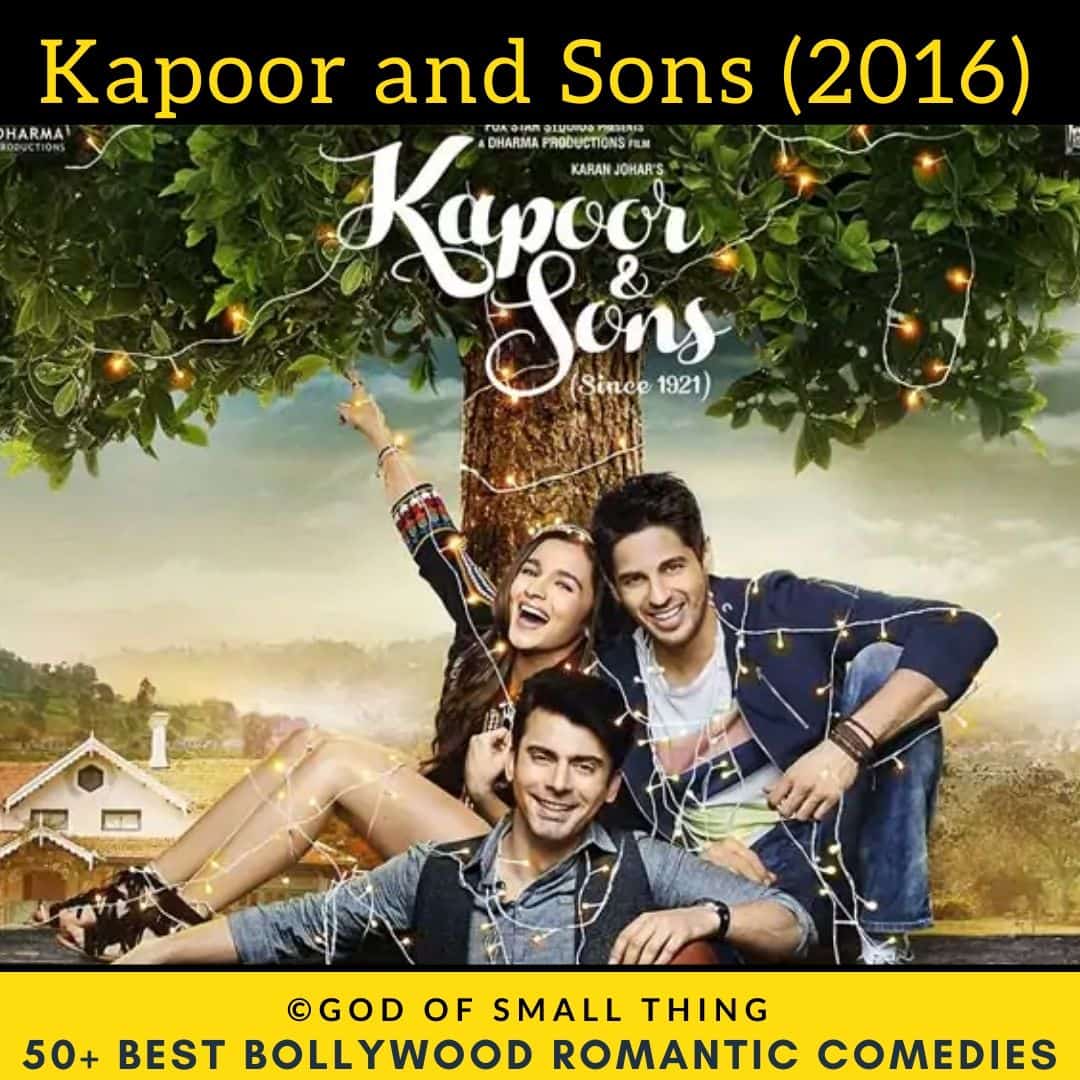 The story of our next movie on our list of Bollywood romantic comedy movies –Kapoor & Sons follows two brothers who return to their dysfunctional family after their grandfather has a cardiac arrest. Rahul (Fawad Khan) is a successful author, while Arjun (Sidharth Malhotra) struggles to get his books published.
Arjun works as a part-time bartender to make ends meet. The brothers struggle to get along and their parents have trouble with their marriage. At a party, Arjun meets Tia and both click instantly. Unknowing of Rahul and Arjun's relation, Tia goes out to dinner with Rahul. Tia kisses Rahul and it leaves him flustered. The family goes through a lot of hardships and tough times, while we also enjoy the relation Arjun and Tia build. This movie is a heart-touching romantic-Comedy-drama film. The complex characters and the interesting plot makes it a great watch.
56. Befikre (2016)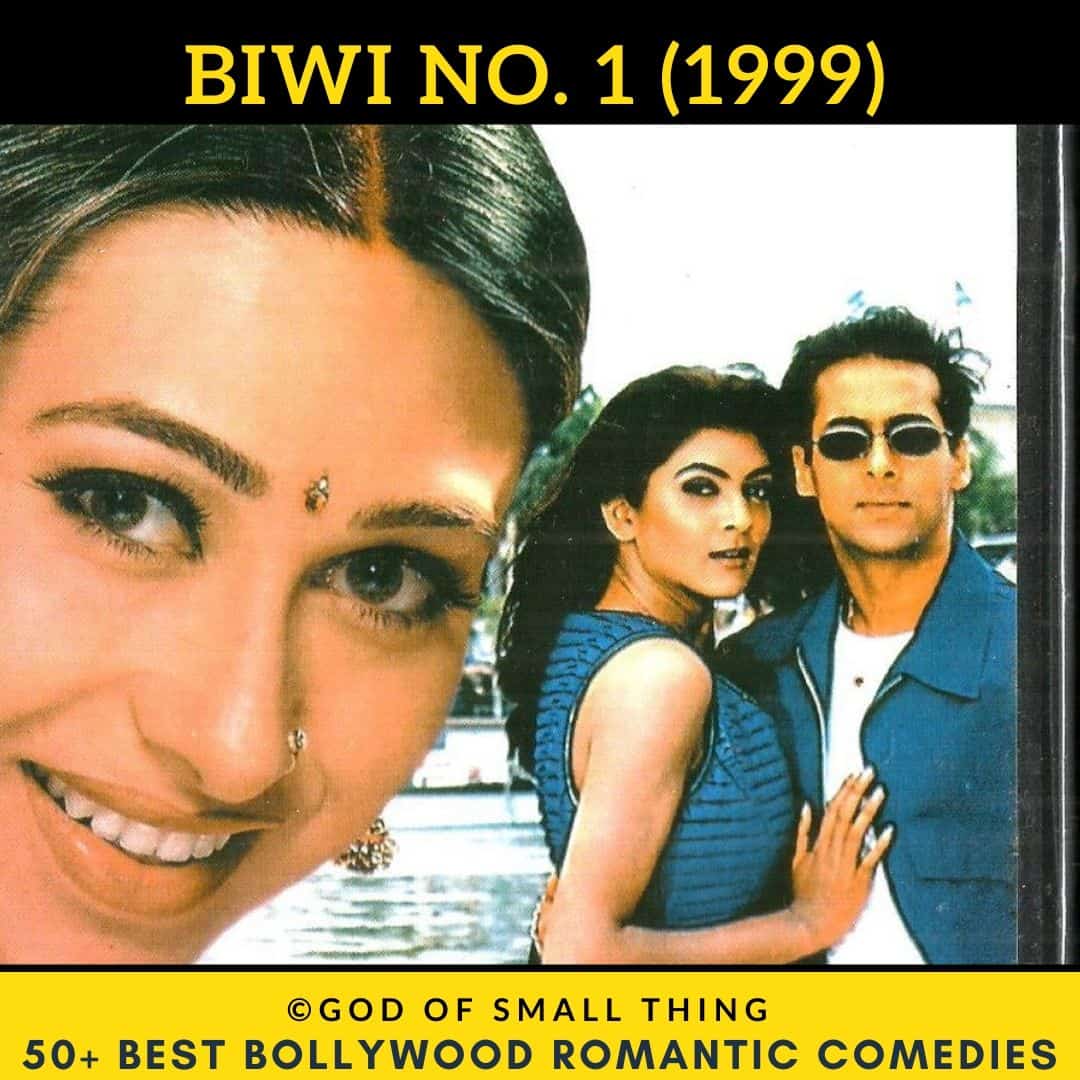 This top Romantic Comedy Bollywood movie starts with Dharam (Ranveer Singh) and Shyra (Vaani Kapoor) having a nasty fight and they break up. Dharam is a stand-up comedian who mocks couples on the day of their breakup. It takes us to a flashback when the couple first met. They meet in Paris and eventually date. Their relationship starts on a silly dare. They fight a lot and Shyra goes back home to India. They decide to become friends and swear they will never fall in love with each other again. Do these promises last?
57. Bareilly Ki Barfi (2017)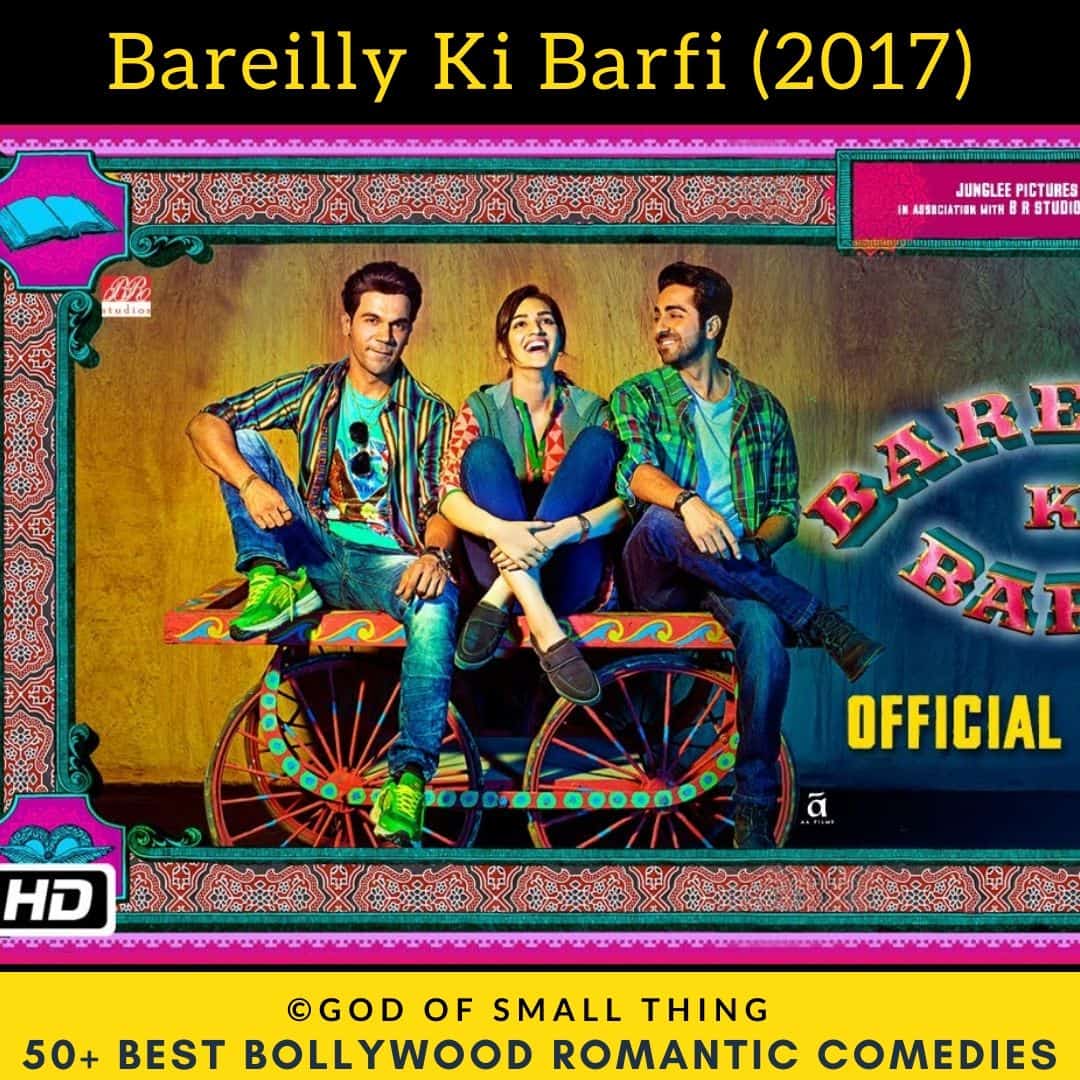 Bitti (Kriti Sanon) is a contemporary girl from Uttar Pradesh. Bitti decides to leave home after her parents constantly try to set her up with boys to marry. While waiting on the platform for her train Bitti buys a book called BareillyKi Barfi. She reads the books and highly relates to the protagonist. She had a change of mind and returns home.
Bitti wanted to meet the author of the book. She finds Chirag Ayushmann Khuranna) whose printing press published the book. Chirag asks Bitti to write letters to the author instead of meeting him. He lies about things and faces huge consequences later. Will Bitti ever meet her favorite author? 
58. Hindi Medium (2017)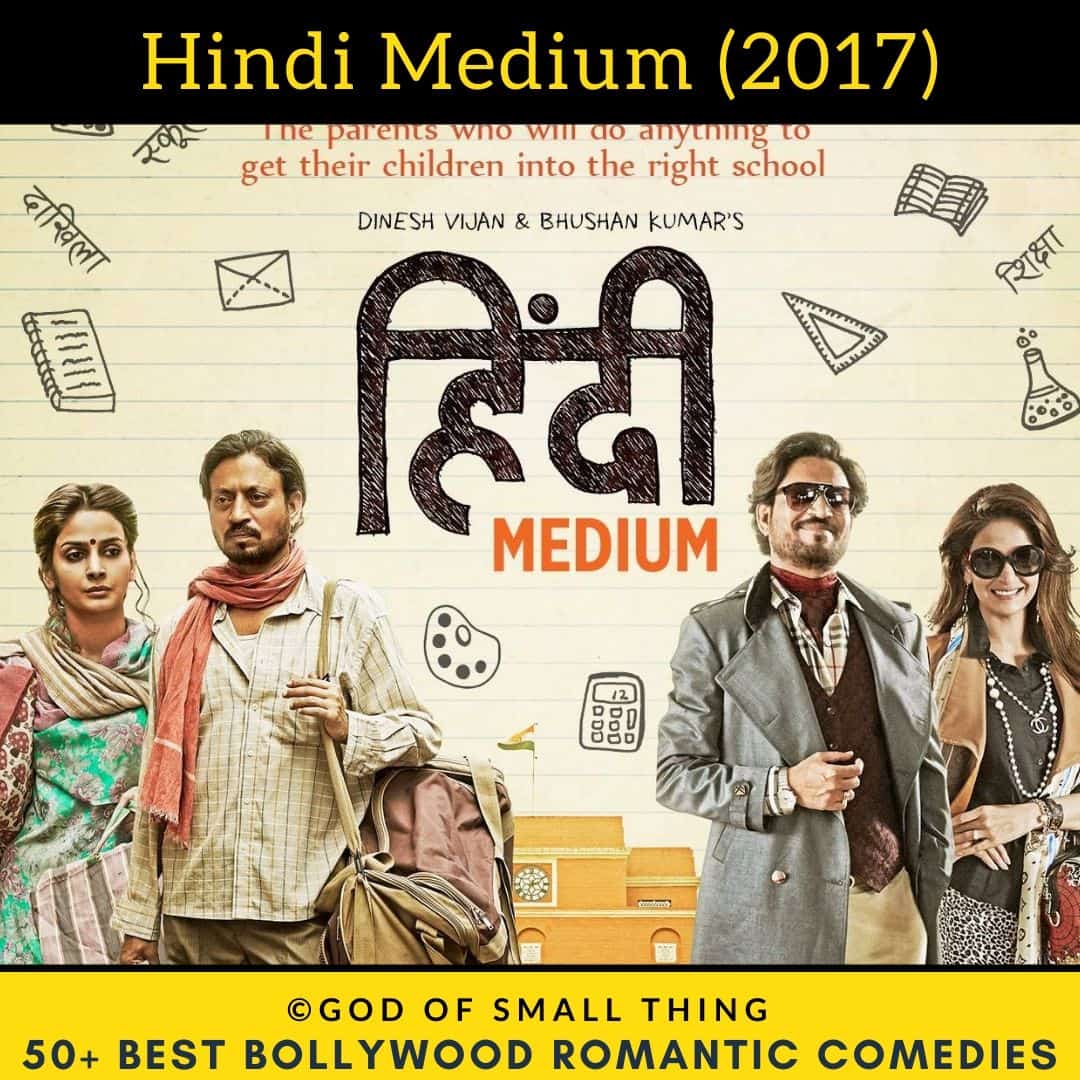 The plot of Hindi Medium centers a couple who struggle with getting their daughter admitted into a prestigious English-medium school to rise higher in society. Raj Batra (Irrfan Khan) owns a boutique in Delhi with his wife Mita (Saba Qamar).
The love between the protagonists grows as the difficulties arise. The couple wants their daughter Pia (Dishita Sehgal) to go to a high society English medium school, enabling her to become part of the elite society. Their application gets rejected due to the lack of parents' English skills. They try out in different schools, But what is the result? 
59. Shubh Mangal Savdhaan (2017)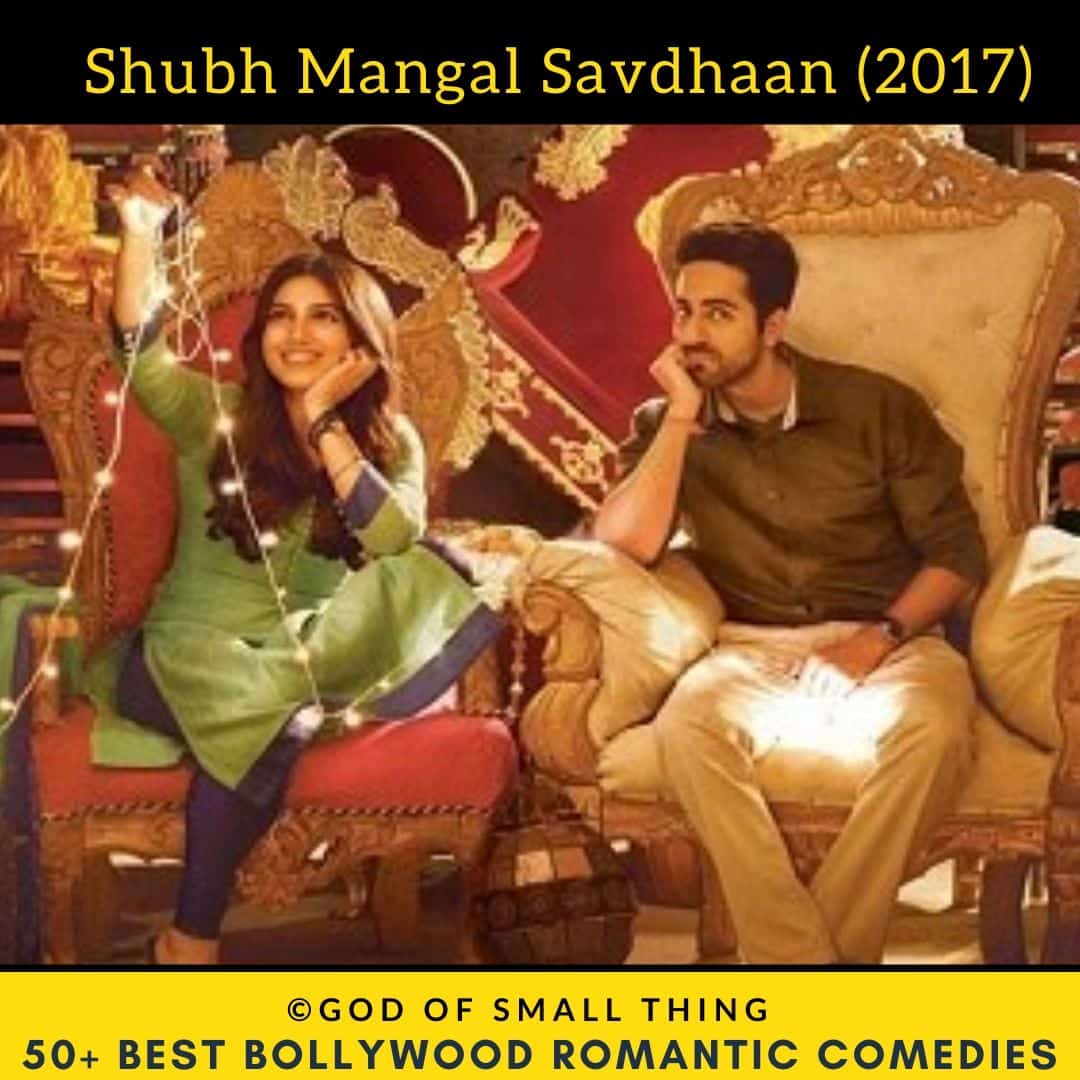 Mudit (Ayushmann Khurana), a guy with a marketing job falls in love with Sugandha (Bhumi Pednekar). After trying different ways to talk to her, he proposes to her online. When two meet face-to-face they click and decide to take it to the next level. A formal marriage proposal is sent to her family. Everything seems to go well, but there is one (small) problem. It leads to arguments. Will Mudit get over his problem and marry the girl he loves?
60. Sonu Ke Titu Ki Sweety (2018)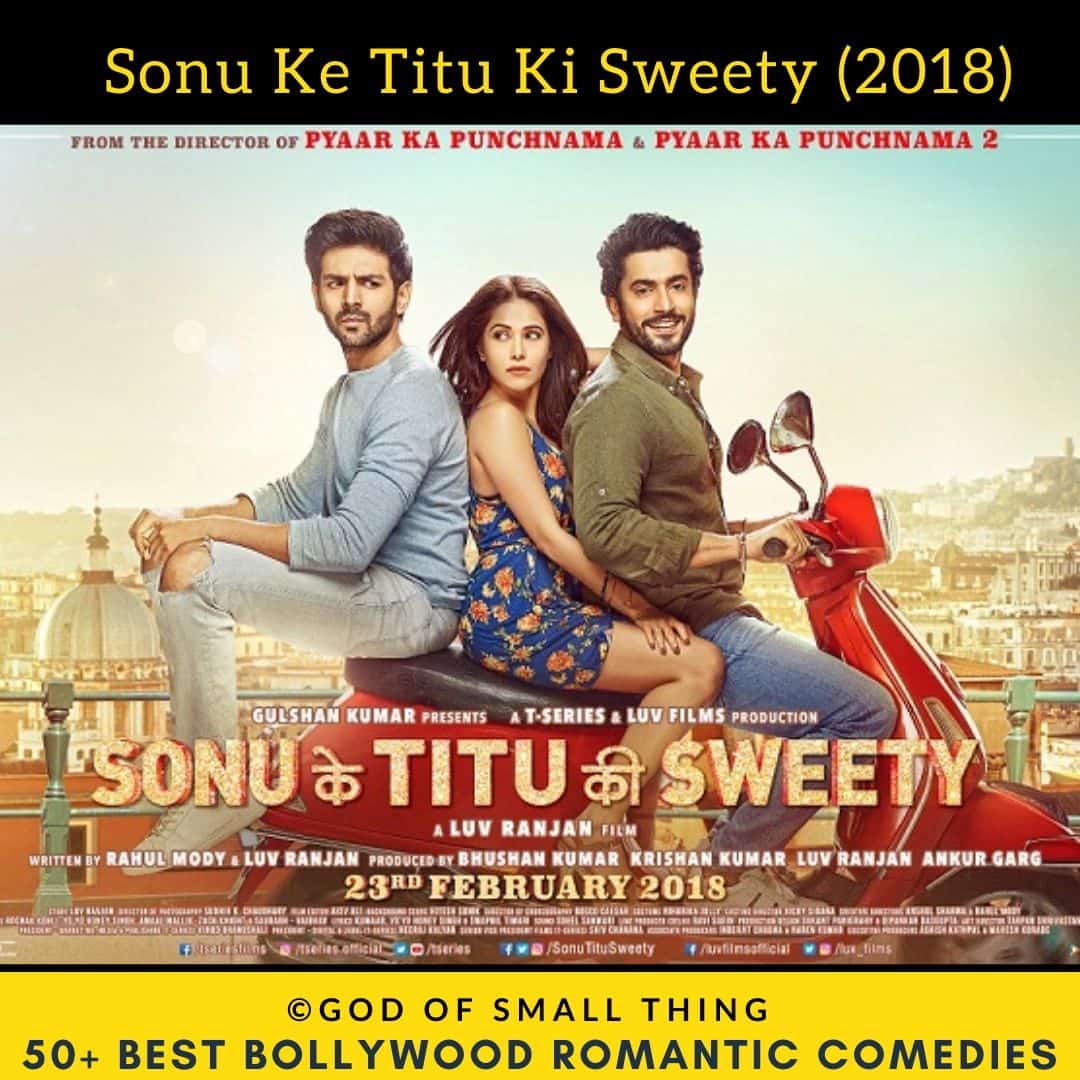 Titu (Sunny Singh) is devastated that his girlfriend Pihu (Ishita Raj Sharma) because his girlfriend refuses to talk to him. Sonu (Kartik Aryan) his best friend tries to convince him that Pihu is not the right girl for him. Titu is caring and loving while Pihu is possessive and careless. Sonu gives Titu an ultimatum, it's either Pihu or him. They break up. Later, Titu meets Sweety (Nushrat Bharucha). They hit it off, but Sonu yet again finds her fishy. Is Sonu's intuition correct this time? Or will he end up ruining another one of Titu's relationships?
61. Veere Di Wedding (2018)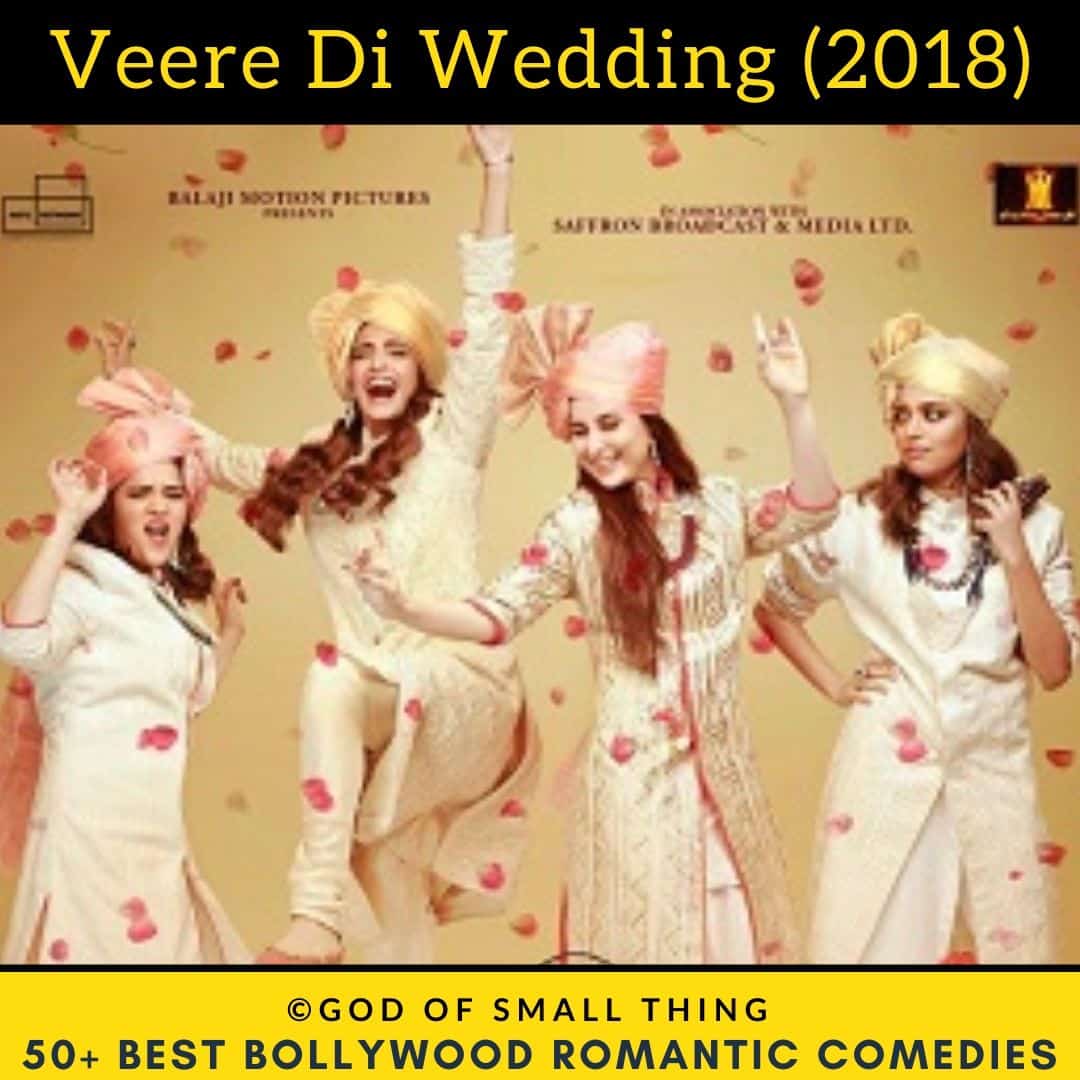 Veere Di Wedding is a top romantic comedy Bollywood movie is based on 4 best friends- Kalindi (Kareena Kapoor), Sakshi (Swara Bhaskar), Avni (Sonam Kapoor) and Meera (Shikha Talsania). Their friendships last throughout high school to adulthood.
All reunite for Kalindi's wedding. When Kalindi's boyfriend first proposes to her, she is shocked. Coming from a broken family her definition of marriage isn't the same as others. Nevertheless, she agrees. However, she is overwhelmed by her boyfriend's over-affectionate family. She gets anxious, Avni gets drunk because her prospective groom rejects her, Sakshi leaves the party to get away from the taunts.
Kalindi mutually calls off the wedding. After a huge argument among the friends, She decides to have a vacation with, to keep their mind off of their troubles. The trip is one of a lifetime. The bond was now stronger than ever. Watch this all-female lead movie and watch them solve their love and life problems.
62. Badhai Ho (2018)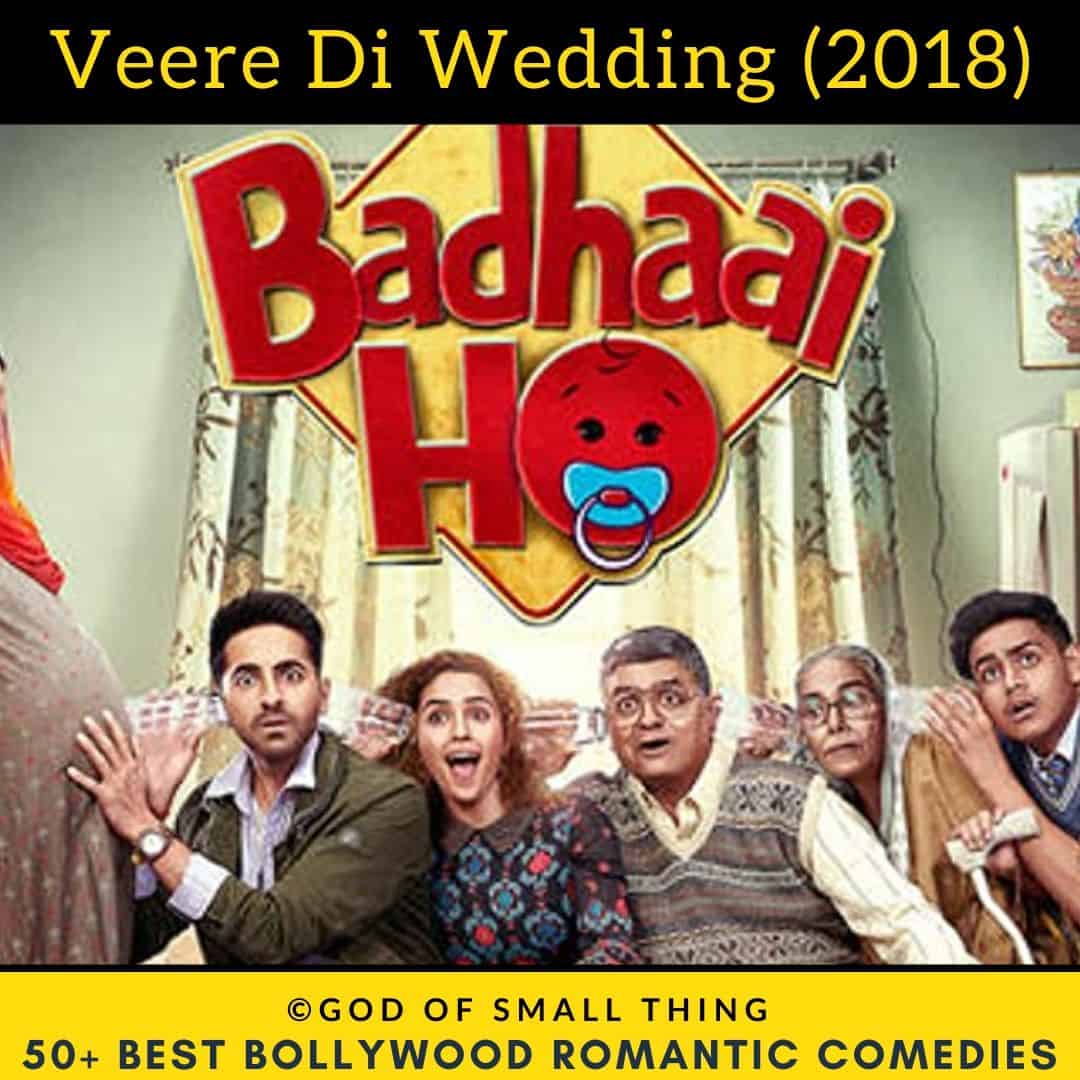 Nakul (Ayushmann Khurrana) is a working guy with a stable relationship with Renee (Sanya Malhotra). Nakul's parents find out that they're pregnant. The mom finds it sinful to abort a baby, so after a lot of thought, they decide to keep it. Their sons get embarrassed and avoid them, and the grandmother is in total shock. The news spreads fast and they're made fun of by their friends, family, and society. Nakul, shocked by this news, avoids Renee. Will Nakul be able to accept a new baby brother?
63. Namaste England (2018)
A Bollywood romantic comedy which is a sequel to the 2007 film Namastey London. Param and Jasmeet meet and he falls in love with her. Param is a fun-loving guy who is interested in farming. While, Jasmeet is an ambitious and educated girl who wishes to settle down in London. But, her family is strictly against it, according to them, the only purpose of a woman is to get married and have kids. But, soon they get married and try to get a visa to London.
They vow to get setteled in London, but for some reason their visa gets cancelled every single time. The lengths they go to live their dream life is so desperate that it is hilarious. Watch this couple and their hilarious tries to get a simple visa.
64. Luka Chuppi (2019)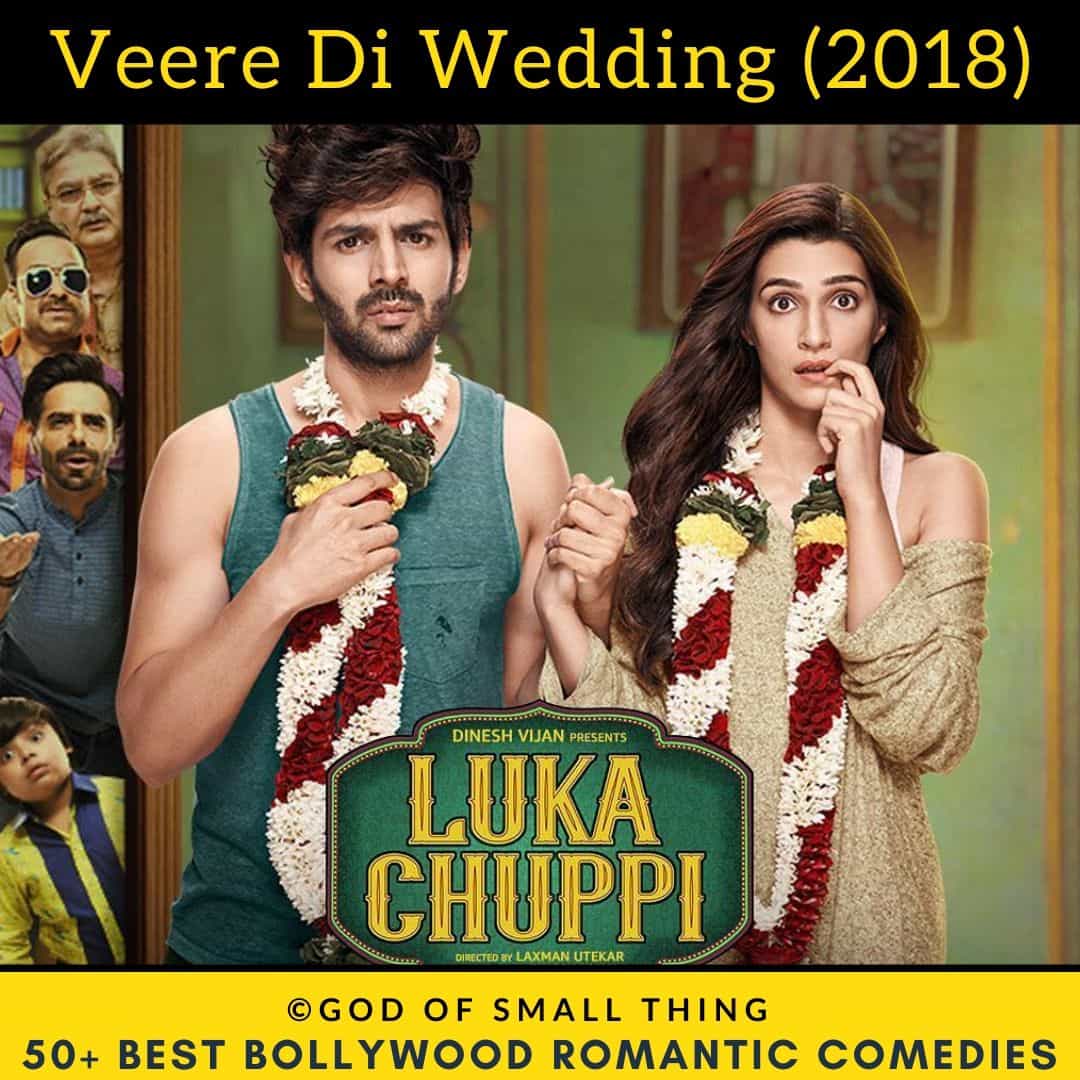 A couple, Vinod (Kartik Aryan) and Rashmi (Kriti Sanon) are in a live-in relationship. When a reporter asks celebrity Nazeem Khan if he is in a Live-in relation, and he agrees. This causes an uproar in the Indian Society, how he is disrespecting the Indian Culture.
Rashmi and Vinod work at a local news channel and fall in love, Rashmi's father a failed politician wants to ban live-in relationships. Vinod proposes but Rashmi is not ready yet. She says she wants to get to know the guy properly. The couple agrees in living together. In a society where lie-in relationships are frowned upon, how will this couple survive?
65. Ek Ladki Ko Dekha Toh Aisa Laga (2019)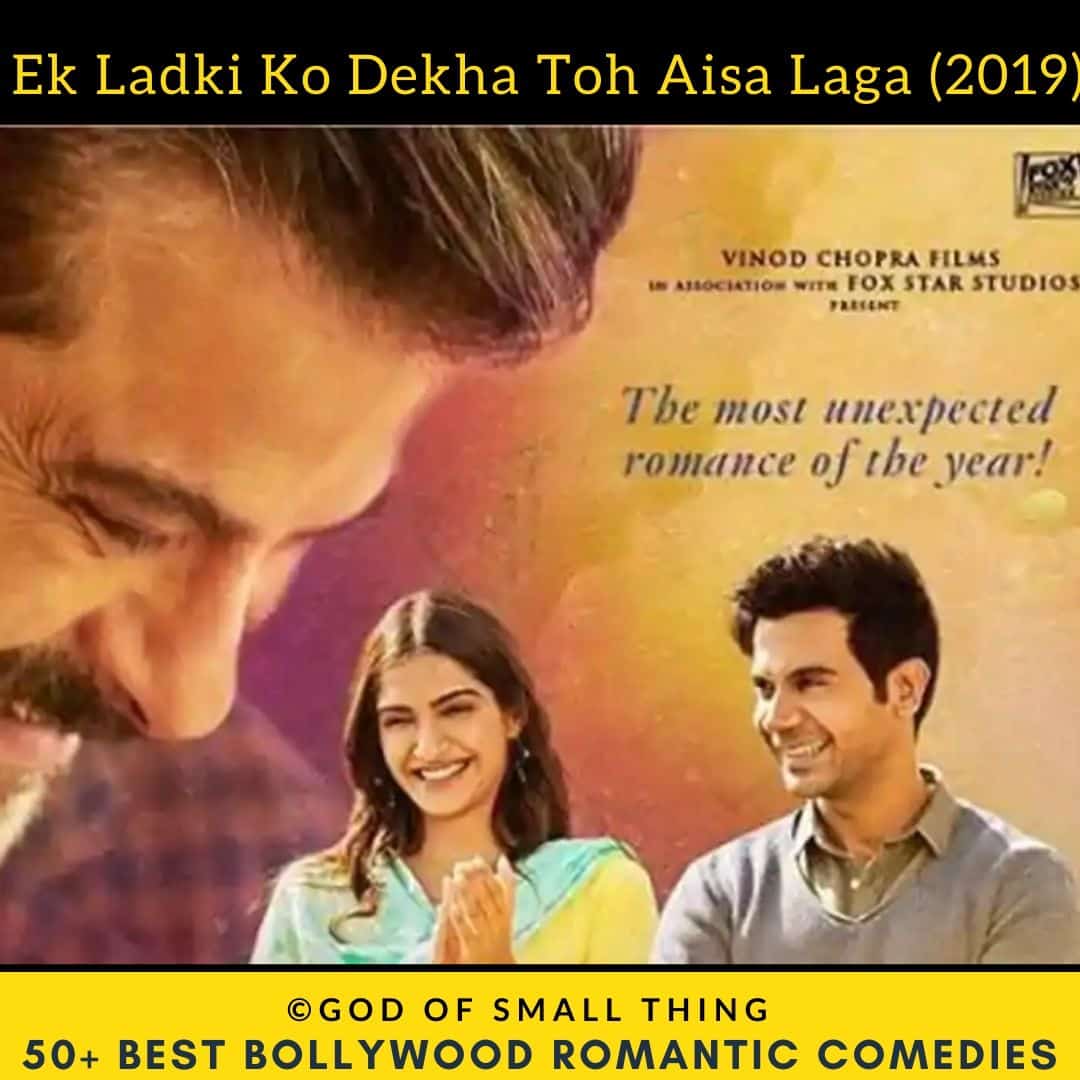 The film Ek Ladki Ko Dekha Toh Aisa Laga is a one of its kind, coming-of-age Bollywood Romantic comedy. It revolves around a closeted lesbian, Sweety (Sonam Kapoor) from a conservative Punjabi family. She is under pressure from her family to get married. Sweety meets a girl named Kuhu (Cassandra Regina) at a wedding. She meets Sahil and he falls in love with her. What will Sweety do? Will she ever be able to come out to her family or end up marrying a guy?
66. The Zoya Factor (2019)
Zoya was born on the day of the World Cup, so she immediately is called the Indian team's lucky charm. She meets the captain of the Indian team, Nikhil who is a hard worker. He despises superstitions and believes in hard work, so when the media gives Zoya all the credits of the wins the teams secures, it frustrates him. But, he apologizes for his harsh words and asks her to stay. Soon they get into a relationship and both are happy.
However, there are people who want to profit off her and make everyone believe that the only reason India won any game was Zoya. Will they get over the misunderstandings or will they break apart.
Done with the list? Looking forward to some science fiction? Well, Indian movies don't generally have a good history with science fiction. So we have curated List of 30+ Best Sci-fi Movies & Series on Netflix of all time | GodofSmallThing
67. Ludo (2020)
Just like the title which is a game played by four players, the movie revolves around 4 different stories that at one point get interwoven with each other. Sattu (Pankaj Tripathi ), a notorious don has to pay back an act of revenge with Bittu (Abhishek Bachchan). The dice of the game is Sattu and the red side of the board is represented by Bittu. The yellow side is represented by the couple Akash Chauhan (Aditya Roy Kapur) and Shruti Chauhan (Sanaya Malhotra) whose personal video of their intimate relationship has been leaked on the internet without their knowledge, they begin finding the culprit to delete the video so that they can save shruti's marriage. The blue side is taken by another pair Sheeja Thomas (Pearley Maaney), a Malayali nurse, and Rahul Awasthi (Rohit Suresh Saraf), a man from a small town struggling for survival and being bullied by his boss. Sheeja and Rahul find Sattu's treasure and a gang chases them when they were trying to escape with the money. The final side, green is taken by Alu Gupta (Rakjkummar Rao) and his love of life Pinky (Fatima Sana Shaikh), who seeks Alu's help her husband from being suspected in a murder case. Watch the movie to know how the four stories get entangled and how the life of each faces a huge upheaval in each other's life.
68. Jawaani Jaaneman (2020)
Jawaani Jaaneman is a fabulous Bollywood romantic comedy movie released in 2020 featuring Saif Ali Khan and Alaya F. The story revolves around a 40-year man, happy with his bachelor life suddenly finds out that he has a 20-year-old daughter. This Duo of a carefree man, with a perfectly responsible daughter, leads to many humorous situations and heartwarming moments. It's a perfect blend of drama, comedy, and romance. You definitely cannot ignore the song "Ole Ole 2.0" from the movie. So, are you all set to watch this jaw-dropping movie with your family?
69. Dil Bechara (2020)
Twenty-one-year-old Kizie Basu (Sanjana Sanghi), fighting thyroid cancer, meets twenty-three-year-old Immanuel "Manny" (Sushant Singh Rajput) affected with osteosarcoma at a cancer counselling group. Manny and his friend JP "Jagdish Pandey" is making a film together in which Manny plays the male lead, inspired by actor Rajnikanth. Manny invites Kizie to be the female lead and the two bond over their love for actor Rajnikanth's films, Hindi music and specifically an incomplete song written by a retired songwriter Abhimanyu Veer.
Many manage to track down Abhimanyu and Kizie sends a mail which he'll answer and demands on meeting her in person. The movie is based on the book Fault in our Stars by John Green. Throughout the movie, we can witness the depth of many and Kizie's relationship grow even after knowing that they may end up alone sooner and how they try to make each other's wishes come true.
70. Love Aaj Kal (2020)
Love Aaj Kal is one of the best, Bollywood romantic comedy movies, directed by Imtiaz Ali, starring Kartik Aaryan and Sara Ali Khan in the lead roles. The story revolves around love and relationships in two different time periods, highlighting the challenges faced by the couple now and then. This lighthearted comedy movie has been a major attraction because of its witty dialogues and melodious songs. Shayad is a blockbuster song of the movie, ruling the playlists to date. If you are a fan of Bollywood romantic comedy movies, then don't miss a chance to watch this one!!
71. Dhamaka (2021)
Next on the list, we have Dhamaka, starting with Kartik Aaryan and Mrunal Thakur. The screenplay is well written, creating suspense throughout. From the very start, this film possesses the power to hold audiences spellbound, keeping them glued to their seats. Set against the backdrop of a bomb blast on the iconic Bandra Worli Sea Link, The movie creates various circumstances where both the actors keep on falling into a trap leading to an unimaginable ending. It is definitely one of the best Bollywood romantic comedy movies with suspense and drama. To watch the new avatar of Kartik Aaryan, watch the movie now.
72. Atrangi Re (2021)
Atrangi Re is a romantic comedy film released in 2021 that features a stellar cast, including Dhanush, Akshay Kumar, and Sara Ali Khan. The story revolves around a captivating love triangle where Rinku is reluctantly married to Dr. Vishu but harbors deep feelings for Sajjad. Not only this, the movie narrates two different love stories running parallel from different time zones. The movie takes various twists and turns, from comedy to tragedy. This film takes audiences on a rollercoaster ride of emotions. The comic timing has definitely made this movie a super hit. Why don't you watch it?
73. Meenakshi Sundareshwar (2021)
Sundareswar is an unemployed B.tech graduate who is not interested in pursuing his father's business as he is determined to work in the IT sector. On his family's pressure for an arranged marriage, they come to Meenakshi's house by mistake, but they become fond of each other. The couple faced a real challenge when the groom had to leave for a job that he got out of a sudden; the movie depicts the difficulties faced in a long-distance relationship and the incidents faced by the young, newly married couple.
74. Badhaai Do (2022)
Shardul Thakur (Rajkummar Rao) is a police officer whose mother is a widow and is now looking for a girl to get his son married. On the other hand, Suman Singh (Bhumi Pedneka) is a physical education teacher, and she meets a girl through a lesbian dating app, but when she meets her in person, Suman finds out that it is a man to whom she was chatting. The boy continues to follow her and threatens her about her sexual orientation.
Suman complains about this to the police, and that's when Suman meets Shradul. He immediately asks Suman to marry him, saying that he is gay and wants to marry only to get out of the pressure from his family. Suman accepts the deal, and they get married. They carry on with their own personal relationships after marriage, but they face many situations that make it difficult to hide the reality. Watch the movie to know about how they deal with the family and whether they can convince their family about their sexual orientation.
75. Zara Hatke Zara Bachke (2023)
Zara Hatke Zara Bachke stands as a captivating romantic comedy masterpiece, showcasing the talents of Vicky Kaushal and Sara Ali Khan. This delightful film effortlessly weaves together elements of comedy, drama, and romance, resulting in an enchanting cinematic experience. The story revolves around a married couple facing privacy issues due to their relatives living with them. The movie is full of twists and turns, where they figure out a way to solve their problem by participating in a government scheme. However, the catch lies in the requirement for their divorce to meet the eligibility criteria. With impeccable comic timing and a sequence of unforgettable dialogues, this cinematic gem promises to Baffle viewers, leaving them utterly spellbound. So, what are you waiting for?
Bollywood has gifted us with a treasure trove of romantic comedy movies, ranging from timeless classics to recent favourites. These films have captivated audiences with their engaging storylines, delightful humor, talented casts, and stellar performances. These movies explore the theme of love, family, friendship, societal norms, etc. Not only do the movies provide us with humour and entertainment, but they also narrate a meaningful message. So, whether you're in the mood for a nostalgic trip down memory lane by watching the classical hits or if you are willing to explore the recent, Bollywood has something for everyone.