20+ Best Romantic K-Dramas sorted by IMDB Ratings & Where to Watch Online Links
South Korea is ruling over the music industry with K-pop but Kdramas aren't far behind! Fans all around the globe support their favorite actors and actress, be it Park Seo-Joon and Ji Chang-Wook or Kim Go-Eun, or Park Min-young! K-dramas are known for their Korean romance series, so, today I'm here to present to you a list of the Best Romantic Kdramas I've seen! With a bunch of mixed genres like Romance/Thrillers, Mystery/romance, Romantic/Comedy, and pure romance I've got you a whole range. A list purely curated for you to binge through (it contains one of the highest-rated shows in Korean cable history!). And in case you are looking forward to romance with slight dose of laughter then we highly recommend you to check out our list of 25+ Best Romantic Comedy Korean Dramas. Lets continue and Here are the 20 Best Romantic Korean Dramas sorted by IMDB ratings! (ranked from the best to the least rated) By the way, you can click on the link in the list and reach your favorite show and binge watch! Isn't it super cool? Let's go 😀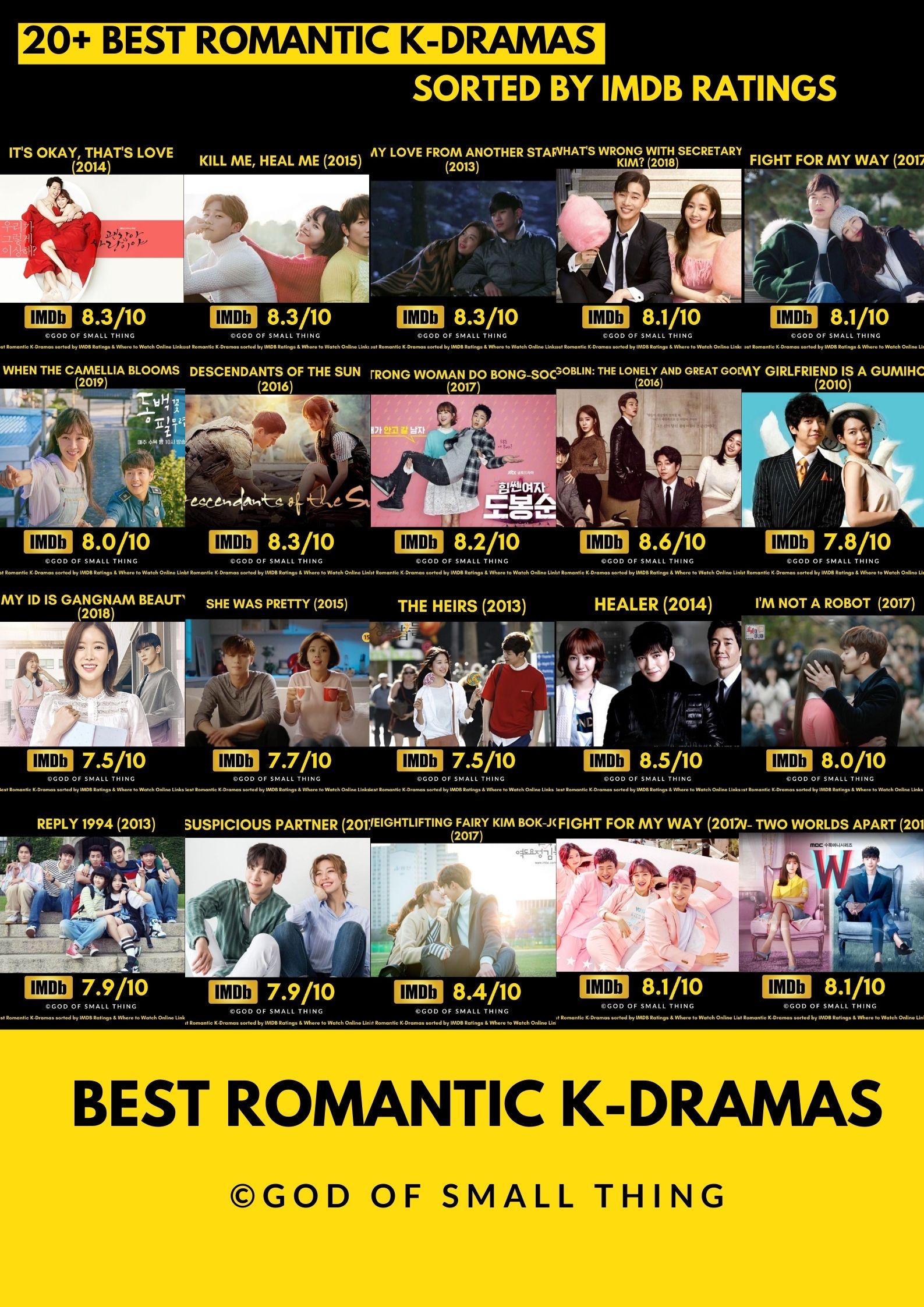 1. Crash Landing on You (2019)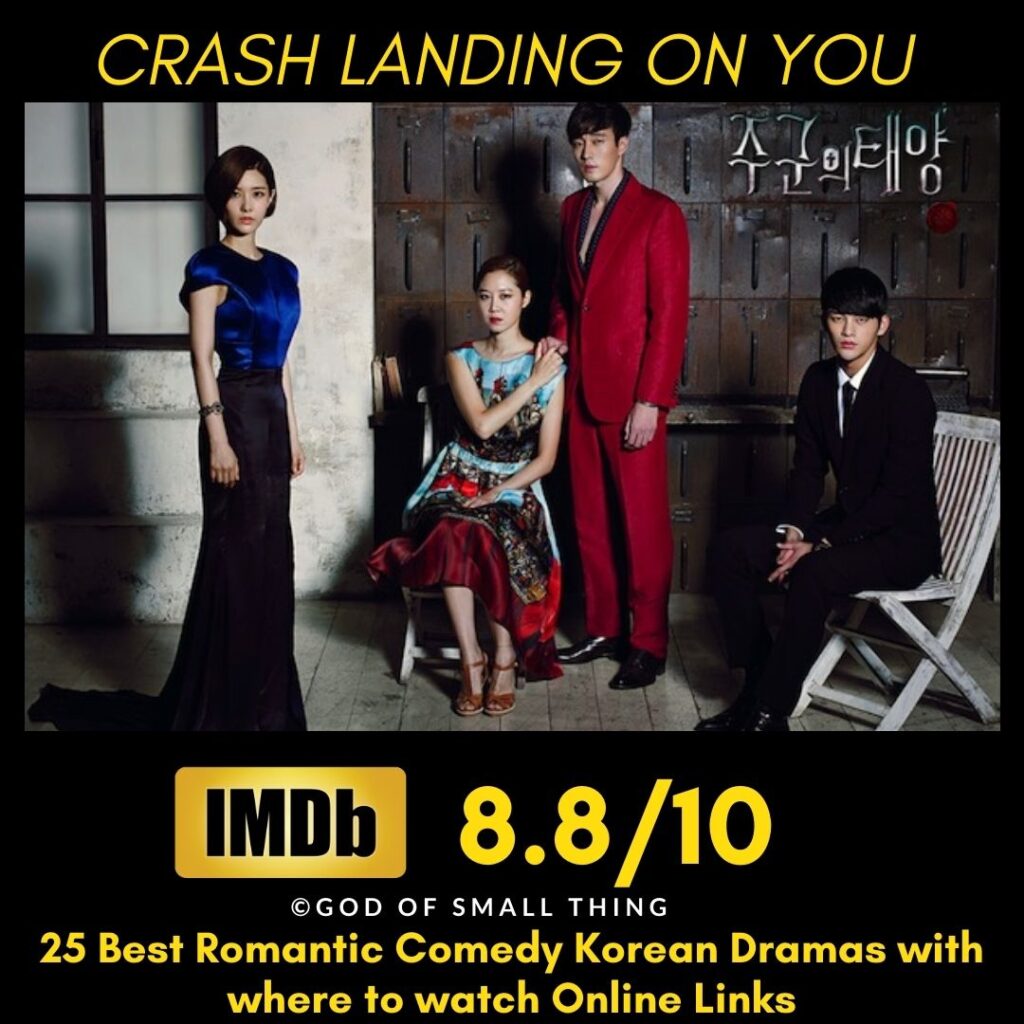 IMDB Ratings: 8.7/10
Cast: Hyun-bin ,Son Ye-jin , Kim Jung-hyun, Seo Ji-hye
This 2019 drama, Crash Landing on You also known as CLOY is the best romantic Korean drama as per IMDB Ratings. This romantic k-drama is about a South Korean chaebol heiress who, while paragliding in Seoul, South Korea, is stuck in a sudden storm, crash-lands in the North Korean portion of the DMZ. There, she meets a Captain in the Korean People's Army. Later, they fall in love, despite the divide and dispute between their respective countries.
With 16 episodes, it is the third-rated South Korean drama in the cable TV industry. In a short span, k-drama became popular in India as well. One of the reasons why this series is so popular worldwide is because of the lead pair. Hyun-bin and Son Ye-jin are known for picking the best of the scripts, and the fact they have previously starred in a movie together, The Negotiation in 2018, only solidified their team-up giving the TV drama an edge over other romantic comedy dramas ever.
2. Goblin: The Lonely and Great God (2016)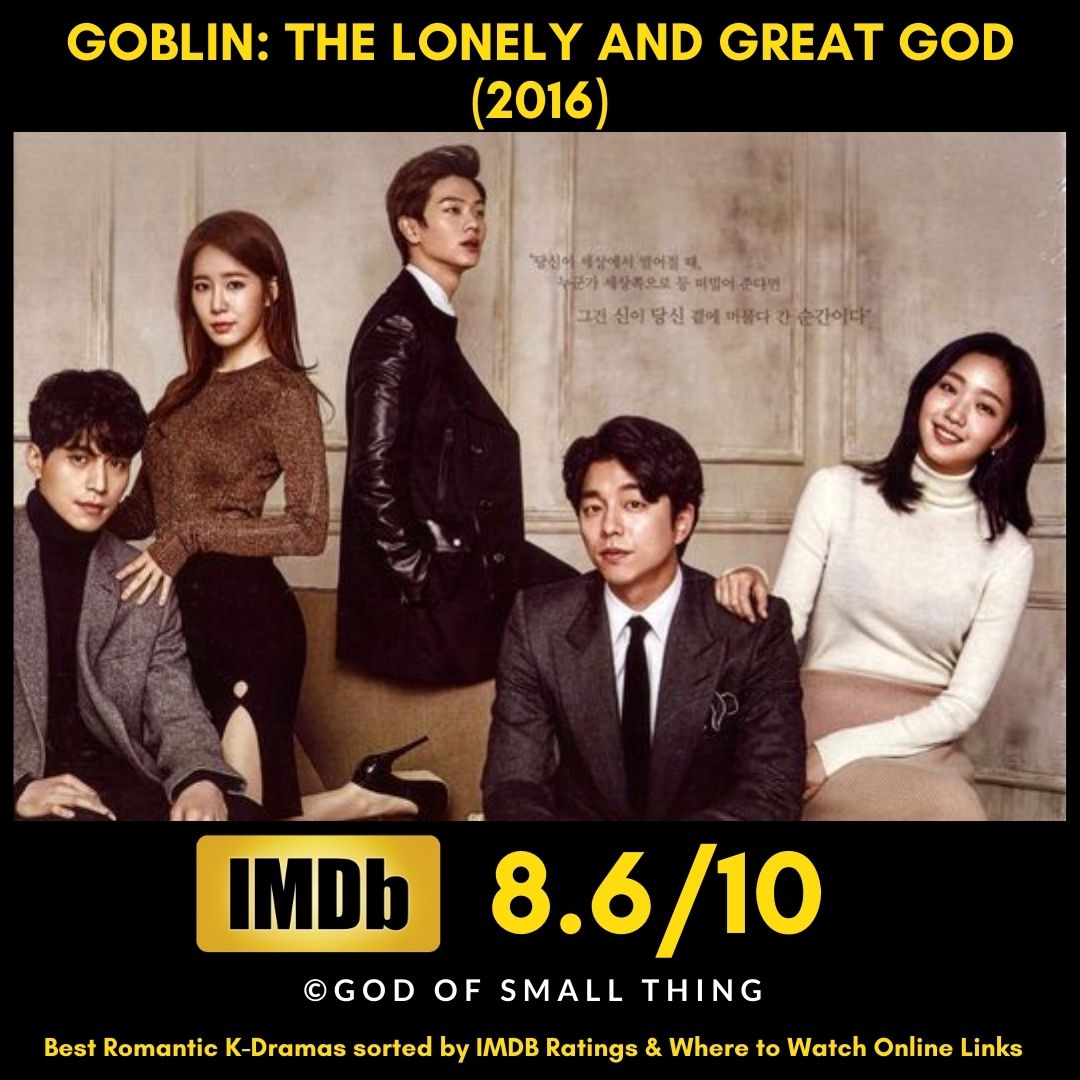 IMDB Rating: 8.6/10
Cast: Gong Yoo, Kim Go-eun, Lee Dong-wook, Yoo In-na, Yook Sung-jae, Lee El, Choi Ri, and Hwang Seok-jeong.
One of the most popular romantic kdramas to watch with fantastical elements, Goblin is extremely popular in Asia and worldwide as well! About a military officer from the ancient Goryeo Dynasty, he was the savior, one who won every war and brought a great victory. But after being framed as a traitor and killed, Kim Shin is cursed to stay immortal forever and endure the of seeing all his beloved people die as he stays young forever. The only one to end his immortality is the Goblin's bride who can finally pull the sword to end it all. Ji Eun-Tak, a cheerful high school student is called the Goblin's Bride and their fates intertwine as she summons him by accident.
The Goblin's nephew rents off his house to the Grim Reaper and the Goblin and the Grim Reaper end up living under the same roof. Sunny, a young lady who owns the restaurant that Eun-Tak works at, all these lives intertwine in ways no one could predict. Kim Shin, Ji Eun-Tak, Sunny, and the Grim Reaper have stories that run deeper than they thought, they might not be just strangers who meet by chance! Fun fact: It is the 5th highest-rated Korean drama in history! It definitely deserves the critical acclaim and the cultural phenomenon status that this Korean romantic series has secured!
3. Healer (2014)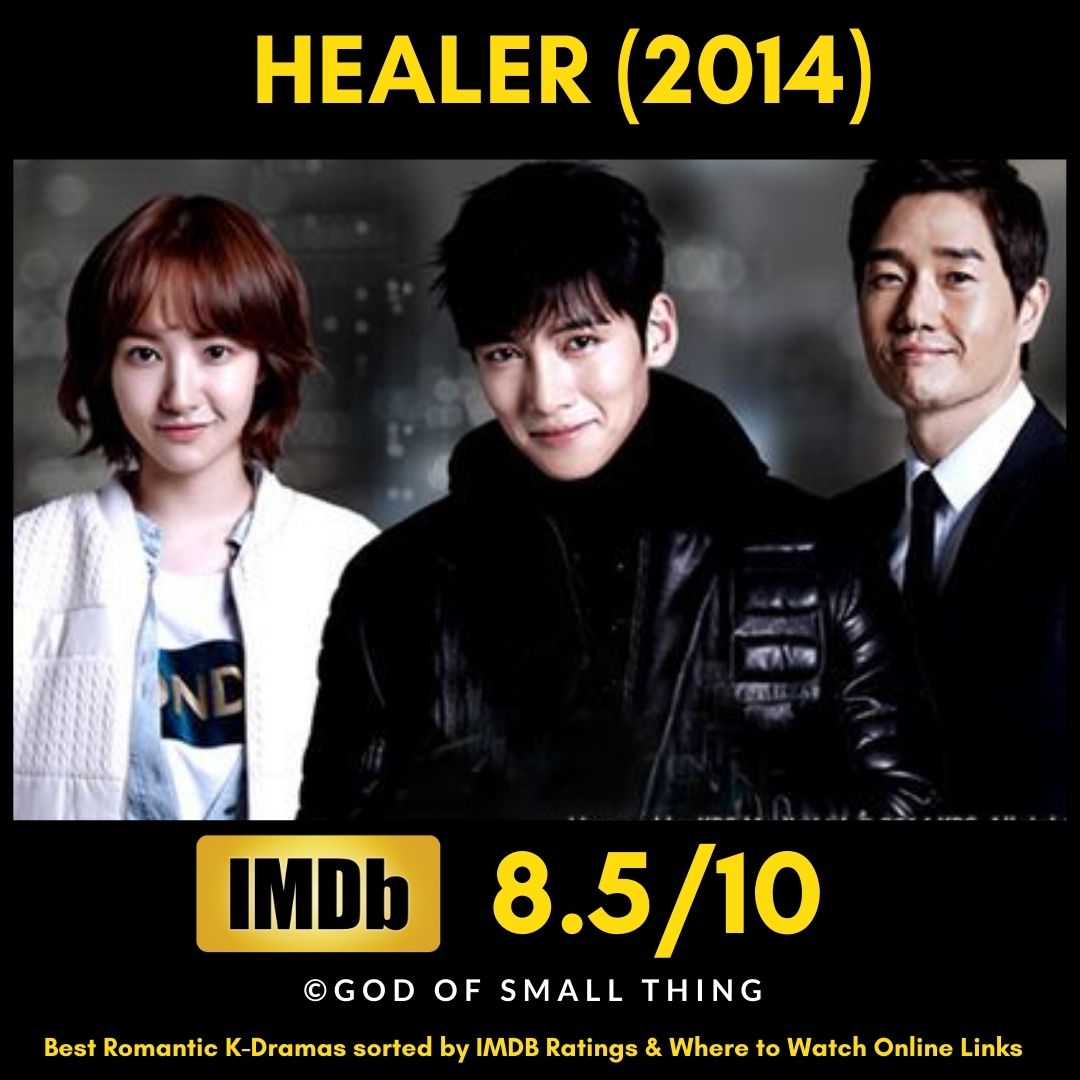 IMDB Rating: 8.5/10
Cast: Ji Chang-wook, Park Min-young, Yoo Ji-tae, Ki Mi-kyung, Oh Kwang-rok, Ji Il-joo, Taemi, Ji Il-joo, Lee Kyung-shim, and Park Sang-myun.
This is a massively popular romantic kdrama was the one which boosted Ji Chang-Wook to new heights of success across Asia! The plot revolves around an illegal night courier, Seo Jung-hoo also known as 'Healer' is a mercenary who will do anything his client asks him to. However, he sets his boundaries, he never accepts any requests that include murder and kidnapping. Possessing top-notch fighting skills he does everything he can with the help of his technical partner. When a mysterious mission comes along his way to monitor a young woman named Chae Young-Shin. She is a small reporter at a news agency, who wishes to be the best reporter and admires the 'Healer'. He goes undercover as an intern in her company to follow her.
Kim Moon-ho a popular report at a major company learns truths about a past that brings all three people together. An old murder case involving a group of people who ran an illegal broadcasting station that unravels during the entire run of the show. He never thought that he'd fall for the reporter, he gets protective and saves her from every harm. He works on solving the case that connected them in surprising ways. A thrilling action Korean romantic series that you will definitely want to binge the whole way through!
4. Weightlifting Fairy Kim Bok-joo (2017)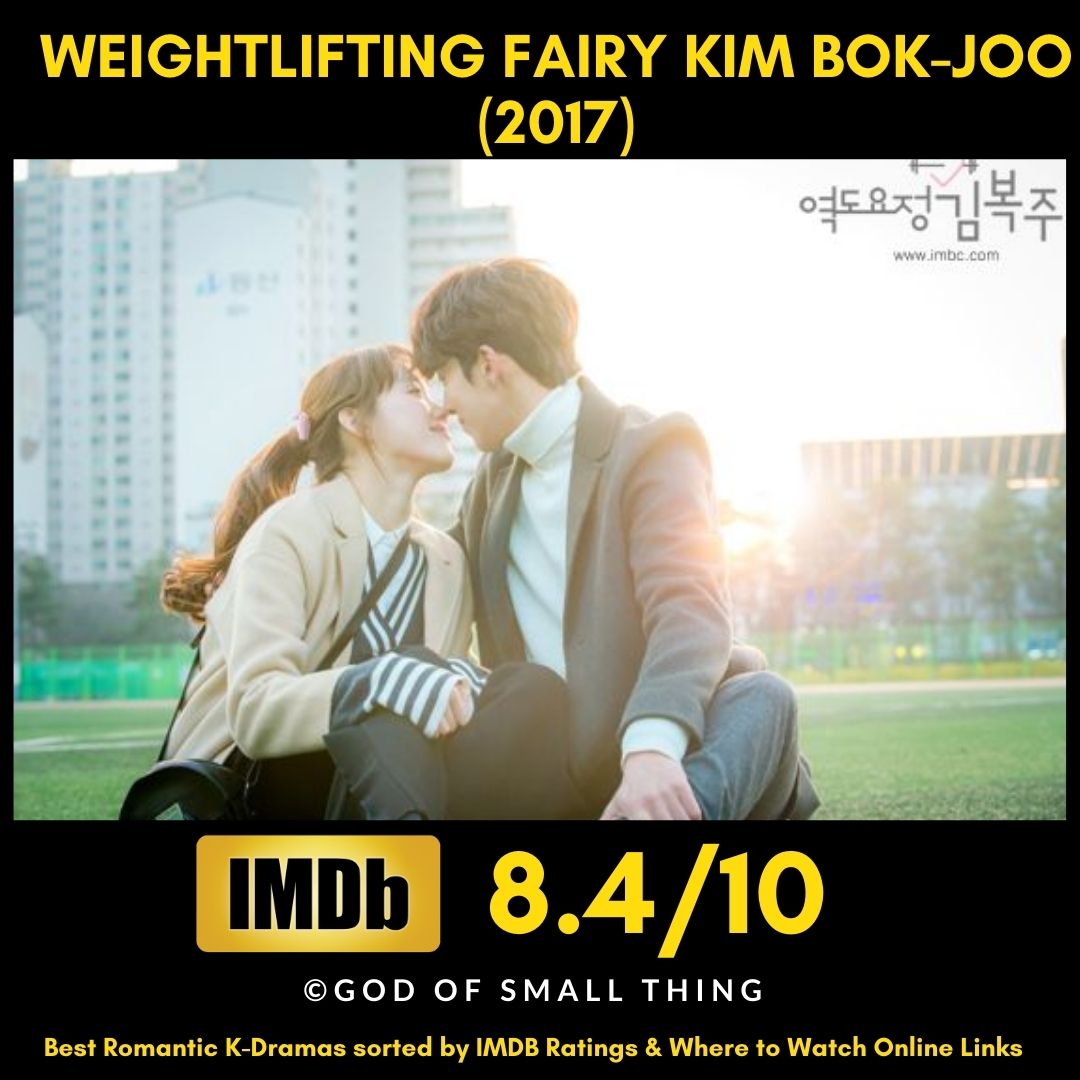 IMDB Rating: 8.4/10
Cast: Lee Sung-kyung, Nam Joo-hyuk, Lee Jae-yoon, Kyung Soo-jin, Lee Joo-young, Ji Il-joo, Cho Soo-hyang, Kang Ki-young.
A coming of age romantic kdrama that tugs at your heart-strings. With themes surrounding friendship, dreams, goals, insecurities, family, and love. About a group of college students who dream to become top athletes and find their purpose in life. Growing every step in the way, Bok-Joo is a talented weightlifter that struggles with self-acceptance and Jung Joon-Hyun is a playful swimmer that struggles with his past. When they meet each other they instantly catch eyes with playful dialogues and cute interactions.
Their very first scenes start off with a hilarious misunderstanding that develops into a friendship. While working to fight off their demons and achieving their dreams they find love and accept everything that comes with it. These topics might seem too dark, the actors do a great job at making it a light-hearted watch. The supporting characters making the scenes hilarious with their witty commentary it all comes together perfectly. While this best romantic Korean drama might not have done great while it came out, it later garnered a huge fanbase in and outside South Korea.
5. While You Were Sleeping (2017)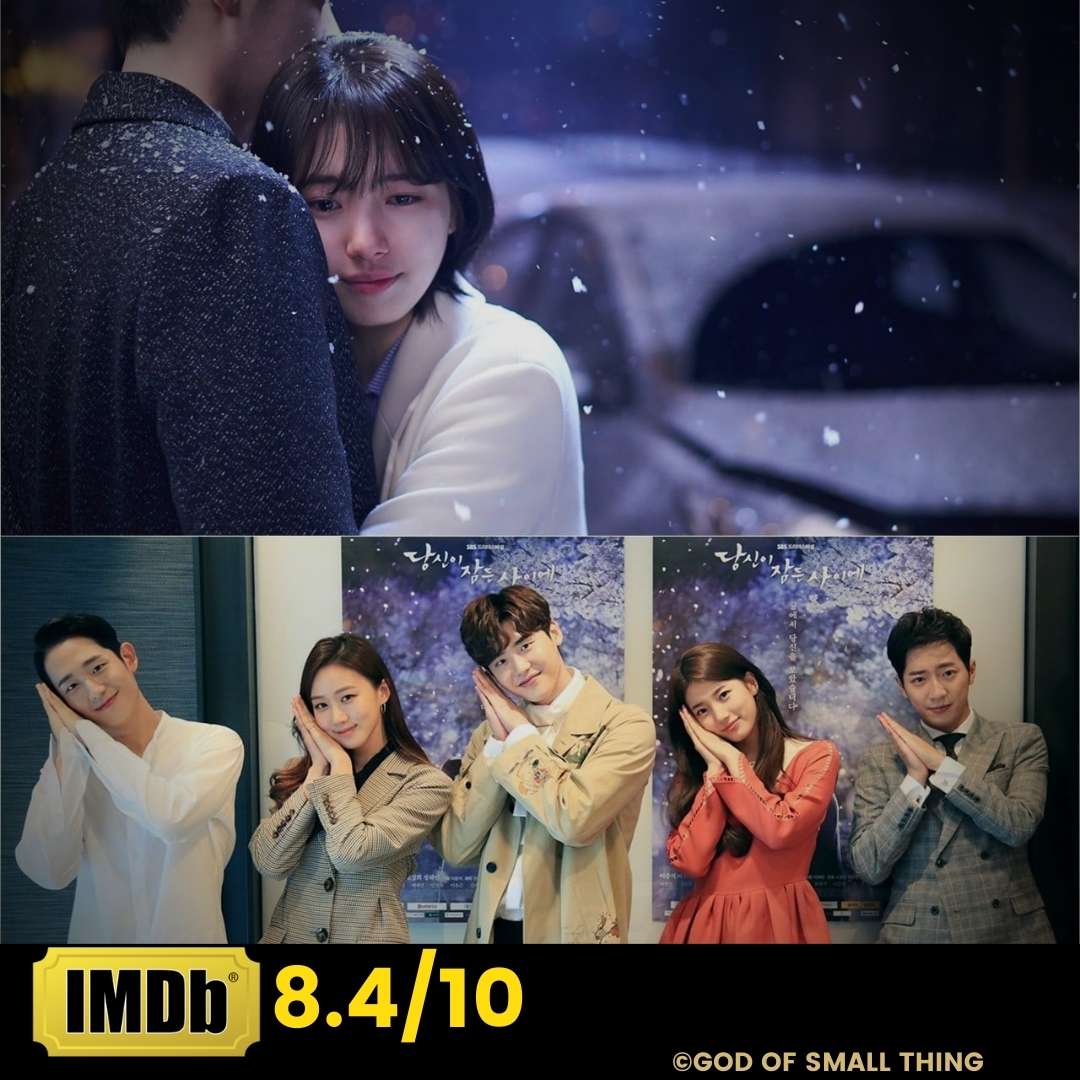 IMDB Ratings: 8.4/10
Cast: Lee Jong-suk, Bae Suzy, Jung Hae-in, and Lee Sang-yeob
If you are among the ones who love action and mystery along with love and romance then this kdrama is the one to binge-watch right away. Nam Hong-Joo dreams of people's deaths, but she doesn't know when these deaths will actually happen. Although she did her best to save these people, such as telling a man that he did not smoke because she dreamed that he would drop a lighter on gasoline and cause him to die, she rarely succeeded.
At the same time, the rookie prosecutor Jung Jae-chan (Jung Jae-chan) moved into her neighborhood. A series of events disbanded and led them to work together in later cases. Their work becomes romance soon and the story takes another angle. Consisting of sixteen chapters distributed over 32 episodes, this legal drama-fantasy television series will keep you engaged.
6. My Love From Another Star (2013)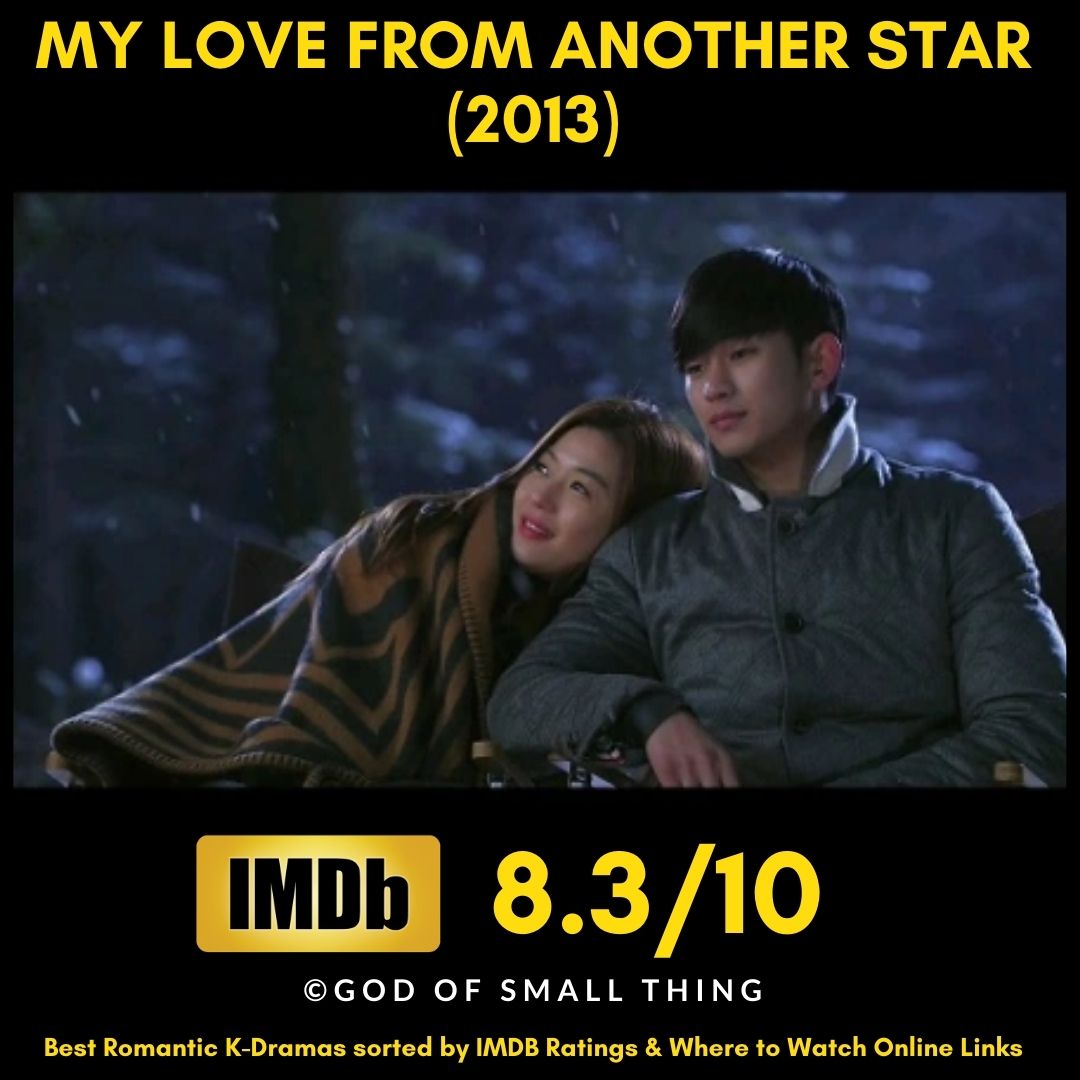 IMDB Rating: 8.3/10
Cast: Jun Ji-hyun, Kim Soo-Hyun, Park Hae-jin, Yoo In-na, Shin Sung-Rok, Ahn Jae-hyun, and Kim Chang-wan.
This Romantic K-Drama was a huge hit with Hallyu Stars Like Kim Soo-Hyun and Jun Ji-Hyun. The protagonists are some of the most popular and loved actors in Korea and other parts of the world. This 21-episode series is considered one of the best romantic Korean dramas of all time. About an alien who lands on Earth in the Joseon Dynasty. When Do Min-Joon lands in a village his frolic mind enjoys the new things on Earth. He crosses paths with a Young girl who was on the verge of falling from a cliff, this changes everything. He misses his ride back to his planet and gets stuck on our planet seemingly forever. Flash forward 400 years, still stranded, he amasses immense wealth, learns many languages and subjects, among other things.
However, he lived all his life on Earth in isolation. Possessing perfect appearance, vision, superhuman strength, and speed, he has everything, but he meanwhile develops a cynical view of humans. His long-awaited departure due in three months, but as if destined to meet each other, he meets Cheon Song-Yi. A free-spirited top-actress who is slightly on the not-so-smart side of the spectrum, she moves in next door. Gradually, he finds his life entangled with her in strange and unexplainable ways. He makes efforts to not get too close, for he had to get back home before he misses another chance. But, he constantly finds himself next to her and fails to keep away. As her great acting career vanishes after a few incidents, Song-Yi and Do Min-Joon go through tough times together, all while unaware that he is an alien. 100% recommend to binge this Korean love drama if you are looking for a wholesome romance!
7. Descendants of the Sun (2016)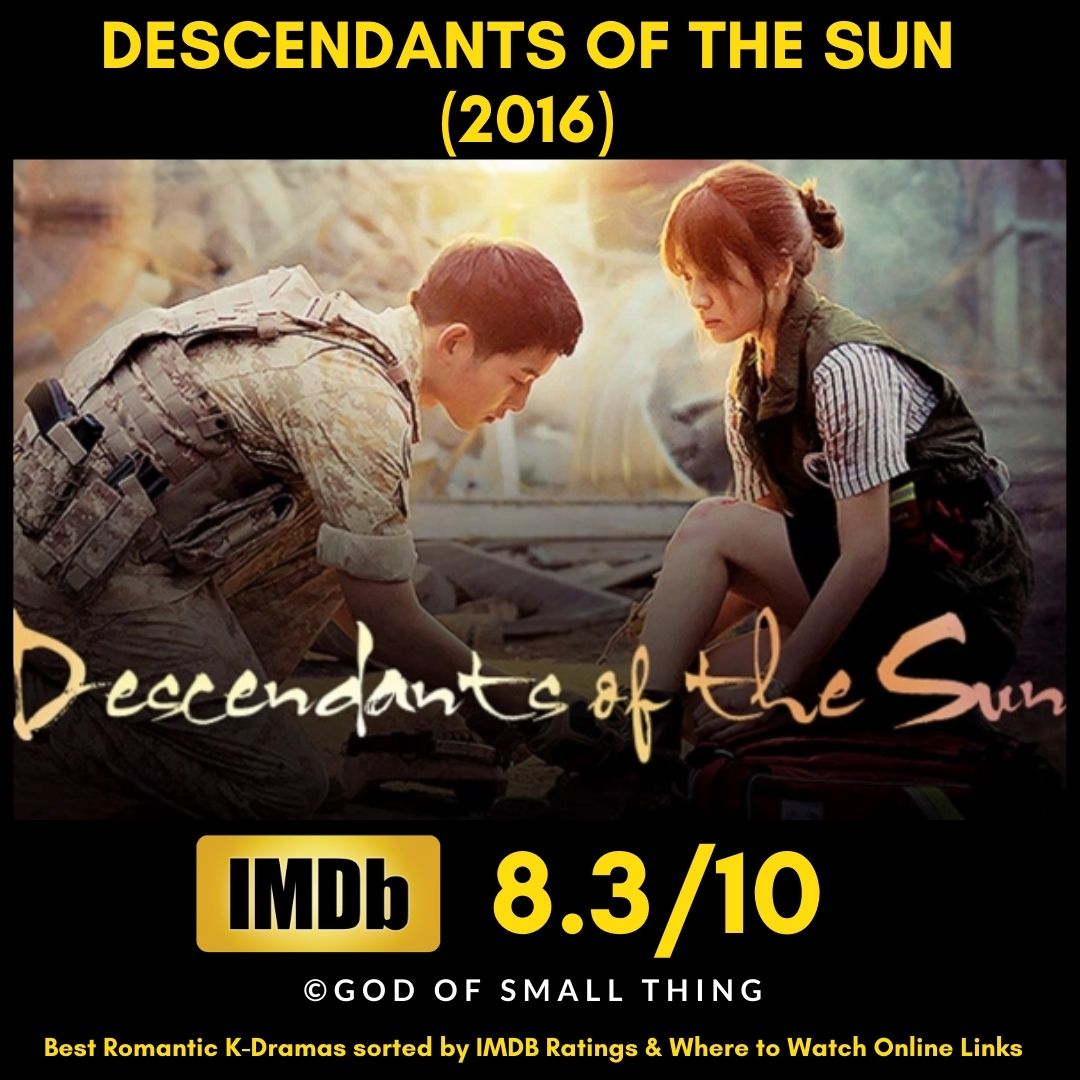 IMDB Rating: 8.3/10
Cast: Song Joon-ki, Song Hye-kyo, Jin Goo, Kim Ji-won, Park Hoon, Choi Woong, Ahn Bo-hyun, Onew, Lee Seung-joo, and Lee Seung-yeon.
The next romantic kdrama on this list is Descendants of the Sun. A highly popular romantic series that has worldwide popularity, this drama revolves around Shi-jin and Mo-Yeon. Shi-jin is a captain of the special forces, while Mo-Yeon is a doctor. They meet first and he immediately falls in love with her but has to leave for the sake of his duties. They meet each other and realize how different their lives are. Shi-jin killed for his country and Mo-Yeon saves the lives of the people of her country. They later cross paths with each other after Mo-Yeon is transferred to the base where Shi-jin stayed.
He leads his soldiers to keep the peace. The basic themes of the plot are along the lines of the difference in ideologies of peace, they experience hard times together through difficult situations. A great romance with amazing actors and a pretty solid script and story this Korean love drama definitely deserves a place on this list!
8. It's Okay, That's Love (2014)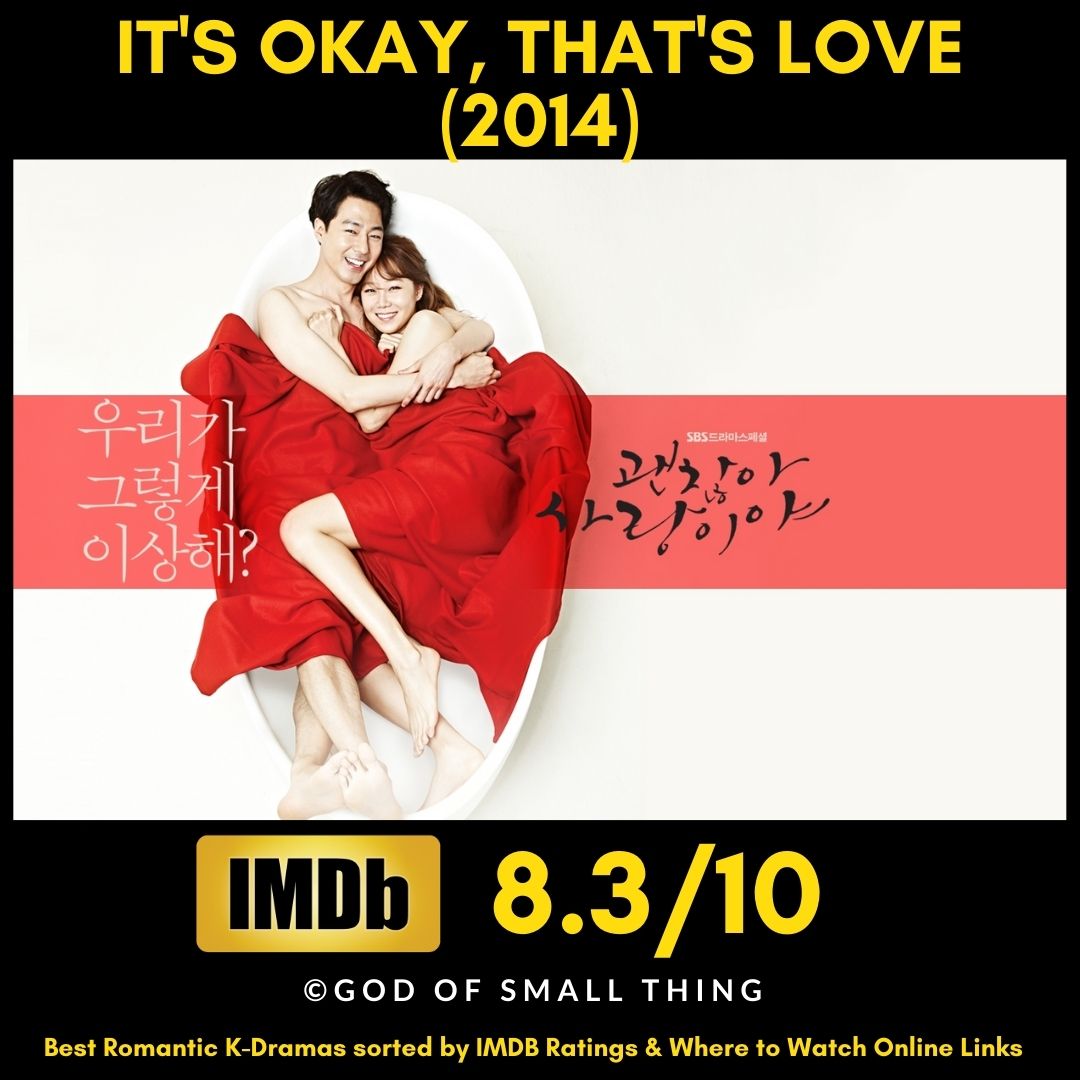 IMDB Rating: 8.3/10
Cast: Jo In-sung, Gong Hyo-jin, Sung Dong-il, Lee Kwang-soo, Do Kyung-soo, Jin Kyung, Lee Sung-kyung, Yang Ik-june, Cha Hwa-yeon, and Kim Mi-kyung.
This romantic k-drama tackles the topic of mental illness with a light-hearted tone. About a bestselling author who writes mystery novels, Jang Jae-Yeol is playful and a bit arrogant at times. His past- largely controls him and he suffers from Obsessive-Compulsive Disorder as a direct result of trauma. Jae-Yeol's life was traumatic, to say the least, he had an abusive father when he was young. One day her mother accidentally ends up killing the father, but to protect his mother he falsely testifies against his brother. This guilt was eating away at him and eventually leads to OCD.
Ji-Hae-Soo, a psychiatrist is driven by pure passion and compassion towards all her patients, but she chided at the concept of love and relationships. When they both meet, one immediately clashes with the other's personality and refuses to give into each other. However, they eventually learn how they fit each other really well, both try to heal each other. It all goes downhill when Hae-soo realizes the seriousness of Jae-Yeol's mental condition. A complicated love story with both the protagonists dealing with mental issues and they work together towards it. A really heart-touching Korean romantic series with hilarious scenes spread out evenly, a perfect blend.
9. Kill me, Heal me (2015)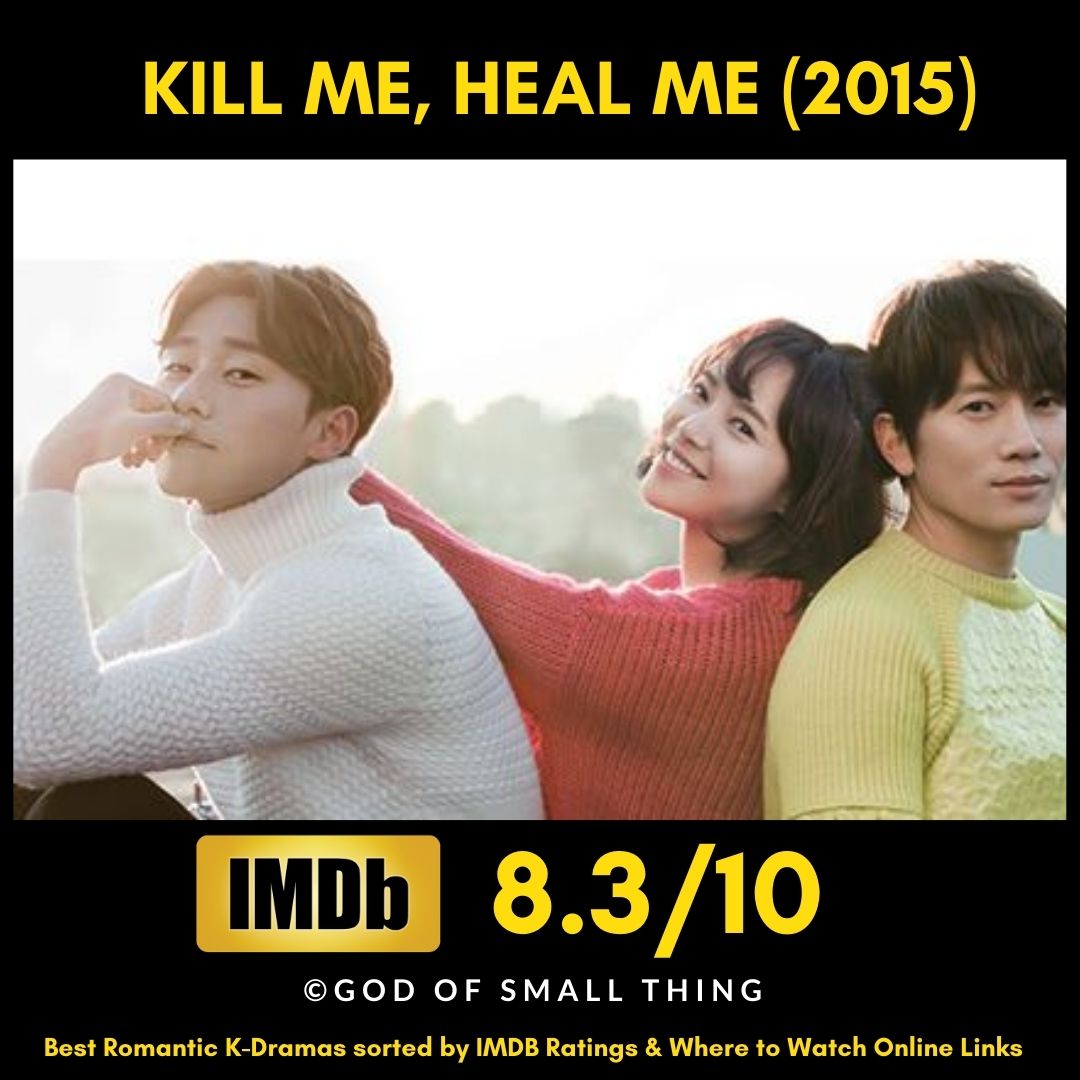 IMDB Rating: 8.3/10
Cast: Ji Sung, Hwang Jung-eum, Park Seo-joon, Oh Min-suk, Kim Yoo-ri, Choi Won-young, Ko Chang-seok, Kim Yeong-jae, Shim Hye-jin, and Ahn Nae-sang.
One of a kind Korean romantic series that incorporates the psychological condition Dissociative Identity Disorder and child abuse as focal points in the drama. Cha Do-Hyun is a warmhearted business heir that develops dissociative identity disorder after several life-threatening events in his past. To survive every incident his mind created a split personality for each situation. He is the main personality of the body anything can trigger one of his seven personalities to come out in public. With the help of Oh Ri-jin a pretty psychiatrist he tries to regain full control over his mind. She treats him in secret and slowly falls in love with I'm. But Do-Hyun has a little bit too much on his mind.
I think if you have a taste of dramas like It's Okay, That's Love. Then you definitely would love watching High School Dramas. We recommend you to try 30 Best Korean High School Dramas. They are cool and more like the fairy tale first love scenario-based and we personally love them! and and and Each link in the article will open in New Tab so you can finish this off and switch to another tab 🙂
Her twin brother, Oh Ri-on often gets a mistake for a playful soul when in reality he is a famous mystery novel writer with the pseudonym Omega. He sets out to investigate and uncover the truth behind the facade of the rich, he tags Do-Hyun and follows him around. Do-Hyun fights every day against himself to gain absolute control of his body, can he take control before one takes over forever? This unique love story between a psychiatrist and her patient is very interesting and hilarious at times. Make sure to catch up on this on my best romantic Korean drama list!
10. Strong Woman Do Bong-Soon (2017)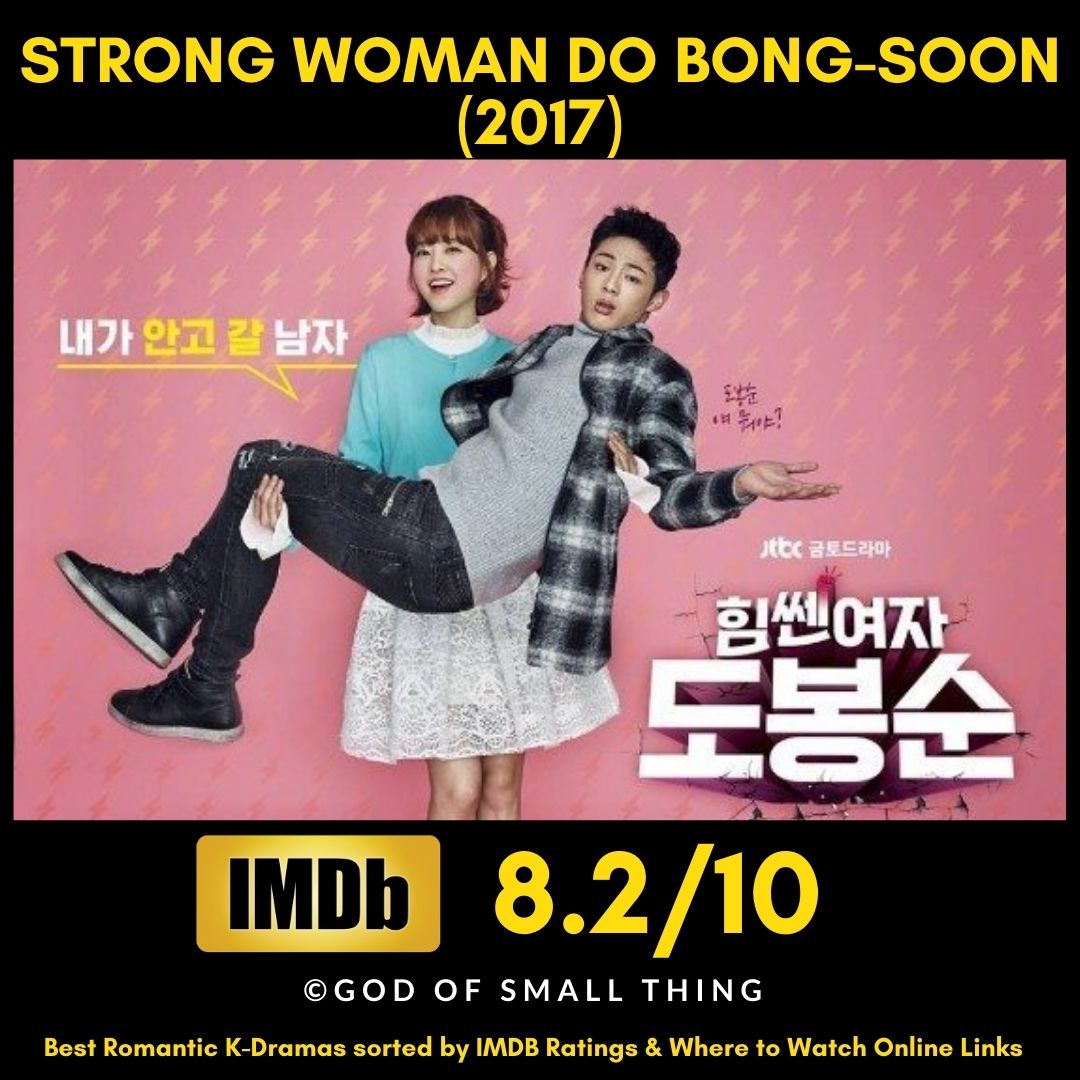 IMDB Rating: 8.2/10
Cast: Park Bo-young, Park Hyung-sik, Ji Soo, Ahn Woo-yeon, Shim Hye-jin, Yoo Jae-myung, Jeon Seok-ho, Seol In-ha, Im Won-hee, and Jang Mi-kwan.
A new concept like this Romantic Kdrama was a commercial hit and rated among the highest-rated shows on cable TV in South Korea. Do Bong-soon is a unique female character that was born with superhuman strength. The ability is passed down through generations of women in her family, it was only to be used for good. She dreams of developing a game character after herself and desperately wants to become a delicate and soft woman for her crush In Guk-doo. Ahn Min-hyuk, a young CEO of the multi-million dollar gaming company is an eccentric and playful guy. He scouts Bong-soo for her strength as a bodyguard after receiving multiple threats. He immediately is fascinated and attracted to her, but she only had eyes for her childhood crush.
Guk-doo is a policeman that gets in deep while solving multiple homicides surrounding Bong-soon's neighborhood. As the cases of abduction increase, Bong-soon gets desperate to catch the criminal and put her powers to use. With help from Min-hyuk, she manages to control and channel her power. They develop their relationship into something more than a boss-employee while they find themselves in comical and over-the-top dangerous situations that eventually brings them closer to each other. With a very cute romance and a sub-plot of homicides and mystery, this romantic Korean series is very addicting!
11. Hotel Del Luna (2019)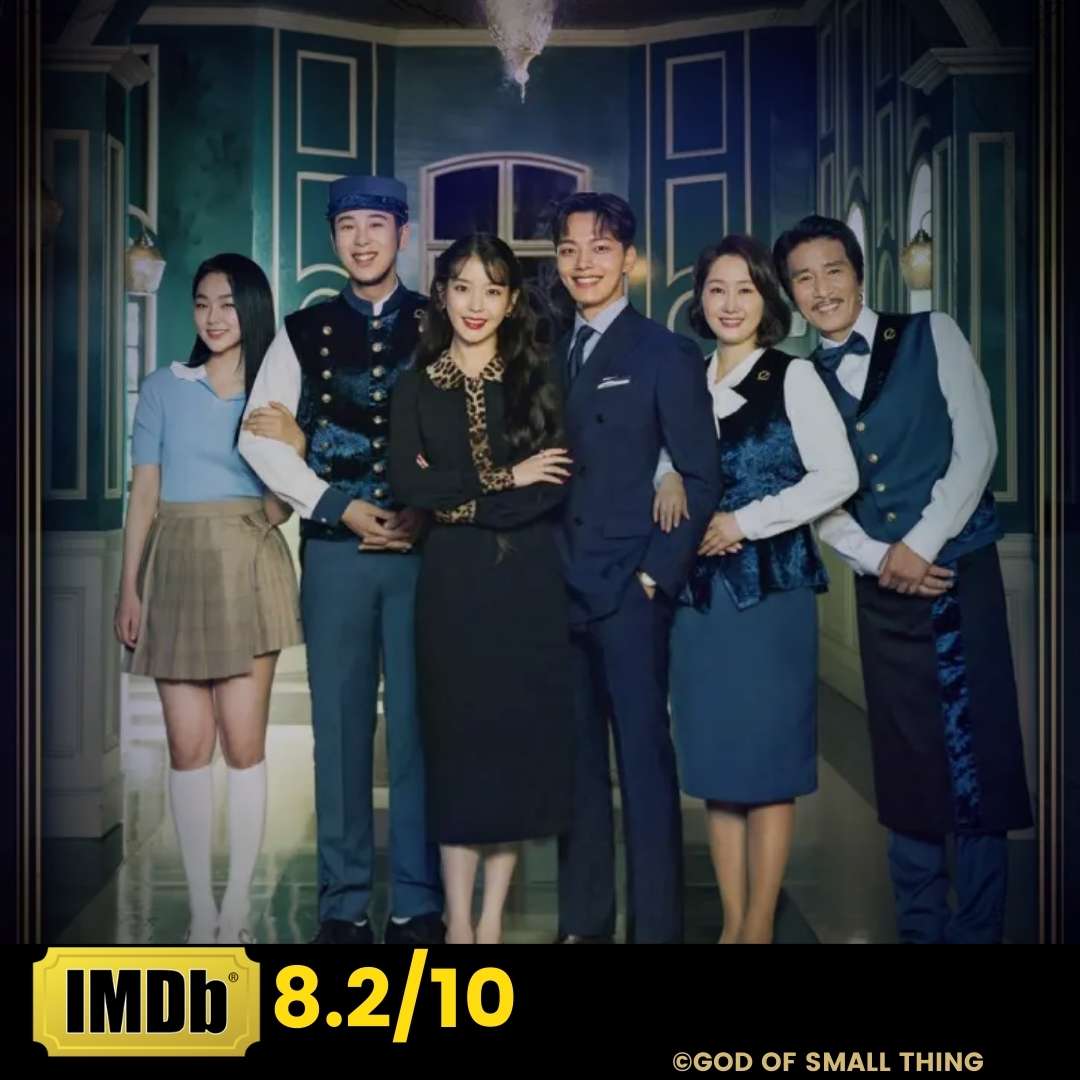 IMDB Ratings: 8.2/10
Cast: Lee Ji-eun, Yeo Jin-gu, Shin Jeong-geun, Bae Hae-Sun
This 2019 drama is just a perfect addition to this romantic kdramas list because it has an amazing storyline, near-perfect cinematography, beautiful screenplay, talented cast, and what else you could think of. It was one of the highest-rated Korean drama in the cable television history of South Korea. As punishment for killing innocent people out of anger, Zhang Wanwen was cursed to run Hotel Del Luna (a scary hotel) for life, or at least until the curse was lifted. The hotel is actually a retreat for lost souls, allowing them to continue in the afterlife.
Although this hotel caters to ghosts and is largely operated by category, it still requires personnel to assist with daily administrative tasks, such as tax filing. This honor is attributed to Ku Chan-song, who not only manages hotel guests but also serves as the personal assistant to the owner, Man-wol. From driving a luxury car to accompanying her to her favorite restaurant, Chan-song has to stay with her boss almost 24/7 – no wonder she developed a romantic relationship over the course of the 16 episodes.
12. Fight For My Way (2017)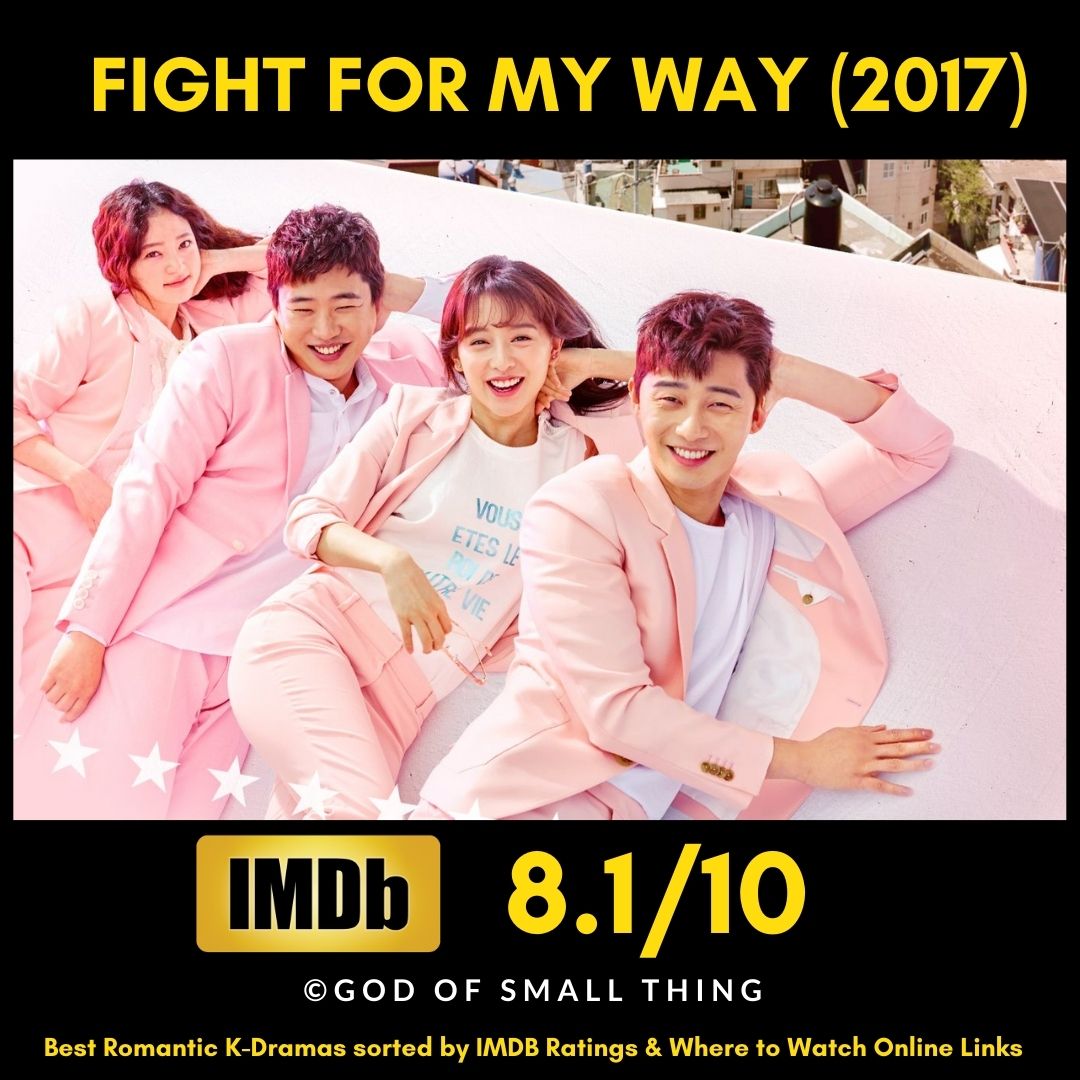 IMDB Rating: 8.1/10
Cast: Park Seo-Joon, Kim Ji-won, Ahn Jae-hong, Song Ha-Yoon, Son Byong-ho, Kim Ye-ryeong, Jo Eun-Yoo, Lee Elijah, and Kim Sung-oh.
One of the best romantic Korean drama about dreams and survival. An inspiring story about 4 friends, Ko Dong-man, Choi Ae-ra, Kim Joo-man, and Baek Seol-hee. All four dream of making it big in life while living in cramped apartments and craving for success in fields that seem impossible. Ko Dong-man, a former famous taekwondo player that quits after a traumatic past, now lives his life doing menial jobs to make it through. Choi Ae-ra is a strong and confident woman who works at an information desk at a store but dreams to be a huge announcer. When she holds a mic she feels powerful, but opportunities never seem to come her way, but she never gives up.
Joo-man a smart guy who dreams of earning enough money for himself and his girlfriend Seol-hee. However, his loyalty and love get put to test. Finally, Seol-hee is a cute innocent girl who is madly in love with Joo-man and he is the center of her universe. She craves to find a purpose in life. Dong-man and Ae-ra are two immature friends that start to have feelings for each other, we follow their cute romance, while we witness the character development of each of these underdogs. We see them grow a step closer to their dreams and find purpose in life. A great Korean romantic series you are bound to enjoy!
13. Legend of the Blue Sea (2016)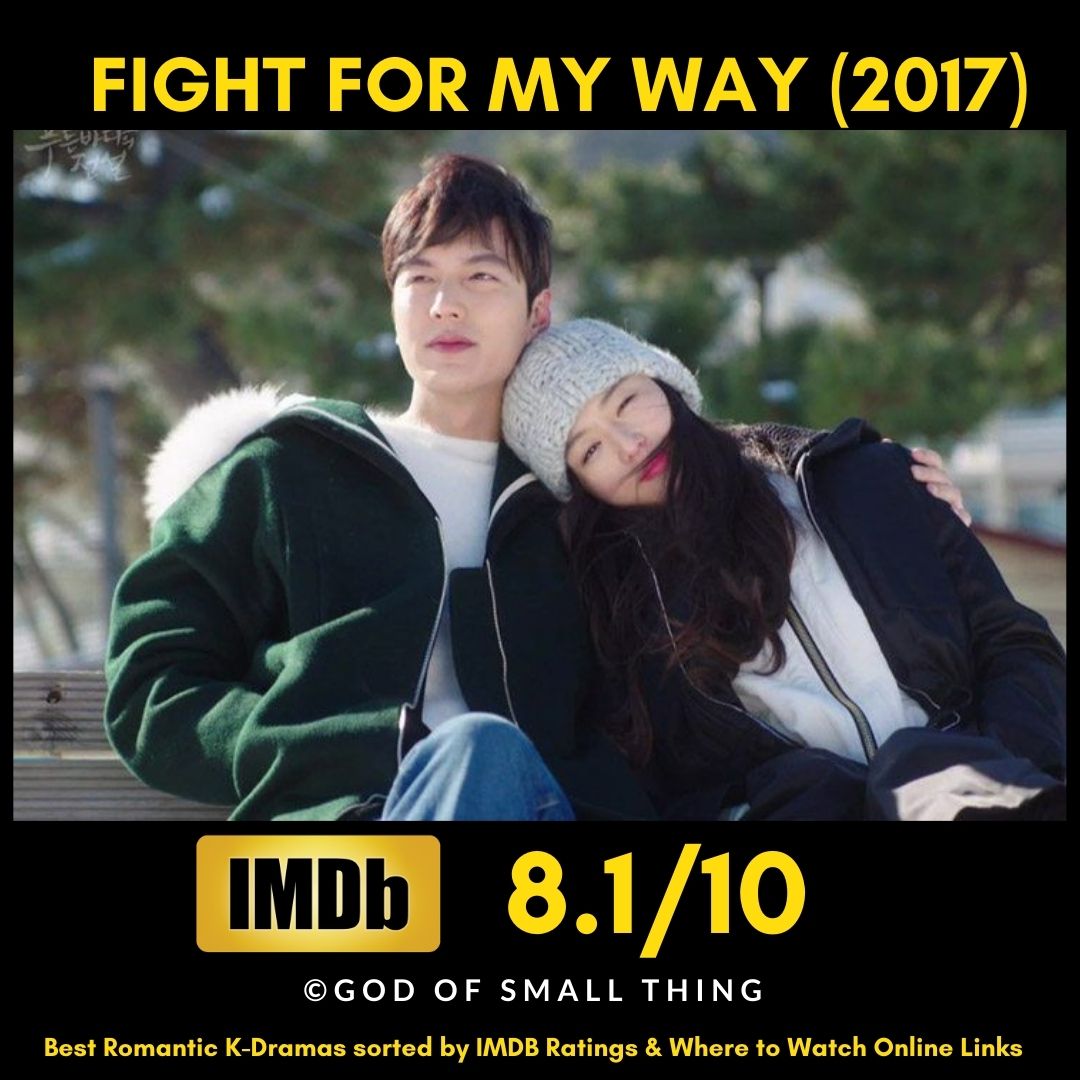 IMDB Rating: 8.1/10
Cast: Jun Ji-Hyun, Lee Min-ho, Lee Hee-joon, Shin Hye-sun, Shin Won-ho, Lee Ji-hoon, Na Young-hee, Hwang Shin-hye, and Sung Dong-il.
This iconic and extremely popular romantic k-drama is inspired by the classical Joseon legend. The unofficial historical stories about a fisherman and a mermaid. Centering the lives of Heo Joon-Jae, a rich con-man, and a mermaid named Shim Cheong. The plot shifts between parallels of the Joseon era incarnations of the pair and their present. Joon-Jae becomes a con-man after his parents divorced and while on a mission he finds a mysterious woman that breaks into his apartment. Shim Cheong is swept up on his shore on an oceanside resort and ends up at his place. Their past is a complicated one that you'll have to delve into yourselves. To avoid spoilers, I will not go into detail about the past incarnations.
In 1598, the governor Dam Ryung who stays in an inn owned by Mr. Yang. One night, Yang shows up with a captured mermaid by his side. Dam Ryung releases her into the ocean. But, just before she swims away, she holds her hand out and they hold hands for a short moment. These moments intertwine their fates much deeper than they thought. A very interesting plot with hilarious scenes played by Shim Cheong who knows nothing about life on land and romance between the protagonists is incredible! I 100% recommend it to have good laughs, it's a hilarious Korean romantic series!
14. W- Two Worlds Apart (2016)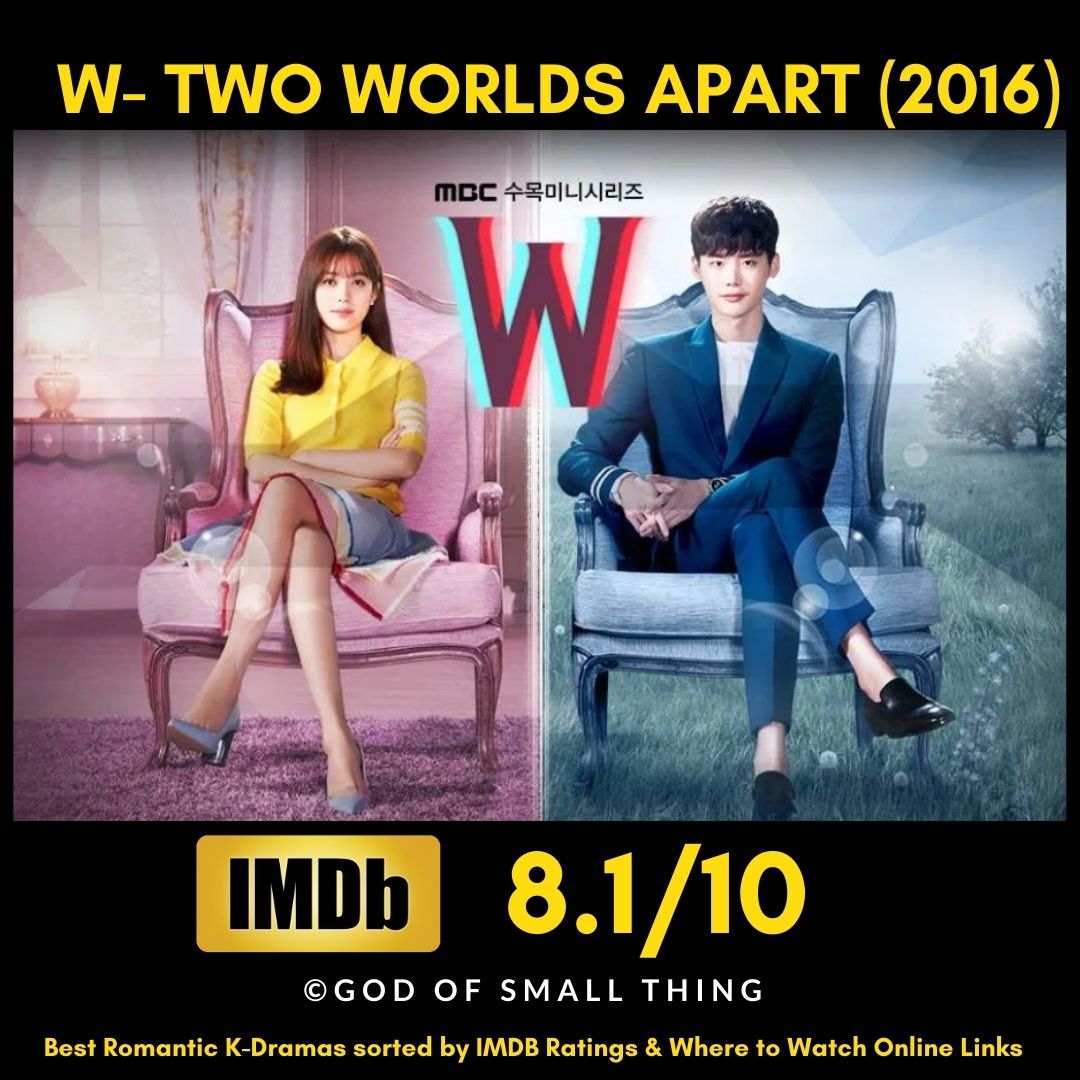 IMDB Rating: 8.1/10
Cast: Lee Jong-suk, Han Hyo-joo, Kim Eui-sung, Jung Yoo-jin, Lee Tae-hwan, Park Won-sang, Lee Si-eon, and Nam Gi-ae.
The next one on my best romantic Korean drama list is one of the best Korean series I've seen by far, the reason it comes so low on this list is that there is a bit more of thrill and mystery than romance, but it is a good portion of the show. Set in two different worlds, one in the real world, and one world in the comics created by Oh Seong-moo. W is a series of huge illustrations and webtoon series in this world, with millions of copies sold. The first episode starts off with the main character of the webtoon Kang Chul, a handsome protagonist and a shooter who wins during the 2004 Olympics. It all goes down the drain when a mysterious man in a black hood murders his entire family and he gets framed for multiple homicides.
He is later deemed innocent but the loss of his family loomed over him, it nearly drove him to suicide. But he decides to find the real-killer and devotes his life to the cause. On the other side, Oh Yeon-Joo is a doctor and the daughter of the famous illustrator Oh Seong-moo. When she finds out that her father was missing she heads over to his studio to investigate. A hand sticks out of her father's art station and she gets pulled into another world. Before she realizes it she was on the rooftop of a hospital and a man was bleeding out on the floor. After saving his life she realizes that the man in from of her was Kang Chul the protagonist of her father's created webtoon! I 100% recommend you to watch this Korean romantic series, every episode pulls you deep into the story!
Watch W- Two Worlds Apart on Netflix
15. What's Wrong With Secretary Kim? (2018)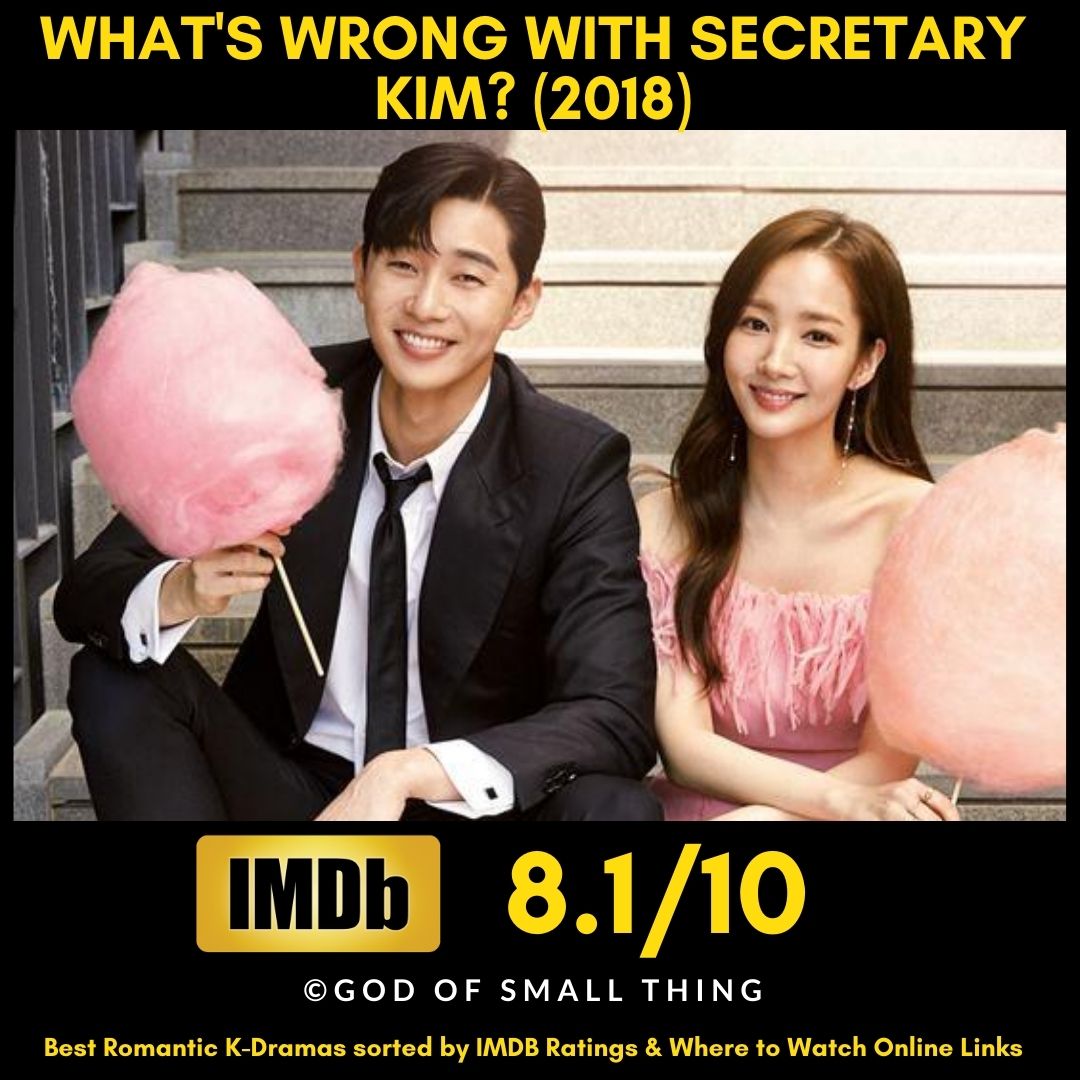 IMDB Rating: 8.1/10
Cast: Park Seo-Joon, Park Min-Young, Lee Tae-Hwan, Kim Byeong-ok, Kim Hye-ok, Kang Ki-Young, and Hwang Chang-sung.
Another Korean love drama that has one of the highest ratings of all time! Based on a novel first published in 2013 with the same name, this drama took over the world with millions of viewers on sites like DramaCool and Viki Rakuten worldwide. This hilarious plot revolves around a young ambitious Vice Chairman of a massive corporation and his secretary. Lee Young-Joon is a narcissistic man that is quite self-absorbed and sits on a pedestal, He barely gets involved in others' lives. When his secretary Kim Mi-so announces her departure from her post as his secretary after 9 years Young-Joon is highly unsettled. For 9 years she adjusted herself according to his every little habit and made his life her own, but sudden plans leave Young-Joon in confusion.
He hilariously tries and guesses her reasons and finds that he felt incomplete without her presence. Whether it was work-related or something personal is something he has to figure out, meanwhile, he does everything to keep her with him. However, Mi-So finds all his attempts desperate and hilarious but something connects the pair long before 9 years. A hilarious romantic comedy-drama with some dark undertones. The protagonists had a very natural romance that was easy on the eyes and the plot gets thicker as the show goes on. Definitely worth a binge, once you start you will find yourself asking for more romantic Korean series!
16. When the Camellia Blooms (2019)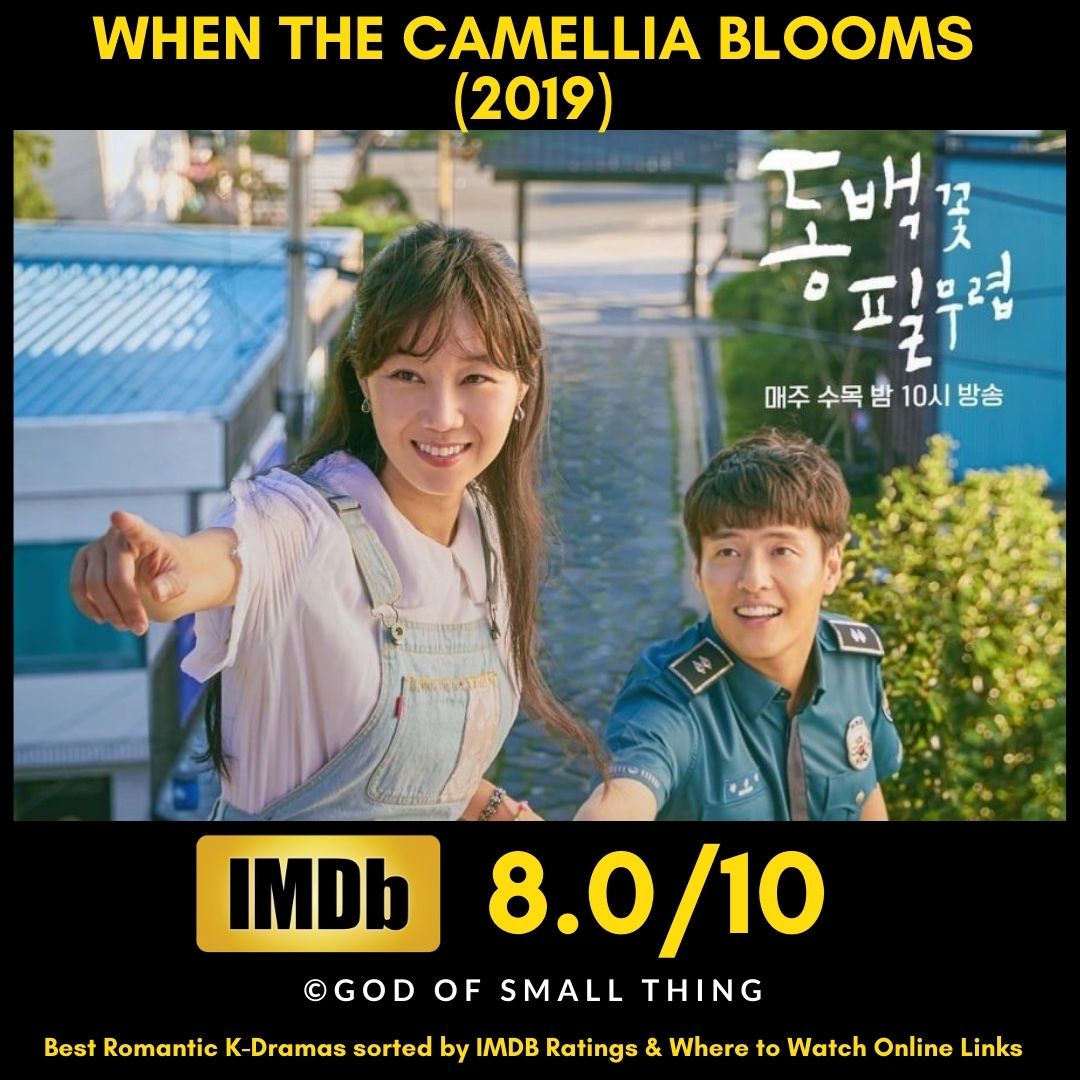 IMDB Rating: 8/10
Cast: Gong Hyo-jin, Kang Ha-neul, Kim Ji-seok, Ji Yi-soo, Oh Jung-se, Yeom Hye-ran, Son Dam-bi, and Kim Kang-hoon.
A series that is not like your average romantic kdramas. This Korean love drama hits close to home with emotions, passion, struggles, and love. Dongbaek is a single mother who navigates through society's harsh realities. She moves to a fictional town of Ongsan and opens up a bar named Camellia. Years into the future she meets Yong-Sik, a playful policeman who falls in love with her. However, she doesn't reciprocate his love, but he is set on wooing her. His mother strongly opposes the relationship because she is a single mother with a son.
Meanwhile, her past lover and the father of her son tries his best to make amends with her and be a part of their lives. Yong-Sik manages to make her fall in love with him. However, things never go straight for Dongbaek, a notorious wanted killer who claims her to be his next victim. Yong-Sik vows to protect her fiercely and find out who the killer with his skills as a cop. A realistic drama that shows the stigma against a single mother in society. A very heartfelt Korean romantic series that tugs at your heartstrings but will also make you laugh like a fool.
17. I'm not a Robot (2017)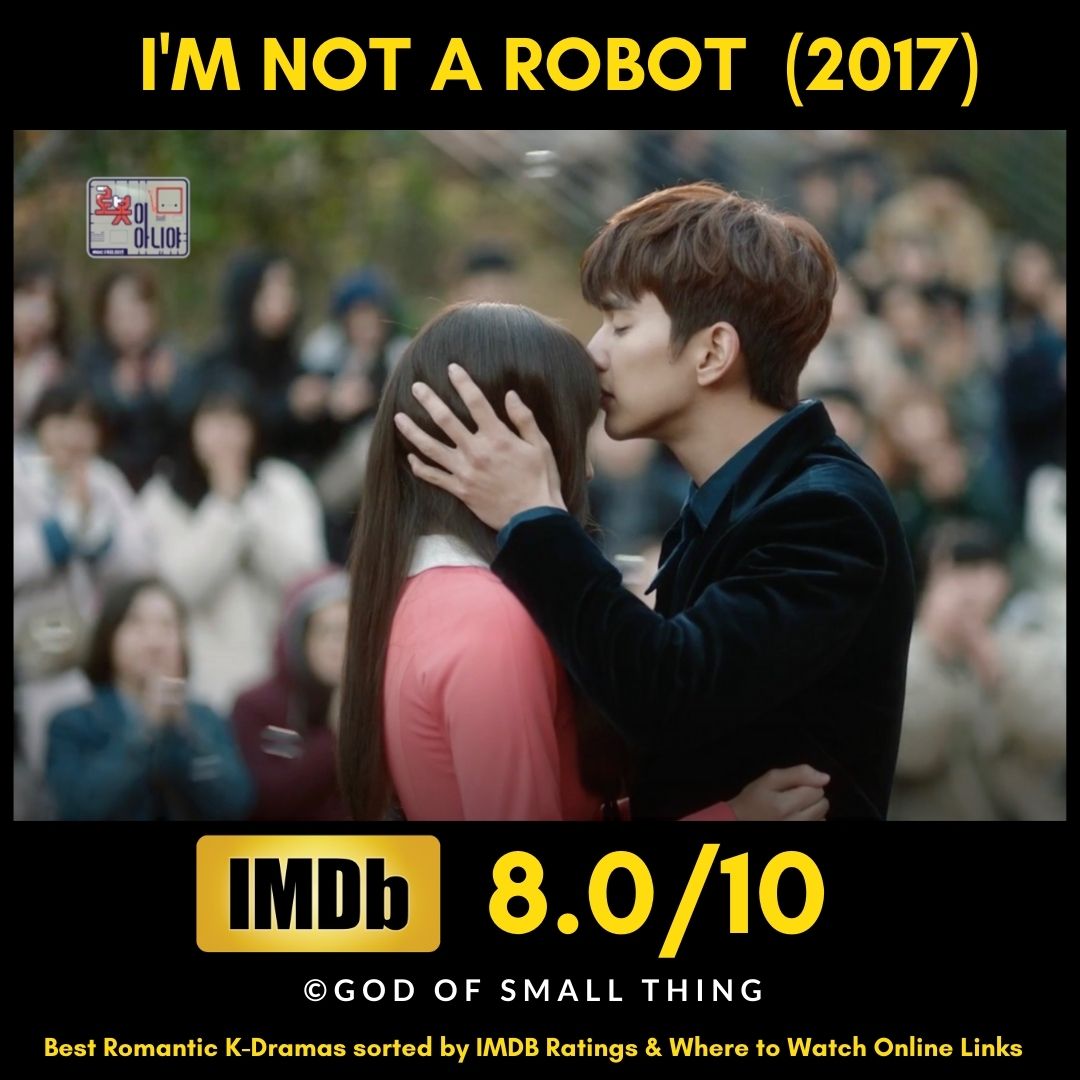 IMDB Rating: 8/10
Cast: Yoo Seung-ho, Chae Soo-bin, Um Ki-joon, Park Se-wan, Kang ki-young, Hwang seung-eon, Son Byong-ho, and Lee Byung-joon.
This is a unique and romantic kdrama that took over and gained a huge fan base worldwide. This Korean love drama revolves around Kim Min-kyu, a guy who has lived his entire life in complete isolation with no contact with any other human being. His severe allergies that act up due to any physical contact with another human, he develops serious rashes and can even die. Meanwhile, Jo Ji-ah is a smart woman who tries to create her business with many of her unique inventions, notably a pair of network-connected lamps (huge significance in the drama). He acquires an advanced robot, Aji-3 for some company, but before the delivery, a single drop of water creates malfunctions in it. To avoid problems in the deal, the robotics professor sends in Ji-ah, his ex-girlfriend as a substitute for his home, as the robot is modeled after her appearance.
We are talking about love and romance here and thus how on earth can we skip to recommend you to try out Bollywood movies for old-school love. Here are 50+ Best Bollywood Romantic Movies with Where to watch online Links. The movies are available on OTT Platforms and are a treat to watch.
He gradually falls in love with the robot without knowing the truth, he was very disturbed by this. But after the robot is replaced with the real one, without the knowledge of Min-kyu, Ji-ah moves away to forget any feelings she has for the guy. It might sound weird, but the story is much deeper than this with an unsolved mystery and forces at work to take away Aji-3. A really intriguing plot with solid chemistry between the characters, I'm not a Robot is highly recommended on this romantic Korean drama list!
18. Suspicious Partner (2017)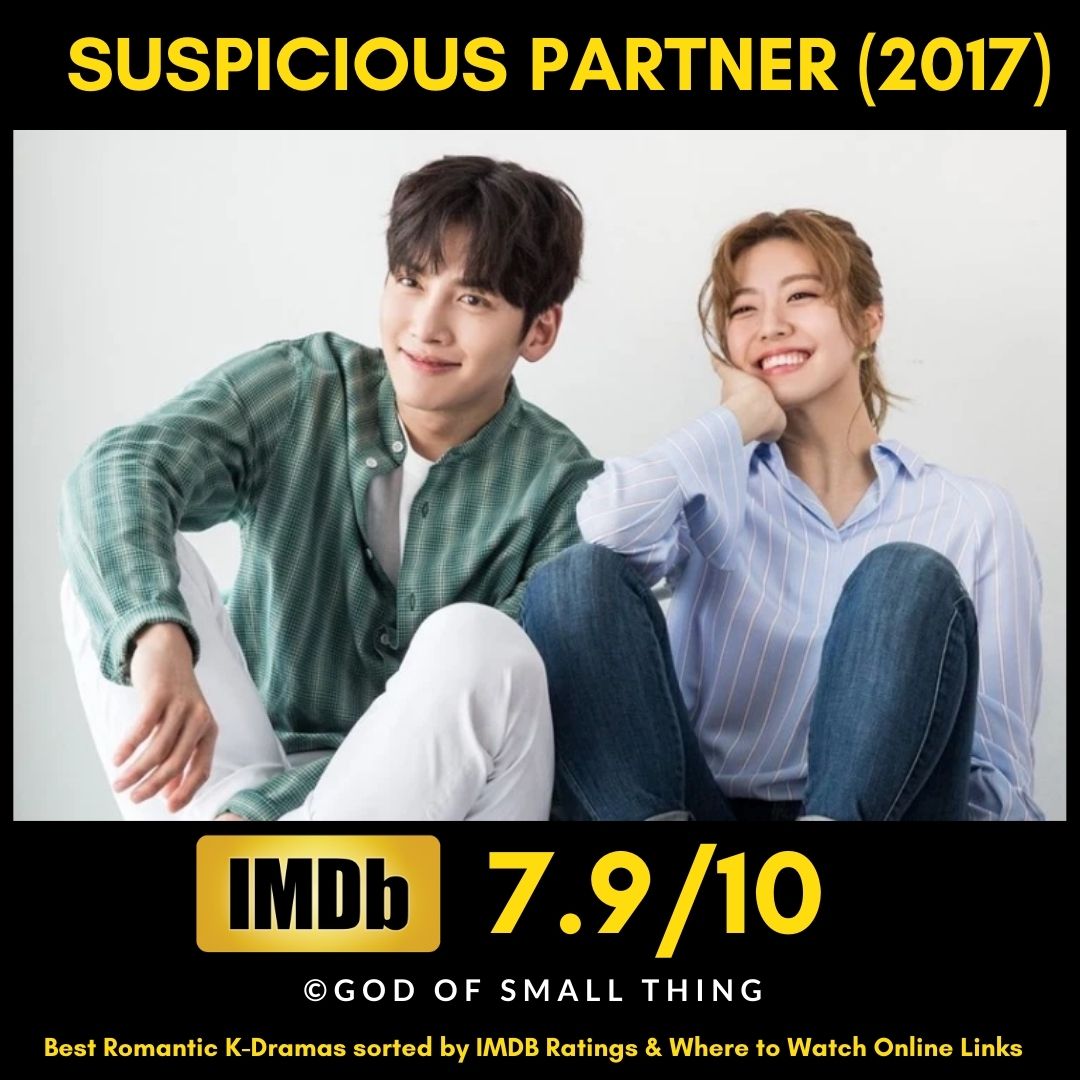 IMDB Rating: 7.9/10
Cast: Ji Chang-wook, Nam Ji-hyun, Choi Tae-joon, Kwon Nara, Lee Deok-hwa, Hwang Chan-sung, and Kim Ye-won.
This suspense Korean love drama, also known as Love In Trouble, is hilarious and intriguing at the same time. About Noh Ji-Wook and Eun Bong-hee, two prosecutors. This Korean romantic series was a total stress-buster that made me laugh like there's no tomorrow. In the very first episode, the pair meets in an unfortunate situation that leads to the question of whether they spent the night together when drunk. But, after a while, they cross paths at the same office as lawyers. Bong-hee gets falsely accused of murdering her ex-boyfriend and Ji-Wook loses his job defending her in court. He opens up a new firm with a few capable lawyers including Bong-hee and works on finding the psychopathic murderer.
A fast-paced drama with quirky characters and a hilarious supporting cast, the show hardly misses a beat. The show-runners did a great job blending crime and romance, two opposite genres together. The hilariously cute chemistry between Bong-hee and Ji-Wook took the drama to the next level for me. The suspense and the creepy vibe we get from the real murderer are outstanding, the antagonist did a great job making his actor unlikable. All in all, everything about this romantic kdrama is next to perfect and I couldn't ask for more!
19. Reply 1994 (2013)
IMDB Rating: 7.9/10
Cast: Go Ara, Jung Woo, Yoo Yeon-seok, Kim Sung-kyun, Son Ho-jun, Baro, Mon Do-hee, Sung Dong-il, and Lee Il-hwa.
The next on my romantic Korean drama list is Reply 1994. It is a part of the popular Reply series, this particular one really hits the spot with its romance! This Romantic k-drama with punches of comedy is just perfect for people who love the genre! Focusing on the vigor of being a young adult that steps into the world of their own. This second installment has one of the highest ratings in Korean cable history. set in the year 1994, the story revolves around six university students from different provinces of South Korea. These students love together at a boarding house in Seoul. In true Reply fashion, the plot shifts from the past and the future. Till the end, the constant back forth leaves the viewers guessing who is the protagonist's husband among the male actors.
Following the cultural shift, the country had with the emergence of the K-Pop group Seo Taji and Boys, Also addressing the major hot topics of the country at the time including the Department Store collapse and the birth of the legendary Korean Basketball League. Another interesting you will notice is that the two potential husbands aren't given names to give away the ending, they go by their nicknames all through the story. The chemistry of the characters and the deliberate pacing grow on you and make you love the drama even more. The discomfort, pains, and tough times young adults experience in their daily lives is well portrayed here. The retro style, small but memorable gags, and, again, the characters were top-notch! This is one of my personal favorite romantic Korean series, hope you enjoy it!
20. My Girlfriend is a Gumiho (2010)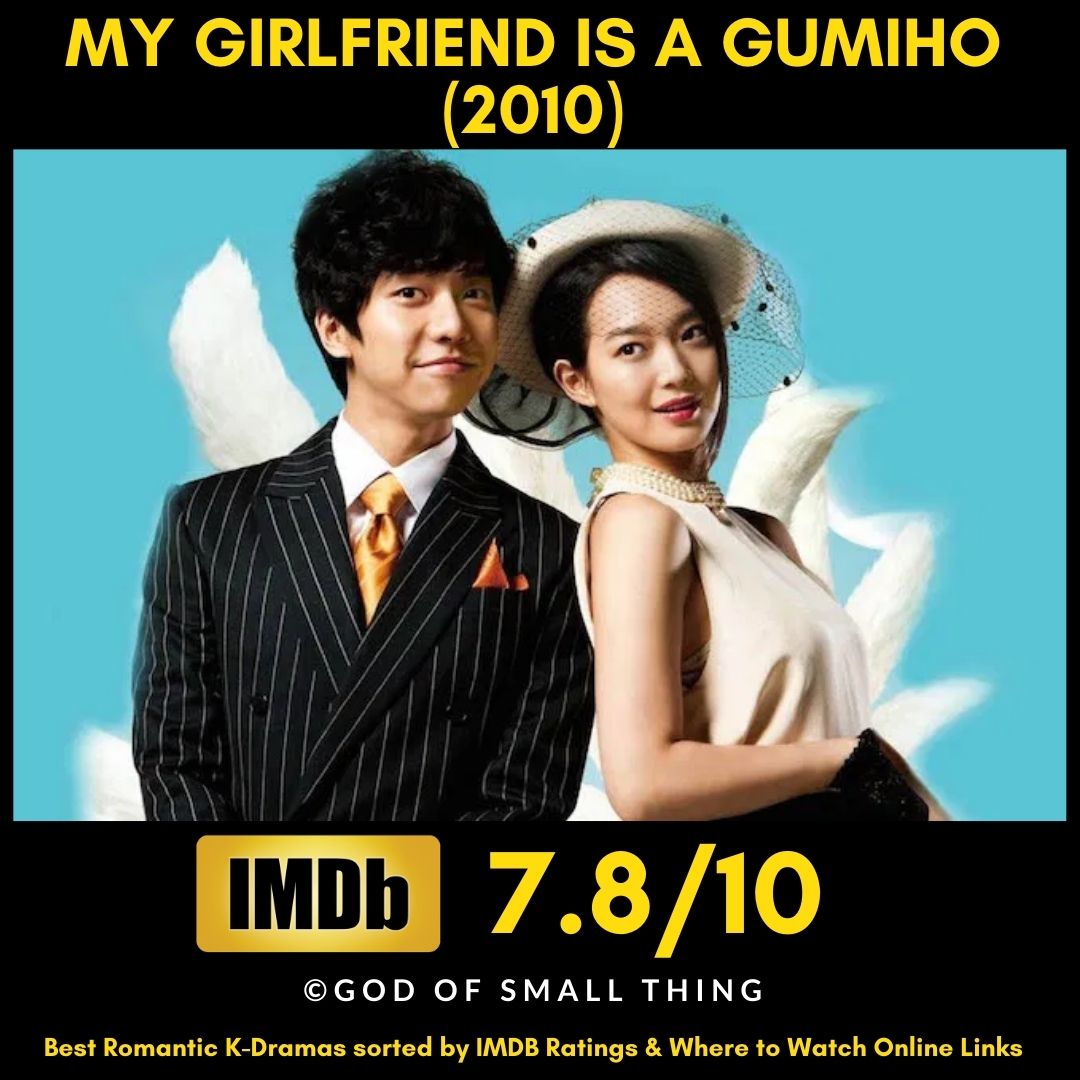 IMDB Rating: 7.8/10
Cast: Lee Seung-gi, Shin Min-ah, No Min-woo, Park Soo-jin, Sung Dong-il, Yoon Yoo-sun, Byun Hee-bong, Kim Ho-chang, and Park Hyomin.
This Romantic Kdrama follows the story of a college student with huge ambitions of becoming an action star. Born with a silver spoon he is determined to fulfill his dreams. Cha Dae-Woong releases a mischievous gumiho or a nine-tailed fox from inside a painting. He faces a life-threatening only to be saved by a gumiho. When he wakes up he finally meets a mysterious girl, he initially thinks that she was mentally ill for the way she acts. Eventually, he realizes that she is indeed the nine-tailed fox from the myths, in a human form. He is scared for his life, according to the myths Gumiho's eat men's livers, She takes advantage of this fear and sticks by him.
As time goes by he feels less scared and more protective of her. She reveals her wish to become a human and strikes a deal with him. Soon, when a half-human half-supernatural being comes into the picture things get serious for both Mi-ho and Dae-Woong. They fall in love before they know it, but dangerous consequences come in the future if her wish was to be fulfilled. This comic romantic k-drama is hilarious and has a wholesome romance that you will surely enjoy!
21. She Was Pretty (2015)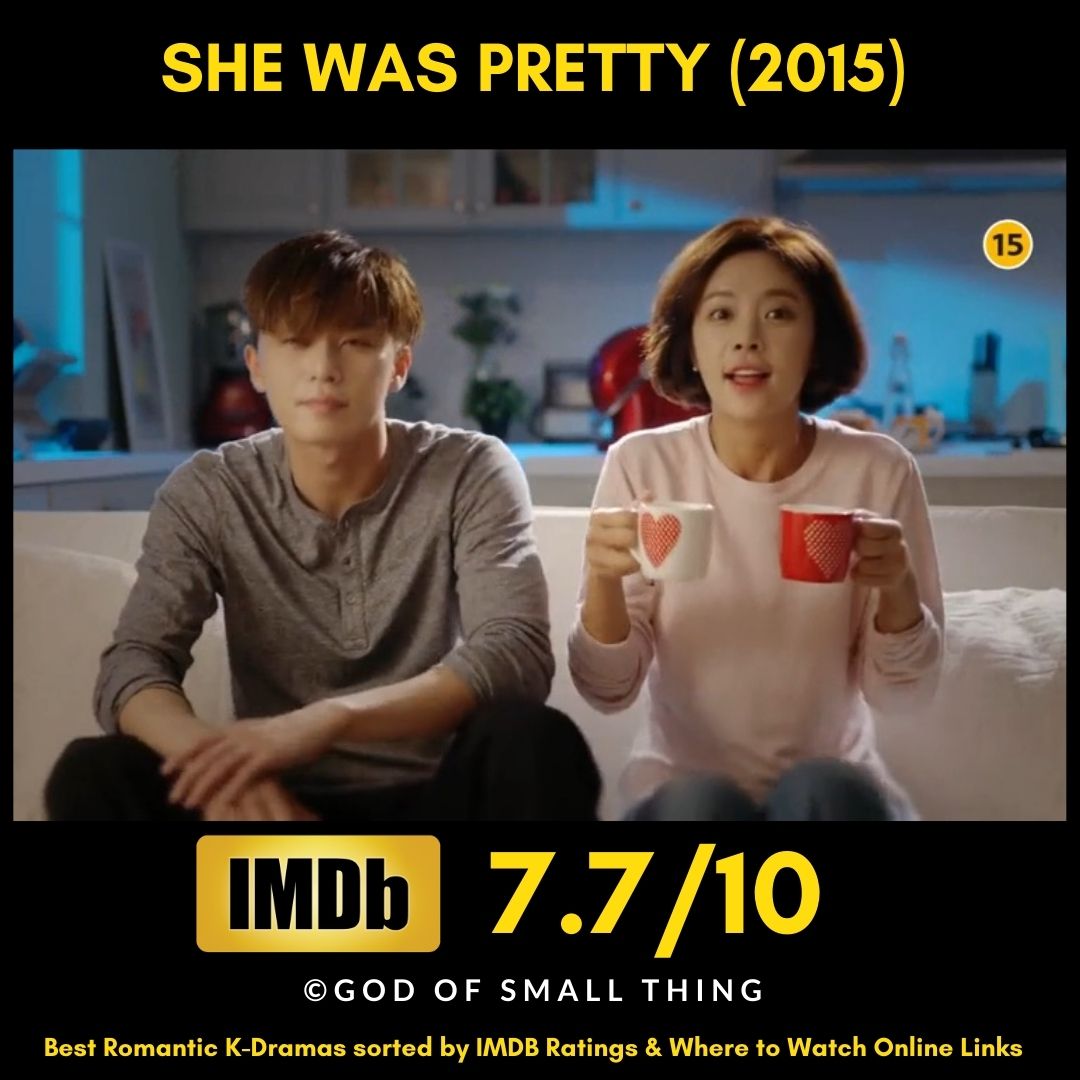 IMDB Rating: 7.7/10
Cast: Hwang Jung-eum, Park Seo-joon, Go Joon-hee, Choi Si-won, Park Choong-seon, Lee Il-hwa, Lee Byung-joon, Hwang Seok-jeong, and Ahn Se-ha.
She was pretty a Romantic Kdrama that has a special place in the hearts of many. Based on a true story about two people who were acquaintances in the past who meet again. In the past, Sung-Joon was kinda ugly and Hye-jin was the pretty one who had it all. But in a complete reversal of fates over time, Hye-Jin experiences bankruptcy and loses her beauty. While Sung-Joon grew up to a handsome and successful actor. A very thought-provoking lesson that not everything you have right now will last forever, so it's best to appreciate and be humble about it. You never know what the future brings!
When they meet in the present Sung-hoons fails to recognize Hye-jin, after being childhood friends he fails to recognize her. To avoid ruining his perception of her, she sends her beautiful friend instead of her. Things go south when she secures a job for a magazine where he works as the deputy chief editor. Putting beauty and vanity aside will she ever be able to face him as herself, or will she keep pretending? One of the best Korean romantic drama that you will surely enjoy!
22. My ID is Gangnam Beauty (2018)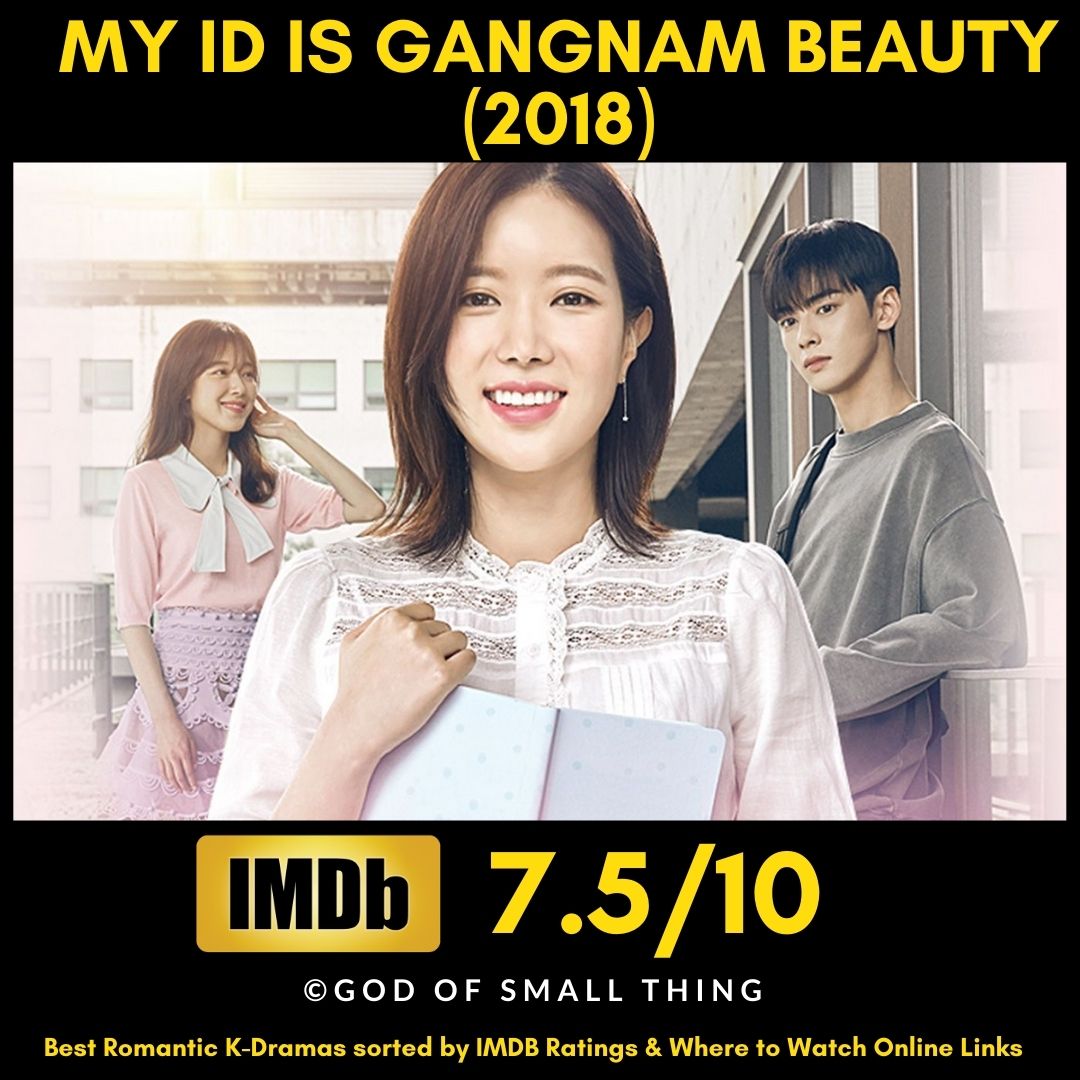 IMDB Rating: 7.5/10
Cast: Im Soo-hyang, Cha Eun-woo, Jo Woo-ri, Kwak Dong-yeon, Woo Hyun, Min Do-hee, Park Joo-mi, Park Yoo-na, Kim Ji-min, and Lee Tae-sun.
An emotional and romantic k-drama that sparks discussions about the 'beauty standard', self-esteem, and plastic surgery. After years of bullying throughout her schooling years, Kang Mi-rae finally decides to get plastic surgery to start a new life in college. Her new look seemed perfect for her, she seemed a bit more confident and laughed a bit more. But, she feels threatened as she finds her former schoolmate Do Kyung-Seok, an extremely handsome guy in the same college. However, she proves herself wrong when she realizes that he is a quiet guy who protected her at every step. But, things get worse and the "pretty girl" image becomes pressure on her, she gets ridiculed for being a "Gangnam plastic surgery monster".
We all love Notebook don't we? But we are still looking for some more movies like the Notebook. So we decided to create a list of movies that are like the Notebook. 25+ Movies Like The Notebook.
She gets bullied for different reasons, for her overly done face, her low confidence, among other things. Things never seem to go right for her. However, she holds on, she fights with the world and herself to gain confidence in her appearance and accept life as it comes. To Kyung-Seok, looks are superficial, he doesn't care how someone looks, he falls for her carefree personality that she buried somewhere deep within. A very touching Korean romantic series with deep morals and an excellent cast. This Korean romantic drama was an eye-opener that really showed the struggles of girls fitting into a set 'beauty standard created for them, but when they do try and artificially get the 'desired' look they get ridiculed nonetheless.
23. The Heirs (2013)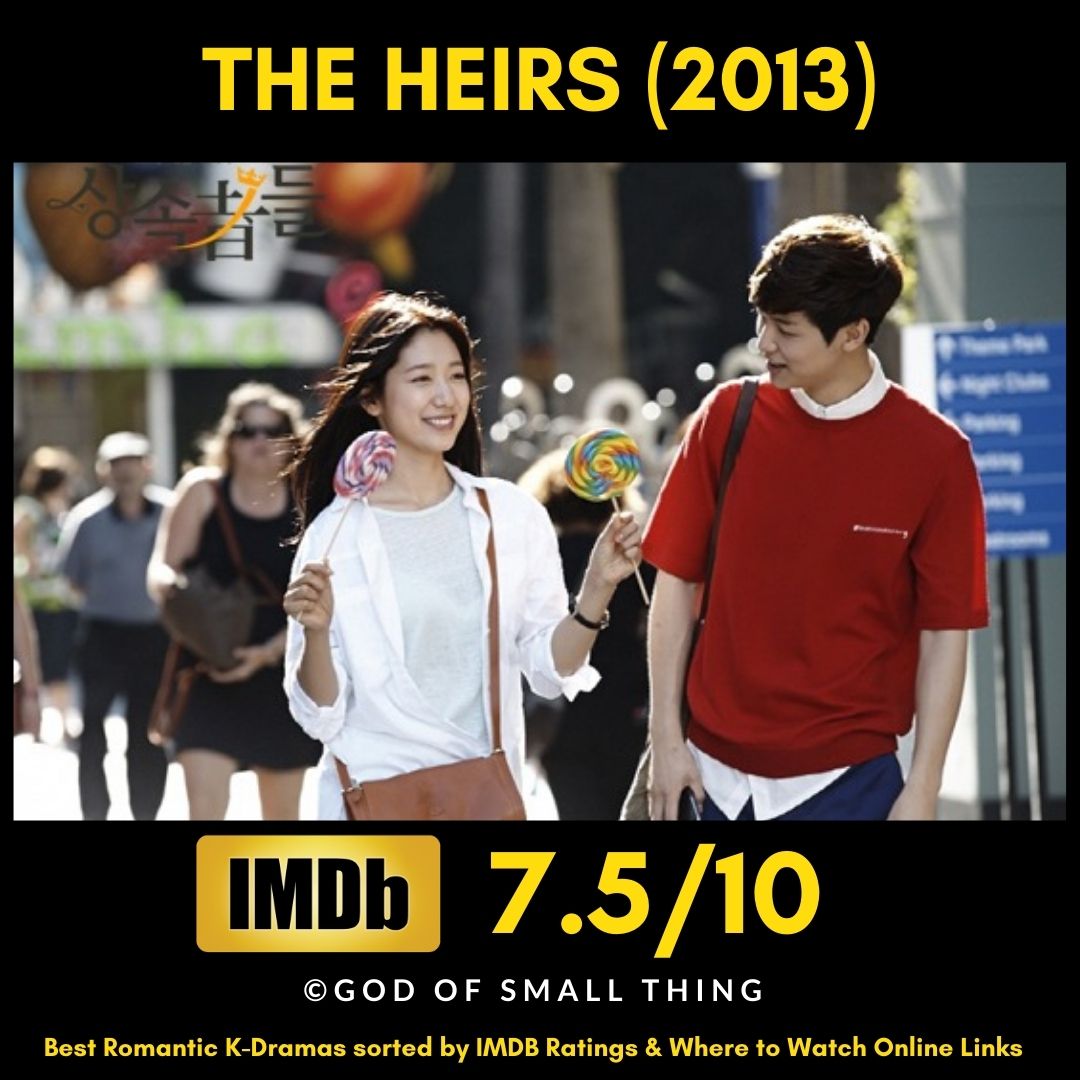 IMDB Rating: 7.5/10
Cast: Lee Min-ho, Park Shin-hye, Kim Woo-bin, Park Hyung-sik, Kim Ji-won, Kang Min-hyuk, Kang Ha-neul, and Krystal Jung.
The Heirs is one of the most talked-about classics among k drama viewers. This romantic kdrama was a huge hit and received immense popularity all over Asia! Following a group of privileged and rich kids who are heirs to conglomerates, they overcome the difficulties of taking over empires and facing societal pressure. Kim Tan is an heir to a huge empire but was exiled to the United States by his brother who felt possessive over the family business. While in the States he meets Cha Eun-sang, she was there to meet her sister. However, they cross paths and Tan immediately falls for her despite being engaged to a fellow heiress.
When he comes back home to Korea he finds out that she unknowingly enters the same school as him through a scholarship. Tension rises when Tan's former best friend now enemy, Young-do takes interest in Eun-sang and picks on her to get to him. But, the reality begins to get spicy when Young-do falls in love with her and there's a love triangle! We root for one but we know who eventually is going to get the girl. However, Tan faces a dilemma when his family is against the relationship, Tan has to decide between Love or being an Heir to a massive empire. A cheesy yet addicting romantic kdrama that one is sure to enjoy. Watch this romantic Korean drama on Netflix!
This is unfortunately the end of this list! These 20 shows have made me smile, laugh, cry, and dizzy in many instances. These romantic K-dramas are one of the best ones I've seen so far. What are your favorites? Did I miss the Korean romantic series on your list? Tell us in the comments!
Okay if you are looking forward to some romantic Bollywood movies. Try this article out for some amazing recommendations: Bollywood Movies: 60+ Best Bollywood romantic comedy movies of all time Ordered by Year