50 Best Bollywood Romantic Movies with Where to watch online Links
Everyone needs a little romance in their lives, so I come bearing gifts. From movies by the King of romance Shah Rukh Khan to all the new actors like Kartik Aryan or Ayushmann Khuranna. You will find everything you'd ever want from a romantic movie on this list. From classics to modern classics, tear-jerking emotional movies to fun-loving and carefree movies, this is your one-stop to top Bollywood romantic movies. So, here is a list of the best Bollywood romantic movies with where to watch links for your convenience! If you want to go for something specific just click on the name from table of contents and no need to scroll through the entire article.
Hum Aapke Hai Koun
Dilwale Dulhaniya Le Jaayenge
Dil To Pagal Hai
Kuch Kuch Hota Hai
Mohabbatein
Rehnaa Hai Tere Dil Mein
Dil Chahta Hai
Saathiya
Devdas
Kal Ho Na Ho
Veer Zaara
Hum Tum
Salaam Namaste
Socha Na Tha
Vivah
Fanaa
Kabhi Alvida Na Kehna
Jab We Met
Namastey London
Jaane Tu Yaa Jaane Na
Rab Ne Bana di Jodi
Dostana
Jodhaa Akbar
Love Aaj Kal
Ajab Prem Ki Ghazab Kahaani
Wake Up Sid
Dev D
Band Baaja Baraat
Break Ke Baad
Rockstar
Tanu Weds Manu
Cocktail
Jab Tak Hai Jaan
Barfi
Yeh Jawaani Hai Deewani
Raanjhana
Aakashvani
Aashiqui 2
Shuddh Desi Romance
Lootera
Highway
2 States
Tamasha
Dum Laga Ke Haisha
Ae Dil Hai Mushkil
Bareilly Ki Barfi
Kedarnath
Ek Ladki Ko Dekha to Aisa Laga
Shubh Mangal Zyada Savdhan
Hum Aapke Hai Koun (1994)
Cast: Madhuri Dixit, Salman Khan, Mohnish Bahl, Renuka Shahane, Anupam Kher, Reema Lagoo, Alok Nath, Redo, Bindu, Ajit Vachani, and Satish Shah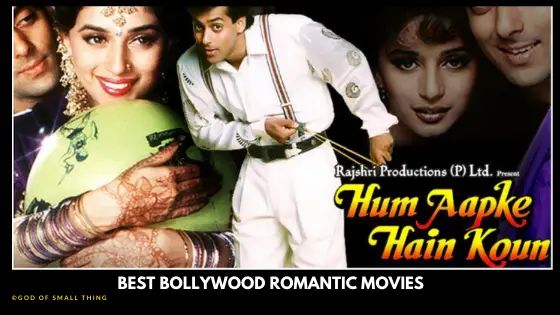 A solid 2hr 36 min romantic Bollywood movie filled with romance, comedy, and it is basically a musical feast. This is an iconic movie starring Bollywood superstars Madhuri Dixit and Salman Khan. Prem is a smart student who is getting ready to take on the responsibility of their family business under his elder brother. Meanwhile, Nisha studies computer science and is a princess of her family. Both of them cross paths when their siblings are arranged in a marriage. Rajesh and Pooja get married and Prem and Nisha meet each other a few times and Prem falls head over heels for her carefree personality.
As months pass by the families are united and happy while Pooja is pregnant with her first baby. To Prem's joy, Nisha comes to stay with her sister to help her while the pregnancy. But, after the delivery, Pooja takes her last breath soon and Rajesh is beyond devastated. The families think it to best if Nisha takes Pooja's place and marries Rajesh for the sake of the child. So what does that make of Prem and Nisha's relationship? This question lingers in their minds as they face an unexpected obstacle in their love. A well-picturized movie with some iconic scenes and songs. Every character played their role and fit it well. Sweet and adorable romance with a little bit of drama in this romantic Bollywood movie can't go wrong.
Watch the trailer for Hum Aapke hai Koun!
Watch Hum Aapke Hai Koun on Amazon Prime Video:
https://www.primevideo.com/detail/amzn1.dv.gti.a4b3fb8a-ef43-ebe5-9304-dede1aa60ea3/ref=av_auth_return_redir
Dilwale Dhulania Le Jayenge (1995)
Cast: Shah Rukh Khan, Kajol, Amrish Puri, Farida Jalal, Satish Shah, Achala Sachdev, Himani Shivpuri, Pooja Ruparel, Anupam Kher, Parmeet Sethi, and Mandira Bedi
Raj and Simran might as well be the romance icons of Indian cinema. Bollywood for years to come tried to replicate the impact DDLJ made on Romantic Bollywood Movies of Bollywood as a whole. This Hindi romantic movie revolves around Raj and Simran. Raj from a liberal family while Simran from a very conservative one living in London. Simran's father arranges her marriage to a childhood friend's son and Simran doesn't want to marry a guy she hasn't even met. On a trip with her friends, Simran meets Raj and they somehow end up missing a train and have to travel together.
During their time together Raj flirts with Simran and she learns to be free and happier. It might not be love at first sight but when Simran returns to India for her wedding she feels empty. Likewise, Raj feels the same, so he decides to fly out to India not just to win her bride and runaway, but to win the hearts of her family and her father's blessings. Fun fact: since it's release in 1995, DDLJ is still screening at Maratha Mandir in Mumbai, making it the longest-running Hindi romantic movie in the history of Bollywood movies.
Watch the trailer for Dilwale Dhulania Le Jayenge!
Watch Dilwale Dhulania Le Jayenge on Amazon Prime Video:
https://www.primevideo.com/region/eu/detail/Dilwale-Dulhania-Le-Jayenge/0FWM6LXBGLJP0XQDQYPI9H4PMH?ext_vrnc=hi&ref_=dvm_pds_gen_in_as_s_gt_dsastandardadgroups%7Cm_static-c_c356974296439
Dil Toh Pagal Hai (1997)
Cast: Shah Rukh Khan, Madhuri Dixit, Karishma Kapoor, Akshay Kumar, Farida Jalal, Deven Verma, and Aruna Irani
When I say that SRK and Madhuri were among the top tier actors in the 90's and '00s, I mean it. Here I have another movie by these two stars, a musical Bollywood romantic movie. Rahul and Nisha are members of a dance troupe that is usually into dance-musical plays. So, Rahul is cynical about the concept of love and Nisha only hopes for him to get over his ridiculous philosophy and understand her love for him. Meanwhile, Pooja thinks that her soulmate is out there somewhere waiting for her. When Nisha, the lead dancer of their play injures herself, Rahul finds Pooja dancing one day and immediately asks her to star their play.
She is hesitant at first but eventually accepts his offer to dance in front of a crowd. Both grow closer over time and when Nisha returns she finds herself extremely jealous of the relationship Pooja and Rahul had. They eventually fall in love but when her one hasty decision in the past comes back to torment her relationship with Rahul, everything comes crashing down. The soundtrack, star cast, story-line, performances, and the direction, everything in this Hindi romantic movie is perfect.
Watch the trailer for Dil Toh Pagal Hai!
Watch Dil Toh Pagal Hai on Amazon Prime Video:
https://www.primevideo.com/detail/0N0DCDSDYQORTNTXU4YI61N0VE/ref=atv_sr_def_c_unkc__1_1_1?sr=1-1&pageTypeIdSource=ASIN&pageTypeId=B01M6Y7QWK&qid=1594120319
Kuch Kuch Hota Hai (1998)
Cast: Shah Rukh Khan, Kajol, Rani Mukherji, Salman Khan, Sana Saeed, Farida Jalal, Anupam Kher, Archana Puran Singh, Reema Lagoo, and Himani Shivpuri
Kuch Kuch Hota hai is another movie starring Shah Rukh Khan and Kajol just like Dilwale Dulhania Le Jayenge. As I said, this couple was, and still is iconic and inspiration for Bollywood romantic movies. A story about Rahul and Anjali, they are best friends. Rahul is a Casanova who flirts with every girl, except Anjali and Anjali is a tomboy who is in love with him. She always wished that one day Rahul will fall in love with her and they will get married, but all her plans go to waste when Tina shows up. Tina is the principal's daughter and Rahul absolutely in love with her. Anjali breaks and moves away from them.
Years later, they have a baby girl named Anjali, but Tina passes away leaving him devastated. Kid Anjali finds the letters her mom left for her to read and soon realizes that her father might be in love with Anjali, his childhood friend. So, the daughter locates her and does everything she can to reunite Rahul and Anjali just like the old days. However, she finds out that Anjali was soon to be wed to a guy named Aman and the love she thought was still there was history. However, will she be able to reunite them and make them realize their feelings? If you are a Bollywood fan, you have to watch this movie, it is a classic you won't want to miss.
Watch the trailer for Kuch Kuch Hota Hai !
Watch Kuch Kuch Hota Hai on Amazon Prime Video:
https://www.primevideo.com/detail/0S7X9EIS7SOF8MX3258XNFTXAA/ref=atv_sr_def_c_unkc__1_1_1?sr=1-1&pageTypeIdSource=ASIN&pageTypeId=B01M3R86GH&qid=1594114876
Mohabbatein (2000)
Cast: Amitabh Bachchan, Shah Rukh Khan, Aishwarya Rai, Uday Chopra, Shamita Shetty, Jugal Hansraj, Kim Sharma, Jimmy Shergill, Preeti Jhangiani, and Anupam Kher
Mohabbatein is a gem of a romantic Bollywood movie that is precious. About the true meaning of love, Raj and Narayan are two stubborn men who have different ideas of love. Raj will go to any lengths for love, while Narayan is a cynic, he thinks love brings weakness and pain. Narayan is the headmaster of one of the most prestigious schools in India and has rules that have to be followed no matter what. Three students at his school, Vikram, Sameer, and Kiran fall in love with Ishika, Sanjana, and Kiran respectively.
They hesitate to continue from the fear of getting expelled by Narayan. But, when Raj, their new music teacher encourages them and roots for their love life, they don't hesitate anymore. Raj knew how mad Narayan would be, he was once his student and was rusticated because he was in love with Narayan's daughter then. But, that doesn't stop him from encouraging his students to not stop at anything fo love. Will the three of them triumph at love or will Narayan shut them down like Raj was? At the time, this romantic Bollywood movie was one of the highest-grossing Hindi romantic movies. Shah Rukh's work in this movie is considered as his finest works, and Amitabh Bachchan was critically acclaimed for his performance in this movie! The soundtrack of this movie was the best best-selling Bollywood soundtrack of the '00s.
Watch the trailer for Mohabbatein!
Watch Mohabbatein on Amazon Prime Video:
https://www.primevideo.com/detail/0G0VN7VDPSAA2IZMRZZNASASP4/ref=atv_sr_def_c_unkc__1_1_1?sr=1-1&pageTypeIdSource=ASIN&pageTypeId=B01M8L3Z4Y&qid=1594187073
Rehnaa Hai Terre Dil Mein (2001)
Cast: Madhavan, Saif Ali Khan, Dia Mirza, Vrajesh Hirjee, Tanaaz Currim, Anupam Kher, Navin Nischol, Smita Jaybar, Hemant Pandey, Kabir Sadanand, Gautham Menon, and Jackky Bhagnani.
With a very versatile cast, Rehnaa Hai Terra Dil Mein is an underrated romantic Bollywood movie that is very romantic and dramatic. So, we have our three protagonists, Madhav, Reena, and Rajiv. Madhav falls in love with Reena at the very first few glimpses, but when he meets her later he finds out that she is engaged to Rajiv, Rajiv lives abroad and she has no idea as to how he looks. So, Madhav impersonates Rajiv and enters her life, she falls in love with him. But, when Rajiv returns to India to marry his fiancee Reena realizes that she gave her heart to a fraud.
She decides to leave Madhav and asks her parents to continue preparations with Rajiv and her marriage. Madhav is devasted, he asks Reena for forgiveness, but she refuses to do anything with him. Whatever the case might be. Reena did fall for his personality despite the lies, will she be able to let Madhav go forever, or will she live a happy married life with Rajiv? This movie might not be the most popular movie, but I thoroughly enjoyed every bit.
Watch the title song for Rehnaa Hai Terre Dil Mein!
Watch Rehnaa Hai Terre Dil Mein on Disney+ Hotstar:
https://www.hotstar.com/in/movies/rehnaa-hai-terre-dil-mein/1000101756
Dil Chahta Hai (2001)
Cast: Aamir Khan, Saif Ali Khan, Akshaye Khanna, Preity Zinta, Sonali Kulkarni, Dimple Kapadia, Ayub Khan, Rajat Kapoor, Suchitra Pillai, Samantha Treymane, and Asad Dadarkar
Dil Chahta Hai is a story about three guys who are close friends but their tastes and interests are polar opposites. Given their incompatible personalities, they have an argument that broke their friendship. Aakash is an easy-going, fun person that doesn't believe in love. Sameer on the other hand wants to be loved and wears his heart on a sleeve, but doesn't understand the concept of love quite well. He likes the idea of being in love but doesn't understand the true essence of it. Meanwhile, Siddharth is the mature one, who is understanding and soft. He seems to understand the true meaning of love and falls for a middle-aged, slightly alcoholic divorcee. But, Aakash doesn't understand their relationship and insults Tara, this causes a rift between these friends.
Their widely different approaches to love and relationship cause a great deal of tension between them. Years, later when Aakash meets the cute and bubbly Shalini and Sameer meets Pooja, they both finally understated what Siddharth really meant. When they reunite will they accept Siddharth's love for Tara now that they were in love themselves? We see these cynical boys grow into understanding and mature men who truly understand love after falling head over heels for their women. An incredible coming of age romantic Bollywood movie that will resonate with everyone in one way or the other. There were plenty of laughs and tears, a perfect romance with an insanely talented cast.
Watch the trailer for Dil Chahta Hai!
Watch Dil Chahta Hai on Amazon Prime Video:
https://www.primevideo.com/detail/0GUPSYRY1MTBUBAJMLTKNYIC7E/ref=atv_sr_def_c_unkc__1_1_1?sr=1-1&pageTypeIdSource=ASIN&pageTypeId=B01M6Y5N5K&qid=1594191209
Saathiya (2002)
Cast: Rani Mukherji, Vivek Oberoi, Shah Rukh Khan, Tabu, Sharat Saxena, Tanuja, Sandhya Mridul, Satish Shah, Swaroop Sampat, Anju Mahendru, Aditya Srivastava, Rahul Chauhan, and Shamita Shetty
An emotional movie, to say the least, this Hindi romantic movie is a roller coaster. Showing the realities of what is thought of as the end goal of a successful relationship, "marriage". The story of Suhani and Aditya, they first meet each other at a wedding and flirt. But, both soon realize that the feelings they felt weren't just mere attraction, they had fallen in love. Aditya comes from a rich family and Suhani was from a middle-class one, the gaps between the lifestyle cause tension between the families. However, they didn't care about anything else, they elope and live in a small home while keeping their marriage a secret.
They think that their love was enough to get them through anything and that was not the case. Soon, marital problems slowly drive them apart, misunderstandings cause fights. They soon realize that one relation cannot just stand with love, trust, and loyalty is huge contributing factors in a relationship. Will they work towards their failing marriage and give up on love or work on their relationship for the sake of their love? The actors and actresses do a great job of portraying and delivering the pain and suffering of separation. It brings you to tears, the powerful performance is out of this world. If you are a sucker for emotional romances, this movie is for you.
Watch the trailer for Saathiya!
Watch Saathiya on Amazon Prime Video:
https://www.primevideo.com/detail/0KZWNCID04AV7JJ1VPB7ASSNNK/ref=atv_sr_def_c_unkc__1_1_1?sr=1-1&pageTypeIdSource=ASIN&pageTypeId=B01M8JQEHF&qid=1594193074
Devdas (2002)
Cast: Shah Rukh Khan, Aishwarya Rai Bachchan, Madhuri Dixit Nene, Ananya Kahre, Jackie Shroff, Kirron Kher, Smita Jaykar, Vijayendra Ghatge, Tiku Talsania, Milind Gunaji, and Neha Pendse.
Devdas is the epitome of a sad romantic. Born with a silver spoon in his mouth, Dev experiences tragedy in terms of his love. We see him slowly descending into madness and depression. It all started with Paro, his playmate when he was a kid, slowly it turned into an unspoken love. However, All changes when Dev is sent away to London for education. When he returns after completing his education, he understood that he is still in a black spot in his father's life. Dev is stunned by Paro's beauty and wants to marry her, but her mother's proposal was turned down by his father because she belonged to a lower caste. He eventually moves away from Paro and asks her to forget him, but he realizes how difficult it was.
Heart-broken Paro enters a marriage with a man twice her age. The man's children were almost Paro's age, and this drove Dev to anguish and alcoholism and a beautiful courtesan Chandramukhi. Chandramukhi immediately falls in love with Dev, and they form a painfully beautiful bond where he talked about the devastation he felt over Paro. Chandramukhi never forgets him. A painful story about two women who love Dev Das unconditionally but he can never be with both of them. However, One he can never stop loving, and one he can't love. A very depressing movie indeed, but it is a must-watch. The cast, the phenomenal acting, the grand-feel to the movie, and the production and direction, everything is legendary. This has to be one of the best romantic Hindi movies of all time.
Watch the trailer for Devdas!
Watch Devdas on Airtel XStream:
https://www.airtelxstream.in/movies/devdas/EROSNOW_MOVIE_6126100
Kal Ho Naa Ho (2003)
Cast: Shah Rukh Khan, Preity Zinta, Saif Ali Khan, Jaya Bachchan, Sushma Seth, Reema Lagoo, Lillete Dubey, Delnaaz Paul, Shoma Anand, Kamini Khanna, and Ketki Dave.
Naina is a serious woman that has a deep complex after her father commits suicide, she lives her life without any fun. She has one friend, Rohit is a playboy wannabe who fails to get any attention from most women. Her life is a mess, her dysfunctional family can't seem to have one meal in peace and she is tired of her life. But, like a messiah, Aman enters her life, He teaches her to enjoy life and not be a spoilsport. The Kapoor family kept at squabbling and fighting even if the children in the family were unhappy about it. Being next door, he helps her family sort out their problems, he brings life to an otherwise dull neighborhood.
He changes all their lives for the better, but seems like he has a secret of his own that made the people around him sad. Aman sets up Naina and Rohit and plays a matchmaker, Rohit falls in love with her while Naina falls in love with Aman. He swiftly rejects her love and keep at bringing Naina and Rohit together, because he couldn't stand seeing her sad and without any love in her life. Although he loves Naina, there's something that stops him from indulging in his feelings and instead, he brings happiness to people around him. A very adorable yet emotional film once in a while, Kal Ho Naa Ho, is an incredible Hindi romantic movie that sends the message of living a lifetime with every heartbeat, you never know if you'll be alive tomorrow.
Watch the trailer for Kal Ho Naa Ho!
Watch Kal Ho Naa Ho on Amazon Prime Video:
https://www.primevideo.com/detail/0Q374E5V0RUL6CHL90JIR6L9BA/ref=atv_sr_def_c_unkc__1_1_1?sr=1-1&pageTypeIdSource=ASIN&pageTypeId=B01M3SPA3H&qid=1594199010
Veer-Zara (2004)
Cast: Shah Rukh Khan, Preity Zinta, Rani Mukherji, Manoj Bajpai, Amitabh Bachchan, Hema Malini, Boman Irani, Kirron Kher, Divya Dutta, Anupam Kher, Atiqa Odho, Akhilendra Mishra, and Zohra Sehgal
Another movie starring Shah Rukh Khan and Preity Zinta. A saga of love, sacrifice, and courage, of love that grows with separation. The story of two people who meet in unexpected circumstances and their fates collide. Veer Pratap Singh is a Squadron Leader, he is a rescue pilot in the Indian Air Force. While working he comes across Zara, a stranded girl from Pakistan who comes to India to fulfill her mother's dying wish. He saves her, and spends time with her, he realizes that he was falling in love with her. Before she leaves he confesses his love thinking that their love was impossible. Zara too realizes her feelings, but she has no choice but to marry into a family that will further her family's political power.
22 years later, Samia, a Pakistani human rights activist finds herself face to face with Veer. Trapped in a Pakistani jail for 22 years, and hasn't spoken a single word to any person since. No one knows who and she makes it her mission omission to find out the truth of what really happened to Veer and wants justice for him. However, This love was completely consuming and destroys their lives. But, it is also an inspiration that remains a legend among Hindi romantic movies. A critically praised movie that was praised for its dialogues, music, performance, the sensitive portrayal of the India-Pakistan relationship, and the story itself. Winning several awards, this romantic Bollywood movie proves itself to be one of the best Hindi romance movies of all time.
Watch the trailer for Veer-Zara!
Watch Veer-Zara on Amazon Prime Video:
https://www.primevideo.com/detail/0S7X9F1I1XQCMMK42JMFFRKMZ3/ref=atv_sr_def_c_unkc__1_1_1?sr=1-1&pageTypeIdSource=ASIN&pageTypeId=B01MF8WD9K&qid=1594201726
Hum Tum (2004)
Cast: Saif Ali Khan, Rani Mukherji, Rishi Kapoor, Kirron Kher, Rati Agnihotri, Jimmy HSergil, Isha Koppikar, Abhishek Bachchan, Shenaz Treasureywala, Partinita Seth, and Parzaan Dastur
This Hindi romantic movie is based on the battles of the sexes where Karan and Rheas try and understand each other. The movie follows the story of two people who run into each other on numerous unplanned occasions. However, the encounters weren't always happy, they ranged from friendly to hostile. Their relationship is a unique one. They fall in love with each other, despise each other's guts, and become friends- in no specific order. Karan is a cartoonist and a ladies man and has a daily comic that explores the battles between the male/female behavior.
Meanwhile, Rhea is a sensitive and confident woman, she knows how to handle and stand up for herself. They both have almost nothing in common, but as life goes on and continually meet each other over a course of a whole decade. They begin to understand each other and a friendship flourishes. A couple that can't stand each other, a journey of how they take forever to realize their feelings. Their complex relationship scenarios offer a whole cinematic universe in itself. A very appreciated positive aspect of the movie was that it was like any other Bollywood romantic movie but it avoids the over-the-top melodrama. Also, the animated characters throughout the movie were very adorable. Amazing characterizations, the protagonists are strong and memorable, and the story itself is very amusing.
Watch the trailer for Hum Tum!
Watch Hum Tum on Amazon Prime Video:
https://www.primevideo.com/detail/0N4MSOGAXQY3K2AO7O0K85PBS3/ref=atv_sr_def_c_unkc__1_1_1?sr=1-1&pageTypeIdSource=ASIN&pageTypeId=B01MEFYNYS&qid=1594282499
Salam Namaste (2005)
Cast: Saif Ali Khan, Priety Zinta, Arshad Warsi, Tania Zaetta, Jugal Hansraj, Jaaved Jaffrey, Abhishek Bachchan, Kunal Vijaykar, Ravi Khote, Siddharth Anand, Maria Goretti, Ness Wadia, and Jessica Craike
.
Nick and Ambar are a pair of progressive Indians that live in Australia. Originally, Nick was sent abroad to pursue Architecture, but he strayed towards cooking. He designs a restaurant and eventually becomes the head chef. After a year of a foreign exchange program, Ambar decided to stay in Australia, and her parents disown her. She works at a radio station as an RJ for 'Salaam Namaste'. Nick is scheduled for an interview at her show, but he repeatedly oversleeps and misses he shows. Later, they meet at a wedding not knowing each other, they eventually fall in love. They are definitely attracted to each other but they don't live like it. A few months into their relationship, they move in together and Ambar finds out she is pregnant. Both have a disagreement on whether they are ready to take on the responsibility of a child.
Both argue and break up. Over the next few months, both are agonized by the fact that they love each other. They miss their other half, but a series of hilarious misunderstandings keep them apart. Are they made for each other or not? This movie gives us a quirky take on love and reality-coated look into a not-so-fairy tail like a love story. However, The humor, color, energy, and the chemistry of Nick and Ambar really elevates the movie to another level.
Watch the trailer for Salaam Namaste!
Watch Salaam Namaste on Amazon Prime Video:
https://www.primevideo.com/detail/0GHXG38W4ZNA9UHPZR98ZLXKP7/ref=atv_sr_def_c_unkc__1_1_1?sr=1-1&pageTypeIdSource=ASIN&pageTypeId=B01M9CA5PE&qid=1594286048
Socha Na Tha (2005)
Cast: Abhay Deol, Ayesha Takia, Apoorva Jha, Sohrab Ardeshir, Neet Mohan, Salim Shah, Rati Agnihotri, Snadhya Mridul, Rajendranath Zutshi, Kamlesh Gill, Suresh Oberoi, and Lushin Dubey
A guy is getting forced into an arranged marriage, he refuses to marry a stranger. Viren and Aditi's families want to arrange a marriage between the young people. Viren strictly refuses as he was in love with his girlfriend. However, both of them meet coincidentally and Viren asks Aditi to accompany him to Goa. He wants Aditi to find out whether Karen really loves him or not. On the trip, both realize that they have fallen hard for each other. But, the preparations for Karen and Virens wedding is on full-blast. He realizes that there is nothing he can do, he convinced his family really hard for his marriage with Karen.
Even Aditi, who has fallen in love with Viren, refuses to go any further. Her family has already set her up with another guy. Both decided to forget each other and go on with their lives. But, of course, both are miserable without each other. For the sake of their families will they give up their love, or will they perhaps confront their own feelings? This movie is like a breath of fresh air, it definitely did not receive the love and recognition it deserves. A very light-hearted movie that has a good script, talented actors, and some real emotions.
Watch the trailer for Socha Na Tha!
Watch Socha Na Tha on Amazon Prime Video:
https://www.primevideo.com/detail/0OBBOGV8P5V52OPEXPE43BYFDH/ref=atv_sr_def_c_unkc__1_1_1?sr=1-1&pageTypeIdSource=ASIN&pageTypeId=B07L7BMY63&qid=1594287103
Vivah (2006)
Cast: Shahid Kapoor, Amrita Rao, Anupam Kher, Alok Nath, Seema Biswas, Samir Soni, Lata Sabharwal, Manoj Joshi, Amrita Prakash, Ameya Pandya, Dinesh Lamba, and Mohnish Bahl
Poonam's uncle filled the role of her parents in her life after her parents dies when she was pretty young. However, her aunt didn't like Poonam being prettier than her own daughter Rajni. When a marriage proposal for her comes from a renowned businessman's son. Prem, however, thought he was too young to get marries, but complies to respect his father's wishes. After meeting, both agree to get married and the date for marriage is set six months from now. Shortly, the engagement takes place and both the families acquaint each other and celebrate a huge contract Prem secure. All is going well, the preparations for their marriage goes well. As the marriage grows closer, a fire in Prem's house puts their new-found love for each other at the test.
Movie Recommendations: If you are someone who has been keen on movies based on real-life stories of people. Here are 50+ Best Bollywood Movies Based on True/Real Life Stories with Full Movies or Watch Online Links. (Each link in the article will open in New Tab so you can finish this off and switch 🙂 )
An incredibly pure movie, this might not be everyone's cup of tea. However, the beauty of arranged marriage, Indian culture, and Indian rituals are highlighted. Being someone who is not for an arranged marriage, I could still appreciate this movie. The protagonists did a great job of portraying their roles. There were no 'villains' or the big bad, the circumstances the new couple faces are unfortunate. It is a Hindi Romantic movie that thrives on its simplistic attributes and script.
Watch the trailer for Vivah!
Watch Vivah on Amazon Prime Video:
https://www.primevideo.com/detail/0LLABXQG09T5M8SPUB4PTA5AHD/ref=atv_sr_def_c_unkc__1_1_1?sr=1-1&pageTypeIdSource=ASIN&pageTypeId=B07M6BCR3F&qid=1594315941
Fanaa (2006)
Cast: Aamir Khan, Kajol, Rishi Kapoor, Kirron Kher, Tabu, Sanaya Irani, Gautami Kapoor, Shruthi Seth, Sharat Saxena, Ahmed Khan, Satish Shah, Puneet Vasishtha, Jaspal Bhatti, Lilette Dubey, and Vrajesh Hirjee
A beautifully painful movie, Fanaa is the true essence of Hindi romantic movies. Zooni is a blind Kashmiri girl who is out in Delhi to participate in a Republic Day event. Her father gave her this one piece of advice that sticks with her throughout her life. "What defines one's life is the decision between the greater of two goods or the lesser of two evils." While touring the city, she meets Rehan, a Delhi tour guide who flirts with her. Her friends warn her against this 'road-side Romeo' who'll bring her trouble. But, she chooses to ignore them and spend time with him. She discovers a new meaning of life with him and he promises her a life full of precious memories.
While Zooni was boarding a train Rehan asks her to stay and they go and meet a doctor that might bring her vision back. She imagines a life together with him. But, there are sides to Rehan's life she is completely unaware of. This film holds a 100% critical rating on Rotten Tomatoes, the actors were highly praised for their incredible acting and on-screen chemistry. However, the film was banned in Gujrat due to Aamir Khan's comments criticizing the Gujrat government. Nevertheless, the film was an incredibly successful movie critically and commercially.
Watch the trailer for Fanaa!
Watch Fanaa on Amazon Prime Video:
https://www.primevideo.com/detail/0QBQ0ZOK7NULHKFXSRDWD3GHHU/ref=atv_sr_def_c_unkc__1_1_1?sr=1-1&pageTypeIdSource=ASIN&pageTypeId=B01M9DSTZH&qid=1594317417
Kabhi Alvida Naa Kehna (2006)
Cast: Amitabh Bachchan, Shah Rukh Khan, Abhishek Bachchan, Rani Mukherji, Preity Zinta, Kirron Kher, Arjun Rampal, Ahsaas Channa, Kavi Chopra, Kajol, John Abraham, and Riteish Deshmukh
A riveting movie from the very first scene, this is considered a Hindi romantic movie classic. KANK is the story of 4 people with complicated relationships. Maya is an orphan who marries her childhood friend Rishi. Meanwhile, Dev lives with his wife Rhea, he is a successful soccer player in New York City. Maya and Dev cross paths long before she marries Rishi, even though both were complete strangers, they connected instantly. Soon after, Dev permanently injures his leg in an accident rendering him unable to play soccer. It's years after, Dev is now living with a limp in his leg and a very short-temper. He felt inferior to his own wife, she is successful while he was bitter about his condition. On the other hand, Rhea is not in love with RIshi. He expresses his distaste of Maya's infertility.
However, Dev and Maya meet once again and bounce off ideas of ways to salvage their marriages. But, somewhere along the way they don't realize that they have feelings for each other and not their partners. Their guilt makes them work harder toward their spouses but inside they were miserable. So, will they give up their love and continue in a relationship they weren't happy in? Shah Rukh Khan, as always, was incredible in this movie, he plays his role with such conviction and emotional impact. The cast in this Hindi romantic movie was stellar, the complexity and relationship and marriage's ability to turn sour anytime are really interesting. The repercussions of following your heart aren't always the best.
Watch the trailer for Kabhi Alvida Na Kehna:
Watch Kabhi Alvida Na Kehna on Netflix:
https://www.netflix.com/title/70057651
Jab We Met (2007)
Cast: Shahid Kapoor, Kareena Kapoor, Dara Singh, Pavan Malhotra, Kiran Juneja, Sanjay Kushwaha, Saumya Tandon, Tarun Arora, Divya Seth, Nihar Thakkar, Brijendra Kala, and Kishore Pradhan
A hilarious Bollywood romantic movie revolving around the love story of Aditya and Geet. Both extreme opposites of each other, whether it's circumstances they didn't know yet. Aditya is a wealthy businessman who is struggling with depression regarding his professional and personal life. Meanwhile, Geet is an open-book, full of life and speaks without hesitation. They first meet on a train, Geet is on her way to home and Aditya's destination was anywhere the train takes him. Aditya gets off the train and Geet follows him to let him know that the train is departing, she ends up missing the train with him. Frustrated at the situation, she announces that he is responsible to take her home.
That's when they head on a road trip where Aditya feels lighter. Being around Geet he felt better about life. When he drops her at the end of the trip, he meets her family and is showered with affection. But, when they were making Geet get married to someone when she already loved someone else, she takes Aditya and runs away. She takes Aditya to meet the love of her life, Anshuman, and Aditya, in love with her, bids her a farewell. But months later, Both are in different circumstances and in different states of mind. Aditya was a cheerful person while Geet becomes someone he doesn't recognize. How will the story of these two lost souls come to a conclusion?
Watch the trailer for Jab We Met:
Watch Jab We Met on Amazon Prime Video:
https://www.primevideo.com/detail/Jab-We-Met/0IZIGS3J12SA8YI4UQQT2OS4WY
Namastey London (2007)
Cast: Akshay Kumar, Katrina Kaif, Rishi Kapoor, Nina Wadia, Clive Standen, Upen Patel, Javed Sheikh, Tifanny Mulheron, Riteish Deshmukh, Gurpreet Ghuggi, Vir Das, Kunal Kumar, Manpreet Banga, and Prince Charles.
An addictive Bollywood romantic movie that you'd want to watch again and again. About the unique love story of Jasmeet and Arjun. Jasmeet went to a proper English-medium school and made foreign friends her entire life. She turns into a beautiful, well-spoken woman, fully British at heart and habits. When her father takes her on a tour of India, he gets her married to Arjun. However, when she returns to London, she refuses to acknowledge her marriage to Arjun as there is no proof. So, she announces that she is getting married to Charles Brown, who supposedly has a connection to Prince Charles himself.
Meanwhile, Arjun follows her all the way to London, he genuinely wants her to be his wife. She faces a few racial profiling moments when she introduces her family to her friends. What will happen to this incredibly twisted love story where Arjun somehow becomes the Best Man at her wedding. A hilarious love story showing the contrasts of western and eastern cultures. Also, the racial slurs every Indian has to go through in places outside India hits a little too close to home. Will Jasmeet let go of her Indian roots completely and marry a man who has no regard for her culture or will she marry Arjun, who is a proud Indian at heart?
Watch the trailer for Namastey London!
Watch Namaste London on Amazon Prime Video:
https://www.primevideo.com/detail/0STAVZXRN05ZKG46H46GDB4Y9E/ref=atv_sr_def_c_unkc__1_1_1?sr=1-1&pageTypeIdSource=ASIN&pageTypeId=B07L8V3GF6&qid=1594444332
Jaane Tu… Ya Jaane Na (2008)
Cast: Imran Khan, Genelia D'Souza, Ratna Pathak Shah, Naseeruddin Shah, Paresh Rawal, Sohail Khan, Arbaaz Khan, Nirav Mehta, Alishka Varde, Karan Makhija, and Sugandha Garg.
A beautiful coming of age Bollywood romantic movie that will make you smile through the pain. About another pair of opposites Jai and Aditi. Aditi is a feisty and violent girl who will put you in your place. No one dares to pick a fight with her, then comes Jai Singh Rathore is the most non-violent and peaceful guy to ever exist. He seems like the only one who can calm her down and she thinks he is a coward. Best friends from childhood, Aditi and Jai are so close that their parents decide to get them married.
However, this idea didn't sit well with them, they refuse to get married. They disagree, convinced that they are not in love with each other. So, both of them set out to find their own soulmates. With Aditi's help, Jai finds Meghna. they fall in love with each other and their families approve too. However, deep down she misses Jai. So, feeling deserted Aditi decides to get engaged Sushant, her father's friend's son. Both, of them are disappointed that the other was in a relationship, but no one admitted it till it was too late. Hearts are broken and relationships are destroyed. How will their friendship evolve?
Watch the trailer for Jaane Tu… Ya Jaane Na:
Watch Jaane Tu… Ya Jaane Na on Netflix:
https://www.netflix.com/title/70089214
Rab Ne Bana Di Jodi (2008)
Cast: Shah Rukh Khan, Anushka Sharma, Vinay Pathak, Manmeet Singh, Richa Pallod, M. K. Raina, Isha Koppikar, and Aneesha Dalal
Suri is a shy and introverted office employee who falls for Taani at the very first sight. Taani is an extrovert who is cheerful, her fiance and his entire wedding entourage are killed in a road accident, and her father suffers a heart attack. On his deathbed, he fears that his daughter might end up alone, so he asks Surinder to marry her. He silently accepts because he loves her anyway, and Taani fulfills her father's dying wish. After the marriage, Surinder distances himself and gives her space and is afraid to reveal his feelings. But, later, Taani makes it clear that she will try her best to ply her role as a wife, but after the loss of her fiance, she has no love left in her, so she can never love him.
Surinder understands and doesn't try to force his feelings on her. He realizes that Taani loves masculine and outgoing guys when she enters a dance competition and enjoys herself. So, with the help of his friend transforms into "Raj", a kind of person Taani would fall in love with. However, Taani fails to recognize him and joins the competition with him. When both start having feelings for each other complications increases as Raj can't bring himself to admit that he was in fact Surinder and Taani felt conflicted after promising Surinder that she will be his wife. How will this confusing relationship progress? This is one of Anushka Sharma's biggest Bollywood romantic movie hits.
Watch the trailer for Rab Ne Bana Di Jodi!
Watch Rab Ne Bana Di Jodi on Amazon Prime Video:
https://www.primevideo.com/detail/0I9V8J7ULXMS79SCYQS7FN0JS3/ref=atv_sr_def_c_unkc__1_1_1?sr=1-1&pageTypeIdSource=ASIN&pageTypeId=B01MA57OKL&qid=1594450488
Dostana (2008)
Cast: Abhishek Bachchan, John Abraham, Priyanka Chopra, Bobby Deol, Kirron Kher, Sushmita Mukherjee, Boman Irani, Shrey Bawa, Shilpa Shetty
A one-of-a-kind Bollywood romantic movie filled with concepts that are not really used in Bollywood. Sam and Kunal are bachelors who are womanizers living in Miami. They find each other interested in the same apartment. However, the apartment belongs to the landlord who intends on giving the apartment to her niece and two girl flatmates. So, Sam gets this idea of pretending to be gay to get the apartment. But, as soon as they see Neha, the niece, they regret their decision, they were immediately attracted to her. The three of them become good friends and the boys fall in love with Neha.
Rab ne Bana di jodi has been more on the comedy side so we thought why don't we go forward and create a list of movies especially for people who like to watch romantic comedy movies. So here is a list of 60+ Best Bollywood romantic comedy movies of all time Ordered by Year. Thank us later 😀
However, they pretend to be a couple to help Kunal a US citizenship. But things get complicated when Neha meets Abhi, and they fall in love. Kunal and Sam try and sabotage their relationship. They both Neha out separately planning to confess their love, but will they manage to win her heart after lying about their sexuality. This movie surely has a funny concept, the cast is incredibly talented and good-looking, with a few touches of emotional drama, it is worth the watch. Will anyone of them be able to win Neha's heart?
Watch the trailer for Dostana!
Watch Dostana on Netflix:
https://www.netflix.com/title/70109680
Jodhaa Akbar (2008)
Cast: Hrithik Roshan, Aishwarya Rai Bachchan, Sonu Sood, Kulbhushan Kharbanda, Suhasini Mulay, Raza Murad, Poonam Sinha, Rajesh Vivek, Pramod Moutho, Ila Arjun, Digvijay Purohit, and Yuri Suri.
A complete switch from the previous movie, we have a historical Bollywood romantic movie on our hands. Jodhaa Akbar is a 16th century, an old love story about two royalties. A marriage of alliance that gives rise to one of the greatest true love stories between the great Mughal Emperor, Akbar, and the beautiful Rajput princess, Jodhaa. Akbar was the ultimate emperor and his political power knew no bounds. He conquered miles and miles of territory and his marriage to Jodhaa meant a strong alliance with the powerful Rajputs.
But, Jodhaa, a fierce woman takes him a journey of true love. She hated being reduced to nothing but a political pawn, she decides to not change her religion and will worship her god. Akbar accepts, but his biggest challenge now is to win Jodhaa's love. However, despite the resentment she felt, he knew somewhere deep down both could find love. A beautiful and extravagant love story of the mighty emperor and the defiant princess. Among the political plots to overthrow him, and the tension rising within his guard, will Jodhaa and Akbar's love story get a happy ending? A thrilling and dramatic Hindi romantic movie that will give you chills.
Watch the trailer for Jodha Akbar!
Watch Jodha Akbar on Netflix:
https://www.netflix.com/title/70090035
Love Aaj Kal (2009)
Cast: Saif Ali Khan, Deepika Padukone, Giselli Monterio, Rishi Kapoor, Neetu Singh, Rahul Khanna, Florence Brudenell-Bruce, Raj Zutshi, Kavi Shastri, Vir Das, Sagar Arya, Mandi Sidhu, and Sheena Bhattessa.
A tale of modern romance, this Bollywood romantic movie revolves around a modern couple. Jai and Meera live in London and are happy with each other. They don't believe in tying each other down and stop from achieving success. So when their career takes them to a new place they break up and remain friends. Meera goes to India while Jai stays in London waiting for his dream job. Both date different people and believe that the other has movies on. Simultaneously a tale of Veer and Harleen set in the past goes on throughout the movie where Veer narrates his love story to Jai in the present time.
After the story, Veer pays Meera a surprise visit, they lie to their partners and spend time with each other. They finally realize they love each other's company. But, things get complicated soon and we see the parallels between Jai and Veer's love story. The comparison and contrast between the love stories of the past and present was a unique and interesting touch to the movie. This Bollywood romantic movie shows the course of true love and how it can never be fully smooth and easy. An incredible romantic movie for every hopeless romantic, the protagonists do a great job of delivering beautiful performances.
Watch the trailer for Love Aaj Kal!
Watch Love Aaj Kal on Airtel XStream:
https://www.airtelxstream.in/movies/love-aaj-kal/EROSNOW_MOVIE_1000378
Ajab Prem Ki Ghazab Kahani (2009)
Cast: Ranbir Kapoor, Katrina Kaif, Upen Patel, Salman Khan, Darshan Jariwala, Mithilesh Chaturvedi, Navneet Nishan, Smita Jaykar, Shyam Mashalkar, Akur Tripathi, Khurshed Lawyer, and Ameya Hunaswadkar
An adorable love story of Prem and Jenny, he is a free-loader and fun-loving guy who meets a pretty and smart girl while he was helping his friend elope. Prem cons Mr. Pinto into buying him a flat to pay for expenses of Happy Club. He is the president of this club, much to his father's disappointment. They gradually click and become friends, for Prem she becomes something more. When he musters up his courage and tries and confesses his love for her, he also believes that she feels the same.
He even helps her elope after her parents try and get her married to a wealthy weirdo Tony. Prem comes to a devastating discovery that Jenny is in love with her friend Rahul. But, Prem is willing to sacrifice his love to ensure the happiness of the people around him. So, he is set on getting the girl-of-his-dreams married to the boy-of-her-dreams. An iconic love story that was actually declared a Super Hit on the Box Office. The actors have striking chemistry that won them multiple awards. This Hindi romantic movie soundtrack was also widely consumed online.
Watch the trailer for Ajab Prem Ki Ghazab Kahani!
Watch Ajab Prem Ki Ghazab Kahani on Amazon Prime Video:
https://www.primevideo.com/detail/Ajab-Prem-Ki-Ghazab-Kahani/0IE78NPPC8Z73BS41SOZSMTRDX
Wake Up Sid (2009)
Cast: Konkona Sen Sharma, Ranbir Kapoor, Anupam Kher, Supriya Pathak, Rahul Khanna, Kashmira Shah, Shikha Talsania, Namit Das, Amrita Prakash, Rahul Pendalkar, Shruthi Bapna, and Kainaz Motivala.
Another coming-of-age Bollywood romantic movie starring the then rising starring Ranbir Kapoor. A movie revolving around Sid, a gifted and smart guy who is just a lazy college student in his 20s. He hates studying and doesn't even bother to understand anything. His imagination and creativity and talent lies somewhere else. With interest in photography, he id shown as a spoiled slacker who has no plans after his graduation. At his farewell party, he meets Aisha, an aspiring writer who moves to Mumbai from Calcutta.
One thing leads to another and they decide to go on a walk, they immediately click. But a few weeks later his parents disown him after he delays his graduation another year after failing in his exams. He moves in with Aisha temporarily but she is stunned to see his lazy and disorganized way of living. After a huge fight, she helps him find a job and he gradually becomes responsible. He lives a better life thanks to her, where will this relationship lead is it jealousy and heartbreak or a happy ending and an adorable relationship?
Watch the trailer for Wake Up Sid!
Watch Wake Up Sid on Netflix:
https://www.netflix.com/title/70123119
Dev D (2009)
Cast: Abhay Deol, Mahie Gill, Kalki Koechlin, Dibyendu Bhattacharya, Parakh Madan, Gurkirtan, Satwant Kaur, Shena Gamat, Binnu Dhillon, Kuldeep Sharma, Sanjay Kumar, and Helen Jones
A modern spin on the Bollywood romantic movie classic Devdas, this movie has the same storyline. Dev is sent to boarding at a young age because of his misconduct and habit of calling his parents by name. He is a slacker who leaves his childhood love Paro behind. He struggles to maintain basic grades while Paro aces her grades despite being from a poor family. Years later, he returns and hopes to marry the love of his life, but the social gaps weren't acceptable. After spurring Paro's love because of a misunderstanding, he turns towards alcoholism and drugs.
She seems to move on, but he is devastated and depressed. That's when he meets Chanda, a prostitute, he likes her, but his drive towards self-destruction makes it impossible for them to be together. He spirals out of control into madness because of love. Will he work be able to pull himself together for love or will he go so far in deep that he can't come out of it?
Watch the trailer for Dev D!
Watch Dev D on Netflix:
https://www.netflix.com/title/70113305
Band Baaja Baaraat (2010)
Cast: Ranveer Singh, Anushka Sharma, Manu Rishi, Puru Chibber, Manish Choudhary, Manit Joura, Sushil Dahiya, Revant Shergill, Govind Pandey, Vinod Verma, Nirupama Chopra, and Pushvinder Rathore
Bittoo is a street-smart guy who gatecrashes a wedding for free-food, there he meets Shruthi a quirky girl, who happens to be the wedding coordinator. He flirts with her, but she makes it clear that her goal was to become a wedding planner. Both have problems of their won, Bittoo is pressured by his father to work in their fields and Shruti is coaxed to get married as soon as possible. Both set conditions, they will do what is required once they get their wedding planning business up and running.
That's how Bittoo and Shruti get into a partnership, the one condition was that they will not get involved romantically. But, will they be able to resist and discard the feelings that slowly crept up while they work together? This Hindi romantic movie got immense success and received universal positive acclaim due to its unique concept. Additionally, The soundtrack was sold incredibly well and it was the most awarded movie of the year!
Watch the trailer for Band Baaja Baaraat!
Watch Band Baajaa Baaraat on Amazon Prime Video:
https://www.primevideo.com/detail/Band-Baaja-Baaraat/0G0VMWL6S3PXAE8MX48JNF9EU5
Break ke Baad (2010)
Cast: Imran Khan, Namit Shah, Parzan Dastur, Deepika Padukone, Ziyah Vastani, Sharmila Tagore, Shahana Goswami, Yudhishtar Urs, Lilette Dubey, Naveen Nischol, Suparna Marwah, and Divya Lakshmi.
The next Hindi romantic movie that is fairly underrated, a movie starring the superstar Deepika Padukone and Imran Khan. Abhay and Aaliya have been friends forever. She has always loved acting because her mother was an actress. Meanwhile, Abhay is passionate about cooking but his father wants him to take over their business. Inevitably they start dating, but Aaliya didn't want a marriage. So, when an acting opportunity comes she takes off to Australia.
Abhay does get paranoid and flies to Australia, but aliyah gets annoyed that he didn't trust. So, they break up. But, it is clear that they have feelings for each other. He ends up returning home and But, Aaliyah receives a shock when she finds out that he is getting married soon. How will the relationship end up after a break? Will they patch up or move on?
Watch the trailer for Break Ke Baad!
Watch Break Ke Baad on Disney+ Hotstar:
https://www.hotstar.com/in/movies/break-ke-baad/1000065647
Rockstar (2011)
Cast: Ranbir Kapoor, Nargis Fakhri, Aditi Rao Hydari, Kumud Mishra, Piyush Mishra, Moufid Aziz, Shammi Kapoor, Shernaz Patel, Aakash Dahiya, Jaideep Ahlawat, Shreya Narayan, and Nizami Bandhu.
A painful musical story about a man's journey to being a rock star. The film follows a series of flashbacks of Janardharn's life. A saga of his transition from a small-town boy to an international rock star. This rock star chases his dreams as his philosophy says true music comes from pain. That's when he meets Heer, a popular college girl. His dreams of being a musician as he spends more time with her. When she moves away, his life goes downhill, he is thrown out of his house.
As he spends his time at a local mosque, his lost passion for music comes back to life. He signs with a label and becomes well-known. But, years later he meets a now married Heer. This is when he begins his journey of an angry rock star. His journey to becoming a rock star is lonely and painful, all the pain that love brought him, was it worth it?
Watch the trailer for Rockstar!
Watch Rockstar on Airtel XStream:
https://www.airtelxstream.in/movies/rockstar/EROSNOW_MOVIE_1000637
Tanu Weds Manu (2011)
Cast: Madhavan, Kangana Ranaut, Jimmy Shergill, K K Raina, Dipti Mishra, Rajendra Gupta, Navni Parihar, Neha Kaul, Ravi Kishan, Deepak Dobriyal, Eijaz Khan, and Swara Bhaskar.
A Hindi Romantic movie with a cliched storyline but unpredictable situations is what makes it a hit. Manoj is a London-based Doctor who returns home with his parents. He travels with several other people all way to Kanpur to meet a prospective bride Tanuja. He likes her and asks his family to start the preparations for their marriage. But, he gets a wake-up call when he discovers that Tanuja already has a boyfriend and she plans on marrying him no matter what.
He informs his parents and they simply move on to meet new proposals, but Manoj has his heart set on Tanu. He fell for her at the very first sight, but she has no plans of marrying him. However, they have another fated meet at a wedding. They strike a friendship over the few days, she still has a boyfriend, but it gives this hopeless romantic a ray of hope. He hopes to win her heart here, but he faces rejection again when she asks him to help her elope with another guy. Will a heartbroken Manu help the love of his life to elope with another guy or try to shoot his shot while he still has a chance?
Watch the trailer for Tanu Weds Manu!
Watch Tanu Weds Manu on Netflix:
https://www.netflix.com/title/70176968
Cocktail (2012)
Cast: Deepika Padukone, Saif Ali Khan, Diana Penty, Dimple Kapadia, Boman Irani, Randeep Hooda, and Tina Desai.
A fun love triangle between a guy and 2 girls, they are best friends but opposites. A popular Hindi romantic movie that is well-known for Deepika's incredible acting skills. The story revolves around Gautam, Veronica, and Meera. Gautam dreams to go to London and have a job there, but his mom puts a condition. He has to get married and has to wait until he does. She finds a perfect daughter-in-law Meera for her, she does not tell it to the kids.
She simply asks him to accompany her friend's daughter Meera on her trip to London. Meera loses her job as she fails to submit her assignment and Gautam consoles her. That's when they meet Veronica, a free-spirit. They live together and soon Veronica and Gautam have a no-strings-attached relationship. Although Meera initially dislikes him, the three become good friends. Gradually, Veronica falls in love with Gautam while he falls in love with Meera. Who does Gautam really end up with? However, You really end up rooting for both the pairs. A hilarious Hindi romantic movie that you will enjoy every moment of.
Watch the trailer for Cocktail!
Watch Cocktail on Airtel XStream:
https://www.airtelxstream.in/movies/cocktail/EROSNOW_MOVIE_6095706
Jab Tak Hai Jaan (2012)
Cast: Shah Rukh Khan, Katrina Kaif, Anushka Sharma, Sarika, Andrew Bicknell, Sharib Hashmi, Jahudul Islam, Jasmine Jardot, Gireesh Sahedev, Amrinder Sodhi, and Varun Thakur.
This movie had an incredible run on the Box Office with its music selling across India. Samar is a major in the Indian Army, he rescues Akira who finds his diary and decides to make a documentary on his incredible life story. The diary recounts Samar's early life as an immigrant in London where worked as a street musician. There he meets Meera, where he falls in love with each other. But a serious accident puts his life in danger and Meera prays and vows to never meet him if that's what it takes it to see him healed. When he recovers, Meera leaves him and Samar comes back home after being heartbroken. He vows to walk into the jaws of death every day.
Akira convinces him to help her make the documentary and she takes him to London to promote it. She falls in love with him meanwhile but his unresolved love for Meera abstained from returning her feelings. Samar gets into an accident again where he suffers from amnesia, and Akira reluctantly brings in Meera to retrieve his memories. While unraveling his intriguing life and his mysterious love she falls hopelessly for him. But, what happens when Meera enters the picture once again?
Watch the trailer for Jab Tak Hai Jaan!
Watch Jab Tak Hai Jaan on Amazon Prime Video:
https://www.primevideo.com/detail/amzn1.dv.gti.b2abea88-1c00-c228-ecfa-4db2a54edfab/?ref_=dvm_pds_gen_in_as_s_gt_dtites207E2%7Cm_aV2zdo9Hc_c413287241934
Barfi (2012)
Cast: Ranbir Kapoor, Priyanka Chopra, Ileana D'Cruz, Saurabh Shukla, Akash Khurana, Ashish Vidyarthi, Roopa Ganguly, Haradhan Bandopadhyay, Uday Tikekar, Arun Bali, and Bholaraj Sapkota
Ranbir Kapoor describes this character as the most challenging character of his career. He plays the role of Murphy a.k.a "Barfi" a deaf and mute troublemaker who is smart and optimistic. This Bollywood Romantic movie was a hit on the box office receiving critical acclaim and labeling Ranbir Kapoor one of the best actors of this generation. Soon, Barfi meets the gorgeous Shruti who befriends him. Soon both fall in love with each other but Shruthi leaves after her mother refuses to acknowledge their relationship. Meanwhile,
Barfi's father gets really sick and Barfi attempts on robbing a bank, after he is unsuccessful he tries another way. He decides to kidnap his childhood autistic friends Jhilmil. But, discovering that she is already kidnapped by another party he simply takes the ransom and decides to leave Jhilmil in the nearest village. But, Barfi now in love with Jhilmil is on the run from the police after she gets kidnapped yet again. Shruthi realizes that she is still in love with Barfi, but Barfi is on a totally different path. However, These three young people learn that the real definition of love cannot be contained by society's view of normal or abnormal love.
Watch the trailer for Barfi!
Watch Barfi! on Netflix:
https://www.netflix.com/title/70219525
Yeh Jawaani Hai Deewani (2013)
Cast: Ranbir Kapoor, Deepika Padukone, Aditya Roy Kapoor, Kalki Koechlin, Kunaal Roy Kapur, Evelyn Sharma, Farooq Sheikh, Tanvi Azmi, Dolly Ahluwalia, Poorna Jagannathan, and Rana Daggubati.
This movie is one of the highest-grossing Hindi Romantic movies of all time. With incredible success, and rightfully so, this movie has a special place in many hearts. a story about Kabir and Naina, an adorable couple that has different goals in life. They first meet in a trek in Manali when Naina falls in love with Kabir. He teaches her to live life a little harder and have adventures. They have a trip of their lives where they develop feelings for each other. But, everything comes to an abrupt halt when Kabir goes overseas while following his dreams and Nania stays and becomes a doctor.
Years later, they reunite after their friend Aditi announces that she is getting married. Both still have feelings for each other but their goals in life remain the same. Will they give up their dreams and lifestyles to stay with each other or will they continue on the path they set on years ago. This movie was a cultural phenomenon where everyone across the world was singing along to the incredible soundtrack and the stunning movie sets. Everything in the movie is absolutely perfect, no movie has yet come close to the level of perfection this movie achieved.
Watch the trailer for Yeh Jawaani Hai Deewani!
Watch Yeh Jawaani Hai Deewani on Netflix:
https://www.netflix.com/title/70276515
Raanjhanaa (2013)
Cast: Dhanush, Sonam Kapoor, Abhay Deol, Swara Bhaskar, Mohammed Zeeshan Ayyub, Ishwak Singh, Shilpi Marwaha, Suraj Singh, Kumud Mishra, Deepika Amin, Urmilla Sharma, Vipin Sharma, and Rahul Chauhan.
Yet another successful movie that swiped the charts with its music and sales. A story about Kundan who falls in love with a girl at the very first glance. Deeply in love with a girl from childhood, he finds that Zoya does not reciprocate his love because he was a Hindu, and family orthodox didn't allow her to form a relationship with him. The film suddenly shifts to a time where Zoya is forced to go to JNU by her parents and through her, we discover the political and idealistic culture of the place.
She falls in love with the student president Akram. When she returns home after 8 years she barely recognized Kundan. She asks him for help to convince her family to let her marry Akram, He agrees to let go of her and find someone else. But, on the day of the wedding, he finds a shocking truth about Akram that enrages him. He crashes Zoya's wedding but everything falls apart from that very moment. What will happen to the relationship he decided to let go with Zoya?
Watch the trailer for Ranjhanaa!
Watch Ranjhanaa on Airtel XStream:
https://www.netflix.com/title/70276515
Aakaash Vani (2013)
Cast: Kartik Aaryan, Nushrat Bharucha, Kiran Kumar, Sunny Singh, Prachi Shah, Fatima Sana Shaikh, Gautam Mehra, and Mahesh Thakur.
Next up I have a strong social and dramatic Bollywood romantic film that received positive reviews for a solid plot and incredible performances by the cast. Akaash is a fun-loving guy meanwhile Vani is a conservative and shy girl. Both fall in love while spending time in college. But, when Aakaash leaves to pursue his studies in the UK. Vani's sister elopes her wedding leaving her family embarrassed and too ashamed to face society. Vaani reluctantly accepts to marry someone to restore their pride. Vani's husband is controlling, emotionally abusive, and forceful towards her while he acts perfectly in front of her family. She realizes that she cannot escape the marriage for the sake of her family.
She becomes reserved and depressed and on her college reunion, she meets Aakash once again. He was still hurt about her decision to break up, but they rekindle their romance on the trip. When he finds out the reason for such a drastic step he promises her to take her time on the trip a precious one. How will Vaani give in to her feelings when she has the reputation of her family on her shoulders? An incredible movie that shows the beautiful yet painful story of two lovers who grow apart due to circumstances.
Watch the trailer for Akaash Vani!
Watch Akaash Vani on Amazon Prime Video:
https://www.primevideo.com/detail/0FWPU5BICNZ5I7NTBUGBYVD8XZ/ref=atv_sr_def_c_unkc__1_1_1?sr=1-1&pageTypeIdSource=ASIN&pageTypeId=B084QNQMS3&qid=1594547138
Aashiqui 2 (2013)
Cast: Aditya Roy Kapoor, Shraddha Kapoor, Shaad Randhawa, Mahesh Thakur, Shubhangi Latkar, Milind Phatak, Chitrak Bandhopadyay, Mahesh Bhatt, and Salil Acharya.
Inspired by the American musical movie named A Star is Born, this movie was a huge success in India and various other parts of the world. The film revolves around two talented singers, one a successful artist that destroys his career because of his alcohol addiction and the other a rising star who no recognition. Rahul meets Aarohi in a local bar, being immensely interested in her talent, he promises her a good career. Being a huge fan of him, Aarohi leaves her job and goes to Mumbai with him. After a few obstacles, she finally signs a contract.
Movie Recommendations: If you are someone who has been into movies and loves watching movies that inspire you to be a better person. Here is a list of 60 Best Inspirational and Motivational Hindi Movies (Bollywood) with Watch Online Links
She trains with Rahul and soon becomes a successful playback singer. They both fall in love and move in together, but Rahul's addiction increases and he becomes aggressive and violent. She becomes a huge star, but Rahul's alcoholism and addiction always distract her. They go through love and hate, fame, and failure throughout their relationship. However, will they stick together regardless or will their egos and problems snatch them apart? Will Aarohi give up her career to save his life? Or will he give up his habits to save their relationship? An iconic Bollywood romantic movie that was extremely popular while it came out, and still is recognized.
Watch the trailer for Aashiqui 2!
Watch Aashiqui 2 on YouTube:
Shuddh Desi Romance (2013)
Cast: Sushant Singh Rajput, Parineeti Chopra, Vaani Kapoor, Rishi Kapoor, Jitendra Parmar, Bhuvan Arora, Rajesh Sharma, Swapnil Kamble, Tarun Vyas, Anirban Narayan Chandra, and Nalneesh Neel
Raghu has those pre-marital jitters before his arranged marriage, he is a tourist guide and a wedding planner. At his wedding he meets Gayatri, he is completely impressed by her character and freedom. He gathers all his courage and runs away from his own wedding because he falls for her. Later, they begin dating and move in together. However, in India, live-in relationships are frowned upon, so they live in an apartment with the pretense of being siblings. Getting tired of the act, they decide on getting married, but on their wedding day she runs out on him.
Soon after he meets Tara, the girl he initially ran out on. She asks him out on a trip, planning to take revenge, but she ends up falling for him. So now he falls in love with her and that's when Gayatri re-enters the picture just like Deja Vu. What will Raghu do? Does he love both of them? How does he choose? Because of the running theme in the movie to not get married.
Watch the trailer for Shuddh Desi Romance:
Watch Shuddh Desi Romance on Amazon Prime Video:
https://www.primevideo.com/detail/Shuddh-Desi-Romance/0IE4OTVPZWMUQQD5HW9QRZ9F4S
Lootera (2013)
Cast: Ranveer Singh, Sonakshi Sinha, Barun Chanda, Vikrant Massey, Arif Zakaria, Adil Hussain, Prince Hayer, Divya Dutta, and Shirin Guha.
An incredible historical Bollywood romantic movie that is set in the year 1953. Following the love story of an archaeologist. Varun visits a village called Manikpur in West Bengal to excavate the hole grounds of a local Zamindar. Varun is young, his knowledge and expertise impress the family, especially the daughter of the Zamindar. Pakhi is his feisty daughter who finds herself falling for this smart man.
However, Varun isn't all that he seems, he held secrets that could drive them apart. But, they fall for each other hard, they have a tender and deep love that seemed unending. So, when he had chosen between his past and future, he chose to leave her. He disappears leaving Pakhi heart-broken and she is left with no choice but to move on. She struggles to forget him and the memories they had together. A beautiful Hindi romantic movie that is warm, kind, and expressive. The delicate act that the protagonists show is heartwarming. It is an underrated masterpiece that carries the romantic legacy of Bollywood movies.
Watch the trailer for Lootera!
Watch Lootera on Netflix:
https://www.netflix.com/title/70286276
Highway (2014)
Cast: Randeep Hooda, Alia Bhatt, Arjun Malhotra, Saharsh Kumar, Pradeep Nagar, Durgesh Kumar, Hemant Mahaur, Reuben Israel, Naina Trivedi, Mohd. Kaif, and Samar Mudasir.
This is a heart-breaking Bollywood romantic movie that will make you cry. Veera is the daughter of a rich tycoon. She gets abducted from the highway and her captors do anything to not get caught. Mahabir, sees Veera enjoy her new-found 'freedom' and gets comfortable. As they jump from state-to-state, she even shares the horrors of her past with Mahabir and they find a connection with each other. Veers surprise herself when she finds herself loving the journey and did not go back to her old life. Mahabir slowly unravels himself and shares the abuse he suffered as a kid.
Both connect and he even tries to leave her by a police station, she refuses and wants to stay with him. Gradually an unusual bond between the victim and oppressor evolves into something delicate and beautiful. She finally felt free in this supposed captivity, Watch this unique relationship in this Hindi romantic movie. Both Alia Bhatt and Randeep Hooda were highly praised for their incredible performances in the movie.
Watch the trailer for Highway!
Watch Highway on Disney + Hotstar:
https://www.hotstar.com/in/movies/highway/1000034504/watch
2 States (2014)
Cast: Alia Bhatt, Arjun Kapoor, Amrita Singh, Ronit Roy, Revathi Nair, Shiv Kumar, Subramaniam, Sharang Natrajan, Amit Bhargav, Achint Kaur, Dilip Merala, Aru Krishnash Kanwarpal, and Neil Shah
A tale of a romance from 2 states the north and south. This Bollywood romantic movie is based on a book by Chetan Bhagat with the same name. Krish is a Punjabi engineer in IIM Gujrat pursuing his MBA. He comes from a rich and pure Punjabi family. There he meets Ananya, his classmate who comes from a conservative Tamil Hindu family. They initially have a rough start, quarreling until they become good friends. Ananya is smart, but she needs help from Krish who is a genius in economics.
Soon they begin dating after Krish confesses his attraction towards her. They date for a while before their placements pull them apart. After graduation, they decide to get married but also agree that they won't marry until their parents accept. The cultural clash between the families is strong enough for them to refuse the proposal of marriage. They work towards making the marriage happen but will their love be able to sustain the trials they face?
Watch the trailer for 2 States:
Watch 2 States on Disney+ Hotstar:
https://www.hotstar.com/in/movies/2-states/1000034502
Tamasha (2015)
Cast: Ranbir Kapoor, Deepika Padukone, Ishwak Singh, Yash Sehgal, Javed Sheikh, Sushma Seth, Vivek Mushran, Kshitij Sharma, Nikhil Bhagat, Faraaz Servaia, and Punam Singh.
An intricate movie with an ending not many can understand, Tamasha is about the life of a man with a borderline personality disorder. He relives his life in 3 stages: as a 9-year old, 19-year old, and a 30-year old adult. About a journey of a man who has lost his edge in trying and following the conventions of society. Tara and Ved meet in Corsica and decide to keep each other company for the week and keep their identities undisclosed.
Tara realizes that she was in love with Ved she decides to leave Corsica. She finds Ved once again after 4 years and she finds a totally different man. This Ved was monotonous and his borderline disorder made him act in ways she did not expect. His erratic behavior makes him realize that the end of his suffering is to create a story for himself. He mindlessly did things that did not make sense to anyone. Tara vows to help him find his old self and show him where his true story belongs.
Watch the trailer for Tamasha!
Watch Tamasha on Netflix:
https://www.netflix.com/title/80087743
Dum Laga Ke Haisha (2015)
Cast: Ayushmann Khurrana, Bhumi Pednekar, Sanjay Mishra, Alka Amin, Sheeba Chaddha, Seema Pahwa, Shardul Rana, Shrikant Verma, Poorva Neeraj, Kunal S Malla, and Sonali Sharma.
A critically acclaimed movie about Prem and his wife Sandhya. It's the 1990's and Prem is the owner of a tape recording shop in the time where cassettes were dying. He is a shy music buff who dreams to marry a slim and beautiful girl, but his reality him different. According to him, the girl he was actually getting married to was fat and not very beautiful. But, he was forced into this marriage by his parents and had no choice to go on with it. He ignores his wife and feels embarrassed walking next to her on the streets.
Meanwhile, Sandhya tries hard to get her husband to love her because they were supposed to spend a life together. With immense pressure on both of them, their relationship finally explodes. Amidst this, a race where a husband carries her wife throughout the city on his back is organized and his family asks them to participate in the race because their shop was dying. Do they ever realize that they might not be what the other dreamt of, but to love respect for each other is what's needed.
Watch the trailer for Dum Laga Ke Haisha!
Watch Dum Laga Ke Haisha on Amazon Prime Video:
https://www.primevideo.com/detail/amzn1.dv.gti.9eabea87-dffc-e30f-f333-a06ba690757e/?ref_=dvm_pds_gen_in_as_s_gt_dtites121E2%7Cm_jQEQn2aVc_c413303847508
Ae Dil Hai Muskhil (2016)
Cast: Anushka Sharma, Ranbir Kapoor, Aishwarya Rai Bachchan, Fawad Khan, Shah Rukh Khan, Lisa Haydon, Imran Ali Abbas, Alia Bhatt, and Neha Dhupia.
Ayan is a rich boy who meets Alizeh in a club and they end up becoming friends. They discover that both of their partners were cheating on them they break up and go to Paris to spend a week together. Ayan falls hard for her while Alizeh friend zones him. She reunites with her ex-boyfriend and eventually stops talking to Ayan all together. A few days later he gets an invitation to her wedding, heartbroken he accepts the invitation and attends the wedding regardless. That's when he meets Saba, a poet that consoles him with her poetry. He discovers that she has no place for love in her heart and makes him realize that one-sided love isn't a weakness.
Saba understands his love for Alizeh and asks him to leave despite her feelings for him. This story is about unrequited love and the way it changes a person for the better or worse. The heartbreak and exhilaration and the journey it takes these three people on as they navigate life, clove, and the pain of a heartbreak. An absolute hit on the box office, this Bollywood romantic movie received positive critical reception too.
Watch the trailer for Ae Dil Hai Mushkil!
Watch Ae Dil Hai Mushkil on Amazon Prime Video:
https://www.primevideo.com/detail/0P9D7JMQ1NDU3P9V32JI39DJAI/ref=atv_sr_def_c_unkc__1_1_1?sr=1-1&pageTypeIdSource=ASIN&pageTypeId=B01MY884DR&qid=1594567830
Bareilly Ki Barfi (2017)
Cast: Ayushmann Khurrana, Rajkumar Rao, Kriti Sanon, Pankaj Tripathi, Seema Pahwa, Sapna Sand, Lovleen Mishra, Rohit Chaudhary, Swati Semwal, Naila Grewal, Javed Akhtar, and Rakesh Dubey.
This modern Bollywood romantic movie follows Bitti and her life. Bitti is a contemporary girl from Bareilly, After getting tired of her mother trying to marry her off, she runs away and buys a random ticket at a train station. She buys a book named Bareilly Ki Barfi and she related with the protagonist of the book. Bitti decides to return home and meet the author of the book. She is directed to Chirag, from the printing press. What she doesn't know is that Chirag was actually Pritam Vidrohi, the writer of the book. He makes his friend give his name instead because the book was based on a true story.
He asks her to send Vidrohi the letters instead of meeting him, and he quietly replied to the letters she sent to her favorite author. Things get rather complicated when the real Vidrohi comes into the picture threatening to take Bitti away after Chirag ruins his chances with a girl he really loves. A fun Hindi romantic movie of a girl and her favorite author and his best friend.
Watch the trailer for Bareilly Ki Barfi!
Watch Bareilly Ki Barfi on Netflix:
https://www.netflix.com/title/81016193
Kedarnath (2018)
Cast: Sushant Singh Rajput, Sara Ali Khan, Nitish Bharadwaj, Nishant Dahiya, Alka Amin, Sonali Sachdev, Pooja Gor, Mir Sarwar, Sunita Rajwar, Arun Bali, Faiz Khan, Sharad Vyas, Priyadarshan, Hitesh Bharadwaj, and Lalu Makhija.
An incredible Bollywood romantic movie about a Hindu-Muslim love story revolving around Mandakini and Mansoor. She is a young high caste Hindu girl living in the religious place of Kedarnath. Her father is a priest, so when she falls with Mansoor, Muslim guy things get complicated. She attempts to take her life on the day of her marriage but is saved soon. Mandakini and Mansoor fall in love and promises her to take her away from the miserable life she was living.
However, her fiance plans to wipe out Mansoor and his entire clan off the valley. But, when the floods strike the holy region with heavy rains, everyone's life is in danger. The film turns into a disaster film like Titanic where they fight for survival. Overall, a pretty solid Hindi romantic movie where the actors make the movie an incredible watch. The performances of the cast were commendable.
Watch the trailer for Kedarnath!
Watch Kedarnath on Zee5
https://www.zee5.com/movies/details/Kedarnath/0-0-27132
Ek Ladki Ko Dekha Toh Aisa Laga (2019)
Cast: Anil Kapoor, Sonam Kapoor, Rajkumar Rao, Juhi Chawla, Abhishek Duhan, Madhumati Kapoor, Seem Pahwa, Brijendra Kala, Alka Kaushal, Akshay Oberoi, and Kanwaljit.
This Bollywood romantic movie is one of its kind, coming-of-age Hindi Romantic movies. It revolves around a closeted lesbian, Sweety who is from a conservative Punjabi family. She is under constant pressure from her family to get married. Sweety meets a girl named Kuhu at a wedding. She meets Sahil and he falls in love with her. Sahil is the son of a well-known producer but is a failing director and writer. All this while, her family thinks she is in love with a Muslim boy, and they are against it.
Sweety realizes that her family doesn't allow something as trivial as a different cast marriage, how will they ever accept her for who she is. What will Sweety do? Will she ever be able to come out to her family or end up marrying a guy? This is a brilliant movie that tackles a topic that no Bollywood movie has ever taken up. It is an incredible movie that Bollywood should be proud of.
Watch the trialer for Ek Ladki Ko Dekha Toh Aisa Laga!
Watch Ek Ladki Ko Dekha Toh Aaisa Laga on Netflix:
https://www.netflix.com/title/81076749
Shubh Mangal Zyada Saavdhan (2020)
Cast: Ayushmann Khurrana, Jitendra Kumar, Neena Gupta, Gajraj Rao, Manu Rishi, Sunita Rajwar, Maanvi Gagroo, Pankhuri Awasthy, Neeraj Singh, Bhumi Pednekar, and Hardik Gabbi
Another LGTBQ+ Bollywood romantic movie that needs to be hyped up, because Bollywood needs more representation. This movie talks bout the life of two gay men Kartik and Aman who have a hard time revealing their relationship to their family. Aman comes from an orthodox family. He is in love with Kartik, his long time friend, and his job partner. His father physically vomits and passes out when he catches his son kissing a man. He asks his son to stay away from Kartik and never meet him again. He tries and gives Aman a new name to cleanse him of his "sins".
After such a harsh response, will Aman's father ever be able to accept his son's sexuality and his love for Kartik? Or will he end up having to marry a girl and live his entire life hiding who he is? Homosexuality is still a huge taboo in India, so a film like this gives the people who do face through such situations a small ray of hope.
Watch the trailer for Shubh Mangal Zyada Saavdhan!
Watch Subh Mangal Zyada Saavdhan on Amazon Prime Video:
https://www.primevideo.com/detail/0LH279ZGS450UID3ZBNWBY5BCN/ref=atv_sr_def_c_unkc__2_1_2?sr=1-2&pageTypeIdSource=ASIN&pageTypeId=B085TP7FLV&qid=1594571496
Here I present to you the list of the Best Bollywood Romantic movies of all time. Filled with tears, laughs, and all the emotions you could ever want. But, Did I miss any of your favorites? If I did comment them down below.
Movie Recommendations: You may also like-