No Need To Carry Aadhar Cards Anymore.Carry Aadhar On Your Mobile Now : mAadhar
No Need To Carry Aadhar Cards Anymore. Carry Aadhar On Your Mobile Now : mAadhar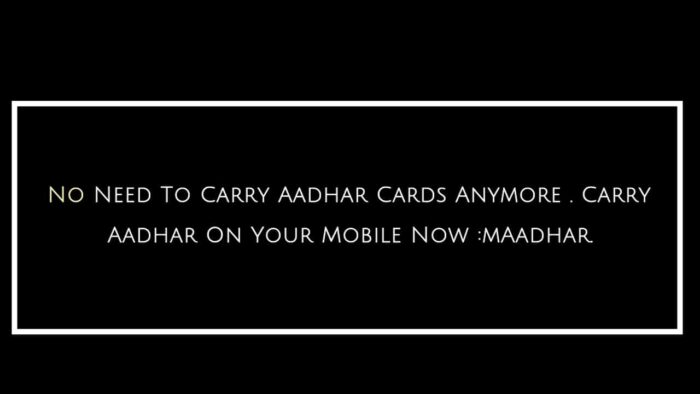 Are you among those who are Worried to lose their Adhaar card while travelling? Well if you are one of them it's time to sit back and relax. This is because  Now you have an option to keep your Adhaar safe. You need just one click for Adhaar card. Yes, Unique Identification authority has now launched an application called mAadhaar. This application allows users to keep their Adhaar card saved in their mobile phones. To promote the digital India scheme UIDIA has taken this step.
In the first phase, this application is limited to Android users. The government policy of linking Adhaar with various services has raised concerns regarding security, with this application people have become concerned regarding any confidential leak. UIDIA has cleared that this application is for public and is totally safe.
This application is very useful and convenient.  It even includes the option of sharing and viewing the updated aadhaar. Sharing eKYC (electronic Know Your Customer) details a major development in the telecom sector has become more easy and quick. To secure personal information linked with the aadhaar card it gives an option to lock/unlock their linked biometric data. This is done via QR (Quick Response) code a two-dimensional barcode.
maadhaar app download : This application can be downloaded from Google Play Store but the mandatory will be a registered Adhaar-linked mobile number.
A disclaimer from UIDIA said that app is in beta mode which can cause issues and bugs to the users. Further,  many other services in this app will be applicable only after subsequent updates. mAadhaar also has the facility of using TOTP ( Time-based One-Time-Password) instead of SMS based OTP which further adds on to the safety of the customer.
mAadhar :The disclaimer of UIDIA was correct as in a recent check the app had the tendency to hang and create bugs.
Several reviews on Play Store showed that customers are facing problem during the scanning of QR code and manually keying of OTP.
UIDIA is trying its best to overcome these problems very soon. But the digitisation of aadhar card in a phone is definitely a relief as it will become a quick and convenient way to carry an Identity Proof. Losing an ID proof is always a problem but mAadhaar app comes as a solution to this problem as well as for safety aspects.
What are you waiting for download mAadhar now and stop carrying the original one.
aadhaar app download: Just be careful when typing the name, make sure it is mAadhaar, and you don't end up downloading some fake app. Download it from here:  https://play.google.com/store/apps/details?id=in.gov.uidai.mAadhaarPlus