32+ Grooming Tips & Hacks for Men to up their Game
Grooming Tips For Men
"Grooming is the secret of real elegance. The best clothes, the most wonderful jewels, the most glamorous beauty don't count without good grooming." These are the words of Christian Dior, French fashion designer and founder of luxury brands like Louis Vuitton. We often talk about how grooming is important for women and what hacks should they try at home to groom themselves. The most popular articles on the internet say, "Beauty hacks for women," "Simple hacks for the ladies to bring on your face at home," and more. Search for "Simple Men's grooming hacks," and you will find a few articles only. Why? Don't our rough and tough, outgoing men deserve to take care of their skin and hair? Well, of course, they do! So, here we are with a list of grooming hacks every man needs to know along with some grooming tips for men.
How Can I Improve My Grooming?
Grooming is a critical component of image consulting. Personal grooming is the process of improving your appearance so that you may look and feel good about yourself. And by doing so, you boost your self-esteem. You can make a positive impression on individuals you meet and those around you by following these simple personal grooming suggestions. All of these exercises are designed to increase your self-esteem. However, if you continue to stress about not doing things the "correct" way, you will wind up feeling self-conscious. As a result, you will appear less assured.
How can a man improve his looks?
Long and messy hair is quite trendy these days but, as much as you're digging the Bro Flow, having a neckline full of stray hairs is never a good look. If you can't visit your barber, you've to clean up what's happening around your collar on your own. For this, you can simply use a hair trimmer to follow the line of your last haircut starting from the middle of your ear, down towards your shoulder. Make sure that your head is straight and move slowly. It is recommended to pick up a small handheld mirror to view the back of your head properly while shaving.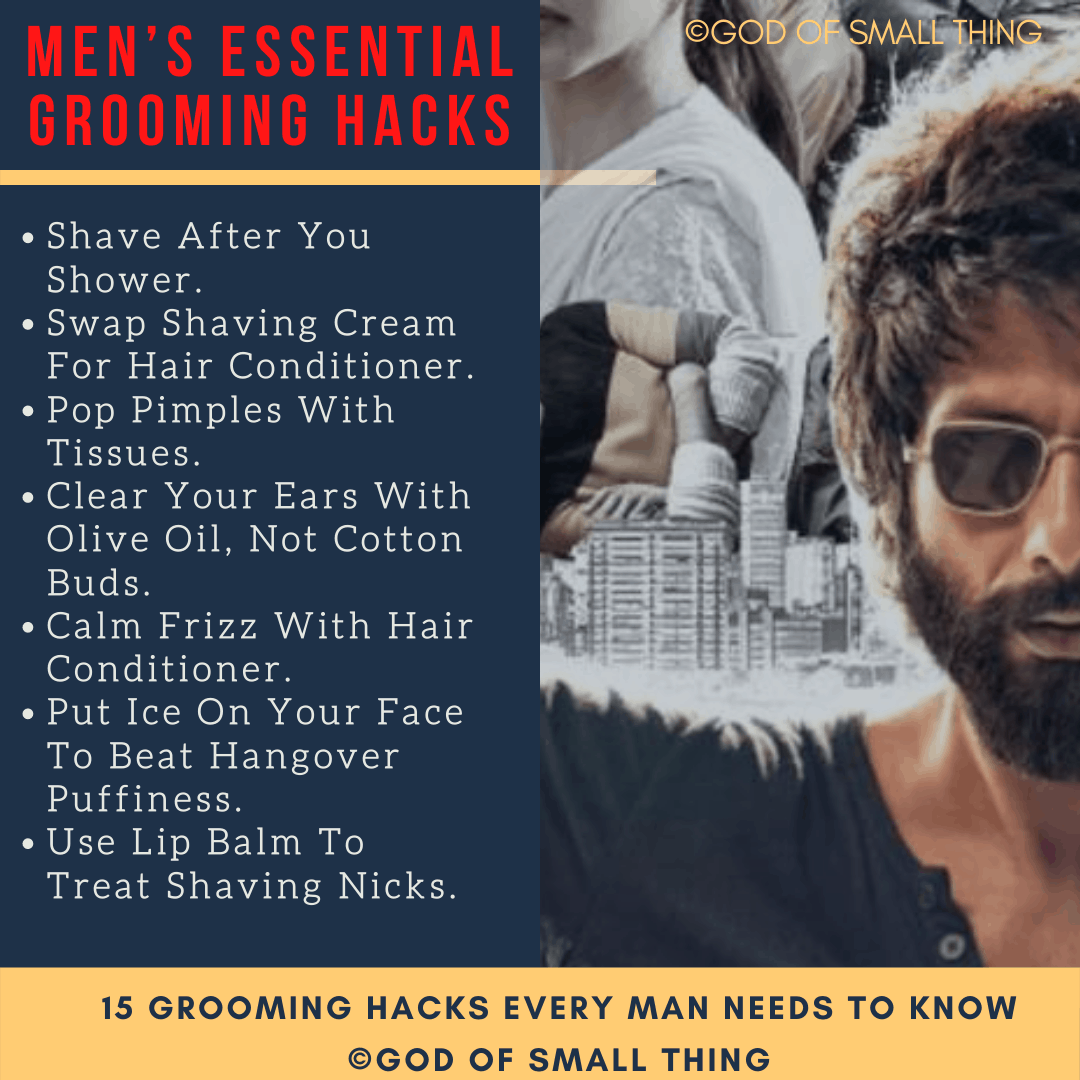 "How to style my hair?" "I have thick hair, which haircut should I get?" "What to do with my hair?" "Facial Hairs!" These are the basic problems of an average Indian man. Don't worry! We have the right solutions to all your hair grooming queries. You can check some popular men's hairstyles from WiseBarber.com
Your beard needs conditioning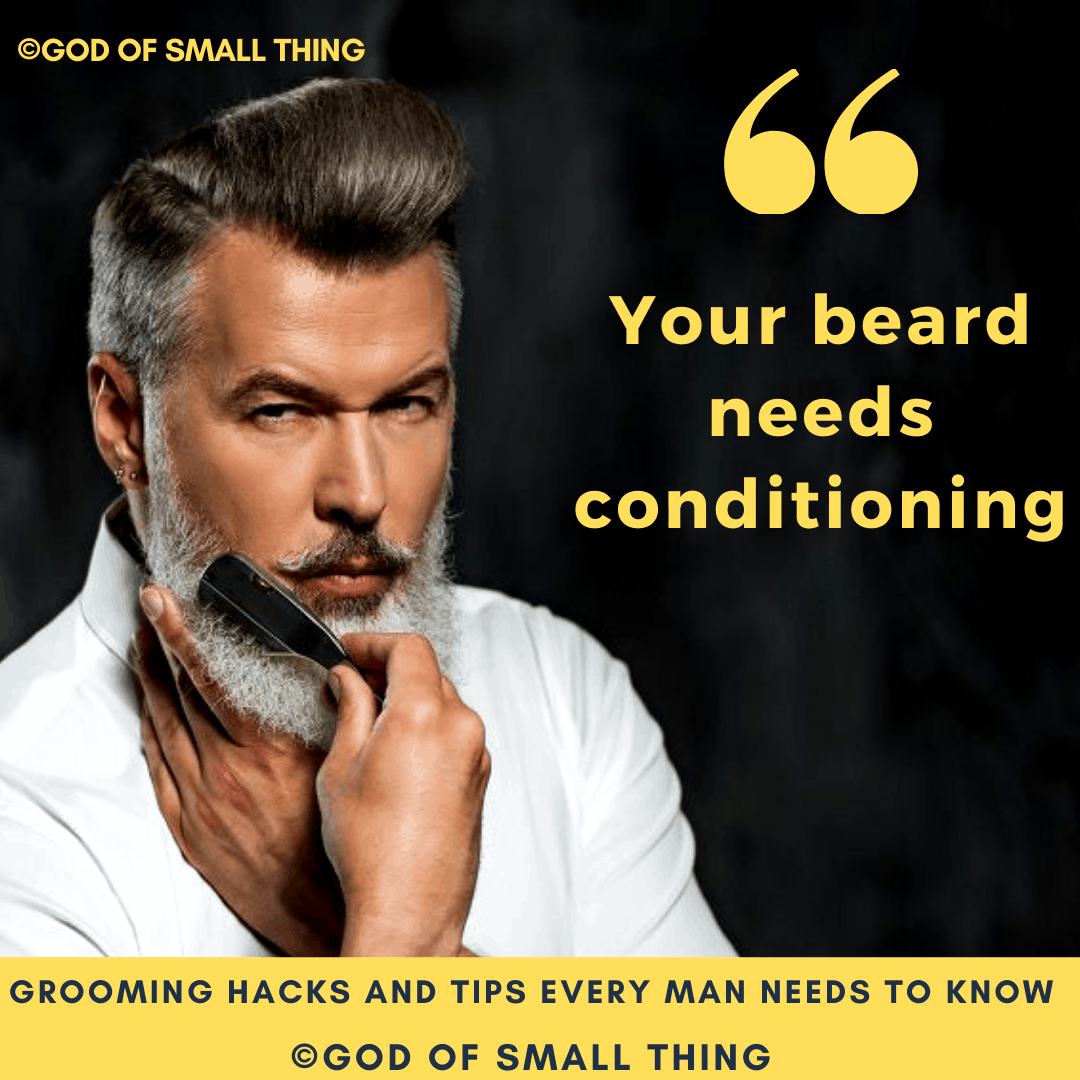 Keeping a beard has become a trend amongst men. A beard is a symbol of manliness, strength, and wisdom, but looking after it can be a bit of a challenge. Beards need regular treatment if they are to stay in their prime – which is why care kits are so popular. Choosing the right beard care kit will help you feel and look your finest every day. We don't shy away from saying it but some people have made it like a 'beauty standard' for men. If you have a beard, that means you are qualified to be called, 'handsome.' Well, that's another issue. Talking of beards, if you have kept a beard then you need to take good care of it as new beard hair can sometimes be dry and coarse. This can be itchy. When you wash and condition your hair the next time, remember to put a little conditioner on your beard too. There is no harm in doing so. Leave in the conditioner for some time and then rinse with water. Smooth beard hair can be less itchy. Here you go with the first part of the male's grooming routine.
Turn into an ordinary at your hairdresser
Start ordinary stays in the stylist's seat: in the event that you've seen your hair needs a trim, others have as well. That implies you get proactive (instead of receptive). While certain folks can make do with month-to-month arrangements, your locks might in any case partake in a development spray, consequently requiring expanded consideration. Try not to be astonished on the off chance that it takes triweekly or even fortnightly visits.
Know which hair items work for you
One size doesn't fit all, and the ongoing turn of men's items mirrors this. In the event that you've thicker, raucous hair, realize that grease and waxes are for you. The better-headed ought to go for lighter items. Besides, there's stuff for those with no hair by any stretch of the imagination.
The arrangement is straightforward: do all necessary investigations. Items for the most part do what they say on the tin, and some light perusing, notwithstanding some slight experimentation, will gather the right pack for your hair.
Hand Crème-An immediate relief for that messy hair
A GQ article suggests that using a little bit of hand crème on your hair, especially during times of humidity and rain can be a great beauty hack for men. Well, we can't agree more. If you live in a city like Mumbai, where humidity is constant, you must know how your hair becomes till the time you reach the office. Hand crèmes are portable and handy. Buy any hand crème and keep it in your bag always. Before entering the office, apply a little bit of it to your hair, and see the magic. We bet you will get some surprising reactions.
Men's essential grooming hacks to get rid of the Sticky hair
Sometimes, especially in summer, hair becomes sticky very soon even after you have just washed them a day ago. There is a quick men's grooming hack you can follow to get rid of the stickiness of the hair. Take a dryer sheet and rub it on your hair. It helps in keeping your hair in place.
A haircut to enhance your look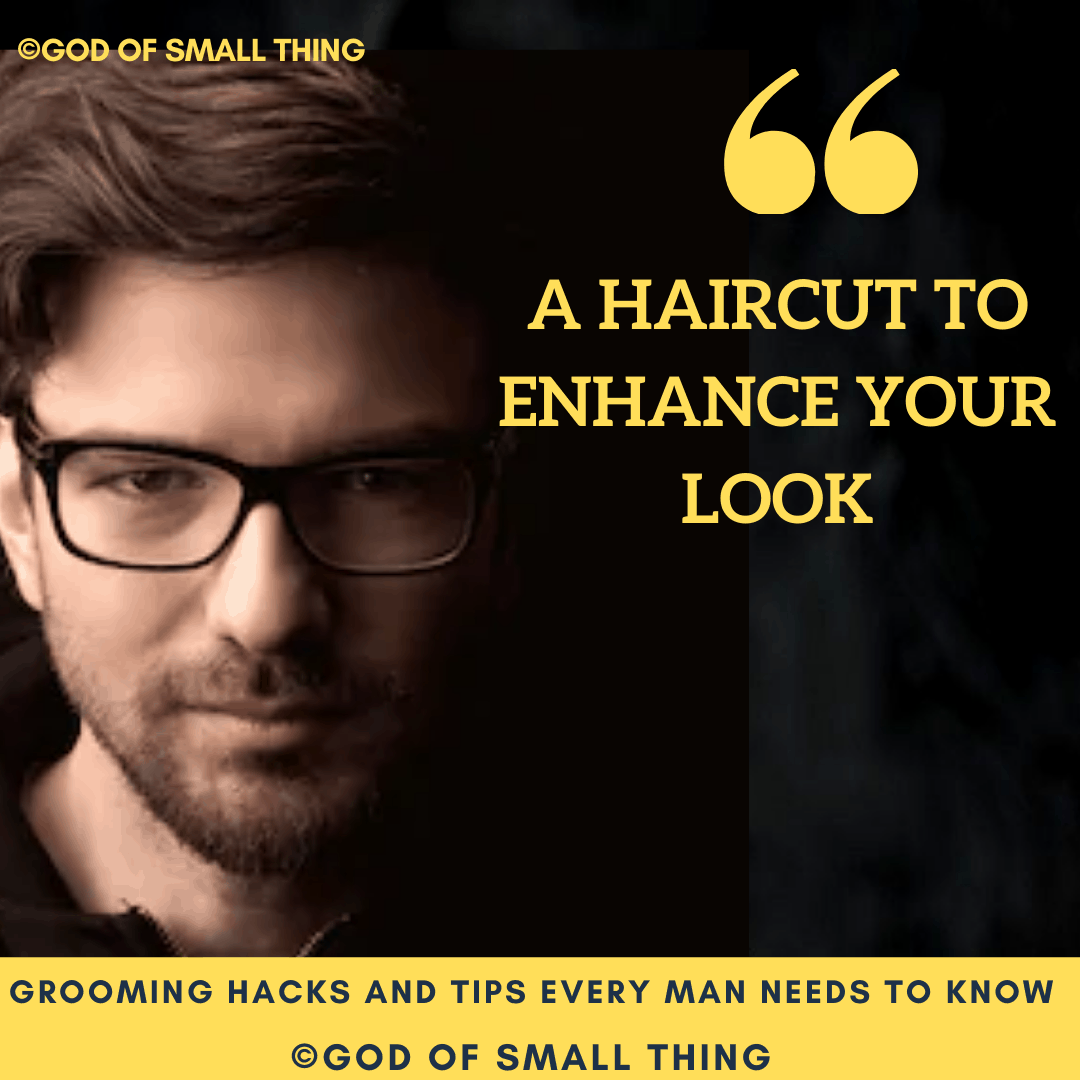 Why should girls have all the fun with their haircuts? Tailoring your haircut according to your face shape is something that both men and women must do. An article in Business Insider recommends men with round faces get a haircut that's tighter on the sides. If you have a long face, you can ask for longer hair on the sides. Make it a part of the male grooming routine to tailor your haircut according to your face structure. Grooming is essential for men too!
Steel tweezers from your sister
Many Indian men have unibrows i.e. they have joint eyebrows. To get rid of the extra facial hair, all you need to do is to borrow your sister's or your girlfriend's tweezers. You can buy tweezers for Rs 100 or Rs 200 max. Well, if you borrow from them, you can be sure it's of the right quality as obviously, they know more. Use tweezers to get rid of super thick hair between your eyebrows. Don't overdo it. Make it look natural. Why? Because girls like it naturally! 😉
Before you go forward with Grooming tips for men. Let us tell you grooming yourself will make you look good only if you have some good styling quotient. Here are some Fashion Tips for men on How to dress up this Summer for Men – Fashion Tips by God of Small Thing
Shaving is an essential part of the male grooming routine. Here are a few shaving grooming hacks for men for which you will thank us later, we are sure.
Out of a Shaving crème?
No worries! You can always replace it with your hair conditioner. It works as a great moisturizer. According to an article in GQ, you can use the hair conditioner down there as well. There is no harm in using it.
Replace Alum with Lip Balm
We have grown up seeing our fathers and grandfathers using fitkari (alum) on their faces when they get cut while shaving. How about bringing in a change here? Replace alum in your shaving kit with a lip balm. Next time, you see blood flowing while shaving let the magic of waxy textured lip balm work for you. Lip balm creates a seal and allows clot formation. We are here with some tried and tested men's essential grooming hacks for you.
Blow Dry your razor
It's not a joke. A lot of guys shave and leave their razors wet. The moistness of the shower produces corrosion. We recommend every time you are done shaving, grab your razor and dry the blades with a blow dryer. This will increase the life of the razor and you can use it throughout the month without any fear of infection. This is an amazing grooming hack for men.
Shave -> Shower-NO! Shower-> Shave-YES!
We know you usually shave before you take a shower. That is how it has been for many. We say believe us and try the opposite. Shave after you are done bathing. Take a warm shower. It will make your face's bristles smoother. This makes shaving easy and harmless. You might not even need a lip balm to stop the blood because you may not even bleed if you use this beauty hack for men.
Instant solution to get rid of a smelly T-shirt
Keep a fabric refresher handy. Apart from buying a fabric refresher from the market, you can also make a fabric refresher at home.
Here is all that you need to make a fabric refresher at home-
Half cup flavorless vodka
Half a cup of water
10 drops of tea tree essential oil (not necessary)
25 drops of lavender oil (not necessary)
Add all the ingredients into a spray bottle and shake it well. Your fabric refresher is ready. This fabric refresher will make your T-shirt's smell go away within seconds.
Looking forward to shopping for some new clothes? Here is a List of Indian Brands Which are Cheaper and of High Quality
Get rid of the shoe smell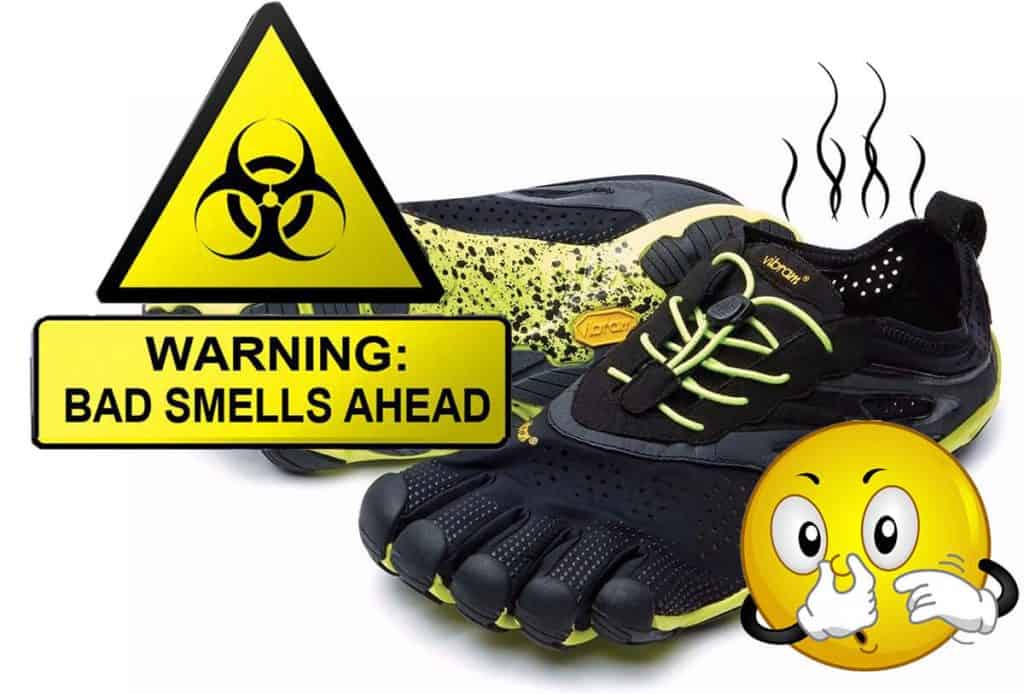 Take some baking soda (not baking powder) and sprinkle it on your shoes. Keep it overnight. We guarantee, the shoe smell will go away. If you are tired of the foul smell which comes right after you remove your shoes, this beauty hack for men will be of great help.
Moisturizer for the Calluses
Women do take care of their skin but men usually forget to do so. From just washing your face at least twice a day to moisturizing your skin, there are some skincare routines you must follow.
Men who work out hard sometimes get calluses in their hands. Shaking hands on a date can be embarrassing if you have a rough hand. You must have strong hands but rough hands can be a minus point for you. To get rid of those calluses, all you need to do is to moisturize your hands with a regular moisturizer regularly. There is no rocket science involved in this simple grooming hack for men. It's quick and it's easy.
Make that Pimple Go away!
It pops up right before a date. Aren't we right? It's not only with the ladies. It's with the men too. Don't you worry guys! We have a solution. According to GQ, a toilet seat cover tissue or a coffee filter can fix your pimple. Just dab it over the oily parts of your face and you are done with the oily skin problem. Never use your fingers to touch your face or the pimple. You can hurt yourself.
Take the Party Years off Your Face
Try a basic BB or a CC crème to give glam to your face. Yes, technically it's makeup, but it's very lightweight and if it's good enough for celebrities, then why not you? Also, many creams have sunscreen built into the formulas, which is convenient if you're prone to nose sunburns.
These are some simple grooming hacks every man needs to know. Women like men who are neat and clean. Don't overdo anything but try these simple hacks and we are sure these will make you look neat, tidy, and handsome. Grooming is essential even more than clothes. Believe us, they already have fashionable clothes, the first thing they would judge you on is how neat and tidy you look. So, here you go guys! Try these essential men's grooming hacks right away!
What Should Men Groom?
First and foremost, male grooming is vital because guys, like women, are individuals. Regular grooming practice helps to maintain personal hygiene (which we hope you already know is crucial!) and also keeps you feeling and looking young, appealing, and clean.
While most of you must have learned a few basic grooming tips. Don't forget to wear your favorite color Black while going out 😀 Here are 10 Things You Can Only Relate If You Love Wearing Black – God of Small Thing