Easy Hoffman cocktail sauce recipe | Ingredients | Nutritional Value| Video Tutorial
You might have heard of Hoffman cocktail sauce being served with various snacks and dishes. Hence, we are here with an amazing recipe for this cocktail sauce to make your life easy and interesting. Being very specific, it is generally served with seafood. If you want, you can even consume it with fries or nachos. These are even available in canned packs, but if you make it at home, it's mood fresh and tasty. The most famous dish made up of this source is the shrimp cocktail, which has ruled the minds of people. Most importantly, this source can be stored for a longer period and is made up of very simple ingredients. We have tried to compile the best and the easiest way in which you can make Hoffman cocktail sauce.
The article has been updated so that we can provide you with fresh content. Besides, if you want to go to a particular section, you may just click on the buttons below. So, take a look at Hoffman house Cocktail sauce recipe.
What is Hoffman cocktail sauce?
Hoffman cocktail sauce is a dip that is served with snacks especially seafood. It is also used as a taco seasoning. This sauce when made at home requires no preservatives. On the other hand, if you purchase from the market it has plenty of preservatives to store it. The Hoffman House Cocktail sauce recipe is an amazing blend of spice, sweet and sour. Let us take a look into how it is Made.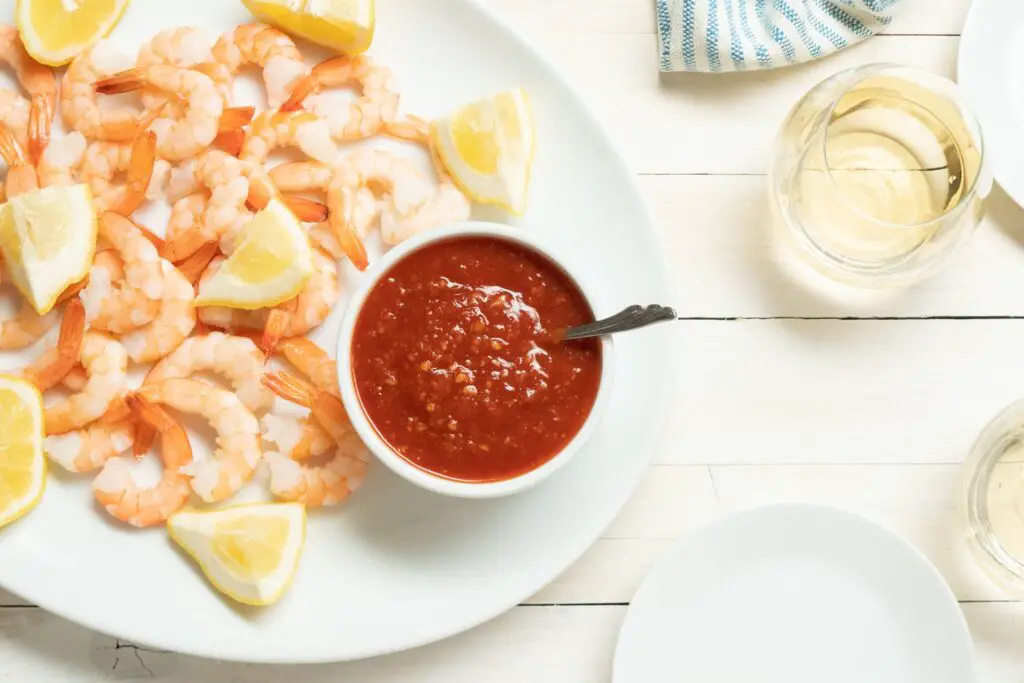 What is a Hoffman cocktail sauce made of?
The sauce is made up of very simple ingredients including chili sauce, ketchup, lime juice, lime zest, Hot sauce, celery sauce, horseradish, and most importantly Worcestershire. All of these ingredients are easily available in the market and your pantry. Make sure that all the ingredients are fresh and not stale.
Hoffman cocktail sauce Ingredients:
| | |
| --- | --- |
|  Ingredients | Amount |
| Chilli Sauce Mild | ½ Cup |
| Ketchup | ½ Cup |
| Lemon Zest | 1 Teaspoon |
| Worcestershire | 1 Teaspoon |
| Hot Sauce | 2 Dashes |
| Lemon Juice | 2 Tablespoon |
| Horse Radish | 1 Tablespoon |
| Garlic Salt | ¼ Teaspoon |
| Brown Sugar | 1 Teaspoon |
| Onion powder | ¼ Teaspoon |
Hoffman cocktail sauce Ingredients
How much time will it take?
One hour five minutes seems to be a long time but wait the source only takes five minutes in getting prepared. It takes one hour to set aside so that all the flavors easily bind with each other.
| | | |
| --- | --- | --- |
|  Preparation Time | Cooking Time | Total Time |
| 5 Minutes | 1 Hour | 1 Hour 5 Minutes |
Hoffman cocktail sauce Preparation Time
Hoffman cocktail sauce Recipe
Take a bowl and add lemon juice, chili sauce, hot sauce, ketchup, horseradish, brown sugar, Onion powder, Worcestershire sauce, garlic, and salt.
Mix all these ingredients flawlessly so that the sugar ingredients can easily dissolve
Keep it in the refrigerator for one hour and you have the sauce ready
It is always recommended to make small quantities rather than large because fresh food is much more amazing than preserved. Apart from this, when it just takes five minutes to make such a fabulous dish, then why store!
Looking forward to inviting a few friends over a house party? Greet your friends with Grateful Dead Cocktail Recipe. Here's everything you need to know: Grateful Dead Cocktail Recipe Or you can also try to give them a bomb drink like called Vegas Bomb! Yes, you heard it right. Here's how to make Vegas bomb Recipe with Ingredients, Nutritional Value, Instructions, and Video Tutorial
Nutritional value of Hoffman cocktail sauce:
| | |
| --- | --- |
| Calories | 45 |
| Protein | 0.6g |
| Cholesterol | 0mg |
| Carbohydrates      | 11.2g |
| Fat | 0.1g |
| Cholesterol | 0mg |
| Sodium | 356.8mg |
| Carbohydrates      | 11.2g |
Hoffman cocktail sauce Nutritional value
How to Make Hoffman cocktail sauce at Home | Video
What does a Hoffman cocktail sauce taste like?
The quality between canned cocktail sauce and fresh cocktail sauce cannot be exaggerated. The canned version tastes like chunky, spicy ketchup. This homemade sauce, with horseradish and lemon, just brings a blast. The sweetness of all the sauces, along with garlic and onion is mesmerizing. In the end, we can say that it's a dip with all the favors that you need to refresh your mood.
Take care of the following while curating Hoffman cocktail sauce
You need to take care of a few elements before you make the cocktail sauce.
Make sure that your chili sauce is tomato-based.
If your chili sauce is not spicy, you can use chili powder to increase the spice.
Store it for one hour so that everything can blend
This can be stored for up to 2 weeks if taken proper care
Few Questions we received from users around the Cocktail sauce recipe:
Is Hoffman House cocktail sauce still made?
This sauce was very popular years ago but now you find very less manufacturers of this sauce. With the help of this recipe, you can make it at home. This is because the sauce and its amazing taste have not lost their charm and still no other sauce has been made that can compete with this one
How do you make cocktail sauce from scratch?
If you are a beginner, just follow the recipe given by us. It is very simple to meet Hoffman cocktail sauce. All you have to do is just mix all the ingredients and store them for an hour so that everything blends. Your sauce is ready; it's an easy peasy recipe.
What is the best cocktail sauce?
If you're finding a cocktail sauce for seafood then original bookbinders cocktail sauce is the best. Apart from this if you want the spiciest one then you can go for St' Elmo cocktail sauce. If you're looking for a source that can be used for different purposes, go for Crosse & Blackwell. Or else just make it at home!
What can I use in place of cocktail sauce?
If you are not willing to make cocktail sauce, you can use salsa, thousand island dressing or even French or Russian dressing.
Does Dollar General sell cocktail sauce?
Yes, it sells Heinz cocktail sauce which is 12oz. It is easily available at any dollar store.
What can you dip shrimp in other than cocktail sauce?
If you're not willing to use the cocktail sauce with shrimps; you can use yogurt sauce, ketchup mustard sauce, sour cream chipotle sauce, avocado hot sauce, and sriracha mayonnaise sauce
What sauce do you eat with seafood?
You can eat parsley sauce, fresh herbs sauce, mint sauce, red wine sauce, lemon cream sauce, smoked almond romesco sauce, salmoriglio sauce etc. There are plenty of them, but these are the most prominent ones
Can you substitute chilli sauce for cocktail sauce?
Yes, if you're finding an alternative to chili sauce, the cocktail sauce could be the best. If you're making it at home, you can range the spice as per your taste.
What sauce is good with shrimp?
If you are figuring out which source is good for shrimps, then you can try miso sauce, pesto, romesco, mango salsa, Malaysian sauce etc.
If you want to explore some more amazing food recipes, don't miss out on our recipe section to explore some amazing recipes. Recipes by God of Small Thing. You can also follow our food blog on Instagram for regular in-feed content. FoodParadise.in by Gaurav Tomar