Samosa recipe | how to make samosa | Ingredients | Instructions | Tutorial
These cute little triangles made with love are all you can ask for on a rainy day. Samosa is not just a dish; it seems to be a feeling of happiness. The outer crust with a blast of seasoning along with the soft and hot filling is just mouth-watering. To be specific, it is one of the most common snacks/junk foods eaten in India. Not only this, it has now become a very famous and prominent food of other nations too. In India, you may get Samosa on a stall, and even in a five-star hotel. If you are wondering, how to make samosas, you have landed up at the right place. We have brought a detailed recipe, on how to make Samosa. Besides, we have tried to gather fresh content, by making all the updates. Moreover, if you wish to reach a particular section of the article, you may click on the buttons below. Are you ready to take this amazing rollercoaster ride? Don't panic it's going to be worth it!
Also if you are looking forward to having some more recipes up your sleeve, don't forget to have a look at our exclusive section of recipes. Recipes by GodofsmallThing and each link in the article will open in New Tab so you can switch to another tab later 🙂
Samosas and its origination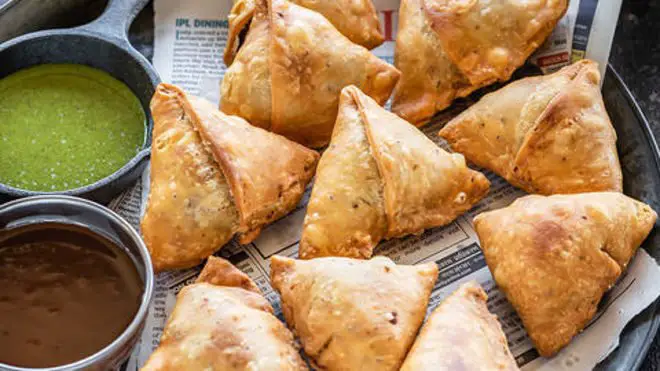 Samosa is the glory of India, the food that has been eaten for years. It has never lost its existence and is still dominating the food industry. Going back to the roots, it was first found in the Persian writings in the 19th century. Moreover, various Arabic scripts have given the existence of these cute little triangles in the 10th century.
In the 1300s, Indians for the first time found these. These were traded through Central Asia and peddlers and Wenders across the Muslim world and found their way in the Indians of the continent. These were known as Samsa, which were inspired by the central Asian pyramids. In 1300 CE, Amir Khusro for the first time coated the word Samosa prepared with meat, onions, ghee, and a lot more. In the 14th century, Ibn Battuta described it as Samushak, which means a pie stuffed with meat, walnuts, spices which is almost like a Samosa. The moguls have also described a samosa.
As it evolved from various countries and cultures, there were different fusions made in the recipe of a Samosa. Traveling from Africa to the Mediterranean, to the Asian continent has been a really long journey. You would be amazed to know that Arabs called samosas sanbusak, whereas the Persians called it sanbisag. Not only this, Iranians called it tarikh- e- beyhaghi. Don't you feel that eating a Samosa becomes a matter of prestige or pride? I guess after reading the history, eating a meal that was consumed by these amazing people be amazing.
You might also like: Mardi Gras Mustard sauce recipe
What are the ingredients for samosa?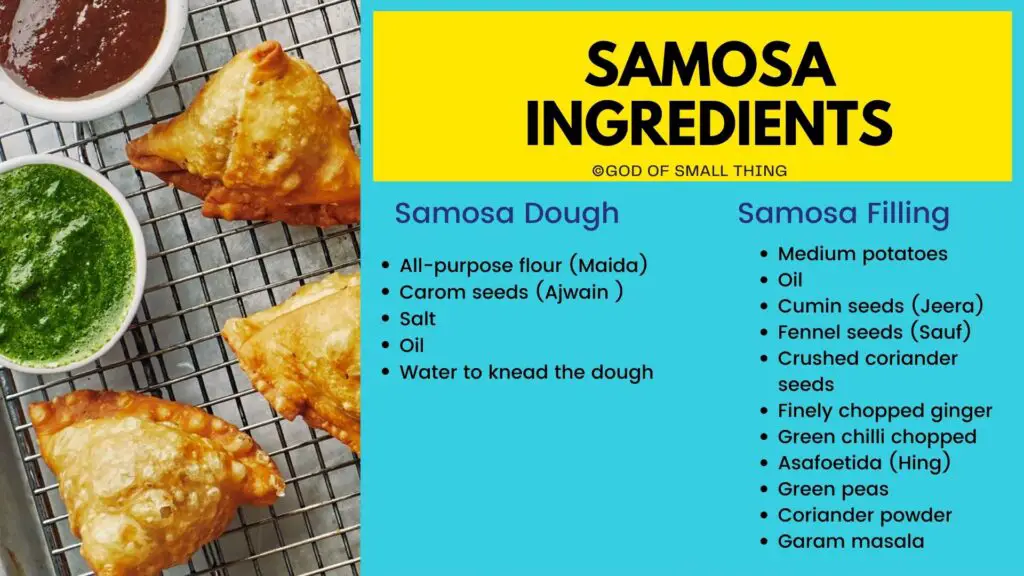 A Samosa can be made from various ingredients, depending upon your taste and preference. To be specific, a traditional Samosa in India is made with a potato filling sort it with different spices along with a spiced crust. The recipe contains various ingredients; do not confuse yourself while meeting. You can adjust the ingredients, and most of them are easily available out in the market. Samosa is a perfect blast of all the flavors including spice, sweetness, tanginess along with the crisp and softness of potatoes. Are you curious to know how to make samosa?
These Best Punjabi Samosas also have a wonderful filling. It's extremely simple to make the filling in a stovetop pressure cooker or an Instant Pot, as well as in a pan on the stove. Green peas and potatoes are mixed with traditional Indian spices for a warm, satisfying stuffing that will leave you craving more. This recipe is a true winner, with a great crust and delicious filling.
Drinks Recipe Recommendations: Try impressing your friends out with a Vegas bomb at your party. Vegas bomb Recipe
Samosa Ingredients: You can make approx. 14 samosas from the list of these ingredients. In case you want to half it or double it, you can manage the quantity accordingly. Moreover, you can also alter some ingredients as per your taste and preference. If you want it to be spicy, you can increase the child powder or green chili.  You can play with flavors unless it's not a disaster!
Samosa Dough Ingredients:
| | |
| --- | --- |
| All-purpose flour (Maida) |  2 cups. 260 grams |
| Carom seeds (Ajwain ) | 1 teaspoon |
| Salt | 1/4 teaspoon |
| Oil | 45 ml + 5 ml |
| Water to knead the dough |  6 tablespoons |
Samosa Filling Ingredients:
| | |
| --- | --- |
| Medium potatoes | 3-4, 500- 550 grams |
| Oil | 2 tablespoons |
| Cumin seeds (Jeera) | 1 teaspoon |
| Fennel seeds (Sauf) | 1 teaspoon |
| Crushed coriander seeds | 2 teaspoons |
| Finely chopped ginger | 1 teaspoon |
| Green chilli chopped | 1 |
| Asafoetida (Hing) | 1/4 teaspoon |
| Green peas | 1/2 cup |
| Coriander powder | 1 teaspoon |
| Garam masala | 1/2 teaspoon |
| Dried mango powder (Amchur) | 1/2 teaspoon |
| Red chilli powder | 1/4 teaspoon |
| Salt or to taste | 3/4 teaspoon |
For deep frying
How much time will it take?
| | | |
| --- | --- | --- |
| Prep Time |  Cook Time |  Resting Time |
| 40 Minutes | 30 Minutes | 40 Minutes |
Samosa Recipe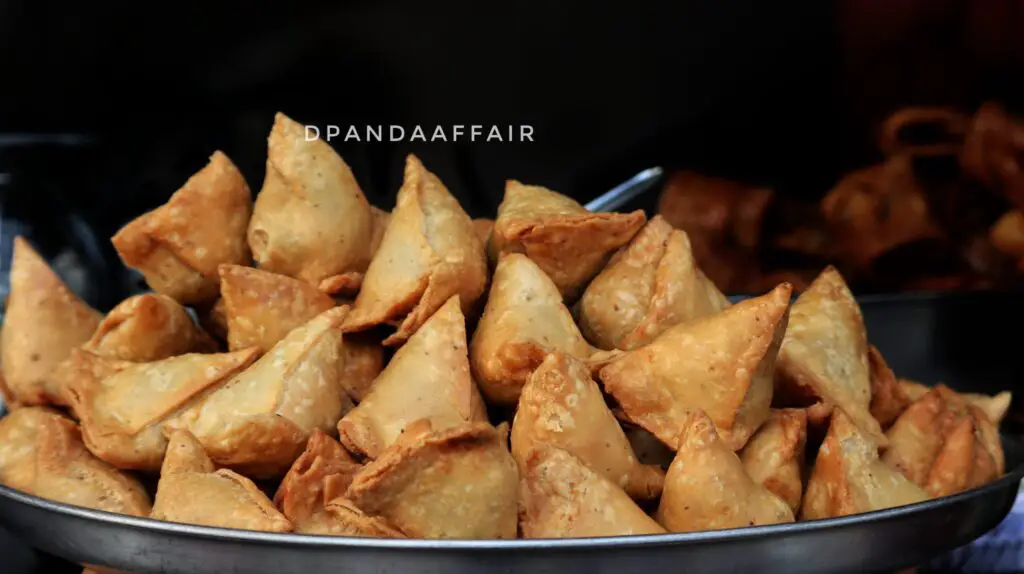 The recipe of Samosa is not at all complex; you need to be careful while making it make sure that you follow all the steps, without missing any. Make sure that all the ingredients are fresh. Let's see how to make samosa.
First of all, let us make the Samosa dough. Take a bowl, add all-purpose flour, carom seeds, salt, and mix it well.
With the help of your hands, start mixing oil so that all the ingredients start binding together.
Mix it properly and rub your dry ingredients with oil properly. This would almost take 5-6 minutes, do not get irritated. You need to be patient, to make this recipe successful.
To know how much oil is required, all you need to do is take some dry mixture in your hand and press it. If everything comes together, oil is sufficient.
Then add water. Do not add lots and lots of water as it would make the dough very soft. On average, 5-6 tablespoons of water would be enough to bind the dough.
Cover it with a moist cloth, and let it rest for almost 40 minutes. This will help your dough relax and evolve.
Let us start with the filling. First of all, boiled potatoes and peel them. For this, you need a cooker, add your potatoes and let them busy for at least 12 minutes with it. Once you're done, let it sit aside so that the pressure settles down. Now, you can remove it and feel it
Take a pan, and add 2 tablespoons of oil. Once the oil is hot, add fennel seeds, cumin seeds, and crushed coriander.
Let it sizzle for a few seconds and now add green chili, asafoetida, and Ginger. Let all these ingredients cook together, to extract flavor.
Now comes the time to add your boiled potatoes along with green peas into the pan.
Mix all the ingredients, do not lean back it is a very important step.
Now add all the exotic Indian spices including coriander powder, red chili powder, mango powder, salt, and the traditional garam masala.
Give it a mix again and cook it for a minute. Remove the pan from the film and let your mixture cool down for some time.
Onions and garlic are hardly ever used in a traditional Punjabi samosa. However, you can come up with your own combinations and be inventive. As a consequence, if you like, you should add onions and garlic.
Now comes the curating part. You require all your artistic skills to convert the dough and filling into A Samosa.
First of all, knead the dough. Cut it into seven parts of 60 g approximately.
Convert these into balls, by pressing them between your palms.
Take a rolling pin and start making circular or even oval shapes out of the dough you rolled.  To be very specific, you can keep the diameter of almost 6-7 inches.
Once you have made the oval/circle, cut it into two parts.
Carefully lift the first part, apply water on the edges. You can mix this water with all-purpose flour, to give it a perfect binding effect.
Very carefully, take both ends and bring them together to make a cone.
Make sure that your cold does not have any open points or holes.
Add almost 1-2 tablespoons of your potato filling and seal it with the help of water and all-purpose flour again. This definitely acts as glue and does not allow the stuffing to fall out.
Engine seal the edges very carefully and repeat this with as many samosas you want.
While you make the others, use a moist cloth to cover the ones already made. This will prevent your samosas from being dried.
Take Oil in a pan and let it heat. If you're not sure, just drop a small amount of your dough and check whether it comes up or not. If it floats, yes your oil is ready and you can fry your Samosa.
Once all the oil is heated, put down the flame and add your Samosa to it. This becomes a very crucial step; do not cook it on a high flame. Cooking it on low flame would make it a much crisper year and your Samosa would get a perfect color.
If you have a really large pot, you can add 3-4 of them together.
Serve these amazing cute little samosas with coriander Chutney, tamarind Chutney, or just make a Samosa chat with a cup of tea.
We hope that you got the answer to a sort of a crucial question- How to make samosa?
Samosas Nutritional Value:
| | |
| --- | --- |
| Calories |  164kcal |
| Carbohydrates |  22g |
| Protein |  4g |
| Fat |  7g |
| Saturated Fat |  1g |
| Sodium |  183mg |
| Potassium |  240mg |
| Fiber |  3g |
| Sugar |  1g |
| Vitamin A |  90IU |
| Vitamin C |  9.9mg |
| Calcium |  24mg |
| Iron |  2.6mg |
(EXCLUSIVE): Special Recipes by Nancy Silverton:
1. Pistachio Macaroon Tart Recipe by Nancy Silverton
2. Whole Roasted Cauliflower with Pistachio Crumble and Green Onion Crème Fraiche by Nancy Silverton
How to Make Samosa at Home | Video
What does a Samosa taste like?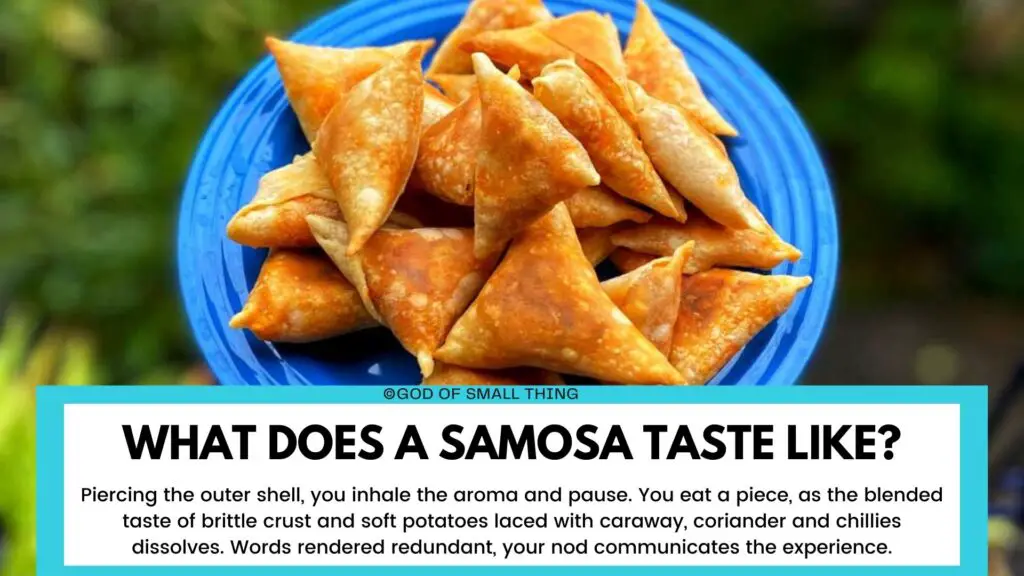 Okay, answering this question could be a bit complex. A Samosa is a fabulous dish that has plenty of flavors. Starting from the tanginess of the mango powder, the spicy flavor of green chilies along with the hot spices and the sweetness of peas and potatoes is all mind-blowing. You can get everything in these small pockets, that too with a twist of crisp. These are crispy on the outside, with a very soft feeling on the inside. Moreover, whenever they are served with Chutney, it becomes a cherry on the top. You know, it is very difficult to feel the taste without having one. You should definitely give it a try.
Take care of the following while curating Samosas at home
First of all, do not add extra water to your dough. It would make it very difficult for you to make the Samosa crispy.
Adding the proper amount of oil if necessary, if not it would lose its crisp.
Do not fry or Samosa on very high heat, it is recommended to switch to a medium flame while frying.
Do not overfill your Samosa, as it might tear while frying.
Use the superglue, made up of water and all-purpose flour to seal all the corners.
You need to rest the dough for at least 40 minutes before filling.
It is advised to not use any flour while rolling your dough. You can use oil if you want.
Recipe Recommendations: Have you ever tried Popeyes Buttermilk Biscuits? Well if not, you are definitely missing out on something really good. Check out the 30 Minutes Easy Popeyes Buttermilk Biscuits recipe with step by step Instructions
Frequently asked questions by users:
Do samosas have to be deep-fried?
A deep-fried Samosa is traditionally served in India. You are health-conscious, you can even bake it in the oven or just air-fry it. This would reduce the calorie count, and even make it crispy. You can beat them at 350° Fahrenheit for around 30 minutes. Try cooking samosas in an air fryer if you have one. The texture of the air-fried samosa will happily delight you. They have a similar flavor to fried samosas, except without the extra oil. Preheat the air fryer for 10 minutes at 180 degrees Celsius. Brush the samosas with oil and air fry them at 180 degrees Celsius until golden. Besides, let me tell you that a flight Samosa has no replacement.
How do I make my samosa crisp?
The main ingredient to make your Samosa crispy is the oil that you put in your dough. The quantity should be perfect. Moreover, frying it on the low flame can also help you make your Samosa much crispier.
Why samosa is not good for health?
It is not good for health because it contains carbohydrates. Samosa is made up of all-purpose flour and is deep-fried with the filling of potatoes. All of these increase the calorie count and harms your body.
Is Samosa junk food?
Yes, it is junk food because it negatively impacts your health. It makes you fat, because of the plenty of carbohydrates present in it. The potatoes along with all-purpose flour and butter/oil could be harmful to your heart
Is Samosa healthy to eat?
No, it is not healthy to eat Samosa on regular basis. You can have it twice or thrice in a month depending upon your taste and preference. It is generally made up of fatty ingredients, including all-purpose flour, potatoes, oil. Moreover, it is made up of many spices which can negatively impact your body
Who invented samosa?
In India, for the first time samosas made their existence was in the 13th-14th century by Amir Khusro. Moreover, the existence of samosas can be tracked back in Persia, Arab regions, Africa, Asia. It has traveled a lot to reach India.
Why does samosa have bubbles?
Generally, if you use an appropriate/an even amount of oil in your Samosa, there are chances of Air bubbles on it. You need to be very careful by adding the appropriate amount of oil to your dough. When there is so much moisture in the flour, the crust gets brittle and has a lot of air pockets.
Do you eat samosas hot or cold?
Basically, a Samosa is eaten hot. It has the entire crisp when it is hot. A cold Samosa, would not be as flavourful as the not one. Speaking about a cold Samosa almost freaks people out.
Can I bake frozen samosas instead of frying?
Yes, that would not be a problem. If you have frozen Samosa in a new refrigerator, you can bake them at an appropriate temperature or even fry them.
How do you keep samosas crispy after frying?
Few tips can be helpful, for keeping your samosas crispier even after cooking. Do not keep your Samosa is covered, as this will increase moisture. Moreover, in case you are willing to use onions, forget about it. Apart from this, while you make your dough, use cold water. All of these tips can help you make your Samosa steak recipe for a longer period
Which oil is best for frying samosas?
Sunflower oil is the most recommended oil to make samosas. Moreover, you can also use rice bran oil or olive oil if you are a bit of diet conscious.
If you would like to join our community over Instagram. Head over to our Instagram and explore some amazing Indian Cuisines. Food Paradise by GodofsmallThing