Keratin Treatment and its effects: Everything you need to know! – God of Small Thing
Keratin, a critical protein essential for hair strength and protection against damage and frizz, plays a key role in maintaining healthy locks. However, when it comes to salon keratin straightening treatments promising smooth and sleek hair, there have been notable health concerns associated with them. If you're interested in understanding the ins and outs of keratin treatments and their potential impact, delve into the comprehensive insights provided in the following article. Discover how to balance the desire for gorgeous hair with the importance of overall health and well-being.
What is keratin? What does keratin do for your hair?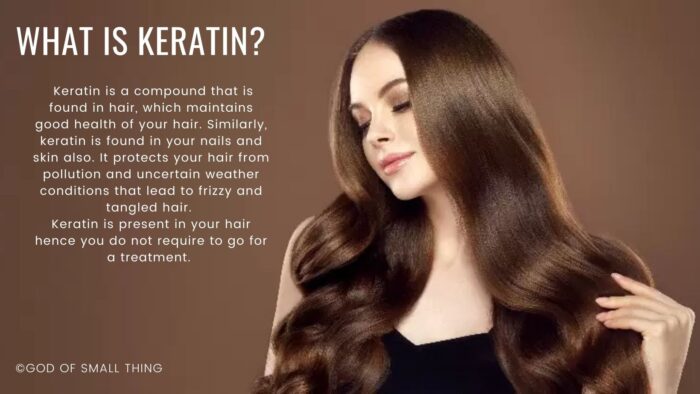 Keratin treatment is one of the most treatments to make your hair look smooth and frizz-free. Keratin is a compound that is found in hair, which maintains good health of your hair. Similarly, keratin is found in your nails and skin also. It protects your hair from pollution and uncertain weather conditions that lead to frizzy and tangled hair. Keratin is present in your hair hence you do not require to go for a treatment. However, in certain cases, your hair loses keratin, due to a lot of exposure to sun, pollution or even harsh climatic conditions hence you need to go for a keratin treatment that helps proteins reach your roots. It smoothens the cells that overlap on your hair. This layer of cells is known as a cuticle that tends to absorb keratin which results in glossy hair. Apart from this, keratin is one of the best hair treatments as it stays for a certain period and then you originally get your hair back. All in all, keratin smoothing treatment effects are positive, increase your confidence and make you look bold and fashionable. Keratin is generally used in hair cosmetics; it is a building block to make your hair stronger. People also prefer having keratin supplements to apply to their hair and make it look healthier.
Is keratin treatment good for your hair?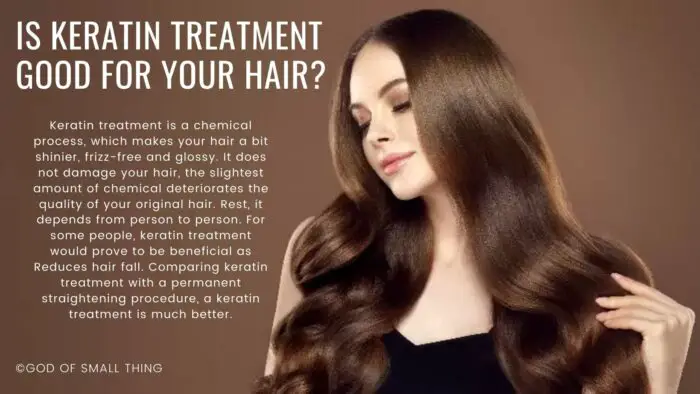 Keratin treatment is a chemical process, which makes your hair a bit shinier, frizz-free and glossy. Generally, due to the use of chemicals, this treatment is not favourable. Though it does not damage your hair, the slightest amount of chemical deteriorates the quality of your original hair. Rest, it depends from person to person. For some people, keratin treatment would prove to be beneficial as Reduces hair fall. Comparing keratin treatment with a permanent straightening procedure, a keratin treatment is much better. All you need to do is take proper care of your hair after such treatment. In my opinion, keratin smoothing treatment has proved to be a really good option to settle down my messy hair and give them a smooth and shiny look. It stayed for me for almost 4 months. It doesn't even take time to dress up. Your hair tends to grow faster.
What foods contain keratin?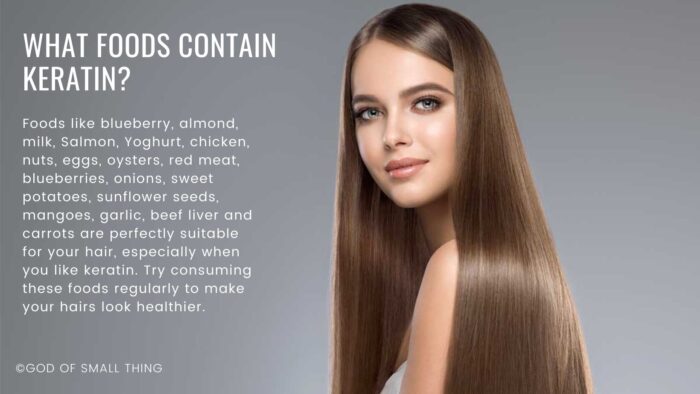 You must consume natural ingredients that contain keratin. You might have had your parents and grandparents scold you to drink milk, and consume almonds and fruits. Well, they always wanted your hair to be as strong as possible. Foods like blueberry, almond, milk, Salmon, Yoghurt, chicken, nuts, eggs, oysters, red meat, blueberries, onions, sweet potatoes, sunflower seeds, mangoes, garlic, beef liver and carrots are perfectly suitable for your hair, especially when you like keratin. Try consuming these foods regularly to make your hairs look healthier.
Keratin hair treatment method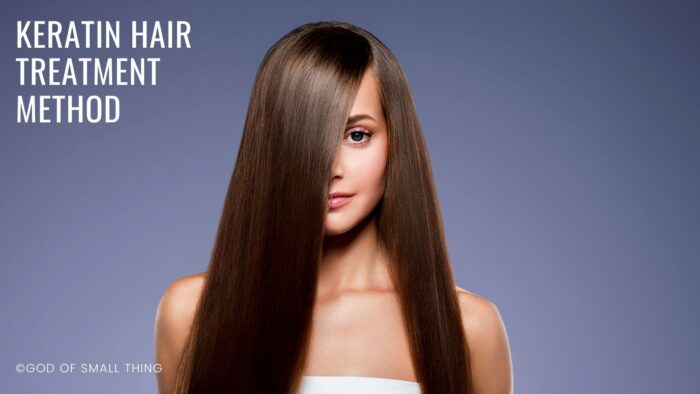 Well, it is a bit complex process or rather, not a complex but a lengthy process. It almost takes 3-5 hours for the process to complete depending upon the packages you choose. The basic step here is to wash your hair in the beginning. After this, the hairstylist applies keratin to get it into your hair precisely. A very fine brush is used to evenly spread the product on your hair. All of this needs to be kept on to your hair for almost 30 minutes and then the hairstylist uses heat with the help of a flat iron, to straighten your hair.
Always make sure that you are hairstylist uses low temperature in the beginning and later shifts to high temperature. After all of this procedure is complete, do not wash your hair for at least three days. It is always prescribed to use keratin shampoo to maintain keratin treatment effects. Not only this, it is better to not use hard water while washing your hair. This is because hard water contains calcium and other elements which may degrade the keratin treatment effect. Most hairstylists prescribe you not to use oils or any other natural ingredient on your hair after this treatment. Like, generally we use egg or curd on our hair, these need to be avoided.
Are there any side effects of keratin treatment?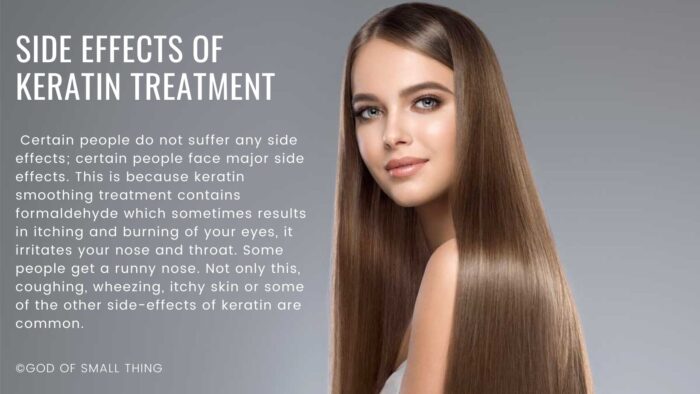 Keratin treatment uses chemicals to straighten your hair. There are various side effects, depending upon person to person. Certain people do not suffer any side effects; certain people face major side effects. This is because keratin smoothing treatment contains formaldehyde which sometimes results in itching and burning of your eyes, it irritates your nose and throat. Some people get a runny nose. Not only this, coughing, wheezing, itchy skin or some of the other side-effects of keratin are common.
Not to worry, most people do not suffer from any side effects. The American Cancer Society cautions that formaldehyde is a known carcinogen. This implies that it may cause cancer or aid the growth of cancer. Products emit formaldehyde gas into the air with this chemical. Other health side effects can also be caused by formaldehyde. This not only poses a potential danger to you but also to salon technicians who conduct the treatments in confined spaces over and over again.
"Environmental Protection Agency classified it as a substance that could potentially cause cancer if exposed for a long period. The U.S. Food and Drug Administration (FDA) also warns about potential health hazards for those exposed to it and notes that formulas and products that claim they're natural, organic, or formaldehyde-free may not be entirely true. The FDA encourages people to always read the label, ask hair professionals for an ingredient list, and to report any and all bad reactions."
Who should avoid it?
Precaution is better than cure, hence keratin treatment should be avoided by pregnant women. This is because the chemicals that are present in the products that we use during keratin treatment are unsafe. We do not have an exact proof; this is a very common assumption.
Can I tie my hair after keratin treatment?
It is advised to not tie hair especially in the first three days after the treatment. This is because it will create a bend in your hair, which is easily visible when your hairs are straight. Apart from this, you would not feel like tying your hair because they become so smooth and silky that you start enjoying your look. Fitzsimons Academy says the key to maintaining your treatment for as long as possible is using a sulfate-free shampoo on the days you wash your hair.
Confused about what is hair smoothening and if it's good for hair? All questions answered for Hair smoothening process, advantages, disadvantages and everything else here – Hair smoothening
How long does a keratin treatment session take?
One keratin treatment session takes around 2-4 hours. This generally depends upon the length of your hair, the volume of your hair and the formula that you choose to treat your hair with. People who have long hair might take almost more than 4-5 hours to get their hair done.
Can I do keratin treatment at home?
Yes, definitely you can do a keratin treatment at home. All you need to do is get the keratin products from the market, make sure that the products are safe and contain very fewer chemicals. Do not expect a saloon type result, when you do a keratin treatment at home. Generally, some keratin smoothing treatment kits contain silicon and conditioning treatments to make your hair smooth and soft. The term "keratin" is used in many products, but that does not always render them "keratin treatments." All hair is made up of "keratin proteins," so it is not uncommon for keratin-named items. Look at the product's ingredient list to get the best experience at home.
And the results won't last as long as the salon edition, even though you purchase an actual keratin smoothing treatment. Where a salon treatment can last for several months, after a couple of weeks, at-home versions tend to wash out.
Well if you are willing to know about hair, you must be somebody who loves to take care of their skin. Thus we bring a question to you? Which day cream do you use for regular use? Well if you wish to know about the best in business, Here is a list of the best day creams in India for face glow. 15+ Best Day Creams for daily use with review and buy links. And don't worry each link in the article will open in New Tab so you can finish this off and switch to another tab 🙂 )
How Can I get keratin naturally?
You can consume various types of foods that contain keratin. Mentioned above, eggs are one of the best food items when your hair lacks keratin. You might have heard that using onions can make your hair grow, smooth and silky. All of these foods provide you with a good amount of keratin.
Well, this is everything you need to know about Keratin treatment. Hope we made your decision a bit easier. Tell us in the comments section below 😀