21+ Horror Movies Like Wrong turn with where to watch Online Links
Wrong Turn is a gory film with bloodshed and graphic images. For those who are into the 'slasher' genre of horror movies like Wrong Turn, you are at the right place! With one of the best brutal horror movies ever created, I have curated a perfect list containing gory movies like Wrong Turn. Horror has always been a stress-relieving genre for me that I always watch in the dead of the night. Collecting and watching horror classics is a hobby and I present to you this list!
Disclaimer: All the movies mentioned down below are extremely R-rated with multiple trigger warnings such as blood, graphic imagery, and brutal maiming. Proceed with caution, these images linger in one's mind for a while, full of impact and intensity these movies are terrifying yet brilliant. Hope you find movies to add on to your watch list! Also, if you want some more movie recommendations you can head over to our Entertainment section. We have a lot of amazing content waiting for you. Entertainment at God of Small Thing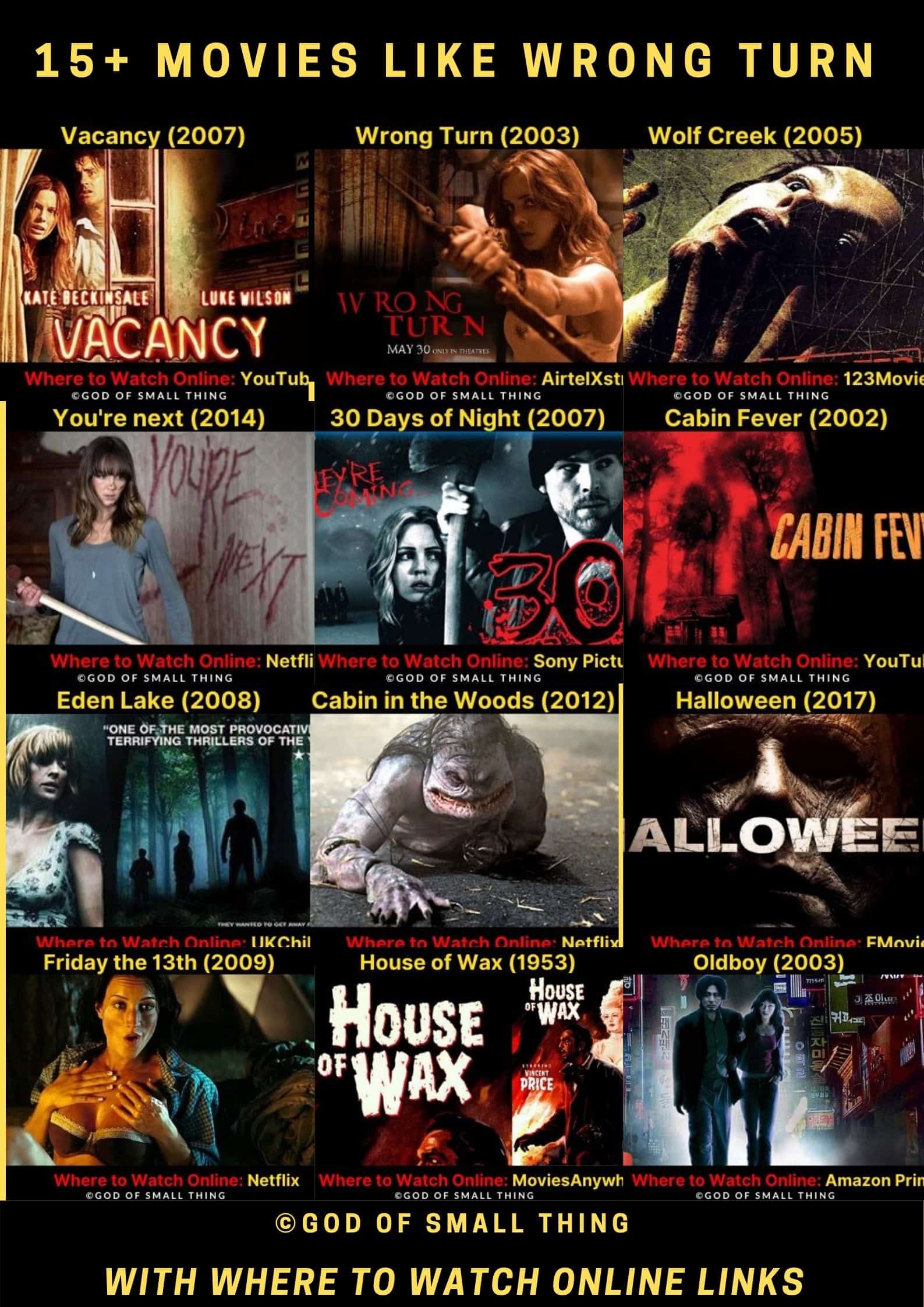 1. Wolf Creek (2005)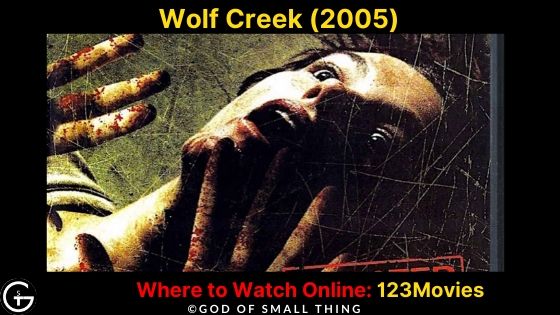 Cast: John Jarratt, Cassandra Magrath, Kestie Morassi, Nathan Phillips, Guy O'Donnell, Geoff Revell, Andy McPhee, and Aaron Sterns.
Set in 1999, this movie like Wrong Turn is one of the most gruesome and brutal horror movies out there. Ben, Liz, and Kristy are three backpackers that travel into the outback of Australia with a very small amount of money. They plan out the trip perfectly with their first stop being the Wolf Creek National Park. To go a little faster the trio rents out an old car and sets out on their backpacking trip, but when their car doesn't start they have no option but to stay in the car for the night. Hours later, a friendly local hillbilly Mick in his truck offers help, he asks them to change the coils in the car. But, for that, he conveniently needed them to tow the car to his nearby camp to fix it. Grateful for the offer they accept his proposal nervously.
They reach the campsite and offer him some of their money to take care of his troubles. They ease up and sleep around the warm bonfire. The next morning they find themselves separated, bound, gagged, and drugged. In the next few hours, they suffer an unbearable hellish nightmare and torture by a very sadistic and psychopathic Mick who is out to play a little game. This movie is wicked and merciless with astonishing mutilation and torture, the unrelenting horror and violence make the movie weirdly but visually stunning. Although the movie is said to be paced slowly, the slow pace might also build a sense of tension and anxiety about what's to come next. An incredible movie with a lot of gore, you have been warned!
Since you are here for Brutal Horror movies. So we are pretty sure you are somebody who would love to watch Conjuring movies in order. Here's How to Watch the Conjuring Movies in Order Chronologically and By Release Date
Check out Wolf Creek's Trailer!
Watch Wolf Creek on 123Movies:
2. Evil Dead (2013)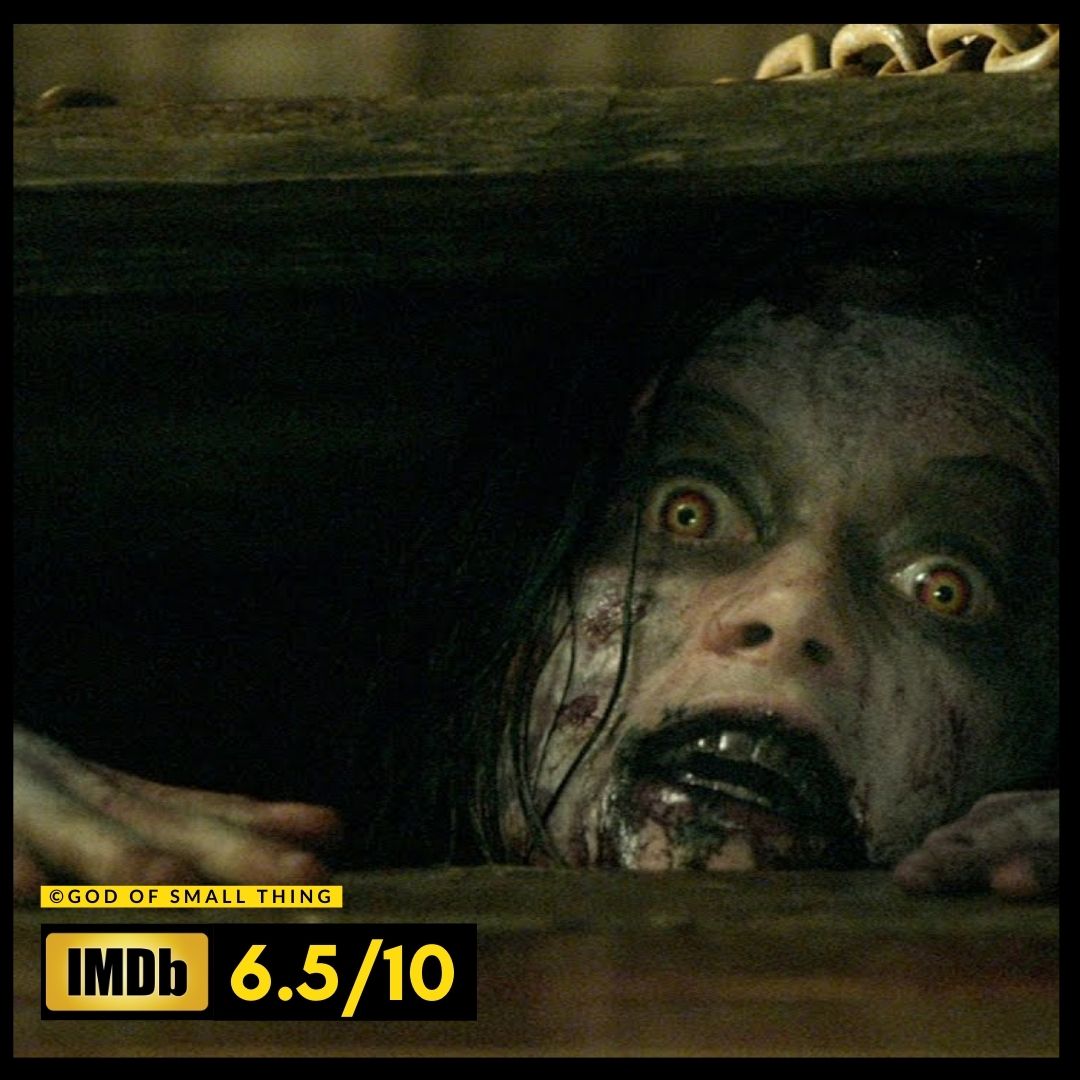 Cast: Jane Levy · Mia; Shiloh Fernandez · David; Jessica Lucas · Olivia; Lou Taylor Pucci · Eric; Elizabeth Blackmore
I have excluded the first Evil Dead on this rundown as everybody has previously seen it. On the off chance that you haven't, help yourself out and go watch it.
The story happens 30 years after the occasion of the first film. This time around, a gathering of five companions goes into a similar remote lodge so Mia can recuperate from her sedative fixation. Her companions are there to help her out with it.
Things rapidly turn extreme when they unwittingly bring up evil presences living in adjacent woods. Mia is moved, everybody feels that she is going through withdrawal side effects. Is it past the point of no return for them? Watch Evil Dead to find out.
Wait Wait Wait! Are you a John Wick Fan? Still, Looking for more movies like John Wick? 15+ Movies Like John Wick with where to watch Online Links. (Don't worry! Each link will open in New Tab so you can finish this off and switch! ) You might not find a deep plot, but if you are a fan of slasher and brutal horror movies like the Wrong Turn then this is my recommendation!
Check out Evil Dead's Trailer!
Watch The Evil Dead online
3. The Ward (2010)
Cast: Amber herd, Mammie Gummer, Danielle .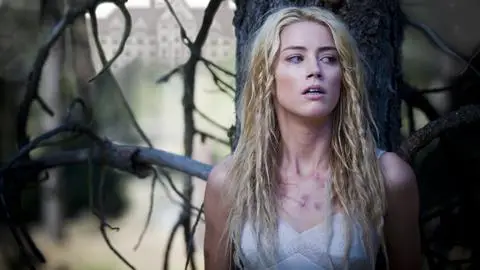 The plot rotates around a young lady who's brought to a neighbourhood refuge after she is found burning a house. She meets five other young ladies there, all experiencing a psychological issue of some kind.
Every one of them before long become damaged by paranormal elements. Obviously, nobody trusts them. All things considered, a ton of distractions and treatment meetings follow, which exacerbates things.
Generally speaking, The Ward is quite possibly of the best film like Wong Turn, as it will keep you snared until the end. Definitely worth a watch.
Check out The Ward (2010) Trailer!
Watch The Ward (2010) on Google Play:
4. Halloween (2017)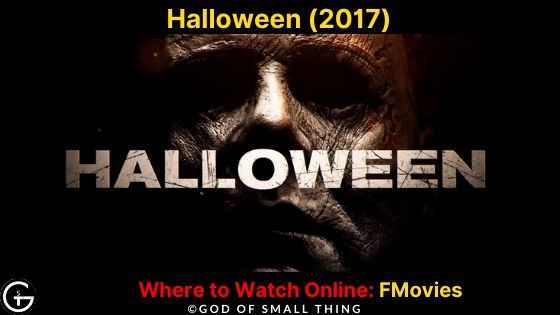 Cast: Malcolm McDowell, Sheri Moon Zombie, Tyler Mane, Scout Taylor-Compton, Brad Dourif, Danielle Harris, and Hanna R. Hall.
Next up I have another slasher movie like Wrong Turn which is the re-imagined version of Halloween (1978). The film is about Micheal Myers who grew up in a dysfunctional family. Set in Illinois, a 9-year-old Micheal is a mentally unstable boy who tortured animals in his backpack. His principal advises Myers' mom to send him in for psychiatric evaluation believing that the boy had a serious problem. This revelation unnerves Micheal and this young boy goes on a killing rampage, he kills his bully, his step-father Ronnie, his sister Judith and her boyfriend Steve. He is taken under custody and sent to receive treatment under Dr. Loomis.
Months later, his mother visits him, the horrifying thing here is that he kills the nurse and his mother commits suicide in that very asylum. The only person he has a connection with is his baby sister Laurie, so he pines for her all the time he is there. Roughly 15 years later he escapes from the asylum leaving bloodshed behind he heads home on a Halloween night in search of his sister. The backstory that this remake presented adds a dimension to the story that it never had before. The killing scenes were very well executed and the plot seems more interesting than its original. The acting was decent and the ending was unexpected and the whole setting was realistic which gave it a more horror feel to it.
However, there are classic brutal horror film lovers that find this version disappointing because of the lack of the 'scary factor' in the re-make, but according to me the psychological instability that Myers felt and his rampage and crimes were scarier than any cheap jump scares any horror movie can produce.
Check out Halloween's Trailer!
Watch Halloween on FMovies:
5. Cabin Fever (2002)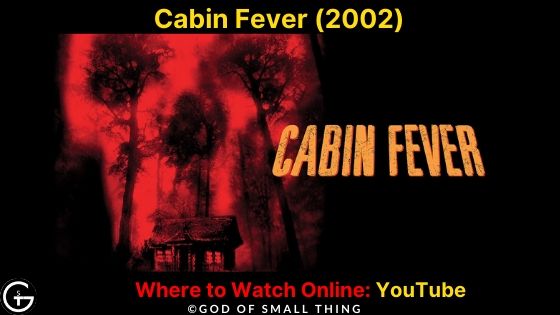 Cast: Rider Strong, Jordan Ladd, James DeBello, Cerina Vincent, Joey Kern, Arie Verveen, Giuseppe Andrews, Eli Roth.
Another brutal horror movie that will give you the creeps! Revolving around five college students on a vacation. Cabin Fever is a perfect blend of horror, scares, and gore that creates a horror cult classic. Paul, Bern, Jeff, Karen, and Marcy rent out an isolated cabin in the remote deep woods to spend a peaceful week together. But, trouble starts right at the beginning, they encounter a man who is contaminated with a disgusting-looking disease and asks for their help. I panic, they burn the man and he falls into the reservoir and finally dies. But, the problem is that the reservoir is the only source of water in the cabin, so the five make a pact to only drink beer throughout the week because they don't know the whereabouts of the body.
We all love Leonardo and surely we all have seen Wolf of Wall Street 😀 Well if you are looking for a few more like Wolf of Wall Street, we got you covered. Here are 25 Movies Like The Wolf of Wall Street with watch online links
But, of course, living without water for a week was stupid, Karen drinks the tap water and comes in contact with this weird flesh-eating virus. As it spreads among the five friends their true personalities emerge and they struggle to survive while they gain attention from the homicidal local residents. The movie has a great balance between humour and gore, you wouldn't want to eat or drink anything after you watch this bloodfest. Sure, it has intentional cheesy horror scenes that are supposed to ease out the tension in the film, it has bizarre scenes that don't make sense but are entertaining to watch. However, with a fair amount of tension and suspense, it makes this movie like Wrong Turn a memorable one!
Check out Cabin Fever's Trailer!
Watch Cabin Fever on YouTube:
6. The Descent (2005)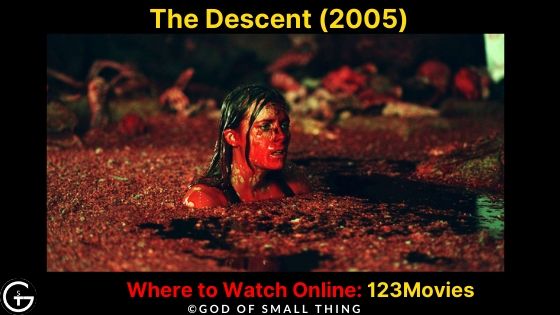 Cast: Shauna Macdonald, Natalie Mendoza, Alex Reid, MyAnna Buring, Saskia Mulder, Nora-Jane Noone, Oliver Milburn, and Molly Kayll.
The next slasher movie like Wrong Turn is a gory flick with a constant intensity that keeps you on the edge of your seat. A year after Sarah lost her husband and daughter in a car accident she re-unites with her 5 friends to go on an expedition. Meeting up at a cabin in the Appalachia Mountains, they hike up to a cave and enter. Sarah navigates them into the caves, but after they move through a narrow path the cave collapses behind them. They get trapped in the caves, she accidentally led the group into an unknown cave. As the cave was unexplored, a rescue mission was impossible. The group moves forward hoping to find an exit, when they find equipment from a previous explorer, they go along but Holly falls off into a hole and Sarah follows her.
We all tend to watch some romantic pictures but we generally don't let people know right? We got you! Here's something for you! 25+ Movies Like The Notebook That Will Blow Your Mind with where to watch online links obviously!
With sour friendships and no trust between the group they get separated and discover crawlers. Crawlers are these humanoid creatures that are pale and bloodthirsty. The group struggles to survive as they discover horrifying creatures in tight caves. The claustrophobia alone is suffocating for a viewer, and the gore and the jumps are very terrifying. With a level of intense scenes throughout the movie, the characters experience horrific circumstances and spine-chilling adventures. With a very good pace and just the right amount of frights, the actors deliver an amazing performance. The darkness gradually envelops them and it gets scarier and suffocating by the minute, an incredible brutal horror movie! 100% recommended.
Check out The Descent's Trailer!
Watch The Descent on 123Movies:
7. Eden Lake (2008)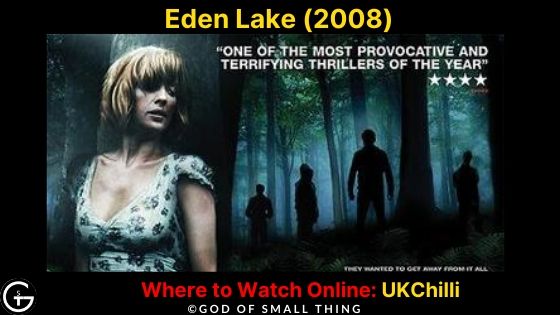 Cast: Kelly Reilly, Micheal Fassbender, Jack O'Connell, James Gandhi, Thomas Turgoose, Bronson Webb, Shaun Dooley, and Finn Atkins.
I have for you a British brutal horror movie that has received generally positive reviews. Steve and his nursery-teacher Jenny escape from their daily lives for a romantic getaway. With the intent of proposing Steve takes Jenny on a romantic camping holiday in the beautiful English countryside. Steve picks a perfect spot, along the remote Eden lake surrounded by woodlands, but their peaceful getaway is crashed by a group of obnoxious boys who steal their stuff and leave them stranded in the middle of nowhere. They ignore all of Steve's requests for peace and brutally attack them. Steve is captured while Jenny seeks a way out of the woods from these violent groups of boys. She is subject to a horrifying game of chase where she desperately tries to evade any danger. She makes it to the nearest town, but she seems to find something worse there.
You will get sucked into the plot, the actors do a great job in delivering the fear and helplessness. The violent deaths, the sadistic chases, and the ruthless killing make this film a masterpiece in itself. This slasher movie like Wrong turn is not the goriest or most graphic film, however, the psychological terror the characters faces is well reflected in the viewers. An incredible film with a well-written plot and circumstances. The movie might not include new never-seen-before elements but the twisted scenes in the movie are horrifying enough.
Check out Eden Lake's Trailer!
Watch Eden Lake on UKChilli:
8. The Strangers (2008)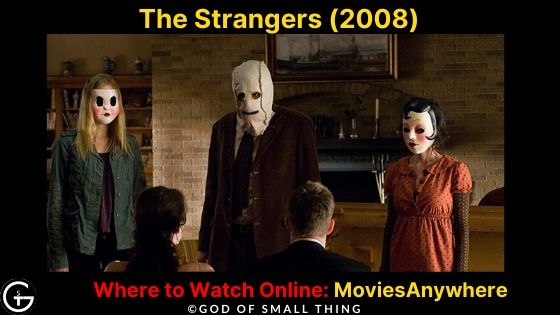 Cast: Liv Tyler, Scott Speedman, Gemma Ward, Kip Weeks, Laura Margolis, Glenn Howerton, and Alex Fisher.
Next on my list of brutal horror movies like Wrong Turn, we have an eerie feel that will give faint hearts trouble sleeping. Opening on a dark night in an eerie neighbourhood of summer homes, Kristen and James are returning from a wedding reception. They go to James' summer home and they hear a deafening knock at the door late at night. Based on a true story the couple experiences menacing knocks that break the silence and increases the tension in the house. A scary woman standing in their backyard persistently asking for someone they don't know.
With consecutive knocks on the door, the three masked individuals get more violent by the minute and the couple has no means of contacting anyone. They must just hold on as long as they can, with their peaceful vacation home under siege of these strangers, these assailants, do they intend to kill them off? Kristen and James go above and beyond to survive the killers. Movies like these are terrifying because it's too realistic, a couple stuck in a house with no way out, this could happen to anyone. One of the scarring films I've seen that made me afraid to even stay home alone for a while! The mayhem, chaos, violence, gore, scares and gradually increasing barbaric scenes, it's all a perfect recipe to whip up a terrifying movie.
Check out The Stranger's Trailer:
Watch The Strangers on MoviesAnywhere:
9. Oldboy (2003)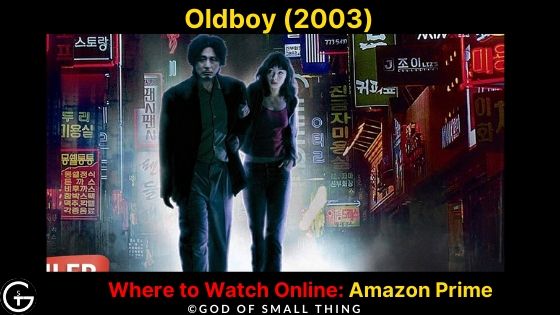 Cast: Choi Min-Sik, Yoo Ji-Tae, Kang Hye-jung, Ji Dae-han, Kim Byeong-ok, Yoon Jin-seo, and Oh Dal-su.
A critically acclaimed brutal horror movie, a powerful story of revenge. An incredible and thrilling story about an ordinary man named Oh Dae-Su. On a rainy night in 1988, Dae-Su, an obnoxious drunkard is abducted. He wakes up in a cell with no windows, his only companion in this run-down hotel room is the TV. For an unknown reason, he is trapped in this room for 15 years, his merciless captivators fed, clothed, and sedated him. He is sedated to avert his desperate suicide attempts. The only thing that kept him going was his journal, he remains in that hotel room for 15 years, until one day they just decide to release him. With blinding rage and determination to seek revenge against his captor.
To uncover the reason for his captor putting him through 15 years of torture and pain, he finds out that his kidnapper indeed has big plans for him. Oldboy is an incredibly written horror that portrays astonishing cruelty and the complex effects of physical isolation. This diabolical movie is definitely not for the squeamish, with remarkable acting from the actors, this might as well be the most devastating film I've ever seen. The movie becomes increasingly heart-wrenching and unbelievable with an impact that lingers with you. It's brutal, bold, graphic torture, and physically and emotionally draining for the characters. I cannot stress enough how incredible this movie is. Not every scary movie is supposed to be a horror movie, you will understand what I mean after watching it!
Check out Oldboy's Trailer!
Watch Oldboy on Amazon Prime:
10. The Hills Have Eyes (2006)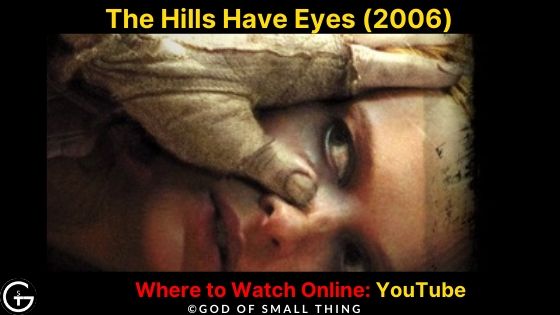 Cast: Aaron Stanford, Kathleen Quinlan, Vinessa Shaw, Emilie de Ravin, Dan Byrd, Tom Bower, Billy Drago, Robert Joy, Ted Levine, and Desmond Askew.
This is a brutal horror movie that has been a cult classic for a long time. The Hills Have Eyes is a remake of the 1977 movie with the same name. There are mixed opinions on which one is better, the original or the re-make, but here I choose the re-make. The original is quite a bore with old dialogues and effects, the re-make does lack in some ways, but it makes up with its horror feel. The story is about the dysfunctional family of Carters who travels across California to celebrate the parents' 50th anniversary. A flat tire stops them and they are stranded in the middle of a government nuclear testing site and they accidentally cross some boundaries they shouldn't have. They realize that they weren't alone, the hills indeed have eyes. The family comes across a savage family of cave-dwelling cannibal beings.
Their celebration goes horribly awry when the seemingly abandoned wasteland is actually the territory of blood-thirsty mutants that will attack anything that moves. The movie has themes of sadism, torture, gore, and brutality that truly sends a chill down your spine. A dark and gritty flick that has blunt violence and painful images. The movie isn't in any way perfect but is far superior to its original. It's a bloodbath that is definitely not recommended if you can't handle too graphic images. However, to those who can stomach movies like these, it will surely satisfy your taste and leave you uncomfortable.
Check out the trailer for The Hills Have Eyes:
Watch The Hills Have Eyes on YouTube:
11. Friday the 13th (2009)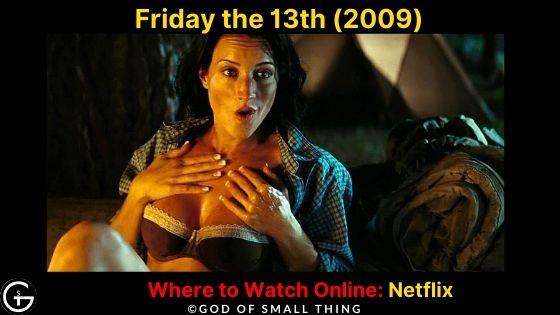 Cast: Jared Padalecki, Danielle Panabaker, Amanda Righetti, Travis Van Winkle, Aaron Yoo, Derek Mears, Jonathan Sadowski, Julianna Guill, and Ben Feldman.
Friday the 13th is an iconic horror movie like the Wrong turn that terrified many people. A group of youngsters set up camp near an abandoned camp, in 1980 a series of brutal murders took place. The killer then was a mother who drove insane after her child, Jason drowns. However, the infamous legend has it that the woman was beheaded by the last survivor, and Jason witnessed his mother's death. Back with vengeance, Jason is back as a killer having every weapon possible to inflict pain on his victims. All the youngsters, except Whitney, were killed. While six weeks later, Whitney's brother Clay is distributing posters of her sister to find her. He crosses paths with a group of friends who are having a party at a cabin. Just then, Jason unleashes himself over the party and kills the kids one by one.
In case you like something that involves fucking up your mind with theories! Here are 30+ Movies Like Inception with where to watch Online Links
Of course, some love the original, but this re-imagined film is a pretty good one. Following the backstory of Jason for the audience to sympathize with him just a tad but not too much. Jason is not a ghost or a supernatural being, he is a deeply troubled human and that's what makes it terrifying. The movie is pretty much the same as its original but the way it was written and filmed makes it the scariest one in the franchise. Jason's character was loved by the franchise's fans and the acting and creepiness were off the charts. It is quite gory and has a ton of ton jump scares, the sound design and the chilling atmosphere is what made this movie really good! Watch this movie like Wrong Turn on Netflix!
Check out Friday the 13th's trailer!
Watch Friday the 13th on Netflix
12. 30 Days of Night (2007)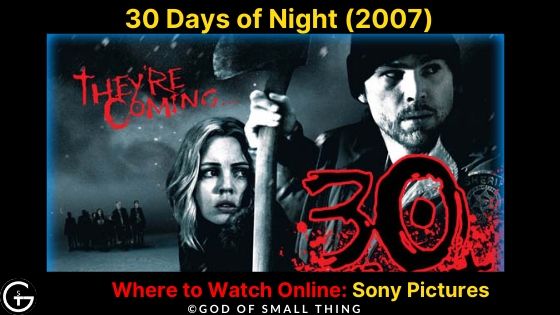 Cast: Josh Hartnett, Melissa George, Danny Huston, Ben Foster, Mark Boone Junior, Mark Rendall, Amber Sainsbury, Manu Bennett, and Megan Franich.
With death and mayhem across a small town in Alaska, 30 Days of Night is one of the best horror movies with vampires and death. A town called Barrow submerges into 30 days of endless nights where the sun doesn't rise in the winter. It gets invaded by vampires because the best time for a vampire to rule is the night, and here night lasts for a month. They enter the lands and unleash chaos, lightning-fast speed, deadly fangs, and dumb vampires who only care about their next meal. Sheriff Eben Oleson teams up with his wife and gathers all the survivors in an attic and hideout. days later taking the advantage of a blizzard, they plunder a supermarket for stock and scheme out plans to kill the vampires.
A brilliant vampire flick with bloody fangs and severed heads, the acting, the filming techniques, and the set designs were all well-done. Gore, blood, graphic imagery, and savagery in every scene was thrilling. But I cannot recommend this movie enough, a highly underrated movie that despite its intensity it is very gripping. Both sides try and stay alive, although their methods of survival are different. The film is not the best with its pacing, it can get sightly slow in some parts but the horror part of the movie has the most impact with the graphic scenes that horror movie lovers truly enjoy!
Check out 30 Days of Night's Trailer!
Watch 30 Days of Night on Sony Pictures:
13. Saw (2004)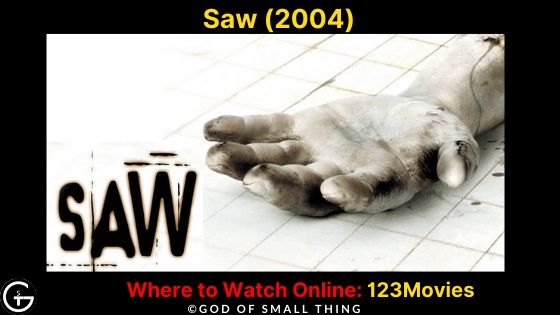 Cast: Leigh Whannell, Cary Elwes, Danny Glover, Ken Leung, Dina Meyer, Mike Butters, Paul Gutrecht, Micheal Emerson, Benito Martinez, and Shawnee Smith.
One of the best horror movies of all time, the Saw franchise is one of the most memorable brutal horror movies like Wrong Turn that always been a staple. As a kid, this movie terrified me, and it still does. The movie starts off with Adam, a photographer waking up in a bathtub with his ankle chained up to a pipe. Just across the room was Lawrence and they had a corpse between them holding a revolver and a cassette recorder. They find the same in their pockets and listen to the tapes. But, Lawrence's tapes demanded him to kill Adam with his wife and daughter as leverage. Their captor the Jigsaw Killer schemes out his funny little games on the people he captures. Adam and Lawrence need to escape by 6 o'clock or there will be consequences.
They find chainsaws in a toilet and try and cut the chains but realize that those chains weren't going to break with a saw like this, it was placed there for their legs. We see the flashbacks and witness the pure terror his previous victims felt. His games varied from different ways to make them kill themselves, or find a way out. However, If this wasn't terrifying enough to keep you awake at night, the Jigsaw Killer is terrifying with his mask and his puppet-like face. It is what nightmares are made of.
Check out Saw's Trailer!
Watch Saw on 123Movies:
14. The Texas Chainsaw Massacre (1974)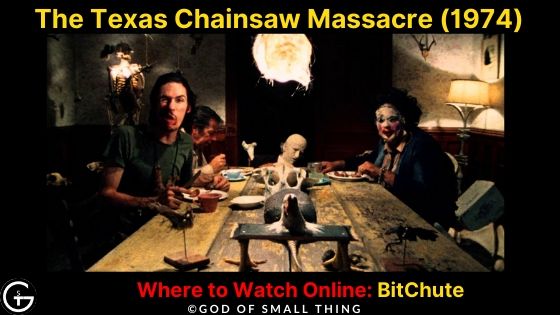 Cast: Marilyn Burns, Paul A. Partain, William Vail, Allen Danziger, Teri McMinn, Gunnar Hansen, Edwin Neal, and Jim Seidow.
Another legendary horror film that has managed to scare millions of people, is a cult classic brutal horror movie that revolves around five friends. The group, Sally Franklin, Jerry, Kirk, and Pam, are on their way to visit the grave of grandpa Hardesty when they cross a small isolated town. While driving they come across a disturbed hitchhiker who wanders off into the roads, the group decides to help him out. They pick her up in his van to drop them off at a nearby town and go on their way, but he slices himself in their van. He then takes a picture of Franklin and demands money for it. Traumatized by the incident, they force him out of the van and find a gas station to get a refill.
The group splits and finds a house unlocked, on entering they find Leatherface, a large man wearing a make made out of human skin. They quickly realize what was happening and try to escape the terrifying chainsaw-wielding psychopath but he captures Pam and makes her watch as he butchers kirk with a chainsaw. The other group sets out to find them but they experience another psychopath who binds and gags them. Sally has to get away from these killers before they kill off her brother and her. A nightmare-inducing flick that is raw and really disturbs you. Leatherface is one of the most terrifying characters in the horror genre, there is not even a drop of humour, it's all gore and blood. A truly intense movie that will linger in you is mind for a while.
Watch The Trailer for the Texas Chainsaw Massacre!
Watch The Texas Chainsaw Massacre on BitChute:
15. House of Wax (1953)
Cast: Vincent Price, Frank Lovejoy, Phyllis Kirk, Carolyn Jones, Paul Picerni, Roy Roberts, Paul Cavanagh, Dabbs Greer, Angela Clarke, Charles Bronson, and Nedrick Young.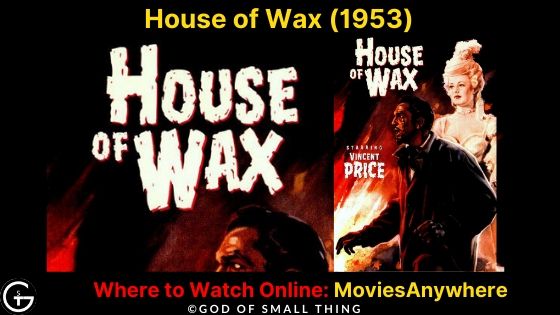 One of the best slasher/horror movies like Wrong Turn, House of Wax is a gripping film that is far superior to its 2005 remake with the same name. About an artist and sculptor Henry who sculpts realistic life-like statues out of wax. An expert in historical illustrations and tableaus of Marie Antoinette and Joan of Arc. But, he is horrified when his business partner suggests setting their unpopular museum on fire to get the insurance money instead. When he downright refuses to burn all his life's work, Burke lights the museum on fire destroying everything in there. However, even Jared dies in the fire and all Burke claims all the insurance money. But, Jared unexpectedly shows up months later and opens a wax museum of his own.
Coincidentally, the opening coincides with the sudden disappearance of bodies from the city morgues. He focuses on his speciality of creating a perfect Marie Antoinette waxed figure. Jared finds his perfect model but his way of making statues is quite particular. This movie is a true horror flick with a blend of gore and suspense. A masterpiece in its own right, House of Wax is a terrifying movie with well-paced horror and genuinely shocking and scary dark moments that leave you shaking. It remains to be one of the best horror movies of all time!
Check out House of Wax's Trailer!
Watch House of Wax on MoviesAnywhere:
16. Cabin in the Woods (2012)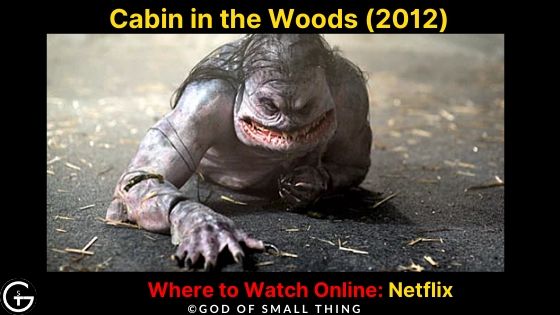 Cast: Kristen Connolly, Chris Hemsworth, Anna Hutchinson, Fran Kranz, Jesse Williams, Richard Jenkins, Bradley Whitford, Brian J. White, Amy Acker, and Sigourney Weaver.
We have something new here, a horror-comedy movie about a group of college friends and their retreat to a cabin in the forests. Students Dana, Holden, Marty, Jules, and Curt getaway to spend a weekend in a deserted cabin deep in the woods. Meanwhile, in a lab, engineers Sitterson and Hadley discuss plans for a ritual after a failure of a similar operation in Stockholm. Sitting in their labs the engineers manipulate and control the students by intoxicating them with drugs and hindering their rational thinking. When the door of the cellar flings itself open they investigate and find weirdly eerie artifacts down there. Relics and such, but all goes to hell when Dana reads from a book and unintentionally awakes a family of lethal zombie killers.
A clever and unique movie with a modernized twist, the story is told in a compelling and fun way that is funny yet horrifying. A riveting horror flick with a fast-paced story that cleverly ups itself from the average horror cliches. Sure, it is a bit over-the-top but the illusions and gore make up for its shortcomings. A surprisingly great watch that is entertaining in weird ways. It might be predictable at times as it references other horror movies at times, but a very compelling story-telling makes it a success. Watch this brutal horror movie like Wrong Turn on Netflix!
Check out the trailer for The Cabin in the Woods!
Watch Cabin in the Woods on Netflix:
17. Don't Breathe (2016)
Cast: Steven Lang, Jane Levy, Dylan Minnette
Alex, Money, and Rocky, three teen criminals from Detroit, break into rich individuals' homes and ransack them to get by for themselves. At the point when they catch wind of a visually impaired veteran who won a tremendous money repayment after the passing of his youngster, they think they've stirred things up around town.
Expecting the elderly person is an obvious objective, the three reprobates break into his detached home, which is arranged in a neglected area. Things take a lethal turn when they understand that the old veteran isn't generally so defenceless and helpless as they naturally suspected.
The caught triplet requirements to get away and battle for their lives from the visually impaired elderly person attempting to kill them, yet it doesn't make any difference what direction they head; there is by all accounts no chance to get out of there!
Watch the Trailer of Don't Breathe
Watch Don't Breathe online
18. Ready Or Not (2019)
Cast: Samara Weaving, Adam Brody, Mark O'Brien
After Grace weds her first love at his family's extravagance bequest, she feels like the most joyful and most fortunate young lady on the planet! Notwithstanding, Grace knows nothing about her new family's custom of chasing down and killing any novice to their loved ones.
They made an arrangement with Satan in return for their riches, and on the off chance that they don't find and kill Grace before early afternoon, something horrible will happen to them all.
From fantasy to a freakshow, Grace is compelled to play the dangerous mental contest while her parents-in-law search her out with crossbows, firearms, and different weapons. After she has had enough of frantically making tracks, she figures out how to provide them with their very own sample poison.
Watch Trailer of Ready or Not
19. Hush (2016)
Cast: John Gallagher Jr., Kate Siegel, Michael Trucco
Maddie Young lost her hearing and her voice when she was simply thirteen years of age because of bacterial meningitis. Presently a writer, Maddie carries on with a willful existence of isolation in a segregated house in the forest where she intends to think of her next novel.
All is well in her peaceful new life until a psychotic masked killer appears outside her window one night. Isolated from civilization, Maddie must fight for her life to escape from the crazy crossbow killer. Did her dream of living alone just turn into her worst nightmare?
Watch the Trailer of Hush
20. Spiral (2021)
Cast: Chris Rock, Marisol Nichols, Max Minghella, Samuel L. Jackson
While emulating his dad's example, Detective Ezekiel Banks assumes responsibility for researching a progression of grim killings occurring in the city. Shockingly, the wrongdoings are basically the same as the horrifying homicides that were carried out quite a while back by a famous chronic executioner named Jigsaw.
Analyst "Zeke" Banks and his new accomplice before long wind up making up for the lost time in the executioner's debilitated game. They need to track down the executioner prior to adding one more casualty to the homicide count, however, it appears to be the curved killer is generally out in front of them.
Watch Trailer of Spiral
Watch Spiral online
21. The Farm (2018)
Cast: Nora Yessayan, Alec Gaylord, Ken Volok
At the point when a youthful couple unintentionally messes up off on the motorway, they choose to pull over at a side of the road coffee shop to unwind and have some food. Much to their dismay that eating meat at the coffee shop was the greatest misstep of their lives.
Soon they will have to fight for their lives when they are kidnapped, imprisoned, and treated like animals on a farm where the humans become the main course!
Watch the Trailer of The Farm
Watch The Farm online
22. Creep (2004)
Cast: Franka Potente, Vas Blackwood, Sean Harris
Kate loves to party, however when she rises in a secured, abandoned London Tube Station following some serious time drinking and celebrating, the tomfoolery closes. She understands that she should remain there for the time being until somebody can help her in the first part of the day.
Kate before long discovers that being distant from everyone else is the most trivial part of her concerns when she goes into the Labyrinth of passages sought after by a dreadful aggressor.
Watch the Trailer of Creep
Watch Creep online
The End. I conclude my list of 21+ Movies like Wrong Turn. If these descriptions aren't enough to give you goosebumps, you are one brave soul. I recommend you watch these movies to experience the true horror classics that have shaped the horror genre over the years. So, I tried my best in including some old classics to show you a time when there wasn't excess censoring and these raw film really terrified anyone who watches them! I hope you found some movies of your liking! Did I miss any of your favourite brutal horror films? Mention them in the comments section below!
Just before you go! if you want to watch something new than usual. Try Korean Dramas and they are actually good! Here are 25+ Best Korean High School Dramas with where to watch links