30+ Movies Like Inception with where to watch Online Links
Inception is an exceptional movie that messes with your mind but obviously in a good way. Ten years ago, the dream team between Leonardo DiCaprio and Christopher Nolan, "Inception", entered the theatre. The director's previous game changer "Dark Knight" was still one of the favourites of the audiences. The dazzling dream robbery thriller shocked the audience with complex shots-a city collapsed, coupled with the practical effects guide of rotating corridors arguing-dense, literally layered plot. It makes the audience want more…we are here to help you. The movie cannot be recreated but if you still want to watch movies similar to Inception, here we are with a list of mind-bending movies like Inception.
Here is a quick sneak peek into the list! The list is frequently updated and you will find your favorite movies added to the list the next time you open the article. Also, you can click on the movie you want to watch directly by clicking on the movie name. Awesome, isn't it? Well, anything for your comfort. 😀
1. Source Code IMDB Rating: 7.5/10
Rotten Tomatoes Rating: 92%
Cast: Jake Gyllenhaal, Michelle Monaghan, Vera Farmiga, Jefferey Wright, and Michael Arden.
Director: Duncan Jones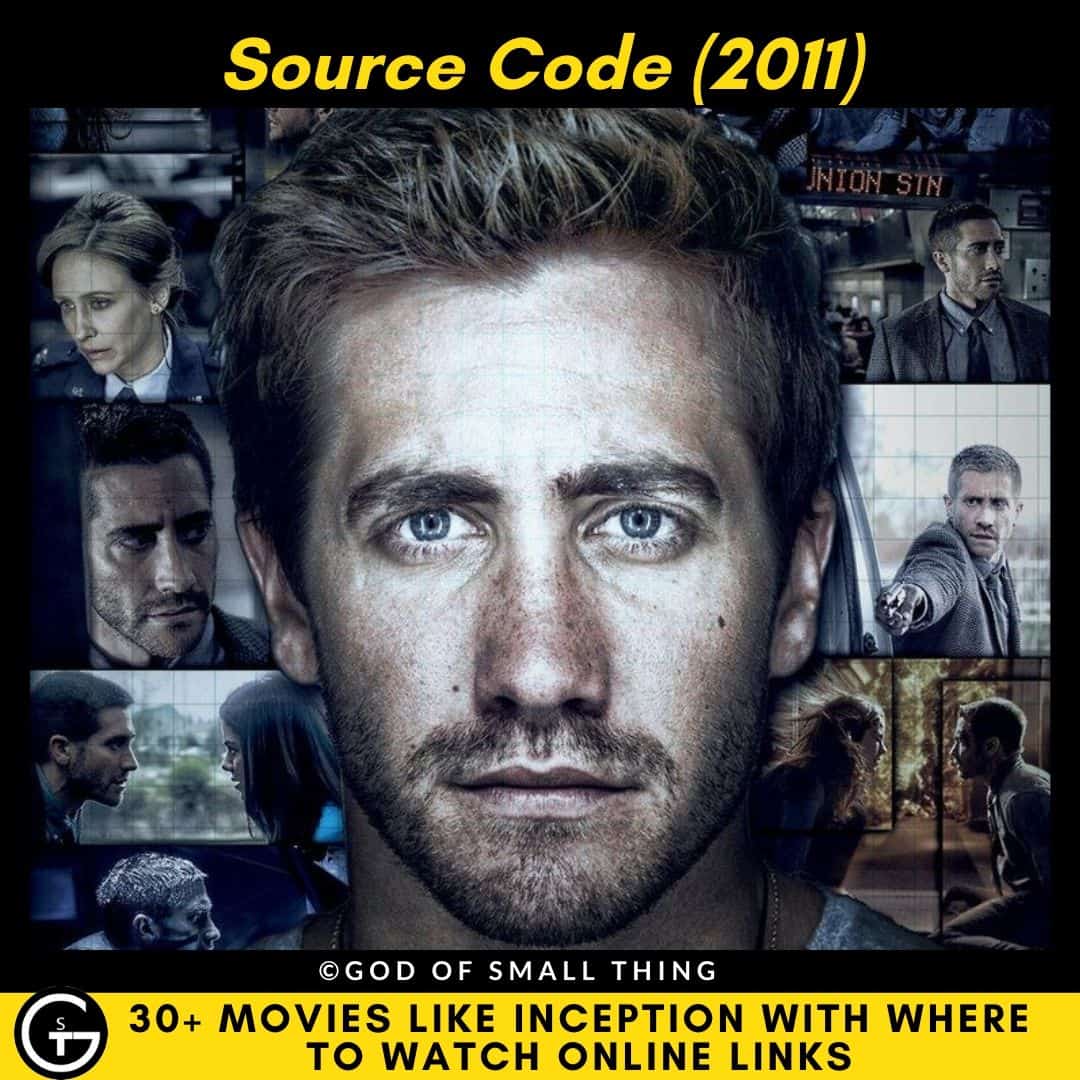 This movie is similar to Inception in regards to the mind-twisting plot. In this movie, Captain Colter Stevens finds himself wrapped up in a special government program. His consciousness can be transferred to any human alive, but only for 8 minutes. One morning, he accidentally occupies the mind of a teacher.
There's a bomb on a train and the authorities are instructing him on how to locate the bomb. Not only that, but he is also expected to locate the bomber because according to the sources, there's another bombing scheduled. Stevens is reminded that he cannot change the past, he can only gather information. But, he plans on testing out that theory.
2. The Matrix IMDB Rating: 8.7/10
Rotten Tomatoes Rating: 88%
Cast: Keanu Reeves, Laurence Fishburne, Carie-Anne Moss, and Hugo Weaving.
Director: Lana Wachowski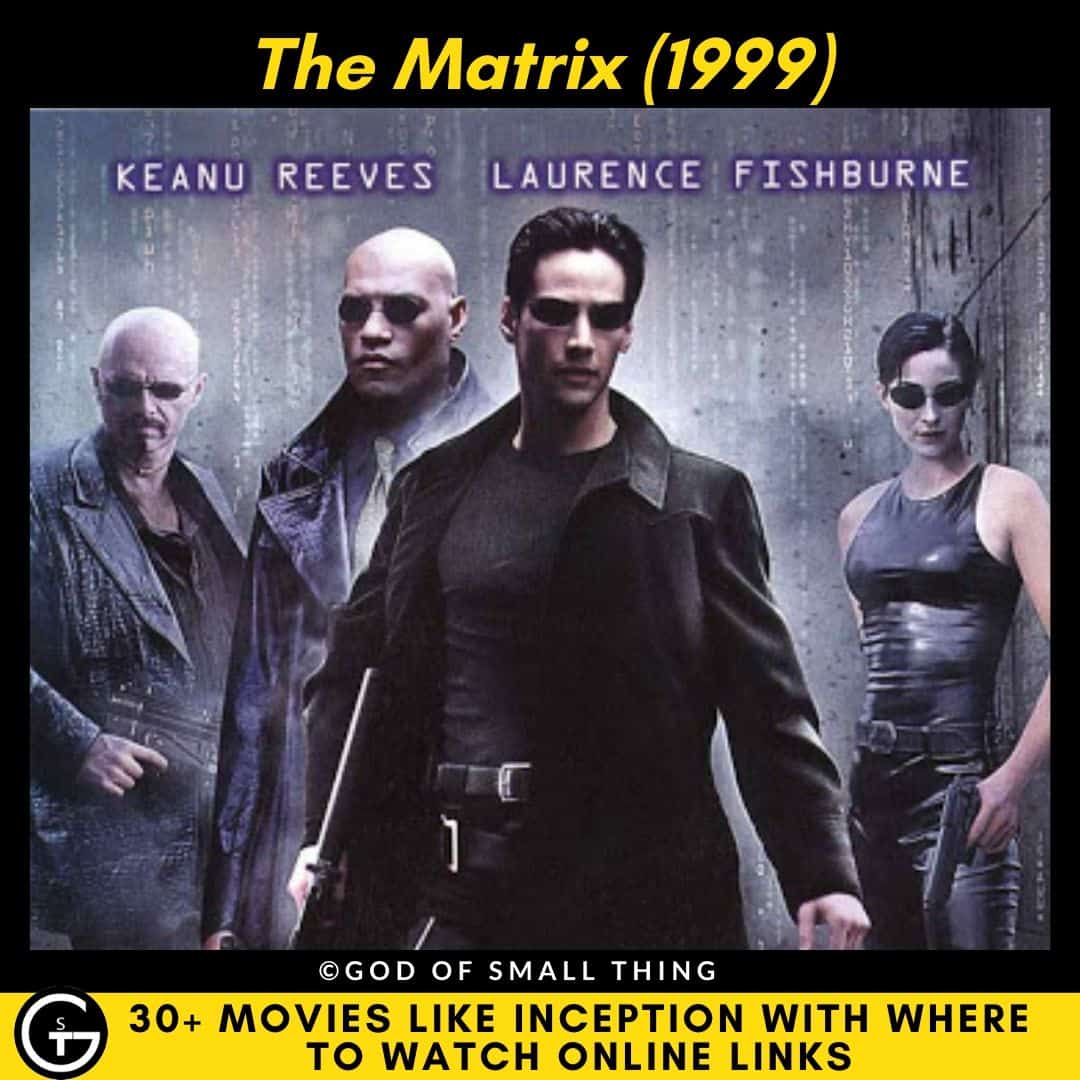 Thomas leads a double life, an average programmer by day and a hacker, Neo by night. Neo was always sceptical of the reality he lived in. An organization Morpheus contacts him and opens him up to the real world. The real world is a wasteland where machines live off the humans' body heat. A side effect is trapping the human mind in an artificial reality, The Matrix.
Morpheus is convinced that Neo is the "Chosen one" to free the human race of this physical and psychological prison. Neo rebels against the machines for the entire human civilization. No movie has come close to the brilliance of The Matrix. This is a movie similar to Inception, where realities morph into the unknown.
3. The Machinist IMDB Rating: 7.7/10
Rotten Tomatoes Rating: 77%
Cast: Chritian Bale, Jennifer Jason Leigh, Aitana Sánchez-Gijón, and John Sharian.
Director: Brad Anderson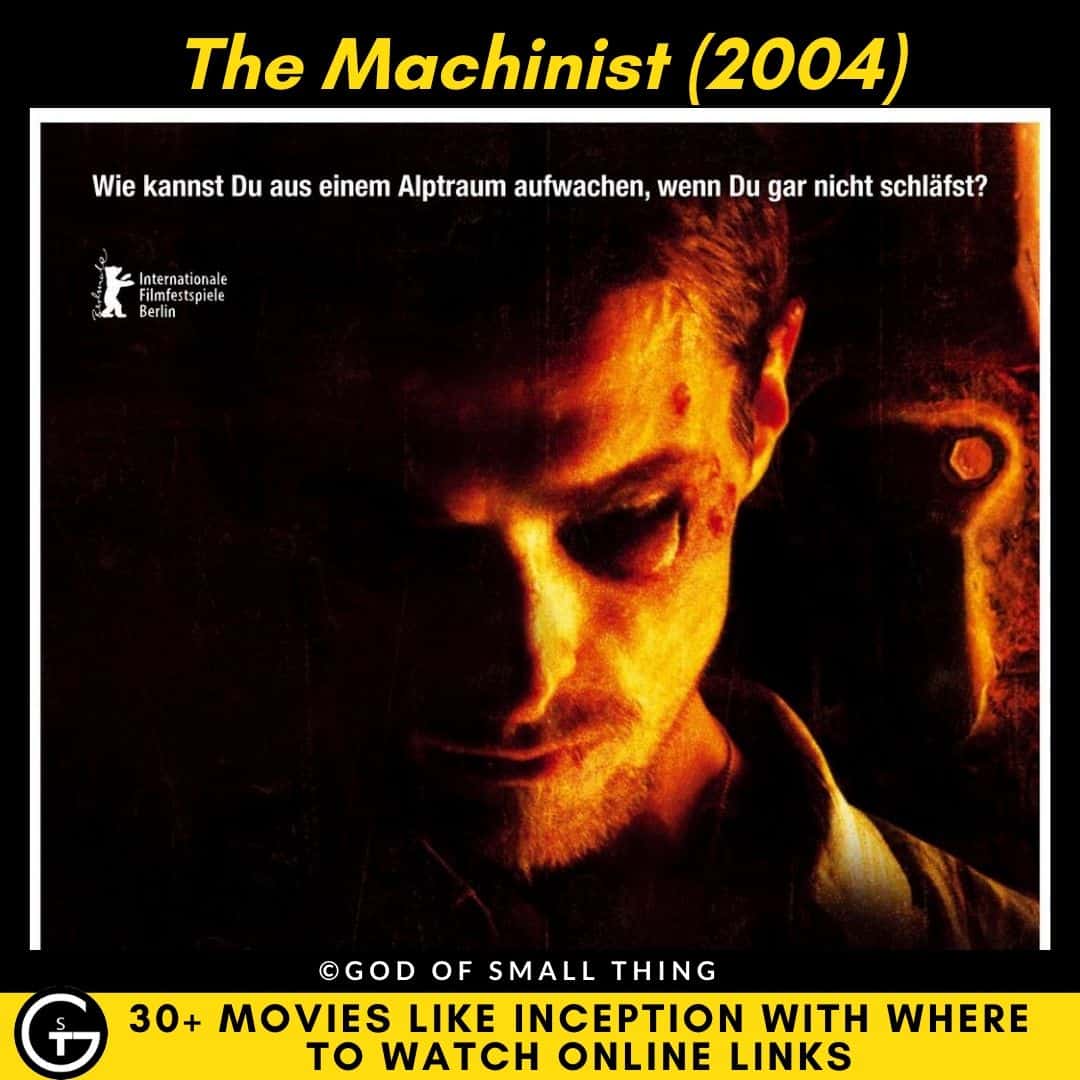 In this psychological thriller movie, like Inception, Trevor is a machinist. He hasn't slept for a while because of his severe insomnia. He couldn't sleep for a year, and his body is withering into nothing. Trevor has a Compulsive Disorder and writes on yellow sticky notes all over his apartment. Trevor only lets in one person emotionally.
His co-workers keep away from him, not knowing what happened in his life that led to his physical appearance creating a relationship of mistrust. He finds unfamiliar pieces of paper in his apartment and he believes his coworkers are out to get him. However, Trevor thinks they are using a phantom employee named Ivan, he researches this guy. He realizes to what extent he was damaged because of his insomnia. This movie like Inception tells us that our minds can be our enemies sometimes.
4. Triangle IMDB Rating: 6.9/10
Rotten Tomatoes Rating: 80%
Cast: Melissa George, Joshua McIvor, Jack Taylor, Michael Dorman, and Henry Nixon.
Director: Christopher Smith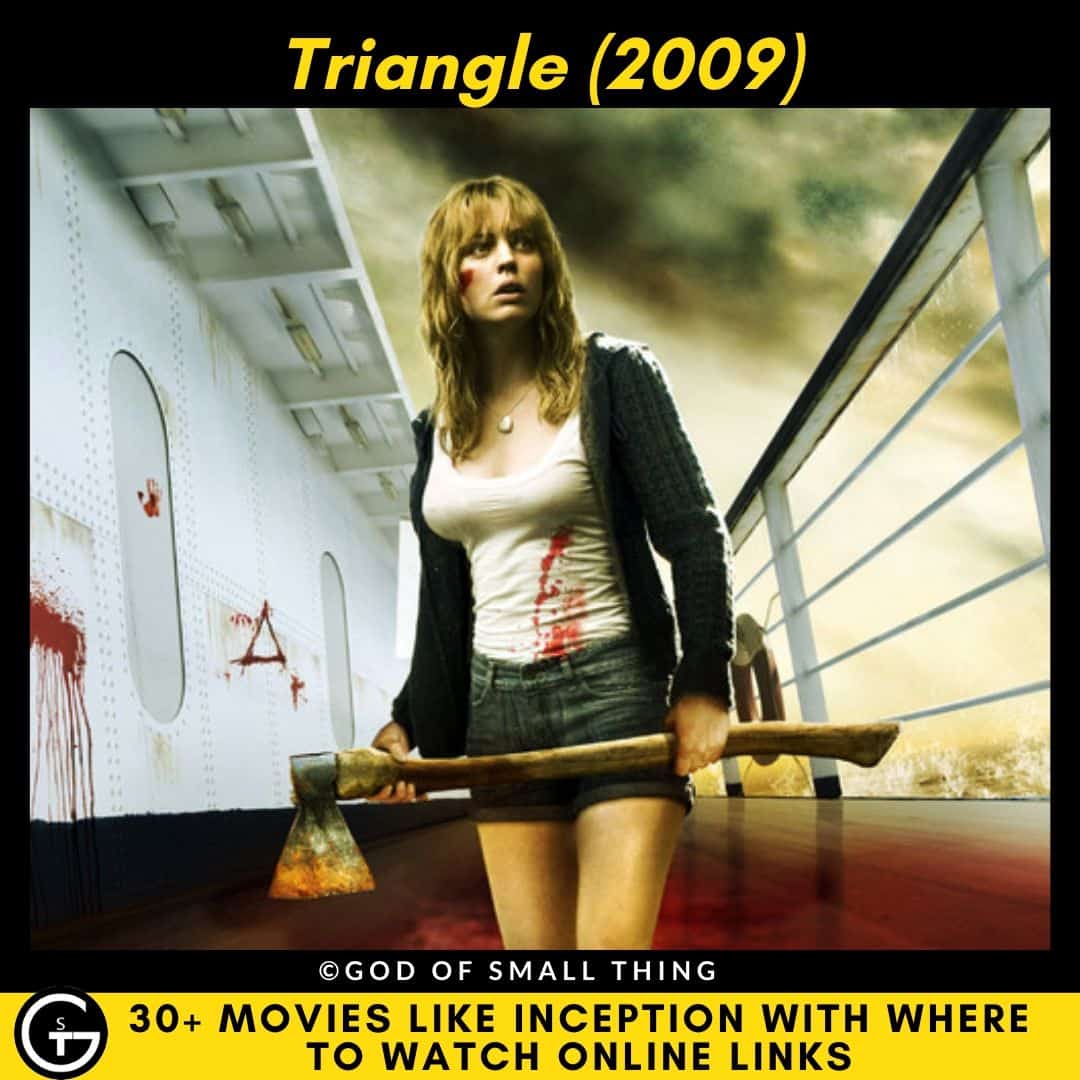 Jess decides to go on a sailboat trip with her friends. She wanted to relieve stress, she is a single mother and a waitress. She has a constant bad feeling about future events. Her suspicions are realized when their yacht hits a heavy storm. They had no choice but to board a passing ocean liner for safety. She can't shake the feeling of deja vu, she feels she's been on the ship before. The ship is abandoned, all the clocks don't work and someone is hunting them down.
They are trapped in these maze-like corridors. Everyone on board feels like an invisible killer is hunting them down. Is it madness? Is there an invisible force out to take them? This psychological thriller movie like Inception will blow your mind away.
6. Timecrimes IMDB Ratings: 7.1/10
Rotten Tomatoes: 89%
Cast: Karra Elejalde, Candela Fernández, Bárbara Goenaga, Nacho Vigalondo, and Juan Inciarte
Director: Nacho Vigalondo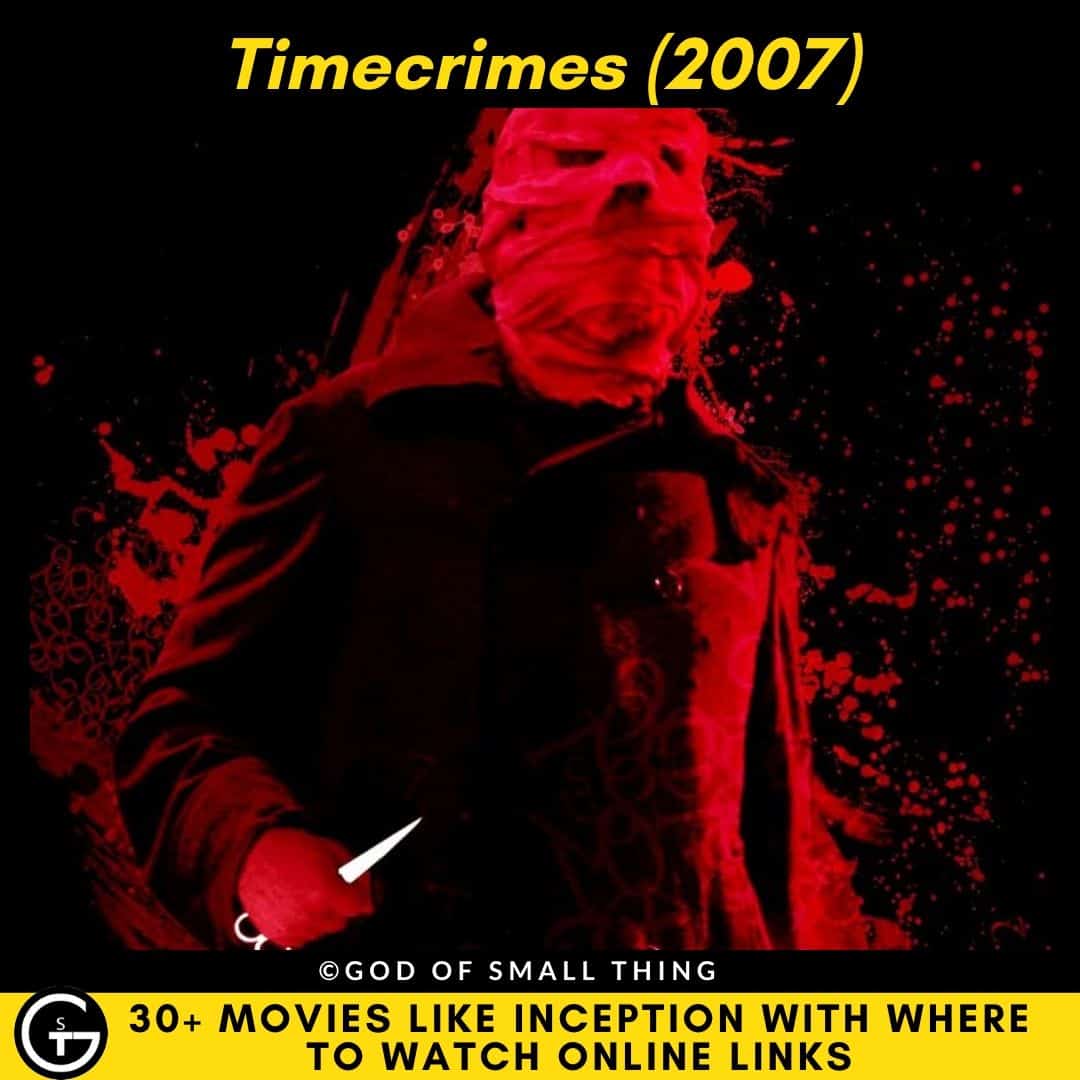 Héctor moves to a new home with his wife Clara. He looks through the woods binoculars, he finds a naked woman lying on the rocks, when he goes to see her up close he realizes she's dead. Out of nowhere, a man covered in pink bandages stabs him with scissors. While running away from him, he comes across a huge science facility where a scientist persuades him to hide in a time machine.
He accidentally travels back in time and observes himself from afar. To understand this movie you need to watch it numerous times, that what I did. It is Héctor's confusing time-travelling adventure within one timeline. While he experiences the same events, again and again, he sees it from different perspectives while meeting his past self. It is a mind-blowing movie like Inception. You have to watch it. A Trip Back in Time… from Present to Crime.
7. Sleep Dealer IMDB Ratings: 6/10
Rotten Tomatoes Ratings: 70%
Cast: Luis Fernando Peña, Leonor Varela, Jacob Vargas, Tenoch Huerta, and Greg Lucas.
Director: Alex Rivera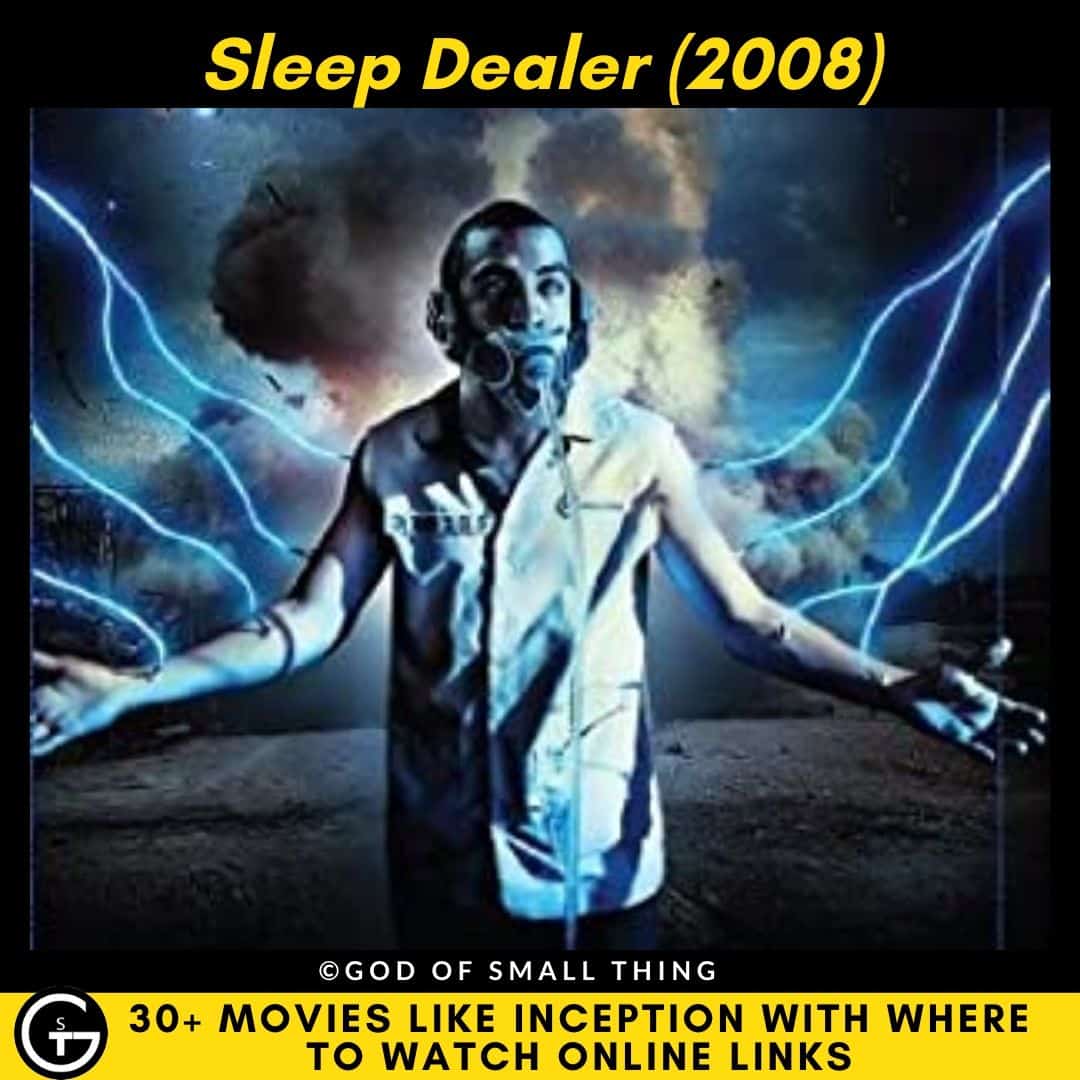 Memo, a young Mexican living with his family. He is a hacker living an impoverished life in the worst parts of Mexico. He gets detected for his hacking. Military attacks his home and his residence is blasted to bits. Further, he runs to Tijuana, he becomes involved with Luz, a journalist. Luz physically plugs her body to a computer and sells her memories for others to download. Memo lands a huge job in a high-tech factory and Luz accepts a mysterious assignment they go deeper.
They get dragged into the quicksand of a cyber nightmare. They discover the terrifying truths of the lives of Mexican immigrants in the US. It is truly a terrifying dystopian future that will give you chills. Watch this futuristic sci-fi movie like Inception that will make you question our reality, again.
8. Memento IMDB Ratings: 8.4/10
Rotten Tomatoes Ratings: 93%
Cast: Guy Pearce, Carrie-Anna Moss, Joe Pantoliano, Mark Boone Junior, and Jorja Fox.
Director: Christopher Nolan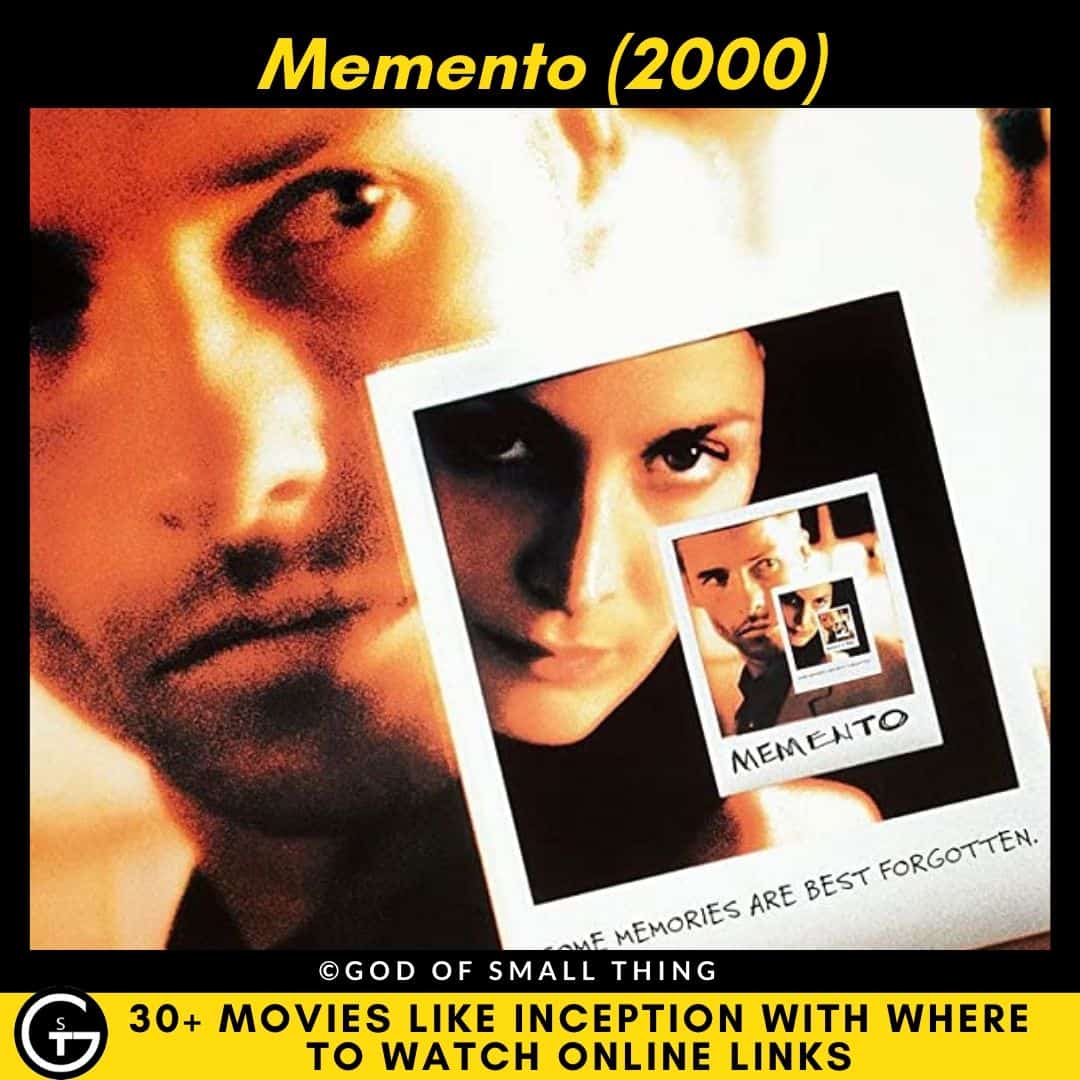 Leonard Shelby suffers from short-term memory loss which was associated with his wife's murder. He remembers everything before the incident. He learned to cope with his problems by taking Polaroids and tattooing notes on himself. The movie is played in flash-forwards that show his unreliable memories. He comes across complex characters and decides he wants revenge for his wife's murder.
But, he realizes to take revenge and get closure he needs to remember. He has one name on his body whom he believes to be the killer of his wife. Leonard is assisted by a few people each time he meets them he doesn't know who they are or why they're helping him. He questions whether those people are on his side. One plotline shows him unable to make new memories and the other shows his backstory part by part. Watch this murder mystery movie similar to Inception.
9. Shutter Island IMDB Rating: 8.2/10
Rotten Tomato Ratings: 68%
Cast: Leonardo DiCaprio, Mark Ruffalo, Ben Kingsley, Max von Sydow, Michelle Willams, Emily Mortimer, and Patricia Clarkson.
Director: Martin Scorsese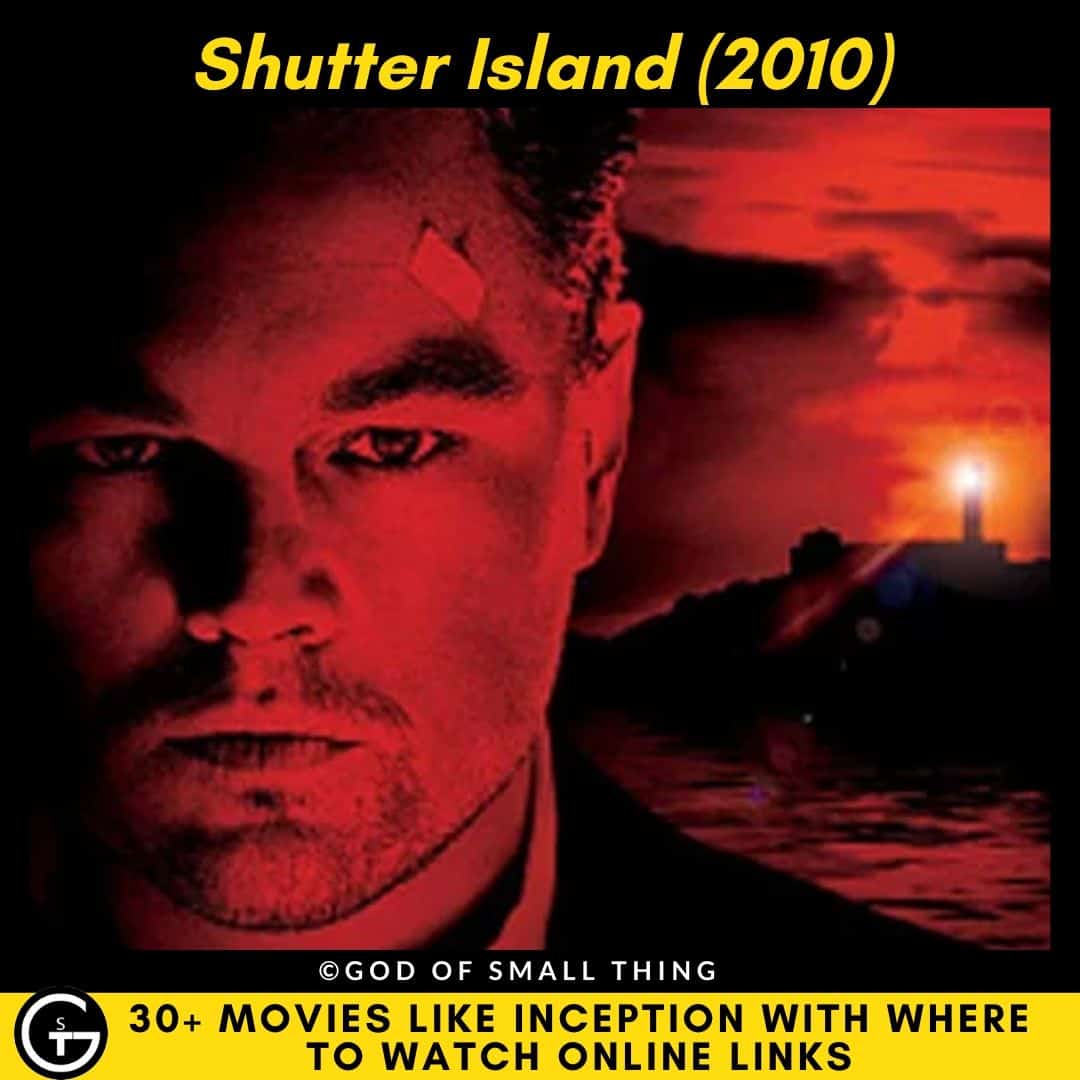 In this movie like Inception, Teddy Daniels, a Federal Marshall and his new partner Chuck Aule make their way to a criminally insane government-run institution on Shutter Island. When a missing prison is reported, they are called immediately. However, Daniels has his reasons for getting onto the island. He remains traumatized by what he witnessed at his army unit.
The trauma came from the liberation of one of the Nazi concentration camps at the end of World War II. Another reason was his wife's death in a fire. However, he is intrigued as to what goes on in those wards to be sealed off from the world. When he peels the layers and goes in deep he realizes that it is not all that it seems. His migraines and traumatic flashbacks trigger and he seems to be losing touch with reality itself.
10. Eternal Sunshine of the Spotless Mind IMDB Ratings: 8.3/10
Rotten Tomatoes Rating: 92%
Cast: Jim Carrey, Kate Winslet, Gerry Robert Byrne, Elijah Wood, Thomas Jay Ryan, Mark Ruffalo, and Jane Adams.
Director: Michel Gondry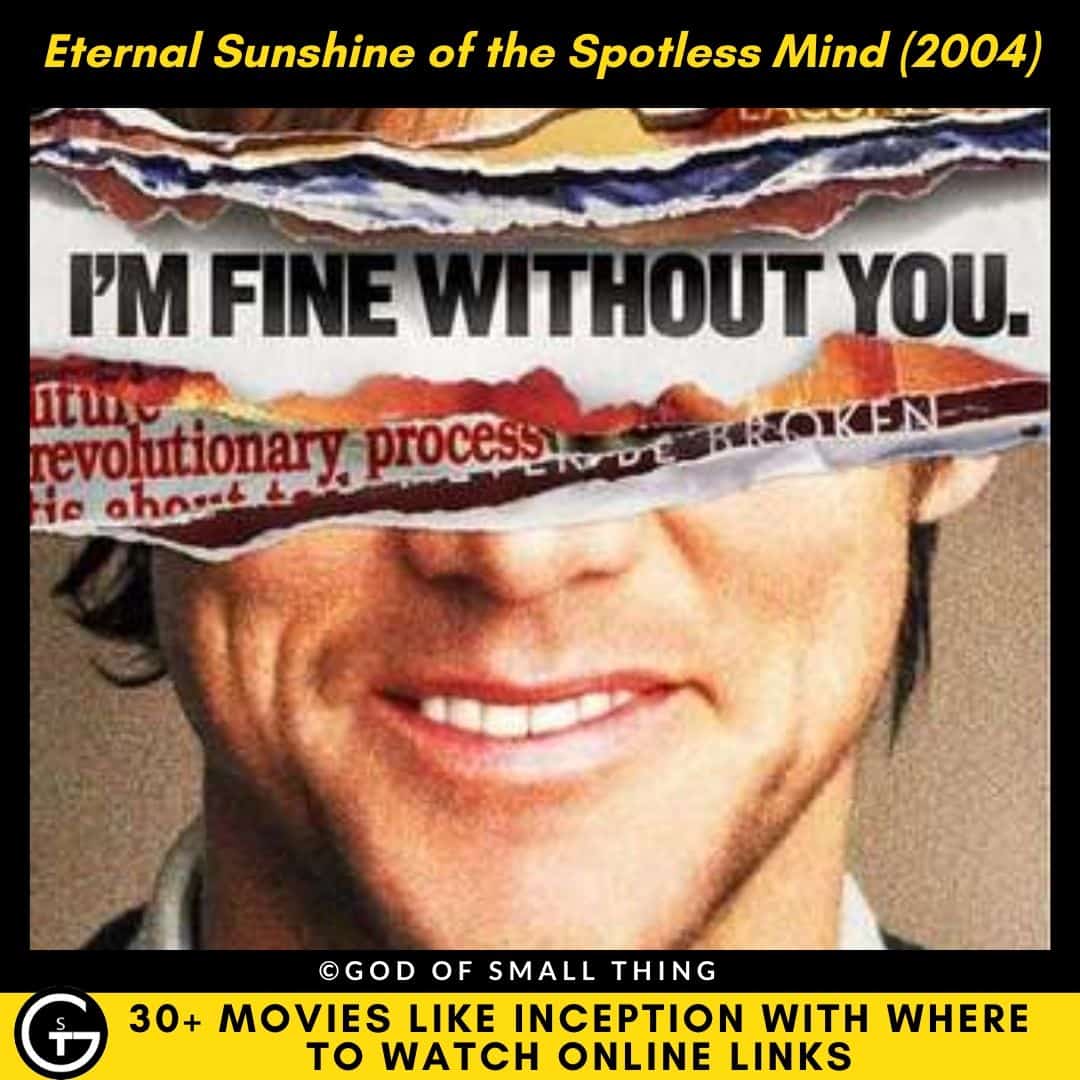 Joel wakes up one day and decides to skip work. He impulsively heads to a beach. After spending a chill day at the beach, he meets Clementine on a train. They have an immediate crush on each other. But, what they don't know is they were in love with each other in the past.
Joel erased his memories of her when he heard that Clementine did the same thing when they ended the relationship. However, even after he erases memories he still loves her. As his memories slowly disappear, he begins to rediscover his passion. Joel tries to escape the erasing of his memories. So, he starts smuggling her away into parts of his memory where she doesn't belong which alters other things about his memories as well. Watch Joel's strife to retain his memories in this movie like Inception.
11. The Butterfly Effect IMDB Ratings: 7.6/10
Rotten Tomatoes Ratings: 34%
Cast: Ashton Kutcher, Melora Walters, Amy Smart, Elden Henson, William Lee Scott, and John Patrick Amedori.
Director: Eric Bress and J. Mackye Gruber
Evan Treborn suffers from constant blackouts, he winds up in a place without the memory of how he reached there. His friends and his mother refused to believe his claims, thinking that he uses them as excuses to get out of any trouble he causes. As he gets older, his blackouts reduce in number, until one day he is cured.
He wrote his blackout moments in his diary. Consequently, He finds that he can travel back in time to redo parts of his life. The blackouts he had dealt with all his life, those blackouts were a consequence of his time travel to his past. He tries to undo the awful experiences that coincide with his blackouts and wakes in alternate timelines. However, Evan realizes the consequences of undoing the past. Watch this mind-bending movie like Inception.
12. Interstellar IMDB Ratings: 8.6/10
Rotten Tomatoes Ratings: 73%
Cast: Ellen Burstyn, Matthew McConaughey, Mackenzie Foy, John Lithgow, and Timotée Chalamet
Director: Christopher Nolan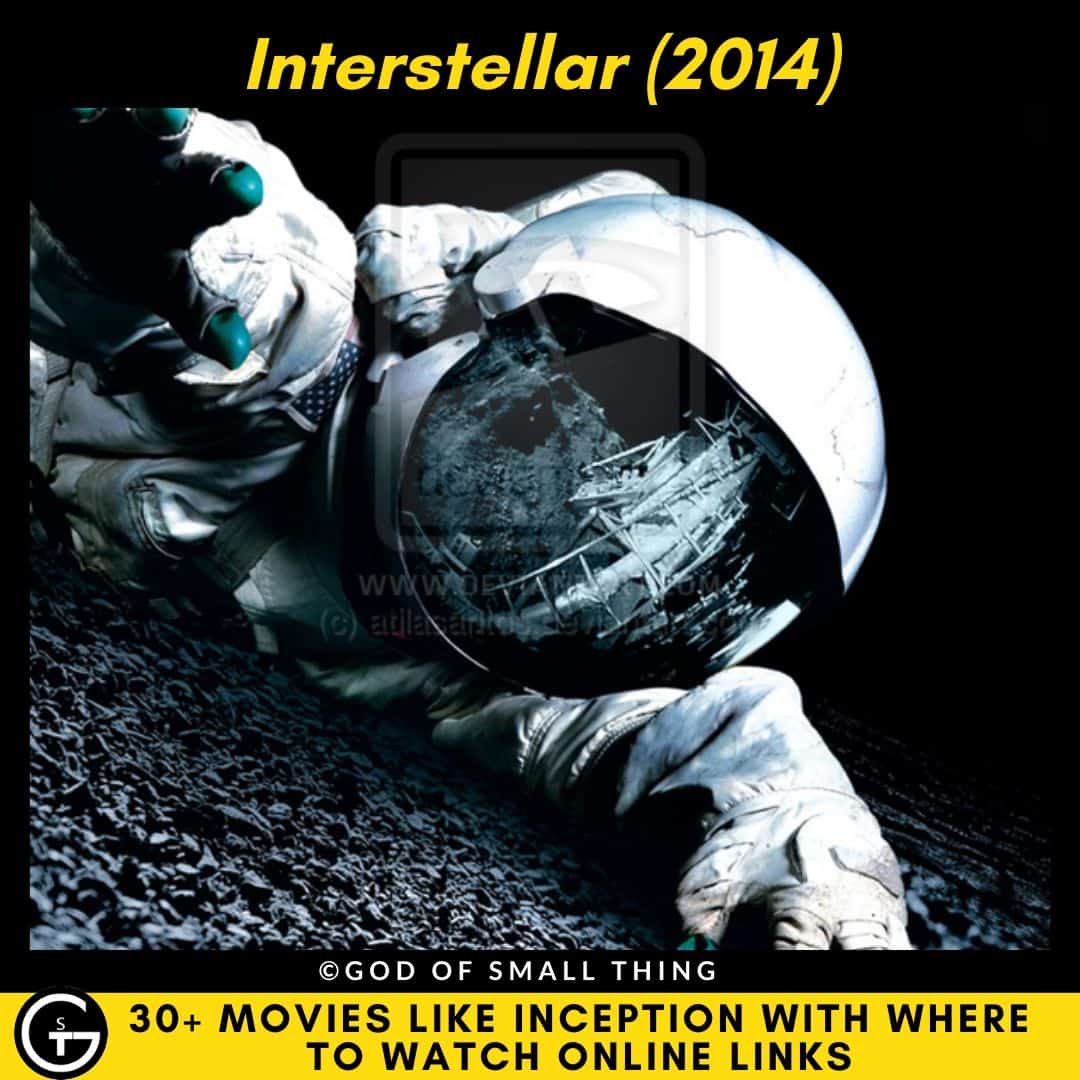 An ex-science engineer and pilot, Cooper, is tied to his farm with Murph, his daughter, and Tom, his son. Humans realize that Earth is coming to an end when they run out of food. Eventually stumbling upon a N.A.S.A. base near Cooper's home, he is asked to go on a daring mission with a few other scientists into a wormhole because of Cooper's scientific intellect and ability to pilot aircraft, unlike the other crew members.
He has to choose between his family and the entire humankind. But, Earth is slowly rendering itself uninhabitable. Cooper and a team of researchers go through a wormhole and travel across a galaxy to find a new planet for humans. Watch this space adventure movie that reminds you of iconic movies like Inception.
13. The Sixth Sense IMDB Ratings: 8.2/10
Rotten Tomatoes Ratings: 86%
Cast: Bruce Willis, Haley Joel Osment, Toni Collette, Olivia Williams, Trevor Morgan, and Donnie Wahlberg.
Director: M. Night Shyamalan
In a movie like Inception, To redeem himself after a scarring incident a year ago, a child psychologist, Dr Malcolm Crowe, decides to take up a new case, an eight-year-old, Cole Sear. He exhibits similar symptoms to a former patient of his but Cole goes a mile further.
He claims to have an extraordinary gift, a rare sixth sense. Cole claims to be able to see "dead people who walk around like normal people." After a traumatic experience, he is a sceptic, will he be able to heal or help Cole? What if his disturbingly recurring apparitions are not figments of his fantasy, but the undeniable reality? He spends quite a lot of time with Cole and starts to believe, maybe the things the kid sees aren't dead people after all.
Love watching science fiction? Then we have got something for you. Here is a list of 30+ Best Sci-fi Movies & Series on Netflix of all time | GodofSmallThing – Best Sci-fi Movies & Series on Netflix of all time
14. The Prestige IMDB Rating: 8.5/10
Rotten Tomatoes: 76%
Cast: Hugh Jackman, Christian Bale, Michael Caine, Piper Perabo, Rebecca Hall, Scarlet Johansson, and David Bowie.
Director: Christopher Nolan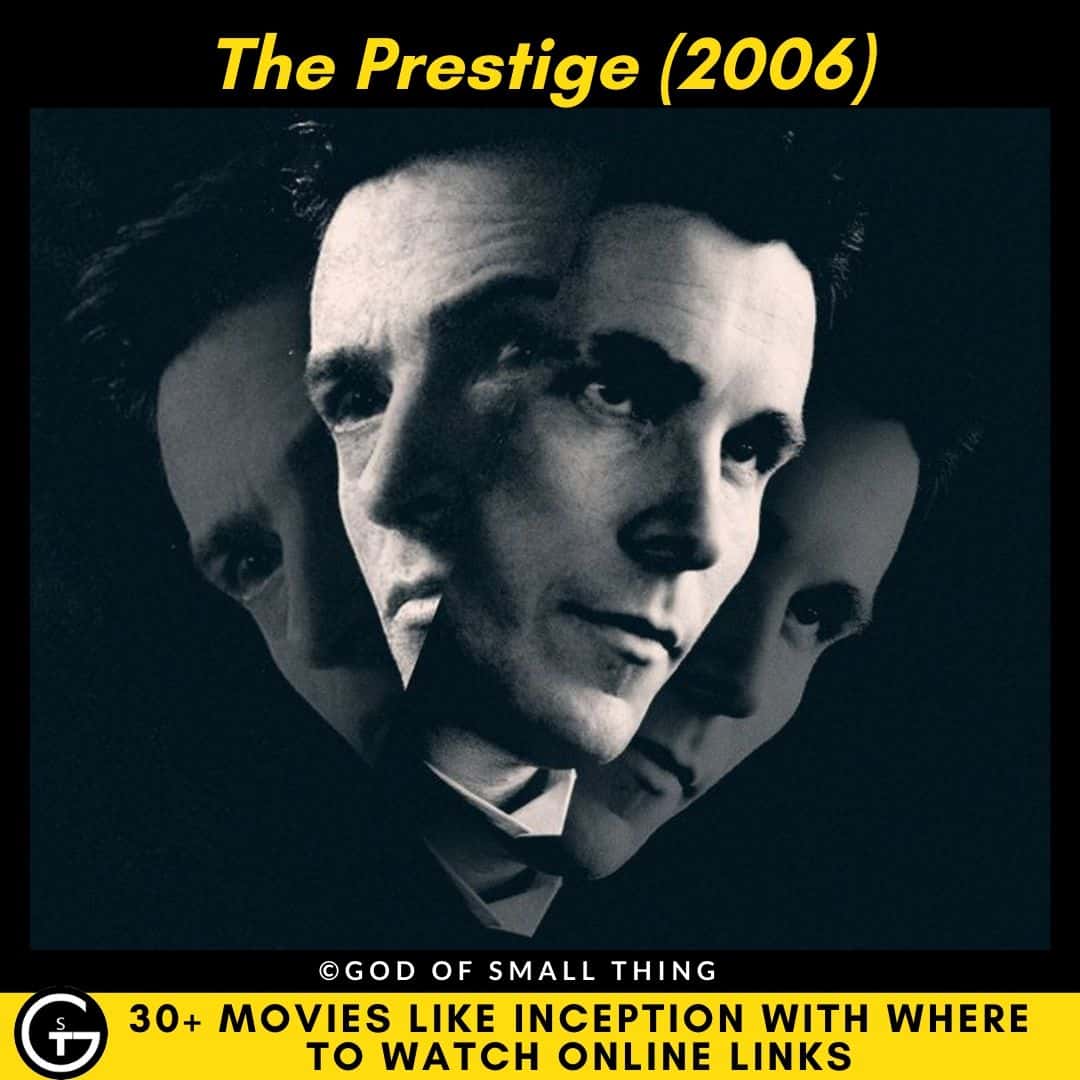 Robert, his wife Julia, and Alfred are friends and assistants to a magician in the 19th Century, London. Unfortunately, Julia loses her life and Robert blames Alfred for her death and they become rivals instead. Both get obsessed with one-upping each other and have the best trick. The battle extends in perfecting the ultimate disappearing trick called the "Transported Man."
They went out of their way to be able to perform the trick better than the other. As time passes their friends and loved ones leave them. The tricks, shown to the audience, look the same, but neither magician can figure out how his opponent does it. In the process of their feud, they never considered collateral damage. The question is if those means extend to murder, especially of the other. Watch this mind-twisting movie similar to Inception with a hint of magic.
15. The Adjustment Bureau IMDB Ratings: 7/10
Rotten Tomatoes: 71%
Cast: Matt Damon, Emily Blunt, Lisa Thoreson, Florence Kastriner, and Michael Kelly.
Director: George Nolfi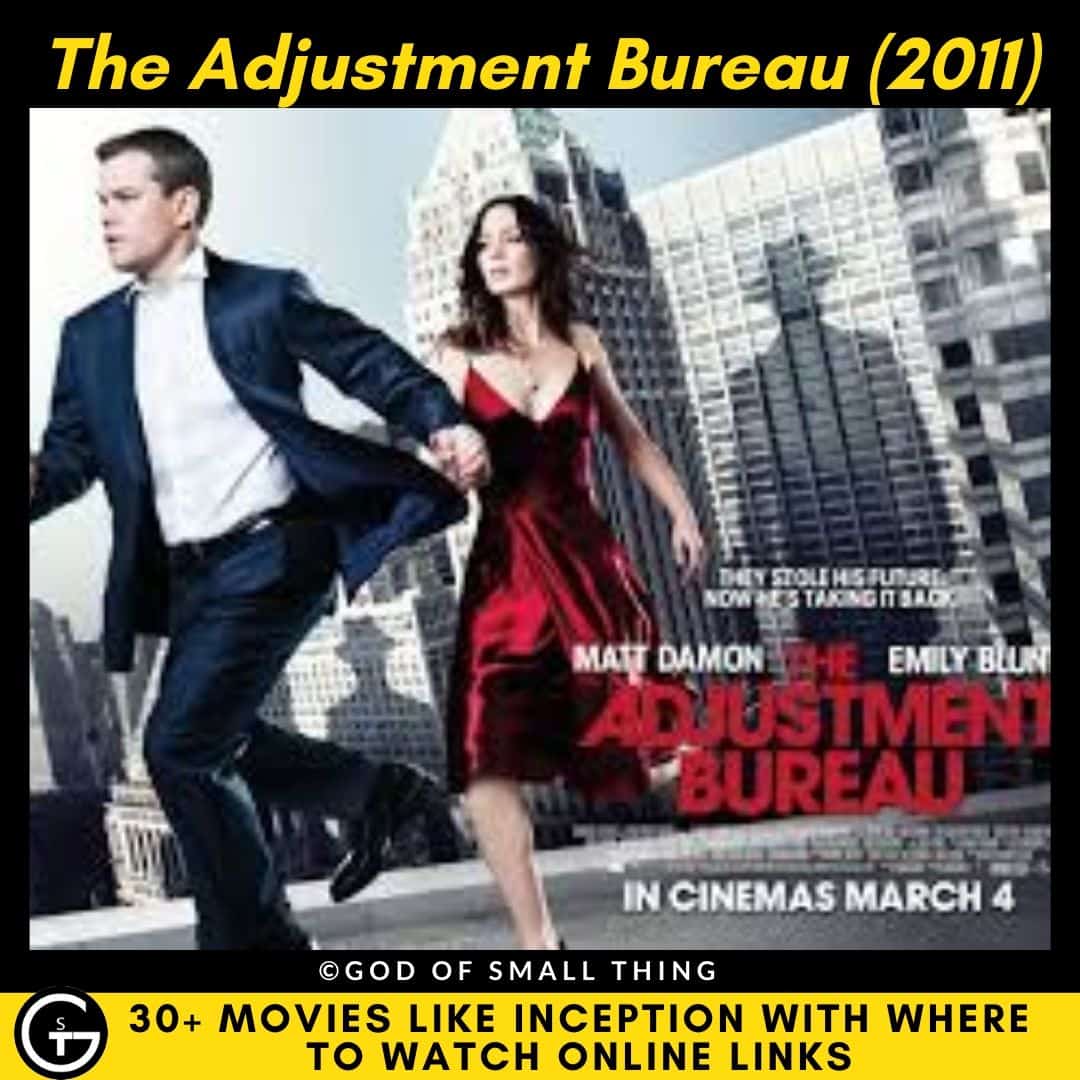 In this movie like Inception, we question if we control our destiny, or does our destiny forces us to conform to it. Davis is a politician on the brink of winning a U.S. Senate seat, he meets Elise and she's unlike anyone he's ever met. He falls for her, but two men conspire against the couple.
These men are from the Adjustment Bureau, who will go to any lengths to keep David and Elise apart. In the face of overwhelming odds, David needs to make a choice. Davis needs to walk his pre-destined path of becoming a politician and not throw away his life for love. He must have a huge impact in the future, but at the moment he can see nothing Elise. Davids wants to defy his fate and be with her, but at what cost?
16. Transcendence IMDB Ratings: 6.2/10
Rotten Tomatoes: 19%
Cast: Johnny Depp, Rebecca Hall, Paul Bettany, Cillian Murphy, Kate Mara, Cole Hauser, Morgan Freeman, and Clifton Collins, Jr.
Director: Wally Pfister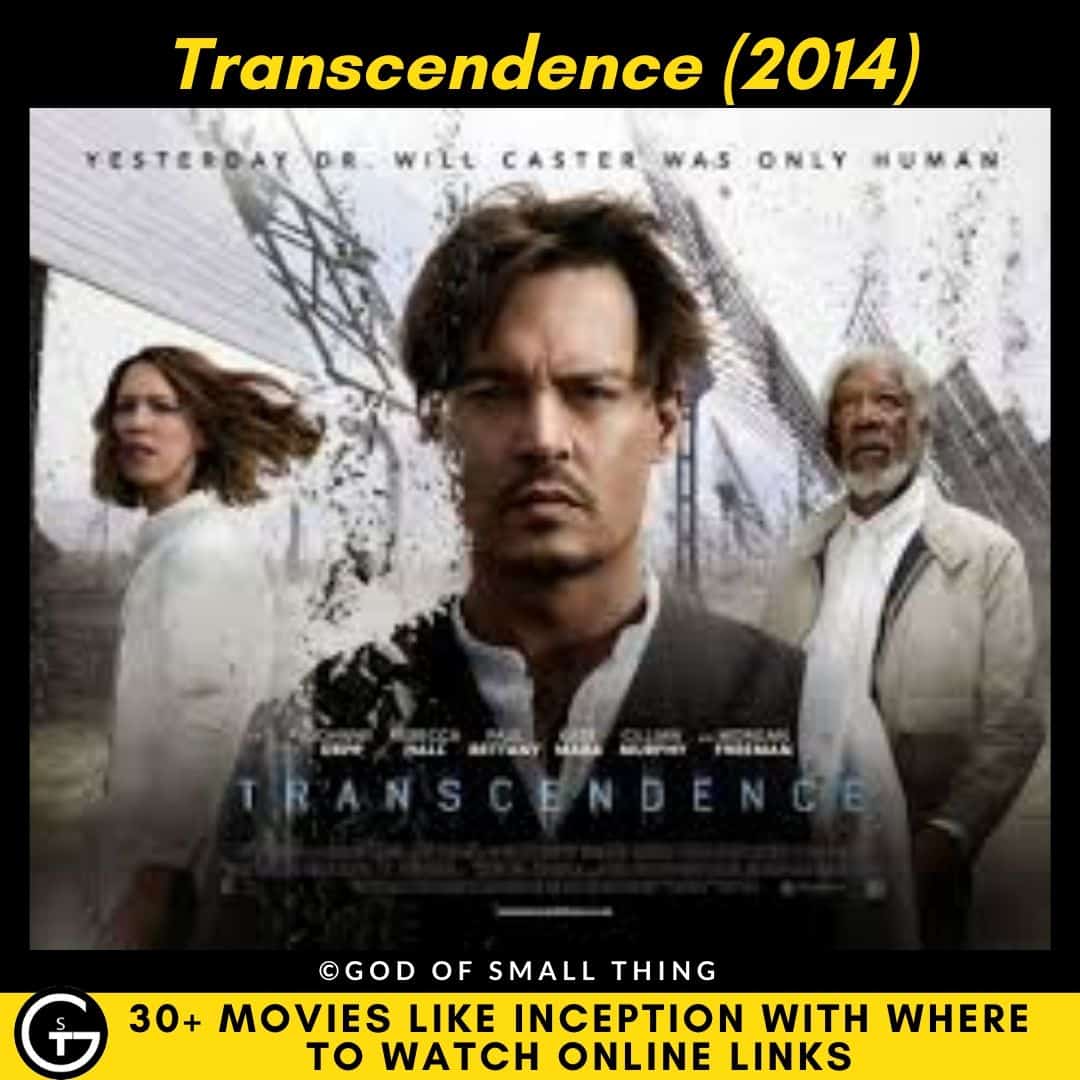 Dr. Will Caster is the leading scientist in the research of Artificial Intelligence. His highly complicated experiments are controversial, consequently making him famous. He needs to go to lectures to raise funds for projects. A group of anti-tech radicals poisons him, leaving him hardly a month to live. His wife, also a fellow scientist, Evelyn, suggests that Will transfer his emotions to an AI before he dies.
They seemed to succeed, but while encountering another attack, Evelyn uploads Will's "soul" into the internet. Soon, Will control the entirety of the Internet, with his new-found knowledge and resources he becomes an omniscient power changing human biology and environment, but people are, of course, afraid of the unknown. Eventually, he's considered a threat, the anti-tech terrorists take this chance to spread their " ideals". Watch this futuristic Sci-fi movie similar to Inception to have your mind blown.
17. Limitless IMDB Ratings: 7.4/10
Rotten Tomatoes Ratings: 69%
Cast: Bradley Cooper, Robert De Niro, Abbie Cornish, Andrew Howard, Anna Friel, Johnny Whitworth, and Tomas Arana.
Director: Neil Burger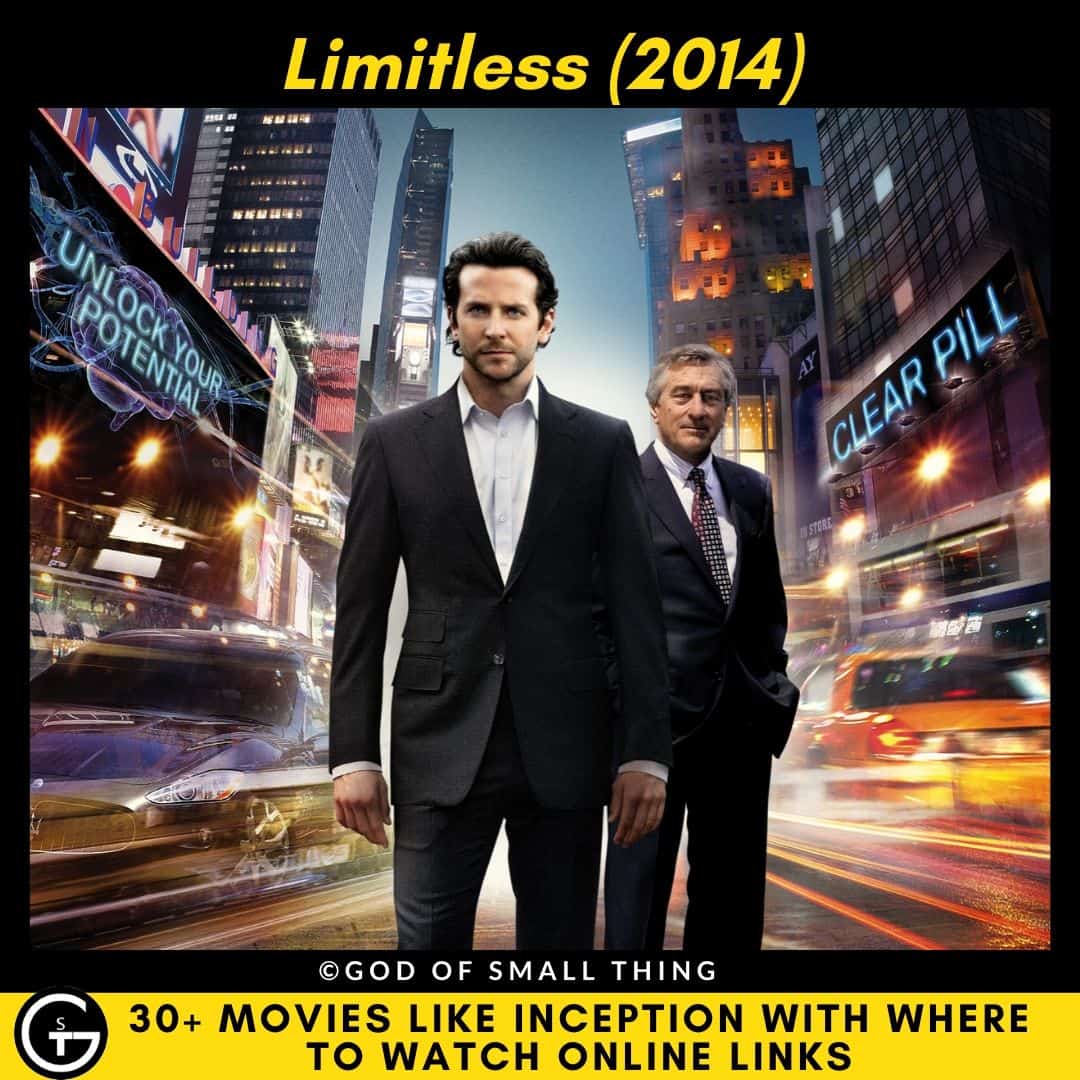 In this movie similar to Inception, Eddie is an aspiring writer, but a loser romantically and professionally. His former brother-in-law, Vernon gives him an experimental drug called NZT to amplify his creativity. With nothing to lose after his broken relationship, he decides to take it.
This drug makes him more confident and more focused than any man alive, he asks for more. But, finds Vernon dead. He immediately calls the police but pockets the NZTs and a large amount of cash. As former nobody rises to the top of the financial market after investing Vernon's money he attracts the Russian mafia. But, the brutal side effects of the pill trigger his meteoric ascent. But, he needs to hold out long enough to fulfill his destiny before getting captured. He didn't want to become someone who thought he was invincible and thought he can jump off a cliff and survive.
18. Looper IMDB Ratings: 7.4/10
Rotten Tomatoes: 93%
Cast: Joseph Gordon-Levitt, Bruce Willis, Emily Blunt, Paul Dano, Noah Segan, Piper Perabo, Jeff Daniels, and Pierce Gagon.
Director: Rian Johnson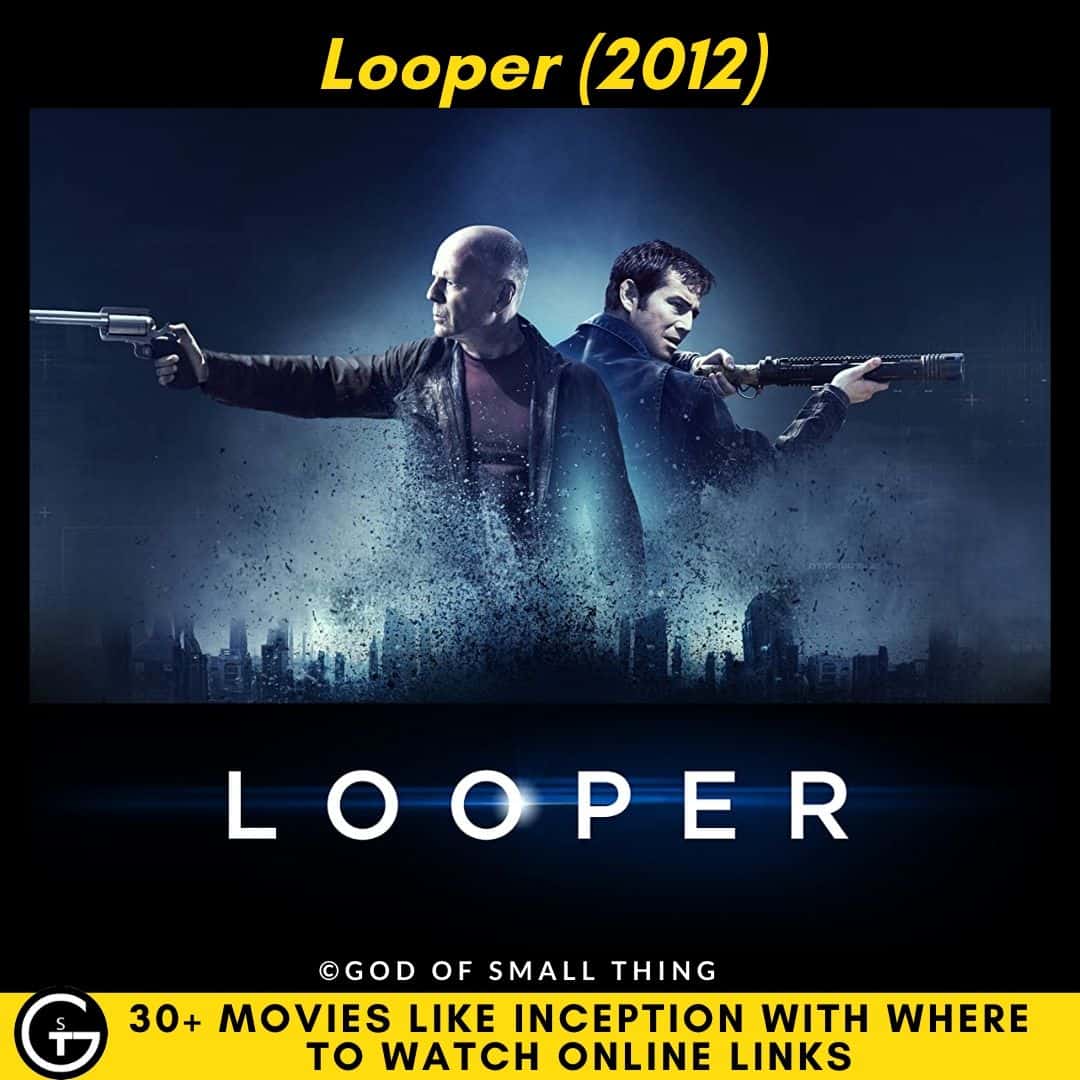 In this futuristic movie like Inception, in the year 2077 time travel is invented but immediately outlawed. However, technology is quickly appropriated by the mob. This is used to quietly eliminate and dispose of any threats. An Assassin called a "looper" is set to 2047, when time travel wasn't invented, Joe is the most respected looper.
Each assassination earns him big bucks and he plans to retire soon. While waiting for his next target, Joe comes face-to-face with his future self who is there to kill him. To avoid the wrath of his boss, Joe is forced to close the loop by killing his older self. Meanwhile, a powerful boss in the future has set the underworld into chaos and pits the two Joes on a violent collision course with the fate of a mother and her son at stake.
19. The Fountain IMDB Ratings: 7.2/10
Rotten Tomatoes: 52%
Cast: Hugh Jackman, Rachel Weisz, Ellen Burstyn, Mark Margolis, Stephen McHattie, and Fernando Hernandez.
Director: Darren Aronofsky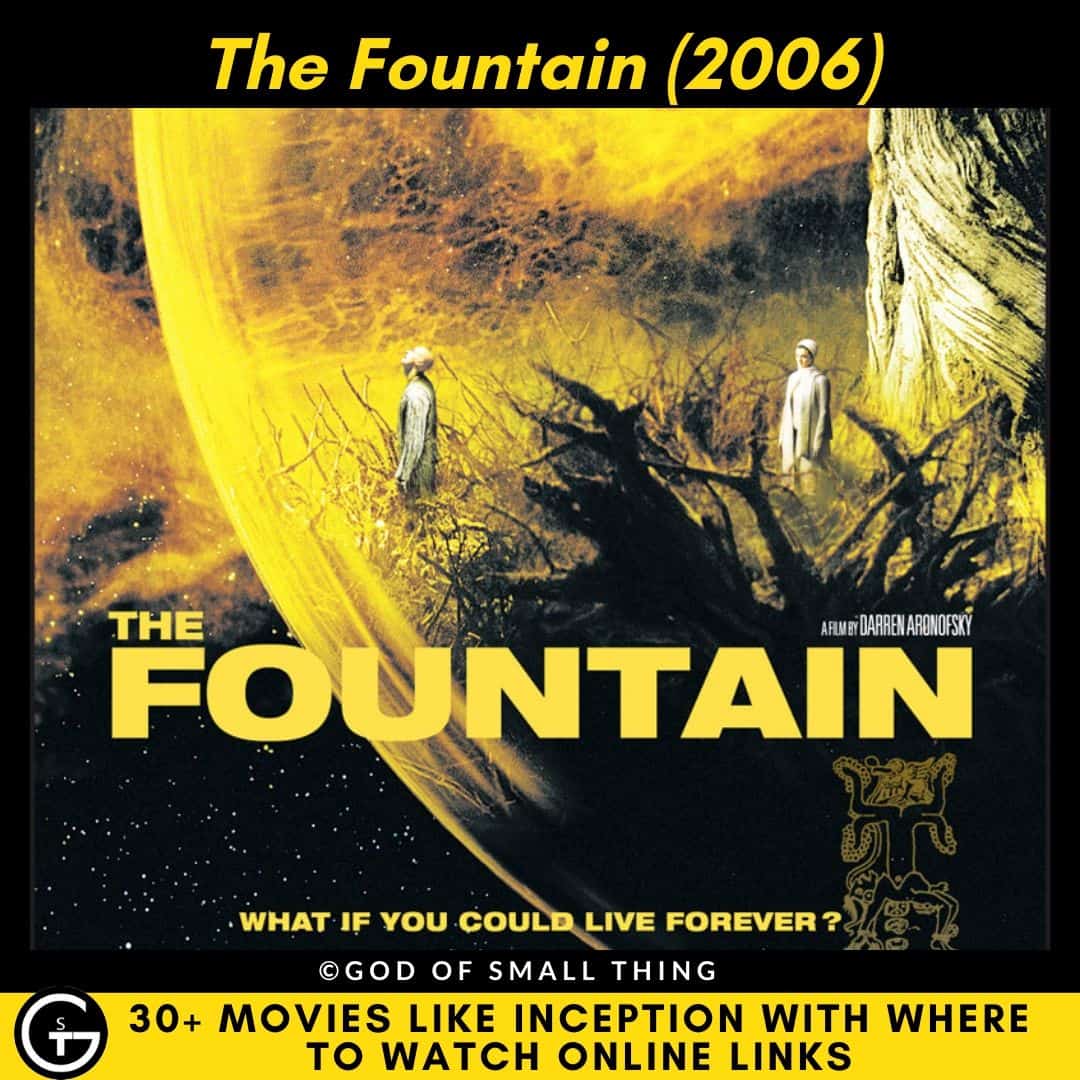 The mythical Tree of life is said to bless immortality to those who drink its sap. In the film's allegorical timelines, a Spanish man sets out to find the tree of immortality to save the life of his queen. Centuries later, he finds a modern-day scientist desperately searching for a medical breakthrough to save a life, This time it's the life of his cancer-stricken wife, Izzi.
The third and most abstract incarnation of the same man follows a space traveler. He travels with the now-dying tree in a bubble towards a dying star wrapped in a breathtaking Nebula. He too seeks eternity with his only love. The stories intersect and have beautiful parallels. This movie like Inception is one for the intellectuals and philosophers.
20. Mr. Nobody IMDB Ratings: 7.8/10
Rotten Tomatoes: 68%
Cast: Jared Leto, Sarah Polley, Diane Kruger, Linh Dan Pham, Rhys Pham, and Natasha Little.
Director: Jaco Van Dormael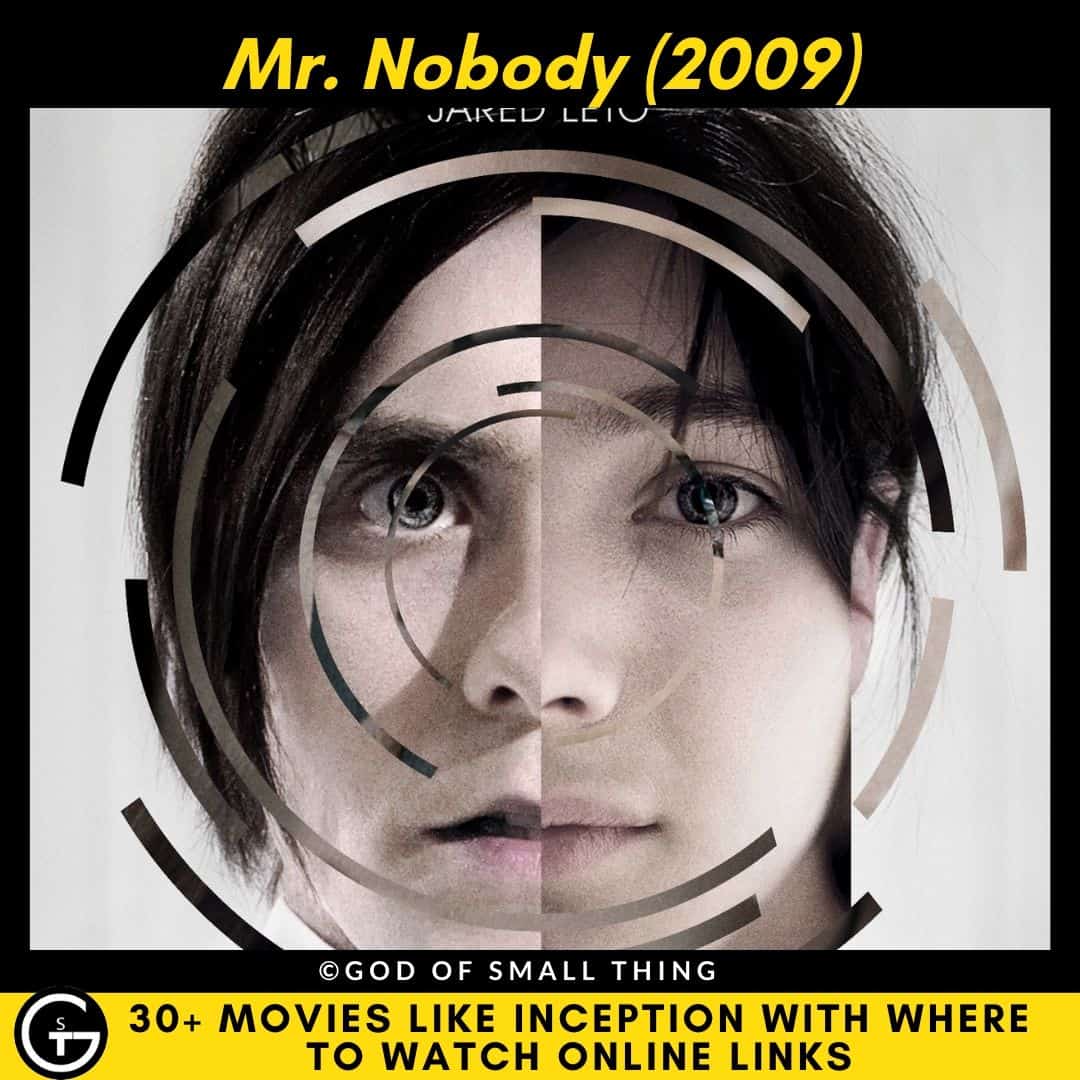 Nemo recounts his story to a reporter, his story becomes progressively confusing after he focuses on the fact of his actual age. In the far future, he is the last living mortal on Earth. It's the year 2092 and Nemo is 118 years old, but because of medical advancements, everyone else is immortal.
As he was the last mortal, his story was to be documented, as he narrated his stories they seemed to run parallel to each other. How could one person be at numerous places at once living as if they have multiple lives? As a boy stands on a station platform as a train is about to leave, he has a choice, to go with his mother or live with his father. There are infinite possibilities that arise, as long he doesn't choose anything, everything is possible. Watch this confusing yet intriguing sci-fi movie like Inception.
21. Coherence IMDB Ratings: 7.2/10
Rotten Tomatoes: 88%
Cast: Emily Baldoni, Maury Sterling, Nicholas Brendon, Lorene Scafaria, Elizabeth Gracen, Hugo Armstrong, Alex Manoogian, and Lauren Maher.
Director: James Ward Byrkit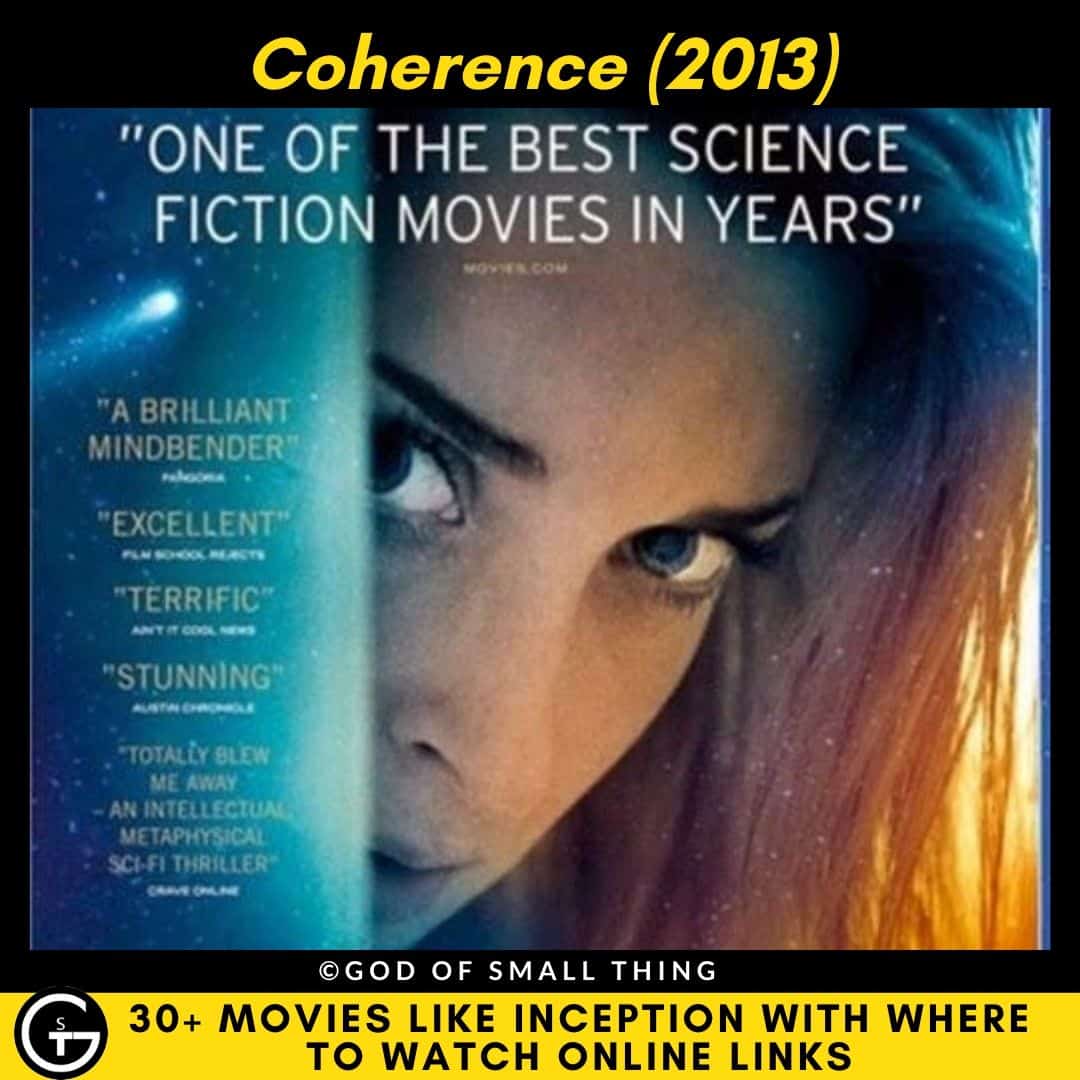 Strange things happen to a group of eight friends at a dinner party at Mike's house. An astronomical anomaly messes up a perfect night. A comet passing by creates a blackout and eerie series of event happens. Reality-altering events disrupt a calm neighborhood.
When the group goes out to investigate how some of the houses have their lights amidst a blackout, they find shocking things. They find themselves in a world where alternate versions of them exist. The comet essentially created a split reality, but the friends thought they were going crazy. Watch this Inception-like movie to have a reality-bending movie on your watchlist.
22. Predestination IMDB Ratings: 7.4/10
Rotten Tomatoes Ratings: 84%
Cast: Ethan Hawke, Sarah Snook, Christopher Kirby, Christopher Sommers, Kuni Hashimoto, and Christopher Bunworth.
Director: Michael Spierig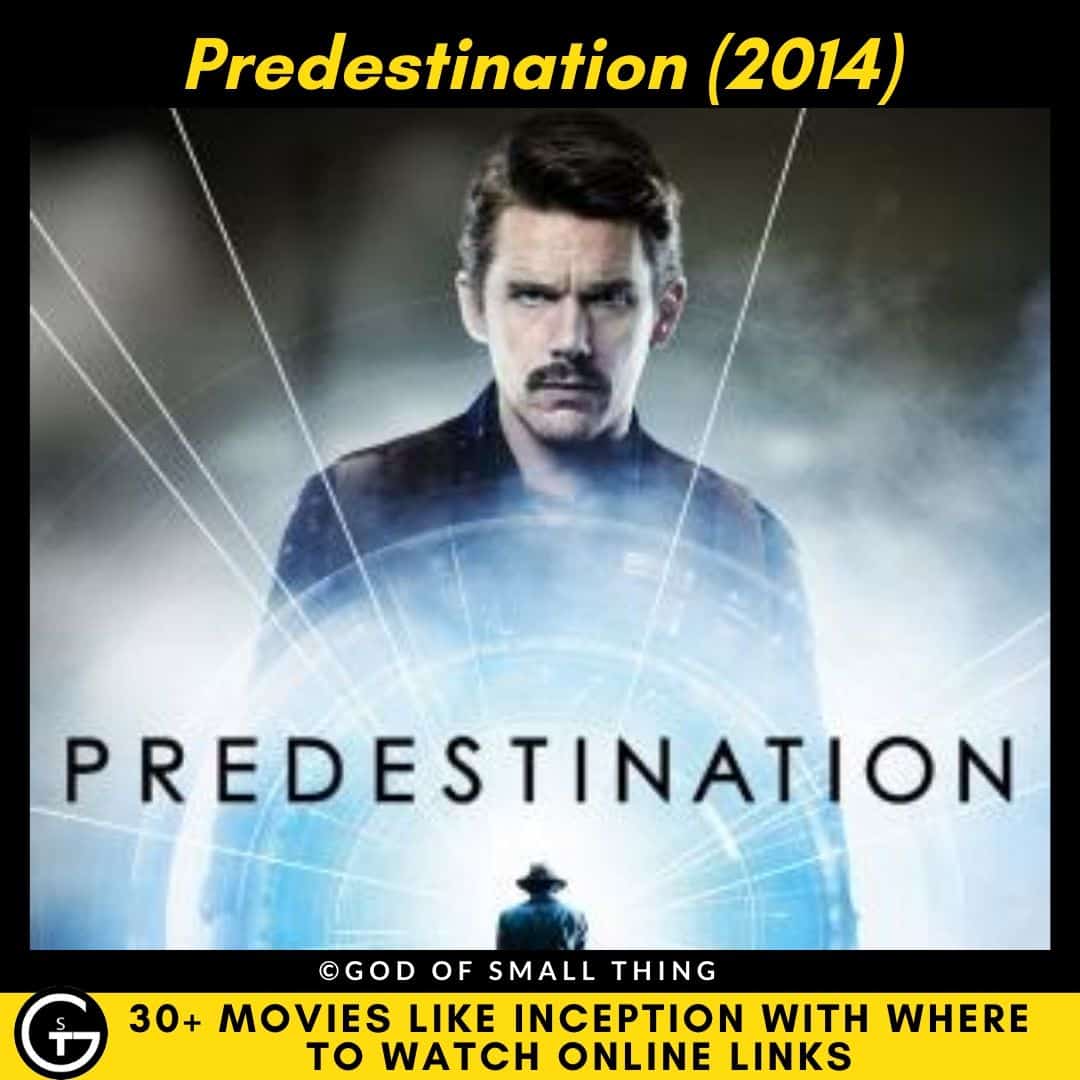 This movie revolves around the paradox of Which came first: Egg or chicken. A temporal agent attempts to capture an infamous bomber known as 'Fizzle Bomber'. He planted a bomb which consequently killed hundreds. The agent gets terribly injured and half of his face melted off after being exposed to the blast.
The movie features an intricate series of time-travelling adventures, but Fizzle manages to escape every single time. Now, he plans to finally catch the person who's eluded him throughout time. The chase turns into a unique, surprising, and mind-bending exploration of love, fate, identity, and time travel taboos. Watch this ultimate time-travelling-themed movie like Inception to explore its dangers and sweet spots of it.
23. Upstream Color
IMDB Ratings: 6.5/10
Rotten Tomatoes Ratings: 86%
Cast: Amy Seimetz, Shane Carruth, Andrew Sensenig, Thiago Martins, Kathy Carruth, Meredith Burke, and Anderson Watson
Director: Shane Carruth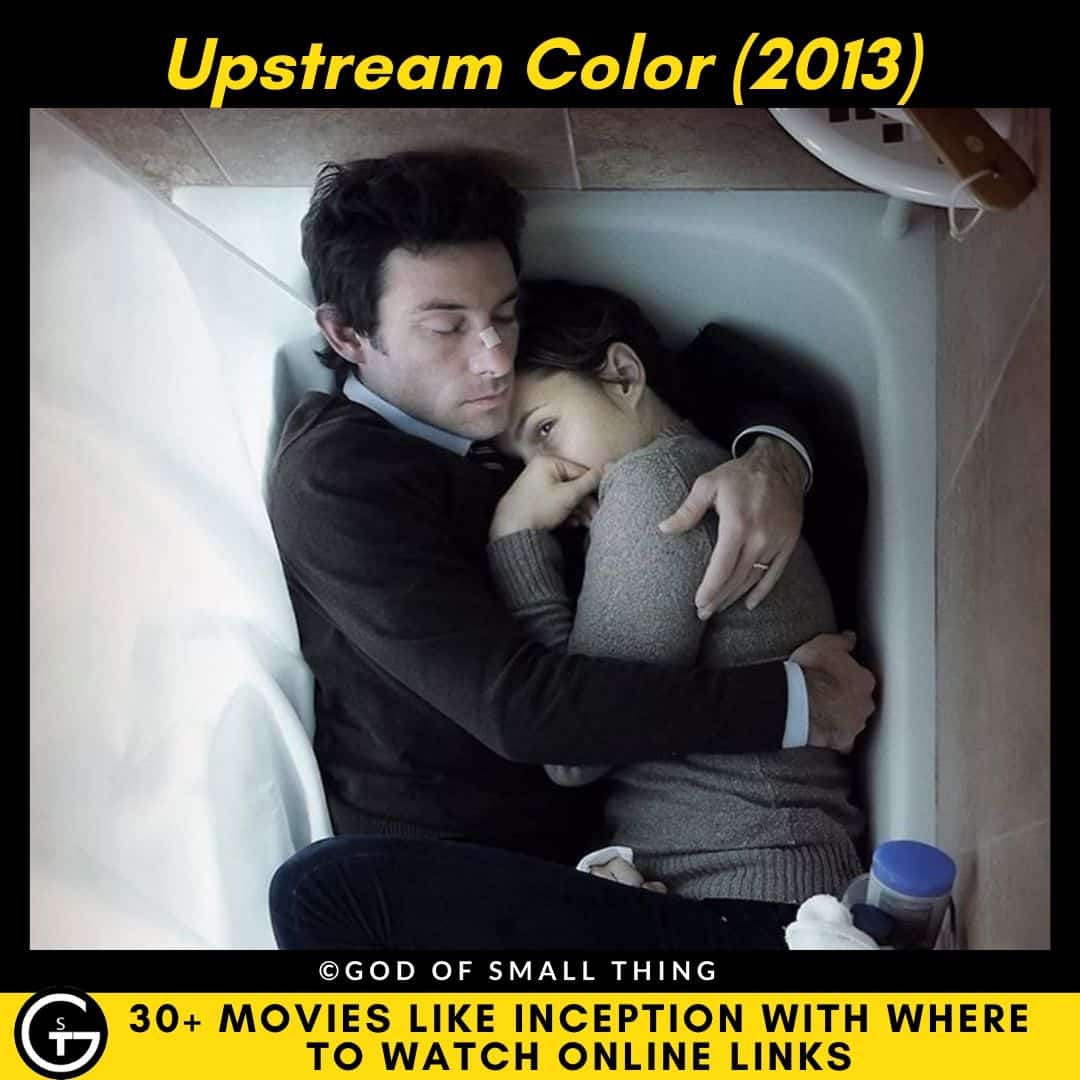 In this movie, a man and woman are affected by the same parasite that seems to have a three-stage life cycle. A man harvests a type pf larva that has peculiar effects on humans when ingested. Kris gets kidnapped by this man and forcefully fed her the larva. This induces a hypnotic susceptibility which the man takes advantage of. He manipulates her to take away all her property and is kept alive at regular intervals of water. Eventually, she is released and sent home, When she wakes up dishevelled she finds actual worms crawling under her skin, she was bankrupt and her life was destroyed. She was abducted again and all the worms from her skin are transfused into a pig, but she has no memory of this traumatic event. She meets Jeff and soon realizes that they both have much more in common. Watch this mind-boggling movie like Inception!
24. Donnie Darko
IMDB Ratings: 8/10
Rotten Tomatoes Ratings: 86%
Cast: Jake Gyllenhaal, Holmes Osborne, Maggie Gyllenhaal, Daveigh Chase, Mary McDonnell, and James Duval.
Director: Richard Kelly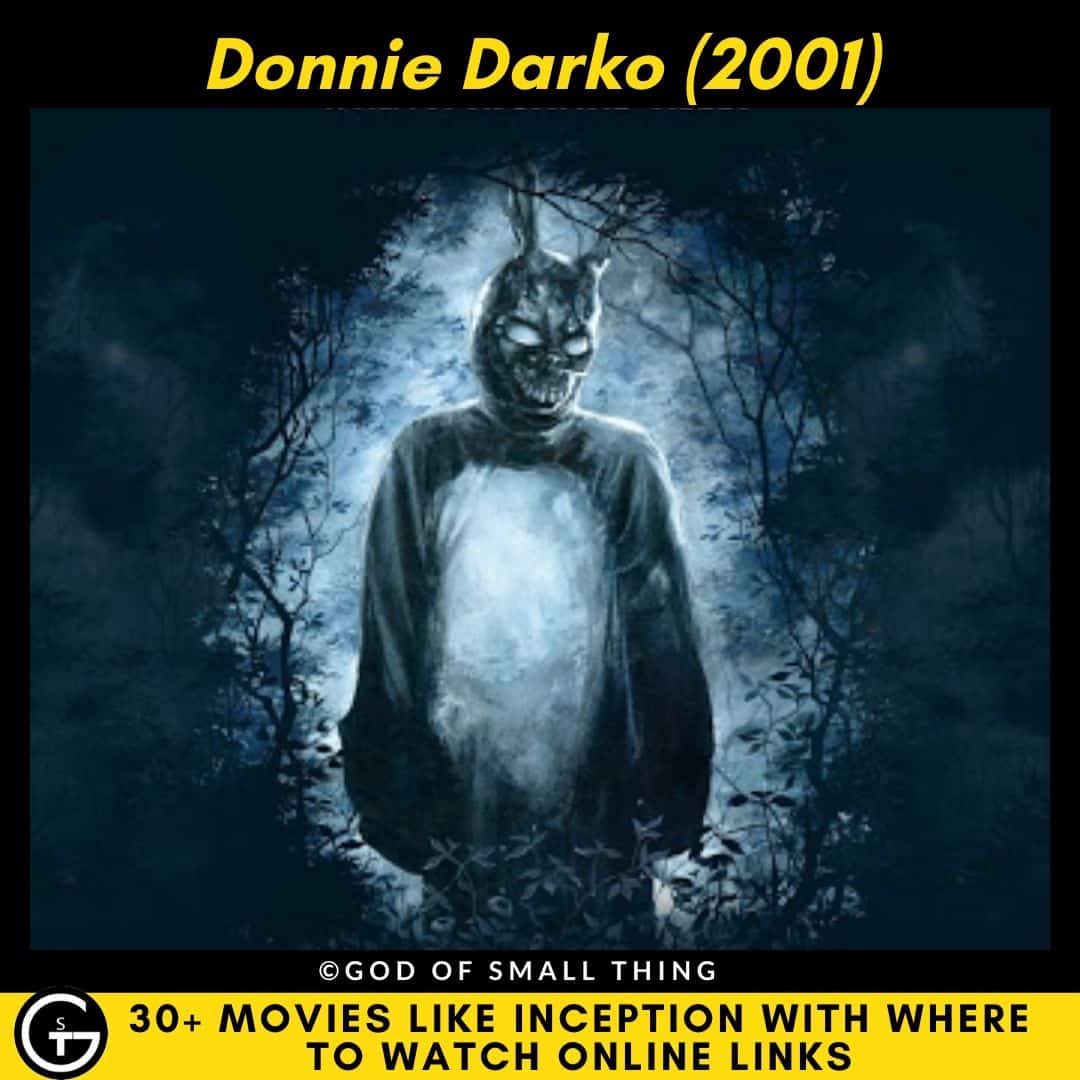 Donnie Darko doesn't get along too well with his family, friends, or anyone. He manages to find one sympathetic friend, Gretchen who he goes on a date with. His psychiatrist discovers that hypnosis is the ultimate means of unlocking hidden secrets. This movie tells the story of Donnie having extremely visions from a tall bunny who gives him a warning of the world ending soon. He time travels in an attempt to turn back the clock and prevent the world's seemingly impending doom, actions that have life-changing results. When an actual engine falls off a plane and destroys his room, Donnie is not there. Both the event and Donnie's escape, seem to have been caused by the supernatural. Donnie's mental illness, if such it is, may never allow him to find out for sure.
25. Primer
IMDB Ratings: 6.8/10
Rotten Tomatoes Ratings: 73%
Cast: Shane Carruth, David Sullivan, Casey Gooden, Anand Upadhyaya, and Carrie Crawford, and Jay Butler.
Director: Shane Carruth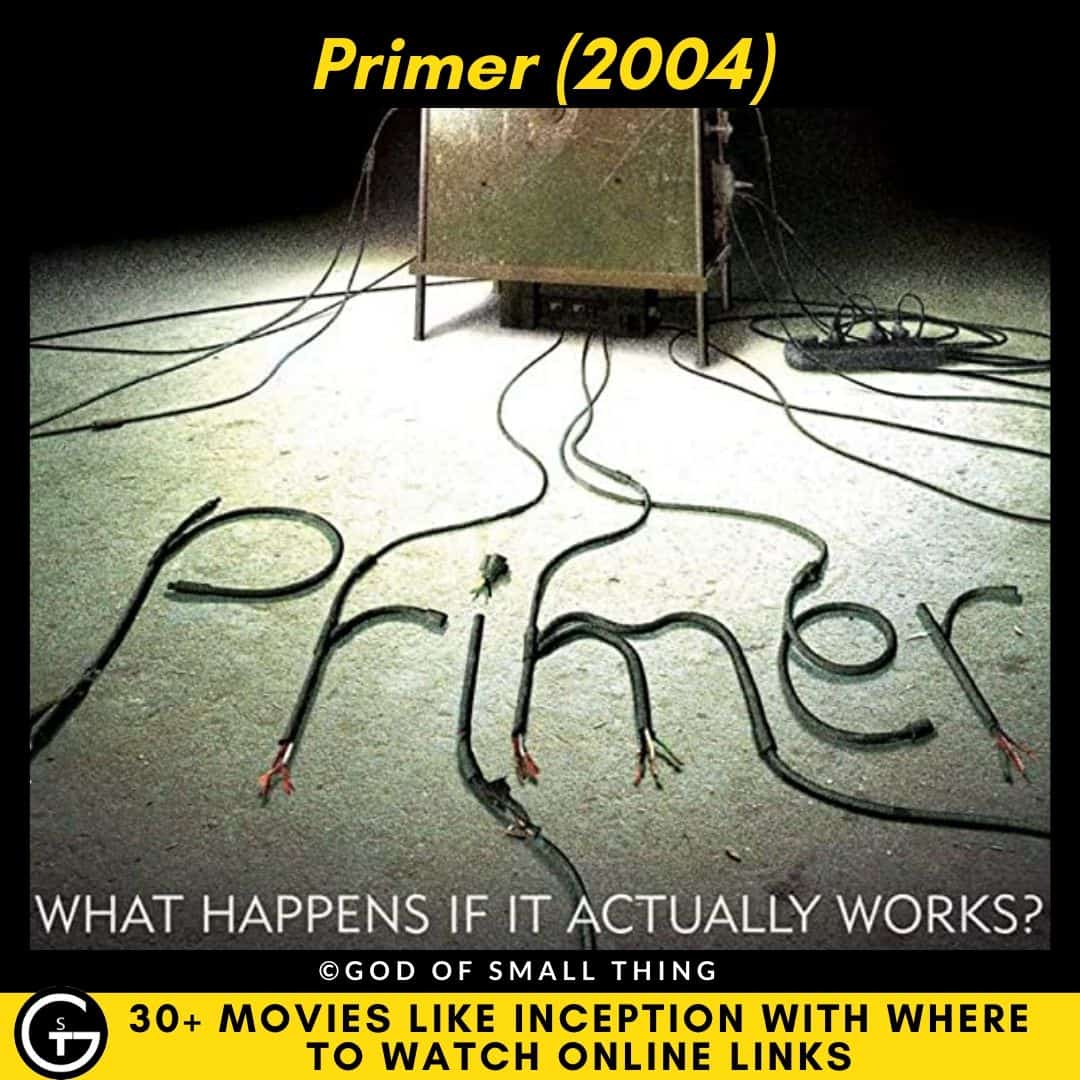 Aaron, Abe, Robert, and Phillip are Engineers working on an invention on weekends and nights. They built a cottage industry of error-checking devices. Aaron and Abe usually use up all their free time working on it and try troubleshooting the problems. It is during one of his tests, Abe discovers that a protein inside the main unit has multiplied much more rapidly than it could, he discovers that it can be used as a time machine. He becomes a guinea pig and was careful to not interfere with his past or future self. He and Aaron keep it away from the other two and plan it on using it to win big bucks on the stock market. Things go south when one disagrees with the other and morals come into play. Watch this movie like Inception to see the side-effects of time travel.
26. Paprika
IMDB Ratings: 7.7/10
Rotten Tomatoes Ratings: 85%
Cast: Megumi Hayashibara, Tôru Furuya, Katsunosuke Hori, and Toru Emori.
Director: Satoshi Kon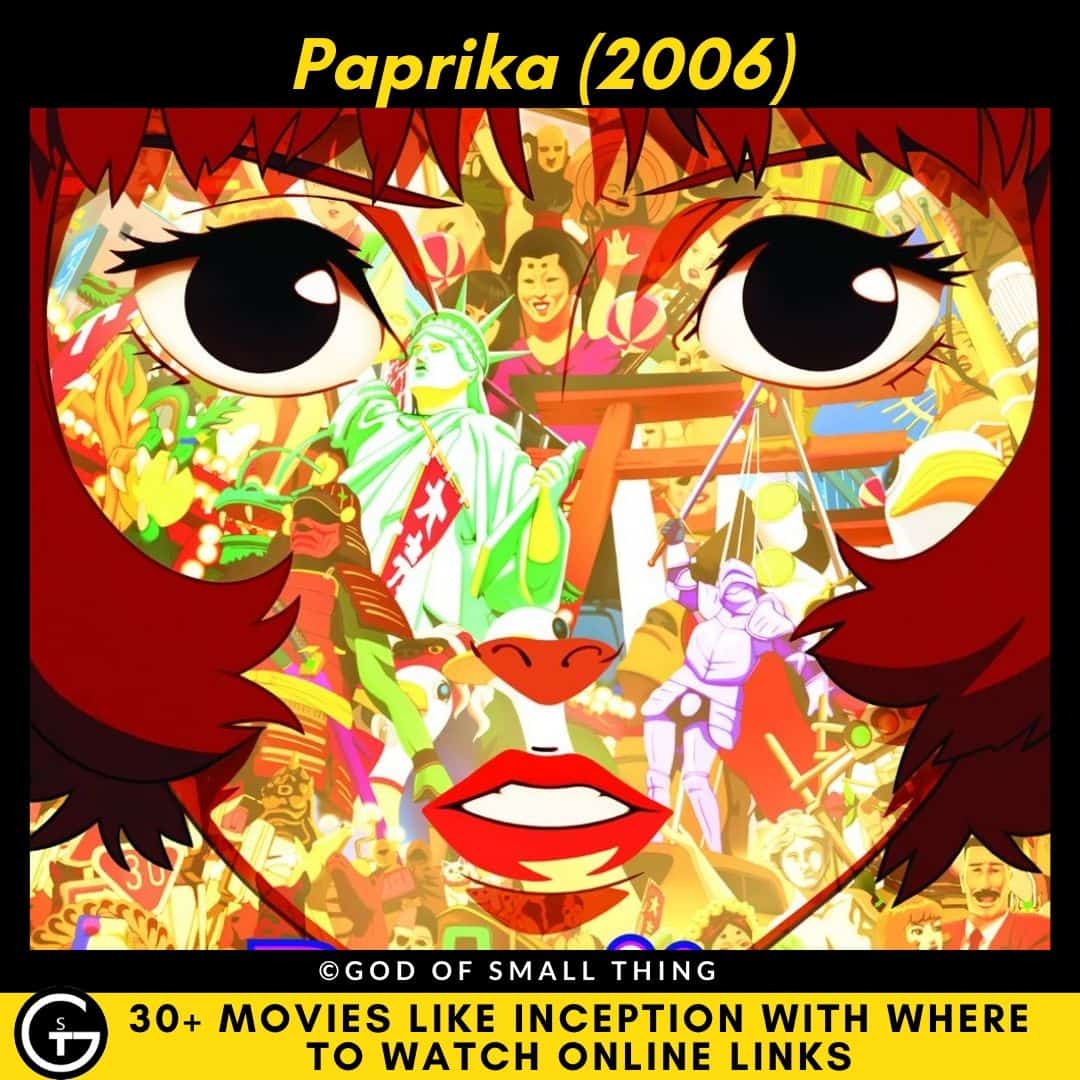 D.c mini is a device that allows people to record and watch their dreams after they wake up. Three scientists at the foundation for Psychiatric Research fail to secure their worn device.
However, a thief thinks of an innovative way, he uses the device to enter the minds of people when they are awake. They distract them with their very own dreams and others as well. There's chaos everywhere. A trio- Chiba, Tokita, and Shima with a police inspector and a spirit named Paprika set on a mission to capture the thief. But, they have to fight off the attacks on their psyche, reality and dreams merge as the puzzled characters question the limits of science and wisdom. Watch this movie like Inception where your dreams become a reality but not in the way you'd expect.
Looking forward to some Bollywood movies? Here are some 50+ Best Bollywood Movies Based on True/Real Life Stories with Full Movies or Watch Online Links – Best Bollywood Movies Based on Real Life Stories
27. In Time
IMDB Ratings: 6.7/10
Rotten Tomatoes: 37%
Cast: Justin Timberlake, Olivia Wilde, Shyloh Ostwald, Johnny Galecki, Colin McGurk, Will Harris, and Michael William Freeman.
Director: Andrew Niccol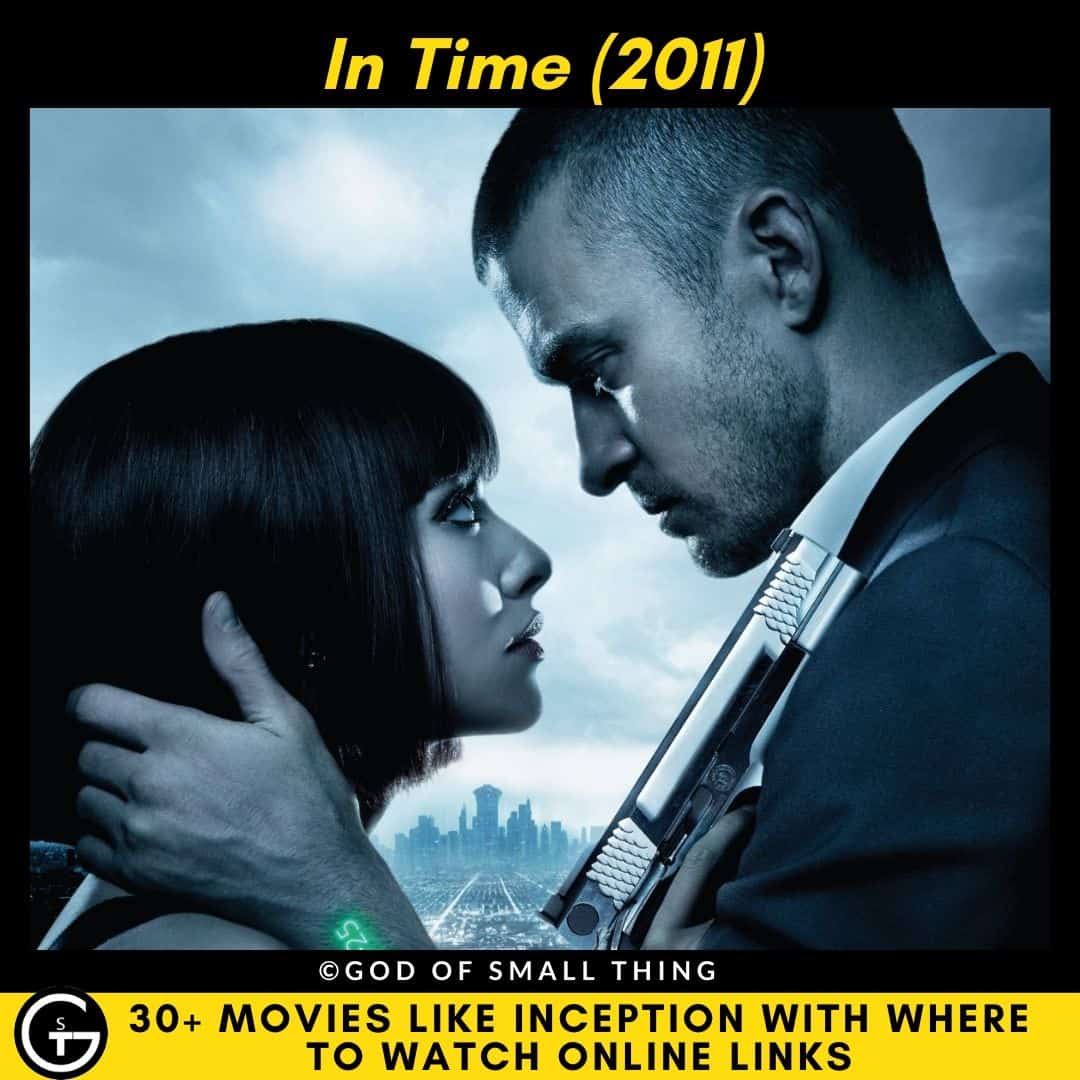 In the far future people stop aging at the age of 25, by getting genetically modified, after that a clock is activated with one more year for each citizen. Time is considered the new currency, the rich are immortal and poor people are exploited, they need to beg and borrow to just stay alive. Timekeepers control society, while thieves steal time. Will saves a rich man, Hamilton from danger. Hamilton reveals he's 105 years and tried to live on, so, when will sleeps Hamilton gives away 100 years' worth of life to him and kills himself. Will wants to credit the time to his mother but she dies before it could be done, a new love interest, Sylvia and Will steal a lot of time and rebel against society. Watch this movie like Inception to know what time is worth it.
28. Fight Club
IMDB Ratings: 8.8/10
Rotten Tomatoes Ratings: 79%
Cast: Edward Norton, Brad Pitt, Meat Loaf, Zach Grenier, Richmond Arquette, David Andrews, and George Maguire.
Director: David Fincher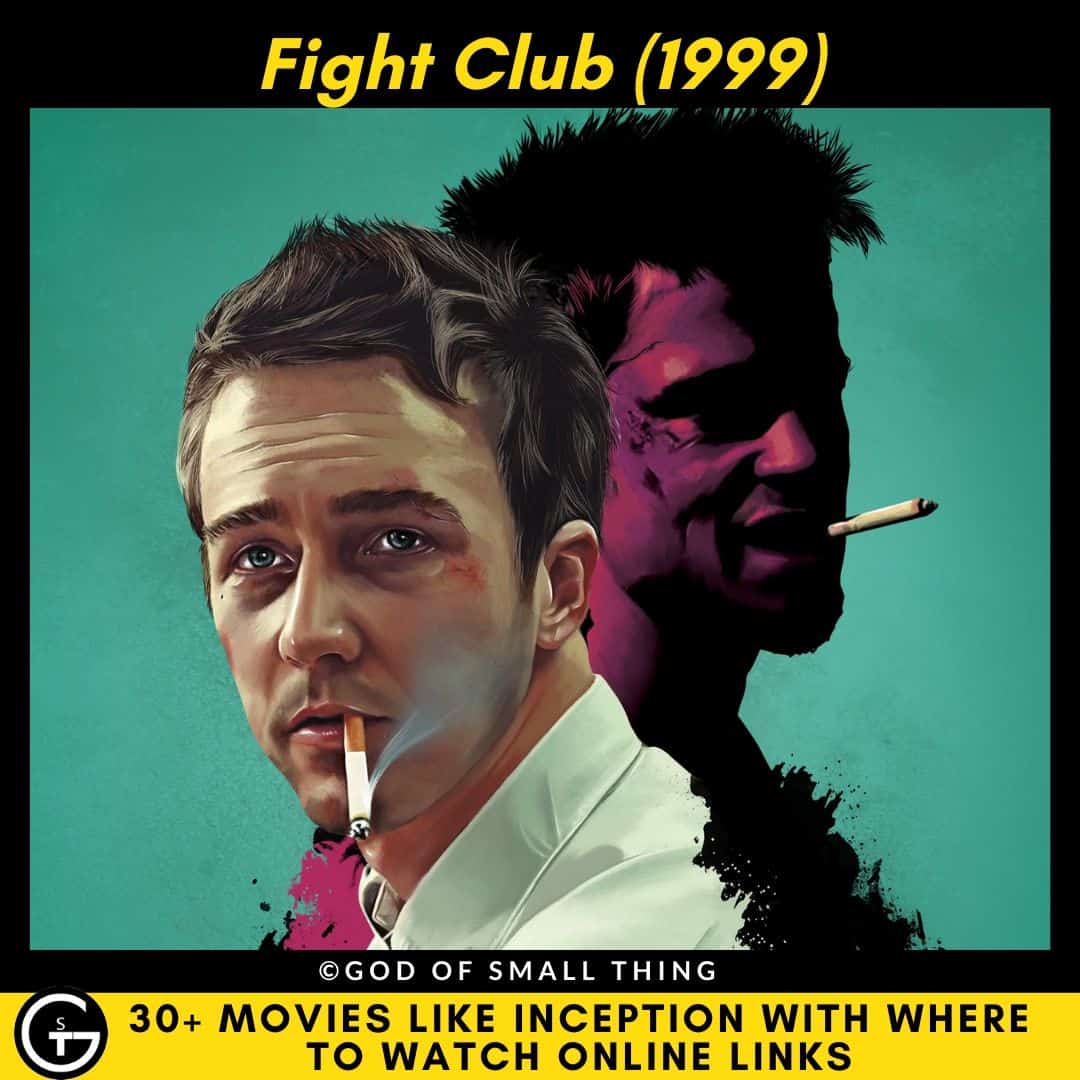 In this movie like Inception, an insomniac narrator needed fantasy to escape from his boring life, he joins a cancer support group. But, apparently, they only cry on each other's chest. When he meets Marla his life feels better and bearable. He associates himself with a guy named Tyler, he is dragged into the midst of an underground fight club. Two men rampage out of control and wage a war against each other blind with rivalry for love and power. When the unnamed narrator is exposed to the hidden agenda of Tyler's underground fight club, he has to accept the awful truth that Tyler may not be who is says he is. A simple looking fight-club turns into something unimaginable.
29. The Departed IMDB Ratings: 8.5/10
Rotten Tomatoes Ratings: 90%
Cast: Leonardo DiCaprio, Matt Damon, Jack Nicholson, Mark Wahlberg, Martin Sheen, Ray Winstone, and Vera Farmiga.
Director: Martin Scorsese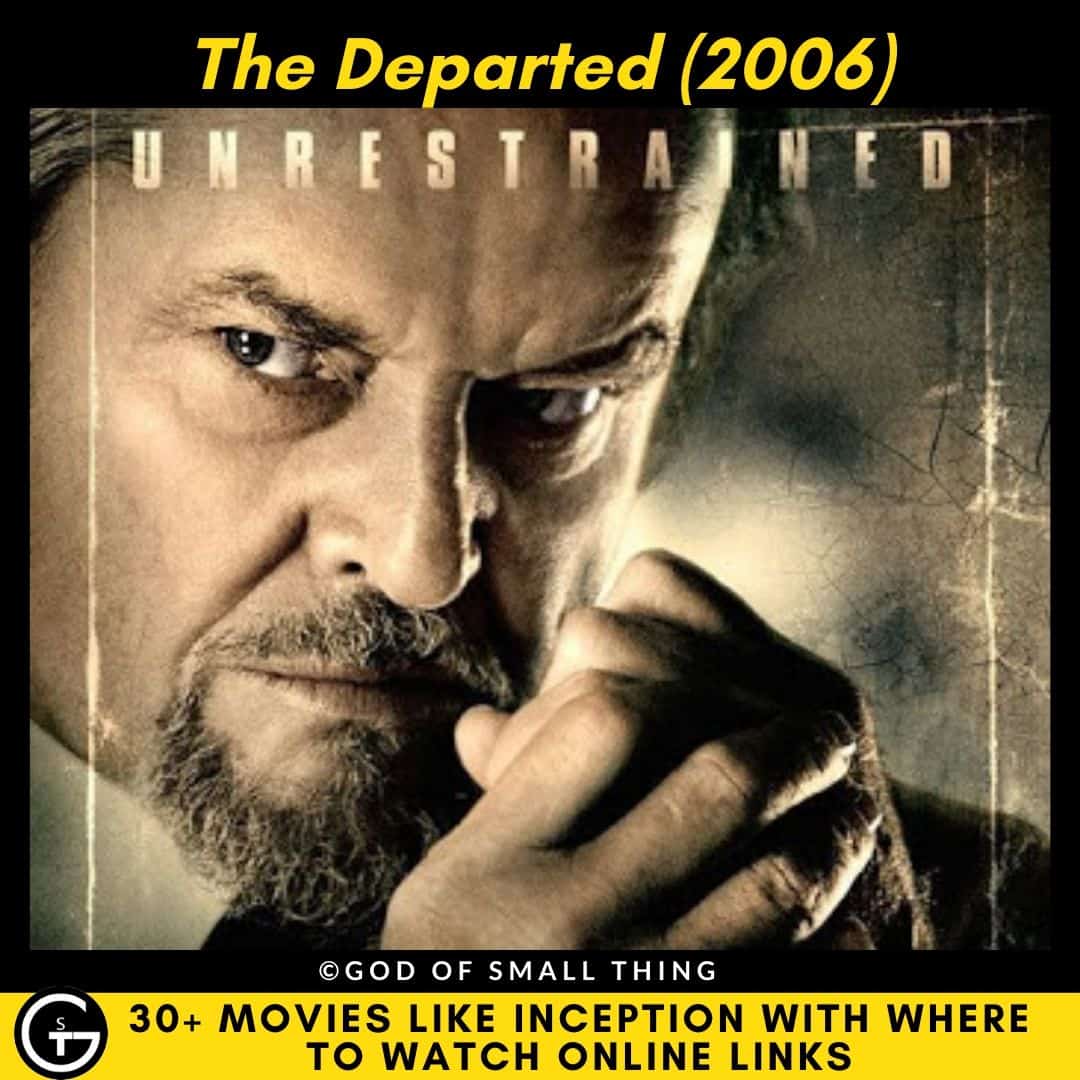 The South Boston State police and the Irish-American organized crime are at a war each other. A cop, Billy is assigned to go undercover and infiltrate a mob. On the other hand, Colin is a young criminal who infiltrates the police and rises to a position of power in the Special Investigating Unit. Both the men go deep into their undercover lives and gather information about the plans and counter-plans of the lives they have penetrated. But, both the organizations soon realize that there is a mole amongst them. Both Billy and Collin are in fatal danger of getting caught. Each of them must race to uncover the identity of the other to save themselves. Are both willing to turn on the comrades they've made during their long stints undercover? Watch this crime-drama like Inception with mind-twisting moments at every step.
30. 12 Monkeys
IMDB Ratings: 8/10
Rotten Tomatoes Ratings: 88%
Cast: Joseph Melito, Bruce Willis, Jon Seda, Michael Chance, and Vernon Campbell
Director: Terry Gilliam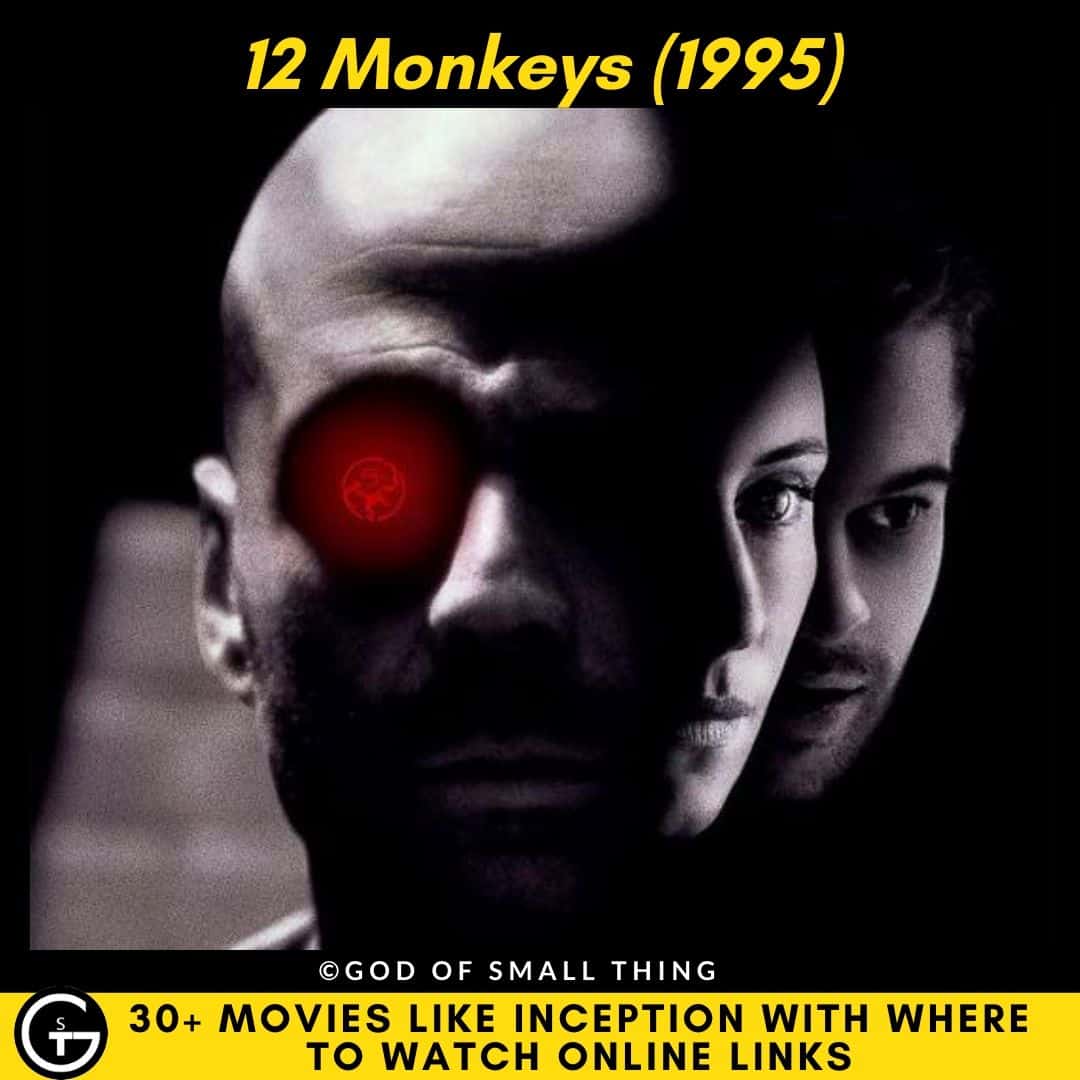 It's the year 2035 and a prisoner, James can earn parole if he travels back in time to a devastating plague. This virus was so fatal that it wiped out the majority of the population because the air was too poisonous. James returns to 6 years before the plague started but he soon gets arrested and imprisoned in a mental facility because he went on warning people about the doomsday like a crazy person. A fateful encounter with an unhinged man triggers a series of unimaginable events just hardly balancing between sanity and insanity, past and present. He discovers a group called the Army of the Twelve Monkeys, but as he delves into the mystery, he doubts his sanity. He must figure out the unhinged man, who seems to hold the key to the puzzle. Watch this movie similar to inception to see mind-bending moments.
31. Black Swan
IMDB Ratings: 8/10
Rotten Tomatoes Ratings: 85%
Cast: Natalie Portman, Mila Kunis, Vincent Cassel, Barbara Hershey, Winona Ryder, and Benjamin Millepied.
Director: Darren Aronofsky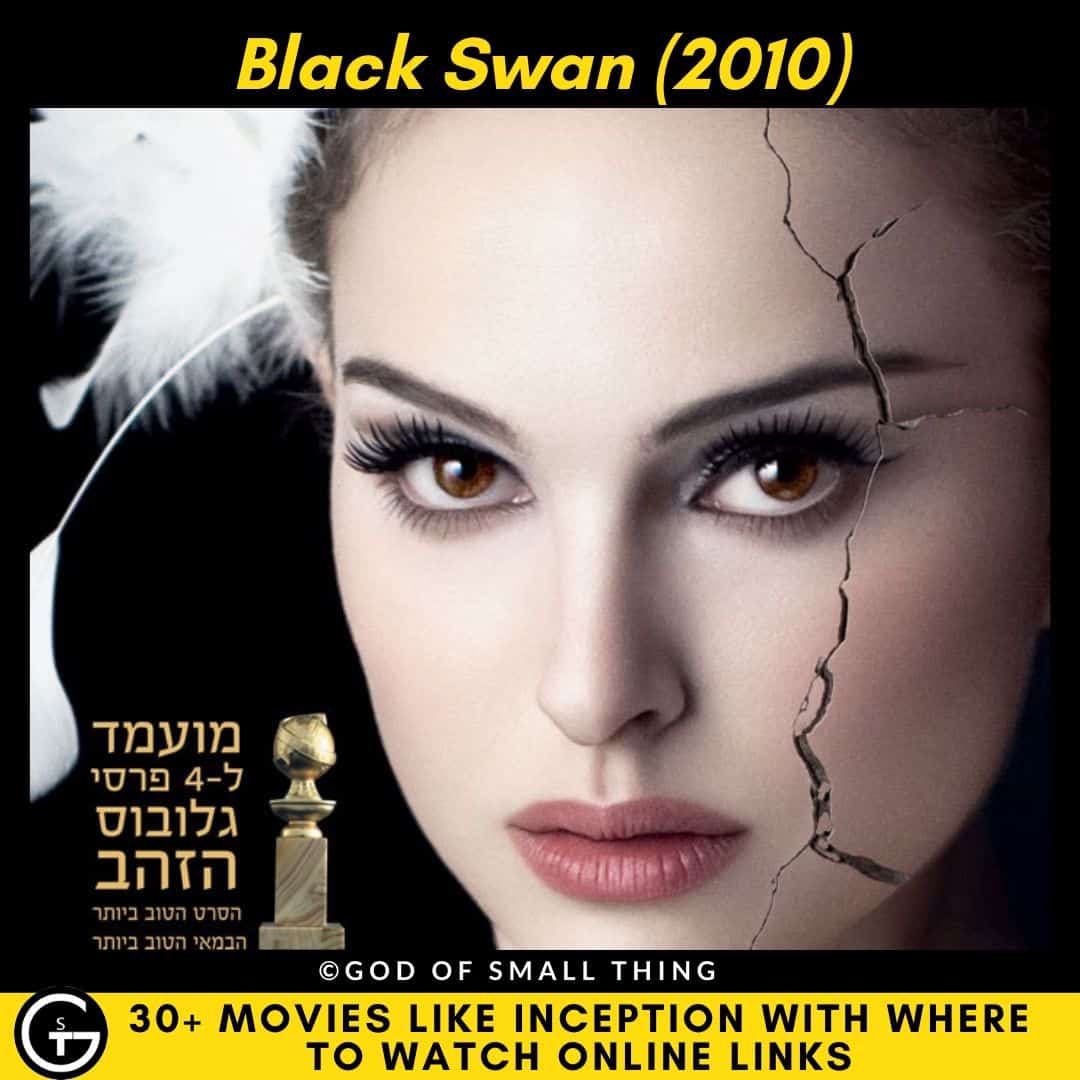 Nina is a ballerina who is consumed by her passion to dance. She has a suffocating pressure from her mother who emotionally manipulates her in a way, Thomas, the artistic director wants to replace the protagonist of the new Swan Lake production, and Nina is his first choice, but she has a new competitor, Lily. Thomas required someone who plays a Black Swan and a White Swan to perfection. Whit being purity and grace and Black being sensual and guile. Nina is perfect for a white swan, but Lily is the embodiment of the Black Swan. As the two young dancers expand their rivalry into a twisted friendship, Nina begins to get more in touch with her dark side – a recklessness that threatens to destroy her.  Watch this psychological thriller that is one of the best movies which can be compared to top tiers such as Inception.
Want to try out something different? Here are 60+ Best bollywood romantic comedy movies of all time Ordered by Year
32. Pi
IMDB Ratings: 7.3/10
Rotten Tomatoes: 88%
Cast: Sean Gullette, Mark Margolis, Ben Shenkman
Director: Darren Aronofsky
Mathematician Maximillian Cohen has suffered from severe migraines since he was a child, and he uses many pills to relieve headaches. He is a lonely man, and his only friend is his former professor Saul Robertson. Max has the following assumptions that determine his life: (1) Mathematics is a natural language; (2) Everything around us can be represented and understood by numbers; (3) If you draw digital graphics in any system, you will Mode appears. Therefore, there are patterns everywhere in nature.
Based on these principles, Max tried to find a system for predicting the behaviour of the stock market. Because of his research, Max was chased by a Wall Street company and a Chasidic Torah who had a strong interest in his research results. He believed that the long string of numbers was a code sent by God.
The film made 32 lakhs USD and is one of the greatest movies like Inception in the history of cinema.
In case you are looking out for some more recommendations on what to watch on Netflix, you can always go through our category of Netflix recommendations. What to watch on Netflix – Netflix Recommendations by God of Small Thing