PT Usha Biography | Career Stats | Achievements | Family and More
The twentieth century had seen many icons in India. Names like Dhyan Chand, Chuni Goswami, CK Nayudu, Milkha Singh, Bhaichung Bhutia, Kapil Dev shone brightly in the glimmer of the sports world. But one female-dominated the arena like no other. Her name is Pilavullakandi Thekkeparambil Usha aka PT Usha. Renowned as the 'Queen of Track and Field', Usha achieved not only notable distinctions and made invincible records, but unshackled the minds of a society that condemned a girl from choosing a career in sports. Today, we shall take some time to know about the legendary PT Usha's career and delve further to learn about PT Usha's family. By the time we conclude, you shall be well-versed in all of PT Usha's achievements and take a piece of inspiration to enlighten your life.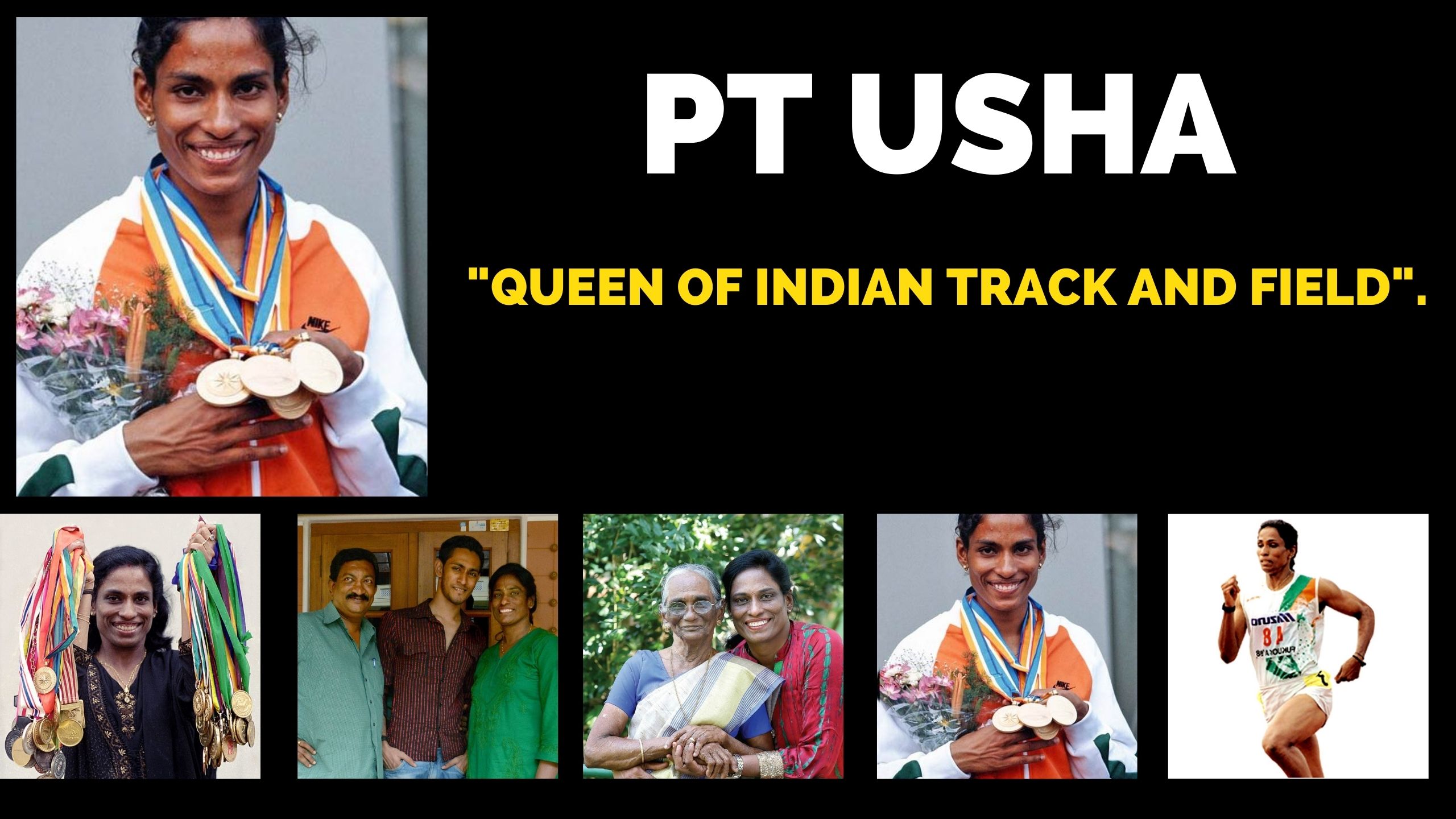 Details about PT Usha:
| | |
| --- | --- |
| Full Name | Pilavullakandi Thekkeparambil Usha |
| Born | 27 June 1964 in Payyoli, Kozhikode, Kerala, India (Age: 56 Years) |
| Nicknames | Payyoli Express, Golden Girl, Queen of Track and Field  |
| Height  | 5 ft 7 inches |
| Employer | Indian Railways |
| Career Span | 1976 to 2000 (24 Years) |
SOURCE: Wikipedia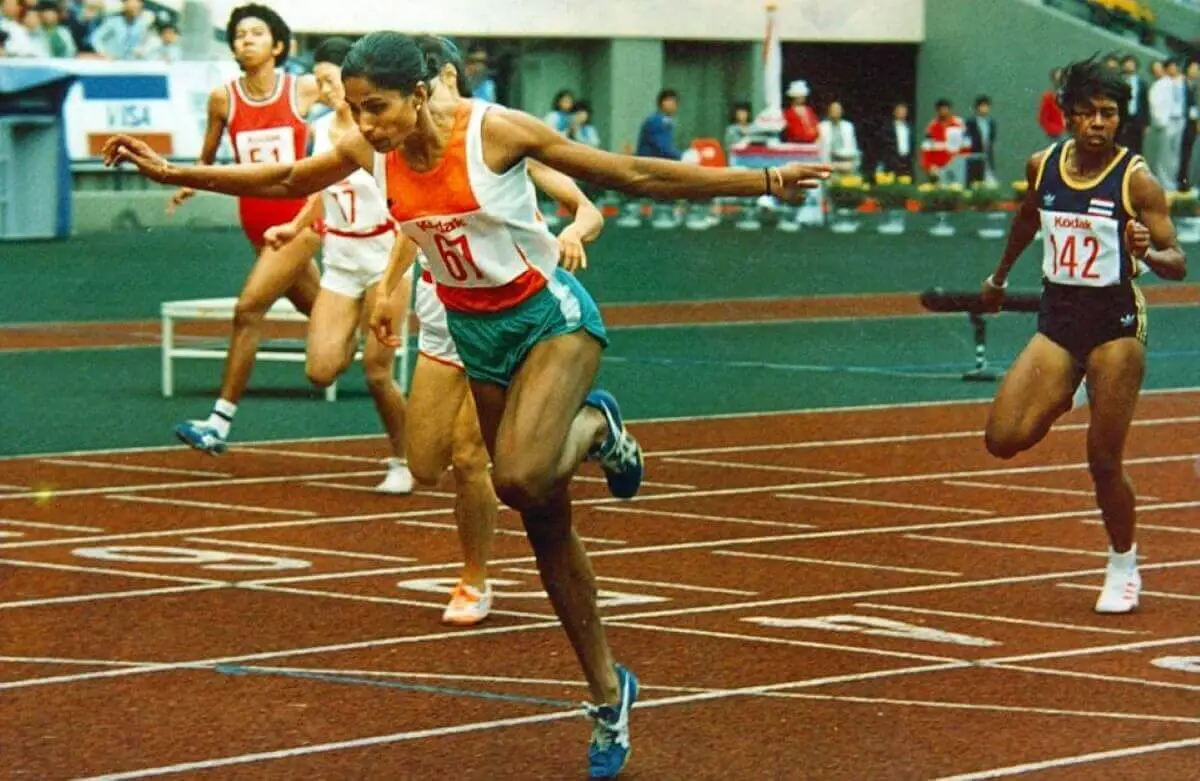 PT Usha Career Statistics:
| | | | | | | | | |
| --- | --- | --- | --- | --- | --- | --- | --- | --- |
| Year | Competition | Venue | 100 m | 200 m | 400 m | 400 m Hurdles | 4 x 100 m Relay | 4 x 400 m Relay |
| 1980 | Olympic Games | Moscow, Russia | 5th Heats (12.27) | – | – | – | – | – |
| 1982 | Asian Games | New Delhi, India | S (11.67) | S (24.32) | – | – | – | – |
| 1983 | Asian Championships | Kuwait City, Kuwait | – | S (24.68) | G (54.20) | – | – | – |
| 1984 | Olympic Games | Los Angeles, USA | – | – | – | 4th (55.42) AR | – | 7th (3:32.49) |
| 1985 | Asian Championships | Jakarta, Indonesia | G (11.64) AR | G (23.05) AR | G (52.62) AR | G (56.64) | B (45.22) | G (3:34.10) |
| 1985 | World Cup | Canberra, Australia | – | – | 7th (51.61) AR | 5th (56.35) | – | 8th (3:37.59) |
| 1986 | Asian Games | Seoul, South Korea | S (11.67) | G (23.44) AR | G (52.16) AR | G (56.06) AR | – | G (3:34.58) AR |
| 1987 | Asian Championships | Singapore | S (11.74) | – | G (52.31) | G (56.48) | S (45.49) | G (3:34.50) |
| 1987 | World Championships | Rome, Itay | – | – | DNS | 6th (Semi) (55.89) | – | 8th (Heats) (3:31.55) |
| 1988 | Olympic Games | Seoul, South Korea | – | – | – | 7th (Heats) (59.55) | – | – |
| 1989 | Asian Championships | New Delhi, India | S (11.74) | G (23.27) | G (51.90) | G (56.14) | S (44.87) | G (3:32.95) |
| 1990 | Asian Games | Beijing, China | – | 4th (24.29) | S (52.86) | – | S (44.99) | S (3:38.45) |
| 1994 | Asian Games | Hiroshima, Japan | – | 4th (24.29)  | – | – | 5th | S (3:33.34) |
| 1996 | Olympic Games | Atlanta, USA | – | – | – | – | – | DSQ |
| 1998 | Asian Championships | Fukuoka, Japan | – | B (23.27) | B (52.55) | – | G (44.43) | S (3:34.04) |
| 1998 | Asian Games | Bangkok, Thailand | – | – | 6th (54.37) | – | 4th (44.77) | – |
SOURCE: Wikipedia | G = Gold, S = Silver, B = Bronze, AR = Area Record, DNS = Did Not Start, DSQ = Disqualified, () = Timings
PT Usha Family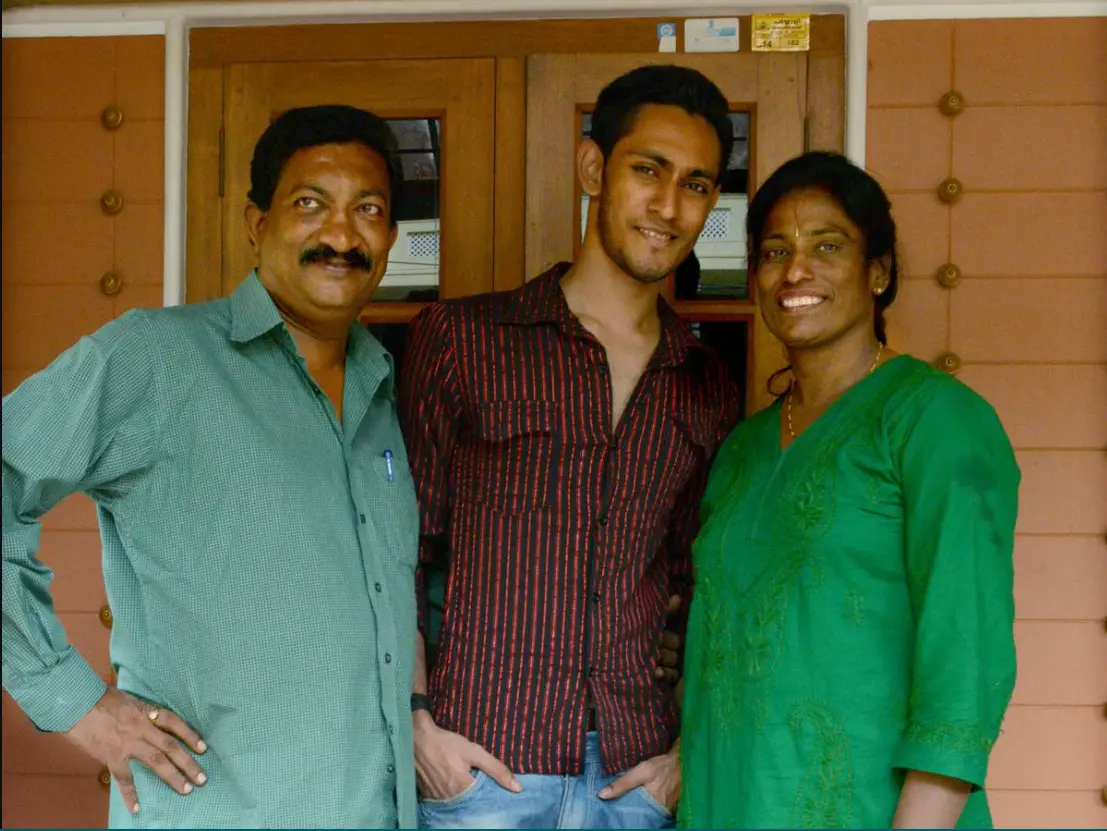 The Golden girl of Indian athletics was born on 27 June 1964, in a small town called Payyoli on the Malabar Coast of Kozhikode district, Kerala. Born into a poor family, Usha was not blessed with the luxuries of a comfortable childhood and had to face the realities of life from the very beginning. However, her aspirations matched with stupendous talent and sheer will took her as well as India to pose on a magnificent pedestal in world athletics. PT Usha's family never stopped their dear child from meeting her golden destiny and added the fuel of faith to her unstoppable sprinting energy.
PT Usha Husband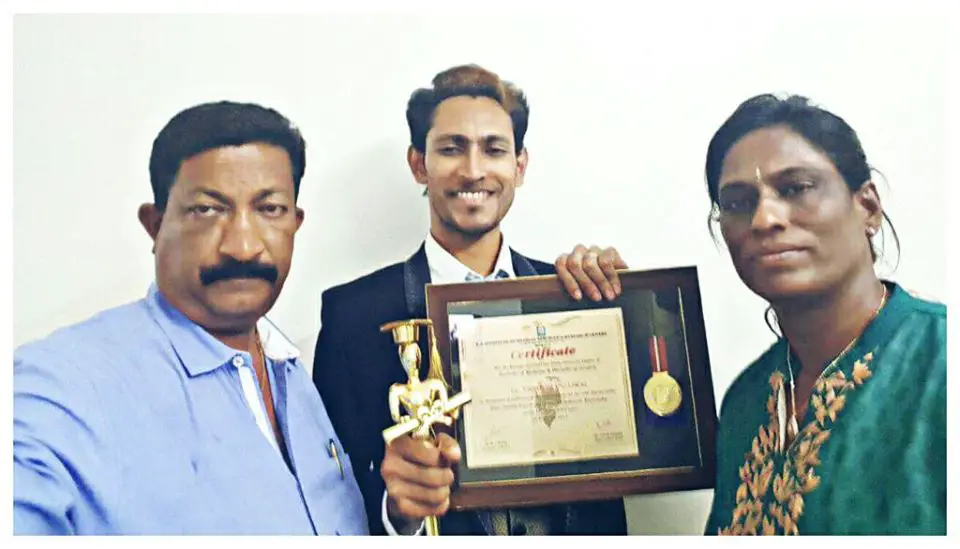 In 1991, PT Usha got married to V. Srinivasan. He is an inspector with the Central Industrial Security Force. Since the time of their marriage, PT Usha's husband has often appeared in media, and newspapers across the nation have covered their beautiful relationship. As a matter of fact, it was PT Usha's husband who persuaded her to return to the racing arena after a brief retirement post the Beijing Asiad of 1990. 
PT Usha Mother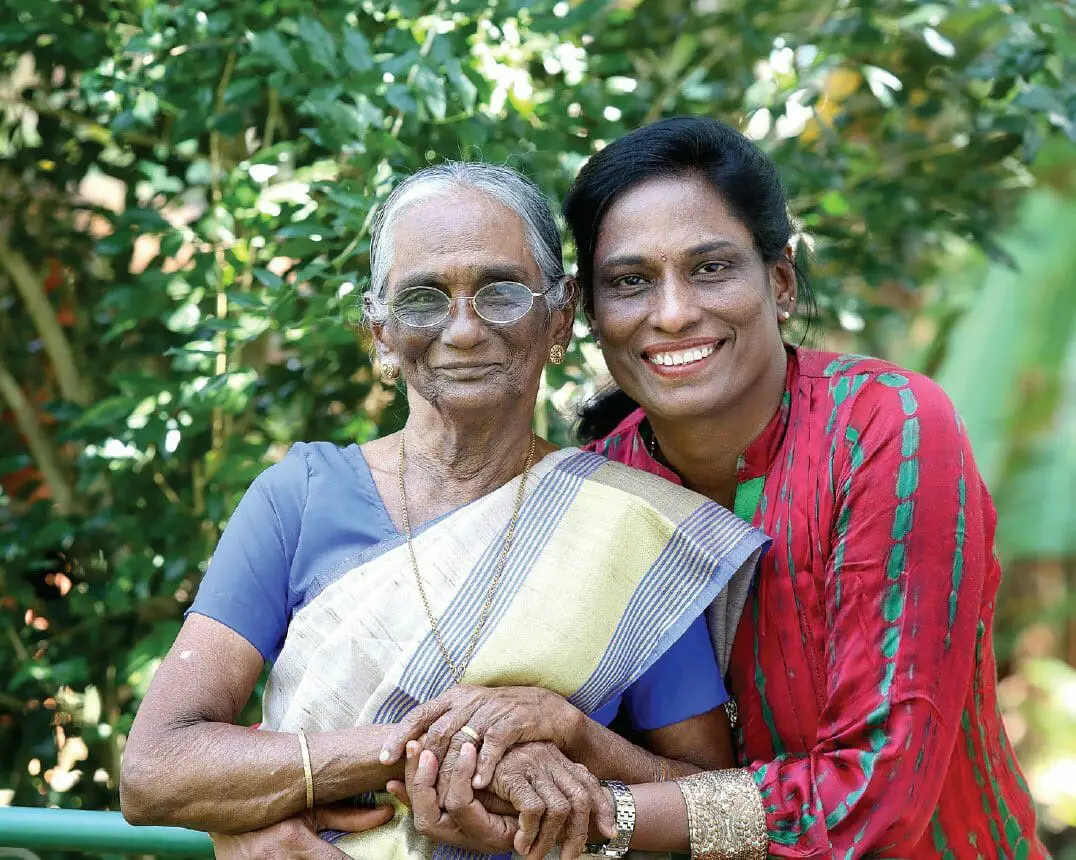 PT Usha's mother, like all mothers, loved her daughter dearly and supported her dreams of becoming a superstar athlete. Her name is T.V. Lakshmi. Usha has been vocal about her precious mother. Last year, on Mothers' Day, she tweeted, "The woman existed but never the mother, the moment the child was born, a mother was born too! Forever indebted to my mom for everything & to my son for the love that comes with being a mother. Thank you to the men in my life for completing this circle of life with me," (Source: Twitter) as a tribute to all mothers in the world, while acknowledging every precious member of her family. In another post on Facebook, Usha congratulated her mother on winning the first 'Veer Mata Jijabai Puraskar', instituted by Kreeda Bharati, Kerala Wing. (Source: Facebook)
PT Usha Father
PT Usha's father is named E.P.M Paithal. Usha recalls her early days and frequently mentions him for being extremely hard-working in order to make ends meet for PT Usha's family. Once, Usha told The Hindu that her father didn't want his daughter to take up sports because it might bring her harm and had suggested that she continue with her academics and become a science teacher like her mother. PT Usha's father has never much appeared in media and kept aloof, witnessing her golden girl rise as India's greatest athlete of her time. Usha has often regarded her coach O.M. Nambiar, who initially recognized Usha's potential on the track, as a father figure in her life. For his incredible contributions in molding PT Usha's career, coach Nambiar was honored with the Dronacharya award in 1985. 
We all have been hearing about females making a mark for themselves in Sports for quite a while now. But do you know who has made the biggest mark in terms of money? Here are the 25 Highest-Paid Female Athletes in the World with their net value and more. (Each link in the article will open in New Tab so you don't have to miss out and you can easily switch to another once you finish this 🙂
PT Usha Siblings
Although Usha had an early life of deprivation, she shared it with three of her dear siblings. She has two sisters, Shobha and Suma, and a brother named Pradeep. There have not been a lot of talks around PT Usha's siblings and it would come as no wonder that they feel proud of their sister. 
PT Usha Kids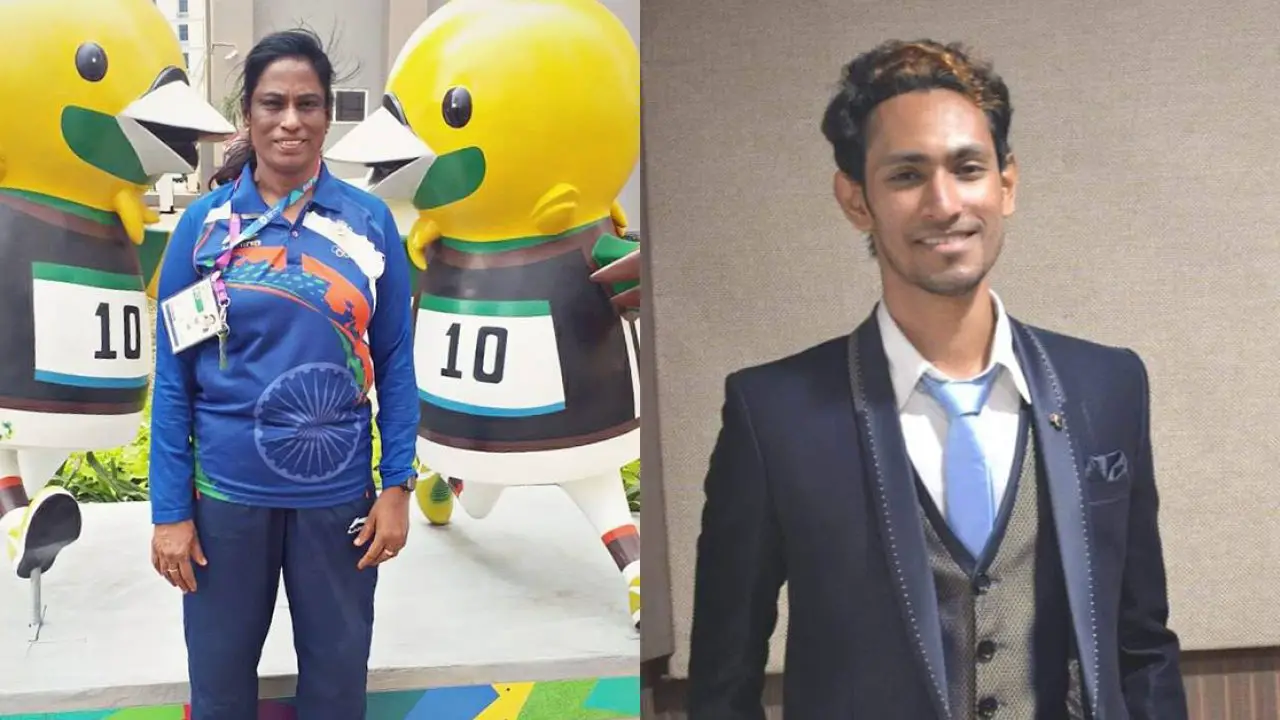 PT Usha's kids are named Ujjawal Srinivasan and Vignesh Ujjawal. Usha has been very vocal and full of praise for her kids, who left no stone unturned to achieve success in their respective fields. Back in May 2020, Usha congratulated her younger son Vignesh, now Dr. Vignesh Ujjawal, for earning the International Olympic Committee Diploma in Sports Medicine from Lausanne, Switzerland. (Source: Twitter) 
PT Usha Achievements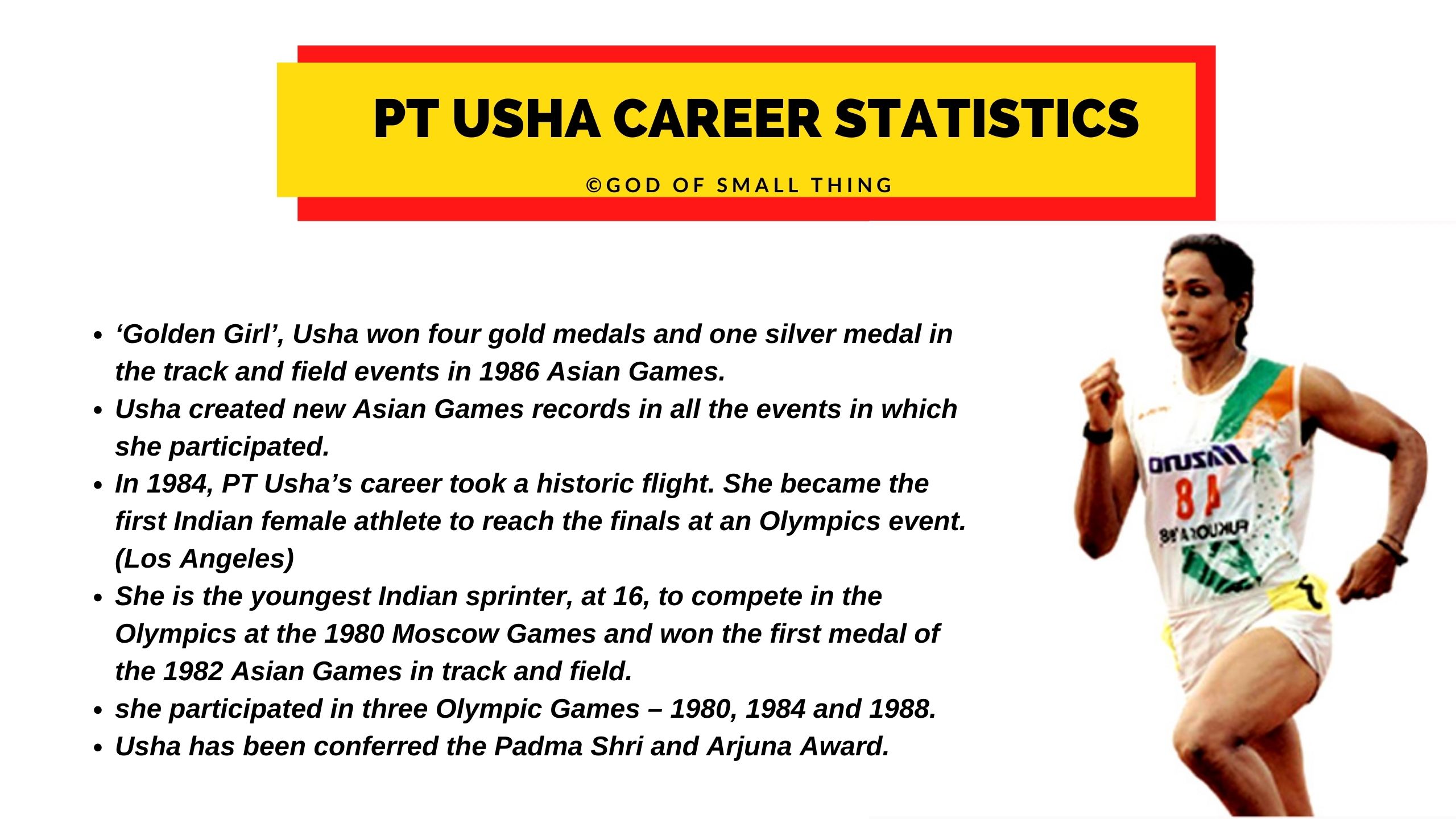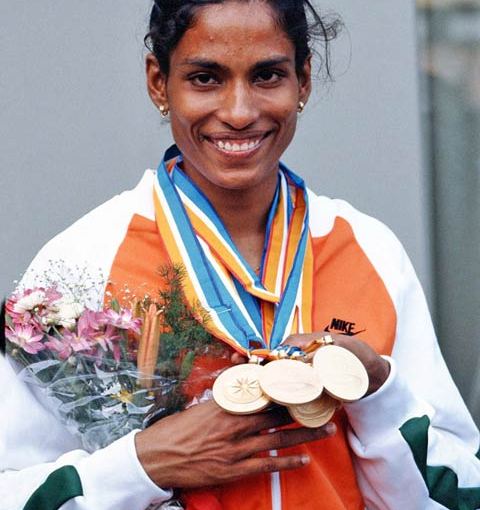 Innumerable achievements glorify India's Queen of track and field. The sprinting sensation started her career on the tracks as soon as she stepped into her teenage years. By the time she reached the age of sixteen, PT Usha's career had skyrocketed, taking her from the domestic grounds to international meets. The following are the notable achievements of PT Usha's career, some of which cannot find a parallel feat:
From 1975 to 1983
In 1975, aged 11, Usha appeared for the first meet, a sub-junior District Meet, and won in all events – 100m, 200m, long jump, and high jump. Therefore, Usha was recognized as the individual champion of the meet. 
In 1978, Usha entered the inter-state Meet for Juniors, held in Kollam. Her medal tally totaled six, including three gold in 100m, 200m, and 60m hurdles.
In 1980, aged 16, PT Usha became the youngest Indian athlete to compete in the Olympic Games. (Moscow, Russia)
In 1981, at the inter-state meet, held in Bengaluru, PT Usha clocked 11.8 secs in 100m and 24.6 secs in 200m, setting national records. 
At the 1982 Asian Games, held in New Delhi, PT Usha won her first international medals, (both silver in 100m and 200m)
In 1983, at the Open National Championships, she broke her own record in 200m, clocking 23.9 seconds. In 400m, Usha set a new national record, clocking 53.6 secs. In the same year, Usha received the Arjuna Award for athletics. 
From 1983 to Till date
In 1984, PT Usha's career took a historic flight. She became the first Indian female athlete to reach the finals at an Olympics event. (Los Angeles)
In 1985, the world witnessed PT Usha's career-best performance at the Jakarta Asian Championships, setting Asian records in 100m, 200m, and 400m. She bagged five gold medals and a bronze. 
PT Usha was named the Best Woman Athlete in 1985 and the Padma Shri was bestowed upon her in the same year. 
At the 1986 Asian Games, held in Seoul, South Korea, PT Usha set four Asian records, making her the best female athlete in the continent. In fact, she won the Adidas Golden Shoe for her performance at the Seoul Games. 
In 1999, the Indian Olympic Association honored Usha with the Sportsperson of the Century award. A distinction she shares with the Indian hockey legend Dhyan Chand. 
After her retirement in 2000, Usha earned honorary doctorates from the Kannur University, IIT Kanpur, and University of Calicut. 
Recently, in 2019, she received the International Association of Athletics Federations (IAAF) Veteran Pin.
Undoubtedly, PT Usha is one of the greatest athletes of all time. And given her legacy, people often wonder how many medals embellish PT Usha's career. According to this India Today article, PT Usha has 101 international medals to her name.
PT Usha Best Performances
As the story begins in the seventh chapter of a Telangana SCERT sixth grade textbook, PT Usha was first seen by her physical education teacher in the school field, playing blind man's bluff. The teacher, Balakrishnan, caught the glimpse of a most wonderful sight. He found a tiny, dark girl dressed in a blue skirt and white blouse, moving with the instincts of a professional athlete. He called her after the game was over and enquired about her identity. She identified herself as 'Usha' from 'Class IV'. On the very same evening, at around 4:15, Usha heard the chant: 'On Your Marks. Get Set. Go!' for the first time in life. She ran like a speed wind which eventually changed the climate of Indian athletics. 
After the fateful acquaintance at Cannanore with coach Madhavan Nambiar, Usha excelled with scintillating best performances, having found her guru. Below are PT Usha's best performances that had later prompted famous politician and former MoS for Railways, Madhav Rao Scindia to say – "ln the world of athletics, you (PT Usha) have written the name of our nation in letters of gold." 
1984 Los Angeles Olympics
PT Usha's career had already gained pace after the Asian Games silver medals in 1982. She had been preparing steadily on the sand, guided by coach Nambiar. A brilliant build-up supported Usha's stature at the LA Olympics, who in turn, seemed determined to clinch the first medal for India in Athletics. Usha's confidence had been boosted after the California meet, where she beat American favorite Judy Brown. 
During the morning heats, Usha comfortably ascended the podium for the second position. In the semi-finals, she beat Brown for the second time, making a Commonwealth record and promising a medal at the finals. In the decisive finals, all eyes were on Usha, who knew she was racing to make history. Suddenly, a false start occurred and runners were called back for a restart. Running on lane 5, Usha started slow off the blocks, however, she recovered on the turn and appeared in the leading pack of runners. 
Stride for stride, Usha matched her counterpart Cristieana Cojocaru in the 400m hurdles. She closed up on the finish line and at the end, it took a few moments to judge the bronze-winning athlete. PT Usha's career which was on the rising curve faced a setback. The Payyoli Express was late by a fraction of a second. PT Usha lost the bronze medal to her Romanian counterpart by 1/100th of a second. The dreams of a nation had taken a blow that day. 
Twenty-year-old Usha had never been more disappointed. As she wept, the whole country stood by her. The Prime Minister at the time, Indira Gandhi wrote in consolation – "Usha, my daughter, you did very well for the country. Don't worry, try harder next time, we are all with you." Thus, PT Usha, the legend was born. 
1985 Jakarta Asian Championships
After the Olympics fiasco, Usha emerged as a fierce warrior. She ran like Life existed on the other side of the finish line. At the Asian Championships, held in Jakarta, Indonesia, PT Usha had entered with such determination as if nothing except gold mattered to her. And what followed is considered PT Usha's best performance of her career. 
In all the four individual events Usha participated in, she brought gold and registered record timings in three out of those. She completed the 100m with a record timing of 11.64 seconds. She finished with a record timing of 23.05 seconds in the 200m event. In the 400m, Usha clocked 52.62 seconds, creating the third record timing in a row. The last individual gold was in 400m hurdles. In addition to this, she helped the relay teams to win bronze in 100m and another gold in 400m. 
Newspapers across the globe cheered at Usha's stupendous performance. The fact that she won her last two golds within a span of 35 minutes highlighted the new Queen of Track and Field. While, Indonesian newspapers called her a gold mining company, India Today proclaimed Usha's reign as Asia's leading athlete. After all, the feat she had achieved – 5 golds and one bronze – was unprecedented. 
Following the golden reign, PT Usha was called upon to represent the Asian contingent at the Canberra World Cup. Here too, she finished with a continental record of 51.61 seconds, running against the best of the world. Unfortunately, an insignificant time gap between the Championships and World Cup rendered a lack of performance as Usha secured the seventh position in the 400m. 
1986 Seoul Asian Games
The Asian Queen of Track and Field had now approached a greater competition. She successfully charmed every fan on the stands, who recklessly cheered for the racing royal. Usha's sole rival was Philippines' Lydia de Vega who had lost to the reigning champion at the Asian Championships. Given the enraging past, de Vega fought back and clinched the gold in 100m. Nonetheless, Usha still managed to bring back four gold medals, including one in the 4x400m relays. 
The Seoul Asiad was the peak of PT Usha's career. She won the Adidas Golden Shoe for her unbeatable performance at this competition. 
Brief retirement post-1990 Beijing Asian Games 
On the way to the Seoul Olympics of 1988, PT Usha met with an agonizing heel injury. As expected, she performed badly and finished seventh in the heats. Critics surmounted her with cruel comments that hurt Usha deeply. In an interview with The Hindu, she said, "A lot of top athletes let me down with their statements in the media. Some said I betrayed the nation. They stoned my house. I used to lock myself in a room. For a girl who put the country before herself, who probably lost out on an Olympics medal she had to run in too many events, it was too much to bear. That was a period when I hated sport."
By the 1989 New Delhi Asian Championship arrived, Usha's family members only remained as her source of support. She was happy to be in good form and earning a gold-medal haul. But she had given up sports in her mind. 
When the Beijing Asiad came up in 1990, Usha was unwilling to go further and had decided to leave sports for good. Officials from the Sports Authority of India had arrived to convince her to represent India in the mega event. Refusal from PT Usha's father, adding to her unwillingness, gave negative signs to the officials. However, a touching letter pleading Usha to run for the country changed her decision. PT Usha's career was almost at its end and she still managed to get a silver in 400m along with silver medals in the relay events. 
At the end of the competition, she took retirement from her track and field career. 
Are you somebody who is a die-hard fan of cricket? Well if you are then for sure, you must be curious to know more about the current giants of the cricketing team of the country. If you wanna know more about things around Virat Kohli, Rohit Sharma, MS Dhoni. Don't forget to check out our special section covering Sports Personalities of India.
The great return of PT Usha
Married to a Central Industrial Security Force inspector, V. Srinivasan in 1991, Usha showed signs of settling down with the family. But there was still one last lap remaining in PT Usha's career. Owing to PT Usha's husband's persuasion, the golden athlete made a comeback in the international arena. After a three-year break, there's the least one can expect from an athlete. 
PT Usha's career performances had dipped. She had lost the spark. A relay silver in the 1994 Asian Games and straight disqualification at the 1996 Atlanta Olympics proved Usha's comeback decision wrong. Well, not really. 
In 1998, the Asian Championships were held in Fukuoka, Japan. When all had lost hope, Usha didn't. The Payyoli Express, 34 years old, still had enough fuel to make it in time. She presented a stunning performance, true to her character. With bronze medals in 200m and 400m, adding to gold and silver in relays, PT Usha's legendary career got the justice it deserved. 
In 2000, PT Usha finally retired. She currently runs her own academy called Usha School of Athletics. (website: http://www.ptusha.org/ ) Usha has forever been vocal for improving the conditions of India's athletes, and she is always found on Twitter encouraging the talents of today, irrespective of the fields they belong to. You can follow PT Usha on Twitter @PTUshaOfficial 
Frequently Asked Questions
What is PT Usha doing now?
PT Usha currently runs her own Athletics academy, called Usha School of Athletics, abbreviated as USHA. The academy is built on land offered by the Kerala government and has all the facilities required for athletics aspirants. It is located in Kinalur, Balussery, Kozhikode, Kerala. To contact the academy, e-mail : ushaschool@rediffmail.com or call on Tel : +91 496 2645811, +91 496 2645812 | Mob : +91 9539007640 
Did PT Usha win a gold medal in the Olympics?
No, PT Usha did not win a gold medal in the Olympics. She came close to winning a bronze medal at the Los Angeles Olympic Games of 1984. She missed the chance of winning that by 1/100th of a second, it was a defining moment in her life as well as Indian athletics history. Throughout her career, PT Usha represented India in the Olympics thrice.
What are the records of PT Usha?
There are endless records of PT Usha. To count down a few: Usha was the youngest Indian athlete to represent India in the Olympics. (1980 Moscow Olympics) She was just sixteen years old at the time. In 1984, Usha became the first female athlete to reach the finals of an Olympic event. Add to this, she became the leading Asian sprinter after the 1985 Asian Championships, where she made an unprecedented medal record of 5 golds and one bronze.
Who defeated PT Usha in 1984?
PT Usha was defeated by Romanian sprinter Cristieana Cojocaru in the finals of 400m hurdles at the 1984 Los Angeles Olympics. Later on, Usha had attributed the loss to the last 35-minute run where Cojocaru, slightly moved ahead of her to meet the finish line. The other two victors included silver holder Judy Brown (American sprinter, whom Usha had defeated twice earlier) and Nawal El Moutawakel (gold winner from Morocco).
What are the achievements of PT Usha?
The achievements of PT Usha are great in number. She broke national records at the tender age of seventeen. She set the records for 100m and 200m in 1981 and then in 1983, she clocked 54.6 seconds in 400m creating a new national record. She became the best woman athlete in 1985, earned the Golden Shoe in 1986, and got the title of Sportsperson of the Century by the Indian Olympics Association in 1999.
What is the full form of PT Usha?
The full form of PT Usha is Pilavullakandi Thekkeparambil Usha.
What is the height of PT Usha?
The height of PT Usha is 171 cm, which is roughly 5 feet 7 inches.
What is the name of PT Usha parents?
The name of PT Usha parents are E.P.M Paithal (father) and T.V. Lakshmi (mother).
Where was PT Usha born?
PT Usha was born in Payyoli, a Municipality town on the Malabar Coast of Kozhikode district in the South Indian state of Kerala. The town is famous for PT Usha and it is because of her birthplace that PT Usha is nicknamed Payyoli Express.
What is the age of PT Usha?
Born on 27 June 1964, PT Usha is currently 56 years old. She'll turn 57 this year (2021). At the age of 11, she started her sprinting career and she retired at the age of 36, in the year 2000.
References
Wikipedia: P.T. Usha (https://en.wikipedia.org/wiki/P._T._Usha)

India's ace sprinter P.T.Usha establishes herself as Asia's leading athlete

, India Today, 31 October 1985 (https://www.indiatoday.in/magazine/sport/story/19851031-indias-ace-sprinter-p.t.usha-establishes-herself-as-asias-leading-athlete-802114-2014-01-14)

About PT Usha, India's 'Golden Girl' who was so fast that she was nicknamed after a train

, India Today, June 27, 2016 (https://www.indiatoday.in/education-today/gk-current-affairs/story/pt-usha-11702-2016-06-27)
'PAYYOLI EXPRESS' – PT USHA, Athletics Federation of India (https://indianathletics.in/payyoli-express-pt-usha/)

PT Usha: A story of porridge, pickles and an Olympic heartbreak,

Olympic Channel, 7 August 2020 (https://www.olympicchannel.com/en/stories/features/detail/1984-olympics-pt-usha-los-angeles-400m-hurdles-100th-bronze-indian-athletics/)

PT Usha, the Golden Girl,

Telangana SCERT, Sixth Grade (http://ndl.iitkgp.ac.in/document/TXordnRld0RIS29wc2luY05Gbnc5Nk5raDNiYXVVQmZmajhGQWFYc3Jucz0)

She set the track ablaze

, The Hindu, 30 April 2011 (https://www.thehindu.com/features/magazine/she-set-the-track-ablaze/article1794586.ece)