10 Richest Footballers in the World | Net Worth, Salary 2023

Football or Soccer as it is known in a few western countries is the world's most popular sport. In fact, the estimated fan following of football is 3.5 billion, a little less than half the world's population. Thus, it's one of the legendary football players topping the Forbes list of richest athletes. So, instead of inquiring about the richest athlete, it's better to ask, "who's the richest football player in the world?" Moreover, there's a constant neck-to-neck battle for the top spot. So let us check out the list of the top 10 richest football players in the world at present and put an end to the curiosity by discovering, who is the richest footballer in the world? Here is the list of richest footballers in the world right now by the end of 2023:
Cristiano Ronaldo
David Beckham
Lionel Messi
Dave Welhan
Neymar Jr. 
Zlatan Ibrahimović
Wayne Rooney
Ronaldo (Brazil)
Gareth Bale
Thierry Henry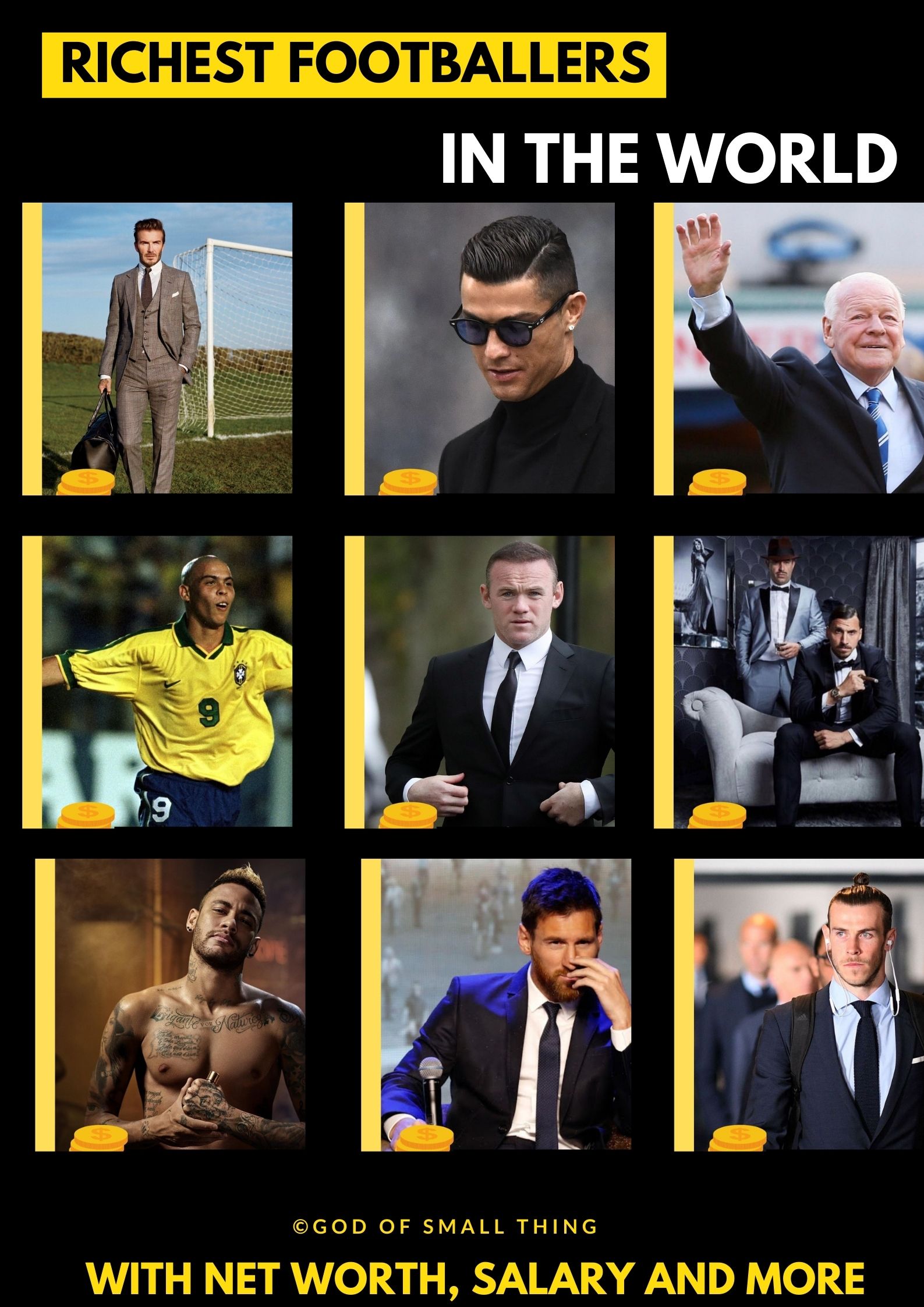 If you are somebody who is interested in knowing about the possible big players from India in the game of soccer! Here is a list of Famous Football Players in India of all Time with Career Stats & Achievements and hey all the links open in New Tab so you can finish this off and switch to another tab 🙂 Happy Reading!
10. Thierry Henry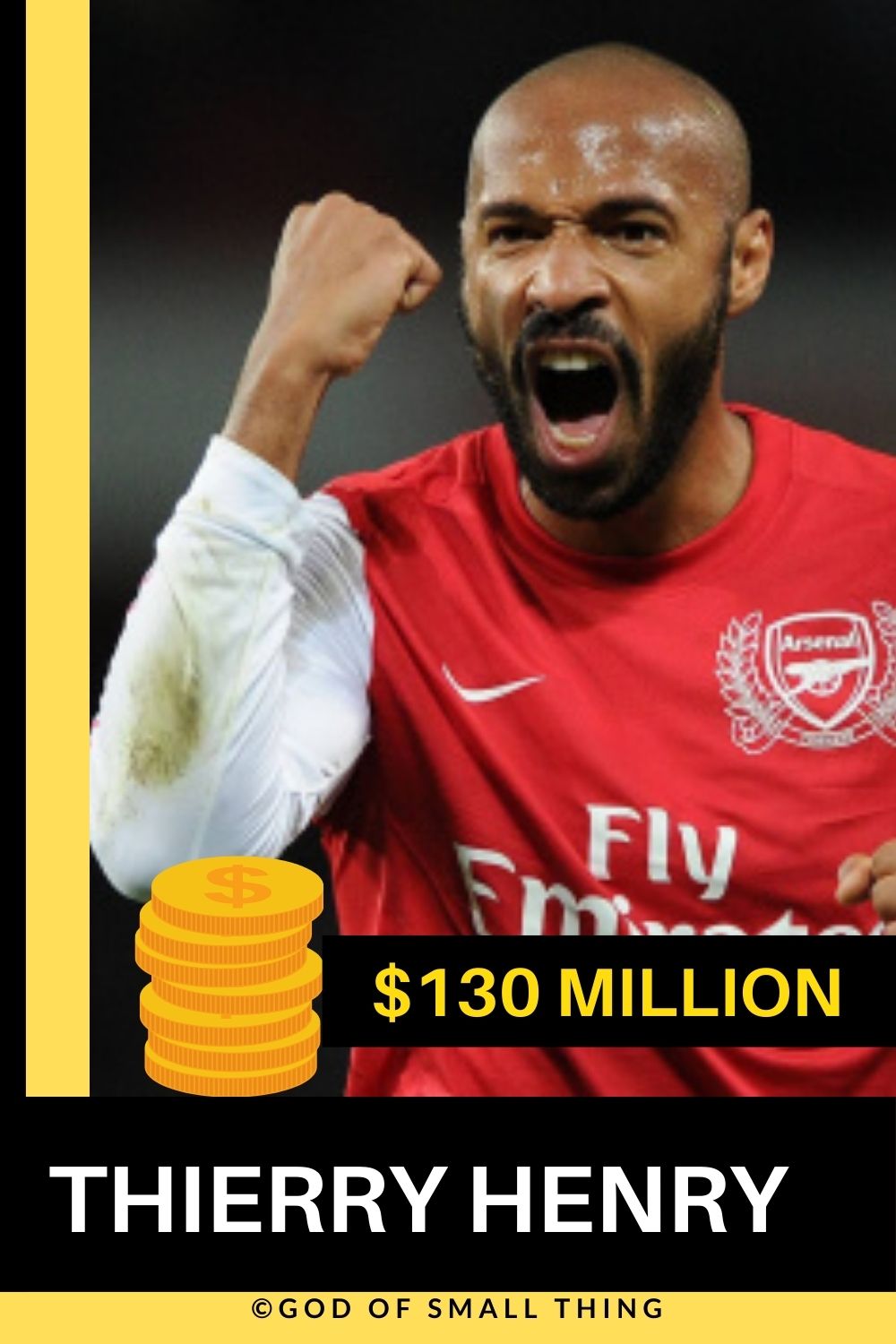 | | | | | | |
| --- | --- | --- | --- | --- | --- |
| Age | Country/Club | Base Salary | Endorsements | Total Earnings (2020) | Net Worth |
| 43 | France | $5 million | – | – | $130 million |
Source: (Celebrity Net Worth)
Henry was born in Paris, France, and showed interest in football from an early age. Guided by his father's disciplined manners, Henry became consistent in soccer from the tender age of seven. He played with teams like CO Les Ulis, US Palaiseau, and ES Viry-Chatillon. Henry began his senior career with Monaco, followed into Juventus but due to few disagreements, he shifted to Arsenal FC, where he stayed until 2007 and showcased his best performance. Under the tutelage of Arsene Wenger, Henry proved to be a soccer superstar. He won two FA Cups and two Premier League titles, one of which included the Invincibles streak of 2003-04. Winning the Premier League Golden Boot a record four times, Henry grew into a legendary figure, often being called the greatest player in the history of the Premier League. He remains the all-time leading goal scorer for Arsenal with 228 goals. 
At a record transfer fee, Henry changed jerseys with Barcelona. At the peak of his career, he followed up on the historic treble, which meant back to back victories in La Liga, Copa del Rey, and the UEFA Champions League. On the national front, Henry helped France win the 1998 FIFA World Cup, UEFA Euro 2000, and 2003 FIFA Confederations Cup, where he won both the Golden Ball and Golden Shoe. Totaling 51 goals off 123 appearances, Henry has been a record leading goal scorer and has won the title of France Player of the Year, a record 5 times. Currently, he coaches the Montreal Impact in Major League Soccer. Reportedly, he was one of the most commercially marketed footballers during the 2000s, which justifies his mention on the list of top 10 richest footballers in the world. 
9. Gareth Bale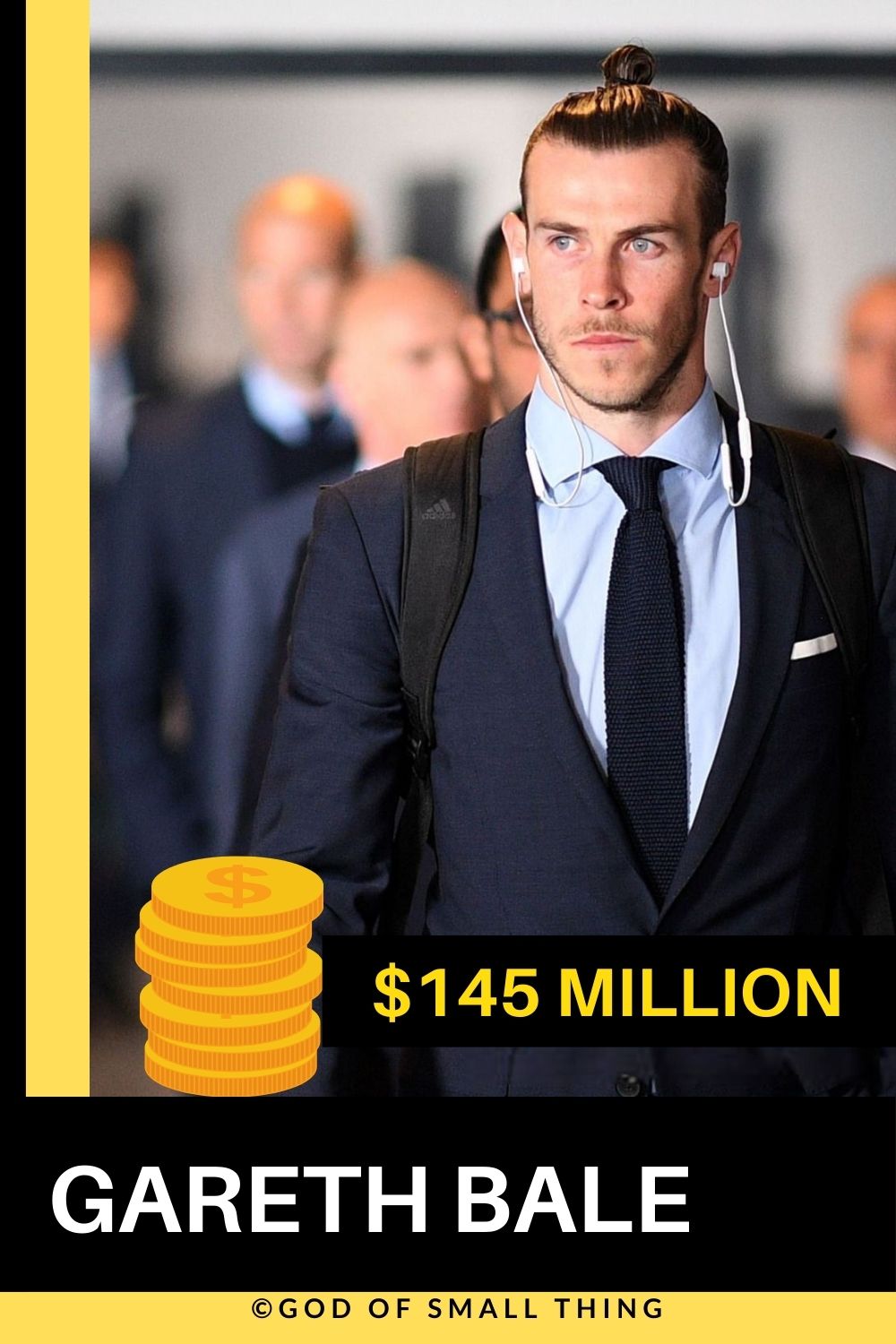 | | | | | | |
| --- | --- | --- | --- | --- | --- |
| Age | Country/Club | Base Salary | Endorsements | Total Earnings (2020) | Net Worth |
| 31 | United Kingdom/Real Madrid | $23 million | $6 million | $29 million | $145 million |
Source: (Wikipedia & Forbes)
At the mere age of nine, Gareth Bale was spotted as a budding talent by Southampton FC. Under the tutelage of his uncle Chris Pike, Bale practiced and performed better in every successive game. Fast and strong-footed, Bale earned the title of a free-kick specialist. By 2007, his soccer-playing spirit was recognized by major clubs such as Tottenham Hotspur. Bale joined the club with a £7 million annual fee contract. Here, he attained tactical skills and outperformed the expectations of club managers. While newbies looked to score a goal in the UEFA Champions League, Bale had begun posting hat-tricks in his very first season of 2010-11. Alternatively, he won the PFA Players' Player of the Year award in 2011 and 2013. 
Real Madrid eyed the Tottenham star in 2013 and pulled him on their side for an undisclosed fee. In 2016, the news broke and media persons revealed documents that found Bale's transfer fee at an unprecedented 100.8 million dollars – a world record at the time. In addition, Bale's performance peaked in a few seasons, bashing all opponents and lifting club tournament trophies. Two of his most memorable stints came against Barcelona in the 2014 Copa del Rey Final and in the 2018 Champions League final against Liverpool. Today, for all his epic achievements and awesome play, Bale has acquired a net worth of € 145 million. The eighth richest footballer in the world endorses big brands such as Adidas, EA Sports, Lucozade, and BT Sport. 
8. Ronaldo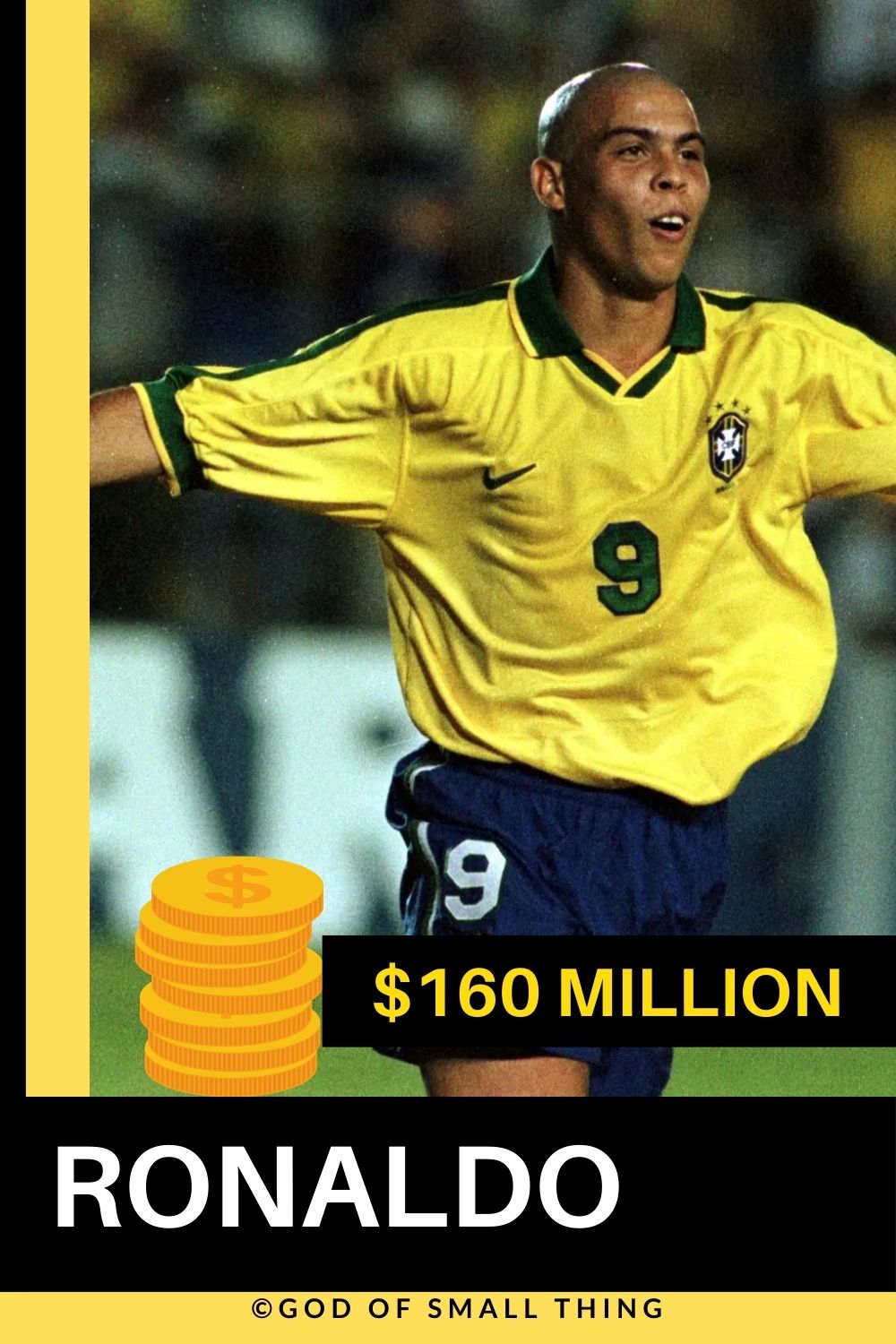 | | | | | | |
| --- | --- | --- | --- | --- | --- |
| Age | Country/Club | Base Salary | Endorsements | Total Earnings (2020) | Net Worth |
| 44 | Brazil | – | – | – | $160 million |
Source: (Wikipedia & Forbes)
Born in the popular sea-facing city of Brazil, Rio de Janeiro, Ronaldo was 11 when his parents separated and he dropped out of school to pursue a professional career in soccer. In the beginning, he made himself an exemplary futsal (indoor soccer) player, becoming the city's leading scorer in no time. His ball control ability and technical skills made sports agents eager to sign him up. When he stepped onto the world stage, every fan was in awe. Ronaldo was bought on a record transfer fee by Barcelona when he was just 20 years old. He then became the FIFA World Player of the Year in 1996, making him the youngest recipient of the prestigious honor. The very next year, in 1997, Inter Milan bought him, again on a world-record fee. Scoring over 200 goals by the age of 23, Ronaldo's career was threatened by a series of injuries. 
To date, he is the third-leading goal scorer for Brazil, with 62 goals in 98 appearances. Referred to as the Phenomenon, Ronaldo has to his credit two Ballon d'Ors and thrice the honor of FIFA Player of the Year. He was, undoubtedly, the greatest soccer player during his career. In 1998, being the most marketable sportsperson in the world, Nike had commissioned Mercurial boots-R9-in his name. After retirement in 2011, he became the UNDP Goodwill Ambassador and 2014 FIFA Ambassador. By 2018, Ronaldo had purchased a La Liga team called Real Valladolid. It comes as no surprise that Ronaldo, the prodigal Brazilian striker, finds a mention in the list of top 10 richest footballers in the world.
7. Wayne Rooney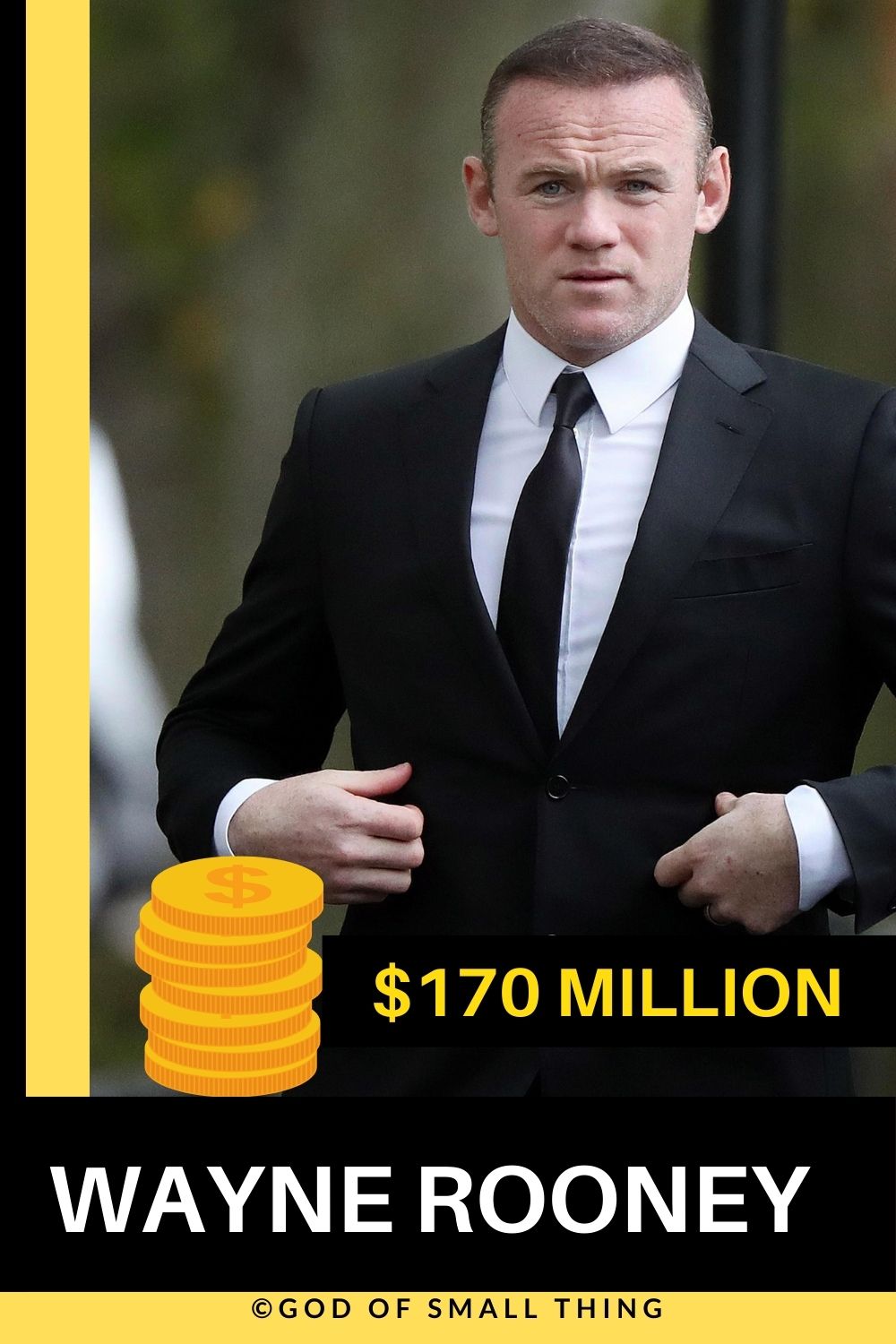 | | | | | | |
| --- | --- | --- | --- | --- | --- |
| Age | Country/Club | Base Salary | Endorsements | Total Earnings (2020) | Net Worth |
| 35 | United Kingdom/Derby County | $26 million | – | – | $170 million |
Source: Celebrity Net Worth
Growing up, Wayne played soccer for Liverpool schoolboys, Copplehouse Boys' club, and Kirkdale Junior League. Eyeing his talent, Everton Football Club roped in nine-year-old Wayne in their youth team. He was a sensation since the beginning, in 2002, Wayne was named the BBC Young Sports Personality of the Year. Two years later, Wayne got on board with the coveted Manchester United for an astonishing £25.6 million transfer fee. From 2004 to 2017, Wayne stayed committed to Manchester United and built a ladder of records that took the club to unimaginable heights. He won the Premier League, FA Cup, FIFA Club World Cup, League Cup, UEFA Champions League, and Europa League for his club. His stature became unparalleled, as he scored 183 Premier League goals for the United – most by a player for a single club. Wayne is also the all-time leading goal scorer for the club, with 253 goals.
Debuting for his national team, aged 17, Wayne became England's youngest goal scorer. He featured in three consecutive World Cups, from 2006 to 2014. With 53 goals in 120 appearances, having won England Player of the Year four times, Wayne has often been considered the country's greatest footballer ever. For the season 2009-10, Wayne won the PFA Players' Player Award of the Year and FWA Footballer of the Year. At present, he ranks seventh among the top 10 richest footballers in the world. Wayne's high net worth is credited through sponsorship deals offered by Samsung, HarperCollins, and Nike.
6. Zlatan Ibrahimovic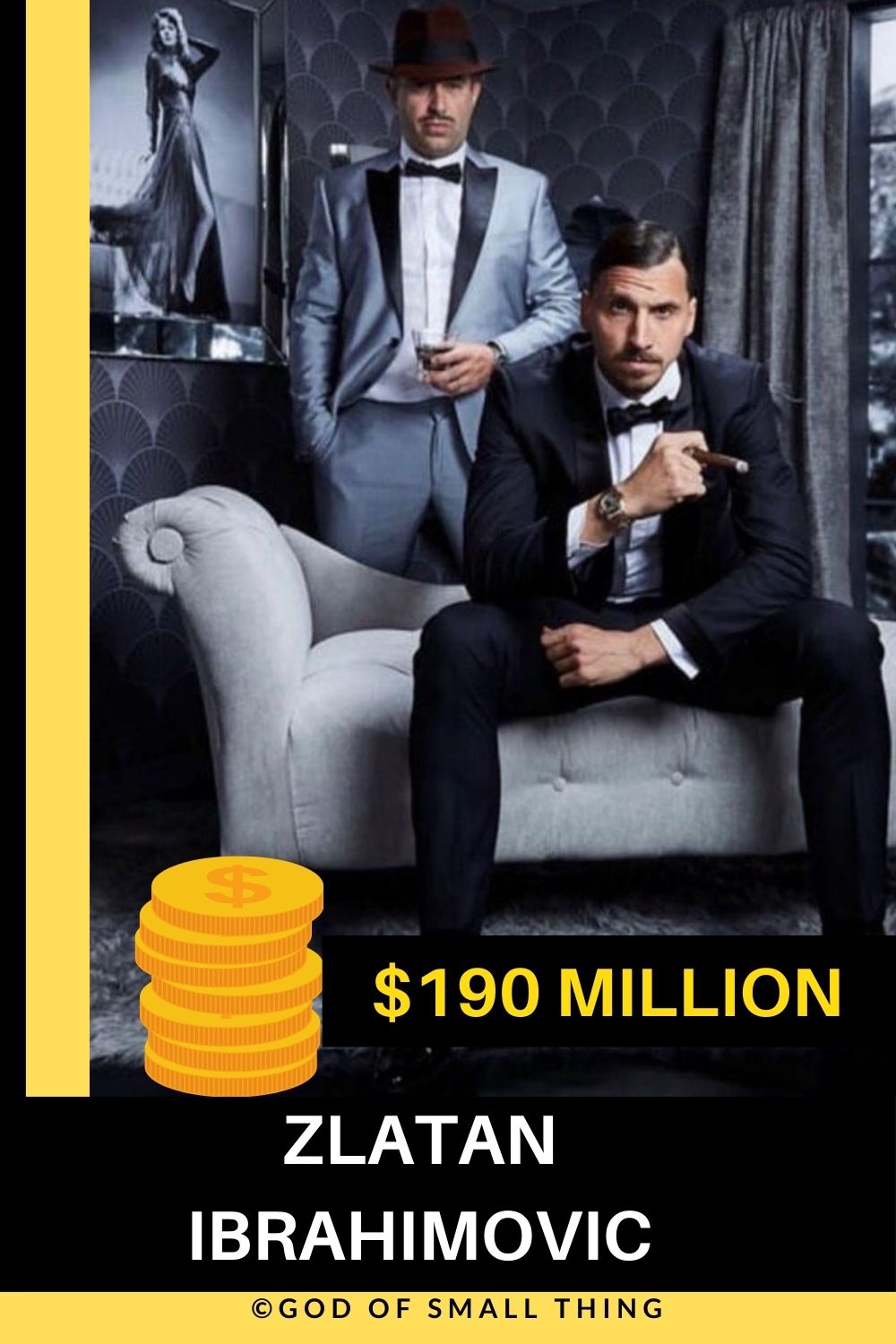 | | | | | | |
| --- | --- | --- | --- | --- | --- |
| Age | Country/Club | Base Salary | Endorsements | Total Earnings (2020) | Net Worth |
| 39 | Sweden/A.C. Milan | $35 million | – | – | $190 million |
6th richest footballer in the world (Celebrity Net Worth)
The prodigy who has taken the world by storm. Embracing his youth career at AS Bondy, Mbappé moved to Monaco FC. He then kick-started his senior career in the year 2015. Playing Ligue 1 at the age of sixteen, Mbappé showcased his dribbling strength. He won the Ligue 1 Player of the Year, for his extraordinary show of skills, and was eventually named the Golden Boy. Feeling the heat emanating from Mbappé's impassioned fire on the field, Paris Saint-Germaine named him in their playing XI on loan. Later, they offered him a permanent contract in 2018. He was brought in at a staggering transfer fee, amounting to € 180 million. This deal made him the second most expensive player and the most expensive teenager ever. 
That same year, in FIFA, Mbappé appeared at the forward position for his national jersey, France. He was successful in making records even in the world's largest sports event. Becoming the youngest French player to score a goal in FIFA and the second teenager to net a goal in FIFA finals, Mbappé calligraphed his name in football history. The fourth richest footballer in the world and also the youngest to appear on the list of top 10 richest footballers in the world. Currently, he has endorsement deals with EA Sports and Nike. 
5. Neymar Jr.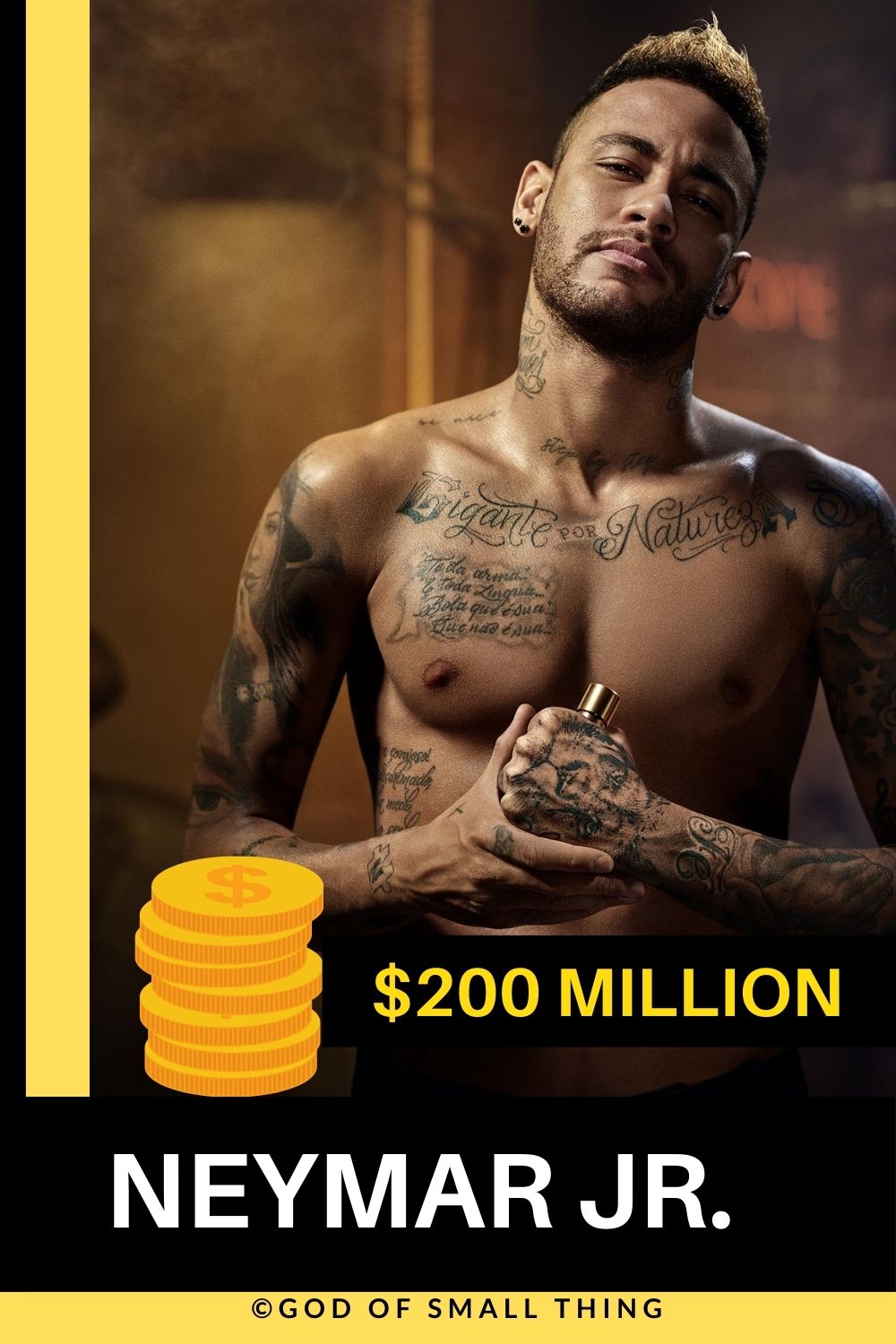 | | | | | | |
| --- | --- | --- | --- | --- | --- |
| Age | Country/Club | Base Salary | Endorsements | Total Earnings (2020) | Net Worth |
| 28 | Brazil/Paris Saint-Germain | $78 million | $18 million | $96 million | $200 million |
Source: Wikipedia & Forbes
From the home of football legend Pelé, rose another soccer sensation known to the world as Neymar Jr. Making his professional debut at the age of seventeen, he empowered his domestic team Santos to win Campeonato Paulista championships twice, a Copa do Brasil and the 2011 Copa Libertadores. After being named the South American Footballer of the Year twice, Neymar shot up to fame. He voyaged east to Europe to make the most of it. Barcelona FC welcomed Neymar, who eventually became the third musketeer with dynamic attackers Lionel Messi and Luis Suárez. The trio went on to lift trophies in La Liga, Copa del Rey, and UEFA Champions League. 
Every pair of eyes witnessed the reincarnation of Pelé's soul in Neymar. He currently has 64 goals in 103 matches for Brazil. In 2016, Neymar captained Brazil and earned the first Olympic Gold for his nation.  His endless accomplishments at Barca led him to become the most expensive player ever in football history – € 222 million when Paris Saint-Germaine offered him to play for the side in 2017. Sponsorships from Gillette, McDonald's, Puma, and Red Bull, makes him the third among the top 10 richest footballers in the world. 
4. Dave Welhan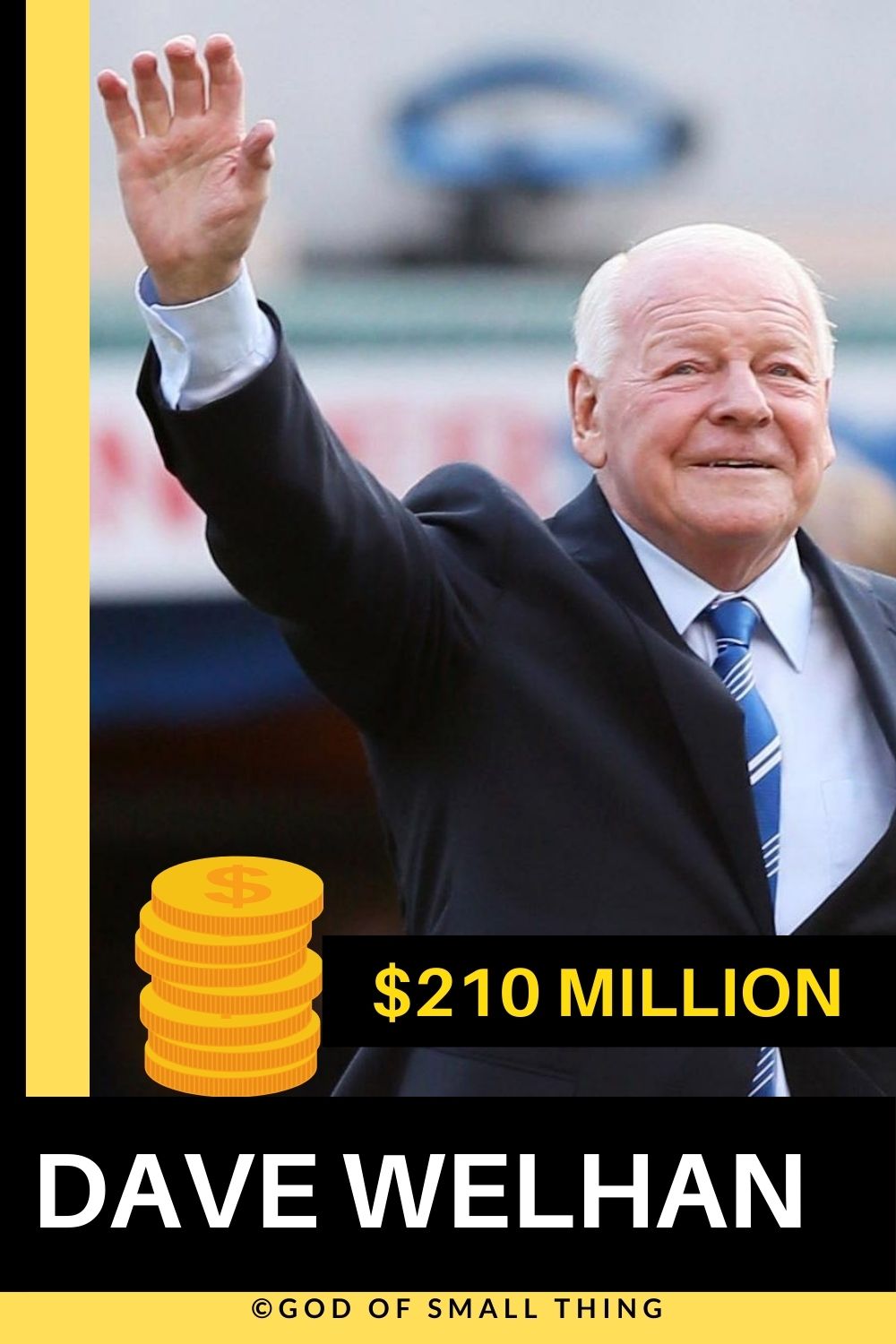 | | | | | | |
| --- | --- | --- | --- | --- | --- |
| Age | Country/Club | Base Salary | Endorsements | Total Earnings (2020) | Net Worth |
| 84 | United Kingdom | – | – | – | $210 million |
Source: Wikipedia & Forbes
Mostly unheard of, but is currently the fourth richest footballer in the world, Dave Welhan's story is that of a soccer player turned businessman. He was born in Bradford, West Yorkshire, England in 1936 and came from Irish ancestry. The former English footballer played from 1956 to 1960 for a Lancashire club named Blackburn Rovers' FC. An unfortunate event occurred in the 1960 FA Cup. In the finals, Blackburn Rovers lost to Wolverhampton Wanderers 3-0, while Welhan broke his leg and was withdrawn before half-time. The incident made it to the papers and since then has been referred to as the Wembley hoodoo. In 1962, Dave was sold to Crewe Alexandra and made over 100 appearances until 1966. Since he played from a full-back position, his career goals tally account for 3 goals in total. 
What followed his retirement was indeed magical and unprecedented. With the funds accumulated over his professional career, he opened up a series of supermarkets called Welhan's discount stores. Later, he sold his enterprises for millions of pounds. In 1977, Dave acquired JJB, a sporting and fishing line of stores, and turned it into the UK's second-largest retailer. Under him the stores grew in number, reaching 120 by 1994 which led to its listing in the London Stock Exchange. In 1995, Dave bought Wigan Athletic Football Club, to further his interests in the game. By 2005, his support helped the team to play in the Premier League. In 2013, Wigan Athletic FC beat Manchester City in the FA Cup finals to lift their first major trophy in Premier League history. Not only Dave is one of the top richest footballers in the world, but also the oldest on the list. 
3. Lionel Messi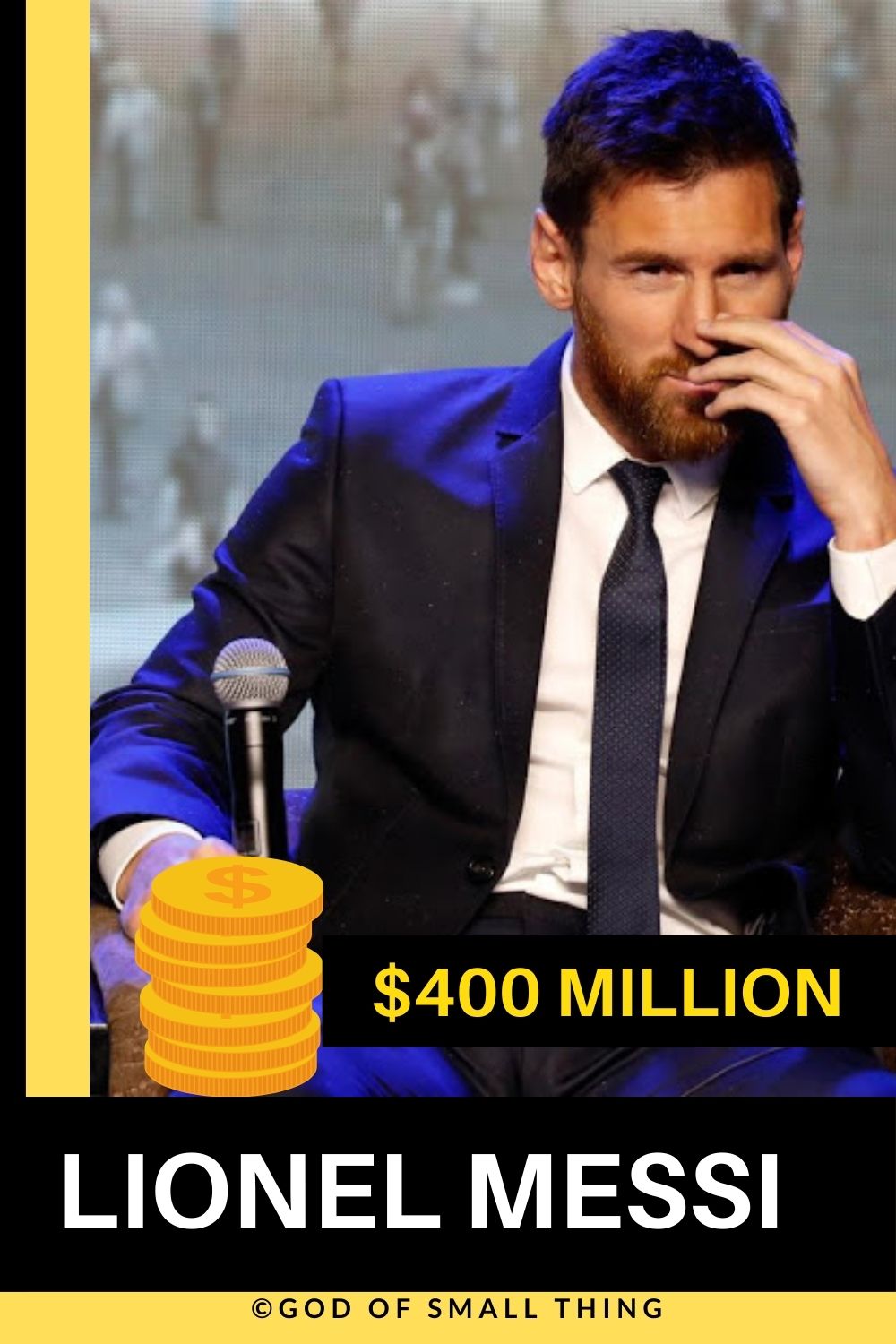 | | | | | | |
| --- | --- | --- | --- | --- | --- |
| Age | Country/Club | Base Salary | Endorsements | Total Earnings (2020) | Net Worth |
| 33 | Argentina/Barcelona | $92 million | $34 million | $126 million | $400 million |
La Pulga Atomica, better known as Lionel Messi is currently the third richest footballer in the world, as of 2020. Reading his biography or watching his play throughout the clips of time instills a driving force within every soul, whether a soccer lover or not. Born to a steel factory worker and a part-time cleaner, Messi was a prodigy who had a fair share of struggle from his budding days. When Newell's had backed out on their promise, it was Sporting Director of FC Barcelona, Carles Rexach, who came to young Messi's aid. Getting proper treatment for his persisting growth hormone deficiency, Messi was fortunate to sign a playing contract on a napkin. 
Shifting to Barcelona in 2001 meant a great distance from his endearing family. Nonetheless, Messi fought his personal setbacks to emerge as the greatest footballer the club had ever seen. He has always been a part of the Spanish club and his sheer magnificence as a striker is visible in statistics – 451 goals in 499 appearances. From La Liga to Champions League, Messi posted goals at every arena. In Argentina, he's seen as the professional successor of soccer legend Maradona and today, stands as the all-time leading goalscorer. From featuring in Time's 100 most influential people, being named the richest in Forbes' list to winning a record six Ballon d'Or, Messi has become one the megastars in the world, synonymous with football. Ranking third among the top 10 richest footballers in the world, Messi has much to thank the sponsors like Adidas, Pepsi, and more. 
2. David Beckham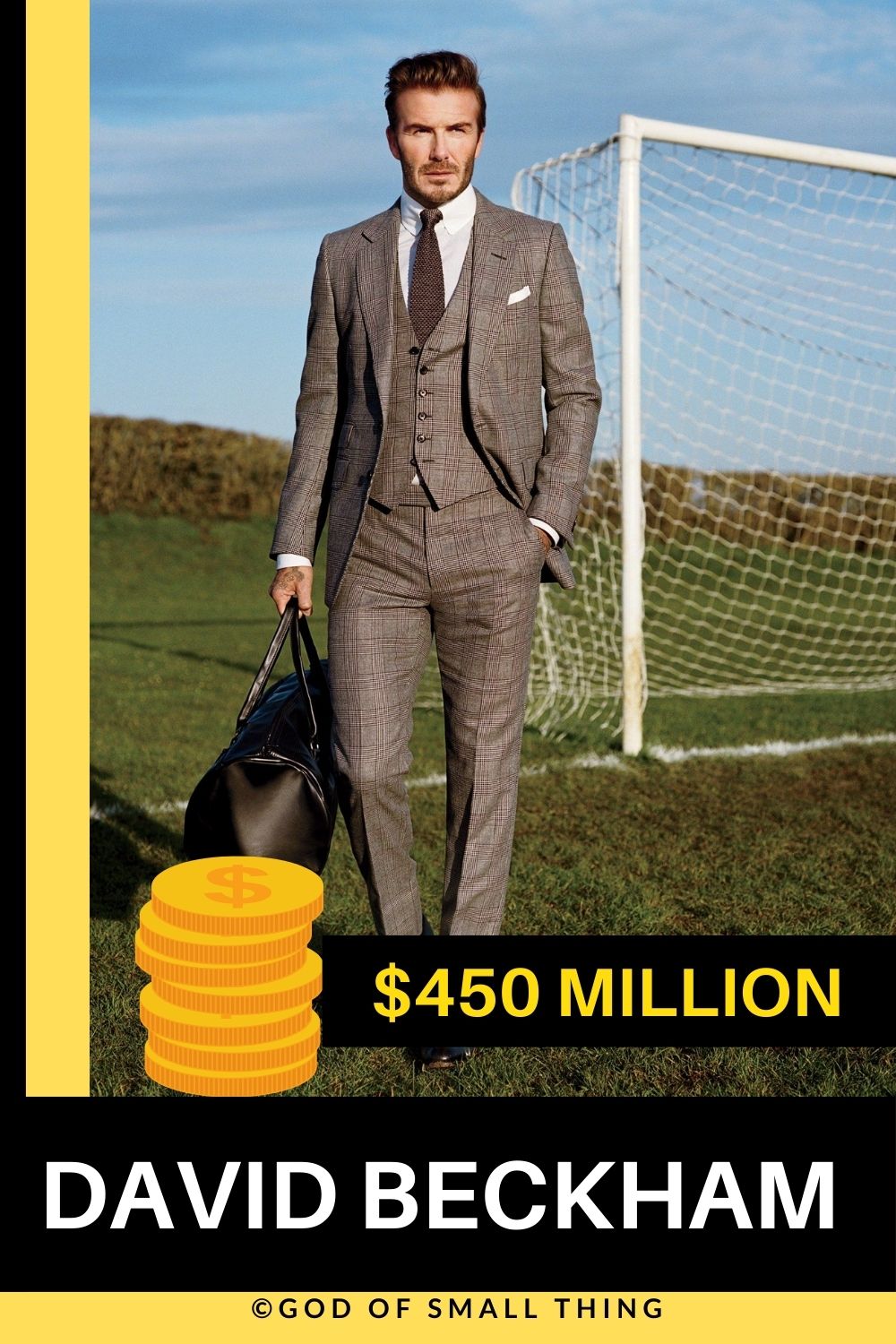 | | | | | | |
| --- | --- | --- | --- | --- | --- |
| Age | Country/Club | Base Salary | Endorsements | Total Earnings (2020) | Net Worth |
| 45 | United Kingdom | – | – | – | $450 million |
2nd richest footballer in the world (Celebrity Net Worth): David Beckham
David was born to die-hard Manchester United fans, Sandra Georgina and David Edward "Ted" Beckham in Leytonstone, London, England. He inherited the fanatical fascination for football and decided early on in life to become a professional soccer player. He attended a few soccer schools and took part in training sessions while playing for a local football team Ridgeway Rovers. As a matter of luck, young David got to be a mascot for Manchester United in a match against West Ham United in 1986. After attending Tottenham Hotspur's school of excellence, he joined their youth club. David shone as bright as a promising pole star for Brimsdown Rovers' when he was named in Under-15 Player of the Year 1990.
David kicked off his senior career with the long-cherished Manchester United. Playing nine seasons for his childhood beloved club, David won Premier League titles six times, FA Cup twice, and UEFA Champions League once in 1999. Best known for bending free-kicks, David soon became a British icon for the sport. In 2003, the Order of the British Empire was bestowed upon and several more accolades followed. In his 20-year career, David received 58 caps and led the England national team for six years, appearing in three consecutive editions of the FIFA World Cup. He was named in the list of FIFA 100 world's greatest living players and later added to the English Football Hall of Fame. In 2014, David placed a stake in Inter Miami CF and has been the second richest footballer in the present time. His endorsements include Adidas, H&M, Samsung, and more. 
1. Christiano Ronaldo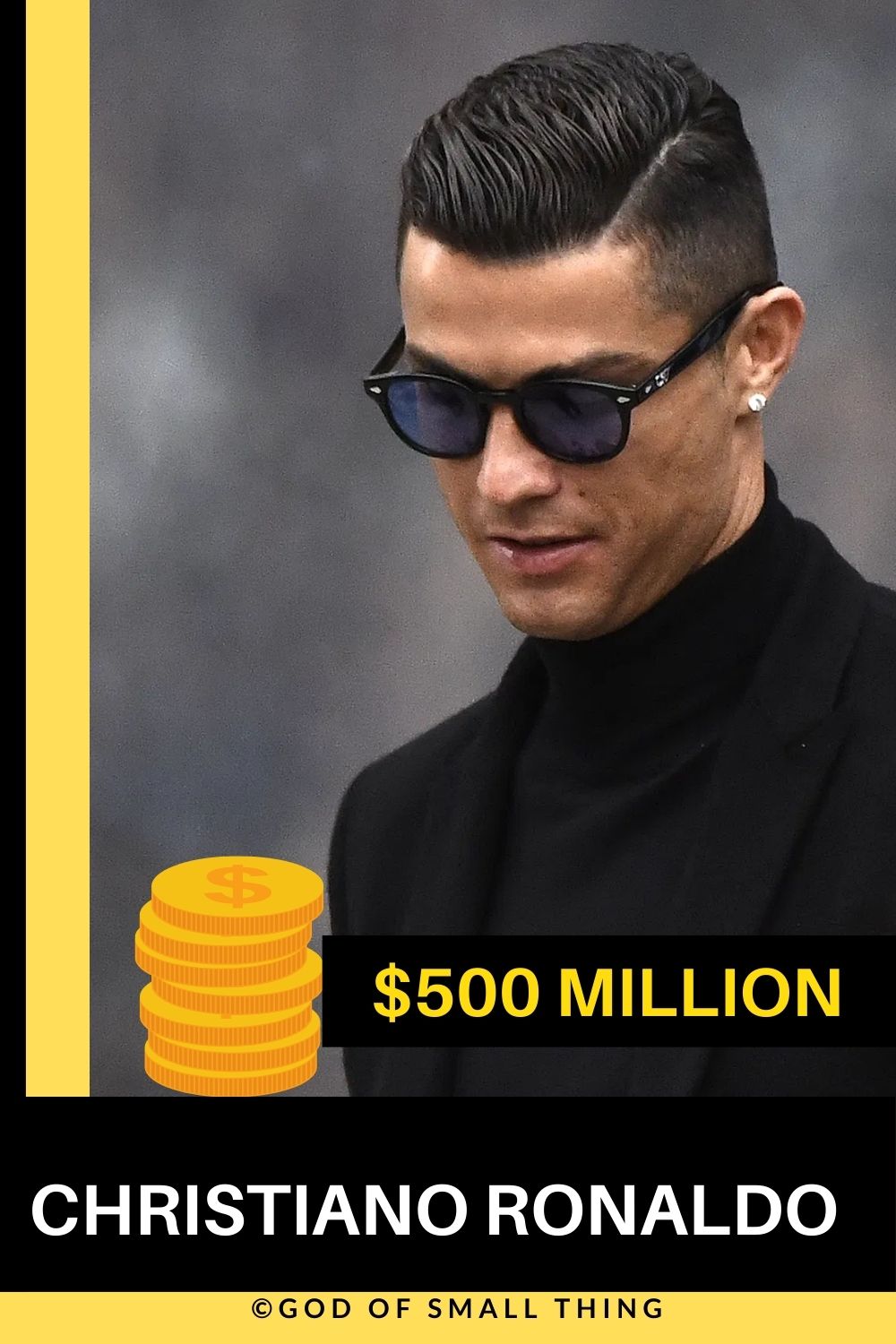 | | | | | | |
| --- | --- | --- | --- | --- | --- |
| Age | Country/Club | Base Salary | Endorsements | Total Earnings (2020) | Net Worth |
| 35 | Portugal/Juventus | $70 million | $47 million | $117 million | $500 million |
Richest footballer in the world (Wikipedia & Forbes): Christiano Ronaldo
A boy with a racing heart, born to a cook and gardener in the late winters of 1985. In honor of 40th US President Ronald Reagan, the boy's father named him 'Ronaldo'. At the age of 12, he showed exceptional talent in the Sporting Lisbon soccer trials. At 14, Ronaldo left school to devote his life to football. A decision that changed the course of soccer history. Ronaldo's expertise pushed Sporting Lisbon to beat world-renowned Manchester United. Consequently, the Red Bulls club manager Alex Ferguson vowed to get the budding talent on their side. From 2003 to 2009, Ronaldo spearheaded the three successive wins in Premier League, UEFA Champions League, and FIFA Club World Cup. As a result, he received his first Ballon d'Or at the age of 23. 
When Ronaldo shifted to Real Madrid for the then world-record transfer fee of €94 million, he brought a storm along. As shocking as it might sound, he won fifteen trophies for his club in a span of nine years. Currently, Ronaldo stands as the all-time top goal scorer for Real Madrid and his national team, Portugal. Often regarded as the greatest player of this era, Ronaldo always ranks at the high spots among the top 10 richest footballers in the world. He was the world's highest-paid athlete in 2016 and 2017. In June 2020, Ronaldo became the first footballer to earn $1 billion in his career. Most of his income accumulates from brand sponsorships like Nike, KFC, Castrol, Toyota, Samsung, American Tourister, Emirates Airline, and more. At present, he's the richest footballer in the world with a net worth of $500 million.
Please note that this article has ranked the players according to the Forbes' list of the highest-paid soccer players in 2020.
Frequently Asked Questions