Most sixes in ODI cricket with Career Statistics and Video highlights
Staggering sixes are the prime reason behind cricket becoming a much more dynamic sport than ever. Questions like who hit the most sixes in ODI cricket or which cricketer has the most sixes always bugs our minds. But no more, today you'll get to know all about ODI most sixes. Come, let's learn about the most sixes by a batsman in ODI.
The following list has been created, keeping in mind that all the statistics are verified from authentic sources, so as to provide our viewers with complete and accurate information. If you wish to view the most sixes by a specific batsman in his career, then click on their names and directly discover their dedicated section on this article.
Here is a list of Best 23 Batsman with Most Sixes in ODI Cricket:
| | | | |
| --- | --- | --- | --- |
| Sr. No | Batsman | Country | ODI Sixes |
| 1. | Shahid Afridi | Pakistan | 351 |
| 2. | Chris Gayle | West Indies | 331 |
| 3. | Rohit Sharma | India | 275 |
| 4. | Sanath Jayasuriya | Sri-Lanka | 270 |
| 5. | MS Dhoni | India | 229 |
| 6. | Eoin Morgan | England | 220 |
| 7. | AB de Villiers | South Africa | 204 |
| 8. | Brendon McCullum | New Zealand | 200 |
| 9. | Sachin Tendulkar | India | 195 |
| 10. | Sourav Ganguly | India | 190 |
| 11. | Martin Guptill | New Zealand | 187 |
| 12. | Ricky Ponting | Australia | 162 |
| 13. | Jos Buttler | England | 158 |
| 14. | Yuvraj Singh | India | 155 |
| 15. | Chris Cairns | New Zealand | 153 |
| 16. | Adam Gilchrist | Australia | 149 |
| 17. | Ross Taylor | New Zealand | 147 |
| 18. | Inzamam-ul-Haq | Pakistan | 144 |
| 19. | Virat Kohli | India | 138 |
| 20. | Jacques Kallis | South Africa | 137 |
| 21. | Virendra Sehwag | India | 136 |
| 22. | Kieron Pollard | West Indies | 135 |
| 23. | Paul Stirling | Ireland | 133 |
| 24. | Brian Lara | West Indies | 133 |
| 25. | Shane Watson | Australia | 131 |
SOURCE: ESPNCricinfo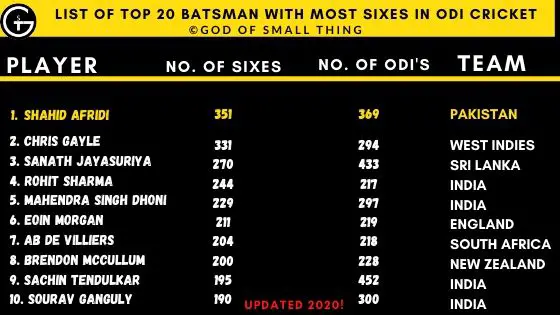 25. Shane Watson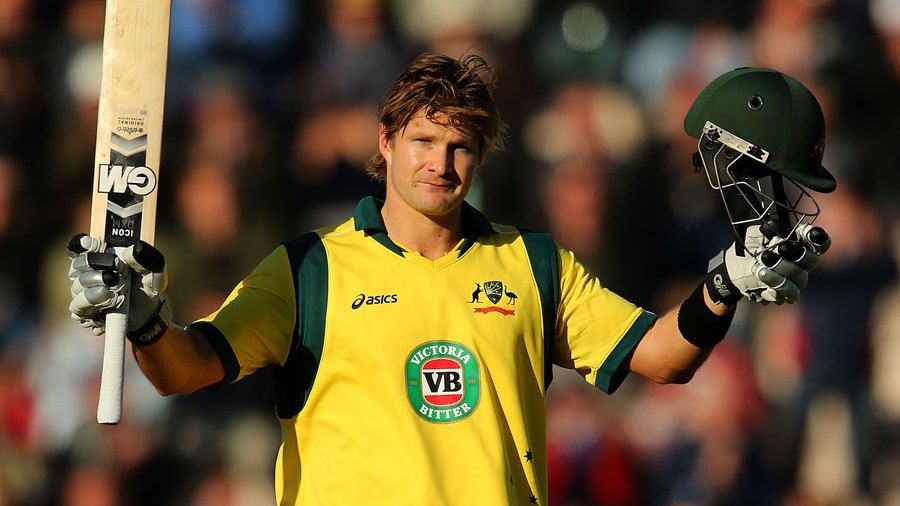 Shane Watson, who is arguably the best limited-overs all-rounder of the modern era, was the perfect player for white-ball cricket. In addition to being a competent medium pacer himself, he had the power game and could manage pace and spin with equal ease. Like other all-rounders, he started off in the middle of the order before being elevated to the opening position. In particular, Watson's knocks in the 2009 Champions Trophy semifinal and championship game, where he nearly single-handedly led Australia to victory, were made while batting at the top of the innings.
During the ODI series in South Africa in 2002, Watson made his debut on the world stage. Ricky Ponting had just been named captain, and Australia had also made the decision to sort of rebuild its roster. Watson was an easy choice given that he was more than simply a utility all-rounder given their infatuation with bits-and-pieces all-rounders. However, as it would become throughout his career, fitness was a significant issue for him. It's instructive that he had to fight his body more often than he had to contend with poor form. Despite all of this, Watson had a respectable international career, particularly in cricket's limited-overs format where he really excelled.
Shane Watson Sixes ODI Stats – 2002-2015
| | |
| --- | --- |
| Team | Australia |
| ODI Most Sixes | 131 |
| Total number of innings | 169 |
SOURCE: ESPNCricinfo
Watch Shane Watson's Best Shots and Sixes
24. Brian Lara
Brian Charles Lara, like a master actor, effortlessly transitioned between numerous characters, including hero, magician, entertainer, matchmaker, rescuer, leader, and tragic romantic. First and foremost, Lara will go down in history as one of the best batsmen of the contemporary age, ranking right up there with Jacques Kallis, Ricky Ponting, and Sachin Tendulkar. However, Lara's skill and style would surpass that of any batsman, even the aforementioned troika. He was also a cut above the rest due to his insatiable thirst for huge, overwhelming victories. Lara was equally effective against spin and pace thanks to her strong backlift, which produced the distinctive Caribbean flourish.
Since Bradman, no one has ever constructed enormous scores as frequently, quickly, or elegantly as Brian Lara did in his prime. Even his posture, with the bat raised high in the air and his weight balanced on a bent front knee, was exciting. The ball would then flash to the boundary as the guillotine fell. Lara, the tenth of eleven children, participated in youth football and table tennis for Trinidad, but cricket was his true passion. He led Trinidad and Tobago as their youngest captain in 1990 at the age of 20, the same year he also made his Test debut against Pakistan, scoring 44 and 6.
Brian Lara Sixes ODI Stats – 1990-2007
| | |
| --- | --- |
| Team | West Indies |
| ODI Most Sixes | 133 |
| Total number of innings | 289 |
SOURCE: ESPNCricinfo
Watch Brian Lara's Best Shots and Sixes
23. Paul Stirling
Paul Stirling, a right-handed opening batsman, is renowned for giving Ireland aggressive starts in both the 50-over and Twenty20 versions of the game. Ireland now has the ability to play in Test matches, giving Stirling the chance to adjust his game strategy to successfully address the demands of red-ball cricket. Given his vast experience in the English domestic system and his longtime membership in Middlesex, it shouldn't be too difficult for him.Stirling, who has played international cricket for ten years, has developed from a fat 18-year-old debutant to the centre of Ireland's batting order. Stirling amassed runs against comparable opposition while a member of the Associate countries, but he also demonstrated that he could compete with the big players.
In Ireland and elsewhere, Paul Stirling has long been acknowledged as a tremendous cricketing talent. He had already scored two ODI hundreds against Pakistan before turning 23. Stirling has drawn parallels to Jesse Ryder because to his inherent swagger and aggressiveness along with his large frame. He produces a lot of power with what seems like little effort, and he excels at hitting the ball straight or over midwicket. However, the 2011 World Cup was disappointing for him because he only scored one noteworthy score, a 101 against the Netherlands in Kolkata. Despite the setback, he bounced back and scored his first century in May 2011 against Pakistan, a touring Test team.
Paul Stirling Sixes ODI Stats – 2008 to Present
| | |
| --- | --- |
| Team | Ireland |
| ODI Most Sixes | 133 |
| Total number of innings | 147 |
SOURCE: ESPNCricinfo
Watch Paul Stirling's Best Shots and Sixes
22. Kieron Pollard
Kieron Pollard was the joint-biggest purchase at the IPL player auction in January 2010 with a batting average of 11.30 from 15 ODIs and 17.20 from 10 T20Is. Mumbai Indians paid $750,000 (plus an additional sum to break a tie with three other teams) for Pollard's domestic T20 record, not his international record. Instead, they did so because of Pollard's fearsome hitting ability, which was most notable when he scored 54 runs off 18 balls for T&T against New South Wales in the 2009 Champions League T20.
A rather popular figure in franchise T20 cricket, Kieron Pollard didn't miss a chance to leave his mark at the ODI level. Although at the start of 2010s decade, Pollard seemed like just another West Indian lofting balls, his style of game changed post his magnificent performances in the IPL and T20I World Cups. Down in the middle-order for West Indies, Pollard gave his all to steal crucial matches off his opponents. As an all-rounder, he performed exceptionally well with his jolly team-mate Dwayne Bravo. One match that pops up in mind when talked of Kieron Pollard in ODIs took place in 2016, against South Africa. Pollard single-handedly picked up the match from 21 for 4 to a match-winning 285, the innings included a 156-run partnership shared by Pollard and Darren Bravo.
| | |
| --- | --- |
| Team | West Indies |
| ODI Most Sixes | 135 |
| Total number of innings | 113 |
SOURCE: ESPNCricinfo
Watch Kieron Pollard's Best Shots and Sixes
21. Virendra Sehwag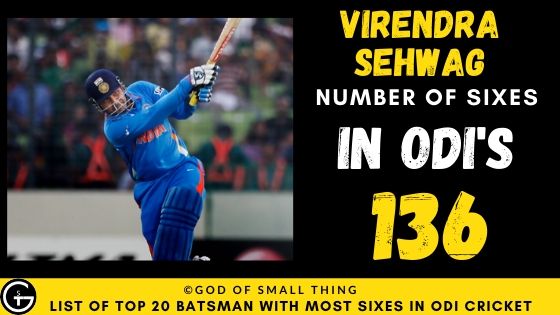 Emerging from the wilds of Najafgarh, Sehwag entered the national team when India toured the much dreaded South Africa. Accustomed to slow play and intricately constructed innings, Indian audiences couldn't fathom what they saw. Sehwag's aggressive style of play made him a nightmare for the bowlers and a new crush for Indian fans. Introducing upper-cut to the game, the Indian opener punched most sixes in ODI cricket compared to tests. For long he held the fastest century by an Indian until Virat beat him. Sehwag's remarkable 219 against West Indies in 2011 is a memorable milestone in Indian cricket.
Playing it safe is ingrained in decision-making in a culture that has a propensity for regretting things too soon. India frequently chooses conventional investing strategies over unconventional ones that might disrupt the game since they provide rewards and satisfaction in the near term. This practical, albeit somewhat shortsighted strategy has helped India create many talented cricketers. However, India is a country that enjoys a good tale as well, so occasionally it may recycle a few outliers.
| | |
| --- | --- |
| Team | India |
| ODI Most Sixes | 136 |
| Total number of innings | 245 |
SOURCE: ESPNCricinfo
Watch Virendra Sehwag's Biggest Sixes
20. Jacques Kallis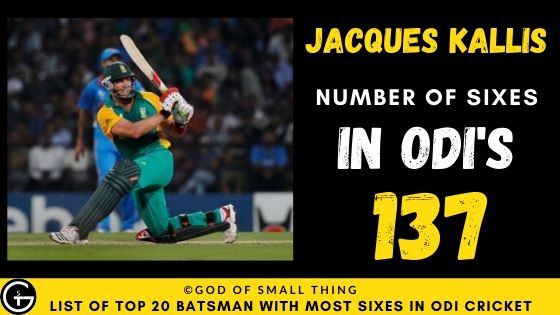 Considered the greatest all-rounder of modern-day cricket, Kallis was first recognized when he played his 7th test. There he faced the Aussies and scored a match-winning century, destroying the likes of McGrath and Warne. For 15 long years, Kallis solidified the South African middle order, clobbering most sixes in ODI cricket. Strong footwork and class technique made him adept in playing seamers and spinners equally well. His most sixes in career helped the proteas win crucial matches until July 2014 when he eventually retired.
Jacques Kallis' statistics in all phases of the game are astounding, making him possibly the greatest all-arounder of all time and unquestionably the best in recent memory. A contemporary behemoth, Kallis is the only player to have amassed over 10,000 runs and over 250 wickets in both formats of the game. When you combine a few hundred catches from both types of the game, you have an asset that is both priceless and irreplaceable. In only his seventh test, Kallis struck a match-saving hundred against Australia at the MCG, where he stopped players like Warne and McGrath to demonstrate his talent. Kallis made his test debut in 1995 against England.
| | |
| --- | --- |
| Team | South Africa |
| ODI Most Sixes | 137 |
| Total number of innings | 314 |
SOURCE: ESPNCricinfo
From the Vault: Classy Kallis hits SCG century
19. Virat Kohli
After leading India to victory in the Under-19 World Cup in Kuala Lumpur in early 2008, a vivacious, overweight teenager with gelled hair rose to stardom. Virat Kohli, with his most un-Indian, 'bad-boy' passion, would undoubtedly be an outsider in an Indian squad full of saintly heroes deserving of their own hagiographies. In August 2008, he quickly joined the senior Men in Blue in Sri Lanka. Virat Kohli was given the opportunity to open the batting in the ODI series in the absence of the usual openers. As India went on to win the ODI series, he produced some great performances throughout his lengthy time as the opener. Kohli was kept off the team, though, by the venerable duo of Tendulkar and Sehwag.
Virat Kohli is undoubtedly the most ambitious cricketer that India has ever produced. In order to achieve his goals, Kohli used the technical assiduity of Sachin Tendulkar and physical conditioning that was on par with the best athletes in the world, not just cricket players. As a result, Kohli developed into the all-format accumulator who was the most reliable of all time, making breathtaking chases look simple and discovering, in his own words, the safest way to score runs. a lot of them. This drive carried over naturally into his leadership: he asked more than ever of his bowlers, especially the quick ones, frequently gave up a batsman for bowling depth, and guided India to a lengthy reign at the top of the Test rankings and its first-ever series victory over Australia.
Virat Kohli Sixes ODI Stats – 2008-2023
| | |
| --- | --- |
| Team | India |
| ODI Most Sixes | 138 |
| Total number of innings | 265 |
SOURCE: ESPNCricinfo
Watch Virat Kohli's Biggest Sixes
As we are talking about one most dangerous batsman of the IPL history. So here is the article on Top 20 IPL Best Batsman: The Most Dangerous Batsman in IPL with stats[2023].
18. Inzamam-ul-Haq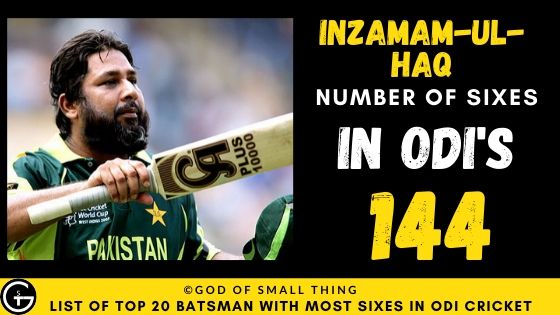 After the retirement of Javed Miandad, the sole responsibility of the Pakistani middle order was taken up by Inzamam. A strongman whose records shine brighter than the sun. The 1994 test series against Australia, supported Inzamam to become a mainstay in the team. Several successes followed, one prominent inning came in 2002 when he scored 329 against the Kiwi bowling attack. Throughout his career, Inzamam faced criticism for his running between the wickets. Nevertheless, the Pakistani ace blasted the most sixes in ODI cricket to keep them all quiet upfront.
One of the select few players chosen by the legendary Imran Khan in the early 1990s who went on to influence Pakistan cricket's future was Inzamam ul Haq. 1992's World Cup in Australia gave him his first opportunity to achieve prominence. Inzamam, a relatively unknown 22-year-old batsman, helped Pakistan defeat New Zealand in the semifinals by scoring an astounding 60 runs in just 37 balls. Following this defeat, he was guaranteed a berth on the national team and had further success. One of the early high points of his Test career came against Australia in 1994.
| | |
| --- | --- |
| Team | Pakistan |
| ODI Most Sixes | 144 |
| Total number of innings | 350 |
SOURCE: ESPNCricinfo
Watch Inzamam's biggest six of his career vs West Indies
17. Ross Taylor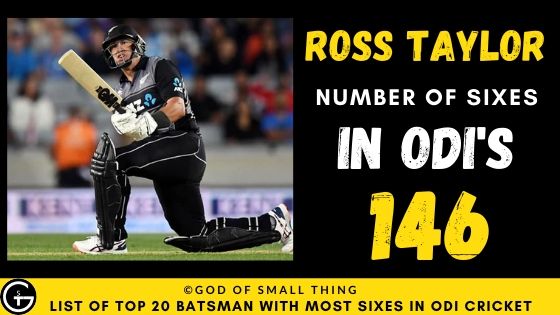 Star kiwi batsman Ross Taylor is probably one of the most underrated players in world cricket. Surfacing in the domestic circuit during 2002-03, Taylor batted consistently to move higher up. In 2006, Taylor rose up in ranks to face the Sri Lankans coming to their home ground. He clobbered a sensational maiden century to set the tone of his career. Taylor soon became the crisis man helping kiwis against tough opponents, hitting most sixes in ODI cricket. Still today, Taylor plays a key role in strengthening the middle order for his national team while making records of his own.
In terms of international cricket, Ross Taylor has to be one of the underappreciated heroes of this decade. The player averages 48 runs per test and 45 runs every ODI, for a total of nearly 6000 runs. Impressive figures, no? Yet Taylor's name would hardly ever be included in a discussion of the best batsman in world cricket. Though it's ironic given how he burst onto the international cricket scene with a free-wheeling style of strokeplay that enthralled the fans. After making his domestic debut in the 2002–2003 season, he gradually established himself as a dependable batsman for Central Districts across all formats.
Ross Taylor Sixes ODI Stats – 2006-2022
| | |
| --- | --- |
| Team | New Zealand |
| ODI Most Sixes | 147 |
| Total number of innings | 220 |
SOURCE: ESPNCricinfo
Watch Home Summer Highlights – Ross Taylor's century
16. Adam Gilchrist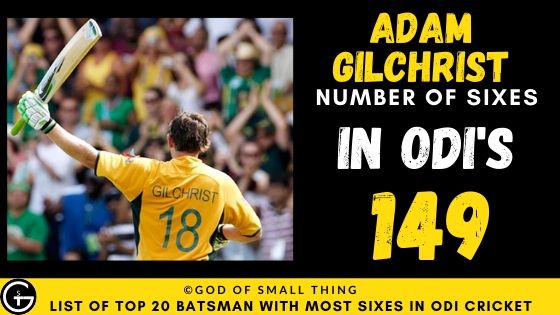 It is believed that the arrival of Adam Gilchrist redefined the role of a wicketkeeper in cricket. Constructive batsmanship in Test and formidable opening partnerships with Hayden in limited proved Adam to be one of his kind. He became the genesis father of modern-day wicket keepers. Aussies pulled up Gilly from the middle order to the top cause he could generate unimaginable momentum in the early overs. The team highly benefited from his fluent big shots when fielders found themselves stuck within the radius. In the year 1999, with most sixes in career, he amassed a phenomenal score of 1200 runs. Moreover, he missed for his cheeky smiles and diving catches behind the wickets.
The majority of a wicket-keeper batsman's responsibilities were in keeping; whatever runs the gloveman scored were considered extras. All of that changed when Adam Gilchrist came along and completely transformed the job. He was not only a brilliant keeper against both pace and spin, but also a dasher of a batsman who could crush the finest bowlers. Because of his efficiency, Australia regarded him as a true all-rounder. In ODIs, 'Gilly' began the innings to fully exploit the fielding limits, unlike in Tests where he used to cause havoc in the lower middle order at number seven.
| | |
| --- | --- |
| Team | Australia |
| ODI Most Sixes | 149 |
| Total number of innings | 279 |
SOURCE: ESPNCricinfo
Watch Top 10 sixes of Adam Gilchrist
As we are taking about the big ODI sixes hitter of all time. Here is the list of Most sixes in T-20 cricket by a batsman with Career Statistics and video highlights.
15. Chris Cairns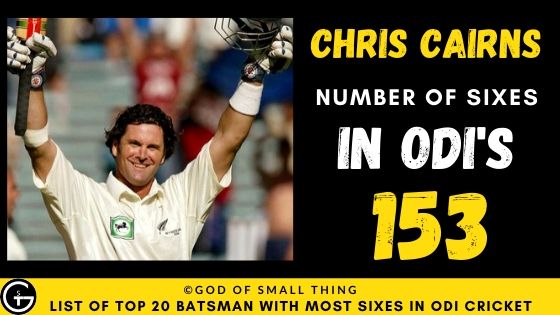 Another all-rounder with most sixes in career is Christopher Lance Cairns. Regarded as a legend in New Zealand, Chris still ranks among the top all-rounders of all time. Following his father's footsteps, Cairns grew even bigger in fame. Fighting match injuries, Cairns managed to take 201 wickets and amass a score close to 5000 runs. Many find him to be the pioneer of slow deliveries in pace bowling. Cairns also led the kiwis to victory in the ICC Champions Trophy of 2000, New Zealand's first major trophy.
In New Zealand, Christopher Lance Cairns, one of cricket's greatest all-rounders, is revered as a legend. You may make comparisons between his numbers and some of the greatest in the industry. Cairns will easily make the top 10 all-rounders list with his near to 5000 ODI runs and 201 wickets and over 3000 Test runs and 218 wickets. Chris was destined to play cricket since he was born in Picton, Marlborough. His father, the legendary New Zealand cricketer Lance Cairns, saw talent in his son at a very young age.
Chris Cairns Sixes ODI Stats – 1991-2006
| | |
| --- | --- |
| Team | New Zealand |
| ODI Most Sixes | 153 |
| Total number of innings | 193 |
SOURCE: ESPNCricinfo
Watch Top 5 Sixes from Chris Cairns
14. Yuvraj Singh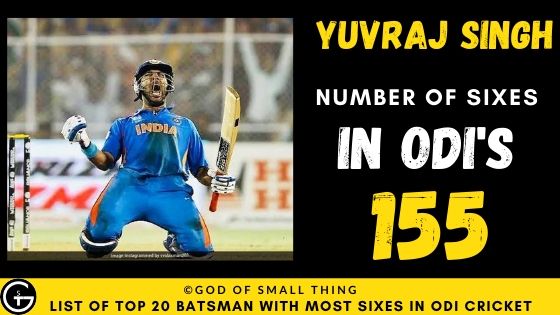 Yuvi came in as an electrifying rookie against the Aussie giants of the 90s. His confidence and slap cuts boasted that the Punjabi spirit in him feared no bowling attack. After the NatWest final partnership with Kaif, Yuvi fixed his spot in the Indian middle order. Soon India started to fare well in limited-overs matches. Yuvi's leg-spin and fantastic fielding skills came handy. Yuvi's most sixes in career came when India was put to bat in the second innings. Joining Dhoni in the run chases, Yuvi became a ball banger helping him to play match-winning knocks. To date, he is remembered for his epic 6 sixes in the inaugural T20 World Cup, which India won.
Few things in cricket are more beautiful to watch than a free-flowing Yuvraj Singh at his best. He unquestionably ranks among the best match-winners in the history of white-ball cricket. All three of those magnificent cover drives, slap cuts through backward point, and the fluid wrist-drop kick over mid-wicket exuded class. Against Australia in the 2000 Champions Trophy, he made his international debut in the 50-over format, showcasing his entire repertoire. At that time, it wasn't often for a batsman, especially a novice, to put the renowned Australian attack to sword.
Yuvraj Singh Sixes ODI Stats – 2000-2017
| | |
| --- | --- |
| Team | India |
| ODI Most Sixes | 155 |
| Total number of innings | 278 |
SOURCE: ESPNCricinfo
Watch Yuvraj's blast 6 Sixes from a Stuart Broad over
13. Jos Buttler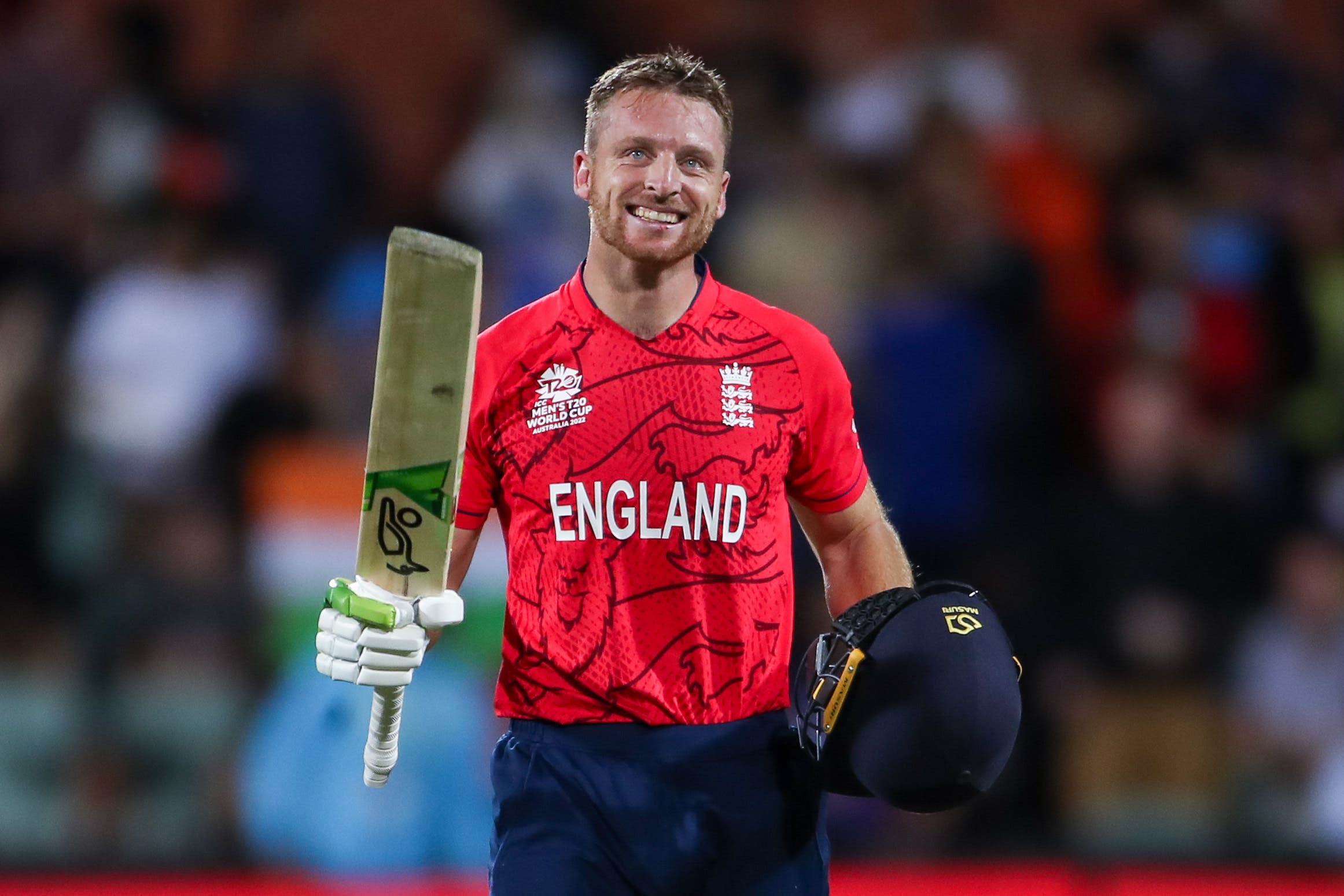 Jos Buttler, a powerful hitter and wicket-keeper, quickly gained a reputation for destroying bowling lineups. At the Under-13, Under-15, and Under-17 levels, he played for Somerset's young teams, which was his early introduction to competitive cricket. In both school and junior cricket, he was a prolific run-scorer, and his steady batting helped him rise through the ranks fast. He soon played for Somerset's second XI and was regarded as a promising short-format player.
He replaced the ailing Justin Langer in the 2009 campaign to make his First-Class debut. He was called up to the Somerset limited overs squad despite not being able to lock down his spot in the First-Class side because to his performance in the other formats.
Jos Buttler Sixes ODI Stats – 2012 – Present
| | |
| --- | --- |
| Team | England |
| ODI Most Sixes | 158 |
| Total number of innings | 138 |
SOURCE: ESPNCricinfo
Watch Jos Buttler's best Sixes and shots in ODI
12. Ricky Ponting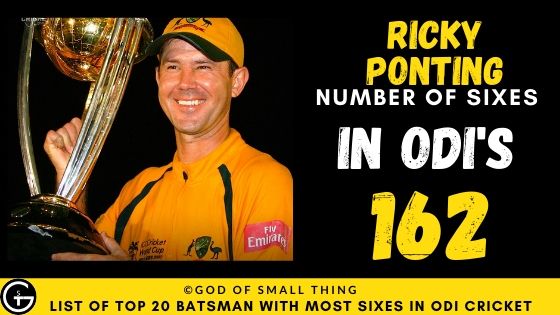 With a burning desire to be victorious, former Australian skipper Ricky won three World Cup titles and two champion trophies. Regarded one of the greatest cricket captains ever, Ricky has left a massive feat for others to follow up. Rising from the middle order to the third spot, Ricky mastered his signature pull shot off the front foot. His free-wheeling was a delight to watch, even for his rivals. Ponting's big scores came in 5 prime years of his career. He recorded 41 international centuries between 2002 and 2007. He hit most sixes in ODI cricket during this period.
Ricky Ponting has all the characteristics of an average Australian: he was tough as nails, combative, outspoken, and most importantly, psychologically strong to handle pressure circumstances. The best thing about Ponting was his insatiable desire to win games. His desperation occasionally resulted in infamous occurrences, but what shone throughout his career was the pure will to triumph. Three World Cup victories, including two in a row as captain, along with a few Champions Trophy triumphs and the top Test ranking demonstrate that he had experienced everything in the international sphere.
Ricky Ponting Sixes ODI Stats – 1995-2012
| | |
| --- | --- |
| Team | Australia |
| ODI Most Sixes | 162 |
| Total number of innings | 365 |
SOURCE: ESPNCricinfo
Watch Ricky Ponting's hit the best sixes of his career
11. Martin Guptill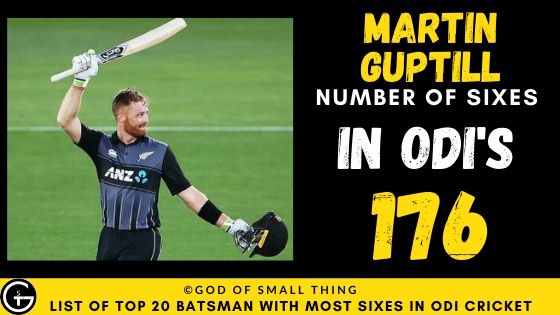 A mainstay in the white ball-cricket team of New Zealand, Martin Guptill opens with bullet shots. Rhythmic stroke play and fierce run getting skills define Martin's style. Moving up since the U-19 world cup, Martin has burst into the International cricketing arena. Clobbering a debut century and blasting a double ton at the 2015 quart finals, Martin holds onto the title of being the first kiwi to do so. A fearsome batsman against pacers, Martin in multiple knocks destroyed opponents single-handedly.
Martin Guptill, an enigmatic strokemaker by design, has long served as a pillar of New Zealand's batting in white-ball cricket. Guptill's early years were tragically cut short when, at the age of 14, he was involved in a forklift accident that caused him to lose three toes on one foot. He overcame that setback, though, and played for New Zealand in the Under-19 World Cup the country hosted. In his first game for the Auckland Aces in the 2007–08 season, Guptill scored a whopping 99 points. He topped the batting rankings and repeated the feat in Australia's Emerging Players Tournament later that year.
| | |
| --- | --- |
| Team | New Zealand |
| ODI Most Sixes | 187 |
| Total number of innings | 195 |
SOURCE: ESPNCricinfo
Watch one of the biggest sixes ever – Martin Guptill (127 m)
Fan Quiz: Fan of Indian Cricket? Do you know who is the fastest Indian Bowler right now in 2020? Here are Top 15 fastest bowlers in India in all formats with Carrer Stats and Best Performances
10. Sourav Ganguly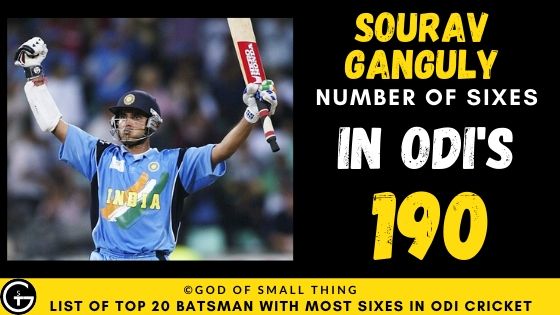 Taking charge of the team when cricket in India was being slammed for scandals, Sourav not only forged an emerging team but also introduced an aggressive style of play. With Sachin, Kumble, and Dravid at his side, Sourav built an unbeatable team at home. The god of off-side, Sourav blasted most sixes in a career at the turn of this century. After plastering the core of the national team, Sourav left cricket as the most successful captain in Indian cricket history. Today, he's the president of BCCI, India's chief cricket authority body.
In the annals of Indian cricket, Ganguly occupies a unique position. During a specific period of his playing career, he alternated between being the team's most feared and beloved player. His period as captain has to be among the most well-documented in recent memory. More so than his skill on the off-side, his fruitful ODI relationship with Sachin, his altercation with Greg Chappell, etc., he will be remembered for his leadership in developing a youthful team.
| | |
| --- | --- |
| Team | India |
| ODI Most Sixes | 190 |
| Total number of innings | 300 |
SOURCE: ESPNCricinfo
Watch Sourav Ganguly's 3 Sixes – 3 Lost Balls
9. Sachin Tendulkar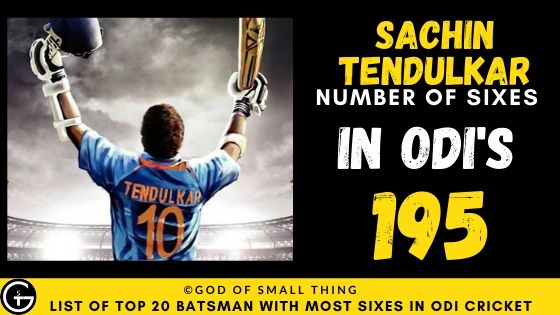 Not a cricketer, but an emotion who led the sport of cricket to its glory. He played for a generation and brought about a revolution with his willow. Class and constructive innings were the hallmarks of this cricket in legend. Sachin Tendulkar remains a living legend. He hit multiple sixes in ODI cricket career. After a long wait of 21 years, Sachin finally realized his dreams in 2011 when India won the World Cup. His list of records would probably disrupt the complete list being put together. Sachin's only parallel is believed to be Don Bradman, the first legend of world cricket. A hero who led a nation to cry, smile, and live. 
The chant has been heard. Even if you've never heard of the sport, you've probably heard the chant. The cry, which was previously practised by a billion people, would come from the Wankhede and reverberate throughout the entire city and the oceans. It is a name that continues to encourage many people to take up the sport, not just in India but all across the world. Despite the fact that Sachin Ramesh Tendulkar's presence and aura overshadowed any cricket match, he insisted that he wasn't better than the game. The enormous 5'5″ man was much more than that to the Indians. In a country that worshipped him as nothing less than God, he was an emotion and a symbol of hope.
| | |
| --- | --- |
| Team | India |
| ODI Most Sixes | 195 |
| Total number of innings | 452 |
SOURCE: ESPNCricinfo
Watch Sachin Tendulkar's Classical Sixes
Are you the biggest fan of Virat Kohli? Get to know everything about your favorite stat: Virat! Virat Kohli Biography | Age | Stats | Centuries | Family | Net Worth (Don't Worry! Link will open in New Tab so you can finish this off)
8. Brendon McCullum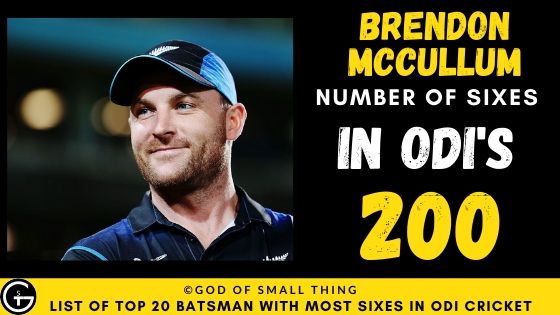 When talked of most sixes in career, this name is sure to come up. The kiwi striker is a world-renowned hard hitter delivering the best performances in power plays. Be it a spinner or swinger, Brandie bashed off every single one of them. Watching him bat is like watching match highlights. Balls seem to constantly go over the ropes as fielders look to the skies. McCullum is an example of how the shortest format of cricket is actually played. Others watched and learned as McCullum shot balls at the spectators. His batting figures have let the kiwis dominate cricket for quite some time. Obviously, he hit multiple sixes in ODI cricket.
Brendon McCullum, unquestionably the best gloveman among all Kiwis and one of their best hitters, describes himself as "brash." When we talk about wicketkeepers who are prone to pyrotechnics, Adam Gilchrist and MS Dhoni might be the first names that come to mind, but this Kiwi hunk would undoubtedly be a top candidate. This aggressive stumper from Dunedin, New Zealand, is the younger son of an Otago First-Class player. Unsurprisingly, he was initially chosen for his country more for his batting than for his wicket-keeping abilities. McCullum has established himself in the game's 50- and 20-over formats by putting up rapid runs as an opener. He favours the leg-side, particularly the cow corner.
| | |
| --- | --- |
| Team | New Zealand |
| ODI Most Sixes | 200 |
| Total number of innings | 228 |
SOURCE: ESPNCricinfo
Watch Brendom McCullum's Sixes | Best of All Times
7. AB de Villiers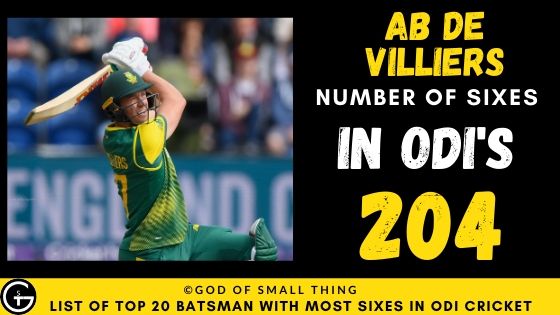 The world's finest batsman is also known as Mr 360. Changing a sport into a computer game, De Villiers has so far recorded the fastest fifty and century in ODI cricket. Thrashing every bowler of his generation, de Villiers first appeared in 2004 where he saved a home series against England. Three figure mark is a joke for this man, as his complete career is built on sixes. The karate-style back and cross on crease was introduced by AB and has been haunting pacers since. 16 years of his career and still counting, AB is tireless.
Some cricketers' ascent to the top required countless hours of dedication and effort, while others relied mostly on talent and natural talent. In a video game, Abraham Benjamin de Villiers is the character you design who has both traits set to their highest possible levels. De Villiers has progressed through the ranks to be among the best and most versatile batsmen in the world across all formats. When in form, de Villiers can use his extensive repertoire of strokes on either side of the wicket to completely dismantle any bowling attack. If his conventionality is neat and appealing, the South African avant-garde's ground-breaking invention frequently left bowlers agape.
| | |
| --- | --- |
| Team | South Africa |
| ODI Most Sixes | 204 |
| Total number of innings | 218 |
SOURCE: ESPNCricinfo
Watch AB de Villier's hit the biggest sixes of his career
6. Eoin Morgan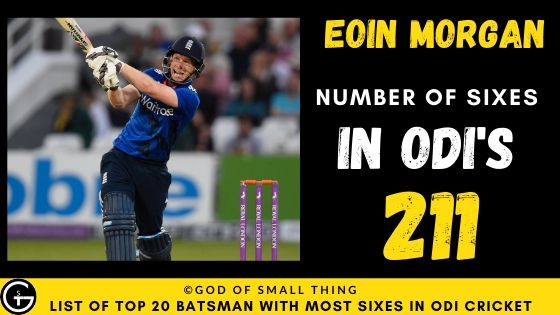 The English skipper initially made his cricketing debut for Ireland. Batting in the middle order, Morgan played crucial knocks to save the day for his team. His prime years as a batsman ended in 2015 when he took up a greater responsibility. After the World Cup defeat, Morgan decided to revamp English cricket. And he did it well. Getting rid of the archaic style of play, Morgan campaigned for glory. In four years, England grabbed some important series wins. The world witnessed the masters hitting back. As a result, in 2019 England won its maiden World Cup under Morgan's leadership.
Eoin Joseph Gerard Morgan has achieved acclaim as a creative and free-styling middle-order batsman, notably in the shorter formats, having played for both Ireland and England at the international level. When looking back at Morgan's early career, we can see that he was a vital member of the Irish young teams at the Under-17 and Under-19 levels. He was chosen to represent Ireland in the Under-19 World Cup at the age of 17, and he led his team in goals. Two years later, he was selected as the captain of the Under-19 team, where he finished the competition with the second-most runs scored.
Eoin Morgan Sixes ODI Stats – 2006-2022
| | |
| --- | --- |
| Team | England |
| ODI Most Sixes | 220 |
| Total number of innings | 230 |
SOURCE: ESPNCricinfo
Watch Eoin Morgan's make a World Record for Sixes
Love Indian Cricket? Well, we have compiled the best performances of your favorite stars. How many have you seen! Here are 25+ Cricket Legends of India with Career Statistics and Best Performances (Don't worry link will open in New Tab so you don't miss out on this!)
5. Mahendra Singh Dhoni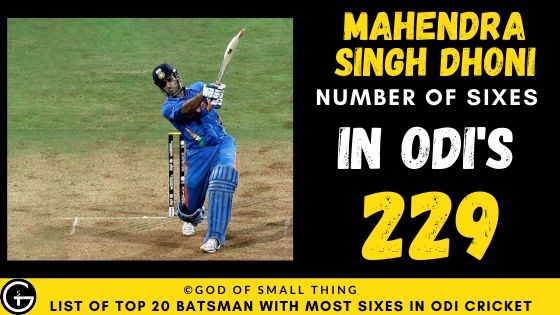 "Dhoniiiii finishes off in style. A magnificent strike into the crowd. India lift the World Cup after 28 years. The party's started in the dressing room. And it's an Indian captain, who's been absolutely magnificent, in the night of the final." – Any cricket fan worth their salt just read this when Mahendra Singh Dhoni enthralled the Wankhede on the evening of April 2, 2011, in Ravi Shastri's most dramatic voice.
A pump operator in Ranchi was anticipating the birth of his third child less than thirty years before that magical Saturday night when Ravi Shastri's voice resounded through television sets all over India and even the spunky and exuberant Indian youth showed more interest in an old-school CRT television at a neighbourhood chai ki dukaan than the dance floor at a pub.
The iconic cricketer from the Indian cricket team since 2004 is none other than Mahendra Singh Dhoni. Captain cool shot to success after an unprecedented win of the Indian team at the inaugural T20 World Cup. Superb wicket-keeping is matched with Dhoni's helicopter sixes, making him the greatest finisher of all times. But more so, India looks up to him to derive motivation in real life. An unorthodox cricketer who led his team to win all major trophies, essentially by strategic, observational captaincy. Joining Yuvi & Sourav in play, Dhoni has outperformed them to hit massive sixes. 
| | |
| --- | --- |
| Team | India |
| ODI Most Sixes | 229 |
| Total number of innings | 297 |
SOURCE: ESPNCricinfo
Watch MS Dhoni's hit helicopter sixes
4. Sanath Jayasuriya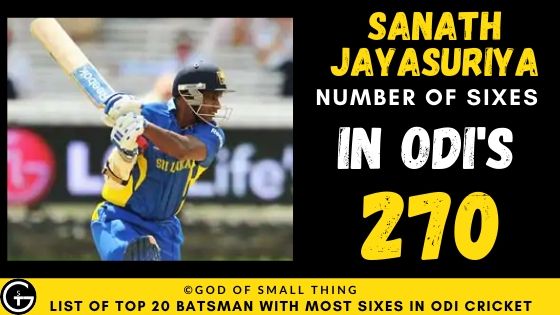 Notice Jayasuriya's career build-up to understand how Sri Lanka grew into a cricketing power. After the 1996 World Cup, every cricket fan knew his name. The advent of the 21st century witnessed Sanath leading every chart of world batsmen. He held the fastest century record for long. Sanath is the second batsman to have scored over 13,000 runs in ODIs with a strike rate of over 90. A sensational cricketer who added masterstrokes to the game of cricket. Sanath Jayasuriya has been at the forefront of Sri Lanka's growth as an international cricketing power, and his development into a feared batter has occurred at the same time as Sri Lanka's emergence as a major player.
Jayasuriya began his career as a pretty unremarkable utility player with a strong ball-smacking talent. For the majority of his early career, his performances remained unremarkable. In truth, Jayasuriya had only played a small number of Tests and had averaged under 30 in ODIs from the time of his debut in 1989 until 1995. It's difficult to believe that Sanath Jayasuriya was regarded as a bowler with some batting ability for the first half of his career.
| | |
| --- | --- |
| Team | Sri Lanka |
| ODI Most Sixes | 270 |
| Total number of innings | 433 |
SOURCE: ESPNCricinfo
Watch Sanath Jayasuriya's Top 10 Sixes
3. Rohit Sharma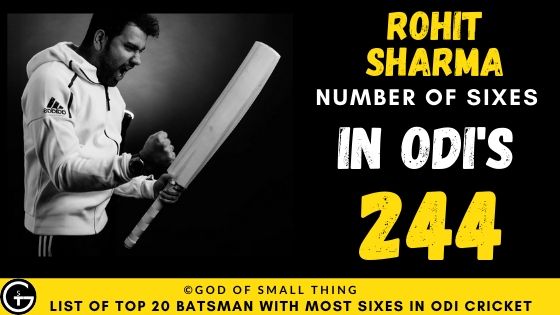 Talk of cricketing talent and Sharma is the first name. Well remembered for his triple hundred at the Ranji level, Rohit outsmarts himself today. The highest run-getter in an ODI inning (264), Rohit is often called hitman. Formidable class and praiseworthy technique form the background of an Indian who faces the first ball for his team. For 10 years, he has made several back and forth but today he stands tall. Nobody is likely to replace the hard hitter today, Rohit is currently at the peak of his career.
Talent is a seemingly encouraging word that has followed Rohit Sharma around like a shadow and, at times, even plagued him. After more than a decade in the national spotlight, the term has appeared to be a burden that the cricketing community has placed on him.
The easy, fluid stroke-play of a Mumbai youngster was seen by coaches and scouts, according to Harsha Bhogle, who spoke of rumours on the domestic circuit. He dominated first-class cricket, averaging well over 50, before breaking into the spotlight at the Ranji level with a quick unbeaten triple-hundred.
Rohit Sharma Sixes ODI Stats – 2007 – Present
| | |
| --- | --- |
| Team | India |
| ODI Most Sixes | 275 |
| Total number of innings | 236 |
SOURCE: ESPNCricinfo
Watch Rohit Sharma's Top Sixes Back to Back
2. Chris Gayle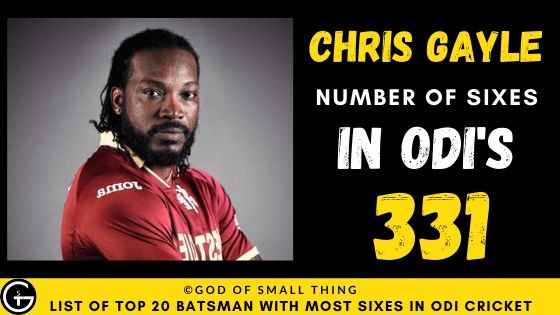 He is considered the king of fast-track cricket because he holds almost every T20 record there is. Gayle has championed the ODI forum as well. As for Tests, he holds an amazing feat of hitting the first ball for a six. Today every opponent team walks in with a plan to dismiss the big man in early overs. If he sustains, prediction of a Gayle-storm begins to loom. He has the rampageous stroke play which can brutally massacre a bowling attack. To understand what he can, a fan shows that the IPL T20 match where he had hit 175 runs. When the universe boss unleashes rage, sixes rain on a crowd packed stadium.
Chris Gayle appears to have been chosen as the face of Twenty20 cricket because he was the first player to reach 100 runs in the game and now holds almost all of the records, including most runs (10,000+), most hundreds, fastest hundred, and most fours and sixes.
An aggressive Jamaican left-hander, Gayle received a black mark on his first senior tour to England in 2000 because the younger players weren't seen to be treating their seniors with enough respect. But since then, Gayle has benefited from having no respect—at least for the bowlers of the opposition. He can obliterate the numbers of even the most frugal opening bowlers thanks to his height and dominance at the crease. He enjoys carving through the covers off either foot.
Chris Gayle Sixes ODI Stats – 1999-2019
| | |
| --- | --- |
| Team | West Indies |
| ODI Most Sixes | 331 |
| Total number of innings | 294 |
SOURCE: ESPNCricinfo
Watch All 39 Gayle's Sixes vs England
1. Shahid Afridi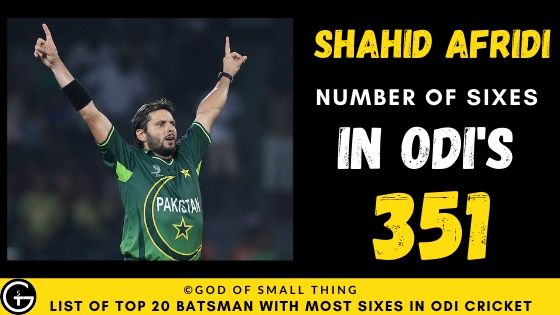 Best known for his 17 years held record of the fastest ton, Shahid always swung his bat to clobber sixes. An eccentric batsman since his early days pushed Shahid to earn the skipper position for Pakistan. Leading his team to superior series wins, Afridi remained proficient with both bat and ball. Though controversies plagued the fearless hard hitter, Afridi shone bright and laid down his unbeatable legacy. With 351 – most sixes in ODI cricket – Afridi leads the list and will probably remain at the top for much longer.
Pakistan's all-rounder Shahid Afridi is one of the most mysterious athletes ever. He joined the Pakistan ODI squad as a 16-year-old and didn't seem to mind all the rumours about his actual age. He hit a 37-ball century against Sri Lanka in only his second ODI, back in 1996. It held the record for the quickest century in the ODI format for more than 17 years before Corey Anderson shattered it in January 2014. Afridi's brilliant century came after he was selected for the team as a leg-spinner to take the place of the ailing Mushtaq Ahmed and after being sent in as a pinch-hitter at one point!
| | |
| --- | --- |
| Team | Pakistan |
| ODI Most Sixes | 351 |
| Total number of innings | 369 |
SOURCE: ESPNCricinfo
Watch Shahid Afridi's 158 meter six against South Africa
Are you amongst those who look up to their favorite celebrities for daily dose of motivation? Well here are 50+ Inspirational Cricket Quotes by cricketers with Images to inspire!
Frequently Asked Questions
Who hit most sixes in one match?
English batsman Eoin Morgan holds the record of most sixes in one match. He hit 17 sixes against Afghanistan in 2019. In fact, his tremendous performance in the tournament led his side to win the first World Cup title in history.
Who hit most sixes in WC 2019?
Again, Eoin Morgan hit the most number of sixes in WC 2019. (22) Morgan sixes were highly appreciated, not only for the lengths those went but also for the class strokes which enabled the height. After winning the World Cup of 2019, Eoin Morgan is seen as one of the best captains in the world.