Here are 7 Simple Sweet Recipes with Just 3 Ingredients for 2023 festive season
Diwali, the festival of lights, is synonymous with the indulgence of sweets and snacks. Amidst the hustle and bustle of the festive preparations, many of us seek simple yet delightful sweet recipes that can be whipped up quickly without compromising on taste. Luckily, there are a plethora of easy-to-make Diwali sweet recipes that require just three key ingredients, making them the perfect solution for those looking to create delightful treats without the hassle of complicated cooking techniques. These recipes not only cater to the traditional palate but also offer a modern twist to the customary Diwali celebrations.
As Diwali comes we all make a beeline to buy Diwali food items. Some of us would be busy flipping through magazines for Diwali sweet recipes. Yet another tech-savvy set would scroll down a social networking group to find easy Diwali food recipes. After all, we want to serve our loved ones some sumptuous stuff. Fret not! We are here to solve your Diwali dilemma. Read on for Diwali sweet recipes that use just 3-INGREDIENTS!
Rasgulla
Coconut Barfi
Rose Sandesh
Besan Laddoo
Peda
Makhana Kheer
Peanut Chikki
Top 7 Sweets for Festive Season with Only 3 Ingredients
Rasgulla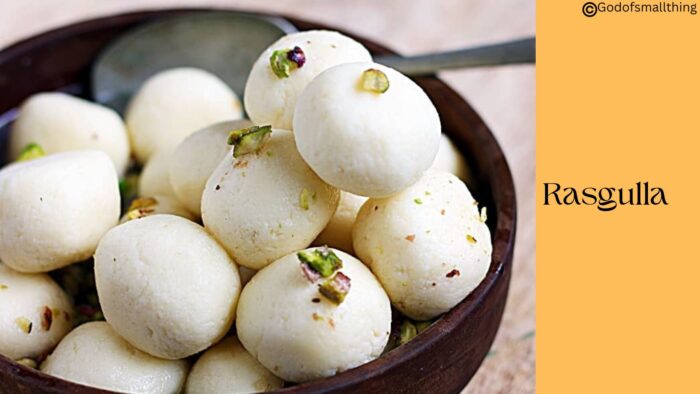 Ingredients:
1 liter full-fat milk
Sugar – 1 cup
Water – 4 cups
 Method:
Start by making the chenna (paneer). Boil the milk in a heavy-bottomed pan. Once it comes to a boil, reduce the heat and add the lemon juice or vinegar gradually, stirring continuously until the milk curdles and the whey separates.
Turn off the heat and strain the mixture through a muslin cloth. Rinse the chenna under cold water to remove the traces of lemon juice or vinegar. Squeeze out the excess water and hang the chenna for 30 minutes to drain any excess water.
Once the chenna is well-drained, knead it into a smooth dough for around 5-7 minutes until it is soft and without any lumps. Divide the dough into small lemon-sized balls and roll them gently between your palms to make smooth, crack-free balls.
In a separate pan, combine the sugar and water and bring it to a boil, stirring until the sugar dissolves completely. Add the saffron strands and rose water, if using.
Carefully drop the chenna balls into the simmering syrup one by one. Cover the pan and let the rasgullas cook for about 15 minutes on medium heat. They will double in size while cooking, so make sure to use a large enough pan.
Once the rasgullas are cooked, remove them from the syrup and let them cool. Garnish with chopped pistachios or almonds.
Serve the Rasgullas chilled or at room temperature, based on your preference.
Tip: the paneer should have NO whey trapped in it.
Tip: you can flavor the syrup with rose water.
Want to know Recipes with fewer Ingredients? Here are some Simple Sweet Recipes with Just 2 Ingredients
Coconut Barfi
Ingredients:
Grated coconut – 2 cups
1 cup condensed milk
Sugar – to taste
Method:
In a non-stick pan, heat the ghee over low heat. Add the grated coconut and sauté it for a few minutes until it turns light golden and releases a pleasant aroma.
Pour in the condensed milk and continue cooking on low heat, stirring continuously to prevent sticking. The mixture will start to thicken, so ensure you keep stirring to avoid burning.
Add the cardamom powder to the mixture for added flavor. Keep stirring until the mixture starts leaving the sides of the pan and turns into a thick mass.
Once the mixture reaches a fudge-like consistency, remove it from the heat and transfer it to a greased plate or tray. Spread it evenly and flatten the surface with a spatula.
Allow the mixture to cool for a few minutes, then use a knife to cut it into desired shapes, such as squares or diamonds. You can also press some chopped nuts on top for garnishing.
If using, decorate with edible silver foil for an attractive presentation.
Let the coconut barfi cool completely and set for a couple of hours before serving. You can store it in an airtight container for up to a week.
Tip: you can garnish the barfis with silver leaves for a festive look.
Rose Sandesh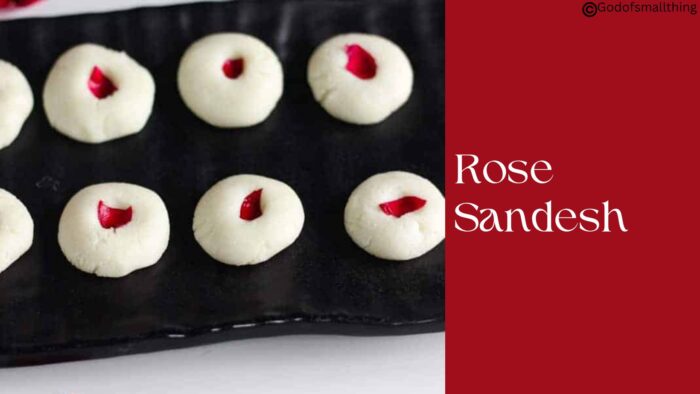 Ingredients:
Freshly prepared homemade paneer– 2 cups
Rosewater– 1 tsp
Powdered sugar- 1/2 cup
Method:
Begin by preparing the paneer. You can either use store-bought paneer or make it at home by curdling milk and straining it to get fresh cottage cheese. Ensure the paneer is drained of excess water before using it.
In a mixing bowl, combine the crumbled paneer and powdered sugar. Mix them well until the sugar is completely incorporated and the mixture becomes smooth.
Add the rose water and a few drops of rose essence to the paneer mixture. Mix it thoroughly to infuse the delightful rose flavor into the sandesh.
Take a small portion of the mixture and shape it into small round balls or any desired shape. You can also use molds to give the sandesh an attractive pattern.
Garnish the rose sandesh with a few strands of saffron, chopped pistachios, almonds, or edible rose petals for an appealing presentation and added flavor.
Refrigerate the rose sandesh for at least an hour to allow it to set and firm up.
Serve the delicious rose sandesh chilled as a delightful dessert or sweet treat during festive occasions or special gatherings.
Besan Laddu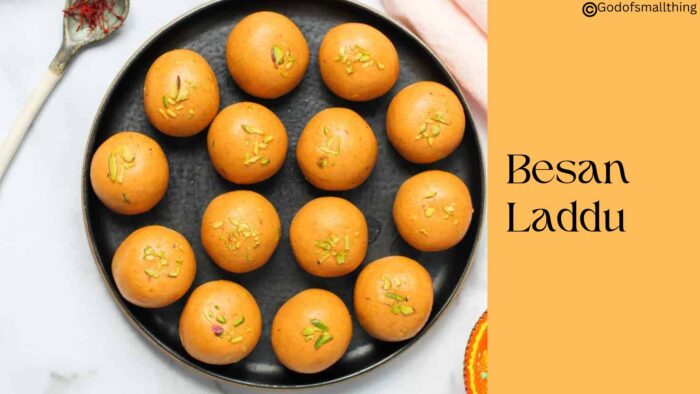 Ingredients
Besan (gram flour)- 2 Cups
1 Cup- Powdered Sugar
Clarified Butter/Ghee- 1/2 cup
Method
Heat a heavy-bottomed pan or kadai on low heat and add the besan. Dry roast the besan on low heat, stirring continuously to avoid burning, until it turns golden brown and emits a nutty aroma. This process might take around 10-15 minutes.
Once the besan is roasted, add the ghee to it and mix well. Continue to roast the mixture on low heat until the besan and ghee are well combined and the mixture turns aromatic. This might take an additional 5-7 minutes.
Add the cardamom powder and chopped almonds or cashews to the mixture. Mix thoroughly and turn off the heat.
Allow the mixture to cool down slightly until it is warm to the touch but still manageable.
Add the powdered sugar to the warm besan mixture and combine it well to form a crumbly texture.
Take small portions of the mixture and shape them into round laddus by rolling them between your palms. If the mixture is too dry, you can add a little more ghee to bind it together.
Optionally, garnish the laddus with a pinch of saffron strands or some additional chopped nuts for an appealing presentation.
Let the besan laddus cool and set for some time before storing them in an airtight container.
Peda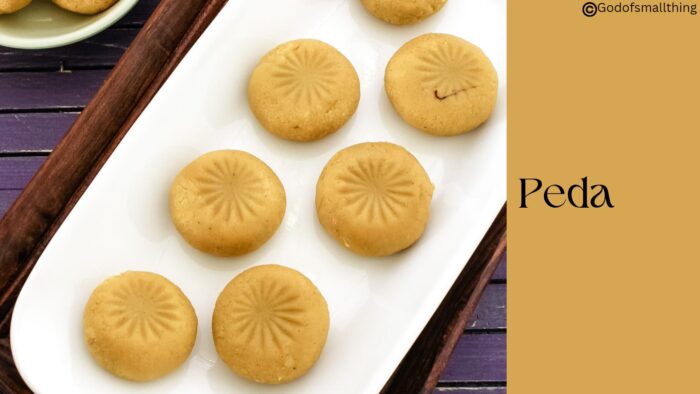 Ingredients
khoya (mawa)- 1 cup
Powdered sugar- 1/2 cup
Cardamom powder- 1/4 tsp
Method
In a heavy-bottomed pan, crumble the khoya and cook it on low heat. Stir continuously to prevent it from sticking to the bottom.
Once the khoya becomes soft and slightly changes color, add the powdered sugar to it. Mix well and continue cooking on low heat.
Cook the mixture until it thickens and starts leaving the sides of the pan. This might take about 8-10 minutes.
Add the cardamom powder and saffron strands (if using) to the mixture and mix thoroughly.
Turn off the heat and let the mixture cool down for a few minutes until it is warm enough to handle.
Grease your palms with a little ghee and take small portions of the mixture to roll them into smooth, round pedas.
Press a few chopped nuts onto the top of each peda for garnish.
Allow the pedas to cool completely and set them for a time before serving or storing them in an airtight container.
Tip – Let the pedas cool completely before serving. Store them in an airtight container
Makhana Kheer
Ingredients
Makhana (Fox Nuts)- 1 Cup
Full-Fat Milk- 4 Cups
Sugar- 1/2 Cup
Method:
Heat a pan or a heavy-bottomed pot, add the makhana, and dry roast them on low heat until they become crisp. Keep them aside.
In the same pan, bring the milk to a boil and then reduce the heat to a simmer. Let it cook for about 10-15 minutes, stirring occasionally, until it reduces slightly.
Crush the roasted makhana into smaller pieces using a rolling pin or pulse them briefly in a food processor.
Add the crushed makhana to the simmering milk and cook for another 5-7 minutes until the makhana becomes soft and the milk thickens further.
Stir in the sugar, cardamom powder, and saffron strands (if using). Mix well until the sugar is completely dissolved.
Cook for another 5 minutes until the kheer reaches a desired consistency.
Turn off the heat and let the kheer cool down a bit. It will thicken further upon cooling.
Garnish with chopped nuts and serve warm or chilled, according to your preference.
Peanut Chikki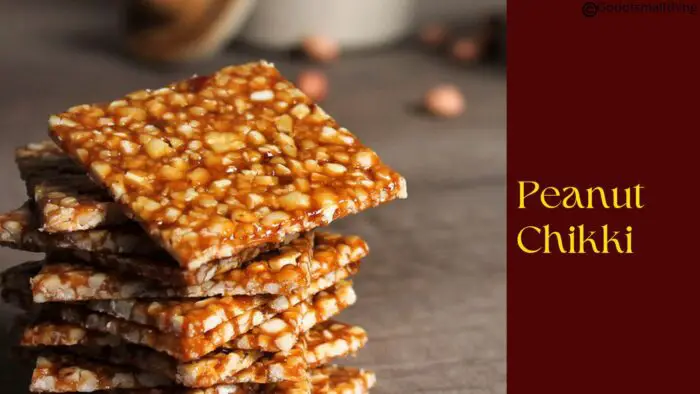 Ingredients
Raw peanuts- 1 cup
Jaggery (gur), grated or chopped- 1 cup
Ghee or Oil (for greasing)- 1 tsp
Method
Heat a pan over medium heat and dry roast the peanuts for 4-5 minutes, stirring frequently, until they turn golden and crunchy. Remove them from the pan and keep aside.
Grease a flat tray or plate with ghee or oil and keep it ready.
In the same pan, add the grated or chopped jaggery and melt it on low heat. Stir continuously until the jaggery melts completely and forms a syrup.
To check the consistency of the syrup, drop a little bit of it into a bowl of water. It should form a hard ball. This indicates that the syrup is ready.
Add the roasted peanuts and cardamom powder (if using) to the jaggery syrup. Mix quickly until the peanuts are well-coated with the syrup.
Immediately transfer the mixture onto the greased tray or plate. Use a greased rolling pin or a flat spatula to flatten and spread the mixture evenly.
Let it cool for a few minutes and then cut it into desired shapes with a greased knife before it hardens completely.
Allow the Peanut Chikki to cool and set completely before removing it from the tray.
Hey, your search for easy Diwali recipes just ended!
Now that you have 7 mouth-watering Diwali sweet recipes, you can decorate your table with these Diwali food items.
Happy cooking!