List of best markets in Delhi for Shopping
There's merely anyone who is not fascinated by the idea of shopping. Whether you're on a hunt for traditional handicrafts, the latest fashion, beautiful home decor, or mouthwatering street food, Delhi markets have all of them. Delhi markets provide an awesome shopping experience, focusing on all budget levels, choices and tastes. At the same time, Delhi markets offer unmatched shopping experiences to tourists as well as residents. The multitude of choices may appear daunting but fret not, as this article unveils the best markets in Delhi, guiding you towards an unforgettable experience that truly captures the essence of the city's vibrant market culture.
1. INA Market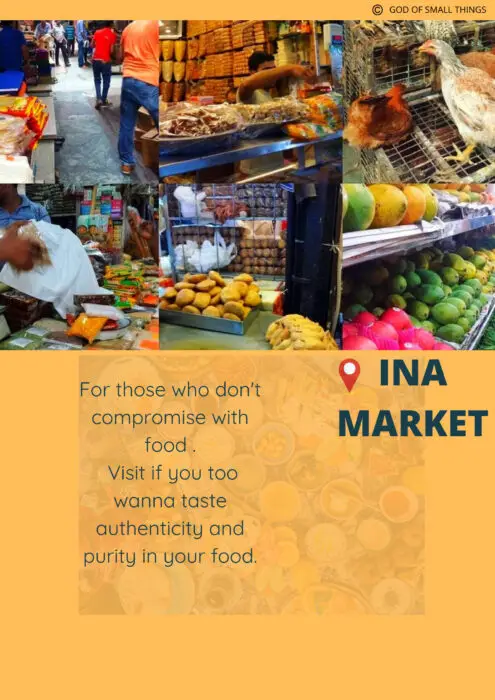 A hub for fresh produce, gourmet food items, spices and many more food products. It is a one-stop destination for people who are seeking quality ingredients to incorporate into their culinary adventure. Another attraction within the INA Market complex is the flower market. This section offers a wide variety of fresh flowers, making it a favored spot for those seeking floral arrangements for special occasions, religious ceremonies, and events. Being one of the best markets in Delhi, the market is divided into various sections and each section offers a specific range of products. Such as shops offering fresh fruits, whole spices, mixed spices, vegetables, meat, and dry fruits. One of the unique features of INA Market is its seafood and meat section. This section offers a diverse range of fresh seafood and meats, catering to various tastes and cuisines. From fish and prawns to chicken and mutton, visitors can find a selection of protein options for their meals. The market is recognized for its pesticides free and organic products. Here you can actually notice the difference between adulterated food and organic food. Apart from groceries, the market includes bakeries, cafes, gourmet stores, snack stores, and local cuisines. Here you can also find imported goods like chocolates, fruits and kitchen ingredients. It's located near AIIMS in South Delhi near the INA metro station All in all it is the best place for food shopping. Visit if you too want to taste authenticity and purity in your food. 
Best shops in INA Market:
Being Baker
Shyam Quality Dairy and Bakery
Jain Confectionary
Mahalaxmi Store
2. Meena Bazar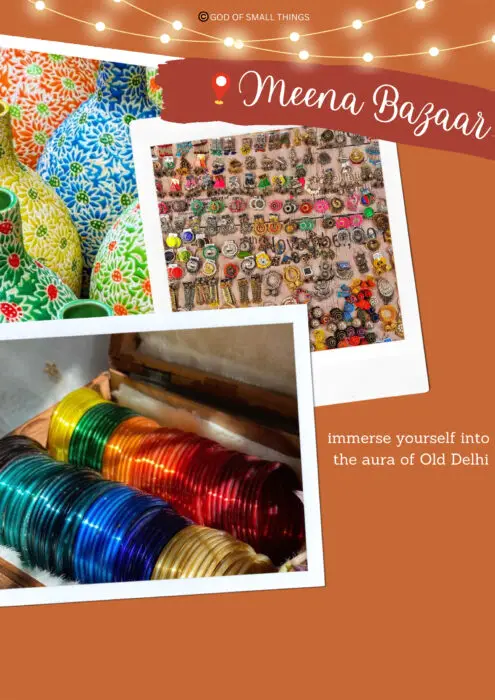 Located near the Jama Masjid area, the heart of Old Delhi, this bustling and iconic market is best known for its wide range of Indian clothing, accessories and jewelry. This market proves to be the best go-to place for women. Be it beautiful sarees, minutely designed lehengas, salwar suits, or any other traditional Indian wear, this market has it all. Meena Bazaar is renowned for its extensive range of traditional textiles, clothing, and accessories. The market specializes in offering a variety of Indian ethnic wear, including sarees, lehengas, salwar kameez, and more. These garments often feature intricate embroidery, mirror work, Zari, and other embellishments that reflect the rich craftsmanship of the region. The market also astonishes customers with a wide variety of necklaces, rings, and bangles which perfectly goes with your outfits. Adding to its shine, this market is very pocket friendly as everything is at a really reasonable price range and the sellers are open to bargain as well. It also offers a mouth-watering street food experience. Kebabs, biriyani's, sweets and whatnot!  The centric location makes it easy for all to reach here by Chawri Bazar Metro Station. There is an immense rush during weekends so it's advisable to visit during weekdays for more comfort. As you explore the bazaar, you'll witness the blend of tradition and commerce that defines Old Delhi. The market has that "Old Delhi Vibes " we all look for. visit the market to immerse yourself in the aura of Old Delhi and the amazing shopping experience. 
Best shops in Meena Bazaar-
Alam Attachi House
Adam Cloth House
Boutique Bazaar
3. Tilak Nagar Market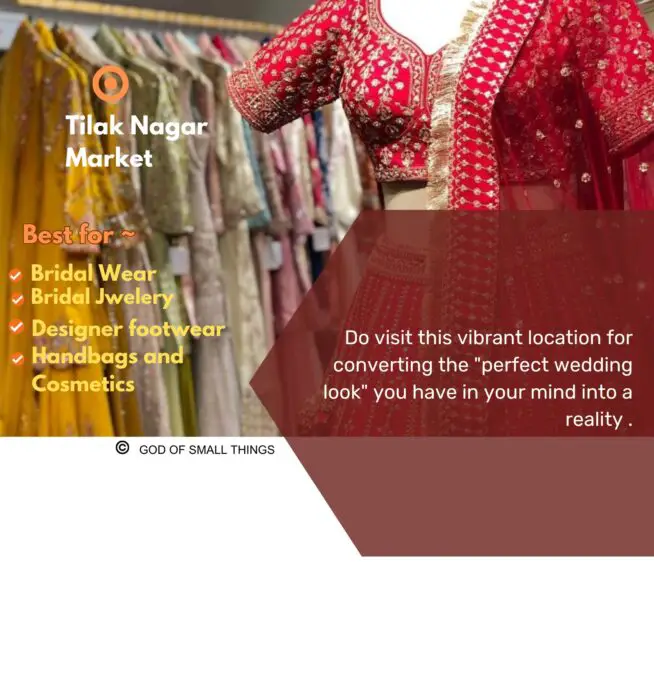 Tilak Nagar Market or we can name it the "bridal market", is the best go-to place for brides looking for bridal wear and jewellery. Any person who is in search of exceptional and elegant wedding attire can stop and have a look at this market and after some time for sure they will come out fully satisfied and happy. During Indian festivals such as Diwali, Raksha Bandhan, and Holi, Tilak Nagar Market comes alive with vibrant decorations and special deals. The market becomes a hub for festive shopping, with shops adorned with colorful lights and decorations to celebrate the occasions. Visitors can reach the destination by coming to the nearest metro station, which is Tilak Nagar Metro Station, which is on the Blue Line. From there, a short walk or rickshaw ride will lead you to the market. Footwear enthusiasts will find plenty of options in Tilak Nagar Market as well. The market boasts shops selling footwear for all occasions, from casual sandals to formal shoes. Additionally, you can discover a selection of bags, purses, and wallets to complete your ensemble. The market is open for bargains, so feel free to negotiate. With a wide range of options, the market suits all budgets, tastes, and preferences. The market also offers jewelry options from gold and diamond collection to artificial latest fashion jewelry, the market has it all. Brides often match their attire and jewelry here. The market also offers footwear, handbags and cosmetics. Tilak Nagar Market attracts shoppers from all over Delhi and beyond as well. Do visit this vibrant location for converting the perfect wedding look you have in your mind into a reality. 
Best Shops in Tilak Nagar market-
Daas Saree emporium
Maharaja Silk store
Fashion Edge
Want to know about Delhi markets where you can buy high-end products at half price? – Cheap markets in Delhi
4. Dilli Haat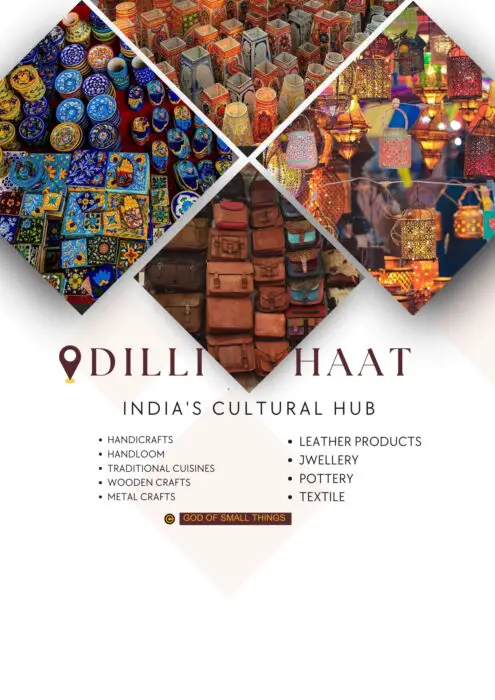 Located in the neighborhood of INA near AIIMS, Dilli Haat is a magical open-air cultural and craft bazaar. artisans and craftsmen from different regions of India come here to showcase and sell their traditional handicrafts, handlooms and traditional food items. Dilli Haat is such a unique village market as well as a modern exhibition space. One can get lost in the divinity of rich Indian culture this market showcase.Dilli Haat plays a crucial role in preserving and promoting India's traditional crafts. By providing a platform for artisans to directly showcase and sell their creations, the market supports these skilled individuals and encourages the continuation of age-old craftsmanship. The market showcases products such as pottery, textiles, jewelry, wooden crafts, leather products, metal crafts, and many other types of crafts and goods. People can enjoy mouth-watering delicious Indian food at the food stalls which provide traditional delicacies from all over the country. The market remains open from 10:30 AM to 10:00 PM every day throughout the year. Dilli Haat comes alive with cultural events and performances that showcase India's performing arts heritage. From traditional dance forms to live music performances, the market provides a platform for artists to engage and entertain visitors. Special festivals and events are often organized to celebrate various occasions, adding an extra layer of festivity to the atmosphere. In short, Dilli Haat is a must-visit destination where you can find culture, products, heritage and entertainment all under one roof.
5. Shahpur Jat Market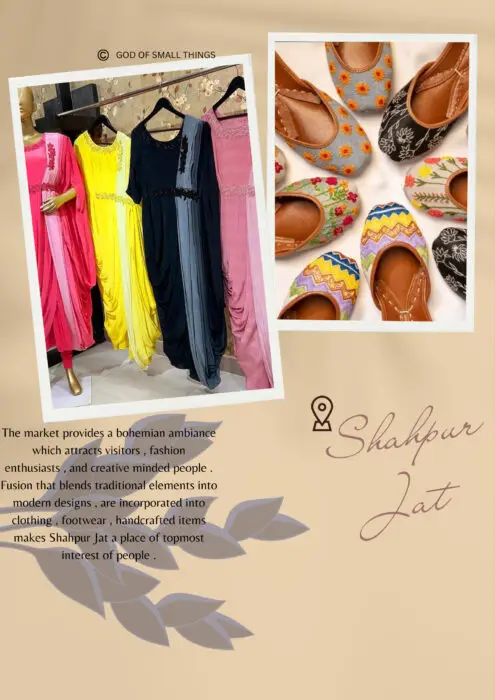 This market is known for its unique blend of contemporary and traditional fashion, accessories and home decor. Located near Hauz Khas Village, the market provides a bohemian ambience which attracts visitors, fashion enthusiasts, and creative-minded people. A fusion that blends traditional elements into modern designs is incorporated into clothing, footwear, and handcrafted items making Shahpur Jat a place of topmost interest to people. Shahpur Jat is nothing less than heaven for those seeking different and offbeat fashion and style. What sets Shahpur Jat apart is its emphasis on customization. Many designer studios offer made-to-order clothing, allowing customers to have a personalized touch to their attire. This focus on individuality and attention to detail has attracted those who seek clothing and accessories that reflect their unique style. The market isn't limited to fashion alone; it's also home to several art galleries and creative spaces. These galleries often showcase the works of local artists and photographers, providing a platform for emerging talents. The infusion of art into the market's ambiance adds another layer of cultural richness, making Shahpur Jat a multi-dimensional destination. The market also has lifestyle boutiques, quirky decor pieces and artistic creations. Through this, you can decorate and make your living space more aesthetic. The market operates six days a week and is closed on Sundays. Stores are open from 11:00 AM to 8:00 PM. Do visit for experiencing the new trends and unconventional fashion offerings to make your fashion-forward soul happy.  
Best Shops in Shahpur Jat Market-
Lila
Kanelle
Kardo
Devnagari
6. Champa Gali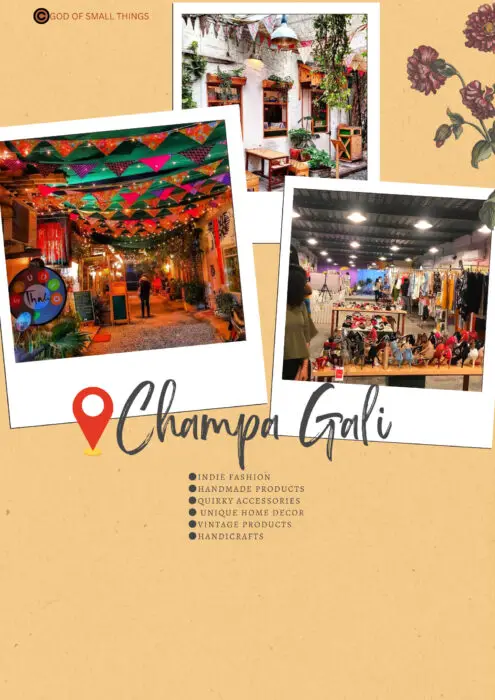 Champa Gali is a hidden gem that is popular among locals and tourists seeking a unique shopping and dining experience. Boutiques and stores in Champa Gali showcase a mix of indie fashion, handmade products, quirky accessories and unique home decor items, designer clothing, curated vintage collections, and artisanal handicrafts which reflect the artistic spirit of the market. Champa Gali frequently hosts art exhibitions, workshops, and cultural events. This adds to the vibrancy of the place and provides a platform for local artists to showcase their talents. The lane often comes alive with colors, music, and conversations during these events, making it a dynamic space that encourages dialogue and engagement. The market operates from 11:00 AM to 8:00 PM every day throughout the week. Champa Gali's charm partly stems from its tucked-away location. It's not immediately visible from the main road, which gives it an air of exclusivity and intrigue. To reach Champa Gali, visitors need to navigate through narrow lanes, enhancing the sense of discovery. What makes Champa Gali different is that it's apart from the hustle and bustle of the city. So, it gives a cozy and tranquil surrounding to experience. It is a must-visit destination for amazing experiences in shopping and trying delicious cuisines throughout the market. One can reach here by the nearest metro station which is Saket Metro Station which is on the yellow line of the Delhi Metro.   
Best Shops in Champa Gali-
Ratna Handicrafts
Liberty Village
B U Salon
Renu Rekha Art Zone
7. Khan Market
Khan Market, named after Khan Abdul Ghaffar Khan, the freedom fighter and social reformer, has a unique historical significance. Over the years, it has transformed into a hub for both the affluent local population and tourists alike, offering a curated blend of modernity and tradition. Khan Market is all about the premium shopping experience and culinary diversity. If you're looking for high-end fashion and posh market experience, then Khan Market is the best option for you. The market operates from 10:00 AM to 8:00 PM, Monday to Saturday. Situated near India Gates and Lodhi Gardens makes it accessible to visitors and easy to visit from any part of the city as the location is centralized. Khan Market is renowned for international brands, luxury goods, and boutique stores which cater to discerning shoppers looking for quality and luxury. Book enthusiasts will find solace in the numerous bookstores that grace Khan Market. Bahrisons Booksellers, in particular, is a beloved establishment that has been serving bibliophiles for decades. Its shelves are adorned with a rich collection of books spanning various genres and languages, making it a cherished destination for bookworms.
It also offers a diverse range of cafes, restaurants and eateries. You can find every delicacy here, be it Indian or International. The market is for the upper-level society and there are merely any chances of bargain. The market defines the cosmopolitan charm of Delhi and is a must-visit if you're looking for branded outfits and accessories.
Best shops in Khan Market –
Silverline Jwellery
Vishnu
Good Earth
Amrapali
8. Karol Bagh Market
Karol Bagh Market caters to a wide array of shopping preferences. From traditional Indian clothing to modern fashion, from jewelry to electronics, and from street food to fine dining, this market caters to all. The market boasts a mix of branded showrooms and local boutiques, allowing shoppers to choose between upscale elegance and budget-friendly finds. For fashion enthusiasts, the market is famous for its clothing boutiques offering ethnic wear like sarees, salwar suits, and lehengas. Additionally, it's a treasure trove for accessories like bangles, earrings, and bags that perfectly complement any outfit. The Ajmal Khan Road in Karol Bagh is particularly popular for its assortment of clothing and accessory stores. Beyond fashion, the market also features electronics stores, bookshops, and a plethora of options for home décor, making it a one-stop destination for a wide variety of needs. Karol Bagh Market is typically open seven days a week. The market comes alive early in the morning and remains active until late in the evening. However, like many markets in Delhi, it's advisable to visit during the cooler parts of the day, either in the morning or later in the afternoon, to avoid the heat and crowds. The Karol Bagh Market is conveniently located near the Karol Bagh metro station, which is a part of the Blue Line of the Delhi Metro. This makes it easily accessible for visitors using public transportation, further enhancing its popularity among both locals and tourists. Whether you're seeking traditional attire, modern fashion, electronics, or a taste of Delhi's street food culture, Karol Bagh Market promises an unforgettable experience.
Best Shops in Karol Bagh :-
■ Frontier Bazaar
■ Sahil Fashion Bazaar
■ Kala Shree
Markets In Delhi are worth the visit and leave you with an amazing shopping experience. Delhi has so many markets that it would take months to explore all of them!  Visiting these markets leaves you with the best ever experience of your life which you'll remember for a long time. From high budget to low budget, from luxury brands to local handlooms, from Indian delicacies to international cuisines, Delhi markets have all of them.  
So, what are you waiting for?? Grab your bags and leave for shopping and come home with your favorite products. If you reside outside Delhi, then take note and mention these market visits in your checklist for sure. 
You might also like our detailed guide on one of the Best Shopping markets in Delhi – Karol Bagh Shopping Market