[Watch Video]Ranveer Singh and Rohit Shetty warns enemies not to eye on India
Ranveer Singh and Rohit Shetty warn enemies not to eye on India:
B-town celebs life not only revolve around parties, red carpets and awards but also around national affairs. A video of Ranveer Singh and Rohit Shetty is blowing up the Internet. A video posted by a page sarcasm guy in which Ranveer Singh and Rohit Shetty were seen interacting with a navy officer. Let's find out!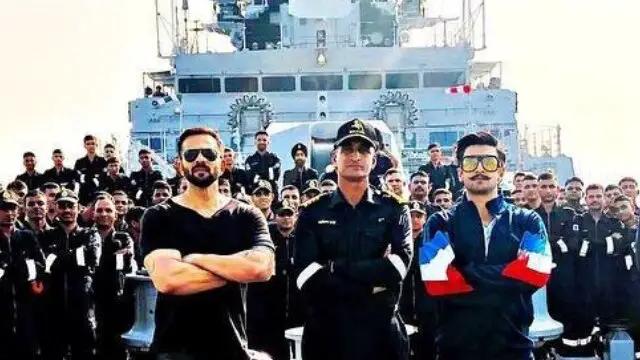 A video blowing up the internet! 
The video has resurfaced the internet due to what all is happening in between India and Pakistan over the abrogation of article 370 from Kashmir.
A video posted by sarcasm guy in which Ranveer Singh and Rohit Shetty were seen talking about a gun. The video is from Jai Jawan with Ranveer Singh And Rohit Shetty a show aired by NDTV back on Dec 25, 2018.
Bollywood News: The Complete Story: Ranveer Singh Served Legal Notice by Brock Lesnar's Advocate – God of Small Thing
Initially, in the video, they were trying to use the gun. Then, an officer joined and explained to them what that gun is, how does it work and its physical features. The video started with Rohit Shetty saying, what is this? On which Ranveer replied, this is a gun. Then, Rohit replied back, " Do you want to use it?".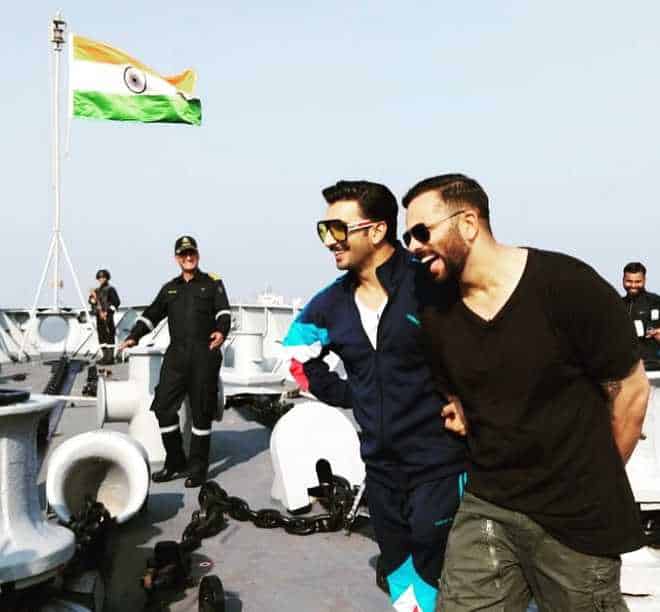 Well, after that an army officer joined them and started explaining the features of the gun. That gun is known as Heavy Machine Gun Or HMG, 
12.7mm calibre gun. Then the officer said, each bullet is of size 6 inches, on which Ranveer Singh startled. Then he continued, that the gun can pierce 6 kilometres away 10 mm thick plate. Well, that sounds so interesting. And the video became more interesting seeing our silver screen actors taking interest in such things. 
WATCH Ranveer Singh and Rohit Shetty warn enemies not to eye on India.
Ranveer Singh replied with a funny statement in this, he said, if I shoot from Bandra it will go till Juhu. Rohit Shetty corrected him immediately. Then, Singh again said, not Juhu but Lokhandwala. Then again, the officer started explaining the features to him. After listening to that, an anti-aircraft gun can do 650 rounds in one minute, Shetty got impressed and said, "This is our country and our navy. This is one of the smaller things our navy has."
Bollywood Update: Urvashi Rautela upset with reports calling Hardik Pandya her ex-boyfriend- The Complete Story
Then, Ranveer asked about the angles and the officer showed him how to hold the gun in different angles. Ranveer also tried doing that. Initially, he couldn't hold the gun properly but after a few seconds, he did it. And then all the officers gathered to welcome the Ranveer Singh and Rohit Shetty on the fo'c'sle of the ship of Kolkata.
These types of rare videos are worth watching. Well, not only in acting and directing but these two celebrities showed that they actually care about India. They have that curiosity to know about our Indian pride, our navy. That video has garnered over 4 lakhs views and around 457 comments.
Few users couldn't keep calm and said vile words about the video. And, few people appreciated Ranveer Singh and Rohit Shetty for their approach. And, some users fought in the comments section directing towards Pakistan. 
But we liked the approach made by these celebrities.  What do you all think about it? Do let us know in the comments section below.