India – China Border Dispute: A Holistic Viewpoint
On June 15th, Indian and Chinese troops engaged in a violent clash in the disputed Galwan Valley, an arid Himalayan area along the Line of Actual Control (LAC), the de facto border between the two nations which resulted in 20 Indian casualties and supposedly double the Chinese casualties. Indian and Chinese troops have been engaged in the standoff since early May at several points along the LAC, most of which remain unmarked and disputed. It was reported that a large number of Chinese troops moved into disputed territory along the Eastern Ladakh border claimed by India and set up tents, stationed vehicles, and heavy artillery. In response, the Indian army also moved several battalions from an infantry division usually based in the Ladakh city of Leh to operational alert areas along the border, and reinforcement troops were brought in. This aggressive movement was subsequent to two skirmishes between the two sides on May 5th and 9th around Pangong Lake and North Sikkim which led to injuries on both sides.
China's aggressive actions since May could potentially be a response to India's construction of roads and infrastructure adjacent to the Line of Actual Control (LAC), especially the Darbuk – Shyok – Daulat Beg Oldie (DSDBO) road, built last year with an objective to enhance connectivity and mobility for Indian troops in the area. This move could be a potential threat to China's interests in the region. As per the latest reports, China has withdrawn its forces at least by a km as of 6 July 2020.
A Brief Look in the Past: Confrontations and Agreements
The Galwan Valley face-off is the first such incident in 45 years since 1975. There have been several clashes after that and the cause of all the clashes has been the India China border dispute.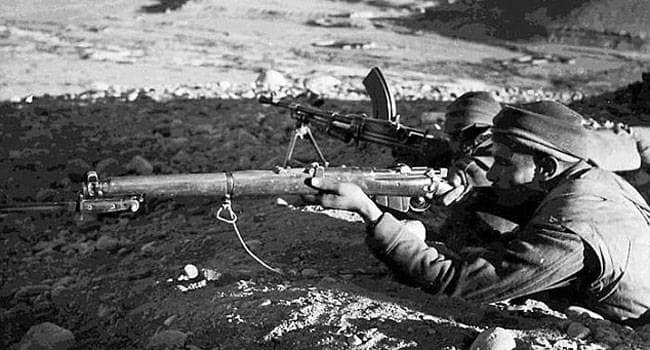 1962: India and China fought a war in 1962 over their contested Aksai Chin and the Arunachal Pradesh border regions in the Himalayas. The war ended with a truce and the formation of a de facto boundary, known as the Line of Actual Control. Till date, no official border has ever been negotiated.
1967: The 1967 face-off with Chinese troops lasted for over two months on the Doklam plateau. The violent exchange of September 1967 was the last time that skirmishes between the two sides escalated into a bloody armed clash along this border. The intense conflict caused the deaths of 340 Chinese and over 88 Indian soldiers.
Since 1993, India and China have signed several bilateral agreements and protocols to ensure peace and tranquility in the Sino-India border regions including 1993 agreement on 'Maintenance of Peace and Tranquility along the Line of Actual Control in the India-China border areas', and the 1996 agreement on 'Confidence Building Measures in the Military Field along the LAC.'
Historical Viewpoint
After the end of cold war, India found it tough to counter America's 'unipolar moment' and now it is finding it tough to cope up with the emergence of a 'unipolar Asia' – with China as its dominant Centre. China's rapid rise has also paved the way for the potential emergence of a 'bipolar world' dominated by America and China.
After Independence, China was never really fascinated by the idea of India building coalitions against the west (Non-Alignment Movement). Instead, it developed a sustained engagement with US and Europe. During 1970s instead of supporting its political ideologue of communism i.e. USSR it joined hands with the US. It promoted massive economic cooperation with the US to transform itself. China sees the world through the lens of power, while India tends to resist the realism.
Aftermath
Boycott Chinese goods narrative saw a steep rise. The Ministry of Electronics and IT, on 30th June, released an order banning 59 major Chinese apps including TikTok, UC Browser, Cam Scanner, etc. claiming that the apps are prejudicial to the sovereignty and integrity of India, the defense of India, the security of the state and public order. This move sets a precedent for other countries that are similarly concerned with data privacy issues.
In case you want to check out Chinese app alternatives you can check this piece out! Indian alternative to Chinese apps ( Don't Worry! The link will open in New Tab so you can finish this off and switch to other later! )
In addition, India's government procurement website has banned purchases of Chinese-made goods. The largest e-commerce companies including Amazon and Flipkart have also been asked to start showing 'country of origin' on goods sold. India is also dilly-dallying on clearing goods imported from China, stranding electronics at ports.
A new argument has been floated that China has been compelled to insert itself into Kashmir Dispute because of the change of constitutional status of Jammu & Kashmir. But in fact, these changes just altered the nature of the relationship between Delhi and Kashmir within the Indian Union and it has no impact on current territorial disposition with China. In reality, it is PLA's growing military capabilities and political will that altered the ground reality. By bringing the issue at UNSC, raising economic presence in Northern Areas, and probing India's political vulnerabilities, China is highlighting its new salience for Kashmir.
There is another faction that believes China is a 'civilization state' and it projects itself to the world in this way. A civilization state is a country that represents not just a historical territory, ethnolinguistic group, or body of governance, but a unique civilization in its own right. It is distinguished from the concept of a nation-state by describing a country's dominant socio-political modes as constituting a category larger than a single nation. This means that China is bound to follow expansionism. Therefore, its neighbors, especially India, are the ones that directly see the repercussions of such ambitions, such as current standoff in Ladakh. Then the main question arises on how India should counter China?
This can be done by remembering and projecting its long-lost narrative that India itself is an Indic Civilisation State. It must continue its policy of influencing nations with soft power diplomacy. India must change its approach to territorial integrity. After Pakistan, in 2020, Nepal appears to be in the process of becoming the next annexed buffer zone, all of which leads to India directly sharing an even larger border with China. The time has come for India to adopt a No-China-on-Indian Borders policy by creating a sphere of Indian influence without undermining the sovereignty of other States. However, this cannot happen overnight because it calls for a complete overhaul of the mental fabric of the Indian State.
India is China's biggest trading partner. Economically speaking, the huge imbalance in the trade between the two countries, though not problematic conceptually, hinders the efforts of India becoming less dependent on China and becomes the source of China's funds which later on come to bite us in the ass. Indian firms need to find alternative options for investments (financial and capital). Although initially, the costs will rise, there will be long term benefits such as Indian firms becoming more competent in order to attract alternate foreign and domestic investment.
India has never received support and cooperation from its Chinese neighbor in matters of core interest to India such as terrorism and river waters. India needs to present a strong and non-negotiable front in these regards in order to be taken seriously.
There is an urgent need for a new China policy and its high time to address the shortcomings by acknowledging China's rise and recognizing the scale of the challenge it presents. There is a sudden need to restore the internal political unified front, accelerating economic modernization and expanding India's national power.
If you are willing to be a part of the boycott of Chinese goods but aren't able to find better alternatives to switch to! Here is a list of Made in India Brands from every segment to go forward with.
The article is contributed by Adithya Chaudhary and Arpit Kaur. Adithya is a postgraduate in Philosophy from Hindu College and a Public Policy Enthusiast.
Aditya Chaudhary: Email | LinkedIn