Dil Bechara Movie Review: A masterstroke by Sushant Singh Rajput that made my "Dil Bechara"
Dil Bechara Director: Mukesh Chhabra
Dil Bechara Cast: Sushant Singh Rajput, Swastika Mukherjee, Jaaved Jaaferi, and Saif Ali Khan
As the name of the movie suggests, it will make your "Dil Bechara" with the thought that it was the last on-screen performance by Sushant Singh Rajput. Every inch of the scenes, of this adaptation of John Green's bestseller Fault in our Stars, will make your heart skip a beat. Directed by Mukesh Chhabra, the movie stars Sanjana Sanghi, Swastika Mukherjee, Jaaved Jaaferi, and Saif Ali Khan apart from Sushant Singh Rajput. Call me partial but I will call this movie, coup de maître in today's time! Read on the review of Dil Bechara in detail.
Dil Bechara Movie Review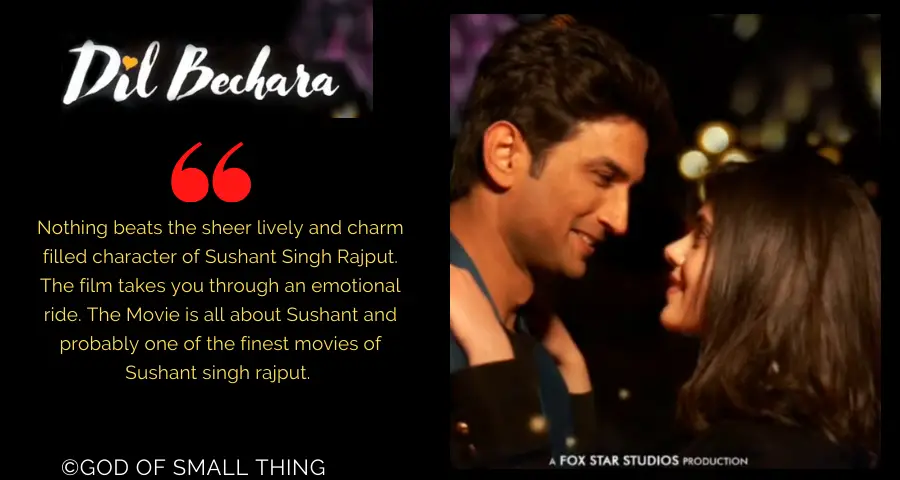 Storyline
Dil Bechara is a story of cancer patient Kizzie Basu (Sanjana Sanghi) who happens to meet a cancer survivor Manny (Sushant Singh Rajput) at a support group. Kizzie lives with her family in Jamshedpur and fights every day with loneliness with her only friend-the oxygen cylinder which she has named, 'Pushpinder.' "Aaj Kal sapno me bhi mera hero guitar ke bajaye oxygen cylinder leke khada hota hai," when Kizzie says this, you feel the battle she is fighting every day. In another "boring day" of Kizzie Basu's life, she meets Manny, who is a full-filmy by heart. He performs on stage on 'Dil Bechara' and no one could have matched the beats of A.R Rahman other than Sushant's killer dance moves. After all, he was a professional dancer.
Manny has won his battle against Osteosarcoma a few years ago. He wants to be a super star like Rajnikanth. Jagdish Pandey (Sahil Vaid) is Manny's friend who also has eye cancer. The dialogues of the film are written such that they hit straight to your heart. While Manny is a fanatic Bollywood junkie, Kizzie has a simpler lifestyle.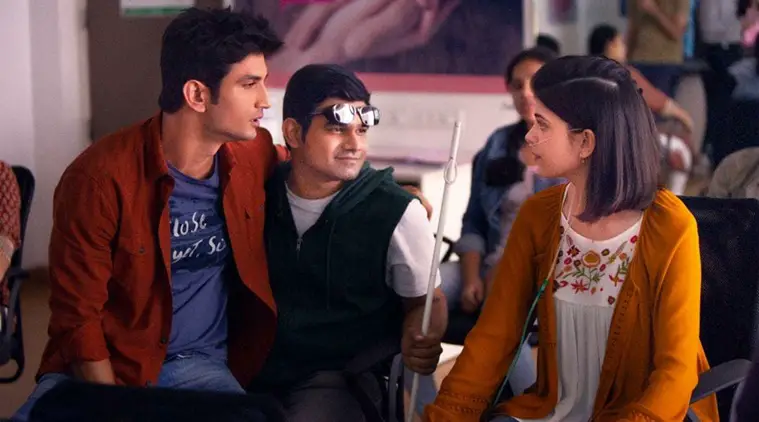 Manny attempts to change Kizzie's life for the better and fulfill her dreams. You will feel a bump in your heart every time Sushant smiles in the movie. Manny and Kizzie had an off start but later becomes close as the story unfolds. After a rocky start, and the ups and downs, Kizzie and Manny decide to visit Paris to meet the singer of the song they had been listening. Abhimanyu Singh (Saif Ali Khan) denies talking with them much about the song and this leads the two of them heartbroken. However, they decide to explore Paris together. The chemistry between Sanjana Singh and Sushant Singh Rajput draws parallels to a match made in heaven.
Talking of acting, Sushant Singh Rajput has never missed a chance to surprise the audience and his last performance on screen was no different. Sanjana Sanghi was able to fit in the shoes of what a cancer patient goes through. Swastika Mukherjee, who has played Kizzie's mother, is like any other protective mother and has excelled in her role. Needless to mention, Saif Ali Khan never disappoints the audience with his acting.
Dil Bechara- Mukesh Chhabra's directorial debut
Dil Bechara is the debut movie of Mukesh Chhabra as a director and he has marked his footprints in the space. In an interview with a leading media channel, Chhabra said, "Actually, it is a very weird, bittersweet feeling. I don't know how a director feels for his debut film. I have realized my dream of making a film but I don't understand whether to laugh or cry. Do you jump with joy and excitement? I really don't know how to react to the kind of love the trailer got. In my case, everything is so different. I am not even thinking this is my first film. I am still in disbelief, and cannot come to terms with it (Rajput's death)." 
The movie ends on a note where no one gets what they desire for and hence the song, 'Friendzone' fits in. Don't go with the notion of ending up crying in the movie as Dil Bechara has a lot more than the emotional angle of the story. It is sprinkled with comedy and good music.
Looking out for more romantic movies like Dil Bechara or the Notebook? Looking for more movies like the notebook? You can stream some of these movies on Netflix, Amazon Prime, and more. Here is a list of movies like the notebook Here are 25+ Movies Like The Notebook That Will Blow Your Mind with where to watch online links( Don't worry Link will open in New Tab so you can finish this off and switch)
Dil Bechara Music Review: A hit Music Album of 2020
Talking of Dil Bechara's Music album, what can you expect when A.R Rahman makes it to the list of the music team. Rahman is the connoisseur of music and the numbers by him, Dil Bechara Title Track and Friendzone are nothing less than magical. You will find yourself intoxicated by the good music of Dil Bechara. 'Taare Gin', is a song in which Shreya Ghoshal's melodious voice complements Mohit Chauhan's vocals. Another song 'Khulke,' blends Shasha and Arijit Singh's vocals. The tracks 'Maskhari' and 'Mera Naam Kizzie' will touch your heart and you will end up humming them even after the movie ends. One of the best things about Bollywood movies is that it keeps you intact to the screen with its melodious numbers. You might love Josh Boone's Fault in Our Stars but Dil Bechara outweighs the former with its grandeur music album for sure.
How Sushant got the lead role?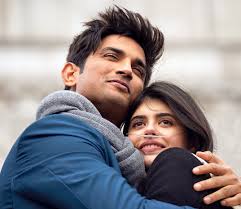 Sushant was destined to lead in the movie and we can say so after reading the statement of the director himself. "I remember long ago Sushant had promised me that whenever I make my first film, he would star in it as the lead and he kept his promise. So when I approached him for Dil Bechara, he immediately said yes, without even reading the script. We always had this strong emotional connection," director Mukesh Chhabra had revealed in an interview.
Movie Recommendtions:
Summing Up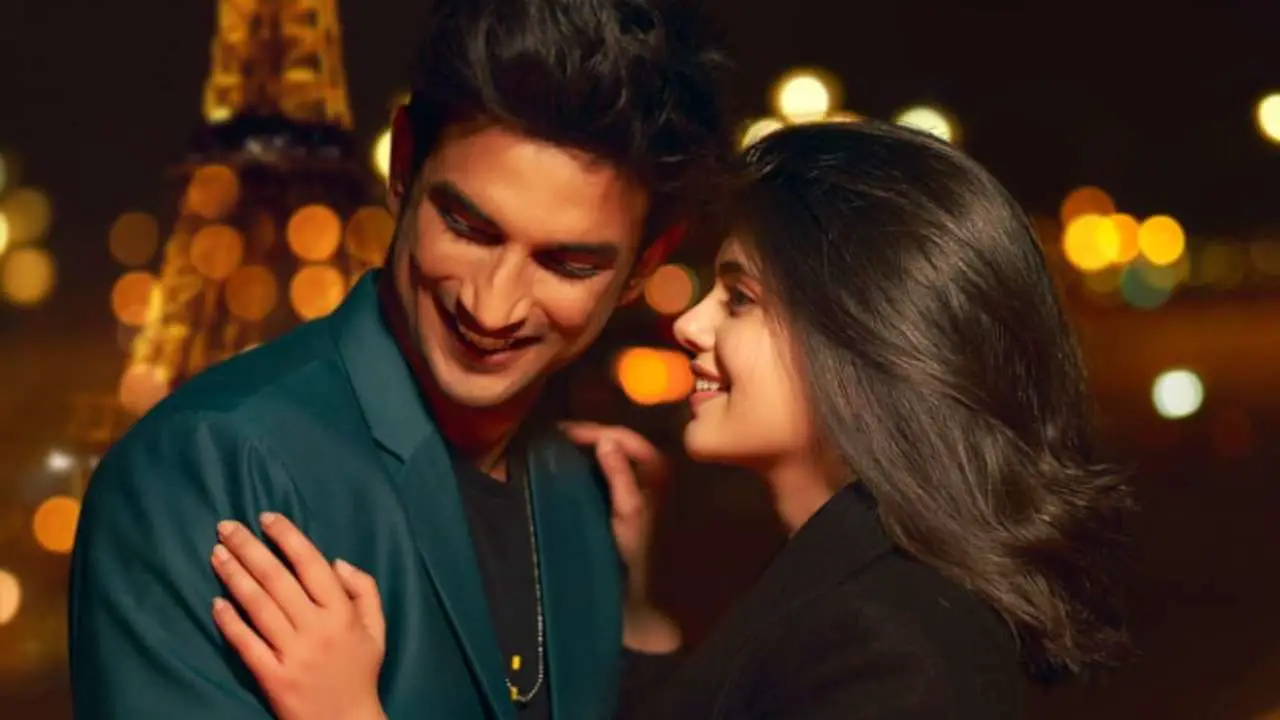 Yes, Dil Bechara will make you sob and you need to keep a tissue roll besides but can a Bollywood adaptation ever miss making you feel good with the drama and comedy as seasonings with the romance? The simple answer is "No!" So, what are you waiting for? Just open Disney+Hotstar and show some love to the masterstroke by Sushant Singh Rajput.
Watch Dil Bechara on Disney+Hotstar for Free
https://www.hotstar.com/in/tv/dil-bechara/s-2821
Watch Dil Bechara in Sushant's reminiscence and tell us in the comments section below, how did you like it?