Dr. Insomniac Book Review- An emotional roller-coaster and a must-read
Dr. Insomniac by Samatha Polisetti Book Review– An emotional roller-coaster: In the midst of the present global pandemic, there is one section of people that we all have been applauding for. They are out there working while the rest of us are safely quarantined. These people are the heroes who apparently do not wear robot suits or own a lightning hammer. We simply call them 'doctors' or more often 'Bhagwan ka roop' in India.
But have you ever wondered if these heroes are really godlike? Or are they as much human as we are? Whenever you visit a doctor, do you ever try looking past her/his professional face? Have you thought about what they do when they return home after a long day of treating the most peculiar of the diseases, delivering babies, and even watching patients die? Samatha Polisetti's 'Dr. Insomniac' unlocks some of these mysteries.
About the book
The book 'Dr. Insomniac' comprises of twenty-one short stories. These stories are based on the lives of various doctors including the author herself. Each story presents a verbal depiction of experiences that were once somebody's reality. The stories definitely possess a sense of similarity. This may be due to the fact that all the narrators hail from the same professional background. However, the personal perception of each narrator is what makes every story unique.
The stories are in first-person narration. Also, the author has refrained from using complex language. This makes it easier for the reader to connect. While reading, you would often feel as if the narrator is directly conversing with you. It might even feel like the times when our parents/ grandparents narrate to us the stories from their lives.
From the lives of the narrators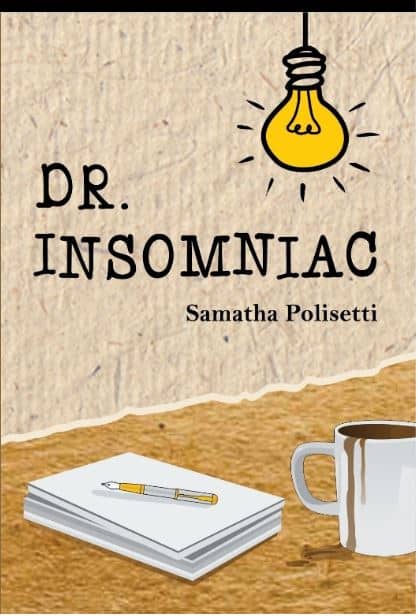 Essentially, the narrators have talked about the grave mistakes they made during their journeys as doctors or doctors-to-be. After reading about these mistakes, the reader shall realize how doctors are like any other human being. They make mistakes that often turn their lives upside down. Even without intending to cause harm, they sometimes cause grave mishaps. And we cannot always repair such damages. But as 'the show must go on', one can only learn from her/his mistakes and move on.
One of the most striking features of the book is the emotional roller coaster that the reader experiences. You might experience mixed emotions – from empathy and love in one story to hatred and anger in the other. In fact, you may encounter this combination of contrasting emotions in just one story itself.
The narrator of each story has been brutally honest about the emotions that s/he experienced. Even negative emotions like anger, guilt, and selfishness have been openly talked about. While reading the stories, you may often visualize an image of an ideal human being- a combination of both good and evil. In one instance, you will come across the nervous fresher's journey through medical school. While in some other, you will learn the responsibilities that a senior doctor has on her/his shoulders. Similarly, in one story you will come across a doctor feeling sympathy for a patient. While in another, you will see one overcome with selfishness.
The profession of a doctor makes her/him deal with grave emotional experiences. Sooner or later doctors have to learn to become emotionally regulated. This is a major lesson that stays in the reader's mind.
Some striking characters in the book
Apart from the doctors, there are some other characters that for sure will leave their imprint on your memory. The women with many earrings, cheerful Charu, or poor Chinnabbai may find a way into your hearts. The portrayal of these characters arouses feelings of sympathy in the reader's mind. The character of the older man with a bloody dhoti delivers a sense of positivity and hope. The injured farmer would definitely touch your heart with his wise words. By reading about them, you might feel that fate can be ruthless at times. However, despite these hardships, life goes on.
Besides the emotional aspect, the stories address some harsh realities of our society. For example, you will find patriarchy appearing quite a few times in the book. The stories have shown a female character's fight with patriarchy more than once. Interestingly, they have also portrayed the suffering of men in a patriarchal society. The book has, directly or indirectly, talked about the issues of domestic violence, stereotyped gender roles, and gender bias.
Book Recommendations: Just love Reading Books? List of 30+ Best Books to read before you die|Fiction|Non-Fiction|Misc! How many have you read by now?
Addressing the reality
In the previous para, we discussed how the book has brought up issues of domestic violence and gender discrimination. Similarly, social ills like child sexual abuse and the stigma related to certain physical conditions or diseases like AIDS have also been highlighted. The characters in the stories are victims of such social evils. Their vulnerability is rather thought-provoking.
Moreover, in some instances, the ground reality of healthcare services also comes to light. Lack of enough facilities in rural areas is a major issue. Every day the newspapers are flooded with incidents highlighting this problem. For example, in the rural hills, people often have to carry pregnant women on stretchers to the nearest hospitals. They face all such hardships due to a lack of transport and healthcare services in villages. The deprived section, even today, remains the most affected.
Not only the delivery of healthcare services, but health awareness needs to be focused. In rural areas, taboos related to AIDS should be broken. Similarly, awareness related to teen pregnancy and safe sex, etc, should be delivered. The stories have highlighted these issues well. We have a lot of programs which take care of all these problems, yet a lot of people are beyond access. This indicates that we still have a long way to go.
Happy reading!
While reading the book, you will feel waves of emotions gripping your mind every now and then. You will be able to realize the tiring hard work and devotion that the medical profession demands. You might even feel more empathetic towards doctors and people in general. But most importantly, the book 'Dr. Insomniac' will leave you with some great life lessons. You would want to introspect in order to solve the moral dilemmas that you might experience. So even if you are not connected to the medical profession, 'Dr. Insomniac' would surely be a good read. And if you are a medical student or a medical professional, then you would definitely enjoy reading this collection of twenty- one amazing short stories.
Dr. Insomniac Book is available on Amazon: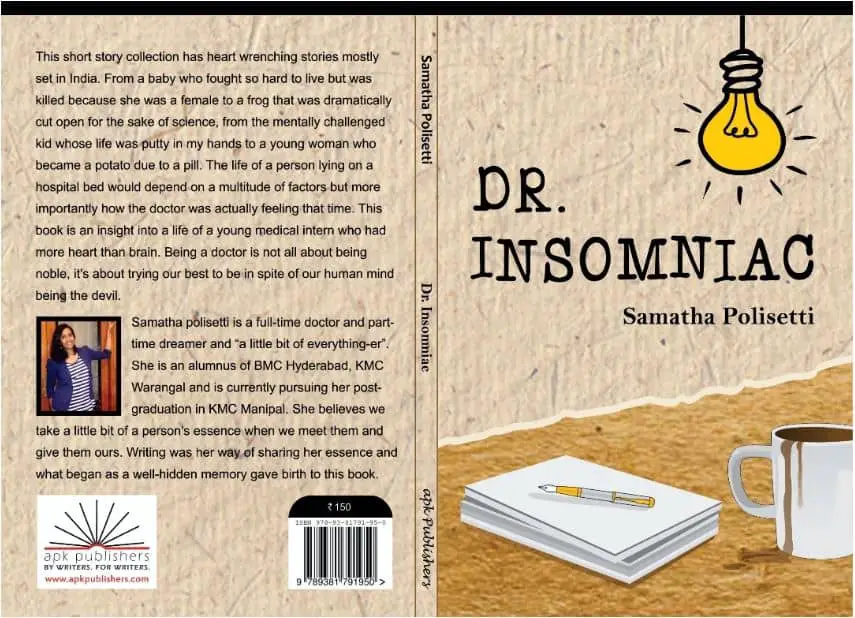 Samatha Polisetti, a doctor by profession, has authored the book 'Dr. Insomniac. Samatha is an alumnus of BMC Hyderabd, KMC Warangal. Presently, she is pursuing her post-graduation from KMC Manipal.
Samatha describes herself as a dreamer. In addition to her medical profession, she has a keen interest in almost all other activities. In fact, her inclination towards writing is evident in the book itself.
As a doctor, Samatha meets a lot of new people every day. And she believes that when we meet people, we take a part of their essence while giving them a part of ours. In the book 'Dr. Insomniac, Samatha has penned down some of the memories that stayed with her.
You may also Like Im-So-Hacked – Book Review a brilliant book written by debutant Gautam Mayekar.