Boston Roll Sushi Recipe Step by Step Instructions with Video Tutorial
"You can't buy happiness but you can buy sushi, which is kinda the same thing." Sushi, whenever we talk about this Japanese delicacy, our mouth starts watering, isn't it? This delightful and pleasurable savoury dish is loved by millions of people all around the globe; pages are dragged with different varieties of sushi filled with exquisite and appetizing ingredients. If you are a sushi lover, you might have faced lots of confusion in choosing one sushi out of the dozens available. We might get confused Between Nigiri Sushi, Sashimi Sushi, Maki Sushi, Uramaki Sushi, Temaki Sushi, Tempura Sushi, etc. Not to worry, we shall help you out. Get ready to start a whole new sushi journey full of flavour. Out of all these, we shall focus on the Boston roll, which is a Japanese cuisine made with poached shrimp, creamy avocado, and crunchy cucumber. The bright and overwhelming sheets of seaweed and rice make the sushi look heavenly.
What does a Boston roll have in it?
A Boston roll is a sort of maki sushi, also known as rolled sushi. It is made by rolling nori seaweed sheet, which is a dried edible paper-thin seaweed. It is considered a popular ingredient when talking about Korean and Japanese cuisine. Along with the nori seaweed sheet, it is rolled with seasoned rice. The Boston sushi is filled with poached shrimp and later garnished with orange Tobiko or Masago. Tobiko is flying fish roe. The amazing creamy texture and taste of avocado cream and crunchy cucumber act as a cherry on the cake. Boston sushi has its history, it is not originated from Japan but traces its origin in the eastern United States, and that's how it got its name. "There is an I in "sushi", so get your own"
You might also like to Read about Mexican Sushi Roll. Everything you need to know : Mexican Sushi roll recipe
What is a Boston roll sushi?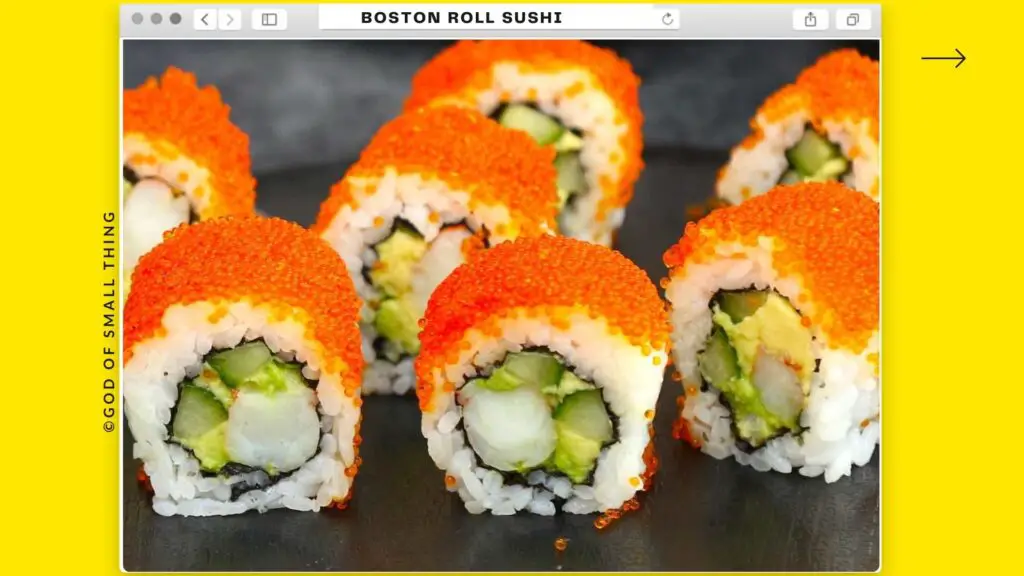 A Boston roll consists of various flavourful and delicious ingredients, refreshing and mouth-watering. Let's look at these ingredients:
SUSHI RICE Ingredients
1 cup of sushi rice 
1 cup of water
1 ½ tablespoon sushi vinegar
BOSTON ROLL Ingredients
3-6 tablespoons orange Tobiko or Masago
6 oz. shrimp
1/2 cucumber cut into 0.5-inch strips
2 sheets nori seaweed sheet
2 avocado
FOR DRESSING (IF NEEDED)
soy sauce
wasabi paste
+++ Ingredient list for 4 rolls
Boston Roll Sushi Recipe Step by Step Tutorial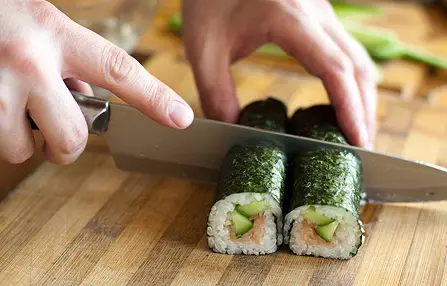 Starting with the Boston roll sushi recipe, First of all, cook the sushi rice by adding water to the rice cooker. When your rice or cooked, transfer them into a huge bowl and let them cool down. Don't burn your hand! Add some sushi vinegar or rice vinegar and salt and sugar as per your taste. Mix your sushi rice properly and make sure that they are cooked well. 
Poach the shrimp in boiling water by adding salt. Cover the pan and let it boil for 3-5 minutes until they are posed properly. Remove them and transfer them into a cold water bowl. Lastly, peel the shrimp, and don't forget to remove the tail.
Start with the preparation of the sushi roll; take a bamboo mat with plastic wrap on the top. We take the plastic wrap, as it becomes easier to make it into a roll. It is an inside-out sushi roll.
Take the seaweed sheets and divide them into two; place the first part on the bottom of the mat. Wet your hands and measure 3/4 cup of cooked rice. Spread a thin layer of sticky rice on a mat, gently. Do not pressure the rise.
Now, flip the nori seaweed strip and rice so that the rice is at the bottom and the nori at the top. 
Balance and place the shrimp, cucumber strips, and avocado on top of the nori seaweed sheet. Always consider that maintaining a proper balance is necessary if not, the sushi will break.
Place the thumb below the bamboo mat and start lifting your mat by applying pressure to tighten up the roll. Gently remove the bamboo mat and add Tobiko. 
To add Tobiko, place the plastic wrap on the top and cover it with a sushi mat. Squeeze it all around the sushi. Now, smoothly remove the bamboo mat and let the plastic wrap remain. Cut your sushi into 8 pieces and enjoy the delicacy. Serve Boston roll with wasabi or soy sauce.
+++ If you use the tempura shrimps, you need to do is coat them properly with, a batter of all-purpose flour, eggs, and ice-cold water, and coat it with corn starch along with some essential flavourings of your choice. Finally, fry it in hot oil.
+++ Instead of shrimp, the Boston Roll may also be made with crab, salmon, or scallion. Its rare taste and spicy flavor make it the most popular. While Masago or cucumber makes it crunchy and much more delicious, sliced avocado brings a new essence to the Boston roll.
"Whatever the question, the answer is sushi!"
How to make Boston sushi roll?
As said by Nobu Matsuhisa, "The fine art of preparing sushi is something that you watch and learn."  Watch this video and enjoy the making of art. You can add and subtract ingredients by your choice.
Boston roll sushi recipe, traditional method
You can add and subtract ingredients by your choice.
Take care of the following while curating your own Boston Sushi roll
DO EVERYTHING GENTLY- do not use pressure while spreading sticky rice or when rolling the sushi. Do not over-pressure, as the material and filling will come out.
DO NOT OVERCOOK- cook the sticky rice perfectly and also poach the shrimp in a specified time to prevent over-cooked material.
NO REFRIGERATION- do not keep the sticky rice in the fridge to cool down; this will bring a weird flavor and change the taste of your sushi.
USE TEZU WATER– use Tezu water for dipping your hands while making sushi. Tezu water is a simple mix of a quarter cup of water and 2 teaspoons of rice vinegar
BE CAUTIOUS- roll and pull the bamboo mat very gently and use it delicately with light hands. Go slow on your work. It is an inside-out sushi roll, hence be careful. 
"Keep calm and eat Boston roll sushi"
Here we are towards the end; we hope that this amazing Boston sushi recipe made your day. Now grab your ingredients and dwell Deep into this flavourful world of sushi.
You might also like to try:
Frequently Asked Questions
What are the lowest-calorie sushi rolls?
Lowest-calorie sushi rolls are the rolls that are made up of vegetables, without sauce or Mayonnaise. These may include cucumber rolls, tuna rolls, etc. They have less than 200 cal for six pieces. If you prefer salmon or avocado, then the calorie count shall be 300 cal for 6 pieces
Can you lose weight by eating sushi?
Sushi is also considered a meal that is weight-loss-friendly. Yet, with high-fat sauces and fried tempura batter, many types of sushi are made, which increases their calorie content significantly. Additionally, there are normally very small quantities of fish or vegetables in a single piece of sushi.
Is a California roll sushi healthy?
California sushi is good for your health as it includes cucumber, avocado, nori, crab, and rice. It keeps you healthy if you abstain from eating sushi with fatty dips like mayonnaise or sauces
How do you roll sushi without a roller?
You can roll sushi without a roller with the help of a wet towel or even plastic wrap. Apart from this, you can make a DIY roller at home. 
How do you make sushi for beginners?
If you are a beginner, you must be very careful while making sushi. It is better to purchase a bamboo mat to craft your sushi properly. Follow the steps carefully, consider the quantity, and create a proper balance. Follow one recipe at a time. If it is an inside-out sushi roll, you need to be more careful. 
What can I use if I don't have a sushi roller?
You do not have a sushi mat at home; you can use a towel or a simple plastic wrap.
Is California Roll real sushi?
California roll is authentic makizushi sushi, an inside-out sushi roll made with the help of crab, avocado, and cucumber. This dish introduces a different concept of sushi to the people. Boston roll is also an inside-out sushi roll.
What is the healthiest sushi roll?
Some of the healthiest sushi rolls include cucumber roll with Edamame and miso soup, Edamame and salmon sashimi, and salmon avocado, and seaweed roll. Various types of sashimi are healthy. Generally, you can also make a roll of sushi with the help of brown rice to make it healthier
What are the best sushi rolls?
Some of the most famous and best roll sushi include the spicy tuna roll, shrimp tempura roll, Boston roll, Dragon roll, and finally, the king crab roll. Apart from this, some people prefer having a cucumber roll, and an Alaska roll, depending on the taste and choice.
How do you make homemade sushi rollers?
In case you do not have a sushi mat, you can make a sushi roller at home. Gather 40-50 wooden skewers and two pieces of white tape. Spread them on a flat surface and tie them with the help of a deep front and back. Moreover, you can also use plastic wrap at home to make sushi.
What is the difference between a California roll and a Philadelphia roll?
California roll and a Philadelphia roll are different; a California roll consists of crab, cucumbers, and avocado, where. The crab is cooked properly and isn't raw. On the other hand, the Philadelphia roll is made with avocado, cream cheese, and Salomon.
To read more recipes, you can take a look at our recipe section. There are a lot more recipes that you would love to splurge on; we are sure 😀