30 Minutes Easy Popeyes Buttermilk Biscuits recipe with step by step Instructions
All the things that are not much popular are the best in the world. When we talk about for Popeyes buttermilk biscuits, these are immensely flavourful. I guarantee you, once you try these there is no going back. They taste so simple but have an excellent texture. These are flaky biscuits, which could create wonders. When you are craving something urgently, you can bake this. It will take almost 30 minutes to cook. Let's have a closer look into the recipe of these Popeyes biscuit.
Popeyes Buttermilk Biscuits Ingredients
2 cup all-purpose flour
1 tablespoon Sugar
1 tablespoon salt
1/2 cup Buttermilk
1/4 cup Milk
Butter to brush on top, as required
1 1/2 tablespoon Baking powder
1/2 tablespoon soda
1/2 cup cold unsalted butter
Looking for a recipe for Cocktail Sauce? Here we are with everything you need to know for Hoffman cocktail sauce recipe with Ingredients | Nutritional Value| Instructions | Video Tutorial and more. Easy Hoffman cocktail sauce recipe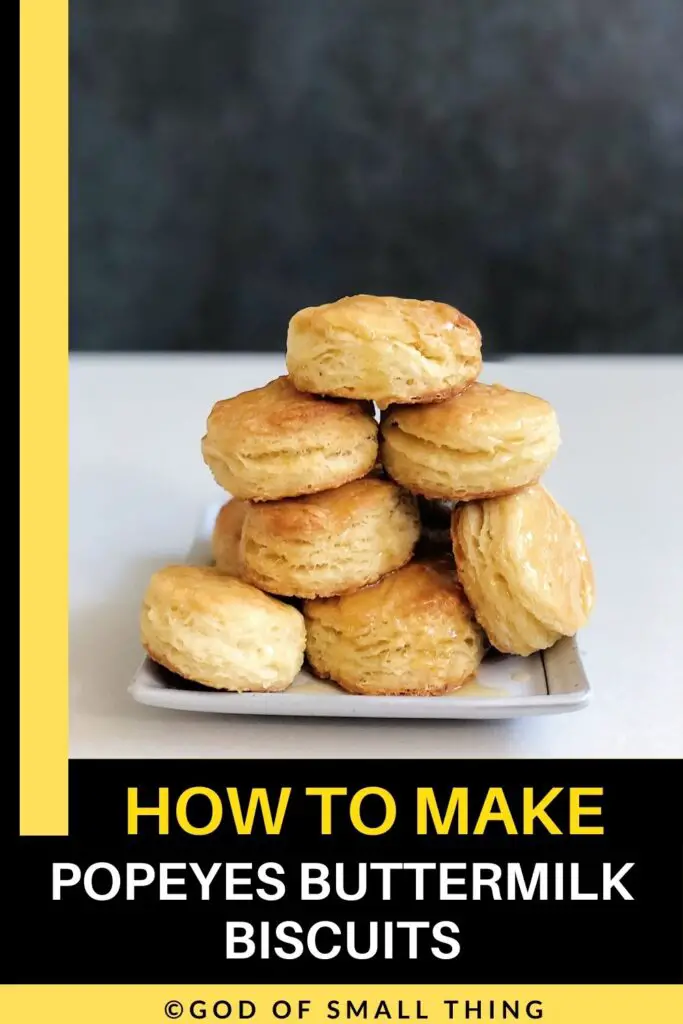 How Much Time It Will Take to Make Popeyes Buttermilk Biscuits?
| | | |
| --- | --- | --- |
| Preparation Time : 5 Minutes | Cooking Time: 25 Minutes | Total Time : 30 Minutes |
| 5 Minutes | 25 Minutes | 30 Minutes |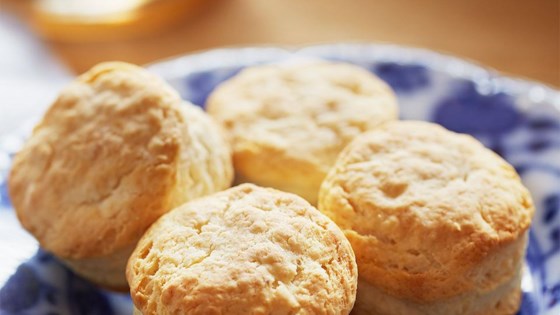 Popeyes Buttermilk Biscuits Recipe Step by step instructions:
First of all, start by preheating the oven to 400° Fahrenheit. Be careful, don't burn yourself.
Add flour, salt, sugar, baking powder and baking soda in a bowl be certain to use fresh baking powder and baking soda. This is because all of these ingredients help in the rising of the biscuit.
Take cold butter and cut it into cubes, mash it with a potato masher and mix it into your dry mixture. Make sure that no lumps are left in the mixture. Within the biscuits, cold butter produces steam as it bakes, and then spreads and allows the signature biscuit layers.
After you're done, add buttermilk and milk to the dry mixture, and stir it until you get a soft dough. Before baking, make sure that the butter does not melt. Be sure to use cold milk and buttermilk to make sure it keeps cool.
Buttermilk brings to the biscuit a mild tanginess and a great deal of tenderness. Using buttermilk of decent consistency is a must. You can use normal milk if you don't have any, but this can affect both the flavor and the texture.
Now, roll half-inch thick sheet of dough on the surface. You'll want to get smooth, flaky layers of your biscuits. To make three layers, fold the dough three times, and then gently roll it out. It's an easy trick that works wonders for the texture of your biscuits.
Cut your sheet into 3-inch biscuits, the shape you desire. Generally, people prefer having a circular shape. Don't seal off the ends of the biscuit dough. Simply press down on the dough and then rise whether you use a biscuit cutter or bottle. If the edges are slightly rough, that's all right! Do not rotate the knife, since it will seal the sides of the biscuit and keep the dough from rising properly.
Grease the baking sheet and place all these 3-inch biscuits into the baking tray. Arrange them so that they are similar together when you're about to put the biscuits on the baking sheet. You should also let it brush the corners! Your biscuits have no way to go but up by doing this and you'll have extra tall Popeyes Buttermilk biscuits.
Put them in the oven for at least 22-24 minutes, keep a check. Make sure that the top is golden brown, do not burn it.
Remove the Popeyes Buttermilk biscuits; wait for a few minutes for the crunch to revive. And here it is ready to serve.
This is served with melted butter; it all depends upon how you wish to have it.
Have the butter ready and it will be light brown and ready to eat your biscuits in less than 30 minutes. Let them cool off a little, top with butter, and eat the best buttermilk biscuits ever!
Have you ever tried Samosas? Here's everything you need to making scrumptious samosas at home – Samosa Recipe.
Nutritional Breakdown of Popeyes Buttermilk Biscuits
| | |
| --- | --- |
| Calories       | 407 |
| Total fat      | 25 g |
| Saturated fat        | 12 g |
| Polyunsaturated fat | 4.9 g |
| Monounsaturated fat     | 6 g |
| Trans fat     | 0.1 g |
| Cholesterol  | 2 mg |
| Sodium       | 759 mg |
| Potassium   | 142 mg |
| Total carbohydrates       | 41 g |
| Dietary fiber | 1.7 g |
| Sugar | 3 g |
| Protein        | 6 g |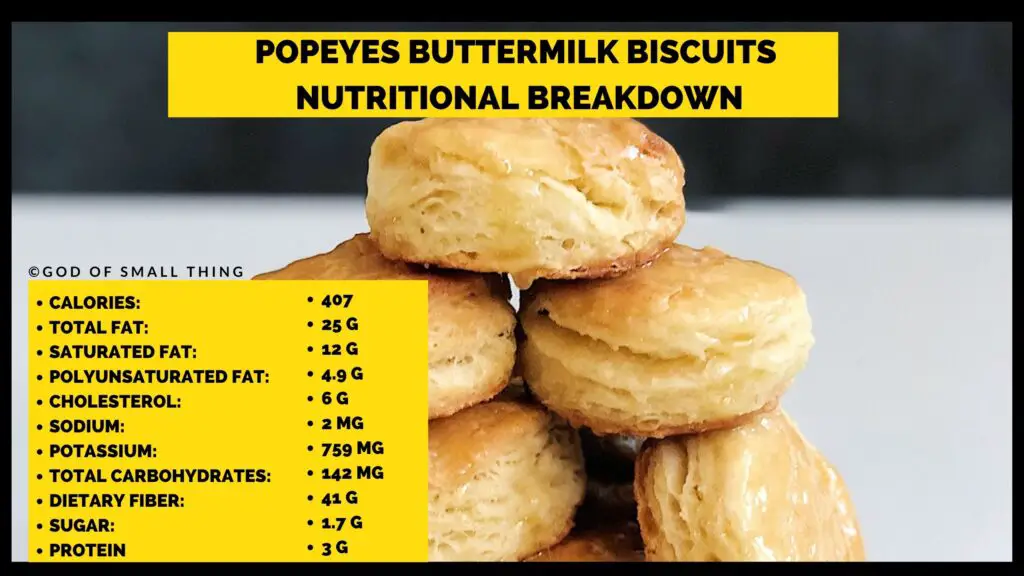 How to Make Popeyes Buttermilk Biscuits at Home | Video
FAQs
What is Popeyes Buttermilk biscuits made of?
These Popeyes biscuits are made up of a mix of flour, salt, baking powder, sugar, buttermilk, and milk. You need to add cold water while making the dough. Moreover, after it's made, you can serve it with delicious butter.
What can you put on Popeyes Buttermilk biscuits?
This depends upon your choice. Various people like adding only melted butter on it. Moreover, you can also prefer honey or maple syrup, or even chocolate syrup. If you're willing to make it more interesting, you can add sprinklers or anything of your choice that makes it interesting. If you like having ice cream, you can go for it.
Where can I buy a Popeyes biscuit mix?
The mix is very easy to make, you can make it at home. But, if you're not willing to make it at home it is easily available online, in grocery stores. You can purchase it from walmart.com, Amazon.com, or any other website of your choice
What do you brush on top of Popeyes Buttermilk biscuits?
These Popeyes biscuits can be brushed with egg wash, to give them a shine. It would not change the taste of your Popeyes biscuits; in fact, make it look much more enhancing. If you do not want to use an egg, you can brush it with milk or cream.
Is there dairy in Popeyes biscuits?
Yes definitely, it uses milk which is a dairy ingredient. Moreover, it also includes buttermilk and butter which is also a dairy ingredient
Does Popeyes have honey for Popeyes biscuits?
You can top it with honey; it is not put during the making process. Honey makes it easier to consume, soft and tasty. You need to make sure that you balance the sweetness of your biscuits.
Are Popeyes biscuits healthy?
When we talk about the nutritional value, these are not extremely healthy. As it contains butter, milk, flour which are all fatty ingredients, hence are less nutritious.
How many calories in a biscuit from Popeyes?
One biscuit has almost 115 cal, and you can't stop eating these. They are so delicious and mouth-watering; once you're addicted you have no choice left
For more such recipe articles with video tutorials and health benefits and nutritional value of each. You can check our recipe section and we ensure you wont regret reading them out. Head over to Recipes by FoodParadise at God of Small Thing