50+ Latest Eid Mehndi Designs Images 2023 Henna Design Images
Is Eid without Mehndi even a thing? Not at all. Getting ready for Eid is not just about wearing new clothes and enjoying delicious food. It's also a time when we love to decorate our hands and feet with beautiful and unique designs made from Henna/Mehndi. Even though there are thousands of mehndi designs available everywhere, sorting them out, especially for Eid is a tough job. We are here to make every tough job easy. Here are the top 30 best Mehandi designs for the Eid. we will explore the colourful and creative world of Mehndi designs, learning about different styles and why they are so special, especially during the festive time of Eid. So, get ready to discover the magic of Mehndi and prepare your hands and feet to try them on.
1. Moon Mehndi Design for Eid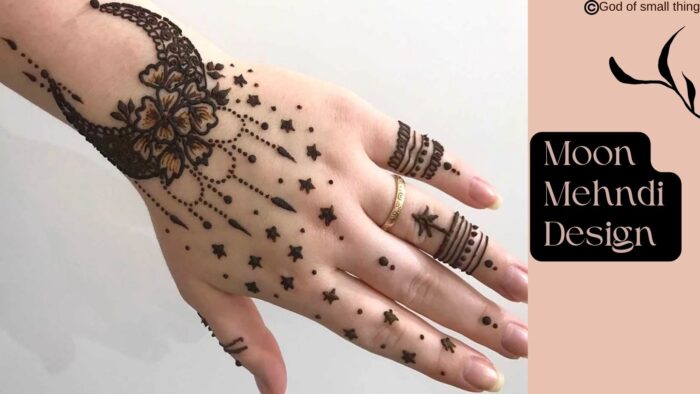 The moon has the highest significance on the festival of Eid. Moon Mehndi is super popular during Eid celebrations. It's not just a tradition. It's like painting a little piece of the tradition on your hands. When you see someone with Moon Mehndi on Eid, you're not just looking at pretty designs, but you're also sharing the wonder of the moon and stars together. How cool is that right? Moon Mehndi along with starts is a must-have on Eid. It's like the festival is incomplete without it.
Looking further than Just Eid? Here are 100 Latest Bridal Mehandi Desings you might be interested in as well: Latest Bridal Mehndi Designs
2. Phases of Moon Eid Mehandi Design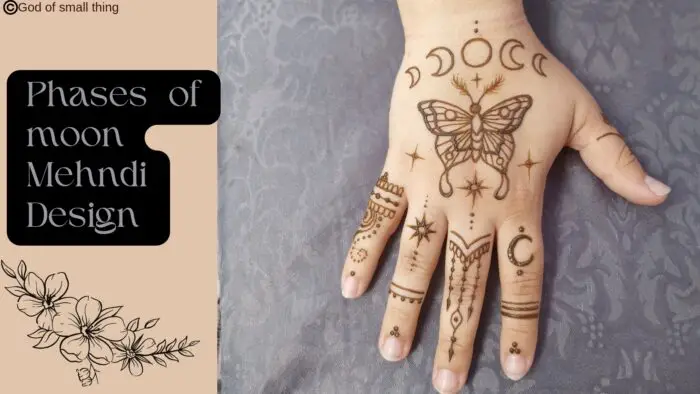 Whether it's a new beginning, a period of growth, the peak of happiness, or the gentle end, Moon Mehndi beautifully mirrors life's journey, making it a meaningful and cherished part of festive celebrations. Phases of moon Mehndi is another must-have on the festival of Eid. It teaches us the essence of life and that there is always something great coming for us. We just have to wait for one phase to get over and the next one to start. This style Mehndi is Trending a lot these days. This design has significant culture and aesthetics both at one time.
3. Eid Both Hands Mehandi Design for Eid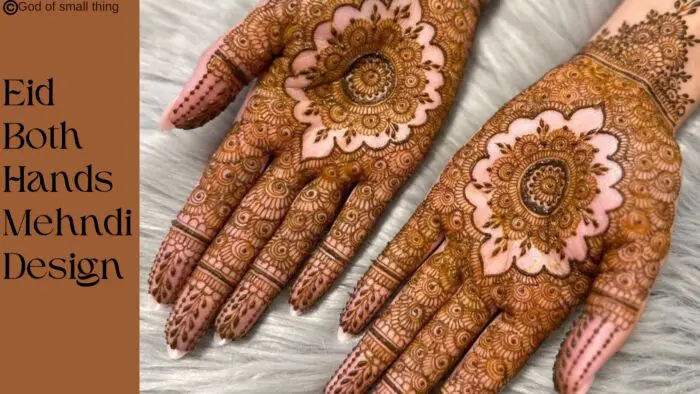 When both your hands are beautifully covered in henna, there is no other centre of attraction other than that, especially on festivals like Eid. Applying mehndi on both hands is a centuries-old tradition in many cultures, especially during Eid. One can make any design of their choice and make their hand more beautiful than ever. The mehndi design can include floral patterns, geometric designs and everything you want.
4. Islamic Calligraphy Mehndi Design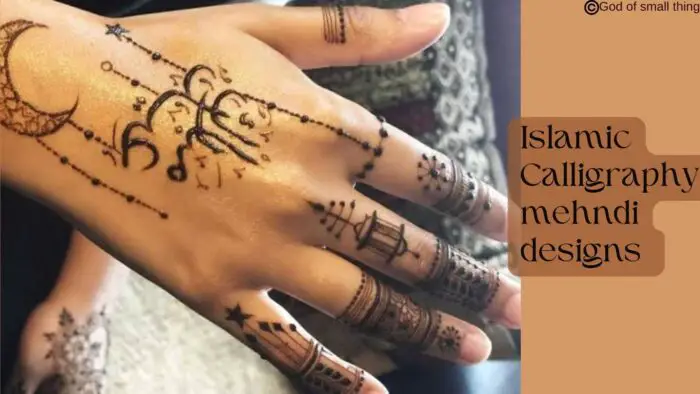 Islamic Calligraphy Mehndi holds a special place as it embodies the essence of the occasion. Instead of using regular Henna Mehandi designs, you can create elegant Arabic calligraphy with meaningful words and phrases from Islamic scriptures or poetry. The curving letters and artistic strokes of this beautiful Arabic Mehandi Design forms a beautiful fusion of art and spirituality, making your hands not just look pretty but also carry a deep and significant message.
5. Lantern with Moon Eid Mehandi Design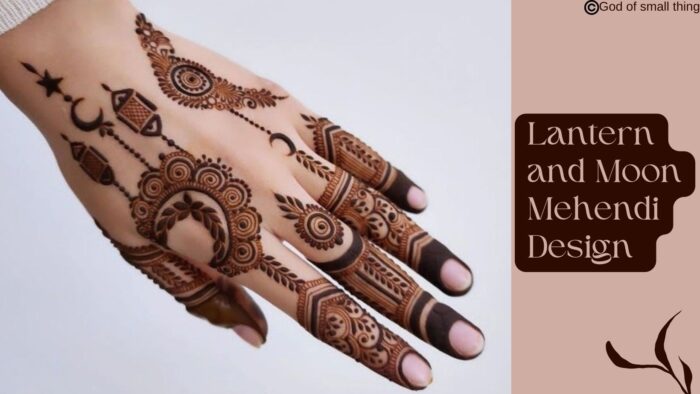 During Eid, Lantern and Moon Henna Mehndi designs are especially popular because they reflect the spirit of the festival. When you wear Lantern and Moon Mehndi on Eid, you're not just decorating your hands; you're embracing the spirit of the occasion, making your celebrations even more special and memorable. This Mehndi looks elegantly beautiful on both front and back hands. This magical combination is a must-have on Eid.
6. Netted Mehndi Design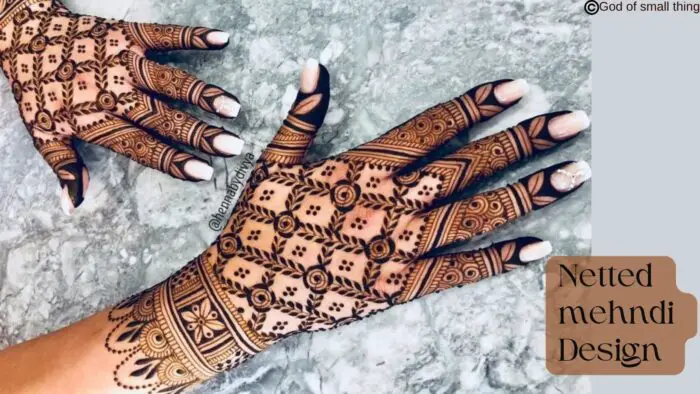 Netted mehndi designs are easy yet one of the best mehndi designs for the Eid festival. The Jali or Net create a very unique effect on hands or feet. This looks like a mixture of traditional and modern works of art. It's a perfect choice for those who want a unique and stylish Mehandi design that complements the joyous atmosphere of Eid festivities.
Planning to buy jewellery online? Here are 5 tips you should follow while shopping jwelling online .
7. Mughlai Mehndi Design for Eid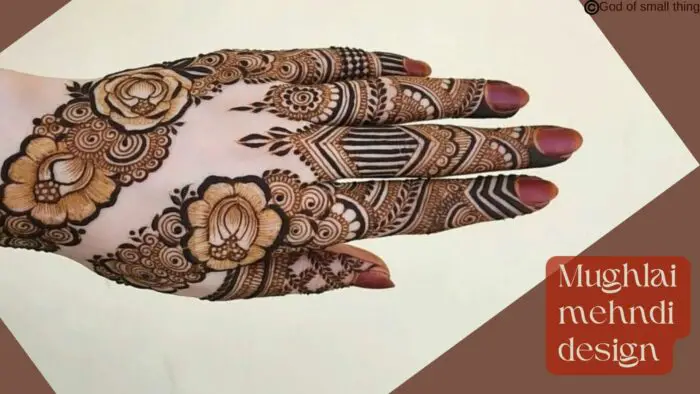 Inspired by the artistic legacy of the Mughal era, Mughlai Mehndi's designs are all about grand patterns, fine details, and a touch of historical splendour. Think of it as wearing a piece of history on your hands. Elaborate vines in Mughlai Mehndi on Eid add a touch of old-world charm to your festivities. It's not just Mehndi; it's a journey back in time, making your Eid celebrations feel like a royal affair straight out of a fairy tale.
8. Minimalistic Mehndi Design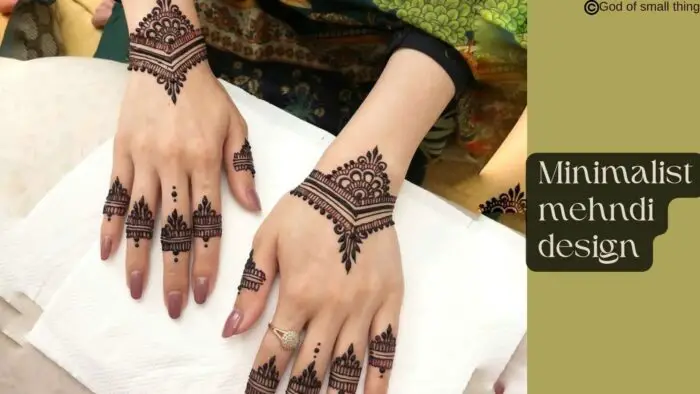 Minimalist Henna mehandi designs are all about being very simple yet looking very elegant on Eid. Minimalistic Mehndi stands out as the epitome of elegance and simplicity on Eid. Minimalistic Mehndi is a trendsetter, proving that even the smallest strokes can create a lasting impression, making your hands a canvas of understated beauty during the joyous occasion of Eid.
9. Circular Mehndi Design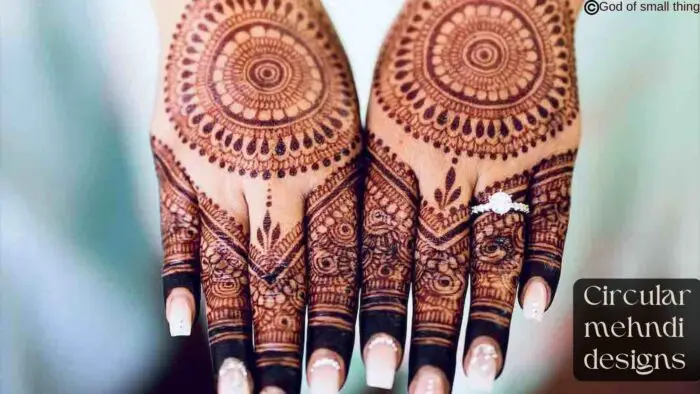 Circular Mehndi designs on Eid symbolize unity and completeness, just like the unending circle of festivities and joy. Each curve and swirl represents the cyclical nature of celebrations, reminding us that happiness is never-ending. This mehndi is quite popular at the festival and looks super amazing when applied perfectly. This mehndi design is easy to apply and most importantly Beautiful to look at.
10. Only finger Mehandi Design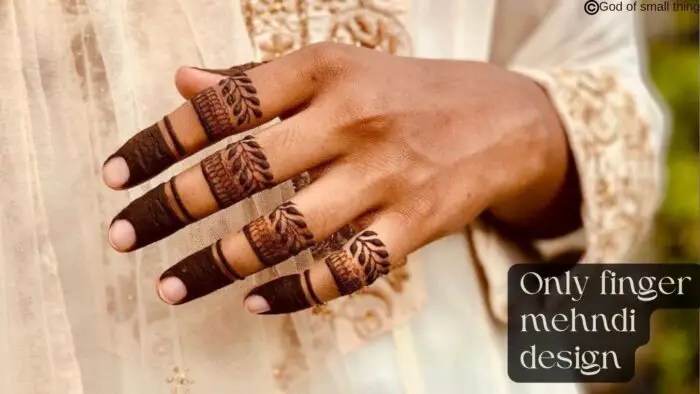 Not a full-hand Mehndi fan? This design is just for you. This is another type of trend going on in the Mehndi world. In this henna is applied only on the fingers and not on the palms or back of the hands. This is a simple and unique mehndi way if you're not a big fan of full-hand mehndi's. This is so simple and elegant even for days other than festivities. Mehndi can be applied in a way that the henna appears to be rings on the fingers.
11. Block Print Mehndi Design for Eid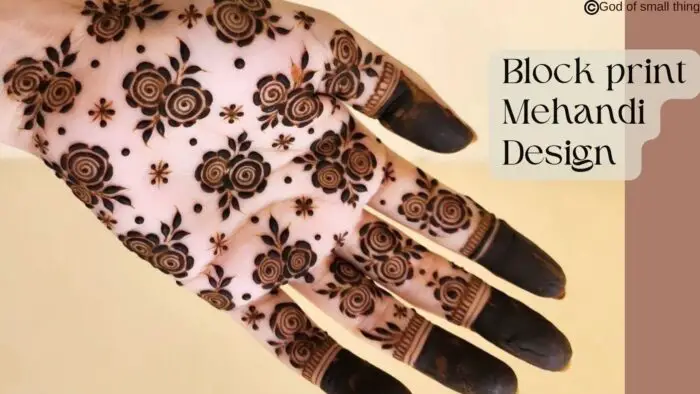 Just like how artisans use wooden blocks to create intricate patterns on fabric, Block Print Mehndi replicates this artistry on your hands. The beauty of Block Print Mehndi lies in its simplicity and precision. It's as if your palms have been kissed by intricate patterns, resembling the elegance of fabric prints. With each block-printed motif telling a story of heritage and festivity.
12. Traditional Mehandi Design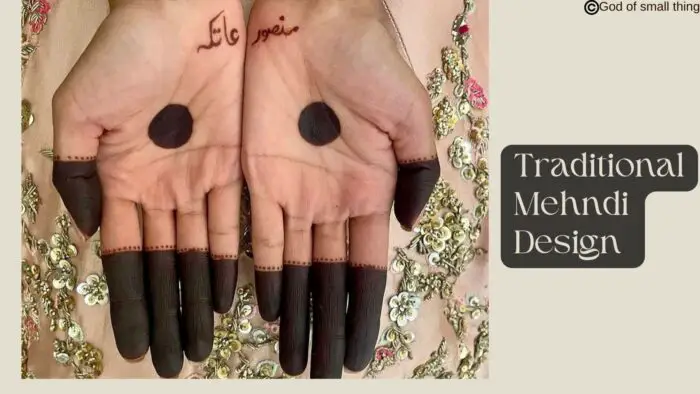 This traditional mehndi design is a well-known old culture of applying mehndi. This design symbolizes boldness. This is the easiest way of applying mehndi or henna. The colour of the henna comes out really nice with this kind of bold pattern. Even those who don't know how to apply mehndi can ace this design efficiently.
13. Bail Mehndi Design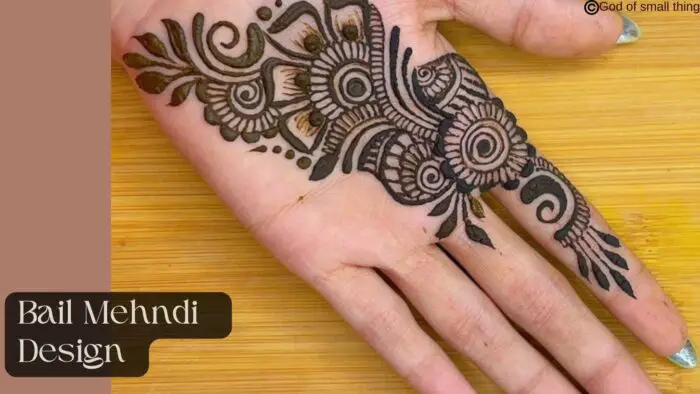 These designs often incorporate leaves, flowers, and spirals, creating a seamless flow that celebrates the beauty of life. Bail Mehndi is not just a design; it's a celebration of nature's grace. This is the most popular mehndi design all over. The bail or vines Beautifully covers most of the hand space leaving proper negative spaces.
14. Full hands Henna Mehndi Design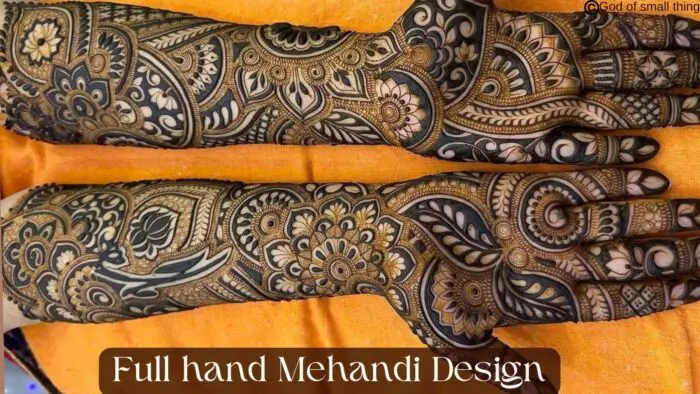 Full-hand mehndi designs are the one which looks extremely graceful and beautiful. The whole hand is covered with fine henna designs. Here every detail connects to each other forming beautiful patterns. Applying full-hand mehndi is an old tradition in every festivitie. Symbolizing good luck, happiness and beauty. This is best for brides who want to apply henna for their big day.
Want to go shopping for your big day in Delhi? Here we are with Best Markets in Delhi for shopping.
15. Easy Front hand Eid Mehndi Design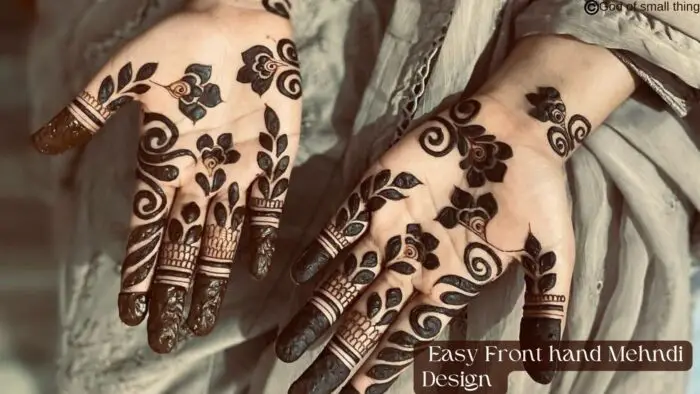 Not all who love Mehndi know how to apply it nicely. Easy Front hand Mehndi Design is something anyone can ace with a little bit of practice. Even for those who know how to apply henna, choosing Easy Front Hands Mehndi for Eid is not just about convenience; it's a celebration of individuality and style. These designs are perfect for every occasion.
16. Lotus Henna Mehndi Design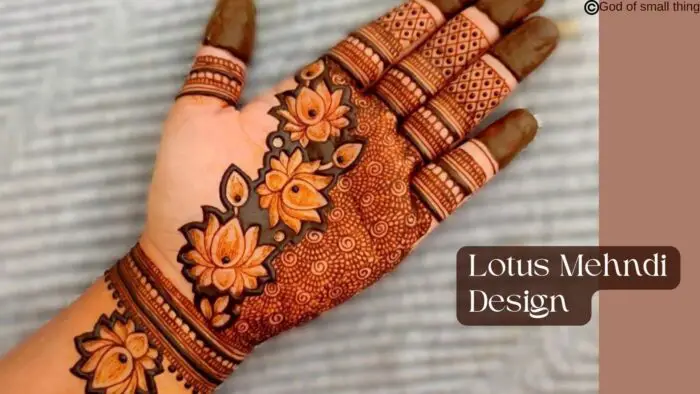 Flowers always give peaceful vibes and the festival of Eid itself symbolizes peace and harmony. Applying lotus mehndi on this special occasion is always a great choice. The lotus flower is special because it represents purity and new beginnings. During Eid, Lotus Mehandi designs capture this feeling, making your hands look like blooming flowers.
17. Mandala Mehandi Design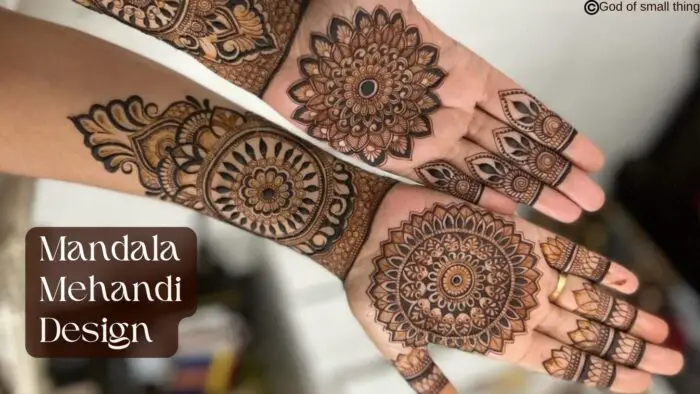 A perfect mandala design is tough to master. The fine lines in the mandala require attention and concentration. Adoring your hands with a mandala can enhance your traditional look to a much greater extent. So, when you wear Mandala Mehndi, you're not just decorating your hands; you're adding a touch of festive magic to your Eid celebrations
18. Taj Mahal Mehndi Design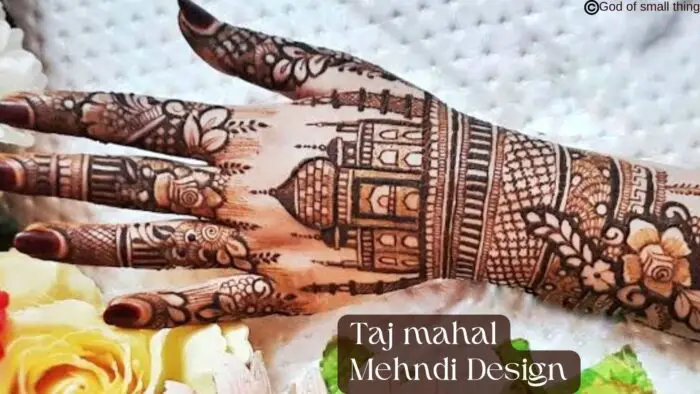 Drawing the Taj Mahal on your hands will be so creative and beautiful! This design is not only unique but also holds a special place on Eid. Each line in Taj Mahal Mehndi tells a story of love and artistry, much like the tale behind the real Taj Mahal. The Taj Mahal has great significance in Islam. That is why this design will shine on Eid.
19. Bold leaf Mehndi Design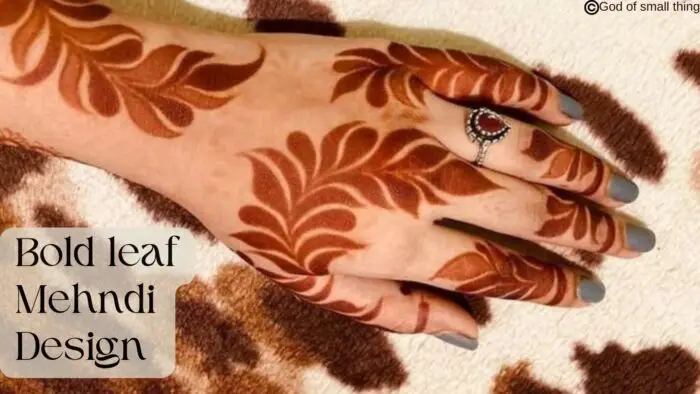 Using bold patterns makes the henna colour appear nicer and darker than other patterns. A bold leaf pattern is definitely a great decision on Eid. This design requires less amount of time and effort and gives out super amazing results. Also, it goes perfectly with both traditional and simple clothing. This is a must-have on special occasions like Eid
20. Gulf Mehndi Design for Eid
Intricate latticework, delicate florals, and bold geometric shapes adorning your palms and fingers. Well, that's Gulf Mehndi for you! The artistic heritage of the Gulf region makes your Eid celebrations even more colourful and cheerful. These Gulf Mehndi designs are hard to master and require a little practice. Once you master this one you can't choose any other design. So, when you are choosing Gulf Mehndi for Eid?
21. Pakistani Mehndi Design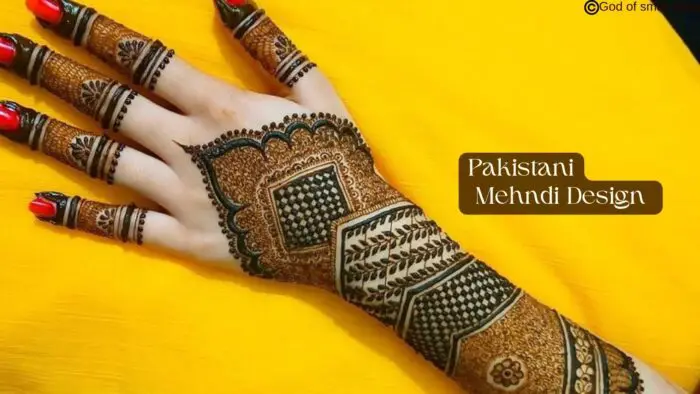 Pakistani Mehndi designs are often known for their elaborate details. Arabic Mehndi designs are not just decorations; they are a reflection of the warmth and hospitality that Islam is known for, making your Eid celebrations vibrant and culturally rich. Pakistani Mehndi covers whole hands and perfectly balances negative spaces. These patterns are unique and make you look complete.
22. Glitter Mehndi Design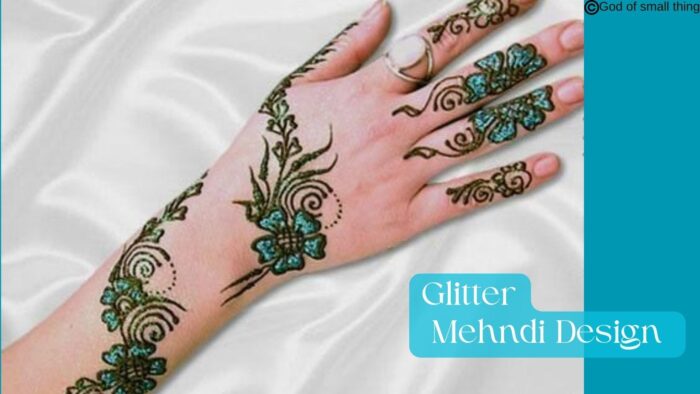 If you're a fan of vibrant colours on your hands, Glitter Mehndi is just for you. Glitter mehndi consists of sparkles and colourful henna. When applied, this makes your hand nothing less than a beautifully painted canvas. These designs are perfect for those who want to stand out and shine during the celebrations. Whether it's a simple outline or intricate patterns filled with glitter, the effect.
23. Bangle Eid Mehandi Design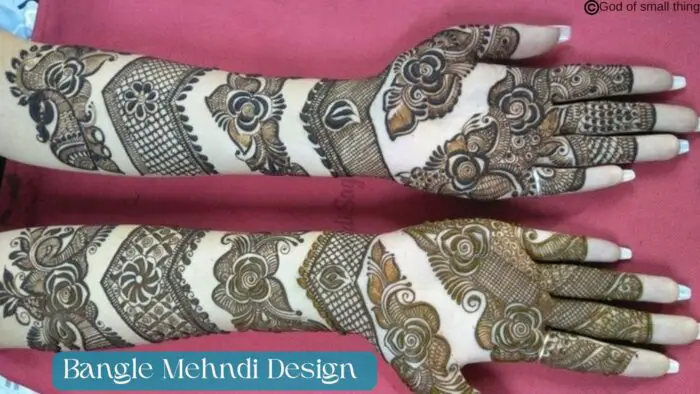 Bangle Mehndi designs on Eid are like intricate jewellery wrapped around your wrists. The henna patterns create a bangle-like effect on your wrists. Blessing your Eid look, these mehndi designs make you discard bangles for the eve. As it itself represents bangles and gives a unique perspective.
24. Tribal Mehndi Design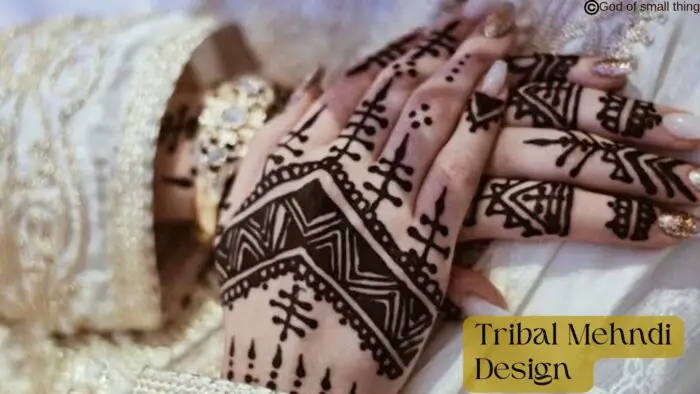 These designs often feature geometric shapes, bold lines, and symbolic motifs, creating a captivating visual impact. Applying Tribal Mehndi represents different customs and cultures of different tribal communities. These designs are always distinct and unique in their own way. By application of tribal Mehndi, you will look different from normal old designs. So do choose these designs to create the best look.
25. Heart Mehndi Design for Eid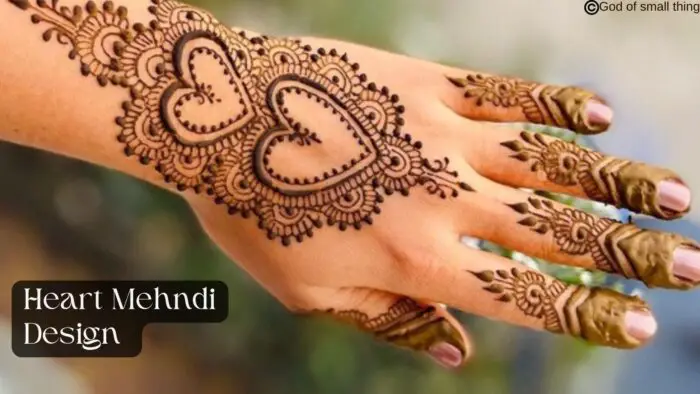 Heart Mehandi designs on Eid are like sweet symbols of love and joy. Each heart shape drawn on your skin is like a tiny love note, symbolizing the affection you have for your loved ones and the joy of togetherness during Eid. You can write the names of your loved ones inside your hearts and grab special attention. These designs are perfect for expressing love, whether for your family, friends, or significant other.
26. Feather Mehndi Design for Eid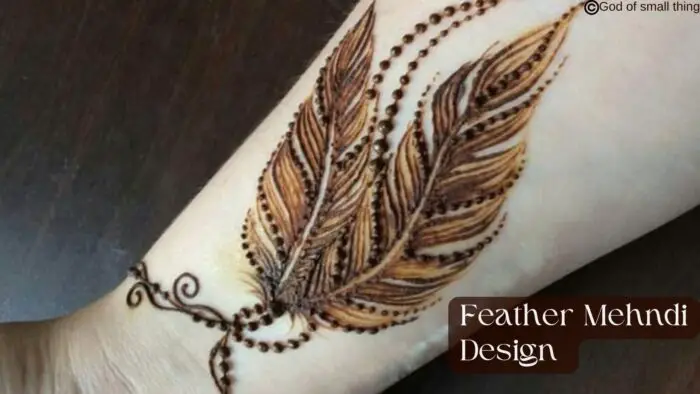 Whether it's a single feather on your finger or a row of them along your palm, each stroke captures the essence of nature's finesse. These designs are perfect for those who appreciate the gentleness of feathers and the tranquillity they represent. These designs look super amazing once the henna colour comes out. You can also create cages and birds along with this design.
27. Paisley Mehndi Design for Eid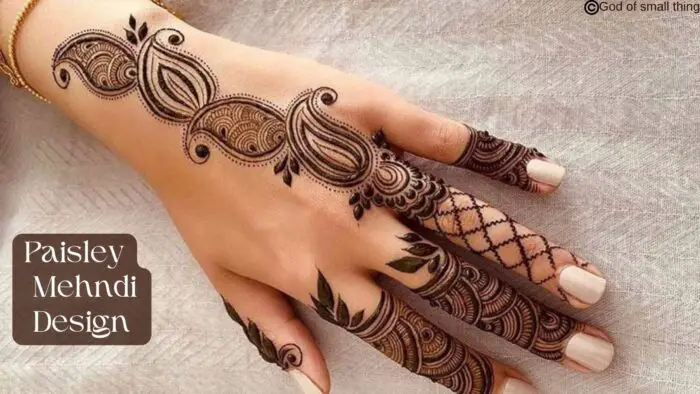 Paisley Mehndi has always been a part of Mehndi application. This Stylish Mehndi design for Eid can be included In any type of Mehndi pattern and make it look more beautiful than before. It's an old culture of applying henna. Paisley makes every design outshine. You must include Paisley in your henna application.
28. Mehndi with Wishes for Eid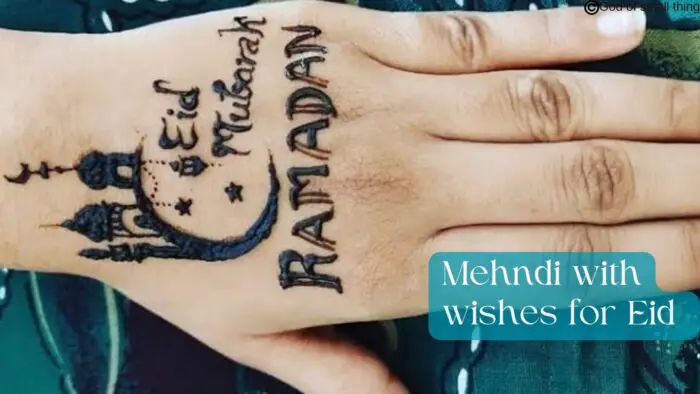 Mehndi with wishes is a great way of celebrating the festival. This way truly represents the essence of the festival and the love you hold for the festival. This method can be used not just for Eid but also for every special occasion. Normal henna designs are applied throughout the year, but these special designs are for only special occasions like Eid and they must be included in the celebration.
Are you a big Bollywood fan and struggling to find the best motivational movies to watch? Here we are with 65 best motivational movies to watch online.
29. Bracelet Mehndi Design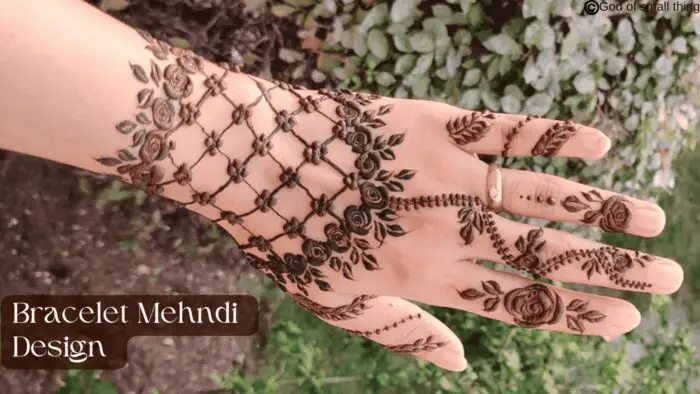 The Bracelet Mehndi Design is just like the Bangle Mehndi design. Where a jewellery is replaced by henna. The henna patterns create Bangle and finger-like patterns and look amazingly beautiful and pretty. So why wear bracelets when you can apply henna bracelet Mehndi Designs on your hands?
30. Rose Mehndi Design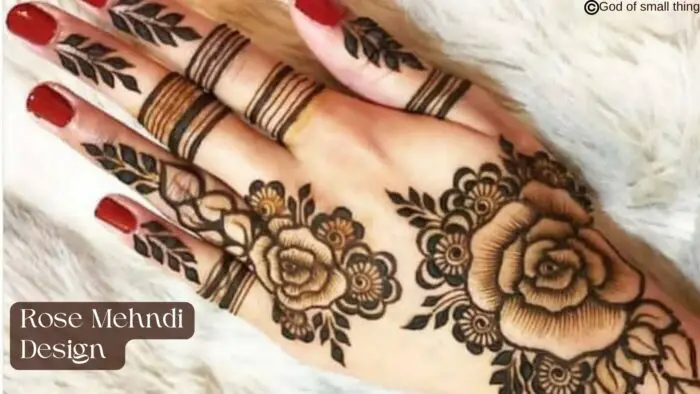 Rose is always considered to be the most demanded and precious flower. It represents love and peace all over the world. Your hands look like a flower garden by applying this pattern Mehndi. Always remember to leave negative spaces and give shaded effects to make the design more fine and detailed.
31. Morrocon Mehandi Design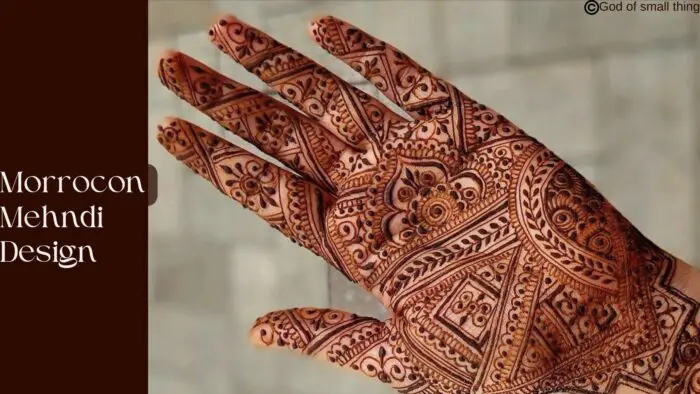 Morrocon Mehndi always fills your whole hand making it look super rich and cultural. These designs often feature Moroccan tiles and mosaic-inspired motifs, adding a touch of architectural beauty to your hands. These designs go best with traditional outfits and jewellery. These full-hand designs make your hand look like a well-crafted piece of architecture.