Man who Revived 5 Dead Rivers in India: Rajendra Singh The Waterman of India | God of Small Things
In a remarkable tale of dedication and impact, Rajendra Singh, widely known as the Waterman of India, has become a beacon of hope in the face of water scarcity plaguing the nation. Hailing from Alwar, Rajasthan, Singh has dedicated his life to water conservation, successfully reviving five rivers and bringing water back to over a thousand villages.
In his relentless pursuit of water conservation, Singh embarked on a journey in 1986, initiating padayatras to educate villagers about sustainable practices. His first significant success came with the revival of the Arvari dried river, where the construction of 375 dams, including a crucial Johad, brought the 60-year dried river back to life.
Since the inception of his NGO, Tarun Bharat Sangh (TBS), in 1975, Singh has championed various techniques for water conservation, including the innovative use of Johads (rainwater storage tanks), check dams, and other groundbreaking methods. Supported by the United States, TBS focuses on water management in semi-arid areas, particularly those close to the desert.
The Waterman of India has constructed over 8600 Johads in 1000 villages since 1985, significantly impacting the lives of thousands of farmers in drought-prone regions. Singh's work extends beyond local boundaries, earning him a place among the 50 individuals recognised for their potential to save the planet.
Singh emphasises the importance of continuous review, asserting that every project should undergo scrutiny after 20 years. This perspective stems from his belief that long-term impacts, often unforeseen, can affect dams and other water conservation structures.
Addressing the issue of large dams, Singh advocates for a shift to smaller and medium-scale dams, highlighting their adverse effects on natural river flow and their potential to become tools of environmental degradation. He criticises the Farakka dam, operational for 43 years in Rajasthan, pointing out the unclear benefits and ecological losses incurred.
Singh's concerns extend to national policies, especially the rejection of Atal Bihari Vajpayee's proposal to link every river in the country. He questions the drastic increase in drought-prone areas since independence and urges a reconsideration of policies contributing to this alarming trend.
Rajendra Singh's Efforts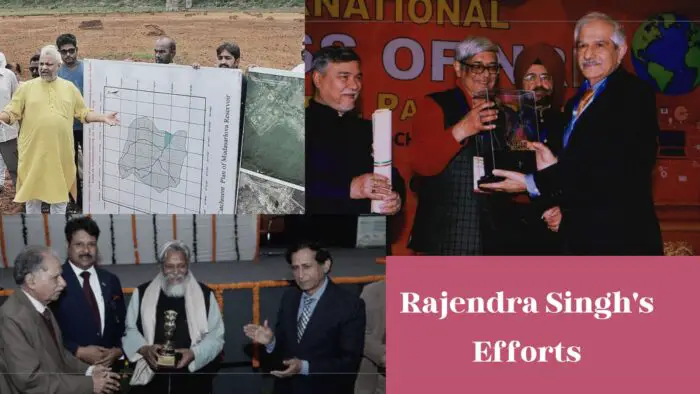 Rajendra Singh's efforts have not gone unnoticed, as he received numerous national and international awards, including the prestigious Stockholm Water Prize and the Raman Magsaysay Award. In 2008, the Indian government honoured him for his exceptional contributions to water conservation.
The Waterman of India also actively leads campaigns against large dams on the River Ganga, citing their negative impact on local ecology. His insights shed light on the consequences of unscientific exploitation and commercial agriculture, particularly in Maharashtra's Marathwada region.
According to Singh, the water crisis in Marathwada is a result of unwise exploitation and the cultivation of water-intensive crops like sugarcane and cotton. Despite boasting 42 of the largest dams in India, the region faces an acute water crisis due to the mismatch between crop water requirements and local ecological conditions.
Singh's observations extend to a national level, warning that India may soon face the grim reality of climate refugees, akin to the situations witnessed in African countries. He attributes the growing flood and drought-prone areas to a lack of respect for local ecological conditions and calls for urgent policy changes.
In a country grappling with escalating water scarcity, Rajendra Singh stands as a testament to the transformative power of dedicated individuals. His tireless efforts and insightful advocacy continue to shape the narrative around water conservation, inspiring change on both local and national scales.